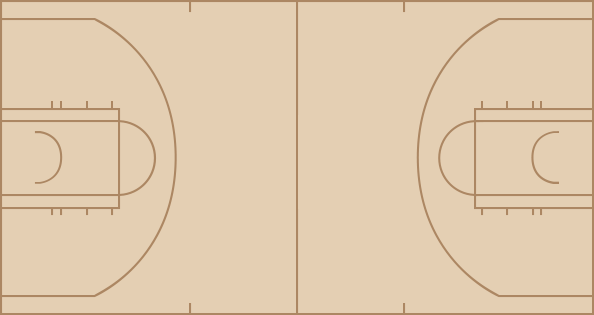 Timberwolves
time
TEAM
PLAY
SCORE
12:00
Start of the 1st Quarter.
0 - 0
12:00
Jumpball: Kevin Garnett vs. Mehmet Okur. Latrell Sprewell gains possession.
0 - 0
11:45
Wally Szczerbiak Bad Pass
0 - 0
11:25
Carlos Boozer missed 12 ft two point shot.
0 - 0
11:25
Utah defensive rebound.
0 - 0
11:14
Trenton Hassell missed 13 ft jumper.
0 - 0
11:11
Mehmet Okur defensive rebound.
0 - 0
11:03
Mehmet Okur Traveling
0 - 0
10:42
Kevin Garnett missed 16 ft jumper.
0 - 0
10:40
Carlos Boozer defensive rebound.
0 - 0
10:33
Carlos Boozer made layup. Assisted by Raul Lopez.
0 - 2
10:19
Kevin Garnett made two point shot. Assisted by Latrell Sprewell.
2 - 2
10:06
Raja Bell made 23 ft jumper. Assisted by Carlos Boozer.
2 - 4
9:48
Latrell Sprewell made 22 ft jumper.
4 - 4
9:33
Raja Bell missed 18 ft jumper.
4 - 4
9:32
Raul Lopez offensive rebound.
4 - 4
9:21
Andrei Kirilenko Bad Pass
4 - 4
9:07
Andrei Kirilenko Personal Foul. His 1st Personal Foul.
4 - 4
9:00
Wally Szczerbiak missed 25 ft three point jumper.
4 - 4
8:59
Trenton Hassell offensive rebound.
4 - 4
8:56
Latrell Sprewell missed 25 ft three point jumper.
4 - 4
8:55
Mehmet Okur defensive rebound.
4 - 4
8:45
Kevin Garnett Jump Ball
4 - 4
8:30
Raja Bell missed 21 ft two point shot.
4 - 4
8:29
Trenton Hassell defensive rebound.
4 - 4
8:15
Wally Szczerbiak made 21 ft jumper. Assisted by Trenton Hassell.
6 - 4
8:07
Wally Szczerbiak Personal Foul. His 1st Personal Foul.
6 - 4
7:54
Mehmet Okur made 18 ft jumper. Assisted by Raul Lopez.
6 - 6
7:47
Wally Szczerbiak missed 19 ft jumper.
6 - 6
7:45
Raul Lopez defensive rebound.
6 - 6
7:22
Shot Clock Violation
6 - 6
7:13
Anthony Carter Bad Pass. Stolen by Mehmet Okur.
6 - 6
7:05
Raja Bell missed 23 ft three point jumper.
6 - 6
7:03
Wally Szczerbiak defensive rebound.
6 - 6
6:56
Wally Szczerbiak made driving layup. Assisted by Anthony Carter.
8 - 6
6:56
Raja Bell Shooting Foul. His 2nd Personal Foul.
8 - 6
6:56
Wally Szczerbiak missed Free Throw 1 of 1.
8 - 6
6:54
Andrei Kirilenko defensive rebound.
8 - 6
6:35
Andrei Kirilenko missed 18 ft jumper.
8 - 6
6:33
Latrell Sprewell defensive rebound.
8 - 6
6:26
Anthony Carter missed 17 ft jumper.
8 - 6
6:24
Mehmet Okur defensive rebound.
8 - 6
6:20
Raja Bell made driving layup. Assisted by Raul Lopez.
8 - 8
6:07
Trenton Hassell Offensive Foul. His 2nd Personal Foul.
8 - 8
6:07
Trenton Hassell Turnover
8 - 8
5:50
Trenton Hassell Personal Foul. His 2nd Personal Foul.
8 - 8
5:50
Utah Full Timeout.
8 - 8
5:50
Michael Olowokandi enters the game for Trenton Hassell.
8 - 8
5:35
Shot Clock Violation
8 - 8
5:22
Michael Olowokandi missed 12 ft jumper.
8 - 8
5:20
Mehmet Okur defensive rebound.
8 - 8
5:16
Carlos Boozer made two point shot. Assisted by Raul Lopez.
8 - 10
5:03
Latrell Sprewell Lost Ball. Stolen by Raul Lopez.
8 - 10
4:47
Carlos Boozer made layup. Assisted by Raja Bell.
8 - 12
4:28
Kevin Garnett missed 15 ft two point shot.
8 - 12
4:26
Carlos Boozer defensive rebound.
8 - 12
4:15
Mehmet Okur made 17 ft jumper. Assisted by Andrei Kirilenko.
8 - 14
4:11
Minnesota Full Timeout.
8 - 14
4:11
Troy Hudson enters the game for Anthony Carter.
8 - 14
3:55
Andrei Kirilenko Shooting Foul. His 2nd Personal Foul.
8 - 14
3:55
Kevin Garnett made Free Throw 1 of 2.
9 - 14
3:55
Matt Harpring enters the game for Andrei Kirilenko.
9 - 14
3:55
Kevin Garnett made Free Throw 2 of 2.
10 - 14
3:40
Matt Harpring missed 18 ft jumper.
10 - 14
3:38
Kevin Garnett defensive rebound.
10 - 14
3:31
Troy Hudson Bad Pass
10 - 14
3:18
Mehmet Okur made dunk. Assisted by Carlos Boozer.
10 - 16
3:18
Kevin Garnett Shooting Foul. His 2nd Personal Foul.
10 - 16
3:18
Mehmet Okur made Free Throw 1 of 1.
10 - 17
2:59
Wally Szczerbiak made 25 ft three point jumper.
13 - 17
2:45
Matt Harpring made 20 ft jumper. Assisted by Raul Lopez.
13 - 19
2:31
Troy Hudson missed 18 ft jumper.
13 - 19
2:30
Mehmet Okur defensive rebound.
13 - 19
2:26
Kevin Garnett Shooting Foul. His 2nd Personal Foul.
13 - 19
2:26
Jarron Collins enters the game for Mehmet Okur.
13 - 19
2:26
Carlos Boozer missed Free Throw 1 of 2.
13 - 19
2:26
Utah offensive rebound.
13 - 19
2:26
Eddie Griffin enters the game for Kevin Garnett.
13 - 19
2:26
Carlos Boozer made Free Throw 2 of 2.
13 - 20
2:15
Wally Szczerbiak Offensive Foul. His 3rd Personal Foul.
13 - 20
2:15
Wally Szczerbiak Turnover
13 - 20
2:15
Fred Hoiberg enters the game for Wally Szczerbiak.
13 - 20
2:01
Matt Harpring made 20 ft jumper. Assisted by Carlos Boozer.
13 - 22
1:44
Michael Olowokandi made 9 ft two point shot.
15 - 22
1:31
Raja Bell missed 16 ft jumper.
15 - 22
1:29
Carlos Boozer offensive rebound.
15 - 22
1:23
Matt Harpring made driving layup.
15 - 24
1:07
Raul Lopez Illegal Defense Foul. His 1st Personal Foul.
15 - 24
1:07
Fred Hoiberg made Technical Free Throw.
16 - 24
0:58
Troy Hudson made 8 ft two point shot.
18 - 24
0:40
Raul Lopez missed 19 ft jumper.
18 - 24
0:38
Fred Hoiberg defensive rebound.
18 - 24
0:30
Latrell Sprewell made 21 ft jumper.
20 - 24
0:07
Raja Bell made 23 ft three point jumper. Assisted by Raul Lopez.
20 - 27
0:00
End of the 1st Quarter.
20 - 27

time
TEAM
PLAY
SCORE
12:00
Start of the 2nd Quarter.
20 - 27
11:38
Mehmet Okur missed 17 ft jumper.
20 - 27
11:36
Michael Olowokandi defensive rebound.
20 - 27
11:18
Michael Olowokandi made 8 ft two point shot.
22 - 27
10:57
Mehmet Okur missed 18 ft jumper.
22 - 27
10:56
Fred Hoiberg defensive rebound.
22 - 27
10:40
Michael Olowokandi missed 12 ft two point shot.
22 - 27
10:38
Mehmet Okur defensive rebound.
22 - 27
10:25
Matt Harpring missed driving layup.
22 - 27
10:23
Eddie Griffin defensive rebound.
22 - 27
10:23
Jarron Collins Personal Foul. His 1st Personal Foul.
22 - 27
10:11
Eddie Griffin missed 19 ft jumper.
22 - 27
10:11
Minnesota defensive rebound.
22 - 27
10:11
Michael Olowokandi Loose Ball Foul. His 1st Personal Foul.
22 - 27
10:11
Trenton Hassell enters the game for Latrell Sprewell.
22 - 27
9:59
Mehmet Okur's layup blocked by Eddie Griffin.
22 - 27
9:57
Mehmet Okur offensive rebound.
22 - 27
9:57
Mehmet Okur Traveling
22 - 27
9:48
Mehmet Okur Traveling
22 - 27
9:41
Troy Hudson made 21 ft jumper. Assisted by Eddie Griffin.
24 - 27
9:30
Howard Eisley missed 21 ft jumper.
24 - 27
9:29
Mehmet Okur offensive rebound.
24 - 27
9:19
Mehmet Okur missed 16 ft jumper.
24 - 27
9:19
Utah offensive rebound.
24 - 27
9:19
Trenton Hassell Loose Ball Foul. His 3rd Personal Foul.
24 - 27
9:19
Wally Szczerbiak enters the game for Trenton Hassell.
24 - 27
9:12
Gordan Giricek made 23 ft jumper. Assisted by Howard Eisley.
24 - 29
8:53
Michael Olowokandi made 6 ft two point shot. Assisted by Fred Hoiberg.
26 - 29
8:36
Gordan Giricek Bad Pass
26 - 29
8:36
Official Timeout.
26 - 29
8:26
Troy Hudson missed 17 ft jumper.
26 - 29
8:25
Gordan Giricek defensive rebound.
26 - 29
8:17
Matt Harpring Bad Pass. Stolen by Eddie Griffin.
26 - 29
8:03
Eddie Griffin missed 25 ft three point jumper.
26 - 29
8:02
Gordan Giricek defensive rebound.
26 - 29
7:48
Matt Harpring Lost Ball. Stolen by Michael Olowokandi.
26 - 29
7:46
Gordan Giricek Personal Foul. His 1st Personal Foul.
26 - 29
7:46
Andrei Kirilenko enters the game for Jarron Collins.
26 - 29
7:30
Michael Olowokandi made 8 ft two point shot.
28 - 29
7:15
Mehmet Okur made 14 ft jumper. Assisted by Andrei Kirilenko.
28 - 31
6:50
Fred Hoiberg made 25 ft three point jumper. Assisted by Troy Hudson.
31 - 31
6:37
Michael Olowokandi Personal Foul. His 2nd Personal Foul.
31 - 31
6:37
Carlos Boozer enters the game for Matt Harpring.
31 - 31
6:37
Kevin Garnett enters the game for Eddie Griffin.
31 - 31
6:24
Carlos Boozer made 17 ft jumper. Assisted by Howard Eisley.
31 - 33
6:03
Michael Olowokandi missed 11 ft jumper.
31 - 33
6:01
Wally Szczerbiak offensive rebound.
31 - 33
6:01
Wally Szczerbiak missed tip shot.
31 - 33
6:01
Carlos Boozer defensive rebound.
31 - 33
5:52
Carlos Boozer missed 17 ft jumper.
31 - 33
5:50
Fred Hoiberg defensive rebound.
31 - 33
5:43
Troy Hudson made 25 ft three point jumper. Assisted by Wally Szczerbiak.
34 - 33
5:18
Mehmet Okur missed layup.
34 - 33
5:18
Andrei Kirilenko offensive rebound.
34 - 33
5:18
Andrei Kirilenko's layup blocked by Michael Olowokandi.
34 - 33
5:18
Utah offensive rebound.
34 - 33
5:18
Utah Full Timeout.
34 - 33
5:18
Eddie Griffin enters the game for Michael Olowokandi.
34 - 33
5:11
Howard Eisley missed 18 ft jumper.
34 - 33
5:09
Mehmet Okur offensive rebound.
34 - 33
4:56
Carlos Boozer Lost Ball. Stolen by Eddie Griffin.
34 - 33
4:54
Carlos Boozer Clear Path Foul. His 1st Personal Foul.
34 - 33
4:54
Eddie Griffin made Flagrant Free Throw 1 of 2.
35 - 33
4:54
Raja Bell enters the game for Gordan Giricek.
35 - 33
4:54
Raul Lopez enters the game for Howard Eisley.
35 - 33
4:54
Latrell Sprewell enters the game for Wally Szczerbiak.
35 - 33
4:43
Kevin Garnett Traveling
35 - 33
4:31
Mehmet Okur's layup blocked by Eddie Griffin.
35 - 33
4:30
Eddie Griffin defensive rebound.
35 - 33
4:18
Raul Lopez Personal Foul. His 1st Personal Foul.
35 - 33
4:15
Troy Hudson missed three point jumper.
35 - 33
4:13
Mehmet Okur defensive rebound.
35 - 33
3:55
Raja Bell missed 15 ft two point shot.
35 - 33
3:53
Kevin Garnett defensive rebound.
35 - 33
3:42
Latrell Sprewell missed 17 ft jumper.
35 - 33
3:40
Raul Lopez defensive rebound.
35 - 33
3:28
Carlos Boozer missed 14 ft two point shot.
35 - 33
3:27
Kevin Garnett defensive rebound.
35 - 33
3:12
Eddie Griffin missed 25 ft three point jumper.
35 - 33
3:11
Raja Bell defensive rebound.
35 - 33
3:00
Mehmet Okur missed 18 ft jumper.
35 - 33
2:59
Eddie Griffin defensive rebound.
35 - 33
2:55
Minnesota Full Timeout.
35 - 33
2:55
Matt Harpring enters the game for Mehmet Okur.
35 - 33
2:49
Raul Lopez Personal Foul. His 2nd Personal Foul.
35 - 33
2:49
Troy Hudson made Free Throw 1 of 2.
36 - 33
2:49
Troy Hudson missed Free Throw 2 of 2.
36 - 33
2:49
Michael Olowokandi enters the game for Eddie Griffin.
36 - 33
2:49
Troy Hudson made Free Throw 2 of 2.
37 - 33
2:34
Raul Lopez made 24 ft three point jumper.
37 - 36
2:21
Troy Hudson Traveling
37 - 36
2:01
Carlos Boozer missed 13 ft two point shot.
37 - 36
1:59
Fred Hoiberg defensive rebound.
37 - 36
1:43
Troy Hudson missed 24 ft three point jumper.
37 - 36
1:40
Andrei Kirilenko defensive rebound.
37 - 36
1:36
Raja Bell missed 20 ft jumper.
37 - 36
1:34
Carlos Boozer offensive rebound.
37 - 36
1:34
Michael Olowokandi Shooting Foul. His 3rd Personal Foul.
37 - 36
1:34
Carlos Boozer made Free Throw 1 of 2.
37 - 37
1:34
Eddie Griffin enters the game for Michael Olowokandi.
37 - 37
1:34
Anthony Carter enters the game for Troy Hudson.
37 - 37
1:34
Howard Eisley enters the game for Raul Lopez.
37 - 37
1:34
Kirk Snyder enters the game for Andrei Kirilenko.
37 - 37
1:34
Carlos Boozer missed Free Throw 2 of 2.
37 - 37
1:31
Kevin Garnett defensive rebound.
37 - 37
1:20
Carlos Boozer Shooting Foul. His 2nd Personal Foul.
37 - 37
1:20
Kevin Garnett made Free Throw 1 of 2.
38 - 37
1:20
Curtis Borchardt enters the game for Carlos Boozer.
38 - 37
1:20
Kevin Garnett made Free Throw 2 of 2.
39 - 37
1:08
Howard Eisley missed 6 ft running jumper.
39 - 37
1:07
Kevin Garnett defensive rebound.
39 - 37
0:53
Latrell Sprewell made driving layup.
41 - 37
0:37
Matt Harpring missed layup.
41 - 37
0:35
Raja Bell offensive rebound.
41 - 37
0:35
Raja Bell missed tip shot.
41 - 37
0:33
Utah offensive rebound.
41 - 37
0:29
Howard Eisley missed 20 ft jumper.
41 - 37
0:28
Latrell Sprewell defensive rebound.
41 - 37
0:04
Kevin Garnett missed 9 ft jumper.
41 - 37
0:02
Howard Eisley defensive rebound.
41 - 37
0:00
Howard Eisley missed three point jumper.
41 - 37
0:00
Utah offensive rebound.
41 - 37
0:00
End of the 2nd Quarter.
41 - 37

time
TEAM
PLAY
SCORE
12:00
Start of the 3rd Quarter.
41 - 37
11:45
Carlos Boozer Bad Pass. Stolen by Kevin Garnett.
41 - 37
11:30
Anthony Carter Offensive Foul. His 2nd Personal Foul.
41 - 37
11:30
Anthony Carter Turnover
41 - 37
11:11
Raul Lopez made driving layup.
41 - 39
10:45
Kevin Garnett missed jumper.
41 - 39
10:42
Andrei Kirilenko defensive rebound.
41 - 39
10:29
Raja Bell missed 22 ft jumper.
41 - 39
10:29
Mehmet Okur offensive rebound.
41 - 39
10:29
Wally Szczerbiak Loose Ball Foul. His 3rd Personal Foul.
41 - 39
10:25
Carlos Boozer missed 17 ft jumper.
41 - 39
10:22
Anthony Carter defensive rebound.
41 - 39
10:15
Anthony Carter missed 19 ft jumper.
41 - 39
10:14
Raul Lopez defensive rebound.
41 - 39
10:08
Mehmet Okur missed 7 ft jumper.
41 - 39
10:06
Andrei Kirilenko offensive rebound.
41 - 39
10:04
Andrei Kirilenko's 6 ft jumper blocked by Anthony Carter.
41 - 39
10:02
Anthony Carter defensive rebound.
41 - 39
10:00
Latrell Sprewell made layup. Assisted by Wally Szczerbiak.
43 - 39
9:45
Raul Lopez Bad Pass. Stolen by Kevin Garnett.
43 - 39
9:45
Raul Lopez Personal Foul. His 3rd Personal Foul.
43 - 39
9:45
Michael Olowokandi enters the game for Wally Szczerbiak.
43 - 39
9:33
Kevin Garnett Lost Ball. Stolen by Raul Lopez.
43 - 39
9:19
Andrei Kirilenko made layup.
43 - 41
9:02
Raja Bell Shooting Foul. His 2nd Personal Foul.
43 - 41
9:02
Anthony Carter made Free Throw 1 of 2.
44 - 41
9:02
Anthony Carter made Free Throw 2 of 2.
45 - 41
8:48
Raul Lopez made 20 ft jumper.
45 - 43
8:26
Latrell Sprewell made 22 ft jumper. Assisted by Michael Olowokandi.
47 - 43
8:07
Michael Olowokandi Shooting Foul. His 4th Personal Foul.
47 - 43
8:07
Raja Bell made Free Throw 1 of 2.
47 - 44
8:07
Eddie Griffin enters the game for Michael Olowokandi.
47 - 44
8:07
Raja Bell made Free Throw 2 of 2.
47 - 45
7:56
Anthony Carter Bad Pass. Stolen by Andrei Kirilenko.
47 - 45
7:52
Anthony Carter Shooting Foul. His 2nd Personal Foul.
47 - 45
7:52
Raja Bell made Free Throw 1 of 2.
47 - 46
7:52
Troy Hudson enters the game for Anthony Carter.
47 - 46
7:52
Raja Bell made Free Throw 2 of 2.
47 - 47
7:35
Latrell Sprewell missed 25 ft three point jumper.
47 - 47
7:33
Raul Lopez defensive rebound.
47 - 47
7:22
Raja Bell missed three point jumper.
47 - 47
7:20
Carlos Boozer offensive rebound.
47 - 47
7:11
Andrei Kirilenko made 25 ft three point jumper. Assisted by Raul Lopez.
47 - 50
7:03
Minnesota Full Timeout.
47 - 50
7:03
Wally Szczerbiak enters the game for Trenton Hassell.
47 - 50
7:01
Wally Szczerbiak Backcourt
47 - 50
6:52
Andrei Kirilenko missed 20 ft jumper.
47 - 50
6:50
Mehmet Okur offensive rebound.
47 - 50
6:50
Eddie Griffin Shooting Foul. His 1st Personal Foul.
47 - 50
6:50
Mehmet Okur made Free Throw 1 of 2.
47 - 51
6:50
Mehmet Okur missed Free Throw 2 of 2.
47 - 51
6:48
Carlos Boozer offensive rebound.
47 - 51
6:47
Carlos Boozer made layup.
47 - 53
6:33
Troy Hudson's layup blocked by Andrei Kirilenko.
47 - 53
6:31
Raul Lopez defensive rebound.
47 - 53
6:28
Carlos Boozer made dunk. Assisted by Raul Lopez.
47 - 55
6:11
Raja Bell Personal Foul. His 3rd Personal Foul.
47 - 55
6:03
Kevin Garnett Lost Ball. Stolen by Raul Lopez.
47 - 55
5:58
Raul Lopez missed layup.
47 - 55
5:56
Andrei Kirilenko offensive rebound.
47 - 57
5:56
Andrei Kirilenko made layup.
47 - 57
5:52
Minnesota 20 Sec. Timeout.
47 - 57
5:37
Mehmet Okur Illegal Defense Foul. His 1st Personal Foul.
47 - 57
5:37
Wally Szczerbiak made Technical Free Throw.
48 - 57
5:28
Kevin Garnett missed 17 ft two point shot.
48 - 57
5:28
Carlos Boozer defensive rebound.
48 - 57
5:22
Carlos Boozer made dunk. Assisted by Andrei Kirilenko.
48 - 59
5:05
Eddie Griffin missed 23 ft three point jumper.
48 - 59
5:03
Andrei Kirilenko defensive rebound.
48 - 59
4:46
Carlos Boozer missed 14 ft two point shot.
48 - 59
4:43
Kevin Garnett defensive rebound.
48 - 59
4:39
Wally Szczerbiak Offensive Foul. His 5th Personal Foul.
48 - 59
4:39
Wally Szczerbiak Turnover
48 - 59
4:39
John Thomas enters the game for Eddie Griffin.
48 - 59
4:39
Fred Hoiberg enters the game for Wally Szczerbiak.
48 - 59
4:26
Andrei Kirilenko made slam dunk. Assisted by Raul Lopez.
48 - 61
4:20
Minnesota Full Timeout.
48 - 61
4:07
Latrell Sprewell made 21 ft jumper.
50 - 61
3:42
Raja Bell missed layup.
50 - 61
3:39
Carlos Boozer offensive rebound.
50 - 61
3:38
Carlos Boozer Lost Ball. Stolen by Fred Hoiberg.
50 - 61
3:23
Fred Hoiberg made driving layup. Assisted by Latrell Sprewell.
52 - 61
3:01
Andrei Kirilenko made driving dunk.
52 - 63
2:47
Troy Hudson missed 21 ft jumper.
52 - 63
2:44
Mehmet Okur defensive rebound.
52 - 63
2:31
John Thomas Shooting Foul. His 1st Personal Foul.
52 - 63
2:31
Carlos Boozer made Free Throw 1 of 2.
52 - 64
2:31
Matt Harpring enters the game for Andrei Kirilenko.
52 - 64
2:31
Carlos Boozer missed Free Throw 2 of 2.
52 - 64
2:30
Fred Hoiberg defensive rebound.
52 - 64
2:19
Kevin Garnett made slam dunk. Assisted by Troy Hudson.
54 - 64
2:00
Raja Bell made 25 ft three point jumper. Assisted by Mehmet Okur.
54 - 67
1:43
Latrell Sprewell made 21 ft jumper. Assisted by Troy Hudson.
56 - 67
1:23
Raul Lopez made 17 ft jumper.
56 - 69
1:07
Latrell Sprewell made 17 ft jumper.
58 - 69
0:47
Raja Bell made 22 ft jumper. Assisted by Matt Harpring.
58 - 71
0:32
Latrell Sprewell missed 20 ft jumper.
58 - 71
0:29
Carlos Boozer defensive rebound.
58 - 71
0:06
Raul Lopez missed 24 ft jumper.
58 - 71
0:05
Matt Harpring offensive rebound.
58 - 71
0:05
Shot Clock Violation
58 - 71
0:05
Howard Eisley enters the game for Raul Lopez.
58 - 71
0:05
Wally Szczerbiak enters the game for John Thomas.
58 - 71
0:00
Fred Hoiberg made layup. Assisted by Troy Hudson.
60 - 71
0:00
End of the 3rd Quarter.
60 - 71

time
TEAM
PLAY
SCORE
12:00
Start of the 4th Quarter.
60 - 71
11:49
Troy Hudson made 18 ft jumper.
62 - 71
11:30
Howard Eisley Lost Ball. Stolen by Fred Hoiberg.
62 - 71
11:27
Troy Hudson made layup. Assisted by Kevin Garnett.
64 - 71
11:07
Matt Harpring missed 20 ft jumper.
64 - 71
11:06
Wally Szczerbiak defensive rebound.
64 - 71
10:56
Kevin Garnett made 15 ft two point shot. Assisted by Wally Szczerbiak.
66 - 71
10:26
Andrei Kirilenko missed layup.
66 - 71
10:26
Kevin Garnett defensive rebound.
66 - 71
10:22
Howard Eisley Personal Foul. His 1st Personal Foul.
66 - 71
10:15
Fred Hoiberg missed 24 ft three point jumper.
66 - 71
10:14
Andrei Kirilenko defensive rebound.
66 - 71
9:56
Jarron Collins made 10 ft jumper.
66 - 73
9:38
Troy Hudson missed 17 ft jumper.
66 - 73
9:37
Matt Harpring defensive rebound.
66 - 73
9:30
Andrei Kirilenko missed layup.
66 - 73
9:27
Wally Szczerbiak defensive rebound.
66 - 73
9:18
Troy Hudson missed 19 ft jumper.
66 - 73
9:15
Andrei Kirilenko defensive rebound.
66 - 73
9:03
Andrei Kirilenko made two point shot. Assisted by Jarron Collins.
66 - 75
8:51
Minnesota Full Timeout.
66 - 75
8:51
Gordan Giricek enters the game for Raja Bell.
66 - 75
8:51
Trenton Hassell enters the game for Kevin Garnett.
66 - 75
8:41
Fred Hoiberg Bad Pass. Stolen by Andrei Kirilenko.
66 - 75
8:37
Andrei Kirilenko made layup. Assisted by Howard Eisley.
66 - 77
8:37
Fred Hoiberg Shooting Foul. His 2nd Personal Foul.
66 - 77
8:37
Andrei Kirilenko made Free Throw 1 of 1.
66 - 78
8:21
Fred Hoiberg made layup. Assisted by Michael Olowokandi.
68 - 78
8:21
Gordan Giricek Shooting Foul. His 3rd Personal Foul.
68 - 78
8:21
Fred Hoiberg made Free Throw 1 of 1.
69 - 78
8:00
Gordan Giricek made 23 ft jumper. Assisted by Jarron Collins.
69 - 80
7:41
Howard Eisley Shooting Foul. His 2nd Personal Foul.
69 - 80
7:41
Latrell Sprewell enters the game for Fred Hoiberg.
69 - 80
7:41
Wally Szczerbiak made Free Throw 1 of 2.
70 - 80
7:41
Wally Szczerbiak made Free Throw 2 of 2.
71 - 80
7:30
Howard Eisley missed 21 ft jumper.
71 - 80
7:28
Jarron Collins offensive rebound.
71 - 80
7:26
Troy Hudson Shooting Foul. His 1st Personal Foul.
71 - 80
7:26
Carlos Boozer enters the game for Jarron Collins.
71 - 80
7:26
Howard Eisley missed Free Throw 1 of 2.
71 - 80
7:26
Utah offensive rebound.
71 - 80
7:26
Howard Eisley made Free Throw 2 of 2.
71 - 81
7:11
Carlos Boozer Personal Foul. His 3rd Personal Foul.
71 - 81
7:05
Wally Szczerbiak missed 25 ft three point jumper.
71 - 81
7:03
Minnesota defensive rebound.
71 - 81
6:46
Anthony Carter enters the game for Troy Hudson.
71 - 81
6:41
Carlos Boozer made 20 ft jumper. Assisted by Howard Eisley.
71 - 83
6:22
Anthony Carter's 11 ft jumper blocked by Andrei Kirilenko.
71 - 83
6:20
Latrell Sprewell offensive rebound.
71 - 83
6:16
Wally Szczerbiak's 12 ft running jumper blocked by Andrei Kirilenko.
71 - 83
6:16
Carlos Boozer defensive rebound.
71 - 83
6:16
Anthony Carter Loose Ball Foul. His 3rd Personal Foul.
71 - 83
6:01
Anthony Carter Personal Foul. His 4th Personal Foul.
71 - 83
5:50
Howard Eisley missed driving layup.
71 - 83
5:48
Andrei Kirilenko offensive rebound.
71 - 85
5:48
Andrei Kirilenko made two point shot.
71 - 85
5:30
Wally Szczerbiak missed 11 ft jumper.
71 - 85
5:28
Trenton Hassell offensive rebound.
71 - 85
5:26
Trenton Hassell Offensive Foul. His 5th Personal Foul.
71 - 85
5:26
Trenton Hassell Turnover
71 - 85
5:26
Official Timeout.
71 - 85
5:26
Kevin Garnett enters the game for Trenton Hassell.
71 - 85
5:13
Andrei Kirilenko made 23 ft jumper. Assisted by Howard Eisley.
71 - 87
4:50
Kevin Garnett made 18 ft jumper. Assisted by Latrell Sprewell.
73 - 87
4:28
Carlos Boozer missed two point shot.
73 - 87
4:26
Kevin Garnett defensive rebound.
73 - 87
4:24
Troy Hudson enters the game for Anthony Carter.
73 - 87
4:24
Mehmet Okur enters the game for Matt Harpring.
73 - 87
4:18
Andrei Kirilenko Personal Foul. His 3rd Personal Foul.
73 - 87
4:18
Wally Szczerbiak made Free Throw 1 of 2.
74 - 87
4:18
Raul Lopez enters the game for Howard Eisley.
74 - 87
4:18
Raja Bell enters the game for Gordan Giricek.
74 - 87
4:18
Wally Szczerbiak made Free Throw 2 of 2.
75 - 87
3:59
Raja Bell made 21 ft jumper. Assisted by Andrei Kirilenko.
75 - 89
3:47
Andrei Kirilenko Shooting Foul. His 4th Personal Foul.
75 - 89
3:47
Michael Olowokandi missed Free Throw 1 of 2.
75 - 89
3:47
Minnesota offensive rebound.
75 - 89
3:47
Michael Olowokandi made Free Throw 2 of 2.
76 - 89
3:32
Raul Lopez made 25 ft three point jumper. Assisted by Carlos Boozer.
76 - 92
3:18
Raja Bell Personal Foul. His 4th Personal Foul.
76 - 92
3:18
Eddie Griffin enters the game for Michael Olowokandi.
76 - 92
3:18
Wally Szczerbiak made Free Throw 1 of 2.
77 - 92
3:18
Wally Szczerbiak made Free Throw 2 of 2.
78 - 92
3:05
Mehmet Okur made 19 ft jumper.
78 - 94
2:47
Eddie Griffin made slam dunk. Assisted by Troy Hudson.
80 - 94
2:38
Raul Lopez Bad Pass. Stolen by Troy Hudson.
80 - 94
2:34
Kevin Garnett Turnover
80 - 94
2:34
Utah Full Timeout.
80 - 94
2:17
Carlos Boozer made 17 ft jumper. Assisted by Raja Bell.
80 - 96
2:04
Carlos Boozer Shooting Foul. His 4th Personal Foul.
80 - 96
2:04
Troy Hudson made Free Throw 1 of 2.
81 - 96
2:04
Troy Hudson made Free Throw 2 of 2.
82 - 96
1:59
Mehmet Okur made layup. Assisted by Raja Bell.
82 - 98
1:59
Eddie Griffin Shooting Foul. His 3rd Personal Foul.
82 - 98
1:59
Mehmet Okur missed Free Throw 1 of 1.
82 - 98
1:55
Wally Szczerbiak defensive rebound.
82 - 98
1:45
Troy Hudson Bad Pass
82 - 98
1:45
Fred Hoiberg enters the game for Latrell Sprewell.
82 - 98
1:45
John Thomas enters the game for Kevin Garnett.
82 - 98
1:19
Andrei Kirilenko missed layup.
82 - 98
1:17
John Thomas defensive rebound.
82 - 98
1:15
John Thomas Lost Ball. Stolen by Andrei Kirilenko.
82 - 98
0:53
Mehmet Okur missed two point shot.
82 - 98
0:51
Troy Hudson defensive rebound.
82 - 98
0:43
Troy Hudson Lost Ball. Stolen by Raul Lopez.
82 - 98
0:24
John Thomas Shooting Foul. His 2nd Personal Foul.
82 - 98
0:24
Raul Lopez made Free Throw 1 of 2.
82 - 99
0:24
Raul Lopez made Free Throw 2 of 2.
82 - 100
0:11
Wally Szczerbiak Bad Pass. Stolen by Carlos Boozer.
82 - 100
0:00
End of the 4th Quarter.
82 - 100
0:00
End Game
82 - 100
Kris Dunn's journey to the NBA was not an easy one. He honors his mother after getting drafted by the Timberwolves.

NBA commissioner Adam Silver acting like a rock star at the 2016 NBA Draft, but don't forget the days of David Stern getting booed out of the building.

In selecting Washington's Dejounte Murray, 19, the Spurs see a combo guard who possesses enough upside to develop into one of the draft's steals.
Regular Season Series
MIN wins series 3-1
2015-2016 Northwest Standings