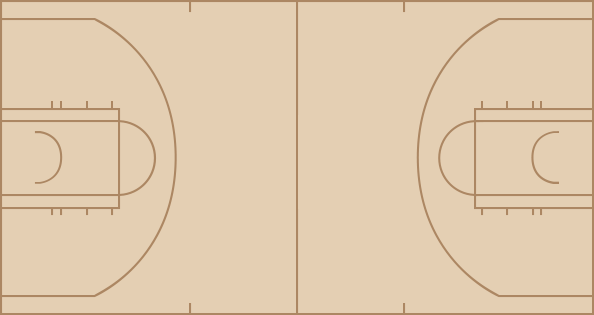 Knicks
time
TEAM
PLAY
SCORE
12:00
Start of the 1st Quarter.
0 - 0
12:00
Jumpball: Nazr Mohammed vs. Samuel Dalembert. Allen Iverson gains possession.
0 - 0
11:41
Allen Iverson made two point shot. Assisted by Kyle Korver.
0 - 2
11:19
Stephon Marbury missed layup.
0 - 2
11:18
Samuel Dalembert defensive rebound.
0 - 2
11:11
Kyle Korver missed 25 ft three point jumper.
0 - 2
11:08
Tim Thomas defensive rebound.
0 - 2
10:48
Tim Thomas missed 22 ft three point jumper.
0 - 2
10:45
Andre Iguodala defensive rebound.
0 - 2
10:37
Allen Iverson Lost Ball. Stolen by Nazr Mohammed.
0 - 2
10:27
Tim Thomas made 16 ft jumper. Assisted by Stephon Marbury.
2 - 2
10:03
Corliss Williamson missed 4 ft jumper.
2 - 2
10:00
Kurt Thomas defensive rebound.
2 - 2
9:53
Jamal Crawford made 26 ft three point jumper. Assisted by Stephon Marbury.
5 - 2
9:34
Kurt Thomas Shooting Foul. His 1st Personal Foul.
5 - 2
9:34
Corliss Williamson missed Free Throw 1 of 2.
5 - 2
9:34
Philadelphia offensive rebound.
5 - 2
9:34
Corliss Williamson made Free Throw 2 of 2.
5 - 3
9:18
Jamal Crawford missed jumper.
5 - 3
9:15
Kyle Korver defensive rebound.
5 - 3
9:04
Corliss Williamson missed layup.
5 - 3
9:02
Corliss Williamson offensive rebound.
5 - 3
8:59
Corliss Williamson made 3 ft two point shot.
5 - 5
8:33
Kurt Thomas missed 11 ft jumper.
5 - 5
8:33
Kyle Korver defensive rebound.
5 - 5
8:23
Allen Iverson missed layup.
5 - 5
8:22
Nazr Mohammed defensive rebound.
5 - 5
8:11
Kurt Thomas made jumper. Assisted by Jamal Crawford.
7 - 5
7:58
Kurt Thomas Personal Foul. His 2nd Personal Foul.
7 - 5
7:58
Marc Jackson enters the game for Corliss Williamson.
7 - 5
7:58
Mike Sweetney enters the game for Kurt Thomas.
7 - 5
7:50
Marc Jackson missed 9 ft jumper.
7 - 5
7:48
Nazr Mohammed defensive rebound.
7 - 5
7:35
Kyle Korver Shooting Foul. His 1st Personal Foul.
7 - 5
7:35
Mike Sweetney made Free Throw 1 of 2.
8 - 5
7:35
Mike Sweetney missed Free Throw 2 of 2.
8 - 5
7:35
Samuel Dalembert defensive rebound.
8 - 5
7:22
Allen Iverson missed 13 ft jumper.
8 - 5
7:20
Tim Thomas defensive rebound.
8 - 5
7:15
Jamal Crawford missed layup.
8 - 5
7:13
New York offensive rebound.
8 - 5
7:11
Mike Sweetney Offensive Foul. His 2nd Personal Foul.
8 - 5
7:11
Mike Sweetney Turnover
8 - 5
7:03
Allen Iverson Turnover
8 - 5
6:43
Stephon Marbury made two point shot.
10 - 5
6:26
Kyle Korver missed 12 ft jumper.
10 - 5
6:24
Mike Sweetney defensive rebound.
10 - 5
6:13
Mike Sweetney made 18 ft jumper. Assisted by Stephon Marbury.
12 - 5
6:05
Allen Iverson made driving layup.
12 - 7
5:52
Tim Thomas made 23 ft three point jumper. Assisted by Stephon Marbury.
15 - 7
5:41
Philadelphia Full Timeout.
15 - 7
5:33
Allen Iverson missed layup.
15 - 7
5:31
Mike Sweetney defensive rebound.
15 - 7
5:18
Jamal Crawford Lost Ball. Stolen by Marc Jackson.
15 - 7
5:13
Andre Iguodala made slam dunk. Assisted by Allen Iverson.
15 - 9
4:50
Tim Thomas missed 11 ft jumper.
15 - 9
4:48
Samuel Dalembert defensive rebound.
15 - 9
4:39
Allen Iverson Bad Pass. Stolen by Jamal Crawford.
15 - 9
4:35
Stephon Marbury made layup. Assisted by Jamal Crawford.
17 - 9
4:22
Marc Jackson made 19 ft jumper. Assisted by Kyle Korver.
17 - 11
3:56
Tim Thomas missed 26 ft three point jumper.
17 - 11
3:54
Samuel Dalembert defensive rebound.
17 - 11
3:47
Allen Iverson made two point shot.
17 - 13
3:38
Allen Iverson Technical Foul. His 1st Technical Foul.
17 - 13
3:38
Stephon Marbury missed Technical Free Throw.
17 - 13
3:38
New York offensive rebound.
17 - 13
3:38
Jerome Williams enters the game for Nazr Mohammed.
17 - 13
3:19
Mike Sweetney missed layup.
17 - 13
3:18
Jerome Williams offensive rebound.
17 - 13
3:11
Jerome Williams missed 18 ft jumper.
17 - 13
3:09
Samuel Dalembert defensive rebound.
17 - 13
3:05
Mike Sweetney Personal Foul. His 2nd Personal Foul.
17 - 13
3:00
Allen Iverson made two point shot.
17 - 15
2:47
Stephon Marbury made driving layup.
19 - 15
2:23
Marc Jackson made jumper. Assisted by Andre Iguodala.
19 - 17
2:05
Samuel Dalembert Personal Foul. His 1st Personal Foul.
19 - 17
2:05
New York Full Timeout.
19 - 17
2:05
Vin Baker enters the game for Mike Sweetney.
19 - 17
2:05
Aaron McKie enters the game for Andre Iguodala.
19 - 17
1:49
Jamal Crawford missed 27 ft three point jumper.
19 - 17
1:47
Samuel Dalembert defensive rebound.
19 - 17
1:43
Stephon Marbury Personal Foul. His 1st Personal Foul.
19 - 17
1:43
Anfernee Hardaway enters the game for Jamal Crawford.
19 - 17
1:37
Allen Iverson made driving layup.
19 - 19
1:20
Tim Thomas missed 23 ft three point jumper.
19 - 19
1:19
Samuel Dalembert defensive rebound.
19 - 19
1:10
Samuel Dalembert missed jumper.
19 - 19
1:09
Philadelphia offensive rebound.
19 - 19
1:09
Jerome Williams Loose Ball Foul. His 1st Personal Foul.
19 - 19
1:09
Trevor Ariza enters the game for Tim Thomas.
19 - 19
1:09
Marc Jackson made Free Throw 1 of 2.
19 - 20
1:09
Marc Jackson made Free Throw 2 of 2.
19 - 21
0:59
Anfernee Hardaway made jumper. Assisted by Vin Baker.
21 - 21
0:42
Allen Iverson Traveling
21 - 21
0:27
Stephon Marbury made two point shot. Assisted by Anfernee Hardaway.
23 - 21
0:10
Marc Jackson made slam dunk. Assisted by Allen Iverson.
23 - 23
0:00
Jerome Williams's 4 ft jumper blocked by Samuel Dalembert.
23 - 23
0:00
New York offensive rebound.
23 - 23
0:00
End of the 1st Quarter.
23 - 23

time
TEAM
PLAY
SCORE
12:00
Start of the 2nd Quarter.
23 - 23
11:45
Stephon Marbury missed 26 ft three point jumper.
23 - 23
11:44
New York defensive rebound.
23 - 23
11:26
Marc Jackson made 11 ft running jumper. Assisted by Allen Iverson.
23 - 25
11:06
Trevor Ariza's layup blocked by Andre Iguodala.
23 - 25
11:03
Brian Skinner defensive rebound.
23 - 25
10:53
Andre Iguodala made driving layup. Assisted by Allen Iverson.
23 - 27
10:34
Vin Baker Offensive Foul. His 2nd Personal Foul.
23 - 27
10:34
Vin Baker Turnover
23 - 27
10:34
Kurt Thomas enters the game for Vin Baker.
23 - 27
10:15
Brian Skinner missed layup.
23 - 27
10:15
Brian Skinner offensive rebound.
23 - 27
10:15
Brian Skinner missed tip shot.
23 - 27
10:14
Jerome Williams defensive rebound.
23 - 27
10:06
Kurt Thomas made 15 ft jumper. Assisted by Anfernee Hardaway.
25 - 27
9:47
Brian Skinner Lost Ball. Stolen by Anfernee Hardaway.
25 - 27
9:42
Stephon Marbury made driving layup. Assisted by Anfernee Hardaway.
27 - 27
9:38
Anfernee Hardaway Personal Foul. His 1st Personal Foul.
27 - 27
9:33
Allen Iverson made two point shot.
27 - 29
9:21
Stephon Marbury made driving layup.
29 - 29
9:12
Kurt Thomas Personal Foul. His 3rd Personal Foul.
29 - 29
9:12
Tim Thomas enters the game for Kurt Thomas.
29 - 29
9:04
Stephon Marbury Shooting Foul. His 2nd Personal Foul.
29 - 29
9:04
Allen Iverson missed Free Throw 1 of 2.
29 - 29
9:04
Philadelphia offensive rebound.
29 - 29
9:04
Josh Davis enters the game for Brian Skinner.
29 - 29
9:04
Allen Iverson made Free Throw 2 of 2.
29 - 30
8:44
Trevor Ariza missed 22 ft jumper.
29 - 30
8:41
Aaron McKie defensive rebound.
29 - 30
8:34
Allen Iverson made driving layup.
29 - 32
8:34
Jerome Williams Shooting Foul. His 2nd Personal Foul.
29 - 32
8:34
Official Timeout.
29 - 32
8:34
Jamal Crawford enters the game for Stephon Marbury.
29 - 32
8:34
Allen Iverson made Free Throw 1 of 1.
29 - 33
8:22
Trevor Ariza missed 20 ft jumper.
29 - 33
8:21
Andre Iguodala defensive rebound.
29 - 33
8:08
Josh Davis missed layup.
29 - 33
8:07
Marc Jackson offensive rebound.
29 - 35
8:07
Marc Jackson made tip shot.
29 - 35
7:48
Jerome Williams missed 14 ft jumper.
29 - 35
7:46
Josh Davis defensive rebound.
29 - 35
7:41
Trevor Ariza Personal Foul. His 1st Personal Foul.
29 - 35
7:41
Allen Iverson made Free Throw 1 of 2.
29 - 36
7:41
Allen Iverson made Free Throw 2 of 2.
29 - 37
7:41
Mike Sweetney enters the game for Jerome Williams.
29 - 37
7:26
Josh Davis offensive rebound.
29 - 37
7:20
Josh Davis defensive rebound.
29 - 37
7:16
Andre Iguodala made two point shot. Assisted by Allen Iverson.
29 - 39
7:01
Trevor Ariza made driving layup. Assisted by Tim Thomas.
31 - 39
6:43
Jamal Crawford Shooting Foul. His 1st Personal Foul.
31 - 39
6:43
Allen Iverson made Free Throw 1 of 2.
31 - 40
6:43
Allen Iverson made Free Throw 2 of 2.
31 - 41
6:24
Anfernee Hardaway missed 18 ft jumper.
31 - 41
6:22
Tim Thomas offensive rebound.
33 - 41
6:22
Tim Thomas made tip shot.
33 - 41
6:13
Allen Iverson missed 17 ft jumper.
33 - 41
6:11
Marc Jackson offensive rebound.
33 - 43
6:11
Marc Jackson made tip shot.
33 - 43
5:58
Josh Davis Illegal Defense Foul. His 1st Personal Foul.
33 - 43
5:58
Philadelphia Full Timeout.
33 - 43
5:58
Jamal Crawford made Technical Free Throw.
34 - 43
5:48
Tim Thomas Bad Pass. Stolen by Allen Iverson.
34 - 43
5:43
Allen Iverson made driving layup.
34 - 45
5:31
Jamal Crawford Lost Ball. Stolen by Andre Iguodala.
34 - 45
5:22
Allen Iverson missed 27 ft three point jumper.
34 - 45
5:20
Josh Davis offensive rebound.
34 - 45
5:11
Josh Davis's layup blocked by Anfernee Hardaway.
34 - 45
5:11
Allen Iverson offensive rebound.
34 - 45
5:09
Allen Iverson missed 19 ft jumper.
34 - 45
5:05
Mike Sweetney defensive rebound.
34 - 45
4:52
Anfernee Hardaway Bad Pass. Stolen by Andre Iguodala.
34 - 45
4:48
Andre Iguodala made two point shot.
34 - 47
4:37
New York Full Timeout.
34 - 47
4:37
Stephon Marbury enters the game for Jamal Crawford.
34 - 47
4:28
Josh Davis Shooting Foul. His 1st Personal Foul.
34 - 47
4:28
Stephon Marbury made Free Throw 1 of 2.
35 - 47
4:28
Stephon Marbury made Free Throw 2 of 2.
36 - 47
4:16
Stephon Marbury Shooting Foul. His 3rd Personal Foul.
36 - 47
4:16
Allen Iverson missed Free Throw 1 of 2.
36 - 47
4:16
Jerome Williams enters the game for Tim Thomas.
36 - 47
4:16
Moochie Norris enters the game for Stephon Marbury.
36 - 47
4:16
Philadelphia offensive rebound.
36 - 47
4:16
Samuel Dalembert enters the game for Josh Davis.
36 - 47
4:16
Allen Iverson made Free Throw 2 of 2.
36 - 48
4:01
Samuel Dalembert Shooting Foul. His 2nd Personal Foul.
36 - 48
4:01
Kyle Korver enters the game for Aaron McKie.
36 - 48
4:01
Mike Sweetney made Free Throw 1 of 2.
37 - 48
4:01
Mike Sweetney missed Free Throw 2 of 2.
37 - 48
4:01
Mike Sweetney made Free Throw 2 of 2.
38 - 48
3:47
Allen Iverson Bad Pass. Stolen by Jerome Williams.
38 - 48
3:40
Jamal Crawford made 26 ft three point jumper.
41 - 48
3:30
Moochie Norris Shooting Foul. His 2nd Personal Foul.
41 - 48
3:30
Allen Iverson made Free Throw 1 of 2.
41 - 49
3:30
Allen Iverson made Free Throw 2 of 2.
41 - 50
3:17
Jamal Crawford missed 19 ft jumper.
41 - 50
3:16
Samuel Dalembert defensive rebound.
41 - 50
3:08
Mike Sweetney Personal Foul. His 3rd Personal Foul.
41 - 50
3:08
Allen Iverson made Free Throw 1 of 2.
41 - 51
3:08
Allen Iverson made Free Throw 2 of 2.
41 - 52
3:08
Vin Baker enters the game for Mike Sweetney.
41 - 52
2:47
Jamal Crawford missed 13 ft jumper.
41 - 52
2:45
Vin Baker offensive rebound.
43 - 52
2:45
Vin Baker made tip shot.
43 - 52
2:24
Marc Jackson missed layup.
43 - 52
2:23
Marc Jackson offensive rebound.
43 - 52
2:21
Marc Jackson made layup.
43 - 54
2:21
Vin Baker Shooting Foul. His 2nd Personal Foul.
43 - 54
2:21
Brian Skinner enters the game for Samuel Dalembert.
43 - 54
2:21
Marc Jackson missed Free Throw 1 of 1.
43 - 54
2:19
Vin Baker defensive rebound.
43 - 54
1:57
Jamal Crawford missed 27 ft three point jumper.
43 - 54
1:54
Kyle Korver defensive rebound.
43 - 54
1:46
Kyle Korver missed 25 ft three point jumper.
43 - 54
1:44
Marc Jackson offensive rebound.
43 - 54
1:44
Marc Jackson Turnover
43 - 54
1:21
Jerome Williams Offensive Foul. His 4th Personal Foul.
43 - 54
1:21
Jerome Williams Turnover
43 - 54
1:21
Nazr Mohammed enters the game for Jerome Williams.
43 - 54
1:12
Allen Iverson made 16 ft running jumper.
43 - 56
0:51
Anfernee Hardaway missed 7 ft jumper.
43 - 56
0:49
Moochie Norris offensive rebound.
43 - 56
0:48
Moochie Norris made layup.
45 - 56
0:42
Allen Iverson Lost Ball. Stolen by Moochie Norris.
45 - 56
0:37
Brian Skinner Shooting Foul. His 1st Personal Foul.
45 - 56
0:37
Vin Baker missed Free Throw 1 of 2.
45 - 56
0:37
New York offensive rebound.
45 - 56
0:37
Vin Baker made Free Throw 2 of 2.
46 - 56
0:33
Vin Baker Personal Foul. His 4th Personal Foul.
46 - 56
0:33
Allen Iverson made Free Throw 1 of 2.
46 - 57
0:33
Allen Iverson made Free Throw 2 of 2.
46 - 58
0:11
Brian Skinner Personal Foul. His 2nd Personal Foul.
46 - 58
0:11
Jamal Crawford made Free Throw 1 of 2.
47 - 58
0:11
Josh Davis enters the game for Brian Skinner.
47 - 58
0:11
Jamal Crawford made Free Throw 2 of 2.
48 - 58
0:00
Marc Jackson made 17 ft jumper. Assisted by Allen Iverson.
48 - 60
0:00
End of the 2nd Quarter.
48 - 60

time
TEAM
PLAY
SCORE
12:00
Start of the 3rd Quarter.
48 - 60
11:47
Stephon Marbury missed layup.
48 - 60
11:45
Samuel Dalembert defensive rebound.
48 - 60
11:37
Corliss Williamson made 20 ft jumper. Assisted by Andre Iguodala.
48 - 62
11:10
Jamal Crawford made 9 ft two point shot.
50 - 62
10:52
Kyle Korver missed 26 ft three point jumper.
50 - 62
10:51
Kurt Thomas defensive rebound.
50 - 62
10:44
Nazr Mohammed Double Dribble
50 - 62
10:26
Tim Thomas Personal Foul. His 1st Personal Foul.
50 - 62
10:22
Kyle Korver made 26 ft three point jumper. Assisted by Samuel Dalembert.
50 - 65
10:02
Nazr Mohammed made 14 ft jumper. Assisted by Jamal Crawford.
52 - 65
9:37
Corliss Williamson made 18 ft jumper. Assisted by Andre Iguodala.
52 - 67
9:18
Jamal Crawford Bad Pass
52 - 67
9:02
Andre Iguodala missed jumper.
52 - 67
9:00
Nazr Mohammed defensive rebound.
52 - 67
8:51
Jamal Crawford made 25 ft three point jumper.
55 - 67
8:34
Kyle Korver made 24 ft three point jumper. Assisted by Allen Iverson.
55 - 70
8:15
Kurt Thomas made 15 ft jumper. Assisted by Jamal Crawford.
57 - 70
8:07
Allen Iverson missed 27 ft three point jumper.
57 - 70
8:07
Nazr Mohammed defensive rebound.
57 - 70
7:52
Stephon Marbury made 22 ft jumper.
59 - 70
7:33
Corliss Williamson missed 8 ft jumper.
59 - 70
7:31
Jamal Crawford defensive rebound.
59 - 70
7:22
Stephon Marbury missed layup.
59 - 70
7:20
Andre Iguodala defensive rebound.
59 - 70
7:15
Tim Thomas Shooting Foul. His 2nd Personal Foul.
59 - 70
7:15
Corliss Williamson made Free Throw 1 of 2.
59 - 71
7:15
Corliss Williamson made Free Throw 2 of 2.
59 - 72
6:56
Tim Thomas made layup. Assisted by Nazr Mohammed.
61 - 72
6:39
Allen Iverson missed 18 ft jumper.
61 - 72
6:37
Nazr Mohammed defensive rebound.
61 - 72
6:31
Jamal Crawford missed layup.
61 - 72
6:31
Kurt Thomas offensive rebound.
61 - 72
6:28
Jamal Crawford made 24 ft three point jumper. Assisted by Kurt Thomas.
64 - 72
6:26
Philadelphia Full Timeout.
64 - 72
6:26
Aaron McKie enters the game for Andre Iguodala.
64 - 72
6:11
Corliss Williamson missed jumper.
64 - 72
6:09
Kurt Thomas defensive rebound.
64 - 72
6:01
Kurt Thomas missed jumper.
64 - 72
5:58
Corliss Williamson defensive rebound.
64 - 72
5:37
Kyle Korver made 24 ft three point jumper. Assisted by Allen Iverson.
64 - 75
5:20
Kurt Thomas missed 16 ft jumper.
64 - 75
5:18
Stephon Marbury offensive rebound.
64 - 75
5:13
Jamal Crawford made 15 ft running jumper. Assisted by Stephon Marbury.
66 - 75
4:58
Nazr Mohammed Shooting Foul. His 1st Personal Foul.
66 - 75
4:58
Samuel Dalembert made Free Throw 1 of 2.
66 - 76
4:58
Kevin Ollie enters the game for Allen Iverson.
66 - 76
4:58
Samuel Dalembert missed Free Throw 2 of 2.
66 - 76
4:54
Kurt Thomas defensive rebound.
66 - 76
4:41
Jamal Crawford missed 26 ft three point jumper.
66 - 76
4:39
New York defensive rebound.
66 - 76
4:39
Marc Jackson enters the game for Samuel Dalembert.
66 - 76
4:18
Kevin Ollie made 19 ft jumper. Assisted by Aaron McKie.
66 - 78
3:59
Kevin Ollie Personal Foul. His 1st Personal Foul.
66 - 78
3:48
Stephon Marbury made 21 ft jumper. Assisted by Tim Thomas.
68 - 78
3:31
Marc Jackson missed 17 ft jumper.
68 - 78
3:29
Kurt Thomas defensive rebound.
68 - 78
3:20
Stephon Marbury made 28 ft three point jumper.
71 - 78
3:08
Kyle Korver made 26 ft three point jumper. Assisted by Kevin Ollie.
71 - 81
2:47
Stephon Marbury missed 26 ft three point jumper.
71 - 81
2:47
Aaron McKie defensive rebound.
71 - 81
2:45
Aaron McKie Offensive Foul. His 2nd Personal Foul.
71 - 81
2:45
Aaron McKie Turnover
71 - 81
2:45
New York Full Timeout.
71 - 81
2:32
Jamal Crawford missed 26 ft three point jumper.
71 - 81
2:31
Aaron McKie defensive rebound.
71 - 81
2:12
Jamal Crawford Shooting Foul. His 2nd Personal Foul.
71 - 81
2:12
Allen Iverson enters the game for Aaron McKie.
71 - 81
2:12
Corliss Williamson made Free Throw 1 of 2.
71 - 82
2:12
Corliss Williamson made Free Throw 2 of 2.
71 - 83
1:55
New York 20 Sec. Timeout.
71 - 83
1:51
Nazr Mohammed made 7 ft two point shot. Assisted by Kurt Thomas.
73 - 83
1:31
Allen Iverson's layup blocked by Tim Thomas.
73 - 83
1:31
Kurt Thomas defensive rebound.
73 - 83
1:30
Kevin Ollie Personal Foul. His 2nd Personal Foul.
73 - 83
1:20
Kurt Thomas Turnover
73 - 83
1:14
Nazr Mohammed Shooting Foul. His 2nd Personal Foul.
73 - 83
1:14
Allen Iverson made Free Throw 1 of 2.
73 - 84
1:14
Allen Iverson made Free Throw 2 of 2.
73 - 85
0:51
Jamal Crawford Turnover
73 - 85
0:40
Allen Iverson Turnover
73 - 85
0:31
Kevin Ollie Personal Foul. His 3rd Personal Foul.
73 - 85
0:31
Stephon Marbury missed Free Throw 1 of 2.
73 - 85
0:31
New York offensive rebound.
73 - 85
0:31
Stephon Marbury made Free Throw 2 of 2.
74 - 85
0:19
Jumpball: Kurt Thomas vs. Corliss Williamson. Nazr Mohammed gains possession.
74 - 85
0:18
Corliss Williamson Lost Ball. Stolen by Kurt Thomas.
74 - 85
0:02
Jamal Crawford missed 15 ft jumper.
74 - 85
0:01
Andre Iguodala defensive rebound.
74 - 85
0:00
Andre Iguodala missed 41 ft three point jumper.
74 - 85
0:00
Philadelphia offensive rebound.
74 - 85
0:00
End of the 3rd Quarter.
74 - 85

time
TEAM
PLAY
SCORE
12:00
Start of the 4th Quarter.
74 - 85
11:41
Allen Iverson missed 26 ft three point jumper.
74 - 85
11:40
Trevor Ariza defensive rebound.
74 - 85
11:27
Anfernee Hardaway missed 21 ft jumper.
74 - 85
11:26
Mike Sweetney offensive rebound.
76 - 85
11:26
Mike Sweetney made layup.
76 - 85
11:11
Anfernee Hardaway Personal Foul. His 2nd Personal Foul.
76 - 85
11:00
Samuel Dalembert missed jumper.
76 - 85
10:59
Mike Sweetney defensive rebound.
76 - 85
10:41
Anfernee Hardaway made 25 ft three point jumper. Assisted by Stephon Marbury.
79 - 85
10:22
Trevor Ariza Personal Foul. His 2nd Personal Foul.
79 - 85
10:22
Kyle Korver enters the game for Andre Iguodala.
79 - 85
10:22
Technical Foul
79 - 85
10:22
Anfernee Hardaway made Technical Free Throw.
80 - 85
10:07
Aaron McKie made 18 ft jumper. Assisted by Allen Iverson.
80 - 87
9:56
Allen Iverson Personal Foul. His 1st Personal Foul.
80 - 87
9:49
Trevor Ariza missed layup.
80 - 87
9:48
Samuel Dalembert defensive rebound.
80 - 87
9:40
Allen Iverson made 10 ft running jumper.
80 - 89
9:22
Mike Sweetney Lost Ball. Stolen by Allen Iverson.
80 - 89
9:11
Aaron McKie missed three point jumper.
80 - 89
9:10
Kurt Thomas defensive rebound.
80 - 89
8:59
Anfernee Hardaway made 8 ft running jumper.
82 - 89
8:41
Mike Sweetney Shooting Foul. His 4th Personal Foul.
82 - 89
8:41
Official Timeout.
82 - 89
8:41
Jerome Williams enters the game for Kurt Thomas.
82 - 89
8:41
Corliss Williamson made Free Throw 1 of 2.
82 - 90
8:41
Corliss Williamson made Free Throw 2 of 2.
82 - 91
8:22
Anfernee Hardaway's jumper blocked by Samuel Dalembert.
82 - 91
8:21
Samuel Dalembert defensive rebound.
82 - 91
8:15
Samuel Dalembert made two point shot.
82 - 93
7:58
Corliss Williamson Personal Foul. His 1st Personal Foul.
82 - 93
7:47
Jerome Williams made 14 ft jumper. Assisted by Stephon Marbury.
84 - 93
7:31
Kyle Korver missed 27 ft three point jumper.
84 - 93
7:28
Trevor Ariza defensive rebound.
84 - 93
7:16
Samuel Dalembert Shooting Foul. His 3rd Personal Foul.
84 - 93
7:16
Jerome Williams made Free Throw 1 of 2.
85 - 93
7:16
Jerome Williams missed Free Throw 2 of 2.
85 - 93
7:16
Samuel Dalembert defensive rebound.
85 - 93
7:01
Allen Iverson missed 5 ft jumper.
85 - 93
7:00
Mike Sweetney defensive rebound.
85 - 93
6:41
Stephon Marbury made driving layup.
87 - 93
6:18
Allen Iverson missed 26 ft three point jumper.
87 - 93
6:16
Mike Sweetney defensive rebound.
87 - 93
6:07
Stephon Marbury made driving layup. Assisted by Anfernee Hardaway.
89 - 93
6:03
Philadelphia Full Timeout.
89 - 93
6:03
Marc Jackson enters the game for Samuel Dalembert.
89 - 93
5:50
Kyle Korver missed 24 ft three point jumper.
89 - 93
5:48
Mike Sweetney defensive rebound.
89 - 93
5:41
Stephon Marbury made 27 ft three point jumper.
92 - 93
5:22
Jumpball: Trevor Ariza vs. Corliss Williamson. Allen Iverson gains possession.
92 - 93
5:11
Allen Iverson missed 25 ft three point jumper.
92 - 93
5:09
Mike Sweetney defensive rebound.
92 - 93
4:58
Jerome Williams made two point shot. Assisted by Stephon Marbury.
94 - 93
4:43
Kyle Korver missed 24 ft three point jumper.
94 - 93
4:43
Philadelphia offensive rebound.
94 - 93
4:37
Marc Jackson made layup. Assisted by Kyle Korver.
94 - 95
4:24
Jerome Williams made layup. Assisted by Anfernee Hardaway.
96 - 95
4:07
Corliss Williamson made layup. Assisted by Marc Jackson.
96 - 97
3:51
Stephon Marbury made 28 ft three point jumper.
99 - 97
3:38
Allen Iverson made 26 ft three point jumper. Assisted by Aaron McKie.
99 - 100
3:24
Trevor Ariza missed 26 ft three point jumper.
99 - 100
3:23
Allen Iverson defensive rebound.
99 - 100
3:15
Corliss Williamson Bad Pass. Stolen by Mike Sweetney.
99 - 100
3:08
Stephon Marbury missed 26 ft three point jumper.
99 - 100
3:05
Mike Sweetney offensive rebound.
99 - 100
2:59
Anfernee Hardaway made 26 ft three point jumper. Assisted by Stephon Marbury.
102 - 100
2:47
Corliss Williamson made layup. Assisted by Marc Jackson.
102 - 102
2:33
Stephon Marbury Offensive Foul. His 5th Personal Foul.
102 - 102
2:33
Stephon Marbury Turnover
102 - 102
2:33
New York Full Timeout.
102 - 102
2:33
Kurt Thomas enters the game for Trevor Ariza.
102 - 102
2:16
Marc Jackson missed 9 ft jumper.
102 - 102
2:15
Mike Sweetney defensive rebound.
102 - 102
2:00
Stephon Marbury missed 9 ft jumper.
102 - 102
1:58
Kyle Korver defensive rebound.
102 - 102
1:57
Kyle Korver Turnover
102 - 102
1:37
Mike Sweetney made two point shot. Assisted by Anfernee Hardaway.
104 - 102
1:25
Kyle Korver missed 26 ft three point jumper.
104 - 102
1:23
Anfernee Hardaway defensive rebound.
104 - 102
1:06
Kyle Korver Shooting Foul. His 2nd Personal Foul.
104 - 102
1:06
Jerome Williams missed Free Throw 1 of 2.
104 - 102
1:06
New York offensive rebound.
104 - 102
1:06
Jerome Williams made Free Throw 2 of 2.
105 - 102
1:06
Philadelphia 20 Sec. Timeout.
105 - 102
0:53
Corliss Williamson made layup. Assisted by Kyle Korver.
105 - 104
0:39
Stephon Marbury missed 20 ft jumper.
105 - 104
0:37
Kyle Korver defensive rebound.
105 - 104
0:27
Allen Iverson Turnover
105 - 104
0:27
New York Full Timeout.
105 - 104
0:27
Jamal Crawford enters the game for Jerome Williams.
105 - 104
0:27
Samuel Dalembert enters the game for Marc Jackson.
105 - 104
0:05
Stephon Marbury missed 18 ft jumper.
105 - 104
0:04
Kyle Korver defensive rebound.
105 - 104
0:04
Philadelphia Full Timeout.
105 - 104
0:04
Marc Jackson enters the game for Samuel Dalembert.
105 - 104
0:04
Trevor Ariza enters the game for Jamal Crawford.
105 - 104
0:01
Marc Jackson made layup. Assisted by Allen Iverson.
105 - 106
0:01
New York Full Timeout.
105 - 106
0:01
Nazr Mohammed enters the game for Trevor Ariza.
105 - 106
0:01
Jamal Crawford enters the game for Mike Sweetney.
105 - 106
0:01
Samuel Dalembert enters the game for Marc Jackson.
105 - 106
0:00
Nazr Mohammed missed layup.
105 - 106
0:00
New York defensive rebound.
105 - 106
0:00
End of the 4th Quarter.
105 - 106
0:00
End Game
105 - 106
The latest notes, updates and analysis on the Pelicans from around the web.

Brendan Haywood compares this year's Hawks with last year's team and feels they will have trouble getting one win against Cavaliers in their upcoming series.

Follow our #NBArank countdown of the best playoff Vines in NBA history. Here's No. 6.
Regular Season Series
NY wins series 3-1
2015-2016 Atlantic Standings