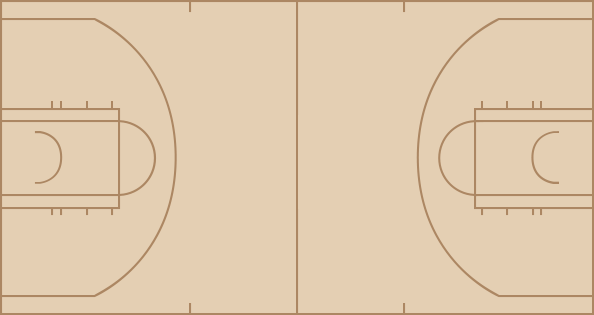 Trail Blazers
time
TEAM
PLAY
SCORE
12:00
Start of the 1st Quarter.
0 - 0
12:00
Jumpball: Joel Przybilla vs. Jermaine O'Neal. Jeff Foster gains possession.
0 - 0
11:44
Jermaine O'Neal missed 15 ft jumper.
0 - 0
11:42
Jeff Foster offensive rebound.
0 - 0
11:41
Jeff Foster made layup.
0 - 2
11:41
Theo Ratliff Illegal Defense
0 - 2
11:26
Stephen Jackson Personal Foul. His 1st Personal Foul.
0 - 2
11:14
Ruben Patterson missed 8 ft two point shot.
0 - 2
11:12
Jeff Foster defensive rebound.
0 - 2
11:03
Jermaine O'Neal missed 9 ft jumper.
0 - 2
11:02
Jeff Foster offensive rebound.
0 - 2
10:55
Reggie Miller made 25 ft three point jumper. Assisted by Stephen Jackson.
0 - 5
10:32
Joel Przybilla Bad Pass. Stolen by Stephen Jackson.
0 - 5
10:18
Jeff Foster missed 4 ft jumper.
0 - 5
10:18
Jeff Foster offensive rebound.
0 - 5
10:18
Joel Przybilla Shooting Foul. His 1st Personal Foul.
0 - 5
10:18
Jeff Foster missed Free Throw 1 of 2.
0 - 5
10:18
Indiana offensive rebound.
0 - 5
10:18
Jeff Foster made Free Throw 2 of 2.
0 - 6
10:02
Nick Van Exel missed 25 ft three point jumper.
0 - 6
10:00
Ruben Patterson offensive rebound.
0 - 6
9:59
Ruben Patterson's layup blocked by Jermaine O'Neal.
0 - 6
9:56
Anthony Johnson defensive rebound.
0 - 6
9:45
Stephen Jackson missed 21 ft jumper.
0 - 6
9:44
Nick Van Exel defensive rebound.
0 - 6
9:25
Damon Stoudamire made 20 ft jumper.
2 - 6
9:03
Reggie Miller made 14 ft jumper. Assisted by Jermaine O'Neal.
2 - 8
8:49
Joel Przybilla made jumper.
4 - 8
8:29
Jeff Foster missed 2 ft two point shot.
4 - 8
8:27
Joel Przybilla defensive rebound.
4 - 8
8:18
Damon Stoudamire made 16 ft jumper.
6 - 8
7:58
Jermaine O'Neal missed 18 ft jumper.
6 - 8
7:56
Joel Przybilla defensive rebound.
6 - 8
7:54
Damon Stoudamire Bad Pass
6 - 8
7:31
Anthony Johnson missed 19 ft jumper.
6 - 8
7:30
Joel Przybilla defensive rebound.
6 - 8
7:24
Damon Stoudamire missed 25 ft three point jumper.
6 - 8
7:24
Jermaine O'Neal defensive rebound.
6 - 8
7:16
Stephen Jackson missed 21 ft jumper.
6 - 8
7:15
Theo Ratliff defensive rebound.
6 - 8
7:07
Stephen Jackson Personal Foul. His 2nd Personal Foul.
6 - 8
7:07
James Jones enters the game for Stephen Jackson.
6 - 8
7:00
Joel Przybilla made dunk. Assisted by Damon Stoudamire.
8 - 8
6:41
James Jones missed 26 ft three point jumper.
8 - 8
6:39
Joel Przybilla defensive rebound.
8 - 8
6:33
Ruben Patterson's layup blocked by Jermaine O'Neal.
8 - 8
6:31
Jeff Foster defensive rebound.
8 - 8
6:20
James Jones Turnover
8 - 8
6:03
Damon Stoudamire Bad Pass. Stolen by Jeff Foster.
8 - 8
6:00
Reggie Miller made layup. Assisted by Anthony Johnson.
8 - 10
5:35
Damon Stoudamire missed 25 ft three point jumper.
8 - 10
5:33
Jermaine O'Neal defensive rebound.
8 - 10
5:24
Anthony Johnson missed 5 ft jumper.
8 - 10
5:24
Jeff Foster offensive rebound.
8 - 10
5:22
Jeff Foster's layup blocked by Joel Przybilla.
8 - 10
5:20
Joel Przybilla defensive rebound.
8 - 10
5:07
Joel Przybilla's dunk blocked by Jermaine O'Neal.
8 - 10
5:07
Jeff Foster defensive rebound.
8 - 10
5:07
Portland offensive rebound.
8 - 10
5:07
Jumpball: Joel Przybilla vs. Jeff Foster. James Jones gains possession.
8 - 10
5:07
Indiana Full Timeout.
8 - 10
4:52
Jermaine O'Neal missed layup.
8 - 10
4:50
Damon Stoudamire defensive rebound.
8 - 10
4:45
Damon Stoudamire missed 6 ft jumper.
8 - 10
4:43
Anthony Johnson defensive rebound.
8 - 10
4:35
Jermaine O'Neal missed 6 ft jumper.
8 - 10
4:33
Joel Przybilla defensive rebound.
8 - 10
4:11
Nick Van Exel made 18 ft jumper.
10 - 10
3:57
Jeff Foster made driving layup. Assisted by Anthony Johnson.
10 - 12
3:41
Anthony Johnson Personal Foul. His 1st Personal Foul.
10 - 12
3:41
Austin Croshere enters the game for Jeff Foster.
10 - 12
3:41
Fred Jones enters the game for Reggie Miller.
10 - 12
3:27
Jermaine O'Neal Shooting Foul. His 1st Personal Foul.
10 - 12
3:27
Darius Miles enters the game for Joel Przybilla.
10 - 12
3:27
Damon Stoudamire made Free Throw 1 of 2.
11 - 12
3:27
Eddie Gill enters the game for Anthony Johnson.
11 - 12
3:27
Damon Stoudamire made Free Throw 2 of 2.
12 - 12
3:01
Jermaine O'Neal missed 17 ft jumper.
12 - 12
3:00
Darius Miles defensive rebound.
12 - 12
2:49
Ruben Patterson missed 4 ft jumper.
12 - 12
2:48
James Jones defensive rebound.
12 - 12
2:35
Fred Jones made 23 ft three point jumper. Assisted by James Jones.
12 - 15
2:26
Portland Full Timeout.
12 - 15
2:21
Eddie Gill Personal Foul. His 1st Personal Foul.
12 - 15
2:21
Damon Stoudamire missed Free Throw 1 of 2.
12 - 15
2:21
Portland offensive rebound.
12 - 15
2:21
Damon Stoudamire made Free Throw 2 of 2.
13 - 15
2:00
James Jones missed 27 ft three point jumper.
13 - 15
1:58
Ruben Patterson defensive rebound.
13 - 15
1:53
Nick Van Exel made 25 ft three point jumper.
16 - 15
1:38
Jermaine O'Neal missed 18 ft jumper.
16 - 15
1:37
Austin Croshere offensive rebound.
16 - 15
1:25
Scot Pollard enters the game for Jermaine O'Neal.
16 - 15
1:25
Sebastian Telfair enters the game for Damon Stoudamire.
16 - 15
1:17
Fred Jones missed 25 ft three point jumper.
16 - 15
1:15
Ruben Patterson defensive rebound.
16 - 15
1:14
Ruben Patterson Lost Ball. Stolen by Scot Pollard.
16 - 15
1:01
Sebastian Telfair Personal Foul. His 1st Personal Foul.
16 - 15
0:48
James Jones's 25 ft three point jumper blocked by Ruben Patterson.
16 - 15
0:47
Sebastian Telfair defensive rebound.
16 - 15
0:45
Ruben Patterson made layup. Assisted by Nick Van Exel.
18 - 15
0:29
Fred Jones made 10 ft running jumper.
18 - 17
0:08
Nick Van Exel missed 22 ft jumper.
18 - 17
0:06
Fred Jones defensive rebound.
18 - 17
0:06
Viktor Khryapa enters the game for Theo Ratliff.
18 - 17
0:01
Viktor Khryapa Shooting Foul. His 1st Personal Foul.
18 - 17
0:01
Fred Jones missed Free Throw 1 of 3.
18 - 17
0:01
Indiana offensive rebound.
18 - 17
0:01
Fred Jones made Free Throw 2 of 3.
18 - 18
0:01
Joel Przybilla enters the game for Viktor Khryapa.
18 - 18
0:01
Fred Jones made Free Throw 3 of 3.
18 - 19
0:00
Ruben Patterson missed jumper.
18 - 19
0:00
Portland offensive rebound.
18 - 19
0:00
End of the 1st Quarter.
18 - 19

time
TEAM
PLAY
SCORE
12:00
Start of the 2nd Quarter.
18 - 19
11:47
Austin Croshere Shooting Foul. His 1st Personal Foul.
18 - 19
11:47
Joel Przybilla missed Free Throw 1 of 2.
18 - 19
11:47
Portland offensive rebound.
18 - 19
11:47
Joel Przybilla made Free Throw 2 of 2.
19 - 19
11:23
Stephen Jackson made 12 ft jumper.
19 - 21
11:04
Darius Miles made dunk. Assisted by Joel Przybilla.
21 - 21
10:36
Eddie Gill missed 40 ft three point jumper.
21 - 21
10:34
Indiana offensive rebound.
21 - 21
10:34
Shot Clock Violation
21 - 21
10:15
Darius Miles missed 20 ft jumper.
21 - 21
10:14
Eddie Gill defensive rebound.
21 - 21
9:55
Eddie Gill made three point jumper. Assisted by Fred Jones.
21 - 24
9:45
Nick Van Exel made 25 ft three point jumper. Assisted by Sebastian Telfair.
24 - 24
9:27
Stephen Jackson made 18 ft jumper. Assisted by Fred Jones.
24 - 26
9:21
Nick Van Exel Turnover
24 - 26
9:21
Damon Stoudamire enters the game for Nick Van Exel.
24 - 26
9:15
Sebastian Telfair Personal Foul. His 2nd Personal Foul.
24 - 26
9:03
Fred Jones made 2 ft two point shot.
24 - 28
8:56
Austin Croshere Personal Foul. His 2nd Personal Foul.
24 - 28
8:56
Official Timeout.
24 - 28
8:56
Derek Anderson enters the game for Sebastian Telfair.
24 - 28
8:45
Darius Miles made 1 ft two point shot. Assisted by Damon Stoudamire.
26 - 28
8:26
Stephen Jackson's layup blocked by Joel Przybilla.
26 - 28
8:23
Indiana offensive rebound.
26 - 28
8:18
Fred Jones made 13 ft running jumper.
26 - 30
8:00
Joel Przybilla made dunk. Assisted by Damon Stoudamire.
28 - 30
7:43
Jermaine O'Neal enters the game for Austin Croshere.
28 - 30
7:43
Jeff Foster enters the game for Scot Pollard.
28 - 30
7:43
Anthony Johnson enters the game for Eddie Gill.
28 - 30
7:37
Anthony Johnson made 25 ft three point jumper. Assisted by Stephen Jackson.
28 - 33
7:28
Derek Anderson Bad Pass. Stolen by Jermaine O'Neal.
28 - 33
7:11
Stephen Jackson missed 16 ft jumper.
28 - 33
7:09
Joel Przybilla defensive rebound.
28 - 33
6:50
Joel Przybilla Lost Ball. Stolen by Anthony Johnson.
28 - 33
6:43
Anthony Johnson missed 25 ft three point jumper.
28 - 33
6:41
Derek Anderson defensive rebound.
28 - 33
6:35
Darius Miles missed jumper.
28 - 33
6:33
Jeff Foster defensive rebound.
28 - 33
6:20
Stephen Jackson missed 26 ft three point jumper.
28 - 33
6:18
Joel Przybilla defensive rebound.
28 - 33
6:01
Joel Przybilla made jumper. Assisted by Derek Anderson.
30 - 33
5:54
Indiana Full Timeout.
30 - 33
5:54
Ruben Patterson enters the game for Viktor Khryapa.
30 - 33
5:47
Jermaine O'Neal's 5 ft jumper blocked by Darius Miles.
30 - 33
5:47
Indiana offensive rebound.
30 - 33
5:37
Stephen Jackson missed 25 ft three point jumper.
30 - 33
5:35
Joel Przybilla defensive rebound.
30 - 33
5:20
Fred Jones Personal Foul. His 1st Personal Foul.
30 - 33
5:05
Darius Miles missed 16 ft jumper.
30 - 33
5:03
Portland defensive rebound.
30 - 33
4:46
Ruben Patterson Personal Foul. His 1st Personal Foul.
30 - 33
4:41
Fred Jones Bad Pass. Stolen by Darius Miles.
30 - 33
4:33
Darius Miles Bad Pass. Stolen by Stephen Jackson.
30 - 33
4:16
Anthony Johnson missed 3 ft jumper.
30 - 33
4:16
Darius Miles defensive rebound.
30 - 33
4:11
Jermaine O'Neal Personal Foul. His 2nd Personal Foul.
30 - 33
4:11
Nick Van Exel enters the game for Derek Anderson.
30 - 33
4:11
Reggie Miller enters the game for Fred Jones.
30 - 33
4:01
Ruben Patterson Traveling
30 - 33
3:45
Stephen Jackson missed 21 ft jumper.
30 - 33
3:44
Darius Miles defensive rebound.
30 - 33
3:35
Joel Przybilla made dunk. Assisted by Nick Van Exel.
32 - 33
3:16
Jermaine O'Neal Offensive Foul. His 4th Personal Foul.
32 - 33
3:16
Jermaine O'Neal Turnover
32 - 33
3:16
Austin Croshere enters the game for Jermaine O'Neal.
32 - 33
2:57
Nick Van Exel made 21 ft jumper.
34 - 33
2:36
Austin Croshere's 26 ft three point jumper blocked by Darius Miles.
34 - 33
2:34
Stephen Jackson offensive rebound.
34 - 33
2:33
Stephen Jackson made two point shot.
34 - 35
2:09
Ruben Patterson made layup. Assisted by Darius Miles.
36 - 35
2:09
Jeff Foster Shooting Foul. His 1st Personal Foul.
36 - 35
2:09
Portland Full Timeout.
36 - 35
2:09
Fred Jones enters the game for Stephen Jackson.
36 - 35
2:09
Ruben Patterson missed Free Throw 1 of 1.
36 - 35
2:08
Fred Jones defensive rebound.
36 - 35
1:49
Jeff Foster made 18 ft jumper. Assisted by Anthony Johnson.
36 - 37
1:31
Darius Miles missed 5 ft jumper.
36 - 37
1:30
Ruben Patterson offensive rebound.
36 - 37
1:27
Ruben Patterson missed layup.
36 - 37
1:25
Joel Przybilla offensive rebound.
38 - 37
1:25
Joel Przybilla made tip shot.
38 - 37
1:15
Reggie Miller made 13 ft jumper. Assisted by Fred Jones.
38 - 39
0:54
Jumpball: Joel Przybilla vs. Austin Croshere. Ruben Patterson gains possession.
38 - 39
0:50
Ruben Patterson made 16 ft jumper.
40 - 39
0:31
Anthony Johnson made 11 ft two point shot.
40 - 41
0:12
Nick Van Exel missed 17 ft jumper.
40 - 41
0:09
Joel Przybilla offensive rebound.
40 - 41
0:09
Joel Przybilla missed layup.
40 - 41
0:08
Austin Croshere defensive rebound.
40 - 41
0:02
Damon Stoudamire Personal Foul. His 1st Personal Foul.
40 - 41
0:02
Indiana 20 Sec. Timeout.
40 - 41
0:00
Austin Croshere made jumper. Assisted by Anthony Johnson.
40 - 43
0:00
Ruben Patterson missed 39 ft three point jumper.
40 - 43
0:00
Portland offensive rebound.
40 - 43
0:00
End of the 2nd Quarter.
40 - 43

time
TEAM
PLAY
SCORE
12:00
Start of the 3rd Quarter.
40 - 43
11:44
Theo Ratliff's layup blocked by Jeff Foster.
40 - 43
11:41
Jeff Foster defensive rebound.
40 - 43
11:23
Jermaine O'Neal missed 8 ft jumper.
40 - 43
11:22
Jeff Foster offensive rebound.
40 - 43
11:19
Reggie Miller missed 25 ft three point jumper.
40 - 43
11:18
Indiana defensive rebound.
40 - 43
10:57
Ruben Patterson missed 17 ft jumper.
40 - 43
10:56
Jeff Foster defensive rebound.
40 - 43
10:47
Jeff Foster Bad Pass. Stolen by Ruben Patterson.
40 - 43
10:44
Ruben Patterson made dunk.
42 - 43
10:22
Jermaine O'Neal made 13 ft jumper.
42 - 45
10:12
Anthony Johnson Personal Foul. His 2nd Personal Foul.
42 - 45
10:03
Nick Van Exel made jumper.
44 - 45
9:51
Anthony Johnson's layup blocked by Joel Przybilla.
44 - 45
9:48
Jeff Foster offensive rebound.
44 - 45
9:48
Jeff Foster made 5 ft two point shot.
44 - 47
9:29
Nick Van Exel missed 26 ft three point jumper.
44 - 47
9:27
Joel Przybilla offensive rebound.
44 - 47
9:14
Joel Przybilla missed 13 ft jumper.
44 - 47
9:11
Ruben Patterson offensive rebound.
44 - 47
9:11
Ruben Patterson missed tip shot.
44 - 47
9:11
Stephen Jackson defensive rebound.
44 - 47
9:00
Reggie Miller made 25 ft three point jumper. Assisted by Anthony Johnson.
44 - 50
8:33
Damon Stoudamire missed 24 ft three point jumper.
44 - 50
8:30
Theo Ratliff offensive rebound.
44 - 50
8:30
Theo Ratliff missed layup.
44 - 50
8:27
Jeff Foster defensive rebound.
44 - 50
8:08
Reggie Miller made 6 ft running jumper. Assisted by Anthony Johnson.
44 - 52
8:07
Portland Full Timeout.
44 - 52
7:50
Nick Van Exel made 16 ft running jumper.
46 - 52
7:35
Reggie Miller made 11 ft jumper. Assisted by Anthony Johnson.
46 - 54
7:22
Nick Van Exel made 9 ft two point shot.
48 - 54
7:05
Reggie Miller Turnover
48 - 54
6:52
Theo Ratliff's 6 ft jumper blocked by Jermaine O'Neal.
48 - 54
6:52
Portland offensive rebound.
48 - 54
6:48
Damon Stoudamire Lost Ball. Stolen by Anthony Johnson.
48 - 54
6:35
Theo Ratliff Shooting Foul. His 1st Personal Foul.
48 - 54
6:35
Reggie Miller made Free Throw 1 of 3.
48 - 55
6:35
Reggie Miller made Free Throw 2 of 3.
48 - 56
6:35
Reggie Miller made Free Throw 3 of 3.
48 - 57
6:18
Jeff Foster Illegal Defense Foul. His 2nd Personal Foul.
48 - 57
6:18
Damon Stoudamire missed Technical Free Throw.
48 - 57
6:18
Portland offensive rebound.
48 - 57
6:13
Nick Van Exel missed 10 ft jumper.
48 - 57
6:11
Ruben Patterson offensive rebound.
48 - 57
6:09
Ruben Patterson made layup.
50 - 57
5:52
Jermaine O'Neal's layup blocked by Ruben Patterson.
50 - 57
5:52
Ruben Patterson defensive rebound.
50 - 57
5:26
Nick Van Exel missed 12 ft jumper.
50 - 57
5:24
Stephen Jackson defensive rebound.
50 - 57
5:09
Anthony Johnson missed 22 ft three point jumper.
50 - 57
5:07
Jeff Foster offensive rebound.
50 - 57
5:03
Stephen Jackson made 25 ft three point jumper. Assisted by Jeff Foster.
50 - 60
4:45
Damon Stoudamire missed 8 ft jumper.
50 - 60
4:43
Jermaine O'Neal defensive rebound.
50 - 60
4:43
Theo Ratliff Loose Ball Foul. His 2nd Personal Foul.
50 - 60
4:43
Darius Miles enters the game for Joel Przybilla.
50 - 60
4:30
Reggie Miller made 13 ft running jumper.
50 - 62
4:26
Portland 20 Sec. Timeout.
50 - 62
4:11
Darius Miles made driving layup.
52 - 62
3:59
Reggie Miller Offensive Foul. His 2nd Personal Foul.
52 - 62
3:59
Reggie Miller Turnover
52 - 62
3:44
Darius Miles missed 13 ft jumper.
52 - 62
3:42
Jermaine O'Neal defensive rebound.
52 - 62
3:40
Jermaine O'Neal Lost Ball. Stolen by Ruben Patterson.
52 - 62
3:38
Ruben Patterson made layup.
54 - 62
3:31
Jermaine O'Neal Technical Foul. His 1st Technical Foul.
54 - 62
3:31
Indiana Full Timeout.
54 - 62
3:31
Damon Stoudamire made Technical Free Throw.
55 - 62
3:24
Reggie Miller made 24 ft three point jumper. Assisted by Anthony Johnson.
55 - 65
3:06
Jeff Foster Shooting Foul. His 2nd Personal Foul.
55 - 65
3:06
Darius Miles missed Free Throw 1 of 2.
55 - 65
3:06
Portland offensive rebound.
55 - 65
3:06
Darius Miles made Free Throw 2 of 2.
56 - 65
2:48
Jermaine O'Neal made 6 ft two point shot. Assisted by Reggie Miller.
56 - 67
2:35
Ruben Patterson made layup. Assisted by Damon Stoudamire.
58 - 67
2:10
Anthony Johnson missed 16 ft jumper.
58 - 67
2:09
Damon Stoudamire defensive rebound.
58 - 67
2:04
Darius Miles made dunk. Assisted by Ruben Patterson.
60 - 67
1:42
Jeff Foster's layup blocked by Darius Miles.
60 - 67
1:42
Indiana offensive rebound.
60 - 67
1:42
Eddie Gill enters the game for Anthony Johnson.
60 - 67
1:42
Sebastian Telfair enters the game for Damon Stoudamire.
60 - 67
1:42
Fred Jones enters the game for Stephen Jackson.
60 - 67
1:37
Jermaine O'Neal missed 17 ft jumper.
60 - 67
1:36
Jeff Foster offensive rebound.
60 - 67
1:36
Darius Miles Shooting Foul. His 1st Personal Foul.
60 - 67
1:36
Jeff Foster missed Free Throw 1 of 2.
60 - 67
1:36
Indiana offensive rebound.
60 - 67
1:36
Austin Croshere enters the game for Jermaine O'Neal.
60 - 67
1:36
Jeff Foster made Free Throw 2 of 2.
60 - 68
1:20
Darius Miles made 2 ft two point shot.
62 - 68
1:01
Jeff Foster's layup blocked by Theo Ratliff.
62 - 68
1:00
Eddie Gill offensive rebound.
62 - 68
0:57
Reggie Miller missed 23 ft three point jumper.
62 - 68
0:55
Jeff Foster offensive rebound.
62 - 68
0:40
Reggie Miller missed 23 ft three point jumper.
62 - 68
0:38
Darius Miles defensive rebound.
62 - 68
0:32
Darius Miles Bad Pass. Stolen by Austin Croshere.
62 - 68
0:24
Reggie Miller missed 24 ft three point jumper.
62 - 68
0:21
Ruben Patterson defensive rebound.
62 - 68
0:06
Darius Miles missed 4 ft jumper.
62 - 68
0:05
Austin Croshere defensive rebound.
62 - 68
0:00
Theo Ratliff Shooting Foul. His 3rd Personal Foul.
62 - 68
0:00
Fred Jones made Free Throw 1 of 3.
62 - 69
0:00
James Jones enters the game for Reggie Miller.
62 - 69
0:00
Fred Jones made Free Throw 2 of 3.
62 - 70
0:00
Fred Jones made Free Throw 3 of 3.
62 - 71
0:00
End of the 3rd Quarter.
62 - 71

time
TEAM
PLAY
SCORE
12:00
Start of the 4th Quarter.
62 - 71
11:34
Fred Jones missed three point jumper.
62 - 71
11:33
Sebastian Telfair defensive rebound.
62 - 71
11:11
Nick Van Exel missed 19 ft jumper.
62 - 71
11:08
Ruben Patterson offensive rebound.
62 - 71
11:07
Ruben Patterson's layup blocked by Austin Croshere.
62 - 71
11:06
Fred Jones defensive rebound.
62 - 71
10:49
Fred Jones missed 24 ft three point jumper.
62 - 71
10:47
Scot Pollard offensive rebound.
62 - 71
10:37
Sebastian Telfair Personal Foul. His 3rd Personal Foul.
62 - 71
10:37
Stephen Jackson enters the game for James Jones.
62 - 71
10:37
Damon Stoudamire enters the game for Nick Van Exel.
62 - 71
10:33
Austin Croshere's 25 ft three point jumper blocked by Darius Miles.
62 - 71
10:32
Darius Miles defensive rebound.
62 - 71
10:22
Stephen Jackson Personal Foul. His 3rd Personal Foul.
62 - 71
10:18
Joel Przybilla's layup blocked by Fred Jones.
62 - 71
10:15
Austin Croshere defensive rebound.
62 - 71
10:08
Darius Miles Personal Foul. His 2nd Personal Foul.
62 - 71
10:08
Viktor Khryapa enters the game for Ruben Patterson.
62 - 71
10:00
Stephen Jackson missed 26 ft three point jumper.
62 - 71
9:57
Sebastian Telfair defensive rebound.
62 - 71
9:49
Sebastian Telfair missed 11 ft jumper.
62 - 71
9:48
Joel Przybilla offensive rebound.
62 - 71
9:45
Austin Croshere Shooting Foul. His 3rd Personal Foul.
62 - 71
9:45
Viktor Khryapa missed Free Throw 1 of 2.
62 - 71
9:45
Portland offensive rebound.
62 - 71
9:45
Viktor Khryapa made Free Throw 2 of 2.
63 - 71
9:26
Eddie Gill's layup blocked by Joel Przybilla.
63 - 71
9:25
Sebastian Telfair defensive rebound.
63 - 71
9:15
Stephen Jackson Shooting Foul. His 4th Personal Foul.
63 - 71
9:15
Viktor Khryapa made Free Throw 1 of 2.
64 - 71
9:15
Viktor Khryapa made Free Throw 2 of 2.
65 - 71
8:49
Eddie Gill missed 26 ft three point jumper.
65 - 71
8:48
Austin Croshere offensive rebound.
65 - 71
8:47
Austin Croshere missed dunk.
65 - 71
8:45
Darius Miles defensive rebound.
65 - 71
8:22
Sebastian Telfair made 25 ft three point jumper. Assisted by Damon Stoudamire.
68 - 71
8:18
Indiana Full Timeout.
68 - 71
8:18
Reggie Miller enters the game for Austin Croshere.
68 - 71
8:18
Jeff Foster enters the game for Scot Pollard.
68 - 71
8:18
Jermaine O'Neal enters the game for Stephen Jackson.
68 - 71
8:18
Anthony Johnson enters the game for Eddie Gill.
68 - 71
7:58
Reggie Miller missed 25 ft three point jumper.
68 - 71
7:56
Darius Miles defensive rebound.
68 - 71
7:43
Sebastian Telfair missed jumper.
68 - 71
7:41
Fred Jones defensive rebound.
68 - 71
7:26
Jermaine O'Neal's jumper blocked by Darius Miles.
68 - 71
7:24
Jermaine O'Neal offensive rebound.
68 - 71
7:22
Jermaine O'Neal missed 10 ft jumper.
68 - 71
7:20
Joel Przybilla defensive rebound.
68 - 71
7:03
Darius Miles made 16 ft jumper.
70 - 71
6:45
Reggie Miller made 25 ft three point jumper. Assisted by Anthony Johnson.
70 - 74
6:20
Darius Miles missed 18 ft jumper.
70 - 74
6:18
Jermaine O'Neal defensive rebound.
70 - 74
6:09
Viktor Khryapa Personal Foul. His 2nd Personal Foul.
70 - 74
6:09
Nick Van Exel enters the game for Sebastian Telfair.
70 - 74
6:09
Ruben Patterson enters the game for Viktor Khryapa.
70 - 74
6:05
Darius Miles Personal Foul. His 3rd Personal Foul.
70 - 74
5:50
Anthony Johnson missed 25 ft three point jumper.
70 - 74
5:48
Joel Przybilla defensive rebound.
70 - 74
5:48
Jeff Foster Loose Ball Foul. His 3rd Personal Foul.
70 - 74
5:48
Official Timeout.
70 - 74
5:31
Damon Stoudamire missed 2 ft two point shot.
70 - 74
5:31
Jeff Foster defensive rebound.
70 - 74
5:16
Jeff Foster missed 17 ft jumper.
70 - 74
5:13
Indiana defensive rebound.
70 - 74
4:50
Darius Miles missed 15 ft jumper.
70 - 74
4:50
Portland offensive rebound.
70 - 74
4:50
Shot Clock Violation
70 - 74
4:37
Jermaine O'Neal's 4 ft jumper blocked by Joel Przybilla.
70 - 74
4:35
Nick Van Exel defensive rebound.
70 - 74
4:31
Jeff Foster Shooting Foul. His 4th Personal Foul.
70 - 74
4:31
Ruben Patterson Technical Foul. His 1st Technical Foul.
70 - 74
4:31
Reggie Miller made Technical Free Throw.
70 - 75
4:31
Ruben Patterson missed Free Throw 1 of 2.
70 - 75
4:31
Portland offensive rebound.
70 - 75
4:31
Ruben Patterson made Free Throw 2 of 2.
71 - 75
4:11
Fred Jones missed 18 ft jumper.
71 - 75
4:11
Indiana defensive rebound.
71 - 75
3:56
Ruben Patterson Offensive Foul. His 3rd Personal Foul.
71 - 75
3:56
Ruben Patterson Turnover
71 - 75
3:34
Reggie Miller missed 25 ft three point jumper.
71 - 75
3:33
Fred Jones offensive rebound.
71 - 75
3:20
Reggie Miller missed 15 ft jumper.
71 - 75
3:19
Jermaine O'Neal offensive rebound.
71 - 75
3:18
Jermaine O'Neal's layup blocked by Joel Przybilla.
71 - 75
3:17
Indiana offensive rebound.
71 - 75
3:00
Darius Miles Shooting Foul. His 4th Personal Foul.
71 - 75
3:00
Jermaine O'Neal made Free Throw 1 of 2.
71 - 76
3:00
Jermaine O'Neal made Free Throw 2 of 2.
71 - 77
3:00
Portland Full Timeout.
71 - 77
2:51
Reggie Miller Jump Ball
71 - 77
2:41
Darius Miles Bad Pass
71 - 77
2:30
Jeff Foster made two point shot. Assisted by Anthony Johnson.
71 - 79
2:17
Nick Van Exel missed 23 ft three point jumper.
71 - 79
2:16
Jermaine O'Neal defensive rebound.
71 - 79
1:57
Jeff Foster made layup. Assisted by Jermaine O'Neal.
71 - 81
1:57
Portland Full Timeout.
71 - 81
1:42
Damon Stoudamire made driving layup.
73 - 81
1:42
Jeff Foster Shooting Foul. His 5th Personal Foul.
73 - 81
1:42
Damon Stoudamire made Free Throw 1 of 1.
74 - 81
1:24
Jermaine O'Neal made 17 ft jumper. Assisted by Anthony Johnson.
74 - 83
1:16
Damon Stoudamire missed layup.
74 - 83
1:15
Joel Przybilla offensive rebound.
74 - 83
1:14
Jumpball: Joel Przybilla vs. Anthony Johnson. Portland gains possession.
74 - 83
1:14
Anthony Johnson Lane Violation
74 - 83
1:14
null
74 - 83
1:02
Darius Miles missed 26 ft three point jumper.
74 - 83
1:00
Fred Jones defensive rebound.
74 - 83
0:46
Jermaine O'Neal made dunk. Assisted by Anthony Johnson.
74 - 85
0:46
Portland Full Timeout.
74 - 85
0:46
Richie Frahm enters the game for Ruben Patterson.
74 - 85
0:41
Darius Miles made layup. Assisted by Nick Van Exel.
76 - 85
0:39
Joel Przybilla Personal Foul. His 2nd Personal Foul.
76 - 85
0:39
Reggie Miller made Free Throw 1 of 2.
76 - 86
0:39
Reggie Miller made Free Throw 2 of 2.
76 - 87
0:34
Damon Stoudamire missed layup.
76 - 87
0:33
Joel Przybilla offensive rebound.
76 - 87
0:23
Darius Miles made three point jumper. Assisted by Richie Frahm.
79 - 87
0:23
Damon Stoudamire Personal Foul. His 2nd Personal Foul.
79 - 87
0:23
Reggie Miller made Free Throw 1 of 2.
79 - 88
0:17
Joel Przybilla made layup. Assisted by Richie Frahm.
81 - 88
0:17
Jeff Foster Shooting Foul. His 6th Personal Foul.
81 - 88
0:17
James Jones enters the game for Jeff Foster.
81 - 88
0:17
Joel Przybilla made Free Throw 1 of 1.
82 - 88
0:12
Darius Miles Personal Foul. His 5th Personal Foul.
82 - 88
0:12
Reggie Miller made Free Throw 1 of 2.
82 - 89
0:12
Reggie Miller made Free Throw 2 of 2.
82 - 90
0:09
Damon Stoudamire made 25 ft three point jumper. Assisted by Darius Miles.
85 - 90
0:08
Richie Frahm Personal Foul. His 1st Personal Foul.
85 - 90
0:08
Reggie Miller made Free Throw 1 of 2.
85 - 91
0:08
Reggie Miller made Free Throw 2 of 2.
85 - 92
0:04
Joel Przybilla made layup. Assisted by Nick Van Exel.
87 - 92
0:04
Joel Przybilla Personal Foul. His 3rd Personal Foul.
87 - 92
0:04
James Jones made Free Throw 1 of 2.
87 - 93
0:04
Eddie Gill enters the game for Reggie Miller.
87 - 93
0:04
Stephen Jackson enters the game for Jermaine O'Neal.
87 - 93
0:04
James Jones made Free Throw 2 of 2.
87 - 94
0:00
Richie Frahm missed 25 ft three point jumper.
87 - 94
0:00
James Jones defensive rebound.
87 - 94
0:00
End of the 4th Quarter.
87 - 94
0:00
End Game
87 - 94
DeMar DeRozan, arguably the top shooting guard who could hit the free-agent market, is focused on re-signing with the Raptors, a source said.

Cavaliers point guard Kyrie Irving has accepted an invitation to play for Team USA at the Summer Games, filling out the 12-man roster for Rio de Janeiro.

Heat president Pat Riley said re-signing Whiteside will be the team's No. 1 priority, with a max contract projected to be $94.8 million over four years.
2015-2016 Northwest Standings