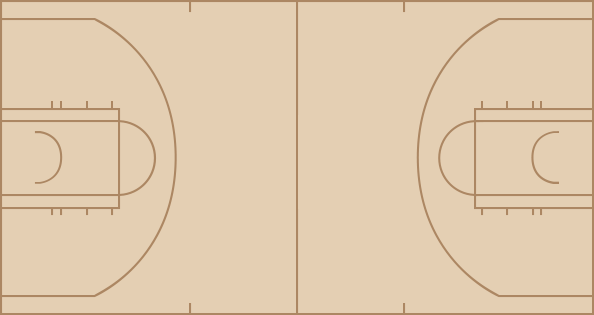 Lakers
time
TEAM
PLAY
SCORE
12:00
Start of the 1st Quarter.
0 - 0
12:00
Jumpball: Chris Mihm vs. Joel Przybilla. Chucky Atkins gains possession.
0 - 0
11:36
Kobe Bryant made 23 ft three point jumper. Assisted by Lamar Odom.
3 - 0
11:14
Nick Van Exel missed 24 ft three point jumper.
3 - 0
11:11
Luke Walton defensive rebound.
3 - 0
11:07
Chucky Atkins made two point shot. Assisted by Luke Walton.
5 - 0
10:56
Damon Stoudamire missed 22 ft jumper.
5 - 0
10:53
Lamar Odom defensive rebound.
5 - 0
10:42
Luke Walton's layup blocked by Joel Przybilla.
5 - 0
10:42
Los Angeles offensive rebound.
5 - 0
10:33
Luke Walton missed three point jumper.
5 - 0
10:32
Joel Przybilla defensive rebound.
5 - 0
10:18
Zach Randolph missed 6 ft two point shot.
5 - 0
10:17
Joel Przybilla offensive rebound.
5 - 2
10:17
Joel Przybilla made tip shot.
5 - 2
9:57
Chris Mihm missed two point shot.
5 - 2
9:56
Los Angeles defensive rebound.
5 - 2
9:44
Joel Przybilla's layup blocked by Lamar Odom.
5 - 2
9:41
Joel Przybilla offensive rebound.
5 - 4
9:41
Joel Przybilla made dunk.
5 - 4
9:22
Chris Mihm missed 8 ft jumper.
5 - 4
9:19
Chris Mihm offensive rebound.
5 - 4
9:18
Chris Mihm missed layup.
5 - 4
9:18
Zach Randolph defensive rebound.
5 - 4
9:10
Nick Van Exel missed 11 ft jumper.
5 - 4
9:07
Luke Walton defensive rebound.
5 - 4
9:00
Kobe Bryant made driving layup.
7 - 4
9:00
Joel Przybilla Shooting Foul. His 2nd Personal Foul.
7 - 4
9:00
Kobe Bryant made Free Throw 1 of 1.
8 - 4
8:47
Chucky Atkins Personal Foul. His 1st Personal Foul.
8 - 4
8:36
Zach Randolph made 5 ft two point shot. Assisted by Nick Van Exel.
8 - 6
8:22
Lamar Odom missed 16 ft jumper.
8 - 6
8:21
Joel Przybilla defensive rebound.
8 - 6
8:15
Damon Stoudamire Lost Ball. Stolen by Chucky Atkins.
8 - 6
8:15
Damon Stoudamire Clear Path Foul. His 1st Personal Foul.
8 - 6
8:15
Chucky Atkins missed Flagrant Free Throw 1 of 2.
8 - 6
8:15
Los Angeles offensive rebound.
8 - 6
8:04
Luke Walton's driving layup blocked by Joel Przybilla.
8 - 6
8:03
Zach Randolph defensive rebound.
8 - 6
7:52
Luke Walton Shooting Foul. His 1st Personal Foul.
8 - 6
7:52
Joel Przybilla missed Free Throw 1 of 2.
8 - 6
7:52
Portland offensive rebound.
8 - 6
7:52
Joel Przybilla made Free Throw 2 of 2.
8 - 7
7:31
Chucky Atkins missed 22 ft jumper.
8 - 7
7:30
Joel Przybilla defensive rebound.
8 - 7
7:22
Zach Randolph made two point shot. Assisted by Nick Van Exel.
8 - 9
7:01
Luke Walton missed layup.
8 - 9
7:00
Zach Randolph defensive rebound.
8 - 9
6:45
Zach Randolph missed 20 ft jumper.
8 - 9
6:43
Joel Przybilla offensive rebound.
8 - 9
6:43
Kobe Bryant Personal Foul. His 1st Personal Foul.
8 - 9
6:43
Portland Full Timeout.
8 - 9
6:39
Luke Walton Shooting Foul. His 2nd Personal Foul.
8 - 9
6:39
Joel Przybilla made Free Throw 1 of 2.
8 - 10
6:39
Jumaine Jones enters the game for Luke Walton.
8 - 10
6:39
Joel Przybilla made Free Throw 2 of 2.
8 - 11
6:20
Jumaine Jones missed 21 ft jumper.
8 - 11
6:16
Lamar Odom offensive rebound.
8 - 11
6:03
Chris Mihm made 5 ft two point shot.
10 - 11
5:50
Ruben Patterson missed layup.
10 - 11
5:48
Joel Przybilla offensive rebound.
10 - 11
5:48
Chris Mihm Shooting Foul. His 1st Personal Foul.
10 - 11
5:48
Joel Przybilla missed Free Throw 1 of 2.
10 - 11
5:48
Portland offensive rebound.
10 - 11
5:48
Brian Grant enters the game for Chris Mihm.
10 - 11
5:48
Joel Przybilla made Free Throw 2 of 2.
10 - 12
5:35
Nick Van Exel Shooting Foul. His 1st Personal Foul.
10 - 12
5:35
Jumaine Jones made Free Throw 1 of 2.
11 - 12
5:35
Jumaine Jones made Free Throw 2 of 2.
12 - 12
5:09
Damon Stoudamire made 21 ft jumper.
12 - 14
4:56
Brian Grant made layup. Assisted by Lamar Odom.
14 - 14
4:43
Chucky Atkins Personal Foul. His 2nd Personal Foul.
14 - 14
4:43
Tierre Brown enters the game for Chucky Atkins.
14 - 14
4:43
Damon Stoudamire made Free Throw 1 of 2.
14 - 15
4:43
Damon Stoudamire made Free Throw 2 of 2.
14 - 16
4:28
Tierre Brown made driving layup.
16 - 16
4:18
Zach Randolph missed 17 ft two point shot.
16 - 16
4:16
Jumaine Jones defensive rebound.
16 - 16
4:11
Lamar Odom made two point shot. Assisted by Tierre Brown.
18 - 16
3:57
Zach Randolph missed 6 ft hook shot.
18 - 16
3:55
Jumaine Jones defensive rebound.
18 - 16
3:50
Lamar Odom Turnover
18 - 16
3:34
Damon Stoudamire Bad Pass. Stolen by Jumaine Jones.
18 - 16
3:19
Lamar Odom made 24 ft three point jumper. Assisted by Tierre Brown.
21 - 16
3:10
Damon Stoudamire missed driving layup.
21 - 16
3:08
Damon Stoudamire offensive rebound.
21 - 16
3:05
Damon Stoudamire missed layup.
21 - 16
3:04
Tierre Brown defensive rebound.
21 - 16
3:00
Kobe Bryant Bad Pass. Stolen by Nick Van Exel.
21 - 16
2:51
Zach Randolph missed 6 ft jumper.
21 - 16
2:49
Joel Przybilla offensive rebound.
21 - 18
2:49
Joel Przybilla made layup.
21 - 18
2:40
Los Angeles Full Timeout.
21 - 18
2:40
Darius Miles enters the game for Nick Van Exel.
21 - 18
2:23
Kobe Bryant missed 25 ft three point jumper.
21 - 18
2:20
Zach Randolph defensive rebound.
21 - 18
2:15
Ruben Patterson missed driving layup.
21 - 18
2:15
Lamar Odom defensive rebound.
21 - 18
2:05
Kobe Bryant made jumper.
23 - 18
1:46
Darius Miles missed 23 ft jumper.
23 - 18
1:43
Zach Randolph offensive rebound.
23 - 18
1:43
Zach Randolph's layup blocked by Jumaine Jones.
23 - 18
1:42
Tierre Brown defensive rebound.
23 - 18
1:35
Jumaine Jones made jumper. Assisted by Lamar Odom.
25 - 18
1:12
Zach Randolph missed 6 ft hook shot.
25 - 18
1:09
Portland defensive rebound.
25 - 18
1:09
Shareef Abdur-Rahim enters the game for Zach Randolph.
25 - 18
0:53
Brian Grant missed 18 ft jumper.
25 - 18
0:52
Darius Miles defensive rebound.
25 - 18
0:42
Damon Stoudamire missed 24 ft three point jumper.
25 - 18
0:40
Joel Przybilla offensive rebound.
25 - 18
0:31
Darius Miles Lost Ball. Stolen by Tierre Brown.
25 - 18
0:27
Tierre Brown made driving layup.
27 - 18
0:06
Darius Miles missed two point shot.
27 - 18
0:04
Portland defensive rebound.
27 - 18
0:00
Tierre Brown missed 35 ft three point jumper.
27 - 18
0:00
Los Angeles offensive rebound.
27 - 18
0:00
End of the 1st Quarter.
27 - 18

time
TEAM
PLAY
SCORE
12:00
Start of the 2nd Quarter.
27 - 18
11:44
Damon Stoudamire missed 24 ft three point jumper.
27 - 18
11:41
Jumaine Jones defensive rebound.
27 - 18
11:34
Jumaine Jones missed driving layup.
27 - 18
11:33
Shareef Abdur-Rahim defensive rebound.
27 - 18
11:23
Brian Grant Personal Foul. His 1st Personal Foul.
27 - 18
11:15
Darius Miles missed 12 ft jumper.
27 - 18
11:11
Brian Grant defensive rebound.
27 - 18
11:03
Tierre Brown missed 23 ft three point jumper.
27 - 18
11:00
Los Angeles offensive rebound.
27 - 18
11:00
Nick Van Exel enters the game for Ruben Patterson.
27 - 18
10:48
Darius Miles Personal Foul. His 1st Personal Foul.
27 - 18
10:41
Brian Grant missed layup.
27 - 18
10:40
Brian Grant offensive rebound.
29 - 18
10:40
Brian Grant made tip shot.
29 - 18
10:22
Tierre Brown Personal Foul. His 1st Personal Foul.
29 - 18
10:22
Sebastian Telfair enters the game for Damon Stoudamire.
29 - 18
10:07
Nick Van Exel made three point jumper. Assisted by Shareef Abdur-Rahim.
29 - 21
9:45
Jumaine Jones missed 23 ft three point jumper.
29 - 21
9:44
Theo Ratliff defensive rebound.
29 - 21
9:36
Darius Miles Offensive Foul. His 3rd Personal Foul.
29 - 21
9:36
Darius Miles Turnover
29 - 21
9:19
Brian Cook missed 24 ft three point jumper.
29 - 21
9:18
Theo Ratliff defensive rebound.
29 - 21
9:14
Darius Miles Offensive Foul. His 4th Personal Foul.
29 - 21
9:14
Darius Miles Turnover
29 - 21
9:14
Ruben Patterson enters the game for Darius Miles.
29 - 21
9:14
Brian Cook Technical Foul. His 1st Technical Foul.
29 - 21
9:14
Shareef Abdur-Rahim made Technical Free Throw.
29 - 22
8:51
Kobe Bryant Lost Ball. Stolen by Ruben Patterson.
29 - 22
8:48
Official Timeout.
29 - 22
8:37
Shareef Abdur-Rahim Turnover
29 - 22
8:11
Brian Cook missed three point jumper.
29 - 22
8:10
Brian Grant offensive rebound.
29 - 22
8:03
Kobe Bryant made 24 ft three point jumper. Assisted by Brian Grant.
32 - 22
7:47
Ruben Patterson missed 9 ft two point shot.
32 - 22
7:43
Portland offensive rebound.
32 - 22
7:37
Brian Grant Personal Foul. His 2nd Personal Foul.
32 - 22
7:31
Tierre Brown Personal Foul. His 2nd Personal Foul.
32 - 22
7:26
Nick Van Exel missed 24 ft three point jumper.
32 - 22
7:22
Tierre Brown defensive rebound.
32 - 22
7:07
Brian Cook made jumper. Assisted by Kobe Bryant.
34 - 22
6:48
Ruben Patterson missed 21 ft jumper.
34 - 22
6:45
Jumaine Jones defensive rebound.
34 - 22
6:41
Ruben Patterson Shooting Foul. His 1st Personal Foul.
34 - 22
6:41
Damon Stoudamire enters the game for Sebastian Telfair.
34 - 22
6:41
Joel Przybilla enters the game for Theo Ratliff.
34 - 22
6:41
Jumaine Jones missed Free Throw 1 of 2.
34 - 22
6:41
Los Angeles offensive rebound.
34 - 22
6:41
Chris Mihm enters the game for Brian Grant.
34 - 22
6:41
Jumaine Jones made Free Throw 2 of 2.
35 - 22
6:22
Shareef Abdur-Rahim made two point shot. Assisted by Damon Stoudamire.
35 - 24
6:01
Kobe Bryant made 19 ft jumper.
37 - 24
5:39
Joel Przybilla made 19 ft jumper. Assisted by Damon Stoudamire.
37 - 26
5:16
Chris Mihm made 4 ft two point shot.
39 - 26
4:58
Shareef Abdur-Rahim missed 4 ft jumper.
39 - 26
4:56
Ruben Patterson offensive rebound.
39 - 28
4:56
Ruben Patterson made 4 ft two point shot.
39 - 28
4:37
Tierre Brown made 12 ft jumper. Assisted by Jumaine Jones.
41 - 28
4:24
Shareef Abdur-Rahim missed 25 ft three point jumper.
41 - 28
4:22
Kobe Bryant defensive rebound.
41 - 28
4:11
Jumaine Jones missed 4 ft two point shot.
41 - 28
4:09
Ruben Patterson defensive rebound.
41 - 28
4:03
Nick Van Exel missed 24 ft three point jumper.
41 - 28
4:01
Shareef Abdur-Rahim offensive rebound.
41 - 28
4:01
Chris Mihm Shooting Foul. His 2nd Personal Foul.
41 - 28
4:01
Portland Full Timeout.
41 - 28
4:01
Zach Randolph enters the game for Ruben Patterson.
41 - 28
4:01
Luke Walton enters the game for Tierre Brown.
41 - 28
4:01
Chucky Atkins enters the game for Brian Cook.
41 - 28
4:01
Lamar Odom enters the game for Kobe Bryant.
41 - 28
4:01
Shareef Abdur-Rahim made Free Throw 1 of 2.
41 - 29
4:01
Shareef Abdur-Rahim made Free Throw 2 of 2.
41 - 30
3:49
Chucky Atkins Bad Pass. Stolen by Zach Randolph.
41 - 30
3:29
Zach Randolph missed layup.
41 - 30
3:28
Zach Randolph offensive rebound.
41 - 30
3:28
Jumaine Jones Shooting Foul. His 1st Personal Foul.
41 - 30
3:28
Zach Randolph made Free Throw 1 of 2.
41 - 31
3:28
Zach Randolph made Free Throw 2 of 2.
41 - 32
3:06
Chris Mihm's layup blocked by Joel Przybilla.
41 - 32
3:02
Los Angeles offensive rebound.
41 - 32
3:02
Shot Clock Violation
41 - 32
2:45
Damon Stoudamire missed 22 ft three point jumper.
41 - 32
2:42
Lamar Odom defensive rebound.
41 - 32
2:32
Jumaine Jones missed 24 ft three point jumper.
41 - 32
2:31
Chris Mihm offensive rebound.
41 - 32
2:19
Jumaine Jones missed driving layup.
41 - 32
2:17
Shareef Abdur-Rahim defensive rebound.
41 - 32
2:10
Zach Randolph missed 6 ft jumper.
41 - 32
2:08
Shareef Abdur-Rahim offensive rebound.
41 - 32
2:06
Chris Mihm Shooting Foul. His 3rd Personal Foul.
41 - 32
2:06
Los Angeles Full Timeout.
41 - 32
2:06
Kobe Bryant enters the game for Luke Walton.
41 - 32
2:06
Brian Grant enters the game for Chris Mihm.
41 - 32
2:06
Shareef Abdur-Rahim missed Free Throw 1 of 2.
41 - 32
2:06
Portland offensive rebound.
41 - 32
2:06
Shareef Abdur-Rahim made Free Throw 2 of 2.
41 - 33
1:55
Lamar Odom's layup blocked by Joel Przybilla.
41 - 33
1:54
Shareef Abdur-Rahim defensive rebound.
41 - 33
1:44
Shareef Abdur-Rahim made dunk. Assisted by Joel Przybilla.
41 - 35
1:21
Kobe Bryant made driving layup.
43 - 35
1:09
Zach Randolph made jumper. Assisted by Damon Stoudamire.
43 - 37
0:50
Jumaine Jones Bad Pass. Stolen by Nick Van Exel.
43 - 37
0:44
Brian Grant Shooting Foul. His 3rd Personal Foul.
43 - 37
0:44
Shareef Abdur-Rahim made Free Throw 1 of 2.
43 - 38
0:44
Shareef Abdur-Rahim missed Free Throw 2 of 2.
43 - 38
0:44
Brian Cook enters the game for Brian Grant.
43 - 38
0:44
Shareef Abdur-Rahim made Free Throw 2 of 2.
43 - 39
0:32
Damon Stoudamire offensive rebound.
43 - 39
0:25
Damon Stoudamire missed 20 ft jumper.
43 - 39
0:24
Damon Stoudamire offensive rebound.
43 - 39
0:01
Shot Clock Violation
43 - 39
0:01
Los Angeles 20 Sec. Timeout.
43 - 39
0:00
Kobe Bryant missed layup.
43 - 39
0:00
Damon Stoudamire defensive rebound.
43 - 39
0:00
End of the 2nd Quarter.
43 - 39

time
TEAM
PLAY
SCORE
12:00
Start of the 3rd Quarter.
43 - 39
11:37
Damon Stoudamire missed 16 ft jumper.
43 - 39
11:36
Portland offensive rebound.
43 - 39
11:36
Lamar Odom Loose Ball Foul. His 1st Personal Foul.
43 - 39
11:18
Nick Van Exel missed 25 ft three point jumper.
43 - 39
11:17
Nick Van Exel offensive rebound.
43 - 39
11:15
Nick Van Exel made 14 ft jumper.
43 - 41
10:57
Joel Przybilla Shooting Foul. His 2nd Personal Foul.
43 - 41
10:57
Kobe Bryant made Free Throw 1 of 2.
44 - 41
10:57
Kobe Bryant made Free Throw 2 of 2.
45 - 41
10:41
Damon Stoudamire missed 25 ft three point jumper.
45 - 41
10:38
Lamar Odom defensive rebound.
45 - 41
10:33
Lamar Odom missed 6 ft jumper.
45 - 41
10:32
Nick Van Exel defensive rebound.
45 - 41
10:27
Damon Stoudamire made driving layup. Assisted by Nick Van Exel.
45 - 43
10:00
Kobe Bryant missed jumper.
45 - 43
9:57
Ruben Patterson defensive rebound.
45 - 43
9:44
Nick Van Exel made jumper. Assisted by Damon Stoudamire.
45 - 45
9:22
Luke Walton missed 23 ft three point jumper.
45 - 45
9:21
Nick Van Exel defensive rebound.
45 - 45
9:03
Zach Randolph missed layup.
45 - 45
9:03
Chris Mihm Personal Foul. His 5th Personal Foul.
45 - 45
9:03
Brian Grant enters the game for Chris Mihm.
45 - 45
8:59
Damon Stoudamire Lost Ball. Stolen by Chucky Atkins.
45 - 45
8:53
Ruben Patterson Shooting Foul. His 2nd Personal Foul.
45 - 45
8:53
Luke Walton made Free Throw 1 of 2.
46 - 45
8:53
Luke Walton made Free Throw 2 of 2.
47 - 45
8:34
Damon Stoudamire missed three point jumper.
47 - 45
8:33
Kobe Bryant defensive rebound.
47 - 45
8:27
Chucky Atkins Bad Pass. Stolen by Zach Randolph.
47 - 45
8:22
Kobe Bryant Shooting Foul. His 2nd Personal Foul.
47 - 45
8:22
Damon Stoudamire made Free Throw 1 of 2.
47 - 46
8:22
Damon Stoudamire made Free Throw 2 of 2.
47 - 47
8:07
Lamar Odom missed 24 ft three point jumper.
47 - 47
8:04
Los Angeles defensive rebound.
47 - 47
8:04
Luke Walton Loose Ball Foul. His 3rd Personal Foul.
47 - 47
8:04
Stanislav Medvedenko enters the game for Brian Grant.
47 - 47
7:45
Joel Przybilla made driving dunk. Assisted by Nick Van Exel.
47 - 49
7:28
Stanislav Medvedenko made 15 ft jumper. Assisted by Lamar Odom.
49 - 49
7:20
Ruben Patterson made layup. Assisted by Nick Van Exel.
49 - 51
7:11
Los Angeles Full Timeout.
49 - 51
7:00
Kobe Bryant missed 24 ft three point jumper.
49 - 51
6:58
Ruben Patterson defensive rebound.
49 - 51
6:46
Zach Randolph made 18 ft two point shot. Assisted by Nick Van Exel.
49 - 53
6:39
Lamar Odom Turnover
49 - 53
6:22
Zach Randolph made 15 ft jumper. Assisted by Ruben Patterson.
49 - 55
6:01
Stanislav Medvedenko made jumper. Assisted by Lamar Odom.
51 - 55
5:50
Damon Stoudamire made 24 ft three point jumper. Assisted by Ruben Patterson.
51 - 58
5:31
Chucky Atkins missed two point shot.
51 - 58
5:30
Los Angeles offensive rebound.
51 - 58
5:30
Jumaine Jones enters the game for Luke Walton.
51 - 58
5:22
Kobe Bryant made two point shot.
53 - 58
5:11
Nick Van Exel missed 4 ft running jumper.
53 - 58
5:11
Jumaine Jones defensive rebound.
53 - 58
5:07
Chucky Atkins made driving layup. Assisted by Kobe Bryant.
55 - 58
4:46
Damon Stoudamire missed 24 ft three point jumper.
55 - 58
4:43
Jumaine Jones defensive rebound.
55 - 58
4:35
Jumaine Jones made 20 ft jumper. Assisted by Chucky Atkins.
57 - 58
4:30
Portland Full Timeout.
57 - 58
4:16
Joel Przybilla Offensive Foul. His 4th Personal Foul.
57 - 58
4:16
Joel Przybilla Turnover
57 - 58
3:58
Kobe Bryant Lost Ball. Stolen by Ruben Patterson.
57 - 58
3:55
Ruben Patterson Turnover
57 - 58
3:34
Stanislav Medvedenko missed 21 ft jumper.
57 - 58
3:32
Nick Van Exel defensive rebound.
57 - 58
3:23
Joel Przybilla Lost Ball. Stolen by Jumaine Jones.
57 - 58
3:14
Darius Miles enters the game for Damon Stoudamire.
57 - 58
3:04
Stanislav Medvedenko made 21 ft jumper. Assisted by Kobe Bryant.
59 - 58
2:49
Darius Miles missed 19 ft jumper.
59 - 58
2:47
Kobe Bryant defensive rebound.
59 - 58
2:41
Kobe Bryant Bad Pass
59 - 58
2:23
Jumaine Jones Shooting Foul. His 2nd Personal Foul.
59 - 58
2:23
Shareef Abdur-Rahim enters the game for Zach Randolph.
59 - 58
2:23
Ruben Patterson missed Free Throw 1 of 2.
59 - 58
2:23
Portland offensive rebound.
59 - 58
2:23
Ruben Patterson missed Free Throw 2 of 2.
59 - 58
2:21
Lamar Odom defensive rebound.
59 - 58
2:02
Jumaine Jones missed three point jumper.
59 - 58
2:00
Ruben Patterson defensive rebound.
59 - 58
1:42
Nick Van Exel missed 19 ft jumper.
59 - 58
1:39
Lamar Odom defensive rebound.
59 - 58
1:35
Chucky Atkins made 19 ft jumper.
61 - 58
1:15
Shareef Abdur-Rahim missed 6 ft two point shot.
61 - 58
1:15
Joel Przybilla offensive rebound.
61 - 58
1:15
Jumaine Jones Shooting Foul. His 3rd Personal Foul.
61 - 58
1:15
Joel Przybilla made Free Throw 1 of 2.
61 - 59
1:15
Joel Przybilla missed Free Throw 2 of 2.
61 - 59
1:14
Lamar Odom defensive rebound.
61 - 59
1:04
Lamar Odom made 16 ft running jumper. Assisted by Kobe Bryant.
63 - 59
1:04
Shareef Abdur-Rahim Shooting Foul. His 2nd Personal Foul.
63 - 59
1:04
Lamar Odom Lane Violation
63 - 59
0:46
Shareef Abdur-Rahim missed 9 ft two point shot.
63 - 59
0:45
Ruben Patterson offensive rebound.
63 - 61
0:45
Ruben Patterson made layup.
63 - 61
0:35
Chucky Atkins missed 17 ft jumper.
63 - 61
0:33
Stanislav Medvedenko offensive rebound.
63 - 61
0:33
Stanislav Medvedenko Traveling
63 - 61
0:18
Darius Miles Bad Pass. Stolen by Jumaine Jones.
63 - 61
0:00
Chucky Atkins missed 27 ft three point jumper.
63 - 61
0:00
Los Angeles offensive rebound.
63 - 61
0:00
End of the 3rd Quarter.
63 - 61

time
TEAM
PLAY
SCORE
12:00
Start of the 4th Quarter.
63 - 61
11:34
Tierre Brown made 23 ft three point jumper. Assisted by Lamar Odom.
66 - 61
11:15
Nick Van Exel missed 22 ft three point jumper.
66 - 61
11:12
Zach Randolph offensive rebound.
66 - 61
11:07
Nick Van Exel Bad Pass. Stolen by Tierre Brown.
66 - 61
11:00
Darius Miles Personal Foul. His 4th Personal Foul.
66 - 61
10:49
Joel Przybilla Personal Foul. His 4th Personal Foul.
66 - 61
10:49
Damon Stoudamire enters the game for Nick Van Exel.
66 - 61
10:49
Theo Ratliff enters the game for Joel Przybilla.
66 - 61
10:40
Tierre Brown made 4 ft two point shot.
68 - 61
10:18
Zach Randolph missed layup.
68 - 61
10:18
Zach Randolph offensive rebound.
68 - 61
10:18
Stanislav Medvedenko Personal Foul. His 1st Personal Foul.
68 - 61
10:03
Darius Miles missed 20 ft jumper.
68 - 61
10:02
Shareef Abdur-Rahim offensive rebound.
68 - 61
10:00
Shareef Abdur-Rahim made driving dunk.
68 - 63
9:36
Luke Walton made 11 ft two point shot. Assisted by Jumaine Jones.
70 - 63
9:15
Darius Miles missed 19 ft jumper.
70 - 63
9:14
Portland offensive rebound.
70 - 63
9:11
Jumaine Jones Shooting Foul. His 4th Personal Foul.
70 - 63
9:11
Shareef Abdur-Rahim missed Free Throw 1 of 2.
70 - 63
9:11
Portland offensive rebound.
70 - 63
9:11
Shareef Abdur-Rahim missed Free Throw 2 of 2.
70 - 63
9:10
Lamar Odom defensive rebound.
70 - 63
8:52
Luke Walton's driving dunk blocked by Theo Ratliff.
70 - 63
8:49
Darius Miles defensive rebound.
70 - 63
8:45
Tierre Brown Personal Foul. His 3rd Personal Foul.
70 - 63
8:45
Official Timeout.
70 - 63
8:45
Kobe Bryant enters the game for Luke Walton.
70 - 63
8:45
Brian Grant enters the game for Stanislav Medvedenko.
70 - 63
8:45
Brian Cook enters the game for Lamar Odom.
70 - 63
8:36
Shareef Abdur-Rahim made layup.
70 - 65
8:18
Darius Miles Shooting Foul. His 5th Personal Foul.
70 - 65
8:18
Kobe Bryant made Free Throw 1 of 2.
71 - 65
8:18
Nick Van Exel enters the game for Darius Miles.
71 - 65
8:18
Kobe Bryant made Free Throw 2 of 2.
72 - 65
8:03
Shareef Abdur-Rahim Bad Pass. Stolen by Brian Cook.
72 - 65
7:43
Brian Cook missed layup.
72 - 65
7:41
Brian Grant offensive rebound.
72 - 65
7:41
Brian Grant missed jumper.
72 - 65
7:39
Nick Van Exel defensive rebound.
72 - 65
7:39
Brian Cook Personal Foul. His 1st Personal Foul.
72 - 65
7:20
Shareef Abdur-Rahim made 19 ft jumper. Assisted by Damon Stoudamire.
72 - 67
6:54
Jumaine Jones made layup. Assisted by Kobe Bryant.
74 - 67
6:33
Damon Stoudamire made 12 ft jumper. Assisted by Zach Randolph.
74 - 69
6:18
Brian Grant made dunk. Assisted by Kobe Bryant.
76 - 69
5:54
Nick Van Exel missed 10 ft running jumper.
76 - 69
5:52
Brian Grant defensive rebound.
76 - 69
5:46
Kobe Bryant's layup blocked by Theo Ratliff.
76 - 69
5:41
Jumaine Jones offensive rebound.
76 - 69
5:39
Shareef Abdur-Rahim Shooting Foul. His 2nd Personal Foul.
76 - 69
5:39
Portland Full Timeout.
76 - 69
5:39
Joel Przybilla enters the game for Theo Ratliff.
76 - 69
5:39
Kobe Bryant made Free Throw 1 of 2.
77 - 69
5:39
Kobe Bryant made Free Throw 2 of 2.
78 - 69
5:28
Damon Stoudamire made 21 ft jumper.
78 - 71
5:07
Kobe Bryant missed 7 ft hook shot.
78 - 71
5:05
Zach Randolph defensive rebound.
78 - 71
5:01
Damon Stoudamire made 24 ft three point jumper. Assisted by Zach Randolph.
78 - 74
4:43
Brian Grant Lost Ball. Stolen by Nick Van Exel.
78 - 74
4:37
Damon Stoudamire made 23 ft jumper.
78 - 76
4:35
Lamar Odom enters the game for Brian Cook.
78 - 76
4:35
Ruben Patterson enters the game for Zach Randolph.
78 - 76
4:35
Los Angeles Full Timeout.
78 - 76
4:20
Ruben Patterson Shooting Foul. His 3rd Personal Foul.
78 - 76
4:20
Kobe Bryant made Free Throw 1 of 2.
79 - 76
4:20
Kobe Bryant made Free Throw 2 of 2.
80 - 76
4:20
Chucky Atkins enters the game for Tierre Brown.
83 - 76
4:07
Damon Stoudamire missed 23 ft jumper.
80 - 76
4:03
Brian Grant defensive rebound.
80 - 76
3:47
Kobe Bryant Lost Ball. Stolen by Joel Przybilla.
80 - 76
3:36
Ruben Patterson Bad Pass
80 - 76
3:23
Chucky Atkins missed 21 ft jumper.
80 - 76
3:18
Lamar Odom offensive rebound.
80 - 76
3:11
Lamar Odom missed 8 ft jumper.
80 - 76
3:09
Ruben Patterson defensive rebound.
80 - 76
2:54
Damon Stoudamire's layup blocked by Lamar Odom.
80 - 76
2:51
Lamar Odom defensive rebound.
80 - 76
2:47
Kobe Bryant made layup. Assisted by Chucky Atkins.
82 - 76
2:47
Ruben Patterson Shooting Foul. His 5th Personal Foul.
82 - 76
2:47
Kobe Bryant made Free Throw 1 of 1.
83 - 76
2:47
Portland Full Timeout.
83 - 76
2:47
Technical Foul
83 - 76
2:47
Kobe Bryant made Technical Free Throw.
84 - 76
2:32
Damon Stoudamire missed 24 ft three point jumper.
84 - 76
2:31
Brian Grant defensive rebound.
84 - 76
2:05
Kobe Bryant missed 25 ft three point jumper.
84 - 76
2:02
Los Angeles defensive rebound.
84 - 76
1:51
Brian Grant Personal Foul. His 4th Personal Foul.
84 - 76
1:51
Ruben Patterson made Free Throw 1 of 2.
84 - 77
1:51
Ruben Patterson made Free Throw 2 of 2.
84 - 78
1:27
Kobe Bryant missed 21 ft jumper.
84 - 78
1:24
Lamar Odom offensive rebound.
84 - 78
1:02
Brian Grant missed 20 ft jumper.
84 - 78
1:01
Nick Van Exel defensive rebound.
84 - 78
0:51
Damon Stoudamire made 11 ft jumper.
84 - 80
0:29
Lamar Odom Offensive Foul. His 3rd Personal Foul.
84 - 80
0:29
Lamar Odom Turnover
84 - 80
0:29
Portland Full Timeout.
84 - 80
0:29
Zach Randolph enters the game for Ruben Patterson.
84 - 80
0:21
Damon Stoudamire made 24 ft three point jumper. Assisted by Nick Van Exel.
84 - 83
0:20
Nick Van Exel Personal Foul. His 2nd Personal Foul.
84 - 83
0:20
Kobe Bryant made Free Throw 1 of 2.
85 - 83
0:20
Kobe Bryant made Free Throw 2 of 2.
86 - 83
0:20
Portland 20 Sec. Timeout.
86 - 83
0:02
Damon Stoudamire missed 24 ft three point jumper.
86 - 83
0:01
Nick Van Exel offensive rebound.
86 - 83
0:00
Shareef Abdur-Rahim missed 24 ft three point jumper.
86 - 83
0:00
Portland offensive rebound.
86 - 83
0:00
End of the 4th Quarter.
86 - 83
0:00
End Game
86 - 83
Ohm Youngmisuk thinks the pressure of a post-Kobe Lakers era is scaring away talent that they so desperately need like Durant and DeRozan.

Tom Penn is excited for the Pistons big man Andre Drummond who is nearing a five-year max deal with Detroit and explains how his potential $130 million contract could impact the rest of the team.

Brian Windhorst weighs in on the Lakers offseason moves and explains why Los Angeles appears to be acting like a small-market team, failing to get seats at the table for Kevin Durant or DeMar DeRozan.
Regular Season Series
LAL wins series 2-1
2015-2016 Pacific Standings
2015-2016 Northwest Standings