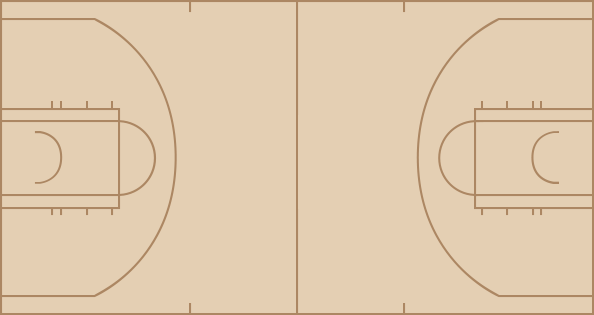 Bobcats
time
TEAM
PLAY
SCORE
12:00
Start of the 1st Quarter.
0 - 0
12:00
Jumpball: Emeka Okafor vs. Kevin Garnett. Troy Hudson gains possession.
0 - 0
11:48
Kevin Garnett Lost Ball. Stolen by Emeka Okafor.
0 - 0
11:44
Gerald Wallace made driving dunk. Assisted by Keith Bogans.
2 - 0
11:25
Kevin Garnett missed 7 ft jumper.
2 - 0
11:23
Emeka Okafor defensive rebound.
2 - 0
11:06
Emeka Okafor missed 9 ft jumper.
2 - 0
11:04
Latrell Sprewell defensive rebound.
2 - 0
10:57
Latrell Sprewell made 21 ft jumper.
2 - 2
10:33
Keith Bogans made 21 ft jumper.
4 - 2
10:14
John Thomas made slam dunk. Assisted by Latrell Sprewell.
4 - 4
9:48
John Thomas Shooting Foul. His 1st Personal Foul.
4 - 4
9:48
Gerald Wallace missed Free Throw 1 of 2.
4 - 4
9:48
Charlotte offensive rebound.
4 - 4
9:48
Gerald Wallace made Free Throw 2 of 2.
5 - 4
9:33
Troy Hudson missed 26 ft three point jumper.
5 - 4
9:33
Keith Bogans defensive rebound.
5 - 4
9:26
Primoz Brezec made dunk. Assisted by Keith Bogans.
7 - 4
9:07
Latrell Sprewell made 24 ft three point jumper. Assisted by Trenton Hassell.
7 - 7
8:48
Emeka Okafor made 3 ft hook shot. Assisted by Primoz Brezec.
9 - 7
8:33
Latrell Sprewell missed 24 ft three point jumper.
9 - 7
8:32
Keith Bogans defensive rebound.
9 - 7
8:19
Keith Bogans missed 18 ft jumper.
9 - 7
8:18
Troy Hudson defensive rebound.
9 - 7
8:12
Troy Hudson missed layup.
9 - 7
8:11
Primoz Brezec defensive rebound.
9 - 7
7:58
Emeka Okafor Lost Ball. Stolen by Latrell Sprewell.
9 - 7
7:52
Troy Hudson made two point shot.
9 - 9
7:33
Primoz Brezec Turnover
9 - 9
7:18
Gerald Wallace Shooting Foul. His 1st Personal Foul.
9 - 9
7:18
John Thomas made Free Throw 1 of 2.
9 - 10
7:18
John Thomas made Free Throw 2 of 2.
9 - 11
7:07
Keith Bogans made 7 ft running jumper. Assisted by Jason Hart.
11 - 11
6:50
Latrell Sprewell missed 17 ft jumper.
11 - 11
6:48
Latrell Sprewell offensive rebound.
11 - 11
6:39
Latrell Sprewell missed driving layup.
11 - 11
6:39
Gerald Wallace defensive rebound.
11 - 11
6:33
Keith Bogans missed layup.
11 - 11
6:33
Emeka Okafor offensive rebound.
11 - 11
6:31
Emeka Okafor missed 4 ft jumper.
11 - 11
6:30
Kevin Garnett defensive rebound.
11 - 11
6:24
Latrell Sprewell Lost Ball. Stolen by Jason Hart.
11 - 11
6:18
Jason Hart made 13 ft two point shot. Assisted by Keith Bogans.
13 - 11
6:01
Troy Hudson missed 9 ft running jumper.
13 - 11
6:00
Primoz Brezec defensive rebound.
13 - 11
5:52
Primoz Brezec made layup. Assisted by Jason Hart.
15 - 11
5:52
John Thomas Shooting Foul. His 2nd Personal Foul.
15 - 11
5:52
Minnesota Full Timeout.
15 - 11
5:52
Mark Madsen enters the game for John Thomas.
15 - 11
5:52
Melvin Ely enters the game for Emeka Okafor.
15 - 11
5:52
Jason Kapono enters the game for Keith Bogans.
15 - 11
5:52
Primoz Brezec made Free Throw 1 of 1.
16 - 11
5:37
Latrell Sprewell missed 18 ft jumper.
16 - 11
5:37
Primoz Brezec defensive rebound.
16 - 11
5:26
Melvin Ely missed 8 ft jumper.
16 - 11
5:24
Kevin Garnett defensive rebound.
16 - 11
5:22
Kevin Garnett Bad Pass
16 - 11
5:09
Melvin Ely missed layup.
16 - 11
5:07
Gerald Wallace offensive rebound.
16 - 11
5:01
Primoz Brezec made 9 ft jumper. Assisted by Gerald Wallace.
18 - 11
4:37
Troy Hudson missed 24 ft three point jumper.
18 - 11
4:35
Kevin Garnett offensive rebound.
18 - 11
4:30
Latrell Sprewell missed dunk.
18 - 11
4:28
Kevin Garnett offensive rebound.
18 - 11
4:13
Kevin Garnett's two point shot blocked by Gerald Wallace.
18 - 11
4:11
Jason Kapono defensive rebound.
18 - 11
4:01
Jason Kapono made 24 ft three point jumper. Assisted by Gerald Wallace.
21 - 11
3:41
Kevin Garnett missed 18 ft jumper.
21 - 11
3:40
Gerald Wallace defensive rebound.
21 - 11
3:29
Jason Kapono made 15 ft jumper. Assisted by Jason Hart.
23 - 11
3:03
Kevin Garnett missed 14 ft jumper.
23 - 11
3:02
Jason Kapono defensive rebound.
23 - 11
2:57
Jason Kapono made 20 ft jumper. Assisted by Gerald Wallace.
25 - 11
2:50
Minnesota 20 Sec. Timeout.
25 - 11
2:50
Charlotte Full Timeout.
25 - 11
2:50
Wally Szczerbiak enters the game for Trenton Hassell.
25 - 11
2:50
Anthony Carter enters the game for Troy Hudson.
25 - 11
2:50
Theron Smith enters the game for Gerald Wallace.
25 - 11
2:41
Kevin Garnett missed 4 ft hook shot.
25 - 11
2:40
Jason Hart defensive rebound.
25 - 11
2:28
Jason Hart Bad Pass
25 - 11
2:28
Malik Allen enters the game for Primoz Brezec.
25 - 11
2:13
Latrell Sprewell missed 19 ft jumper.
25 - 11
2:11
Theron Smith defensive rebound.
25 - 11
1:49
Jason Hart missed 20 ft jumper.
25 - 11
1:47
Latrell Sprewell defensive rebound.
25 - 11
1:37
Latrell Sprewell made 13 ft jumper. Assisted by Kevin Garnett.
25 - 13
1:20
Jason Kapono missed 20 ft jumper.
25 - 13
1:17
Wally Szczerbiak defensive rebound.
25 - 13
1:14
Latrell Sprewell made layup. Assisted by Anthony Carter.
25 - 15
0:56
Theron Smith missed 20 ft jumper.
25 - 15
0:55
Kevin Garnett defensive rebound.
25 - 15
0:42
Kevin Garnett made 13 ft two point shot. Assisted by Wally Szczerbiak.
25 - 17
0:28
Mark Madsen Shooting Foul. His 1st Personal Foul.
25 - 17
0:28
Jason Hart made Free Throw 1 of 2.
26 - 17
0:28
Fred Hoiberg enters the game for Kevin Garnett.
26 - 17
0:28
Jason Hart made Free Throw 2 of 2.
27 - 17
0:04
Shot Clock Violation
27 - 17
0:04
Cory Alexander enters the game for Jason Hart.
27 - 17
0:04
Ervin Johnson enters the game for Latrell Sprewell.
27 - 17
0:00
End of the 1st Quarter.
27 - 17

time
TEAM
PLAY
SCORE
12:00
Start of the 2nd Quarter.
27 - 17
11:45
Jason Kapono Bad Pass. Stolen by John Thomas.
27 - 17
11:23
Wally Szczerbiak missed 24 ft three point jumper.
27 - 17
11:22
Malik Allen defensive rebound.
27 - 17
11:03
Malik Allen made 12 ft two point shot.
29 - 17
11:00
Cory Alexander Personal Foul. His 1st Personal Foul.
29 - 17
10:55
Anthony Carter made driving layup.
29 - 19
10:55
Theron Smith Shooting Foul. His 2nd Personal Foul.
29 - 19
10:55
Anthony Carter made Free Throw 1 of 1.
29 - 20
10:37
Melvin Ely missed 13 ft jumper.
29 - 20
10:37
Theron Smith offensive rebound.
29 - 20
10:33
Malik Allen missed 15 ft jumper.
29 - 20
10:32
Theron Smith offensive rebound.
29 - 20
10:22
Melvin Ely Offensive Foul. His 2nd Personal Foul.
29 - 20
10:22
Melvin Ely Turnover
29 - 20
10:22
Matt Carroll enters the game for Jason Kapono.
29 - 20
10:22
Emeka Okafor enters the game for Melvin Ely.
29 - 20
10:07
Wally Szczerbiak made 21 ft jumper. Assisted by John Thomas.
29 - 22
10:00
Charlotte Full Timeout.
29 - 22
9:52
Cory Alexander made 19 ft jumper.
31 - 22
9:30
John Thomas missed 11 ft jumper.
31 - 22
9:30
Theron Smith defensive rebound.
31 - 22
9:15
Emeka Okafor missed 8 ft jumper.
31 - 22
9:14
Fred Hoiberg defensive rebound.
31 - 22
9:06
Fred Hoiberg missed 18 ft jumper.
31 - 22
9:04
Matt Carroll defensive rebound.
31 - 22
8:49
Malik Allen made 20 ft jumper. Assisted by Cory Alexander.
33 - 22
8:26
Cory Alexander Personal Foul. His 2nd Personal Foul.
33 - 22
8:26
Primoz Brezec enters the game for Malik Allen.
33 - 22
8:26
Kevin Garnett enters the game for John Thomas.
33 - 22
8:18
Kevin Garnett missed 13 ft two point shot.
33 - 22
8:15
Primoz Brezec defensive rebound.
33 - 22
8:07
Cory Alexander's 20 ft jumper blocked by Anthony Carter.
33 - 22
8:06
Charlotte offensive rebound.
33 - 22
8:06
Gerald Wallace enters the game for Theron Smith.
33 - 22
7:56
Emeka Okafor Lost Ball. Stolen by Mark Madsen.
33 - 22
7:41
Fred Hoiberg made 19 ft jumper. Assisted by Anthony Carter.
33 - 24
7:20
Gerald Wallace missed 18 ft jumper.
33 - 24
7:18
Fred Hoiberg defensive rebound.
33 - 24
7:03
Emeka Okafor Shooting Foul. His 1st Personal Foul.
33 - 24
7:03
Jason Hart enters the game for Cory Alexander.
33 - 24
7:03
Kevin Garnett made Free Throw 1 of 2.
33 - 25
7:03
Kevin Garnett made Free Throw 2 of 2.
33 - 26
6:50
Fred Hoiberg Personal Foul. His 1st Personal Foul.
33 - 26
6:37
Jason Hart made 20 ft jumper.
35 - 26
6:30
Wally Szczerbiak made driving layup. Assisted by Anthony Carter.
35 - 28
6:18
Matt Carroll made 21 ft jumper. Assisted by Jason Hart.
37 - 28
6:03
Wally Szczerbiak missed 21 ft jumper.
37 - 28
6:03
Primoz Brezec defensive rebound.
37 - 28
5:48
Gerald Wallace made driving layup.
39 - 28
5:48
Mark Madsen Shooting Foul. His 3rd Personal Foul.
39 - 28
5:48
Full Timeout.
39 - 28
5:48
Gerald Wallace missed Free Throw 1 of 1.
39 - 28
5:48
Wally Szczerbiak defensive rebound.
39 - 28
5:28
Primoz Brezec Shooting Foul. His 1st Personal Foul.
39 - 28
5:28
Wally Szczerbiak made Free Throw 1 of 2.
39 - 29
5:28
Latrell Sprewell enters the game for Fred Hoiberg.
39 - 29
5:28
Wally Szczerbiak made Free Throw 2 of 2.
39 - 30
5:22
Matt Carroll missed 16 ft jumper.
39 - 30
5:20
Latrell Sprewell defensive rebound.
39 - 30
5:13
Wally Szczerbiak missed jumper.
39 - 30
5:11
Matt Carroll defensive rebound.
39 - 30
4:58
Matt Carroll missed 18 ft jumper.
39 - 30
4:56
Mark Madsen defensive rebound.
39 - 30
4:48
Kevin Garnett made two point shot. Assisted by Anthony Carter.
39 - 32
4:33
Jason Hart missed 7 ft jumper.
39 - 32
4:31
Mark Madsen defensive rebound.
39 - 32
4:31
Jason Hart Personal Foul. His 1st Personal Foul.
39 - 32
4:31
Keith Bogans enters the game for Matt Carroll.
39 - 32
4:31
Mark Madsen missed Free Throw 1 of 2.
39 - 32
4:31
Minnesota offensive rebound.
39 - 32
4:31
Mark Madsen missed Free Throw 2 of 2.
39 - 32
4:31
Emeka Okafor defensive rebound.
39 - 32
4:22
Gerald Wallace's jumper blocked by Kevin Garnett.
39 - 32
4:20
Gerald Wallace offensive rebound.
39 - 32
4:20
Kevin Garnett Shooting Foul. His 1st Personal Foul.
39 - 32
4:20
Gerald Wallace made Free Throw 1 of 2.
40 - 32
4:20
Gerald Wallace missed Free Throw 2 of 2.
40 - 32
4:20
Mark Madsen defensive rebound.
40 - 32
4:01
Latrell Sprewell made 16 ft jumper. Assisted by Anthony Carter.
40 - 34
3:44
Keith Bogans missed 25 ft three point jumper.
40 - 34
3:43
Kevin Garnett defensive rebound.
40 - 34
3:23
Kevin Garnett made 18 ft jumper. Assisted by Wally Szczerbiak.
40 - 36
3:03
Primoz Brezec Offensive Foul. Anthony Carter gains possession.
40 - 36
3:03
Primoz Brezec Turnover
40 - 36
3:03
Primoz Brezec Technical Foul. His 1st Technical Foul.
40 - 36
3:03
Anthony Carter Personal Foul. His 1st Personal Foul.
40 - 36
2:59
Keith Bogans Turnover
40 - 36
2:59
Minnesota Full Timeout.
40 - 36
2:35
Kevin Garnett missed two point shot.
40 - 36
2:34
Gerald Wallace defensive rebound.
40 - 36
2:12
Gerald Wallace made 23 ft jumper. Assisted by Primoz Brezec.
42 - 36
2:02
Anthony Carter Bad Pass
42 - 36
1:47
Mark Madsen Personal Foul. His 3rd Personal Foul.
42 - 36
1:47
John Thomas enters the game for Mark Madsen.
42 - 36
1:47
Primoz Brezec made Free Throw 1 of 2.
43 - 36
1:47
Primoz Brezec made Free Throw 2 of 2.
44 - 36
1:34
Keith Bogans Personal Foul. His 1st Personal Foul.
44 - 36
1:34
Wally Szczerbiak made Free Throw 1 of 2.
44 - 37
1:34
Wally Szczerbiak made Free Throw 2 of 2.
44 - 38
1:22
Emeka Okafor missed two point shot.
44 - 38
1:21
Primoz Brezec offensive rebound.
46 - 38
1:21
Primoz Brezec made tip shot.
46 - 38
1:15
Wally Szczerbiak Turnover
46 - 38
0:59
Gerald Wallace's layup blocked by Kevin Garnett.
46 - 38
0:58
Charlotte offensive rebound.
46 - 38
0:55
Jason Hart missed layup.
46 - 38
0:55
Emeka Okafor offensive rebound.
46 - 38
0:54
John Thomas Shooting Foul. His 3rd Personal Foul.
46 - 38
0:54
Emeka Okafor missed Free Throw 1 of 2.
46 - 38
0:54
Charlotte offensive rebound.
46 - 38
0:54
Ervin Johnson enters the game for John Thomas.
46 - 38
0:54
Theron Smith enters the game for Primoz Brezec.
46 - 38
0:54
Emeka Okafor made Free Throw 2 of 2.
47 - 38
0:37
Ervin Johnson made layup. Assisted by Latrell Sprewell.
47 - 40
0:27
Keith Bogans made 24 ft three point jumper. Assisted by Jason Hart.
50 - 40
0:20
Ervin Johnson made layup. Assisted by Anthony Carter.
50 - 42
0:03
Keith Bogans made 24 ft three point jumper. Assisted by Theron Smith.
53 - 42
0:00
Anthony Carter missed 30 ft three point jumper.
53 - 42
0:00
Minnesota offensive rebound.
53 - 42
0:00
End of the 2nd Quarter.
53 - 42

time
TEAM
PLAY
SCORE
12:00
Start of the 3rd Quarter.
53 - 42
11:41
Emeka Okafor Traveling
53 - 42
11:27
Trenton Hassell made 19 ft jumper. Assisted by John Thomas.
53 - 44
11:17
Keith Bogans Bad Pass
53 - 44
11:04
Kevin Garnett made two point shot.
53 - 46
10:45
Primoz Brezec made 18 ft jumper. Assisted by Jason Hart.
55 - 46
10:25
Latrell Sprewell made 17 ft jumper.
55 - 48
10:04
Keith Bogans missed three point jumper.
55 - 48
10:03
Primoz Brezec offensive rebound.
55 - 48
9:42
Emeka Okafor made 7 ft hook shot. Assisted by Jason Hart.
57 - 48
9:23
Trenton Hassell made 18 ft jumper.
57 - 50
9:07
Primoz Brezec made layup. Assisted by Jason Hart.
59 - 50
9:07
John Thomas Shooting Foul. His 5th Personal Foul.
59 - 50
9:07
Mark Madsen enters the game for John Thomas.
59 - 50
9:07
Primoz Brezec missed Free Throw 1 of 1.
59 - 50
9:07
Kevin Garnett defensive rebound.
59 - 50
8:57
Troy Hudson missed 20 ft jumper.
59 - 50
8:56
Minnesota offensive rebound.
59 - 50
8:52
Kevin Garnett made 16 ft jumper. Assisted by Trenton Hassell.
59 - 52
8:37
Troy Hudson Personal Foul. His 1st Personal Foul.
59 - 52
8:29
Keith Bogans missed 11 ft jumper.
59 - 52
8:27
Emeka Okafor offensive rebound.
59 - 52
8:23
Gerald Wallace missed 25 ft three point jumper.
59 - 52
8:22
Mark Madsen defensive rebound.
59 - 52
8:15
Latrell Sprewell made jumper. Assisted by Troy Hudson.
59 - 54
8:12
Charlotte Full Timeout.
59 - 54
7:50
Emeka Okafor's layup blocked by Kevin Garnett.
59 - 54
7:48
Kevin Garnett defensive rebound.
59 - 54
7:43
Troy Hudson missed 25 ft three point jumper.
59 - 54
7:43
Kevin Garnett offensive rebound.
59 - 54
7:41
Kevin Garnett made dunk.
59 - 56
7:13
Jason Hart missed 22 ft jumper.
59 - 56
7:11
Kevin Garnett defensive rebound.
59 - 56
6:56
Kevin Garnett made 21 ft jumper. Assisted by Troy Hudson.
59 - 58
6:52
Charlotte 20 Sec. Timeout.
59 - 58
6:37
Jason Hart's layup blocked by Kevin Garnett.
59 - 58
6:35
Charlotte offensive rebound.
59 - 58
6:28
Keith Bogans missed 5 ft jumper.
59 - 58
6:28
Kevin Garnett defensive rebound.
59 - 58
6:18
Mark Madsen made layup. Assisted by Kevin Garnett.
59 - 60
5:56
Primoz Brezec Bad Pass. Stolen by Kevin Garnett.
59 - 60
5:43
Trenton Hassell missed 11 ft jumper.
59 - 60
5:41
Primoz Brezec defensive rebound.
59 - 60
5:30
Trenton Hassell Personal Foul. His 1st Personal Foul.
59 - 60
5:30
Jason Kapono enters the game for Keith Bogans.
59 - 60
5:30
Theron Smith enters the game for Gerald Wallace.
59 - 60
5:20
Emeka Okafor missed 7 ft jumper.
59 - 60
5:18
Mark Madsen defensive rebound.
59 - 60
5:09
Latrell Sprewell Traveling
59 - 60
4:47
Troy Hudson Personal Foul. His 2nd Personal Foul.
59 - 60
4:47
Malik Allen enters the game for Emeka Okafor.
59 - 60
4:47
Anthony Carter enters the game for Troy Hudson.
59 - 60
4:46
Theron Smith Bad Pass. Stolen by Anthony Carter.
59 - 60
4:41
Anthony Carter missed layup.
59 - 60
4:39
Theron Smith defensive rebound.
59 - 60
4:33
Jason Hart missed 24 ft three point jumper.
59 - 60
4:33
Charlotte defensive rebound.
59 - 60
4:20
Kevin Garnett missed 18 ft jumper.
59 - 60
4:18
Minnesota defensive rebound.
59 - 60
3:59
Jason Kapono made jumper.
61 - 60
3:44
Latrell Sprewell missed 22 ft jumper.
61 - 60
3:43
Mark Madsen offensive rebound.
61 - 60
3:43
Primoz Brezec Personal Foul. His 2nd Personal Foul.
61 - 60
3:43
Cory Alexander enters the game for Jason Hart.
61 - 60
3:30
Kevin Garnett made 13 ft two point shot.
61 - 62
3:14
Jason Kapono made 20 ft jumper.
63 - 62
2:54
Malik Allen Shooting Foul. His 1st Personal Foul.
63 - 62
2:54
Minnesota Full Timeout.
63 - 62
2:54
Trenton Hassell missed Free Throw 1 of 2.
63 - 62
2:54
Minnesota offensive rebound.
63 - 62
2:54
Trenton Hassell made Free Throw 2 of 2.
63 - 63
2:30
Theron Smith missed 17 ft jumper.
63 - 63
2:29
Kevin Garnett defensive rebound.
63 - 63
2:24
Anthony Carter made driving layup. Assisted by Kevin Garnett.
63 - 65
2:11
Jason Kapono missed 11 ft running jumper.
63 - 65
2:10
Charlotte defensive rebound.
63 - 65
2:10
Jason Kapono Loose Ball Foul. His 1st Personal Foul.
63 - 65
2:10
Fred Hoiberg enters the game for Latrell Sprewell.
63 - 65
2:10
Emeka Okafor enters the game for Primoz Brezec.
63 - 65
1:55
Kevin Garnett made 5 ft two point shot. Assisted by Fred Hoiberg.
63 - 67
1:55
Cory Alexander Shooting Foul. His 4th Personal Foul.
63 - 67
1:55
Kevin Garnett made Free Throw 1 of 1.
63 - 68
1:36
Malik Allen missed jumper.
63 - 68
1:34
Emeka Okafor offensive rebound.
63 - 68
1:32
Emeka Okafor made 6 ft hook shot.
65 - 68
1:16
Kevin Garnett made slam dunk. Assisted by Trenton Hassell.
65 - 70
1:16
Malik Allen Shooting Foul. His 3rd Personal Foul.
65 - 70
1:16
Kevin Garnett made Free Throw 1 of 1.
65 - 71
0:57
Cory Alexander missed 25 ft three point jumper.
65 - 71
0:55
Emeka Okafor offensive rebound.
65 - 71
0:54
Emeka Okafor made layup.
67 - 71
0:30
Fred Hoiberg made 9 ft running jumper.
67 - 73
0:09
Cory Alexander missed 13 ft jumper.
67 - 73
0:08
Fred Hoiberg defensive rebound.
67 - 73
0:00
Trenton Hassell missed 14 ft jumper.
67 - 73
0:00
Jason Kapono defensive rebound.
67 - 73
0:00
End of the 3rd Quarter.
67 - 73

time
TEAM
PLAY
SCORE
12:00
Start of the 4th Quarter.
67 - 73
11:37
Emeka Okafor Shooting Foul. His 3rd Personal Foul.
67 - 75
11:37
Trenton Hassell made driving layup.
67 - 75
11:37
Trenton Hassell made Free Throw 1 of 1.
67 - 76
11:27
Jason Kapono missed 18 ft jumper.
67 - 76
11:26
Wally Szczerbiak defensive rebound.
67 - 76
11:21
Gerald Wallace Shooting Foul. His 2nd Personal Foul.
67 - 76
11:21
Wally Szczerbiak made Free Throw 1 of 2.
67 - 77
11:21
Wally Szczerbiak made Free Throw 2 of 2.
67 - 78
11:07
Anthony Carter Personal Foul. His 2nd Personal Foul.
67 - 78
10:59
Jason Kapono Lost Ball. Stolen by Anthony Carter.
67 - 78
10:52
Wally Szczerbiak missed 19 ft jumper.
67 - 78
10:49
Gerald Wallace defensive rebound.
67 - 78
10:49
Charlotte Full Timeout called by Gerald Wallace.
67 - 78
10:48
Charlotte Full Timeout called by Gerald Wallace.
67 - 78
10:36
Cory Alexander missed 14 ft jumper.
67 - 78
10:34
Wally Szczerbiak defensive rebound.
67 - 78
10:26
Wally Szczerbiak missed 20 ft jumper.
67 - 78
10:25
Trenton Hassell offensive rebound.
67 - 78
10:23
Trenton Hassell's layup blocked by Jason Kapono.
67 - 78
10:23
Minnesota defensive rebound.
67 - 78
10:23
Jason Hart enters the game for Cory Alexander.
67 - 78
10:23
Jumpball: Jason Kapono vs. Trenton Hassell. Jason Hart gains possession.
67 - 78
10:23
Trenton Hassell Lost Ball. Stolen by Jason Kapono.
67 - 78
10:18
Jason Hart missed layup.
67 - 78
10:17
Gerald Wallace offensive rebound.
69 - 78
10:17
Gerald Wallace made two point shot.
69 - 78
9:52
Wally Szczerbiak Lost Ball. Stolen by Malik Allen.
69 - 78
9:48
Malik Allen made dunk.
71 - 78
9:27
Keith Bogans enters the game for Jason Kapono.
71 - 78
9:27
Troy Hudson enters the game for Anthony Carter.
71 - 78
9:27
Malik Allen Personal Foul. His 3rd Personal Foul.
71 - 78
9:12
Trenton Hassell missed 8 ft jumper.
71 - 78
9:11
Emeka Okafor defensive rebound.
71 - 78
9:03
Malik Allen missed 19 ft jumper.
71 - 78
9:00
Troy Hudson defensive rebound.
71 - 78
8:53
Malik Allen Shooting Foul. His 4th Personal Foul.
71 - 78
8:53
Mark Madsen Turnover
71 - 78
8:53
Full Timeout.
71 - 78
8:53
Latrell Sprewell enters the game for Trenton Hassell.
71 - 78
8:53
Primoz Brezec enters the game for Malik Allen.
71 - 78
8:53
Wally Szczerbiak made Free Throw 1 of 2.
71 - 79
8:53
Wally Szczerbiak made Free Throw 2 of 2.
71 - 80
8:45
Latrell Sprewell Personal Foul. His 1st Personal Foul.
71 - 80
8:37
Mark Madsen Personal Foul. His 5th Personal Foul.
71 - 80
8:27
Primoz Brezec missed 10 ft jumper.
71 - 80
8:26
Keith Bogans offensive rebound.
71 - 80
8:23
Keith Bogans missed layup.
71 - 80
8:22
Fred Hoiberg defensive rebound.
71 - 80
8:18
Wally Szczerbiak's 5 ft jumper blocked by Gerald Wallace.
71 - 80
8:15
Troy Hudson offensive rebound.
71 - 80
8:14
Fred Hoiberg made 25 ft three point jumper. Assisted by Troy Hudson.
71 - 83
7:56
Keith Bogans missed driving layup.
71 - 83
7:54
Fred Hoiberg defensive rebound.
71 - 83
7:50
Keith Bogans Shooting Foul. His 2nd Personal Foul.
71 - 83
7:50
Keith Bogans Technical Foul. His 1st Technical Foul.
71 - 83
7:50
Fred Hoiberg made Technical Free Throw.
71 - 84
7:50
Fred Hoiberg made Technical Free Throw.
71 - 85
7:50
Wally Szczerbiak made Free Throw 1 of 2.
71 - 86
7:50
Wally Szczerbiak made Free Throw 2 of 2.
71 - 87
7:31
Keith Bogans made driving layup.
73 - 87
7:15
Latrell Sprewell missed 21 ft jumper.
73 - 87
7:13
Gerald Wallace defensive rebound.
73 - 87
7:05
Primoz Brezec made 4 ft two point shot. Assisted by Jason Hart.
75 - 87
6:50
Troy Hudson Discontinue Dribble
75 - 87
6:37
Jason Hart missed 19 ft jumper.
75 - 87
6:37
Primoz Brezec offensive rebound.
75 - 87
6:37
Mark Madsen Shooting Foul. His 5th Personal Foul.
75 - 87
6:37
Primoz Brezec missed Free Throw 1 of 2.
75 - 87
6:37
Charlotte offensive rebound.
75 - 87
6:37
Kevin Garnett enters the game for Fred Hoiberg.
75 - 87
6:37
Primoz Brezec made Free Throw 2 of 2.
76 - 87
6:15
Jason Hart Shooting Foul. His 2nd Personal Foul.
76 - 87
6:15
Kevin Garnett made Free Throw 1 of 2.
76 - 88
6:15
Kevin Garnett made Free Throw 2 of 2.
76 - 89
6:03
Keith Bogans Bad Pass. Stolen by Kevin Garnett.
76 - 89
5:48
Latrell Sprewell missed 24 ft three point jumper.
76 - 89
5:48
Emeka Okafor defensive rebound.
76 - 89
5:37
Jason Hart made running jumper.
78 - 89
5:13
Kevin Garnett's layup blocked by Gerald Wallace.
78 - 89
5:11
Kevin Garnett offensive rebound.
78 - 89
5:09
Kevin Garnett missed 5 ft jumper.
78 - 89
5:07
Emeka Okafor defensive rebound.
78 - 89
5:05
Keith Bogans made driving layup.
80 - 89
5:03
Minnesota Full Timeout.
80 - 89
5:03
Anthony Carter enters the game for Troy Hudson.
80 - 89
5:03
Matt Carroll enters the game for Keith Bogans.
80 - 89
4:43
Kevin Garnett made dunk. Assisted by Latrell Sprewell.
80 - 91
4:31
Jason Hart's 20 ft jumper blocked by Anthony Carter.
80 - 91
4:31
Kevin Garnett defensive rebound.
80 - 91
4:28
Anthony Carter's layup blocked by Gerald Wallace.
80 - 91
4:26
Minnesota offensive rebound.
80 - 91
4:26
John Thomas enters the game for Mark Madsen.
80 - 91
4:26
Kevin Garnett Offensive Foul. His 3rd Personal Foul.
80 - 91
4:26
Kevin Garnett Turnover
80 - 91
4:03
Gerald Wallace missed 25 ft three point jumper.
80 - 91
4:01
John Thomas defensive rebound.
80 - 91
3:50
Latrell Sprewell missed 15 ft jumper.
80 - 91
3:48
Primoz Brezec defensive rebound.
80 - 91
3:41
Anthony Carter Shooting Foul. His 3rd Personal Foul.
80 - 91
3:41
Keith Bogans enters the game for Matt Carroll.
80 - 91
3:41
Gerald Wallace made Free Throw 1 of 2.
81 - 91
3:41
Gerald Wallace missed Free Throw 2 of 2.
81 - 91
3:41
Gerald Wallace offensive rebound.
81 - 91
3:35
Gerald Wallace missed layup.
81 - 91
3:34
Kevin Garnett defensive rebound.
81 - 91
3:30
Anthony Carter made driving layup. Assisted by Latrell Sprewell.
81 - 93
3:29
Gerald Wallace Technical Foul. His 1st Technical Foul.
81 - 93
3:29
Wally Szczerbiak made Technical Free Throw.
81 - 94
3:16
Kevin Garnett Personal Foul. His 3rd Personal Foul.
81 - 94
3:16
Emeka Okafor made Free Throw 1 of 2.
82 - 94
3:16
Emeka Okafor made Free Throw 2 of 2.
83 - 94
3:04
Kevin Garnett made 5 ft two point shot. Assisted by Anthony Carter.
83 - 96
2:56
Anthony Carter Personal Foul. His 4th Personal Foul.
83 - 96
2:56
Charlotte Full Timeout.
83 - 96
2:56
Jason Hart missed Free Throw 1 of 2.
83 - 96
2:56
Charlotte offensive rebound.
83 - 96
2:56
Jason Hart made Free Throw 2 of 2.
84 - 96
2:35
Latrell Sprewell made 15 ft jumper. Assisted by Anthony Carter.
84 - 98
2:20
Primoz Brezec Bad Pass. Stolen by Kevin Garnett.
84 - 98
2:17
Kevin Garnett Bad Pass. Stolen by Gerald Wallace.
84 - 98
2:15
Jason Kapono enters the game for Keith Bogans.
84 - 98
2:14
Jason Hart made layup. Assisted by Gerald Wallace.
86 - 98
1:50
Kevin Garnett missed 16 ft jumper.
86 - 98
1:47
Jason Kapono defensive rebound.
86 - 98
1:43
Jason Kapono made 24 ft three point jumper. Assisted by Jason Hart.
89 - 98
1:25
Latrell Sprewell made 16 ft jumper. Assisted by Anthony Carter.
89 - 100
1:25
Charlotte Full Timeout.
89 - 100
1:22
Wally Szczerbiak Shooting Foul. His 1st Personal Foul.
89 - 100
1:22
Jason Kapono missed Free Throw 1 of 2.
89 - 100
1:22
Charlotte offensive rebound.
89 - 100
1:22
Jason Kapono made Free Throw 2 of 2.
90 - 100
1:17
Jason Hart Personal Foul. His 3rd Personal Foul.
90 - 100
1:17
Matt Carroll enters the game for Gerald Wallace.
90 - 100
1:17
Charlotte Full Timeout.
90 - 100
1:17
Fred Hoiberg enters the game for Wally Szczerbiak.
90 - 100
1:17
Latrell Sprewell made Free Throw 1 of 2.
90 - 101
1:17
Latrell Sprewell made Free Throw 2 of 2.
90 - 102
1:07
Jason Hart made 9 ft running jumper.
92 - 102
1:07
Anthony Carter Shooting Foul. His 6th Personal Foul.
92 - 102
1:07
Jason Hart made Free Throw 1 of 1.
93 - 102
0:46
Kevin Garnett missed 7 ft jumper.
93 - 102
0:45
Emeka Okafor defensive rebound.
93 - 102
0:36
Jason Hart missed 18 ft jumper.
93 - 102
0:36
Primoz Brezec offensive rebound.
93 - 102
0:34
Fred Hoiberg Personal Foul. His 2nd Personal Foul.
93 - 102
0:34
Primoz Brezec made Free Throw 1 of 2.
94 - 102
0:34
Primoz Brezec made Free Throw 2 of 2.
95 - 102
0:09
Kevin Garnett missed 11 ft jumper.
95 - 102
0:07
Primoz Brezec defensive rebound.
95 - 102
0:02
Emeka Okafor made layup. Assisted by Primoz Brezec.
97 - 102
0:00
End of the 4th Quarter.
97 - 102
0:00
End Game
97 - 102
Joe Johnson lobs the ball up and Hassan Whiteside does the rest throwing down a two-handed hammer in the second quarter against the Raptors.

DeMar DeRozan gets the steal on the defensive end and the Raptors push the tempo on the offensive end, leading to a DeMarre Carroll 3-pointer in the first quarter against the Heat.

Tom Haberstroh goes inside the numbers to show how J.R. Smith is on pace to be the all-time 3-point champ.
2015-2016 Northwest Standings