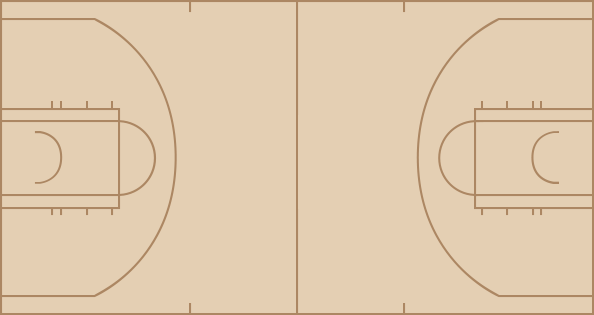 Clippers
time
TEAM
PLAY
SCORE
12:00
Start of the 1st Quarter.
0 - 0
12:00
Jumpball: Chris Kaman vs. Brian Skinner. Rick Brunson gains possession.
0 - 0
11:45
Corey Maggette's 5 ft jumper blocked by Brian Skinner.
0 - 0
11:44
Bobby Simmons offensive rebound.
0 - 0
11:33
Corey Maggette made jumper. Assisted by Elton Brand.
2 - 0
11:19
Peja Stojakovic missed 20 ft jumper.
2 - 0
11:18
Chris Kaman defensive rebound.
2 - 0
11:00
Elton Brand made two point shot.
4 - 0
10:41
Darius Songaila made 16 ft jumper.
4 - 2
10:25
Chris Kaman missed 9 ft jumper.
4 - 2
10:22
Brian Skinner defensive rebound.
4 - 2
10:18
Mike Bibby made driving layup.
4 - 4
10:18
Elton Brand Shooting Foul. His 2nd Personal Foul.
4 - 4
10:18
Mike Bibby made Free Throw 1 of 1.
4 - 5
10:00
Bobby Simmons missed 19 ft jumper.
4 - 5
9:57
Los Angeles defensive rebound.
4 - 5
9:42
Cuttino Mobley missed 21 ft jumper.
4 - 5
9:41
Chris Kaman defensive rebound.
4 - 5
9:30
Darius Songaila Shooting Foul. His 1st Personal Foul.
4 - 5
9:30
Chris Kaman missed Free Throw 1 of 2.
4 - 5
9:30
Los Angeles offensive rebound.
4 - 5
9:30
Chris Kaman missed Free Throw 2 of 2.
4 - 5
9:29
Peja Stojakovic defensive rebound.
4 - 5
9:12
Peja Stojakovic missed 18 ft jumper.
4 - 5
9:11
Elton Brand defensive rebound.
4 - 5
9:04
Corey Maggette made layup. Assisted by Rick Brunson.
6 - 5
8:53
Mike Bibby made 7 ft two point shot.
6 - 7
8:36
Chris Kaman's 6 ft two point shot blocked by Brian Skinner.
6 - 7
8:34
Brian Skinner defensive rebound.
6 - 7
8:27
Mike Bibby made 23 ft three point jumper. Assisted by Peja Stojakovic.
6 - 10
8:11
Rick Brunson missed jumper.
6 - 10
8:11
Brian Skinner defensive rebound.
6 - 10
8:00
Darius Songaila missed 21 ft jumper.
6 - 10
7:58
Brian Skinner offensive rebound.
6 - 10
7:56
Brian Skinner made 5 ft two point shot.
6 - 12
7:48
Los Angeles Full Timeout.
6 - 12
7:37
Bobby Simmons made 21 ft jumper. Assisted by Corey Maggette.
8 - 12
7:24
Mike Bibby made driving layup.
8 - 14
7:01
Corey Maggette missed 23 ft jumper.
8 - 14
7:00
Darius Songaila defensive rebound.
8 - 14
6:48
Cuttino Mobley Turnover
8 - 14
6:28
Elton Brand made 10 ft two point shot.
10 - 14
6:13
Elton Brand Shooting Foul. His 2nd Personal Foul.
10 - 14
6:13
Brian Skinner made Free Throw 1 of 2.
10 - 15
6:13
Chris Wilcox enters the game for Elton Brand.
10 - 15
6:13
Brian Skinner missed Free Throw 2 of 2.
10 - 15
6:11
Chris Wilcox defensive rebound.
10 - 15
5:54
Rick Brunson made 21 ft jumper. Assisted by Corey Maggette.
12 - 15
5:37
Brian Skinner missed 10 ft jumper.
12 - 15
5:35
Chris Kaman defensive rebound.
12 - 15
5:24
Chris Kaman missed dunk.
12 - 15
5:22
Chris Kaman offensive rebound.
12 - 15
5:20
Chris Kaman's 6 ft jumper blocked by Brian Skinner.
12 - 15
5:20
Cuttino Mobley defensive rebound.
12 - 15
5:13
Mike Bibby missed 25 ft three point jumper.
12 - 15
5:11
Corey Maggette defensive rebound.
12 - 15
5:05
Corey Maggette made 16 ft jumper.
14 - 15
4:50
Peja Stojakovic missed 26 ft three point jumper.
14 - 15
4:48
Corey Maggette defensive rebound.
14 - 15
4:37
Bobby Simmons made 19 ft jumper. Assisted by Rick Brunson.
16 - 15
4:16
Mike Bibby Bad Pass. Stolen by Rick Brunson.
16 - 15
4:11
Zeljko Rebraca enters the game for Chris Kaman.
16 - 15
4:03
Darius Songaila Personal Foul. His 2nd Personal Foul.
16 - 15
4:03
Kenny Thomas enters the game for Darius Songaila.
16 - 15
3:57
Bobby Simmons missed 19 ft jumper.
16 - 15
3:56
Brian Skinner defensive rebound.
16 - 15
3:43
Bobby Simmons Personal Foul. His 1st Personal Foul.
16 - 15
3:36
Brian Skinner made jumper. Assisted by Mike Bibby.
16 - 17
3:23
Corey Maggette's 19 ft jumper blocked by Cuttino Mobley.
16 - 17
3:20
Chris Wilcox offensive rebound.
16 - 17
3:17
Chris Wilcox missed layup.
16 - 17
3:15
Kenny Thomas defensive rebound.
16 - 17
3:11
Peja Stojakovic made 25 ft three point jumper. Assisted by Mike Bibby.
16 - 20
2:55
Peja Stojakovic Shooting Foul. His 1st Personal Foul.
16 - 20
2:55
Sacramento Full Timeout.
16 - 20
2:55
Bobby Simmons made Free Throw 1 of 2.
17 - 20
2:55
Bobby Simmons made Free Throw 2 of 2.
18 - 20
2:38
Kenny Thomas missed 22 ft jumper.
18 - 20
2:35
Zeljko Rebraca defensive rebound.
18 - 20
2:20
Zeljko Rebraca made 8 ft two point shot. Assisted by Chris Wilcox.
20 - 20
2:04
Kenny Thomas made 5 ft two point shot. Assisted by Brian Skinner.
20 - 22
1:39
Zeljko Rebraca made 11 ft two point shot.
22 - 22
1:29
Kenny Thomas made 17 ft jumper. Assisted by Mike Bibby.
22 - 24
1:08
Chris Wilcox made 5 ft jumper. Assisted by Bobby Simmons.
24 - 24
1:08
Kenny Thomas Shooting Foul. His 2nd Personal Foul.
24 - 24
1:08
Maurice Evans enters the game for Cuttino Mobley.
24 - 24
1:08
Chris Wilcox made Free Throw 1 of 1.
25 - 24
0:56
Mike Bibby missed 21 ft jumper.
25 - 24
0:55
Chris Wilcox defensive rebound.
25 - 24
0:45
Corey Maggette made 25 ft three point jumper. Assisted by Rick Brunson.
28 - 24
0:31
Maurice Evans missed three point jumper.
28 - 24
0:30
Bobby Simmons defensive rebound.
28 - 24
0:20
Corey Maggette Bad Pass. Stolen by Brian Skinner.
28 - 24
0:20
Kenny Thomas Jump Ball
28 - 24
0:10
Corey Maggette made two point shot.
30 - 24
0:10
Brian Skinner Shooting Foul. His 1st Personal Foul.
30 - 24
0:10
Quinton Ross enters the game for Bobby Simmons.
30 - 24
0:10
Corey Maggette made Free Throw 1 of 1.
31 - 24
0:04
Lionel Chalmers Personal Foul. His 1st Personal Foul.
31 - 24
0:00
Mike Bibby missed layup.
31 - 24
0:00
Brian Skinner offensive rebound.
31 - 24
0:00
End of the 1st Quarter.
31 - 24

time
TEAM
PLAY
SCORE
12:00
Start of the 2nd Quarter.
31 - 24
11:45
Kenny Thomas made 7 ft jumper.
31 - 26
11:26
Zeljko Rebraca missed 12 ft jumper.
31 - 26
11:26
Mike Bibby defensive rebound.
31 - 26
11:21
Kenny Thomas made 19 ft jumper. Assisted by Mike Bibby.
31 - 28
10:56
Zeljko Rebraca made two point shot.
33 - 28
10:44
Peja Stojakovic missed 25 ft three point jumper.
33 - 28
10:42
Zeljko Rebraca defensive rebound.
33 - 28
10:26
Kenny Thomas Personal Foul. His 2nd Personal Foul.
33 - 28
10:17
Chris Wilcox made dunk. Assisted by Lionel Chalmers.
35 - 28
10:00
Maurice Evans made 14 ft jumper.
35 - 30
9:42
Quinton Ross made 18 ft jumper.
37 - 30
9:26
Mike Bibby made 17 ft jumper.
37 - 32
9:11
Zeljko Rebraca missed jumper.
37 - 32
9:10
Mike Bibby defensive rebound.
37 - 32
9:03
Peja Stojakovic missed 24 ft three point jumper.
37 - 32
9:02
Zeljko Rebraca defensive rebound.
37 - 32
8:55
Lionel Chalmers missed driving dunk.
37 - 32
8:52
Maurice Evans defensive rebound.
37 - 32
8:48
Corliss Williamson made layup. Assisted by Mike Bibby.
37 - 34
8:36
Maurice Evans Personal Foul. His 2nd Personal Foul.
37 - 34
8:36
Official Timeout.
37 - 34
8:36
Cuttino Mobley enters the game for Peja Stojakovic.
37 - 34
8:36
Eddie House enters the game for Mike Bibby.
37 - 34
8:36
Elton Brand enters the game for Corey Maggette.
37 - 34
8:36
Bobby Simmons enters the game for Chris Wilcox.
37 - 34
8:19
Elton Brand Lost Ball. Stolen by Maurice Evans.
37 - 34
8:03
Corliss Williamson missed jumper.
37 - 34
8:03
Sacramento offensive rebound.
37 - 34
7:54
Corliss Williamson made 3 ft two point shot.
37 - 36
7:39
Elton Brand missed 11 ft jumper.
37 - 36
7:37
Maurice Evans defensive rebound.
37 - 36
7:26
Cuttino Mobley made two point shot.
37 - 38
7:07
Zeljko Rebraca made layup. Assisted by Lionel Chalmers.
39 - 38
6:52
Eddie House made two point shot. Assisted by Kenny Thomas.
39 - 40
6:33
Bobby Simmons made 21 ft two point shot. Assisted by Lionel Chalmers.
41 - 40
6:13
Cuttino Mobley missed jumper.
41 - 40
6:13
Bobby Simmons defensive rebound.
41 - 40
6:01
Bobby Simmons Bad Pass. Stolen by Kenny Thomas.
41 - 40
5:56
Corliss Williamson made layup. Assisted by Kenny Thomas.
41 - 42
5:37
Elton Brand made 8 ft jumper.
43 - 42
5:24
Corliss Williamson made 17 ft two point shot.
43 - 44
5:05
Zeljko Rebraca Lost Ball. Stolen by Kenny Thomas.
43 - 44
5:00
Kenny Thomas missed two point shot.
43 - 44
4:58
Cuttino Mobley offensive rebound.
43 - 44
4:58
Cuttino Mobley made layup.
43 - 46
4:48
Los Angeles Full Timeout.
43 - 46
4:48
Rick Brunson enters the game for Zeljko Rebraca.
43 - 46
4:48
Chris Kaman enters the game for Lionel Chalmers.
43 - 46
4:37
Quinton Ross made layup. Assisted by Rick Brunson.
45 - 46
4:20
Cuttino Mobley made two point shot.
45 - 48
4:03
Cuttino Mobley Personal Foul. His 1st Personal Foul.
45 - 48
3:58
Bobby Simmons made 18 ft jumper. Assisted by Rick Brunson.
47 - 48
3:40
Corliss Williamson missed 18 ft jumper.
47 - 48
3:38
Kenny Thomas offensive rebound.
47 - 48
3:38
Kenny Thomas missed tip shot.
47 - 48
3:36
Chris Kaman defensive rebound.
47 - 48
3:20
Quinton Ross made 20 ft jumper. Assisted by Elton Brand.
49 - 48
3:05
Kenny Thomas made 21 ft jumper.
49 - 50
2:49
Elton Brand missed 14 ft jumper.
49 - 50
2:47
Kenny Thomas defensive rebound.
49 - 50
2:38
Corliss Williamson missed 6 ft two point shot.
49 - 50
2:36
Quinton Ross defensive rebound.
49 - 50
2:15
Chris Kaman made 11 ft two point shot.
51 - 50
2:05
Sacramento Full Timeout.
51 - 50
2:05
Mike Bibby enters the game for Maurice Evans.
51 - 50
2:05
Peja Stojakovic enters the game for Corliss Williamson.
51 - 50
2:05
Brian Skinner enters the game for Eddie House.
51 - 50
1:54
Cuttino Mobley missed 22 ft jumper.
51 - 50
1:53
Chris Kaman defensive rebound.
51 - 50
1:34
Chris Kaman Traveling
51 - 50
1:34
Corey Maggette enters the game for Quinton Ross.
51 - 50
1:14
Brian Skinner's 7 ft jumper blocked by Elton Brand.
51 - 50
1:14
Rick Brunson defensive rebound.
51 - 50
1:04
Elton Brand missed 5 ft jumper.
51 - 50
1:01
Mike Bibby defensive rebound.
51 - 50
0:57
Cuttino Mobley made 25 ft three point jumper. Assisted by Mike Bibby.
51 - 53
0:36
Chris Kaman made dunk. Assisted by Rick Brunson.
53 - 53
0:30
Mike Bibby made 16 ft two point shot.
53 - 55
0:18
Corey Maggette missed 20 ft jumper.
53 - 55
0:16
Brian Skinner defensive rebound.
53 - 55
0:07
Rick Brunson Personal Foul. His 1st Personal Foul.
53 - 55
0:01
Cuttino Mobley missed 17 ft jumper.
53 - 55
0:00
Chris Kaman defensive rebound.
53 - 55
0:00
End of the 2nd Quarter.
53 - 55

time
TEAM
PLAY
SCORE
12:00
Start of the 3rd Quarter.
53 - 55
11:42
Mike Bibby missed 21 ft jumper.
53 - 55
11:41
Chris Kaman defensive rebound.
53 - 55
11:29
Corey Maggette's 4 ft jumper blocked by Brian Skinner.
53 - 55
11:27
Chris Kaman offensive rebound.
53 - 55
11:27
Chris Kaman made 6 ft two point shot.
55 - 55
11:27
Brian Skinner Shooting Foul. His 3rd Personal Foul.
55 - 55
11:27
Chris Kaman made Free Throw 1 of 1.
56 - 55
11:15
Cuttino Mobley Bad Pass. Stolen by Chris Kaman.
56 - 55
11:11
Corey Maggette made driving dunk. Assisted by Chris Kaman.
58 - 55
10:52
Mike Bibby made 18 ft jumper. Assisted by Darius Songaila.
58 - 57
10:26
Elton Brand made 17 ft jumper.
60 - 57
10:14
Peja Stojakovic made 24 ft three point jumper. Assisted by Darius Songaila.
60 - 60
9:52
Elton Brand missed 7 ft jumper.
60 - 60
9:51
Brian Skinner defensive rebound.
60 - 60
9:44
Mike Bibby missed 19 ft jumper.
60 - 60
9:41
Corey Maggette defensive rebound.
60 - 60
9:33
Peja Stojakovic Personal Foul. His 2nd Personal Foul.
60 - 60
9:23
Corey Maggette missed 9 ft jumper.
60 - 60
9:23
Los Angeles defensive rebound.
60 - 60
9:14
Cuttino Mobley made three point jumper. Assisted by Mike Bibby.
60 - 63
8:56
Bobby Simmons made 19 ft jumper.
62 - 63
8:42
Brian Skinner made dunk. Assisted by Mike Bibby.
62 - 65
8:27
Rick Brunson missed 20 ft jumper.
62 - 65
8:26
Cuttino Mobley defensive rebound.
62 - 65
8:18
Cuttino Mobley made 16 ft jumper.
62 - 67
8:07
Corey Maggette made 18 ft jumper.
64 - 67
7:52
Brian Skinner made 14 ft jumper. Assisted by Mike Bibby.
64 - 69
7:47
Cuttino Mobley Shooting Foul. His 2nd Personal Foul.
64 - 69
7:47
Corey Maggette made Free Throw 1 of 2.
65 - 69
7:47
Corey Maggette made Free Throw 2 of 2.
66 - 69
7:31
Brian Skinner made 6 ft running jumper.
66 - 71
7:31
Elton Brand Shooting Foul. His 4th Personal Foul.
66 - 71
7:31
Brian Skinner made Free Throw 1 of 1.
66 - 72
7:16
Darius Songaila Shooting Foul. His 3rd Personal Foul.
66 - 72
7:16
Elton Brand made Free Throw 1 of 2.
67 - 72
7:16
Elton Brand made Free Throw 2 of 2.
68 - 72
7:05
Mike Bibby missed 18 ft jumper.
68 - 72
7:05
Elton Brand defensive rebound.
68 - 72
6:56
Bobby Simmons missed 19 ft jumper.
68 - 72
6:56
Los Angeles defensive rebound.
68 - 72
6:47
Peja Stojakovic missed 24 ft three point jumper.
68 - 72
6:45
Corey Maggette defensive rebound.
68 - 72
6:41
Elton Brand Turnover
68 - 72
6:28
Elton Brand Shooting Foul. His 4th Personal Foul.
68 - 72
6:28
Darius Songaila made Free Throw 1 of 2.
68 - 73
6:28
Zeljko Rebraca enters the game for Elton Brand.
68 - 73
6:28
Darius Songaila made Free Throw 2 of 2.
68 - 74
6:15
Corey Maggette missed layup.
68 - 74
6:13
Corey Maggette offensive rebound.
68 - 74
6:13
Corey Maggette made layup.
70 - 74
6:13
Brian Skinner Illegal Defense
70 - 74
6:00
Cuttino Mobley made jumper.
70 - 76
5:43
Corey Maggette missed 4 ft jumper.
70 - 76
5:41
Cuttino Mobley defensive rebound.
70 - 76
5:41
Corey Maggette Personal Foul. His 1st Personal Foul.
70 - 76
5:41
Sacramento Full Timeout.
70 - 76
5:28
Mike Bibby made 10 ft jumper.
70 - 78
5:13
Zeljko Rebraca made 9 ft two point shot. Assisted by Corey Maggette.
72 - 78
5:01
Cuttino Mobley made 23 ft three point jumper. Assisted by Mike Bibby.
72 - 81
4:37
Corey Maggette made 22 ft jumper. Assisted by Zeljko Rebraca.
74 - 81
4:26
Chris Kaman Shooting Foul. His 1st Personal Foul.
74 - 81
4:26
Brian Skinner missed Free Throw 1 of 2.
74 - 81
4:26
Sacramento offensive rebound.
74 - 81
4:26
Kenny Thomas enters the game for Darius Songaila.
74 - 81
4:26
Brian Skinner missed Free Throw 2 of 2.
74 - 81
4:24
Zeljko Rebraca defensive rebound.
74 - 81
4:01
Rick Brunson missed 23 ft three point jumper.
74 - 81
4:01
Los Angeles defensive rebound.
74 - 81
3:47
Kenny Thomas missed 18 ft jumper.
74 - 81
3:47
Rick Brunson defensive rebound.
74 - 81
3:47
Mike Bibby Personal Foul. His 1st Personal Foul.
74 - 81
3:47
Bobby Simmons made Free Throw 1 of 2.
75 - 81
3:47
Bobby Simmons made Free Throw 2 of 2.
76 - 81
3:33
Bobby Simmons Shooting Foul. His 2nd Personal Foul.
76 - 81
3:33
Kenny Thomas missed Free Throw 1 of 2.
76 - 81
3:33
Sacramento offensive rebound.
76 - 81
3:33
Quinton Ross enters the game for Bobby Simmons.
76 - 81
3:33
Chris Wilcox enters the game for Chris Kaman.
76 - 81
3:33
Kenny Thomas missed Free Throw 2 of 2.
76 - 81
3:32
Corey Maggette defensive rebound.
76 - 81
3:14
Zeljko Rebraca made 8 ft two point shot.
78 - 81
2:59
Brian Skinner made 8 ft jumper. Assisted by Mike Bibby.
78 - 83
2:36
Zeljko Rebraca made 9 ft jumper.
80 - 83
2:18
Mike Bibby missed 16 ft jumper.
80 - 83
2:17
Quinton Ross defensive rebound.
80 - 83
2:00
Chris Wilcox made layup. Assisted by Quinton Ross.
82 - 83
1:44
Zeljko Rebraca Shooting Foul. His 1st Personal Foul.
82 - 83
1:44
Los Angeles Full Timeout.
82 - 83
1:44
Cuttino Mobley made Free Throw 1 of 2.
82 - 84
1:44
Cuttino Mobley made Free Throw 2 of 2.
82 - 85
1:32
Quinton Ross missed layup.
82 - 85
1:32
Los Angeles offensive rebound.
82 - 85
1:24
Cuttino Mobley Personal Foul. His 3rd Personal Foul.
82 - 85
1:24
Zeljko Rebraca made Free Throw 1 of 2.
83 - 85
1:24
Zeljko Rebraca made Free Throw 2 of 2.
84 - 85
1:09
Kenny Thomas missed 20 ft jumper.
84 - 85
1:07
Corey Maggette defensive rebound.
84 - 85
0:50
Brian Skinner Shooting Foul. His 3rd Personal Foul.
84 - 85
0:50
Corey Maggette made Free Throw 1 of 2.
85 - 85
0:50
Corey Maggette made Free Throw 2 of 2.
86 - 85
0:33
Peja Stojakovic missed 18 ft jumper.
86 - 85
0:31
Chris Wilcox defensive rebound.
86 - 85
0:13
Zeljko Rebraca's jumper blocked by Cuttino Mobley.
86 - 85
0:13
Los Angeles offensive rebound.
86 - 85
0:10
Rick Brunson made 18 ft jumper.
88 - 85
0:00
End of the 3rd Quarter.
88 - 85

time
TEAM
PLAY
SCORE
12:00
Start of the 4th Quarter.
88 - 85
11:38
Bobby Simmons made 18 ft jumper. Assisted by Quinton Ross.
90 - 85
11:14
Maurice Evans missed 23 ft jumper.
90 - 85
11:11
Sacramento offensive rebound.
90 - 85
11:11
Bobby Simmons Loose Ball Foul. His 3rd Personal Foul.
90 - 85
11:06
Mike Bibby missed 25 ft three point jumper.
90 - 85
11:03
Corliss Williamson offensive rebound.
90 - 85
11:03
Corliss Williamson missed tip shot.
90 - 85
11:03
Bobby Simmons defensive rebound.
90 - 85
10:45
Bobby Simmons missed 18 ft jumper.
90 - 85
10:44
Kenny Thomas defensive rebound.
90 - 85
10:37
Maurice Evans made 9 ft two point shot.
90 - 87
10:11
Bobby Simmons made 18 ft jumper.
92 - 87
10:00
Corliss Williamson made jumper. Assisted by Cuttino Mobley.
92 - 89
9:51
Los Angeles Full Timeout.
92 - 89
9:51
Elton Brand enters the game for Zeljko Rebraca.
92 - 89
9:34
Lionel Chalmers Bad Pass
92 - 89
9:19
Elton Brand Shooting Foul. His 5th Personal Foul.
92 - 89
9:19
Corliss Williamson made Free Throw 1 of 2.
92 - 90
9:19
Chris Kaman enters the game for Elton Brand.
92 - 90
9:19
Corliss Williamson made Free Throw 2 of 2.
92 - 91
9:03
Chris Kaman Bad Pass. Stolen by Mike Bibby.
92 - 91
8:57
Cuttino Mobley missed layup.
92 - 91
8:56
Kenny Thomas offensive rebound.
92 - 91
8:56
Kenny Thomas missed tip shot.
92 - 91
8:55
Bobby Simmons defensive rebound.
92 - 91
8:41
Quinton Ross missed jumper.
92 - 91
8:40
Chris Kaman offensive rebound.
92 - 91
8:37
Chris Kaman made 5 ft jumper.
94 - 91
8:25
Chris Kaman Personal Foul. His 2nd Personal Foul.
94 - 91
8:15
Kenny Thomas Bad Pass. Stolen by Quinton Ross.
94 - 91
8:11
Quinton Ross made driving dunk.
96 - 91
7:52
Corliss Williamson made jumper.
96 - 93
7:52
Chris Wilcox Shooting Foul. His 2nd Personal Foul.
96 - 93
7:52
Peja Stojakovic enters the game for Cuttino Mobley.
96 - 93
7:52
Corliss Williamson made Free Throw 1 of 1.
96 - 94
7:33
Quinton Ross made jumper. Assisted by Chris Wilcox.
98 - 94
7:20
Chris Kaman Personal Foul. His 3rd Personal Foul.
98 - 94
7:20
Corliss Williamson made Free Throw 1 of 2.
98 - 95
7:20
Corliss Williamson made Free Throw 2 of 2.
98 - 96
6:54
Chris Kaman made 10 ft jumper. Assisted by Bobby Simmons.
100 - 96
6:39
Corliss Williamson made layup. Assisted by Kenny Thomas.
100 - 98
6:24
Bobby Simmons missed 15 ft jumper.
100 - 98
6:22
Los Angeles offensive rebound.
100 - 98
6:22
Corliss Williamson Loose Ball Foul. His 1st Personal Foul.
100 - 98
6:22
Rick Brunson enters the game for Chris Wilcox.
100 - 98
6:22
Corey Maggette enters the game for Lionel Chalmers.
100 - 98
6:22
Cuttino Mobley enters the game for Maurice Evans.
100 - 98
6:11
Corey Maggette missed 6 ft jumper.
100 - 98
6:09
Kenny Thomas defensive rebound.
100 - 98
5:56
Corliss Williamson missed driving layup.
100 - 98
5:56
Kenny Thomas offensive rebound.
100 - 100
5:56
Kenny Thomas made layup.
100 - 100
5:37
Chris Kaman made layup.
102 - 100
5:22
Peja Stojakovic missed 24 ft three point jumper.
102 - 100
5:20
Corey Maggette defensive rebound.
102 - 100
5:18
Corey Maggette Bad Pass. Stolen by Mike Bibby.
102 - 100
5:11
Mike Bibby made 17 ft jumper.
102 - 102
5:00
Los Angeles 20 Sec. Timeout.
102 - 102
5:00
Official Timeout.
102 - 102
5:00
Zeljko Rebraca enters the game for Chris Kaman.
102 - 102
4:45
Los Angeles Full Timeout.
102 - 102
4:43
Corey Maggette missed 20 ft jumper.
102 - 102
4:43
Los Angeles offensive rebound.
102 - 102
4:43
Shot Clock Violation
102 - 102
4:31
Corliss Williamson missed 17 ft jumper.
102 - 102
4:28
Corey Maggette defensive rebound.
102 - 102
4:09
Bobby Simmons Offensive Foul. His 5th Personal Foul.
102 - 102
4:09
Bobby Simmons Turnover
102 - 102
3:54
Corliss Williamson Bad Pass. Stolen by Rick Brunson.
102 - 102
3:49
Corey Maggette made layup. Assisted by Rick Brunson.
104 - 102
3:36
Kenny Thomas Offensive Foul. His 4th Personal Foul.
104 - 102
3:36
Kenny Thomas Turnover
104 - 102
3:20
Corey Maggette missed 16 ft jumper.
104 - 102
3:19
Kenny Thomas defensive rebound.
104 - 102
3:15
Rick Brunson Shooting Foul. His 2nd Personal Foul.
104 - 102
3:15
Mike Bibby made Free Throw 1 of 2.
104 - 103
3:15
Mike Bibby made Free Throw 2 of 2.
104 - 104
3:00
Bobby Simmons made jumper. Assisted by Quinton Ross.
106 - 104
2:45
Cuttino Mobley missed 6 ft jumper.
106 - 104
2:43
Corey Maggette defensive rebound.
106 - 104
2:21
Bobby Simmons missed jumper.
106 - 104
2:19
Corliss Williamson defensive rebound.
106 - 104
2:15
Sacramento Full Timeout.
106 - 104
2:06
Kenny Thomas Bad Pass. Stolen by Zeljko Rebraca.
106 - 104
1:57
Quinton Ross made 16 ft jumper. Assisted by Rick Brunson.
108 - 104
1:49
Corliss Williamson Offensive Foul. His 3rd Personal Foul.
108 - 104
1:49
Corliss Williamson Turnover
108 - 104
1:29
Rick Brunson Lost Ball. Stolen by Mike Bibby.
108 - 104
1:25
Mike Bibby made driving layup. Assisted by Corliss Williamson.
108 - 106
1:25
Corey Maggette Shooting Foul. His 3rd Personal Foul.
108 - 106
1:25
Mike Bibby missed Free Throw 1 of 1.
108 - 106
1:24
Corliss Williamson offensive rebound.
108 - 106
1:23
Corliss Williamson missed 7 ft two point shot.
108 - 106
1:21
Bobby Simmons defensive rebound.
108 - 106
1:06
Quinton Ross's dunk blocked by Kenny Thomas.
108 - 106
1:04
Corliss Williamson defensive rebound.
108 - 106
1:00
Mike Bibby made driving layup.
108 - 108
0:46
Bobby Simmons made 19 ft jumper. Assisted by Rick Brunson.
110 - 108
0:36
Corliss Williamson made layup. Assisted by Mike Bibby.
110 - 110
0:36
Zeljko Rebraca Shooting Foul. His 3rd Personal Foul.
110 - 110
0:36
Corliss Williamson made Free Throw 1 of 1.
110 - 111
0:36
Los Angeles Full Timeout.
110 - 111
0:15
Bobby Simmons missed three point jumper.
110 - 111
0:14
Kenny Thomas defensive rebound.
110 - 111
0:10
Kenny Thomas Bad Pass. Stolen by Rick Brunson.
110 - 111
0:04
Bobby Simmons made layup. Assisted by Rick Brunson.
112 - 111
0:04
Sacramento Full Timeout.
112 - 111
0:04
Chris Kaman enters the game for Rick Brunson.
112 - 111
0:00
Mike Bibby made 22 ft jumper.
112 - 113
0:00
Corey Maggette missed 62 ft three point jumper.
112 - 113
0:00
Los Angeles offensive rebound.
112 - 113
0:00
End of the 4th Quarter.
112 - 113
0:00
End Game
112 - 113
Tom Penn is excited for the Pistons big man Andre Drummond who is nearing a five-year max deal with Detroit and explains how his potential $130 million contract could impact the rest of the team.

Brian Windhorst weighs in on the Lakers offseason moves and explains why Los Angeles appears to be acting like a small-market team, failing to get seats at the table for Kevin Durant or DeMar DeRozan.

What moves should New Orleans make this summer to build around Anthony Davis? Our NBA Insiders debate the future of the Pelicans.
Regular Season Series
SAC wins series 4-0
2015-2016 Pacific Standings