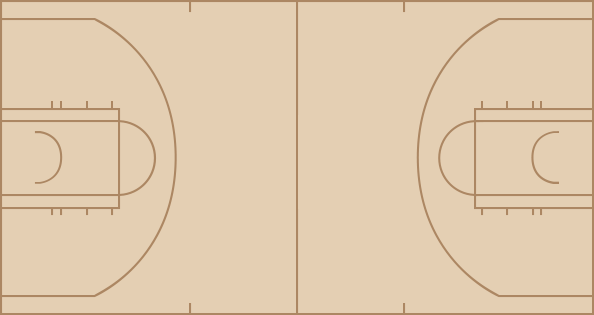 Timberwolves
time
TEAM
PLAY
SCORE
12:00
Start of the 1st Quarter.
0 - 0
12:00
Jumpball: Kevin Garnett vs. Dirk Nowitzki. Troy Hudson gains possession.
0 - 0
11:45
Troy Hudson made 22 ft two point shot.
2 - 0
11:45
Jason Terry Shooting Foul. His 2nd Personal Foul.
2 - 0
11:45
Troy Hudson made Free Throw 1 of 1.
3 - 0
11:38
Josh Howard Turnover
3 - 0
11:29
Latrell Sprewell Bad Pass. Stolen by Josh Howard.
3 - 0
11:08
Michael Finley missed 23 ft three point jumper.
3 - 0
11:07
Latrell Sprewell defensive rebound.
3 - 0
10:53
Kevin Garnett made jumper. Assisted by Trenton Hassell.
5 - 0
10:37
Dirk Nowitzki missed 16 ft jumper.
5 - 0
10:36
Latrell Sprewell defensive rebound.
5 - 0
10:18
Trenton Hassell made 19 ft jumper. Assisted by Troy Hudson.
7 - 0
10:07
Alan Henderson made layup. Assisted by Jason Terry.
7 - 2
9:45
Latrell Sprewell missed 23 ft jumper.
7 - 2
9:44
Minnesota defensive rebound.
7 - 2
9:27
Jason Terry Bad Pass. Stolen by Kevin Garnett.
7 - 2
9:17
Latrell Sprewell's 17 ft jumper blocked by Josh Howard.
7 - 2
9:17
Minnesota offensive rebound.
7 - 2
9:15
Josh Howard Shooting Foul. His 1st Personal Foul.
7 - 2
9:15
Latrell Sprewell missed Free Throw 1 of 2.
7 - 2
9:15
Minnesota offensive rebound.
7 - 2
9:15
Latrell Sprewell missed Free Throw 2 of 2.
7 - 2
9:15
Mark Madsen offensive rebound.
7 - 2
9:03
Trenton Hassell made 21 ft jumper. Assisted by Kevin Garnett.
9 - 2
8:49
Jason Terry missed 13 ft jumper.
9 - 2
8:48
Kevin Garnett defensive rebound.
9 - 2
8:37
Troy Hudson made 17 ft jumper.
11 - 2
8:26
Dirk Nowitzki made 5 ft running jumper.
11 - 4
8:17
Alan Henderson Personal Foul. His 1st Personal Foul.
11 - 4
8:03
Kevin Garnett missed 11 ft jumper.
11 - 4
8:02
Dirk Nowitzki defensive rebound.
11 - 4
7:54
Michael Finley made 25 ft three point jumper. Assisted by Dirk Nowitzki.
11 - 7
7:31
Mark Madsen's layup blocked by Dirk Nowitzki.
11 - 7
7:31
Josh Howard defensive rebound.
11 - 7
7:20
Latrell Sprewell Shooting Foul. His 1st Personal Foul.
11 - 7
7:20
Josh Howard made Free Throw 1 of 2.
11 - 8
7:20
Shawn Bradley enters the game for Alan Henderson.
11 - 8
7:20
Josh Howard missed Free Throw 2 of 2.
11 - 8
7:20
Kevin Garnett defensive rebound.
11 - 8
7:03
Shawn Bradley Shooting Foul. His 1st Personal Foul.
11 - 8
7:03
Kevin Garnett made Free Throw 1 of 2.
12 - 8
7:03
Kevin Garnett made Free Throw 2 of 2.
13 - 8
6:48
Mark Madsen Shooting Foul. His 1st Personal Foul.
13 - 8
6:48
Shawn Bradley missed Free Throw 1 of 2.
13 - 8
6:48
Dallas offensive rebound.
13 - 8
6:48
Shawn Bradley missed Free Throw 2 of 2.
13 - 8
6:47
Kevin Garnett defensive rebound.
13 - 8
6:28
Trenton Hassell made 21 ft jumper. Assisted by Kevin Garnett.
15 - 8
6:09
Jason Terry made driving layup.
15 - 10
5:52
Troy Hudson made 24 ft three point jumper. Assisted by Kevin Garnett.
18 - 10
5:41
Josh Howard missed three point jumper.
18 - 10
5:37
Trenton Hassell defensive rebound.
18 - 10
5:20
Kevin Garnett missed 19 ft jumper.
18 - 10
5:20
Mark Madsen offensive rebound.
18 - 10
5:20
Michael Finley Loose Ball Foul. His 1st Personal Foul.
18 - 10
5:20
Dallas Full Timeout.
18 - 10
5:20
Keith Van Horn enters the game for Josh Howard.
18 - 10
5:20
Marquis Daniels enters the game for Shawn Bradley.
18 - 10
5:20
Mark Madsen missed Free Throw 1 of 2.
18 - 10
5:20
Minnesota offensive rebound.
18 - 10
5:20
Mark Madsen made Free Throw 2 of 2.
19 - 10
5:03
Jason Terry missed 15 ft jumper.
19 - 10
5:01
Kevin Garnett defensive rebound.
19 - 10
4:41
Troy Hudson missed 22 ft jumper.
19 - 10
4:39
Dirk Nowitzki defensive rebound.
19 - 10
4:33
Trenton Hassell Shooting Foul. His 1st Personal Foul.
19 - 10
4:33
Michael Olowokandi enters the game for Mark Madsen.
19 - 10
4:33
Michael Finley missed Free Throw 1 of 2.
19 - 10
4:33
Dallas offensive rebound.
19 - 10
4:33
Michael Finley made Free Throw 2 of 2.
19 - 11
4:15
Keith Van Horn Shooting Foul. His 1st Personal Foul.
19 - 11
4:15
Michael Olowokandi made Free Throw 1 of 2.
20 - 11
4:15
Wally Szczerbiak enters the game for Latrell Sprewell.
20 - 11
4:15
Michael Olowokandi made Free Throw 2 of 2.
21 - 11
3:56
Dirk Nowitzki missed 5 ft hook shot.
21 - 11
3:53
Michael Olowokandi defensive rebound.
21 - 11
3:43
Kevin Garnett missed jumper.
21 - 11
3:41
Dirk Nowitzki defensive rebound.
21 - 11
3:31
Jason Terry missed 24 ft three point jumper.
21 - 11
3:30
Wally Szczerbiak defensive rebound.
21 - 11
3:13
Troy Hudson made 22 ft jumper.
23 - 11
2:53
Michael Finley made 17 ft jumper.
23 - 13
2:28
Kevin Garnett made 17 ft jumper. Assisted by Troy Hudson.
25 - 13
2:18
Michael Olowokandi Personal Foul. His 1st Personal Foul.
25 - 13
2:18
Minnesota Full Timeout.
25 - 13
2:18
Devin Harris enters the game for Jason Terry.
25 - 13
2:18
Sam Cassell enters the game for Troy Hudson.
25 - 13
2:09
Keith Van Horn missed 7 ft jumper.
25 - 13
2:06
Michael Olowokandi defensive rebound.
25 - 13
2:01
Wally Szczerbiak missed 20 ft jumper.
25 - 13
2:00
Michael Finley defensive rebound.
25 - 13
1:51
Michael Olowokandi Shooting Foul. His 2nd Personal Foul.
25 - 13
1:51
Keith Van Horn made Free Throw 1 of 2.
25 - 14
1:51
Keith Van Horn made Free Throw 2 of 2.
25 - 15
1:30
Sam Cassell missed 22 ft jumper.
25 - 15
1:28
Keith Van Horn defensive rebound.
25 - 15
1:21
Keith Van Horn's 5 ft jumper blocked by Kevin Garnett.
25 - 15
1:19
Michael Olowokandi defensive rebound.
25 - 15
0:59
Trenton Hassell missed 12 ft jumper.
25 - 15
0:57
Dirk Nowitzki defensive rebound.
25 - 15
0:49
Dirk Nowitzki made 21 ft jumper.
25 - 17
0:35
Sam Cassell's 18 ft jumper blocked by Devin Harris.
25 - 17
0:32
Marquis Daniels defensive rebound.
25 - 17
0:31
Kevin Garnett Shooting Foul. His 1st Personal Foul.
25 - 17
0:31
Devin Harris missed Free Throw 1 of 2.
25 - 17
0:31
Dallas offensive rebound.
25 - 17
0:31
Shawn Bradley enters the game for Dirk Nowitzki.
25 - 17
0:31
Devin Harris made Free Throw 2 of 2.
25 - 18
0:14
Kevin Garnett made 18 ft jumper. Assisted by Wally Szczerbiak.
27 - 18
0:01
Devin Harris missed 19 ft jumper.
27 - 18
0:00
Shawn Bradley offensive rebound.
27 - 18
0:00
Shawn Bradley missed 11 ft two point shot.
27 - 18
0:00
Dallas offensive rebound.
27 - 18
0:00
End of the 1st Quarter.
27 - 18

time
TEAM
PLAY
SCORE
12:00
Start of the 2nd Quarter.
27 - 18
11:36
Marquis Daniels missed 14 ft jumper.
27 - 18
11:33
Eddie Griffin defensive rebound.
27 - 18
11:15
Alan Henderson Shooting Foul. His 2nd Personal Foul.
27 - 18
11:15
Eddie Griffin missed Free Throw 1 of 2.
27 - 18
11:15
Minnesota offensive rebound.
27 - 18
11:15
Dirk Nowitzki enters the game for Alan Henderson.
27 - 18
11:15
Eddie Griffin made Free Throw 2 of 2.
28 - 18
11:03
Dirk Nowitzki missed 18 ft jumper.
28 - 18
11:00
Eddie Griffin defensive rebound.
28 - 18
10:48
Michael Olowokandi made jumper.
30 - 18
10:40
Marquis Daniels Turnover
30 - 18
10:22
Michael Olowokandi missed 10 ft jumper.
30 - 18
10:21
Keith Van Horn defensive rebound.
30 - 18
10:10
Dirk Nowitzki missed 25 ft three point jumper.
30 - 18
10:07
Eddie Griffin defensive rebound.
30 - 18
10:07
Devin Harris Personal Foul. His 1st Personal Foul.
30 - 18
10:07
Jason Terry enters the game for Devin Harris.
30 - 18
9:52
Keith Van Horn Personal Foul. His 2nd Personal Foul.
30 - 18
9:45
Sam Cassell made two point shot.
32 - 18
9:36
Marquis Daniels missed 12 ft jumper.
32 - 18
9:33
Fred Hoiberg defensive rebound.
32 - 18
9:27
Sam Cassell made 22 ft jumper.
34 - 18
9:14
Fred Hoiberg Shooting Foul. His 1st Personal Foul.
34 - 18
9:14
Mark Madsen enters the game for Michael Olowokandi.
34 - 18
9:14
Marquis Daniels missed Free Throw 1 of 2.
34 - 18
9:14
Dallas offensive rebound.
34 - 18
9:14
Marquis Daniels made Free Throw 2 of 2.
34 - 19
8:55
Fred Hoiberg made 19 ft jumper. Assisted by Sam Cassell.
36 - 19
8:41
Marquis Daniels missed 10 ft jumper.
36 - 19
8:38
Wally Szczerbiak defensive rebound.
36 - 19
8:33
Wally Szczerbiak missed two point shot.
36 - 19
8:30
Eddie Griffin offensive rebound.
38 - 19
8:30
Eddie Griffin made tip shot.
38 - 19
8:30
Dallas Full Timeout.
38 - 19
8:30
Michael Finley enters the game for Jason Terry.
38 - 19
8:17
Marquis Daniels made layup. Assisted by Dirk Nowitzki.
38 - 21
7:58
Wally Szczerbiak's layup blocked by Josh Howard.
38 - 21
7:58
Minnesota offensive rebound.
38 - 21
7:56
Eddie Griffin Offensive Foul. His 2nd Personal Foul.
38 - 21
7:56
Eddie Griffin Turnover
38 - 21
7:41
Dirk Nowitzki missed 6 ft jumper.
38 - 21
7:39
Wally Szczerbiak defensive rebound.
38 - 21
7:33
Sam Cassell missed 13 ft jumper.
38 - 21
7:31
Dirk Nowitzki defensive rebound.
38 - 21
7:24
Mark Madsen Shooting Foul. His 2nd Personal Foul.
38 - 21
7:24
Dirk Nowitzki made Free Throw 1 of 2.
38 - 22
7:24
Dirk Nowitzki made Free Throw 2 of 2.
38 - 23
7:13
Eddie Griffin missed 25 ft three point jumper.
38 - 23
7:11
Wally Szczerbiak offensive rebound.
38 - 23
7:09
Wally Szczerbiak missed 15 ft jumper.
38 - 23
7:07
Dirk Nowitzki defensive rebound.
38 - 23
7:01
Michael Finley missed 25 ft three point jumper.
38 - 23
7:00
Eddie Griffin defensive rebound.
38 - 23
6:37
Mark Madsen's 4 ft jumper blocked by Josh Howard.
38 - 23
6:35
Marquis Daniels defensive rebound.
38 - 23
6:33
Sam Cassell Shooting Foul. His 1st Personal Foul.
38 - 23
6:33
Minnesota Full Timeout.
38 - 23
6:33
Alan Henderson enters the game for Keith Van Horn.
38 - 23
6:33
Troy Hudson enters the game for Mark Madsen.
38 - 23
6:33
Kevin Garnett enters the game for Sam Cassell.
38 - 23
6:33
Marquis Daniels made Free Throw 1 of 2.
38 - 24
6:33
Marquis Daniels made Free Throw 2 of 2.
38 - 25
6:13
Kevin Garnett Traveling
38 - 25
6:01
Michael Finley missed 20 ft jumper.
38 - 25
5:58
Kevin Garnett defensive rebound.
38 - 25
5:43
Kevin Garnett's 14 ft jumper blocked by Josh Howard.
38 - 25
5:41
Josh Howard defensive rebound.
38 - 25
5:37
Josh Howard made 19 ft jumper.
38 - 27
5:18
Troy Hudson made 18 ft jumper.
40 - 27
5:09
Marquis Daniels Offensive Foul. His 2nd Personal Foul.
40 - 27
5:09
Marquis Daniels Turnover
40 - 27
5:09
Jason Terry enters the game for Michael Finley.
40 - 27
4:56
Kevin Garnett missed two point shot.
40 - 27
4:56
Josh Howard defensive rebound.
40 - 27
4:45
Dirk Nowitzki made driving layup.
40 - 29
4:45
Fred Hoiberg Shooting Foul. His 3rd Personal Foul.
40 - 29
4:45
Fred Hoiberg Shooting Foul. His 2nd Personal Foul.
40 - 29
4:45
Dirk Nowitzki made Free Throw 1 of 2.
40 - 30
4:45
Dirk Nowitzki missed Free Throw 2 of 2.
40 - 30
4:43
Kevin Garnett defensive rebound.
40 - 30
4:33
Troy Hudson Bad Pass. Stolen by Marquis Daniels.
40 - 30
4:22
Jason Terry made 9 ft running jumper.
40 - 32
4:05
Wally Szczerbiak Turnover
40 - 32
4:05
Michael Olowokandi enters the game for Wally Szczerbiak.
40 - 32
4:05
Latrell Sprewell enters the game for Fred Hoiberg.
40 - 32
4:05
Trenton Hassell enters the game for Eddie Griffin.
40 - 32
3:49
Marquis Daniels missed 5 ft jumper.
40 - 32
3:47
Troy Hudson defensive rebound.
40 - 32
3:39
Kevin Garnett's 6 ft jumper blocked by Dirk Nowitzki.
40 - 32
3:36
Troy Hudson offensive rebound.
40 - 32
3:36
Troy Hudson Offensive Foul. His 2nd Personal Foul.
40 - 32
3:36
Troy Hudson Turnover
40 - 32
3:24
Jason Terry missed 19 ft jumper.
40 - 32
3:23
Kevin Garnett defensive rebound.
40 - 32
3:23
Dirk Nowitzki Personal Foul. His 1st Personal Foul.
40 - 32
3:00
Kevin Garnett made 7 ft two point shot.
42 - 32
2:49
Jason Terry Offensive Foul. His 3rd Personal Foul.
42 - 32
2:49
Jason Terry Turnover
42 - 32
2:49
Official Timeout.
42 - 32
2:49
Keith Van Horn enters the game for Marquis Daniels.
42 - 32
2:34
Michael Olowokandi missed 8 ft two point shot.
42 - 32
2:31
Alan Henderson defensive rebound.
42 - 32
2:17
Keith Van Horn missed layup.
42 - 32
2:16
Michael Olowokandi defensive rebound.
42 - 32
2:08
Troy Hudson missed 24 ft three point jumper.
42 - 32
2:04
Keith Van Horn defensive rebound.
42 - 32
1:58
Dirk Nowitzki missed 18 ft jumper.
42 - 32
1:58
Dallas defensive rebound.
42 - 32
1:38
Michael Olowokandi made 7 ft two point shot. Assisted by Kevin Garnett.
44 - 32
1:24
Dirk Nowitzki missed layup.
44 - 32
1:23
Troy Hudson defensive rebound.
44 - 32
1:14
Trenton Hassell's layup blocked by Keith Van Horn.
44 - 32
1:13
Minnesota defensive rebound.
44 - 32
0:59
Keith Van Horn made 8 ft jumper. Assisted by Jason Terry.
44 - 34
0:44
Latrell Sprewell made 21 ft jumper.
46 - 34
0:37
Jason Terry made 24 ft three point jumper.
46 - 37
0:14
Latrell Sprewell missed layup.
46 - 37
0:13
Keith Van Horn defensive rebound.
46 - 37
0:11
Jason Terry Bad Pass. Stolen by Trenton Hassell.
46 - 37
0:09
Trenton Hassell made layup.
48 - 37
0:01
Jason Terry missed 22 ft jumper.
48 - 37
0:00
Kevin Garnett defensive rebound.
48 - 37
0:00
End of the 2nd Quarter.
48 - 37

time
TEAM
PLAY
SCORE
12:00
Start of the 3rd Quarter.
48 - 37
11:52
Alan Henderson made dunk. Assisted by Jason Terry.
48 - 39
11:30
Latrell Sprewell missed 16 ft jumper.
48 - 39
11:27
Troy Hudson offensive rebound.
48 - 39
11:22
Latrell Sprewell missed 18 ft jumper.
48 - 39
11:22
Minnesota offensive rebound.
48 - 39
11:19
Trenton Hassell Bad Pass. Stolen by Alan Henderson.
48 - 39
11:17
Dirk Nowitzki made driving layup. Assisted by Jason Terry.
48 - 41
11:17
Kevin Garnett Illegal Defense
48 - 41
11:17
Eddie Griffin Shooting Foul. His 2nd Personal Foul.
48 - 41
11:17
Kevin Garnett Illegal Defense
48 - 41
11:17
Dirk Nowitzki made Free Throw 1 of 1.
48 - 42
10:57
Kevin Garnett made layup.
50 - 42
10:57
Alan Henderson Shooting Foul. His 4th Personal Foul.
50 - 42
10:57
Kevin Garnett made Free Throw 1 of 1.
51 - 42
10:42
Jason Terry missed 16 ft jumper.
51 - 42
10:38
Alan Henderson offensive rebound.
51 - 42
10:37
Alan Henderson missed layup.
51 - 42
10:37
Kevin Garnett defensive rebound.
51 - 42
10:33
Latrell Sprewell made 14 ft jumper. Assisted by Troy Hudson.
53 - 42
10:33
Dirk Nowitzki Shooting Foul. His 3rd Personal Foul.
53 - 42
10:33
Latrell Sprewell made Free Throw 1 of 1.
54 - 42
10:23
Dirk Nowitzki Bad Pass
54 - 42
10:07
Kevin Garnett's 5 ft jumper blocked by Josh Howard.
54 - 42
10:03
Eddie Griffin offensive rebound.
54 - 42
10:03
Eddie Griffin missed 15 ft jumper.
54 - 42
10:00
Michael Finley defensive rebound.
54 - 42
9:56
Jason Terry's 14 ft jumper blocked by Latrell Sprewell.
54 - 42
9:53
Eddie Griffin defensive rebound.
54 - 42
9:38
Troy Hudson made 19 ft two point shot.
56 - 42
9:30
Eddie Griffin Shooting Foul. His 3rd Personal Foul.
56 - 42
9:30
Dirk Nowitzki made Free Throw 1 of 2.
56 - 43
9:30
Dirk Nowitzki made Free Throw 2 of 2.
56 - 44
9:19
Kevin Garnett Offensive Foul. His 3rd Personal Foul.
56 - 44
9:19
Kevin Garnett Turnover
56 - 44
9:07
Dirk Nowitzki missed 18 ft jumper.
56 - 44
9:06
Dallas offensive rebound.
56 - 44
9:03
Michael Finley missed 6 ft running jumper.
56 - 44
9:00
Alan Henderson offensive rebound.
56 - 44
8:59
Alan Henderson made layup.
56 - 46
8:37
Eddie Griffin Bad Pass. Stolen by Michael Finley.
56 - 46
8:26
Latrell Sprewell Personal Foul. His 2nd Personal Foul.
56 - 46
8:18
Josh Howard made driving layup.
56 - 48
8:02
Troy Hudson missed 20 ft jumper.
56 - 48
8:00
Dirk Nowitzki defensive rebound.
56 - 48
8:00
Eddie Griffin Loose Ball Foul. His 4th Personal Foul.
56 - 48
8:00
Michael Olowokandi enters the game for Eddie Griffin.
56 - 48
7:41
Latrell Sprewell Personal Foul. His 3rd Personal Foul.
56 - 48
7:41
Josh Howard missed Free Throw 1 of 2.
56 - 48
7:41
Dallas offensive rebound.
56 - 48
7:41
Josh Howard made Free Throw 2 of 2.
56 - 49
7:33
Jason Terry Personal Foul. His 3rd Personal Foul.
56 - 49
7:26
Kevin Garnett missed dunk.
56 - 49
7:24
Michael Olowokandi offensive rebound.
56 - 49
7:22
Michael Olowokandi missed layup.
56 - 49
7:20
Alan Henderson defensive rebound.
56 - 49
7:09
Jason Terry made layup.
56 - 51
6:58
Minnesota Full Timeout.
56 - 51
6:43
Kevin Garnett missed 19 ft jumper.
56 - 51
6:43
Michael Finley defensive rebound.
56 - 51
6:30
Dirk Nowitzki's layup blocked by Michael Olowokandi.
56 - 51
6:28
Troy Hudson defensive rebound.
56 - 51
6:18
Kevin Garnett missed 9 ft jumper.
56 - 51
6:16
Michael Olowokandi offensive rebound.
56 - 51
6:16
Michael Olowokandi's layup blocked by Josh Howard.
56 - 51
6:16
Minnesota offensive rebound.
56 - 51
6:16
Marquis Daniels enters the game for Michael Finley.
56 - 51
5:56
Michael Olowokandi made 9 ft jumper.
58 - 51
5:46
Josh Howard missed two point shot.
58 - 51
5:43
Alan Henderson offensive rebound.
58 - 51
5:33
Jason Terry missed 9 ft jumper.
58 - 51
5:31
Michael Olowokandi defensive rebound.
58 - 51
5:31
Dirk Nowitzki Personal Foul. His 3rd Personal Foul.
58 - 51
5:31
Sam Cassell enters the game for Troy Hudson.
58 - 51
5:16
Kevin Garnett missed 17 ft jumper.
58 - 51
5:15
Michael Olowokandi offensive rebound.
58 - 51
5:00
Sam Cassell missed 24 ft three point jumper.
58 - 51
4:58
Michael Olowokandi offensive rebound.
58 - 51
4:56
Michael Olowokandi missed 7 ft two point shot.
58 - 51
4:56
Kevin Garnett offensive rebound.
58 - 51
4:56
Josh Howard Shooting Foul. His 3rd Personal Foul.
58 - 51
4:56
Michael Finley enters the game for Jason Terry.
58 - 51
4:56
Kevin Garnett missed Free Throw 1 of 2.
58 - 51
4:56
Minnesota offensive rebound.
58 - 51
4:56
Kevin Garnett made Free Throw 2 of 2.
59 - 51
4:43
Dirk Nowitzki made 4 ft two point shot.
59 - 53
4:22
Michael Olowokandi missed 9 ft jumper.
59 - 53
4:20
Kevin Garnett offensive rebound.
59 - 53
4:16
Latrell Sprewell missed 20 ft jumper.
59 - 53
4:13
Trenton Hassell offensive rebound.
59 - 53
3:59
Wally Szczerbiak enters the game for Latrell Sprewell.
59 - 53
3:47
Kevin Garnett missed 16 ft jumper.
59 - 53
3:45
Marquis Daniels defensive rebound.
59 - 53
3:28
Wally Szczerbiak made layup. Assisted by Kevin Garnett.
61 - 53
3:10
Marquis Daniels made layup. Assisted by Dirk Nowitzki.
61 - 55
2:51
Sam Cassell missed 17 ft jumper.
61 - 55
2:49
Dirk Nowitzki defensive rebound.
61 - 55
2:40
Dirk Nowitzki missed layup.
61 - 55
2:39
Alan Henderson offensive rebound.
61 - 57
2:39
Alan Henderson made tip shot.
61 - 57
2:17
Wally Szczerbiak made 20 ft jumper. Assisted by Kevin Garnett.
63 - 57
2:00
Michael Finley Bad Pass
63 - 57
2:00
Dallas Full Timeout.
63 - 57
2:00
Keith Van Horn enters the game for Michael Finley.
63 - 57
2:00
Mark Madsen enters the game for Michael Olowokandi.
63 - 57
1:40
Trenton Hassell missed 15 ft jumper.
63 - 57
1:39
Dirk Nowitzki defensive rebound.
63 - 57
1:35
Josh Howard's two point shot blocked by Sam Cassell.
63 - 57
1:32
Trenton Hassell defensive rebound.
63 - 57
1:31
Trenton Hassell Bad Pass. Stolen by Alan Henderson.
63 - 57
1:27
Trenton Hassell Personal Foul. His 2nd Personal Foul.
63 - 57
1:27
Keith Van Horn missed Free Throw 1 of 2.
63 - 57
1:27
Dallas offensive rebound.
63 - 57
1:27
Fred Hoiberg enters the game for Trenton Hassell.
63 - 57
1:27
Keith Van Horn made Free Throw 2 of 2.
63 - 58
1:09
Sam Cassell missed 17 ft jumper.
63 - 58
1:07
Josh Howard defensive rebound.
63 - 58
1:02
Marquis Daniels missed layup.
63 - 58
1:01
Fred Hoiberg defensive rebound.
63 - 58
0:46
Marquis Daniels Personal Foul. His 2nd Personal Foul.
63 - 58
0:46
Sam Cassell made Free Throw 1 of 2.
64 - 58
0:46
Sam Cassell made Free Throw 2 of 2.
65 - 58
0:31
Sam Cassell Personal Foul. His 2nd Personal Foul.
65 - 58
0:31
Marquis Daniels made Free Throw 1 of 2.
65 - 59
0:31
Jason Terry enters the game for Josh Howard.
65 - 59
0:31
Marquis Daniels made Free Throw 2 of 2.
65 - 60
0:10
Fred Hoiberg Bad Pass. Stolen by Dirk Nowitzki.
65 - 60
0:05
Marquis Daniels made driving layup.
65 - 62
0:00
Sam Cassell missed 33 ft three point jumper.
65 - 62
0:00
Minnesota offensive rebound.
65 - 62
0:00
End of the 3rd Quarter.
65 - 62

time
TEAM
PLAY
SCORE
12:00
Start of the 4th Quarter.
65 - 62
11:38
Wally Szczerbiak Offensive Foul. His 2nd Personal Foul.
65 - 62
11:38
Wally Szczerbiak Turnover
65 - 62
11:26
Eddie Griffin Shooting Foul. His 5th Personal Foul.
65 - 62
11:26
Keith Van Horn made Free Throw 1 of 2.
65 - 63
11:26
Keith Van Horn made Free Throw 2 of 2.
65 - 64
11:12
Fred Hoiberg made 23 ft three point jumper. Assisted by Sam Cassell.
68 - 64
11:03
Keith Van Horn made two point shot. Assisted by Jason Terry.
68 - 66
10:36
Wally Szczerbiak made 16 ft running jumper.
70 - 66
10:27
Keith Van Horn missed 25 ft three point jumper.
70 - 66
10:26
Eddie Griffin defensive rebound.
70 - 66
10:18
Wally Szczerbiak made 24 ft three point jumper. Assisted by Eddie Griffin.
73 - 66
10:02
Dirk Nowitzki made 14 ft jumper.
73 - 68
10:02
Mark Madsen Shooting Foul. His 4th Personal Foul.
73 - 68
10:02
Michael Finley enters the game for Josh Howard.
73 - 68
10:02
Dirk Nowitzki made Free Throw 1 of 1.
73 - 69
9:48
Jason Terry Shooting Foul. His 4th Personal Foul.
73 - 69
9:48
Fred Hoiberg made Free Throw 1 of 2.
74 - 69
9:48
Fred Hoiberg made Free Throw 2 of 2.
75 - 69
9:30
Keith Van Horn made 24 ft three point jumper. Assisted by Dirk Nowitzki.
75 - 72
9:06
Eddie Griffin missed 9 ft jumper.
75 - 72
9:03
Marquis Daniels defensive rebound.
75 - 72
8:57
Eddie Griffin Personal Foul. His 6th Personal Foul.
75 - 72
8:57
Official Timeout.
75 - 72
8:57
Kevin Garnett enters the game for Eddie Griffin.
75 - 72
8:48
Keith Van Horn missed 25 ft three point jumper.
75 - 72
8:45
Sam Cassell defensive rebound.
75 - 72
8:32
Sam Cassell made 9 ft two point shot.
77 - 72
8:15
Marquis Daniels Bad Pass. Stolen by Fred Hoiberg.
77 - 72
8:06
Sam Cassell missed 18 ft jumper.
77 - 72
8:06
Dirk Nowitzki defensive rebound.
77 - 72
8:06
Sam Cassell Personal Foul. His 3rd Personal Foul.
77 - 72
7:50
Jason Terry made 18 ft jumper.
77 - 74
7:50
Sam Cassell Shooting Foul. His 5th Personal Foul.
77 - 74
7:50
Jason Terry made Free Throw 1 of 1.
77 - 75
7:37
Dirk Nowitzki Shooting Foul. His 4th Personal Foul.
77 - 75
7:37
Dirk Nowitzki Double Technical Foul. Kevin Garnett gains possession.
77 - 75
7:37
Kevin Garnett made Free Throw 1 of 2.
78 - 75
7:37
Kevin Garnett made Free Throw 2 of 2.
79 - 75
7:26
Jason Terry Bad Pass
79 - 75
7:13
Sam Cassell Bad Pass. Stolen by Keith Van Horn.
79 - 75
7:07
Marquis Daniels missed 13 ft jumper.
79 - 75
7:05
Marquis Daniels offensive rebound.
79 - 75
7:00
Dirk Nowitzki Offensive Foul. His 6th Personal Foul.
79 - 75
7:00
Dirk Nowitzki Turnover
79 - 75
7:00
Alan Henderson enters the game for Marquis Daniels.
79 - 75
6:46
Keith Van Horn Shooting Foul. His 3rd Personal Foul.
79 - 75
6:46
Kevin Garnett made Free Throw 1 of 2.
80 - 75
6:46
Kevin Garnett made Free Throw 2 of 2.
81 - 75
6:30
Dirk Nowitzki missed layup.
81 - 75
6:28
Dirk Nowitzki offensive rebound.
81 - 75
6:28
Dirk Nowitzki missed tip shot.
81 - 75
6:28
Wally Szczerbiak defensive rebound.
81 - 75
6:05
Kevin Garnett made 12 ft jumper. Assisted by Sam Cassell.
83 - 75
5:58
Dallas Full Timeout.
83 - 75
5:58
Josh Howard enters the game for Michael Finley.
83 - 75
5:46
Josh Howard made 19 ft jumper. Assisted by Jason Terry.
83 - 77
5:35
Sam Cassell made 22 ft jumper.
85 - 77
5:18
Jason Terry missed 25 ft three point jumper.
85 - 77
5:18
Dirk Nowitzki offensive rebound.
85 - 77
5:18
Sam Cassell Loose Ball Foul. His 5th Personal Foul.
85 - 77
5:18
Dirk Nowitzki made Free Throw 1 of 2.
85 - 78
5:18
Dirk Nowitzki made Free Throw 2 of 2.
85 - 79
4:58
Kevin Garnett's layup blocked by Alan Henderson.
85 - 79
4:56
Fred Hoiberg offensive rebound.
85 - 79
4:54
Fred Hoiberg made jumper.
87 - 79
4:45
Jason Terry made layup.
87 - 81
4:28
Kevin Garnett made layup.
89 - 81
4:28
Alan Henderson Shooting Foul. His 5th Personal Foul.
89 - 81
4:28
Troy Hudson enters the game for Sam Cassell.
89 - 81
4:28
Kevin Garnett made Free Throw 1 of 1.
90 - 81
4:13
Josh Howard missed three point jumper.
90 - 81
4:11
Dirk Nowitzki offensive rebound.
90 - 81
4:11
Dirk Nowitzki missed layup.
90 - 81
4:09
Dirk Nowitzki offensive rebound.
90 - 81
4:07
Keith Van Horn's 4 ft jumper blocked by Kevin Garnett.
90 - 81
4:07
Mark Madsen defensive rebound.
90 - 81
4:07
Alan Henderson Loose Ball Foul. His 5th Personal Foul.
90 - 81
4:07
Mark Madsen made Free Throw 1 of 2.
91 - 81
4:07
Michael Finley enters the game for Alan Henderson.
91 - 81
4:07
Mark Madsen missed Free Throw 2 of 2.
91 - 81
4:07
Dirk Nowitzki defensive rebound.
91 - 81
4:01
Josh Howard missed layup.
91 - 81
3:59
Keith Van Horn offensive rebound.
91 - 83
3:59
Keith Van Horn made tip shot.
91 - 83
3:43
Kevin Garnett missed 10 ft jumper.
91 - 83
3:42
Michael Finley defensive rebound.
91 - 83
3:35
Michael Finley made 8 ft jumper.
91 - 85
3:12
Mark Madsen 3 second
91 - 85
3:03
Troy Hudson Shooting Foul. His 2nd Personal Foul.
91 - 85
3:03
Minnesota Full Timeout.
91 - 85
3:03
Sam Cassell enters the game for Troy Hudson.
91 - 85
3:03
Jason Terry made Free Throw 1 of 2.
91 - 86
3:03
Jason Terry made Free Throw 2 of 2.
91 - 87
2:48
Kevin Garnett Traveling
91 - 87
2:36
Jason Terry's layup blocked by Sam Cassell.
91 - 87
2:35
Jason Terry offensive rebound.
91 - 87
2:33
Dirk Nowitzki made 18 ft jumper. Assisted by Jason Terry.
91 - 89
2:11
Sam Cassell made three point jumper. Assisted by Kevin Garnett.
94 - 89
2:00
Jason Terry missed 25 ft three point jumper.
94 - 89
1:58
Wally Szczerbiak defensive rebound.
94 - 89
1:38
Wally Szczerbiak missed 23 ft jumper.
94 - 89
1:36
Mark Madsen offensive rebound.
94 - 89
1:17
Kevin Garnett Bad Pass. Stolen by Keith Van Horn.
94 - 89
1:10
Josh Howard made slam dunk. Assisted by Michael Finley.
94 - 91
0:50
Kevin Garnett missed layup.
94 - 91
0:49
Kevin Garnett offensive rebound.
96 - 91
0:49
Kevin Garnett made tip shot.
96 - 91
0:42
Jason Terry Bad Pass. Stolen by Kevin Garnett.
96 - 91
0:35
Jason Terry Personal Foul. His 5th Personal Foul.
96 - 91
0:35
Sam Cassell made Free Throw 1 of 2.
97 - 91
0:35
Sam Cassell made Free Throw 2 of 2.
98 - 91
0:35
Dallas Full Timeout.
98 - 91
0:35
Trenton Hassell enters the game for Mark Madsen.
98 - 91
0:29
Josh Howard missed 9 ft jumper.
98 - 91
0:27
Fred Hoiberg defensive rebound.
98 - 91
0:26
Keith Van Horn Personal Foul. His 4th Personal Foul.
98 - 91
0:26
Fred Hoiberg made Free Throw 1 of 2.
99 - 91
0:26
Fred Hoiberg made Free Throw 2 of 2.
100 - 91
0:21
Jason Terry made layup.
100 - 93
0:00
End of the 4th Quarter.
100 - 93
0:00
End Game
100 - 93
With intel from NBA GMs, Chad Ford checks in with the draft tier rankings. See how all the top prospects shake out in the eyes of NBA teams.

Approaching the draft, we have a new top three and a shakeup in the lottery, with teams starting to make their final decisions. Get the latest in Chad Ford's mock draft.

Jalen Rose and David Jacoby find themselves in a rare agreement on Andrew Wiggins' new sneakers, despite what the internet has to say.
Regular Season Series
Series tied 2-2
2015-2016 Northwest Standings
2015-2016 Southwest Standings