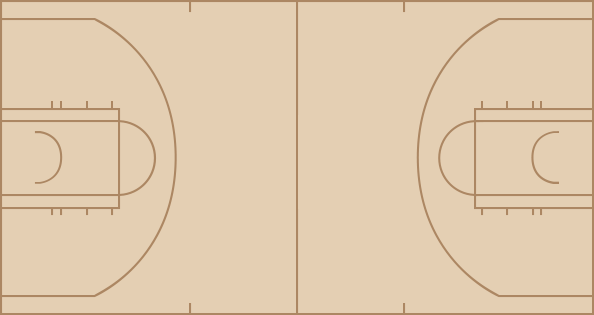 Clippers
time
TEAM
PLAY
SCORE
12:00
Start of the 1st Quarter.
0 - 0
12:00
Jumpball: Chris Kaman vs. Marcus Camby. Rick Brunson gains possession.
0 - 0
11:41
Bobby Simmons missed 24 ft three point jumper.
0 - 0
11:38
Marcus Camby defensive rebound.
0 - 0
11:34
Kenyon Martin made layup. Assisted by Andre Miller.
0 - 2
11:12
Corey Maggette's 20 ft jumper blocked by DerMarr Johnson.
0 - 2
11:10
DerMarr Johnson defensive rebound.
0 - 2
10:56
Andre Miller Bad Pass. Stolen by Rick Brunson.
0 - 2
10:41
Rick Brunson missed 17 ft jumper.
0 - 2
10:37
Kenyon Martin defensive rebound.
0 - 2
10:27
Carmelo Anthony Bad Pass. Stolen by Bobby Simmons.
0 - 2
10:17
Chris Kaman's jumper blocked by Marcus Camby.
0 - 2
10:15
Andre Miller defensive rebound.
0 - 2
10:00
DerMarr Johnson made 7 ft running jumper.
0 - 4
9:38
Elton Brand missed 6 ft jumper.
0 - 4
9:37
Los Angeles offensive rebound.
0 - 4
9:30
Corey Maggette made 25 ft three point jumper. Assisted by Rick Brunson.
3 - 4
9:14
Kenyon Martin missed two point shot.
3 - 4
9:08
Elton Brand defensive rebound.
3 - 4
9:02
Chris Kaman missed 4 ft two point shot.
3 - 4
8:57
Marcus Camby defensive rebound.
3 - 4
8:52
Andre Miller made 17 ft jumper.
3 - 6
8:41
Corey Maggette made 17 ft jumper. Assisted by Rick Brunson.
5 - 6
8:32
Corey Maggette Shooting Foul. His 1st Personal Foul.
5 - 6
8:32
Carmelo Anthony made Free Throw 1 of 2.
5 - 7
8:32
Carmelo Anthony made Free Throw 2 of 2.
5 - 8
8:14
Chris Kaman missed 17 ft jumper.
5 - 8
8:11
Kenyon Martin defensive rebound.
5 - 8
8:03
Carmelo Anthony missed driving layup.
5 - 8
8:02
Bobby Simmons defensive rebound.
5 - 8
7:56
Elton Brand made layup. Assisted by Rick Brunson.
7 - 8
7:56
Marcus Camby Shooting Foul. His 2nd Personal Foul.
7 - 8
7:56
Elton Brand made Free Throw 1 of 1.
8 - 8
7:39
Carmelo Anthony made driving dunk.
8 - 10
7:20
Kenyon Martin Shooting Foul. His 1st Personal Foul.
8 - 10
7:20
Corey Maggette made Free Throw 1 of 2.
9 - 10
7:20
Corey Maggette missed Free Throw 2 of 2.
9 - 10
7:18
Marcus Camby defensive rebound.
9 - 10
7:09
DerMarr Johnson made two point shot. Assisted by Andre Miller.
9 - 12
6:47
Bobby Simmons missed 18 ft jumper.
9 - 12
6:45
Marcus Camby defensive rebound.
9 - 12
6:26
Kenyon Martin made 17 ft two point shot. Assisted by Andre Miller.
9 - 14
6:20
Bobby Simmons Offensive Foul. His 2nd Personal Foul.
9 - 14
6:20
Bobby Simmons Turnover
9 - 14
6:20
Denver Full Timeout.
9 - 14
6:11
Bobby Simmons Personal Foul. His 2nd Personal Foul.
9 - 14
6:11
Quinton Ross enters the game for Bobby Simmons.
9 - 14
6:01
Marcus Camby missed 17 ft jumper.
9 - 14
5:58
Corey Maggette defensive rebound.
9 - 14
5:35
Rick Brunson missed driving layup.
9 - 14
5:33
Kenyon Martin defensive rebound.
9 - 14
5:30
Marcus Camby made slam dunk. Assisted by Carmelo Anthony.
9 - 16
5:11
DerMarr Johnson Shooting Foul. His 1st Personal Foul.
9 - 16
5:11
Corey Maggette made Free Throw 1 of 3.
10 - 16
5:11
Corey Maggette made Free Throw 2 of 3.
11 - 16
5:11
Corey Maggette made Free Throw 3 of 3.
12 - 16
4:56
Kenyon Martin made 18 ft jumper. Assisted by Andre Miller.
12 - 18
4:35
Quinton Ross missed jumper.
12 - 18
4:33
Kenyon Martin defensive rebound.
12 - 18
4:31
Quinton Ross Shooting Foul. His 1st Personal Foul.
12 - 18
4:31
Marcus Camby made Free Throw 1 of 2.
12 - 19
4:31
Marcus Camby made Free Throw 2 of 2.
12 - 20
4:15
Elton Brand's layup blocked by Kenyon Martin.
12 - 20
4:11
Kenyon Martin defensive rebound.
12 - 20
4:09
Kenyon Martin Bad Pass. Stolen by Chris Kaman.
12 - 20
4:09
Carmelo Anthony Personal Foul. His 1st Personal Foul.
12 - 20
4:09
Los Angeles Full Timeout.
12 - 20
3:49
Corey Maggette made 21 ft jumper. Assisted by Elton Brand.
14 - 20
3:25
Marcus Camby missed 25 ft three point jumper.
14 - 20
3:21
Corey Maggette defensive rebound.
14 - 20
3:05
Rick Brunson missed 17 ft jumper.
14 - 20
3:03
Marcus Camby defensive rebound.
14 - 20
3:00
Marcus Camby missed 7 ft jumper.
14 - 20
2:58
Chris Kaman defensive rebound.
14 - 20
2:49
Corey Maggette made jumper. Assisted by Rick Brunson.
16 - 20
2:33
Marcus Camby Bad Pass. Stolen by Elton Brand.
16 - 20
2:20
Elton Brand made layup. Assisted by Rick Brunson.
18 - 20
2:20
Kenyon Martin Shooting Foul. His 3rd Personal Foul.
18 - 20
2:20
Greg Buckner enters the game for DerMarr Johnson.
18 - 20
2:20
Eduardo Najera enters the game for Kenyon Martin.
18 - 20
2:20
Wesley Person enters the game for Carmelo Anthony.
18 - 20
2:20
Elton Brand Lane Violation
18 - 20
2:20
Elton Brand missed Free Throw 1 of 1.
18 - 20
2:20
Mikki Moore enters the game for Chris Kaman.
18 - 20
2:20
Elton Brand made Free Throw 1 of 1.
19 - 20
2:20
Eduardo Najera Defensive Goaltending
19 - 20
2:08
Greg Buckner made layup. Assisted by Marcus Camby.
19 - 22
1:54
Corey Maggette missed jumper.
19 - 22
1:53
Elton Brand offensive rebound.
19 - 22
1:50
Elton Brand missed jumper.
19 - 22
1:47
Marcus Camby defensive rebound.
19 - 22
1:34
Marcus Camby made jumper. Assisted by Andre Miller.
19 - 24
1:21
Greg Buckner Personal Foul. His 1st Personal Foul.
19 - 24
1:21
Earl Boykins enters the game for Andre Miller.
19 - 24
1:21
Corey Maggette made Free Throw 1 of 2.
20 - 24
1:21
Lionel Chalmers enters the game for Rick Brunson.
20 - 24
1:21
Corey Maggette made Free Throw 2 of 2.
21 - 24
1:09
Wesley Person made 20 ft jumper. Assisted by Earl Boykins.
21 - 26
0:49
Eduardo Najera Shooting Foul. His 1st Personal Foul.
21 - 26
0:49
Quinton Ross missed Free Throw 1 of 2.
21 - 26
0:49
Los Angeles offensive rebound.
21 - 26
0:49
Quinton Ross made Free Throw 2 of 2.
22 - 26
0:38
Eduardo Najera made two point shot. Assisted by Marcus Camby.
22 - 28
0:22
Lionel Chalmers missed 22 ft jumper.
22 - 28
0:20
Marcus Camby defensive rebound.
22 - 28
0:06
Lionel Chalmers Personal Foul. His 1st Personal Foul.
22 - 28
0:06
Denver 20 Sec. Timeout.
22 - 28
0:00
Eduardo Najera's running jumper blocked by Elton Brand.
22 - 28
0:00
Denver offensive rebound.
22 - 28
0:00
End of the 1st Quarter.
22 - 28

time
TEAM
PLAY
SCORE
12:00
Start of the 2nd Quarter.
22 - 28
11:41
Francisco Elson made 9 ft jumper. Assisted by Earl Boykins.
22 - 30
11:23
Eduardo Najera Shooting Foul. His 2nd Personal Foul.
22 - 30
11:23
Corey Maggette made Free Throw 1 of 2.
23 - 30
11:23
Corey Maggette made Free Throw 2 of 2.
24 - 30
11:07
Wesley Person missed 18 ft jumper.
24 - 30
11:06
Corey Maggette defensive rebound.
24 - 30
11:00
Quinton Ross made layup. Assisted by Lionel Chalmers.
26 - 30
10:45
Earl Boykins missed 17 ft jumper.
26 - 30
10:42
Eduardo Najera offensive rebound.
26 - 30
10:38
Francisco Elson missed 20 ft jumper.
26 - 30
10:37
Elton Brand defensive rebound.
26 - 30
10:34
Quinton Ross made layup. Assisted by Elton Brand.
28 - 30
10:34
Wesley Person Shooting Foul. His 2nd Personal Foul.
28 - 30
10:34
Quinton Ross missed Free Throw 1 of 1.
28 - 30
10:33
Francisco Elson defensive rebound.
28 - 30
10:29
Lionel Chalmers Shooting Foul. His 2nd Personal Foul.
28 - 30
10:29
Chris Wilcox enters the game for Elton Brand.
28 - 30
10:29
Earl Boykins made Free Throw 1 of 2.
28 - 31
10:29
Earl Boykins made Free Throw 2 of 2.
28 - 32
10:11
Chris Wilcox missed two point shot.
28 - 32
10:08
Francisco Elson defensive rebound.
28 - 32
9:57
Greg Buckner made layup. Assisted by Earl Boykins.
28 - 34
9:44
Lionel Chalmers made 17 ft jumper.
30 - 34
9:26
Eduardo Najera Bad Pass. Stolen by Corey Maggette.
30 - 34
9:23
Corey Maggette made dunk.
32 - 34
9:07
Earl Boykins missed 8 ft running jumper.
32 - 34
9:04
Chris Wilcox defensive rebound.
32 - 34
8:56
Corey Maggette missed 21 ft jumper.
32 - 34
8:55
Eduardo Najera defensive rebound.
32 - 34
8:51
Earl Boykins missed driving layup.
32 - 34
8:48
Chris Wilcox defensive rebound.
32 - 34
8:42
Lionel Chalmers made driving layup.
34 - 34
8:18
Wesley Person Bad Pass. Stolen by Chris Wilcox.
34 - 34
8:11
Lionel Chalmers Lost Ball. Stolen by Greg Buckner.
34 - 34
8:07
Earl Boykins made 16 ft jumper. Assisted by Wesley Person.
34 - 36
7:43
Chris Wilcox missed 6 ft two point shot.
34 - 36
7:41
Francisco Elson defensive rebound.
34 - 36
7:37
Earl Boykins Lost Ball. Stolen by Chris Wilcox.
34 - 36
7:33
Lionel Chalmers made two point shot.
36 - 36
7:22
Mikki Moore Shooting Foul. His 1st Personal Foul.
36 - 36
7:22
Official Timeout.
36 - 36
7:22
Kenyon Martin enters the game for Eduardo Najera.
36 - 36
7:22
Bobby Simmons enters the game for Corey Maggette.
36 - 36
7:22
Earl Boykins made Free Throw 1 of 2.
36 - 37
7:22
Earl Boykins made Free Throw 2 of 2.
36 - 38
7:11
Chris Wilcox Traveling
36 - 38
7:11
Andre Miller enters the game for Greg Buckner.
36 - 38
7:11
Carmelo Anthony enters the game for Wesley Person.
36 - 38
6:58
Carmelo Anthony's driving layup blocked by Chris Wilcox.
36 - 38
6:54
Chris Wilcox defensive rebound.
36 - 38
6:45
Andre Miller Shooting Foul. His 1st Personal Foul.
36 - 38
6:45
Mikki Moore made Free Throw 1 of 2.
37 - 38
6:45
Mikki Moore made Free Throw 2 of 2.
38 - 38
6:31
Mikki Moore Shooting Foul. His 2nd Personal Foul.
38 - 38
6:31
Marcus Camby enters the game for Francisco Elson.
38 - 38
6:31
Kenyon Martin missed Free Throw 1 of 2.
38 - 38
6:31
Denver offensive rebound.
38 - 38
6:31
Kenyon Martin missed Free Throw 2 of 2.
38 - 38
6:28
Kenyon Martin offensive rebound.
38 - 38
6:18
Chris Wilcox Shooting Foul. His 1st Personal Foul.
38 - 38
6:18
Carmelo Anthony made Free Throw 1 of 2.
38 - 39
6:18
Chris Kaman enters the game for Mikki Moore.
38 - 39
6:18
Carmelo Anthony missed Free Throw 2 of 2.
38 - 39
6:16
Marcus Camby offensive rebound.
38 - 41
6:16
Marcus Camby made two point shot.
38 - 41
6:05
Lionel Chalmers Turnover
38 - 41
5:52
Andre Miller made driving layup.
38 - 43
5:35
Bobby Simmons made 24 ft three point jumper. Assisted by Lionel Chalmers.
41 - 43
5:16
Earl Boykins missed 25 ft three point jumper.
41 - 43
5:13
Carmelo Anthony offensive rebound.
41 - 45
5:13
Carmelo Anthony made layup.
41 - 45
5:05
Los Angeles Full Timeout.
41 - 45
4:50
Bobby Simmons missed 22 ft jumper.
41 - 45
4:48
Marcus Camby defensive rebound.
41 - 45
4:45
Andre Miller made driving layup.
41 - 47
4:31
Chris Wilcox missed 6 ft two point shot.
41 - 47
4:28
Marcus Camby defensive rebound.
41 - 47
4:20
Kenyon Martin made two point shot. Assisted by Andre Miller.
41 - 49
4:05
Lionel Chalmers Bad Pass. Stolen by Carmelo Anthony.
41 - 49
4:05
Lionel Chalmers Personal Foul. His 3rd Personal Foul.
41 - 49
4:05
Elton Brand enters the game for Chris Wilcox.
41 - 49
4:05
Corey Maggette enters the game for Quinton Ross.
41 - 49
4:05
Earl Boykins made Free Throw 1 of 2.
41 - 50
4:05
Earl Boykins made Free Throw 2 of 2.
41 - 51
3:51
Corey Maggette made 23 ft three point jumper. Assisted by Bobby Simmons.
44 - 51
3:42
Bobby Simmons Personal Foul. His 3rd Personal Foul.
44 - 51
3:42
Rick Brunson enters the game for Lionel Chalmers.
44 - 51
3:42
Quinton Ross enters the game for Bobby Simmons.
44 - 51
3:42
Andre Miller made Free Throw 1 of 2.
44 - 52
3:42
Andre Miller missed Free Throw 2 of 2.
44 - 52
3:40
Rick Brunson defensive rebound.
44 - 52
3:25
Corey Maggette missed 22 ft jumper.
44 - 52
3:21
Carmelo Anthony defensive rebound.
44 - 52
3:12
Elton Brand Shooting Foul. His 1st Personal Foul.
44 - 52
3:12
Carmelo Anthony made Free Throw 1 of 2.
44 - 53
3:12
Carmelo Anthony made Free Throw 2 of 2.
44 - 54
2:53
Rick Brunson made jumper. Assisted by Chris Kaman.
46 - 54
2:38
Kenyon Martin missed 15 ft jumper.
46 - 54
2:35
Chris Kaman defensive rebound.
46 - 54
2:28
Elton Brand missed 8 ft two point shot.
46 - 54
2:24
Marcus Camby defensive rebound.
46 - 54
2:13
Earl Boykins made two point shot. Assisted by Carmelo Anthony.
46 - 56
1:58
Rick Brunson missed 20 ft jumper.
46 - 56
1:55
Marcus Camby defensive rebound.
46 - 56
1:50
Kenyon Martin made layup. Assisted by Carmelo Anthony.
46 - 58
1:40
Rick Brunson Bad Pass. Stolen by Earl Boykins.
46 - 58
1:37
Earl Boykins missed 18 ft jumper.
46 - 58
1:37
Corey Maggette defensive rebound.
46 - 58
1:37
Carmelo Anthony Personal Foul. His 2nd Personal Foul.
46 - 58
1:37
Denver Full Timeout.
46 - 58
1:37
Greg Buckner enters the game for Kenyon Martin.
46 - 58
1:37
Wesley Person enters the game for Carmelo Anthony.
46 - 58
1:37
Eduardo Najera enters the game for Earl Boykins.
46 - 58
1:16
Quinton Ross missed 19 ft jumper.
46 - 58
1:15
Chris Kaman offensive rebound.
46 - 58
1:13
Chris Kaman made dunk.
48 - 58
1:00
Marcus Camby made 20 ft jumper. Assisted by Andre Miller.
48 - 60
0:49
Corey Maggette Turnover
48 - 60
0:38
Marcus Camby missed 21 ft jumper.
48 - 60
0:36
Kenny Anderson defensive rebound.
48 - 60
0:34
Andre Miller Lost Ball. Stolen by Kenny Anderson.
48 - 60
0:27
Elton Brand missed 17 ft jumper.
48 - 60
0:26
Chris Kaman offensive rebound.
50 - 60
0:26
Chris Kaman made tip shot.
50 - 60
0:07
Elton Brand Illegal Defense Foul. His 2nd Personal Foul.
50 - 60
0:07
Wesley Person missed Technical Free Throw.
50 - 60
0:07
Denver offensive rebound.
50 - 60
0:07
Earl Boykins enters the game for Eduardo Najera.
50 - 60
0:07
Lionel Chalmers enters the game for Elton Brand.
50 - 60
0:00
Marcus Camby missed 25 ft three point jumper.
50 - 60
0:00
Denver offensive rebound.
50 - 60
0:00
End of the 2nd Quarter.
50 - 60

time
TEAM
PLAY
SCORE
12:00
Start of the 3rd Quarter.
50 - 60
11:40
Marcus Camby Lost Ball. Stolen by Rick Brunson.
50 - 60
11:26
Bobby Simmons made 24 ft three point jumper. Assisted by Corey Maggette.
53 - 60
11:07
Carmelo Anthony missed 18 ft jumper.
53 - 60
11:04
Chris Kaman defensive rebound.
53 - 60
10:48
DerMarr Johnson Shooting Foul. His 2nd Personal Foul.
53 - 60
10:48
Bobby Simmons made Free Throw 1 of 2.
54 - 60
10:48
Bobby Simmons missed Free Throw 2 of 2.
54 - 60
10:47
Kenyon Martin defensive rebound.
54 - 60
10:30
Kenyon Martin missed jumper.
54 - 60
10:27
Rick Brunson defensive rebound.
54 - 60
10:07
Elton Brand 3 second
54 - 60
9:53
Kenyon Martin made slam dunk. Assisted by Andre Miller.
54 - 62
9:33
Bobby Simmons made 23 ft three point jumper. Assisted by Rick Brunson.
57 - 62
9:18
Chris Kaman Illegal Defense Foul. His 1st Personal Foul.
57 - 62
9:18
Carmelo Anthony missed Technical Free Throw.
57 - 62
9:18
Denver offensive rebound.
57 - 62
9:11
Kenyon Martin's two point shot blocked by Elton Brand.
57 - 62
9:07
Corey Maggette defensive rebound.
57 - 62
9:02
Andre Miller Personal Foul. His 2nd Personal Foul.
57 - 62
8:55
Bobby Simmons missed 25 ft three point jumper.
57 - 62
8:52
Andre Miller defensive rebound.
57 - 62
8:49
Carmelo Anthony made slam dunk. Assisted by Andre Miller.
57 - 64
8:33
Elton Brand missed 9 ft running jumper.
57 - 64
8:32
Chris Kaman offensive rebound.
59 - 64
8:32
Chris Kaman made tip shot.
59 - 64
8:18
Corey Maggette Shooting Foul. His 2nd Personal Foul.
59 - 64
8:18
Los Angeles 20 Sec. Timeout.
59 - 64
8:18
Marcus Camby made Free Throw 1 of 2.
59 - 65
8:18
Marcus Camby missed Free Throw 2 of 2.
59 - 65
8:15
Elton Brand defensive rebound.
59 - 65
7:58
Chris Kaman made dunk. Assisted by Rick Brunson.
61 - 65
7:37
DerMarr Johnson missed 26 ft three point jumper.
61 - 65
7:35
Corey Maggette defensive rebound.
61 - 65
7:28
Carmelo Anthony Personal Foul. His 4th Personal Foul.
61 - 65
7:18
Chris Kaman's 6 ft two point shot blocked by Marcus Camby.
61 - 65
7:16
Marcus Camby defensive rebound.
61 - 65
7:16
Elton Brand Personal Foul. His 2nd Personal Foul.
61 - 65
7:01
Marcus Camby made driving dunk.
61 - 67
6:45
Andre Miller Illegal Defense Foul. His 3rd Personal Foul.
61 - 67
6:45
Corey Maggette made Technical Free Throw.
62 - 67
6:37
Bobby Simmons missed 21 ft jumper.
62 - 67
6:33
Elton Brand offensive rebound.
62 - 67
6:28
Chris Kaman's 5 ft two point shot blocked by Marcus Camby.
62 - 67
6:24
Bobby Simmons offensive rebound.
62 - 67
6:18
Rick Brunson missed 24 ft three point jumper.
62 - 67
6:18
Los Angeles defensive rebound.
62 - 67
6:18
Chris Kaman Loose Ball Foul. His 1st Personal Foul.
62 - 67
6:09
Elton Brand Personal Foul. His 3rd Personal Foul.
62 - 67
5:58
Kenyon Martin missed 16 ft jumper.
62 - 67
5:56
Elton Brand defensive rebound.
62 - 67
5:48
Chris Kaman missed 6 ft two point shot.
62 - 67
5:45
Marcus Camby defensive rebound.
62 - 67
5:39
Chris Kaman Shooting Foul. His 2nd Personal Foul.
62 - 67
5:39
Denver Full Timeout.
62 - 67
5:39
Mikki Moore enters the game for Chris Kaman.
62 - 67
5:39
Marcus Camby made Free Throw 1 of 2.
62 - 68
5:39
Marcus Camby made Free Throw 2 of 2.
62 - 69
5:18
Carmelo Anthony Shooting Foul. His 4th Personal Foul.
62 - 69
5:18
Earl Boykins enters the game for DerMarr Johnson.
62 - 69
5:18
Corey Maggette made Free Throw 1 of 2.
63 - 69
5:18
Corey Maggette made Free Throw 2 of 2.
64 - 69
5:01
Kenyon Martin's 6 ft two point shot blocked by Mikki Moore.
64 - 69
4:58
Marcus Camby offensive rebound.
64 - 71
4:58
Marcus Camby made tip shot.
64 - 71
4:39
Bobby Simmons missed 21 ft jumper.
64 - 71
4:37
Andre Miller defensive rebound.
64 - 71
4:31
Earl Boykins missed 23 ft three point jumper.
64 - 71
4:28
Andre Miller offensive rebound.
64 - 71
4:22
Corey Maggette Personal Foul. His 3rd Personal Foul.
64 - 71
4:22
Quinton Ross enters the game for Bobby Simmons.
64 - 71
4:22
Eduardo Najera enters the game for Kenyon Martin.
64 - 71
4:22
Carmelo Anthony made Free Throw 1 of 2.
64 - 72
4:22
Carmelo Anthony made Free Throw 2 of 2.
64 - 73
4:05
Corey Maggette missed jumper.
64 - 73
4:03
Earl Boykins defensive rebound.
64 - 73
3:50
Carmelo Anthony made dunk. Assisted by Earl Boykins.
64 - 75
3:33
Rick Brunson missed 25 ft three point jumper.
64 - 75
3:31
Elton Brand offensive rebound.
64 - 75
3:28
Rick Brunson made two point shot.
66 - 75
3:21
Mikki Moore Shooting Foul. His 3rd Personal Foul.
66 - 75
3:21
Andre Miller made Free Throw 1 of 2.
66 - 76
3:21
Andre Miller missed Free Throw 2 of 2.
66 - 76
3:18
Carmelo Anthony offensive rebound.
66 - 76
3:08
Marcus Camby made two point shot. Assisted by Andre Miller.
66 - 78
2:42
Corey Maggette missed 25 ft three point jumper.
66 - 78
2:40
Rick Brunson offensive rebound.
66 - 78
2:36
Rick Brunson missed 18 ft jumper.
66 - 78
2:34
Eduardo Najera defensive rebound.
66 - 78
2:24
Earl Boykins missed 23 ft three point jumper.
66 - 78
2:21
Rick Brunson defensive rebound.
66 - 78
2:18
Eduardo Najera Shooting Foul. His 3rd Personal Foul.
66 - 78
2:18
Los Angeles Full Timeout.
66 - 78
2:18
Wesley Person enters the game for Carmelo Anthony.
66 - 78
2:18
Chris Kaman enters the game for Elton Brand.
66 - 78
2:18
Lionel Chalmers enters the game for Rick Brunson.
66 - 78
2:18
Quinton Ross made Free Throw 1 of 2.
67 - 78
2:18
Quinton Ross made Free Throw 2 of 2.
68 - 78
2:09
Chris Kaman Personal Foul. His 4th Personal Foul.
68 - 78
2:09
Marcus Camby missed Free Throw 1 of 2.
68 - 78
2:09
Denver offensive rebound.
68 - 78
2:09
Marcus Camby made Free Throw 2 of 2.
68 - 79
1:47
Corey Maggette missed driving layup.
68 - 79
1:45
Marcus Camby defensive rebound.
68 - 79
1:31
Marcus Camby missed 18 ft jumper.
68 - 79
1:30
Mikki Moore defensive rebound.
68 - 79
1:22
Corey Maggette missed 23 ft jumper.
68 - 79
1:22
Los Angeles defensive rebound.
68 - 79
1:02
Eduardo Najera missed 20 ft jumper.
68 - 79
1:00
Marcus Camby offensive rebound.
68 - 79
1:00
Eduardo Najera made two point shot. Assisted by Marcus Camby.
68 - 81
0:43
Corey Maggette Offensive Foul. His 5th Personal Foul.
68 - 81
0:43
Corey Maggette Turnover
68 - 81
0:43
Francisco Elson enters the game for Marcus Camby.
68 - 81
0:43
Bobby Simmons enters the game for Corey Maggette.
68 - 81
0:22
Francisco Elson made dunk.
68 - 83
0:22
Francisco Elson Offensive Goaltending
68 - 83
0:03
Lionel Chalmers Bad Pass
68 - 83
0:00
End of the 3rd Quarter.
68 - 83

time
TEAM
PLAY
SCORE
12:00
Start of the 4th Quarter.
68 - 83
11:47
Francisco Elson Shooting Foul. His 1st Personal Foul.
68 - 83
11:47
Mikki Moore made Free Throw 1 of 2.
69 - 83
11:47
Mikki Moore made Free Throw 2 of 2.
70 - 83
11:32
Wesley Person made 22 ft jumper. Assisted by Earl Boykins.
70 - 85
11:11
Francisco Elson Personal Foul. His 2nd Personal Foul.
70 - 85
11:03
Lionel Chalmers made 25 ft three point jumper. Assisted by Bobby Simmons.
73 - 85
10:42
Quinton Ross Personal Foul. His 2nd Personal Foul.
73 - 85
10:30
Earl Boykins made 17 ft two point shot.
73 - 87
10:07
Chris Kaman made 8 ft jumper.
75 - 87
9:49
Wesley Person made 24 ft three point jumper. Assisted by Earl Boykins.
75 - 90
9:30
Bobby Simmons Bad Pass. Stolen by Eduardo Najera.
75 - 90
9:26
Eduardo Najera Bad Pass. Stolen by Lionel Chalmers.
75 - 90
9:23
Greg Buckner Shooting Foul. His 2nd Personal Foul.
75 - 90
9:23
Bobby Simmons made Free Throw 1 of 2.
76 - 90
9:23
Bobby Simmons missed Free Throw 2 of 2.
76 - 90
9:22
Bobby Simmons offensive rebound.
76 - 90
9:19
Bobby Simmons made 7 ft jumper.
78 - 90
9:04
Francisco Elson Lost Ball. Stolen by Lionel Chalmers.
78 - 90
8:57
Lionel Chalmers Bad Pass. Stolen by Eduardo Najera.
78 - 90
8:53
Earl Boykins made layup. Assisted by Eduardo Najera.
78 - 92
8:37
Lionel Chalmers Bad Pass. Stolen by Eduardo Najera.
78 - 92
8:33
Earl Boykins missed 24 ft three point jumper.
78 - 92
8:30
Mikki Moore defensive rebound.
78 - 92
8:19
Greg Buckner Personal Foul. His 3rd Personal Foul.
78 - 92
8:19
Official Timeout.
78 - 92
8:19
Kenyon Martin enters the game for Francisco Elson.
78 - 92
8:11
Eduardo Najera Shooting Foul. His 4th Personal Foul.
78 - 92
8:11
Bobby Simmons made Free Throw 1 of 2.
79 - 92
8:11
Bobby Simmons made Free Throw 2 of 2.
80 - 92
8:00
Bobby Simmons Personal Foul. His 4th Personal Foul.
80 - 92
7:52
Kenyon Martin missed two point shot.
80 - 92
7:52
Kenyon Martin offensive rebound.
80 - 94
7:52
Kenyon Martin made two point shot.
80 - 94
7:31
Earl Boykins Personal Foul. His 1st Personal Foul.
80 - 94
7:31
Carmelo Anthony enters the game for Greg Buckner.
80 - 94
7:31
Lionel Chalmers made Free Throw 1 of 2.
81 - 94
7:31
Corey Maggette enters the game for Quinton Ross.
81 - 94
7:31
Lionel Chalmers made Free Throw 2 of 2.
82 - 94
7:07
Shot Clock Violation
82 - 94
6:46
Chris Kaman missed layup.
82 - 94
6:45
Chris Kaman offensive rebound.
82 - 94
6:41
Bobby Simmons missed 16 ft jumper.
82 - 94
6:39
Carmelo Anthony defensive rebound.
82 - 94
6:33
Carmelo Anthony made 25 ft three point jumper. Assisted by Wesley Person.
82 - 97
6:05
Shot Clock Violation
82 - 97
5:47
Kenyon Martin made two point shot. Assisted by Carmelo Anthony.
82 - 99
5:43
Los Angeles Full Timeout.
82 - 99
5:33
Lionel Chalmers's layup blocked by Eduardo Najera.
82 - 99
5:31
Kenyon Martin defensive rebound.
82 - 99
5:31
Kenyon Martin Lost Ball. Stolen by Lionel Chalmers.
82 - 99
5:31
Lionel Chalmers made jumper.
84 - 99
5:31
Kenyon Martin Illegal Defense
84 - 99
5:13
Chris Kaman Shooting Foul. His 4th Personal Foul.
84 - 99
5:13
Kenyon Martin missed Free Throw 1 of 2.
84 - 99
5:13
Denver offensive rebound.
84 - 99
5:13
Kenyon Martin made Free Throw 2 of 2.
84 - 100
4:56
Chris Kaman Lost Ball. Stolen by Eduardo Najera.
84 - 100
4:50
Wesley Person made 23 ft jumper. Assisted by Earl Boykins.
84 - 102
4:33
Wesley Person Shooting Foul. His 2nd Personal Foul.
84 - 102
4:33
Corey Maggette missed Free Throw 1 of 2.
84 - 102
4:33
Los Angeles offensive rebound.
84 - 102
4:33
Corey Maggette made Free Throw 2 of 2.
85 - 102
4:28
Lionel Chalmers Personal Foul. His 4th Personal Foul.
85 - 102
4:28
Kenny Anderson enters the game for Bobby Simmons.
85 - 102
4:28
Quinton Ross enters the game for Chris Kaman.
85 - 102
4:28
Chris Wilcox enters the game for Lionel Chalmers.
85 - 102
4:22
Carmelo Anthony made layup. Assisted by Eduardo Najera.
85 - 104
4:22
Corey Maggette Shooting Foul. His 6th Personal Foul.
85 - 104
4:22
Carmelo Anthony made Free Throw 1 of 1.
85 - 105
4:09
Mikki Moore made 18 ft jumper. Assisted by Quinton Ross.
87 - 105
3:53
Eduardo Najera's layup blocked by Chris Wilcox.
87 - 105
3:49
Corey Maggette defensive rebound.
87 - 105
3:40
Quinton Ross's two point shot blocked by Kenyon Martin.
87 - 105
3:35
Eduardo Najera defensive rebound.
87 - 105
3:31
Wesley Person missed 20 ft jumper.
87 - 105
3:31
Denver defensive rebound.
87 - 105
3:31
Lionel Chalmers enters the game for Corey Maggette.
87 - 105
3:31
Mark Pope enters the game for Kenyon Martin.
87 - 105
3:18
Carmelo Anthony Personal Foul. His 5th Personal Foul.
87 - 105
3:18
Greg Buckner enters the game for Carmelo Anthony.
87 - 105
3:18
Chris Wilcox made Free Throw 1 of 2.
88 - 105
3:18
Chris Wilcox missed Free Throw 2 of 2.
88 - 105
3:16
Eduardo Najera defensive rebound.
88 - 105
3:05
Kenny Anderson Personal Foul. His 1st Personal Foul.
88 - 105
3:05
Wesley Person made Free Throw 1 of 2.
88 - 106
3:05
Wesley Person missed Free Throw 2 of 2.
88 - 106
3:03
Mikki Moore defensive rebound.
88 - 106
2:50
Mikki Moore made 21 ft jumper. Assisted by Kenny Anderson.
90 - 106
2:29
Greg Buckner made 24 ft three point jumper. Assisted by Earl Boykins.
90 - 109
2:12
Kenny Anderson missed 19 ft jumper.
90 - 109
2:11
Earl Boykins defensive rebound.
90 - 109
2:08
Eduardo Najera made layup. Assisted by Earl Boykins.
90 - 111
1:46
Mikki Moore Lost Ball. Stolen by Wesley Person.
90 - 111
1:40
Wesley Person missed layup.
90 - 111
1:40
Mark Pope offensive rebound.
90 - 113
1:40
Mark Pope made tip shot.
90 - 113
1:32
Lionel Chalmers missed 23 ft three point jumper.
90 - 113
1:31
Greg Buckner defensive rebound.
90 - 113
1:23
Greg Buckner made driving layup.
90 - 115
1:23
Mikki Moore Shooting Foul. His 5th Personal Foul.
90 - 115
1:23
Greg Buckner missed Free Throw 1 of 1.
90 - 115
1:23
Denver Full Timeout.
90 - 115
1:23
DerMarr Johnson enters the game for Wesley Person.
90 - 115
1:22
Mikki Moore defensive rebound.
90 - 115
1:05
Kenny Anderson missed 18 ft jumper.
90 - 115
1:02
Mikki Moore offensive rebound.
90 - 115
1:02
Earl Boykins Personal Foul. His 2nd Personal Foul.
90 - 115
1:02
Mikki Moore made Free Throw 1 of 2.
91 - 115
1:02
Mikki Moore made Free Throw 2 of 2.
92 - 115
0:47
Greg Buckner made two point shot. Assisted by Earl Boykins.
92 - 117
0:47
Kenny Anderson Shooting Foul. His 3rd Personal Foul.
92 - 117
0:47
Greg Buckner missed Free Throw 1 of 1.
92 - 117
0:45
Chris Wilcox defensive rebound.
92 - 117
0:27
Kenny Anderson made layup. Assisted by Mikki Moore.
94 - 117
0:07
Eduardo Najera missed 25 ft three point jumper.
94 - 117
0:05
Denver defensive rebound.
94 - 117
0:02
Lionel Chalmers made layup.
96 - 117
0:02
Mark Pope Shooting Foul. His 2nd Personal Foul.
96 - 117
0:02
Lionel Chalmers missed Free Throw 1 of 1.
96 - 117
0:00
Eduardo Najera defensive rebound.
96 - 117
0:00
End of the 4th Quarter.
96 - 117
0:00
End Game
96 - 117
You can't help but smile watching this clip of LeBron James' son doing dazzling work on the court, and his dad's reaction.

Gerald Green and Tyler Zeller are each expected to signs deal with the Celtics, according to sources.

Brian Windhorst reports from Las Vegas, where Kevin Durant took the court with his new Warriors' teammates and Paul George shined in his return in Team USA's exhibition win over Argentina.
2015-2016 Northwest Standings