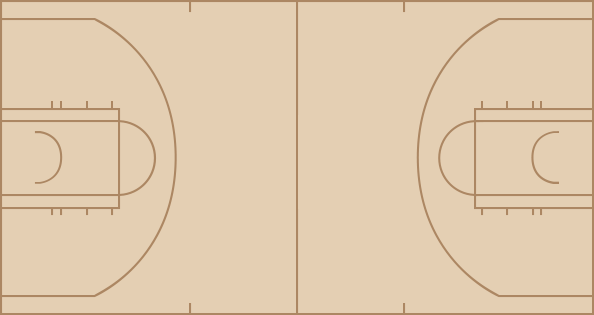 Pistons
time
TEAM
PLAY
SCORE
12:00
Start of the 1st Quarter.
0 - 0
12:00
Jumpball: Ben Wallace vs. Samuel Dalembert. Kyle Korver gains possession.
0 - 0
11:44
Chris Webber made 16 ft jumper.
0 - 2
11:19
Chauncey Billups made 17 ft jumper. Assisted by Carlos Delfino.
2 - 2
10:41
Tayshaun Prince made layup. Assisted by Rasheed Wallace.
4 - 2
10:25
Allen Iverson made two point shot.
4 - 4
10:25
Ben Wallace Illegal Defense
4 - 4
10:15
Tayshaun Prince missed layup.
4 - 4
10:15
Samuel Dalembert defensive rebound.
4 - 4
10:03
Samuel Dalembert made dunk. Assisted by Allen Iverson.
4 - 6
9:41
Carlos Delfino missed 28 ft three point jumper.
4 - 6
9:40
Andre Iguodala defensive rebound.
4 - 6
9:34
Samuel Dalembert made two point shot. Assisted by Andre Iguodala.
4 - 8
9:27
Detroit Full Timeout.
4 - 8
9:11
Carlos Delfino's layup blocked by Samuel Dalembert.
4 - 8
9:11
Allen Iverson defensive rebound.
4 - 8
9:06
Kyle Korver made 26 ft three point jumper. Assisted by Allen Iverson.
4 - 11
8:51
Rasheed Wallace missed dunk.
4 - 11
8:48
Andre Iguodala defensive rebound.
4 - 11
8:33
Allen Iverson made 19 ft running jumper.
4 - 13
8:14
Ben Wallace made two point shot.
6 - 13
7:52
Rasheed Wallace Personal Foul. His 1st Personal Foul.
6 - 13
7:41
Samuel Dalembert made two point shot. Assisted by Allen Iverson.
6 - 15
7:16
Ben Wallace missed two point shot.
6 - 15
7:13
Samuel Dalembert defensive rebound.
6 - 15
7:09
Allen Iverson missed two point shot.
6 - 15
7:07
Tayshaun Prince defensive rebound.
6 - 15
7:01
Tayshaun Prince Bad Pass. Stolen by Allen Iverson.
6 - 15
6:48
Allen Iverson Bad Pass. Stolen by Tayshaun Prince.
6 - 15
6:43
Carlos Delfino missed layup.
6 - 15
6:43
Detroit defensive rebound.
6 - 15
6:33
Ben Wallace Personal Foul. His 1st Personal Foul.
6 - 15
6:26
Ben Wallace Shooting Foul. His 2nd Personal Foul.
6 - 15
6:26
Antonio McDyess enters the game for Ben Wallace.
6 - 15
6:26
Chris Webber missed Free Throw 1 of 2.
6 - 15
6:26
Philadelphia offensive rebound.
6 - 15
6:26
Lindsey Hunter enters the game for Carlos Delfino.
6 - 15
6:26
Chris Webber missed Free Throw 2 of 2.
6 - 15
6:24
Antonio McDyess defensive rebound.
6 - 15
6:16
Chauncey Billups made 25 ft three point jumper.
9 - 15
6:05
Kyle Korver made 24 ft three point jumper. Assisted by Andre Iguodala.
9 - 18
5:43
Antonio McDyess made 10 ft two point shot. Assisted by Chauncey Billups.
11 - 18
5:22
Chris Webber made 17 ft two point shot. Assisted by Kyle Korver.
11 - 20
4:54
Antonio McDyess's 16 ft jumper blocked by Samuel Dalembert.
11 - 20
4:54
Detroit offensive rebound.
11 - 20
4:54
Shot Clock Violation
11 - 20
4:43
Kyle Korver missed 24 ft three point jumper.
11 - 20
4:41
Rasheed Wallace defensive rebound.
11 - 20
4:37
Rasheed Wallace Bad Pass. Stolen by Andre Iguodala.
11 - 20
4:31
Allen Iverson made 24 ft three point jumper. Assisted by Andre Iguodala.
11 - 23
4:13
Samuel Dalembert Shooting Foul. His 1st Personal Foul.
11 - 23
4:13
Rasheed Wallace made Free Throw 1 of 2.
12 - 23
4:13
Rasheed Wallace made Free Throw 2 of 2.
13 - 23
3:58
Andre Iguodala missed jumper.
13 - 23
3:56
Lindsey Hunter defensive rebound.
13 - 23
3:39
Rasheed Wallace missed 26 ft three point jumper.
13 - 23
3:35
Kyle Korver defensive rebound.
13 - 23
3:29
Chris Webber missed 12 ft jumper.
13 - 23
3:28
Philadelphia defensive rebound.
13 - 23
3:28
Elden Campbell enters the game for Rasheed Wallace.
13 - 23
3:04
Elden Campbell made two point shot. Assisted by Antonio McDyess.
15 - 23
2:49
Allen Iverson made 18 ft two point shot.
15 - 25
2:27
Andre Iguodala Personal Foul. His 1st Personal Foul.
15 - 25
2:27
Philadelphia Full Timeout.
15 - 25
2:27
Aaron McKie enters the game for Andre Iguodala.
15 - 25
2:23
Chauncey Billups Bad Pass
15 - 25
2:05
Chris Webber missed 6 ft jumper.
15 - 25
2:03
Antonio McDyess defensive rebound.
15 - 25
1:54
Chris Webber Personal Foul. His 2nd Personal Foul.
15 - 25
1:47
Tayshaun Prince missed 6 ft jumper.
15 - 25
1:47
Detroit defensive rebound.
15 - 25
1:47
Antonio McDyess Loose Ball Foul. His 1st Personal Foul.
15 - 25
1:35
Chris Webber missed layup.
15 - 25
1:34
Samuel Dalembert offensive rebound.
15 - 25
1:34
Elden Campbell Shooting Foul. His 1st Personal Foul.
15 - 25
1:34
Samuel Dalembert missed Free Throw 1 of 2.
15 - 25
1:34
Philadelphia offensive rebound.
15 - 25
1:34
Carlos Arroyo enters the game for Chauncey Billups.
15 - 25
1:34
Samuel Dalembert made Free Throw 2 of 2.
15 - 26
1:15
Elden Campbell missed 4 ft hook shot.
15 - 26
1:14
Chris Webber defensive rebound.
15 - 26
1:07
Allen Iverson missed 10 ft jumper.
15 - 26
1:05
Elden Campbell defensive rebound.
15 - 26
0:56
Carlos Arroyo made driving layup.
17 - 26
0:51
Allen Iverson made driving layup.
17 - 28
0:37
Lindsey Hunter missed 25 ft three point jumper.
17 - 28
0:35
Aaron McKie defensive rebound.
17 - 28
0:30
Allen Iverson missed 26 ft three point jumper.
17 - 28
0:28
Chris Webber offensive rebound.
17 - 28
0:06
Samuel Dalembert missed 15 ft jumper.
17 - 28
0:01
Chris Webber offensive rebound.
17 - 28
0:00
Chris Webber missed 8 ft jumper.
17 - 28
0:00
Tayshaun Prince defensive rebound.
17 - 28
0:00
End of the 1st Quarter.
17 - 28

time
TEAM
PLAY
SCORE
12:00
Start of the 2nd Quarter.
17 - 28
11:44
Elden Campbell missed 6 ft hook shot.
17 - 28
11:41
Andre Iguodala defensive rebound.
17 - 28
11:37
Rodney Rogers Turnover
17 - 28
11:19
Elden Campbell Lost Ball. Stolen by Aaron McKie.
17 - 28
11:11
Rodney Rogers missed 25 ft three point jumper.
17 - 28
11:10
Elden Campbell defensive rebound.
17 - 28
10:56
Elden Campbell missed 16 ft jumper.
17 - 28
10:53
Aaron McKie defensive rebound.
17 - 28
10:44
Samuel Dalembert made 11 ft jumper. Assisted by Andre Iguodala.
17 - 30
10:34
Aaron McKie Personal Foul. His 1st Personal Foul.
17 - 30
10:22
Rodney Rogers Shooting Foul. His 1st Personal Foul.
17 - 30
10:22
Elden Campbell missed Free Throw 1 of 2.
17 - 30
10:22
Detroit offensive rebound.
17 - 30
10:22
Elden Campbell missed Free Throw 2 of 2.
17 - 30
10:22
Aaron McKie defensive rebound.
17 - 30
10:08
Allen Iverson missed 15 ft jumper.
17 - 30
10:07
Antonio McDyess defensive rebound.
17 - 30
10:02
Elden Campbell Offensive Foul. His 3rd Personal Foul.
17 - 30
10:02
Elden Campbell Turnover
17 - 30
10:02
Ben Wallace enters the game for Elden Campbell.
17 - 30
9:49
Aaron McKie's layup blocked by Tayshaun Prince.
17 - 30
9:48
Lindsey Hunter defensive rebound.
17 - 30
9:44
Lindsey Hunter missed layup.
17 - 30
9:42
Detroit offensive rebound.
17 - 30
9:41
Marc Jackson enters the game for Samuel Dalembert.
17 - 30
9:32
Lindsey Hunter missed jumper.
17 - 30
9:30
Antonio McDyess offensive rebound.
17 - 30
9:30
Antonio McDyess missed tip shot.
17 - 30
9:29
Marc Jackson defensive rebound.
17 - 30
9:18
Andre Iguodala missed two point shot.
17 - 30
9:17
Tayshaun Prince defensive rebound.
17 - 30
9:03
Marc Jackson Shooting Foul. His 1st Personal Foul.
17 - 30
9:03
Ben Wallace missed Free Throw 1 of 2.
17 - 30
9:03
Chauncey Billups enters the game for Lindsey Hunter.
17 - 30
9:03
Carlos Delfino enters the game for Tayshaun Prince.
17 - 30
9:03
Detroit offensive rebound.
17 - 30
9:03
Ben Wallace missed Free Throw 2 of 2.
17 - 30
9:03
Rodney Rogers defensive rebound.
17 - 30
8:48
Carlos Arroyo Personal Foul. His 1st Personal Foul.
17 - 30
8:48
Official Timeout.
17 - 30
8:48
Kyle Korver enters the game for Aaron McKie.
17 - 30
8:45
Kyle Korver made 25 ft three point jumper. Assisted by Marc Jackson.
17 - 33
8:36
Rodney Rogers Illegal Defense Foul. His 2nd Personal Foul.
17 - 33
8:36
Chauncey Billups made Technical Free Throw.
18 - 33
8:26
Chauncey Billups made three point jumper. Assisted by Carlos Delfino.
21 - 33
8:08
Rodney Rogers missed 23 ft three point jumper.
21 - 33
8:07
Antonio McDyess defensive rebound.
21 - 33
8:00
Chauncey Billups missed 15 ft jumper.
21 - 33
7:58
Rodney Rogers defensive rebound.
21 - 33
7:52
Allen Iverson made 9 ft running jumper.
21 - 35
7:28
Carlos Arroyo made driving layup.
23 - 35
7:18
Carlos Delfino Personal Foul. His 1st Personal Foul.
23 - 35
7:18
Chris Webber enters the game for Rodney Rogers.
23 - 35
7:13
Allen Iverson made 25 ft three point jumper. Assisted by Andre Iguodala.
23 - 38
6:58
Ben Wallace missed 14 ft jumper.
23 - 38
6:56
Detroit defensive rebound.
23 - 38
6:37
Allen Iverson missed 25 ft three point jumper.
23 - 38
6:35
Andre Iguodala offensive rebound.
23 - 38
6:26
Allen Iverson made two point shot.
23 - 40
6:09
Marc Jackson Shooting Foul. His 2nd Personal Foul.
23 - 40
6:09
Carlos Arroyo made Free Throw 1 of 2.
24 - 40
6:09
Carlos Arroyo made Free Throw 2 of 2.
25 - 40
5:54
Chris Webber missed 19 ft jumper.
25 - 40
5:52
Antonio McDyess defensive rebound.
25 - 40
5:45
Philadelphia Full Timeout.
25 - 40
5:45
Rasheed Wallace enters the game for Carlos Arroyo.
25 - 40
5:45
Lindsey Hunter enters the game for Antonio McDyess.
25 - 40
5:33
Rasheed Wallace missed layup.
25 - 40
5:33
Ben Wallace offensive rebound.
25 - 40
5:33
Ben Wallace missed tip shot.
25 - 40
5:31
Andre Iguodala defensive rebound.
25 - 40
5:24
Chris Webber made two point shot. Assisted by Andre Iguodala.
25 - 42
5:05
Chris Webber Personal Foul. His 2nd Personal Foul.
25 - 42
5:05
Ben Wallace made Free Throw 1 of 2.
26 - 42
5:05
Ben Wallace made Free Throw 2 of 2.
27 - 42
4:52
Allen Iverson's jumper blocked by Lindsey Hunter.
27 - 42
4:52
Lindsey Hunter defensive rebound.
27 - 42
4:52
Allen Iverson Personal Foul. His 1st Personal Foul.
27 - 42
4:52
Lindsey Hunter made Free Throw 1 of 2.
28 - 42
4:52
Tayshaun Prince enters the game for Carlos Delfino.
28 - 42
4:52
Aaron McKie enters the game for Kyle Korver.
28 - 42
4:52
Lindsey Hunter made Free Throw 2 of 2.
29 - 42
4:41
Lindsey Hunter Personal Foul. His 1st Personal Foul.
29 - 42
4:31
Chris Webber made layup. Assisted by Marc Jackson.
29 - 44
4:11
Chris Webber Personal Foul. His 3rd Personal Foul.
29 - 44
4:11
Samuel Dalembert enters the game for Chris Webber.
29 - 44
4:11
Tayshaun Prince made Free Throw 1 of 2.
30 - 44
4:11
Tayshaun Prince made Free Throw 2 of 2.
31 - 44
4:00
Marc Jackson made running jumper. Assisted by Aaron McKie.
31 - 46
3:47
Chauncey Billups missed 26 ft three point jumper.
31 - 46
3:46
Andre Iguodala defensive rebound.
31 - 46
3:43
Aaron McKie made layup. Assisted by Andre Iguodala.
31 - 48
3:29
Chauncey Billups Lost Ball. Stolen by Aaron McKie.
31 - 48
3:29
Chauncey Billups Clear Path Foul. His 1st Personal Foul.
31 - 48
3:29
Aaron McKie made Flagrant Free Throw 1 of 2.
31 - 49
3:18
Chauncey Billups Personal Foul. His 2nd Personal Foul.
31 - 49
3:18
Aaron McKie made Free Throw 1 of 2.
31 - 50
3:18
Aaron McKie made Free Throw 2 of 2.
31 - 51
3:14
Detroit Full Timeout.
31 - 51
3:00
Marc Jackson Shooting Foul. His 3rd Personal Foul.
31 - 51
3:00
Rodney Rogers enters the game for Marc Jackson.
31 - 51
3:00
Ben Wallace missed Free Throw 1 of 2.
31 - 51
3:00
Detroit offensive rebound.
31 - 51
3:00
Ben Wallace made Free Throw 2 of 2.
32 - 51
2:38
Samuel Dalembert missed 12 ft jumper.
32 - 51
2:36
Rasheed Wallace defensive rebound.
32 - 51
2:27
Ben Wallace missed 5 ft jumper.
32 - 51
2:26
Rasheed Wallace offensive rebound.
32 - 51
2:25
Rasheed Wallace missed 5 ft jumper.
32 - 51
2:24
Rasheed Wallace offensive rebound.
32 - 51
2:24
Rasheed Wallace missed tip shot.
32 - 51
2:24
Detroit offensive rebound.
32 - 51
2:24
Rodney Rogers Loose Ball Foul. His 2nd Personal Foul.
32 - 51
2:24
Ben Wallace missed Free Throw 1 of 2.
32 - 51
2:24
Detroit offensive rebound.
32 - 51
2:24
Ben Wallace made Free Throw 2 of 2.
33 - 51
2:24
Philadelphia 20 Sec. Timeout.
33 - 51
2:24
Carlos Arroyo enters the game for Lindsey Hunter.
33 - 51
2:12
Allen Iverson made 12 ft jumper.
33 - 53
1:55
Tayshaun Prince made driving layup.
35 - 53
1:55
Andre Iguodala Shooting Foul. His 3rd Personal Foul.
35 - 53
1:55
Carlos Arroyo enters the game for Lindsey Hunter.
35 - 53
1:55
Tayshaun Prince made Free Throw 1 of 1.
36 - 53
1:39
Tayshaun Prince Personal Foul. His 1st Personal Foul.
36 - 53
1:39
Allen Iverson made Free Throw 1 of 2.
36 - 54
1:39
Kyle Korver enters the game for Andre Iguodala.
36 - 54
1:39
Allen Iverson made Free Throw 2 of 2.
36 - 55
1:17
Rasheed Wallace missed 19 ft jumper.
36 - 55
1:15
Tayshaun Prince offensive rebound.
36 - 55
1:15
Tayshaun Prince missed layup.
36 - 55
1:13
Rasheed Wallace offensive rebound.
36 - 55
1:13
Rasheed Wallace missed layup.
36 - 55
1:02
Kyle Korver defensive rebound.
36 - 55
1:00
Allen Iverson Bad Pass. Stolen by Ben Wallace.
36 - 55
0:58
Kyle Korver Shooting Foul. His 1st Personal Foul.
36 - 55
0:58
Tayshaun Prince made Free Throw 1 of 2.
37 - 55
0:58
Tayshaun Prince made Free Throw 2 of 2.
38 - 55
0:36
Samuel Dalembert missed hook shot.
38 - 55
0:35
Rasheed Wallace defensive rebound.
38 - 55
0:28
Tayshaun Prince missed 23 ft three point jumper.
38 - 55
0:26
Samuel Dalembert defensive rebound.
38 - 55
0:05
Allen Iverson made driving layup.
38 - 57
0:00
Carlos Arroyo missed layup.
38 - 57
0:00
Aaron McKie defensive rebound.
38 - 57
0:00
End of the 2nd Quarter.
38 - 57

time
TEAM
PLAY
SCORE
12:00
Start of the 3rd Quarter.
38 - 57
11:38
Carlos Delfino missed 16 ft jumper.
38 - 57
11:37
Chris Webber defensive rebound.
38 - 57
11:19
Allen Iverson missed 23 ft jumper.
38 - 57
11:18
Ben Wallace defensive rebound.
38 - 57
11:07
Tayshaun Prince Bad Pass. Stolen by Andre Iguodala.
38 - 57
11:03
Allen Iverson made layup. Assisted by Chris Webber.
38 - 59
10:41
Rasheed Wallace made 16 ft jumper.
40 - 59
10:27
Allen Iverson made 16 ft jumper.
40 - 61
10:08
Chauncey Billups Bad Pass. Stolen by Andre Iguodala.
40 - 61
10:00
Chris Webber missed 17 ft jumper.
40 - 61
9:59
Carlos Delfino defensive rebound.
40 - 61
9:52
Carlos Delfino missed layup.
40 - 61
9:52
Carlos Delfino offensive rebound.
42 - 61
9:52
Carlos Delfino made driving layup.
42 - 61
9:52
Samuel Dalembert Illegal Defense
42 - 61
9:41
Allen Iverson missed 20 ft jumper.
42 - 61
9:40
Ben Wallace defensive rebound.
42 - 61
9:22
Ben Wallace made running jumper. Assisted by Carlos Delfino.
44 - 61
9:03
Chris Webber made 18 ft jumper. Assisted by Andre Iguodala.
44 - 63
8:41
Chauncey Billups made 23 ft three point jumper. Assisted by Ben Wallace.
47 - 63
8:25
Rasheed Wallace Personal Foul. His 2nd Personal Foul.
47 - 63
8:17
Andre Iguodala missed 17 ft jumper.
47 - 63
8:15
Ben Wallace defensive rebound.
47 - 63
8:06
Rasheed Wallace made dunk. Assisted by Chauncey Billups.
49 - 63
8:06
Kyle Korver Shooting Foul. His 3rd Personal Foul.
49 - 63
8:06
Rasheed Wallace made Free Throw 1 of 1.
50 - 63
7:45
Chris Webber missed layup.
50 - 63
7:43
Philadelphia defensive rebound.
50 - 63
7:31
Ben Wallace made driving layup.
52 - 63
7:31
Kyle Korver Shooting Foul. His 4th Personal Foul.
52 - 63
7:31
Ben Wallace missed Free Throw 1 of 1.
52 - 63
7:24
Detroit offensive rebound.
52 - 63
7:22
Rasheed Wallace offensive rebound.
52 - 63
7:20
Rasheed Wallace made 25 ft three point jumper. Assisted by Chauncey Billups.
55 - 63
7:20
Philadelphia Full Timeout.
55 - 63
7:20
Aaron McKie enters the game for Kyle Korver.
55 - 63
7:01
Chris Webber made 17 ft jumper. Assisted by Allen Iverson.
55 - 65
6:41
Rasheed Wallace missed 24 ft three point jumper.
55 - 65
6:39
Aaron McKie defensive rebound.
55 - 65
6:31
Chris Webber made 16 ft jumper. Assisted by Allen Iverson.
55 - 67
6:18
Chauncey Billups made 18 ft jumper.
57 - 67
5:54
Andre Iguodala made 23 ft three point jumper. Assisted by Aaron McKie.
57 - 70
5:33
Carlos Delfino missed 24 ft three point jumper.
57 - 70
5:31
Chris Webber defensive rebound.
57 - 70
5:22
Allen Iverson made driving layup.
57 - 72
4:56
Chauncey Billups Lost Ball. Stolen by Aaron McKie.
57 - 72
4:52
Andre Iguodala made two point shot. Assisted by Allen Iverson.
57 - 74
4:47
Detroit Full Timeout.
57 - 74
4:47
Chauncey Billups Technical Foul. His 1st Technical Foul.
57 - 74
4:47
Allen Iverson made Technical Free Throw.
57 - 75
4:28
Carlos Delfino Bad Pass. Stolen by Allen Iverson.
57 - 75
4:22
Aaron McKie missed 21 ft jumper.
57 - 75
4:22
Rasheed Wallace defensive rebound.
57 - 75
4:05
Ben Wallace Lost Ball. Stolen by Chris Webber.
57 - 75
3:51
Chris Webber missed 17 ft jumper.
57 - 75
3:49
Rasheed Wallace defensive rebound.
57 - 75
3:34
Samuel Dalembert Shooting Foul. His 3rd Personal Foul.
57 - 75
3:34
Antonio McDyess enters the game for Rasheed Wallace.
57 - 75
3:34
Carlos Delfino missed Free Throw 1 of 2.
57 - 75
3:34
Detroit offensive rebound.
57 - 75
3:34
Carlos Delfino made Free Throw 2 of 2.
58 - 75
3:20
Allen Iverson Turnover
58 - 75
3:20
Lindsey Hunter enters the game for Carlos Delfino.
58 - 75
3:05
Tayshaun Prince's 7 ft jumper blocked by Samuel Dalembert.
58 - 75
3:03
Antonio McDyess offensive rebound.
58 - 75
3:03
Antonio McDyess missed layup.
58 - 75
3:02
Detroit offensive rebound.
58 - 75
2:54
Lindsey Hunter Lost Ball. Stolen by Allen Iverson.
58 - 75
2:51
Allen Iverson Turnover
58 - 75
2:47
Chauncey Billups Bad Pass. Stolen by Allen Iverson.
58 - 75
2:43
Allen Iverson made dunk.
58 - 77
2:19
Lindsey Hunter missed 27 ft three point jumper.
58 - 77
2:17
Allen Iverson defensive rebound.
58 - 77
2:12
Carlos Arroyo enters the game for Chauncey Billups.
58 - 77
2:03
Chris Webber made 17 ft jumper. Assisted by Andre Iguodala.
58 - 79
1:39
Ben Wallace missed layup.
58 - 79
1:39
Detroit defensive rebound.
58 - 79
1:22
Chris Webber Lost Ball. Stolen by Ben Wallace.
58 - 79
1:22
Allen Iverson Personal Foul. His 2nd Personal Foul.
58 - 79
1:22
Marc Jackson enters the game for Chris Webber.
58 - 79
1:01
Lindsey Hunter Offensive Foul. His 3rd Personal Foul.
58 - 79
1:01
Lindsey Hunter Turnover
58 - 79
0:46
Samuel Dalembert made two point shot. Assisted by Allen Iverson.
58 - 81
0:27
Andre Iguodala Personal Foul. His 3rd Personal Foul.
58 - 81
0:27
Tayshaun Prince made Free Throw 1 of 2.
59 - 81
0:27
Kyle Korver enters the game for Andre Iguodala.
59 - 81
0:27
Tayshaun Prince made Free Throw 2 of 2.
60 - 81
0:12
Lindsey Hunter Personal Foul. His 3rd Personal Foul.
60 - 81
0:04
Allen Iverson missed 25 ft three point jumper.
60 - 81
0:01
Samuel Dalembert offensive rebound.
60 - 81
0:00
End of the 3rd Quarter.
60 - 81

time
TEAM
PLAY
SCORE
12:00
Start of the 4th Quarter.
60 - 81
11:34
Allen Iverson missed 16 ft jumper.
60 - 81
11:33
Carlos Arroyo defensive rebound.
60 - 81
11:22
Samuel Dalembert Shooting Foul. His 3rd Personal Foul.
60 - 81
11:22
Antonio McDyess missed Free Throw 1 of 2.
60 - 81
11:22
Detroit offensive rebound.
60 - 81
11:22
Antonio McDyess missed Free Throw 2 of 2.
60 - 81
11:22
Andre Iguodala enters the game for Aaron McKie.
60 - 81
11:19
Andre Iguodala defensive rebound.
60 - 81
10:57
Marc Jackson Bad Pass
60 - 81
10:48
Samuel Dalembert Illegal Defense Foul. His 4th Personal Foul.
60 - 81
10:48
Tayshaun Prince made Technical Free Throw.
61 - 81
10:40
Lindsey Hunter missed 24 ft three point jumper.
61 - 81
10:37
Andre Iguodala defensive rebound.
61 - 81
10:34
Allen Iverson Lost Ball. Stolen by Lindsey Hunter.
61 - 81
10:32
Kyle Korver Loose Ball Foul. His 4th Personal Foul.
61 - 81
10:32
Aaron McKie enters the game for Kyle Korver.
61 - 81
10:11
Rasheed Wallace missed 23 ft three point jumper.
61 - 81
10:08
Aaron McKie defensive rebound.
61 - 81
10:06
Lindsey Hunter Shooting Foul. His 4th Personal Foul.
61 - 81
10:06
Allen Iverson missed Free Throw 1 of 2.
61 - 81
10:06
Philadelphia offensive rebound.
61 - 81
10:06
Allen Iverson made Free Throw 2 of 2.
61 - 82
9:48
Tayshaun Prince missed three point jumper.
61 - 82
9:47
Antonio McDyess offensive rebound.
61 - 82
9:36
Rasheed Wallace made two point shot.
63 - 82
9:36
Samuel Dalembert Shooting Foul. His 5th Personal Foul.
63 - 82
9:36
Rasheed Wallace made Free Throw 1 of 1.
64 - 82
9:36
Ronald Dupree enters the game for Tayshaun Prince.
64 - 82
9:36
Chauncey Billups enters the game for Lindsey Hunter.
64 - 82
9:36
Chris Webber enters the game for Samuel Dalembert.
64 - 82
9:15
Chris Webber missed 17 ft jumper.
64 - 82
9:15
Antonio McDyess defensive rebound.
64 - 82
9:04
Carlos Arroyo Bad Pass. Stolen by Allen Iverson.
64 - 82
8:59
Allen Iverson Bad Pass. Stolen by Ronald Dupree.
64 - 82
8:53
Rasheed Wallace made two point shot. Assisted by Chauncey Billups.
66 - 82
8:34
Antonio McDyess Shooting Foul. His 2nd Personal Foul.
66 - 82
8:34
Official Timeout.
66 - 82
8:34
Marc Jackson made Free Throw 1 of 2.
66 - 83
8:34
Marc Jackson made Free Throw 2 of 2.
66 - 84
8:18
Rasheed Wallace made 14 ft jumper.
68 - 84
8:02
Allen Iverson Bad Pass. Stolen by Carlos Arroyo.
68 - 84
8:00
Allen Iverson Clear Path Foul. His 3rd Personal Foul.
68 - 84
8:00
Carlos Arroyo made Flagrant Free Throw 1 of 2.
69 - 84
7:47
Rasheed Wallace missed 18 ft jumper.
69 - 84
7:45
Aaron McKie defensive rebound.
69 - 84
7:31
Chris Webber missed 17 ft jumper.
69 - 84
7:30
Ronald Dupree defensive rebound.
69 - 84
7:26
Ronald Dupree Lost Ball. Stolen by Aaron McKie.
69 - 84
7:22
Allen Iverson Lost Ball. Stolen by Chauncey Billups.
69 - 84
7:18
Chauncey Billups Bad Pass. Stolen by Aaron McKie.
69 - 84
7:00
Andre Iguodala made 25 ft three point jumper. Assisted by Allen Iverson.
69 - 87
6:43
Rasheed Wallace missed 17 ft jumper.
69 - 87
6:41
Aaron McKie defensive rebound.
69 - 87
6:35
Carlos Arroyo Personal Foul. His 2nd Personal Foul.
69 - 87
6:20
Andre Iguodala missed 18 ft jumper.
69 - 87
6:20
Philadelphia defensive rebound.
69 - 87
6:05
Rasheed Wallace missed 14 ft jumper.
69 - 87
6:05
Carlos Arroyo offensive rebound.
69 - 87
6:01
Ronald Dupree made slam dunk. Assisted by Carlos Arroyo.
71 - 87
5:41
Rasheed Wallace Shooting Foul. His 3rd Personal Foul.
71 - 87
5:41
Philadelphia Full Timeout.
71 - 87
5:41
Kyle Korver enters the game for Aaron McKie.
71 - 87
5:41
Marc Jackson made Free Throw 1 of 2.
71 - 88
5:41
Marc Jackson made Free Throw 2 of 2.
71 - 89
5:33
Chris Webber Illegal Defense Foul. His 4th Personal Foul.
71 - 89
5:33
Chauncey Billups made Technical Free Throw.
72 - 89
5:26
Carlos Arroyo made 18 ft jumper.
74 - 89
5:11
Marc Jackson made 19 ft jumper. Assisted by Allen Iverson.
74 - 91
4:54
Antonio McDyess made 14 ft two point shot.
76 - 91
4:39
Allen Iverson missed jumper.
76 - 91
4:37
Andre Iguodala offensive rebound.
76 - 91
4:35
Andre Iguodala made 20 ft jumper.
76 - 93
4:18
Antonio McDyess made slam dunk.
78 - 93
3:58
Carlos Arroyo Personal Foul. His 3rd Personal Foul.
78 - 93
3:58
Darko Milicic enters the game for Rasheed Wallace.
78 - 93
3:58
Carlos Delfino enters the game for Chauncey Billups.
78 - 93
3:58
Allen Iverson missed Free Throw 1 of 2.
78 - 93
3:58
Philadelphia offensive rebound.
78 - 93
3:58
Elden Campbell enters the game for Antonio McDyess.
78 - 93
3:58
Samuel Dalembert enters the game for Marc Jackson.
78 - 93
3:58
Allen Iverson made Free Throw 2 of 2.
78 - 94
3:38
Ronald Dupree made driving layup. Assisted by Carlos Arroyo.
80 - 94
3:16
Elden Campbell Personal Foul. His 3rd Personal Foul.
80 - 94
3:16
Allen Iverson made Free Throw 1 of 2.
80 - 95
3:16
Willie Green enters the game for Andre Iguodala.
80 - 95
3:16
Allen Iverson made Free Throw 2 of 2.
80 - 96
3:00
Carlos Arroyo made 17 ft jumper.
82 - 96
2:38
Allen Iverson made driving layup. Assisted by Chris Webber.
82 - 98
2:19
Elden Campbell made 12 ft two point shot.
84 - 98
2:17
Philadelphia 20 Sec. Timeout.
84 - 98
2:17
Detroit Full Timeout.
84 - 98
2:17
Josh Davis enters the game for Allen Iverson.
84 - 98
2:17
Andre Iguodala enters the game for Chris Webber.
84 - 98
1:54
Willie Green made 25 ft three point jumper.
84 - 101
1:49
Carlos Delfino missed layup.
84 - 101
1:47
Samuel Dalembert defensive rebound.
84 - 101
1:34
Josh Davis made 26 ft three point jumper. Assisted by Andre Iguodala.
84 - 104
1:20
Carlos Arroyo missed 21 ft jumper.
84 - 104
1:17
Samuel Dalembert defensive rebound.
84 - 104
1:09
Willie Green missed 27 ft three point jumper.
84 - 104
1:08
Ronald Dupree defensive rebound.
84 - 104
0:54
Carlos Delfino missed 26 ft three point jumper.
84 - 104
0:52
Andre Iguodala defensive rebound.
84 - 104
0:34
Willie Green Bad Pass. Stolen by Carlos Delfino.
84 - 104
0:32
Carlos Delfino Bad Pass. Stolen by Andre Iguodala.
84 - 104
0:09
Willie Green missed 16 ft jumper.
84 - 104
0:07
Elden Campbell defensive rebound.
84 - 104
0:00
End of the 4th Quarter.
84 - 104
0:00
End Game
84 - 104
Check out some of the best highlights from the 2016 NBA Summer League, featuring Ben Simmons and Brandon Ingram.

Alex Abrines, who has been playing with FC Barcelona for the last three seasons, has reached a 3-year, $18 million agreement with the Thunder.

Nike pays a lot of money to sponsor Team USA, so some trickery is used to keep competing shoe company logos out of the team picture.
NBA Finals
DET wins series 4-1
2015-2016 Central Standings
2015-2016 Atlantic Standings