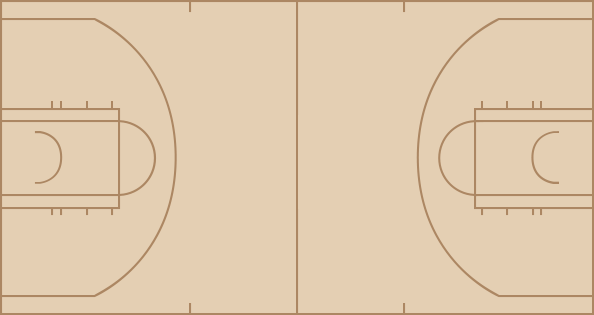 Celtics
time
TEAM
PLAY
SCORE
12:00
Start of the 1st Quarter.
0 - 0
12:00
Jumpball: Raef LaFrentz vs. Ben Wallace. Paul Pierce gains possession.
0 - 0
11:41
Paul Pierce missed 17 ft jumper.
0 - 0
11:41
Raef LaFrentz offensive rebound.
0 - 0
11:33
Antoine Walker made driving layup.
2 - 0
11:11
Ben Wallace missed layup.
2 - 0
11:11
Rasheed Wallace offensive rebound.
2 - 0
11:10
Rasheed Wallace missed tip shot.
2 - 0
11:07
Raef LaFrentz defensive rebound.
2 - 0
10:52
Antoine Walker missed 23 ft three point jumper.
2 - 0
10:51
Raef LaFrentz offensive rebound.
2 - 0
10:37
Raef LaFrentz made layup. Assisted by Gary Payton.
4 - 0
10:18
Tayshaun Prince missed 19 ft jumper.
4 - 0
10:17
Detroit defensive rebound.
4 - 0
10:04
Antoine Walker Offensive Goaltending
4 - 0
9:49
Tayshaun Prince missed 9 ft hook shot.
4 - 0
9:47
Richard Hamilton offensive rebound.
4 - 0
9:38
Richard Hamilton missed 12 ft jumper.
4 - 0
9:37
Raef LaFrentz defensive rebound.
4 - 0
9:23
Raef LaFrentz made jumper. Assisted by Paul Pierce.
6 - 0
9:15
Detroit 20 Sec. Timeout.
6 - 0
9:00
Rasheed Wallace made 7 ft hook shot. Assisted by Chauncey Billups.
6 - 2
8:52
Tony Allen missed layup.
6 - 2
8:48
Tayshaun Prince defensive rebound.
6 - 2
8:40
Tony Allen Illegal Defense Foul. His 1st Personal Foul.
6 - 2
8:40
Richard Hamilton made Technical Free Throw.
6 - 3
8:30
Rasheed Wallace made 14 ft jumper. Assisted by Richard Hamilton.
6 - 5
8:14
Gary Payton made 17 ft two point shot. Assisted by Paul Pierce.
8 - 5
7:50
Rasheed Wallace made 10 ft two point shot.
8 - 7
7:35
Paul Pierce missed layup.
8 - 7
7:33
Chauncey Billups defensive rebound.
8 - 7
7:28
Tayshaun Prince made driving layup. Assisted by Chauncey Billups.
8 - 9
7:28
Raef LaFrentz Shooting Foul. His 1st Personal Foul.
8 - 9
7:28
Tayshaun Prince made Free Throw 1 of 1.
8 - 10
7:13
Tony Allen missed driving layup.
8 - 10
7:11
Antoine Walker offensive rebound.
8 - 10
7:09
Antoine Walker missed tip shot.
8 - 10
7:09
Richard Hamilton defensive rebound.
8 - 10
7:07
Tayshaun Prince made layup. Assisted by Richard Hamilton.
8 - 12
7:07
Paul Pierce Shooting Foul. His 3rd Personal Foul.
8 - 12
7:07
Tayshaun Prince made Free Throw 1 of 1.
8 - 13
6:52
Raef LaFrentz missed 25 ft three point jumper.
8 - 13
6:50
Richard Hamilton defensive rebound.
8 - 13
6:26
Rasheed Wallace made 21 ft jumper. Assisted by Richard Hamilton.
8 - 15
6:07
Tony Allen missed layup.
8 - 15
6:05
Richard Hamilton defensive rebound.
8 - 15
6:00
Chauncey Billups missed 27 ft three point jumper.
8 - 15
5:56
Raef LaFrentz defensive rebound.
8 - 15
5:50
Antoine Walker Traveling
8 - 15
5:50
Detroit Full Timeout.
8 - 15
5:37
Richard Hamilton made running jumper.
8 - 17
5:18
Paul Pierce missed 13 ft running jumper.
8 - 17
5:15
Paul Pierce offensive rebound.
8 - 17
5:09
Richard Hamilton Personal Foul. His 1st Personal Foul.
8 - 17
5:07
Ben Wallace Shooting Foul. His 1st Personal Foul.
8 - 17
5:07
Paul Pierce made Free Throw 1 of 2.
9 - 17
5:07
Ricky Davis enters the game for Tony Allen.
9 - 17
5:07
Paul Pierce made Free Throw 2 of 2.
10 - 17
4:52
Rasheed Wallace made jumper. Assisted by Richard Hamilton.
10 - 19
4:35
Antoine Walker's 9 ft jumper blocked by Ben Wallace.
10 - 19
4:33
Richard Hamilton defensive rebound.
10 - 19
4:31
Richard Hamilton Bad Pass
10 - 19
4:18
Paul Pierce made running jumper.
12 - 19
4:03
Richard Hamilton's 9 ft jumper blocked by Gary Payton.
12 - 19
4:01
Detroit offensive rebound.
12 - 19
3:53
Ben Wallace missed 5 ft hook shot.
12 - 19
3:49
Antoine Walker defensive rebound.
12 - 19
3:47
Antoine Walker made driving layup.
14 - 19
3:27
Rasheed Wallace missed 12 ft jumper.
14 - 19
3:26
Antoine Walker defensive rebound.
14 - 19
3:02
Raef LaFrentz made layup. Assisted by Gary Payton.
16 - 19
2:42
Chauncey Billups made driving layup.
16 - 21
2:23
Ricky Davis made 23 ft three point jumper. Assisted by Antoine Walker.
19 - 21
2:03
Chauncey Billups made 21 ft jumper.
19 - 23
1:47
Raef LaFrentz missed 16 ft jumper.
19 - 23
1:47
Chauncey Billups defensive rebound.
19 - 23
1:30
Tayshaun Prince made 6 ft running jumper.
19 - 25
1:08
Antoine Walker missed 24 ft three point jumper.
19 - 25
1:07
Ben Wallace defensive rebound.
19 - 25
0:58
Tayshaun Prince missed three point jumper.
19 - 25
0:55
Gary Payton defensive rebound.
19 - 25
0:37
Paul Pierce made 21 ft jumper. Assisted by Gary Payton.
21 - 25
0:29
Chauncey Billups missed 25 ft three point jumper.
21 - 25
0:27
Paul Pierce defensive rebound.
21 - 25
0:07
Paul Pierce made driving layup.
23 - 25
0:04
Gary Payton Personal Foul. His 1st Personal Foul.
23 - 25
0:04
Boston Full Timeout.
23 - 25
0:04
Marcus Banks enters the game for Gary Payton.
23 - 25
0:04
Delonte West enters the game for Paul Pierce.
23 - 25
0:04
Mark Blount enters the game for Raef LaFrentz.
23 - 25
0:04
Kendrick Perkins enters the game for Antoine Walker.
23 - 25
0:00
Chauncey Billups made 24 ft three point jumper.
23 - 28
0:00
End of the 1st Quarter.
23 - 28

time
TEAM
PLAY
SCORE
12:00
Start of the 2nd Quarter.
23 - 28
11:41
Tayshaun Prince missed jumper.
23 - 28
11:38
Delonte West defensive rebound.
23 - 28
11:18
Mark Blount made 18 ft jumper. Assisted by Delonte West.
25 - 28
11:02
Delonte West Personal Foul. His 1st Personal Foul.
25 - 28
10:55
Carlos Arroyo Bad Pass. Stolen by Marcus Banks.
25 - 28
10:55
Carlos Arroyo Personal Foul. His 1st Personal Foul.
25 - 28
10:48
Ricky Davis made 17 ft jumper. Assisted by Marcus Banks.
27 - 28
10:18
Tayshaun Prince missed 14 ft jumper.
27 - 28
10:15
Kendrick Perkins defensive rebound.
27 - 28
10:11
Ricky Davis missed 25 ft three point jumper.
27 - 28
10:10
Kendrick Perkins offensive rebound.
27 - 28
10:07
Kendrick Perkins made two point shot.
29 - 28
9:38
Antonio McDyess missed 19 ft jumper.
29 - 28
9:37
Mark Blount defensive rebound.
29 - 28
9:26
Mark Blount missed 20 ft jumper.
29 - 28
9:25
Tayshaun Prince defensive rebound.
29 - 28
9:11
Richard Hamilton Bad Pass. Stolen by Mark Blount.
29 - 28
9:11
Richard Hamilton Personal Foul. His 2nd Personal Foul.
29 - 28
9:11
Chauncey Billups enters the game for Richard Hamilton.
29 - 28
9:00
Antonio McDyess Shooting Foul. His 1st Personal Foul.
29 - 28
9:00
Mark Blount made Free Throw 1 of 2.
30 - 28
9:00
Mark Blount made Free Throw 2 of 2.
31 - 28
8:36
Carlos Arroyo missed 18 ft jumper.
31 - 28
8:33
Kendrick Perkins defensive rebound.
31 - 28
8:22
Mark Blount made 18 ft jumper. Assisted by Ricky Davis.
33 - 28
8:15
Detroit Full Timeout.
33 - 28
8:15
Rasheed Wallace enters the game for Ben Wallace.
33 - 28
8:15
Carlos Delfino enters the game for Tayshaun Prince.
33 - 28
8:07
Kendrick Perkins Illegal Defense Foul. His 1st Personal Foul.
33 - 28
8:07
Chauncey Billups made Technical Free Throw.
33 - 29
7:54
Antonio McDyess missed 14 ft two point shot.
33 - 29
7:52
Ricky Davis defensive rebound.
33 - 29
7:43
Delonte West missed 24 ft three point jumper.
33 - 29
7:41
Antonio McDyess defensive rebound.
33 - 29
7:20
Chauncey Billups missed 23 ft three point jumper.
33 - 29
7:18
Delonte West defensive rebound.
33 - 29
7:03
Ricky Davis made 17 ft jumper. Assisted by Marcus Banks.
35 - 29
6:37
Carlos Arroyo missed 17 ft jumper.
35 - 29
6:37
Marcus Banks defensive rebound.
35 - 29
6:24
Mark Blount missed 20 ft jumper.
35 - 29
6:24
Boston defensive rebound.
35 - 29
6:24
Delonte West Loose Ball Foul. His 2nd Personal Foul.
35 - 29
6:24
Richard Hamilton enters the game for Carlos Arroyo.
35 - 29
6:05
Chauncey Billups made driving layup.
35 - 31
6:05
Mark Blount Shooting Foul. His 2nd Personal Foul.
35 - 31
6:05
Paul Pierce enters the game for Delonte West.
35 - 31
6:05
Chauncey Billups made Free Throw 1 of 1.
35 - 32
5:52
Ricky Davis made 18 ft jumper. Assisted by Marcus Banks.
37 - 32
5:28
Rasheed Wallace missed 14 ft two point shot.
37 - 32
5:24
Marcus Banks defensive rebound.
37 - 32
5:20
Marcus Banks made driving layup.
39 - 32
5:03
Richard Hamilton Lost Ball. Stolen by Ricky Davis.
39 - 32
4:58
Mark Blount made dunk. Assisted by Marcus Banks.
41 - 32
4:50
Detroit Full Timeout.
41 - 32
4:39
Chauncey Billups missed 23 ft three point jumper.
41 - 32
4:37
Kendrick Perkins defensive rebound.
41 - 32
4:31
Ricky Davis made 19 ft jumper.
43 - 32
4:16
Antonio McDyess made 10 ft jumper. Assisted by Richard Hamilton.
43 - 34
4:05
Paul Pierce missed 24 ft three point jumper.
43 - 34
4:03
Antonio McDyess defensive rebound.
43 - 34
3:50
Rasheed Wallace made 27 ft three point jumper. Assisted by Richard Hamilton.
43 - 37
3:29
Mark Blount missed 7 ft hook shot.
43 - 37
3:26
Chauncey Billups defensive rebound.
43 - 37
3:10
Antonio McDyess made 14 ft two point shot. Assisted by Chauncey Billups.
43 - 39
2:59
Boston Full Timeout.
43 - 39
2:59
Antoine Walker enters the game for Kendrick Perkins.
43 - 39
2:59
Gary Payton enters the game for Marcus Banks.
43 - 39
2:59
Ben Wallace enters the game for Antonio McDyess.
43 - 39
2:59
Tayshaun Prince enters the game for Carlos Delfino.
43 - 39
2:53
Paul Pierce made 17 ft jumper. Assisted by Ricky Davis.
45 - 39
2:38
Richard Hamilton missed 9 ft jumper.
45 - 39
2:35
Richard Hamilton offensive rebound.
45 - 39
2:34
Richard Hamilton made 8 ft jumper.
45 - 41
2:16
Ricky Davis missed 16 ft two point shot.
45 - 41
2:15
Ben Wallace defensive rebound.
45 - 41
1:58
Rasheed Wallace made 12 ft two point shot.
45 - 43
1:38
Paul Pierce missed jumper.
45 - 43
1:36
Ben Wallace defensive rebound.
45 - 43
1:20
Antoine Walker Shooting Foul. His 1st Personal Foul.
45 - 43
1:20
Raef LaFrentz enters the game for Mark Blount.
45 - 43
1:20
Richard Hamilton made Free Throw 1 of 2.
45 - 44
1:20
Richard Hamilton made Free Throw 2 of 2.
45 - 45
1:06
Ricky Davis missed 19 ft jumper.
45 - 45
1:05
Boston offensive rebound.
45 - 45
1:05
Lindsey Hunter enters the game for Richard Hamilton.
45 - 45
1:02
Raef LaFrentz missed 19 ft jumper.
45 - 45
1:00
Chauncey Billups defensive rebound.
45 - 45
0:43
Rasheed Wallace missed layup.
45 - 45
0:42
Ben Wallace offensive rebound.
45 - 45
0:31
Raef LaFrentz Personal Foul. His 2nd Personal Foul.
45 - 45
0:31
Rasheed Wallace made Free Throw 1 of 2.
45 - 46
0:31
Kendrick Perkins enters the game for Raef LaFrentz.
45 - 46
0:31
Rasheed Wallace made Free Throw 2 of 2.
45 - 47
0:16
Lindsey Hunter Personal Foul. His 1st Personal Foul.
45 - 47
0:04
Paul Pierce made 27 ft three point jumper. Assisted by Ricky Davis.
48 - 47
0:00
Chauncey Billups made 25 ft three point jumper.
48 - 50
0:00
End of the 2nd Quarter.
48 - 50

time
TEAM
PLAY
SCORE
12:00
Start of the 3rd Quarter.
48 - 50
11:40
Tayshaun Prince Bad Pass. Stolen by Paul Pierce.
48 - 50
11:33
Gary Payton missed layup.
48 - 50
11:33
Raef LaFrentz offensive rebound.
48 - 50
11:30
Raef LaFrentz's layup blocked by Ben Wallace.
48 - 50
11:27
Raef LaFrentz offensive rebound.
48 - 50
11:26
Raef LaFrentz made tip shot.
50 - 50
11:04
Tayshaun Prince missed 18 ft jumper.
50 - 50
11:02
Raef LaFrentz defensive rebound.
50 - 50
10:59
Paul Pierce's layup blocked by Tayshaun Prince.
50 - 50
10:56
Rasheed Wallace defensive rebound.
50 - 50
10:52
Tony Allen Personal Foul. His 1st Personal Foul.
50 - 50
10:41
Rasheed Wallace missed jumper.
50 - 50
10:38
Tony Allen defensive rebound.
50 - 50
10:38
Rasheed Wallace Personal Foul. His 1st Personal Foul.
50 - 50
10:38
Rasheed Wallace Technical Foul. His 1st Technical Foul.
50 - 50
10:38
Paul Pierce made Technical Free Throw.
51 - 50
10:18
Antoine Walker missed layup.
51 - 50
10:18
Boston offensive rebound.
51 - 50
10:18
Shot Clock Violation
51 - 50
10:03
Rasheed Wallace missed 10 ft running jumper.
51 - 50
10:00
Raef LaFrentz defensive rebound.
51 - 50
10:00
Raef LaFrentz Turnover
51 - 50
9:56
Raef LaFrentz Turnover
51 - 50
9:49
Richard Hamilton made 18 ft jumper. Assisted by Chauncey Billups.
51 - 52
9:33
Paul Pierce made 20 ft jumper.
53 - 52
9:11
Tayshaun Prince Bad Pass. Stolen by Raef LaFrentz.
53 - 52
9:07
Antoine Walker Turnover
53 - 52
8:48
Tony Allen Shooting Foul. His 2nd Personal Foul.
53 - 52
8:48
Richard Hamilton made Free Throw 1 of 2.
53 - 53
8:48
Richard Hamilton made Free Throw 2 of 2.
53 - 54
8:40
Ben Wallace Shooting Foul. His 2nd Personal Foul.
53 - 54
8:40
Tony Allen made Free Throw 1 of 2.
54 - 54
8:40
Tony Allen missed Free Throw 2 of 2.
54 - 54
8:40
Rasheed Wallace defensive rebound.
54 - 54
8:18
Rasheed Wallace missed 26 ft three point jumper.
54 - 54
8:15
Tayshaun Prince offensive rebound.
54 - 54
8:07
Raef LaFrentz Shooting Foul. His 3rd Personal Foul.
54 - 54
8:07
Tayshaun Prince made Free Throw 1 of 2.
54 - 55
8:07
Tayshaun Prince made Free Throw 2 of 2.
54 - 56
7:54
Raef LaFrentz Bad Pass. Stolen by Chauncey Billups.
54 - 56
7:48
Chauncey Billups missed 27 ft three point jumper.
54 - 56
7:47
Ben Wallace offensive rebound.
54 - 56
7:47
Paul Pierce Personal Foul. His 2nd Personal Foul.
54 - 56
7:39
Antoine Walker Shooting Foul. His 2nd Personal Foul.
54 - 56
7:39
Ben Wallace missed Free Throw 1 of 2.
54 - 56
7:39
Detroit offensive rebound.
54 - 56
7:39
Ben Wallace made Free Throw 2 of 2.
54 - 57
7:20
Antoine Walker made layup.
56 - 57
7:20
Ben Wallace Shooting Foul. His 4th Personal Foul.
56 - 57
7:20
Ben Wallace Technical Foul. His 1st Technical Foul.
56 - 57
7:20
Paul Pierce made Technical Free Throw.
57 - 57
7:20
Antoine Walker missed Free Throw 1 of 1.
57 - 57
7:20
Rasheed Wallace defensive rebound.
57 - 57
7:00
Chauncey Billups missed 26 ft three point jumper.
57 - 57
6:58
Antoine Walker defensive rebound.
57 - 57
6:50
Paul Pierce made 28 ft three point jumper.
60 - 57
6:28
Rasheed Wallace missed layup.
60 - 57
6:26
Raef LaFrentz defensive rebound.
60 - 57
6:20
Gary Payton made 20 ft jumper. Assisted by Antoine Walker.
62 - 57
6:18
Detroit Full Timeout.
62 - 57
6:01
Antoine Walker Shooting Foul. His 3rd Personal Foul.
62 - 57
6:01
Rasheed Wallace made Free Throw 1 of 2.
62 - 58
6:01
Rasheed Wallace missed Free Throw 2 of 2.
62 - 58
6:01
Raef LaFrentz defensive rebound.
62 - 58
5:46
Antoine Walker's layup blocked by Ben Wallace.
62 - 58
5:45
Antoine Walker offensive rebound.
62 - 58
5:43
Antoine Walker made layup.
64 - 58
5:28
Richard Hamilton Offensive Foul. His 4th Personal Foul.
64 - 58
5:28
Richard Hamilton Turnover
64 - 58
5:28
Richard Hamilton Technical Foul. His 1st Technical Foul.
64 - 58
5:28
Paul Pierce made Technical Free Throw.
65 - 58
5:13
Antoine Walker Lost Ball. Stolen by Ben Wallace.
65 - 58
4:56
Rasheed Wallace made layup. Assisted by Tayshaun Prince.
65 - 60
4:31
Tony Allen made dunk. Assisted by Antoine Walker.
67 - 60
4:09
Richard Hamilton made driving layup.
67 - 62
4:09
Tony Allen Shooting Foul. His 4th Personal Foul.
67 - 62
4:09
Richard Hamilton made Free Throw 1 of 1.
67 - 63
4:09
Ricky Davis enters the game for Tony Allen.
67 - 63
3:48
Chauncey Billups defensive rebound.
67 - 63
3:43
Chauncey Billups missed layup.
67 - 63
3:40
Paul Pierce defensive rebound.
67 - 63
3:38
Ricky Davis made dunk. Assisted by Paul Pierce.
69 - 63
3:21
Richard Hamilton's layup blocked by Antoine Walker.
69 - 63
3:21
Jumpball: Antoine Walker vs. Richard Hamilton. Paul Pierce gains possession.
69 - 63
3:21
Detroit defensive rebound.
69 - 63
3:03
Gary Payton made driving layup.
71 - 63
2:44
Gary Payton Shooting Foul. His 2nd Personal Foul.
71 - 63
2:44
Boston Full Timeout.
71 - 63
2:44
Ben Wallace missed Free Throw 1 of 2.
71 - 63
2:44
Detroit offensive rebound.
71 - 63
2:44
Ben Wallace missed Free Throw 2 of 2.
71 - 63
2:43
Antoine Walker defensive rebound.
71 - 63
2:31
Ricky Davis Bad Pass
71 - 63
2:15
Paul Pierce Personal Foul. His 3rd Personal Foul.
71 - 63
2:15
Tayshaun Prince made Free Throw 1 of 2.
71 - 64
2:15
Mark Blount enters the game for Raef LaFrentz.
71 - 64
2:15
Tayshaun Prince made Free Throw 2 of 2.
71 - 65
1:58
Paul Pierce missed layup.
71 - 65
1:57
Ben Wallace defensive rebound.
71 - 65
1:43
Tayshaun Prince made driving layup.
71 - 67
1:19
Marcus Banks enters the game for Gary Payton.
71 - 67
1:16
Antoine Walker missed 26 ft three point jumper.
71 - 67
1:14
Marcus Banks offensive rebound.
71 - 67
1:02
Marcus Banks made driving layup.
73 - 67
0:48
Mark Blount Shooting Foul. His 2nd Personal Foul.
73 - 67
0:48
Kendrick Perkins enters the game for Antoine Walker.
73 - 67
0:48
Richard Hamilton made Free Throw 1 of 2.
73 - 68
0:48
Delonte West enters the game for Paul Pierce.
73 - 68
0:48
Richard Hamilton missed Free Throw 2 of 2.
73 - 68
0:47
Richard Hamilton offensive rebound.
73 - 68
0:44
Richard Hamilton missed 15 ft jumper.
73 - 68
0:42
Kendrick Perkins defensive rebound.
73 - 68
0:29
Delonte West missed 24 ft three point jumper.
73 - 68
0:27
Tayshaun Prince defensive rebound.
73 - 68
0:10
Chauncey Billups missed layup.
73 - 68
0:09
Kendrick Perkins defensive rebound.
73 - 68
0:05
Tayshaun Prince Shooting Foul. His 1st Personal Foul.
73 - 68
0:05
Ricky Davis missed Free Throw 1 of 2.
73 - 68
0:05
Boston offensive rebound.
73 - 68
0:05
Tony Allen enters the game for Kendrick Perkins.
73 - 68
0:05
Ricky Davis missed Free Throw 2 of 2.
73 - 68
0:04
Rasheed Wallace defensive rebound.
73 - 68
0:01
Richard Hamilton missed 37 ft three point jumper.
73 - 68
0:00
Detroit offensive rebound.
73 - 68
0:00
End of the 3rd Quarter.
73 - 68

time
TEAM
PLAY
SCORE
12:00
Start of the 4th Quarter.
73 - 68
11:41
Ricky Davis missed 21 ft jumper.
73 - 68
11:41
Antonio McDyess defensive rebound.
73 - 68
11:26
Carlos Arroyo missed jumper.
73 - 68
11:23
Mark Blount defensive rebound.
73 - 68
11:18
Marcus Banks missed 19 ft jumper.
73 - 68
11:15
Ben Wallace defensive rebound.
73 - 68
10:57
Carlos Arroyo missed 18 ft jumper.
73 - 68
10:56
Detroit offensive rebound.
73 - 68
10:56
Kendrick Perkins Loose Ball Foul. His 1st Personal Foul.
73 - 68
10:41
Antonio McDyess made 17 ft jumper. Assisted by Carlos Arroyo.
73 - 70
10:17
Mark Blount made 13 ft jumper. Assisted by Delonte West.
75 - 70
9:57
Richard Hamilton made 7 ft jumper.
75 - 72
9:48
Antonio McDyess Personal Foul. His 2nd Personal Foul.
75 - 72
9:42
Mark Blount missed 19 ft jumper.
75 - 72
9:41
Richard Hamilton defensive rebound.
75 - 72
9:30
Ben Wallace made dunk. Assisted by Tayshaun Prince.
75 - 74
9:14
Ricky Davis Bad Pass. Stolen by Antonio McDyess.
75 - 74
8:56
Ben Wallace missed layup.
75 - 74
8:55
Antonio McDyess offensive rebound.
75 - 74
8:52
Ben Wallace offensive rebound.
75 - 74
8:52
Antonio McDyess missed layup.
75 - 74
8:52
Ben Wallace made tip shot.
75 - 76
8:52
Boston Full Timeout.
75 - 76
8:52
Antoine Walker enters the game for Kendrick Perkins.
75 - 76
8:52
Paul Pierce enters the game for Delonte West.
75 - 76
8:37
Antoine Walker's layup blocked by Ben Wallace.
75 - 76
8:34
Tayshaun Prince defensive rebound.
75 - 76
8:26
Antonio McDyess made 15 ft two point shot. Assisted by Tayshaun Prince.
75 - 78
8:14
Marcus Banks Bad Pass
75 - 78
8:00
Marcus Banks Personal Foul. His 1st Personal Foul.
75 - 78
8:00
Gary Payton enters the game for Marcus Banks.
75 - 78
7:48
Tayshaun Prince missed 28 ft three point jumper.
75 - 78
7:47
Detroit offensive rebound.
75 - 78
7:47
Shot Clock Violation
75 - 78
7:33
Antoine Walker's layup blocked by Ben Wallace.
75 - 78
7:31
Ben Wallace defensive rebound.
75 - 78
7:26
Mark Blount Shooting Foul. His 3rd Personal Foul.
75 - 78
7:26
Rasheed Wallace enters the game for Ben Wallace.
75 - 78
7:26
Antonio McDyess missed Free Throw 1 of 2.
75 - 78
7:26
Detroit offensive rebound.
75 - 78
7:26
Antonio McDyess missed Free Throw 2 of 2.
75 - 78
7:26
Mark Blount defensive rebound.
75 - 78
7:15
Carlos Arroyo Shooting Foul. His 2nd Personal Foul.
75 - 78
7:15
Gary Payton made Free Throw 1 of 2.
76 - 78
7:15
Gary Payton made Free Throw 2 of 2.
77 - 78
6:52
Paul Pierce Personal Foul. His 5th Personal Foul.
77 - 78
6:52
Chauncey Billups enters the game for Carlos Arroyo.
77 - 78
6:39
Richard Hamilton missed 25 ft three point jumper.
77 - 78
6:37
Antonio McDyess offensive rebound.
77 - 78
6:37
Antonio McDyess Bad Pass. Stolen by Gary Payton.
77 - 78
6:37
Rasheed Wallace Personal Foul. His 1st Personal Foul.
77 - 78
6:20
Paul Pierce missed 19 ft jumper.
77 - 78
6:18
Antonio McDyess defensive rebound.
77 - 78
5:58
Rasheed Wallace missed 28 ft three point jumper.
77 - 78
5:56
Detroit offensive rebound.
77 - 78
5:56
Official Timeout.
77 - 78
5:56
Raef LaFrentz enters the game for Mark Blount.
77 - 78
5:52
Richard Hamilton made running jumper.
77 - 80
5:52
Ricky Davis Shooting Foul. His 2nd Personal Foul.
77 - 80
5:52
Richard Hamilton made Free Throw 1 of 1.
77 - 81
5:37
Antoine Walker made driving layup. Assisted by Ricky Davis.
79 - 81
5:07
Tayshaun Prince missed 21 ft jumper.
79 - 81
5:05
Rasheed Wallace offensive rebound.
79 - 81
5:05
Antoine Walker Shooting Foul. His 4th Personal Foul.
79 - 81
5:05
Rasheed Wallace made Free Throw 1 of 2.
79 - 82
5:05
Rasheed Wallace made Free Throw 2 of 2.
79 - 83
4:45
Antoine Walker missed three point jumper.
79 - 83
4:41
Rasheed Wallace defensive rebound.
79 - 83
4:30
Raef LaFrentz Shooting Foul. His 4th Personal Foul.
79 - 83
4:30
Tayshaun Prince made Free Throw 1 of 2.
79 - 84
4:30
Tayshaun Prince missed Free Throw 2 of 2.
79 - 84
4:28
Raef LaFrentz defensive rebound.
79 - 84
4:18
Ricky Davis made 17 ft jumper. Assisted by Gary Payton.
81 - 84
3:51
Richard Hamilton missed 9 ft jumper.
81 - 84
3:49
Ricky Davis defensive rebound.
81 - 84
3:40
Ricky Davis missed 19 ft jumper.
81 - 84
3:38
Antonio McDyess defensive rebound.
81 - 84
3:23
Chauncey Billups missed 26 ft three point jumper.
81 - 84
3:20
Rasheed Wallace offensive rebound.
81 - 84
3:18
Rasheed Wallace made two point shot.
81 - 86
3:18
Boston Full Timeout.
81 - 86
3:18
Ben Wallace enters the game for Antonio McDyess.
81 - 86
2:54
Gary Payton missed 26 ft three point jumper.
81 - 86
2:51
Antoine Walker offensive rebound.
81 - 86
2:45
Raef LaFrentz missed 23 ft three point jumper.
81 - 86
2:43
Rasheed Wallace defensive rebound.
81 - 86
2:18
Shot Clock Violation
81 - 86
2:06
Raef LaFrentz made layup. Assisted by Ricky Davis.
83 - 86
1:39
Rasheed Wallace Lost Ball. Stolen by Gary Payton.
83 - 86
1:38
Antoine Walker made dunk. Assisted by Gary Payton.
85 - 86
1:38
Tayshaun Prince Shooting Foul. His 3rd Personal Foul.
85 - 86
1:38
Antoine Walker made Free Throw 1 of 1.
86 - 86
1:38
Detroit Full Timeout.
86 - 86
1:21
Rasheed Wallace's layup blocked by Raef LaFrentz.
86 - 86
1:20
Detroit offensive rebound.
86 - 86
1:15
Tayshaun Prince made 15 ft jumper.
86 - 88
0:54
Antoine Walker's 5 ft jumper blocked by Rasheed Wallace.
86 - 88
0:51
Rasheed Wallace defensive rebound.
86 - 88
0:29
Tayshaun Prince missed 13 ft jumper.
86 - 88
0:29
Raef LaFrentz defensive rebound.
86 - 88
0:29
Boston Full Timeout.
86 - 88
0:17
Antoine Walker made 12 ft two point shot. Assisted by Ricky Davis.
88 - 88
0:17
Detroit Full Timeout.
88 - 88
0:03
Richard Hamilton missed 17 ft jumper.
88 - 88
0:02
Paul Pierce defensive rebound.
88 - 88
0:02
Boston 20 Sec. Timeout.
88 - 88
0:00
Antoine Walker missed 25 ft three point jumper.
88 - 88
0:00
Boston offensive rebound.
88 - 88
0:00
End of the 4th Quarter.
88 - 88

time
TEAM
PLAY
SCORE
5:00
Start of the 1st Overtime.
88 - 88
5:00
Jumpball: Raef LaFrentz vs. Ben Wallace. Chauncey Billups gains possession.
88 - 88
4:39
Richard Hamilton made 14 ft jumper.
88 - 90
4:20
Paul Pierce missed layup.
88 - 90
4:18
Rasheed Wallace defensive rebound.
88 - 90
4:15
Raef LaFrentz Shooting Foul. His 5th Personal Foul.
88 - 90
4:15
Chauncey Billups made Free Throw 1 of 2.
88 - 91
4:15
Chauncey Billups made Free Throw 2 of 2.
88 - 92
3:58
Paul Pierce made 26 ft three point jumper.
91 - 92
3:39
Chauncey Billups Bad Pass. Stolen by Paul Pierce.
91 - 92
3:31
Paul Pierce's layup blocked by Ben Wallace.
91 - 92
3:30
Boston offensive rebound.
91 - 92
3:27
Rasheed Wallace Personal Foul. His 2nd Personal Foul.
91 - 92
3:16
Paul Pierce missed 27 ft three point jumper.
91 - 92
3:15
Raef LaFrentz offensive rebound.
91 - 92
3:15
Chauncey Billups Personal Foul. His 1st Personal Foul.
91 - 92
3:09
Ricky Davis Lost Ball. Stolen by Chauncey Billups.
91 - 92
3:04
Chauncey Billups made dunk. Assisted by Richard Hamilton.
91 - 94
2:48
Paul Pierce made jumper.
93 - 94
2:48
Tayshaun Prince Shooting Foul. His 4th Personal Foul.
93 - 94
2:48
Paul Pierce made Free Throw 1 of 1.
94 - 94
2:31
Rasheed Wallace made running jumper.
94 - 96
2:13
Paul Pierce made 4 ft two point shot.
96 - 96
1:49
Chauncey Billups missed 25 ft three point jumper.
96 - 96
1:47
Detroit defensive rebound.
96 - 96
1:31
Paul Pierce missed 17 ft jumper.
96 - 96
1:30
Tayshaun Prince defensive rebound.
96 - 96
1:08
Ben Wallace made two point shot. Assisted by Richard Hamilton.
96 - 98
0:50
Paul Pierce made 26 ft three point jumper. Assisted by Gary Payton.
99 - 98
0:46
Antoine Walker Shooting Foul. His 5th Personal Foul.
99 - 98
0:46
Rasheed Wallace made Free Throw 1 of 2.
99 - 99
0:46
Rasheed Wallace made Free Throw 2 of 2.
99 - 100
0:46
Boston Full Timeout.
99 - 100
0:32
Antoine Walker missed 8 ft jumper.
99 - 100
0:30
Chauncey Billups defensive rebound.
99 - 100
0:12
Rasheed Wallace made 23 ft three point jumper. Assisted by Chauncey Billups.
99 - 103
0:12
Boston Full Timeout.
99 - 103
0:11
Gary Payton Bad Pass
99 - 103
0:08
Gary Payton Personal Foul. His 4th Personal Foul.
99 - 103
0:08
Chauncey Billups made Free Throw 1 of 2.
99 - 104
0:08
Chauncey Billups made Free Throw 2 of 2.
99 - 105
0:03
Gary Payton Bad Pass. Stolen by Rasheed Wallace.
99 - 105
0:00
End of the 1st Overtime.
99 - 105
0:00
End Game
99 - 105
The latest notes, updates and analysis on the Knicks from around the web.

For more than three quarters Tuesday, the Trail Blazers had the answer to beating the Warriors. But then they lost it, the strategy and the game.

The Warriors erase an 11-point fourth-quarter deficit, with Klay Thompson scoring 18 of his 27 points in the second half, and rally past the Blazers for a 110-99 win over and 2-0 series lead.
Regular Season Series
DET wins series 3-1
2015-2016 Atlantic Standings