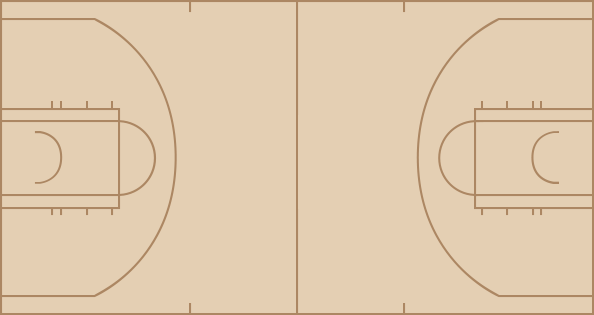 Jazz
time
TEAM
PLAY
SCORE
12:00
Start of the 1st Quarter.
0 - 0
12:00
Jumpball: Mehmet Okur vs. Kevin Garnett. Trenton Hassell gains possession.
0 - 0
11:48
Michael Olowokandi missed 7 ft jumper.
0 - 0
11:47
Gordan Giricek defensive rebound.
0 - 0
11:34
Howard Eisley missed 17 ft jumper.
0 - 0
11:33
Troy Hudson defensive rebound.
0 - 0
11:30
Troy Hudson Lost Ball. Stolen by Ben Handlogten.
0 - 0
11:23
Mehmet Okur made 13 ft two point shot. Assisted by Gordan Giricek.
2 - 0
11:00
Kevin Garnett made jumper. Assisted by Troy Hudson.
2 - 2
10:36
Howard Eisley missed 16 ft jumper.
2 - 2
10:33
Kevin Garnett defensive rebound.
2 - 2
10:18
Trenton Hassell made 15 ft jumper. Assisted by Kevin Garnett.
2 - 4
10:02
Ben Handlogten Offensive Foul. His 2nd Personal Foul.
2 - 4
10:02
Ben Handlogten Turnover
2 - 4
9:51
Mehmet Okur Personal Foul. His 1st Personal Foul.
2 - 4
9:48
Latrell Sprewell Offensive Foul. His 2nd Personal Foul.
2 - 4
9:48
Latrell Sprewell Turnover
2 - 4
9:29
Mehmet Okur's layup blocked by Kevin Garnett.
2 - 4
9:27
Utah offensive rebound.
2 - 4
9:25
Gordan Giricek missed 10 ft two point shot.
2 - 4
9:23
Kevin Garnett defensive rebound.
2 - 4
9:15
Latrell Sprewell's layup blocked by Ben Handlogten.
2 - 4
9:12
Latrell Sprewell offensive rebound.
2 - 4
9:11
Latrell Sprewell made layup.
2 - 6
8:56
Latrell Sprewell Personal Foul. His 2nd Personal Foul.
2 - 6
8:56
Wally Szczerbiak enters the game for Latrell Sprewell.
2 - 6
8:47
Mehmet Okur made 13 ft jumper. Assisted by Gordan Giricek.
4 - 6
8:33
Wally Szczerbiak made running jumper. Assisted by Troy Hudson.
4 - 8
8:12
Gordan Giricek missed 20 ft jumper.
4 - 8
8:11
Michael Olowokandi defensive rebound.
4 - 8
7:58
Michael Olowokandi missed 5 ft hook shot.
4 - 8
7:58
Gordan Giricek defensive rebound.
4 - 8
7:43
Matt Harpring missed layup.
4 - 8
7:41
Troy Hudson defensive rebound.
4 - 8
7:30
Kevin Garnett's 9 ft jumper blocked by Mehmet Okur.
4 - 8
7:28
Kevin Garnett offensive rebound.
4 - 8
7:28
Howard Eisley Personal Foul. His 1st Personal Foul.
4 - 8
7:16
Troy Hudson missed three point jumper.
4 - 8
7:13
Michael Olowokandi offensive rebound.
4 - 8
7:11
Michael Olowokandi made 8 ft two point shot.
4 - 10
6:52
Ben Handlogten Bad Pass. Stolen by Kevin Garnett.
4 - 10
6:45
Troy Hudson made 24 ft three point jumper. Assisted by Kevin Garnett.
4 - 13
6:43
Utah Full Timeout.
4 - 13
6:43
Jarron Collins enters the game for Ben Handlogten.
4 - 13
6:33
Howard Eisley Offensive Foul. His 3rd Personal Foul.
4 - 13
6:33
Howard Eisley Turnover
4 - 13
6:26
Mehmet Okur Personal Foul. His 2nd Personal Foul.
4 - 13
6:26
Randy Livingston enters the game for Howard Eisley.
4 - 13
6:26
Kris Humphries enters the game for Mehmet Okur.
4 - 13
6:18
Kevin Garnett missed 13 ft jumper.
4 - 13
6:16
Michael Olowokandi offensive rebound.
4 - 13
6:13
Michael Olowokandi made 9 ft hook shot.
4 - 15
6:13
Wally Szczerbiak made Technical Free Throw.
4 - 16
5:54
Kris Humphries's 14 ft jumper blocked by Kevin Garnett.
4 - 16
5:52
Michael Olowokandi defensive rebound.
4 - 16
5:39
Kevin Garnett made 10 ft jumper. Assisted by Trenton Hassell.
4 - 18
5:24
Gordan Giricek's 14 ft jumper blocked by Wally Szczerbiak.
4 - 18
5:24
Kevin Garnett defensive rebound.
4 - 18
5:18
Wally Szczerbiak made driving layup. Assisted by Kevin Garnett.
4 - 20
4:52
Randy Livingston missed 23 ft jumper.
4 - 20
4:52
Kevin Garnett defensive rebound.
4 - 20
4:43
Michael Olowokandi Offensive Foul. His 2nd Personal Foul.
4 - 20
4:43
Michael Olowokandi Turnover
4 - 20
4:43
Kirk Snyder enters the game for Gordan Giricek.
4 - 20
4:43
Wally Szczerbiak made Technical Free Throw.
4 - 21
4:26
Kirk Snyder Lost Ball. Stolen by Trenton Hassell.
4 - 21
4:22
Wally Szczerbiak made driving layup. Assisted by Trenton Hassell.
4 - 23
3:51
Kirk Snyder missed 21 ft jumper.
4 - 23
3:50
Troy Hudson defensive rebound.
4 - 23
3:45
Kevin Garnett made layup. Assisted by Troy Hudson.
4 - 25
3:21
Matt Harpring missed 13 ft jumper.
4 - 25
3:19
Michael Olowokandi defensive rebound.
4 - 25
3:15
Kevin Garnett Traveling
4 - 25
3:04
Matt Harpring made 17 ft jumper. Assisted by Randy Livingston.
6 - 25
2:46
Kevin Garnett missed 12 ft jumper.
6 - 25
2:45
Jarron Collins defensive rebound.
6 - 25
2:33
Kirk Snyder missed 24 ft jumper.
6 - 25
2:32
Kevin Garnett defensive rebound.
6 - 25
2:18
Trenton Hassell made 6 ft running jumper.
6 - 27
2:00
Trenton Hassell Personal Foul. His 1st Personal Foul.
6 - 27
2:00
Minnesota Full Timeout.
6 - 27
2:00
Eddie Griffin enters the game for Michael Olowokandi.
6 - 27
2:00
Sam Cassell enters the game for Troy Hudson.
6 - 27
1:54
Matt Harpring missed layup.
6 - 27
1:52
Eddie Griffin defensive rebound.
6 - 27
1:34
Sam Cassell made 22 ft jumper. Assisted by Kevin Garnett.
6 - 29
1:21
Jarron Collins's layup blocked by Eddie Griffin.
6 - 29
1:19
Eddie Griffin defensive rebound.
6 - 29
1:07
Wally Szczerbiak missed 12 ft jumper.
6 - 29
1:06
Minnesota defensive rebound.
6 - 29
0:59
Randy Livingston Bad Pass
6 - 29
0:59
Fred Hoiberg enters the game for Trenton Hassell.
6 - 29
0:59
Gordan Giricek enters the game for Matt Harpring.
6 - 29
0:42
Fred Hoiberg missed 25 ft three point jumper.
6 - 29
0:40
Kris Humphries defensive rebound.
6 - 29
0:18
Jarron Collins made 14 ft two point shot. Assisted by Gordan Giricek.
8 - 29
0:02
Wally Szczerbiak missed 24 ft three point jumper.
8 - 29
0:02
Kevin Garnett offensive rebound.
8 - 29
0:00
Kevin Garnett made hook shot.
8 - 31
0:00
End of the 1st Quarter.
8 - 31

time
TEAM
PLAY
SCORE
12:00
Start of the 2nd Quarter.
8 - 31
11:45
Kirk Snyder missed 13 ft jumper.
8 - 31
11:44
John Thomas defensive rebound.
8 - 31
11:29
Sam Cassell missed 21 ft jumper.
8 - 31
11:26
John Thomas offensive rebound.
8 - 31
11:26
John Thomas Offensive Foul. His 2nd Personal Foul.
8 - 31
11:26
John Thomas Turnover
8 - 31
11:11
Ben Handlogten made 18 ft jumper. Assisted by Randy Livingston.
10 - 31
10:52
Eddie Griffin made 6 ft two point shot. Assisted by Sam Cassell.
10 - 33
10:30
Ben Handlogten missed 13 ft jumper.
10 - 33
10:29
Eddie Griffin defensive rebound.
10 - 33
10:12
Sam Cassell made 20 ft jumper.
10 - 35
9:51
Gordan Giricek missed 17 ft jumper.
10 - 35
9:49
Gordan Giricek offensive rebound.
10 - 35
9:48
Gordan Giricek made two point shot.
12 - 35
9:34
Wally Szczerbiak missed 22 ft jumper.
12 - 35
9:33
Gordan Giricek defensive rebound.
12 - 35
9:21
Randy Livingston Bad Pass
12 - 35
9:21
Mehmet Okur enters the game for Jarron Collins.
12 - 35
9:21
Howard Eisley enters the game for Randy Livingston.
12 - 35
9:00
Sam Cassell missed 18 ft jumper.
12 - 35
8:59
Mehmet Okur defensive rebound.
12 - 35
8:52
Ben Handlogten Traveling
12 - 35
8:52
Full Timeout.
12 - 35
8:37
Fred Hoiberg made 23 ft three point jumper. Assisted by Sam Cassell.
12 - 38
8:15
Gordan Giricek made 14 ft jumper. Assisted by Mehmet Okur.
14 - 38
8:03
John Thomas made slam dunk. Assisted by Sam Cassell.
14 - 40
7:43
John Thomas Shooting Foul. His 2nd Personal Foul.
14 - 40
7:43
Matt Harpring enters the game for Kirk Snyder.
14 - 40
7:43
Curtis Borchardt enters the game for Ben Handlogten.
14 - 40
7:43
Mehmet Okur made Free Throw 1 of 2.
15 - 40
7:43
Mehmet Okur made Free Throw 2 of 2.
16 - 40
7:24
Sam Cassell made 25 ft three point jumper. Assisted by Fred Hoiberg.
16 - 43
6:58
Mehmet Okur made 13 ft two point shot.
18 - 43
6:45
Fred Hoiberg missed 24 ft three point jumper.
18 - 43
6:43
Minnesota defensive rebound.
18 - 43
6:28
Mehmet Okur missed 5 ft jumper.
18 - 43
6:28
Mehmet Okur offensive rebound.
18 - 43
6:26
John Thomas Shooting Foul. His 3rd Personal Foul.
18 - 43
6:26
Mehmet Okur missed Free Throw 1 of 2.
18 - 43
6:26
Utah offensive rebound.
18 - 43
6:26
Michael Olowokandi enters the game for John Thomas.
18 - 43
6:26
Latrell Sprewell enters the game for Wally Szczerbiak.
18 - 43
6:26
Mehmet Okur made Free Throw 2 of 2.
19 - 43
6:13
Sam Cassell missed 19 ft jumper.
19 - 43
6:13
Curtis Borchardt defensive rebound.
19 - 43
6:01
Gordan Giricek made driving layup. Assisted by Mehmet Okur.
21 - 43
5:47
Michael Olowokandi missed 13 ft jumper.
21 - 43
5:43
Eddie Griffin offensive rebound.
21 - 43
5:39
Sam Cassell made 20 ft jumper. Assisted by Eddie Griffin.
21 - 45
5:20
Sam Cassell Shooting Foul. His 1st Personal Foul.
21 - 45
5:20
Minnesota Full Timeout.
21 - 45
5:20
Kevin Garnett enters the game for Eddie Griffin.
21 - 45
5:20
Mehmet Okur made Free Throw 1 of 2.
22 - 45
5:20
Mehmet Okur made Free Throw 2 of 2.
23 - 45
5:07
Sam Cassell Bad Pass. Stolen by Matt Harpring.
23 - 45
4:46
Kevin Garnett defensive rebound.
23 - 45
4:37
Mehmet Okur Shooting Foul. His 3rd Personal Foul.
23 - 45
4:37
Kevin Garnett made Free Throw 1 of 2.
23 - 46
4:37
Kris Humphries enters the game for Mehmet Okur.
23 - 46
4:37
Kevin Garnett made Free Throw 2 of 2.
23 - 47
4:26
Howard Eisley made driving layup.
25 - 47
4:11
Sam Cassell Offensive Foul. His 3rd Personal Foul.
25 - 47
4:11
Sam Cassell Turnover
25 - 47
4:11
Troy Hudson enters the game for Sam Cassell.
25 - 47
3:51
Latrell Sprewell Personal Foul. His 3rd Personal Foul.
25 - 47
3:51
Trenton Hassell enters the game for Fred Hoiberg.
25 - 47
3:51
Wally Szczerbiak enters the game for Latrell Sprewell.
25 - 47
3:47
Gordan Giricek made 20 ft jumper. Assisted by Howard Eisley.
27 - 47
3:24
Trenton Hassell missed 16 ft jumper.
27 - 47
3:21
Kevin Garnett offensive rebound.
27 - 47
3:15
Michael Olowokandi missed 9 ft jumper.
27 - 47
3:14
Gordan Giricek defensive rebound.
27 - 47
3:13
Wally Szczerbiak Personal Foul. His 1st Personal Foul.
27 - 47
3:13
Gordan Giricek made Free Throw 1 of 2.
28 - 47
3:13
Gordan Giricek made Free Throw 2 of 2.
29 - 47
2:58
Troy Hudson made 22 ft jumper.
29 - 49
2:35
Howard Eisley missed 16 ft jumper.
29 - 49
2:33
Matt Harpring offensive rebound.
29 - 49
2:17
Gordan Giricek made 18 ft jumper. Assisted by Howard Eisley.
31 - 49
2:03
Kevin Garnett made 12 ft two point shot. Assisted by Wally Szczerbiak.
31 - 51
1:44
Michael Olowokandi Shooting Foul. His 2nd Personal Foul.
31 - 51
1:44
Curtis Borchardt Turnover
31 - 51
1:44
Utah Full Timeout.
31 - 51
1:44
Eddie Griffin enters the game for Michael Olowokandi.
31 - 51
1:44
Randy Livingston enters the game for Howard Eisley.
31 - 51
1:44
Curtis Borchardt missed Free Throw 1 of 2.
31 - 51
1:44
Utah offensive rebound.
31 - 51
1:44
Curtis Borchardt missed Free Throw 2 of 2.
31 - 51
1:43
Kevin Garnett defensive rebound.
31 - 51
1:23
Kevin Garnett made 15 ft two point shot. Assisted by Eddie Griffin.
31 - 53
0:59
Randy Livingston made 21 ft jumper.
33 - 53
0:40
Trenton Hassell made 20 ft jumper. Assisted by Wally Szczerbiak.
33 - 55
0:22
Curtis Borchardt missed 5 ft jumper.
33 - 55
0:21
Eddie Griffin defensive rebound.
33 - 55
0:19
Eddie Griffin Bad Pass. Stolen by Gordan Giricek.
33 - 55
0:00
Kris Humphries missed 18 ft jumper.
33 - 55
0:00
Eddie Griffin defensive rebound.
33 - 55
0:00
End of the 2nd Quarter.
33 - 55

time
TEAM
PLAY
SCORE
12:00
Start of the 3rd Quarter.
33 - 55
11:41
Gordan Giricek missed 19 ft jumper.
33 - 55
11:38
Utah offensive rebound.
33 - 55
11:32
Mehmet Okur missed 16 ft jumper.
33 - 55
11:30
Kevin Garnett defensive rebound.
33 - 55
11:17
Jarron Collins Shooting Foul. His 1st Personal Foul.
33 - 55
11:17
Kevin Garnett made Free Throw 1 of 2.
33 - 56
11:17
Kevin Garnett made Free Throw 2 of 2.
33 - 57
11:04
Matt Harpring made layup. Assisted by Jarron Collins.
35 - 57
10:45
Trenton Hassell made 18 ft jumper.
35 - 59
10:26
Howard Eisley made 18 ft jumper. Assisted by Jarron Collins.
37 - 59
10:10
Michael Olowokandi made 5 ft two point shot. Assisted by Troy Hudson.
37 - 61
9:56
Jarron Collins missed 12 ft jumper.
37 - 61
9:56
Kevin Garnett defensive rebound.
37 - 61
9:40
Michael Olowokandi made 11 ft two point shot. Assisted by Troy Hudson.
37 - 63
9:15
Matt Harpring Turnover
37 - 63
9:11
Latrell Sprewell Bad Pass. Stolen by Matt Harpring.
37 - 63
8:52
Mehmet Okur Bad Pass. Stolen by Troy Hudson.
37 - 63
8:48
Troy Hudson made driving layup.
37 - 65
8:33
Matt Harpring missed 17 ft jumper.
37 - 65
8:32
Michael Olowokandi defensive rebound.
37 - 65
8:22
Kevin Garnett's 6 ft jumper blocked by Mehmet Okur.
37 - 65
8:19
Kevin Garnett offensive rebound.
37 - 65
8:18
Trenton Hassell made slam dunk. Assisted by Kevin Garnett.
37 - 67
8:02
Howard Eisley made two point shot. Assisted by Mehmet Okur.
39 - 67
7:46
Matt Harpring Shooting Foul. His 1st Personal Foul.
39 - 67
7:46
Michael Olowokandi missed Free Throw 1 of 2.
39 - 67
7:46
Minnesota offensive rebound.
39 - 67
7:46
Michael Olowokandi missed Free Throw 2 of 2.
39 - 67
7:43
Minnesota offensive rebound.
39 - 67
7:35
Troy Hudson missed 24 ft three point jumper.
39 - 67
7:33
Gordan Giricek defensive rebound.
39 - 67
7:20
Jarron Collins made hook shot. Assisted by Howard Eisley.
41 - 67
6:56
Troy Hudson made 25 ft three point jumper. Assisted by Michael Olowokandi.
41 - 70
6:33
Matt Harpring made layup. Assisted by Jarron Collins.
43 - 70
6:16
Kevin Garnett made 16 ft jumper.
43 - 72
6:01
Howard Eisley made 19 ft jumper. Assisted by Gordan Giricek.
45 - 72
5:48
Mehmet Okur Shooting Foul. His 4th Personal Foul.
45 - 72
5:48
Minnesota Full Timeout.
45 - 72
5:48
Ben Handlogten enters the game for Mehmet Okur.
45 - 72
5:48
Trenton Hassell made Free Throw 1 of 2.
45 - 73
5:48
Trenton Hassell made Free Throw 2 of 2.
45 - 74
5:26
Gordan Giricek missed three point jumper.
45 - 74
5:26
Kevin Garnett defensive rebound.
45 - 74
5:24
Jarron Collins Loose Ball Foul. His 3rd Personal Foul.
45 - 74
5:11
Troy Hudson made 25 ft three point jumper. Assisted by Latrell Sprewell.
45 - 77
4:47
Howard Eisley missed 17 ft jumper.
45 - 77
4:45
Kevin Garnett defensive rebound.
45 - 77
4:37
Ben Handlogten Personal Foul. His 2nd Personal Foul.
45 - 77
4:37
Michael Olowokandi made Free Throw 1 of 2.
45 - 78
4:37
Michael Olowokandi made Free Throw 2 of 2.
45 - 79
4:24
Matt Harpring made 11 ft two point shot.
47 - 79
4:09
Gordan Giricek Shooting Foul. His 1st Personal Foul.
47 - 79
4:09
Latrell Sprewell missed Free Throw 1 of 2.
47 - 79
4:09
Minnesota offensive rebound.
47 - 79
4:09
Kirk Snyder enters the game for Gordan Giricek.
47 - 79
4:09
Latrell Sprewell made Free Throw 2 of 2.
47 - 80
3:49
Kevin Garnett Shooting Foul. His 1st Personal Foul.
47 - 80
3:49
Howard Eisley missed Free Throw 1 of 2.
47 - 80
3:49
Utah offensive rebound.
47 - 80
3:49
Howard Eisley made Free Throw 2 of 2.
48 - 80
3:40
Troy Hudson missed 25 ft three point jumper.
48 - 80
3:38
Kevin Garnett offensive rebound.
48 - 80
3:29
Trenton Hassell made 11 ft running jumper. Assisted by Troy Hudson.
48 - 82
3:10
Howard Eisley missed 19 ft jumper.
48 - 82
3:08
Latrell Sprewell defensive rebound.
48 - 82
3:06
Latrell Sprewell Lost Ball. Stolen by Howard Eisley.
48 - 82
2:50
Ben Handlogten missed 19 ft jumper.
48 - 82
2:49
Matt Harpring offensive rebound.
48 - 82
2:48
Matt Harpring made layup.
50 - 82
2:48
Kevin Garnett Illegal Defense
50 - 82
2:41
Michael Olowokandi Offensive Foul. His 4th Personal Foul.
50 - 82
2:41
Michael Olowokandi Turnover
50 - 82
2:41
Utah Full Timeout.
50 - 82
2:23
Matt Harpring made 14 ft jumper. Assisted by Jarron Collins.
52 - 82
1:58
Latrell Sprewell made 16 ft jumper. Assisted by Trenton Hassell.
52 - 84
1:32
Howard Eisley Lost Ball. Stolen by Kevin Garnett.
52 - 84
1:29
Latrell Sprewell made layup. Assisted by Kevin Garnett.
52 - 86
1:00
Jarron Collins missed 17 ft jumper.
52 - 86
0:59
Ben Handlogten offensive rebound.
52 - 86
0:58
Ben Handlogten made layup.
54 - 86
0:45
Troy Hudson missed 26 ft three point jumper.
54 - 86
0:43
Jarron Collins defensive rebound.
54 - 86
0:40
Jarron Collins Offensive Foul. His 4th Personal Foul.
54 - 86
0:40
Jarron Collins Turnover
54 - 86
0:40
Jarron Collins Technical Foul. His 1st Technical Foul.
54 - 86
0:40
Howard Eisley Technical Foul. His 1st Technical Foul.
54 - 86
0:40
Latrell Sprewell made Technical Free Throw.
54 - 87
0:40
Latrell Sprewell made Technical Free Throw.
54 - 88
0:31
Trenton Hassell missed 12 ft jumper.
54 - 88
0:30
Matt Harpring defensive rebound.
54 - 88
0:23
Ben Handlogten made layup. Assisted by Howard Eisley.
56 - 88
0:01
Kirk Snyder Shooting Foul. His 1st Personal Foul.
56 - 88
0:01
Latrell Sprewell made Free Throw 1 of 3.
56 - 89
0:01
Latrell Sprewell made Free Throw 2 of 3.
56 - 90
0:01
Latrell Sprewell made Free Throw 3 of 3.
56 - 91
0:01
Ben Handlogten Bad Pass
56 - 91
0:00
Latrell Sprewell missed 24 ft three point jumper.
56 - 91
0:00
Minnesota offensive rebound.
56 - 91
0:00
End of the 3rd Quarter.
56 - 91

time
TEAM
PLAY
SCORE
12:00
Start of the 4th Quarter.
56 - 91
11:41
Wally Szczerbiak made 17 ft jumper. Assisted by Anthony Carter.
56 - 93
11:22
Anthony Carter Personal Foul. His 1st Personal Foul.
56 - 93
11:22
Gordan Giricek enters the game for Matt Harpring.
56 - 93
11:22
Curtis Borchardt enters the game for Ben Handlogten.
56 - 93
11:11
Kris Humphries made slam dunk. Assisted by Kirk Snyder.
58 - 93
10:55
Fred Hoiberg missed 9 ft running jumper.
58 - 93
10:53
Curtis Borchardt defensive rebound.
58 - 93
10:41
Kris Humphries missed 14 ft jumper.
58 - 93
10:41
Wally Szczerbiak defensive rebound.
58 - 93
10:25
Eddie Griffin missed 15 ft jumper.
58 - 93
10:23
Minnesota offensive rebound.
58 - 93
10:23
Curtis Borchardt Loose Ball Foul. His 1st Personal Foul.
58 - 93
10:11
Wally Szczerbiak missed 18 ft jumper.
58 - 93
10:11
Minnesota defensive rebound.
58 - 93
9:49
Gordan Giricek missed 24 ft three point jumper.
58 - 93
9:48
Kris Humphries offensive rebound.
58 - 93
9:44
Fred Hoiberg Personal Foul. His 1st Personal Foul.
58 - 93
9:37
Kris Humphries made 14 ft two point shot. Assisted by Randy Livingston.
60 - 93
9:18
Anthony Carter missed 21 ft jumper.
60 - 93
9:15
Kris Humphries defensive rebound.
60 - 93
8:55
Gordan Giricek missed 10 ft jumper.
60 - 93
8:53
Eddie Griffin defensive rebound.
60 - 93
8:45
Fred Hoiberg made 22 ft jumper. Assisted by Anthony Carter.
60 - 95
8:33
John Thomas Personal Foul. His 4th Personal Foul.
60 - 95
8:33
Full Timeout.
60 - 95
8:22
Randy Livingston missed layup.
60 - 95
8:21
Eddie Griffin defensive rebound.
60 - 95
8:04
Fred Hoiberg missed 21 ft jumper.
60 - 95
8:03
Kris Humphries defensive rebound.
60 - 95
7:58
John Thomas Shooting Foul. His 5th Personal Foul.
60 - 95
7:58
Curtis Borchardt made Free Throw 1 of 2.
61 - 95
7:58
Matt Harpring enters the game for Kirk Snyder.
61 - 95
7:58
Curtis Borchardt made Free Throw 2 of 2.
62 - 95
7:37
Eddie Griffin Lost Ball. Stolen by Gordan Giricek.
62 - 95
7:31
Randy Livingston missed layup.
62 - 95
7:24
John Thomas defensive rebound.
62 - 95
7:20
Eddie Griffin made dunk. Assisted by Fred Hoiberg.
62 - 97
7:03
Fred Hoiberg Personal Foul. His 2nd Personal Foul.
62 - 97
7:03
Gordan Giricek made 11 ft running jumper. Assisted by Randy Livingston.
64 - 97
7:03
Fred Hoiberg Shooting Foul. His 3rd Personal Foul.
64 - 97
7:03
Mehmet Okur enters the game for Curtis Borchardt.
64 - 97
7:03
Gordan Giricek missed Free Throw 1 of 1.
64 - 97
7:03
John Thomas defensive rebound.
64 - 97
6:58
Randy Livingston Shooting Foul. His 2nd Personal Foul.
64 - 97
6:58
Wally Szczerbiak made Free Throw 1 of 2.
64 - 98
6:58
Wally Szczerbiak made Free Throw 2 of 2.
64 - 99
6:48
John Thomas Shooting Foul. His 6th Personal Foul.
64 - 99
6:48
Ervin Johnson enters the game for John Thomas.
64 - 99
6:48
Randy Livingston made Free Throw 1 of 2.
65 - 99
6:48
Randy Livingston made Free Throw 2 of 2.
66 - 99
6:37
Wally Szczerbiak missed driving layup.
66 - 99
6:35
Matt Harpring defensive rebound.
66 - 99
6:22
Mehmet Okur missed 6 ft jumper.
66 - 99
6:20
Matt Harpring offensive rebound.
66 - 99
6:01
Mehmet Okur missed layup.
66 - 99
6:01
Eddie Griffin defensive rebound.
66 - 99
5:54
Wally Szczerbiak made driving layup. Assisted by Anthony Carter.
66 - 101
5:46
Kris Humphries missed 3 ft jumper.
66 - 101
5:43
Ervin Johnson defensive rebound.
66 - 101
5:39
Mehmet Okur Shooting Foul. His 5th Personal Foul.
66 - 101
5:39
Minnesota Full Timeout.
66 - 101
5:39
Kirk Snyder enters the game for Gordan Giricek.
66 - 101
5:39
Curtis Borchardt enters the game for Mehmet Okur.
66 - 101
5:39
Wally Szczerbiak made Free Throw 1 of 2.
66 - 102
5:39
Wally Szczerbiak made Free Throw 2 of 2.
66 - 103
5:18
Curtis Borchardt missed layup.
66 - 103
5:18
Wally Szczerbiak defensive rebound.
66 - 103
5:13
Eddie Griffin missed two point shot.
66 - 103
5:11
Randy Livingston defensive rebound.
66 - 103
5:05
Matt Harpring's layup blocked by Ervin Johnson.
66 - 103
5:03
Eddie Griffin defensive rebound.
66 - 103
5:01
Wally Szczerbiak made layup. Assisted by Eddie Griffin.
66 - 105
4:45
Matt Harpring made 15 ft jumper. Assisted by Randy Livingston.
68 - 105
4:31
Matt Harpring Personal Foul. His 2nd Personal Foul.
68 - 105
4:26
Eddie Griffin missed 14 ft two point shot.
68 - 105
4:24
Curtis Borchardt defensive rebound.
68 - 105
4:20
Kris Humphries made two point shot. Assisted by Randy Livingston.
70 - 105
4:20
Eddie Griffin Shooting Foul. His 2nd Personal Foul.
70 - 105
4:20
Kris Humphries missed Free Throw 1 of 1.
70 - 105
4:18
Utah offensive rebound.
70 - 105
4:15
Kirk Snyder made 18 ft jumper. Assisted by Matt Harpring.
72 - 105
3:59
Curtis Borchardt Personal Foul. His 2nd Personal Foul.
72 - 105
3:59
Ervin Johnson made Free Throw 1 of 2.
72 - 106
3:59
Ben Handlogten enters the game for Matt Harpring.
72 - 106
3:59
Ervin Johnson missed Free Throw 2 of 2.
72 - 106
3:59
Ben Handlogten defensive rebound.
72 - 106
3:41
Randy Livingston missed two point shot.
72 - 106
3:39
Curtis Borchardt offensive rebound.
72 - 106
3:36
Curtis Borchardt's layup blocked by Eddie Griffin.
72 - 106
3:35
Utah offensive rebound.
72 - 106
3:28
Kirk Snyder missed 19 ft jumper.
72 - 106
3:26
Wally Szczerbiak defensive rebound.
72 - 106
3:20
Anthony Carter Bad Pass. Stolen by Kirk Snyder.
72 - 106
3:15
Kirk Snyder made two point shot.
74 - 106
3:00
Wally Szczerbiak missed 17 ft jumper.
74 - 106
2:59
Curtis Borchardt defensive rebound.
74 - 106
2:55
Randy Livingston Bad Pass. Stolen by Wally Szczerbiak.
74 - 106
2:49
Fred Hoiberg made layup. Assisted by Anthony Carter.
74 - 108
2:49
Kirk Snyder Shooting Foul. His 3rd Personal Foul.
74 - 108
2:49
Utah Full Timeout.
74 - 108
2:49
Fred Hoiberg made Free Throw 1 of 1.
74 - 109
2:29
Randy Livingston missed 16 ft jumper.
74 - 109
2:27
Kris Humphries offensive rebound.
74 - 109
2:24
Kris Humphries missed 16 ft two point shot.
74 - 109
2:21
Fred Hoiberg defensive rebound.
74 - 109
2:00
Anthony Carter missed 17 ft jumper.
74 - 109
1:59
Wally Szczerbiak offensive rebound.
74 - 109
1:47
Fred Hoiberg Bad Pass. Stolen by Kris Humphries.
74 - 109
1:44
Kirk Snyder made layup. Assisted by Kris Humphries.
76 - 109
1:27
Randy Livingston Shooting Foul. His 2nd Personal Foul.
76 - 109
1:27
Wally Szczerbiak made Free Throw 1 of 2.
76 - 110
1:27
Wally Szczerbiak made Free Throw 2 of 2.
76 - 111
1:12
Kirk Snyder made 25 ft three point jumper. Assisted by Ben Handlogten.
79 - 111
0:55
Wally Szczerbiak missed 16 ft jumper.
79 - 111
0:55
Minnesota defensive rebound.
79 - 111
0:55
Ervin Johnson Loose Ball Foul. His 1st Personal Foul.
79 - 111
0:55
Curtis Borchardt made Free Throw 1 of 2.
80 - 111
0:55
Curtis Borchardt made Free Throw 2 of 2.
81 - 111
0:42
Fred Hoiberg missed 22 ft jumper.
81 - 111
0:40
Curtis Borchardt defensive rebound.
81 - 111
0:32
Kirk Snyder made driving dunk. Assisted by Randy Livingston.
83 - 111
0:32
Eddie Griffin Shooting Foul. His 3rd Personal Foul.
83 - 111
0:32
Kirk Snyder made Free Throw 1 of 1.
84 - 111
0:24
Anthony Carter Bad Pass. Stolen by Kris Humphries.
84 - 111
0:21
Kris Humphries made two point shot.
86 - 111
0:00
End of the 4th Quarter.
86 - 111
Golic is tired of players being suspended for ignoring the NFL's rules. Martavis Bryant and Rolando McClain have already been suspended for a combined 26 games over substance abuse leading into the 2016 season.

The Heat face a major decision in their negotiation with free agent Dwyane Wade. We look at the history and the implications.

Brian Windhorst explains why Dwight Howard may have to wait until Kevin Durant settles in with a team and the first round of free agency passes before making any moves, unless he is willing to sign with Atlanta today.
Regular Season Series
MIN wins series 3-1
2015-2016 Northwest Standings