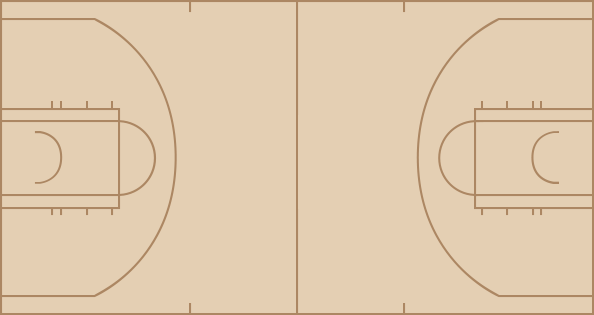 Jazz
time
TEAM
PLAY
SCORE
12:00
Start of the 1st Quarter.
0 - 0
12:00
Jumpball: Jarron Collins vs. P.J. Brown. Lee Nailon gains possession.
0 - 0
11:34
J.R. Smith missed 25 ft three point jumper.
0 - 0
11:33
P.J. Brown offensive rebound.
0 - 0
11:30
Mehmet Okur Shooting Foul. His 1st Personal Foul.
0 - 0
11:30
P.J. Brown made Free Throw 1 of 2.
0 - 1
11:30
P.J. Brown made Free Throw 2 of 2.
0 - 2
11:11
Gordan Giricek missed 14 ft jumper.
0 - 2
11:10
Jackson Vroman defensive rebound.
0 - 2
10:56
J.R. Smith missed 13 ft jumper.
0 - 2
10:55
Randy Livingston defensive rebound.
0 - 2
10:45
P.J. Brown Shooting Foul. His 1st Personal Foul.
0 - 2
10:45
Mehmet Okur made Free Throw 1 of 2.
1 - 2
10:45
Mehmet Okur made Free Throw 2 of 2.
2 - 2
10:25
Lee Nailon made 10 ft jumper.
2 - 4
9:57
Jarron Collins missed 8 ft jumper.
2 - 4
9:56
Lee Nailon defensive rebound.
2 - 4
9:38
Lee Nailon made jumper. Assisted by Dan Dickau.
2 - 6
9:19
Randy Livingston Turnover
2 - 6
9:07
Dan Dickau missed 25 ft three point jumper.
2 - 6
9:07
New Orleans offensive rebound.
2 - 6
9:03
Jackson Vroman made 17 ft jumper. Assisted by Dan Dickau.
2 - 8
8:48
Gordan Giricek Offensive Foul. His 2nd Personal Foul.
2 - 8
8:48
Gordan Giricek Turnover
2 - 8
8:33
J.R. Smith missed 9 ft jumper.
2 - 8
8:30
Jumpball: Mehmet Okur vs. P.J. Brown. Matt Harpring gains possession.
2 - 8
8:30
New Orleans defensive rebound.
2 - 8
8:12
Randy Livingston made 17 ft jumper. Assisted by Mehmet Okur.
4 - 8
7:56
P.J. Brown missed 14 ft jumper.
4 - 8
7:54
Jarron Collins defensive rebound.
4 - 8
7:50
Matt Harpring made layup. Assisted by Randy Livingston.
6 - 8
7:35
Lee Nailon made 18 ft jumper.
6 - 10
7:18
Mehmet Okur Lost Ball. Stolen by Dan Dickau.
6 - 10
7:13
Gordan Giricek Shooting Foul. His 2nd Personal Foul.
6 - 10
7:13
J.R. Smith made Free Throw 1 of 2.
6 - 11
7:13
Kirk Snyder enters the game for Gordan Giricek.
6 - 11
7:13
J.R. Smith missed Free Throw 2 of 2.
6 - 11
7:11
J.R. Smith offensive rebound.
6 - 11
7:03
J.R. Smith made driving layup.
6 - 13
6:43
Randy Livingston missed 16 ft jumper.
6 - 13
6:43
P.J. Brown defensive rebound.
6 - 13
6:28
Jackson Vroman Offensive Foul. His 2nd Personal Foul.
6 - 13
6:28
Jackson Vroman Turnover
6 - 13
6:20
Lee Nailon Personal Foul. His 1st Personal Foul.
6 - 13
6:20
Maciej Lampe enters the game for Jackson Vroman.
6 - 13
6:11
Mehmet Okur missed 16 ft jumper.
6 - 13
6:11
P.J. Brown defensive rebound.
6 - 13
6:03
Lee Nailon missed 16 ft jumper.
6 - 13
6:01
Jarron Collins defensive rebound.
6 - 13
5:50
Lee Nailon Shooting Foul. His 2nd Personal Foul.
6 - 13
5:50
New Orleans Full Timeout.
6 - 13
5:50
Bostjan Nachbar enters the game for Lee Nailon.
6 - 13
5:50
Matt Harpring made Free Throw 1 of 2.
7 - 13
5:50
Matt Harpring made Free Throw 2 of 2.
8 - 13
5:28
J.R. Smith made driving layup. Assisted by Maciej Lampe.
8 - 15
5:09
Randy Livingston missed 16 ft jumper.
8 - 15
5:07
Bostjan Nachbar defensive rebound.
8 - 15
4:47
P.J. Brown missed layup.
8 - 15
4:46
P.J. Brown offensive rebound.
8 - 17
4:46
P.J. Brown made tip shot.
8 - 17
4:31
Matt Harpring missed 19 ft jumper.
8 - 17
4:31
Mehmet Okur offensive rebound.
8 - 17
4:30
Mehmet Okur made layup.
10 - 17
4:20
Dan Dickau missed 17 ft jumper.
10 - 17
4:18
P.J. Brown offensive rebound.
10 - 17
4:16
P.J. Brown missed 14 ft jumper.
10 - 17
4:16
Matt Harpring defensive rebound.
10 - 17
4:11
Bostjan Nachbar Shooting Foul. His 1st Personal Foul.
10 - 17
4:11
Kirk Snyder made Free Throw 1 of 2.
11 - 17
4:11
Curtis Borchardt enters the game for Jarron Collins.
11 - 17
4:11
Jackson Vroman enters the game for P.J. Brown.
11 - 17
4:11
Casey Jacobsen enters the game for Dan Dickau.
11 - 17
4:11
Kirk Snyder made Free Throw 2 of 2.
12 - 17
3:56
Maciej Lampe missed 11 ft two point shot.
12 - 17
3:55
Mehmet Okur defensive rebound.
12 - 17
3:47
Jackson Vroman Shooting Foul. His 2nd Personal Foul.
12 - 17
3:47
Mehmet Okur missed Free Throw 1 of 2.
12 - 17
3:47
Utah offensive rebound.
12 - 17
3:47
David West enters the game for Jackson Vroman.
12 - 17
3:47
Mehmet Okur made Free Throw 2 of 2.
13 - 17
3:23
Casey Jacobsen made 14 ft running jumper. Assisted by J.R. Smith.
13 - 19
3:08
Kirk Snyder made driving layup. Assisted by Randy Livingston.
15 - 19
3:08
Maciej Lampe Shooting Foul. His 2nd Personal Foul.
15 - 19
3:08
Kirk Snyder missed Free Throw 1 of 1.
15 - 19
3:06
Kirk Snyder offensive rebound.
15 - 19
3:04
Kirk Snyder missed layup.
15 - 19
3:03
Kirk Snyder offensive rebound.
17 - 19
3:02
Kirk Snyder made layup.
17 - 19
2:47
Bostjan Nachbar missed 17 ft jumper.
17 - 19
2:45
Mehmet Okur defensive rebound.
17 - 19
2:35
Kirk Snyder made three point jumper. Assisted by Randy Livingston.
20 - 19
2:23
Maciej Lampe missed 14 ft jumper.
20 - 19
2:20
Matt Harpring defensive rebound.
20 - 19
2:08
Mehmet Okur Lost Ball. Stolen by Casey Jacobsen.
20 - 19
2:04
Kirk Snyder Personal Foul. His 1st Personal Foul.
20 - 19
2:04
J.R. Smith Technical Foul. His 1st Technical Foul.
20 - 19
2:04
Utah Full Timeout.
20 - 19
2:04
Ben Handlogten enters the game for Mehmet Okur.
20 - 19
2:04
Matt Harpring made Technical Free Throw.
21 - 19
1:54
J.R. Smith missed 15 ft jumper.
21 - 19
1:52
Maciej Lampe offensive rebound.
21 - 19
1:43
Curtis Borchardt Shooting Foul. His 1st Personal Foul.
21 - 19
1:43
Casey Jacobsen made Free Throw 1 of 2.
21 - 20
1:43
Casey Jacobsen made Free Throw 2 of 2.
21 - 21
1:22
Matt Harpring made 21 ft jumper. Assisted by Randy Livingston.
23 - 21
1:06
David West made 6 ft two point shot.
23 - 23
0:53
Curtis Borchardt made 8 ft hook shot. Assisted by Randy Livingston.
25 - 23
0:35
Bostjan Nachbar missed three point jumper.
25 - 23
0:34
Ben Handlogten defensive rebound.
25 - 23
0:17
Curtis Borchardt made layup. Assisted by Randy Livingston.
27 - 23
0:17
David West Shooting Foul. His 2nd Personal Foul.
27 - 23
0:17
Curtis Borchardt missed Free Throw 1 of 1.
27 - 23
0:16
Utah defensive rebound.
27 - 23
0:03
Maciej Lampe missed jumper.
27 - 23
0:01
Ben Handlogten defensive rebound.
27 - 23
0:00
Randy Livingston missed 48 ft three point jumper.
27 - 23
0:00
Utah offensive rebound.
27 - 23
0:00
End of the 1st Quarter.
27 - 23

time
TEAM
PLAY
SCORE
12:00
Start of the 2nd Quarter.
27 - 23
11:37
Kirk Snyder made 20 ft jumper. Assisted by Kris Humphries.
29 - 23
11:10
David West made 14 ft jumper. Assisted by Bostjan Nachbar.
29 - 25
10:48
Ben Handlogten made dunk. Assisted by Keith McLeod.
31 - 25
10:33
Bostjan Nachbar missed layup.
31 - 25
10:32
Curtis Borchardt defensive rebound.
31 - 25
10:10
Curtis Borchardt Lost Ball. Stolen by Casey Jacobsen.
31 - 25
10:02
Maciej Lampe made layup.
31 - 27
10:02
Curtis Borchardt Shooting Foul. His 3rd Personal Foul.
31 - 27
10:02
Maciej Lampe made Free Throw 1 of 1.
31 - 28
9:52
Kirk Snyder Offensive Foul. His 3rd Personal Foul.
31 - 28
9:52
Kirk Snyder Turnover
31 - 28
9:37
Bostjan Nachbar missed layup.
31 - 28
9:37
Curtis Borchardt defensive rebound.
31 - 28
9:25
Curtis Borchardt Offensive Foul. His 4th Personal Foul.
31 - 28
9:25
Curtis Borchardt Turnover
31 - 28
9:25
Howard Eisley enters the game for Kirk Snyder.
31 - 28
9:25
Mehmet Okur enters the game for Curtis Borchardt.
31 - 28
9:12
Casey Jacobsen missed 24 ft three point jumper.
31 - 28
9:11
Keith McLeod defensive rebound.
31 - 28
8:52
Keith McLeod missed 12 ft jumper.
31 - 28
8:51
Maciej Lampe defensive rebound.
31 - 28
8:44
Maciej Lampe missed 4 ft hook shot.
31 - 28
8:41
Maciej Lampe offensive rebound.
31 - 28
8:37
Maciej Lampe Lost Ball. Stolen by Keith McLeod.
31 - 28
8:36
Dan Dickau Personal Foul. His 1st Personal Foul.
31 - 28
8:36
Official Timeout.
31 - 28
8:15
Keith McLeod Bad Pass. Stolen by Maciej Lampe.
31 - 28
8:04
Maciej Lampe missed 19 ft jumper.
31 - 28
8:03
Kris Humphries defensive rebound.
31 - 28
7:41
Mehmet Okur missed layup.
31 - 28
7:41
Casey Jacobsen defensive rebound.
31 - 28
7:37
Bostjan Nachbar made layup.
31 - 30
7:37
Howard Eisley Shooting Foul. His 2nd Personal Foul.
31 - 30
7:37
Matt Harpring enters the game for Ben Handlogten.
31 - 30
7:37
Bostjan Nachbar made Free Throw 1 of 1.
31 - 31
7:28
Matt Harpring Offensive Foul. His 2nd Personal Foul.
31 - 31
7:28
Matt Harpring Turnover
31 - 31
7:28
Jackson Vroman enters the game for Bostjan Nachbar.
31 - 31
7:28
Lee Nailon enters the game for David West.
31 - 31
7:11
Jackson Vroman defensive rebound.
31 - 31
7:11
Jackson Vroman defensive rebound.
31 - 31
7:11
Jackson Vroman missed layup.
31 - 31
7:09
Matt Harpring defensive rebound.
31 - 31
6:56
Mehmet Okur Offensive Foul. His 3rd Personal Foul.
31 - 31
6:56
Mehmet Okur Turnover
31 - 31
6:39
Dan Dickau missed three point jumper.
31 - 31
6:39
Lee Nailon offensive rebound.
31 - 31
6:37
Lee Nailon missed layup.
31 - 31
6:37
New Orleans defensive rebound.
31 - 31
6:37
Maciej Lampe Loose Ball Foul. His 3rd Personal Foul.
31 - 31
6:18
Casey Jacobsen Personal Foul. His 1st Personal Foul.
31 - 31
6:18
P.J. Brown enters the game for Maciej Lampe.
31 - 31
6:05
Matt Harpring missed 21 ft jumper.
31 - 31
6:03
Casey Jacobsen defensive rebound.
31 - 31
5:56
Jackson Vroman missed layup.
31 - 31
5:54
Matt Harpring defensive rebound.
31 - 31
5:48
Howard Eisley made 22 ft jumper. Assisted by Keith McLeod.
33 - 31
5:33
Jackson Vroman Bad Pass. Stolen by Matt Harpring.
33 - 31
5:28
Matt Harpring made dunk.
35 - 31
5:26
New Orleans Full Timeout.
35 - 31
5:26
J.R. Smith enters the game for Casey Jacobsen.
35 - 31
5:13
Dan Dickau made 11 ft running jumper.
35 - 33
4:56
Mehmet Okur made driving dunk. Assisted by Keith McLeod.
37 - 33
4:35
Lee Nailon Bad Pass. Stolen by Keith McLeod.
37 - 33
4:31
Keith McLeod made dunk.
39 - 33
4:15
J.R. Smith's layup blocked by Howard Eisley.
39 - 33
4:13
New Orleans offensive rebound.
39 - 33
4:11
J.R. Smith made 11 ft jumper.
39 - 35
3:56
Matt Harpring made 14 ft jumper. Assisted by Howard Eisley.
41 - 35
3:34
Lee Nailon missed layup.
41 - 35
3:33
Lee Nailon offensive rebound.
41 - 37
3:33
Lee Nailon made tip shot.
41 - 37
3:10
Matt Harpring Turnover
41 - 37
2:57
J.R. Smith missed 25 ft three point jumper.
41 - 37
2:56
Mehmet Okur defensive rebound.
41 - 37
2:41
J.R. Smith Shooting Foul. His 1st Personal Foul.
41 - 37
2:41
Utah Full Timeout.
41 - 37
2:41
Matt Harpring made Free Throw 1 of 2.
42 - 37
2:41
Matt Harpring made Free Throw 2 of 2.
43 - 37
2:28
Lee Nailon missed 16 ft jumper.
43 - 37
2:27
P.J. Brown offensive rebound.
43 - 37
2:19
J.R. Smith Lost Ball. Stolen by Mehmet Okur.
43 - 37
2:01
Mehmet Okur missed 10 ft hook shot.
43 - 37
2:00
P.J. Brown defensive rebound.
43 - 37
1:54
Kris Humphries Shooting Foul. His 1st Personal Foul.
43 - 37
1:54
P.J. Brown missed Free Throw 1 of 2.
43 - 37
1:54
New Orleans offensive rebound.
43 - 37
1:54
Jarron Collins enters the game for Mehmet Okur.
43 - 37
1:54
P.J. Brown made Free Throw 2 of 2.
43 - 38
1:36
Jarron Collins made layup. Assisted by Keith McLeod.
45 - 38
1:15
P.J. Brown Backcourt
45 - 38
1:01
Kris Humphries made 20 ft jumper. Assisted by Keith McLeod.
47 - 38
0:47
Kris Humphries Shooting Foul. His 2nd Personal Foul.
47 - 38
0:47
Lee Nailon missed Free Throw 1 of 2.
47 - 38
0:47
New Orleans offensive rebound.
47 - 38
0:47
Lee Nailon made Free Throw 2 of 2.
47 - 39
0:33
Matt Harpring missed 19 ft jumper.
47 - 39
0:32
Jarron Collins offensive rebound.
47 - 39
0:27
Matt Harpring Lost Ball. Stolen by Dan Dickau.
47 - 39
0:20
J.R. Smith Bad Pass. Stolen by Kris Humphries.
47 - 39
0:01
Jarron Collins's layup blocked by Dan Dickau.
47 - 39
0:00
P.J. Brown defensive rebound.
47 - 39
0:00
End of the 2nd Quarter.
47 - 39

time
TEAM
PLAY
SCORE
12:00
Start of the 3rd Quarter.
47 - 39
11:41
Jackson Vroman Shooting Foul. His 3rd Personal Foul.
47 - 39
11:41
Randy Livingston made Free Throw 1 of 2.
48 - 39
11:41
Randy Livingston missed Free Throw 2 of 2.
48 - 39
11:41
J.R. Smith defensive rebound.
48 - 39
11:21
J.R. Smith made 14 ft jumper. Assisted by Dan Dickau.
48 - 41
10:57
Lee Nailon Shooting Foul. His 3rd Personal Foul.
48 - 41
10:57
Jarron Collins made Free Throw 1 of 2.
49 - 41
10:57
Jarron Collins made Free Throw 2 of 2.
50 - 41
10:47
J.R. Smith made 22 ft jumper. Assisted by Jackson Vroman.
50 - 43
10:21
Gordan Giricek made 22 ft three point jumper. Assisted by Randy Livingston.
53 - 43
10:06
Mehmet Okur Personal Foul. His 3rd Personal Foul.
53 - 43
10:00
Dan Dickau missed 15 ft jumper.
53 - 43
10:00
Matt Harpring defensive rebound.
53 - 43
9:45
Matt Harpring missed 11 ft hook shot.
53 - 43
9:44
P.J. Brown defensive rebound.
53 - 43
9:36
Jackson Vroman missed 6 ft hook shot.
53 - 43
9:34
Mehmet Okur defensive rebound.
53 - 43
9:21
Matt Harpring missed layup.
53 - 43
9:18
P.J. Brown defensive rebound.
53 - 43
9:12
Lee Nailon missed layup.
53 - 43
9:11
Randy Livingston defensive rebound.
53 - 43
8:53
Gordan Giricek made layup. Assisted by Mehmet Okur.
55 - 43
8:30
J.R. Smith missed 19 ft jumper.
55 - 43
8:26
Gordan Giricek defensive rebound.
55 - 43
8:11
P.J. Brown Shooting Foul. His 2nd Personal Foul.
55 - 43
8:11
Mehmet Okur made Free Throw 1 of 2.
56 - 43
8:11
Mehmet Okur made Free Throw 2 of 2.
57 - 43
7:52
J.R. Smith made 14 ft jumper.
57 - 45
7:35
Gordan Giricek missed 19 ft jumper.
57 - 45
7:33
P.J. Brown defensive rebound.
57 - 45
7:22
Jarron Collins Shooting Foul. His 1st Personal Foul.
57 - 45
7:22
P.J. Brown made Free Throw 1 of 2.
57 - 46
7:22
P.J. Brown made Free Throw 2 of 2.
57 - 47
7:13
Matt Harpring made dunk. Assisted by Mehmet Okur.
59 - 47
6:54
Jackson Vroman Bad Pass. Stolen by Matt Harpring.
59 - 47
6:50
Dan Dickau Shooting Foul. His 2nd Personal Foul.
59 - 47
6:50
Gordan Giricek missed Free Throw 1 of 2.
59 - 47
6:50
Utah offensive rebound.
59 - 47
6:50
Gordan Giricek made Free Throw 2 of 2.
60 - 47
6:35
Dan Dickau made 24 ft three point jumper.
60 - 50
6:18
Jackson Vroman Jump Ball
60 - 50
6:13
Gordan Giricek missed 25 ft three point jumper.
60 - 50
6:11
Jarron Collins offensive rebound.
60 - 50
6:07
Jarron Collins Bad Pass. Stolen by P.J. Brown.
60 - 50
6:05
Randy Livingston Personal Foul. His 1st Personal Foul.
60 - 50
5:48
Lee Nailon made 14 ft jumper. Assisted by Dan Dickau.
60 - 52
5:33
Gordan Giricek's layup blocked by P.J. Brown.
60 - 52
5:31
P.J. Brown defensive rebound.
60 - 52
5:24
Dan Dickau missed layup.
60 - 52
5:24
Lee Nailon offensive rebound.
60 - 54
5:22
Lee Nailon made two point shot.
60 - 54
5:13
Jackson Vroman Personal Foul. His 4th Personal Foul.
60 - 54
5:13
New Orleans Full Timeout.
60 - 54
5:13
Kirk Snyder enters the game for Gordan Giricek.
60 - 54
5:13
Mehmet Okur missed Free Throw 1 of 2.
60 - 54
5:13
Utah offensive rebound.
60 - 54
5:13
Mehmet Okur made Free Throw 2 of 2.
61 - 54
4:58
P.J. Brown Turnover
61 - 54
4:39
Kirk Snyder Bad Pass. Stolen by J.R. Smith.
61 - 54
4:33
J.R. Smith made 9 ft jumper.
61 - 56
4:16
Matt Harpring made 15 ft jumper.
63 - 56
4:01
Matt Harpring Illegal Defense Foul. His 2nd Personal Foul.
63 - 56
4:01
Dan Dickau made Technical Free Throw.
63 - 57
4:01
Maciej Lampe enters the game for Jackson Vroman.
63 - 57
3:53
Randy Livingston Personal Foul. His 2nd Personal Foul.
63 - 57
3:47
Lee Nailon made 17 ft jumper. Assisted by Dan Dickau.
63 - 59
3:38
Maciej Lampe Personal Foul. His 3rd Personal Foul.
63 - 59
3:38
Keith McLeod enters the game for Randy Livingston.
63 - 59
3:38
Jarron Collins made Free Throw 1 of 2.
64 - 59
3:38
Jarron Collins made Free Throw 2 of 2.
65 - 59
3:15
J.R. Smith Lost Ball. Stolen by Kirk Snyder.
65 - 59
3:13
P.J. Brown Shooting Foul. His 3rd Personal Foul.
65 - 59
3:13
Bostjan Nachbar enters the game for Lee Nailon.
65 - 59
3:13
Matt Harpring missed Free Throw 1 of 2.
65 - 59
3:13
Utah offensive rebound.
65 - 59
3:13
Casey Jacobsen enters the game for J.R. Smith.
65 - 59
3:13
Matt Harpring made Free Throw 2 of 2.
66 - 59
2:58
Matt Harpring Shooting Foul. His 2nd Personal Foul.
66 - 59
2:58
Utah Full Timeout.
66 - 59
2:58
Bostjan Nachbar missed Free Throw 1 of 2.
66 - 59
2:58
New Orleans offensive rebound.
66 - 59
2:58
Bostjan Nachbar missed Free Throw 2 of 2.
66 - 59
2:57
Jarron Collins defensive rebound.
66 - 59
2:43
Matt Harpring missed 8 ft jumper.
66 - 59
2:42
Mehmet Okur offensive rebound.
66 - 59
2:34
Kirk Snyder missed 25 ft three point jumper.
66 - 59
2:33
Maciej Lampe defensive rebound.
66 - 59
2:33
Matt Harpring Loose Ball Foul. His 3rd Personal Foul.
66 - 59
2:33
Bostjan Nachbar made Free Throw 1 of 2.
66 - 60
2:33
Howard Eisley enters the game for Matt Harpring.
66 - 60
2:33
Bostjan Nachbar made Free Throw 2 of 2.
66 - 61
2:17
Keith McLeod made 18 ft jumper. Assisted by Howard Eisley.
68 - 61
1:57
Maciej Lampe Bad Pass. Stolen by Keith McLeod.
68 - 61
1:54
Keith McLeod made dunk.
70 - 61
1:45
Maciej Lampe made 18 ft jumper. Assisted by Bostjan Nachbar.
70 - 63
1:30
Mehmet Okur made 18 ft jumper.
72 - 63
1:27
Bostjan Nachbar Bad Pass
72 - 63
1:07
Keith McLeod Bad Pass
72 - 63
0:54
Bostjan Nachbar missed 25 ft three point jumper.
72 - 63
0:53
Mehmet Okur defensive rebound.
72 - 63
0:31
Howard Eisley missed 21 ft jumper.
72 - 63
0:30
P.J. Brown defensive rebound.
72 - 63
0:05
Maciej Lampe missed 17 ft jumper.
72 - 63
0:04
Mehmet Okur defensive rebound.
72 - 63
0:00
Keith McLeod missed 28 ft three point running jumper.
72 - 63
0:00
Utah offensive rebound.
72 - 63
0:00
End of the 3rd Quarter.
72 - 63

time
TEAM
PLAY
SCORE
12:00
Start of the 4th Quarter.
72 - 63
11:37
Dan Dickau made 16 ft jumper. Assisted by Bostjan Nachbar.
72 - 65
11:14
Howard Eisley made 17 ft jumper. Assisted by Curtis Borchardt.
74 - 65
10:56
David West made 19 ft jumper. Assisted by Casey Jacobsen.
74 - 67
10:30
Mehmet Okur Turnover
74 - 67
10:30
Kris Humphries enters the game for Mehmet Okur.
74 - 67
10:18
Dan Dickau missed 16 ft jumper.
74 - 67
10:15
Kris Humphries defensive rebound.
74 - 67
10:08
Maciej Lampe Shooting Foul. His 4th Personal Foul.
74 - 67
10:08
Kris Humphries missed Free Throw 1 of 2.
74 - 67
10:08
Utah offensive rebound.
74 - 67
10:08
Kris Humphries missed Free Throw 2 of 2.
74 - 67
10:08
Utah defensive rebound.
74 - 67
10:08
Curtis Borchardt Loose Ball Foul. His 4th Personal Foul.
74 - 67
9:51
David West made jumper. Assisted by Casey Jacobsen.
74 - 69
9:37
Howard Eisley made layup. Assisted by Kris Humphries.
76 - 69
9:23
Dan Dickau's layup blocked by Howard Eisley.
76 - 69
9:22
New Orleans offensive rebound.
76 - 69
9:10
Casey Jacobsen made three point jumper. Assisted by Dan Dickau.
76 - 72
8:41
Howard Eisley missed 23 ft jumper.
76 - 72
8:40
Utah defensive rebound.
76 - 72
8:40
Official Timeout.
76 - 72
8:40
J.R. Smith enters the game for Dan Dickau.
76 - 72
8:25
Bostjan Nachbar missed three point jumper.
76 - 72
8:22
Kris Humphries defensive rebound.
76 - 72
8:02
Howard Eisley made 13 ft running jumper.
78 - 72
7:43
Kirk Snyder Personal Foul. His 3rd Personal Foul.
78 - 72
7:31
J.R. Smith missed 14 ft jumper.
78 - 72
7:28
Keith McLeod defensive rebound.
78 - 72
7:09
Kris Humphries missed 15 ft jumper.
78 - 72
7:09
Curtis Borchardt offensive rebound.
80 - 72
7:09
Curtis Borchardt made tip shot.
80 - 72
6:56
David West made 15 ft running jumper.
80 - 74
6:47
David West Personal Foul. His 2nd Personal Foul.
80 - 74
6:33
Curtis Borchardt made layup.
82 - 74
6:13
Bostjan Nachbar made three point jumper. Assisted by Casey Jacobsen.
82 - 77
5:56
Kris Humphries Offensive Foul. His 4th Personal Foul.
82 - 77
5:56
Kris Humphries Turnover
82 - 77
5:56
New Orleans Full Timeout.
82 - 77
5:56
P.J. Brown enters the game for Maciej Lampe.
82 - 77
5:56
Mehmet Okur enters the game for Kirk Snyder.
82 - 77
5:56
Matt Harpring enters the game for Kris Humphries.
82 - 77
5:37
J.R. Smith missed 17 ft jumper.
82 - 77
5:37
David West offensive rebound.
82 - 77
5:35
David West made layup.
82 - 79
5:35
Curtis Borchardt Shooting Foul. His 6th Personal Foul.
82 - 79
5:35
Gordan Giricek enters the game for Howard Eisley.
82 - 79
5:35
David West made Free Throw 1 of 1.
82 - 80
5:20
Matt Harpring made layup. Assisted by Mehmet Okur.
84 - 80
4:58
David West missed 15 ft jumper.
84 - 80
4:54
J.R. Smith offensive rebound.
84 - 80
4:46
Matt Harpring Shooting Foul. His 4th Personal Foul.
84 - 80
4:46
David West made Free Throw 1 of 2.
84 - 81
4:46
David West made Free Throw 2 of 2.
84 - 82
4:20
Gordan Giricek missed jumper.
84 - 82
4:20
J.R. Smith defensive rebound.
84 - 82
4:15
J.R. Smith made layup.
84 - 84
4:15
Keith McLeod Shooting Foul. His 2nd Personal Foul.
84 - 84
4:15
Jarron Collins enters the game for Curtis Borchardt.
84 - 84
4:15
J.R. Smith made Free Throw 1 of 1.
84 - 85
3:54
Matt Harpring made layup.
86 - 85
3:54
Bostjan Nachbar Shooting Foul. His 3rd Personal Foul.
86 - 85
3:54
Matt Harpring made Free Throw 1 of 1.
87 - 85
3:31
Bostjan Nachbar missed 24 ft three point jumper.
87 - 85
3:30
New Orleans defensive rebound.
87 - 85
3:30
Dan Dickau enters the game for Casey Jacobsen.
87 - 85
3:18
Lee Nailon enters the game for Bostjan Nachbar.
87 - 85
3:13
Gordan Giricek missed three point jumper.
87 - 85
3:12
Utah offensive rebound.
87 - 85
3:12
Lee Nailon Loose Ball Foul. His 4th Personal Foul.
87 - 85
3:00
Matt Harpring made layup. Assisted by Gordan Giricek.
89 - 85
2:36
J.R. Smith Bad Pass. Stolen by Keith McLeod.
89 - 85
2:33
Matt Harpring made dunk. Assisted by Keith McLeod.
91 - 85
2:33
Lee Nailon Shooting Foul. His 6th Personal Foul.
91 - 85
2:33
Utah Full Timeout.
91 - 85
2:33
Matt Harpring made Free Throw 1 of 1.
92 - 85
2:14
David West missed 6 ft jumper.
92 - 85
2:13
Mehmet Okur defensive rebound.
92 - 85
1:53
P.J. Brown Shooting Foul. His 4th Personal Foul.
92 - 85
1:53
Keith McLeod made Free Throw 1 of 2.
93 - 85
1:53
Keith McLeod made Free Throw 2 of 2.
94 - 85
1:47
Jarron Collins Personal Foul. His 2nd Personal Foul.
94 - 85
1:47
Dan Dickau made Free Throw 1 of 2.
94 - 86
1:47
Dan Dickau made Free Throw 2 of 2.
94 - 87
1:23
Keith McLeod missed layup.
94 - 87
1:23
Lee Nailon defensive rebound.
94 - 87
1:15
J.R. Smith missed 24 ft jumper.
94 - 87
1:15
Keith McLeod defensive rebound.
94 - 87
1:14
David West Loose Ball Foul. His 3rd Personal Foul.
94 - 87
1:14
Keith McLeod made Free Throw 1 of 2.
95 - 87
1:14
Keith McLeod made Free Throw 2 of 2.
96 - 87
0:59
Lee Nailon Bad Pass. Stolen by Mehmet Okur.
96 - 87
0:45
J.R. Smith Shooting Foul. His 2nd Personal Foul.
96 - 87
0:45
Keith McLeod made Free Throw 1 of 2.
97 - 87
0:45
Keith McLeod made Free Throw 2 of 2.
98 - 87
0:39
Dan Dickau missed 24 ft three point jumper.
98 - 87
0:37
Dan Dickau offensive rebound.
98 - 87
0:34
Dan Dickau Bad Pass. Stolen by Matt Harpring.
98 - 87
0:25
Keith McLeod Bad Pass
98 - 87
0:15
Dan Dickau Bad Pass. Stolen by Gordan Giricek.
98 - 87
0:03
Lee Nailon Double Technical Foul. Matt Harpring gains possession.
98 - 87
0:03
Bostjan Nachbar enters the game for Lee Nailon.
98 - 87
0:03
Lee Nailon ejected.
98 - 87
0:03
Kirk Snyder enters the game for Matt Harpring.
98 - 87
0:03
Matt Harpring ejected.
98 - 87
0:00
End of the 4th Quarter.
98 - 87
0:00
End Game
98 - 87
The Wizards think it is unlikely that Kevin Durant will sign with them in free agency, according to a team source who told ESPN's Britt McHenry that "it's not like LeBron and Cleveland."

Brian Windhorst breaks down which teams may be interested in free agent center Dwight Howard, as well as if anyone would offer him a max contract.

Brian Windhorst breaks down how the trades of Derrick Rose and Jeff Teague impacts Mike Conley's free agency.
Regular Season Series
Series tied 2-2
2015-2016 Northwest Standings