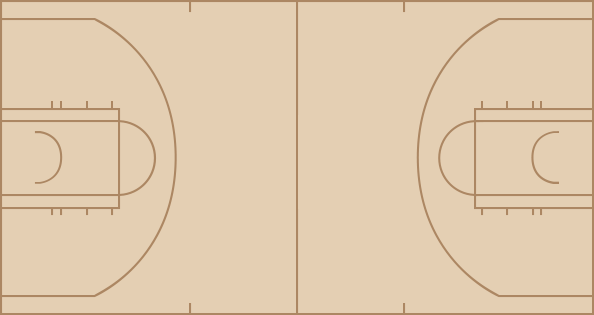 Heat
time
TEAM
PLAY
SCORE
12:00
Start of the 1st Quarter.
0 - 0
12:00
Jumpball: Michael Doleac vs. Pau Gasol. Jason Williams gains possession.
0 - 0
11:48
Lorenzen Wright made 14 ft jumper. Assisted by Jason Williams.
0 - 2
11:30
Eddie Jones missed 24 ft three point jumper.
0 - 2
11:27
Shane Battier defensive rebound.
0 - 2
11:19
Jason Williams Bad Pass. Stolen by Eddie Jones.
0 - 2
11:03
Udonis Haslem missed 16 ft jumper.
0 - 2
11:03
Lorenzen Wright defensive rebound.
0 - 2
10:52
Jason Williams Bad Pass
0 - 2
10:40
Dwyane Wade made driving layup.
2 - 2
10:22
Mike Miller made driving dunk.
2 - 4
10:02
Michael Doleac missed 19 ft jumper.
2 - 4
10:00
Miami defensive rebound.
2 - 4
9:36
Lorenzen Wright missed 18 ft jumper.
2 - 4
9:36
Memphis offensive rebound.
2 - 4
9:36
Shot Clock Violation
2 - 4
9:23
Michael Doleac made jumper. Assisted by Eddie Jones.
4 - 4
9:03
Lorenzen Wright Lost Ball. Stolen by Eddie Jones.
4 - 4
8:59
Damon Jones made 25 ft three point jumper. Assisted by Udonis Haslem.
7 - 4
8:41
Lorenzen Wright made dunk. Assisted by Shane Battier.
7 - 6
8:18
Eddie Jones Bad Pass. Stolen by Jason Williams.
7 - 6
8:15
Damon Jones Shooting Foul. His 1st Personal Foul.
7 - 6
8:15
Jason Williams made Free Throw 1 of 2.
7 - 7
8:15
Jason Williams made Free Throw 2 of 2.
7 - 8
8:04
Eddie Jones missed 18 ft jumper.
7 - 8
8:03
Lorenzen Wright defensive rebound.
7 - 8
7:48
Mike Miller made 26 ft three point jumper. Assisted by Pau Gasol.
7 - 11
7:31
Dwyane Wade missed 21 ft jumper.
7 - 11
7:28
Lorenzen Wright defensive rebound.
7 - 11
7:18
Michael Doleac Personal Foul. His 1st Personal Foul.
7 - 11
7:11
Udonis Haslem Personal Foul. His 1st Personal Foul.
7 - 11
7:03
Jason Williams made 25 ft three point jumper. Assisted by Shane Battier.
7 - 14
6:43
Eddie Jones missed 23 ft three point jumper.
7 - 14
6:39
Pau Gasol defensive rebound.
7 - 14
6:35
Jason Williams made 25 ft three point jumper. Assisted by Pau Gasol.
7 - 17
6:28
Miami Full Timeout.
7 - 17
6:16
Dwyane Wade missed driving layup.
7 - 17
6:15
Miami offensive rebound.
7 - 17
6:13
Michael Doleac made 14 ft jumper. Assisted by Dwyane Wade.
9 - 17
5:54
Pau Gasol made 6 ft two point shot. Assisted by Lorenzen Wright.
9 - 19
5:39
Dwyane Wade's driving layup blocked by Pau Gasol.
9 - 19
5:37
Dwyane Wade offensive rebound.
9 - 19
5:35
Dwyane Wade Lost Ball. Stolen by Mike Miller.
9 - 19
5:31
Jason Williams made 26 ft three point jumper.
9 - 22
5:05
Michael Doleac missed 20 ft jumper.
9 - 22
5:03
Jason Williams defensive rebound.
9 - 22
5:01
Pau Gasol made dunk. Assisted by Jason Williams.
9 - 24
4:50
Damon Jones made 15 ft jumper.
11 - 24
4:26
Shane Battier missed 12 ft running jumper.
11 - 24
4:24
Michael Doleac defensive rebound.
11 - 24
4:20
Dwyane Wade Bad Pass
11 - 24
4:11
Shane Battier Offensive Foul. His 2nd Personal Foul.
11 - 24
4:11
Shane Battier Turnover
11 - 24
3:49
Eddie Jones made 16 ft jumper.
13 - 24
3:32
Lorenzen Wright made 9 ft jumper.
13 - 26
3:17
Damon Jones Bad Pass
13 - 26
3:06
Udonis Haslem Shooting Foul. His 2nd Personal Foul.
13 - 26
3:06
Earl Watson enters the game for Jason Williams.
13 - 26
3:06
Alonzo Mourning enters the game for Udonis Haslem.
13 - 26
3:06
Mike Miller made Free Throw 1 of 2.
13 - 27
3:06
Mike Miller missed Free Throw 2 of 2.
13 - 27
3:05
Michael Doleac defensive rebound.
13 - 27
2:56
Damon Jones missed 26 ft three point jumper.
13 - 27
2:54
Mike Miller defensive rebound.
13 - 27
2:47
Mike Miller made 25 ft three point jumper. Assisted by Earl Watson.
13 - 30
2:36
Miami 20 Sec. Timeout.
13 - 30
2:36
Memphis Full Timeout.
13 - 30
2:36
Brian Cardinal enters the game for Pau Gasol.
13 - 30
2:27
Dwyane Wade missed driving layup.
13 - 30
2:24
Shane Battier defensive rebound.
13 - 30
2:04
Brian Cardinal's driving layup blocked by Alonzo Mourning.
13 - 30
2:01
Damon Jones defensive rebound.
13 - 30
1:58
Michael Doleac missed driving layup.
13 - 30
1:55
Mike Miller defensive rebound.
13 - 30
1:39
Shane Battier's dunk blocked by Alonzo Mourning.
13 - 30
1:37
Michael Doleac defensive rebound.
13 - 30
1:31
Eddie Jones missed 20 ft jumper.
13 - 30
1:30
Shane Battier defensive rebound.
13 - 30
1:13
Lorenzen Wright missed 15 ft jumper.
13 - 30
1:09
Michael Doleac defensive rebound.
13 - 30
1:01
Eddie Jones Offensive Foul. His 2nd Personal Foul.
13 - 30
1:01
Eddie Jones Turnover
13 - 30
1:01
Shandon Anderson enters the game for Michael Doleac.
13 - 30
0:43
Brian Cardinal made 17 ft jumper.
13 - 32
0:32
Lorenzen Wright Shooting Foul. His 1st Personal Foul.
13 - 32
0:32
Dwyane Wade missed Free Throw 1 of 2.
13 - 32
0:32
Miami offensive rebound.
13 - 32
0:32
Dwyane Wade made Free Throw 2 of 2.
14 - 32
0:20
Mike Miller missed 22 ft jumper.
14 - 32
0:18
Damon Jones defensive rebound.
14 - 32
0:00
Alonzo Mourning missed 6 ft hook shot.
14 - 32
0:00
Miami offensive rebound.
14 - 32
0:00
End of the 1st Quarter.
14 - 32

time
TEAM
PLAY
SCORE
12:00
Start of the 2nd Quarter.
14 - 32
11:47
Brian Cardinal Shooting Foul. His 1st Personal Foul.
14 - 32
11:47
Alonzo Mourning missed Free Throw 1 of 2.
14 - 32
11:47
Miami offensive rebound.
14 - 32
11:47
Alonzo Mourning made Free Throw 2 of 2.
15 - 32
11:27
Bonzi Wells made 11 ft two point shot.
15 - 34
11:08
Alonzo Mourning Lost Ball. Stolen by Bonzi Wells.
15 - 34
11:03
Earl Watson missed layup.
15 - 34
11:03
Lorenzen Wright offensive rebound.
15 - 34
11:03
Lorenzen Wright missed tip shot.
15 - 34
11:00
Qyntel Woods defensive rebound.
15 - 34
10:48
Brian Cardinal Personal Foul. His 2nd Personal Foul.
15 - 34
10:48
Dahntay Jones enters the game for Mike Miller.
15 - 34
10:36
Alonzo Mourning Lost Ball. Stolen by Brian Cardinal.
15 - 34
10:30
Bonzi Wells made two point shot. Assisted by Earl Watson.
15 - 36
10:11
Dwyane Wade made 20 ft jumper.
17 - 36
9:53
Qyntel Woods Shooting Foul. His 1st Personal Foul.
17 - 36
9:53
Bonzi Wells missed Free Throw 1 of 2.
17 - 36
9:53
Memphis offensive rebound.
17 - 36
9:53
Bonzi Wells made Free Throw 2 of 2.
17 - 37
9:41
Bonzi Wells Personal Foul. His 1st Personal Foul.
17 - 37
9:32
Keyon Dooling missed 24 ft three point jumper.
17 - 37
9:30
Lorenzen Wright defensive rebound.
17 - 37
9:11
Dahntay Jones missed three point jumper.
17 - 37
9:06
Brian Cardinal offensive rebound.
17 - 37
9:04
Bonzi Wells made layup. Assisted by Brian Cardinal.
17 - 39
8:49
Official Timeout.
17 - 39
8:49
Eddie Jones enters the game for Dwyane Wade.
17 - 39
8:49
Udonis Haslem enters the game for Qyntel Woods.
17 - 39
8:49
Pau Gasol enters the game for Lorenzen Wright.
17 - 39
8:42
Pau Gasol Shooting Foul. His 1st Personal Foul.
17 - 39
8:42
Udonis Haslem made Free Throw 1 of 2.
18 - 39
8:42
Udonis Haslem made Free Throw 2 of 2.
19 - 39
8:26
Earl Watson made 26 ft three point jumper. Assisted by Brian Cardinal.
19 - 42
8:02
Keyon Dooling made 22 ft jumper.
21 - 42
7:41
Brian Cardinal missed 19 ft jumper.
21 - 42
7:39
Alonzo Mourning defensive rebound.
21 - 42
7:30
Bonzi Wells Shooting Foul. His 2nd Personal Foul.
21 - 42
7:30
Keyon Dooling made Free Throw 1 of 2.
22 - 42
7:30
Keyon Dooling made Free Throw 2 of 2.
23 - 42
7:11
Earl Watson's two point shot blocked by Udonis Haslem.
23 - 42
7:11
Memphis offensive rebound.
23 - 42
7:09
Bonzi Wells made jumper. Assisted by Earl Watson.
23 - 44
6:41
Keyon Dooling missed two point shot.
23 - 44
6:39
Bonzi Wells defensive rebound.
23 - 44
6:35
Pau Gasol made 7 ft two point shot.
23 - 46
6:35
Michael Doleac enters the game for Alonzo Mourning.
23 - 46
6:35
Dwyane Wade enters the game for Shandon Anderson.
23 - 46
6:35
Shandon Anderson Shooting Foul. His 2nd Personal Foul.
23 - 46
6:35
Jason Williams enters the game for Earl Watson.
23 - 46
6:35
Pau Gasol made Free Throw 1 of 1.
23 - 47
6:22
Dwyane Wade made 12 ft two point shot.
25 - 47
6:07
Bonzi Wells made layup. Assisted by Pau Gasol.
25 - 49
5:50
Dwyane Wade missed two point shot.
25 - 49
5:50
Miami offensive rebound.
25 - 49
5:50
Dahntay Jones Loose Ball Foul. His 2nd Personal Foul.
25 - 49
5:50
Memphis Full Timeout.
25 - 49
5:50
Dwyane Wade made Free Throw 1 of 2.
26 - 49
5:50
Dwyane Wade made Free Throw 2 of 2.
27 - 49
5:31
Pau Gasol made driving layup.
27 - 51
5:11
Dwyane Wade missed two point shot.
27 - 51
5:09
Bonzi Wells defensive rebound.
27 - 51
4:52
Pau Gasol missed 16 ft jumper.
27 - 51
4:50
Keyon Dooling defensive rebound.
27 - 51
4:46
Keyon Dooling's layup blocked by Dahntay Jones.
27 - 51
4:45
Pau Gasol defensive rebound.
27 - 51
4:45
Udonis Haslem Personal Foul. His 3rd Personal Foul.
27 - 51
4:45
Lorenzen Wright enters the game for Brian Cardinal.
27 - 51
4:45
Alonzo Mourning enters the game for Udonis Haslem.
27 - 51
4:31
Lorenzen Wright Bad Pass
27 - 51
4:16
Alonzo Mourning Bad Pass
27 - 51
4:16
Damon Jones enters the game for Keyon Dooling.
27 - 51
4:05
Bonzi Wells missed layup.
27 - 51
4:03
Bonzi Wells offensive rebound.
27 - 53
4:03
Bonzi Wells made tip shot.
27 - 53
3:47
Michael Doleac Bad Pass. Stolen by Lorenzen Wright.
27 - 53
3:42
Jason Williams missed driving layup.
27 - 53
3:41
Memphis defensive rebound.
27 - 53
3:41
Miami Full Timeout.
27 - 53
3:31
Dahntay Jones Personal Foul. His 2nd Personal Foul.
27 - 53
3:31
Dwyane Wade made Free Throw 1 of 2.
28 - 53
3:31
Dwyane Wade made Free Throw 2 of 2.
29 - 53
3:15
Alonzo Mourning Shooting Foul. His 1st Personal Foul.
29 - 53
3:15
Pau Gasol made Free Throw 1 of 2.
29 - 54
3:15
Pau Gasol made Free Throw 2 of 2.
29 - 55
3:04
Damon Jones Bad Pass. Stolen by Lorenzen Wright.
29 - 55
2:48
Pau Gasol Turnover
29 - 55
2:48
Mike Miller enters the game for Dahntay Jones.
29 - 55
2:36
Alonzo Mourning's dunk blocked by Pau Gasol.
29 - 55
2:35
Mike Miller defensive rebound.
29 - 55
2:35
Alonzo Mourning Personal Foul. His 2nd Personal Foul.
29 - 55
2:35
Mike Miller made Free Throw 1 of 2.
29 - 56
2:35
ZhiZhi Wang enters the game for Michael Doleac.
29 - 56
2:35
Mike Miller made Free Throw 2 of 2.
29 - 57
2:27
Dwyane Wade missed 7 ft running jumper.
29 - 57
2:25
Pau Gasol defensive rebound.
29 - 57
2:23
Dwyane Wade Personal Foul. His 1st Personal Foul.
29 - 57
2:23
Jason Williams made Free Throw 1 of 2.
29 - 58
2:23
Jason Williams made Free Throw 2 of 2.
29 - 59
2:08
Damon Jones made 20 ft jumper. Assisted by ZhiZhi Wang.
31 - 59
1:44
Mike Miller missed 26 ft three point jumper.
31 - 59
1:42
Alonzo Mourning defensive rebound.
31 - 59
1:34
Damon Jones made 18 ft jumper.
33 - 59
1:12
Bonzi Wells missed layup.
33 - 59
1:10
Eddie Jones defensive rebound.
33 - 59
0:55
Damon Jones missed 17 ft jumper.
33 - 59
0:53
Mike Miller defensive rebound.
33 - 59
0:49
Alonzo Mourning Shooting Foul. His 3rd Personal Foul.
33 - 59
0:49
Lorenzen Wright made Free Throw 1 of 2.
33 - 60
0:49
Michael Doleac enters the game for Alonzo Mourning.
33 - 60
0:49
Lorenzen Wright missed Free Throw 2 of 2.
33 - 60
0:48
Michael Doleac defensive rebound.
33 - 60
0:35
Mike Miller Personal Foul. His 1st Personal Foul.
33 - 60
0:35
ZhiZhi Wang made Free Throw 1 of 2.
34 - 60
0:35
ZhiZhi Wang made Free Throw 2 of 2.
35 - 60
0:12
Mike Miller missed 25 ft three point jumper.
35 - 60
0:10
Damon Jones defensive rebound.
35 - 60
0:03
Dwyane Wade Bad Pass. Stolen by Pau Gasol.
35 - 60
0:00
Jason Williams missed 46 ft three point jumper.
35 - 60
0:00
Damon Jones defensive rebound.
35 - 60
0:00
End of the 2nd Quarter.
35 - 60

time
TEAM
PLAY
SCORE
12:00
Start of the 3rd Quarter.
35 - 60
11:36
Udonis Haslem made layup. Assisted by Michael Doleac.
37 - 60
11:15
Pau Gasol made 9 ft two point shot.
37 - 62
10:57
Eddie Jones made 23 ft three point jumper. Assisted by Dwyane Wade.
40 - 62
10:30
Pau Gasol missed 17 ft jumper.
40 - 62
10:27
Michael Doleac defensive rebound.
40 - 62
10:19
Michael Doleac missed 20 ft jumper.
40 - 62
10:18
Mike Miller defensive rebound.
40 - 62
10:00
Mike Miller made 20 ft jumper. Assisted by Jason Williams.
40 - 64
9:41
Udonis Haslem missed jumper.
40 - 64
9:37
Shane Battier defensive rebound.
40 - 64
9:27
Lorenzen Wright Lost Ball. Stolen by Dwyane Wade.
40 - 64
9:18
Udonis Haslem Lost Ball. Stolen by Pau Gasol.
40 - 64
9:14
Jason Williams missed 25 ft three point jumper.
40 - 64
9:11
Memphis defensive rebound.
40 - 64
8:56
Eddie Jones made 22 ft jumper. Assisted by Dwyane Wade.
42 - 64
8:36
Lorenzen Wright missed jumper.
42 - 64
8:33
Damon Jones defensive rebound.
42 - 64
8:23
Udonis Haslem made layup. Assisted by Dwyane Wade.
44 - 64
8:22
Memphis Full Timeout.
44 - 64
8:06
Pau Gasol missed driving layup.
44 - 64
8:03
Lorenzen Wright offensive rebound.
44 - 64
8:03
Lorenzen Wright missed tip shot.
44 - 64
8:02
Damon Jones defensive rebound.
44 - 64
7:58
Eddie Jones made two point shot. Assisted by Dwyane Wade.
46 - 64
7:41
Mike Miller made 17 ft jumper. Assisted by Jason Williams.
46 - 66
7:16
Michael Doleac missed 23 ft jumper.
46 - 66
7:15
Udonis Haslem offensive rebound.
46 - 66
7:07
Dwyane Wade missed 24 ft three point jumper.
46 - 66
7:05
Pau Gasol defensive rebound.
46 - 66
6:47
Mike Miller made 25 ft three point jumper. Assisted by Jason Williams.
46 - 69
6:26
Eddie Jones missed 25 ft three point jumper.
46 - 69
6:24
Lorenzen Wright defensive rebound.
46 - 69
6:15
Shane Battier's layup blocked by Eddie Jones.
46 - 69
6:13
Michael Doleac defensive rebound.
46 - 69
6:09
Udonis Haslem made slam dunk. Assisted by Damon Jones.
48 - 69
5:50
Pau Gasol made dunk. Assisted by Jason Williams.
48 - 71
5:28
Damon Jones missed 22 ft jumper.
48 - 71
5:26
Pau Gasol defensive rebound.
48 - 71
5:22
Jason Williams missed 25 ft three point jumper.
48 - 71
5:20
Udonis Haslem defensive rebound.
48 - 71
5:11
Dwyane Wade missed 23 ft jumper.
48 - 71
5:07
Shane Battier defensive rebound.
48 - 71
4:52
Mike Miller made 21 ft jumper.
48 - 73
4:43
Miami Full Timeout.
48 - 73
4:43
Keyon Dooling enters the game for Michael Doleac.
48 - 73
4:43
Alonzo Mourning enters the game for Damon Jones.
48 - 73
4:35
Dwyane Wade Offensive Foul. His 3rd Personal Foul.
48 - 73
4:35
Dwyane Wade Turnover
48 - 73
4:13
Mike Miller missed 24 ft three point jumper.
48 - 73
4:13
Memphis defensive rebound.
48 - 73
4:00
Dwyane Wade made driving layup.
50 - 73
3:39
Lorenzen Wright missed driving dunk.
50 - 73
3:33
Udonis Haslem defensive rebound.
50 - 73
3:30
Pau Gasol Personal Foul. His 2nd Personal Foul.
50 - 73
3:30
Earl Watson enters the game for Jason Williams.
50 - 73
3:23
Dwyane Wade missed two point shot.
50 - 73
3:20
Mike Miller defensive rebound.
50 - 73
3:04
Shane Battier's driving dunk blocked by Alonzo Mourning.
50 - 73
3:00
Dwyane Wade defensive rebound.
50 - 73
2:51
Eddie Jones made 14 ft jumper. Assisted by Udonis Haslem.
52 - 73
2:33
Pau Gasol missed 15 ft jumper.
52 - 73
2:31
Udonis Haslem defensive rebound.
52 - 73
2:24
Alonzo Mourning made layup. Assisted by Dwyane Wade.
54 - 73
2:08
Earl Watson Bad Pass. Stolen by Keyon Dooling.
54 - 73
2:02
Eddie Jones made dunk. Assisted by Udonis Haslem.
56 - 73
2:01
Memphis 20 Sec. Timeout.
56 - 73
2:01
Brian Cardinal enters the game for Pau Gasol.
56 - 73
2:01
Shandon Anderson enters the game for Dwyane Wade.
56 - 73
1:43
Brian Cardinal made driving layup.
56 - 75
1:30
Bonzi Wells enters the game for Shane Battier.
56 - 75
1:15
Keyon Dooling missed 27 ft three point jumper.
56 - 75
1:12
Brian Cardinal defensive rebound.
56 - 75
1:00
Mike Miller missed 25 ft three point jumper.
56 - 75
0:56
Alonzo Mourning defensive rebound.
56 - 75
0:51
Shandon Anderson Bad Pass. Stolen by Mike Miller.
56 - 75
0:48
Eddie Jones Shooting Foul. His 2nd Personal Foul.
56 - 75
0:48
Mike Miller made Free Throw 1 of 2.
56 - 76
0:48
ZhiZhi Wang enters the game for Udonis Haslem.
56 - 76
0:48
Mike Miller made Free Throw 2 of 2.
56 - 77
0:29
ZhiZhi Wang made 19 ft jumper.
58 - 77
0:06
Lorenzen Wright missed 9 ft two point shot.
58 - 77
0:04
Eddie Jones defensive rebound.
58 - 77
0:00
Eddie Jones missed 25 ft three point jumper.
58 - 77
0:00
Lorenzen Wright defensive rebound.
58 - 77
0:00
End of the 3rd Quarter.
58 - 77

time
TEAM
PLAY
SCORE
12:00
Start of the 4th Quarter.
58 - 77
11:40
Brian Cardinal Bad Pass
58 - 77
11:22
Alonzo Mourning made dunk. Assisted by ZhiZhi Wang.
60 - 77
11:00
Bonzi Wells missed 16 ft two point shot.
60 - 77
10:59
ZhiZhi Wang defensive rebound.
60 - 77
10:42
ZhiZhi Wang missed 8 ft jumper.
60 - 77
10:41
Bonzi Wells defensive rebound.
60 - 77
10:30
Bonzi Wells missed 23 ft three point jumper.
60 - 77
10:26
ZhiZhi Wang defensive rebound.
60 - 77
10:21
Shandon Anderson's layup blocked by Earl Watson.
60 - 77
10:18
ZhiZhi Wang offensive rebound.
60 - 77
10:18
ZhiZhi Wang missed layup.
60 - 77
10:15
Miami defensive rebound.
60 - 77
10:06
Lorenzen Wright Offensive Foul. His 3rd Personal Foul.
60 - 77
10:06
Lorenzen Wright Turnover
60 - 77
10:06
Pau Gasol enters the game for Lorenzen Wright.
60 - 77
9:49
ZhiZhi Wang Turnover
60 - 77
9:48
Bonzi Wells made dunk. Assisted by Earl Watson.
60 - 79
9:32
Keyon Dooling made layup.
62 - 79
9:14
Bonzi Wells's layup blocked by Alonzo Mourning.
62 - 79
9:11
Keyon Dooling defensive rebound.
62 - 79
9:08
Brian Cardinal Shooting Foul. His 3rd Personal Foul.
62 - 79
9:08
Keyon Dooling made Free Throw 1 of 2.
63 - 79
9:08
Dwyane Wade enters the game for Eddie Jones.
63 - 79
9:08
Keyon Dooling made Free Throw 2 of 2.
64 - 79
8:52
Bonzi Wells missed two point shot.
64 - 79
8:48
Alonzo Mourning defensive rebound.
64 - 79
8:45
Official Timeout.
64 - 79
8:45
Mike Miller enters the game for Bonzi Wells.
64 - 79
8:36
Dwyane Wade Lost Ball. Stolen by Pau Gasol.
64 - 79
8:36
Alonzo Mourning Personal Foul. His 4th Personal Foul.
64 - 79
8:36
Brian Cardinal Double Technical Foul. Alonzo Mourning gains possession.
64 - 79
8:21
Earl Watson made 17 ft jumper. Assisted by Dahntay Jones.
64 - 81
7:58
Shandon Anderson's layup blocked by Mike Miller.
64 - 81
7:54
Shandon Anderson offensive rebound.
64 - 81
7:54
Shandon Anderson missed layup.
64 - 81
7:52
Pau Gasol defensive rebound.
64 - 81
7:35
Dahntay Jones made driving layup.
64 - 83
7:11
Keyon Dooling made 25 ft three point jumper.
67 - 83
6:46
Dahntay Jones made 20 ft jumper.
67 - 85
6:26
Dwyane Wade's layup blocked by Pau Gasol.
67 - 85
6:24
Dwyane Wade offensive rebound.
67 - 85
6:24
Dwyane Wade made two point shot.
69 - 85
6:24
Pau Gasol Shooting Foul. His 4th Personal Foul.
69 - 85
6:24
Udonis Haslem enters the game for Alonzo Mourning.
69 - 85
6:24
Dwyane Wade made Free Throw 1 of 1.
70 - 85
6:11
Pau Gasol made dunk.
70 - 87
5:52
Dahntay Jones Personal Foul. His 3rd Personal Foul.
70 - 87
5:52
Memphis Full Timeout.
70 - 87
5:52
Eddie Jones enters the game for Shandon Anderson.
70 - 87
5:52
Damon Jones enters the game for Keyon Dooling.
70 - 87
5:52
Michael Doleac enters the game for ZhiZhi Wang.
70 - 87
5:46
Dwyane Wade missed layup.
70 - 87
5:43
Brian Cardinal defensive rebound.
70 - 87
5:20
Mike Miller made 25 ft three point jumper. Assisted by Pau Gasol.
70 - 90
4:54
Eddie Jones missed 7 ft jumper.
70 - 90
4:54
Miami offensive rebound.
70 - 90
4:43
Michael Doleac's dunk blocked by Pau Gasol.
70 - 90
4:39
Brian Cardinal defensive rebound.
70 - 90
4:37
Dahntay Jones missed two point shot.
70 - 90
4:35
Dwyane Wade defensive rebound.
70 - 90
4:31
Damon Jones made 26 ft three point jumper. Assisted by Dwyane Wade.
73 - 90
4:09
Earl Watson missed 26 ft three point jumper.
73 - 90
4:07
Udonis Haslem defensive rebound.
73 - 90
3:50
Damon Jones's two point shot blocked by Pau Gasol.
73 - 90
3:46
Brian Cardinal defensive rebound.
73 - 90
3:32
Mike Miller Offensive Foul. His 3rd Personal Foul.
73 - 90
3:32
Mike Miller Turnover
73 - 90
3:32
Shane Battier enters the game for Dahntay Jones.
73 - 90
3:32
Miami Full Timeout.
73 - 90
3:32
Qyntel Woods enters the game for Eddie Jones.
73 - 90
3:32
Alonzo Mourning enters the game for Michael Doleac.
73 - 90
3:23
Pau Gasol Personal Foul. His 4th Personal Foul.
73 - 90
3:13
Earl Watson Shooting Foul. His 1st Personal Foul.
73 - 90
3:13
Steve Smith enters the game for Dwyane Wade.
73 - 90
3:13
Damon Jones made Free Throw 1 of 2.
74 - 90
3:13
Damon Jones made Free Throw 2 of 2.
75 - 90
2:53
Mike Miller made 26 ft three point jumper. Assisted by Brian Cardinal.
75 - 93
2:32
Udonis Haslem Bad Pass. Stolen by Pau Gasol.
75 - 93
2:17
Mike Miller missed 25 ft three point jumper.
75 - 93
2:15
Steve Smith defensive rebound.
75 - 93
2:11
Damon Jones missed 25 ft three point jumper.
75 - 93
2:09
Steve Smith offensive rebound.
75 - 93
2:01
Alonzo Mourning made layup. Assisted by Steve Smith.
77 - 93
2:01
Pau Gasol Shooting Foul. His 6th Personal Foul.
77 - 93
2:01
ZhiZhi Wang enters the game for Damon Jones.
77 - 93
2:01
Keyon Dooling enters the game for Udonis Haslem.
77 - 93
2:01
Alonzo Mourning missed Free Throw 1 of 1.
77 - 93
2:00
Qyntel Woods offensive rebound.
77 - 93
1:52
Steve Smith missed 15 ft two point shot.
77 - 93
1:49
Brian Cardinal defensive rebound.
77 - 93
1:31
Earl Watson Lost Ball. Stolen by Steve Smith.
77 - 93
1:31
Jumpball: Keyon Dooling vs. Earl Watson. Alonzo Mourning gains possession.
77 - 93
1:20
Brian Cardinal Shooting Foul. His 4th Personal Foul.
77 - 93
1:20
Keyon Dooling made Free Throw 1 of 2.
78 - 93
1:20
Keyon Dooling made Free Throw 2 of 2.
79 - 93
0:58
Mike Miller made two point shot.
79 - 95
0:58
Alonzo Mourning Illegal Defense
79 - 95
0:45
Qyntel Woods made jumper. Assisted by ZhiZhi Wang.
81 - 95
0:24
Shane Battier offensive rebound.
81 - 97
0:24
Shane Battier made layup. Assisted by Brian Cardinal.
81 - 97
0:24
Alonzo Mourning Illegal Defense
81 - 97
0:11
Qyntel Woods offensive rebound.
81 - 97
0:11
Qyntel Woods missed 16 ft jumper.
81 - 97
0:09
Brian Cardinal defensive rebound.
81 - 97
0:00
End of the 4th Quarter.
81 - 97
0:00
End Game
81 - 97
With the Suns drafting Tyler Ulis, they now have five guards on their roster who attended Kentucky.

Oklahoma City's newest addition makes a lot of sense for the Thunder, says David Thorpe.

The Thunder didn't need Serge Ibaka to do much on offense. Can he blossom in a bigger role? David Thorpe discusses.
Regular Season Series
Series tied 1-1
2015-2016 Southeast Standings
2015-2016 Southwest Standings