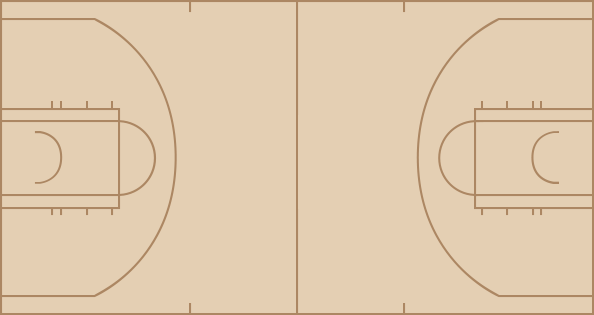 Knicks
time
TEAM
PLAY
SCORE
12:00
Start of the 1st Quarter.
0 - 0
12:00
Jumpball: Kurt Thomas vs. Dale Davis. Reggie Miller gains possession.
0 - 0
11:48
Reggie Miller's layup blocked by Jamal Crawford.
0 - 0
11:47
Dale Davis offensive rebound.
0 - 0
11:45
Kurt Thomas Shooting Foul. His 1st Personal Foul.
0 - 0
11:45
Dale Davis made Free Throw 1 of 2.
0 - 1
11:45
Dale Davis made Free Throw 2 of 2.
0 - 2
11:30
Kurt Thomas made jumper. Assisted by Stephon Marbury.
2 - 2
11:15
Anthony Johnson made 17 ft jumper. Assisted by Stephen Jackson.
2 - 4
11:00
Kurt Thomas made 18 ft jumper. Assisted by Stephon Marbury.
4 - 4
10:45
Reggie Miller missed 18 ft jumper.
4 - 4
10:42
Kurt Thomas defensive rebound.
4 - 4
10:19
Jamal Crawford made 22 ft two point shot.
6 - 4
10:02
Malik Rose Shooting Foul. His 1st Personal Foul.
6 - 4
10:02
Stephen Jackson made Free Throw 1 of 2.
6 - 5
10:02
Stephen Jackson made Free Throw 2 of 2.
6 - 6
9:48
Malik Rose made jumper. Assisted by Stephon Marbury.
8 - 6
9:30
Reggie Miller missed 19 ft jumper.
8 - 6
9:30
Malik Rose defensive rebound.
8 - 6
9:10
Mike Sweetney's 4 ft jumper blocked by Anthony Johnson.
8 - 6
9:07
Kurt Thomas offensive rebound.
8 - 6
9:07
Kurt Thomas made 5 ft jumper.
10 - 6
8:49
Dale Davis 3 second
10 - 6
8:36
Kurt Thomas made 17 ft jumper. Assisted by Jamal Crawford.
12 - 6
8:15
Stephen Jackson missed layup.
12 - 6
8:12
Malik Rose defensive rebound.
12 - 6
8:10
Anthony Johnson Shooting Foul. His 1st Personal Foul.
12 - 6
8:10
Jamal Crawford made Free Throw 1 of 2.
13 - 6
8:10
Jamal Crawford made Free Throw 2 of 2.
14 - 6
7:54
Stephen Jackson made jumper. Assisted by Reggie Miller.
14 - 8
7:33
Stephon Marbury made 5 ft two point shot.
16 - 8
7:28
Indiana Full Timeout.
16 - 8
7:20
Stephen Jackson made 25 ft three point jumper. Assisted by Reggie Miller.
16 - 11
7:05
Mike Sweetney made layup. Assisted by Stephon Marbury.
18 - 11
6:39
Stephen Jackson missed 25 ft three point jumper.
18 - 11
6:37
Mike Sweetney defensive rebound.
18 - 11
6:26
Jamal Crawford missed 26 ft three point jumper.
18 - 11
6:26
Scot Pollard defensive rebound.
18 - 11
6:13
Anthony Johnson missed 26 ft three point jumper.
18 - 11
6:11
Indiana offensive rebound.
18 - 11
6:11
Kurt Thomas Loose Ball Foul. His 2nd Personal Foul.
18 - 11
6:11
Jerome Williams enters the game for Kurt Thomas.
18 - 11
6:00
Anthony Johnson Bad Pass. Stolen by Malik Rose.
18 - 11
5:54
Stephon Marbury missed 26 ft three point jumper.
18 - 11
5:52
Jerome Williams offensive rebound.
18 - 11
5:52
Reggie Miller Shooting Foul. His 1st Personal Foul.
18 - 11
5:52
Jerome Williams missed Free Throw 1 of 2.
18 - 11
5:52
New York offensive rebound.
18 - 11
5:52
Jerome Williams made Free Throw 2 of 2.
19 - 11
5:43
Jamal Crawford Shooting Foul. His 1st Personal Foul.
19 - 11
5:43
Reggie Miller made Free Throw 1 of 2.
19 - 12
5:43
Reggie Miller made Free Throw 2 of 2.
19 - 13
5:30
Scot Pollard Shooting Foul. His 1st Personal Foul.
19 - 13
5:30
Mike Sweetney missed Free Throw 1 of 2.
19 - 13
5:30
New York offensive rebound.
19 - 13
5:30
Mike Sweetney made Free Throw 2 of 2.
20 - 13
5:20
Reggie Miller made 17 ft jumper. Assisted by Anthony Johnson.
20 - 15
5:05
Stephon Marbury missed 20 ft jumper.
20 - 15
5:03
Mike Sweetney offensive rebound.
20 - 15
5:01
Mike Sweetney made layup.
22 - 15
4:50
Reggie Miller made 12 ft running jumper.
22 - 17
4:28
Jeff Foster enters the game for Scot Pollard.
22 - 17
4:28
Reggie Miller Personal Foul. His 2nd Personal Foul.
22 - 17
4:28
Fred Jones enters the game for Reggie Miller.
22 - 17
4:24
Jamal Crawford made 17 ft jumper. Assisted by Stephon Marbury.
24 - 17
4:00
Jeff Foster missed jumper.
24 - 17
3:58
Malik Rose defensive rebound.
24 - 17
3:49
Mike Sweetney missed 5 ft jumper.
24 - 17
3:47
Stephen Jackson defensive rebound.
24 - 17
3:39
Stephen Jackson Lost Ball. Stolen by Stephon Marbury.
24 - 17
3:31
Stephon Marbury made 6 ft jumper.
26 - 17
3:12
Stephen Jackson missed 25 ft three point jumper.
26 - 17
3:10
Stephon Marbury defensive rebound.
26 - 17
3:00
Mike Sweetney made dunk. Assisted by Stephon Marbury.
28 - 17
2:45
Indiana 20 Sec. Timeout.
28 - 17
2:45
New York Full Timeout.
28 - 17
2:45
Austin Croshere enters the game for Dale Davis.
28 - 17
2:45
Eddie Gill enters the game for Anthony Johnson.
28 - 17
2:45
Jermaine Jackson enters the game for Jamal Crawford.
28 - 17
2:30
Fred Jones missed 26 ft three point jumper.
28 - 17
2:28
Malik Rose defensive rebound.
28 - 17
2:15
Stephon Marbury made driving layup.
30 - 17
1:58
Austin Croshere Lost Ball. Stolen by Jerome Williams.
30 - 17
1:50
Stephon Marbury missed 21 ft jumper.
30 - 17
1:47
Jeff Foster defensive rebound.
30 - 17
1:29
Eddie Gill missed 10 ft jumper.
30 - 17
1:27
Jeff Foster offensive rebound.
30 - 17
1:25
Jeff Foster made 2 ft two point shot.
30 - 19
1:09
Stephon Marbury missed layup.
30 - 19
1:08
Jeff Foster defensive rebound.
30 - 19
0:58
Fred Jones missed 15 ft jumper.
30 - 19
0:56
Jeff Foster offensive rebound.
30 - 19
0:56
Jeff Foster made tip shot.
30 - 21
0:39
Mike Sweetney missed 4 ft jumper.
30 - 21
0:37
Stephen Jackson defensive rebound.
30 - 21
0:23
Stephen Jackson made 18 ft jumper.
30 - 23
0:00
Stephen Jackson Shooting Foul. His 1st Personal Foul.
30 - 23
0:00
James Jones enters the game for Stephen Jackson.
30 - 23
0:00
Jerome Williams made Free Throw 1 of 2.
31 - 23
0:00
Jerome Williams missed Free Throw 2 of 2.
31 - 23
0:00
Jerome Williams offensive rebound.
31 - 23
0:00
End of the 1st Quarter.
31 - 23

time
TEAM
PLAY
SCORE
12:00
Start of the 2nd Quarter.
31 - 23
11:45
Jamal Crawford made 17 ft jumper. Assisted by Jerome Williams.
33 - 23
11:25
Eddie Gill made 25 ft three point jumper. Assisted by James Jones.
33 - 26
11:07
Jerome Williams made layup. Assisted by Jermaine Jackson.
35 - 26
10:49
Fred Jones made driving layup.
35 - 28
10:27
Jermaine Jackson Bad Pass. Stolen by Fred Jones.
35 - 28
10:23
Fred Jones made slam dunk. Assisted by Eddie Gill.
35 - 30
9:59
Jermaine Jackson missed 19 ft jumper.
35 - 30
9:56
James Jones defensive rebound.
35 - 30
9:41
Maurice Taylor Illegal Defense Foul. His 1st Personal Foul.
35 - 30
9:41
Stephon Marbury enters the game for Jermaine Jackson.
35 - 30
9:41
Austin Croshere made Technical Free Throw.
35 - 31
9:33
Fred Jones made 17 ft jumper. Assisted by Eddie Gill.
35 - 33
9:12
Trevor Ariza made 19 ft jumper. Assisted by Jamal Crawford.
37 - 33
8:56
Fred Jones missed 18 ft jumper.
37 - 33
8:53
Jeff Foster offensive rebound.
37 - 33
8:40
James Jones missed 17 ft jumper.
37 - 33
8:38
Maurice Taylor defensive rebound.
37 - 33
8:30
Jamal Crawford missed 21 ft jumper.
37 - 33
8:29
Austin Croshere defensive rebound.
37 - 33
8:21
Eddie Gill Bad Pass. Stolen by Jamal Crawford.
37 - 33
8:14
Jerome Williams 3 second
37 - 33
8:14
Official Timeout.
37 - 33
8:03
Stephon Marbury Personal Foul. His 1st Personal Foul.
37 - 33
7:50
Austin Croshere missed 19 ft jumper.
37 - 33
7:48
Maurice Taylor defensive rebound.
37 - 33
7:31
Maurice Taylor missed 16 ft jumper.
37 - 33
7:28
Jeff Foster defensive rebound.
37 - 33
7:20
Trevor Ariza Personal Foul. His 1st Personal Foul.
37 - 33
7:18
Trevor Ariza Personal Foul. His 2nd Personal Foul.
37 - 33
7:07
Fred Jones made 7 ft running jumper.
37 - 35
6:52
Jerome Williams Turnover
37 - 35
6:35
Eddie Gill's 24 ft three point jumper blocked by Stephon Marbury.
37 - 35
6:33
Jerome Williams defensive rebound.
37 - 35
6:20
Jerome Williams made layup. Assisted by Stephon Marbury.
39 - 35
6:20
Austin Croshere Shooting Foul. His 1st Personal Foul.
39 - 35
6:20
Indiana Full Timeout.
39 - 35
6:20
Reggie Miller enters the game for Jeff Foster.
39 - 35
6:20
Dale Davis enters the game for Fred Jones.
39 - 35
6:20
Anthony Johnson enters the game for Eddie Gill.
39 - 35
6:20
Malik Rose enters the game for Trevor Ariza.
39 - 35
6:20
Jerome Williams made Free Throw 1 of 1.
40 - 35
6:03
Jerome Williams Personal Foul. His 1st Personal Foul.
40 - 35
6:03
Kurt Thomas enters the game for Jerome Williams.
40 - 35
6:03
Stephen Jackson enters the game for James Jones.
40 - 35
5:58
Reggie Miller missed 25 ft three point jumper.
40 - 35
5:56
Jamal Crawford defensive rebound.
40 - 35
5:43
Maurice Taylor missed 4 ft jumper.
40 - 35
5:41
Austin Croshere defensive rebound.
40 - 35
5:35
Stephen Jackson missed 24 ft three point jumper.
40 - 35
5:33
Maurice Taylor defensive rebound.
40 - 35
5:24
Maurice Taylor made slam dunk. Assisted by Stephon Marbury.
42 - 35
5:13
Maurice Taylor Shooting Foul. His 1st Personal Foul.
42 - 35
5:13
Scot Pollard enters the game for Austin Croshere.
42 - 35
5:13
Stephen Jackson made Free Throw 1 of 2.
42 - 36
5:13
Stephen Jackson made Free Throw 2 of 2.
42 - 37
5:00
Malik Rose Offensive Foul. His 3rd Personal Foul.
42 - 37
5:00
Malik Rose Turnover
42 - 37
4:41
Reggie Miller made 24 ft three point jumper. Assisted by Anthony Johnson.
42 - 40
4:24
Maurice Taylor missed 7 ft jumper.
42 - 40
4:24
Dale Davis defensive rebound.
42 - 40
4:07
Dale Davis made layup. Assisted by Anthony Johnson.
42 - 42
3:54
Stephon Marbury made driving layup.
44 - 42
3:43
Jamal Crawford Personal Foul. His 2nd Personal Foul.
44 - 42
3:43
Mike Sweetney enters the game for Maurice Taylor.
44 - 42
3:43
Reggie Miller made Free Throw 1 of 2.
44 - 43
3:43
Reggie Miller made Free Throw 2 of 2.
44 - 44
3:30
Jamal Crawford made 25 ft three point jumper.
47 - 44
3:14
Jamal Crawford Shooting Foul. His 3rd Personal Foul.
47 - 44
3:14
Reggie Miller made Free Throw 1 of 2.
47 - 45
3:14
Jermaine Jackson enters the game for Jamal Crawford.
47 - 45
3:14
Reggie Miller made Free Throw 2 of 2.
47 - 46
3:01
Jermaine Jackson made 17 ft jumper. Assisted by Mike Sweetney.
49 - 46
2:41
Scot Pollard missed layup.
49 - 46
2:40
Kurt Thomas defensive rebound.
49 - 46
2:31
Mike Sweetney missed layup.
49 - 46
2:29
Dale Davis defensive rebound.
49 - 46
2:17
Anthony Johnson Offensive Foul. His 3rd Personal Foul.
49 - 46
2:17
Anthony Johnson Turnover
49 - 46
2:17
New York Full Timeout.
49 - 46
2:17
Jeff Foster enters the game for Scot Pollard.
49 - 46
2:05
Stephon Marbury missed 18 ft jumper.
49 - 46
2:03
Anthony Johnson defensive rebound.
49 - 46
1:43
Stephen Jackson missed 16 ft jumper.
49 - 46
1:40
Dale Davis offensive rebound.
49 - 46
1:36
Stephen Jackson missed three point jumper.
49 - 46
1:34
Jeff Foster offensive rebound.
49 - 46
1:29
Anthony Johnson missed 24 ft three point jumper.
49 - 46
1:28
Jermaine Jackson defensive rebound.
49 - 46
1:10
Stephon Marbury missed layup.
49 - 46
1:09
Jeff Foster defensive rebound.
49 - 46
0:51
Dale Davis made layup. Assisted by Anthony Johnson.
49 - 48
0:35
Stephen Jackson Personal Foul. His 2nd Personal Foul.
49 - 48
0:35
James Jones enters the game for Stephen Jackson.
49 - 48
0:35
Eddie Gill enters the game for Anthony Johnson.
49 - 48
0:28
Eddie Gill Shooting Foul. His 1st Personal Foul.
49 - 48
0:28
Stephon Marbury made Free Throw 1 of 2.
50 - 48
0:28
Anthony Johnson enters the game for Eddie Gill.
50 - 48
0:28
Jerome Williams enters the game for Kurt Thomas.
50 - 48
0:28
Trevor Ariza enters the game for Malik Rose.
50 - 48
0:28
Stephen Jackson enters the game for James Jones.
50 - 48
0:28
Stephon Marbury made Free Throw 2 of 2.
51 - 48
0:10
Stephen Jackson Bad Pass. Stolen by Jermaine Jackson.
51 - 48
0:03
Mike Sweetney missed layup.
51 - 48
0:02
Dale Davis defensive rebound.
51 - 48
0:00
Reggie Miller missed 40 ft three point jumper.
51 - 48
0:00
Indiana offensive rebound.
51 - 48
0:00
End of the 2nd Quarter.
51 - 48

time
TEAM
PLAY
SCORE
12:00
Start of the 3rd Quarter.
51 - 48
11:40
Dale Davis Shooting Foul. His 1st Personal Foul.
51 - 48
11:40
Malik Rose made Free Throw 1 of 2.
52 - 48
11:40
Malik Rose made Free Throw 2 of 2.
53 - 48
11:21
Scot Pollard missed jumper.
53 - 48
11:19
Indiana defensive rebound.
53 - 48
11:08
Kurt Thomas made 12 ft two point shot. Assisted by Jamal Crawford.
55 - 48
10:48
Reggie Miller missed 26 ft three point jumper.
55 - 48
10:47
Kurt Thomas defensive rebound.
55 - 48
10:40
Stephen Jackson defensive rebound.
55 - 48
10:29
Dale Davis made 12 ft jumper. Assisted by Anthony Johnson.
55 - 50
10:15
Stephon Marbury missed 21 ft jumper.
55 - 50
10:14
Anthony Johnson defensive rebound.
55 - 50
10:03
Reggie Miller made 17 ft two point shot.
55 - 52
9:44
Malik Rose missed jumper.
55 - 52
9:42
Kurt Thomas offensive rebound.
55 - 52
9:34
Jamal Crawford made 25 ft three point jumper. Assisted by Stephon Marbury.
58 - 52
9:22
Reggie Miller made 2 ft two point shot. Assisted by Anthony Johnson.
58 - 54
9:08
Kurt Thomas missed 13 ft jumper.
58 - 54
9:07
Anthony Johnson defensive rebound.
58 - 54
8:52
Reggie Miller made 25 ft three point jumper. Assisted by Scot Pollard.
58 - 57
8:34
Malik Rose made 5 ft two point shot. Assisted by Stephon Marbury.
60 - 57
8:14
Reggie Miller made 16 ft running jumper. Assisted by Anthony Johnson.
60 - 59
8:00
Mike Sweetney missed layup.
60 - 59
7:58
Mike Sweetney offensive rebound.
60 - 59
7:56
Mike Sweetney made layup.
62 - 59
7:37
Stephen Jackson missed 18 ft jumper.
62 - 59
7:35
Anthony Johnson offensive rebound.
62 - 59
7:31
Anthony Johnson Bad Pass
62 - 59
7:22
Stephon Marbury made driving layup.
64 - 59
7:07
Reggie Miller missed 27 ft three point jumper.
64 - 59
7:05
Dale Davis offensive rebound.
64 - 61
7:05
Dale Davis made tip shot.
64 - 61
6:50
Jamal Crawford made 24 ft three point jumper. Assisted by Stephon Marbury.
67 - 61
6:28
Stephen Jackson made two point shot. Assisted by Anthony Johnson.
67 - 63
6:11
Malik Rose made jumper. Assisted by Stephon Marbury.
69 - 63
6:09
Indiana Full Timeout.
69 - 63
5:50
Dale Davis made jumper. Assisted by Reggie Miller.
69 - 65
5:31
Malik Rose made 8 ft jumper. Assisted by Stephon Marbury.
71 - 65
5:11
Reggie Miller made jumper. Assisted by Scot Pollard.
71 - 67
4:56
Kurt Thomas Bad Pass. Stolen by Dale Davis.
71 - 67
4:52
Stephen Jackson made two point shot.
71 - 69
4:52
Kurt Thomas Shooting Foul. His 3rd Personal Foul.
71 - 69
4:52
Jeff Foster enters the game for Scot Pollard.
71 - 69
4:52
Stephen Jackson made Free Throw 1 of 1.
71 - 70
4:43
Mike Sweetney Offensive Foul. His 2nd Personal Foul.
71 - 70
4:43
Mike Sweetney Turnover
71 - 70
4:33
Mike Sweetney Shooting Foul. His 2nd Personal Foul.
71 - 70
4:33
Dale Davis made Free Throw 1 of 2.
71 - 71
4:33
Dale Davis missed Free Throw 2 of 2.
71 - 71
4:33
Kurt Thomas defensive rebound.
71 - 71
4:18
Jamal Crawford's 5 ft jumper blocked by Dale Davis.
71 - 71
4:16
Dale Davis defensive rebound.
71 - 71
4:07
Dale Davis 3 second
71 - 71
3:56
Jamal Crawford made 26 ft three point jumper. Assisted by Stephon Marbury.
74 - 71
3:39
Stephen Jackson Lost Ball. Stolen by Stephon Marbury.
74 - 71
3:33
Jamal Crawford Bad Pass. Stolen by Anthony Johnson.
74 - 71
3:29
Stephen Jackson missed layup.
74 - 71
3:27
Kurt Thomas defensive rebound.
74 - 71
3:21
Malik Rose missed layup.
74 - 71
3:19
Dale Davis defensive rebound.
74 - 71
3:15
Stephen Jackson missed 25 ft three point jumper.
74 - 71
3:13
Malik Rose defensive rebound.
74 - 71
3:05
Stephon Marbury Bad Pass. Stolen by Stephen Jackson.
74 - 71
2:47
Anthony Johnson made 3 ft two point shot.
74 - 73
2:47
Stephon Marbury Shooting Foul. His 2nd Personal Foul.
74 - 73
2:47
New York Full Timeout.
74 - 73
2:47
Fred Jones enters the game for Reggie Miller.
74 - 73
2:47
Scot Pollard enters the game for Dale Davis.
74 - 73
2:47
Anthony Johnson made Free Throw 1 of 1.
74 - 74
2:30
Malik Rose missed 7 ft jumper.
74 - 74
2:29
Jeff Foster defensive rebound.
74 - 74
2:09
Anthony Johnson missed 17 ft jumper.
74 - 74
2:06
Mike Sweetney defensive rebound.
74 - 74
1:50
Jamal Crawford missed 27 ft three point jumper.
74 - 74
1:49
Stephon Marbury offensive rebound.
74 - 74
1:39
Jeff Foster Shooting Foul. His 1st Personal Foul.
74 - 74
1:39
Eddie Gill enters the game for Anthony Johnson.
74 - 74
1:39
Mike Sweetney missed Free Throw 1 of 2.
74 - 74
1:39
New York offensive rebound.
74 - 74
1:39
Mike Sweetney made Free Throw 2 of 2.
75 - 74
1:23
Eddie Gill missed three point jumper.
75 - 74
1:22
Mike Sweetney defensive rebound.
75 - 74
1:16
Jamal Crawford made 5 ft jumper.
77 - 74
1:16
Fred Jones Shooting Foul. His 1st Personal Foul.
77 - 74
1:16
Indiana 20 Sec. Timeout.
77 - 74
1:16
Indiana Full Timeout.
77 - 74
1:16
James Jones enters the game for Stephen Jackson.
77 - 74
1:16
Austin Croshere enters the game for Scot Pollard.
77 - 74
1:16
Jermaine Jackson enters the game for Stephon Marbury.
77 - 74
1:16
Jamal Crawford missed Free Throw 1 of 1.
77 - 74
1:16
Malik Rose offensive rebound.
77 - 74
1:15
Malik Rose missed layup.
77 - 74
1:15
James Jones defensive rebound.
77 - 74
0:55
Eddie Gill Bad Pass
77 - 74
0:39
Mike Sweetney made 3 ft jumper. Assisted by Jamal Crawford.
79 - 74
0:20
James Jones missed 19 ft jumper.
79 - 74
0:18
Jamal Crawford defensive rebound.
79 - 74
0:02
Jamal Crawford made 20 ft two point shot.
81 - 74
0:00
End of the 3rd Quarter.
81 - 74

time
TEAM
PLAY
SCORE
12:00
Start of the 4th Quarter.
81 - 74
11:41
Fred Jones missed 19 ft jumper.
81 - 74
11:38
Jamal Crawford defensive rebound.
81 - 74
11:25
Kurt Thomas missed 18 ft jumper.
81 - 74
11:22
New York defensive rebound.
81 - 74
11:12
Jermaine Jackson Personal Foul. His 1st Personal Foul.
81 - 74
11:12
Reggie Miller enters the game for James Jones.
81 - 74
11:04
Fred Jones Bad Pass. Stolen by Jermaine Jackson.
81 - 74
11:00
Jamal Crawford made layup. Assisted by Jermaine Jackson.
83 - 74
10:44
Reggie Miller missed 25 ft three point jumper.
83 - 74
10:42
Mike Sweetney defensive rebound.
83 - 74
10:26
Mike Sweetney made dunk. Assisted by Kurt Thomas.
85 - 74
10:07
Austin Croshere missed 24 ft three point jumper.
85 - 74
10:06
Mike Sweetney defensive rebound.
85 - 74
9:49
Kurt Thomas missed 17 ft jumper.
85 - 74
9:48
Mike Sweetney offensive rebound.
85 - 74
9:48
Austin Croshere Shooting Foul. His 2nd Personal Foul.
85 - 74
9:48
Anthony Johnson enters the game for Eddie Gill.
85 - 74
9:48
Stephen Jackson enters the game for Austin Croshere.
85 - 74
9:48
Mike Sweetney missed Free Throw 1 of 2.
85 - 74
9:48
New York offensive rebound.
85 - 74
9:48
Reggie Miller Defensive Goaltending
85 - 74
9:48
Mike Sweetney made Free Throw 2 of 2.
86 - 74
9:34
Stephen Jackson made 3 ft two point shot. Assisted by Anthony Johnson.
86 - 76
9:12
Jamal Crawford missed 22 ft jumper.
86 - 76
9:11
Stephen Jackson defensive rebound.
86 - 76
9:11
Jerome Williams Loose Ball Foul. His 2nd Personal Foul.
86 - 76
9:02
Fred Jones missed 23 ft three point jumper.
86 - 76
9:02
Indiana offensive rebound.
86 - 76
9:02
Jerome Williams Loose Ball Foul. His 3rd Personal Foul.
86 - 76
8:55
Anthony Johnson made driving layup.
86 - 78
8:45
New York Full Timeout.
86 - 78
8:45
Malik Rose enters the game for Mike Sweetney.
86 - 78
8:45
Stephon Marbury enters the game for Jermaine Jackson.
86 - 78
8:29
Malik Rose made 19 ft jumper. Assisted by Stephon Marbury.
88 - 78
8:14
Stephen Jackson made 26 ft three point jumper. Assisted by Anthony Johnson.
88 - 81
7:56
Stephon Marbury made 24 ft three point jumper. Assisted by Malik Rose.
91 - 81
7:43
Kurt Thomas Jump Ball
91 - 81
7:43
Jermaine Jackson enters the game for Jerome Williams.
91 - 81
7:33
Stephen Jackson missed 25 ft three point jumper.
91 - 81
7:31
Jamal Crawford defensive rebound.
91 - 81
7:11
Stephon Marbury missed 10 ft jumper.
91 - 81
7:09
Stephen Jackson defensive rebound.
91 - 81
7:05
Anthony Johnson made 25 ft three point jumper. Assisted by Stephen Jackson.
91 - 84
6:37
Jermaine Jackson made 12 ft jumper. Assisted by Stephon Marbury.
93 - 84
6:20
Stephon Marbury Shooting Foul. His 3rd Personal Foul.
93 - 84
6:20
Jeff Foster made Free Throw 1 of 2.
93 - 85
6:20
Jeff Foster missed Free Throw 2 of 2.
93 - 85
6:18
Malik Rose defensive rebound.
93 - 85
6:05
Stephon Marbury Bad Pass
93 - 85
5:58
Anthony Johnson made 26 ft three point jumper.
93 - 88
5:35
Official Timeout.
93 - 88
5:31
Jamal Crawford missed 26 ft three point jumper.
93 - 88
5:28
Reggie Miller defensive rebound.
93 - 88
5:13
Fred Jones missed 27 ft three point jumper.
93 - 88
5:11
Jamal Crawford defensive rebound.
93 - 88
4:58
Jermaine Jackson Offensive Foul. His 3rd Personal Foul.
93 - 88
4:58
Jermaine Jackson Turnover
93 - 88
4:58
Stephon Marbury Technical Foul. His 1st Technical Foul.
93 - 88
4:58
Reggie Miller made Technical Free Throw.
93 - 89
4:48
Jeff Foster made layup. Assisted by Anthony Johnson.
93 - 91
4:28
Malik Rose missed 17 ft jumper.
93 - 91
4:26
Reggie Miller defensive rebound.
93 - 91
4:07
Fred Jones missed 26 ft three point jumper.
93 - 91
4:05
Jermaine Jackson defensive rebound.
93 - 91
3:45
Stephon Marbury missed 17 ft jumper.
93 - 91
3:43
Jeff Foster defensive rebound.
93 - 91
3:28
Anthony Johnson made driving layup.
93 - 93
3:27
New York Full Timeout.
93 - 93
3:27
Mike Sweetney enters the game for Jermaine Jackson.
93 - 93
3:13
Reggie Miller Personal Foul. His 3rd Personal Foul.
93 - 93
3:04
Jamal Crawford made running jumper.
95 - 93
2:55
Reggie Miller made 25 ft three point jumper. Assisted by Anthony Johnson.
95 - 96
2:35
Jeff Foster Shooting Foul. His 2nd Personal Foul.
95 - 96
2:35
Mike Sweetney missed Free Throw 1 of 2.
95 - 96
2:35
New York offensive rebound.
95 - 96
2:35
Mike Sweetney missed Free Throw 2 of 2.
95 - 96
2:35
Jeff Foster defensive rebound.
95 - 96
2:17
Stephen Jackson made 25 ft three point jumper. Assisted by Anthony Johnson.
95 - 99
2:04
Jamal Crawford made driving layup.
97 - 99
1:45
Anthony Johnson's 7 ft jumper blocked by Jamal Crawford.
97 - 99
1:43
Kurt Thomas defensive rebound.
97 - 99
1:30
Kurt Thomas made 8 ft two point shot. Assisted by Stephon Marbury.
99 - 99
1:30
Indiana Full Timeout.
99 - 99
1:30
Dale Davis enters the game for Fred Jones.
99 - 99
1:13
Reggie Miller missed 18 ft jumper.
99 - 99
1:12
Kurt Thomas defensive rebound.
99 - 99
0:54
Stephon Marbury missed 19 ft jumper.
99 - 99
0:53
New York defensive rebound.
99 - 99
0:53
Fred Jones enters the game for Jeff Foster.
99 - 99
0:41
Stephen Jackson made 24 ft three point jumper. Assisted by Anthony Johnson.
99 - 102
0:31
Dale Davis Shooting Foul. His 2nd Personal Foul.
99 - 102
0:31
Stephon Marbury missed Free Throw 1 of 2.
99 - 102
0:31
New York offensive rebound.
99 - 102
0:31
Jeff Foster enters the game for Fred Jones.
99 - 102
0:31
Stephon Marbury missed Free Throw 2 of 2.
99 - 102
0:31
Reggie Miller defensive rebound.
99 - 102
0:23
10 second
99 - 102
0:23
New York Full Timeout.
99 - 102
0:23
Fred Jones enters the game for Jeff Foster.
99 - 102
0:18
Jamal Crawford made driving layup.
101 - 102
0:18
Indiana Full Timeout.
101 - 102
0:18
Jerome Williams enters the game for Mike Sweetney.
101 - 102
0:18
Jermaine Jackson enters the game for Kurt Thomas.
101 - 102
0:18
Austin Croshere enters the game for Dale Davis.
101 - 102
0:18
Jermaine Jackson Personal Foul. His 3rd Personal Foul.
101 - 102
0:18
Reggie Miller made Free Throw 1 of 2.
101 - 103
0:18
Kurt Thomas enters the game for Jermaine Jackson.
101 - 103
0:18
Mike Sweetney enters the game for Jerome Williams.
101 - 103
0:18
Dale Davis enters the game for Austin Croshere.
101 - 103
0:18
Reggie Miller made Free Throw 2 of 2.
101 - 104
0:18
New York 20 Sec. Timeout.
101 - 104
0:18
Jeff Foster enters the game for Dale Davis.
101 - 104
0:11
Kurt Thomas made three point jumper. Assisted by Stephon Marbury.
104 - 104
0:02
Anthony Johnson missed 25 ft three point jumper.
104 - 104
0:00
Jeff Foster offensive rebound.
104 - 104
0:00
Jeff Foster missed jumper.
104 - 104
0:00
Indiana offensive rebound.
104 - 104
0:00
End of the 4th Quarter.
104 - 104

time
TEAM
PLAY
SCORE
5:00
Start of the 1st Overtime.
104 - 104
5:00
Jumpball: Kurt Thomas vs. Jeff Foster. Anthony Johnson gains possession.
104 - 104
4:47
Anthony Johnson missed 14 ft jumper.
104 - 104
4:43
Jumpball: Kurt Thomas vs. Anthony Johnson. Mike Sweetney gains possession.
104 - 104
4:43
Kurt Thomas defensive rebound.
104 - 104
4:26
Malik Rose Turnover
104 - 104
4:26
Dale Davis enters the game for Jeff Foster.
104 - 104
4:11
Reggie Miller missed 25 ft three point jumper.
104 - 104
4:09
Kurt Thomas defensive rebound.
104 - 104
3:57
Kurt Thomas missed 14 ft jumper.
104 - 104
3:55
Dale Davis defensive rebound.
104 - 104
3:40
Dale Davis Offensive Foul. His 4th Personal Foul.
104 - 104
3:40
Dale Davis Turnover
104 - 104
3:28
Jamal Crawford missed 20 ft jumper.
104 - 104
3:25
Kurt Thomas offensive rebound.
104 - 104
3:23
Stephon Marbury missed 25 ft three point jumper.
104 - 104
3:19
Dale Davis defensive rebound.
104 - 104
3:04
Stephen Jackson missed 24 ft three point jumper.
104 - 104
3:02
Fred Jones offensive rebound.
104 - 104
3:00
Anthony Johnson made 25 ft three point jumper. Assisted by Fred Jones.
104 - 107
2:49
New York Full Timeout.
104 - 107
2:49
Jerome Williams enters the game for Mike Sweetney.
104 - 107
2:36
Kurt Thomas's 5 ft jumper blocked by Dale Davis.
104 - 107
2:34
Reggie Miller defensive rebound.
104 - 107
2:20
Reggie Miller made 5 ft two point shot. Assisted by Anthony Johnson.
104 - 109
2:05
Jerome Williams made layup. Assisted by Jamal Crawford.
106 - 109
1:43
Kurt Thomas Shooting Foul. His 4th Personal Foul.
106 - 109
1:43
Fred Jones missed Free Throw 1 of 2.
106 - 109
1:43
Indiana offensive rebound.
106 - 110
1:43
Fred Jones made Free Throw 2 of 2.
106 - 110
1:27
Jerome Williams missed 3 ft jumper.
106 - 110
1:24
Dale Davis defensive rebound.
106 - 110
1:06
Reggie Miller made driving layup. Assisted by Anthony Johnson.
106 - 112
1:01
New York Full Timeout.
106 - 112
1:01
Mike Sweetney enters the game for Jerome Williams.
106 - 112
0:59
Mike Sweetney made 1 ft two point shot. Assisted by Stephon Marbury.
108 - 112
0:59
Dale Davis Shooting Foul. His 4th Personal Foul.
108 - 112
0:59
Mike Sweetney made Free Throw 1 of 1.
109 - 112
0:59
Indiana Full Timeout.
109 - 112
0:59
Jerome Williams enters the game for Mike Sweetney.
109 - 112
0:59
Jermaine Jackson enters the game for Malik Rose.
109 - 112
0:39
Stephen Jackson Lost Ball. Stolen by Jerome Williams.
109 - 112
0:31
Stephon Marbury made driving layup.
111 - 112
0:31
Dale Davis Shooting Foul. His 5th Personal Foul.
111 - 112
0:31
Stephon Marbury missed Free Throw 1 of 1.
111 - 112
0:31
Fred Jones defensive rebound.
111 - 112
0:07
Shot Clock Violation
111 - 112
0:07
New York Full Timeout.
111 - 112
0:07
Mike Sweetney enters the game for Jerome Williams.
111 - 112
0:07
Jeff Foster enters the game for Dale Davis.
111 - 112
0:00
Stephon Marbury missed 6 ft jumper.
111 - 112
0:00
Mike Sweetney offensive rebound.
111 - 112
0:00
Mike Sweetney made layup.
113 - 112
0:00
End of the 1st Overtime.
113 - 112
0:00
End Game
113 - 112
San Antonio guard Manu Ginobili has decided to become a free agent on July 1.

Pistons coach Stan Van Gundy has decided that young forward Stanley Johnson will play in the Orlando Summer League next week.

Ben Simmons tells Andy Katz he hasn't heard anything about the 76ers promising to take him with the No. 1 pick in the draft and says he should go first because he's the best player.
Regular Season Series
Series tied 2-2
2015-2016 Atlantic Standings