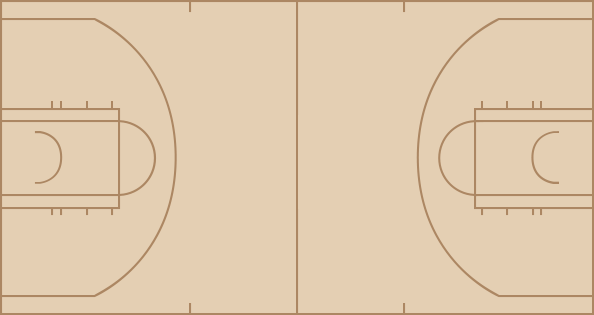 Warriors
time
TEAM
PLAY
SCORE
12:00
Start of the 1st Quarter.
0 - 0
12:00
Jumpball: Adonal Foyle vs. Marcus Camby. Andre Miller gains possession.
0 - 0
11:48
Carmelo Anthony missed 14 ft jumper.
0 - 0
11:45
DerMarr Johnson offensive rebound.
0 - 0
11:32
Marcus Camby missed 16 ft jumper.
0 - 0
11:30
Troy Murphy defensive rebound.
0 - 0
11:11
Baron Davis missed 16 ft jumper.
0 - 0
11:08
Marcus Camby defensive rebound.
0 - 0
11:06
Mike Dunleavy Shooting Foul. His 1st Personal Foul.
0 - 0
11:06
Marcus Camby made Free Throw 1 of 2.
0 - 1
11:06
Marcus Camby made Free Throw 2 of 2.
0 - 2
10:56
Troy Murphy missed 19 ft jumper.
0 - 2
10:53
Andre Miller defensive rebound.
0 - 2
10:52
Marcus Camby made layup. Assisted by Andre Miller.
0 - 4
10:40
Jason Richardson made driving layup.
2 - 4
10:36
Mike Dunleavy Personal Foul. His 2nd Personal Foul.
2 - 4
10:36
Mickael Pietrus enters the game for Mike Dunleavy.
2 - 4
10:22
Kenyon Martin made two point shot. Assisted by Andre Miller.
2 - 6
10:08
Jason Richardson missed 19 ft jumper.
2 - 6
10:07
Marcus Camby defensive rebound.
2 - 6
10:02
DerMarr Johnson made three point jumper. Assisted by Andre Miller.
2 - 9
9:45
Baron Davis made 23 ft jumper.
4 - 9
9:38
DerMarr Johnson made 16 ft jumper. Assisted by Andre Miller.
4 - 11
9:22
Baron Davis Bad Pass
4 - 11
9:08
Carmelo Anthony made driving layup.
4 - 13
9:00
Golden State Full Timeout.
4 - 13
8:55
Baron Davis made 25 ft three point jumper. Assisted by Troy Murphy.
7 - 13
8:36
Kenyon Martin made 9 ft two point shot. Assisted by Carmelo Anthony.
7 - 15
8:19
Troy Murphy made 23 ft jumper.
9 - 15
8:03
Marcus Camby missed jumper.
9 - 15
7:58
Adonal Foyle defensive rebound.
9 - 15
7:54
Jason Richardson missed 5 ft jumper.
9 - 15
7:50
Troy Murphy offensive rebound.
9 - 15
7:50
Troy Murphy missed tip shot.
9 - 15
7:48
Marcus Camby defensive rebound.
9 - 15
7:43
Andre Miller Lost Ball. Stolen by Baron Davis.
9 - 15
7:37
Kenyon Martin Shooting Foul. His 1st Personal Foul.
9 - 15
7:37
Troy Murphy missed Free Throw 1 of 2.
9 - 15
7:37
Golden State offensive rebound.
10 - 15
7:37
Troy Murphy made Free Throw 2 of 2.
10 - 15
7:24
Carmelo Anthony made layup. Assisted by Andre Miller.
10 - 17
7:07
Jason Richardson missed 5 ft two point shot.
10 - 17
7:03
Carmelo Anthony defensive rebound.
10 - 17
7:01
Andre Miller made 17 ft jumper. Assisted by Carmelo Anthony.
10 - 19
6:45
Troy Murphy missed 25 ft three point jumper.
10 - 19
6:43
Andre Miller defensive rebound.
10 - 19
6:35
Carmelo Anthony made two point shot. Assisted by Andre Miller.
10 - 21
6:16
Baron Davis made driving layup.
12 - 21
6:11
Andre Miller made layup. Assisted by Marcus Camby.
12 - 23
6:05
Baron Davis made 25 ft three point jumper. Assisted by Jason Richardson.
15 - 23
5:54
Carmelo Anthony made two point shot. Assisted by Andre Miller.
15 - 25
5:39
Baron Davis made driving layup.
17 - 25
5:33
DerMarr Johnson missed three point jumper.
17 - 25
5:31
Troy Murphy defensive rebound.
17 - 25
5:26
Baron Davis Offensive Foul. His 2nd Personal Foul.
17 - 25
5:26
Baron Davis Turnover
17 - 25
5:26
Derek Fisher enters the game for Jason Richardson.
17 - 25
5:26
Andris Biedrins enters the game for Adonal Foyle.
17 - 25
5:26
Nene Hilario enters the game for Kenyon Martin.
17 - 25
5:13
Andris Biedrins Personal Foul. His 1st Personal Foul.
17 - 25
5:07
Mickael Pietrus enters the game for Jason Richardson.
17 - 25
5:03
Marcus Camby missed Free Throw 1 of 2.
17 - 25
5:00
Marcus Camby made dunk. Assisted by Carmelo Anthony.
17 - 27
4:50
Mickael Pietrus missed 24 ft three point jumper.
17 - 27
4:48
Derek Fisher offensive rebound.
17 - 27
4:46
Derek Fisher Bad Pass. Stolen by DerMarr Johnson.
17 - 27
4:45
Mickael Pietrus Shooting Foul. His 1st Personal Foul.
17 - 27
4:45
Carmelo Anthony missed Free Throw 1 of 2.
17 - 27
4:45
Denver offensive rebound.
17 - 27
4:45
Rodney White enters the game for Troy Murphy.
17 - 27
4:45
Carmelo Anthony made Free Throw 2 of 2.
17 - 28
4:26
Nene Hilario Personal Foul. His 1st Personal Foul.
17 - 28
4:18
Rodney White made 24 ft three point jumper. Assisted by Derek Fisher.
20 - 28
3:59
DerMarr Johnson missed 24 ft three point jumper.
20 - 28
3:56
Mickael Pietrus defensive rebound.
20 - 28
3:51
Baron Davis made layup. Assisted by Mickael Pietrus.
22 - 28
3:33
Carmelo Anthony's layup blocked by Andris Biedrins.
22 - 28
3:31
Andris Biedrins defensive rebound.
22 - 28
3:27
Andre Miller Shooting Foul. His 1st Personal Foul.
22 - 28
3:27
Greg Buckner enters the game for DerMarr Johnson.
22 - 28
3:27
Baron Davis made Free Throw 1 of 2.
23 - 28
3:27
Baron Davis made Free Throw 2 of 2.
24 - 28
3:17
Andre Miller missed 17 ft jumper.
24 - 28
3:15
Andris Biedrins defensive rebound.
24 - 28
3:13
Derek Fisher made 22 ft jumper. Assisted by Mickael Pietrus.
26 - 28
3:05
Wesley Person enters the game for Carmelo Anthony.
26 - 28
2:56
Nene Hilario Lost Ball. Stolen by Baron Davis.
26 - 28
2:51
Derek Fisher missed 25 ft three point jumper.
26 - 28
2:49
Andre Miller defensive rebound.
26 - 28
2:46
Andre Miller made driving layup.
26 - 30
2:39
Denver Full Timeout.
26 - 30
2:24
Mickael Pietrus missed jumper.
26 - 30
2:21
Marcus Camby defensive rebound.
26 - 30
2:15
Nene Hilario's layup blocked by Andris Biedrins.
26 - 30
2:14
Baron Davis defensive rebound.
26 - 30
2:09
Baron Davis missed 24 ft three point jumper.
26 - 30
2:05
Wesley Person defensive rebound.
26 - 30
1:55
Andre Miller made 17 ft two point shot.
26 - 32
1:37
Greg Buckner Shooting Foul. His 1st Personal Foul.
26 - 32
1:37
Eduardo Najera enters the game for Marcus Camby.
26 - 32
1:37
Baron Davis made Free Throw 1 of 2.
27 - 32
1:37
Baron Davis missed Free Throw 2 of 2.
27 - 32
1:35
Wesley Person defensive rebound.
27 - 32
1:24
Andre Miller missed 11 ft jumper.
27 - 32
1:22
Andris Biedrins defensive rebound.
27 - 32
1:19
Derek Fisher Lost Ball. Stolen by Andre Miller.
27 - 32
1:15
Greg Buckner made layup. Assisted by Andre Miller.
27 - 34
0:53
Derek Fisher missed 19 ft jumper.
27 - 34
0:50
Wesley Person defensive rebound.
27 - 34
0:46
Wesley Person made 18 ft jumper. Assisted by Andre Miller.
27 - 36
0:37
Baron Davis Bad Pass. Stolen by Wesley Person.
27 - 36
0:31
Andre Miller Bad Pass. Stolen by Derek Fisher.
27 - 36
0:28
Rodney White made dunk. Assisted by Derek Fisher.
29 - 36
0:05
Wesley Person's 15 ft jumper blocked by Mickael Pietrus.
29 - 36
0:04
Denver offensive rebound.
29 - 36
0:04
Shot Clock Violation
29 - 36
0:00
Derek Fisher missed 17 ft jumper.
29 - 36
0:00
Golden State offensive rebound.
29 - 36
0:00
End of the 1st Quarter.
29 - 36

time
TEAM
PLAY
SCORE
12:00
Start of the 2nd Quarter.
29 - 36
11:45
Nikoloz Tskitishvili made 15 ft jumper. Assisted by Derek Fisher.
31 - 36
11:26
Eduardo Najera missed 13 ft jumper.
31 - 36
11:22
Jason Richardson defensive rebound.
31 - 36
11:21
Rodney White made layup. Assisted by Jason Richardson.
33 - 36
11:02
Rodney White Shooting Foul. His 1st Personal Foul.
33 - 36
11:02
Nene Hilario missed Free Throw 1 of 2.
33 - 36
11:02
Denver offensive rebound.
33 - 36
11:02
Nene Hilario made Free Throw 2 of 2.
33 - 37
10:45
Nikoloz Tskitishvili missed 25 ft three point jumper.
33 - 37
10:42
Earl Boykins defensive rebound.
33 - 37
10:26
Nene Hilario made layup. Assisted by Earl Boykins.
33 - 39
10:11
Rodney White missed 25 ft three point jumper.
33 - 39
10:08
Jason Richardson offensive rebound.
33 - 39
10:06
Rodney White's dunk blocked by Nene Hilario.
33 - 39
10:03
Wesley Person defensive rebound.
33 - 39
9:57
Wesley Person missed 25 ft three point jumper.
33 - 39
9:56
Denver defensive rebound.
33 - 39
9:56
Nene Hilario Loose Ball Foul. His 2nd Personal Foul.
33 - 39
9:40
Nikoloz Tskitishvili missed jumper.
33 - 39
9:37
Wesley Person defensive rebound.
33 - 39
9:33
Derek Fisher Personal Foul. His 1st Personal Foul.
33 - 39
9:33
Mike Dunleavy enters the game for Rodney White.
33 - 39
9:18
Earl Boykins made 10 ft two point shot. Assisted by Eduardo Najera.
33 - 41
8:57
Nene Hilario Shooting Foul. His 3rd Personal Foul.
33 - 41
8:57
Official Timeout.
33 - 41
8:57
Kenyon Martin enters the game for Nene Hilario.
33 - 41
8:57
Andris Biedrins made Free Throw 1 of 2.
34 - 41
8:57
Andris Biedrins made Free Throw 2 of 2.
35 - 41
8:47
Wesley Person missed 21 ft jumper.
35 - 41
8:45
Mike Dunleavy defensive rebound.
35 - 41
8:29
Andris Biedrins made dunk. Assisted by Nikoloz Tskitishvili.
37 - 41
8:07
Kenyon Martin missed layup.
37 - 41
8:04
Andris Biedrins defensive rebound.
37 - 41
7:52
Jason Richardson made 25 ft three point jumper.
40 - 41
7:41
Eduardo Najera made layup. Assisted by Earl Boykins.
40 - 43
7:20
Jason Richardson made 24 ft three point jumper.
43 - 43
7:07
Andris Biedrins Shooting Foul. His 2nd Personal Foul.
43 - 43
7:07
Carmelo Anthony enters the game for Greg Buckner.
43 - 43
7:07
Marcus Camby enters the game for Eduardo Najera.
43 - 43
7:07
Kenyon Martin made Free Throw 1 of 2.
43 - 44
7:07
Adonal Foyle enters the game for Andris Biedrins.
43 - 44
7:07
Kenyon Martin made Free Throw 2 of 2.
43 - 45
6:52
Nikoloz Tskitishvili missed 23 ft three point jumper.
43 - 45
6:50
Earl Boykins defensive rebound.
43 - 45
6:45
Kenyon Martin made 6 ft two point shot. Assisted by Earl Boykins.
43 - 47
6:45
Nikoloz Tskitishvili Shooting Foul. His 2nd Personal Foul.
43 - 47
6:45
Baron Davis enters the game for Nikoloz Tskitishvili.
43 - 47
6:45
Kenyon Martin made Free Throw 1 of 1.
43 - 48
6:26
Kenyon Martin Shooting Foul. His 2nd Personal Foul.
43 - 48
6:26
Andre Miller enters the game for Wesley Person.
43 - 48
6:26
Adonal Foyle made Free Throw 1 of 2.
44 - 48
6:26
Adonal Foyle made Free Throw 2 of 2.
45 - 48
6:09
Adonal Foyle Personal Foul. His 1st Personal Foul.
45 - 48
6:09
Kenyon Martin missed Free Throw 1 of 2.
45 - 48
6:09
Denver offensive rebound.
45 - 48
6:09
Kenyon Martin made Free Throw 2 of 2.
45 - 49
5:56
Kenyon Martin Shooting Foul. His 3rd Personal Foul.
45 - 49
5:56
Denver Full Timeout.
45 - 49
5:56
Kenyon Martin Technical Foul. His 1st Technical Foul.
45 - 49
5:56
Eduardo Najera enters the game for Kenyon Martin.
45 - 49
5:56
Derek Fisher made Technical Free Throw.
46 - 49
5:56
Jason Richardson missed Free Throw 1 of 2.
46 - 49
5:56
Golden State offensive rebound.
46 - 49
5:56
Jason Richardson made Free Throw 2 of 2.
47 - 49
5:46
Carmelo Anthony Offensive Foul. His 2nd Personal Foul.
47 - 49
5:46
Carmelo Anthony Turnover
47 - 49
5:46
Troy Murphy enters the game for Derek Fisher.
47 - 49
5:41
Jason Richardson missed 24 ft three point jumper.
47 - 49
5:39
Earl Boykins defensive rebound.
47 - 49
5:33
Carmelo Anthony made layup. Assisted by Earl Boykins.
47 - 51
5:20
Troy Murphy's driving layup blocked by Marcus Camby.
47 - 51
5:20
Golden State offensive rebound.
47 - 51
5:13
Baron Davis missed 24 ft three point jumper.
47 - 51
5:11
Adonal Foyle offensive rebound.
47 - 51
5:07
Jason Richardson missed 13 ft two point shot.
47 - 51
5:03
Marcus Camby defensive rebound.
47 - 51
4:54
Andre Miller made 9 ft running jumper.
47 - 53
4:33
Baron Davis made 25 ft three point jumper. Assisted by Mike Dunleavy.
50 - 53
4:22
Carmelo Anthony made driving dunk. Assisted by Earl Boykins.
50 - 55
4:07
Jason Richardson missed 25 ft three point jumper.
50 - 55
4:05
Marcus Camby defensive rebound.
50 - 55
3:56
Andre Miller missed 17 ft jumper.
50 - 55
3:54
Mike Dunleavy defensive rebound.
50 - 55
3:44
Adonal Foyle's two point shot blocked by Carmelo Anthony.
50 - 55
3:41
Adonal Foyle offensive rebound.
50 - 55
3:39
Adonal Foyle made 5 ft two point shot.
52 - 55
3:24
Marcus Camby missed 17 ft jumper.
52 - 55
3:23
Eduardo Najera offensive rebound.
52 - 55
3:19
Earl Boykins made 23 ft jumper. Assisted by Eduardo Najera.
52 - 57
3:04
Troy Murphy Lost Ball. Stolen by Eduardo Najera.
52 - 57
3:00
Earl Boykins made layup. Assisted by Andre Miller.
52 - 59
2:50
Golden State Full Timeout.
52 - 59
2:50
DerMarr Johnson enters the game for Earl Boykins.
52 - 59
2:50
Andris Biedrins enters the game for Adonal Foyle.
52 - 59
2:40
Troy Murphy Offensive Foul. His 2nd Personal Foul.
52 - 59
2:40
Troy Murphy Turnover
52 - 59
2:40
Marcus Camby Personal Foul. His 1st Personal Foul.
52 - 59
2:40
Troy Murphy made Free Throw 1 of 2.
53 - 59
2:40
Troy Murphy made Free Throw 2 of 2.
54 - 59
2:32
Andre Miller Bad Pass
54 - 59
2:23
Troy Murphy made driving layup. Assisted by Baron Davis.
56 - 59
2:08
Carmelo Anthony made two point shot. Assisted by Marcus Camby.
56 - 61
1:54
Troy Murphy missed 25 ft three point jumper.
56 - 61
1:53
Andris Biedrins offensive rebound.
56 - 61
1:53
Andris Biedrins missed tip shot.
56 - 61
1:49
Andris Biedrins offensive rebound.
56 - 61
1:49
Andris Biedrins missed tip shot.
56 - 61
1:47
Andris Biedrins offensive rebound.
56 - 61
1:40
Baron Davis Bad Pass. Stolen by DerMarr Johnson.
56 - 61
1:34
DerMarr Johnson missed 15 ft jumper.
56 - 61
1:31
Troy Murphy defensive rebound.
56 - 61
1:17
Troy Murphy Offensive Foul. His 2nd Personal Foul.
56 - 61
1:17
Troy Murphy Turnover
56 - 61
1:10
Jason Richardson Personal Foul. His 1st Personal Foul.
56 - 61
1:10
Carmelo Anthony made Free Throw 1 of 2.
56 - 62
1:10
Carmelo Anthony made Free Throw 2 of 2.
56 - 63
0:55
Troy Murphy made 9 ft jumper.
58 - 63
0:49
Andris Biedrins Shooting Foul. His 3rd Personal Foul.
58 - 63
0:49
DerMarr Johnson made Free Throw 1 of 2.
58 - 64
0:49
Rodney White enters the game for Andris Biedrins.
58 - 64
0:49
DerMarr Johnson made Free Throw 2 of 2.
58 - 65
0:37
Jason Richardson Lost Ball. Stolen by Andre Miller.
58 - 65
0:36
Jumpball: Troy Murphy vs. Eduardo Najera. Mike Dunleavy gains possession.
58 - 65
0:36
Eduardo Najera Lost Ball. Stolen by Troy Murphy.
58 - 65
0:25
Baron Davis made three point jumper.
61 - 65
0:06
DerMarr Johnson made 23 ft three point jumper. Assisted by Andre Miller.
61 - 68
0:00
Jason Richardson made 25 ft three pointer.
64 - 68
0:00
End of the 2nd Quarter.
64 - 68

time
TEAM
PLAY
SCORE
12:00
Start of the 3rd Quarter.
64 - 68
11:42
Jason Richardson made two point shot.
66 - 68
11:22
Kenyon Martin's driving dunk blocked by Adonal Foyle.
66 - 68
11:19
Jason Richardson defensive rebound.
66 - 68
11:18
Baron Davis made layup. Assisted by Jason Richardson.
68 - 68
11:18
Carmelo Anthony Shooting Foul. His 3rd Personal Foul.
68 - 68
11:18
Baron Davis missed Free Throw 1 of 1.
68 - 68
11:18
Marcus Camby defensive rebound.
68 - 68
10:55
Kenyon Martin's 4 ft two point shot blocked by Adonal Foyle.
68 - 68
10:52
Adonal Foyle defensive rebound.
68 - 68
10:48
Jason Richardson missed layup.
68 - 68
10:48
Andre Miller defensive rebound.
68 - 68
10:38
Marcus Camby missed 17 ft jumper.
68 - 68
10:38
Denver defensive rebound.
68 - 68
10:26
Mike Dunleavy made jumper.
70 - 68
10:12
Kenyon Martin made layup. Assisted by Marcus Camby.
70 - 70
10:11
Kenyon Martin Technical Foul. His 2nd Technical Foul.
70 - 70
10:11
Kenyon Martin ejected.
70 - 70
10:11
Eduardo Najera enters the game for Kenyon Martin.
70 - 70
10:11
Baron Davis made Technical Free Throw.
71 - 70
10:02
Baron Davis Lost Ball. Stolen by Marcus Camby.
71 - 70
9:56
DerMarr Johnson made dunk. Assisted by Marcus Camby.
71 - 72
9:34
Troy Murphy made driving layup.
73 - 72
9:22
DerMarr Johnson Lost Ball. Stolen by Mike Dunleavy.
73 - 72
9:18
Adonal Foyle missed tip shot.
73 - 72
9:18
Adonal Foyle offensive rebound.
73 - 79
9:15
Andre Miller defensive rebound.
73 - 72
9:11
Eduardo Najera made layup. Assisted by Andre Miller.
73 - 74
8:52
Jason Richardson missed 25 ft three point jumper.
73 - 74
8:48
Eduardo Najera defensive rebound.
73 - 74
8:45
Carmelo Anthony made two point shot. Assisted by Andre Miller.
73 - 76
8:26
Baron Davis missed layup.
73 - 76
8:25
Golden State defensive rebound.
73 - 76
8:15
Jason Richardson Shooting Foul. His 2nd Personal Foul.
73 - 76
8:15
Carmelo Anthony made Free Throw 1 of 2.
73 - 77
8:15
Carmelo Anthony made Free Throw 2 of 2.
73 - 78
7:58
Adonal Foyle's layup blocked by Carmelo Anthony.
73 - 78
7:58
Jumpball: Adonal Foyle vs. Carmelo Anthony. Andre Miller gains possession.
73 - 78
7:58
Golden State defensive rebound.
73 - 78
7:56
Jason Richardson Personal Foul. His 3rd Personal Foul.
73 - 78
7:56
Baron Davis Technical Foul. His 1st Technical Foul.
73 - 78
7:56
Carmelo Anthony made Technical Free Throw.
73 - 79
7:48
Mike Dunleavy Shooting Foul. His 3rd Personal Foul.
73 - 79
7:48
Carmelo Anthony missed Free Throw 1 of 2.
73 - 79
7:48
Denver offensive rebound.
73 - 79
7:48
Carmelo Anthony missed Free Throw 2 of 2.
73 - 79
7:47
Troy Murphy defensive rebound.
73 - 79
7:35
Mike Dunleavy's layup blocked by Marcus Camby.
73 - 79
7:35
Golden State offensive rebound.
73 - 79
7:31
Jason Richardson missed 19 ft jumper.
73 - 79
7:30
Andre Miller defensive rebound.
73 - 79
7:26
DerMarr Johnson made two point shot. Assisted by Andre Miller.
73 - 81
7:05
Troy Murphy made 19 ft jumper.
75 - 81
6:48
Marcus Camby made 19 ft jumper. Assisted by Andre Miller.
75 - 83
6:22
Baron Davis made 18 ft two point shot.
77 - 83
6:09
Marcus Camby missed 20 ft jumper.
77 - 83
6:05
Eduardo Najera offensive rebound.
77 - 83
5:56
DerMarr Johnson missed 25 ft three point jumper.
77 - 83
5:52
Carmelo Anthony offensive rebound.
77 - 85
5:52
Carmelo Anthony made dunk.
77 - 85
5:33
Mike Dunleavy missed 24 ft three point jumper.
77 - 85
5:31
DerMarr Johnson defensive rebound.
77 - 85
5:24
Carmelo Anthony's layup blocked by Adonal Foyle.
77 - 85
5:24
Carmelo Anthony offensive rebound.
77 - 85
5:22
Carmelo Anthony made layup.
77 - 87
5:15
Golden State Full Timeout.
77 - 87
5:15
Andris Biedrins enters the game for Mike Dunleavy.
77 - 87
5:15
Mickael Pietrus enters the game for Adonal Foyle.
77 - 87
5:01
Baron Davis Offensive Foul. His 3rd Personal Foul.
77 - 87
5:01
Baron Davis Turnover
77 - 87
4:39
Marcus Camby made 17 ft jumper. Assisted by Andre Miller.
77 - 89
4:13
Jason Richardson missed layup.
77 - 89
4:11
Golden State defensive rebound.
77 - 89
3:58
Marcus Camby missed 17 ft jumper.
77 - 89
3:56
Troy Murphy defensive rebound.
77 - 89
3:47
Baron Davis's driving layup blocked by Marcus Camby.
77 - 89
3:47
Marcus Camby defensive rebound.
77 - 89
3:44
Marcus Camby Bad Pass
77 - 89
3:44
Earl Boykins enters the game for DerMarr Johnson.
77 - 89
3:44
Derek Fisher enters the game for Troy Murphy.
77 - 89
3:34
Jason Richardson made two point shot.
79 - 89
3:14
Marcus Camby missed 18 ft jumper.
79 - 89
3:11
Carmelo Anthony offensive rebound.
79 - 89
3:10
Carmelo Anthony made slam dunk.
79 - 91
2:51
Jason Richardson made slam dunk. Assisted by Andris Biedrins.
81 - 91
2:27
Andris Biedrins Shooting Foul. His 4th Personal Foul.
81 - 91
2:27
Denver Full Timeout.
81 - 91
2:27
Greg Buckner enters the game for Andre Miller.
81 - 91
2:27
Rodney White enters the game for Jason Richardson.
81 - 91
2:27
Marcus Camby made Free Throw 1 of 2.
81 - 92
2:27
Marcus Camby made Free Throw 2 of 2.
81 - 93
2:15
Greg Buckner Personal Foul. His 2nd Personal Foul.
81 - 93
2:15
Nene Hilario enters the game for Marcus Camby.
81 - 93
2:08
Baron Davis missed 25 ft three point jumper.
81 - 93
2:05
Carmelo Anthony defensive rebound.
81 - 93
1:45
Eduardo Najera missed 24 ft three point jumper.
81 - 93
1:45
Denver offensive rebound.
81 - 93
1:45
Mickael Pietrus Loose Ball Foul. His 2nd Personal Foul.
81 - 93
1:45
Carmelo Anthony made Free Throw 1 of 2.
81 - 94
1:45
Carmelo Anthony missed Free Throw 2 of 2.
81 - 94
1:44
Rodney White defensive rebound.
81 - 94
1:29
Rodney White made 24 ft three point jumper. Assisted by Mickael Pietrus.
84 - 94
1:14
Nene Hilario missed layup.
84 - 94
1:10
Andris Biedrins defensive rebound.
84 - 94
1:06
Nene Hilario Personal Foul. His 4th Personal Foul.
84 - 94
1:02
Andris Biedrins made layup. Assisted by Derek Fisher.
86 - 94
0:45
Derek Fisher Shooting Foul. His 2nd Personal Foul.
86 - 94
0:45
Earl Boykins made Free Throw 1 of 2.
86 - 95
0:45
Bryon Russell enters the game for Eduardo Najera.
86 - 95
0:45
Earl Boykins made Free Throw 2 of 2.
86 - 96
0:33
Derek Fisher missed 25 ft three point jumper.
86 - 96
0:31
Mickael Pietrus offensive rebound.
86 - 96
0:10
Derek Fisher Bad Pass. Stolen by Nene Hilario.
86 - 96
0:10
Baron Davis Personal Foul. His 3rd Personal Foul.
86 - 96
0:10
Greg Buckner made Free Throw 1 of 2.
86 - 97
0:10
Greg Buckner made Free Throw 2 of 2.
86 - 98
0:02
Rodney White missed 25 ft three point jumper.
86 - 98
0:00
Carmelo Anthony defensive rebound.
86 - 98
0:00
Carmelo Anthony missed three point running jumper.
86 - 98
0:00
Denver offensive rebound.
86 - 98
0:00
End of the 3rd Quarter.
86 - 98

time
TEAM
PLAY
SCORE
12:00
Start of the 4th Quarter.
86 - 98
11:48
Mickael Pietrus Shooting Foul. His 3rd Personal Foul.
86 - 98
11:48
Wesley Person enters the game for Greg Buckner.
86 - 98
11:48
Nene Hilario missed Free Throw 1 of 2.
86 - 98
11:48
Denver offensive rebound.
86 - 98
11:48
Nene Hilario missed Free Throw 2 of 2.
86 - 98
11:47
Troy Murphy defensive rebound.
86 - 98
11:29
Mickael Pietrus missed 25 ft three pointer.
86 - 98
11:26
Nene Hilario defensive rebound.
86 - 98
11:18
Bryon Russell missed 23 ft three point jumper.
86 - 98
11:15
Mickael Pietrus defensive rebound.
86 - 98
11:07
Mickael Pietrus missed 21 ft jumper.
86 - 98
11:06
Mike Dunleavy offensive rebound.
86 - 98
11:00
Derek Fisher missed 22 ft jumper.
86 - 98
10:57
Bryon Russell defensive rebound.
86 - 98
10:45
Nene Hilario missed 4 ft two point shot.
86 - 98
10:41
Troy Murphy defensive rebound.
86 - 98
10:33
Troy Murphy missed three point jumper.
86 - 98
10:33
Carmelo Anthony defensive rebound.
86 - 98
10:26
Earl Boykins missed 25 ft three point jumper.
86 - 98
10:22
Earl Boykins offensive rebound.
86 - 98
10:22
Earl Boykins made layup.
86 - 100
10:11
Mike Dunleavy Traveling
86 - 100
10:11
Andre Miller enters the game for Carmelo Anthony.
86 - 100
9:57
Rodney White Personal Foul. His 2nd Personal Foul.
86 - 100
9:49
Nene Hilario missed 19 ft jumper.
86 - 100
9:48
Derek Fisher defensive rebound.
86 - 100
9:41
Andre Miller Shooting Foul. His 2nd Personal Foul.
86 - 100
9:41
Mickael Pietrus missed Free Throw 1 of 2.
86 - 100
9:41
Golden State offensive rebound.
86 - 100
9:41
Mickael Pietrus missed Free Throw 2 of 2.
86 - 100
9:40
Nene Hilario defensive rebound.
86 - 100
9:27
Nene Hilario made layup. Assisted by Earl Boykins.
86 - 102
9:27
Derek Fisher Shooting Foul. His 4th Personal Foul.
86 - 102
9:27
Nene Hilario missed Free Throw 1 of 1.
86 - 102
9:26
Troy Murphy defensive rebound.
86 - 102
9:18
Mike Dunleavy Offensive Foul. His 5th Personal Foul.
86 - 102
9:18
Mike Dunleavy Turnover
86 - 102
9:00
Andre Miller Bad Pass. Stolen by Troy Murphy.
86 - 102
8:56
Rodney White Turnover
86 - 102
8:56
Official Timeout.
86 - 102
8:56
Jason Richardson enters the game for Mike Dunleavy.
86 - 102
8:37
Bryon Russell made three point jumper. Assisted by Earl Boykins.
86 - 105
8:18
Troy Murphy missed jumper.
86 - 105
8:17
Bryon Russell defensive rebound.
86 - 105
8:14
Earl Boykins made layup. Assisted by Bryon Russell.
86 - 107
7:58
Troy Murphy made 8 ft two point shot. Assisted by Mickael Pietrus.
88 - 107
7:52
Wesley Person made layup. Assisted by Bryon Russell.
88 - 109
7:37
Jason Richardson made 19 ft jumper. Assisted by Rodney White.
90 - 109
7:16
Wesley Person missed 23 ft jumper.
90 - 109
7:16
Denver defensive rebound.
90 - 109
7:16
Nikoloz Tskitishvili enters the game for Mickael Pietrus.
90 - 109
7:01
Rodney White made dunk. Assisted by Nikoloz Tskitishvili.
92 - 109
6:39
Nikoloz Tskitishvili Personal Foul. His 2nd Personal Foul.
92 - 109
6:35
Wesley Person missed 19 ft jumper.
92 - 109
6:33
Troy Murphy defensive rebound.
92 - 109
6:24
Troy Murphy made slam dunk. Assisted by Jason Richardson.
94 - 109
6:16
Bryon Russell missed three point jumper.
94 - 109
6:15
Derek Fisher defensive rebound.
94 - 109
6:09
Jason Richardson made 25 ft three point jumper. Assisted by Derek Fisher.
97 - 109
5:46
Wesley Person missed 25 ft three point jumper.
97 - 109
5:43
Rodney White defensive rebound.
97 - 109
5:35
Jason Richardson made 24 ft three point jumper. Assisted by Rodney White.
100 - 109
5:33
Denver Full Timeout.
100 - 109
5:33
DerMarr Johnson enters the game for Andre Miller.
100 - 109
5:33
Eduardo Najera enters the game for Nene Hilario.
100 - 109
5:33
Carmelo Anthony enters the game for Wesley Person.
100 - 109
5:33
Marcus Camby enters the game for Bryon Russell.
100 - 109
5:18
DerMarr Johnson made 25 ft three point jumper. Assisted by Earl Boykins.
100 - 112
4:58
Rodney White missed 25 ft three point jumper.
100 - 112
4:56
Marcus Camby defensive rebound.
100 - 112
4:52
DerMarr Johnson Bad Pass
100 - 112
4:43
Carmelo Anthony Personal Foul. His 3rd Personal Foul.
100 - 112
4:35
Nikoloz Tskitishvili missed 20 ft jumper.
100 - 112
4:33
Troy Murphy offensive rebound.
100 - 112
4:31
Nikoloz Tskitishvili missed layup.
100 - 112
4:30
Eduardo Najera defensive rebound.
100 - 112
4:26
Eduardo Najera Bad Pass. Stolen by Jason Richardson.
100 - 112
4:24
Jason Richardson missed 24 ft three point jumper.
100 - 112
4:22
Carmelo Anthony defensive rebound.
100 - 112
4:20
Derek Fisher Shooting Foul. His 4th Personal Foul.
100 - 112
4:20
DerMarr Johnson made Free Throw 1 of 2.
100 - 113
4:20
DerMarr Johnson made Free Throw 2 of 2.
100 - 114
4:05
Derek Fisher missed 25 ft three point jumper.
100 - 114
4:03
DerMarr Johnson defensive rebound.
100 - 114
3:45
DerMarr Johnson missed 25 ft three point jumper.
100 - 114
3:43
Rodney White defensive rebound.
100 - 114
3:38
Nikoloz Tskitishvili made two point shot. Assisted by Derek Fisher.
102 - 114
3:20
Marcus Camby made 18 ft jumper. Assisted by Earl Boykins.
102 - 116
2:59
Derek Fisher missed 23 ft three point jumper.
102 - 116
2:58
Carmelo Anthony defensive rebound.
102 - 116
2:50
Nikoloz Tskitishvili Shooting Foul. His 3rd Personal Foul.
102 - 116
2:50
Golden State Full Timeout.
102 - 116
2:50
Andris Biedrins enters the game for Troy Murphy.
102 - 116
2:50
DerMarr Johnson made Free Throw 1 of 2.
102 - 117
2:50
DerMarr Johnson missed Free Throw 2 of 2.
102 - 117
2:49
Nikoloz Tskitishvili defensive rebound.
102 - 117
2:39
Andris Biedrins Double Dribble
102 - 117
2:28
Carmelo Anthony made layup. Assisted by Eduardo Najera.
102 - 119
2:28
Rodney White Shooting Foul. His 4th Personal Foul.
102 - 119
2:28
Bryon Russell enters the game for Eduardo Najera.
102 - 119
2:28
Francisco Elson enters the game for Marcus Camby.
102 - 119
2:28
Carmelo Anthony made Free Throw 1 of 1.
102 - 120
2:12
Nikoloz Tskitishvili Bad Pass. Stolen by DerMarr Johnson.
102 - 120
2:08
Wesley Person enters the game for Carmelo Anthony.
102 - 120
2:08
Mickael Pietrus enters the game for Jason Richardson.
102 - 120
1:57
Francisco Elson missed 9 ft two point shot.
102 - 120
1:54
DerMarr Johnson offensive rebound.
102 - 120
1:51
Bryon Russell missed 20 ft jumper.
102 - 120
1:47
Derek Fisher defensive rebound.
102 - 120
1:40
Andris Biedrins's layup blocked by Francisco Elson.
102 - 120
1:40
Golden State offensive rebound.
102 - 120
1:37
Nikoloz Tskitishvili Traveling
102 - 120
1:22
Francisco Elson missed layup.
102 - 120
1:22
Derek Fisher defensive rebound.
102 - 120
1:14
Derek Fisher made 22 ft two point shot. Assisted by Mickael Pietrus.
104 - 120
1:04
Bryon Russell missed 25 ft three point jumper.
104 - 120
1:01
Mickael Pietrus defensive rebound.
104 - 120
0:50
Rodney White made 4 ft two point shot. Assisted by Andris Biedrins.
106 - 120
0:50
Bryon Russell Shooting Foul. His 2nd Personal Foul.
106 - 120
0:50
Rodney White missed Free Throw 1 of 1.
106 - 120
0:48
Golden State defensive rebound.
106 - 120
0:36
Wesley Person made 19 ft jumper. Assisted by Earl Boykins.
106 - 122
0:23
Nikoloz Tskitishvili missed 24 ft three point jumper.
106 - 122
0:21
Wesley Person defensive rebound.
106 - 122
0:00
End of the 4th Quarter.
106 - 122
0:00
End Game
106 - 122
Brad Daugherty breaks down how Damian Lillard and the Blazers need to play to beat the Clippers.

Follow our #NBArank countdown of the best playoff Vines in NBA history. Here's No. 12.

Mike & Mike explore how much Luke Walton will consider taking the Lakers head coaching position despite the lack of stability throughout the organization.
Regular Season Series
Series tied 2-2
2015-2016 Pacific Standings
2015-2016 Northwest Standings