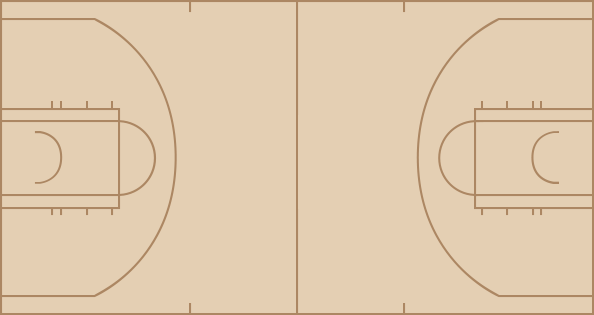 Heat
time
TEAM
PLAY
SCORE
12:00
Jumpball: Shaquille O'Neal vs. Samuel Dalembert. Allen Iverson gains possession.
0 - 0
11:45
Kyle Korver missed 14 ft jumper.
0 - 0
11:44
Dwyane Wade defensive rebound.
0 - 0
11:36
Dwyane Wade made 18 ft jumper.
2 - 0
11:21
Chris Webber made two point shot. Assisted by Allen Iverson.
2 - 2
10:57
Dwyane Wade made 21 ft jumper. Assisted by Damon Jones.
4 - 2
10:45
Allen Iverson missed two point shot.
4 - 2
10:45
Udonis Haslem defensive rebound.
4 - 2
10:38
Eddie Jones made two point shot. Assisted by Damon Jones.
6 - 2
10:18
Andre Iguodala missed three point jumper.
6 - 2
10:18
Damon Jones defensive rebound.
6 - 2
10:06
Chris Webber Personal Foul. His 1st Personal Foul.
6 - 2
10:02
Shaquille O'Neal made 8 ft two point shot. Assisted by Udonis Haslem.
8 - 2
9:51
Chris Webber missed 18 ft jumper.
8 - 2
9:48
Damon Jones defensive rebound.
8 - 2
9:40
Samuel Dalembert Shooting Foul. His 2nd Personal Foul.
8 - 2
9:40
Dwyane Wade made Free Throw 1 of 2.
9 - 2
9:40
Dwyane Wade made Free Throw 2 of 2.
10 - 2
9:22
Andre Iguodala missed layup.
10 - 2
9:22
Philadelphia offensive rebound.
10 - 2
9:19
Allen Iverson missed 16 ft jumper.
10 - 2
9:18
Shaquille O'Neal defensive rebound.
10 - 2
9:07
Dwyane Wade missed layup.
10 - 2
9:07
Miami offensive rebound.
10 - 2
8:56
Shaquille O'Neal made slam dunk. Assisted by Eddie Jones.
12 - 2
8:45
Philadelphia Full Timeout.
12 - 2
8:30
Andre Iguodala missed 8 ft jumper.
12 - 2
8:30
Philadelphia defensive rebound.
12 - 2
8:14
Udonis Haslem made layup. Assisted by Shaquille O'Neal.
14 - 2
7:54
Samuel Dalembert made 6 ft hook shot. Assisted by Kyle Korver.
14 - 4
7:35
Shaquille O'Neal Lost Ball. Stolen by Kyle Korver.
14 - 4
7:26
Kyle Korver made 24 ft three point jumper. Assisted by Andre Iguodala.
14 - 7
7:05
Andre Iguodala Shooting Foul. His 1st Personal Foul.
14 - 7
7:05
Dwyane Wade missed Free Throw 1 of 2.
14 - 7
7:05
Miami offensive rebound.
14 - 7
7:05
Dwyane Wade made Free Throw 2 of 2.
15 - 7
6:46
Kyle Korver missed 25 ft three point jumper.
15 - 7
6:45
Shaquille O'Neal defensive rebound.
15 - 7
6:33
Shaquille O'Neal's layup blocked by Chris Webber.
15 - 7
6:33
Shaquille O'Neal offensive rebound.
15 - 7
6:31
Kyle Korver Shooting Foul. His 1st Personal Foul.
15 - 7
6:31
Shaquille O'Neal missed Free Throw 1 of 2.
15 - 7
6:31
Miami offensive rebound.
15 - 7
6:31
Shaquille O'Neal made Free Throw 2 of 2.
16 - 7
6:18
Kyle Korver made jumper. Assisted by Chris Webber.
16 - 9
6:01
Eddie Jones made 24 ft three point jumper. Assisted by Dwyane Wade.
19 - 9
5:45
Andre Iguodala Lost Ball. Stolen by Udonis Haslem.
19 - 9
5:33
Damon Jones made driving layup.
21 - 9
5:33
Samuel Dalembert Illegal Defense
21 - 9
5:18
Allen Iverson made 19 ft two point shot.
21 - 11
4:50
Shot Clock Violation
21 - 11
4:50
Michael Doleac enters the game for Shaquille O'Neal.
21 - 11
4:35
Samuel Dalembert made two point shot. Assisted by Andre Iguodala.
21 - 13
4:15
Dwyane Wade's layup blocked by Samuel Dalembert.
21 - 13
4:13
Andre Iguodala defensive rebound.
21 - 13
4:09
Allen Iverson made 12 ft two point shot. Assisted by Andre Iguodala.
21 - 15
3:43
Udonis Haslem made 17 ft jumper. Assisted by Dwyane Wade.
23 - 15
3:24
Chris Webber Lost Ball. Stolen by Udonis Haslem.
23 - 15
3:18
Damon Jones made 26 ft three point jumper.
26 - 15
3:04
Allen Iverson missed 10 ft jumper.
26 - 15
3:03
Michael Doleac defensive rebound.
26 - 15
2:46
Michael Doleac missed 18 ft jumper.
26 - 15
2:45
Samuel Dalembert defensive rebound.
26 - 15
2:32
Allen Iverson made 2 ft two point shot.
26 - 17
2:15
Dwyane Wade missed 26 ft three point jumper.
26 - 17
2:15
Miami defensive rebound.
26 - 17
2:15
Michael Doleac Loose Ball Foul. His 1st Personal Foul.
26 - 17
2:15
Keyon Dooling enters the game for Damon Jones.
26 - 17
2:15
Aaron McKie enters the game for Andre Iguodala.
26 - 17
2:15
Marc Jackson enters the game for Samuel Dalembert.
26 - 17
1:49
Allen Iverson made two point shot.
26 - 19
1:27
Eddie Jones missed 25 ft three point jumper.
26 - 19
1:24
Allen Iverson defensive rebound.
26 - 19
1:15
Eddie Jones Personal Foul. His 1st Personal Foul.
26 - 19
1:10
Allen Iverson made 24 ft three point jumper. Assisted by Aaron McKie.
26 - 22
0:48
Udonis Haslem missed 13 ft jumper.
26 - 22
0:46
Allen Iverson defensive rebound.
26 - 22
0:38
Kyle Korver made 26 ft three point jumper. Assisted by Allen Iverson.
26 - 25
0:22
Dwyane Wade missed 16 ft jumper.
26 - 25
0:20
Miami defensive rebound.
26 - 25
0:02
Michael Doleac Shooting Foul. His 2nd Personal Foul.
26 - 25
0:02
Allen Iverson made Free Throw 1 of 2.
26 - 26
0:02
Andre Iguodala enters the game for Kyle Korver.
26 - 26
0:02
Allen Iverson made Free Throw 2 of 2.
26 - 27
0:00
End of the 1st Quarter.
26 - 27

time
TEAM
PLAY
SCORE
12:00
Start of the 2nd Quarter.
26 - 27
11:41
Shaquille O'Neal missed 7 ft jumper.
26 - 27
11:40
Allen Iverson defensive rebound.
26 - 27
11:36
Allen Iverson Lost Ball. Stolen by Keyon Dooling.
26 - 27
11:32
Samuel Dalembert Shooting Foul. His 2nd Personal Foul.
26 - 27
11:32
Christian Laettner missed Free Throw 1 of 2.
26 - 27
11:32
Miami offensive rebound.
26 - 27
11:32
Christian Laettner made Free Throw 2 of 2.
27 - 27
11:19
Andre Iguodala made 23 ft three point jumper. Assisted by Allen Iverson.
27 - 30
10:59
Shaquille O'Neal Turnover
27 - 30
10:48
Christian Laettner Personal Foul. His 1st Personal Foul.
27 - 30
10:38
Shaquille O'Neal Personal Foul. His 1st Personal Foul.
27 - 30
10:38
Marc Jackson made Free Throw 1 of 2.
27 - 31
10:38
Marc Jackson made Free Throw 2 of 2.
27 - 32
10:23
Eddie Jones made driving layup. Assisted by Christian Laettner.
29 - 32
10:23
Samuel Dalembert Shooting Foul. His 4th Personal Foul.
29 - 32
10:23
Chris Webber enters the game for Samuel Dalembert.
29 - 32
10:23
Eddie Jones made Free Throw 1 of 1.
30 - 32
10:11
Chris Webber missed layup.
30 - 32
10:11
Chris Webber offensive rebound.
30 - 32
10:10
Shandon Anderson Shooting Foul. His 1st Personal Foul.
30 - 32
10:10
Chris Webber made Free Throw 1 of 2.
30 - 33
10:10
Chris Webber missed Free Throw 2 of 2.
30 - 33
10:08
Shaquille O'Neal defensive rebound.
30 - 33
9:53
Eddie Jones missed 26 ft three point jumper.
30 - 33
9:52
Chris Webber defensive rebound.
30 - 33
9:42
Andre Iguodala made 23 ft three point jumper. Assisted by Allen Iverson.
30 - 36
9:21
Shaquille O'Neal made layup. Assisted by Eddie Jones.
32 - 36
9:21
Aaron McKie Shooting Foul. His 2nd Personal Foul.
32 - 36
9:21
Shaquille O'Neal made Free Throw 1 of 1.
33 - 36
9:07
Chris Webber made 16 ft jumper. Assisted by Allen Iverson.
33 - 38
8:52
Andre Iguodala Shooting Foul. His 2nd Personal Foul.
33 - 38
8:52
Official Timeout.
33 - 38
8:52
Dwyane Wade enters the game for Eddie Jones.
33 - 38
8:52
Shaquille O'Neal missed Free Throw 1 of 2.
33 - 38
8:52
Miami offensive rebound.
33 - 38
8:52
Shaquille O'Neal missed Free Throw 2 of 2.
33 - 38
8:52
Miami defensive rebound.
33 - 38
8:40
Marc Jackson missed 16 ft jumper.
33 - 38
8:37
Chris Webber offensive rebound.
33 - 38
8:36
Chris Webber made layup.
33 - 40
8:22
Chris Webber Shooting Foul. His 2nd Personal Foul.
33 - 40
8:22
Keyon Dooling made Free Throw 1 of 2.
34 - 40
8:22
Kyle Korver enters the game for Andre Iguodala.
34 - 40
8:22
Keyon Dooling made Free Throw 2 of 2.
35 - 40
8:04
Chris Webber missed 13 ft jumper.
35 - 40
8:03
Philadelphia offensive rebound.
35 - 40
8:03
Shaquille O'Neal Loose Ball Foul. His 2nd Personal Foul.
35 - 40
8:03
Alonzo Mourning enters the game for Shaquille O'Neal.
35 - 40
7:58
Allen Iverson missed 26 ft three point jumper.
35 - 40
7:56
Dwyane Wade defensive rebound.
35 - 40
7:48
Dwyane Wade made driving layup.
37 - 40
7:37
Allen Iverson missed 18 ft jumper.
37 - 40
7:35
Christian Laettner defensive rebound.
37 - 40
7:31
Keyon Dooling missed 13 ft jumper.
37 - 40
7:30
Kyle Korver defensive rebound.
37 - 40
7:24
Marc Jackson missed layup.
37 - 40
7:22
Alonzo Mourning defensive rebound.
37 - 40
7:16
Dwyane Wade missed layup.
37 - 40
7:13
Dwyane Wade offensive rebound.
37 - 40
7:13
Dwyane Wade missed layup.
37 - 40
7:11
Christian Laettner offensive rebound.
39 - 40
7:11
Christian Laettner made tip shot.
39 - 40
7:07
Philadelphia Full Timeout.
39 - 40
7:07
Udonis Haslem enters the game for Keyon Dooling.
39 - 40
7:07
Damon Jones enters the game for Christian Laettner.
39 - 40
7:01
Alonzo Mourning Shooting Foul. His 1st Personal Foul.
39 - 40
7:01
Marc Jackson made Free Throw 1 of 2.
39 - 41
7:01
Marc Jackson made Free Throw 2 of 2.
39 - 42
6:43
Chris Webber Shooting Foul. His 3rd Personal Foul.
39 - 42
6:43
Rodney Rogers enters the game for Chris Webber.
39 - 42
6:43
Shandon Anderson made Free Throw 1 of 2.
40 - 42
6:43
Shandon Anderson made Free Throw 2 of 2.
41 - 42
6:26
Marc Jackson made layup. Assisted by Allen Iverson.
41 - 44
6:05
Damon Jones made 17 ft jumper. Assisted by Dwyane Wade.
43 - 44
5:54
Marc Jackson's layup blocked by Alonzo Mourning.
43 - 44
5:52
Shandon Anderson defensive rebound.
43 - 44
5:48
Aaron McKie Shooting Foul. His 2nd Personal Foul.
43 - 44
5:48
Dwyane Wade missed Free Throw 1 of 2.
43 - 44
5:48
Andre Iguodala enters the game for Aaron McKie.
43 - 44
5:48
Miami offensive rebound.
43 - 44
5:48
Dwyane Wade made Free Throw 2 of 2.
44 - 44
5:31
Marc Jackson missed jumper.
44 - 44
5:31
Rodney Rogers offensive rebound.
44 - 44
5:31
Rodney Rogers missed tip shot.
44 - 44
5:30
Dwyane Wade defensive rebound.
44 - 44
5:24
Shandon Anderson missed 18 ft jumper.
44 - 44
5:22
Alonzo Mourning offensive rebound.
44 - 44
5:18
Dwyane Wade Traveling
44 - 44
5:18
Eddie Jones enters the game for Shandon Anderson.
44 - 44
5:05
Rodney Rogers Bad Pass. Stolen by Alonzo Mourning.
44 - 44
4:54
Udonis Haslem 3 second
44 - 44
4:39
Marc Jackson missed layup.
44 - 44
4:37
Marc Jackson offensive rebound.
44 - 46
4:37
Marc Jackson made layup.
44 - 46
4:15
Damon Jones missed 14 ft jumper.
44 - 46
4:13
Damon Jones offensive rebound.
44 - 46
4:01
Rodney Rogers Shooting Foul. His 1st Personal Foul.
44 - 46
4:01
Dwyane Wade made Free Throw 1 of 2.
45 - 46
4:01
Dwyane Wade made Free Throw 2 of 2.
46 - 46
4:01
Shaquille O'Neal enters the game for Alonzo Mourning.
46 - 46
3:48
Andre Iguodala missed 26 ft three point jumper.
46 - 46
3:47
Shaquille O'Neal defensive rebound.
46 - 46
3:45
Shaquille O'Neal Bad Pass. Stolen by Andre Iguodala.
46 - 46
3:38
Kyle Korver missed 27 ft three point jumper.
46 - 46
3:36
Dwyane Wade defensive rebound.
46 - 46
3:32
Dwyane Wade made driving layup.
48 - 46
3:32
Kyle Korver Shooting Foul. His 3rd Personal Foul.
48 - 46
3:32
Dwyane Wade made Free Throw 1 of 1.
49 - 46
3:21
Allen Iverson's layup blocked by Shaquille O'Neal.
49 - 46
3:20
Philadelphia offensive rebound.
49 - 46
3:18
Kyle Korver missed 17 ft jumper.
49 - 46
3:17
Shaquille O'Neal defensive rebound.
49 - 46
3:00
Shaquille O'Neal Traveling
49 - 46
2:49
Rodney Rogers missed 25 ft three point jumper.
49 - 46
2:47
Andre Iguodala offensive rebound.
49 - 46
2:47
Eddie Jones Shooting Foul. His 2nd Personal Foul.
49 - 46
2:47
Miami Full Timeout.
49 - 46
2:47
Marc Jackson made Free Throw 1 of 2.
49 - 47
2:47
Marc Jackson made Free Throw 2 of 2.
49 - 48
2:28
Marc Jackson Shooting Foul. His 1st Personal Foul.
49 - 48
2:28
Shaquille O'Neal missed Free Throw 1 of 2.
49 - 48
2:28
Miami offensive rebound.
49 - 48
2:28
Shaquille O'Neal missed Free Throw 2 of 2.
49 - 48
2:26
Kyle Korver defensive rebound.
49 - 48
2:15
Allen Iverson missed layup.
49 - 48
2:14
Shaquille O'Neal defensive rebound.
49 - 48
2:01
Dwyane Wade Offensive Foul. His 2nd Personal Foul.
49 - 48
2:01
Dwyane Wade Turnover
49 - 48
1:53
Allen Iverson missed jumper.
49 - 48
1:51
Udonis Haslem defensive rebound.
49 - 48
1:39
Udonis Haslem made layup. Assisted by Shaquille O'Neal.
51 - 48
1:22
Allen Iverson missed 14 ft jumper.
51 - 48
1:20
Shaquille O'Neal defensive rebound.
51 - 48
1:15
Damon Jones made jumper.
53 - 48
0:55
Alonzo Mourning enters the game for Shaquille O'Neal.
53 - 48
0:55
Udonis Haslem Shooting Foul. His 1st Personal Foul.
53 - 48
0:55
Andre Iguodala made Free Throw 1 of 2.
53 - 49
0:55
Andre Iguodala made Free Throw 2 of 2.
53 - 50
0:39
Dwyane Wade made 19 ft jumper. Assisted by Eddie Jones.
55 - 50
0:27
Kyle Korver missed jumper.
55 - 50
0:26
Dwyane Wade defensive rebound.
55 - 50
0:21
Damon Jones made 25 ft three point jumper. Assisted by Dwyane Wade.
58 - 50
0:04
Allen Iverson made jumper.
58 - 52
0:00
Damon Jones made 25 ft three point jumper.
61 - 52
0:00
End of the 2nd Quarter.
61 - 52

time
TEAM
PLAY
SCORE
12:00
Start of the 3rd Quarter.
61 - 52
11:41
Eddie Jones missed 18 ft jumper.
61 - 52
11:38
Chris Webber defensive rebound.
61 - 52
11:30
Chris Webber Bad Pass. Stolen by Shaquille O'Neal.
61 - 52
11:22
Dwyane Wade missed layup.
61 - 52
11:22
Andre Iguodala defensive rebound.
61 - 52
11:14
Samuel Dalembert missed layup.
61 - 52
11:12
Udonis Haslem defensive rebound.
61 - 52
11:12
Jumpball: Udonis Haslem vs. Chris Webber. Allen Iverson gains possession.
61 - 52
11:12
Udonis Haslem Lost Ball. Stolen by Chris Webber.
61 - 52
11:04
Udonis Haslem Personal Foul. His 2nd Personal Foul.
61 - 52
10:52
Chris Webber made 6 ft two point shot.
61 - 54
10:30
Dwyane Wade made driving dunk. Assisted by Damon Jones.
63 - 54
10:14
Chris Webber missed 16 ft jumper.
63 - 54
10:11
Damon Jones defensive rebound.
63 - 54
10:04
Damon Jones missed 20 ft jumper.
63 - 54
10:03
Samuel Dalembert defensive rebound.
63 - 54
9:45
Chris Webber missed 16 ft jumper.
63 - 54
9:41
Dwyane Wade defensive rebound.
63 - 54
9:33
Damon Jones missed 25 ft three point jumper.
63 - 54
9:32
Chris Webber defensive rebound.
63 - 54
9:26
Allen Iverson made 14 ft running jumper.
63 - 56
8:56
Shot Clock Violation
63 - 56
8:42
Jumpball: Eddie Jones vs. Andre Iguodala. Miami gains possession.
63 - 56
8:42
Andre Iguodala Lost Ball. Stolen by Dwyane Wade.
63 - 56
8:33
Kyle Korver Personal Foul. His 3rd Personal Foul.
63 - 56
8:26
Udonis Haslem Lost Ball. Stolen by Kyle Korver.
63 - 56
8:22
Kyle Korver made layup. Assisted by Allen Iverson.
63 - 58
8:03
Shaquille O'Neal missed 8 ft jumper.
63 - 58
8:03
Udonis Haslem offensive rebound.
63 - 58
8:02
Jumpball: Udonis Haslem vs. Samuel Dalembert. Allen Iverson gains possession.
63 - 58
8:02
Udonis Haslem Lost Ball. Stolen by Samuel Dalembert.
63 - 58
7:54
Allen Iverson missed 27 ft three point jumper.
63 - 58
7:52
Shaquille O'Neal defensive rebound.
63 - 58
7:45
Chris Webber Shooting Foul. His 4th Personal Foul.
63 - 58
7:45
Shaquille O'Neal made Free Throw 1 of 2.
64 - 58
7:45
Shaquille O'Neal missed Free Throw 2 of 2.
64 - 58
7:43
Chris Webber defensive rebound.
64 - 58
7:28
Chris Webber missed 7 ft jumper.
64 - 58
7:26
Shaquille O'Neal defensive rebound.
64 - 58
7:20
Shaquille O'Neal Bad Pass. Stolen by Allen Iverson.
64 - 58
7:15
Andre Iguodala Turnover
64 - 58
6:54
Udonis Haslem made layup. Assisted by Eddie Jones.
66 - 58
6:31
Samuel Dalembert missed 13 ft jumper.
66 - 58
6:28
Udonis Haslem defensive rebound.
66 - 58
6:18
Shaquille O'Neal Lost Ball. Stolen by Chris Webber.
66 - 58
6:16
Damon Jones Clear Path Foul. His 1st Personal Foul.
66 - 58
6:16
Allen Iverson made Flagrant Free Throw 1 of 2.
66 - 59
6:09
Allen Iverson made 25 ft three point jumper. Assisted by Kyle Korver.
66 - 62
5:43
Dwyane Wade Lost Ball. Stolen by Samuel Dalembert.
66 - 62
5:37
Samuel Dalembert missed dunk.
66 - 62
5:37
Andre Iguodala offensive rebound.
66 - 62
5:33
Eddie Jones Shooting Foul. His 3rd Personal Foul.
66 - 62
5:33
Philadelphia Full Timeout.
66 - 62
5:33
Andre Iguodala made Free Throw 1 of 2.
66 - 63
5:33
Andre Iguodala made Free Throw 2 of 2.
66 - 64
5:18
Udonis Haslem made layup. Assisted by Shaquille O'Neal.
68 - 64
5:18
Samuel Dalembert Shooting Foul. His 5th Personal Foul.
68 - 64
5:18
Udonis Haslem made Free Throw 1 of 1.
69 - 64
5:18
Alonzo Mourning enters the game for Shaquille O'Neal.
69 - 64
5:01
Andre Iguodala Bad Pass
69 - 64
4:48
Dwyane Wade missed 18 ft jumper.
69 - 64
4:48
Andre Iguodala defensive rebound.
69 - 64
4:33
Samuel Dalembert Bad Pass. Stolen by Udonis Haslem.
69 - 64
4:26
Eddie Jones missed 26 ft three point jumper.
69 - 64
4:24
Eddie Jones offensive rebound.
69 - 64
4:22
Eddie Jones made driving dunk.
71 - 64
4:15
Damon Jones Personal Foul. His 2nd Personal Foul.
71 - 64
4:15
Marc Jackson enters the game for Chris Webber.
71 - 64
4:09
Marc Jackson's layup blocked by Alonzo Mourning.
71 - 64
4:07
Andre Iguodala offensive rebound.
71 - 64
4:07
Andre Iguodala missed 17 ft jumper.
71 - 64
4:05
Samuel Dalembert offensive rebound.
71 - 64
4:05
Samuel Dalembert's layup blocked by Alonzo Mourning.
71 - 64
4:03
Marc Jackson offensive rebound.
71 - 64
4:01
Allen Iverson missed 16 ft jumper.
71 - 64
3:59
Samuel Dalembert offensive rebound.
71 - 66
3:59
Samuel Dalembert made tip shot.
71 - 66
3:39
Udonis Haslem made 18 ft jumper. Assisted by Damon Jones.
73 - 66
3:26
Dwyane Wade Shooting Foul. His 2nd Personal Foul.
73 - 66
3:26
Marc Jackson made Free Throw 1 of 2.
73 - 67
3:26
Marc Jackson made Free Throw 2 of 2.
73 - 68
3:03
Kyle Korver Shooting Foul. His 4th Personal Foul.
73 - 68
3:03
Alonzo Mourning made Free Throw 1 of 2.
74 - 68
3:03
Aaron McKie enters the game for Kyle Korver.
74 - 68
3:03
Alonzo Mourning made Free Throw 2 of 2.
75 - 68
3:03
Keyon Dooling enters the game for Damon Jones.
75 - 68
2:56
Marc Jackson made 15 ft jumper. Assisted by Allen Iverson.
75 - 70
2:38
Dwyane Wade missed layup.
75 - 70
2:35
Eddie Jones offensive rebound.
75 - 70
2:30
Dwyane Wade missed 14 ft jumper.
75 - 70
2:27
Udonis Haslem offensive rebound.
75 - 70
2:23
Alonzo Mourning made 7 ft two point shot. Assisted by Eddie Jones.
77 - 70
2:13
Keyon Dooling Personal Foul. His 1st Personal Foul.
77 - 70
2:13
Miami Full Timeout.
77 - 70
2:13
Kyle Korver enters the game for Andre Iguodala.
77 - 70
2:13
Allen Iverson made Free Throw 1 of 2.
77 - 71
2:13
Allen Iverson made Free Throw 2 of 2.
77 - 72
2:00
Dwyane Wade missed jumper.
77 - 72
1:58
Kyle Korver defensive rebound.
77 - 72
1:50
Samuel Dalembert made slam dunk. Assisted by Allen Iverson.
77 - 74
1:25
Dwyane Wade made driving layup.
79 - 74
1:08
Kyle Korver made 25 ft three point jumper. Assisted by Marc Jackson.
79 - 77
0:36
Shot Clock Violation
79 - 77
0:22
Samuel Dalembert missed 9 ft jumper.
79 - 77
0:20
Udonis Haslem defensive rebound.
79 - 77
0:00
Udonis Haslem made layup. Assisted by Dwyane Wade.
81 - 77
0:00
End of the 3rd Quarter.
81 - 77

time
TEAM
PLAY
SCORE
12:00
Start of the 4th Quarter.
81 - 77
11:47
Kyle Korver made 27 ft three point jumper. Assisted by Allen Iverson.
81 - 80
11:23
Shaquille O'Neal made 7 ft two point shot.
83 - 80
11:03
Allen Iverson missed 17 ft jumper.
83 - 80
11:00
Samuel Dalembert offensive rebound.
83 - 80
11:00
Eddie Jones Loose Ball Foul. His 4th Personal Foul.
83 - 80
10:52
Marc Jackson missed 15 ft jumper.
83 - 80
10:49
Keyon Dooling defensive rebound.
83 - 80
10:38
Eddie Jones missed 19 ft jumper.
83 - 80
10:37
Allen Iverson defensive rebound.
83 - 80
10:30
Eddie Jones Shooting Foul. His 5th Personal Foul.
83 - 80
10:30
Marc Jackson made Free Throw 1 of 2.
83 - 81
10:30
Chris Webber enters the game for Samuel Dalembert.
83 - 81
10:30
Marc Jackson made Free Throw 2 of 2.
83 - 82
10:30
Andre Iguodala enters the game for Aaron McKie.
83 - 82
10:30
Dwyane Wade enters the game for Eddie Jones.
83 - 82
10:21
Chris Webber Shooting Foul. His 5th Personal Foul.
83 - 82
10:21
Dwyane Wade made Free Throw 1 of 2.
84 - 82
10:21
Dwyane Wade made Free Throw 2 of 2.
85 - 82
10:07
Marc Jackson made two point shot. Assisted by Andre Iguodala.
85 - 84
9:48
Shandon Anderson missed 16 ft jumper.
85 - 84
9:45
Allen Iverson defensive rebound.
85 - 84
9:41
Kyle Korver missed 24 ft three point jumper.
85 - 84
9:41
Philadelphia defensive rebound.
85 - 84
9:19
Shaquille O'Neal 3 second
85 - 84
9:00
Chris Webber missed 16 ft jumper.
85 - 84
9:00
Dwyane Wade defensive rebound.
85 - 84
8:47
Marc Jackson Personal Foul. His 2nd Personal Foul.
85 - 84
8:47
Official Timeout.
85 - 84
8:47
Damon Jones enters the game for Keyon Dooling.
85 - 84
8:44
Shaquille O'Neal Bad Pass. Stolen by Chris Webber.
85 - 84
8:37
Chris Webber Lost Ball. Stolen by Shaquille O'Neal.
85 - 84
8:34
Dwyane Wade made driving layup.
87 - 84
8:15
Kyle Korver missed 27 ft three point jumper.
87 - 84
8:12
Shaquille O'Neal defensive rebound.
87 - 84
7:58
Shaquille O'Neal Bad Pass. Stolen by Allen Iverson.
87 - 84
7:50
Dwyane Wade Personal Foul. His 4th Personal Foul.
87 - 84
7:47
Allen Iverson made 24 ft three point jumper.
87 - 87
7:28
Christian Laettner missed 18 ft jumper.
87 - 87
7:26
Kyle Korver defensive rebound.
87 - 87
7:20
Allen Iverson Bad Pass. Stolen by Christian Laettner.
87 - 87
7:16
Damon Jones missed 28 ft three point jumper.
87 - 87
7:13
Chris Webber defensive rebound.
87 - 87
7:03
Marc Jackson missed layup.
87 - 87
7:01
Shandon Anderson defensive rebound.
87 - 87
6:43
Shandon Anderson missed jumper.
87 - 87
6:41
Dwyane Wade offensive rebound.
87 - 87
6:41
Marc Jackson Personal Foul. His 3rd Personal Foul.
87 - 87
6:41
Udonis Haslem enters the game for Christian Laettner.
87 - 87
6:28
Andre Iguodala Shooting Foul. His 3rd Personal Foul.
87 - 87
6:28
Dwyane Wade made Free Throw 1 of 2.
88 - 87
6:28
Alonzo Mourning enters the game for Shaquille O'Neal.
88 - 87
6:28
Dwyane Wade missed Free Throw 2 of 2.
88 - 87
6:26
Andre Iguodala defensive rebound.
88 - 87
6:18
Marc Jackson made jumper. Assisted by Allen Iverson.
88 - 89
5:58
Damon Jones missed 28 ft three point jumper.
88 - 89
5:56
Chris Webber defensive rebound.
88 - 89
5:39
Marc Jackson missed 12 ft jumper.
88 - 89
5:37
Shandon Anderson defensive rebound.
88 - 89
5:28
Dwyane Wade made driving layup.
90 - 89
5:15
Philadelphia Full Timeout.
90 - 89
5:09
Allen Iverson made 6 ft two point shot.
90 - 91
4:47
Dwyane Wade made 18 ft jumper.
92 - 91
4:33
Andre Iguodala made 24 ft three point jumper. Assisted by Marc Jackson.
92 - 94
4:15
Dwyane Wade missed 16 ft jumper.
92 - 94
4:11
Udonis Haslem offensive rebound.
94 - 94
4:11
Udonis Haslem made layup.
94 - 94
3:54
Chris Webber made 18 ft jumper. Assisted by Allen Iverson.
94 - 96
3:35
Dwyane Wade missed jumper.
94 - 96
3:34
Miami defensive rebound.
94 - 96
3:34
Shaquille O'Neal enters the game for Alonzo Mourning.
94 - 96
3:34
Eddie Jones enters the game for Shandon Anderson.
94 - 96
3:20
Chris Webber missed jumper.
94 - 96
3:18
Damon Jones defensive rebound.
94 - 96
3:09
Shaquille O'Neal made 7 ft two point shot. Assisted by Dwyane Wade.
96 - 96
2:54
Chris Webber Lost Ball. Stolen by Shaquille O'Neal.
96 - 96
2:35
Dwyane Wade made slam dunk. Assisted by Udonis Haslem.
98 - 96
2:12
Chris Webber made two point shot. Assisted by Marc Jackson.
98 - 98
1:52
Udonis Haslem missed 14 ft jumper.
98 - 98
1:50
Chris Webber defensive rebound.
98 - 98
1:37
Chris Webber missed 18 ft jumper.
98 - 98
1:34
Andre Iguodala offensive rebound.
98 - 98
1:31
Shaquille O'Neal Shooting Foul. His 4th Personal Foul.
98 - 98
1:31
Andre Iguodala made Free Throw 1 of 2.
98 - 99
1:31
Andre Iguodala made Free Throw 2 of 2.
98 - 100
1:31
Miami Full Timeout.
98 - 98
1:19
Eddie Jones made 20 ft jumper. Assisted by Damon Jones.
100 - 100
1:07
Allen Iverson missed 12 ft jumper.
100 - 100
1:05
Dwyane Wade defensive rebound.
100 - 100
0:44
Shaquille O'Neal's 7 ft jumper blocked by Marc Jackson.
100 - 100
0:44
Miami offensive rebound.
100 - 100
0:44
Miami 20 Sec. Timeout.
100 - 100
0:41
Dwyane Wade made driving layup. Assisted by Eddie Jones.
102 - 100
0:31
Chris Webber made 18 ft jumper. Assisted by Marc Jackson.
102 - 102
0:18
Dwyane Wade made 19 ft jumper.
104 - 102
0:11
Dwyane Wade Shooting Foul. His 4th Personal Foul.
104 - 102
0:11
Allen Iverson made Free Throw 1 of 2.
104 - 103
0:11
Allen Iverson made Free Throw 2 of 2.
104 - 104
0:11
Miami Full Timeout.
104 - 104
0:00
Dwyane Wade missed 18 ft jumper.
104 - 104
0:00
Kyle Korver defensive rebound.
104 - 104
0:00
End of the 4th Quarter.
104 - 104

time
TEAM
PLAY
SCORE
5:00
Start of the 1st Overtime.
104 - 104
5:00
Jumpball: Shaquille O'Neal vs. Samuel Dalembert. Eddie Jones gains possession.
104 - 104
4:48
Eddie Jones missed 25 ft three point jumper.
104 - 104
4:47
Miami offensive rebound.
104 - 104
4:47
Samuel Dalembert Loose Ball Foul. His 5th Personal Foul.
104 - 104
4:47
Marc Jackson enters the game for Samuel Dalembert.
104 - 104
4:41
Damon Jones missed 20 ft jumper.
104 - 104
4:39
Andre Iguodala defensive rebound.
104 - 104
4:30
Andre Iguodala made two point shot. Assisted by Allen Iverson.
104 - 106
4:09
Dwyane Wade made running jumper.
106 - 106
3:47
Kyle Korver missed 17 ft jumper.
106 - 106
3:45
Marc Jackson offensive rebound.
106 - 108
3:45
Marc Jackson made layup.
106 - 108
3:23
Eddie Jones missed 14 ft jumper.
106 - 108
3:20
Chris Webber defensive rebound.
106 - 108
3:15
Andre Iguodala made layup. Assisted by Allen Iverson.
106 - 110
3:10
Miami Full Timeout.
106 - 110
3:10
Eddie Jones Bad Pass. Stolen by Allen Iverson.
106 - 110
3:05
Kyle Korver made 25 ft three point jumper. Assisted by Allen Iverson.
106 - 113
2:58
Damon Jones Technical Foul. His 1st Technical Foul.
106 - 113
2:58
Kyle Korver made Technical Free Throw.
106 - 114
2:45
Damon Jones made 25 ft three point jumper. Assisted by Eddie Jones.
109 - 114
2:19
Marc Jackson 3 second
109 - 114
2:09
Chris Webber Personal Foul. His 6th Personal Foul.
109 - 114
2:09
Samuel Dalembert enters the game for Chris Webber.
109 - 114
2:04
Dwyane Wade made driving layup.
111 - 114
1:47
Allen Iverson made driving layup.
111 - 116
1:32
Dwyane Wade made 18 ft jumper.
113 - 116
1:15
Kyle Korver missed 18 ft jumper.
113 - 116
1:12
Eddie Jones defensive rebound.
113 - 116
1:12
Miami Full Timeout.
113 - 116
0:59
Dwyane Wade missed 12 ft jumper.
113 - 116
0:58
Shaquille O'Neal offensive rebound.
113 - 116
0:58
Samuel Dalembert Shooting Foul. His 6th Personal Foul.
113 - 116
0:58
Shaquille O'Neal missed Free Throw 1 of 2.
113 - 116
0:58
Aaron McKie enters the game for Samuel Dalembert.
113 - 116
0:58
Miami offensive rebound.
113 - 116
0:58
Shandon Anderson enters the game for Udonis Haslem.
113 - 116
0:58
Shaquille O'Neal missed Free Throw 2 of 2.
113 - 116
0:57
Marc Jackson defensive rebound.
113 - 116
0:40
Marc Jackson made 18 ft jumper. Assisted by Allen Iverson.
113 - 118
0:40
Miami Full Timeout.
113 - 118
0:40
Steve Smith enters the game for Shandon Anderson.
113 - 118
0:35
Eddie Jones missed 26 ft three point jumper.
113 - 118
0:34
Allen Iverson defensive rebound.
113 - 118
0:30
Damon Jones Personal Foul. His 3rd Personal Foul.
113 - 118
0:29
Damon Jones Personal Foul. His 4th Personal Foul.
113 - 118
0:29
Allen Iverson made Free Throw 1 of 2.
113 - 119
0:29
Allen Iverson made Free Throw 2 of 2.
113 - 120
0:23
Damon Jones missed 27 ft three point jumper.
113 - 120
0:21
Andre Iguodala defensive rebound.
113 - 120
0:17
Steve Smith Personal Foul. His 2nd Personal Foul.
113 - 120
0:17
Allen Iverson made Free Throw 1 of 2.
113 - 121
0:17
Allen Iverson made Free Throw 2 of 2.
113 - 122
0:13
Dwyane Wade made 26 ft three point jumper.
116 - 122
0:11
Shaquille O'Neal Personal Foul. His 5th Personal Foul.
116 - 122
0:11
Marc Jackson made Free Throw 1 of 2.
116 - 123
0:11
Marc Jackson made Free Throw 2 of 2.
116 - 124
0:06
Dwyane Wade made 28 ft three point jumper.
119 - 124
0:04
Damon Jones Personal Foul. His 6th Personal Foul.
119 - 124
0:04
Allen Iverson made Free Throw 1 of 2.
119 - 125
0:04
Allen Iverson made Free Throw 2 of 2.
119 - 126
0:01
Damon Jones missed 27 ft three point jumper.
119 - 126
0:00
Kyle Korver defensive rebound.
119 - 126
0:00
End of the 1st Overtime.
119 - 126
0:00
End Game
119 - 126
David Thorpe on the magical power of losing yourself supporting your teammates.

Vernon Butler, the Panthers' first-round pick, likes his clothes and shoes, and his signing bonus will allow him to raise his fashion game.

Paul George says he's ready to play 48 minutes causing Bomani Jones and Kevin Blackistone to debate whether he was taking a shot at coach Frank Vogel for Game 5 or if he was looking ahead to Game 6.
Regular Season Series
Series tied 2-2
2015-2016 Southeast Standings
2015-2016 Atlantic Standings