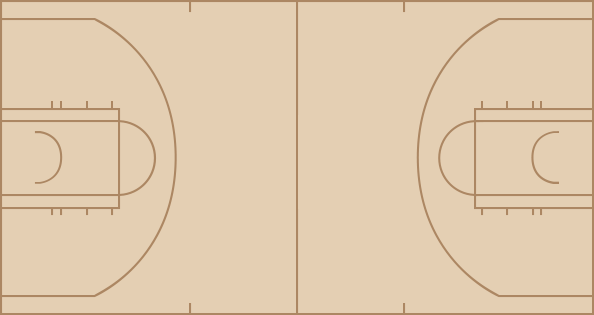 Mavericks
time
TEAM
PLAY
SCORE
12:00
Start of the 1st Quarter.
0 - 0
12:00
Jumpball: Erick Dampier vs. Joel Przybilla. Keith Van Horn gains possession.
0 - 0
11:42
Josh Howard made 12 ft two point shot.
2 - 0
11:18
Joel Przybilla missed 8 ft jumper.
2 - 0
11:17
Michael Finley defensive rebound.
2 - 0
11:07
Erick Dampier missed 11 ft jumper.
2 - 0
11:06
Damon Stoudamire defensive rebound.
2 - 0
11:02
Ruben Patterson missed layup.
2 - 0
11:00
Erick Dampier defensive rebound.
2 - 0
10:52
Keith Van Horn made layup.
4 - 0
10:52
Joel Przybilla Illegal Defense
4 - 0
10:33
Sebastian Telfair missed 19 ft jumper.
4 - 0
10:32
Erick Dampier defensive rebound.
4 - 0
10:19
Keith Van Horn made layup.
6 - 0
10:19
Joel Przybilla Illegal Defense
6 - 0
10:03
Joel Przybilla Lost Ball. Stolen by Jason Terry.
6 - 0
9:45
Josh Howard missed jumper.
6 - 0
9:44
Sebastian Telfair defensive rebound.
6 - 0
9:40
Ruben Patterson made dunk. Assisted by Sebastian Telfair.
6 - 2
9:40
Keith Van Horn Shooting Foul. His 2nd Personal Foul.
6 - 2
9:40
Ruben Patterson made Free Throw 1 of 1.
6 - 3
9:21
Michael Finley missed 14 ft two point shot.
6 - 3
9:18
Joel Przybilla defensive rebound.
6 - 3
9:08
Ruben Patterson missed jumper.
6 - 3
9:07
Keith Van Horn defensive rebound.
6 - 3
8:59
Damon Stoudamire Personal Foul. His 1st Personal Foul.
6 - 3
8:48
Michael Finley missed three point jumper.
6 - 3
8:47
Shareef Abdur-Rahim defensive rebound.
6 - 3
8:29
Keith Van Horn Personal Foul. His 2nd Personal Foul.
6 - 3
8:18
Shareef Abdur-Rahim made 9 ft jumper. Assisted by Damon Stoudamire.
6 - 5
8:02
Erick Dampier made layup. Assisted by Michael Finley.
8 - 5
7:46
Shareef Abdur-Rahim Offensive Foul. His 2nd Personal Foul.
8 - 5
7:46
Shareef Abdur-Rahim Turnover
8 - 5
7:46
Alan Henderson enters the game for Keith Van Horn.
8 - 5
7:28
Josh Howard missed 25 ft three point jumper.
8 - 5
7:26
Damon Stoudamire defensive rebound.
8 - 5
7:22
Joel Przybilla made layup. Assisted by Damon Stoudamire.
8 - 7
6:56
Michael Finley made 17 ft jumper. Assisted by Josh Howard.
10 - 7
6:35
Damon Stoudamire missed 26 ft three point jumper.
10 - 7
6:33
Alan Henderson defensive rebound.
10 - 7
6:26
Alan Henderson made two point shot. Assisted by Jason Terry.
12 - 7
6:11
Damon Stoudamire missed 11 ft jumper.
12 - 7
6:09
Damon Stoudamire offensive rebound.
12 - 7
6:07
Damon Stoudamire missed 13 ft jumper.
12 - 7
6:05
Shareef Abdur-Rahim offensive rebound.
12 - 9
6:05
Shareef Abdur-Rahim made layup.
12 - 9
5:58
Jason Terry made 25 ft three point jumper.
15 - 9
5:39
Shareef Abdur-Rahim made 14 ft jumper. Assisted by Ruben Patterson.
15 - 11
5:33
Dallas Full Timeout.
15 - 11
5:33
Travis Outlaw enters the game for Ruben Patterson.
15 - 11
5:22
Michael Finley made jumper. Assisted by Josh Howard.
17 - 11
5:05
Shareef Abdur-Rahim missed 17 ft jumper.
17 - 11
5:03
Jason Terry defensive rebound.
17 - 11
5:01
Damon Stoudamire Shooting Foul. His 2nd Personal Foul.
17 - 11
5:01
Alan Henderson missed Free Throw 1 of 2.
17 - 11
5:01
Dallas offensive rebound.
17 - 11
5:01
Richie Frahm enters the game for Damon Stoudamire.
17 - 11
5:01
Jerry Stackhouse enters the game for Josh Howard.
17 - 11
5:01
Alan Henderson made Free Throw 2 of 2.
18 - 11
4:46
Travis Outlaw made 16 ft jumper. Assisted by Richie Frahm.
18 - 13
4:26
Erick Dampier made 5 ft hook shot.
20 - 13
4:26
Joel Przybilla Shooting Foul. His 2nd Personal Foul.
20 - 13
4:26
Erick Dampier missed Free Throw 1 of 1.
20 - 13
4:26
Joel Przybilla defensive rebound.
20 - 13
4:15
Sebastian Telfair made 16 ft jumper.
20 - 15
3:59
Jerry Stackhouse made two point shot.
22 - 15
3:42
Joel Przybilla missed hook shot.
22 - 15
3:41
Erick Dampier defensive rebound.
22 - 15
3:35
Richie Frahm Personal Foul. His 1st Personal Foul.
22 - 15
3:35
Devin Harris enters the game for Jason Terry.
22 - 15
3:35
Shawn Bradley enters the game for Erick Dampier.
22 - 15
3:19
Shawn Bradley made 16 ft jumper. Assisted by Devin Harris.
24 - 15
3:02
Travis Outlaw missed jumper.
24 - 15
3:00
Richie Frahm offensive rebound.
24 - 15
2:59
Richie Frahm Lost Ball. Stolen by Devin Harris.
24 - 15
2:55
Jerry Stackhouse missed layup.
24 - 15
2:53
Michael Finley offensive rebound.
24 - 15
2:51
Michael Finley made layup.
26 - 15
2:45
Portland Full Timeout.
26 - 15
2:45
Darius Miles enters the game for Shareef Abdur-Rahim.
26 - 15
2:33
Devin Harris Personal Foul. His 1st Personal Foul.
26 - 15
2:25
Darius Miles missed 20 ft jumper.
26 - 15
2:23
Travis Outlaw offensive rebound.
26 - 15
2:20
Travis Outlaw made layup.
26 - 17
1:57
Alan Henderson missed 3 ft hook shot.
26 - 17
1:57
Shawn Bradley offensive rebound.
26 - 17
1:57
Travis Outlaw Shooting Foul. His 1st Personal Foul.
26 - 17
1:57
Shawn Bradley made Free Throw 1 of 2.
27 - 17
1:57
Shawn Bradley made Free Throw 2 of 2.
28 - 17
1:44
Joel Przybilla Offensive Goaltending
28 - 17
1:25
Jerry Stackhouse made two point shot.
30 - 17
1:09
Sebastian Telfair Bad Pass. Stolen by Devin Harris.
30 - 17
1:02
Michael Finley made dunk. Assisted by Devin Harris.
32 - 17
0:45
Shawn Bradley Shooting Foul. His 1st Personal Foul.
32 - 17
0:45
Joel Przybilla missed Free Throw 1 of 2.
32 - 17
0:45
Portland offensive rebound.
32 - 17
0:45
Jason Terry enters the game for Michael Finley.
32 - 17
0:45
Joel Przybilla made Free Throw 2 of 2.
32 - 18
0:32
Shawn Bradley's layup blocked by Joel Przybilla.
32 - 18
0:31
Shawn Bradley offensive rebound.
32 - 18
0:31
Shawn Bradley made dunk.
34 - 18
0:08
Sebastian Telfair made 22 ft jumper.
34 - 20
0:00
Jerry Stackhouse missed 20 ft jumper.
34 - 20
0:00
Dallas offensive rebound.
34 - 20
0:00
End of the 1st Quarter.
34 - 20

time
TEAM
PLAY
SCORE
12:00
Start of the 2nd Quarter.
34 - 20
11:48
Travis Outlaw made two point shot. Assisted by Darius Miles.
34 - 22
11:22
Jerry Stackhouse missed layup.
34 - 22
11:22
Marquis Daniels offensive rebound.
34 - 22
11:18
Shawn Bradley made layup. Assisted by Marquis Daniels.
36 - 22
10:59
Darius Miles missed 16 ft jumper.
36 - 22
10:56
Viktor Khryapa offensive rebound.
36 - 22
10:45
Darius Miles's jumper blocked by Shawn Bradley.
36 - 22
10:41
Shawn Bradley defensive rebound.
36 - 22
10:38
Marquis Daniels missed 5 ft jumper.
36 - 22
10:37
Dallas defensive rebound.
36 - 22
10:19
Marquis Daniels Personal Foul. His 1st Personal Foul.
36 - 22
10:10
Shareef Abdur-Rahim made 20 ft jumper. Assisted by Damon Stoudamire.
36 - 24
9:42
Marquis Daniels made 8 ft jumper. Assisted by Jerry Stackhouse.
38 - 24
9:26
Shareef Abdur-Rahim made driving layup. Assisted by Damon Stoudamire.
38 - 26
9:11
Jerry Stackhouse made 23 ft three point jumper. Assisted by Marquis Daniels.
41 - 26
8:53
Marquis Daniels Personal Foul. His 2nd Personal Foul.
41 - 26
8:53
Official Timeout.
41 - 26
8:53
Alan Henderson enters the game for Shawn Bradley.
41 - 26
8:53
Josh Howard enters the game for Jerry Stackhouse.
41 - 26
8:45
Damon Stoudamire Lost Ball. Stolen by Devin Harris.
41 - 26
8:45
Damon Stoudamire Personal Foul. His 3rd Personal Foul.
41 - 26
8:45
Sebastian Telfair enters the game for Damon Stoudamire.
41 - 26
8:33
Keith Van Horn missed 9 ft jumper.
41 - 26
8:30
Shareef Abdur-Rahim defensive rebound.
41 - 26
8:26
Shareef Abdur-Rahim Lost Ball. Stolen by Devin Harris.
41 - 26
8:22
Devin Harris made layup.
43 - 26
8:07
Viktor Khryapa made 17 ft jumper. Assisted by Sebastian Telfair.
43 - 28
7:47
Keith Van Horn's 4 ft jumper blocked by Darius Miles.
43 - 28
7:45
Shareef Abdur-Rahim defensive rebound.
43 - 28
7:43
Devin Harris Shooting Foul. His 2nd Personal Foul.
43 - 28
7:43
Darius Miles made Free Throw 1 of 2.
43 - 29
7:43
Darius Miles missed Free Throw 2 of 2.
43 - 29
7:43
Alan Henderson defensive rebound.
43 - 29
7:31
Devin Harris Bad Pass. Stolen by Shareef Abdur-Rahim.
43 - 29
7:26
Viktor Khryapa missed layup.
43 - 29
7:24
Travis Outlaw offensive rebound.
43 - 29
7:24
Travis Outlaw missed tip shot.
43 - 29
7:24
Devin Harris defensive rebound.
43 - 29
7:22
Sebastian Telfair Personal Foul. His 1st Personal Foul.
43 - 29
7:22
Jason Terry enters the game for Devin Harris.
43 - 29
7:09
Jason Terry missed 23 ft three point jumper.
43 - 29
7:09
Dallas defensive rebound.
43 - 29
6:50
Shareef Abdur-Rahim made jumper. Assisted by Viktor Khryapa.
43 - 31
6:24
Josh Howard's layup blocked by Viktor Khryapa.
43 - 31
6:22
Josh Howard missed layup.
43 - 31
6:22
Dallas offensive rebound.
43 - 31
6:22
Shot Clock Violation
43 - 31
6:22
Josh Howard offensive rebound.
43 - 31
6:18
Michael Finley enters the game for Marquis Daniels.
43 - 31
6:05
Darius Miles 3 second
43 - 31
6:05
Ruben Patterson enters the game for Travis Outlaw.
43 - 31
5:48
Keith Van Horn made 13 ft jumper.
45 - 31
5:33
Ruben Patterson missed 5 ft jumper.
45 - 31
5:30
Jason Terry defensive rebound.
45 - 31
5:24
Michael Finley missed 16 ft jumper.
45 - 31
5:24
Viktor Khryapa defensive rebound.
45 - 31
5:20
Sebastian Telfair made layup. Assisted by Ruben Patterson.
45 - 33
5:20
Michael Finley Shooting Foul. His 2nd Personal Foul.
45 - 33
5:20
Portland Full Timeout.
45 - 33
5:20
Sebastian Telfair missed Free Throw 1 of 1.
45 - 33
5:18
Josh Howard defensive rebound.
45 - 33
5:01
Keith Van Horn missed two point shot.
45 - 33
4:58
Keith Van Horn offensive rebound.
47 - 33
4:58
Keith Van Horn made layup.
47 - 33
4:39
Darius Miles missed 4 ft jumper.
47 - 33
4:37
Darius Miles offensive rebound.
47 - 35
4:37
Darius Miles made layup.
47 - 35
4:31
Dallas 20 Sec. Timeout.
47 - 35
4:31
Erick Dampier enters the game for Alan Henderson.
47 - 35
4:20
Jason Terry made 25 ft three point jumper.
50 - 35
4:03
Erick Dampier Illegal Defense Foul. His 1st Personal Foul.
50 - 35
4:03
Shareef Abdur-Rahim made Technical Free Throw.
50 - 36
4:03
Ha Seung-Jin enters the game for Darius Miles.
50 - 36
3:48
Sebastian Telfair missed 25 ft three point jumper.
50 - 36
3:47
Keith Van Horn defensive rebound.
50 - 36
3:42
Josh Howard made two point shot.
52 - 36
3:27
Shareef Abdur-Rahim made jumper. Assisted by Sebastian Telfair.
52 - 38
3:00
Josh Howard made dunk. Assisted by Erick Dampier.
54 - 38
2:46
Dallas Full Timeout.
54 - 38
2:31
Sebastian Telfair missed 17 ft jumper.
54 - 38
2:29
Ruben Patterson offensive rebound.
54 - 40
2:29
Ruben Patterson made tip shot.
54 - 40
2:13
Ha Seung-Jin Illegal Defense Foul. His 1st Personal Foul.
54 - 40
2:13
Jason Terry made Technical Free Throw.
55 - 40
2:13
Joel Przybilla enters the game for Ha Seung-Jin.
55 - 40
2:08
Jason Terry missed 13 ft jumper.
55 - 40
2:05
Erick Dampier offensive rebound.
55 - 40
2:00
Viktor Khryapa Shooting Foul. His 1st Personal Foul.
55 - 40
2:00
Michael Finley made Free Throw 1 of 2.
56 - 40
2:00
Michael Finley made Free Throw 2 of 2.
57 - 40
1:39
Sebastian Telfair Lost Ball. Stolen by Josh Howard.
57 - 40
1:32
Michael Finley made dunk. Assisted by Keith Van Horn.
59 - 40
1:17
Erick Dampier Shooting Foul. His 1st Personal Foul.
59 - 40
1:17
Ruben Patterson made Free Throw 1 of 2.
59 - 41
1:17
Jason Terry Defensive Goaltending
59 - 41
1:17
Ruben Patterson made Free Throw 2 of 2.
59 - 42
1:05
Erick Dampier made layup. Assisted by Keith Van Horn.
61 - 42
0:54
Ruben Patterson made driving dunk. Assisted by Sebastian Telfair.
61 - 44
0:36
Keith Van Horn missed 12 ft jumper.
61 - 44
0:35
Viktor Khryapa defensive rebound.
61 - 44
0:27
Ruben Patterson made driving layup. Assisted by Sebastian Telfair.
61 - 46
0:03
Michael Finley missed 13 ft jumper.
61 - 46
0:03
Dallas offensive rebound.
61 - 46
0:03
Shot Clock Violation
61 - 46
0:03
Portland 20 Sec. Timeout.
61 - 46
0:02
Sebastian Telfair Turnover
61 - 46
0:00
Michael Finley's 26 ft three point jumper blocked by Joel Przybilla.
61 - 46
0:00
Dallas offensive rebound.
61 - 46
0:00
End of the 2nd Quarter.
61 - 46

time
TEAM
PLAY
SCORE
12:00
Start of the 3rd Quarter.
61 - 46
11:33
Ruben Patterson missed two point shot.
61 - 46
11:33
Portland offensive rebound.
61 - 46
11:33
Erick Dampier Loose Ball Foul. His 2nd Personal Foul.
61 - 46
11:27
Sebastian Telfair missed 22 ft jumper.
61 - 46
11:25
Keith Van Horn defensive rebound.
61 - 46
11:18
Keith Van Horn missed layup.
61 - 46
11:18
Shareef Abdur-Rahim defensive rebound.
61 - 46
11:11
Damon Stoudamire made 25 ft three pointer. Assisted by Shareef Abdur-Rahim.
61 - 49
10:51
Michael Finley missed 11 ft jumper.
61 - 49
10:48
Joel Przybilla defensive rebound.
61 - 49
10:44
Ruben Patterson missed driving layup.
61 - 49
10:41
Keith Van Horn defensive rebound.
61 - 49
10:23
Jason Terry's jumper blocked by Joel Przybilla.
61 - 49
10:22
Shareef Abdur-Rahim defensive rebound.
61 - 49
10:07
Damon Stoudamire missed 6 ft jumper.
61 - 49
10:04
Jason Terry defensive rebound.
61 - 49
10:02
Josh Howard made layup. Assisted by Jason Terry.
63 - 49
9:32
Damon Stoudamire missed jumper.
63 - 49
9:30
Ruben Patterson offensive rebound.
63 - 49
9:27
Ruben Patterson made 4 ft two point shot.
63 - 51
9:21
Michael Finley's layup blocked by Joel Przybilla.
63 - 51
9:18
Damon Stoudamire defensive rebound.
63 - 51
9:15
Erick Dampier Shooting Foul. His 3rd Personal Foul.
63 - 51
9:15
Ruben Patterson missed Free Throw 1 of 2.
63 - 51
9:15
Portland offensive rebound.
63 - 51
9:15
Ruben Patterson made Free Throw 2 of 2.
63 - 52
9:00
Ruben Patterson Shooting Foul. His 1st Personal Foul.
63 - 52
9:00
Jason Terry made Free Throw 1 of 2.
64 - 52
9:00
Jason Terry missed Free Throw 2 of 2.
64 - 52
8:59
Sebastian Telfair defensive rebound.
64 - 52
8:45
Ruben Patterson made two point shot. Assisted by Damon Stoudamire.
64 - 54
8:22
Josh Howard missed 13 ft jumper.
64 - 54
8:19
Joel Przybilla defensive rebound.
64 - 54
8:14
Damon Stoudamire missed 25 ft three point jumper.
64 - 54
8:11
Shareef Abdur-Rahim offensive rebound.
64 - 56
8:11
Shareef Abdur-Rahim made tip shot.
64 - 56
7:50
Jason Terry made layup.
66 - 56
7:50
Sebastian Telfair Shooting Foul. His 3rd Personal Foul.
66 - 56
7:50
Jason Terry made Free Throw 1 of 1.
67 - 56
7:33
Sebastian Telfair missed jumper.
67 - 56
7:31
Josh Howard defensive rebound.
67 - 56
7:22
Joel Przybilla Shooting Foul. His 2nd Personal Foul.
67 - 56
7:22
Keith Van Horn made Free Throw 1 of 2.
68 - 56
7:22
Jerry Stackhouse enters the game for Josh Howard.
68 - 56
7:22
Keith Van Horn made Free Throw 2 of 2.
69 - 56
7:01
Damon Stoudamire made 19 ft jumper.
69 - 58
6:50
Jerry Stackhouse missed 13 ft jumper.
69 - 58
6:48
Shareef Abdur-Rahim defensive rebound.
69 - 58
6:28
Keith Van Horn's dunk blocked by Joel Przybilla.
69 - 58
6:26
Keith Van Horn offensive rebound.
71 - 58
6:26
Keith Van Horn made layup.
71 - 58
6:07
Sebastian Telfair missed 15 ft jumper.
71 - 58
6:05
Ruben Patterson offensive rebound.
71 - 58
6:03
Ruben Patterson made two point shot.
71 - 60
5:43
Keith Van Horn missed 25 ft three point jumper.
71 - 60
5:41
Ruben Patterson defensive rebound.
71 - 60
5:33
Joel Przybilla made dunk. Assisted by Shareef Abdur-Rahim.
71 - 62
5:30
Dallas Full Timeout.
71 - 62
5:30
Shawn Bradley enters the game for Erick Dampier.
71 - 62
5:07
Shawn Bradley missed 4 ft hook shot.
71 - 62
5:05
Shareef Abdur-Rahim defensive rebound.
71 - 62
5:00
Joel Przybilla Bad Pass. Stolen by Shawn Bradley.
71 - 62
4:45
Jerry Stackhouse made three point jumper.
74 - 62
4:28
Damon Stoudamire Bad Pass. Stolen by Jerry Stackhouse.
74 - 62
4:18
Shareef Abdur-Rahim Shooting Foul. His 2nd Personal Foul.
74 - 62
4:18
Shawn Bradley made Free Throw 1 of 2.
75 - 62
4:18
Shawn Bradley missed Free Throw 2 of 2.
75 - 62
4:18
Joel Przybilla defensive rebound.
75 - 62
4:03
Joel Przybilla Lost Ball. Stolen by Jason Terry.
75 - 62
3:58
Jason Terry missed 26 ft three point jumper.
75 - 62
3:57
Michael Finley offensive rebound.
75 - 62
3:55
Michael Finley's 5 ft jumper blocked by Joel Przybilla.
75 - 62
3:55
Dallas offensive rebound.
75 - 62
3:55
Devin Harris enters the game for Jason Terry.
75 - 62
3:47
Jerry Stackhouse made 25 ft three point jumper. Assisted by Keith Van Horn.
78 - 62
3:31
Ruben Patterson Offensive Foul. His 3rd Personal Foul.
78 - 62
3:31
Ruben Patterson Turnover
78 - 62
3:17
Ruben Patterson Personal Foul. His 3rd Personal Foul.
78 - 62
3:17
Shawn Bradley made Free Throw 1 of 2.
79 - 62
3:17
Travis Outlaw enters the game for Sebastian Telfair.
79 - 62
3:17
Shawn Bradley made Free Throw 2 of 2.
80 - 62
2:59
Damon Stoudamire made 24 ft three point jumper. Assisted by Shareef Abdur-Rahim.
80 - 65
2:41
Joel Przybilla Personal Foul. His 3rd Personal Foul.
80 - 65
2:41
Shareef Abdur-Rahim Technical Foul. His 1st Technical Foul.
80 - 65
2:41
Portland Full Timeout.
80 - 65
2:41
Jerry Stackhouse made Technical Free Throw.
81 - 65
2:41
Shawn Bradley made Free Throw 1 of 2.
82 - 65
2:41
Shawn Bradley made Free Throw 2 of 2.
83 - 65
2:23
Travis Outlaw made 15 ft jumper.
83 - 67
1:55
Michael Finley missed 21 ft jumper.
83 - 67
1:54
Damon Stoudamire defensive rebound.
83 - 67
1:46
Joel Przybilla made layup. Assisted by Ruben Patterson.
83 - 69
1:46
Keith Van Horn Shooting Foul. His 4th Personal Foul.
83 - 69
1:46
Josh Howard enters the game for Michael Finley.
83 - 69
1:46
Joel Przybilla missed Free Throw 1 of 1.
83 - 69
1:45
Josh Howard defensive rebound.
83 - 69
1:31
Keith Van Horn Offensive Foul. His 5th Personal Foul.
83 - 69
1:31
Keith Van Horn Turnover
83 - 69
1:08
Travis Outlaw made jumper. Assisted by Damon Stoudamire.
83 - 71
1:00
Josh Howard missed 13 ft jumper.
83 - 71
0:58
Shawn Bradley offensive rebound.
83 - 71
0:45
Jerry Stackhouse made two point shot.
85 - 71
0:24
Travis Outlaw's 17 ft jumper blocked by Devin Harris.
85 - 71
0:21
Keith Van Horn defensive rebound.
85 - 71
0:21
Jumpball: Keith Van Horn vs. Ruben Patterson. Damon Stoudamire gains possession.
85 - 71
0:21
Keith Van Horn Lost Ball. Stolen by Ruben Patterson.
85 - 71
0:00
Travis Outlaw's 14 ft jumper blocked by Josh Howard.
85 - 71
0:00
Portland offensive rebound.
85 - 71
0:00
End of the 3rd Quarter.
85 - 71

time
TEAM
PLAY
SCORE
12:00
Start of the 4th Quarter.
85 - 71
11:42
Michael Finley missed 17 ft jumper.
85 - 71
11:41
Shareef Abdur-Rahim defensive rebound.
85 - 71
11:18
Darius Miles missed 18 ft jumper.
85 - 71
11:15
Devin Harris defensive rebound.
85 - 71
11:15
Devin Harris Bad Pass
85 - 71
10:55
Shareef Abdur-Rahim made driving layup.
85 - 73
10:30
Jerry Stackhouse missed three point jumper.
85 - 73
10:29
Shawn Bradley offensive rebound.
85 - 73
10:26
Josh Howard made jumper.
87 - 73
10:10
Travis Outlaw missed 13 ft jumper.
87 - 73
10:07
Josh Howard defensive rebound.
87 - 73
9:44
Devin Harris missed 16 ft jumper.
87 - 73
9:42
Dallas defensive rebound.
87 - 73
9:42
Shawn Bradley Loose Ball Foul. His 2nd Personal Foul.
87 - 73
9:30
Travis Outlaw Bad Pass
87 - 73
9:08
Jerry Stackhouse missed layup.
87 - 73
9:07
Shawn Bradley offensive rebound.
89 - 73
9:07
Shawn Bradley made tip shot.
89 - 73
8:45
Darius Miles missed 24 ft three point jumper.
89 - 73
8:42
Michael Finley defensive rebound.
89 - 73
8:37
Jerry Stackhouse Bad Pass. Stolen by Sebastian Telfair.
89 - 73
8:33
Darius Miles made layup. Assisted by Sebastian Telfair.
89 - 75
8:33
Shawn Bradley Shooting Foul. His 3rd Personal Foul.
89 - 75
8:33
Official Timeout.
89 - 75
8:33
Erick Dampier enters the game for Shawn Bradley.
89 - 75
8:33
Viktor Khryapa enters the game for Shareef Abdur-Rahim.
89 - 75
8:33
Darius Miles made Free Throw 1 of 1.
89 - 76
8:21
Josh Howard missed three point jumper.
89 - 76
8:18
Erick Dampier offensive rebound.
89 - 76
8:03
Jerry Stackhouse made driving dunk.
91 - 76
7:45
Travis Outlaw missed 9 ft jumper.
91 - 76
7:41
Erick Dampier defensive rebound.
91 - 76
7:39
Michael Finley made dunk. Assisted by Jerry Stackhouse.
93 - 76
7:28
Portland Full Timeout.
93 - 76
7:28
Jason Terry enters the game for Devin Harris.
93 - 76
7:28
Damon Stoudamire enters the game for Darius Miles.
93 - 76
7:13
Shot Clock Violation
93 - 76
7:00
Jerry Stackhouse Traveling
93 - 76
6:48
Sebastian Telfair made jumper.
93 - 78
6:28
Michael Finley missed 25 ft three point jumper.
93 - 78
6:26
Viktor Khryapa defensive rebound.
93 - 78
6:20
Damon Stoudamire missed 25 ft three point jumper.
93 - 78
6:18
Josh Howard defensive rebound.
93 - 78
5:52
Jerry Stackhouse missed 26 ft three point jumper.
93 - 78
5:50
Joel Przybilla defensive rebound.
93 - 78
5:41
Erick Dampier Personal Foul. His 4th Personal Foul.
93 - 78
5:41
Marquis Daniels enters the game for Michael Finley.
93 - 78
5:41
Damon Stoudamire made Free Throw 1 of 2.
93 - 79
5:41
Damon Stoudamire made Free Throw 2 of 2.
93 - 80
5:13
Sebastian Telfair missed 17 ft jumper.
93 - 80
5:11
Erick Dampier defensive rebound.
93 - 80
4:54
Jason Terry missed 15 ft jumper.
93 - 80
4:52
Joel Przybilla defensive rebound.
93 - 80
4:41
Viktor Khryapa Lost Ball. Stolen by Marquis Daniels.
93 - 80
4:24
Jerry Stackhouse's layup blocked by Travis Outlaw.
93 - 80
4:22
Travis Outlaw defensive rebound.
93 - 80
4:22
Travis Outlaw Bad Pass. Stolen by Marquis Daniels.
93 - 80
4:22
Marquis Daniels Traveling
93 - 80
4:05
Travis Outlaw made dunk.
93 - 82
4:03
Dallas Full Timeout.
93 - 82
4:03
Keith Van Horn enters the game for Jerry Stackhouse.
93 - 82
3:46
Sebastian Telfair Shooting Foul. His 5th Personal Foul.
93 - 82
3:46
Jason Terry made Free Throw 1 of 2.
94 - 82
3:46
Jason Terry made Free Throw 2 of 2.
95 - 82
3:30
Marquis Daniels Jump Ball
95 - 82
3:23
Damon Stoudamire missed 25 ft three point jumper.
95 - 82
3:19
Marquis Daniels defensive rebound.
95 - 82
3:16
Josh Howard's layup blocked by Viktor Khryapa.
95 - 82
3:15
Damon Stoudamire defensive rebound.
95 - 82
3:02
Sebastian Telfair made 15 ft two point shot.
95 - 84
2:45
Josh Howard made 17 ft two point shot.
97 - 84
2:28
Jason Terry Personal Foul. His 1st Personal Foul.
97 - 84
2:20
Travis Outlaw made layup. Assisted by Sebastian Telfair.
97 - 86
2:20
Keith Van Horn Shooting Foul. His 5th Personal Foul.
97 - 86
2:20
Travis Outlaw made Free Throw 1 of 1.
97 - 87
2:06
Josh Howard made driving layup.
99 - 87
2:06
Travis Outlaw Illegal Defense
99 - 87
1:51
Viktor Khryapa missed 18 ft jumper.
99 - 87
1:49
Josh Howard defensive rebound.
99 - 87
1:46
Travis Outlaw Personal Foul. His 2nd Personal Foul.
99 - 87
1:46
Ha Seung-Jin enters the game for Joel Przybilla.
99 - 87
1:31
Marquis Daniels missed 8 ft jumper.
99 - 87
1:31
Travis Outlaw defensive rebound.
99 - 87
1:23
Sebastian Telfair made driving layup.
99 - 89
1:23
Jason Terry Shooting Foul. His 3rd Personal Foul.
99 - 89
1:23
Sebastian Telfair made Free Throw 1 of 1.
99 - 90
1:23
Sebastian Telfair Away From Ball Foul. His 4th Personal Foul.
99 - 90
1:23
Jason Terry made Free Throw 1 of 1.
100 - 90
1:23
Devin Harris enters the game for Erick Dampier.
100 - 90
1:00
Shot Clock Violation
100 - 90
0:49
Viktor Khryapa missed 19 ft jumper.
100 - 90
0:47
Devin Harris defensive rebound.
100 - 90
0:29
Devin Harris made layup. Assisted by Jason Terry.
102 - 90
0:26
Viktor Khryapa Bad Pass. Stolen by Marquis Daniels.
102 - 90
0:04
Jason Terry missed 26 ft three point jumper.
102 - 90
0:01
Damon Stoudamire defensive rebound.
102 - 90
0:00
End of the 4th Quarter.
102 - 90
0:00
End Game
102 - 90
Bears LB Lamarr Houston and the SportsNation crew discuss if they would rather be Steph Curry or Drake.

Doc Rivers said Monday that he would not break up the Clippers' big three of Chris Paul, Blake Griffin and DeAndre Jordan during the offseason -- regardless of any trade offers.

Blazers guard Damian Lillard had more motivation than knocking off the Clippers on Friday for the win to end that first round series.
Regular Season Series
DAL wins series 4-0
2015-2016 Southwest Standings
2015-2016 Northwest Standings