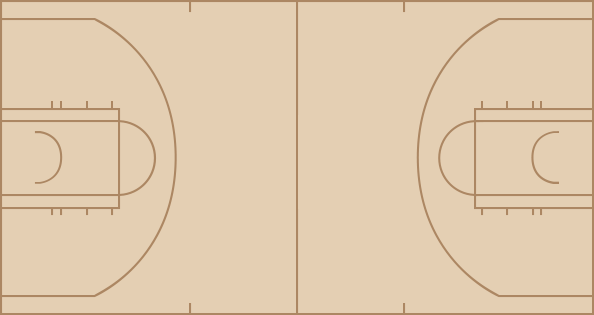 Jazz
time
TEAM
PLAY
SCORE
12:00
Start of the 1st Quarter.
0 - 0
12:00
Jumpball: Jarron Collins vs. Adonal Foyle. Troy Murphy gains possession.
0 - 0
11:36
Jason Richardson missed 18 ft two point shot.
0 - 0
11:33
Adonal Foyle offensive rebound.
0 - 0
11:32
Baron Davis made three point jumper. Assisted by Adonal Foyle.
0 - 3
11:07
Keith McLeod missed 13 ft jumper.
0 - 3
11:06
Matt Harpring offensive rebound.
0 - 3
11:06
Troy Murphy Shooting Foul. His 1st Personal Foul.
0 - 3
11:06
Matt Harpring missed Free Throw 1 of 2.
0 - 3
11:06
Utah offensive rebound.
0 - 3
11:06
Matt Harpring missed Free Throw 2 of 2.
0 - 3
11:04
Mike Dunleavy defensive rebound.
0 - 3
10:56
Troy Murphy made 25 ft three point jumper. Assisted by Mike Dunleavy.
0 - 6
10:38
Gordan Giricek missed 16 ft jumper.
0 - 6
10:37
Adonal Foyle defensive rebound.
0 - 6
10:22
Jason Richardson Bad Pass
0 - 6
10:04
Jarron Collins made 16 ft jumper. Assisted by Keith McLeod.
2 - 6
9:49
Jason Richardson missed layup.
2 - 6
9:48
Jason Richardson offensive rebound.
2 - 6
9:48
Jason Richardson missed tip shot.
2 - 6
9:47
Adonal Foyle offensive rebound.
2 - 6
9:45
Adonal Foyle made 4 ft hook shot.
2 - 8
9:27
Mehmet Okur Bad Pass. Stolen by Troy Murphy.
2 - 8
9:22
Baron Davis missed driving layup.
2 - 8
9:19
Mike Dunleavy offensive rebound.
2 - 8
9:19
Mike Dunleavy missed tip shot.
2 - 8
9:18
Troy Murphy offensive rebound.
2 - 8
9:18
Troy Murphy missed tip shot.
2 - 8
9:15
Jarron Collins defensive rebound.
2 - 8
9:10
Adonal Foyle Shooting Foul. His 1st Personal Foul.
2 - 8
9:10
Matt Harpring made Free Throw 1 of 2.
3 - 8
9:10
Matt Harpring made Free Throw 2 of 2.
4 - 8
8:59
Baron Davis missed 26 ft three point jumper.
4 - 8
8:56
Keith McLeod defensive rebound.
4 - 8
8:51
Keith McLeod missed driving layup.
4 - 8
8:48
Jason Richardson defensive rebound.
4 - 8
8:34
Jarron Collins Personal Foul. His 1st Personal Foul.
4 - 8
8:34
Delay of Game
4 - 8
8:26
Mike Dunleavy made 25 ft three point jumper. Assisted by Baron Davis.
4 - 11
8:11
Mehmet Okur made 19 ft jumper. Assisted by Gordan Giricek.
6 - 11
7:56
Troy Murphy missed 5 ft running jumper.
6 - 11
7:54
Mehmet Okur defensive rebound.
6 - 11
7:50
Jarron Collins missed layup.
6 - 11
7:50
Jason Richardson Shooting Foul. His 1st Personal Foul.
6 - 11
7:50
Jarron Collins made Free Throw 1 of 2.
7 - 11
7:50
Jarron Collins made Free Throw 2 of 2.
8 - 11
7:39
Adonal Foyle made 2 ft two point shot. Assisted by Baron Davis.
8 - 13
7:16
Keith McLeod missed 24 ft three point jumper.
8 - 13
7:13
Matt Harpring offensive rebound.
8 - 13
7:07
Mehmet Okur Bad Pass. Stolen by Troy Murphy.
8 - 13
7:03
Baron Davis Bad Pass. Stolen by Keith McLeod.
8 - 13
6:58
Mike Dunleavy Shooting Foul. His 1st Personal Foul.
8 - 13
6:58
Jarron Collins missed Free Throw 1 of 2.
8 - 13
6:58
Utah offensive rebound.
8 - 13
6:58
Jarron Collins made Free Throw 2 of 2.
9 - 13
6:43
Troy Murphy missed 26 ft three point jumper.
9 - 13
6:41
Jarron Collins defensive rebound.
9 - 13
6:31
Jason Richardson Shooting Foul. His 2nd Personal Foul.
9 - 13
6:31
Mehmet Okur made Free Throw 1 of 2.
10 - 13
6:31
Andris Biedrins enters the game for Adonal Foyle.
10 - 13
6:31
Mickael Pietrus enters the game for Jason Richardson.
10 - 13
6:31
Mehmet Okur made Free Throw 2 of 2.
11 - 13
6:18
Andris Biedrins Lost Ball. Stolen by Mehmet Okur.
11 - 13
6:05
Mehmet Okur's 4 ft jumper blocked by Andris Biedrins.
11 - 13
6:01
Utah defensive rebound.
11 - 13
5:50
Mike Dunleavy made 25 ft three point jumper. Assisted by Troy Murphy.
11 - 16
5:30
Mehmet Okur made layup. Assisted by Jarron Collins.
13 - 16
5:18
Mickael Pietrus missed 4 ft two point shot.
13 - 16
5:16
Matt Harpring defensive rebound.
13 - 16
5:11
Matt Harpring made driving layup. Assisted by Keith McLeod.
15 - 16
4:52
Mike Dunleavy made 25 ft three point jumper. Assisted by Baron Davis.
15 - 19
4:26
Matt Harpring missed 18 ft jumper.
15 - 19
4:24
Mike Dunleavy defensive rebound.
15 - 19
4:16
Mike Dunleavy missed 25 ft three point jumper.
15 - 19
4:16
Golden State defensive rebound.
15 - 19
4:16
Golden State Full Timeout.
15 - 19
4:16
Kirk Snyder enters the game for Gordan Giricek.
15 - 19
3:57
Mehmet Okur missed 24 ft three point jumper.
15 - 19
3:55
Mickael Pietrus defensive rebound.
15 - 19
3:48
Troy Murphy made dunk. Assisted by Baron Davis.
15 - 21
3:24
Andris Biedrins Personal Foul. His 1st Personal Foul.
15 - 21
3:24
Kris Humphries enters the game for Mehmet Okur.
15 - 21
3:24
Keith McLeod made Free Throw 1 of 2.
16 - 21
3:24
Derek Fisher enters the game for Troy Murphy.
16 - 21
3:24
Keith McLeod made Free Throw 2 of 2.
17 - 21
3:08
Mickael Pietrus missed 24 ft three point jumper.
17 - 21
3:04
Kirk Snyder defensive rebound.
17 - 21
2:50
Kirk Snyder missed two point shot.
17 - 21
2:48
Andris Biedrins defensive rebound.
17 - 21
2:43
Baron Davis missed 26 ft three point jumper.
17 - 21
2:41
Jarron Collins defensive rebound.
17 - 21
2:36
Kris Humphries missed layup.
17 - 21
2:36
Kris Humphries Delay of Game
17 - 21
2:36
Kris Humphries Bad Pass
17 - 21
2:36
Kris Humphries Delay of Game
17 - 21
2:36
Kris Humphries Offensive Goaltending
17 - 21
2:36
Utah Full Timeout.
17 - 21
2:26
Ben Handlogten Shooting Foul. His 1st Personal Foul.
17 - 21
2:26
Mike Dunleavy made Free Throw 1 of 2.
17 - 22
2:26
Mike Dunleavy made Free Throw 2 of 2.
17 - 23
2:14
Ben Handlogten Bad Pass. Stolen by Baron Davis.
17 - 23
2:10
Mickael Pietrus made slam dunk. Assisted by Baron Davis.
17 - 25
1:44
Matt Harpring made layup. Assisted by Ben Handlogten.
19 - 25
1:32
Mickael Pietrus Turnover
19 - 25
1:19
Andris Biedrins Jump Ball
19 - 25
1:19
Rodney White enters the game for Mike Dunleavy.
19 - 25
1:04
Kris Humphries missed 17 ft jumper.
19 - 25
1:00
Derek Fisher defensive rebound.
19 - 25
0:49
Howard Eisley enters the game for Keith McLeod.
19 - 25
0:49
Gordan Giricek enters the game for Matt Harpring.
19 - 25
0:40
Howard Eisley missed 18 ft jumper.
19 - 25
0:38
Derek Fisher defensive rebound.
19 - 25
0:34
Baron Davis made 25 ft three point jumper. Assisted by Derek Fisher.
19 - 28
0:12
Kris Humphries made slam dunk. Assisted by Howard Eisley.
21 - 28
0:02
Baron Davis made driving layup.
21 - 30
0:00
Howard Eisley Lost Ball. Stolen by Derek Fisher.
21 - 30
0:00
End of the 1st Quarter.
21 - 30

time
TEAM
PLAY
SCORE
12:00
Start of the 2nd Quarter.
21 - 30
11:48
Nikoloz Tskitishvili Personal Foul. His 1st Personal Foul.
21 - 30
11:42
Gordan Giricek missed two point shot.
21 - 30
11:41
Andris Biedrins defensive rebound.
21 - 30
11:37
Howard Eisley Shooting Foul. His 1st Personal Foul.
21 - 30
11:37
Derek Fisher made Free Throw 1 of 2.
21 - 31
11:37
Derek Fisher made Free Throw 2 of 2.
21 - 32
11:22
Kirk Snyder missed 25 ft three point jumper.
21 - 32
11:18
Gordan Giricek offensive rebound.
21 - 32
11:17
Gordan Giricek made 4 ft jumper.
23 - 32
10:59
Rodney White missed 21 ft jumper.
23 - 32
10:56
Gordan Giricek defensive rebound.
23 - 32
10:36
Howard Eisley missed 26 ft three point jumper.
23 - 32
10:33
Ben Handlogten offensive rebound.
23 - 32
10:15
Howard Eisley's 4 ft jumper blocked by Mickael Pietrus.
23 - 32
10:11
Andris Biedrins defensive rebound.
23 - 32
10:06
Derek Fisher Bad Pass
23 - 32
9:55
Kris Humphries missed 5 ft two point shot.
23 - 32
9:52
Andris Biedrins defensive rebound.
23 - 32
9:45
Rodney White Lost Ball. Stolen by Gordan Giricek.
23 - 32
9:38
Gordan Giricek missed 26 ft three point jumper.
23 - 32
9:34
Kris Humphries offensive rebound.
23 - 32
9:34
Andris Biedrins Personal Foul. His 3rd Personal Foul.
23 - 32
9:34
Jason Richardson enters the game for Andris Biedrins.
23 - 32
9:19
Howard Eisley made driving layup. Assisted by Ben Handlogten.
25 - 32
9:02
Ben Handlogten Shooting Foul. His 2nd Personal Foul.
25 - 32
9:02
Mehmet Okur enters the game for Ben Handlogten.
25 - 32
9:02
Mickael Pietrus made Free Throw 1 of 2.
25 - 33
9:02
Mickael Pietrus made Free Throw 2 of 2.
25 - 34
8:40
Gordan Giricek missed 12 ft running jumper.
25 - 34
8:37
Rodney White defensive rebound.
25 - 34
8:30
Derek Fisher missed 25 ft three point jumper.
25 - 34
8:29
Gordan Giricek defensive rebound.
25 - 34
8:19
Mehmet Okur 3 second
25 - 34
8:19
Official Timeout.
25 - 34
8:19
Adonal Foyle enters the game for Mickael Pietrus.
25 - 34
8:03
Rodney White made 3 ft two point shot.
25 - 36
7:43
Mehmet Okur missed 6 ft two point shot.
25 - 36
7:41
Nikoloz Tskitishvili defensive rebound.
25 - 36
7:31
Derek Fisher made 22 ft jumper.
25 - 38
7:15
Kris Humphries missed 12 ft jumper.
25 - 38
7:13
Jason Richardson defensive rebound.
25 - 38
7:01
Jason Richardson missed 26 ft three point jumper.
25 - 38
7:00
Kris Humphries defensive rebound.
25 - 38
6:52
Adonal Foyle Personal Foul. His 2nd Personal Foul.
25 - 38
6:52
Randy Livingston enters the game for Gordan Giricek.
25 - 38
6:45
Kris Humphries missed layup.
25 - 38
6:43
Kirk Snyder offensive rebound.
25 - 38
6:37
Kirk Snyder missed 26 ft three point jumper.
25 - 38
6:35
Kris Humphries offensive rebound.
25 - 38
6:35
Kris Humphries missed layup.
25 - 38
6:33
Adonal Foyle defensive rebound.
25 - 38
6:30
Nikoloz Tskitishvili made layup. Assisted by Derek Fisher.
25 - 40
6:07
Howard Eisley missed running jumper.
25 - 40
6:03
Mehmet Okur offensive rebound.
27 - 40
6:03
Mehmet Okur made tip shot.
27 - 40
5:56
Kirk Snyder Shooting Foul. His 2nd Personal Foul.
27 - 40
5:56
Golden State Full Timeout.
27 - 40
5:56
Jason Richardson made Free Throw 1 of 2.
27 - 41
5:56
Jason Richardson made Free Throw 2 of 2.
27 - 42
5:33
Randy Livingston made 23 ft jumper.
29 - 42
5:16
Nikoloz Tskitishvili missed 17 ft jumper.
29 - 42
5:15
Mehmet Okur defensive rebound.
29 - 42
5:03
Mehmet Okur missed 4 ft jumper.
29 - 42
5:01
Nikoloz Tskitishvili defensive rebound.
29 - 42
4:58
Derek Fisher Bad Pass
29 - 42
4:39
Kris Humphries made two point shot. Assisted by Howard Eisley.
31 - 42
4:15
Nikoloz Tskitishvili missed 13 ft two point shot.
31 - 42
4:15
Golden State offensive rebound.
31 - 42
4:15
Troy Murphy enters the game for Nikoloz Tskitishvili.
31 - 42
4:15
Mike Dunleavy enters the game for Rodney White.
31 - 42
4:05
Derek Fisher missed 18 ft jumper.
31 - 42
4:03
Adonal Foyle offensive rebound.
31 - 42
4:01
Adonal Foyle made 4 ft two point shot.
31 - 44
3:40
Kris Humphries made layup. Assisted by Howard Eisley.
33 - 44
3:23
Jason Richardson Lost Ball. Stolen by Randy Livingston.
33 - 44
3:08
Derek Fisher Personal Foul. His 1st Personal Foul.
33 - 44
3:08
Baron Davis enters the game for Derek Fisher.
33 - 44
3:00
Kirk Snyder missed 17 ft jumper.
33 - 44
2:59
Adonal Foyle defensive rebound.
33 - 44
2:53
Randy Livingston Shooting Foul. His 1st Personal Foul.
33 - 44
2:53
Utah Full Timeout.
33 - 44
2:53
Jason Richardson missed Free Throw 1 of 2.
33 - 44
2:53
Golden State offensive rebound.
33 - 44
2:53
Jason Richardson made Free Throw 2 of 2.
33 - 45
2:32
Howard Eisley Lost Ball. Stolen by Baron Davis.
33 - 45
2:29
Jason Richardson made slam dunk. Assisted by Baron Davis.
33 - 47
2:10
Kirk Snyder missed 20 ft jumper.
33 - 47
2:08
Troy Murphy defensive rebound.
33 - 47
2:00
Adonal Foyle made 6 ft two point shot. Assisted by Baron Davis.
33 - 49
1:37
Randy Livingston missed 7 ft jumper.
33 - 49
1:35
Adonal Foyle defensive rebound.
33 - 49
1:25
Jason Richardson made 25 ft three point jumper.
33 - 52
1:07
Howard Eisley missed 18 ft jumper.
33 - 52
1:06
Mike Dunleavy defensive rebound.
33 - 52
1:00
Baron Davis made two point shot. Assisted by Mike Dunleavy.
33 - 54
0:41
Kirk Snyder missed 4 ft two point shot.
33 - 54
0:38
Kirk Snyder offensive rebound.
33 - 54
0:25
Mehmet Okur Traveling
33 - 54
0:05
Baron Davis Bad Pass. Stolen by Randy Livingston.
33 - 54
0:01
Mike Dunleavy Shooting Foul. His 2nd Personal Foul.
33 - 54
0:01
Kris Humphries made Free Throw 1 of 2.
34 - 54
0:01
Kris Humphries missed Free Throw 2 of 2.
34 - 54
0:01
Utah offensive rebound.
34 - 54
0:01
Kris Humphries Lane Violation
34 - 54
0:01
Baron Davis Bad Pass
34 - 54
0:00
Howard Eisley missed 38 ft three point jumper.
34 - 54
0:00
Utah offensive rebound.
34 - 54
0:00
End of the 2nd Quarter.
34 - 54

time
TEAM
PLAY
SCORE
12:00
Start of the 3rd Quarter.
34 - 54
11:41
Matt Harpring made 3 ft two point shot. Assisted by Jarron Collins.
36 - 54
11:22
Troy Murphy missed 6 ft jumper.
36 - 54
11:21
Adonal Foyle offensive rebound.
36 - 54
11:15
Jason Richardson's dunk blocked by Mehmet Okur.
36 - 54
11:11
Gordan Giricek defensive rebound.
36 - 54
11:04
Mehmet Okur made layup. Assisted by Matt Harpring.
38 - 54
10:45
Baron Davis made driving layup.
38 - 56
10:45
Keith McLeod Shooting Foul. His 2nd Personal Foul.
38 - 56
10:45
Baron Davis made Free Throw 1 of 1.
38 - 57
10:26
Matt Harpring missed two point shot.
38 - 57
10:25
Mike Dunleavy defensive rebound.
38 - 57
10:22
Keith McLeod Jump Ball
38 - 57
10:19
Matt Harpring Personal Foul. His 1st Personal Foul.
38 - 57
10:12
Mike Dunleavy made layup. Assisted by Troy Murphy.
38 - 59
9:56
Gordan Giricek missed 20 ft jumper.
38 - 59
9:53
Baron Davis defensive rebound.
38 - 59
9:52
Gordan Giricek Shooting Foul. His 1st Personal Foul.
38 - 59
9:52
Jason Richardson made Free Throw 1 of 2.
38 - 60
9:52
Jason Richardson missed Free Throw 2 of 2.
38 - 60
9:51
Troy Murphy offensive rebound.
38 - 60
9:49
Troy Murphy missed layup.
38 - 60
9:48
Troy Murphy offensive rebound.
38 - 60
9:45
Troy Murphy missed 5 ft jumper.
38 - 60
9:42
Jason Richardson offensive rebound.
38 - 60
9:42
Jason Richardson missed layup.
38 - 60
9:41
Keith McLeod defensive rebound.
38 - 60
9:30
Gordan Giricek made 19 ft jumper.
40 - 60
9:18
Adonal Foyle made layup. Assisted by Jason Richardson.
40 - 62
9:18
Keith McLeod Shooting Foul. His 3rd Personal Foul.
40 - 62
9:18
Adonal Foyle made Free Throw 1 of 1.
40 - 63
9:04
Mehmet Okur missed 6 ft jumper.
40 - 63
9:00
Mike Dunleavy defensive rebound.
40 - 63
9:00
Mike Dunleavy Lost Ball. Stolen by Gordan Giricek.
40 - 63
8:49
Jarron Collins missed jumper.
40 - 63
8:48
Mehmet Okur offensive rebound.
40 - 63
8:30
Jarron Collins made 18 ft jumper. Assisted by Keith McLeod.
42 - 63
8:21
Keith McLeod Personal Foul. His 3rd Personal Foul.
42 - 63
8:21
Baron Davis made Free Throw 1 of 2.
42 - 64
8:21
Baron Davis made Free Throw 2 of 2.
42 - 65
8:00
Keith McLeod missed 18 ft jumper.
42 - 65
7:58
Troy Murphy defensive rebound.
42 - 65
7:52
Jason Richardson made two point shot. Assisted by Baron Davis.
42 - 67
7:37
Gordan Giricek made driving layup. Assisted by Matt Harpring.
44 - 67
7:20
Baron Davis missed 25 ft three point jumper.
44 - 67
7:18
Golden State offensive rebound.
44 - 67
7:13
Jason Richardson made two point shot.
44 - 69
7:13
Jarron Collins Shooting Foul. His 3rd Personal Foul.
44 - 69
7:13
Jason Richardson made Free Throw 1 of 1.
44 - 70
7:05
Troy Murphy Double Technical Foul. Jarron Collins gains possession.
44 - 70
6:54
Matt Harpring missed 5 ft jumper.
44 - 70
6:54
Gordan Giricek offensive rebound.
44 - 70
6:54
Matt Harpring Turnover
44 - 70
6:46
Adonal Foyle Lost Ball. Stolen by Keith McLeod.
44 - 70
6:41
Keith McLeod made slam dunk.
46 - 70
6:41
Mike Dunleavy Shooting Foul. His 4th Personal Foul.
46 - 70
6:41
Utah 20 Sec. Timeout.
46 - 70
6:41
Keith McLeod missed Free Throw 1 of 1.
46 - 70
6:41
Mike Dunleavy defensive rebound.
46 - 70
6:33
Baron Davis Lost Ball. Stolen by Keith McLeod.
46 - 70
6:33
Baron Davis Personal Foul. His 1st Personal Foul.
46 - 70
6:18
Gordan Giricek's jumper blocked by Adonal Foyle.
46 - 70
6:16
Gordan Giricek offensive rebound.
46 - 70
6:11
Gordan Giricek missed 24 ft three point jumper.
46 - 70
6:09
Matt Harpring offensive rebound.
46 - 70
6:05
Matt Harpring's 4 ft jumper blocked by Troy Murphy.
46 - 70
6:03
Mehmet Okur offensive rebound.
46 - 70
6:03
Mehmet Okur made layup.
48 - 70
5:48
Troy Murphy made 20 ft jumper. Assisted by Jason Richardson.
48 - 72
5:30
Matt Harpring made 17 ft jumper. Assisted by Keith McLeod.
50 - 72
5:18
Jason Richardson missed 26 ft three point jumper.
50 - 72
5:16
Gordan Giricek defensive rebound.
50 - 72
5:07
Matt Harpring made 4 ft jumper. Assisted by Mehmet Okur.
52 - 72
4:47
Troy Murphy made two point shot.
52 - 74
4:31
Matt Harpring made 3 ft two point shot. Assisted by Gordan Giricek.
54 - 74
4:16
Baron Davis Bad Pass
54 - 74
4:16
Golden State Full Timeout.
54 - 74
4:16
Andris Biedrins enters the game for Adonal Foyle.
54 - 74
4:16
Mickael Pietrus enters the game for Mike Dunleavy.
54 - 74
3:53
Jason Richardson Shooting Foul. His 3rd Personal Foul.
54 - 74
3:53
Jarron Collins missed Free Throw 1 of 2.
54 - 74
3:53
Utah offensive rebound.
54 - 74
3:53
Jarron Collins missed Free Throw 2 of 2.
54 - 74
3:51
Troy Murphy defensive rebound.
54 - 74
3:36
Troy Murphy missed 26 ft three point jumper.
54 - 74
3:34
Gordan Giricek defensive rebound.
54 - 74
3:25
Mehmet Okur made layup.
56 - 74
3:25
Mickael Pietrus Illegal Defense
56 - 74
3:25
Andris Biedrins Shooting Foul. His 3rd Personal Foul.
56 - 74
3:25
Derek Fisher enters the game for Jason Richardson.
56 - 74
3:25
Mehmet Okur missed Free Throw 1 of 1.
56 - 74
3:23
Matt Harpring offensive rebound.
56 - 74
3:09
Gordan Giricek made 24 ft three point jumper. Assisted by Keith McLeod.
59 - 74
2:47
Baron Davis missed 17 ft jumper.
59 - 74
2:42
Matt Harpring defensive rebound.
59 - 74
2:40
Gordan Giricek missed 23 ft three point jumper.
59 - 74
2:36
Mickael Pietrus defensive rebound.
59 - 74
2:28
Jarron Collins Personal Foul. His 3rd Personal Foul.
59 - 74
2:28
Utah Full Timeout.
59 - 74
2:28
Troy Murphy missed Free Throw 1 of 2.
59 - 74
2:28
Golden State offensive rebound.
59 - 74
2:28
Troy Murphy missed Free Throw 2 of 2.
59 - 74
2:26
Andris Biedrins offensive rebound.
59 - 74
2:26
Andris Biedrins missed tip shot.
59 - 74
2:24
Andris Biedrins offensive rebound.
59 - 76
2:24
Andris Biedrins made tip shot.
59 - 76
2:04
Gordan Giricek missed 21 ft jumper.
59 - 76
2:02
Mehmet Okur offensive rebound.
59 - 76
1:53
Matt Harpring missed 6 ft two point shot.
59 - 76
1:51
Baron Davis defensive rebound.
59 - 76
1:42
Baron Davis Bad Pass. Stolen by Matt Harpring.
59 - 76
1:38
Andris Biedrins Shooting Foul. His 4th Personal Foul.
59 - 76
1:38
Kris Humphries enters the game for Jarron Collins.
59 - 76
1:38
Kirk Snyder enters the game for Gordan Giricek.
59 - 76
1:38
Mehmet Okur made Free Throw 1 of 2.
60 - 76
1:38
Mehmet Okur made Free Throw 2 of 2.
61 - 76
1:22
Baron Davis made 16 ft two point shot.
61 - 78
0:54
Matt Harpring missed 8 ft jumper.
61 - 78
0:52
Mickael Pietrus defensive rebound.
61 - 78
0:51
Rodney White enters the game for Troy Murphy.
61 - 78
0:32
Baron Davis missed 16 ft two point shot.
61 - 78
0:30
Andris Biedrins offensive rebound.
61 - 78
0:20
Mickael Pietrus missed 23 ft three point jumper.
61 - 78
0:17
Kris Humphries defensive rebound.
61 - 78
0:01
Mehmet Okur missed 19 ft jumper.
61 - 78
0:00
Kirk Snyder offensive rebound.
61 - 78
0:00
End of the 3rd Quarter.
61 - 78

time
TEAM
PLAY
SCORE
12:00
Start of the 4th Quarter.
61 - 78
11:45
Matt Harpring Shooting Foul. His 2nd Personal Foul.
61 - 78
11:45
Rodney White missed Free Throw 1 of 2.
61 - 78
11:45
Golden State offensive rebound.
61 - 78
11:45
Rodney White missed Free Throw 2 of 2.
61 - 78
11:42
Kris Humphries defensive rebound.
61 - 78
11:30
Matt Harpring made driving layup. Assisted by Howard Eisley.
63 - 78
11:14
Derek Fisher made 23 ft three point jumper. Assisted by Baron Davis.
63 - 81
10:56
Kris Humphries missed 4 ft two point shot.
63 - 81
10:55
Kris Humphries offensive rebound.
65 - 81
10:55
Kris Humphries made tip shot.
65 - 81
10:36
Kris Humphries Personal Foul. His 1st Personal Foul.
65 - 81
10:36
Mickael Pietrus made Free Throw 1 of 2.
65 - 82
10:36
Mickael Pietrus made Free Throw 2 of 2.
65 - 83
10:18
Adonal Foyle Shooting Foul. His 3rd Personal Foul.
65 - 83
10:18
Kris Humphries made Free Throw 1 of 2.
66 - 83
10:18
Kris Humphries missed Free Throw 2 of 2.
66 - 83
10:15
Matt Harpring offensive rebound.
66 - 83
10:12
Matt Harpring made layup.
68 - 83
9:56
Derek Fisher missed 26 ft three point jumper.
68 - 83
9:55
Matt Harpring defensive rebound.
68 - 83
9:49
Matt Harpring made layup. Assisted by Howard Eisley.
70 - 83
9:49
Baron Davis Shooting Foul. His 3rd Personal Foul.
70 - 83
9:49
Matt Harpring missed Free Throw 1 of 1.
70 - 83
9:47
Kris Humphries offensive rebound.
70 - 83
9:45
Kris Humphries made 5 ft jumper.
72 - 83
9:25
Kirk Snyder Shooting Foul. His 2nd Personal Foul.
72 - 83
9:25
Baron Davis missed Free Throw 1 of 3.
72 - 83
9:25
Golden State offensive rebound.
72 - 83
9:25
Baron Davis missed Free Throw 2 of 3.
72 - 83
9:25
Golden State offensive rebound.
72 - 83
9:25
Baron Davis missed Free Throw 3 of 3.
72 - 83
9:23
Kris Humphries defensive rebound.
72 - 83
9:03
Kirk Snyder made 24 ft three point jumper. Assisted by Matt Harpring.
75 - 83
8:52
Golden State Full Timeout.
75 - 83
8:52
Mike Dunleavy enters the game for Rodney White.
75 - 83
8:37
Derek Fisher missed 22 ft jumper.
75 - 83
8:34
Jarron Collins defensive rebound.
75 - 83
8:14
Jarron Collins's 6 ft jumper blocked by Adonal Foyle.
75 - 83
8:12
Kirk Snyder offensive rebound.
75 - 83
8:12
Shot Clock Violation
75 - 83
7:52
Mickael Pietrus missed 25 ft three point jumper.
75 - 83
7:50
Matt Harpring defensive rebound.
75 - 83
7:48
Derek Fisher Shooting Foul. His 2nd Personal Foul.
75 - 83
7:48
Howard Eisley made Free Throw 1 of 2.
76 - 83
7:48
Jason Richardson enters the game for Mickael Pietrus.
76 - 83
7:48
Howard Eisley made Free Throw 2 of 2.
77 - 83
7:33
Derek Fisher made 2 ft two point shot.
77 - 85
7:13
Kirk Snyder's 4 ft jumper blocked by Adonal Foyle.
77 - 85
7:13
Jarron Collins offensive rebound.
77 - 85
7:13
Mike Dunleavy Shooting Foul. His 4th Personal Foul.
77 - 85
7:13
Jarron Collins missed Free Throw 1 of 2.
77 - 85
7:13
Utah offensive rebound.
77 - 85
7:13
Jarron Collins missed Free Throw 2 of 2.
77 - 85
7:11
Mike Dunleavy defensive rebound.
77 - 85
6:58
Troy Murphy missed jumper.
77 - 85
6:56
Adonal Foyle offensive rebound.
77 - 85
6:56
Adonal Foyle missed tip shot.
77 - 85
6:54
Jarron Collins defensive rebound.
77 - 85
6:50
Kirk Snyder made layup. Assisted by Howard Eisley.
79 - 85
6:31
Howard Eisley Shooting Foul. His 2nd Personal Foul.
79 - 85
6:31
Derek Fisher made Free Throw 1 of 2.
79 - 86
6:31
Derek Fisher made Free Throw 2 of 2.
79 - 87
6:24
Howard Eisley Lost Ball. Stolen by Derek Fisher.
79 - 87
6:18
Derek Fisher missed layup.
79 - 87
6:16
Kris Humphries defensive rebound.
79 - 87
5:56
Kirk Snyder missed layup.
79 - 87
5:54
Matt Harpring offensive rebound.
81 - 87
5:54
Matt Harpring made tip shot.
81 - 87
5:31
Derek Fisher's 19 ft jumper blocked by Howard Eisley.
81 - 87
5:28
Kris Humphries defensive rebound.
81 - 87
5:28
Kirk Snyder Offensive Goaltending
81 - 87
5:28
Official Timeout.
81 - 87
5:18
Jason Richardson missed 26 ft three point jumper.
81 - 87
5:16
Kris Humphries defensive rebound.
81 - 87
4:56
Howard Eisley missed 14 ft jumper.
81 - 87
4:54
Jason Richardson defensive rebound.
81 - 87
4:50
Howard Eisley Personal Foul. His 3rd Personal Foul.
81 - 87
4:50
Derek Fisher made Free Throw 1 of 2.
81 - 88
4:50
Derek Fisher made Free Throw 2 of 2.
81 - 89
4:24
Kris Humphries missed 13 ft jumper.
81 - 89
4:22
Jarron Collins offensive rebound.
81 - 89
4:22
Derek Fisher Personal Foul. His 3rd Personal Foul.
81 - 89
4:22
Jarron Collins missed Free Throw 1 of 2.
81 - 89
4:22
Utah offensive rebound.
81 - 89
4:22
Baron Davis enters the game for Adonal Foyle.
81 - 89
4:22
Jarron Collins made Free Throw 2 of 2.
82 - 89
4:05
Jason Richardson missed 17 ft jumper.
82 - 89
4:03
Golden State defensive rebound.
82 - 89
4:03
Troy Murphy Loose Ball Foul. His 2nd Personal Foul.
82 - 89
4:03
Jarron Collins made Free Throw 1 of 2.
83 - 89
4:03
Jarron Collins missed Free Throw 2 of 2.
83 - 89
4:03
Jason Richardson defensive rebound.
83 - 89
3:47
Kirk Snyder Personal Foul. His 3rd Personal Foul.
83 - 89
3:47
Baron Davis made Free Throw 1 of 2.
83 - 90
3:47
Baron Davis made Free Throw 2 of 2.
83 - 91
3:38
Jason Richardson Shooting Foul. His 4th Personal Foul.
83 - 91
3:38
Kirk Snyder missed Free Throw 1 of 2.
83 - 91
3:38
Kirk Snyder missed Free Throw 2 of 2.
83 - 91
3:31
Troy Murphy defensive rebound.
83 - 91
3:31
Matt Harpring Personal Foul. His 3rd Personal Foul.
83 - 91
3:31
Jason Richardson made Free Throw 1 of 2.
83 - 92
3:31
Jason Richardson made Free Throw 2 of 2.
83 - 93
3:21
Jarron Collins Offensive Foul. His 5th Personal Foul.
83 - 93
3:21
Jarron Collins Turnover
83 - 93
3:13
Kris Humphries Personal Foul. His 2nd Personal Foul.
83 - 93
3:13
Baron Davis missed Free Throw 1 of 2.
83 - 93
3:13
Golden State offensive rebound.
83 - 93
3:13
Baron Davis made Free Throw 2 of 2.
83 - 94
2:59
Howard Eisley Offensive Foul. His 5th Personal Foul.
83 - 94
2:59
Howard Eisley Turnover
83 - 94
2:59
Utah Full Timeout.
83 - 94
2:39
Baron Davis Bad Pass
83 - 94
2:32
Derek Fisher Personal Foul. His 4th Personal Foul.
83 - 94
2:32
Howard Eisley made Free Throw 1 of 2.
84 - 94
2:32
Howard Eisley made Free Throw 2 of 2.
85 - 94
2:15
Mike Dunleavy made 26 ft three point jumper. Assisted by Jason Richardson.
85 - 97
1:54
Jason Richardson Personal Foul. His 5th Personal Foul.
85 - 97
1:54
Jarron Collins made Free Throw 1 of 2.
86 - 97
1:54
Jarron Collins made Free Throw 2 of 2.
87 - 97
1:44
Howard Eisley Personal Foul. His 5th Personal Foul.
87 - 97
1:44
Mike Dunleavy made Free Throw 1 of 2.
87 - 98
1:44
Mike Dunleavy made Free Throw 2 of 2.
87 - 99
1:35
Howard Eisley Bad Pass. Stolen by Derek Fisher.
87 - 99
1:31
Mike Dunleavy missed 27 ft three point jumper.
87 - 99
1:27
Kris Humphries defensive rebound.
87 - 99
1:22
Matt Harpring Lost Ball. Stolen by Derek Fisher.
87 - 99
1:17
Jason Richardson made slam dunk. Assisted by Derek Fisher.
87 - 101
1:07
Matt Harpring missed three point jumper.
87 - 101
1:04
Kirk Snyder offensive rebound.
87 - 101
0:58
Howard Eisley missed 20 ft jumper.
87 - 101
0:56
Jason Richardson defensive rebound.
87 - 101
0:39
Baron Davis made 29 ft three point jumper. Assisted by Derek Fisher.
87 - 104
0:32
Mike Dunleavy Personal Foul. His 5th Personal Foul.
87 - 104
0:32
Mickael Pietrus enters the game for Jason Richardson.
87 - 104
0:32
Nikoloz Tskitishvili enters the game for Baron Davis.
87 - 104
0:32
Andris Biedrins enters the game for Troy Murphy.
87 - 104
0:32
Kirk Snyder made Free Throw 1 of 2.
88 - 104
0:32
Rodney White enters the game for Mike Dunleavy.
88 - 104
0:32
Kirk Snyder made Free Throw 2 of 2.
89 - 104
0:13
Mickael Pietrus missed 27 ft three point jumper.
89 - 104
0:09
Jarron Collins defensive rebound.
89 - 104
0:00
End of the 4th Quarter.
89 - 104
0:00
End Game
89 - 104
A road trip to Toronto has put Cleveland in a precarious spot, as the Raptors have shaved away the Cavs' margin for error in tying the series.

After being left for dead after the first two games of the Eastern Conference Finals, the Raptors follow up a big Game 3 victory with an equally impressive win in Game 4 to tie the series heading back to Cleveland.

LeBron James discusses the Cavaliers awful second quarter and how they can't allow themselves to fall so far behind.
2015-2016 Northwest Standings
2015-2016 Pacific Standings