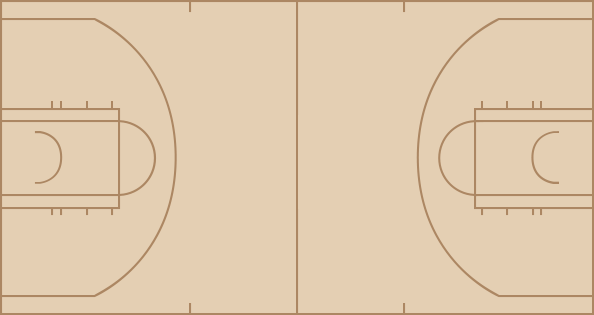 76ers
time
TEAM
PLAY
SCORE
12:00
Start of the 1st Quarter.
0 - 0
12:00
Jumpball: Steven Hunter vs. Jermaine O'Neal. Indiana gains possession.
0 - 0
11:44
Jermaine O'Neal made 16 ft jumper. Assisted by Stephen Jackson.
0 - 2
11:33
Allen Iverson Bad Pass. Stolen by Jamaal Tinsley.
0 - 2
11:27
Jamaal Tinsley made 4 ft jumper.
0 - 4
11:10
Steven Hunter made slam dunk. Assisted by Kyle Korver.
2 - 4
10:51
Austin Croshere made 22 ft jumper. Assisted by Stephen Jackson.
2 - 6
10:29
Kyle Korver made 17 ft jumper.
4 - 6
10:23
Jamaal Tinsley Bad Pass
4 - 6
10:07
Allen Iverson made 19 ft jumper. Assisted by Kyle Korver.
6 - 6
9:56
Stephen Jackson missed layup.
6 - 6
9:53
Chris Webber defensive rebound.
6 - 6
9:45
Steven Hunter made layup. Assisted by Allen Iverson.
8 - 6
9:45
Austin Croshere Shooting Foul. Steven Hunter gains possession.
8 - 6
9:45
Steven Hunter missed Free Throw 1 of 1.
8 - 6
9:45
Jermaine O'Neal defensive rebound.
8 - 6
9:25
Ron Artest's 6 ft jumper blocked by Steven Hunter.
8 - 6
9:22
Jermaine O'Neal offensive rebound.
8 - 6
9:21
Jermaine O'Neal Lost Ball. Stolen by Chris Webber.
8 - 6
9:15
Allen Iverson missed 26 ft three point jumper.
8 - 6
9:12
Jermaine O'Neal defensive rebound.
8 - 6
9:06
Jamaal Tinsley made 4 ft jumper. Assisted by Stephen Jackson.
8 - 8
9:06
Steven Hunter Illegal Defense
8 - 8
8:49
Jermaine O'Neal Shooting Foul. Chris Webber gains possession.
8 - 8
8:49
Chris Webber made Free Throw 1 of 2.
9 - 8
8:49
Chris Webber made Free Throw 2 of 2.
10 - 8
8:44
Ron Artest made 4 ft jumper. Assisted by Jamaal Tinsley.
10 - 10
8:44
Andre Iguodala Shooting Foul. Ron Artest gains possession.
10 - 10
8:44
Ron Artest made Free Throw 1 of 1.
10 - 11
8:30
Allen Iverson missed 6 ft running jumper.
10 - 11
8:27
Steven Hunter offensive rebound.
10 - 11
8:26
Steven Hunter made slam dunk.
12 - 11
8:15
Kyle Korver Shooting Foul. Stephen Jackson gains possession.
12 - 11
8:15
Stephen Jackson made Free Throw 1 of 2.
12 - 12
8:15
Stephen Jackson made Free Throw 2 of 2.
12 - 13
8:03
Allen Iverson made 20 ft jumper. Assisted by Kyle Korver.
14 - 13
7:41
Stephen Jackson made 19 ft jumper.
14 - 15
7:13
Allen Iverson missed 26 ft three point jumper.
14 - 15
7:13
Kyle Korver offensive rebound.
14 - 15
7:09
Steven Hunter made 3 ft two point shot. Assisted by Kyle Korver.
16 - 15
6:50
Jermaine O'Neal made 7 ft two point shot. Assisted by Ron Artest.
16 - 17
6:31
Chris Webber Offensive Foul. Jermaine O'Neal gains possession.
16 - 17
6:31
Chris Webber Turnover
16 - 17
6:15
Stephen Jackson made layup. Assisted by Jermaine O'Neal.
16 - 19
6:01
Kyle Korver missed 25 ft three point jumper.
16 - 19
6:01
Jermaine O'Neal defensive rebound.
16 - 19
5:50
Ron Artest missed 26 ft three point jumper.
16 - 19
5:48
Chris Webber defensive rebound.
16 - 19
5:43
Allen Iverson missed 4 ft jumper.
16 - 19
5:43
Ron Artest defensive rebound.
16 - 19
5:35
Ron Artest Bad Pass. Stolen by Chris Webber.
16 - 19
5:33
Allen Iverson made layup. Assisted by Andre Iguodala.
18 - 19
5:26
Indiana Full Timeout.
18 - 19
5:13
Austin Croshere Traveling
18 - 19
5:01
Chris Webber made 9 ft two point shot. Assisted by Andre Iguodala.
20 - 19
4:46
Jermaine O'Neal missed 18 ft jumper.
20 - 19
4:43
Austin Croshere offensive rebound.
20 - 19
4:35
Stephen Jackson missed 7 ft jumper.
20 - 19
4:33
Jermaine O'Neal offensive rebound.
20 - 19
4:31
Jermaine O'Neal made 9 ft two point shot.
20 - 21
4:15
Jermaine O'Neal Shooting Foul. Steven Hunter gains possession.
20 - 21
4:15
Steven Hunter missed Free Throw 1 of 2.
20 - 21
4:15
Philadelphia offensive rebound.
20 - 21
4:15
David Harrison enters the game for Jermaine O'Neal.
20 - 21
4:15
Steven Hunter missed Free Throw 2 of 2.
20 - 21
4:15
Austin Croshere defensive rebound.
20 - 21
3:53
Austin Croshere missed 24 ft three point jumper.
20 - 21
3:49
Stephen Jackson offensive rebound.
20 - 21
3:49
Stephen Jackson missed tip shot.
20 - 21
3:48
Chris Webber defensive rebound.
20 - 21
3:39
Andre Iguodala made 3 ft two point shot. Assisted by Kyle Korver.
22 - 21
3:27
Jamaal Tinsley made 10 ft running jumper.
22 - 23
3:01
Chris Webber made layup. Assisted by Steven Hunter.
24 - 23
2:49
Ron Artest 3 second
24 - 23
2:49
Philadelphia Full Timeout.
24 - 23
2:49
Danny Granger enters the game for Austin Croshere.
24 - 23
2:49
Sarunas Jasikevicius enters the game for Stephen Jackson.
24 - 23
2:49
Fred Jones enters the game for Jamaal Tinsley.
24 - 23
2:34
Chris Webber made 11 ft jumper.
26 - 23
2:11
Danny Granger missed 15 ft jumper.
26 - 23
2:09
Kyle Korver defensive rebound.
26 - 23
2:03
Sarunas Jasikevicius Personal Foul. Allen Iverson gains possession.
26 - 23
2:03
Jonathan Bender enters the game for David Harrison.
26 - 23
2:03
James Thomas enters the game for Steven Hunter.
26 - 23
1:57
Fred Jones Shooting Foul. Allen Iverson gains possession.
26 - 23
1:57
Allen Iverson missed Free Throw 1 of 2.
26 - 23
1:57
Philadelphia offensive rebound.
26 - 23
1:57
Allen Iverson made Free Throw 2 of 2.
27 - 23
1:39
Sarunas Jasikevicius made 23 ft three point jumper. Assisted by Fred Jones.
27 - 26
1:23
Kyle Korver missed 12 ft jumper.
27 - 26
1:22
Jonathan Bender defensive rebound.
27 - 26
1:10
Fred Jones missed 26 ft three point jumper.
27 - 26
1:08
Kyle Korver defensive rebound.
27 - 26
1:00
Allen Iverson missed 16 ft jumper.
27 - 26
0:59
Sarunas Jasikevicius defensive rebound.
27 - 26
0:54
Danny Granger made layup.
27 - 28
0:31
Allen Iverson's 15 ft jumper blocked by Danny Granger.
27 - 28
0:29
Jonathan Bender defensive rebound.
27 - 28
0:23
Sarunas Jasikevicius Bad Pass. Stolen by Andre Iguodala.
27 - 28
0:05
Kyle Korver made three point jumper. Assisted by Allen Iverson.
30 - 28
0:02
James Thomas Personal Foul. Sarunas Jasikevicius gains possession.
30 - 28
0:02
Lee Nailon enters the game for Andre Iguodala.
30 - 28
0:02
John Salmons enters the game for Kyle Korver.
30 - 28
0:01
Ron Artest missed 25 ft three point jumper.
30 - 28
0:00
Chris Webber defensive rebound.
30 - 28
0:00
End of the 1st Quarter.
30 - 28

time
TEAM
PLAY
SCORE
12:00
Start of the 2nd Quarter.
30 - 28
11:48
Danny Granger Personal Foul. Chris Webber gains possession.
30 - 28
11:33
Allen Iverson made driving layup.
32 - 28
11:23
Sarunas Jasikevicius Lost Ball. Stolen by Allen Iverson.
32 - 28
11:18
Allen Iverson missed layup.
32 - 28
11:18
Fred Jones defensive rebound.
32 - 28
11:11
James Thomas Shooting Foul. Jonathan Bender gains possession.
32 - 28
11:11
Kevin Ollie enters the game for Chris Webber.
32 - 28
11:11
Jonathan Bender made Free Throw 1 of 2.
32 - 29
11:11
Jonathan Bender made Free Throw 2 of 2.
32 - 30
10:55
Kevin Ollie missed layup.
32 - 30
10:53
Danny Granger defensive rebound.
32 - 30
10:40
Jonathan Bender made 4 ft two point shot.
32 - 32
10:23
Stephen Jackson Shooting Foul. Lee Nailon gains possession.
32 - 32
10:23
Lee Nailon made Free Throw 1 of 2.
33 - 32
10:15
10 second
33 - 32
10:03
James Thomas Traveling
33 - 32
9:57
Fred Jones Offensive Foul. Allen Iverson gains possession.
33 - 32
9:57
Fred Jones Turnover
33 - 32
9:37
Allen Iverson missed 7 ft jumper.
33 - 32
9:36
James Thomas offensive rebound.
33 - 32
9:34
Jonathan Bender Shooting Foul. James Thomas gains possession.
33 - 32
9:34
James Thomas made Free Throw 1 of 2.
34 - 32
9:34
James Thomas made Free Throw 2 of 2.
35 - 32
9:15
Stephen Jackson Offensive Foul. Lee Nailon gains possession.
35 - 32
9:15
Stephen Jackson Turnover
35 - 32
9:15
Jamaal Tinsley enters the game for Sarunas Jasikevicius.
35 - 32
9:00
Stephen Jackson Personal Foul. Kevin Ollie gains possession.
35 - 32
9:00
Ron Artest enters the game for Stephen Jackson.
35 - 32
8:48
John Salmons missed 11 ft jumper.
35 - 32
8:47
Lee Nailon offensive rebound.
35 - 32
8:30
Lee Nailon made 18 ft jumper. Assisted by Allen Iverson.
37 - 32
8:30
Jonathan Bender Shooting Foul. Lee Nailon gains possession.
37 - 32
8:30
Official Timeout.
37 - 32
8:30
Anthony Johnson enters the game for Danny Granger.
37 - 32
8:30
Austin Croshere enters the game for Fred Jones.
37 - 32
8:30
Jermaine O'Neal enters the game for Jonathan Bender.
37 - 32
8:30
Austin Croshere defensive rebound.
37 - 32
8:15
Jermaine O'Neal missed 12 ft jumper.
37 - 32
8:14
James Thomas defensive rebound.
37 - 32
8:06
Allen Iverson Bad Pass
37 - 32
7:50
Jermaine O'Neal made 9 ft two point shot.
37 - 34
7:28
Lee Nailon's 7 ft jumper blocked by Jermaine O'Neal.
37 - 34
7:28
Philadelphia defensive rebound.
37 - 34
7:28
Steven Hunter enters the game for James Thomas.
37 - 34
7:09
Allen Iverson Illegal Defense Foul. His 1st Personal Foul.
37 - 34
7:09
Austin Croshere made Technical Free Throw.
37 - 35
7:01
Jamaal Tinsley made 21 ft jumper.
37 - 37
6:47
Lee Nailon made jumper. Assisted by Allen Iverson.
39 - 37
6:35
Ron Artest made layup. Assisted by Anthony Johnson.
39 - 39
6:18
Kevin Ollie made 19 ft jumper. Assisted by Allen Iverson.
41 - 39
6:05
John Salmons Personal Foul. Ron Artest gains possession.
41 - 39
6:01
Ron Artest Discontinue Dribble
41 - 39
5:50
Steven Hunter Lost Ball. Stolen by Ron Artest.
41 - 39
5:50
Kevin Ollie Personal Foul. Ron Artest gains possession.
41 - 39
5:50
Indiana Full Timeout.
41 - 39
5:50
Chris Webber enters the game for Lee Nailon.
41 - 39
5:39
Jermaine O'Neal's 10 ft jumper blocked by Steven Hunter.
41 - 39
5:37
Allen Iverson defensive rebound.
41 - 39
5:28
Kevin Ollie made 18 ft jumper. Assisted by Chris Webber.
43 - 39
5:11
Anthony Johnson Lost Ball. Stolen by Kevin Ollie.
43 - 39
5:09
Kevin Ollie made layup.
45 - 39
5:09
Jamaal Tinsley Shooting Foul. Kevin Ollie gains possession.
45 - 39
5:09
Andre Iguodala enters the game for John Salmons.
45 - 39
5:09
Kevin Ollie made Free Throw 1 of 1.
46 - 39
4:54
Kevin Ollie Personal Foul. Austin Croshere gains possession.
46 - 39
4:54
Fred Jones enters the game for Ron Artest.
46 - 39
4:43
Jermaine O'Neal's jumper blocked by Steven Hunter.
46 - 39
4:39
Andre Iguodala defensive rebound.
46 - 39
4:18
Andre Iguodala made layup. Assisted by Chris Webber.
48 - 39
4:05
Indiana 20 Sec. Timeout.
48 - 39
4:05
Ron Artest enters the game for Fred Jones.
48 - 39
3:50
Jermaine O'Neal made 10 ft two point shot. Assisted by Ron Artest.
48 - 41
3:50
Steven Hunter Shooting Foul. Jermaine O'Neal gains possession.
48 - 41
3:50
Jermaine O'Neal made Free Throw 1 of 1.
48 - 42
3:33
Andre Iguodala made 11 ft two point shot.
50 - 42
3:23
Austin Croshere Lost Ball. Stolen by Allen Iverson.
50 - 42
3:15
Chris Webber missed layup.
50 - 42
3:14
Austin Croshere defensive rebound.
50 - 42
3:09
Jamaal Tinsley made layup.
50 - 44
2:59
Philadelphia Full Timeout.
50 - 44
2:59
Kyle Korver enters the game for Kevin Ollie.
50 - 44
2:43
Chris Webber made 17 ft jumper. Assisted by Kyle Korver.
52 - 44
2:29
Jamaal Tinsley Bad Pass
52 - 44
2:12
Jamaal Tinsley Personal Foul. Kyle Korver gains possession.
52 - 44
2:12
Kyle Korver missed Free Throw 1 of 2.
52 - 44
2:12
Philadelphia offensive rebound.
52 - 44
2:12
Kyle Korver made Free Throw 2 of 2.
53 - 44
1:53
Jermaine O'Neal Offensive Foul. Steven Hunter gains possession.
53 - 44
1:53
Jermaine O'Neal Turnover
53 - 44
1:53
Jonathan Bender enters the game for Jermaine O'Neal.
53 - 44
1:36
Chris Webber made 20 ft jumper. Assisted by Kyle Korver.
55 - 44
1:17
Austin Croshere made 21 ft jumper. Assisted by Anthony Johnson.
55 - 46
1:04
Kyle Korver made 25 ft three point jumper. Assisted by Allen Iverson.
58 - 46
0:55
Jonathan Bender made slam dunk. Assisted by Anthony Johnson.
58 - 48
0:44
Allen Iverson Bad Pass. Stolen by Jamaal Tinsley.
58 - 48
0:34
Jonathan Bender made slam dunk. Assisted by Jamaal Tinsley.
58 - 50
0:12
Andre Iguodala made slam dunk. Assisted by Allen Iverson.
60 - 50
0:00
Jamaal Tinsley missed 10 ft jumper.
60 - 50
0:00
Jamaal Tinsley offensive rebound.
60 - 52
0:00
Jamaal Tinsley made tip shot.
60 - 52
0:00
End of the 2nd Quarter.
60 - 52
0:00
End of the 2nd Quarter.
60 - 52

time
TEAM
PLAY
SCORE
12:00
Start of the 3rd Quarter.
60 - 52
11:37
Allen Iverson missed 4 ft jumper.
60 - 52
11:37
Jermaine O'Neal defensive rebound.
60 - 52
11:23
Austin Croshere missed 26 ft three point jumper.
60 - 52
11:22
Steven Hunter defensive rebound.
60 - 52
11:07
Kyle Korver made 22 ft jumper. Assisted by Andre Iguodala.
62 - 52
10:47
Austin Croshere made 19 ft jumper. Assisted by Jamaal Tinsley.
62 - 54
10:32
Jamaal Tinsley Jump Ball
62 - 54
10:29
Allen Iverson made 18 ft jumper. Assisted by Kyle Korver.
64 - 54
10:15
Chris Webber Shooting Foul. Jermaine O'Neal gains possession.
64 - 54
10:15
Jermaine O'Neal made Free Throw 1 of 2.
64 - 55
10:15
Jermaine O'Neal made Free Throw 2 of 2.
64 - 56
9:59
Andre Iguodala Bad Pass. Stolen by Jamaal Tinsley.
64 - 56
9:41
Jermaine O'Neal missed 13 ft jumper.
64 - 56
9:41
Chris Webber defensive rebound.
64 - 56
9:33
Steven Hunter made layup. Assisted by Allen Iverson.
66 - 56
9:33
Stephen Jackson Shooting Foul. Steven Hunter gains possession.
66 - 56
9:33
Steven Hunter missed Free Throw 1 of 1.
66 - 56
9:33
Fred Jones enters the game for Stephen Jackson.
66 - 56
9:33
Steven Hunter made Free Throw 1 of 1.
67 - 56
9:19
Jermaine O'Neal Offensive Foul. Allen Iverson gains possession.
67 - 56
9:19
Jermaine O'Neal Turnover
67 - 56
9:19
Jonathan Bender enters the game for Jermaine O'Neal.
67 - 56
9:08
Chris Webber missed 10 ft jumper.
67 - 56
9:07
Austin Croshere defensive rebound.
67 - 56
8:53
Jonathan Bender's 4 ft jumper blocked by Steven Hunter.
67 - 56
8:52
Kyle Korver defensive rebound.
67 - 56
8:42
Allen Iverson missed jumper.
67 - 56
8:41
Austin Croshere defensive rebound.
67 - 56
8:34
Jamaal Tinsley made 6 ft two point shot.
67 - 58
8:08
Allen Iverson made 2 ft two point shot. Assisted by Chris Webber.
69 - 58
7:50
Ron Artest Bad Pass. Stolen by Allen Iverson.
69 - 58
7:48
Jamaal Tinsley Shooting Foul. Allen Iverson gains possession.
69 - 58
7:48
Indiana Full Timeout.
69 - 58
7:48
Danny Granger enters the game for Ron Artest.
69 - 58
7:48
Allen Iverson made Free Throw 1 of 2.
70 - 58
7:48
Allen Iverson made Free Throw 2 of 2.
71 - 58
7:33
Jamaal Tinsley missed 13 ft jumper.
71 - 58
7:20
Danny Granger Personal Foul. Andre Iguodala gains possession.
71 - 58
7:16
Jamaal Tinsley Shooting Foul. Allen Iverson gains possession.
71 - 58
7:16
Allen Iverson made Free Throw 1 of 2.
72 - 58
7:16
Sarunas Jasikevicius enters the game for Jamaal Tinsley.
72 - 58
7:16
Allen Iverson made Free Throw 2 of 2.
73 - 58
6:54
Fred Jones missed layup.
73 - 58
6:54
Fred Jones offensive rebound.
73 - 58
6:54
Fred Jones missed layup.
73 - 58
6:52
Kyle Korver defensive rebound.
73 - 58
6:41
Allen Iverson made 13 ft two point shot.
75 - 58
6:16
Sarunas Jasikevicius made 25 ft three point jumper. Assisted by Jonathan Bender.
75 - 61
5:50
Andre Iguodala made 25 ft three point jumper. Assisted by Kyle Korver.
78 - 61
5:35
Austin Croshere made 26 ft three point jumper. Assisted by Sarunas Jasikevicius.
78 - 64
5:13
Kyle Korver missed three point jumper.
78 - 64
5:11
Chris Webber offensive rebound.
78 - 64
5:09
Danny Granger Shooting Foul. Chris Webber gains possession.
78 - 64
5:09
Anthony Johnson enters the game for Austin Croshere.
78 - 64
5:09
Chris Webber made Free Throw 1 of 2.
79 - 64
5:09
Chris Webber made Free Throw 2 of 2.
80 - 64
5:05
Andre Iguodala Shooting Foul. Danny Granger gains possession.
80 - 64
5:05
Danny Granger made Free Throw 1 of 2.
80 - 65
5:05
Danny Granger made Free Throw 2 of 2.
80 - 66
4:48
Kyle Korver made 25 ft three point jumper. Assisted by Allen Iverson.
83 - 66
4:26
Sarunas Jasikevicius missed 24 ft three point jumper.
83 - 66
4:24
Andre Iguodala defensive rebound.
83 - 66
4:13
Allen Iverson made two point shot.
85 - 66
4:07
Indiana Full Timeout.
85 - 66
4:07
Jamaal Tinsley enters the game for Danny Granger.
85 - 66
4:07
Stephen Jackson enters the game for Sarunas Jasikevicius.
85 - 66
4:07
Ron Artest enters the game for Fred Jones.
85 - 66
4:07
Jermaine O'Neal enters the game for Jonathan Bender.
85 - 66
4:07
Austin Croshere enters the game for Anthony Johnson.
85 - 66
3:53
Andre Iguodala Shooting Foul. Ron Artest gains possession.
85 - 66
3:53
Ron Artest made Free Throw 1 of 2.
85 - 67
3:53
Ron Artest made Free Throw 2 of 2.
85 - 68
3:35
Allen Iverson missed 23 ft three point jumper.
85 - 68
3:33
Jermaine O'Neal defensive rebound.
85 - 68
3:27
Jamaal Tinsley made 8 ft jumper.
85 - 70
3:24
Philadelphia Full Timeout.
85 - 70
3:10
Chris Webber made driving layup. Assisted by Allen Iverson.
87 - 70
3:10
Austin Croshere Shooting Foul. Chris Webber gains possession.
87 - 70
3:10
Chris Webber made Free Throw 1 of 1.
88 - 70
2:54
Jermaine O'Neal missed layup.
88 - 70
2:51
Indiana offensive rebound.
88 - 70
2:49
Ron Artest made two point shot. Assisted by Jamaal Tinsley.
88 - 72
2:32
Ron Artest Personal Foul. Andre Iguodala gains possession.
88 - 72
2:32
Andre Iguodala missed Free Throw 1 of 2.
88 - 72
2:32
Philadelphia offensive rebound.
88 - 72
2:32
Andre Iguodala made Free Throw 2 of 2.
89 - 72
2:24
Kyle Korver Personal Foul. Stephen Jackson gains possession.
89 - 72
2:14
Austin Croshere missed 26 ft three point jumper.
89 - 72
2:12
Stephen Jackson offensive rebound.
89 - 72
2:12
Stephen Jackson missed tip shot.
89 - 72
2:10
Chris Webber defensive rebound.
89 - 72
1:52
Chris Webber missed 26 ft three point jumper.
89 - 72
1:50
Ron Artest defensive rebound.
89 - 72
1:45
Ron Artest made 25 ft three point jumper.
89 - 75
1:23
Allen Iverson missed 25 ft three point jumper.
89 - 75
1:22
Ron Artest defensive rebound.
89 - 75
1:09
Stephen Jackson missed 17 ft jumper.
89 - 75
1:08
Chris Webber defensive rebound.
89 - 75
0:53
Chris Webber missed 15 ft jumper.
89 - 75
0:52
Jermaine O'Neal defensive rebound.
89 - 75
0:40
Jermaine O'Neal made 16 ft jumper. Assisted by Jamaal Tinsley.
89 - 77
0:26
Ron Artest Jump Ball
89 - 77
0:26
John Salmons enters the game for Andre Iguodala.
89 - 77
0:15
Allen Iverson made 20 ft jumper.
91 - 77
0:05
Jamaal Tinsley made driving layup.
91 - 79
0:05
Chris Webber Shooting Foul. Ron Artest gains possession.
91 - 79
0:05
Danny Granger enters the game for Jermaine O'Neal.
91 - 79
0:05
Anthony Johnson enters the game for Stephen Jackson.
91 - 79
0:05
Jamaal Tinsley made Free Throw 1 of 1.
91 - 80
0:05
Chris Webber Bad Pass. Stolen by Danny Granger.
91 - 80
0:00
Ron Artest missed 26 ft three point jumper.
91 - 80
0:00
Indiana offensive rebound.
91 - 80
0:00
End of the 3rd Quarter.
91 - 80

time
TEAM
PLAY
SCORE
12:00
Start of the 4th Quarter.
91 - 80
11:34
Stephen Jackson made 26 ft three point jumper. Assisted by Austin Croshere.
91 - 83
11:14
Allen Iverson missed 19 ft jumper.
91 - 83
11:11
Jermaine O'Neal defensive rebound.
91 - 83
11:03
Jamaal Tinsley's 11 ft jumper blocked by Steven Hunter.
91 - 83
11:03
Indiana offensive rebound.
91 - 83
11:03
Andre Iguodala enters the game for Kyle Korver.
91 - 83
11:00
Ron Artest Offensive Foul. John Salmons gains possession.
91 - 83
11:00
Ron Artest Turnover
91 - 83
10:45
Chris Webber Lost Ball. Stolen by Jermaine O'Neal.
91 - 83
10:34
Jamaal Tinsley missed three point jumper.
91 - 83
10:33
Andre Iguodala defensive rebound.
91 - 83
10:19
Chris Webber missed 16 ft jumper.
91 - 83
10:18
Jermaine O'Neal defensive rebound.
91 - 83
10:07
Jermaine O'Neal missed 9 ft jumper.
91 - 83
10:04
Chris Webber defensive rebound.
91 - 83
9:49
Allen Iverson's 14 ft jumper blocked by Jamaal Tinsley.
91 - 83
9:48
Jermaine O'Neal defensive rebound.
91 - 83
9:34
Jermaine O'Neal made slam dunk. Assisted by Ron Artest.
91 - 85
9:32
Philadelphia Full Timeout.
91 - 85
9:07
Steven Hunter's jumper blocked by Jermaine O'Neal.
91 - 85
9:06
Austin Croshere defensive rebound.
91 - 85
8:45
Austin Croshere made 5 ft two point shot. Assisted by Jermaine O'Neal.
91 - 87
8:22
Allen Iverson made jumper.
93 - 87
8:10
Jamaal Tinsley missed 12 ft jumper.
93 - 87
8:07
Jamaal Tinsley offensive rebound.
93 - 87
8:07
Andre Iguodala Shooting Foul. Jamaal Tinsley gains possession.
93 - 87
8:07
Lee Nailon enters the game for Chris Webber.
93 - 87
8:07
Jamaal Tinsley made Free Throw 1 of 2.
93 - 88
8:07
Jamaal Tinsley made Free Throw 2 of 2.
93 - 89
7:54
Jamaal Tinsley Shooting Foul. Allen Iverson gains possession.
93 - 89
7:54
Anthony Johnson enters the game for Jamaal Tinsley.
93 - 89
7:54
Allen Iverson made Free Throw 1 of 2.
94 - 89
7:54
Allen Iverson made Free Throw 2 of 2.
95 - 89
7:37
Steven Hunter Shooting Foul. Ron Artest gains possession.
95 - 89
7:37
Ron Artest made Free Throw 1 of 2.
95 - 90
7:37
Ron Artest made Free Throw 2 of 2.
95 - 91
7:22
Allen Iverson missed 21 ft jumper.
95 - 91
7:20
Philadelphia offensive rebound.
95 - 91
7:13
Allen Iverson made driving layup.
97 - 91
6:47
Stephen Jackson missed 26 ft three point jumper.
97 - 91
6:46
Allen Iverson defensive rebound.
97 - 91
6:39
Lee Nailon missed 16 ft jumper.
97 - 91
6:37
Ron Artest defensive rebound.
97 - 91
6:30
Steven Hunter Shooting Foul. Jermaine O'Neal gains possession.
97 - 91
6:30
Jermaine O'Neal made Free Throw 1 of 2.
97 - 92
6:30
Chris Webber enters the game for Lee Nailon.
97 - 92
6:30
Jermaine O'Neal made Free Throw 2 of 2.
97 - 93
6:07
Allen Iverson missed layup.
97 - 93
6:05
Jermaine O'Neal defensive rebound.
97 - 93
5:52
Ron Artest Turnover
97 - 93
5:52
Official Timeout.
97 - 93
5:52
Kyle Korver enters the game for John Salmons.
97 - 93
5:33
Chris Webber made 19 ft jumper. Assisted by Allen Iverson.
99 - 93
5:15
Jermaine O'Neal made layup. Assisted by Austin Croshere.
99 - 95
4:50
Kyle Korver Bad Pass. Stolen by Stephen Jackson.
99 - 95
4:37
Austin Croshere missed 20 ft jumper.
99 - 95
4:35
Allen Iverson defensive rebound.
99 - 95
4:18
Steven Hunter missed jumper.
99 - 95
4:18
Steven Hunter offensive rebound.
99 - 95
4:15
Steven Hunter made layup.
101 - 95
4:11
Indiana Full Timeout.
101 - 95
4:11
Jamaal Tinsley enters the game for Anthony Johnson.
101 - 95
4:05
Stephen Jackson made two point shot. Assisted by Jermaine O'Neal.
101 - 97
3:46
Chris Webber made 8 ft two point shot.
103 - 97
3:32
Ron Artest Offensive Foul. Andre Iguodala gains possession.
103 - 97
3:32
Ron Artest Turnover
103 - 97
3:17
Austin Croshere Shooting Foul. Andre Iguodala gains possession.
103 - 97
3:17
Andre Iguodala made Free Throw 1 of 2.
104 - 97
3:17
Andre Iguodala made Free Throw 2 of 2.
105 - 97
3:06
Jermaine O'Neal made layup. Assisted by Jamaal Tinsley.
105 - 99
2:50
Kyle Korver Offensive Foul. Austin Croshere gains possession.
105 - 99
2:50
Kyle Korver Turnover
105 - 99
2:39
Ron Artest missed layup.
105 - 99
2:38
Ron Artest offensive rebound.
105 - 99
2:38
Ron Artest missed layup.
105 - 99
2:35
Stephen Jackson offensive rebound.
105 - 99
2:32
Stephen Jackson made 24 ft three point jumper.
105 - 102
2:15
Allen Iverson missed 6 ft jumper.
105 - 102
2:13
Jermaine O'Neal defensive rebound.
105 - 102
2:03
Ron Artest Lost Ball. Stolen by Andre Iguodala.
105 - 102
1:45
Chris Webber made 17 ft jumper. Assisted by Allen Iverson.
107 - 102
1:30
Austin Croshere missed 25 ft three point jumper.
107 - 102
1:29
Jermaine O'Neal offensive rebound.
107 - 102
1:27
Jermaine O'Neal missed 4 ft jumper.
107 - 102
1:25
Ron Artest offensive rebound.
107 - 102
1:22
Stephen Jackson made 24 ft three point jumper. Assisted by Austin Croshere.
107 - 105
1:07
Allen Iverson missed jumper.
107 - 105
1:06
Jermaine O'Neal defensive rebound.
107 - 105
0:54
Andre Iguodala Shooting Foul. Ron Artest gains possession.
107 - 105
0:54
Ron Artest missed Free Throw 1 of 2.
107 - 105
0:54
Indiana offensive rebound.
107 - 105
0:54
Ron Artest made Free Throw 2 of 2.
107 - 106
0:35
Kyle Korver missed jumper.
107 - 106
0:35
Philadelphia defensive rebound.
107 - 106
0:35
Indiana Full Timeout.
107 - 106
0:35
John Salmons enters the game for Kyle Korver.
107 - 106
0:24
Jermaine O'Neal missed 20 ft jumper.
107 - 106
0:23
Allen Iverson defensive rebound.
107 - 106
0:19
Austin Croshere Personal Foul. Allen Iverson gains possession.
107 - 106
0:19
Anthony Johnson enters the game for Jamaal Tinsley.
107 - 106
0:19
Kyle Korver enters the game for Steven Hunter.
107 - 106
0:19
Fred Jones enters the game for Stephen Jackson.
107 - 106
0:19
Philadelphia Full Timeout.
107 - 106
0:19
Stephen Jackson enters the game for Austin Croshere.
107 - 106
0:19
Jamaal Tinsley enters the game for Fred Jones.
107 - 106
0:19
Danny Granger enters the game for Jermaine O'Neal.
107 - 106
0:18
Danny Granger Personal Foul. Kyle Korver gains possession.
107 - 106
0:18
Kyle Korver missed Free Throw 1 of 2.
107 - 106
0:18
Philadelphia offensive rebound.
107 - 106
0:18
Austin Croshere enters the game for Anthony Johnson.
107 - 106
0:18
Jermaine O'Neal enters the game for Danny Granger.
107 - 106
0:18
Kyle Korver made Free Throw 2 of 2.
108 - 106
0:07
Stephen Jackson missed 25 ft three point jumper.
108 - 106
0:05
Austin Croshere offensive rebound.
108 - 106
0:02
Jamaal Tinsley missed 26 ft three point jumper.
108 - 106
0:01
Allen Iverson defensive rebound.
108 - 106
0:01
Jamaal Tinsley Loose Ball Foul. Allen Iverson gains possession.
108 - 106
0:01
Sarunas Jasikevicius enters the game for Jamaal Tinsley.
108 - 106
0:01
Chris Webber made Free Throw 1 of 2.
109 - 106
0:01
Chris Webber made Free Throw 2 of 2.
110 - 106
0:01
Indiana 20 Sec. Timeout.
110 - 106
0:01
Anthony Johnson enters the game for Jermaine O'Neal.
110 - 106
0:00
Stephen Jackson made 26 ft three point jumper. Assisted by Anthony Johnson.
110 - 109
0:00
End of the 4th Quarter.
110 - 109
0:00
End Game
110 - 109
Kyle Lowry credits Bismack Biyombo for his ability to guard LeBron James and his overall effectiveness. Lowry knows the Raptors need to stay composed as they prepare to face Cleveland on the road in Game 5.

Kyle Lowry scored 35 points, including a driving layup in the final minute, and DeMar DeRozan had 32 as the Toronto Raptors evened the Eastern Conference Finals by beating the Cleveland Cavaliers

With a minute and a half to go in the fourth quarter, DeMar DeRozan attempts a jump shot and misses. Patrick Patterson gets the rebound and lobs it back to DeRozan, who makes the shot on his second try.
2015-2016 Atlantic Standings