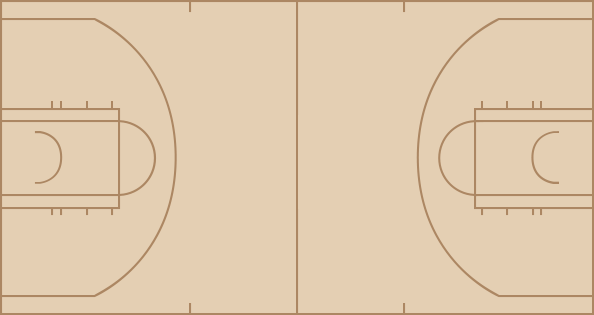 Clippers
time
TEAM
PLAY
SCORE
12:00
Start of the 1st Quarter.
0 - 0
12:00
Jumpball: Chris Kaman vs. Steven Hunter. Elton Brand gains possession.
0 - 0
11:41
Sam Cassell missed layup.
0 - 0
11:41
Los Angeles defensive rebound.
0 - 0
11:26
Chris Webber's hook shot blocked by Elton Brand.
0 - 0
11:23
Cuttino Mobley defensive rebound.
0 - 0
11:15
Chris Kaman missed 18 ft jumper.
0 - 0
11:15
Quinton Ross offensive rebound.
0 - 0
11:08
Elton Brand made 15 ft jumper. Assisted by Sam Cassell.
2 - 0
10:52
Allen Iverson made 16 ft jumper.
2 - 2
10:23
Sam Cassell missed 23 ft three point jumper.
2 - 2
10:22
Andre Iguodala defensive rebound.
2 - 2
10:19
Quinton Ross Personal Foul. Andre Iguodala gains possession.
2 - 2
10:10
Chris Webber missed 19 ft jumper.
2 - 2
10:08
Cuttino Mobley defensive rebound.
2 - 2
9:59
Sam Cassell missed 20 ft jumper.
2 - 2
9:56
Chris Webber defensive rebound.
2 - 2
9:45
Steven Hunter made 8 ft two point shot.
2 - 4
9:26
Sam Cassell missed layup.
2 - 4
9:26
Chris Webber defensive rebound.
2 - 4
9:18
Andre Iguodala Bad Pass. Stolen by Cuttino Mobley.
2 - 4
9:15
Chris Kaman made layup. Assisted by Cuttino Mobley.
4 - 4
8:56
Chris Kaman Shooting Foul. Chris Webber gains possession.
4 - 4
8:56
Chris Webber missed Free Throw 1 of 2.
4 - 4
8:56
Philadelphia offensive rebound.
4 - 4
8:56
Chris Webber made Free Throw 2 of 2.
4 - 5
8:41
Quinton Ross Offensive Foul. Allen Iverson gains possession.
4 - 5
8:41
Quinton Ross Turnover
4 - 5
8:41
Daniel Ewing enters the game for Quinton Ross.
4 - 5
8:32
Kyle Korver missed 11 ft jumper.
4 - 5
8:30
Sam Cassell defensive rebound.
4 - 5
8:21
Cuttino Mobley made 22 ft jumper.
6 - 5
8:07
Allen Iverson made jumper.
6 - 7
7:52
Elton Brand made two point shot.
8 - 7
7:41
Allen Iverson made two point shot.
8 - 9
7:33
Cuttino Mobley missed 16 ft jumper.
8 - 9
7:31
Chris Webber defensive rebound.
8 - 9
7:30
Sam Cassell Personal Foul. Allen Iverson gains possession.
8 - 9
7:24
Andre Iguodala missed 10 ft jumper.
8 - 9
7:22
Chris Kaman defensive rebound.
8 - 9
7:05
Cuttino Mobley made driving layup.
10 - 9
7:05
Kyle Korver Shooting Foul. Cuttino Mobley gains possession.
10 - 9
7:05
Cuttino Mobley made Free Throw 1 of 1.
11 - 9
6:52
Andre Iguodala made two point shot. Assisted by Allen Iverson.
11 - 11
6:47
Sam Cassell Bad Pass. Stolen by Allen Iverson.
11 - 11
6:33
Andre Iguodala made two point shot. Assisted by Allen Iverson.
11 - 13
6:18
Daniel Ewing made jumper. Assisted by Sam Cassell.
13 - 13
6:01
Kyle Korver's layup blocked by Chris Kaman.
13 - 13
6:01
Steven Hunter offensive rebound.
13 - 13
6:01
Sam Cassell Shooting Foul. Steven Hunter gains possession.
13 - 13
6:01
Steven Hunter missed Free Throw 1 of 2.
13 - 13
6:01
Philadelphia offensive rebound.
13 - 13
6:01
Corey Maggette enters the game for Sam Cassell.
13 - 13
6:01
Steven Hunter made Free Throw 2 of 2.
13 - 14
5:41
Elton Brand missed 8 ft jumper.
13 - 14
5:41
Andre Iguodala defensive rebound.
13 - 14
5:31
Chris Webber made 9 ft hook shot. Assisted by Andre Iguodala.
13 - 16
5:18
Steven Hunter Shooting Foul. Cuttino Mobley gains possession.
13 - 16
5:18
Philadelphia Full Timeout.
13 - 16
5:18
Cuttino Mobley missed Free Throw 1 of 2.
13 - 16
5:18
Los Angeles offensive rebound.
13 - 16
5:18
Cuttino Mobley made Free Throw 2 of 2.
14 - 16
5:09
Allen Iverson's layup blocked by Chris Kaman.
14 - 16
5:07
Daniel Ewing defensive rebound.
14 - 16
5:01
Daniel Ewing Bad Pass. Stolen by Chris Webber.
14 - 16
4:56
Corey Maggette Personal Foul. Andre Iguodala gains possession.
14 - 16
4:56
Andre Iguodala missed Free Throw 1 of 2.
14 - 16
4:56
Philadelphia offensive rebound.
14 - 16
4:56
Andre Iguodala made Free Throw 2 of 2.
14 - 17
4:31
Cuttino Mobley made 23 ft three point jumper. Assisted by Daniel Ewing.
17 - 17
4:16
Chris Webber missed 20 ft jumper.
17 - 17
4:16
Philadelphia offensive rebound.
17 - 17
4:16
Cuttino Mobley Loose Ball Foul. Andre Iguodala gains possession.
17 - 17
4:16
Andre Iguodala made Free Throw 1 of 2.
17 - 18
4:16
Andre Iguodala made Free Throw 2 of 2.
17 - 19
3:59
Chris Kaman missed jumper.
17 - 19
3:57
Kyle Korver defensive rebound.
17 - 19
3:48
Allen Iverson made driving layup.
17 - 21
3:36
Los Angeles Full Timeout.
17 - 21
3:25
Daniel Ewing missed 25 ft three point jumper.
17 - 21
3:24
Kyle Korver defensive rebound.
17 - 21
3:11
Steven Hunter made 6 ft two point shot.
17 - 23
3:02
Chris Webber Shooting Foul. Elton Brand gains possession.
17 - 23
3:02
Elton Brand made Free Throw 1 of 2.
18 - 23
3:02
Elton Brand made Free Throw 2 of 2.
19 - 23
2:45
Chris Webber Backcourt
19 - 23
2:45
John Salmons enters the game for Kyle Korver.
19 - 23
2:34
Corey Maggette made layup. Assisted by Elton Brand.
21 - 23
2:34
Steven Hunter Shooting Foul. Corey Maggette gains possession.
21 - 23
2:34
Corey Maggette made Free Throw 1 of 1.
22 - 23
2:34
James Thomas enters the game for Steven Hunter.
22 - 23
2:25
Daniel Ewing Personal Foul. Allen Iverson gains possession.
22 - 23
2:25
Allen Iverson made Free Throw 1 of 2.
22 - 24
2:25
Allen Iverson made Free Throw 2 of 2.
22 - 25
2:04
Corey Maggette made 18 ft jumper.
24 - 25
1:46
Allen Iverson made 17 ft jumper.
24 - 27
1:30
Chris Kaman Bad Pass. Stolen by Andre Iguodala.
24 - 27
1:22
Allen Iverson Lost Ball. Stolen by Daniel Ewing.
24 - 27
1:19
John Salmons Shooting Foul. Corey Maggette gains possession.
24 - 27
1:19
Corey Maggette made Free Throw 1 of 2.
25 - 27
1:19
Lee Nailon enters the game for Chris Webber.
25 - 27
1:19
Corey Maggette made Free Throw 2 of 2.
26 - 27
1:09
Chris Kaman Personal Foul. Allen Iverson gains possession.
26 - 27
1:09
Allen Iverson made Free Throw 1 of 2.
26 - 28
1:09
Zeljko Rebraca enters the game for Chris Kaman.
26 - 28
1:09
Allen Iverson made Free Throw 2 of 2.
26 - 29
0:53
James Thomas Personal Foul. Elton Brand gains possession.
26 - 29
0:53
Elton Brand missed Free Throw 1 of 2.
26 - 29
0:53
Los Angeles offensive rebound.
26 - 29
0:53
Elton Brand missed Free Throw 2 of 2.
26 - 29
0:52
James Thomas defensive rebound.
26 - 29
0:36
Lee Nailon made layup. Assisted by John Salmons.
26 - 31
0:20
Elton Brand made 8 ft two point shot. Assisted by Daniel Ewing.
28 - 31
0:05
Allen Iverson Bad Pass. Stolen by Cuttino Mobley.
28 - 31
0:01
Cuttino Mobley's 26 ft three point jumper blocked by John Salmons.
28 - 31
0:00
Allen Iverson defensive rebound.
28 - 31
0:00
End of the 1st Quarter.
28 - 31

time
TEAM
PLAY
SCORE
12:00
Start of the 2nd Quarter.
28 - 31
11:45
Lee Nailon missed 18 ft jumper.
28 - 31
11:44
Corey Maggette defensive rebound.
28 - 31
11:33
Corey Maggette Offensive Foul. John Salmons gains possession.
28 - 31
11:33
Corey Maggette Turnover
28 - 31
11:17
Kevin Ollie missed 15 ft jumper.
28 - 31
11:15
Zeljko Rebraca defensive rebound.
28 - 31
11:11
Kyle Korver Shooting Foul. Corey Maggette gains possession.
28 - 31
11:11
Corey Maggette made Free Throw 1 of 2.
29 - 31
11:11
Corey Maggette made Free Throw 2 of 2.
30 - 31
10:47
James Thomas made layup. Assisted by Kyle Korver.
30 - 33
10:37
Corey Maggette Turnover
30 - 33
10:37
Chris Webber enters the game for James Thomas.
30 - 33
10:18
John Salmons missed jumper.
30 - 33
10:18
Sam Cassell defensive rebound.
30 - 33
10:18
Lee Nailon Loose Ball Foul. Zeljko Rebraca gains possession.
30 - 33
10:02
Corey Maggette made 18 ft jumper. Assisted by Sam Cassell.
32 - 33
9:38
Lee Nailon made 14 ft jumper. Assisted by Kevin Ollie.
32 - 35
9:18
Zeljko Rebraca missed 7 ft jumper.
32 - 35
9:17
Kyle Korver defensive rebound.
32 - 35
9:06
Kyle Korver made three point jumper. Assisted by Lee Nailon.
32 - 38
8:48
Corey Maggette missed 26 ft three point jumper.
32 - 38
8:47
Lee Nailon defensive rebound.
32 - 38
8:41
Kyle Korver missed 26 ft three point jumper.
32 - 38
8:40
Corey Maggette defensive rebound.
32 - 38
8:27
Sam Cassell missed 17 ft jumper.
32 - 38
8:26
Kyle Korver defensive rebound.
32 - 38
8:14
Chris Wilcox Shooting Foul. Chris Webber gains possession.
32 - 38
8:14
Official Timeout.
32 - 38
8:14
Chris Webber made Free Throw 1 of 2.
32 - 39
8:14
Chris Webber made Free Throw 2 of 2.
32 - 40
8:02
Chris Wilcox missed jumper.
32 - 40
8:00
Kevin Ollie defensive rebound.
32 - 40
7:43
Lee Nailon made 17 ft jumper. Assisted by John Salmons.
32 - 42
7:22
Corey Maggette missed jumper.
32 - 42
7:22
Kyle Korver defensive rebound.
32 - 42
7:07
Chris Webber missed layup.
32 - 42
7:07
Chris Wilcox defensive rebound.
32 - 42
7:00
Corey Maggette Bad Pass
32 - 42
7:00
Allen Iverson enters the game for Kyle Korver.
32 - 42
7:00
Cuttino Mobley enters the game for Daniel Ewing.
32 - 42
7:00
Elton Brand enters the game for Corey Maggette.
32 - 42
7:00
Quinton Ross enters the game for Chris Wilcox.
32 - 42
6:41
Elton Brand Personal Foul. Allen Iverson gains possession.
32 - 42
6:41
John Salmons made two point shot. Assisted by Allen Iverson.
32 - 44
6:20
Jumpball: Elton Brand vs. Chris Webber. Sam Cassell gains possession.
32 - 44
6:16
Cuttino Mobley Lost Ball. Stolen by John Salmons.
32 - 44
6:13
Kevin Ollie made layup. Assisted by Allen Iverson.
32 - 46
5:46
Cuttino Mobley made 25 ft three point jumper. Assisted by Sam Cassell.
35 - 46
5:22
Chris Webber missed layup.
35 - 46
5:20
Zeljko Rebraca defensive rebound.
35 - 46
5:16
Cuttino Mobley made 25 ft three point jumper.
38 - 46
5:05
Philadelphia Full Timeout.
38 - 46
5:05
Andre Iguodala enters the game for Kevin Ollie.
38 - 46
4:52
John Salmons made running jumper. Assisted by Allen Iverson.
38 - 48
4:33
Elton Brand missed 18 ft jumper.
38 - 48
4:31
John Salmons defensive rebound.
38 - 48
4:26
John Salmons made two point shot.
38 - 50
4:11
Sam Cassell Backcourt
38 - 50
3:57
Allen Iverson Bad Pass. Stolen by Elton Brand.
38 - 50
3:47
Elton Brand made jumper. Assisted by Zeljko Rebraca.
40 - 50
3:27
Lee Nailon missed jumper.
40 - 50
3:26
Elton Brand defensive rebound.
40 - 50
3:19
Cuttino Mobley made 26 ft three point jumper. Assisted by Sam Cassell.
43 - 50
3:01
Chris Webber missed 19 ft jumper.
43 - 50
3:00
Elton Brand defensive rebound.
43 - 50
2:55
Sam Cassell missed 21 ft jumper.
43 - 50
2:53
Allen Iverson defensive rebound.
43 - 50
2:45
Allen Iverson missed 17 ft jumper.
43 - 50
2:43
Andre Iguodala offensive rebound.
43 - 50
2:41
Lee Nailon made layup. Assisted by Andre Iguodala.
43 - 52
2:41
Cuttino Mobley Shooting Foul. Lee Nailon gains possession.
43 - 52
2:41
Los Angeles Full Timeout.
43 - 52
2:41
Lee Nailon made Free Throw 1 of 1.
43 - 53
2:41
Walter McCarty enters the game for Zeljko Rebraca.
43 - 53
2:32
Lee Nailon Personal Foul. Walter McCarty gains possession.
43 - 53
2:32
Steven Hunter enters the game for Lee Nailon.
43 - 53
2:19
Cuttino Mobley made driving layup. Assisted by Sam Cassell.
45 - 53
1:57
John Salmons missed 9 ft jumper.
45 - 53
1:54
Steven Hunter offensive rebound.
45 - 53
1:54
Steven Hunter missed layup.
45 - 53
1:53
Quinton Ross defensive rebound.
45 - 53
1:53
Quinton Ross Traveling
45 - 53
1:43
Chris Webber missed 17 ft jumper.
45 - 53
1:40
Elton Brand defensive rebound.
45 - 53
1:34
Sam Cassell Bad Pass. Stolen by Allen Iverson.
45 - 53
1:30
Allen Iverson Lost Ball. Stolen by Quinton Ross.
45 - 53
1:28
Walter McCarty made 27 ft three point jumper. Assisted by Sam Cassell.
48 - 53
1:13
Sam Cassell Shooting Foul. Allen Iverson gains possession.
48 - 53
1:13
Allen Iverson made Free Throw 1 of 2.
48 - 54
1:13
Lee Nailon enters the game for Steven Hunter.
48 - 54
1:13
Daniel Ewing enters the game for Sam Cassell.
48 - 54
1:13
Allen Iverson made Free Throw 2 of 2.
48 - 55
1:07
Walter McCarty Lost Ball. Stolen by Allen Iverson.
48 - 55
1:01
Andre Iguodala made layup.
48 - 57
0:46
Chris Webber Personal Foul. Elton Brand gains possession.
48 - 57
0:46
James Thomas enters the game for Chris Webber.
48 - 57
0:40
James Thomas Shooting Foul. Elton Brand gains possession.
48 - 57
0:40
Elton Brand made Free Throw 1 of 2.
49 - 57
0:40
Elton Brand made Free Throw 2 of 2.
50 - 57
0:22
Andre Iguodala missed 20 ft jumper.
50 - 57
0:20
Lee Nailon offensive rebound.
50 - 57
0:20
Kyle Korver enters the game for James Thomas.
50 - 57
0:00
John Salmons made 26 ft three point jumper. Assisted by Allen Iverson.
50 - 60
0:00
End of the 2nd Quarter.
50 - 60

time
TEAM
PLAY
SCORE
12:00
Start of the 3rd Quarter.
50 - 60
11:42
Steven Hunter missed 5 ft jumper.
50 - 60
11:41
Chris Kaman defensive rebound.
50 - 60
11:26
Elton Brand made 15 ft jumper. Assisted by Sam Cassell.
52 - 60
11:08
Chris Webber missed 19 ft jumper.
52 - 60
11:07
Philadelphia offensive rebound.
52 - 60
10:57
Andre Iguodala missed 13 ft jumper.
52 - 60
10:57
Steven Hunter offensive rebound.
52 - 60
10:57
Cuttino Mobley Loose Ball Foul. Steven Hunter gains possession.
52 - 60
10:49
Allen Iverson made 18 ft jumper.
52 - 62
10:33
Steven Hunter Shooting Foul. Elton Brand gains possession.
52 - 62
10:33
Elton Brand made Free Throw 1 of 2.
53 - 62
10:33
Elton Brand made Free Throw 2 of 2.
54 - 62
10:21
Kyle Korver made 25 ft three point jumper. Assisted by Chris Webber.
54 - 65
10:11
Chris Webber Illegal Defense Foul. His 3rd Personal Foul.
54 - 65
10:11
Sam Cassell made Technical Free Throw.
55 - 65
10:03
Sam Cassell Lost Ball. Stolen by Chris Webber.
55 - 65
9:59
Chris Webber missed layup.
55 - 65
9:57
Andre Iguodala offensive rebound.
55 - 67
9:57
Andre Iguodala made two point shot.
55 - 67
9:48
Cuttino Mobley made 16 ft jumper.
57 - 67
9:23
Cuttino Mobley Shooting Foul. Andre Iguodala gains possession.
57 - 67
9:23
Andre Iguodala made Free Throw 1 of 2.
57 - 68
9:23
Corey Maggette enters the game for Cuttino Mobley.
57 - 68
9:23
Andre Iguodala made Free Throw 2 of 2.
57 - 69
9:11
Elton Brand missed 13 ft jumper.
57 - 69
9:11
Allen Iverson defensive rebound.
57 - 69
9:04
Chris Kaman Shooting Foul. Steven Hunter gains possession.
57 - 69
9:04
Steven Hunter made Free Throw 1 of 2.
57 - 70
9:04
Steven Hunter missed Free Throw 2 of 2.
57 - 70
9:04
Los Angeles Full Timeout.
57 - 70
9:03
Chris Kaman defensive rebound.
57 - 70
8:49
Quinton Ross made 21 ft jumper. Assisted by Sam Cassell.
59 - 70
8:26
Kyle Korver Lost Ball. Stolen by Elton Brand.
59 - 70
8:18
Sam Cassell made 26 ft three point jumper. Assisted by Quinton Ross.
62 - 70
8:03
Allen Iverson missed layup.
62 - 70
8:03
Chris Kaman defensive rebound.
62 - 70
7:56
Sam Cassell missed 25 ft three point jumper.
62 - 70
7:54
Chris Webber defensive rebound.
62 - 70
7:35
Steven Hunter Lost Ball. Stolen by Corey Maggette.
62 - 70
7:33
Allen Iverson Clear Path Foul. Corey Maggette gains possession.
62 - 70
7:33
James Thomas enters the game for Steven Hunter.
62 - 70
7:33
Corey Maggette made Flagrant Free Throw 1 of 2.
63 - 70
7:26
Chris Webber Shooting Foul. Elton Brand gains possession.
63 - 70
7:26
Elton Brand made Free Throw 1 of 2.
64 - 70
7:26
Elton Brand made Free Throw 2 of 2.
65 - 70
7:11
Allen Iverson missed 17 ft jumper.
65 - 70
7:09
Elton Brand defensive rebound.
65 - 70
7:05
Corey Maggette missed layup.
65 - 70
7:03
Elton Brand offensive rebound.
65 - 70
7:00
Chris Kaman missed 12 ft jumper.
65 - 70
6:58
Sam Cassell offensive rebound.
65 - 70
6:43
Elton Brand missed 14 ft jumper.
65 - 70
6:43
Chris Kaman offensive rebound.
65 - 70
6:43
Chris Kaman missed tip shot.
65 - 70
6:43
Los Angeles defensive rebound.
65 - 70
6:28
Chris Webber missed 16 ft jumper.
65 - 70
6:26
Corey Maggette defensive rebound.
65 - 70
6:22
Elton Brand made dunk. Assisted by Corey Maggette.
67 - 70
6:20
Philadelphia Full Timeout.
67 - 70
6:07
Chris Kaman Shooting Foul. James Thomas gains possession.
67 - 70
6:07
James Thomas missed Free Throw 1 of 2.
67 - 70
6:07
Philadelphia offensive rebound.
67 - 70
6:07
Walter McCarty enters the game for Chris Kaman.
67 - 70
6:07
James Thomas made Free Throw 2 of 2.
67 - 71
5:54
Allen Iverson Personal Foul. Corey Maggette gains possession.
67 - 71
5:54
Lee Nailon enters the game for James Thomas.
67 - 71
5:47
Walter McCarty missed 24 ft three point jumper.
67 - 71
5:45
Andre Iguodala defensive rebound.
67 - 71
5:39
Andre Iguodala missed layup.
67 - 71
5:37
Chris Webber offensive rebound.
67 - 73
5:37
Chris Webber made tip shot.
67 - 73
5:18
Elton Brand's 5 ft jumper blocked by Kyle Korver.
67 - 73
5:16
Corey Maggette offensive rebound.
67 - 73
5:15
Corey Maggette's 4 ft jumper blocked by Chris Webber.
67 - 73
5:15
Los Angeles defensive rebound.
67 - 73
5:03
Chris Webber Bad Pass. Stolen by Quinton Ross.
67 - 73
4:58
Corey Maggette made layup. Assisted by Quinton Ross.
69 - 73
4:43
Kyle Korver made 18 ft jumper. Assisted by Allen Iverson.
69 - 75
4:20
Corey Maggette missed 19 ft jumper.
69 - 75
4:20
Kyle Korver defensive rebound.
69 - 75
4:09
Andre Iguodala missed 14 ft jumper.
69 - 75
4:07
Elton Brand defensive rebound.
69 - 75
4:01
Quinton Ross made layup. Assisted by Corey Maggette.
71 - 75
3:42
Chris Webber Traveling
71 - 75
3:32
Quinton Ross made two point shot. Assisted by Corey Maggette.
73 - 75
3:16
Lee Nailon made 17 ft jumper. Assisted by Allen Iverson.
73 - 77
3:03
Corey Maggette Offensive Foul. Andre Iguodala gains possession.
73 - 77
3:03
Corey Maggette Turnover
73 - 77
2:55
Allen Iverson Bad Pass. Stolen by Corey Maggette.
73 - 77
2:51
Corey Maggette Lost Ball. Stolen by Allen Iverson.
73 - 77
2:47
Chris Webber made dunk. Assisted by Andre Iguodala.
73 - 79
2:30
Walter McCarty missed 26 ft three point jumper.
73 - 79
2:28
Allen Iverson defensive rebound.
73 - 79
2:20
Allen Iverson missed 12 ft jumper.
73 - 79
2:19
Lee Nailon offensive rebound.
73 - 81
2:19
Lee Nailon made layup.
73 - 81
2:14
Los Angeles 20 Sec. Timeout.
73 - 81
2:02
Corey Maggette's 5 ft jumper blocked by Andre Iguodala.
73 - 81
2:00
Walter McCarty offensive rebound.
73 - 81
1:55
Walter McCarty missed 26 ft three point jumper.
73 - 81
1:53
Kyle Korver defensive rebound.
73 - 81
1:45
Kyle Korver made 23 ft three point jumper. Assisted by Allen Iverson.
73 - 84
1:27
Kyle Korver Shooting Foul. Elton Brand gains possession.
73 - 84
1:27
Elton Brand made Free Throw 1 of 2.
74 - 84
1:27
Elton Brand made Free Throw 2 of 2.
75 - 84
1:15
Quinton Ross Jump Ball
75 - 84
1:15
Zeljko Rebraca enters the game for Elton Brand.
75 - 84
1:15
James Thomas enters the game for Chris Webber.
75 - 84
1:10
Allen Iverson missed 16 ft jumper.
75 - 84
1:09
Philadelphia defensive rebound.
75 - 84
1:09
James Thomas Loose Ball Foul. Zeljko Rebraca gains possession.
75 - 84
1:09
Zeljko Rebraca made Free Throw 1 of 2.
76 - 84
1:09
Zeljko Rebraca made Free Throw 2 of 2.
77 - 84
0:50
Allen Iverson missed 25 ft three point jumper.
77 - 84
0:47
Corey Maggette defensive rebound.
77 - 84
0:34
Zeljko Rebraca made jumper. Assisted by Sam Cassell.
79 - 84
0:17
Lee Nailon made 17 ft jumper.
79 - 86
0:03
Walter McCarty missed 25 ft three point jumper.
79 - 86
0:00
Quinton Ross offensive rebound.
79 - 86
0:00
Quinton Ross missed tip shot.
79 - 86
0:00
Andre Iguodala defensive rebound.
79 - 86
0:00
End of the 3rd Quarter.
79 - 86

time
TEAM
PLAY
SCORE
12:00
Start of the 4th Quarter.
79 - 86
11:52
Zeljko Rebraca made layup. Assisted by Walter McCarty.
81 - 86
11:29
Walter McCarty Shooting Foul. Lee Nailon gains possession.
81 - 86
11:29
Lee Nailon made Free Throw 1 of 2.
81 - 87
11:29
Lee Nailon made Free Throw 2 of 2.
81 - 88
11:10
Zeljko Rebraca made layup. Assisted by Sam Cassell.
83 - 88
10:44
John Salmons missed 11 ft jumper.
83 - 88
10:41
Lee Nailon offensive rebound.
83 - 88
10:41
Steven Hunter enters the game for James Thomas.
83 - 88
10:34
Lee Nailon missed 6 ft jumper.
83 - 88
10:34
Philadelphia defensive rebound.
83 - 88
10:33
Steven Hunter Loose Ball Foul. Zeljko Rebraca gains possession.
83 - 88
10:19
Corey Maggette made 27 ft three point jumper. Assisted by Sam Cassell.
86 - 88
10:00
Andre Iguodala missed three point jumper.
86 - 88
9:59
Lee Nailon offensive rebound.
86 - 88
9:56
Allen Iverson missed 23 ft three point jumper.
86 - 88
9:52
Sam Cassell defensive rebound.
86 - 88
9:45
Sam Cassell missed 20 ft jumper.
86 - 88
9:42
Steven Hunter defensive rebound.
86 - 88
9:29
Zeljko Rebraca Shooting Foul. Lee Nailon gains possession.
86 - 88
9:29
Lee Nailon made Free Throw 1 of 2.
86 - 89
9:29
Lee Nailon made Free Throw 2 of 2.
86 - 90
9:29
Elton Brand enters the game for Walter McCarty.
86 - 90
9:29
Cuttino Mobley enters the game for Quinton Ross.
86 - 90
9:11
Zeljko Rebraca missed 11 ft jumper.
86 - 90
9:11
Andre Iguodala defensive rebound.
86 - 90
9:03
Allen Iverson made 17 ft two point shot.
86 - 92
8:52
Corey Maggette Bad Pass. Stolen by Allen Iverson.
86 - 92
8:48
Allen Iverson made two point shot.
86 - 94
8:48
Sam Cassell Shooting Foul. Allen Iverson gains possession.
86 - 94
8:48
Official Timeout.
86 - 94
8:48
Allen Iverson made Free Throw 1 of 1.
86 - 95
8:48
Chris Webber enters the game for Lee Nailon.
86 - 95
8:38
Zeljko Rebraca Offensive Foul. Andre Iguodala gains possession.
86 - 95
8:38
Zeljko Rebraca Turnover
86 - 95
8:22
Steven Hunter made slam dunk. Assisted by Chris Webber.
86 - 97
7:58
Corey Maggette missed 26 ft three point jumper.
86 - 97
7:58
Los Angeles offensive rebound.
86 - 97
7:58
Steven Hunter Loose Ball Foul. Elton Brand gains possession.
86 - 97
7:58
Lee Nailon enters the game for Steven Hunter.
86 - 97
7:48
Elton Brand's 5 ft jumper blocked by Lee Nailon.
86 - 97
7:43
Elton Brand offensive rebound.
88 - 97
7:43
Elton Brand made two point shot.
88 - 97
7:37
Allen Iverson Double Dribble
88 - 97
7:22
Zeljko Rebraca missed 8 ft jumper.
88 - 97
7:20
Lee Nailon defensive rebound.
88 - 97
7:01
Chris Webber missed 10 ft jumper.
88 - 97
7:00
Corey Maggette defensive rebound.
88 - 97
6:52
Cuttino Mobley Offensive Foul. Allen Iverson gains possession.
88 - 97
6:52
Cuttino Mobley Turnover
88 - 97
6:52
Chris Kaman enters the game for Zeljko Rebraca.
88 - 97
6:52
Quinton Ross enters the game for Corey Maggette.
88 - 97
6:37
John Salmons made driving layup. Assisted by Allen Iverson.
88 - 99
6:31
John Salmons Personal Foul. Sam Cassell gains possession.
88 - 99
6:24
Sam Cassell missed 7 ft jumper.
88 - 99
6:22
John Salmons defensive rebound.
88 - 99
6:16
Lee Nailon made two point shot. Assisted by John Salmons.
88 - 101
5:54
Philadelphia Full Timeout.
88 - 101
5:54
Lee Nailon Shooting Foul. Quinton Ross gains possession.
88 - 101
5:54
Quinton Ross made Free Throw 1 of 2.
89 - 101
5:54
Quinton Ross made Free Throw 2 of 2.
90 - 101
5:43
Chris Webber made 8 ft two point shot. Assisted by John Salmons.
90 - 103
5:31
Chris Webber Shooting Foul. Elton Brand gains possession.
90 - 103
5:31
Elton Brand missed Free Throw 1 of 2.
90 - 103
5:31
Los Angeles offensive rebound.
90 - 103
5:31
Elton Brand made Free Throw 2 of 2.
91 - 103
5:16
Elton Brand Personal Foul. Chris Webber gains possession.
91 - 103
5:16
Daniel Ewing enters the game for Sam Cassell.
91 - 103
5:07
Allen Iverson missed 19 ft jumper.
91 - 103
5:03
Elton Brand defensive rebound.
91 - 103
4:39
Shot Clock Violation
91 - 103
4:24
John Salmons Traveling
91 - 103
4:15
Andre Iguodala Personal Foul. Cuttino Mobley gains possession.
91 - 103
4:15
Cuttino Mobley missed Free Throw 1 of 2.
91 - 103
4:15
Los Angeles offensive rebound.
91 - 103
4:15
Cuttino Mobley made Free Throw 2 of 2.
92 - 103
3:56
Chris Webber missed 10 ft jumper.
92 - 103
3:55
Chris Kaman defensive rebound.
92 - 103
3:48
Cuttino Mobley missed 28 ft three point jumper.
92 - 103
3:47
Elton Brand offensive rebound.
94 - 103
3:47
Elton Brand made layup.
94 - 103
3:47
Chris Webber Shooting Foul. Elton Brand gains possession.
94 - 103
3:47
Corey Maggette enters the game for Chris Kaman.
94 - 103
3:47
Elton Brand made Free Throw 1 of 1.
95 - 103
3:47
Kyle Korver enters the game for John Salmons.
95 - 103
3:36
Allen Iverson Offensive Foul. Corey Maggette gains possession.
95 - 103
3:36
Allen Iverson Turnover
95 - 103
3:36
John Salmons enters the game for Lee Nailon.
95 - 103
3:20
Quinton Ross missed jumper.
95 - 103
3:19
Andre Iguodala defensive rebound.
95 - 103
3:04
Elton Brand Shooting Foul. John Salmons gains possession.
95 - 103
3:04
John Salmons made Free Throw 1 of 2.
95 - 104
3:04
John Salmons made Free Throw 2 of 2.
95 - 105
2:47
Elton Brand made 11 ft two point shot. Assisted by Daniel Ewing.
97 - 105
2:28
Kyle Korver's layup blocked by Quinton Ross.
97 - 105
2:28
Quinton Ross defensive rebound.
97 - 105
2:28
Jumpball: Quinton Ross vs. Kyle Korver. Elton Brand gains possession.
97 - 105
2:28
Los Angeles Full Timeout.
97 - 105
2:05
Corey Maggette made 14 ft jumper. Assisted by Cuttino Mobley.
99 - 105
2:05
Andre Iguodala Shooting Foul. Corey Maggette gains possession.
99 - 105
2:05
Corey Maggette made Free Throw 1 of 1.
100 - 105
1:54
Corey Maggette Shooting Foul. Chris Webber gains possession.
100 - 105
1:54
Chris Webber made Free Throw 1 of 2.
100 - 106
1:54
Chris Webber made Free Throw 2 of 2.
100 - 107
1:40
Daniel Ewing Offensive Foul. Kyle Korver gains possession.
100 - 107
1:40
Daniel Ewing Turnover
100 - 107
1:23
Allen Iverson missed layup.
100 - 107
1:22
Daniel Ewing defensive rebound.
100 - 107
1:15
Cuttino Mobley missed 25 ft three point jumper.
100 - 107
1:12
John Salmons defensive rebound.
100 - 107
0:51
Allen Iverson made 7 ft two point shot.
100 - 109
0:47
Daniel Ewing Bad Pass
100 - 109
0:26
Allen Iverson missed 20 ft jumper.
100 - 109
0:24
Chris Webber offensive rebound.
100 - 109
0:24
Chris Webber missed tip shot.
100 - 109
0:24
Philadelphia defensive rebound.
100 - 109
0:18
Daniel Ewing made driving layup.
102 - 109
0:17
Daniel Ewing Personal Foul. Allen Iverson gains possession.
102 - 109
0:17
Allen Iverson made Free Throw 1 of 2.
102 - 110
0:17
Allen Iverson made Free Throw 2 of 2.
102 - 111
0:13
Daniel Ewing made driving layup.
104 - 111
0:11
Quinton Ross Personal Foul. Allen Iverson gains possession.
104 - 111
0:11
Allen Iverson made Free Throw 1 of 2.
104 - 112
0:11
Allen Iverson missed Free Throw 2 of 2.
104 - 112
0:10
Elton Brand defensive rebound.
104 - 112
0:06
Daniel Ewing made driving layup.
106 - 112
0:05
Cuttino Mobley Personal Foul. John Salmons gains possession.
106 - 112
0:05
John Salmons missed Free Throw 1 of 2.
106 - 112
0:05
Walter McCarty enters the game for Cuttino Mobley.
106 - 112
0:05
Philadelphia offensive rebound.
106 - 112
0:05
John Salmons made Free Throw 2 of 2.
106 - 113
0:00
Daniel Ewing missed 26 ft three point jumper.
106 - 113
0:00
Elton Brand offensive rebound.
108 - 113
0:00
Elton Brand made tip shot.
108 - 113
0:00
End of the 4th Quarter.
108 - 113
0:00
End Game
108 - 113
After whipping the Warriors in Game 4, are the Thunder on the verge of completing an unprecedented run to the NBA Finals? Kevin Pelton has the spectacular facts.

How Oklahoma City took a commanding 3-1 series lead in the Western Conference finals with a dominant Game 4 win over Golden State.

The Warriors' chase of history is nearly history after a Game 4 loss to the Thunder, but their confidence remains intact.
2015-2016 Pacific Standings
2015-2016 Atlantic Standings