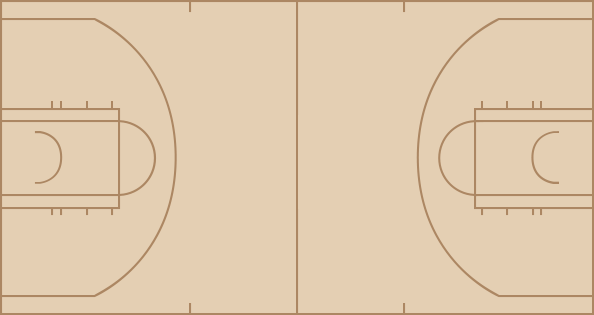 Clippers
time
TEAM
PLAY
SCORE
12:00
Start of the 1st Quarter
0 - 0
12:00
Jumpball: Chris Kaman vs. Jermaine O'Neal (Jamaal Tinsley gains possession)
0 - 0
11:41
Austin Croshere misses 25-foot three point jumper
0 - 0
11:38
Jamaal Tinsley offensive rebound
0 - 0
11:29
Stephen Jackson misses 13-foot jumper
0 - 0
11:27
Chris Kaman defensive rebound
0 - 0
11:11
Elton Brand misses 8-foot jumper
0 - 0
11:11
Jermaine O'Neal defensive rebound
0 - 0
11:00
Elton Brand blocks Jamaal Tinsley's 6-foot jumper
0 - 0
10:59
Elton Brand defensive rebound
0 - 0
10:51
Elton Brand makes 13-foot jumper (Shaun Livingston assists)
2 - 0
10:37
Jamaal Tinsley bad pass (Shaun Livingston steals)
2 - 0
10:30
Sam Cassell misses 18-foot jumper
2 - 0
10:30
Sarunas Jasikevicius defensive rebound
2 - 0
10:18
Jermaine O'Neal makes jumper (Jamaal Tinsley assists)
2 - 2
9:52
Cuttino Mobley misses 6-foot jumper
2 - 2
9:52
Jermaine O'Neal defensive rebound
2 - 2
9:41
Shaun Livingston shooting foul (Stephen Jackson draws the foul)
2 - 2
9:41
Stephen Jackson makes free throw 1 of 2
2 - 3
9:41
Stephen Jackson misses free throw 2 of 2
2 - 3
9:41
Chris Kaman defensive rebound
2 - 3
9:30
Sam Cassell misses jumper
2 - 3
9:29
Jermaine O'Neal defensive rebound
2 - 3
9:21
Jamaal Tinsley offensive foul (Shaun Livingston draws the foul)
2 - 3
9:21
Jamaal Tinsley turnover
2 - 3
9:07
Chris Kaman misses 11-foot jumper
2 - 3
9:06
Stephen Jackson defensive rebound
2 - 3
8:57
Sarunas Jasikevicius misses 26-foot three point jumper
2 - 3
8:56
Chris Kaman defensive rebound
2 - 3
8:44
Chris Kaman makes 16-foot jumper (Cuttino Mobley assists)
4 - 3
8:32
Stephen Jackson makes slam dunk (Sarunas Jasikevicius assists)
4 - 5
8:18
Chris Kaman misses layup
4 - 5
8:17
Chris Kaman offensive rebound
4 - 5
8:17
Chris Kaman misses layup
4 - 5
8:15
Austin Croshere defensive rebound
4 - 5
8:02
Sarunas Jasikevicius misses 26-foot three point jumper
4 - 5
8:00
Elton Brand defensive rebound
4 - 5
7:52
Sam Cassell misses 4-foot jumper
4 - 5
7:50
Jamaal Tinsley defensive rebound
4 - 5
7:46
Jamaal Tinsley makes 10-foot jumper
4 - 7
7:28
Jermaine O'Neal blocks Sam Cassell's 4-foot jumper
4 - 7
7:26
Austin Croshere defensive rebound
4 - 7
7:22
Stephen Jackson makes 25-foot three point jumper
4 - 10
7:13
Los Angeles full timeout
4 - 10
7:01
Jermaine O'Neal blocks Chris Kaman's 7-foot jumper
4 - 10
7:00
Elton Brand offensive rebound
4 - 10
6:58
Elton Brand misses layup
4 - 10
6:58
Chris Kaman offensive rebound
4 - 10
6:58
Chris Kaman traveling
4 - 10
6:46
Stephen Jackson bad pass (Elton Brand steals)
4 - 10
6:39
Cuttino Mobley misses 22-foot jumper
4 - 10
6:39
Sarunas Jasikevicius defensive rebound
4 - 10
6:24
Jermaine O'Neal offensive foul (Shaun Livingston draws the foul)
4 - 10
6:24
Jermaine O'Neal turnover
4 - 10
6:03
Chris Kaman misses layup
4 - 10
6:01
Austin Croshere defensive rebound
4 - 10
5:47
Jamaal Tinsley makes driving layup
4 - 12
5:35
Elton Brand misses jumper
4 - 12
5:35
Austin Croshere defensive rebound
4 - 12
5:24
Elton Brand blocks Jermaine O'Neal's 7-foot jumper
4 - 12
5:22
Indiana defensive rebound
4 - 12
5:05
Cuttino Mobley misses 27-foot three point jumper
4 - 12
5:03
Chris Kaman offensive rebound
4 - 12
5:00
Elton Brand makes 14-foot jumper (Chris Kaman assists)
6 - 12
4:45
Stephen Jackson makes slam dunk (Sarunas Jasikevicius assists)
6 - 14
4:33
Elton Brand misses jumper
6 - 14
4:31
Chris Kaman offensive rebound
6 - 14
4:30
Chris Kaman makes 10-foot two point shot
8 - 14
4:16
Austin Croshere makes driving layup (Jamaal Tinsley assists)
8 - 16
4:07
Elton Brand makes layup (Sam Cassell assists)
10 - 16
4:01
Indiana full timeout
10 - 16
4:01
Jeff Foster enters the game for Austin Croshere
10 - 16
4:01
Danny Granger enters the game for Stephen Jackson
10 - 16
3:53
Sarunas Jasikevicius misses 25-foot three point jumper
10 - 16
3:50
Chris Kaman defensive rebound
10 - 16
3:31
Shaun Livingston makes 18-foot jumper (Elton Brand assists)
12 - 16
3:13
Jermaine O'Neal makes layup (Jamaal Tinsley assists)
12 - 18
2:54
Shaun Livingston makes 4-foot two point shot
14 - 18
2:41
Jamaal Tinsley makes driving layup
14 - 20
2:41
Shaun Livingston shooting foul (Jamaal Tinsley draws the foul)
14 - 20
2:41
Daniel Ewing enters the game for Shaun Livingston
14 - 20
2:41
Fred Jones enters the game for Sarunas Jasikevicius
14 - 20
2:41
Jamaal Tinsley misses free throw 1 of 1
14 - 20
2:41
Cuttino Mobley defensive rebound
14 - 20
2:35
Jeff Foster shooting foul (Elton Brand draws the foul)
14 - 20
2:35
Anthony Johnson enters the game for Jamaal Tinsley
14 - 20
2:35
Elton Brand makes free throw 1 of 2
15 - 20
2:35
Elton Brand makes free throw 2 of 2
16 - 20
2:12
Jermaine O'Neal misses jumper
16 - 20
2:11
Jermaine O'Neal offensive rebound
16 - 20
2:04
Anthony Johnson misses 25-foot three point jumper
16 - 20
2:03
Jermaine O'Neal offensive rebound
16 - 20
2:00
Fred Jones misses 26-foot three point jumper
16 - 20
1:59
Elton Brand defensive rebound
16 - 20
1:54
Cuttino Mobley misses layup
16 - 20
1:53
Jeff Foster defensive rebound
16 - 20
1:45
Anthony Johnson misses 21-foot jumper
16 - 20
1:43
Cuttino Mobley defensive rebound
16 - 20
1:39
Cuttino Mobley bad pass (Danny Granger steals)
16 - 20
1:16
Danny Granger makes 18-foot jumper (Fred Jones assists)
16 - 22
1:01
Cuttino Mobley makes 20-foot jumper (Sam Cassell assists)
18 - 22
0:45
Jeff Foster makes 2-foot two point shot
18 - 24
0:26
Elton Brand misses jumper
18 - 24
0:25
Chris Kaman offensive rebound
18 - 24
0:24
Chris Kaman lost ball (Jeff Foster steals)
18 - 24
0:24
Stephen Jackson enters the game for Jermaine O'Neal
18 - 24
0:24
Sarunas Jasikevicius enters the game for Jeff Foster
18 - 24
0:24
Walter McCarty enters the game for Chris Kaman
18 - 24
0:24
James Singleton enters the game for Elton Brand
18 - 24
0:04
Sam Cassell personal foul (Anthony Johnson draws the foul)
18 - 24
0:01
Fred Jones misses 26-foot three point jumper
18 - 24
0:00
Sam Cassell defensive rebound
18 - 24
0:00
End of the 1st Quarter
18 - 24

time
TEAM
PLAY
SCORE
12:00
Start of the 2nd Quarter
18 - 24
11:44
Shaun Livingston makes 18-foot jumper
20 - 24
11:17
Danny Granger misses 11-foot jumper
20 - 24
11:15
James Singleton defensive rebound
20 - 24
11:04
Cuttino Mobley makes jumper (Shaun Livingston assists)
22 - 24
10:44
James Singleton shooting foul (Stephen Jackson draws the foul)
22 - 24
10:44
Stephen Jackson makes free throw 1 of 2
22 - 25
10:44
Stephen Jackson makes free throw 2 of 2
22 - 26
10:22
Shaun Livingston misses 12-foot jumper
22 - 26
10:22
Danny Granger defensive rebound
22 - 26
10:07
Fred Jones bad pass (Cuttino Mobley steals)
22 - 26
10:00
Walter McCarty misses jumper
22 - 26
10:00
Fred Jones defensive rebound
22 - 26
9:55
Fred Jones bad pass
22 - 26
9:38
Walter McCarty bad pass
22 - 26
9:38
Elton Brand enters the game for Cuttino Mobley
22 - 26
9:19
Anthony Johnson makes 23-foot three point jumper (Stephen Jackson assists)
22 - 29
8:59
Elton Brand makes 7-foot two point shot
24 - 29
8:33
Anthony Johnson makes 20-foot jumper (Fred Jones assists)
24 - 31
8:19
Elton Brand makes driving layup
26 - 31
8:19
Jeff Foster shooting foul (Elton Brand draws the foul)
26 - 31
8:19
Official timeout
26 - 31
8:19
Jermaine O'Neal enters the game for Jeff Foster
26 - 31
8:19
Elton Brand misses free throw 1 of 1
26 - 31
8:19
Danny Granger defensive rebound
26 - 31
8:11
Anthony Johnson misses 25-foot three point jumper
26 - 31
8:08
James Singleton defensive rebound
26 - 31
7:48
Shaun Livingston misses 14-foot jumper
26 - 31
7:47
Anthony Johnson defensive rebound
26 - 31
7:37
Stephen Jackson misses 7-foot jumper
26 - 31
7:35
Danny Granger offensive rebound
26 - 33
7:35
Danny Granger makes tip shot
26 - 33
7:11
Walter McCarty misses 26-foot three point jumper
26 - 33
7:11
Elton Brand offensive rebound
26 - 33
7:11
Fred Jones loose ball foul (Elton Brand draws the foul)
26 - 33
7:11
Jamaal Tinsley enters the game for Fred Jones
26 - 33
6:54
Shaun Livingston misses layup
26 - 33
6:52
Walter McCarty offensive rebound
26 - 33
6:50
Danny Granger blocks Walter McCarty's layup
26 - 33
6:48
Stephen Jackson defensive rebound
26 - 33
6:45
Danny Granger makes slam dunk (Jamaal Tinsley assists)
26 - 35
6:35
Los Angeles full timeout
26 - 35
6:35
Sam Cassell enters the game for Daniel Ewing
26 - 35
6:35
Cuttino Mobley enters the game for James Singleton
26 - 35
6:28
Walter McCarty 3 second
26 - 35
6:11
Jermaine O'Neal misses 10-foot jumper
26 - 35
6:09
Danny Granger offensive rebound
26 - 35
6:09
Sam Cassell loose ball foul (Danny Granger draws the foul)
26 - 35
6:00
Jermaine O'Neal misses 18-foot jumper
26 - 35
5:58
Shaun Livingston defensive rebound
26 - 35
5:50
Jermaine O'Neal blocks Elton Brand's 3-foot jumper
26 - 35
5:48
Jamaal Tinsley defensive rebound
26 - 35
5:31
Stephen Jackson misses 10-foot jumper
26 - 35
5:30
Jermaine O'Neal offensive rebound
26 - 35
5:26
Anthony Johnson misses 24-foot three point jumper
26 - 35
5:24
Shaun Livingston defensive rebound
26 - 35
5:18
Cuttino Mobley misses 9-foot jumper
26 - 35
5:16
Danny Granger defensive rebound
26 - 35
5:03
Danny Granger makes 9-foot jumper (Jermaine O'Neal assists)
26 - 37
4:39
Sam Cassell offensive foul (Stephen Jackson draws the foul)
26 - 37
4:39
Sam Cassell turnover
26 - 37
4:39
Chris Kaman enters the game for Walter McCarty
26 - 37
4:39
Daniel Ewing enters the game for Sam Cassell
26 - 37
4:39
Sam Cassell technical foul (1st technical foul)
26 - 37
4:39
Stephen Jackson makes technical free throw
26 - 38
4:31
Daniel Ewing personal foul (Jamaal Tinsley draws the foul)
26 - 38
4:18
Danny Granger makes 8-foot jumper (Jamaal Tinsley assists)
26 - 40
4:00
Elton Brand makes 10-foot jumper (Shaun Livingston assists)
28 - 40
3:42
Jermaine O'Neal lost ball (Cuttino Mobley steals)
28 - 40
3:38
Daniel Ewing makes driving layup
30 - 40
3:31
Indiana full timeout
30 - 40
3:31
Sarunas Jasikevicius enters the game for Anthony Johnson
30 - 40
3:21
Jamaal Tinsley makes 16-foot jumper
30 - 42
3:04
Shaun Livingston makes 6-foot running jumper
32 - 42
2:44
Jamaal Tinsley misses 26-foot three point jumper
32 - 42
2:42
Elton Brand defensive rebound
32 - 42
2:29
Chris Kaman makes 7-foot two point shot
34 - 42
2:08
Jermaine O'Neal misses 10-foot jumper
34 - 42
2:06
Elton Brand defensive rebound
34 - 42
2:00
Shaun Livingston lost ball (Stephen Jackson steals)
34 - 42
1:57
Stephen Jackson makes dunk (Danny Granger assists)
34 - 44
1:39
Cuttino Mobley bad pass (Danny Granger steals)
34 - 44
1:36
Jamaal Tinsley bad pass
34 - 44
1:36
Austin Croshere enters the game for Danny Granger
34 - 44
1:17
Elton Brand makes 5-foot jumper
36 - 44
0:53
Jermaine O'Neal makes 14-foot jumper (Austin Croshere assists)
36 - 46
0:46
Austin Croshere personal foul (Elton Brand draws the foul)
36 - 46
0:36
Chris Kaman makes slam dunk (Shaun Livingston assists)
38 - 46
0:23
Sarunas Jasikevicius misses 24-foot three point jumper
38 - 46
0:23
Stephen Jackson offensive rebound
38 - 46
0:23
Daniel Ewing loose ball foul (Stephen Jackson draws the foul)
38 - 46
0:06
Jamaal Tinsley misses 4-foot jumper
38 - 46
0:03
Daniel Ewing defensive rebound
38 - 46
0:00
End of the 2nd Quarter
38 - 46

time
TEAM
PLAY
SCORE
12:00
Start of the 3rd Quarter
38 - 46
11:33
Elton Brand makes 9-foot two point shot
40 - 46
11:18
Chris Kaman shooting foul (Jermaine O'Neal draws the foul)
40 - 46
11:18
Jermaine O'Neal misses free throw 1 of 2
40 - 46
11:18
Indiana offensive rebound
40 - 46
11:18
Jermaine O'Neal makes free throw 2 of 2
40 - 47
11:03
Sam Cassell misses 17-foot jumper
40 - 47
11:02
Chris Kaman offensive rebound
40 - 47
11:00
Chris Kaman makes 6-foot two point shot
42 - 47
10:48
Jermaine O'Neal misses 12-foot jumper
42 - 47
10:45
Chris Kaman defensive rebound
42 - 47
10:25
Chris Kaman misses layup
42 - 47
10:25
Los Angeles defensive rebound
42 - 47
10:25
Chris Kaman loose ball foul (Jermaine O'Neal draws the foul)
42 - 47
10:10
Jamaal Tinsley makes 23-foot three point jumper (Austin Croshere assists)
42 - 50
9:56
Elton Brand makes 10-foot two point shot
44 - 50
9:36
Jamaal Tinsley misses 24-foot three point jumper
44 - 50
9:33
Elton Brand defensive rebound
44 - 50
9:22
Chris Kaman misses 5-foot jumper
44 - 50
9:22
Chris Kaman offensive rebound
44 - 50
9:21
Jermaine O'Neal shooting foul (Chris Kaman draws the foul)
44 - 50
9:21
Chris Kaman makes free throw 1 of 2
45 - 50
9:21
Chris Kaman misses free throw 2 of 2
45 - 50
9:21
Jamaal Tinsley defensive rebound
45 - 50
9:07
Sarunas Jasikevicius makes 24-foot three point jumper (Jamaal Tinsley assists)
45 - 53
8:48
Chris Kaman misses jumper
45 - 53
8:47
Elton Brand offensive rebound
45 - 53
8:45
Austin Croshere shooting foul (Elton Brand draws the foul)
45 - 53
8:45
Elton Brand makes free throw 1 of 2
46 - 53
8:45
Elton Brand makes free throw 2 of 2
47 - 53
8:30
Jermaine O'Neal lost ball (Sam Cassell steals)
47 - 53
8:25
Sam Cassell misses 15-foot jumper
47 - 53
8:22
Jamaal Tinsley defensive rebound
47 - 53
8:11
Shaun Livingston personal foul (Stephen Jackson draws the foul)
47 - 53
7:58
Stephen Jackson makes 18-foot jumper
47 - 55
7:39
Stephen Jackson personal foul (Chris Kaman draws the foul)
47 - 55
7:39
Jeff Foster enters the game for Austin Croshere
47 - 55
7:33
Cuttino Mobley misses 18-foot jumper
47 - 55
7:31
Jamaal Tinsley defensive rebound
47 - 55
7:18
Jermaine O'Neal misses 18-foot jumper
47 - 55
7:16
Jeff Foster offensive rebound
47 - 55
7:13
Sarunas Jasikevicius makes 24-foot three point jumper (Jeff Foster assists)
47 - 58
7:01
Jeff Foster personal foul (Elton Brand draws the foul)
47 - 58
6:50
Cuttino Mobley makes two point shot
49 - 58
6:31
Sarunas Jasikevicius misses 18-foot jumper
49 - 58
6:30
Jeff Foster offensive rebound
49 - 58
6:24
Jeff Foster misses layup
49 - 58
6:22
Jeff Foster offensive rebound
49 - 58
6:22
Jeff Foster misses layup
49 - 58
6:20
Chris Kaman defensive rebound
49 - 58
6:09
Shaun Livingston misses 21-foot jumper
49 - 58
6:09
Sarunas Jasikevicius defensive rebound
49 - 58
6:01
Jamaal Tinsley bad pass (Chris Kaman steals)
49 - 58
5:56
Jermaine O'Neal shooting foul (Elton Brand draws the foul)
49 - 58
5:56
Indiana full timeout
49 - 58
5:56
Elton Brand makes free throw 1 of 2
50 - 58
5:56
Elton Brand makes free throw 2 of 2
51 - 58
5:41
Jermaine O'Neal makes 16-foot jumper (Sarunas Jasikevicius assists)
51 - 60
5:20
Jermaine O'Neal blocks Shaun Livingston's layup
51 - 60
5:18
Jeff Foster defensive rebound
51 - 60
5:16
Jamaal Tinsley offensive foul (Sam Cassell draws the foul)
51 - 60
5:16
Jamaal Tinsley turnover
51 - 60
5:09
Sam Cassell misses jumper
51 - 60
5:07
Stephen Jackson defensive rebound
51 - 60
4:58
Jamaal Tinsley makes 9-foot running jumper
51 - 62
4:45
Cuttino Mobley makes running jumper (Sam Cassell assists)
53 - 62
4:26
Sarunas Jasikevicius traveling
53 - 62
4:13
Cuttino Mobley misses 18-foot jumper
53 - 62
4:11
Jermaine O'Neal defensive rebound
53 - 62
4:09
Shaun Livingston personal foul (Jamaal Tinsley draws the foul)
53 - 62
4:09
Daniel Ewing enters the game for Shaun Livingston
53 - 62
4:03
Chris Kaman shooting foul (Jermaine O'Neal draws the foul)
53 - 62
4:03
Anthony Johnson enters the game for Sarunas Jasikevicius
53 - 62
4:03
Jermaine O'Neal makes free throw 1 of 2
53 - 63
4:03
Danny Granger enters the game for Stephen Jackson
53 - 63
4:03
Jermaine O'Neal makes free throw 2 of 2
53 - 64
3:49
Los Angeles full timeout
53 - 64
3:49
Chris Wilcox enters the game for Chris Kaman
53 - 64
3:41
Anthony Johnson shooting foul (Elton Brand draws the foul)
53 - 64
3:41
Elton Brand misses free throw 1 of 2
53 - 64
3:41
Los Angeles offensive rebound
53 - 64
3:41
Elton Brand makes free throw 2 of 2
54 - 64
3:25
Jamaal Tinsley bad pass
54 - 64
3:08
Chris Wilcox misses 7-foot jumper
54 - 64
3:06
Jermaine O'Neal defensive rebound
54 - 64
3:01
Fred Jones enters the game for Jamaal Tinsley
54 - 64
2:54
Jermaine O'Neal makes 10-foot two point shot (Anthony Johnson assists)
54 - 66
2:26
Elton Brand makes 17-foot jumper
56 - 66
2:08
Jermaine O'Neal lost ball (Elton Brand steals)
56 - 66
1:54
Cuttino Mobley misses 4-foot jumper
56 - 66
1:54
Jeff Foster defensive rebound
56 - 66
1:37
Jermaine O'Neal misses 4-foot jumper
56 - 66
1:35
Cuttino Mobley defensive rebound
56 - 66
1:25
Elton Brand misses 13-foot jumper
56 - 66
1:23
Danny Granger defensive rebound
56 - 66
1:13
Anthony Johnson 5 second
56 - 66
1:13
Stephen Jackson enters the game for Jermaine O'Neal
56 - 66
1:13
Jermaine O'Neal technical foul (1st technical foul)
56 - 66
1:13
Sam Cassell misses technical free throw
56 - 66
1:13
Los Angeles offensive rebound
56 - 66
1:13
Chris Kaman enters the game for Elton Brand
56 - 66
1:01
Sam Cassell makes 20-foot jumper
58 - 66
0:48
Anthony Johnson bad pass
58 - 66
0:34
Cuttino Mobley misses 25-foot three point jumper
58 - 66
0:32
Anthony Johnson defensive rebound
58 - 66
0:25
Stephen Jackson offensive foul (Cuttino Mobley draws the foul)
58 - 66
0:25
Stephen Jackson turnover
58 - 66
0:05
Cuttino Mobley misses 4-foot jumper
58 - 66
0:04
Chris Kaman offensive rebound
58 - 66
0:04
Chris Kaman misses layup
58 - 66
0:02
Jeff Foster defensive rebound
58 - 66
0:01
Jeff Foster misses 36-foot three point jumper
58 - 66
0:00
Sam Cassell defensive rebound
58 - 66
0:00
End of the 3rd Quarter
58 - 66

time
TEAM
PLAY
SCORE
12:00
Start of the 4th Quarter
58 - 66
11:47
Danny Granger misses 17-foot jumper
58 - 66
11:45
Shaun Livingston defensive rebound
58 - 66
11:30
Chris Kaman makes driving layup
60 - 66
11:07
Stephen Jackson makes 9-foot two point shot
60 - 68
10:49
Cuttino Mobley makes jumper
62 - 68
10:29
Stephen Jackson lost ball (Cuttino Mobley steals)
62 - 68
10:23
Danny Granger blocks Daniel Ewing's layup
62 - 68
10:22
Jeff Foster defensive rebound
62 - 68
10:22
Cuttino Mobley personal foul (Jeff Foster draws the foul)
62 - 68
10:04
Fred Jones makes 21-foot jumper
62 - 70
9:52
Anthony Johnson personal foul (Daniel Ewing draws the foul)
62 - 70
9:52
Jamaal Tinsley enters the game for Anthony Johnson
62 - 70
9:45
Cuttino Mobley makes two point shot
64 - 70
9:30
Danny Granger makes 18-foot jumper (Jamaal Tinsley assists)
64 - 72
9:15
Shaun Livingston makes driving layup
66 - 72
9:02
Jamaal Tinsley bad pass (Shaun Livingston steals)
66 - 72
8:57
Daniel Ewing makes slam dunk (Shaun Livingston assists)
68 - 72
8:55
Indiana full timeout
68 - 72
8:55
Jermaine O'Neal enters the game for Jeff Foster
68 - 72
8:38
Jermaine O'Neal misses 13-foot jumper
68 - 72
8:29
Fred Jones makes 26-foot three point jumper (Jermaine O'Neal assists)
68 - 75
8:11
Jermaine O'Neal shooting foul (Chris Kaman draws the foul)
68 - 75
8:11
Chris Kaman misses free throw 1 of 2
68 - 75
8:11
Los Angeles offensive rebound
68 - 75
8:11
Elton Brand enters the game for Chris Wilcox
68 - 75
8:11
Chris Kaman misses free throw 2 of 2
68 - 75
8:11
Stephen Jackson defensive rebound
68 - 75
7:54
Shaun Livingston illegal defense foul (5th personal foul)
68 - 75
7:54
Stephen Jackson makes technical free throw
68 - 76
7:41
Danny Granger makes 17-foot jumper (Fred Jones assists)
68 - 78
7:28
Daniel Ewing misses 21-foot jumper
68 - 78
7:26
Stephen Jackson defensive rebound
68 - 78
7:07
Jamaal Tinsley misses 16-foot jumper
68 - 78
7:05
Indiana defensive rebound
68 - 78
6:48
Chris Kaman 3 second
68 - 78
6:35
Jermaine O'Neal lost ball (Daniel Ewing steals)
68 - 78
6:31
Daniel Ewing misses layup
68 - 78
6:28
Los Angeles offensive rebound
68 - 78
6:28
Los Angeles full timeout
68 - 78
6:28
Sam Cassell enters the game for Daniel Ewing
68 - 78
6:22
Sam Cassell makes 6-foot running jumper
70 - 78
5:58
Stephen Jackson misses 26-foot three point jumper
70 - 78
5:56
Sam Cassell defensive rebound
70 - 78
5:52
Jermaine O'Neal blocks Shaun Livingston's layup
70 - 78
5:52
Los Angeles defensive rebound
70 - 78
5:26
Danny Granger misses jumper
70 - 78
5:26
Chris Kaman defensive rebound
70 - 78
5:11
Elton Brand makes two point shot
72 - 78
4:58
Jamaal Tinsley makes 20-foot jumper
72 - 80
4:50
Elton Brand misses 6-foot jumper
72 - 80
4:48
Jermaine O'Neal defensive rebound
72 - 80
4:37
Jamaal Tinsley makes 20-foot jumper
72 - 82
4:20
Stephen Jackson blocks Cuttino Mobley's 18-foot jumper
72 - 82
4:18
Cuttino Mobley offensive rebound
72 - 82
4:16
Cuttino Mobley misses layup
72 - 82
4:15
Elton Brand offensive rebound
72 - 82
4:15
Elton Brand misses layup
72 - 82
4:13
Elton Brand offensive rebound
72 - 82
4:13
Danny Granger shooting foul (Elton Brand draws the foul)
72 - 82
4:13
Elton Brand misses free throw 1 of 2
72 - 82
4:13
Los Angeles offensive rebound
72 - 82
4:13
Elton Brand misses free throw 2 of 2
72 - 82
4:13
Jermaine O'Neal defensive rebound
72 - 82
4:01
Danny Granger makes driving layup
72 - 84
3:42
Chris Kaman misses 16-foot jumper
72 - 84
3:41
Stephen Jackson defensive rebound
72 - 84
3:31
Jamaal Tinsley bad pass (Cuttino Mobley steals)
72 - 84
3:30
Stephen Jackson shooting foul (Cuttino Mobley draws the foul)
72 - 84
3:30
Cuttino Mobley makes free throw 1 of 2
73 - 84
3:30
Cuttino Mobley misses free throw 2 of 2
73 - 84
3:30
Jermaine O'Neal defensive rebound
73 - 84
3:16
Elton Brand personal foul (Danny Granger draws the foul)
73 - 84
3:10
Chris Kaman shooting foul (Jermaine O'Neal draws the foul)
73 - 84
3:10
Jermaine O'Neal makes free throw 1 of 2
73 - 85
3:10
Jermaine O'Neal makes free throw 2 of 2
73 - 86
2:58
Sam Cassell misses 20-foot jumper
73 - 86
2:57
Elton Brand offensive rebound
73 - 86
2:55
Elton Brand lost ball (Stephen Jackson steals)
73 - 86
2:41
Stephen Jackson makes 25-foot three point jumper
73 - 89
2:28
Cuttino Mobley misses 15-foot jumper
73 - 89
2:27
Chris Kaman offensive rebound
73 - 89
2:24
Jermaine O'Neal blocks Chris Kaman's layup
73 - 89
2:23
Stephen Jackson defensive rebound
73 - 89
2:08
Stephen Jackson makes 25-foot three point jumper (Jamaal Tinsley assists)
73 - 92
2:00
Los Angeles full timeout
73 - 92
2:00
Yaroslav Korolev enters the game for Shaun Livingston
73 - 92
2:00
Boniface Napos;Dong enters the game for Elton Brand
73 - 92
2:00
James Singleton enters the game for Chris Kaman
73 - 92
2:00
Daniel Ewing enters the game for Cuttino Mobley
73 - 92
2:00
Chris Wilcox enters the game for Sam Cassell
73 - 92
2:00
Eddie Gill enters the game for Stephen Jackson
73 - 92
2:00
David Harrison enters the game for Jermaine O'Neal
73 - 92
2:00
Sarunas Jasikevicius enters the game for Jamaal Tinsley
73 - 92
1:54
Daniel Ewing bad pass (Danny Granger steals)
73 - 92
1:35
David Harrison misses 16-foot jumper
73 - 92
1:32
Yaroslav Korolev defensive rebound
73 - 92
1:13
James Singleton misses 22-foot jumper
73 - 92
1:12
David Harrison defensive rebound
73 - 92
0:58
Eddie Gill makes 23-foot three point jumper (Sarunas Jasikevicius assists)
73 - 95
0:47
Boniface Napos;Dong misses 14-foot jumper
73 - 95
0:46
David Harrison defensive rebound
73 - 95
0:30
David Harrison makes 4-foot jumper
73 - 97
0:30
Chris Wilcox illegal defense
73 - 97
0:16
Boniface Napos;Dong makes 10-foot two point shot
75 - 97
0:00
End of the 4th Quarter
75 - 97
0:00
End Game
75 - 97
The Cavs' LeBron James, who played with the Heat from 2010-14, said it would be "great" to play Dwyane Wade and his former team in the next round.

Even after hitting a game-tying buzzer beater, Kyle Lowry was in the gym at 1am getting shots up.

Tom Penn breaks down the Cavaliers' play from behind the 3-point line and how this could be the answer if they face the Warriors.
Regular Season Series
IND wins series 2-0
2015-2016 Pacific Standings