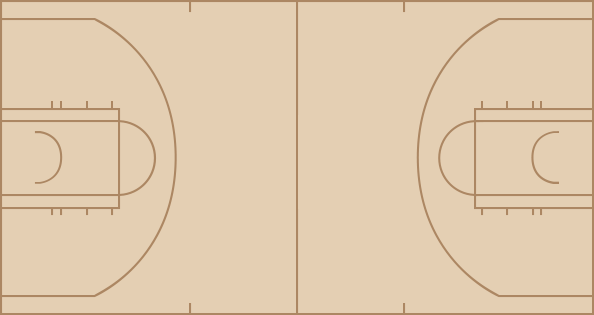 Grizzlies
time
TEAM
PLAY
SCORE
12:00
Start of the 1st Quarter
0 - 0
12:00
Jumpball: Pau Gasol vs. Chris Mihm (Lamar Odom gains possession)
0 - 0
11:45
Chris Mihm makes hook shot
0 - 2
11:25
Eddie Jones makes driving layup (Damon Stoudamire assists)
2 - 2
11:08
Smush Parker makes 25-foot three point jumper (Lamar Odom assists)
2 - 5
10:52
Damon Stoudamire makes 17-foot jumper (Shane Battier assists)
4 - 5
10:41
Eddie Jones shooting foul (Kobe Bryant draws the foul)
4 - 5
10:41
Kobe Bryant makes free throw 1 of 2
4 - 6
10:41
Kobe Bryant makes free throw 2 of 2
4 - 7
10:18
Eddie Jones makes 23-foot three point jumper (Mike Miller assists)
7 - 7
10:07
Eddie Jones shooting foul (Chris Mihm draws the foul)
7 - 7
10:07
Chris Mihm misses free throw 1 of 2
7 - 7
10:07
Los Angeles offensive rebound
7 - 7
10:07
Dahntay Jones enters the game for Eddie Jones
7 - 7
10:07
Chris Mihm makes free throw 2 of 2
7 - 8
9:56
Damon Stoudamire misses 8-foot jumper
7 - 8
9:52
Lamar Odom defensive rebound
7 - 8
9:51
Smush Parker misses 25-foot three point jumper
7 - 8
9:48
Chris Mihm offensive rebound
7 - 8
9:48
Chris Mihm makes layup
7 - 10
9:37
Pau Gasol lost ball (Kobe Bryant steals)
7 - 10
9:33
Kobe Bryant misses layup
7 - 10
9:32
Mike Miller defensive rebound
7 - 10
9:23
Shane Battier misses layup
7 - 10
9:22
Chris Mihm defensive rebound
7 - 10
9:14
Kobe Bryant makes layup
7 - 12
8:55
Pau Gasol misses hook shot
7 - 12
8:53
Lamar Odom defensive rebound
7 - 12
8:48
Devean George makes 22-foot jumper (Lamar Odom assists)
7 - 14
8:41
Memphis full timeout
7 - 14
8:26
Shane Battier makes three point jumper (Dahntay Jones assists)
10 - 14
8:21
Dahntay Jones personal foul (Kobe Bryant draws the foul)
10 - 14
8:11
Kobe Bryant misses layup
10 - 14
8:10
Kobe Bryant offensive rebound
10 - 14
8:07
Kobe Bryant makes layup
10 - 16
7:52
Shane Battier makes 12-foot jumper (Dahntay Jones assists)
12 - 16
7:33
Lamar Odom 3 second
12 - 16
7:16
Chris Mihm shooting foul (Pau Gasol draws the foul)
12 - 16
7:16
Pau Gasol misses free throw 1 of 2
12 - 16
7:16
Memphis offensive rebound
12 - 16
7:16
Pau Gasol makes free throw 2 of 2
13 - 16
7:05
Devean George makes 22-foot jumper (Lamar Odom assists)
13 - 18
6:52
Damon Stoudamire makes three point jumper (Pau Gasol assists)
16 - 18
6:39
Chris Mihm makes jumper (Kobe Bryant assists)
16 - 20
6:18
Dahntay Jones makes driving layup
18 - 20
5:52
Smush Parker misses 25-foot three point jumper
18 - 20
5:50
Shane Battier defensive rebound
18 - 20
5:39
Pau Gasol misses 15-foot jumper
18 - 20
5:37
Lamar Odom defensive rebound
18 - 20
5:24
Chris Mihm makes two point shot
18 - 22
5:01
Pau Gasol misses 8-foot jumper
18 - 22
4:58
Lamar Odom defensive rebound
18 - 22
4:52
Devean George makes 19-foot jumper (Lamar Odom assists)
18 - 24
4:33
Pau Gasol makes driving dunk (Damon Stoudamire assists)
20 - 24
4:05
Kobe Bryant misses 16-foot jumper
20 - 24
4:01
Damon Stoudamire defensive rebound
20 - 24
4:01
Mike Miller makes layup (Damon Stoudamire assists)
22 - 24
4:01
Kobe Bryant illegal defense
22 - 24
3:44
Lamar Odom makes 6-foot two point shot (Kobe Bryant assists)
22 - 26
3:15
Shane Battier makes two point shot (Pau Gasol assists)
24 - 26
3:05
Smush Parker bad pass
24 - 26
3:05
Lorenzen Wright enters the game for Pau Gasol
24 - 26
2:54
Devean George shooting foul (Shane Battier draws the foul)
24 - 26
2:54
Los Angeles full timeout
24 - 26
2:54
Kwame Brown enters the game for Chris Mihm
24 - 26
2:54
Shane Battier makes free throw 1 of 2
25 - 26
2:54
Shane Battier misses free throw 2 of 2
25 - 26
2:53
Kobe Bryant defensive rebound
25 - 26
2:41
Lamar Odom makes 7-foot two point shot (Smush Parker assists)
25 - 28
2:14
Damon Stoudamire misses 26-foot three point jumper
25 - 28
2:12
Shane Battier offensive rebound
25 - 28
2:03
Mike Miller misses 24-foot three point jumper
25 - 28
2:01
Mike Miller offensive rebound
25 - 28
2:00
Lorenzen Wright makes two point shot (Mike Miller assists)
27 - 28
2:00
Smush Parker shooting foul (Lorenzen Wright draws the foul)
27 - 28
2:00
Lorenzen Wright misses free throw 1 of 1
27 - 28
1:58
Kobe Bryant defensive rebound
27 - 28
1:47
Shane Battier shooting foul (Lamar Odom draws the foul)
27 - 28
1:47
Lamar Odom makes free throw 1 of 2
27 - 29
1:47
Von Wafer enters the game for Kobe Bryant
27 - 29
1:47
Lamar Odom misses free throw 2 of 2
27 - 29
1:47
Mike Miller defensive rebound
27 - 29
1:30
Damon Stoudamire makes 18-foot jumper
29 - 29
1:10
Smush Parker makes 23-foot three point jumper (Lamar Odom assists)
29 - 32
0:48
Damon Stoudamire misses 26-foot three point jumper
29 - 32
0:45
Lamar Odom defensive rebound
29 - 32
0:35
Kwame Brown 3 second
29 - 32
0:35
Antonio Burks enters the game for Damon Stoudamire
29 - 32
0:13
Mike Miller misses 24-foot three point jumper
29 - 32
0:10
Lorenzen Wright offensive rebound
29 - 32
0:10
Lorenzen Wright misses layup
29 - 32
0:10
Memphis defensive rebound
29 - 32
0:03
Devean George makes 24-foot three point jumper (Von Wafer assists)
29 - 35
0:00
Lorenzen Wright misses 34-foot three point jumper
29 - 35
0:00
Memphis offensive rebound
29 - 35
0:00
End of the 1st Quarter
29 - 35

time
TEAM
PLAY
SCORE
12:00
Start of the 2nd Quarter
29 - 35
11:41
Lorenzen Wright misses 16-foot jumper
29 - 35
11:38
Lamar Odom defensive rebound
29 - 35
11:32
Kwame Brown 3 second
29 - 35
11:30
Pau Gasol enters the game for Lorenzen Wright
29 - 35
11:15
Dahntay Jones misses jumper
29 - 35
11:11
Luke Walton defensive rebound
29 - 35
10:57
Shane Battier blocks Kwame Brown's layup
29 - 35
10:56
Dahntay Jones defensive rebound
29 - 35
10:47
Dahntay Jones offensive foul (Von Wafer draws the foul)
29 - 35
10:47
Dahntay Jones turnover
29 - 35
10:32
Kwame Brown traveling
29 - 35
10:12
Pau Gasol misses jumper
29 - 35
10:11
Lamar Odom defensive rebound
29 - 35
10:07
Lamar Odom lost ball (Pau Gasol steals)
29 - 35
10:02
Sasha Vujacic shooting foul (Dahntay Jones draws the foul)
29 - 35
10:02
Dahntay Jones misses free throw 1 of 2
29 - 35
10:02
Memphis offensive rebound
29 - 35
10:02
Kobe Bryant enters the game for Von Wafer
29 - 35
10:02
Dahntay Jones misses free throw 2 of 2
29 - 35
9:59
Lamar Odom defensive rebound
29 - 35
9:47
Kobe Bryant misses 18-foot jumper
29 - 35
9:45
Antonio Burks defensive rebound
29 - 35
9:36
Dahntay Jones bad pass (Kobe Bryant steals)
29 - 35
9:30
Dahntay Jones shooting foul (Kobe Bryant draws the foul)
29 - 35
9:30
Kobe Bryant makes free throw 1 of 2
29 - 36
9:30
Eddie Jones enters the game for Dahntay Jones
29 - 36
9:30
Kobe Bryant makes free throw 2 of 2
29 - 37
9:17
Eddie Jones makes driving layup (Pau Gasol assists)
31 - 37
9:10
Mike Miller shooting foul (Kobe Bryant draws the foul)
31 - 37
9:10
Kobe Bryant misses free throw 1 of 2
31 - 37
9:10
Los Angeles offensive rebound
31 - 37
9:10
Kobe Bryant misses free throw 2 of 2
31 - 37
9:08
Mike Miller defensive rebound
31 - 37
8:57
Sasha Vujacic personal foul (Shane Battier draws the foul)
31 - 37
8:57
Official timeout
31 - 37
8:45
Mike Miller makes driving layup (Antonio Burks assists)
33 - 37
8:45
Kwame Brown shooting foul (Mike Miller draws the foul)
33 - 37
8:45
Devean George enters the game for Sasha Vujacic
33 - 37
8:45
Mike Miller misses free throw 1 of 1
33 - 37
8:42
Kwame Brown defensive rebound
33 - 37
8:30
Devean George makes layup (Kobe Bryant assists)
33 - 39
8:15
Antonio Burks makes 20-foot jumper
35 - 39
7:54
Luke Walton misses 20-foot jumper
35 - 39
7:52
Mike Miller defensive rebound
35 - 39
7:37
Mike Miller misses 24-foot three point jumper
35 - 39
7:35
Kwame Brown defensive rebound
35 - 39
7:28
Kobe Bryant makes layup
35 - 41
7:09
Kwame Brown blocks Eddie Jones's layup
35 - 41
7:07
Shane Battier offensive rebound
35 - 41
7:03
Lamar Odom personal foul (Eddie Jones draws the foul)
35 - 41
6:54
Pau Gasol misses dunk
35 - 41
6:50
Kwame Brown defensive rebound
35 - 41
6:41
Devean George misses 25-foot three point jumper
35 - 41
6:39
Kobe Bryant offensive rebound
35 - 41
6:37
Pau Gasol shooting foul (Kobe Bryant draws the foul)
35 - 41
6:37
Kobe Bryant makes free throw 1 of 2
35 - 42
6:37
Smush Parker enters the game for Luke Walton
35 - 42
6:37
Damon Stoudamire enters the game for Antonio Burks
35 - 42
6:37
Kobe Bryant makes free throw 2 of 2
35 - 43
6:22
Damon Stoudamire makes 18-foot jumper (Eddie Jones assists)
37 - 43
6:13
Los Angeles full timeout
37 - 43
6:09
Mike Miller shooting foul (Kobe Bryant draws the foul)
37 - 43
6:09
Kobe Bryant makes free throw 1 of 2
37 - 44
6:09
Kobe Bryant makes free throw 2 of 2
37 - 45
6:00
Smush Parker personal foul (Damon Stoudamire draws the foul)
37 - 45
6:00
Damon Stoudamire makes free throw 1 of 2
38 - 45
6:00
Damon Stoudamire misses free throw 2 of 2
38 - 45
5:54
Kwame Brown defensive rebound
38 - 45
5:41
Kobe Bryant makes two point shot
38 - 47
5:18
Pau Gasol misses 11-foot jumper
38 - 47
5:18
Memphis defensive rebound
38 - 47
5:05
Smush Parker bad pass (Mike Miller steals)
38 - 47
4:58
Devean George blocks Damon Stoudamire's layup
38 - 47
4:58
Memphis defensive rebound
38 - 47
4:43
Kobe Bryant misses layup
38 - 47
4:41
Pau Gasol defensive rebound
38 - 47
4:39
Eddie Jones makes 26-foot three point jumper (Damon Stoudamire assists)
41 - 47
4:26
Devean George bad pass (Shane Battier steals)
41 - 47
4:22
Mike Miller misses layup
41 - 47
4:20
Devean George defensive rebound
41 - 47
4:01
Kobe Bryant misses 11-foot two point shot
41 - 47
3:59
Pau Gasol defensive rebound
41 - 47
3:42
Damon Stoudamire bad pass (Kwame Brown steals)
41 - 47
3:34
Kobe Bryant misses layup
41 - 47
3:32
Shane Battier defensive rebound
41 - 47
3:19
Kwame Brown personal foul (Pau Gasol draws the foul)
41 - 47
3:19
Chris Mihm enters the game for Kwame Brown
41 - 47
3:19
Pau Gasol makes free throw 1 of 2
42 - 47
3:19
Pau Gasol misses free throw 2 of 2
42 - 47
3:18
Lamar Odom defensive rebound
42 - 47
3:00
Chris Mihm misses 18-foot jumper
42 - 47
2:58
Devean George offensive rebound
42 - 47
2:51
Memphis full timeout
42 - 47
2:51
Devean George makes layup
42 - 49
2:51
Memphis full timeout
42 - 49
2:51
Luke Walton enters the game for Lamar Odom
42 - 49
2:45
Luke Walton personal foul (Shane Battier draws the foul)
42 - 49
2:45
Shane Battier misses free throw 1 of 2
42 - 49
2:45
Memphis offensive rebound
42 - 49
2:45
Shane Battier misses free throw 2 of 2
42 - 49
2:43
Chris Mihm defensive rebound
42 - 49
2:31
Damon Stoudamire shooting foul (Luke Walton draws the foul)
42 - 49
2:31
Hakim Warrick enters the game for Shane Battier
42 - 49
2:31
Luke Walton makes free throw 1 of 2
42 - 50
2:31
Luke Walton misses free throw 2 of 2
42 - 50
2:31
Hakim Warrick defensive rebound
42 - 50
2:13
Devean George blocks Pau Gasol's 7-foot jumper
42 - 50
2:10
Luke Walton defensive rebound
42 - 50
2:08
Smush Parker misses dunk
42 - 50
2:06
Los Angeles defensive rebound
42 - 50
1:43
Kobe Bryant blocks Hakim Warrick's layup
42 - 50
1:42
Pau Gasol offensive rebound
42 - 50
1:42
shot clock violation
42 - 50
1:31
Chris Mihm makes 15-foot jumper (Luke Walton assists)
42 - 52
1:09
Pau Gasol makes slam dunk (Damon Stoudamire assists)
44 - 52
0:55
Luke Walton makes 17-foot jumper (Kobe Bryant assists)
44 - 54
0:52
Smush Parker personal foul (Damon Stoudamire draws the foul)
44 - 54
0:52
Kwame Brown enters the game for Chris Mihm
44 - 54
0:52
Damon Stoudamire makes free throw 1 of 2
45 - 54
0:52
Damon Stoudamire makes free throw 2 of 2
46 - 54
0:41
Devean George misses 24-foot three point jumper
46 - 54
0:38
Luke Walton offensive rebound
46 - 54
0:33
Kobe Bryant misses 26-foot three point jumper
46 - 54
0:30
Mike Miller defensive rebound
46 - 54
0:12
Hakim Warrick lost ball (Luke Walton steals)
46 - 54
0:00
Kobe Bryant misses 8-foot jumper
46 - 54
0:00
Devean George offensive rebound
46 - 54
0:00
Devean George misses layup
46 - 54
0:00
Los Angeles offensive rebound
46 - 54
0:00
End of the 2nd Quarter
46 - 54

time
TEAM
PLAY
SCORE
12:00
Start of the 3rd Quarter
46 - 54
12:00
Start of the 3rd Quarter
46 - 54
11:34
Shane Battier misses 21-foot jumper
46 - 54
11:34
Memphis offensive rebound
46 - 54
11:34
shot clock violation
46 - 54
11:19
Devean George misses 17-foot jumper
46 - 54
11:17
Eddie Jones defensive rebound
46 - 54
11:08
Damon Stoudamire misses 24-foot three point jumper
46 - 54
11:07
Chris Mihm defensive rebound
46 - 54
10:51
Chris Mihm misses 9-foot jumper
46 - 54
10:47
Damon Stoudamire defensive rebound
46 - 54
10:41
Damon Stoudamire makes layup
48 - 54
10:21
Chris Mihm offensive goaltending
48 - 54
10:00
Pau Gasol misses 13-foot jumper
48 - 54
9:57
Lamar Odom defensive rebound
48 - 54
9:52
Kobe Bryant offensive foul (Eddie Jones draws the foul)
48 - 54
9:52
Kobe Bryant turnover
48 - 54
9:40
Kobe Bryant shooting foul (Mike Miller draws the foul)
48 - 54
9:40
Mike Miller misses free throw 1 of 2
48 - 54
9:40
Official timeout
48 - 54
9:40
Von Wafer enters the game for Kobe Bryant
48 - 54
9:40
Mike Miller makes free throw 1 of 2
49 - 54
9:40
Mike Miller makes free throw 2 of 2
50 - 54
9:29
Eddie Jones personal foul (Devean George draws the foul)
50 - 54
9:14
Lamar Odom misses jumper
50 - 54
9:11
Chris Mihm offensive rebound
50 - 54
8:56
Von Wafer misses 6-foot jumper
50 - 54
8:53
Mike Miller defensive rebound
50 - 54
8:40
Shane Battier misses 25-foot three point jumper
50 - 54
8:38
Memphis defensive rebound
50 - 54
8:27
Lamar Odom offensive foul (Shane Battier draws the foul)
50 - 54
8:27
Lamar Odom turnover
50 - 54
8:12
Mike Miller misses 17-foot jumper
50 - 54
8:10
Chris Mihm defensive rebound
50 - 54
7:50
Lamar Odom makes 26-foot three point jumper
50 - 57
7:26
Pau Gasol makes layup (Shane Battier assists)
52 - 57
7:03
Smush Parker misses 25-foot three point jumper
52 - 57
7:01
Von Wafer offensive rebound
52 - 57
7:01
Los Angeles full timeout
52 - 57
7:01
Kobe Bryant enters the game for Von Wafer
52 - 57
6:54
Mike Miller personal foul (Kobe Bryant draws the foul)
52 - 57
6:45
Kobe Bryant misses 21-foot jumper
52 - 57
6:43
Mike Miller defensive rebound
52 - 57
6:22
Eddie Jones makes 21-foot jumper
54 - 57
6:00
Lamar Odom misses 7-foot jumper
54 - 57
5:58
Chris Mihm offensive rebound
54 - 57
5:54
Chris Mihm turnover
54 - 57
5:39
Kobe Bryant shooting foul (Eddie Jones draws the foul)
54 - 57
5:39
Eddie Jones makes free throw 1 of 2
55 - 57
5:39
Eddie Jones makes free throw 2 of 2
56 - 57
5:26
Kobe Bryant makes 24-foot three point jumper (Smush Parker assists)
56 - 60
5:05
Chris Mihm blocks Pau Gasol's layup
56 - 60
5:03
Lamar Odom defensive rebound
56 - 60
5:00
Smush Parker misses layup
56 - 60
4:58
Mike Miller defensive rebound
56 - 60
4:52
Devean George personal foul (Eddie Jones draws the foul)
56 - 60
4:41
Chris Mihm blocks Mike Miller's layup
56 - 60
4:39
Lamar Odom defensive rebound
56 - 60
4:33
Pau Gasol blocks Lamar Odom's jumper
56 - 60
4:31
Shane Battier defensive rebound
56 - 60
4:16
Damon Stoudamire makes 19-foot jumper
58 - 60
3:50
Kobe Bryant misses 17-foot jumper
58 - 60
3:47
Lamar Odom offensive rebound
58 - 60
3:43
Kobe Bryant makes 26-foot three point jumper (Smush Parker assists)
58 - 63
3:21
Lamar Odom blocks Pau Gasol's jumper
58 - 63
3:18
Kobe Bryant defensive rebound
58 - 63
3:15
Kobe Bryant makes 26-foot three point jumper (Smush Parker assists)
58 - 66
3:14
Memphis full timeout
58 - 66
3:04
Lamar Odom personal foul (Eddie Jones draws the foul)
58 - 66
2:54
Chris Mihm shooting foul (Pau Gasol draws the foul)
58 - 66
2:54
Pau Gasol makes free throw 1 of 2
59 - 66
2:54
Pau Gasol makes free throw 2 of 2
60 - 66
2:42
Kobe Bryant misses 27-foot three point jumper
60 - 66
2:40
Los Angeles offensive rebound
60 - 66
2:31
Kobe Bryant misses jumper
60 - 66
2:29
Mike Miller defensive rebound
60 - 66
2:12
Eddie Jones makes 25-foot three point jumper (Damon Stoudamire assists)
63 - 66
2:02
Eddie Jones personal foul (Kobe Bryant draws the foul)
63 - 66
1:54
Kobe Bryant misses 8-foot jumper
63 - 66
1:52
Mike Miller defensive rebound
63 - 66
1:42
Damon Stoudamire misses 25-foot three point jumper
63 - 66
1:39
Pau Gasol offensive rebound
63 - 66
1:32
Mike Miller makes 26-foot three point jumper (Damon Stoudamire assists)
66 - 66
1:06
Shane Battier shooting foul (Kobe Bryant draws the foul)
66 - 66
1:06
Kobe Bryant makes free throw 1 of 2
66 - 67
1:06
Kobe Bryant misses free throw 2 of 2
66 - 67
1:05
Los Angeles defensive rebound
66 - 67
0:49
Damon Stoudamire misses 22-foot jumper
66 - 67
0:47
Lamar Odom defensive rebound
66 - 67
0:33
Kobe Bryant misses 27-foot three point jumper
66 - 67
0:31
Mike Miller defensive rebound
66 - 67
0:16
Eddie Jones misses 16-foot jumper
66 - 67
0:13
Pau Gasol offensive rebound
66 - 67
0:13
Pau Gasol misses tip shot
66 - 67
0:11
Devean George defensive rebound
66 - 67
0:00
Kobe Bryant misses layup
66 - 67
0:00
Mike Miller defensive rebound
66 - 67
0:00
End of the 3rd Quarter
66 - 67

time
TEAM
PLAY
SCORE
12:00
Start of the 4th Quarter
66 - 67
11:41
Lamar Odom misses 13-foot jumper
66 - 67
11:40
Pau Gasol defensive rebound
66 - 67
11:18
shot clock violation
66 - 67
11:03
Kobe Bryant makes 16-foot jumper (Sasha Vujacic assists)
66 - 69
10:40
Mike Miller misses 24-foot three point jumper
66 - 69
10:37
Pau Gasol offensive rebound
66 - 69
10:33
Pau Gasol makes driving layup
68 - 69
10:11
Kobe Bryant misses 19-foot jumper
68 - 69
10:10
Luke Walton offensive rebound
68 - 69
10:07
Kobe Bryant makes 5-foot jumper (Luke Walton assists)
68 - 71
10:07
Shane Battier shooting foul (Kobe Bryant draws the foul)
68 - 71
10:07
Dahntay Jones enters the game for Eddie Jones
68 - 71
10:07
Kobe Bryant makes free throw 1 of 1
68 - 72
9:48
Mike Miller offensive foul (Kwame Brown draws the foul)
68 - 72
9:48
Mike Miller turnover
68 - 72
9:36
Lamar Odom misses 13-foot jumper
68 - 72
9:33
Mike Miller defensive rebound
68 - 72
9:30
Pau Gasol makes slam dunk (Antonio Burks assists)
70 - 72
9:06
Kobe Bryant makes 15-foot running jumper
70 - 74
8:56
Antonio Burks bad pass (Sasha Vujacic steals)
70 - 74
8:56
Antonio Burks loose ball foul (Sasha Vujacic draws the foul)
70 - 74
8:56
Official timeout
70 - 74
8:45
Kobe Bryant misses 22-foot jumper
70 - 74
8:45
Los Angeles defensive rebound
70 - 74
8:45
Kwame Brown loose ball foul (Pau Gasol draws the foul)
70 - 74
8:23
Kobe Bryant flagrant foul type 1 (Mike Miller draws the foul)
70 - 74
8:23
Mike Miller makes flagrant free throw 2 of 2
71 - 74
8:23
Mike Miller makes free throw
72 - 74
8:11
Antonio Burks misses 19-foot jumper
72 - 74
8:10
Memphis defensive rebound
72 - 74
8:10
Damon Stoudamire enters the game for Antonio Burks
72 - 74
8:00
Mike Miller personal foul (Luke Walton draws the foul)
72 - 74
8:00
Eddie Jones enters the game for Mike Miller
72 - 74
7:52
Shane Battier personal foul (Lamar Odom draws the foul)
72 - 74
7:52
Devean George enters the game for Lamar Odom
72 - 74
7:39
Luke Walton makes jumper (Sasha Vujacic assists)
72 - 76
7:18
Dahntay Jones makes driving layup
74 - 76
6:56
Sasha Vujacic misses 25-foot three point jumper
74 - 76
6:54
Dahntay Jones defensive rebound
74 - 76
6:45
Eddie Jones misses 25-foot three point jumper
74 - 76
6:45
Memphis defensive rebound
74 - 76
6:45
Shane Battier loose ball foul (Luke Walton draws the foul)
74 - 76
6:45
Luke Walton makes free throw 1 of 2
74 - 77
6:45
Hakim Warrick enters the game for Shane Battier
74 - 77
6:45
Luke Walton misses free throw 2 of 2
74 - 77
6:43
Hakim Warrick defensive rebound
74 - 77
6:35
Sasha Vujacic personal foul (Damon Stoudamire draws the foul)
74 - 77
6:22
Eddie Jones misses 9-foot jumper
74 - 77
6:20
Sasha Vujacic defensive rebound
74 - 77
6:16
Devean George makes slam dunk (Luke Walton assists)
74 - 79
6:00
Kobe Bryant makes technical free throw
74 - 80
6:00
Eddie Jones technical foul (1st technical foul)
74 - 80
6:00
Eddie Jones ejected
74 - 80
6:00
Mike Miller enters the game for Eddie Jones
74 - 80
6:00
Kobe Bryant makes technical free throw
74 - 81
5:45
Dahntay Jones turnover
74 - 81
5:45
Los Angeles full timeout
74 - 81
5:45
Shane Battier enters the game for Hakim Warrick
74 - 81
5:28
Luke Walton turnover
74 - 81
5:15
Dahntay Jones makes 21-foot jumper (Damon Stoudamire assists)
76 - 81
4:52
Dahntay Jones personal foul (Kobe Bryant draws the foul)
76 - 81
4:52
Kobe Bryant makes free throw 1 of 2
76 - 82
4:52
Kobe Bryant makes free throw 2 of 2
76 - 83
4:39
Shane Battier offensive foul (Devean George draws the foul)
76 - 83
4:39
Shane Battier turnover
76 - 83
4:39
Hakim Warrick enters the game for Shane Battier
76 - 83
4:26
Kobe Bryant misses layup
76 - 83
4:24
Dahntay Jones defensive rebound
76 - 83
4:15
Damon Stoudamire misses 26-foot three point jumper
76 - 83
4:11
Pau Gasol offensive rebound
76 - 83
4:01
Kwame Brown personal foul (Pau Gasol draws the foul)
76 - 83
4:01
Lamar Odom enters the game for Luke Walton
76 - 83
3:55
Kwame Brown blocks Damon Stoudamire's layup
76 - 83
3:51
Hakim Warrick offensive rebound
76 - 83
3:51
Hakim Warrick misses layup
76 - 83
3:48
Pau Gasol offensive rebound
78 - 83
3:48
Pau Gasol makes layup
78 - 83
3:35
Kwame Brown offensive foul (Pau Gasol draws the foul)
78 - 83
3:35
Kwame Brown turnover
78 - 83
3:25
Pau Gasol makes two point shot (Damon Stoudamire assists)
80 - 83
3:21
Los Angeles full timeout
80 - 83
3:21
Chris Mihm enters the game for Kwame Brown
80 - 83
3:09
Chris Mihm makes layup (Sasha Vujacic assists)
80 - 85
2:47
Pau Gasol misses 6-foot hook shot
80 - 85
2:43
Chris Mihm defensive rebound
80 - 85
2:24
Kobe Bryant misses 26-foot three point jumper
80 - 85
2:21
Chris Mihm offensive rebound
80 - 85
2:21
Chris Mihm misses layup
80 - 85
2:19
Dahntay Jones defensive rebound
80 - 85
2:17
Sasha Vujacic shooting foul (Pau Gasol draws the foul)
80 - 85
2:17
Pau Gasol makes free throw 1 of 2
81 - 85
2:17
Pau Gasol makes free throw 2 of 2
82 - 85
2:06
Kobe Bryant misses 6-foot jumper
82 - 85
2:05
Los Angeles offensive rebound
82 - 85
2:05
Hakim Warrick loose ball foul (Devean George draws the foul)
82 - 85
2:05
Devean George makes free throw 1 of 2
82 - 86
2:05
Devean George misses free throw 2 of 2
82 - 86
2:04
Pau Gasol defensive rebound
82 - 86
1:47
Dahntay Jones misses 7-foot jumper
82 - 86
1:47
Memphis defensive rebound
82 - 86
1:47
Hakim Warrick loose ball foul (Lamar Odom draws the foul)
82 - 86
1:47
Lamar Odom makes free throw 1 of 2
82 - 87
1:47
Lamar Odom misses free throw 2 of 2
82 - 87
1:46
Pau Gasol defensive rebound
82 - 87
1:28
Pau Gasol misses 9-foot two point shot
82 - 87
1:24
Kobe Bryant defensive rebound
82 - 87
1:12
Lamar Odom misses 22-foot jumper
82 - 87
1:09
Pau Gasol defensive rebound
82 - 87
1:00
Damon Stoudamire makes 24-foot three point jumper (Mike Miller assists)
85 - 87
0:42
Dahntay Jones personal foul (Kobe Bryant draws the foul)
85 - 87
0:42
Kobe Bryant makes free throw 1 of 2
85 - 88
0:42
Kobe Bryant misses free throw 2 of 2
85 - 88
0:41
Pau Gasol defensive rebound
85 - 88
0:41
Memphis full timeout
85 - 88
0:28
Damon Stoudamire makes 25-foot three point jumper
88 - 88
0:15
Kobe Bryant misses 18-foot jumper
88 - 88
0:12
Hakim Warrick defensive rebound
88 - 88
0:00
Dahntay Jones misses 25-foot three point jumper
88 - 88
0:00
Memphis offensive rebound
88 - 88
0:00
End of the 4th Quarter
88 - 88

time
TEAM
PLAY
SCORE
5:00
Start of the 1st Overtime
88 - 88
5:00
Jumpball: Pau Gasol vs. Chris Mihm (Sasha Vujacic gains possession)
88 - 88
4:47
Chris Mihm offensive foul (Pau Gasol draws the foul)
88 - 88
4:47
Chris Mihm turnover
88 - 88
4:24
Pau Gasol misses jumper
88 - 88
4:22
Lamar Odom defensive rebound
88 - 88
4:15
Kobe Bryant misses layup
88 - 88
4:13
Mike Miller defensive rebound
88 - 88
4:07
Dahntay Jones misses layup
88 - 88
4:05
Memphis offensive rebound
88 - 88
4:05
Sasha Vujacic loose ball foul (Pau Gasol draws the foul)
88 - 88
4:05
Smush Parker enters the game for Sasha Vujacic
88 - 88
3:53
Pau Gasol makes 7-foot two point shot
90 - 88
3:39
Devean George makes 19-foot jumper
90 - 90
3:18
Devean George illegal defense foul (3rd personal foul)
90 - 90
3:18
Damon Stoudamire makes technical free throw
91 - 90
3:04
Mike Miller makes 26-foot three point jumper (Pau Gasol assists)
94 - 90
2:45
Kobe Bryant lost ball (Dahntay Jones steals)
94 - 90
2:42
Devean George shooting foul (Dahntay Jones draws the foul)
94 - 90
2:42
Dahntay Jones makes free throw 1 of 2
95 - 90
2:42
Dahntay Jones makes free throw 2 of 2
96 - 90
2:42
Los Angeles full timeout
96 - 90
2:21
Devean George misses 21-foot jumper
96 - 90
2:20
Los Angeles defensive rebound
96 - 90
2:20
Chris Mihm loose ball foul (Pau Gasol draws the foul)
96 - 90
2:01
Kobe Bryant personal foul (Pau Gasol draws the foul)
96 - 90
2:01
Pau Gasol makes free throw 1 of 2
97 - 90
2:01
Pau Gasol makes free throw 2 of 2
98 - 90
1:51
Chris Mihm misses layup
98 - 90
1:51
Chris Mihm offensive rebound
98 - 92
1:51
Chris Mihm makes layup
98 - 92
1:34
Damon Stoudamire makes driving layup
100 - 92
1:27
Kobe Bryant makes 25-foot three point jumper
100 - 95
1:13
Damon Stoudamire backcourt
100 - 95
1:07
Kobe Bryant makes 7-foot running jumper (Smush Parker assists)
100 - 97
0:52
Memphis 20 Sec. timeout
100 - 97
0:46
Damon Stoudamire misses 27-foot three point jumper
100 - 97
0:44
Kobe Bryant defensive rebound
100 - 97
0:32
Mike Miller personal foul (Kobe Bryant draws the foul)
100 - 97
0:32
Antonio Burks enters the game for Mike Miller
100 - 97
0:32
Los Angeles full timeout
100 - 97
0:24
Kobe Bryant makes driving layup
100 - 99
0:24
Memphis full timeout
100 - 99
0:17
Memphis full timeout
100 - 99
0:14
Pau Gasol bad pass (Chris Mihm steals)
100 - 99
0:03
Kobe Bryant misses layup
100 - 99
0:00
Chris Mihm offensive rebound
100 - 99
0:00
Chris Mihm misses 7-foot jumper
100 - 99
0:00
Dahntay Jones defensive rebound
100 - 99
0:00
End of the 1st Overtime
100 - 99
0:00
End Game
100 - 99
Cleveland hopes a Cavaliers championship is in the cards for a tortured sports city. But it might help to forget the past when facing the Warriors in Sunday's Game 7 (8 p.m. ET, ABC & WatchESPN).

As the NBA draft nears, numerous prospects have been going through the grueling process of traveling from city to city for workouts on a daily basis.

With Game 7 looming, all of the Warriors' frustrations mask -- or maybe stem from -- the way the Cavaliers have managed to alter the terms of these NBA Finals.
Regular Season Series
MEM wins series 3-1
2015-2016 Southwest Standings
2015-2016 Pacific Standings