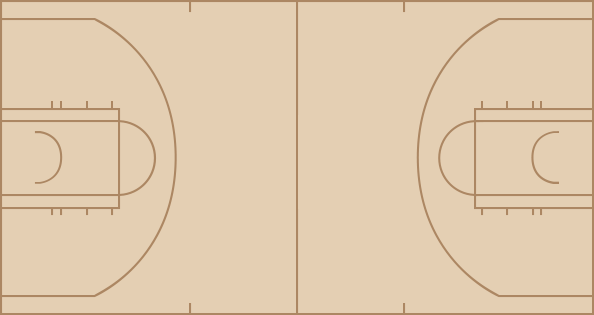 Bucks
time
TEAM
PLAY
SCORE
12:00
Start of the 1st Quarter
0 - 0
12:00
Jumpball: Andrew Bogut vs. Andrew Bynum (Smush Parker gains possession)
0 - 0
11:45
Smush Parker makes 13-foot jumper (Lamar Odom assists)
0 - 2
11:34
Andrew Bynum blocks Mo Williams's layup
0 - 2
11:33
Smush Parker defensive rebound
0 - 2
11:29
Smush Parker bad pass
0 - 2
11:15
Charlie Bell misses 18-foot jumper
0 - 2
11:14
Luke Walton defensive rebound
0 - 2
11:04
Lamar Odom makes layup
0 - 4
10:42
Michael Redd makes 22-foot jumper (Andrew Bogut assists)
2 - 4
10:26
Luke Walton bad pass
2 - 4
10:11
Charlie Bell misses 27-foot three point jumper
2 - 4
10:11
Andrew Bynum defensive rebound
2 - 4
9:56
Smush Parker makes layup (Lamar Odom assists)
2 - 6
9:56
Mo Williams shooting foul (Smush Parker draws the foul)
2 - 6
9:56
Smush Parker makes free throw 1 of 1
2 - 7
9:52
Ruben Patterson traveling
2 - 7
9:36
Kobe Bryant makes two point shot (Smush Parker assists)
2 - 9
9:18
Andrew Bogut makes 15-foot jumper
4 - 9
9:03
Smush Parker makes 6-foot two point shot (Lamar Odom assists)
4 - 11
8:44
Charlie Bell misses 23-foot three point jumper
4 - 11
8:42
Lamar Odom defensive rebound
4 - 11
8:37
Kobe Bryant bad pass
4 - 11
8:18
Mo Williams misses 27-foot three point jumper
4 - 11
8:17
Andrew Bynum defensive rebound
4 - 11
7:58
Luke Walton misses 26-foot three point jumper
4 - 11
7:56
Andrew Bynum offensive rebound
4 - 11
7:45
Lamar Odom misses 25-foot three point jumper
4 - 11
7:43
Luke Walton offensive rebound
4 - 11
7:41
Luke Walton makes layup
4 - 13
7:35
Milwaukee full timeout
4 - 13
7:31
Michael Redd makes 26-foot three point jumper (Charlie Bell assists)
7 - 13
7:31
Kobe Bryant shooting foul (Michael Redd draws the foul)
7 - 13
7:31
Michael Redd makes free throw 1 of 1
8 - 13
7:16
Smush Parker misses layup
8 - 13
7:15
Andrew Bogut defensive rebound
8 - 13
7:07
Michael Redd makes 13-foot two point shot
10 - 13
6:54
Lamar Odom misses 6-foot jumper
10 - 13
6:52
Michael Redd defensive rebound
10 - 13
6:46
Andrew Bogut misses layup
10 - 13
6:45
Mo Williams offensive rebound
10 - 13
6:41
Mo Williams makes 5-foot jumper
12 - 13
6:24
Michael Redd blocks Kobe Bryant's layup
12 - 13
6:24
Los Angeles defensive rebound
12 - 13
6:09
Michael Redd misses 8-foot jumper
12 - 13
6:07
Milwaukee offensive rebound
12 - 13
6:01
Andrew Bynum blocks Ruben Patterson's layup
12 - 13
5:58
Lamar Odom defensive rebound
12 - 13
5:56
Andrew Bogut shooting foul (Lamar Odom draws the foul)
12 - 13
5:56
Lamar Odom misses free throw 1 of 2
12 - 13
5:56
Los Angeles offensive rebound
12 - 13
5:56
Lamar Odom makes free throw 2 of 2
12 - 14
5:43
Andrew Bogut misses layup
12 - 14
5:41
Andrew Bogut offensive rebound
12 - 14
5:39
Luke Walton blocks Andrew Bogut's layup
12 - 14
5:37
Lamar Odom defensive rebound
12 - 14
5:33
Andrew Bynum makes two point shot (Smush Parker assists)
12 - 16
5:22
Andrew Bynum illegal defense foul (1st personal foul)
12 - 16
5:22
Michael Redd makes technical free throw
13 - 16
5:13
Michael Redd makes 19-foot jumper
15 - 16
5:11
Kobe Bryant technical foul (1st technical foul)
15 - 16
5:11
Michael Redd misses technical free throw
15 - 16
5:11
Los Angeles offensive rebound
15 - 16
5:03
Luke Walton bad pass (Charlie Bell steals)
15 - 16
5:00
Mo Williams makes layup
17 - 16
4:35
Luke Walton makes 23-foot three point jumper (Kobe Bryant assists)
17 - 19
4:20
Andrew Bogut makes layup (Mo Williams assists)
19 - 19
4:01
Smush Parker makes 17-foot jumper (Lamar Odom assists)
19 - 21
3:49
Mo Williams misses 20-foot jumper
19 - 21
3:48
Andrew Bynum defensive rebound
19 - 21
3:41
Smush Parker makes two point shot (Luke Walton assists)
19 - 23
3:28
Lamar Odom illegal defense foul (1st personal foul)
19 - 23
3:28
Michael Redd misses technical free throw
19 - 23
3:28
Milwaukee offensive rebound
19 - 23
3:28
Steve Blake enters the game for Ruben Patterson
19 - 23
3:28
Ersan Ilyasova enters the game for Mo Williams
19 - 23
3:17
Michael Redd makes driving layup
21 - 23
2:58
Kobe Bryant misses 25-foot three point jumper
21 - 23
2:56
Ersan Ilyasova defensive rebound
21 - 23
2:47
Michael Redd traveling
21 - 23
2:47
Los Angeles full timeout
21 - 23
2:47
Kwame Brown enters the game for Andrew Bynum
21 - 23
2:47
Jordan Farmar enters the game for Smush Parker
21 - 23
2:47
Maurice Evans enters the game for Luke Walton
21 - 23
2:23
Jordan Farmar misses 26-foot three point jumper
21 - 23
2:19
Michael Redd defensive rebound
21 - 23
2:09
Ersan Ilyasova makes layup (Andrew Bogut assists)
23 - 23
1:49
Jordan Farmar makes 23-foot three point jumper (Kobe Bryant assists)
23 - 26
1:31
Kwame Brown personal foul (Andrew Bogut draws the foul)
23 - 26
1:19
Andrew Bogut misses 20-foot jumper
23 - 26
1:16
Jordan Farmar defensive rebound
23 - 26
1:12
Maurice Evans makes two point shot (Jordan Farmar assists)
23 - 28
0:59
Charlie Bell makes two point shot (Ersan Ilyasova assists)
25 - 28
0:46
Lamar Odom lost ball (Michael Redd steals)
25 - 28
0:41
Kobe Bryant blocks Michael Redd's layup
25 - 28
0:41
Charlie Bell offensive rebound
25 - 28
0:36
Charlie Bell makes layup
27 - 28
0:24
Lamar Odom makes layup (Kobe Bryant assists)
27 - 30
0:01
Michael Redd misses 16-foot jumper
27 - 30
0:00
Jordan Farmar defensive rebound
27 - 30
0:00
Jordan Farmar misses 59-foot three point jumper
27 - 30
0:00
Los Angeles offensive rebound
27 - 30
0:00
End of the 1st Quarter
27 - 30

time
TEAM
PLAY
SCORE
12:00
Start of the 2nd Quarter
27 - 30
11:41
Ersan Ilyasova misses 20-foot jumper
27 - 30
11:40
Milwaukee defensive rebound
27 - 30
11:26
Dan Gadzuric personal foul (Jordan Farmar draws the foul)
27 - 30
11:12
Maurice Evans misses 25-foot three point jumper
27 - 30
11:11
Dan Gadzuric defensive rebound
27 - 30
10:51
Kwame Brown blocks Ruben Patterson's layup
27 - 30
10:48
Milwaukee defensive rebound
27 - 30
10:32
Vladimir Radmanovic misses 23-foot three point jumper
27 - 30
10:30
Dan Gadzuric defensive rebound
27 - 30
10:19
Michael Redd misses 25-foot three point jumper
27 - 30
10:18
Vladimir Radmanovic defensive rebound
27 - 30
10:10
Vladimir Radmanovic makes two point shot (Jordan Farmar assists)
27 - 32
9:48
Michael Redd misses 11-foot jumper
27 - 32
9:45
Maurice Evans defensive rebound
27 - 32
9:40
Jordan Farmar misses layup
27 - 32
9:38
Ersan Ilyasova defensive rebound
27 - 32
9:30
Michael Redd makes 26-foot three point jumper (Ruben Patterson assists)
30 - 32
9:12
Vladimir Radmanovic turnover
30 - 32
9:12
Mo Williams enters the game for Michael Redd
30 - 32
8:59
Vladimir Radmanovic shooting foul (Ersan Ilyasova draws the foul)
30 - 32
8:59
Official timeout
30 - 32
8:59
Kobe Bryant enters the game for Lamar Odom
30 - 32
8:59
Ersan Ilyasova makes free throw 1 of 2
31 - 32
8:59
Ersan Ilyasova makes free throw 2 of 2
32 - 32
8:44
Vladimir Radmanovic misses 25-foot three point jumper
32 - 32
8:41
Dan Gadzuric defensive rebound
32 - 32
8:19
Vladimir Radmanovic blocks Ruben Patterson's 11-foot jumper
32 - 32
8:19
Milwaukee offensive rebound
32 - 32
8:18
shot clock violation
32 - 32
8:06
Dan Gadzuric shooting foul (Kobe Bryant draws the foul)
32 - 32
8:06
Ruben Patterson technical foul (1st technical foul)
32 - 32
8:06
Kobe Bryant makes technical free throw
32 - 33
8:06
Kobe Bryant makes free throw 1 of 2
32 - 34
8:06
Kobe Bryant makes free throw 2 of 2
32 - 35
7:48
Ersan Ilyasova misses 26-foot three point jumper
32 - 35
7:47
Maurice Evans defensive rebound
32 - 35
7:37
Vladimir Radmanovic makes driving layup (Maurice Evans assists)
32 - 37
7:26
Kwame Brown illegal defense foul (2nd personal foul)
32 - 37
7:26
Mo Williams makes technical free throw
33 - 37
7:18
Ersan Ilyasova misses 17-foot jumper
33 - 37
7:16
Dan Gadzuric offensive rebound
33 - 37
7:16
Dan Gadzuric misses tip shot
33 - 37
7:15
Vladimir Radmanovic defensive rebound
33 - 37
7:07
Kobe Bryant misses 7-foot jumper
33 - 37
7:05
Mo Williams defensive rebound
33 - 37
7:01
Vladimir Radmanovic shooting foul (Mo Williams draws the foul)
33 - 37
7:01
Mo Williams makes free throw 1 of 2
34 - 37
7:01
Mo Williams makes free throw 2 of 2
35 - 37
6:50
Ersan Ilyasova personal foul (Maurice Evans draws the foul)
35 - 37
6:41
Kobe Bryant misses 28-foot three point jumper
35 - 37
6:39
Ruben Patterson defensive rebound
35 - 37
6:35
Vladimir Radmanovic blocks Ruben Patterson's layup
35 - 37
6:33
Kwame Brown defensive rebound
35 - 37
6:28
Vladimir Radmanovic offensive foul (Ersan Ilyasova draws the foul)
35 - 37
6:28
Vladimir Radmanovic turnover
35 - 37
6:28
Luke Walton enters the game for Vladimir Radmanovic
35 - 37
6:11
Mo Williams makes 19-foot jumper (Steve Blake assists)
37 - 37
5:58
Mo Williams shooting foul (Kobe Bryant draws the foul)
37 - 37
5:58
Los Angeles full timeout
37 - 37
5:58
Charlie Bell enters the game for Ersan Ilyasova
37 - 37
5:58
Smush Parker enters the game for Kwame Brown
37 - 37
5:58
Lamar Odom enters the game for Jordan Farmar
37 - 37
5:58
Andrew Bynum enters the game for Maurice Evans
37 - 37
5:58
Kobe Bryant makes free throw 1 of 2
37 - 38
5:58
Kobe Bryant makes free throw 2 of 2
37 - 39
5:58
Michael Redd enters the game for Steve Blake
45 - 39
5:41
Ruben Patterson makes 15-foot jumper (Mo Williams assists)
39 - 39
5:31
Kobe Bryant misses driving layup
39 - 39
5:30
Dan Gadzuric defensive rebound
39 - 39
5:13
Dan Gadzuric makes 5-foot jumper (Mo Williams assists)
41 - 39
4:50
Luke Walton misses 23-foot jumper
41 - 39
4:48
Ruben Patterson defensive rebound
41 - 39
4:43
Charlie Bell bad pass (Luke Walton steals)
41 - 39
4:37
Kobe Bryant misses layup
41 - 39
4:35
Luke Walton offensive rebound
41 - 39
4:35
Luke Walton misses tip shot
41 - 39
4:35
Mo Williams defensive rebound
41 - 39
4:30
Michael Redd misses 26-foot three point jumper
41 - 39
4:24
Michael Redd offensive rebound
43 - 39
4:24
Michael Redd makes driving layup
43 - 39
4:11
Lamar Odom bad pass
43 - 39
3:59
Michael Redd misses jumper
43 - 39
3:57
Michael Redd offensive rebound
43 - 39
3:56
Michael Redd makes layup
45 - 39
3:38
Luke Walton bad pass (Mo Williams steals)
45 - 39
3:34
Lamar Odom shooting foul (Mo Williams draws the foul)
45 - 39
3:34
Mo Williams makes free throw 1 of 2
46 - 39
3:34
Mo Williams makes free throw 2 of 2
47 - 39
3:21
Dan Gadzuric personal foul (Lamar Odom draws the foul)
47 - 39
3:21
Lamar Odom makes free throw 1 of 2
47 - 40
3:21
Andrew Bogut enters the game for Dan Gadzuric
47 - 40
3:21
Lamar Odom makes free throw 2 of 2
47 - 41
3:15
Mo Williams makes 14-foot running jumper
49 - 41
3:00
Lamar Odom bad pass (Andrew Bogut steals)
49 - 41
2:50
Michael Redd misses 25-foot three point jumper
49 - 41
2:49
Luke Walton defensive rebound
49 - 41
2:42
Michael Redd shooting foul (Andrew Bynum draws the foul)
49 - 41
2:42
Milwaukee full timeout
49 - 41
2:42
Ersan Ilyasova enters the game for Ruben Patterson
49 - 41
2:42
Andrew Bynum makes free throw 1 of 2
49 - 42
2:42
Andrew Bynum misses free throw 2 of 2
49 - 42
2:41
Ersan Ilyasova defensive rebound
49 - 42
2:23
Mo Williams traveling
49 - 42
2:01
Luke Walton misses 21-foot jumper
49 - 42
2:00
Kobe Bryant offensive rebound
49 - 42
1:47
Smush Parker makes 24-foot three point jumper (Luke Walton assists)
49 - 45
1:31
Mo Williams makes 26-foot three point jumper
52 - 45
1:14
Luke Walton misses 24-foot three point jumper
52 - 45
1:10
Charlie Bell defensive rebound
52 - 45
1:00
Mo Williams misses 20-foot jumper
52 - 45
0:59
Luke Walton defensive rebound
52 - 45
0:43
Andrew Bogut shooting foul (Lamar Odom draws the foul)
52 - 45
0:43
Lamar Odom makes free throw 1 of 2
52 - 46
0:43
Lamar Odom makes free throw 2 of 2
52 - 47
0:31
Mo Williams misses 6-foot jumper
52 - 47
0:30
Luke Walton defensive rebound
52 - 47
0:24
Steve Blake enters the game for Mo Williams
52 - 47
0:24
Ronny Turiaf enters the game for Andrew Bynum
52 - 47
0:10
Smush Parker misses 25-foot three point jumper
52 - 47
0:09
Andrew Bogut defensive rebound
52 - 47
0:00
Michael Redd misses 24-foot three point jumper
52 - 47
0:00
Kobe Bryant defensive rebound
52 - 47
0:00
End of the 2nd Quarter
52 - 47

time
TEAM
PLAY
SCORE
12:00
Start of the 3rd Quarter
52 - 47
11:40
Charlie Bell bad pass (Smush Parker steals)
52 - 47
11:26
Michael Redd personal foul (Kobe Bryant draws the foul)
52 - 47
11:11
Kobe Bryant misses 16-foot jumper
52 - 47
11:11
Los Angeles defensive rebound
52 - 47
10:57
Andrew Bogut makes 7-foot two point shot
54 - 47
10:42
Andrew Bynum offensive foul (Andrew Bogut draws the foul)
54 - 47
10:42
Andrew Bynum turnover
54 - 47
10:29
Andrew Bynum blocks Andrew Bogut's 7-foot jumper
54 - 47
10:26
Andrew Bogut offensive rebound
54 - 47
10:22
Andrew Bogut makes 5-foot hook shot
56 - 47
9:59
Andrew Bogut personal foul (Luke Walton draws the foul)
56 - 47
9:52
Smush Parker bad pass (Michael Redd steals)
56 - 47
9:48
Charlie Bell makes layup (Michael Redd assists)
58 - 47
9:27
Smush Parker misses 19-foot jumper
58 - 47
9:26
Andrew Bynum offensive rebound
58 - 47
9:23
Andrew Bynum lost ball (Michael Redd steals)
58 - 47
9:03
Luke Walton makes 9-foot two point shot
58 - 49
8:55
Charlie Bell makes two point shot (Mo Williams assists)
60 - 49
8:42
Lamar Odom makes driving layup
60 - 51
8:17
Michael Redd misses 17-foot jumper
60 - 51
8:15
Lamar Odom defensive rebound
60 - 51
8:15
Charlie Bell personal foul (Kobe Bryant draws the foul)
60 - 51
8:03
Kobe Bryant misses 19-foot jumper
60 - 51
8:03
Lamar Odom offensive rebound
60 - 51
8:03
Lamar Odom misses tip shot
60 - 51
8:02
Andrew Bogut defensive rebound
60 - 51
7:56
Ruben Patterson makes slam dunk (Mo Williams assists)
62 - 51
7:54
Los Angeles full timeout
62 - 51
7:54
Kwame Brown enters the game for Andrew Bynum
62 - 51
7:41
Smush Parker offensive foul (Andrew Bogut draws the foul)
62 - 51
7:41
Smush Parker turnover
62 - 51
7:26
Charlie Bell makes 18-foot jumper (Michael Redd assists)
64 - 51
7:15
Kobe Bryant makes 27-foot three point jumper (Lamar Odom assists)
64 - 54
6:58
Mo Williams makes driving layup
66 - 54
6:43
Lamar Odom makes two point shot (Kwame Brown assists)
66 - 56
6:20
Mo Williams misses 15-foot jumper
66 - 56
6:16
Lamar Odom defensive rebound
66 - 56
6:11
Kobe Bryant makes 26-foot three point jumper
66 - 59
5:54
Michael Redd makes layup (Ruben Patterson assists)
68 - 59
5:46
Jordan Farmar enters the game for Smush Parker
68 - 59
5:35
Lamar Odom misses 26-foot three point jumper
68 - 59
5:35
Los Angeles offensive rebound
68 - 59
5:35
Sasha Vujacic enters the game for Luke Walton
68 - 59
5:31
Lamar Odom makes slam dunk (Jordan Farmar assists)
68 - 61
5:20
Kwame Brown illegal defense foul (2nd personal foul)
68 - 61
5:20
Michael Redd makes technical free throw
69 - 61
5:20
Dan Gadzuric enters the game for Andrew Bogut
69 - 61
5:11
Dan Gadzuric misses 6-foot hook shot
69 - 61
5:09
Lamar Odom defensive rebound
69 - 61
5:03
Kobe Bryant makes 27-foot three point jumper
69 - 64
5:00
Milwaukee full timeout
69 - 64
4:52
Kobe Bryant personal foul (Michael Redd draws the foul)
69 - 64
4:45
Charlie Bell misses 11-foot jumper
69 - 64
4:43
Milwaukee offensive rebound
69 - 64
4:43
Kobe Bryant loose ball foul (Michael Redd draws the foul)
69 - 64
4:37
Michael Redd misses 6-foot two point shot
69 - 64
4:35
Jordan Farmar defensive rebound
69 - 64
4:31
Ruben Patterson personal foul (Kobe Bryant draws the foul)
69 - 64
4:24
Kobe Bryant misses 26-foot three point jumper
69 - 64
4:24
Los Angeles defensive rebound
69 - 64
4:13
Mo Williams makes layup (Michael Redd assists)
71 - 64
4:01
Jordan Farmar misses 8-foot jumper
71 - 64
3:58
Sasha Vujacic offensive rebound
71 - 64
3:56
Lamar Odom makes driving layup (Sasha Vujacic assists)
71 - 66
3:35
Ruben Patterson makes jumper (Michael Redd assists)
73 - 66
3:21
Ruben Patterson personal foul (Kobe Bryant draws the foul)
73 - 66
3:21
Ersan Ilyasova enters the game for Ruben Patterson
73 - 66
3:21
Steve Blake enters the game for Mo Williams
73 - 66
3:21
Kobe Bryant makes free throw 1 of 2
73 - 67
3:21
Kobe Bryant makes free throw 2 of 2
73 - 68
3:15
Dan Gadzuric makes slam dunk (Charlie Bell assists)
75 - 68
2:55
Dan Gadzuric blocks Kobe Bryant's 11-foot jumper
75 - 68
2:55
Los Angeles offensive rebound
75 - 68
2:46
Jordan Farmar makes jumper
75 - 70
2:26
Kwame Brown shooting foul (Michael Redd draws the foul)
75 - 70
2:26
Michael Redd makes free throw 1 of 2
76 - 70
2:26
Michael Redd makes free throw 2 of 2
77 - 70
2:13
Dan Gadzuric personal foul (Kwame Brown draws the foul)
77 - 70
2:13
Kwame Brown makes free throw 1 of 2
77 - 71
2:13
Kwame Brown makes free throw 2 of 2
77 - 72
1:57
Dan Gadzuric misses two point shot
77 - 72
1:54
Lamar Odom defensive rebound
77 - 72
1:44
Kobe Bryant misses jumper
77 - 72
1:43
Los Angeles offensive rebound
77 - 72
1:43
Andrew Bogut enters the game for Dan Gadzuric
77 - 72
1:32
Jordan Farmar makes driving layup (Kwame Brown assists)
77 - 74
1:27
Andrew Bogut bad pass (Sasha Vujacic steals)
77 - 74
1:22
Lamar Odom makes layup (Jordan Farmar assists)
77 - 76
0:58
Andrew Bogut bad pass (Sasha Vujacic steals)
77 - 76
0:54
Sasha Vujacic makes driving layup
77 - 78
0:41
Kobe Bryant personal foul (Michael Redd draws the foul)
77 - 78
0:41
Maurice Evans enters the game for Kobe Bryant
77 - 78
0:32
Michael Redd misses driving layup
77 - 78
0:29
Lamar Odom defensive rebound
77 - 78
0:11
Lamar Odom misses 6-foot jumper
77 - 78
0:10
Andrew Bogut defensive rebound
77 - 78
0:07
Michael Redd makes driving layup (Charlie Bell assists)
79 - 78
0:00
Lamar Odom misses 28-foot three point jumper
79 - 78
0:00
Jordan Farmar offensive rebound
79 - 78
0:00
End of the 3rd Quarter
79 - 78

time
TEAM
PLAY
SCORE
12:00
Start of the 4th Quarter
79 - 78
11:48
Maurice Evans makes 10-foot jumper (Lamar Odom assists)
79 - 80
11:26
Andrew Bogut misses layup
79 - 80
11:23
Lamar Odom defensive rebound
79 - 80
11:18
Jordan Farmar lost ball (Andrew Bogut steals)
79 - 80
11:10
Charlie Bell misses 25-foot three point jumper
79 - 80
11:07
Sasha Vujacic defensive rebound
79 - 80
10:56
Sasha Vujacic misses 25-foot three point jumper
79 - 80
10:55
Andrew Bogut defensive rebound
79 - 80
10:30
Michael Redd makes 25-foot three point jumper (Steve Blake assists)
82 - 80
10:15
Jordan Farmar misses 27-foot three point jumper
82 - 80
10:14
Lamar Odom offensive rebound
82 - 80
10:11
Maurice Evans makes layup (Lamar Odom assists)
82 - 82
9:56
Michael Redd makes layup
84 - 82
9:56
Lamar Odom shooting foul (Michael Redd draws the foul)
84 - 82
9:56
Mo Williams enters the game for Charlie Bell
84 - 82
9:56
Dan Gadzuric enters the game for Andrew Bogut
84 - 82
9:56
Michael Redd makes free throw 1 of 1
85 - 82
9:51
Sasha Vujacic bad pass
85 - 82
9:38
Jordan Farmar jump ball
85 - 82
9:37
Maurice Evans personal foul (Michael Redd draws the foul)
85 - 82
9:34
Lamar Odom blocks Michael Redd's layup
85 - 82
9:33
Lamar Odom defensive rebound
85 - 82
9:32
Lamar Odom lost ball (Michael Redd steals)
85 - 82
9:32
Michael Redd makes layup
87 - 82
9:32
Lamar Odom shooting foul (Michael Redd draws the foul)
87 - 82
9:32
Lamar Odom technical foul (2nd technical foul)
87 - 82
9:32
Michael Redd makes technical free throw
88 - 82
9:32
Luke Walton enters the game for Lamar Odom
88 - 82
9:32
Michael Redd makes free throw 1 of 1
89 - 82
9:22
Luke Walton bad pass
89 - 82
9:07
Michael Redd makes 24-foot three point jumper
92 - 82
8:45
Steve Blake personal foul (Luke Walton draws the foul)
92 - 82
8:45
Official timeout
92 - 82
8:45
Kobe Bryant enters the game for Sasha Vujacic
92 - 82
8:33
Kobe Bryant misses 26-foot three point jumper
92 - 82
8:32
Michael Redd defensive rebound
92 - 82
8:15
Michael Redd misses 15-foot two point shot
92 - 82
8:11
Maurice Evans defensive rebound
92 - 82
8:04
Michael Redd personal foul (Maurice Evans draws the foul)
92 - 82
7:54
Maurice Evans misses 24-foot three point jumper
92 - 82
7:52
Michael Redd defensive rebound
92 - 82
7:33
Ersan Ilyasova makes 27-foot three point jumper (Michael Redd assists)
95 - 82
7:22
Kobe Bryant makes 24-foot three point jumper (Luke Walton assists)
95 - 85
7:07
Mo Williams turnover
95 - 85
6:54
Kobe Bryant makes 27-foot three point jumper (Jordan Farmar assists)
95 - 88
6:39
Michael Redd offensive foul (Maurice Evans draws the foul)
95 - 88
6:39
Michael Redd turnover
95 - 88
6:39
Andrew Bogut enters the game for Dan Gadzuric
95 - 88
6:39
Charlie Bell enters the game for Michael Redd
95 - 88
6:28
Ersan Ilyasova blocks Kwame Brown's layup
95 - 88
6:26
Andrew Bogut defensive rebound
95 - 88
6:24
Mo Williams makes driving layup (Andrew Bogut assists)
97 - 88
6:00
Maurice Evans makes jumper (Jordan Farmar assists)
97 - 90
5:43
Ersan Ilyasova offensive foul (Maurice Evans draws the foul)
97 - 90
5:43
Ersan Ilyasova turnover
97 - 90
5:43
Los Angeles full timeout
97 - 90
5:43
Ronny Turiaf enters the game for Luke Walton
97 - 90
5:43
Lamar Odom enters the game for Kwame Brown
97 - 90
5:22
Lamar Odom misses 17-foot jumper
97 - 90
5:22
Steve Blake defensive rebound
97 - 90
5:03
Andrew Bogut misses layup
97 - 90
5:01
Maurice Evans defensive rebound
97 - 90
4:54
Kobe Bryant misses 26-foot three point jumper
97 - 90
4:52
Ersan Ilyasova defensive rebound
97 - 90
4:31
Michael Redd enters the game for Steve Blake
97 - 90
4:18
Lamar Odom makes layup (Kobe Bryant assists)
97 - 92
3:58
Ersan Ilyasova makes 4-foot jumper
99 - 92
3:42
Jordan Farmar misses 26-foot three point jumper
99 - 92
3:40
Michael Redd defensive rebound
99 - 92
3:20
Charlie Bell makes 19-foot jumper (Ersan Ilyasova assists)
101 - 92
3:16
Luke Walton enters the game for Maurice Evans
101 - 92
3:16
Los Angeles 20 Sec. timeout
101 - 92
3:00
Kobe Bryant makes 26-foot three point jumper (Jordan Farmar assists)
101 - 95
2:47
Michael Redd makes 24-foot three point jumper (Mo Williams assists)
104 - 95
2:38
Kobe Bryant misses 27-foot three point jumper
104 - 95
2:35
Andrew Bogut defensive rebound
104 - 95
2:29
Mo Williams bad pass (Kobe Bryant steals)
104 - 95
2:27
Mo Williams personal foul (Kobe Bryant draws the foul)
104 - 95
2:27
Milwaukee full timeout
104 - 95
2:23
Andrew Bogut shooting foul (Luke Walton draws the foul)
104 - 95
2:23
Luke Walton makes free throw 1 of 2
104 - 96
2:23
Kwame Brown enters the game for Ronny Turiaf
104 - 96
2:23
Luke Walton makes free throw 2 of 2
104 - 97
2:09
Mo Williams bad pass
104 - 97
2:00
Jordan Farmar misses 25-foot three point jumper
104 - 97
1:59
Kwame Brown offensive rebound
104 - 97
1:57
Luke Walton makes layup (Kwame Brown assists)
104 - 99
1:32
Charlie Bell makes 21-foot jumper (Ersan Ilyasova assists)
106 - 99
1:19
Jordan Farmar misses 23-foot three point jumper
106 - 99
1:16
Lamar Odom offensive rebound
106 - 99
1:16
Lamar Odom misses two point shot
106 - 99
1:10
Michael Redd defensive rebound
106 - 99
1:08
Mo Williams turnover
106 - 99
1:08
Steve Blake enters the game for Mo Williams
106 - 99
1:08
Ronny Turiaf enters the game for Kwame Brown
106 - 99
0:53
Luke Walton misses 26-foot three point jumper
106 - 99
0:51
Jordan Farmar offensive rebound
106 - 99
0:49
Jordan Farmar makes 25-foot three point jumper
106 - 102
0:32
Ronny Turiaf personal foul (Michael Redd draws the foul)
106 - 102
0:32
Milwaukee full timeout
106 - 102
0:32
Kwame Brown enters the game for Ronny Turiaf
106 - 102
0:27
Michael Redd makes driving layup
108 - 102
0:18
Luke Walton makes 25-foot three point jumper (Lamar Odom assists)
108 - 105
0:16
Michael Redd turnover
108 - 105
0:16
Los Angeles 20 Sec. timeout
108 - 105
0:16
Ruben Patterson enters the game for Andrew Bogut
108 - 105
0:06
Kobe Bryant misses 30-foot three point jumper
108 - 105
0:04
Luke Walton offensive rebound
108 - 105
0:02
Luke Walton bad pass (Ruben Patterson steals)
108 - 105
0:02
Kobe Bryant personal foul (Ruben Patterson draws the foul)
108 - 105
0:02
Ruben Patterson misses free throw 1 of 2
108 - 105
0:02
Milwaukee offensive rebound
108 - 105
0:02
Ruben Patterson makes free throw 2 of 2
109 - 105
0:02
Los Angeles full timeout
109 - 105
0:02
Ronny Turiaf enters the game for Kwame Brown
109 - 105
0:00
Kobe Bryant misses 26-foot three point jumper
109 - 105
0:00
Ersan Ilyasova defensive rebound
109 - 105
0:00
End of the 4th Quarter
109 - 105
0:00
End Game
109 - 105
Jemele Hill, Taylor Twellman and Reese Waters share their thoughts on Thunder forward Kevin Durant admitting to lying about his height.

What wins in the NBA? Kevin Pelton shows how much luck is at the heart of the game, and talks to Jeff Van Gundy for his expertise.

Jemele Hill and Taylor Twellman give their opinions on how the Heat are handling Chris Bosh and believe they are doing what's best for him.
Regular Season Series
MIL wins series 2-0
2015-2016 Central Standings
2015-2016 Pacific Standings