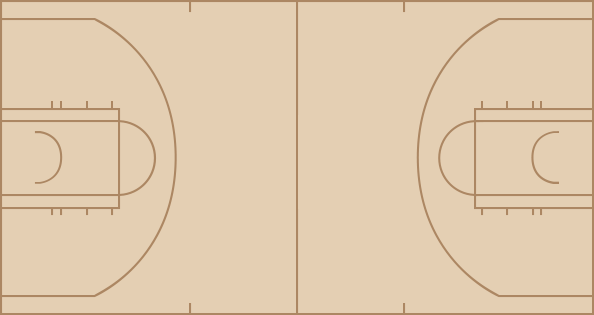 Jazz
time
TEAM
PLAY
SCORE
12:00
Start of the 1st Quarter
0 - 0
12:00
Jumpball: Mehmet Okur vs. Nene Hilario (Reggie Evans gains possession)
0 - 0
11:40
Linas Kleiza misses 9-foot two point shot
0 - 0
11:38
Denver defensive rebound
0 - 0
11:23
Mehmet Okur bad pass (Reggie Evans steals)
0 - 0
11:18
Allen Iverson discontinue dribble
0 - 0
11:03
Mehmet Okur makes 26-foot three point jumper (Gordan Giricek assists)
3 - 0
10:45
Nene Hilario misses 16-foot jumper
3 - 0
10:44
Denver defensive rebound
3 - 0
10:30
Mehmet Okur misses 17-foot two point shot
3 - 0
10:27
Allen Iverson defensive rebound
3 - 0
10:21
Reggie Evans 3 second
3 - 0
10:07
Mehmet Okur misses 12-foot jumper
3 - 0
10:04
Andrei Kirilenko offensive rebound
5 - 0
10:04
Andrei Kirilenko makes two point shot
5 - 0
9:47
Earl Boykins bad pass (Deron Williams steals)
5 - 0
9:38
Deron Williams makes driving layup
7 - 0
9:30
Allen Iverson misses 16-foot jumper
7 - 0
9:26
Gordan Giricek defensive rebound
7 - 0
9:18
Carlos Boozer bad pass (Allen Iverson steals)
7 - 0
9:14
Nene Hilario bad pass
7 - 0
9:03
Andrei Kirilenko bad pass
7 - 0
8:40
Nene Hilario lost ball (Gordan Giricek steals)
7 - 0
8:34
Deron Williams makes layup (Gordan Giricek assists)
9 - 0
8:34
Denver full timeout
9 - 0
8:15
Nene Hilario misses driving layup
9 - 0
8:14
Mehmet Okur defensive rebound
9 - 0
8:02
Deron Williams makes 26-foot three point jumper (Carlos Boozer assists)
12 - 0
7:48
Earl Boykins makes 17-foot jumper
12 - 2
7:26
Mehmet Okur misses jumper
12 - 2
7:24
Utah defensive rebound
12 - 2
7:15
Allen Iverson misses 17-foot jumper
12 - 2
7:13
Deron Williams defensive rebound
12 - 2
6:58
Gordan Giricek misses layup
12 - 2
6:58
Reggie Evans defensive rebound
12 - 2
6:52
Deron Williams personal foul (Allen Iverson draws the foul)
12 - 2
6:43
Earl Boykins makes two point shot (Allen Iverson assists)
12 - 4
6:35
Deron Williams makes running jumper
14 - 4
6:28
Earl Boykins makes 18-foot jumper
14 - 6
6:05
Gordan Giricek makes 20-foot jumper (Deron Williams assists)
16 - 6
5:52
Allen Iverson misses jumper
16 - 6
5:48
Gordan Giricek defensive rebound
16 - 6
5:39
Mehmet Okur makes layup (Deron Williams assists)
18 - 6
5:28
Mehmet Okur personal foul (Linas Kleiza draws the foul)
18 - 6
5:28
Derek Fisher enters the game for Gordan Giricek
18 - 6
5:28
Eduardo Najera enters the game for Nene Hilario
18 - 6
5:18
Earl Boykins misses 25-foot three point jumper
18 - 6
5:16
Denver offensive rebound
18 - 6
5:16
Carlos Boozer loose ball foul (Reggie Evans draws the foul)
18 - 6
5:07
Linas Kleiza makes driving layup
18 - 8
4:47
Andrei Kirilenko misses 9-foot running jumper
18 - 8
4:43
Reggie Evans defensive rebound
18 - 8
4:37
Reggie Evans turnover
18 - 8
4:33
Derek Fisher makes driving layup
20 - 8
4:33
Eduardo Najera shooting foul (Derek Fisher draws the foul)
20 - 8
4:33
Derek Fisher makes free throw 1 of 1
21 - 8
4:22
Reggie Evans offensive goaltending
21 - 8
4:22
Jamal Sampson enters the game for Linas Kleiza
21 - 8
4:22
Julius Hodge enters the game for Reggie Evans
21 - 8
4:09
Deron Williams makes 25-foot three point jumper (Andrei Kirilenko assists)
24 - 8
3:50
Jamal Sampson makes dunk (Julius Hodge assists)
24 - 10
3:43
Deron Williams bad pass (Allen Iverson steals)
24 - 10
3:39
Earl Boykins makes layup (Julius Hodge assists)
24 - 12
3:26
Deron Williams misses 26-foot three point jumper
24 - 12
3:24
Derek Fisher offensive rebound
24 - 12
3:17
Jamal Sampson shooting foul (Mehmet Okur draws the foul)
24 - 12
3:17
Mehmet Okur makes free throw 1 of 2
25 - 12
3:17
Mehmet Okur misses free throw 2 of 2
25 - 12
3:15
Jamal Sampson defensive rebound
25 - 12
3:08
Allen Iverson makes two point shot
25 - 14
3:08
Andrei Kirilenko illegal defense
25 - 14
3:00
Andrei Kirilenko bad pass
25 - 14
2:45
Jamal Sampson 3 second
25 - 14
2:45
Utah full timeout
25 - 14
2:45
Gordan Giricek enters the game for Deron Williams
25 - 14
2:45
Yakhouba Diawara enters the game for Earl Boykins
25 - 14
2:20
Gordan Giricek misses 23-foot three point jumper
25 - 14
2:17
Mehmet Okur offensive rebound
25 - 14
2:17
Julius Hodge personal foul (Mehmet Okur draws the foul)
25 - 14
2:17
Paul Millsap enters the game for Carlos Boozer
25 - 14
2:04
Mehmet Okur misses 6-foot running jumper
25 - 14
2:02
Paul Millsap offensive rebound
25 - 14
1:47
Paul Millsap makes layup (Andrei Kirilenko assists)
27 - 14
1:38
Allen Iverson discontinue dribble
27 - 14
1:25
Derek Fisher offensive foul (Allen Iverson draws the foul)
27 - 14
1:25
Derek Fisher turnover
27 - 14
1:00
Allen Iverson misses 25-foot three point jumper
27 - 14
0:59
Paul Millsap defensive rebound
27 - 14
0:48
Paul Millsap misses driving layup
27 - 14
0:46
Eduardo Najera defensive rebound
27 - 14
0:43
Eduardo Najera makes dunk (Julius Hodge assists)
27 - 16
0:39
Eduardo Najera personal foul (Derek Fisher draws the foul)
27 - 16
0:34
Derek Fisher misses 23-foot jumper
27 - 16
0:30
Eduardo Najera defensive rebound
27 - 16
0:20
Derek Fisher personal foul (Allen Iverson draws the foul)
27 - 16
0:20
Deron Williams enters the game for Derek Fisher
27 - 16
0:01
Eduardo Najera misses 18-foot jumper
27 - 16
0:00
Jamal Sampson offensive rebound
27 - 16
0:00
End of the 1st Quarter
27 - 16

time
TEAM
PLAY
SCORE
12:00
Start of the 2nd Quarter
27 - 16
11:45
Jamal Sampson blocks Paul Millsap's driving layup
27 - 16
11:42
Eduardo Najera defensive rebound
27 - 16
11:33
Jamal Sampson lost ball (Deron Williams steals)
27 - 16
11:30
Yakhouba Diawara shooting foul (Gordan Giricek draws the foul)
27 - 16
11:30
Gordan Giricek makes free throw 1 of 2
28 - 16
11:30
Gordan Giricek misses free throw 2 of 2
28 - 16
11:30
Jamal Sampson defensive rebound
28 - 16
11:15
Julius Hodge traveling
28 - 16
11:10
Linas Kleiza enters the game for Julius Hodge
28 - 16
11:02
Matt Harpring misses 17-foot jumper
28 - 16
11:00
Yakhouba Diawara defensive rebound
28 - 16
10:56
Jarron Collins blocks Eduardo Najera's layup
28 - 16
10:52
Paul Millsap defensive rebound
28 - 16
10:38
Deron Williams makes 24-foot three point jumper (Matt Harpring assists)
31 - 16
10:23
Paul Millsap shooting foul (Allen Iverson draws the foul)
31 - 16
10:23
Allen Iverson misses free throw 1 of 2
31 - 16
10:23
Denver offensive rebound
31 - 16
10:23
Allen Iverson makes free throw 2 of 2
31 - 17
10:06
Matt Harpring misses two point shot
31 - 17
10:03
Eduardo Najera defensive rebound
31 - 17
9:57
Yakhouba Diawara misses 25-foot three point jumper
31 - 17
9:56
Matt Harpring defensive rebound
31 - 17
9:47
Utah 20 Sec. timeout
31 - 17
9:47
Nene Hilario enters the game for Jamal Sampson
31 - 17
9:41
Deron Williams misses 25-foot three point jumper
31 - 17
9:37
Paul Millsap offensive rebound
31 - 17
9:26
Paul Millsap turnover
31 - 17
9:14
Paul Millsap blocks Nene Hilario's layup
31 - 17
9:11
Matt Harpring defensive rebound
31 - 17
9:07
Gordan Giricek traveling
31 - 17
8:53
Official timeout
31 - 17
8:53
Derek Fisher enters the game for Gordan Giricek
31 - 17
8:53
Jumpball: Deron Williams vs. Allen Iverson (Paul Millsap gains possession)
31 - 17
8:53
Allen Iverson lost ball (Deron Williams steals)
31 - 17
8:29
Deron Williams makes driving layup
33 - 17
8:15
Jarron Collins personal foul (Nene Hilario draws the foul)
33 - 17
8:15
Earl Boykins enters the game for Allen Iverson
33 - 17
8:15
Reggie Evans enters the game for Eduardo Najera
33 - 17
8:04
Reggie Evans lost ball (Paul Millsap steals)
33 - 17
8:04
Linas Kleiza personal foul (Matt Harpring draws the foul)
33 - 17
7:54
Paul Millsap misses 17-foot jumper
33 - 17
7:54
Matt Harpring offensive rebound
33 - 17
7:54
Linas Kleiza personal foul (Matt Harpring draws the foul)
33 - 17
7:46
Matt Harpring misses 6-foot two point shot
33 - 17
7:41
Nene Hilario defensive rebound
33 - 17
7:35
Nene Hilario misses 17-foot jumper
33 - 17
7:33
Earl Boykins offensive rebound
33 - 17
7:26
Earl Boykins misses 7-foot running jumper
33 - 17
7:22
Nene Hilario offensive rebound
33 - 17
7:22
Nene Hilario misses tip shot
33 - 17
7:20
Matt Harpring defensive rebound
33 - 17
7:16
Matt Harpring lost ball (Earl Boykins steals)
33 - 17
7:11
Linas Kleiza misses 25-foot three point jumper
33 - 17
7:09
Deron Williams defensive rebound
33 - 17
6:58
Paul Millsap offensive foul (Reggie Evans draws the foul)
33 - 17
6:58
Paul Millsap turnover
33 - 17
6:41
Yakhouba Diawara misses driving layup
33 - 17
6:39
Reggie Evans offensive rebound
33 - 19
6:39
Reggie Evans makes layup
33 - 19
6:30
Derek Fisher makes jumper (Deron Williams assists)
35 - 19
6:07
Linas Kleiza makes layup (Nene Hilario assists)
35 - 21
5:54
Nene Hilario blocks Matt Harpring's layup
35 - 21
5:52
Matt Harpring offensive rebound
35 - 21
5:39
shot clock violation
35 - 21
5:39
Denver full timeout
35 - 21
5:39
Carlos Boozer enters the game for Paul Millsap
35 - 21
5:39
Mehmet Okur enters the game for Jarron Collins
35 - 21
5:20
Yakhouba Diawara misses 26-foot three point jumper
35 - 21
5:18
Earl Boykins offensive rebound
35 - 21
5:16
Earl Boykins lost ball (Derek Fisher steals)
35 - 21
5:13
Matt Harpring bad pass (Reggie Evans steals)
35 - 21
5:13
Matt Harpring shooting foul (Reggie Evans draws the foul)
35 - 21
5:13
Reggie Evans misses free throw 1 of 2
35 - 21
5:13
Denver offensive rebound
35 - 21
5:13
Reggie Evans misses free throw 2 of 2
35 - 21
5:11
Matt Harpring defensive rebound
35 - 21
4:56
Deron Williams misses 25-foot three point jumper
35 - 21
4:54
Nene Hilario defensive rebound
35 - 21
4:50
Earl Boykins misses 19-foot jumper
35 - 21
4:48
Derek Fisher defensive rebound
35 - 21
4:35
Matt Harpring misses layup
35 - 21
4:35
Reggie Evans defensive rebound
35 - 21
4:35
Allen Iverson enters the game for Yakhouba Diawara
35 - 21
4:24
Earl Boykins makes driving layup
35 - 23
4:24
Deron Williams shooting foul (Earl Boykins draws the foul)
35 - 23
4:24
Andrei Kirilenko enters the game for Matt Harpring
35 - 23
4:24
Earl Boykins makes free throw 1 of 1
35 - 24
4:05
Mehmet Okur makes 23-foot jumper (Derek Fisher assists)
37 - 24
3:57
Linas Kleiza traveling
37 - 24
3:41
Deron Williams makes 26-foot three point jumper
40 - 24
3:18
Earl Boykins misses jumper
40 - 24
3:16
Nene Hilario offensive rebound
40 - 24
3:10
Allen Iverson misses 25-foot three point jumper
40 - 24
3:08
Mehmet Okur defensive rebound
40 - 24
3:01
Deron Williams makes driving layup
42 - 24
2:54
Denver 20 Sec. timeout
42 - 24
2:54
Utah full timeout
42 - 24
2:54
Eduardo Najera enters the game for Nene Hilario
42 - 24
2:38
Mehmet Okur shooting foul (Linas Kleiza draws the foul)
42 - 24
2:38
Linas Kleiza makes free throw 1 of 2
42 - 25
2:38
Linas Kleiza makes free throw 2 of 2
42 - 26
2:23
Mehmet Okur misses 7-foot two point shot
42 - 26
2:20
Mehmet Okur offensive rebound
42 - 26
2:15
Mehmet Okur misses 15-foot two point shot
42 - 26
2:14
Reggie Evans defensive rebound
42 - 26
2:03
Allen Iverson lost ball (Carlos Boozer steals)
42 - 26
1:54
Reggie Evans shooting foul (Carlos Boozer draws the foul)
42 - 26
1:54
Carlos Boozer makes free throw 1 of 2
43 - 26
1:54
Carlos Boozer makes free throw 2 of 2
44 - 26
1:40
Earl Boykins misses 12-foot two point shot
44 - 26
1:38
Carlos Boozer defensive rebound
44 - 26
1:30
Deron Williams misses 25-foot three point jumper
44 - 26
1:28
Linas Kleiza defensive rebound
44 - 26
1:20
Linas Kleiza misses 21-foot jumper
44 - 26
1:17
Deron Williams defensive rebound
44 - 26
0:57
Deron Williams misses driving layup
44 - 26
0:57
Utah defensive rebound
44 - 26
0:57
Carlos Boozer personal foul (Eduardo Najera draws the foul)
44 - 26
0:57
Ronnie Brewer enters the game for Derek Fisher
44 - 26
0:57
Eduardo Najera misses free throw 1 of 2
44 - 26
0:57
Denver offensive rebound
44 - 26
0:57
Eduardo Najera makes free throw 2 of 2
44 - 27
0:39
Carlos Boozer makes 16-foot two point shot (Deron Williams assists)
46 - 27
0:34
Ronnie Brewer shooting foul (Allen Iverson draws the foul)
46 - 27
0:34
Allen Iverson makes free throw 1 of 2
46 - 28
0:34
Jamal Sampson enters the game for Reggie Evans
46 - 28
0:34
Allen Iverson makes free throw 2 of 2
46 - 29
0:14
Mehmet Okur makes 23-foot jumper (Deron Williams assists)
48 - 29
0:02
Earl Boykins makes 23-foot three point jumper (Allen Iverson assists)
48 - 32
0:00
Deron Williams misses 53-foot three point running jumper
48 - 32
0:00
Utah offensive rebound
48 - 32
0:00
End of the 2nd Quarter
48 - 32

time
TEAM
PLAY
SCORE
12:00
Start of the 3rd Quarter
48 - 32
11:42
Nene Hilario blocks Mehmet Okur's two point shot
48 - 32
11:40
Nene Hilario defensive rebound
48 - 32
11:33
Nene Hilario misses two point shot
48 - 32
11:29
Carlos Boozer defensive rebound
48 - 32
11:08
Gordan Giricek makes 21-foot two point shot
50 - 32
10:51
Allen Iverson makes 15-foot jumper
50 - 34
10:44
Nene Hilario blocks Deron Williams's driving layup
50 - 34
10:41
Allen Iverson defensive rebound
50 - 34
10:36
Allen Iverson misses two point shot
50 - 34
10:33
Andrei Kirilenko defensive rebound
50 - 34
10:21
Gordan Giricek makes 16-foot jumper (Deron Williams assists)
52 - 34
10:02
Gordan Giricek shooting foul (Allen Iverson draws the foul)
52 - 34
10:02
Allen Iverson makes free throw 1 of 2
52 - 35
10:02
Allen Iverson makes free throw 2 of 2
52 - 36
9:49
Linas Kleiza personal foul (Andrei Kirilenko draws the foul)
52 - 36
9:41
Gordan Giricek misses jumper
52 - 36
9:40
Nene Hilario defensive rebound
52 - 36
9:38
Gordan Giricek shooting foul (Linas Kleiza draws the foul)
52 - 36
9:38
Linas Kleiza misses free throw 1 of 2
52 - 36
9:38
Denver offensive rebound
52 - 36
9:38
Linas Kleiza misses free throw 2 of 2
52 - 36
9:37
Eduardo Najera offensive rebound
52 - 36
9:33
Earl Boykins misses three point jumper
52 - 36
9:30
Gordan Giricek defensive rebound
52 - 36
9:18
Carlos Boozer lost ball (Earl Boykins steals)
52 - 36
9:17
Deron Williams personal foul (Earl Boykins draws the foul)
52 - 36
9:03
Nene Hilario makes dunk (Allen Iverson assists)
52 - 38
8:42
Deron Williams misses layup
52 - 38
8:41
Eduardo Najera defensive rebound
52 - 38
8:36
Denver 20 Sec. timeout
52 - 38
8:26
Nene Hilario makes layup (Earl Boykins assists)
52 - 40
8:15
Gordan Giricek makes two point shot (Andrei Kirilenko assists)
54 - 40
8:00
Nene Hilario misses 15-foot jumper
54 - 40
7:58
Mehmet Okur defensive rebound
54 - 40
7:37
Mehmet Okur misses 26-foot three point jumper
54 - 40
7:35
Allen Iverson defensive rebound
54 - 40
7:31
Earl Boykins makes layup (Allen Iverson assists)
54 - 42
7:11
Andrei Kirilenko misses 25-foot three point jumper
54 - 42
7:09
Nene Hilario defensive rebound
54 - 42
7:01
Eduardo Najera makes two point shot (Allen Iverson assists)
54 - 44
6:52
Utah full timeout
54 - 44
6:52
Derek Fisher enters the game for Gordan Giricek
54 - 44
6:52
Reggie Evans enters the game for Nene Hilario
54 - 44
6:45
Mehmet Okur bad pass (Reggie Evans steals)
54 - 44
6:43
Denver full timeout
54 - 44
6:31
Allen Iverson makes two point shot
54 - 46
6:20
Derek Fisher misses driving layup
54 - 46
6:18
Earl Boykins defensive rebound
54 - 46
6:09
Carlos Boozer shooting foul (Linas Kleiza draws the foul)
54 - 46
6:09
Linas Kleiza makes free throw 1 of 2
54 - 47
6:09
Linas Kleiza makes free throw 2 of 2
54 - 48
6:03
Carlos Boozer bad pass
54 - 48
5:48
Allen Iverson makes two point shot
54 - 50
5:30
Allen Iverson personal foul (Mehmet Okur draws the foul)
54 - 50
5:20
Mehmet Okur turnover
54 - 50
5:11
Allen Iverson misses two point shot
54 - 50
5:11
Denver defensive rebound
54 - 50
4:54
Earl Boykins shooting foul (Derek Fisher draws the foul)
54 - 50
4:54
Derek Fisher makes free throw 1 of 2
55 - 50
4:54
Derek Fisher makes free throw 2 of 2
56 - 50
4:33
Mehmet Okur shooting foul (Allen Iverson draws the foul)
56 - 50
4:33
Allen Iverson makes free throw 1 of 2
56 - 51
4:33
Allen Iverson makes free throw 2 of 2
56 - 52
4:15
Carlos Boozer makes dunk (Derek Fisher assists)
58 - 52
4:01
Earl Boykins misses 24-foot three point jumper
58 - 52
3:59
Mehmet Okur defensive rebound
58 - 52
3:50
Carlos Boozer makes two point shot (Derek Fisher assists)
60 - 52
3:39
Allen Iverson misses 25-foot three point jumper
60 - 52
3:36
Linas Kleiza offensive rebound
60 - 52
3:28
Earl Boykins makes 11-foot jumper
60 - 54
3:04
Mehmet Okur misses 26-foot three point jumper
60 - 54
3:02
Allen Iverson defensive rebound
60 - 54
2:54
Linas Kleiza makes three point jumper (Allen Iverson assists)
60 - 57
2:36
Derek Fisher misses driving layup
60 - 57
2:33
Reggie Evans defensive rebound
60 - 57
2:28
Allen Iverson misses driving layup
60 - 57
2:27
Reggie Evans offensive rebound
60 - 57
2:27
Mehmet Okur shooting foul (Reggie Evans draws the foul)
60 - 57
2:27
Yakhouba Diawara enters the game for Linas Kleiza
60 - 57
2:27
Jamal Sampson enters the game for Eduardo Najera
60 - 57
2:27
Paul Millsap enters the game for Mehmet Okur
60 - 57
2:27
Reggie Evans misses free throw 1 of 2
60 - 57
2:27
Denver offensive rebound
60 - 57
2:27
Reggie Evans misses free throw 2 of 2
60 - 57
2:25
Carlos Boozer defensive rebound
60 - 57
2:02
Deron Williams misses 6-foot running jumper
60 - 57
2:00
Carlos Boozer offensive rebound
60 - 57
2:00
Carlos Boozer misses tip shot
60 - 57
1:59
Carlos Boozer offensive rebound
62 - 57
1:59
Carlos Boozer makes tip shot
62 - 57
1:51
Carlos Boozer shooting foul (Jamal Sampson draws the foul)
62 - 57
1:51
Jamal Sampson misses free throw 1 of 2
62 - 57
1:51
Denver offensive rebound
62 - 57
1:51
Jarron Collins enters the game for Carlos Boozer
62 - 57
1:51
Jamal Sampson makes free throw 2 of 2
62 - 58
1:31
Andrei Kirilenko misses jumper
62 - 58
1:29
Paul Millsap offensive rebound
62 - 58
1:20
Derek Fisher makes 25-foot three point jumper (Deron Williams assists)
65 - 58
1:04
Allen Iverson misses 25-foot three point jumper
65 - 58
1:01
Derek Fisher defensive rebound
65 - 58
0:53
Derek Fisher misses 21-foot jumper
65 - 58
0:51
Reggie Evans defensive rebound
65 - 58
0:49
Deron Williams shooting foul (Earl Boykins draws the foul)
65 - 58
0:49
Earl Boykins makes free throw 1 of 2
65 - 59
0:49
Dee Brown enters the game for Deron Williams
65 - 59
0:49
Earl Boykins misses free throw 2 of 2
65 - 59
0:47
Jarron Collins defensive rebound
65 - 59
0:43
Reggie Evans personal foul (Derek Fisher draws the foul)
65 - 59
0:33
Derek Fisher misses 15-foot jumper
65 - 59
0:31
Jamal Sampson defensive rebound
65 - 59
0:23
Yakhouba Diawara makes 26-foot three point jumper (Earl Boykins assists)
65 - 62
0:03
Dee Brown misses driving layup
65 - 62
0:01
Reggie Evans defensive rebound
65 - 62
0:00
End of the 3rd Quarter
65 - 62

time
TEAM
PLAY
SCORE
12:00
Start of the 4th Quarter
65 - 62
11:41
Yakhouba Diawara misses three point jumper
65 - 62
11:37
Matt Harpring defensive rebound
65 - 62
11:25
Jarron Collins bad pass
65 - 62
11:12
Yakhouba Diawara misses 26-foot three point jumper
65 - 62
11:10
Derek Fisher defensive rebound
65 - 62
10:55
Jamal Sampson shooting foul (Matt Harpring draws the foul)
65 - 62
10:55
Matt Harpring makes free throw 1 of 2
66 - 62
10:55
Matt Harpring makes free throw 2 of 2
67 - 62
10:37
Allen Iverson makes 26-foot three point jumper (Yakhouba Diawara assists)
67 - 65
10:21
Matt Harpring misses 16-foot jumper
67 - 65
10:21
Utah offensive rebound
67 - 65
10:21
Reggie Evans loose ball foul (Paul Millsap draws the foul)
67 - 65
10:08
Jarron Collins misses 14-foot two point shot
67 - 65
10:06
Reggie Evans defensive rebound
67 - 65
9:57
Earl Boykins misses 23-foot three point jumper
67 - 65
9:56
Denver defensive rebound
67 - 65
9:45
Matt Harpring misses 12-foot jumper
67 - 65
9:45
Paul Millsap offensive rebound
67 - 65
9:45
Reggie Evans shooting foul (Paul Millsap draws the foul)
67 - 65
9:45
Paul Millsap makes free throw 1 of 2
68 - 65
9:45
Paul Millsap misses free throw 2 of 2
68 - 65
9:44
Reggie Evans defensive rebound
68 - 65
9:36
Allen Iverson misses 27-foot three point jumper
68 - 65
9:34
Yakhouba Diawara offensive rebound
68 - 65
9:34
Matt Harpring loose ball foul (Yakhouba Diawara draws the foul)
68 - 65
9:34
Carlos Boozer enters the game for Jarron Collins
68 - 65
9:30
Jamal Sampson makes dunk (Allen Iverson assists)
68 - 67
9:07
Dee Brown misses 25-foot three point jumper
68 - 67
9:04
Carlos Boozer offensive rebound
68 - 67
8:57
Allen Iverson personal foul (Paul Millsap draws the foul)
68 - 67
8:57
Official timeout
68 - 67
8:57
Andrei Kirilenko enters the game for Derek Fisher
68 - 67
8:57
Deron Williams enters the game for Dee Brown
68 - 67
8:51
Carlos Boozer makes layup (Paul Millsap assists)
70 - 67
8:51
Earl Boykins shooting foul (Carlos Boozer draws the foul)
70 - 67
8:51
Carlos Boozer makes free throw 1 of 1
71 - 67
8:34
Paul Millsap personal foul (Yakhouba Diawara draws the foul)
71 - 67
8:26
Earl Boykins misses 24-foot three point jumper
71 - 67
8:25
Carlos Boozer defensive rebound
71 - 67
8:22
Yakhouba Diawara shooting foul (Matt Harpring draws the foul)
71 - 67
8:22
Matt Harpring makes free throw 1 of 2
72 - 67
8:22
Eduardo Najera enters the game for Jamal Sampson
72 - 67
8:22
Matt Harpring makes free throw 2 of 2
73 - 67
8:03
Matt Harpring jump ball
73 - 67
8:03
Linas Kleiza enters the game for Yakhouba Diawara
73 - 67
7:48
Jumpball: Matt Harpring vs. Eduardo Najera (Eduardo Najera gains possession)
73 - 67
7:39
Eduardo Najera misses 30-foot three point running jumper
73 - 67
7:33
Paul Millsap defensive rebound
73 - 67
7:28
Carlos Boozer makes driving layup
75 - 67
7:28
Linas Kleiza shooting foul (Carlos Boozer draws the foul)
75 - 67
7:28
Carlos Boozer makes free throw 1 of 1
76 - 67
7:13
Allen Iverson lost ball (Deron Williams steals)
76 - 67
7:09
Deron Williams makes driving dunk
78 - 67
7:03
Denver full timeout
78 - 67
7:03
Yakhouba Diawara enters the game for Reggie Evans
78 - 67
6:48
Earl Boykins misses 25-foot three point jumper
78 - 67
6:46
Eduardo Najera offensive rebound
78 - 69
6:46
Eduardo Najera makes layup
78 - 69
6:28
Deron Williams makes layup (Andrei Kirilenko assists)
80 - 69
6:03
Allen Iverson misses two point shot
80 - 69
6:00
Carlos Boozer defensive rebound
80 - 69
5:41
Carlos Boozer misses 10-foot jumper
80 - 69
5:39
Allen Iverson defensive rebound
80 - 69
5:37
Deron Williams shooting foul (Allen Iverson draws the foul)
80 - 69
5:37
Allen Iverson makes free throw 1 of 2
80 - 70
5:37
Allen Iverson makes free throw 2 of 2
80 - 71
5:18
Deron Williams misses two point shot
80 - 71
5:16
Eduardo Najera defensive rebound
80 - 71
5:15
Eduardo Najera lost ball (Paul Millsap steals)
80 - 71
5:11
Utah 20 Sec. timeout
80 - 71
4:58
Carlos Boozer makes layup (Deron Williams assists)
82 - 71
4:41
Paul Millsap blocks Yakhouba Diawara's driving layup
82 - 71
4:39
Paul Millsap defensive rebound
82 - 71
4:35
Carlos Boozer makes layup (Deron Williams assists)
84 - 71
4:31
Paul Millsap shooting foul (Linas Kleiza draws the foul)
84 - 71
4:31
Linas Kleiza makes free throw 1 of 2
84 - 72
4:31
Linas Kleiza makes free throw 2 of 2
84 - 73
4:11
Deron Williams makes driving layup
86 - 73
4:00
Andrei Kirilenko personal foul (Allen Iverson draws the foul)
86 - 73
4:00
Allen Iverson makes free throw 1 of 2
86 - 74
4:00
Jamal Sampson enters the game for Linas Kleiza
86 - 74
4:00
Allen Iverson makes free throw 2 of 2
86 - 75
3:46
Andrei Kirilenko makes layup (Carlos Boozer assists)
88 - 75
3:31
Eduardo Najera makes two point shot (Allen Iverson assists)
88 - 77
3:09
Carlos Boozer makes 13-foot jumper (Deron Williams assists)
90 - 77
2:59
Allen Iverson misses 13-foot jumper
90 - 77
2:56
Carlos Boozer defensive rebound
90 - 77
2:38
Carlos Boozer makes layup (Deron Williams assists)
92 - 77
2:27
Earl Boykins makes 25-foot three point jumper
92 - 80
2:00
Deron Williams discontinue dribble
92 - 80
2:00
Utah full timeout
92 - 80
2:00
Linas Kleiza enters the game for Jamal Sampson
92 - 80
1:50
Linas Kleiza makes 17-foot jumper (Earl Boykins assists)
92 - 82
1:40
Carlos Boozer bad pass
92 - 82
1:35
Linas Kleiza misses 25-foot three point jumper
92 - 82
1:31
Yakhouba Diawara offensive rebound
92 - 82
1:16
Yakhouba Diawara misses 25-foot three point jumper
92 - 82
1:15
Eduardo Najera offensive rebound
92 - 82
1:12
Paul Millsap blocks Allen Iverson's three point jumper
92 - 82
1:08
Carlos Boozer defensive rebound
92 - 82
0:49
Paul Millsap makes dunk (Deron Williams assists)
94 - 82
0:42
Yakhouba Diawara misses 23-foot three point jumper
94 - 82
0:40
Carlos Boozer defensive rebound
94 - 82
0:24
Matt Harpring makes two point shot (Carlos Boozer assists)
96 - 82
0:16
Linas Kleiza makes two point shot
96 - 84
0:00
End of the 4th Quarter
96 - 84
0:00
End Game
96 - 84
Marc Stein says being offered the Lakers' head coaching job was too good of an opportunity to pass up for Luke Walton.

Steph Curry tells reporters he's optimistic he will be able to return to the Warriors before the initial two-week timetable he was given after spraining his MCL.

Marc Stein says the Warriors are a confident team without Steph Curry and are hopeful Curry will be able to return at some point during their series against the Blazers.
Regular Season Series
UTAH wins series 3-1
2015-2016 Northwest Standings