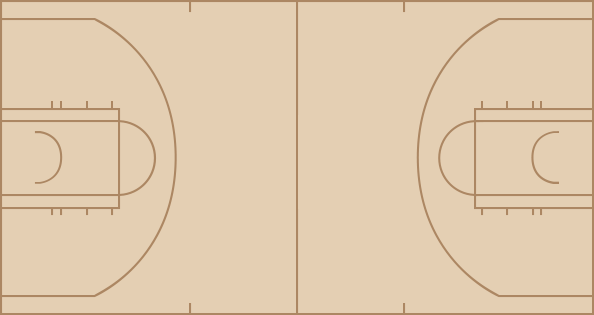 Pistons
time
TEAM
PLAY
SCORE
12:00
Start of the 1st Quarter
0 - 0
12:00
Jumpball: Rasheed Wallace vs. Emeka Okafor (Chris Webber gains possession)
0 - 0
11:42
Chauncey Billups makes 20-foot jumper (Chris Webber assists)
2 - 0
11:26
Gerald Wallace makes two point shot
2 - 2
11:03
Chris Webber lost ball (Derek Anderson steals)
2 - 2
10:47
Derek Anderson bad pass (Chauncey Billups steals)
2 - 2
10:40
Richard Hamilton makes 16-foot jumper (Chauncey Billups assists)
4 - 2
10:19
Emeka Okafor lost ball (Rasheed Wallace steals)
4 - 2
10:07
Chris Webber makes layup (Richard Hamilton assists)
6 - 2
10:00
Charlotte 20 Sec. timeout
6 - 2
9:51
Matt Carroll misses 16-foot jumper
6 - 2
9:48
Chauncey Billups defensive rebound
6 - 2
9:33
Richard Hamilton makes layup
8 - 2
9:18
Chauncey Billups shooting foul (Raymond Felton draws the foul)
8 - 2
9:18
Raymond Felton makes free throw 1 of 2
8 - 3
9:18
Raymond Felton makes free throw 2 of 2
8 - 4
9:00
Rasheed Wallace misses 14-foot two point shot
8 - 4
8:56
Chris Webber offensive rebound
10 - 4
8:56
Chris Webber makes layup
10 - 4
8:32
Derek Anderson bad pass (Rasheed Wallace steals)
10 - 4
8:25
Tayshaun Prince misses 11-foot jumper
10 - 4
8:18
Derek Anderson defensive rebound
10 - 4
8:08
Gerald Wallace misses layup
10 - 4
8:04
Gerald Wallace offensive rebound
10 - 4
8:04
Gerald Wallace misses layup
10 - 4
8:03
Gerald Wallace offensive rebound
10 - 4
7:52
Gerald Wallace makes driving dunk
10 - 6
7:26
Rasheed Wallace makes dunk (Chris Webber assists)
12 - 6
7:20
Gerald Wallace turnover
12 - 6
7:05
Richard Hamilton bad pass (Raymond Felton steals)
12 - 6
6:58
Derek Anderson misses 27-foot three point jumper
12 - 6
6:54
Gerald Wallace offensive rebound
12 - 8
6:54
Gerald Wallace makes layup
12 - 8
6:33
Chris Webber misses 19-foot jumper
12 - 8
6:31
Tayshaun Prince offensive rebound
12 - 8
6:28
Chauncey Billups misses 25-foot three point jumper
12 - 8
6:24
Emeka Okafor defensive rebound
12 - 8
6:05
Raymond Felton misses 18-foot jumper
12 - 8
6:03
Gerald Wallace offensive rebound
12 - 10
6:03
Gerald Wallace makes tip shot
12 - 10
5:37
Tayshaun Prince makes layup
14 - 10
5:30
Gerald Wallace bad pass (Chauncey Billups steals)
14 - 10
5:24
Tayshaun Prince makes two point shot (Chauncey Billups assists)
16 - 10
5:18
Charlotte full timeout
16 - 10
5:18
Adam Morrison enters the game for Derek Anderson
16 - 10
5:18
Sean May enters the game for Matt Carroll
16 - 10
5:09
Gerald Wallace misses layup
16 - 10
5:07
Sean May offensive rebound
16 - 12
5:07
Sean May makes layup
16 - 12
4:48
Tayshaun Prince misses 8-foot hook shot
16 - 12
4:45
Gerald Wallace defensive rebound
16 - 12
4:33
Sean May makes 18-foot jumper (Adam Morrison assists)
16 - 14
4:13
Tayshaun Prince traveling
16 - 14
3:51
Gerald Wallace makes layup
16 - 16
3:32
Chauncey Billups misses 20-foot jumper
16 - 16
3:30
Gerald Wallace defensive rebound
16 - 16
3:18
Raymond Felton misses 26-foot three point jumper
16 - 16
3:15
Sean May offensive rebound
16 - 18
3:15
Sean May makes layup
16 - 18
3:11
Detroit full timeout
16 - 18
3:11
Walter Herrmann enters the game for Gerald Wallace
16 - 18
3:11
Antonio McDyess enters the game for Chris Webber
16 - 18
2:55
Tayshaun Prince misses 24-foot three point jumper
16 - 18
2:51
Raymond Felton defensive rebound
16 - 18
2:45
Adam Morrison misses 19-foot jumper
16 - 18
2:43
Sean May offensive rebound
16 - 18
2:43
Sean May misses layup
16 - 18
2:41
Charlotte offensive rebound
16 - 18
2:41
Jeff McInnis enters the game for Raymond Felton
16 - 18
2:25
Adam Morrison makes 27-foot three point jumper (Sean May assists)
16 - 21
2:09
Richard Hamilton misses 17-foot jumper
16 - 21
2:05
Emeka Okafor defensive rebound
16 - 21
2:00
Sean May makes 20-foot jumper (Jeff McInnis assists)
16 - 23
1:47
Jeff McInnis personal foul (Chauncey Billups draws the foul)
16 - 23
1:47
Ryan Hollins enters the game for Emeka Okafor
16 - 23
1:47
Dale Davis enters the game for Rasheed Wallace
16 - 23
1:39
Antonio McDyess misses layup
16 - 23
1:36
Sean May defensive rebound
16 - 23
1:28
Adam Morrison misses 8-foot jumper
16 - 23
1:24
Antonio McDyess defensive rebound
16 - 23
1:21
Chauncey Billups misses 25-foot three point jumper
16 - 23
1:17
Tayshaun Prince offensive rebound
16 - 23
1:01
Chauncey Billups misses 15-foot jumper
16 - 23
1:00
Dale Davis offensive rebound
18 - 23
1:00
Dale Davis makes dunk
18 - 23
0:42
Lindsey Hunter enters the game for Chauncey Billups
18 - 23
0:34
Adam Morrison misses 19-foot jumper
18 - 23
0:32
Antonio McDyess defensive rebound
18 - 23
0:18
Ryan Hollins shooting foul (Richard Hamilton draws the foul)
18 - 23
0:18
Richard Hamilton makes free throw 1 of 2
19 - 23
0:18
Richard Hamilton makes free throw 2 of 2
20 - 23
0:00
Jeff McInnis misses 12-foot two point shot
20 - 23
0:00
Charlotte offensive rebound
20 - 23
0:00
End of the 1st Quarter
20 - 23

time
TEAM
PLAY
SCORE
12:00
Start of the 2nd Quarter
20 - 23
11:41
Dale Davis shooting foul (Matt Carroll draws the foul)
20 - 23
11:41
Matt Carroll misses free throw 1 of 2
20 - 23
11:41
Charlotte offensive rebound
20 - 23
11:41
Matt Carroll misses free throw 2 of 2
20 - 23
11:40
Antonio McDyess defensive rebound
20 - 23
11:32
Matt Carroll personal foul (Richard Hamilton draws the foul)
20 - 23
11:19
Richard Hamilton makes 17-foot jumper
22 - 23
11:07
Antonio McDyess personal foul (Sean May draws the foul)
22 - 23
11:07
Gerald Wallace enters the game for Sean May
22 - 23
11:00
Adam Morrison bad pass (Antonio McDyess steals)
22 - 23
10:56
Richard Hamilton makes layup (Lindsey Hunter assists)
24 - 23
10:37
Matt Carroll misses 25-foot three point jumper
24 - 23
10:32
Emeka Okafor offensive rebound
24 - 23
10:30
Gerald Wallace makes layup (Emeka Okafor assists)
24 - 25
10:18
Lindsey Hunter misses 21-foot jumper
24 - 25
10:15
Adam Morrison defensive rebound
24 - 25
10:15
Jeff McInnis turnover
24 - 25
10:00
Lindsey Hunter makes driving layup
26 - 25
9:44
Adam Morrison misses layup
26 - 25
9:42
Carlos Delfino defensive rebound
26 - 25
9:33
Antonio McDyess makes 16-foot jumper (Carlos Delfino assists)
28 - 25
9:12
Jeff McInnis misses layup
28 - 25
9:11
Dale Davis defensive rebound
28 - 25
9:06
Antonio McDyess offensive foul (Gerald Wallace draws the foul)
28 - 25
9:06
Antonio McDyess turnover
28 - 25
9:06
Chris Webber enters the game for Dale Davis
28 - 25
9:06
Sean May enters the game for Matt Carroll
28 - 25
9:06
Derek Anderson enters the game for Adam Morrison
28 - 25
9:06
Jason Maxiell enters the game for Antonio McDyess
28 - 25
8:52
Jason Maxiell personal foul (Gerald Wallace draws the foul)
28 - 25
8:52
Official timeout
28 - 25
8:52
Gerald Wallace makes free throw 1 of 2
28 - 26
8:52
Gerald Wallace makes free throw 2 of 2
28 - 27
8:37
Richard Hamilton misses layup
28 - 27
8:34
Emeka Okafor defensive rebound
28 - 27
8:26
Jason Maxiell blocks Gerald Wallace's layup
28 - 27
8:23
Carlos Delfino defensive rebound
28 - 27
8:19
Carlos Delfino misses 24-foot three point jumper
28 - 27
8:15
Emeka Okafor defensive rebound
28 - 27
8:02
Chris Webber shooting foul (Emeka Okafor draws the foul)
28 - 27
8:02
Emeka Okafor makes free throw 1 of 2
28 - 28
8:02
Raymond Felton enters the game for Jeff McInnis
28 - 28
8:02
Emeka Okafor misses free throw 2 of 2
28 - 28
8:00
Carlos Delfino defensive rebound
28 - 28
7:39
Jason Maxiell misses 13-foot jumper
28 - 28
7:35
Derek Anderson defensive rebound
28 - 28
7:33
Richard Hamilton flagrant foul type 1 (Raymond Felton draws the foul)
28 - 28
7:33
Derek Anderson misses flagrant free throw 2 of 2
28 - 28
7:33
Charlotte offensive rebound
28 - 28
7:33
Tayshaun Prince enters the game for Lindsey Hunter
28 - 28
7:33
Derek Anderson makes free throw
28 - 29
7:33
Chauncey Billups enters the game for Richard Hamilton
31 - 31
7:22
Emeka Okafor makes dunk (Raymond Felton assists)
28 - 31
6:58
Chauncey Billups makes 25-foot three point jumper (Jason Maxiell assists)
31 - 31
6:45
Emeka Okafor offensive foul (Chris Webber draws the foul)
31 - 31
6:45
Emeka Okafor turnover
31 - 31
6:45
Rasheed Wallace enters the game for Jason Maxiell
31 - 31
6:28
Chauncey Billups misses 20-foot jumper
31 - 31
6:26
Sean May defensive rebound
31 - 31
6:24
Sean May bad pass (Tayshaun Prince steals)
31 - 31
6:16
Chris Webber bad pass (Raymond Felton steals)
31 - 31
6:01
Raymond Felton makes layup
31 - 33
5:39
Raymond Felton personal foul (Tayshaun Prince draws the foul)
31 - 33
5:39
Charlotte full timeout
31 - 33
5:26
Chris Webber misses 7-foot jumper
31 - 33
5:20
Emeka Okafor defensive rebound
31 - 33
5:13
Raymond Felton makes driving layup
31 - 35
4:50
Carlos Delfino makes 27-foot three point jumper (Rasheed Wallace assists)
34 - 35
4:24
Rasheed Wallace blocks Sean May's layup
34 - 35
4:20
Raymond Felton offensive rebound
34 - 35
4:09
Derek Anderson misses 25-foot three point jumper
34 - 35
4:03
Gerald Wallace offensive rebound
34 - 35
4:03
Gerald Wallace misses layup
34 - 35
4:01
Emeka Okafor offensive rebound
34 - 37
4:01
Emeka Okafor makes two point shot
34 - 37
3:39
Tayshaun Prince misses layup
34 - 37
3:36
Rasheed Wallace offensive rebound
34 - 37
3:31
Sean May shooting foul (Tayshaun Prince draws the foul)
34 - 37
3:31
Adam Morrison enters the game for Derek Anderson
34 - 37
3:31
Tayshaun Prince makes free throw 1 of 2
35 - 37
3:31
Tayshaun Prince makes free throw 2 of 2
36 - 37
3:15
Richard Hamilton enters the game for Carlos Delfino
36 - 37
3:11
Richard Hamilton personal foul (Adam Morrison draws the foul)
36 - 37
3:11
Adam Morrison misses free throw 1 of 2
36 - 37
3:11
Charlotte offensive rebound
36 - 37
3:11
Adam Morrison makes free throw 2 of 2
36 - 38
2:58
Adam Morrison shooting foul (Richard Hamilton draws the foul)
36 - 38
2:58
Detroit full timeout
36 - 38
2:58
Matt Carroll enters the game for Sean May
36 - 38
2:58
Richard Hamilton misses free throw 1 of 2
36 - 38
2:58
Detroit offensive rebound
36 - 38
2:58
Richard Hamilton misses free throw 2 of 2
36 - 38
2:57
Emeka Okafor defensive rebound
36 - 38
2:42
Raymond Felton bad pass (Chauncey Billups steals)
36 - 38
2:33
Rasheed Wallace makes 26-foot three point jumper (Chauncey Billups assists)
39 - 38
2:12
Gerald Wallace misses 15-foot jumper
39 - 38
2:10
Tayshaun Prince defensive rebound
39 - 38
2:00
Tayshaun Prince misses 19-foot jumper
39 - 38
1:57
Matt Carroll defensive rebound
39 - 38
1:52
Gerald Wallace makes two point shot
39 - 40
1:31
Richard Hamilton misses 7-foot jumper
39 - 40
1:29
Rasheed Wallace offensive rebound
39 - 40
1:20
Chris Webber makes 17-foot jumper (Tayshaun Prince assists)
41 - 40
1:05
Raymond Felton makes 25-foot three point jumper (Gerald Wallace assists)
41 - 43
0:44
Chris Webber makes layup (Chauncey Billups assists)
43 - 43
0:44
Adam Morrison shooting foul (Chris Webber draws the foul)
43 - 43
0:44
Carlos Delfino enters the game for Richard Hamilton
43 - 43
0:44
Jason Maxiell enters the game for Rasheed Wallace
43 - 43
0:44
Chris Webber makes free throw 1 of 1
44 - 43
0:36
Jason Maxiell shooting foul (Emeka Okafor draws the foul)
44 - 43
0:36
Emeka Okafor misses free throw 1 of 2
44 - 43
0:36
Charlotte offensive rebound
44 - 43
0:36
Jeff McInnis enters the game for Matt Carroll
44 - 43
0:36
Rasheed Wallace enters the game for Jason Maxiell
44 - 43
0:36
Emeka Okafor makes free throw 2 of 2
44 - 44
0:29
Gerald Wallace personal foul (Chris Webber draws the foul)
44 - 44
0:29
Chris Webber makes free throw 1 of 2
45 - 44
0:29
Jason Maxiell enters the game for Rasheed Wallace
45 - 44
0:29
Sean May enters the game for Gerald Wallace
45 - 44
0:29
Chris Webber misses free throw 2 of 2
45 - 44
0:27
Chauncey Billups offensive rebound
45 - 44
0:16
Detroit 20 Sec. timeout
45 - 44
0:16
Richard Hamilton enters the game for Jason Maxiell
45 - 44
0:04
Richard Hamilton misses 15-foot jumper
45 - 44
0:01
Emeka Okafor defensive rebound
45 - 44
0:01
Emeka Okafor bad pass (Tayshaun Prince steals)
45 - 44
0:00
Tayshaun Prince misses 39-foot three point jumper
45 - 44
0:00
Detroit offensive rebound
45 - 44
0:00
End of the 2nd Quarter
45 - 44

time
TEAM
PLAY
SCORE
12:00
Start of the 3rd Quarter
45 - 44
11:44
Gerald Wallace misses layup
45 - 44
11:42
Chris Webber defensive rebound
45 - 44
11:33
Derek Anderson personal foul (Richard Hamilton draws the foul)
45 - 44
11:26
Richard Hamilton makes layup
47 - 44
11:07
Matt Carroll makes 24-foot three point jumper (Derek Anderson assists)
47 - 47
11:07
Richard Hamilton shooting foul (Matt Carroll draws the foul)
47 - 47
11:07
Matt Carroll makes free throw 1 of 1
47 - 48
10:45
Chauncey Billups bad pass (Derek Anderson steals)
47 - 48
10:40
Gerald Wallace makes layup (Derek Anderson assists)
47 - 50
10:22
Emeka Okafor blocks Chauncey Billups's layup
47 - 50
10:18
Rasheed Wallace offensive rebound
49 - 50
10:18
Rasheed Wallace makes 19-foot jumper
49 - 50
9:56
Chris Webber shooting foul (Gerald Wallace draws the foul)
49 - 50
9:56
Gerald Wallace misses free throw 1 of 2
49 - 50
9:56
Charlotte offensive rebound
49 - 50
9:56
Gerald Wallace makes free throw 2 of 2
49 - 51
9:41
Chauncey Billups misses 23-foot three point jumper
49 - 51
9:34
Rasheed Wallace offensive rebound
51 - 51
9:34
Rasheed Wallace makes dunk
51 - 51
9:23
Matt Carroll misses 9-foot jumper
51 - 51
9:21
Chris Webber defensive rebound
51 - 51
9:15
Richard Hamilton makes 16-foot jumper (Chauncey Billups assists)
53 - 51
9:15
Charlotte full timeout
53 - 51
9:00
Emeka Okafor turnover
53 - 51
8:45
Emeka Okafor personal foul (Rasheed Wallace draws the foul)
53 - 51
8:41
Rasheed Wallace bad pass (Raymond Felton steals)
53 - 51
8:37
Gerald Wallace makes two point shot (Raymond Felton assists)
53 - 53
8:17
Richard Hamilton makes 18-foot jumper (Rasheed Wallace assists)
55 - 53
7:52
Gerald Wallace misses 18-foot jumper
55 - 53
7:50
Chris Webber defensive rebound
55 - 53
7:47
Raymond Felton shooting foul (Chauncey Billups draws the foul)
55 - 53
7:47
Chauncey Billups makes free throw 1 of 2
56 - 53
7:47
Chauncey Billups makes free throw 2 of 2
57 - 53
7:31
Gerald Wallace misses layup
57 - 53
7:28
Rasheed Wallace defensive rebound
57 - 53
7:24
Raymond Felton personal foul (Chauncey Billups draws the foul)
57 - 53
7:15
Chauncey Billups misses 22-foot jumper
57 - 53
7:11
Gerald Wallace defensive rebound
57 - 53
7:01
Raymond Felton misses 20-foot jumper
57 - 53
6:56
Emeka Okafor offensive rebound
57 - 53
6:56
Emeka Okafor misses layup
57 - 53
6:56
Tayshaun Prince defensive rebound
57 - 53
6:50
Sean May enters the game for Matt Carroll
57 - 53
6:43
Rasheed Wallace misses 17-foot jumper
57 - 53
6:41
Emeka Okafor defensive rebound
57 - 53
6:31
Gerald Wallace bad pass
57 - 53
6:31
Adam Morrison enters the game for Derek Anderson
57 - 53
6:16
Richard Hamilton bad pass
57 - 53
5:58
Emeka Okafor makes dunk (Sean May assists)
57 - 55
5:41
Sean May shooting foul (Chris Webber draws the foul)
57 - 55
5:41
Chris Webber makes free throw 1 of 2
58 - 55
5:41
Chris Webber makes free throw 2 of 2
59 - 55
5:31
Adam Morrison bad pass
59 - 55
5:16
Chauncey Billups makes 26-foot three point jumper
62 - 55
4:52
Gerald Wallace makes 24-foot three point jumper (Sean May assists)
62 - 58
4:37
Chris Webber bad pass (Gerald Wallace steals)
62 - 58
4:31
Emeka Okafor makes 8-foot two point shot (Raymond Felton assists)
62 - 60
4:31
Chris Webber shooting foul (Emeka Okafor draws the foul)
62 - 60
4:31
Antonio McDyess enters the game for Rasheed Wallace
62 - 60
4:31
Detroit full timeout
62 - 60
4:31
Emeka Okafor makes free throw 1 of 1
62 - 61
4:18
Antonio McDyess misses 9-foot two point shot
62 - 61
4:15
Gerald Wallace defensive rebound
62 - 61
3:58
Emeka Okafor misses 5-foot hook shot
62 - 61
3:55
Chris Webber defensive rebound
62 - 61
3:42
Antonio McDyess misses two point shot
62 - 61
3:36
Gerald Wallace defensive rebound
62 - 61
3:25
Sean May makes 18-foot jumper (Raymond Felton assists)
62 - 63
3:05
Richard Hamilton makes 19-foot jumper
64 - 63
2:48
Adam Morrison makes 21-foot jumper (Sean May assists)
64 - 65
2:29
Tayshaun Prince misses 19-foot jumper
64 - 65
2:27
Sean May defensive rebound
64 - 65
2:17
Richard Hamilton personal foul (Raymond Felton draws the foul)
64 - 65
2:17
Jeff McInnis enters the game for Raymond Felton
64 - 65
2:17
Lindsey Hunter enters the game for Richard Hamilton
64 - 65
2:10
Jeff McInnis misses 18-foot jumper
64 - 65
2:08
Chauncey Billups defensive rebound
64 - 65
2:06
Adam Morrison clear path foul (Chris Webber draws the foul)
64 - 65
2:06
Chris Webber misses free throw
64 - 65
2:06
Detroit offensive rebound
64 - 65
2:06
Chris Webber makes free throw
65 - 65
1:47
Lindsey Hunter makes 20-foot jumper (Chris Webber assists)
67 - 65
1:24
Gerald Wallace bad pass (Chauncey Billups steals)
67 - 65
1:20
Chauncey Billups bad pass (Adam Morrison steals)
67 - 65
1:13
Ryan Hollins enters the game for Emeka Okafor
67 - 65
1:13
Matt Carroll enters the game for Gerald Wallace
67 - 65
1:13
Carlos Delfino enters the game for Tayshaun Prince
67 - 65
0:58
Ryan Hollins misses 5-foot jumper
67 - 65
0:57
Charlotte offensive rebound
67 - 65
0:57
shot clock violation
67 - 65
0:46
Chris Webber makes two point shot
69 - 65
0:29
Adam Morrison misses hook shot
69 - 65
0:25
Chauncey Billups defensive rebound
69 - 65
0:07
Chris Webber makes two point shot
71 - 65
0:01
Jeff McInnis misses layup
71 - 65
0:01
Charlotte defensive rebound
71 - 65
0:00
Chauncey Billups misses three point jumper
71 - 65
0:00
Detroit offensive rebound
71 - 65
0:00
End of the 3rd Quarter
71 - 65

time
TEAM
PLAY
SCORE
12:00
Start of the 4th Quarter
71 - 65
11:48
Chauncey Billups misses 26-foot three point jumper
71 - 65
11:45
Emeka Okafor defensive rebound
71 - 65
11:29
Raymond Felton misses 19-foot jumper
71 - 65
11:26
Lindsey Hunter defensive rebound
71 - 65
11:23
Raymond Felton shooting foul (Lindsey Hunter draws the foul)
71 - 65
11:23
Lindsey Hunter makes free throw 1 of 2
72 - 65
11:23
Rasheed Wallace enters the game for Chris Webber
72 - 65
11:23
Lindsey Hunter makes free throw 2 of 2
73 - 65
11:08
Antonio McDyess shooting foul (Emeka Okafor draws the foul)
73 - 65
11:08
Emeka Okafor makes free throw 1 of 2
73 - 66
11:08
Emeka Okafor makes free throw 2 of 2
73 - 67
10:52
Lindsey Hunter misses 26-foot three point jumper
73 - 67
10:52
Adam Morrison defensive rebound
73 - 67
10:52
Antonio McDyess personal foul (Adam Morrison draws the foul)
73 - 67
10:52
Richard Hamilton enters the game for Chauncey Billups
73 - 67
10:38
Adam Morrison misses 24-foot three point jumper
73 - 67
10:34
Richard Hamilton defensive rebound
73 - 67
10:29
Jeff McInnis personal foul (Richard Hamilton draws the foul)
73 - 67
10:23
Richard Hamilton misses 19-foot jumper
73 - 67
10:21
Jeff McInnis defensive rebound
73 - 67
10:15
Antonio McDyess personal foul (Emeka Okafor draws the foul)
73 - 67
10:15
Dale Davis enters the game for Antonio McDyess
73 - 67
10:15
Dale Davis personal foul (Emeka Okafor draws the foul)
73 - 67
10:15
Gerald Wallace enters the game for Sean May
73 - 67
10:00
Lindsey Hunter shooting foul (Raymond Felton draws the foul)
73 - 67
10:00
Raymond Felton misses free throw 1 of 2
73 - 67
10:00
Charlotte offensive rebound
73 - 67
10:00
Raymond Felton makes free throw 2 of 2
73 - 68
9:44
Rasheed Wallace makes 6-foot hook shot
75 - 68
9:18
Jeff McInnis makes 21-foot jumper (Raymond Felton assists)
75 - 70
8:56
Rasheed Wallace makes 12-foot two point shot
77 - 70
8:26
Gerald Wallace makes 24-foot three point jumper (Raymond Felton assists)
77 - 73
8:04
Carlos Delfino misses 26-foot three point jumper
77 - 73
8:03
Emeka Okafor defensive rebound
77 - 73
7:58
Carlos Delfino personal foul (Raymond Felton draws the foul)
77 - 73
7:58
Official timeout
77 - 73
7:58
Derek Anderson enters the game for Adam Morrison
77 - 73
7:58
Tayshaun Prince enters the game for Carlos Delfino
77 - 73
7:58
Raymond Felton makes free throw 1 of 2
77 - 74
7:58
Raymond Felton misses free throw 2 of 2
77 - 74
7:56
Dale Davis defensive rebound
77 - 74
7:33
Dale Davis makes dunk (Lindsey Hunter assists)
79 - 74
7:20
Lindsey Hunter personal foul (Raymond Felton draws the foul)
79 - 74
7:20
Raymond Felton makes free throw 1 of 2
79 - 75
7:20
Raymond Felton makes free throw 2 of 2
79 - 76
7:09
Richard Hamilton makes driving layup
81 - 76
6:48
Emeka Okafor makes two point shot (Raymond Felton assists)
81 - 78
6:28
Sean May enters the game for Jeff McInnis
81 - 78
6:28
Chauncey Billups enters the game for Lindsey Hunter
81 - 78
6:28
Chris Webber enters the game for Dale Davis
81 - 78
6:24
Rasheed Wallace makes 25-foot three point jumper
84 - 78
6:01
Chris Webber shooting foul (Sean May draws the foul)
84 - 78
6:01
Sean May makes free throw 1 of 2
84 - 79
6:01
Sean May makes free throw 2 of 2
84 - 80
5:48
Rasheed Wallace offensive foul (Emeka Okafor draws the foul)
84 - 80
5:48
Rasheed Wallace turnover
84 - 80
5:48
Charlotte full timeout
84 - 80
5:26
Derek Anderson misses 26-foot three point jumper
84 - 80
5:22
Gerald Wallace offensive rebound
84 - 80
5:05
Derek Anderson makes layup (Emeka Okafor assists)
84 - 82
4:48
Chauncey Billups makes 24-foot three point jumper (Rasheed Wallace assists)
87 - 82
4:26
Derek Anderson bad pass (Rasheed Wallace steals)
87 - 82
4:03
Tayshaun Prince makes 11-foot two point shot
89 - 82
4:03
Charlotte 20 Sec. timeout
89 - 82
3:45
Richard Hamilton shooting foul (Gerald Wallace draws the foul)
89 - 82
3:45
Gerald Wallace misses free throw 1 of 3
89 - 82
3:45
Charlotte offensive rebound
89 - 82
3:45
Gerald Wallace makes free throw 2 of 3
89 - 83
3:45
Matt Carroll enters the game for Derek Anderson
89 - 83
3:45
Gerald Wallace makes free throw 3 of 3
89 - 84
3:21
Tayshaun Prince makes 26-foot three point jumper (Chauncey Billups assists)
92 - 84
2:58
Raymond Felton misses 26-foot three point jumper
92 - 84
2:55
Emeka Okafor offensive rebound
92 - 84
2:44
Raymond Felton makes driving layup
92 - 86
2:19
Chris Webber makes dunk (Tayshaun Prince assists)
94 - 86
2:19
Charlotte full timeout
94 - 86
2:02
Sean May makes 18-foot jumper (Raymond Felton assists)
94 - 88
1:39
Emeka Okafor shooting foul (Rasheed Wallace draws the foul)
94 - 88
1:39
Rasheed Wallace makes free throw 1 of 2
95 - 88
1:39
Adam Morrison enters the game for Matt Carroll
95 - 88
1:39
Rasheed Wallace makes free throw 2 of 2
96 - 88
1:23
Gerald Wallace misses layup
96 - 88
1:23
Charlotte offensive rebound
96 - 88
1:19
Sean May bad pass (Rasheed Wallace steals)
96 - 88
1:19
Gerald Wallace personal foul (Rasheed Wallace draws the foul)
96 - 88
1:19
Rasheed Wallace makes free throw 1 of 2
97 - 88
1:19
Rasheed Wallace makes free throw 2 of 2
98 - 88
1:08
Chris Webber personal foul (Gerald Wallace draws the foul)
98 - 88
1:08
Gerald Wallace misses free throw 1 of 2
98 - 88
1:08
Charlotte offensive rebound
98 - 88
1:08
Gerald Wallace misses free throw 2 of 2
98 - 88
1:05
Chris Webber defensive rebound
98 - 88
1:00
Sean May personal foul (Tayshaun Prince draws the foul)
98 - 88
1:00
Tayshaun Prince makes free throw 1 of 2
99 - 88
1:00
Tayshaun Prince misses free throw 2 of 2
99 - 88
0:59
Emeka Okafor defensive rebound
99 - 88
0:59
Charlotte full timeout
99 - 88
0:50
Sean May misses 21-foot jumper
99 - 88
0:49
Raymond Felton offensive rebound
99 - 90
0:49
Raymond Felton makes 7-foot jumper
99 - 90
0:43
Adam Morrison personal foul (Richard Hamilton draws the foul)
99 - 90
0:43
Richard Hamilton makes free throw 1 of 2
100 - 90
0:43
Jason Maxiell enters the game for Chris Webber
100 - 90
0:43
Richard Hamilton makes free throw 2 of 2
101 - 90
0:33
Gerald Wallace misses two point shot
101 - 90
0:32
Emeka Okafor offensive rebound
101 - 92
0:32
Emeka Okafor makes layup
101 - 92
0:31
Adam Morrison personal foul (Tayshaun Prince draws the foul)
101 - 92
0:31
Tayshaun Prince makes free throw 1 of 2
102 - 92
0:31
Tayshaun Prince makes free throw 2 of 2
103 - 92
0:21
Adam Morrison misses jumper
103 - 92
0:20
Jason Maxiell defensive rebound
103 - 92
0:00
End of the 4th Quarter
103 - 92
"A suspicious item" triggered a search of Markieff Morris' suitcase and "suspected marijuana" was found during the secondary search Thursday at Philadelphia's airport, officials told CSN Philly.

The Rockets are closing in on bringing veteran Mike D'Antoni aboard as coach, a move that should boost their offense and could lead to better defense.

Court records in Los Angeles show Khloe Kardashian again filed for divorce from former NBA player Lamar Odom on Thursday, citing irreconcilable differences.
Regular Season Series
Series tied 2-2