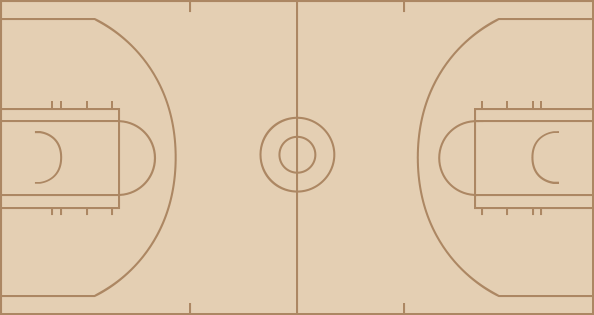 Wizards
time
TEAM
PLAY
SCORE
12:00
Start of the 1st Quarter
0 - 0
12:00
Jumpball: Etan Thomas vs. Jason Collins (Washington gains possession)
0 - 0
11:40
Antawn Jamison misses 16-foot jumper
0 - 0
11:38
Jason Kidd defensive rebound
0 - 0
11:32
Vince Carter makes 25-foot three point jumper (Jason Kidd assists)
0 - 3
11:15
Jarvis Hayes makes driving layup (Etan Thomas assists)
2 - 3
11:00
Jason Kidd bad pass
2 - 3
10:49
Antonio Daniels makes 24-foot three point jumper (Jarvis Hayes assists)
5 - 3
10:38
Vince Carter bad pass
5 - 3
10:27
Antawn Jamison misses 15-foot jumper
5 - 3
10:26
Etan Thomas offensive rebound
5 - 3
10:26
Mikki Moore shooting foul (Etan Thomas draws the foul)
5 - 3
10:26
Etan Thomas makes free throw 1 of 2
6 - 3
10:26
Etan Thomas makes free throw 2 of 2
7 - 3
10:10
Etan Thomas blocks Vince Carter's driving layup
7 - 3
10:10
New Jersey offensive rebound
7 - 3
10:07
Vince Carter makes layup (Jason Kidd assists)
7 - 5
9:49
Jarvis Hayes misses 15-foot two point shot
7 - 5
9:48
Vince Carter defensive rebound
7 - 5
9:41
Vince Carter makes 26-foot three point jumper (Jason Kidd assists)
7 - 8
9:22
Richard Jefferson jump ball
7 - 8
9:07
Jarvis Hayes misses 21-foot jumper
7 - 8
9:06
Jason Kidd defensive rebound
7 - 8
9:00
Jason Kidd bad pass (Jarvis Hayes steals)
7 - 8
8:57
Antawn Jamison misses 24-foot three point jumper
7 - 8
8:56
Jason Kidd defensive rebound
7 - 8
8:48
Jason Kidd misses 19-foot jumper
7 - 8
8:47
Jarvis Hayes defensive rebound
7 - 8
8:37
Antonio Daniels bad pass (Richard Jefferson steals)
7 - 8
8:30
Vince Carter misses 25-foot three point jumper
7 - 8
8:26
Antonio Daniels defensive rebound
7 - 8
8:14
Antawn Jamison makes 22-foot jumper (Etan Thomas assists)
9 - 8
7:54
Richard Jefferson misses 19-foot jumper
9 - 8
7:52
DeShawn Stevenson defensive rebound
9 - 8
7:46
Jason Collins personal foul (Etan Thomas draws the foul)
9 - 8
7:39
DeShawn Stevenson makes 20-foot jumper (Antawn Jamison assists)
11 - 8
7:26
Mikki Moore offensive foul (Antonio Daniels draws the foul)
11 - 8
7:26
Mikki Moore turnover
11 - 8
7:26
Josh Boone enters the game for Mikki Moore
11 - 8
7:07
Vince Carter blocks Antawn Jamison's layup
11 - 8
7:05
Jason Kidd defensive rebound
11 - 8
7:00
Vince Carter makes 25-foot three point jumper (Richard Jefferson assists)
11 - 11
6:39
Vince Carter blocks DeShawn Stevenson's 25-foot three point jumper
11 - 11
6:35
Jason Collins defensive rebound
11 - 11
6:35
Jason Collins bad pass (DeShawn Stevenson steals)
11 - 11
6:35
Josh Boone shooting foul (Etan Thomas draws the foul)
11 - 11
6:35
DeShawn Stevenson misses free throw 1 of 2
11 - 11
6:35
Washington offensive rebound
11 - 11
6:35
DeShawn Stevenson makes free throw 2 of 2
12 - 11
6:15
Vince Carter makes 23-foot three point jumper
12 - 14
5:54
Antawn Jamison misses 6-foot jumper
12 - 14
5:52
Jason Collins defensive rebound
12 - 14
5:48
Vince Carter misses 26-foot three point jumper
12 - 14
5:46
Jason Kidd offensive rebound
12 - 14
5:46
Jason Kidd offensive foul (Jarvis Hayes draws the foul)
12 - 14
5:46
Jason Kidd turnover
12 - 14
5:46
New Jersey full timeout
12 - 14
5:26
Jarvis Hayes makes 23-foot three point jumper (Antonio Daniels assists)
15 - 14
5:07
Jason Collins 3 second
15 - 14
5:07
Roger Mason enters the game for DeShawn Stevenson
15 - 14
5:07
Darius Songaila enters the game for Antawn Jamison
15 - 14
4:52
Etan Thomas traveling
15 - 14
4:31
Roger Mason shooting foul (Vince Carter draws the foul)
15 - 14
4:31
Bostjan Nachbar enters the game for Richard Jefferson
15 - 14
4:31
Vince Carter misses free throw 1 of 2
15 - 14
4:31
New Jersey offensive rebound
15 - 14
4:31
Clifford Robinson enters the game for Jason Collins
15 - 14
4:31
Vince Carter makes free throw 2 of 2
15 - 15
4:16
Jarvis Hayes makes jumper (Darius Songaila assists)
17 - 15
4:01
Vince Carter misses driving layup
17 - 15
4:01
Darius Songaila defensive rebound
17 - 15
3:54
Roger Mason misses 25-foot three point jumper
17 - 15
3:53
Vince Carter defensive rebound
17 - 15
3:53
Roger Mason personal foul (Vince Carter draws the foul)
17 - 15
3:44
Vince Carter misses 25-foot three point jumper
17 - 15
3:42
Josh Boone offensive rebound
17 - 15
3:31
Etan Thomas blocks Vince Carter's layup
17 - 15
3:30
Etan Thomas defensive rebound
17 - 15
3:10
Darius Songaila makes driving layup
19 - 15
2:51
Bostjan Nachbar misses three point jumper
19 - 15
2:49
Etan Thomas defensive rebound
19 - 15
2:35
Washington full timeout
19 - 15
2:35
Marcus Williams enters the game for Jason Kidd
19 - 15
2:32
Jarvis Hayes misses jumper
19 - 15
2:31
Marcus Williams defensive rebound
19 - 15
2:19
Vince Carter misses 22-foot jumper
19 - 15
2:17
Vince Carter offensive rebound
19 - 15
2:15
Vince Carter makes slam dunk
19 - 17
1:51
Jarvis Hayes misses jumper
19 - 17
1:49
Bostjan Nachbar defensive rebound
19 - 17
1:28
Marcus Williams misses 25-foot three point jumper
19 - 17
1:25
Etan Thomas defensive rebound
19 - 17
1:13
Roger Mason makes 25-foot three point jumper (Jarvis Hayes assists)
22 - 17
0:54
Clifford Robinson makes 24-foot three point jumper (Marcus Williams assists)
22 - 20
0:39
Darius Songaila makes jumper (Antonio Daniels assists)
24 - 20
0:24
Etan Thomas shooting foul (Bostjan Nachbar draws the foul)
24 - 20
0:24
Antoine Wright enters the game for Vince Carter
24 - 20
0:24
Donell Taylor enters the game for Antonio Daniels
24 - 20
0:24
Bostjan Nachbar makes free throw 1 of 2
24 - 21
0:24
Antawn Jamison enters the game for Etan Thomas
24 - 21
0:24
Bostjan Nachbar makes free throw 2 of 2
24 - 22
0:01
Antawn Jamison misses 25-foot three point jumper
24 - 22
0:00
Bostjan Nachbar defensive rebound
24 - 22
0:00
End of the 1st Quarter
24 - 22

time
TEAM
PLAY
SCORE
12:00
Start of the 2nd Quarter
24 - 22
11:40
Josh Boone misses two point shot
24 - 22
11:37
Darius Songaila defensive rebound
24 - 22
11:18
Darius Songaila misses 21-foot jumper
24 - 22
11:17
Josh Boone defensive rebound
24 - 22
11:08
Josh Boone makes dunk (Marcus Williams assists)
24 - 24
10:56
Roger Mason misses 25-foot three point jumper
24 - 24
10:52
Marcus Williams defensive rebound
24 - 24
10:45
Josh Boone misses two point shot
24 - 24
10:42
Darius Songaila defensive rebound
24 - 24
10:27
Donell Taylor makes 19-foot jumper (Brendan Haywood assists)
26 - 24
10:06
Marcus Williams bad pass (Roger Mason steals)
26 - 24
10:00
Donell Taylor makes 15-foot jumper (Roger Mason assists)
28 - 24
10:00
New Jersey full timeout
28 - 24
10:00
Richard Jefferson enters the game for Vince Carter
28 - 24
9:38
Richard Jefferson misses 21-foot jumper
28 - 24
9:37
Antawn Jamison defensive rebound
28 - 24
9:22
Donell Taylor turnover
28 - 24
9:08
Brendan Haywood shooting foul (Richard Jefferson draws the foul)
28 - 24
9:08
Richard Jefferson makes free throw 1 of 2
28 - 25
9:08
Richard Jefferson makes free throw 2 of 2
28 - 26
8:51
Antawn Jamison makes 10-foot hook shot
30 - 26
8:33
Marcus Williams misses 23-foot three point jumper
30 - 26
8:32
Brendan Haywood defensive rebound
30 - 26
8:26
Antawn Jamison misses 25-foot three point jumper
30 - 26
8:23
Josh Boone defensive rebound
30 - 26
8:14
Clifford Robinson misses 24-foot three point jumper
30 - 26
8:11
Brendan Haywood defensive rebound
30 - 26
7:54
Antawn Jamison makes layup (Brendan Haywood assists)
32 - 26
7:26
Marcus Williams bad pass (Antawn Jamison steals)
32 - 26
7:22
Roger Mason makes driving layup (Donell Taylor assists)
34 - 26
7:20
New Jersey 20 Sec. timeout
34 - 26
7:20
Jason Kidd enters the game for Marcus Williams
34 - 26
7:20
Jason Collins enters the game for Clifford Robinson
34 - 26
7:20
Vince Carter enters the game for Bostjan Nachbar
34 - 26
7:01
Richard Jefferson makes 23-foot three point jumper (Vince Carter assists)
34 - 29
6:37
Roger Mason misses 19-foot jumper
34 - 29
6:35
Jason Kidd defensive rebound
34 - 29
6:35
Donell Taylor personal foul (Jason Kidd draws the foul)
34 - 29
6:30
Vince Carter makes 25-foot three point jumper (Jason Kidd assists)
34 - 32
6:11
Antawn Jamison misses 6-foot running jumper
34 - 32
6:09
Jason Kidd defensive rebound
34 - 32
6:03
Richard Jefferson makes driving dunk (Jason Kidd assists)
34 - 34
5:52
Washington full timeout
34 - 34
5:52
DeShawn Stevenson enters the game for Roger Mason
34 - 34
5:52
Antonio Daniels enters the game for Donell Taylor
34 - 34
5:52
Mikki Moore enters the game for Josh Boone
34 - 34
5:41
Antawn Jamison bad pass
34 - 34
5:26
Vince Carter misses 25-foot three point jumper
34 - 34
5:24
Jason Kidd offensive rebound
34 - 34
5:20
Vince Carter makes two point shot (Jason Kidd assists)
34 - 36
5:03
Antawn Jamison makes 26-foot three point jumper (DeShawn Stevenson assists)
37 - 36
4:48
DeShawn Stevenson personal foul (Vince Carter draws the foul)
37 - 36
4:37
Jason Kidd misses 24-foot three point jumper
37 - 36
4:35
Antawn Jamison defensive rebound
37 - 36
4:20
Brendan Haywood misses 8-foot hook shot
37 - 36
4:18
Vince Carter defensive rebound
37 - 36
4:13
Vince Carter makes three point jumper (Jason Kidd assists)
37 - 39
3:53
Jason Collins personal foul (Antawn Jamison draws the foul)
37 - 39
3:53
Bostjan Nachbar enters the game for Jason Collins
37 - 39
3:41
Antonio Daniels makes 21-foot jumper
39 - 39
3:23
Bostjan Nachbar makes 7-foot running jumper (Jason Kidd assists)
39 - 41
3:08
Antawn Jamison misses running jumper
39 - 41
3:06
Washington defensive rebound
39 - 41
3:06
Etan Thomas enters the game for Brendan Haywood
39 - 41
3:06
Jarvis Hayes enters the game for Darius Songaila
39 - 41
2:55
Bostjan Nachbar traveling
39 - 41
2:55
Official timeout
39 - 41
2:55
Josh Boone enters the game for Mikki Moore
39 - 41
2:41
DeShawn Stevenson misses 20-foot jumper
39 - 41
2:40
Antawn Jamison offensive rebound
39 - 41
2:40
Vince Carter shooting foul (Antawn Jamison draws the foul)
39 - 41
2:40
Antawn Jamison makes free throw 1 of 2
40 - 41
2:40
Antawn Jamison makes free throw 2 of 2
41 - 41
2:28
Richard Jefferson makes three point jumper (Jason Kidd assists)
41 - 44
2:13
Richard Jefferson personal foul (Antonio Daniels draws the foul)
41 - 44
2:03
Antawn Jamison makes 25-foot three point jumper (DeShawn Stevenson assists)
44 - 44
1:40
Vince Carter makes 10-foot two point shot (Jason Kidd assists)
44 - 46
1:24
Bostjan Nachbar personal foul (Antawn Jamison draws the foul)
44 - 46
1:19
Josh Boone shooting foul (DeShawn Stevenson draws the foul)
44 - 46
1:19
DeShawn Stevenson makes free throw 1 of 2
45 - 46
1:19
Darius Songaila enters the game for Etan Thomas
45 - 46
1:19
DeShawn Stevenson makes free throw 2 of 2
46 - 46
1:12
Richard Jefferson makes 24-foot three point jumper (Jason Kidd assists)
46 - 49
0:54
Jarvis Hayes makes 15-foot jumper (Antonio Daniels assists)
48 - 49
0:47
Richard Jefferson makes 24-foot three point jumper (Jason Kidd assists)
48 - 52
0:29
DeShawn Stevenson misses 25-foot three point jumper
48 - 52
0:27
Washington defensive rebound
48 - 52
0:08
Vince Carter misses 25-foot three point jumper
48 - 52
0:07
New Jersey defensive rebound
48 - 52
0:07
Washington 20 Sec. timeout
48 - 52
0:07
Clifford Robinson enters the game for Bostjan Nachbar
48 - 52
0:00
DeShawn Stevenson makes driving layup
50 - 52
0:00
Clifford Robinson shooting foul (DeShawn Stevenson draws the foul)
50 - 52
0:00
DeShawn Stevenson makes free throw 1 of 1
51 - 52
0:00
End of the 2nd Quarter
51 - 52

time
TEAM
PLAY
SCORE
12:00
Start of the 3rd Quarter
51 - 52
11:37
Mikki Moore makes two point shot (Richard Jefferson assists)
51 - 54
11:25
Antawn Jamison bad pass (Vince Carter steals)
51 - 54
11:21
Antawn Jamison shooting foul (Mikki Moore draws the foul)
51 - 54
11:21
Mikki Moore makes free throw 1 of 2
51 - 55
11:21
Mikki Moore makes free throw 2 of 2
51 - 56
10:57
Antawn Jamison misses 9-foot running jumper
51 - 56
10:56
Jason Kidd defensive rebound
51 - 56
10:49
Richard Jefferson offensive foul (Jarvis Hayes draws the foul)
51 - 56
10:49
Richard Jefferson turnover
51 - 56
10:36
Jarvis Hayes makes 26-foot three point jumper (DeShawn Stevenson assists)
54 - 56
10:08
Vince Carter misses 12-foot two point shot
54 - 56
10:07
Antonio Daniels defensive rebound
54 - 56
10:02
Jarvis Hayes makes 25-foot three point jumper (Antonio Daniels assists)
57 - 56
9:41
Richard Jefferson lost ball (Antawn Jamison steals)
57 - 56
9:34
Antawn Jamison makes 25-foot three point jumper (DeShawn Stevenson assists)
60 - 56
9:27
New Jersey full timeout
60 - 56
9:18
Jason Kidd bad pass (Antawn Jamison steals)
60 - 56
9:14
Jarvis Hayes makes layup (DeShawn Stevenson assists)
62 - 56
9:04
Vince Carter makes 23-foot jumper (Jason Kidd assists)
62 - 58
8:45
Jarvis Hayes makes jumper (Antawn Jamison assists)
64 - 58
8:30
Vince Carter makes 9-foot jumper (Jason Kidd assists)
64 - 60
8:10
DeShawn Stevenson misses driving layup
64 - 60
8:07
Richard Jefferson defensive rebound
64 - 60
8:00
Mikki Moore makes 13-foot jumper (Jason Kidd assists)
64 - 62
7:48
Mikki Moore shooting foul (Etan Thomas draws the foul)
64 - 62
7:48
Etan Thomas makes free throw 1 of 2
65 - 62
7:48
Etan Thomas misses free throw 2 of 2
65 - 62
7:47
Jason Collins defensive rebound
65 - 62
7:30
Jason Kidd makes 24-foot three point jumper (Vince Carter assists)
65 - 65
7:18
Jarvis Hayes makes 22-foot jumper (Antonio Daniels assists)
67 - 65
7:13
Mikki Moore double technical foul
67 - 65
7:03
Vince Carter misses 24-foot three point jumper
67 - 65
7:01
Jason Kidd offensive rebound
67 - 65
6:54
Jason Kidd makes 22-foot jumper (Vince Carter assists)
67 - 67
6:52
DeShawn Stevenson makes 21-foot jumper
69 - 67
6:48
Jason Kidd bad pass (Jarvis Hayes steals)
69 - 67
6:37
Antawn Jamison misses 25-foot three point jumper
69 - 67
6:37
Vince Carter defensive rebound
69 - 67
6:33
Jarvis Hayes shooting foul (Mikki Moore draws the foul)
69 - 67
6:33
Mikki Moore makes free throw 1 of 2
69 - 68
6:33
Michael Ruffin enters the game for Etan Thomas
69 - 68
6:33
Mikki Moore misses free throw 2 of 2
69 - 68
6:31
Antawn Jamison defensive rebound
69 - 68
6:15
Antawn Jamison makes 7-foot jumper (Antonio Daniels assists)
71 - 68
6:00
Mikki Moore makes dunk (Vince Carter assists)
71 - 70
5:39
Antawn Jamison misses 25-foot three point jumper
71 - 70
5:37
Vince Carter defensive rebound
71 - 70
5:24
Jason Kidd bad pass (DeShawn Stevenson steals)
71 - 70
5:18
DeShawn Stevenson makes driving layup
73 - 70
4:58
Mikki Moore makes 15-foot jumper (Richard Jefferson assists)
73 - 72
4:39
Jason Collins shooting foul (DeShawn Stevenson draws the foul)
73 - 72
4:39
DeShawn Stevenson makes free throw 1 of 2
74 - 72
4:39
Antoine Wright enters the game for Richard Jefferson
74 - 72
4:39
DeShawn Stevenson misses free throw 2 of 2
74 - 72
4:37
Michael Ruffin offensive rebound
74 - 72
4:24
Antonio Daniels misses 17-foot jumper
74 - 72
4:24
Michael Ruffin offensive rebound
74 - 72
4:24
Mikki Moore personal foul (Michael Ruffin draws the foul)
74 - 72
4:24
Josh Boone enters the game for Mikki Moore
74 - 72
4:24
Darius Songaila enters the game for DeShawn Stevenson
74 - 72
4:11
Josh Boone blocks Antonio Daniels's two point shot
74 - 72
4:09
Jason Collins defensive rebound
74 - 72
4:01
Jason Kidd misses 18-foot jumper
74 - 72
4:00
Antawn Jamison defensive rebound
74 - 72
3:59
Antawn Jamison lost ball (Jason Kidd steals)
74 - 72
3:56
Jason Kidd misses layup
74 - 72
3:55
Jason Kidd offensive rebound
74 - 72
3:53
Vince Carter turnover
74 - 72
3:35
Jarvis Hayes misses 15-foot jumper
74 - 72
3:31
Jason Kidd defensive rebound
74 - 72
3:21
Vince Carter makes 13-foot jumper
74 - 74
3:08
Antawn Jamison offensive foul (Vince Carter draws the foul)
74 - 74
3:08
Antawn Jamison turnover
74 - 74
2:45
Antoine Wright misses 14-foot jumper
74 - 74
2:43
Jarvis Hayes defensive rebound
74 - 74
2:33
Antawn Jamison makes 11-foot jumper (Jarvis Hayes assists)
76 - 74
2:12
Vince Carter makes three point jumper (Antoine Wright assists)
76 - 77
1:50
Antawn Jamison lost ball (Jason Kidd steals)
76 - 77
1:50
Antonio Daniels personal foul (Jason Kidd draws the foul)
76 - 77
1:50
Clifford Robinson enters the game for Jason Collins
76 - 77
1:50
Donell Taylor enters the game for Antonio Daniels
76 - 77
1:31
Clifford Robinson makes 23-foot three point jumper (Vince Carter assists)
76 - 80
1:07
Darius Songaila misses 4-foot jumper
76 - 80
1:07
Vince Carter defensive rebound
76 - 80
1:01
Antoine Wright misses two point shot
76 - 80
1:01
Darius Songaila defensive rebound
76 - 80
1:01
Antoine Wright personal foul (Darius Songaila draws the foul)
76 - 80
1:01
DeShawn Stevenson enters the game for Antawn Jamison
76 - 80
1:01
Marcus Williams enters the game for Jason Kidd
76 - 80
0:46
Donell Taylor misses 16-foot jumper
76 - 80
0:44
Vince Carter defensive rebound
76 - 80
0:33
Marcus Williams traveling
76 - 80
0:20
DeShawn Stevenson misses layup
76 - 80
0:19
Michael Ruffin offensive rebound
76 - 80
0:19
Michael Ruffin makes layup
78 - 80
0:19
Antoine Wright shooting foul (Michael Ruffin draws the foul)
78 - 80
0:19
Michael Ruffin misses free throw 1 of 1
78 - 80
0:17
Antoine Wright defensive rebound
78 - 80
0:00
Antoine Wright misses 25-foot three point jumper
78 - 80
0:00
New Jersey offensive rebound
78 - 80
0:00
End of the 3rd Quarter
78 - 80

time
TEAM
PLAY
SCORE
12:00
Start of the 4th Quarter
78 - 80
11:37
Jarvis Hayes misses 25-foot three point jumper
78 - 80
11:34
Vince Carter defensive rebound
78 - 80
11:18
Vince Carter lost ball (DeShawn Stevenson steals)
78 - 80
11:14
Donell Taylor makes layup (DeShawn Stevenson assists)
80 - 80
10:48
Michael Ruffin shooting foul (Vince Carter draws the foul)
80 - 80
10:48
Vince Carter makes free throw 1 of 2
80 - 81
10:48
Vince Carter makes free throw 2 of 2
80 - 82
10:38
Clifford Robinson personal foul (Darius Songaila draws the foul)
80 - 82
10:38
Richard Jefferson enters the game for Vince Carter
80 - 82
10:25
DeShawn Stevenson misses 24-foot three point jumper
80 - 82
10:22
Clifford Robinson defensive rebound
80 - 82
10:14
Marcus Williams offensive foul (DeShawn Stevenson draws the foul)
80 - 82
10:14
Marcus Williams turnover
80 - 82
10:00
Darius Songaila misses 22-foot jumper
80 - 82
9:57
Josh Boone defensive rebound
80 - 82
9:48
Josh Boone makes layup (Marcus Williams assists)
80 - 84
9:41
Washington full timeout
80 - 84
9:41
Etan Thomas enters the game for Donell Taylor
80 - 84
9:41
Antonio Daniels enters the game for Jarvis Hayes
80 - 84
9:41
Antawn Jamison enters the game for Michael Ruffin
80 - 84
9:30
Antonio Daniels misses 10-foot jumper
80 - 84
9:29
Bostjan Nachbar defensive rebound
80 - 84
9:19
Darius Songaila personal foul (Clifford Robinson draws the foul)
80 - 84
9:11
Richard Jefferson bad pass
80 - 84
8:53
DeShawn Stevenson misses 24-foot three point jumper
80 - 84
8:52
Antawn Jamison offensive rebound
80 - 84
8:45
Antawn Jamison makes 23-foot three point jumper (Darius Songaila assists)
83 - 84
8:26
Marcus Williams misses layup
83 - 84
8:26
Josh Boone offensive rebound
83 - 84
8:23
Josh Boone makes layup
83 - 86
8:15
Antawn Jamison makes 25-foot three point jumper (Antonio Daniels assists)
86 - 86
7:54
Clifford Robinson misses 23-foot three point jumper
86 - 86
7:52
Etan Thomas defensive rebound
86 - 86
7:41
Richard Jefferson personal foul (DeShawn Stevenson draws the foul)
86 - 86
7:41
Jason Collins enters the game for Clifford Robinson
86 - 86
7:41
Jason Kidd enters the game for Marcus Williams
86 - 86
7:41
Vince Carter enters the game for Bostjan Nachbar
86 - 86
7:30
DeShawn Stevenson misses 21-foot jumper
86 - 86
7:28
Vince Carter defensive rebound
86 - 86
7:20
Richard Jefferson makes 23-foot three point jumper (Jason Kidd assists)
86 - 89
7:01
Vince Carter blocks Antonio Daniels's driving layup
86 - 89
7:01
Washington offensive rebound
86 - 89
7:01
Mikki Moore enters the game for Josh Boone
86 - 89
6:56
Darius Songaila lost ball (Jason Kidd steals)
86 - 89
6:50
Richard Jefferson misses layup
86 - 89
6:48
Jason Kidd offensive rebound
86 - 89
6:48
Jason Kidd makes tip shot
86 - 91
6:43
Washington 20 Sec. timeout
86 - 91
6:31
Darius Songaila makes 20-foot jumper (Antawn Jamison assists)
88 - 91
6:09
Vince Carter bad pass (Darius Songaila steals)
88 - 91
6:05
Vince Carter shooting foul (Antonio Daniels draws the foul)
88 - 91
6:05
Antonio Daniels makes free throw 1 of 2
89 - 91
6:05
Antonio Daniels makes free throw 2 of 2
90 - 91
5:52
Vince Carter misses jumper
90 - 91
5:50
Vince Carter offensive rebound
90 - 91
5:48
Richard Jefferson misses 23-foot three point jumper
90 - 91
5:47
Vince Carter offensive rebound
90 - 91
5:43
Mikki Moore makes slam dunk (Vince Carter assists)
90 - 93
5:28
Antonio Daniels misses 19-foot jumper
90 - 93
5:26
Mikki Moore defensive rebound
90 - 93
5:11
Mikki Moore misses jumper
90 - 93
5:09
Etan Thomas defensive rebound
90 - 93
4:54
Jason Collins shooting foul (Antawn Jamison draws the foul)
90 - 93
4:54
Official timeout
90 - 93
4:54
Antawn Jamison makes free throw 1 of 3
91 - 93
4:54
Antawn Jamison makes free throw 2 of 3
92 - 93
4:54
Antawn Jamison makes free throw 3 of 3
93 - 93
4:35
Vince Carter makes 16-foot two point shot
93 - 95
4:16
Antawn Jamison makes 6-foot running jumper (Antonio Daniels assists)
95 - 95
4:01
Richard Jefferson makes 25-foot three point jumper (Vince Carter assists)
95 - 98
3:43
Antawn Jamison misses 17-foot jumper
95 - 98
3:42
Washington defensive rebound
95 - 98
3:42
Etan Thomas loose ball foul (Mikki Moore draws the foul)
95 - 98
3:23
Richard Jefferson misses 26-foot three point jumper
95 - 98
3:20
Mikki Moore offensive rebound
95 - 98
3:15
New Jersey full timeout
95 - 98
3:15
Jarvis Hayes enters the game for Etan Thomas
95 - 98
3:01
Jason Kidd misses 25-foot three point jumper
95 - 98
3:00
Mikki Moore offensive rebound
95 - 98
2:47
Jason Kidd misses 25-foot three point jumper
95 - 98
2:46
Antawn Jamison defensive rebound
95 - 98
2:39
Jarvis Hayes misses 14-foot jumper
95 - 98
2:36
Jason Kidd defensive rebound
95 - 98
2:26
Antawn Jamison personal foul (Jason Kidd draws the foul)
95 - 98
2:16
DeShawn Stevenson personal foul (Mikki Moore draws the foul)
95 - 98
2:16
Mikki Moore misses free throw 1 of 2
95 - 98
2:16
New Jersey offensive rebound
95 - 98
2:16
Mikki Moore misses free throw 2 of 2
95 - 98
2:15
DeShawn Stevenson defensive rebound
95 - 98
2:01
Darius Songaila makes 5-foot hook shot (Antawn Jamison assists)
97 - 98
1:47
Mikki Moore makes dunk (Jason Kidd assists)
97 - 100
1:32
Darius Songaila misses 17-foot jumper
97 - 100
1:31
Antonio Daniels offensive rebound
97 - 100
1:30
Washington full timeout
97 - 100
1:20
Jarvis Hayes makes 21-foot jumper
99 - 100
0:59
Mikki Moore makes layup (Vince Carter assists)
99 - 102
0:47
Antonio Daniels misses three point jumper
99 - 102
0:45
Richard Jefferson defensive rebound
99 - 102
0:29
Vince Carter bad pass (Antawn Jamison steals)
99 - 102
0:28
Mikki Moore personal foul (Antawn Jamison draws the foul)
99 - 102
0:28
Antawn Jamison makes free throw 1 of 2
100 - 102
0:28
Antawn Jamison makes free throw 2 of 2
101 - 102
0:28
New Jersey full timeout
101 - 102
0:28
Bostjan Nachbar enters the game for Jason Collins
101 - 102
0:07
Darius Songaila shooting foul (Mikki Moore draws the foul)
101 - 102
0:07
Mikki Moore misses free throw 1 of 2
101 - 102
0:07
New Jersey offensive rebound
101 - 102
0:07
Jason Collins enters the game for Bostjan Nachbar
101 - 102
0:07
Mikki Moore misses free throw 2 of 2
101 - 102
0:05
Vince Carter offensive rebound
101 - 102
0:04
Antonio Daniels personal foul (Vince Carter draws the foul)
101 - 102
0:04
Vince Carter makes free throw 1 of 2
101 - 103
0:04
Vince Carter makes free throw 2 of 2
101 - 104
0:04
Washington 20 Sec. timeout
101 - 104
0:04
Antoine Wright enters the game for Mikki Moore
101 - 104
0:01
Antawn Jamison makes 24-foot three point jumper (DeShawn Stevenson assists)
104 - 104
0:01
Marcus Williams enters the game for Jason Collins
104 - 104
0:01
Andray Blatche enters the game for Antawn Jamison
104 - 104
0:01
Bostjan Nachbar enters the game for Antoine Wright
104 - 104
0:00
Jason Kidd bad pass (Antonio Daniels steals)
104 - 104
0:00
End of the 4th Quarter
104 - 104

time
TEAM
PLAY
SCORE
5:00
Start of the 1st Overtime
104 - 104
5:00
Jumpball: Etan Thomas vs. Jason Collins (Mikki Moore gains possession)
104 - 104
4:37
Jason Kidd misses 26-foot three point jumper
104 - 104
4:35
DeShawn Stevenson defensive rebound
104 - 104
4:18
Jason Collins blocks Antawn Jamison's layup
104 - 104
4:16
Antawn Jamison offensive rebound
104 - 104
4:13
Antonio Daniels misses 19-foot jumper
104 - 104
4:11
Vince Carter defensive rebound
104 - 104
4:07
Darius Songaila personal foul (Richard Jefferson draws the foul)
104 - 104
4:01
Etan Thomas shooting foul (Richard Jefferson draws the foul)
104 - 104
4:01
Richard Jefferson makes free throw 1 of 2
104 - 105
4:01
Richard Jefferson makes free throw 2 of 2
104 - 106
3:49
Antawn Jamison misses three point jumper
104 - 106
3:48
Jason Kidd defensive rebound
104 - 106
3:47
Jason Kidd turnover
104 - 106
3:35
DeShawn Stevenson offensive foul (Vince Carter draws the foul)
104 - 106
3:35
DeShawn Stevenson turnover
104 - 106
3:17
Vince Carter makes layup (Jason Kidd assists)
104 - 108
3:17
Etan Thomas shooting foul (Vince Carter draws the foul)
104 - 108
3:17
Vince Carter misses free throw 1 of 1
104 - 108
3:16
Antawn Jamison defensive rebound
104 - 108
3:14
Washington full timeout
104 - 108
2:58
Antawn Jamison bad pass (Jason Kidd steals)
104 - 108
2:54
Antawn Jamison shooting foul (Richard Jefferson draws the foul)
104 - 108
2:54
Richard Jefferson makes free throw 1 of 2
104 - 109
2:54
Jarvis Hayes enters the game for Etan Thomas
104 - 109
2:54
Richard Jefferson makes free throw 2 of 2
104 - 110
2:39
Jarvis Hayes misses 14-foot jumper
104 - 110
2:36
Vince Carter defensive rebound
104 - 110
2:17
Jason Kidd makes two point shot (Vince Carter assists)
104 - 112
2:11
Washington full timeout
104 - 112
2:00
Mikki Moore shooting foul (Darius Songaila draws the foul)
104 - 112
2:00
Clifford Robinson enters the game for Mikki Moore
104 - 112
2:00
Darius Songaila makes free throw 1 of 2
105 - 112
2:00
Darius Songaila makes free throw 2 of 2
106 - 112
1:38
Jason Kidd misses 26-foot three point jumper
106 - 112
1:36
Jason Kidd offensive rebound
106 - 112
1:36
New Jersey 20 Sec. timeout
106 - 112
1:15
Clifford Robinson makes 24-foot three point jumper (Vince Carter assists)
106 - 115
1:06
Jarvis Hayes makes 25-foot three point jumper (Antonio Daniels assists)
109 - 115
0:55
Jason Kidd bad pass (Darius Songaila steals)
109 - 115
0:50
Antawn Jamison misses 26-foot three point jumper
109 - 115
0:49
Richard Jefferson defensive rebound
109 - 115
0:49
Antonio Daniels personal foul (Richard Jefferson draws the foul)
109 - 115
0:49
Richard Jefferson makes free throw 1 of 2
109 - 116
0:49
Richard Jefferson misses free throw 2 of 2
109 - 116
0:47
Antawn Jamison defensive rebound
109 - 116
0:41
Jarvis Hayes makes 26-foot three point jumper (Antonio Daniels assists)
112 - 116
0:40
Antonio Daniels personal foul (Vince Carter draws the foul)
112 - 116
0:40
Vince Carter makes free throw 1 of 2
112 - 117
0:40
Vince Carter makes free throw 2 of 2
112 - 118
0:30
Jarvis Hayes misses 25-foot three point jumper
112 - 118
0:29
Clifford Robinson defensive rebound
112 - 118
0:29
Darius Songaila personal foul (Clifford Robinson draws the foul)
112 - 118
0:29
Clifford Robinson makes free throw 1 of 2
112 - 119
0:29
Clifford Robinson misses free throw 2 of 2
112 - 119
0:29
Antawn Jamison defensive rebound
112 - 119
0:29
Washington 20 Sec. timeout
112 - 119
0:29
Roger Mason enters the game for Antonio Daniels
112 - 119
0:27
Antawn Jamison misses 25-foot three point jumper
112 - 119
0:25
Vince Carter defensive rebound
112 - 119
0:24
New Jersey 20 Sec. timeout
112 - 119
0:24
Marcus Williams enters the game for Clifford Robinson
112 - 119
0:24
Bostjan Nachbar enters the game for Jason Collins
112 - 119
0:20
Roger Mason personal foul (Jason Kidd draws the foul)
112 - 119
0:20
Jason Kidd makes free throw 1 of 2
112 - 120
0:20
Clifford Robinson enters the game for Bostjan Nachbar
112 - 120
0:20
Jason Collins enters the game for Marcus Williams
112 - 120
0:20
Jason Kidd misses free throw 2 of 2
112 - 120
0:19
DeShawn Stevenson defensive rebound
112 - 120
0:09
DeShawn Stevenson misses 25-foot three point jumper
112 - 120
0:07
Jarvis Hayes offensive rebound
112 - 120
0:06
Jarvis Hayes misses 26-foot three point jumper
112 - 120
0:05
Darius Songaila offensive rebound
112 - 120
0:04
Darius Songaila misses layup
112 - 120
0:04
Darius Songaila offensive rebound
112 - 120
0:03
Darius Songaila makes layup
114 - 120
0:00
End of the 1st Overtime
114 - 120
0:00
End Game
114 - 120
Hill is an unrestricted free agent after the Pacers declined the 2016-17 team option.

After a Seattle City Council vote derailed plans to building a new arena meant to lure back the NBA, Seahawks QB Russell Wilson took to Twitter to urge fans to fight to get their team back.

The latest notes, updates and analysis on the Warriors from around the web.
Regular Season Series
NJ wins series 4-0
2015-2016 Southeast Standings