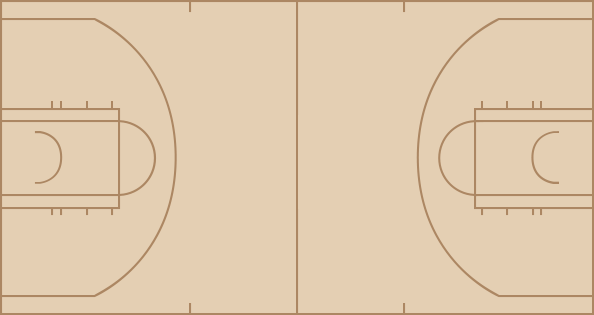 Wizards
time
TEAM
PLAY
SCORE
12:00
Start of the 1st Quarter
0 - 0
12:00
Jumpball: Etan Thomas vs. Zydrunas Ilgauskas (Larry Hughes gains possession)
0 - 0
11:44
Zydrunas Ilgauskas misses 5-foot jumper
0 - 0
11:42
Zydrunas Ilgauskas offensive rebound
0 - 0
11:42
Antawn Jamison shooting foul (Zydrunas Ilgauskas draws the foul)
0 - 0
11:42
Zydrunas Ilgauskas makes free throw 1 of 2
0 - 1
11:42
Zydrunas Ilgauskas makes free throw 2 of 2
0 - 2
11:29
Antawn Jamison makes 20-foot jumper (Etan Thomas assists)
2 - 2
11:10
LeBron James misses 26-foot three point jumper
2 - 2
11:07
Larry Hughes offensive rebound
2 - 2
11:06
Larry Hughes makes 25-foot three point jumper
2 - 5
10:47
Antawn Jamison misses 23-foot jumper
2 - 5
10:45
Larry Hughes defensive rebound
2 - 5
10:33
Zydrunas Ilgauskas misses hook shot
2 - 5
10:30
Etan Thomas defensive rebound
2 - 5
10:21
Etan Thomas makes dunk (DeShawn Stevenson assists)
4 - 5
9:56
Larry Hughes bad pass
4 - 5
9:40
DeShawn Stevenson misses 20-foot jumper
4 - 5
9:34
Antawn Jamison offensive rebound
4 - 5
9:33
Etan Thomas makes slam dunk (Antawn Jamison assists)
6 - 5
9:12
Zydrunas Ilgauskas misses 8-foot hook shot
6 - 5
9:11
Antawn Jamison defensive rebound
6 - 5
9:02
Jarvis Hayes misses 9-foot running jumper
6 - 5
8:59
Drew Gooden defensive rebound
6 - 5
8:53
Larry Hughes bad pass
6 - 5
8:41
Antawn Jamison makes 25-foot three point jumper (Antonio Daniels assists)
9 - 5
8:18
Jarvis Hayes blocks Sasha Pavlovic's 13-foot jumper
9 - 5
8:18
Cleveland offensive rebound
9 - 5
8:15
Antawn Jamison blocks Larry Hughes's layup
9 - 5
8:15
Cleveland offensive rebound
9 - 5
8:11
Drew Gooden misses 13-foot jumper
9 - 5
8:10
Drew Gooden offensive rebound
9 - 5
8:00
Drew Gooden makes 14-foot two point shot
9 - 7
7:43
Etan Thomas makes 14-foot jumper (Antonio Daniels assists)
11 - 7
7:28
Drew Gooden makes driving dunk (Larry Hughes assists)
11 - 9
7:15
Zydrunas Ilgauskas blocks Etan Thomas's layup
11 - 9
7:13
Sasha Pavlovic defensive rebound
11 - 9
6:58
Larry Hughes misses 21-foot jumper
11 - 9
6:56
Drew Gooden offensive rebound
11 - 9
6:54
Drew Gooden misses 6-foot jumper
11 - 9
6:52
Zydrunas Ilgauskas offensive rebound
11 - 11
6:52
Zydrunas Ilgauskas makes tip shot
11 - 11
6:37
Drew Gooden personal foul (Antonio Daniels draws the foul)
11 - 11
6:35
Sasha Pavlovic personal foul (DeShawn Stevenson draws the foul)
11 - 11
6:20
DeShawn Stevenson misses 25-foot three point jumper
11 - 11
6:18
Zydrunas Ilgauskas defensive rebound
11 - 11
6:11
Larry Hughes misses 15-foot jumper
11 - 11
6:11
Etan Thomas defensive rebound
11 - 11
6:05
DeShawn Stevenson misses layup
11 - 11
6:03
DeShawn Stevenson offensive rebound
13 - 11
6:03
DeShawn Stevenson makes layup
13 - 11
5:48
Cleveland full timeout
13 - 11
5:41
Jumpball: Etan Thomas vs. Zydrunas Ilgauskas (DeShawn Stevenson gains possession)
13 - 11
5:41
LeBron James lost ball (Jarvis Hayes steals)
13 - 11
5:15
Jarvis Hayes misses 25-foot three point jumper
13 - 11
5:13
Zydrunas Ilgauskas defensive rebound
13 - 11
4:56
Sasha Pavlovic misses 26-foot three point jumper
13 - 11
4:54
Zydrunas Ilgauskas offensive rebound
13 - 11
4:46
Sasha Pavlovic misses 12-foot jumper
13 - 11
4:45
Cleveland defensive rebound
13 - 11
4:28
Drew Gooden shooting foul (Antawn Jamison draws the foul)
13 - 11
4:28
Anderson Varejao enters the game for Drew Gooden
13 - 11
4:28
Antawn Jamison misses free throw 1 of 2
13 - 11
4:28
Washington offensive rebound
13 - 11
4:28
Antawn Jamison makes free throw 2 of 2
14 - 11
4:11
Sasha Pavlovic misses 24-foot three point jumper
14 - 11
4:07
Anderson Varejao offensive rebound
14 - 11
4:05
Sasha Pavlovic makes layup (LeBron James assists)
14 - 13
3:56
Sasha Pavlovic personal foul (Etan Thomas draws the foul)
14 - 13
3:56
Etan Thomas misses free throw 1 of 2
14 - 13
3:56
Washington offensive rebound
14 - 13
3:56
Eric Snow enters the game for Sasha Pavlovic
14 - 13
3:56
Etan Thomas makes free throw 2 of 2
15 - 13
3:36
LeBron James misses 17-foot two point shot
15 - 13
3:34
Antonio Daniels defensive rebound
15 - 13
3:28
Antonio Daniels misses 25-foot three point jumper
15 - 13
3:26
Anderson Varejao defensive rebound
15 - 13
3:14
Larry Hughes makes 25-foot three point jumper (Anderson Varejao assists)
15 - 16
2:53
Zydrunas Ilgauskas blocks Jarvis Hayes's two point shot
15 - 16
2:53
Washington defensive rebound
15 - 16
2:53
Washington full timeout
15 - 16
2:53
Brendan Haywood enters the game for Etan Thomas
15 - 16
2:53
Darius Songaila enters the game for DeShawn Stevenson
15 - 16
2:33
LeBron James misses 7-foot jumper
15 - 16
2:31
Antawn Jamison defensive rebound
15 - 16
2:25
Antawn Jamison misses 25-foot three point jumper
15 - 16
2:23
Eric Snow defensive rebound
15 - 16
2:18
Antawn Jamison blocks Anderson Varejao's layup
15 - 16
2:16
Antawn Jamison defensive rebound
15 - 16
2:02
Darius Songaila makes 16-foot jumper (Jarvis Hayes assists)
17 - 16
1:43
LeBron James makes driving layup
17 - 18
1:43
Jarvis Hayes shooting foul (LeBron James draws the foul)
17 - 18
1:43
Donyell Marshall enters the game for Zydrunas Ilgauskas
17 - 18
1:43
LeBron James makes free throw 1 of 1
17 - 19
1:31
Jarvis Hayes misses 21-foot jumper
17 - 19
1:29
Eric Snow defensive rebound
17 - 19
1:23
Anderson Varejao traveling
17 - 19
1:23
Daniel Gibson enters the game for Larry Hughes
17 - 19
1:05
Darius Songaila makes 16-foot jumper
19 - 19
0:46
Eric Snow makes driving layup
19 - 21
0:32
Brendan Haywood makes layup (Darius Songaila assists)
21 - 21
0:08
LeBron James makes two point shot
21 - 23
0:01
LeBron James shooting foul (Brendan Haywood draws the foul)
21 - 23
0:01
Brendan Haywood makes free throw 1 of 2
22 - 23
0:01
Brendan Haywood makes free throw 2 of 2
23 - 23
0:00
Cleveland offensive rebound
23 - 23
0:00
LeBron James misses 51-foot three point jumper
23 - 23
0:00
End of the 1st Quarter
23 - 23

time
TEAM
PLAY
SCORE
12:00
Start of the 2nd Quarter
23 - 23
11:41
Darius Songaila makes two point shot
25 - 23
11:21
Daniel Gibson misses 22-foot jumper
25 - 23
11:19
Antawn Jamison defensive rebound
25 - 23
11:19
Anderson Varejao personal foul (Antawn Jamison draws the foul)
25 - 23
11:07
Roger Mason makes 25-foot three point jumper (Antonio Daniels assists)
28 - 23
10:45
Anderson Varejao makes layup (LeBron James assists)
28 - 25
10:22
Eric Snow shooting foul (Brendan Haywood draws the foul)
28 - 25
10:22
Drew Gooden enters the game for Donyell Marshall
28 - 25
10:22
Brendan Haywood misses free throw 1 of 2
28 - 25
10:22
Washington offensive rebound
28 - 25
10:22
Michael Ruffin enters the game for Antawn Jamison
28 - 25
10:22
Brendan Haywood makes free throw 2 of 2
29 - 25
10:07
Eric Snow misses 16-foot jumper
29 - 25
10:04
Darius Songaila defensive rebound
29 - 25
9:42
Brendan Haywood misses 10-foot jumper
29 - 25
9:41
Anderson Varejao defensive rebound
29 - 25
9:34
LeBron James offensive foul (Michael Ruffin draws the foul)
29 - 25
9:34
LeBron James turnover
29 - 25
9:34
Larry Hughes enters the game for LeBron James
29 - 25
9:14
Darius Songaila misses 9-foot jumper
29 - 25
9:12
Michael Ruffin offensive rebound
29 - 25
9:11
Michael Ruffin makes layup
31 - 25
8:59
Daniel Gibson makes 25-foot three point jumper (Eric Snow assists)
31 - 28
8:51
Washington full timeout
31 - 28
8:51
Zydrunas Ilgauskas enters the game for Drew Gooden
31 - 28
8:37
Darius Songaila misses 15-foot jumper
31 - 28
8:37
Zydrunas Ilgauskas defensive rebound
31 - 28
8:12
Zydrunas Ilgauskas makes 18-foot jumper (Eric Snow assists)
31 - 30
7:52
Antonio Daniels makes 19-foot jumper
33 - 30
7:22
Larry Hughes misses 18-foot running jumper
33 - 30
7:20
Darius Songaila defensive rebound
33 - 30
7:03
Roger Mason makes 23-foot three point jumper (Antonio Daniels assists)
36 - 30
7:03
Anderson Varejao shooting foul (Roger Mason draws the foul)
36 - 30
7:03
DeShawn Stevenson enters the game for Antonio Daniels
36 - 30
7:03
Antawn Jamison enters the game for Michael Ruffin
36 - 30
7:03
LeBron James enters the game for Eric Snow
36 - 30
7:03
Roger Mason makes free throw 1 of 1
37 - 30
6:52
Zydrunas Ilgauskas bad pass
37 - 30
6:35
Roger Mason misses 25-foot three point jumper
37 - 30
6:33
Larry Hughes defensive rebound
37 - 30
6:24
Zydrunas Ilgauskas makes 17-foot jumper (Larry Hughes assists)
37 - 32
6:09
Darius Songaila offensive foul (Anderson Varejao draws the foul)
37 - 32
6:09
Darius Songaila turnover
37 - 32
6:09
Drew Gooden enters the game for Anderson Varejao
37 - 32
6:09
Sasha Pavlovic enters the game for Daniel Gibson
37 - 32
5:56
Darius Songaila personal foul (Drew Gooden draws the foul)
37 - 32
5:56
Official timeout
37 - 32
5:45
Drew Gooden makes 16-foot jumper (LeBron James assists)
37 - 34
5:24
Brendan Haywood makes slam dunk (Darius Songaila assists)
39 - 34
5:01
Darius Songaila shooting foul (LeBron James draws the foul)
39 - 34
5:01
Jarvis Hayes enters the game for Darius Songaila
39 - 34
5:01
LeBron James makes free throw 1 of 2
39 - 35
5:01
LeBron James makes free throw 2 of 2
39 - 36
4:45
Antawn Jamison makes 19-foot jumper
41 - 36
4:28
Zydrunas Ilgauskas misses 18-foot jumper
41 - 36
4:26
Antawn Jamison defensive rebound
41 - 36
4:16
Antawn Jamison misses 23-foot three point jumper
41 - 36
4:16
Brendan Haywood offensive rebound
41 - 36
4:00
Antawn Jamison makes 4-foot two point shot (Roger Mason assists)
43 - 36
3:35
Drew Gooden makes 13-foot two point shot
43 - 38
3:26
Roger Mason misses 20-foot jumper
43 - 38
3:24
LeBron James defensive rebound
43 - 38
3:16
LeBron James makes driving dunk
43 - 40
3:15
Washington 20 Sec. timeout
43 - 40
3:15
Antonio Daniels enters the game for Brendan Haywood
43 - 40
3:15
Etan Thomas enters the game for Roger Mason
43 - 40
3:04
Antawn Jamison misses layup
43 - 40
3:02
Drew Gooden defensive rebound
43 - 40
2:49
Drew Gooden makes 16-foot jumper
43 - 42
2:49
Etan Thomas shooting foul (Drew Gooden draws the foul)
43 - 42
2:49
Cleveland full timeout
43 - 42
2:49
Drew Gooden makes free throw 1 of 1
43 - 43
2:32
Etan Thomas traveling
43 - 43
2:19
Drew Gooden makes 16-foot jumper (Larry Hughes assists)
43 - 45
1:59
Jarvis Hayes misses 7-foot hook shot
43 - 45
1:55
Drew Gooden defensive rebound
43 - 45
1:50
LeBron James misses 19-foot jumper
43 - 45
1:50
Drew Gooden offensive rebound
43 - 45
1:50
DeShawn Stevenson shooting foul (Drew Gooden draws the foul)
43 - 45
1:50
Drew Gooden makes free throw 1 of 2
43 - 46
1:50
Drew Gooden misses free throw 2 of 2
43 - 46
1:49
Etan Thomas defensive rebound
43 - 46
1:30
Antawn Jamison makes 8-foot running jumper
45 - 46
1:15
Drew Gooden makes 11-foot two point shot (Sasha Pavlovic assists)
45 - 48
1:00
Antawn Jamison misses 25-foot three point jumper
45 - 48
0:57
Drew Gooden defensive rebound
45 - 48
0:53
Sasha Pavlovic traveling
45 - 48
0:38
Larry Hughes shooting foul (DeShawn Stevenson draws the foul)
45 - 48
0:38
DeShawn Stevenson misses free throw 1 of 2
45 - 48
0:38
Washington offensive rebound
45 - 48
0:38
DeShawn Stevenson makes free throw 2 of 2
46 - 48
0:28
Drew Gooden makes 19-foot jumper
46 - 50
0:28
Antawn Jamison shooting foul (Drew Gooden draws the foul)
46 - 50
0:28
Eric Snow enters the game for LeBron James
46 - 50
0:28
Roger Mason enters the game for Etan Thomas
46 - 50
0:28
Ira Newble enters the game for Zydrunas Ilgauskas
46 - 50
0:28
Drew Gooden makes free throw 1 of 1
46 - 51
0:03
Antonio Daniels misses jumper
46 - 51
0:01
Antawn Jamison offensive rebound
46 - 51
0:01
Antawn Jamison makes layup
48 - 51
0:00
Eric Snow misses 42-foot three point jumper
48 - 51
0:00
Cleveland offensive rebound
48 - 51
0:00
End of the 2nd Quarter
48 - 51

time
TEAM
PLAY
SCORE
12:00
Start of the 3rd Quarter
48 - 51
11:41
Antawn Jamison misses 5-foot two point shot
48 - 51
11:37
Drew Gooden defensive rebound
48 - 51
11:33
LeBron James misses layup
48 - 51
11:32
Etan Thomas defensive rebound
48 - 51
11:30
Washington 20 Sec. timeout
48 - 51
11:18
Jarvis Hayes misses 9-foot jumper
48 - 51
11:18
LeBron James defensive rebound
48 - 51
11:11
LeBron James misses jumper
48 - 51
11:08
LeBron James offensive rebound
48 - 51
11:08
LeBron James misses tip shot
48 - 51
11:07
Jarvis Hayes defensive rebound
48 - 51
10:56
Antawn Jamison misses 20-foot jumper
48 - 51
10:53
Etan Thomas offensive rebound
48 - 51
10:41
DeShawn Stevenson misses 25-foot three point jumper
48 - 51
10:40
Drew Gooden defensive rebound
48 - 51
10:22
Sasha Pavlovic makes dunk (Drew Gooden assists)
48 - 53
9:57
Etan Thomas misses 7-foot jumper
48 - 53
9:56
LeBron James defensive rebound
48 - 53
9:44
Larry Hughes makes 22-foot jumper
48 - 55
9:36
Washington full timeout
48 - 55
9:26
Zydrunas Ilgauskas shooting foul (Etan Thomas draws the foul)
48 - 55
9:26
Etan Thomas makes free throw 1 of 2
49 - 55
9:26
Etan Thomas makes free throw 2 of 2
50 - 55
9:12
Sasha Pavlovic misses 14-foot jumper
50 - 55
9:11
Jarvis Hayes defensive rebound
50 - 55
9:03
Antonio Daniels misses 23-foot jumper
50 - 55
9:02
Sasha Pavlovic defensive rebound
50 - 55
8:52
Etan Thomas blocks Sasha Pavlovic's layup
50 - 55
8:51
Sasha Pavlovic offensive rebound
50 - 57
8:51
Sasha Pavlovic makes layup
50 - 57
8:33
Zydrunas Ilgauskas shooting foul (DeShawn Stevenson draws the foul)
50 - 57
8:33
DeShawn Stevenson makes free throw 1 of 2
51 - 57
8:33
DeShawn Stevenson misses free throw 2 of 2
51 - 57
8:30
Jumpball: Etan Thomas vs. Zydrunas Ilgauskas (Drew Gooden gains possession)
51 - 57
8:30
Washington defensive rebound
51 - 57
8:11
Zydrunas Ilgauskas makes 17-foot two point shot
51 - 59
7:56
Antonio Daniels bad pass (LeBron James steals)
51 - 59
7:56
Jarvis Hayes personal foul (Larry Hughes draws the foul)
51 - 59
7:56
Brendan Haywood enters the game for Etan Thomas
51 - 59
7:56
Darius Songaila enters the game for Jarvis Hayes
51 - 59
7:39
Zydrunas Ilgauskas makes 18-foot jumper (LeBron James assists)
51 - 61
7:16
Antawn Jamison misses two point shot
51 - 61
7:13
Drew Gooden defensive rebound
51 - 61
7:05
Zydrunas Ilgauskas bad pass (Brendan Haywood steals)
51 - 61
7:01
DeShawn Stevenson makes two point shot
53 - 61
6:41
Zydrunas Ilgauskas misses 17-foot jumper
53 - 61
6:41
Cleveland defensive rebound
53 - 61
6:31
Zydrunas Ilgauskas blocks DeShawn Stevenson's layup
53 - 61
6:28
Brendan Haywood offensive rebound
53 - 61
6:28
Brendan Haywood makes layup
55 - 61
6:28
Cleveland full timeout
55 - 61
6:18
Sasha Pavlovic makes two point shot
55 - 63
6:01
Brendan Haywood makes layup (Antonio Daniels assists)
57 - 63
5:45
Brendan Haywood shooting foul (LeBron James draws the foul)
57 - 63
5:45
LeBron James makes free throw 1 of 2
57 - 64
5:45
LeBron James makes free throw 2 of 2
57 - 65
5:30
Darius Songaila misses 21-foot jumper
57 - 65
5:26
Zydrunas Ilgauskas defensive rebound
57 - 65
5:22
LeBron James makes two point shot
57 - 67
5:03
Darius Songaila makes 6-foot two point shot (DeShawn Stevenson assists)
59 - 67
4:48
Zydrunas Ilgauskas makes 16-foot jumper (Drew Gooden assists)
59 - 69
4:30
Antonio Daniels misses 9-foot running jumper
59 - 69
4:26
Sasha Pavlovic defensive rebound
59 - 69
4:18
Drew Gooden makes 19-foot jumper (LeBron James assists)
59 - 71
3:57
DeShawn Stevenson misses layup
59 - 71
3:54
Brendan Haywood offensive rebound
61 - 71
3:54
Brendan Haywood makes two point shot
61 - 71
3:27
Zydrunas Ilgauskas bad pass (Antonio Daniels steals)
61 - 71
3:23
Antawn Jamison makes layup (Brendan Haywood assists)
63 - 71
3:23
Sasha Pavlovic shooting foul (Antawn Jamison draws the foul)
63 - 71
3:23
Antawn Jamison misses free throw 1 of 1
63 - 71
3:20
Drew Gooden defensive rebound
63 - 71
3:00
LeBron James misses 26-foot three point jumper
63 - 71
3:00
Cleveland offensive rebound
63 - 71
3:00
Brendan Haywood loose ball foul (Zydrunas Ilgauskas draws the foul)
63 - 71
2:53
Drew Gooden lost ball (DeShawn Stevenson steals)
63 - 71
2:47
LeBron James blocks Darius Songaila's layup
63 - 71
2:46
Drew Gooden defensive rebound
63 - 71
2:42
Zydrunas Ilgauskas misses 20-foot jumper
63 - 71
2:40
Antawn Jamison defensive rebound
63 - 71
2:33
DeShawn Stevenson misses 25-foot three point jumper
63 - 71
2:31
Larry Hughes defensive rebound
63 - 71
2:12
Brendan Haywood shooting foul (LeBron James draws the foul)
63 - 71
2:12
LeBron James makes free throw 1 of 2
63 - 72
2:12
Anderson Varejao enters the game for Zydrunas Ilgauskas
63 - 72
2:12
Jarvis Hayes enters the game for Antawn Jamison
63 - 72
2:12
LeBron James misses free throw 2 of 2
63 - 72
2:10
Darius Songaila defensive rebound
63 - 72
1:58
Jarvis Hayes misses 18-foot jumper
63 - 72
1:55
Darius Songaila offensive rebound
63 - 72
1:54
Darius Songaila misses layup
63 - 72
1:52
Jarvis Hayes offensive rebound
63 - 72
1:52
Jarvis Hayes misses tip shot
63 - 72
1:50
Anderson Varejao defensive rebound
63 - 72
1:28
Larry Hughes makes jumper (LeBron James assists)
63 - 74
1:07
Jarvis Hayes misses 10-foot jumper
63 - 74
1:05
Drew Gooden defensive rebound
63 - 74
0:57
Sasha Pavlovic misses 25-foot three point jumper
63 - 74
0:55
Brendan Haywood defensive rebound
63 - 74
0:46
Brendan Haywood offensive foul (Anderson Varejao draws the foul)
63 - 74
0:46
Brendan Haywood turnover
63 - 74
0:46
Brendan Haywood technical foul (1st technical foul)
63 - 74
0:46
Eric Snow enters the game for Sasha Pavlovic
63 - 74
0:46
Drew Gooden makes technical free throw
63 - 75
0:46
Michael Ruffin enters the game for Brendan Haywood
63 - 75
0:27
Drew Gooden misses two point shot
63 - 75
0:24
Michael Ruffin defensive rebound
63 - 75
0:03
DeShawn Stevenson misses dunk
63 - 75
0:01
Larry Hughes defensive rebound
63 - 75
0:00
End of the 3rd Quarter
63 - 75

time
TEAM
PLAY
SCORE
12:00
Start of the 4th Quarter
63 - 75
11:45
LeBron James makes layup (Eric Snow assists)
63 - 77
11:23
Darius Songaila makes 2-foot two point shot
65 - 77
11:23
Drew Gooden shooting foul (Darius Songaila draws the foul)
65 - 77
11:23
Darius Songaila makes free throw 1 of 1
66 - 77
11:15
Antonio Daniels jump ball
66 - 77
11:04
Larry Hughes bad pass (Michael Ruffin steals)
66 - 77
10:55
Jarvis Hayes misses 24-foot three point jumper
66 - 77
10:52
Eric Snow defensive rebound
66 - 77
10:30
Larry Hughes misses 26-foot three point jumper
66 - 77
10:27
Michael Ruffin defensive rebound
66 - 77
10:11
Darius Songaila makes layup (Antonio Daniels assists)
68 - 77
10:03
Cleveland full timeout
68 - 77
10:03
Zydrunas Ilgauskas enters the game for Drew Gooden
68 - 77
9:45
Larry Hughes makes 19-foot two point shot
68 - 79
9:29
Roger Mason misses 12-foot jumper
68 - 79
9:27
Anderson Varejao defensive rebound
68 - 79
9:12
Eric Snow makes 19-foot jumper (Zydrunas Ilgauskas assists)
68 - 81
8:53
Antonio Daniels bad pass (Eric Snow steals)
68 - 81
8:47
Anderson Varejao makes layup (Larry Hughes assists)
68 - 83
8:38
Washington full timeout
68 - 83
8:38
Antawn Jamison enters the game for Michael Ruffin
68 - 83
8:30
Antonio Daniels makes driving layup
70 - 83
8:30
Zydrunas Ilgauskas shooting foul (Antonio Daniels draws the foul)
70 - 83
8:30
Antonio Daniels makes free throw 1 of 1
71 - 83
8:11
Roger Mason shooting foul (LeBron James draws the foul)
71 - 83
8:11
LeBron James makes free throw 1 of 2
71 - 84
8:11
LeBron James makes free throw 2 of 2
71 - 85
8:00
LeBron James blocks Antawn Jamison's layup
71 - 85
7:56
Jarvis Hayes offensive rebound
73 - 85
7:56
Jarvis Hayes makes layup
73 - 85
7:46
Zydrunas Ilgauskas misses 16-foot jumper
73 - 85
7:43
Anderson Varejao offensive rebound
73 - 85
7:43
Anderson Varejao misses tip shot
73 - 85
7:41
Antawn Jamison defensive rebound
73 - 85
7:35
Roger Mason misses 24-foot three point jumper
73 - 85
7:33
Anderson Varejao defensive rebound
73 - 85
7:22
Anderson Varejao makes layup (Larry Hughes assists)
73 - 87
7:00
Antawn Jamison makes 6-foot two point shot
75 - 87
7:00
Anderson Varejao shooting foul (Antawn Jamison draws the foul)
75 - 87
7:00
Antawn Jamison makes free throw 1 of 1
76 - 87
6:46
Larry Hughes lost ball (Antonio Daniels steals)
76 - 87
6:43
Eric Snow shooting foul (Roger Mason draws the foul)
76 - 87
6:43
Roger Mason makes free throw 1 of 2
77 - 87
6:43
Roger Mason makes free throw 2 of 2
78 - 87
6:26
Anderson Varejao misses 16-foot jumper
78 - 87
6:26
Antawn Jamison defensive rebound
78 - 87
6:16
Antawn Jamison makes 21-foot jumper (Antonio Daniels assists)
80 - 87
5:56
Zydrunas Ilgauskas makes 15-foot jumper (LeBron James assists)
80 - 89
5:56
Darius Songaila shooting foul (Zydrunas Ilgauskas draws the foul)
80 - 89
5:56
Zydrunas Ilgauskas misses free throw 1 of 1
80 - 89
5:54
Eric Snow offensive rebound
80 - 89
5:43
Zydrunas Ilgauskas traveling
80 - 89
5:33
Antawn Jamison makes 3-foot two point shot (Antonio Daniels assists)
82 - 89
5:13
LeBron James makes two point shot
82 - 91
4:58
Antawn Jamison makes 25-foot three point jumper (Antonio Daniels assists)
85 - 91
4:33
LeBron James makes 21-foot jumper
85 - 93
4:13
Antonio Daniels misses 22-foot jumper
85 - 93
4:11
Larry Hughes defensive rebound
85 - 93
3:56
Larry Hughes misses three point jumper
85 - 93
3:54
Darius Songaila defensive rebound
85 - 93
3:43
Antonio Daniels makes driving layup
87 - 93
3:43
Zydrunas Ilgauskas shooting foul (Antonio Daniels draws the foul)
87 - 93
3:43
Drew Gooden enters the game for Anderson Varejao
87 - 93
3:43
Antonio Daniels misses free throw 1 of 1
87 - 93
3:41
Zydrunas Ilgauskas defensive rebound
87 - 93
3:21
LeBron James misses 7-foot running jumper
87 - 93
3:18
LeBron James offensive rebound
87 - 95
3:18
LeBron James makes layup
87 - 95
3:03
Drew Gooden shooting foul (Antawn Jamison draws the foul)
87 - 95
3:03
Sasha Pavlovic enters the game for Eric Snow
87 - 95
3:03
Antawn Jamison makes free throw 1 of 2
88 - 95
3:03
DeShawn Stevenson enters the game for Jarvis Hayes
88 - 95
3:03
Antawn Jamison makes free throw 2 of 2
89 - 95
2:41
LeBron James misses 11-foot jumper
89 - 95
2:39
Drew Gooden offensive rebound
89 - 95
2:38
Drew Gooden makes layup
89 - 97
2:17
Antawn Jamison misses layup
89 - 97
2:15
Darius Songaila offensive rebound
89 - 97
2:15
Darius Songaila misses tip shot
89 - 97
2:13
Zydrunas Ilgauskas defensive rebound
89 - 97
2:00
Antawn Jamison blocks LeBron James's layup
89 - 97
1:58
Roger Mason defensive rebound
89 - 97
1:58
Zydrunas Ilgauskas personal foul (Roger Mason draws the foul)
89 - 97
1:58
Official timeout
89 - 97
1:58
Roger Mason misses free throw 1 of 2
89 - 97
1:58
Washington offensive rebound
89 - 97
1:58
Roger Mason makes free throw 2 of 2
90 - 97
1:35
LeBron James misses 5-foot jumper
90 - 97
1:35
LeBron James offensive rebound
90 - 97
1:35
Antawn Jamison shooting foul (LeBron James draws the foul)
90 - 97
1:35
LeBron James makes free throw 1 of 2
90 - 98
1:35
Eric Snow enters the game for Zydrunas Ilgauskas
90 - 98
1:35
LeBron James makes free throw 2 of 2
90 - 99
1:17
DeShawn Stevenson misses 25-foot three point jumper
90 - 99
1:15
Eric Snow defensive rebound
90 - 99
1:06
Sasha Pavlovic misses layup
90 - 99
1:02
LeBron James offensive rebound
90 - 99
1:02
LeBron James misses two point shot
90 - 99
0:59
Darius Songaila defensive rebound
90 - 99
0:57
Antawn Jamison misses 23-foot three point jumper
90 - 99
0:56
DeShawn Stevenson offensive rebound
90 - 99
0:56
DeShawn Stevenson makes layup
92 - 99
0:56
Cleveland 20 Sec. timeout
92 - 99
0:56
Jarvis Hayes enters the game for Darius Songaila
92 - 99
0:56
Zydrunas Ilgauskas enters the game for Drew Gooden
92 - 99
0:55
Antonio Daniels personal foul (Sasha Pavlovic draws the foul)
92 - 99
0:55
Sasha Pavlovic misses free throw 1 of 2
92 - 99
0:55
Cleveland offensive rebound
92 - 99
0:55
Ira Newble enters the game for Zydrunas Ilgauskas
92 - 99
0:55
Sasha Pavlovic makes free throw 2 of 2
92 - 100
0:55
Washington full timeout
92 - 100
0:55
Darius Songaila enters the game for Antonio Daniels
92 - 100
0:52
Darius Songaila misses 25-foot three point jumper
92 - 100
0:51
Larry Hughes defensive rebound
92 - 100
0:51
Roger Mason personal foul (Larry Hughes draws the foul)
92 - 100
0:51
Larry Hughes misses free throw 1 of 2
92 - 100
0:51
Cleveland offensive rebound
92 - 100
0:51
Antonio Daniels enters the game for Jarvis Hayes
92 - 100
0:51
Larry Hughes makes free throw 2 of 2
92 - 101
0:43
Ira Newble shooting foul (Antonio Daniels draws the foul)
92 - 101
0:43
Antonio Daniels makes free throw 1 of 2
93 - 101
0:43
Jarvis Hayes enters the game for Darius Songaila
93 - 101
0:43
Zydrunas Ilgauskas enters the game for Ira Newble
93 - 101
0:43
Drew Gooden enters the game for Sasha Pavlovic
93 - 101
0:43
Antonio Daniels makes free throw 2 of 2
94 - 101
0:41
Eric Snow bad pass (Jarvis Hayes steals)
94 - 101
0:39
Antawn Jamison makes 23-foot three point jumper (Antonio Daniels assists)
97 - 101
0:39
Cleveland full timeout
97 - 101
0:39
Sasha Pavlovic enters the game for Drew Gooden
97 - 101
0:39
DeShawn Stevenson personal foul (LeBron James draws the foul)
97 - 101
0:39
LeBron James misses free throw 1 of 2
97 - 101
0:39
Cleveland offensive rebound
97 - 101
0:39
Ira Newble enters the game for Zydrunas Ilgauskas
97 - 101
0:39
Darius Songaila enters the game for Roger Mason
97 - 101
0:39
LeBron James makes free throw 2 of 2
97 - 102
0:39
Washington 20 Sec. timeout
97 - 102
0:39
Roger Mason enters the game for Antonio Daniels
97 - 102
0:36
Antawn Jamison misses 26-foot three point jumper
97 - 102
0:33
Eric Snow defensive rebound
97 - 102
0:33
Antawn Jamison personal foul (Larry Hughes draws the foul)
97 - 102
0:33
Larry Hughes makes free throw 1 of 2
97 - 103
0:33
Antonio Daniels enters the game for DeShawn Stevenson
97 - 103
0:33
Larry Hughes makes free throw 2 of 2
97 - 104
0:27
Antonio Daniels makes driving layup
99 - 104
0:26
Roger Mason personal foul (Eric Snow draws the foul)
99 - 104
0:26
Eric Snow makes free throw 1 of 2
99 - 105
0:26
Eric Snow misses free throw 2 of 2
99 - 105
0:24
Darius Songaila defensive rebound
99 - 105
0:18
Jarvis Hayes makes 25-foot three point jumper (Antonio Daniels assists)
102 - 105
0:17
Roger Mason personal foul (Larry Hughes draws the foul)
102 - 105
0:17
Larry Hughes makes free throw 1 of 2
102 - 106
0:17
Larry Hughes makes free throw 2 of 2
102 - 107
0:11
Jarvis Hayes misses 28-foot three point jumper
102 - 107
0:10
Larry Hughes defensive rebound
102 - 107
0:08
Darius Songaila personal foul (Larry Hughes draws the foul)
102 - 107
0:08
Larry Hughes makes free throw 1 of 2
102 - 108
0:08
Larry Hughes makes free throw 2 of 2
102 - 109
0:03
Antonio Daniels misses driving layup
102 - 109
0:01
LeBron James defensive rebound
102 - 109
0:00
End of the 4th Quarter
102 - 109
0:00
End Game
102 - 109
An inside look at how Golden State shooting guard Klay Thompson and the Warriors rallied to beat the Thunder and force a Game 7 in the Western Conference finals.

There was still some spirit and optimism among the Thunder after their devastating Game 6 collapse. They know they can't mourn this loss for too long.

So much happened in so little time. Here's how the Golden State Warriors beat the odds to force Game 7.
NBA Finals
CLE wins series 4-0
2015-2016 Southeast Standings