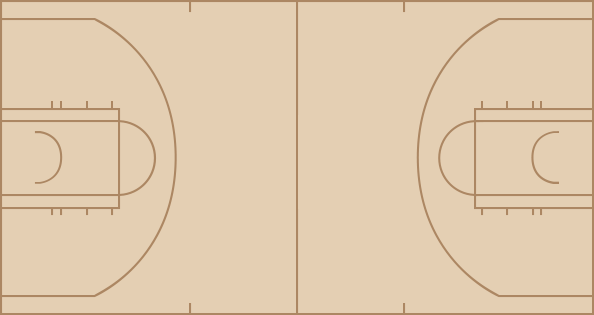 Mavericks
time
TEAM
PLAY
SCORE
12:00
Start of the 1st Quarter
0 - 0
12:00
Jumpball: Erick Dampier vs. Tim Duncan (San Antonio gains possession)
0 - 0
11:40
Tim Duncan misses layup
0 - 0
11:38
Fabricio Oberto offensive rebound
0 - 0
11:34
Manu Ginobili misses dunk
0 - 0
11:33
Josh Howard defensive rebound
0 - 0
11:27
Erick Dampier makes layup (Jason Kidd assists)
2 - 0
11:14
Bruce Bowen misses jumper
2 - 0
11:11
Dirk Nowitzki defensive rebound
2 - 0
10:55
Jason Kidd bad pass
2 - 0
10:40
Dirk Nowitzki shooting foul (Tim Duncan draws the foul)
2 - 0
10:40
Tim Duncan misses free throw 1 of 2
2 - 0
10:40
San Antonio offensive rebound
2 - 0
10:40
Tim Duncan makes free throw 2 of 2
2 - 1
10:29
Dirk Nowitzki misses 3-foot two point shot
2 - 1
10:27
Tim Duncan defensive rebound
2 - 1
10:18
Tim Duncan makes 4-foot jumper (Fabricio Oberto assists)
2 - 3
10:06
Fabricio Oberto personal foul (Dirk Nowitzki draws the foul)
2 - 3
9:57
Jason Kidd makes 4-foot jumper
4 - 3
9:38
Tim Duncan makes 17-foot jumper (Tony Parker assists)
4 - 5
9:30
Jason Kidd misses 6-foot two point shot
4 - 5
9:29
Tim Duncan defensive rebound
4 - 5
9:12
Manu Ginobili makes 10-foot two point shot
4 - 7
8:56
Josh Howard misses 24-foot three point jumper
4 - 7
8:55
Tim Duncan defensive rebound
4 - 7
8:41
Tony Parker makes driving layup
4 - 9
8:22
Dirk Nowitzki misses 13-foot jumper
4 - 9
8:21
Tony Parker defensive rebound
4 - 9
8:04
Tony Parker misses 19-foot jumper
4 - 9
8:03
Dirk Nowitzki defensive rebound
4 - 9
7:56
Dirk Nowitzki makes 4-foot two point shot
6 - 9
7:43
Tim Duncan makes 18-foot jumper (Bruce Bowen assists)
6 - 11
7:28
Jason Terry misses 4-foot jumper
6 - 11
7:28
Erick Dampier offensive rebound
6 - 11
7:26
Erick Dampier makes 3-foot two point shot
8 - 11
7:05
Manu Ginobili misses 10-foot jumper
8 - 11
7:05
Erick Dampier defensive rebound
8 - 11
7:01
Erick Dampier bad pass (Fabricio Oberto steals)
8 - 11
6:45
Erick Dampier shooting foul (Tim Duncan draws the foul)
8 - 11
6:45
Tim Duncan makes free throw 1 of 2
8 - 12
6:45
Robert Horry enters the game for Fabricio Oberto
8 - 12
6:45
Tim Duncan makes free throw 2 of 2
8 - 13
6:20
Jason Kidd makes 26-foot three point jumper (Dirk Nowitzki assists)
11 - 13
6:05
Tony Parker misses 15-foot jumper
11 - 13
6:03
Bruce Bowen offensive rebound
11 - 13
5:54
Erick Dampier blocks Manu Ginobili's driving layup
11 - 13
5:54
San Antonio offensive rebound
11 - 13
5:54
San Antonio full timeout
11 - 13
5:43
Dirk Nowitzki blocks Tim Duncan's two point shot
11 - 13
5:43
San Antonio offensive rebound
11 - 13
5:39
Tim Duncan misses 15-foot jumper
11 - 13
5:39
Jason Kidd defensive rebound
11 - 13
5:35
Tim Duncan personal foul (Erick Dampier draws the foul)
11 - 13
5:22
Jason Terry misses 24-foot three point jumper
11 - 13
5:20
Tony Parker defensive rebound
11 - 13
5:09
Bruce Bowen misses 24-foot three point jumper
11 - 13
5:09
Josh Howard defensive rebound
11 - 13
5:07
Josh Howard traveling
11 - 13
5:07
Jerry Stackhouse enters the game for Jason Terry
11 - 13
4:54
Tony Parker misses 19-foot jumper
11 - 13
4:52
Erick Dampier defensive rebound
11 - 13
4:37
Josh Howard makes 9-foot running jumper (Jason Kidd assists)
13 - 13
4:33
Jacque Vaughn enters the game for Tony Parker
13 - 13
4:33
Ime Udoka enters the game for Bruce Bowen
13 - 13
4:33
Josh Howard inbound foul (Manu Ginobili draws the foul)
13 - 13
4:33
Manu Ginobili makes free throw 1 of 2
13 - 14
4:33
Manu Ginobili makes free throw 2 of 2
13 - 15
4:22
Ime Udoka shooting foul (Josh Howard draws the foul)
13 - 15
4:22
Josh Howard makes free throw 1 of 2
14 - 15
4:22
Josh Howard makes free throw 2 of 2
15 - 15
4:03
Manu Ginobili misses 24-foot three point jumper
15 - 15
4:03
Jerry Stackhouse defensive rebound
15 - 15
4:00
Manu Ginobili shooting foul (Dirk Nowitzki draws the foul)
15 - 15
4:00
Dirk Nowitzki makes free throw 1 of 2
16 - 15
4:00
Kurt Thomas enters the game for Tim Duncan
16 - 15
4:00
Dirk Nowitzki makes free throw 2 of 2
17 - 15
3:45
Manu Ginobili misses driving layup
17 - 15
3:44
Jason Kidd defensive rebound
17 - 15
3:41
Erick Dampier traveling
17 - 15
3:20
Brandon Bass enters the game for Erick Dampier
17 - 15
3:15
Ime Udoka misses 19-foot jumper
17 - 15
3:15
San Antonio offensive rebound
17 - 15
3:15
shot clock violation
17 - 15
3:00
Josh Howard misses 25-foot three point jumper
17 - 15
3:00
Manu Ginobili defensive rebound
17 - 15
2:47
Manu Ginobili makes 17-foot jumper
17 - 17
2:32
Robert Horry shooting foul (Dirk Nowitzki draws the foul)
17 - 17
2:32
Dallas full timeout
17 - 17
2:32
Dirk Nowitzki misses free throw 1 of 2
17 - 17
2:32
Dallas offensive rebound
17 - 17
2:32
Dirk Nowitzki makes free throw 2 of 2
18 - 17
2:17
Robert Horry misses 17-foot jumper
18 - 17
2:16
Brandon Bass defensive rebound
18 - 17
2:11
Jason Kidd misses 16-foot two point shot
18 - 17
2:10
Robert Horry defensive rebound
18 - 17
1:50
Robert Horry misses 20-foot jumper
18 - 17
1:49
Jason Kidd defensive rebound
18 - 17
1:42
Jerry Stackhouse makes 24-foot three point jumper (Dirk Nowitzki assists)
21 - 17
1:25
Manu Ginobili makes 19-foot two point shot
21 - 19
1:09
Brandon Bass makes dunk (Josh Howard assists)
23 - 19
0:50
Jacque Vaughn misses 16-foot jumper
23 - 19
0:49
Josh Howard defensive rebound
23 - 19
0:44
Josh Howard makes 17-foot jumper
25 - 19
0:33
Manu Ginobili makes 25-foot three point jumper (Jacque Vaughn assists)
25 - 22
0:20
Jerry Stackhouse misses 13-foot two point shot
25 - 22
0:18
Josh Howard offensive rebound
25 - 22
0:00
Jerry Stackhouse bad pass (Robert Horry steals)
25 - 22
0:00
End of the 1st Quarter
25 - 22

time
TEAM
PLAY
SCORE
12:00
Start of the 2nd Quarter
25 - 22
11:40
Dirk Nowitzki misses layup
25 - 22
11:38
Ime Udoka defensive rebound
25 - 22
11:12
Tim Duncan makes 5-foot jumper (Michael Finley assists)
25 - 24
10:53
Jason Terry misses layup
25 - 24
10:53
Dallas offensive rebound
25 - 24
10:53
Devean George enters the game for Jason Kidd
25 - 24
10:53
Erick Dampier enters the game for Dirk Nowitzki
25 - 24
10:38
Jerry Stackhouse makes 17-foot jumper
27 - 24
10:25
Tony Parker makes layup
27 - 26
10:07
Jerry Stackhouse misses 9-foot jumper
27 - 26
10:07
Tony Parker defensive rebound
27 - 26
10:03
Tony Parker bad pass (Jason Terry steals)
27 - 26
9:55
Brandon Bass lost ball (Tony Parker steals)
27 - 26
9:33
Bruce Bowen misses three point jumper
27 - 26
9:33
Jason Terry defensive rebound
27 - 26
9:25
Jerry Stackhouse misses 25-foot three point jumper
27 - 26
9:23
Tim Duncan defensive rebound
27 - 26
9:14
Ime Udoka misses 22-foot jumper
27 - 26
9:14
Tim Duncan offensive rebound
27 - 26
9:06
Ime Udoka misses 23-foot three point jumper
27 - 26
9:04
Erick Dampier defensive rebound
27 - 26
8:48
Ime Udoka blocks Brandon Bass's driving layup
27 - 26
8:48
Dallas offensive rebound
27 - 26
8:48
Official timeout
27 - 26
8:38
Brandon Bass makes jumper (Erick Dampier assists)
29 - 26
8:22
Tim Duncan makes 13-foot two point shot
29 - 28
8:06
Jason Terry misses 23-foot three point jumper
29 - 28
8:04
Tim Duncan defensive rebound
29 - 28
7:58
Michael Finley misses 12-foot jumper
29 - 28
7:58
Devean George defensive rebound
29 - 28
7:35
Jerry Stackhouse lost ball (Tony Parker steals)
29 - 28
7:31
Tony Parker makes layup
29 - 30
7:01
Devean George makes 24-foot three pointer
32 - 30
6:43
Erick Dampier shooting foul (Tim Duncan draws the foul)
32 - 30
6:43
Manu Ginobili enters the game for Ime Udoka
32 - 30
6:43
Josh Howard enters the game for Jerry Stackhouse
32 - 30
6:43
Tim Duncan misses free throw 1 of 2
32 - 30
6:43
San Antonio offensive rebound
32 - 30
6:43
Dirk Nowitzki enters the game for Erick Dampier
32 - 30
6:43
Tim Duncan makes free throw 2 of 2
32 - 31
6:28
Devean George makes 19-foot jumper
34 - 31
6:05
Tony Parker misses jumper
34 - 31
6:05
Dirk Nowitzki defensive rebound
34 - 31
5:50
Dirk Nowitzki misses 13-foot jumper
34 - 31
5:50
Bruce Bowen defensive rebound
34 - 31
5:30
Bruce Bowen makes 22-foot three point jumper (Tony Parker assists)
34 - 34
5:16
San Antonio full timeout
34 - 34
5:16
Jason Kidd enters the game for Jason Terry
34 - 34
5:03
Devean George misses 17-foot jumper
34 - 34
5:03
Dallas offensive rebound
34 - 34
5:03
Bruce Bowen loose ball foul (Dirk Nowitzki draws the foul)
34 - 34
4:54
Josh Howard misses 24-foot three point jumper
34 - 34
4:54
Tim Duncan defensive rebound
34 - 34
4:39
Michael Finley makes 24-foot three point jumper (Bruce Bowen assists)
34 - 37
4:18
Brandon Bass makes dunk
36 - 37
3:56
Michael Finley misses 24-foot three point jumper
36 - 37
3:55
Devean George defensive rebound
36 - 37
3:40
Brandon Bass makes 18-foot jumper (Jason Kidd assists)
38 - 37
3:26
Manu Ginobili misses 25-foot three point jumper
38 - 37
3:25
Dirk Nowitzki defensive rebound
38 - 37
3:17
Josh Howard makes 4-foot running jumper (Jason Kidd assists)
40 - 37
2:53
Manu Ginobili traveling
40 - 37
2:53
Dallas full timeout
40 - 37
2:53
Damon Stoudamire enters the game for Tony Parker
40 - 37
2:39
Brandon Bass makes 16-foot jumper (Jason Kidd assists)
42 - 37
2:24
Tim Duncan makes 4-foot two point shot
42 - 39
2:05
Brandon Bass makes 16-foot jumper (Jason Kidd assists)
44 - 39
1:47
Tim Duncan makes dunk (Manu Ginobili assists)
44 - 41
1:25
Dirk Nowitzki misses 14-foot jumper
44 - 41
1:24
Brandon Bass offensive rebound
44 - 41
1:22
Brandon Bass lost ball (Tim Duncan steals)
44 - 41
1:14
Manu Ginobili makes driving layup
44 - 43
0:59
Bruce Bowen personal foul (Dirk Nowitzki draws the foul)
44 - 43
0:59
Jason Terry enters the game for Devean George
44 - 43
0:54
Michael Finley shooting foul (Dirk Nowitzki draws the foul)
44 - 43
0:54
Dirk Nowitzki misses free throw 1 of 2
44 - 43
0:54
Dallas offensive rebound
44 - 43
0:54
Ime Udoka enters the game for Bruce Bowen
44 - 43
0:54
Dirk Nowitzki makes free throw 2 of 2
45 - 43
0:32
Tim Duncan makes 14-foot two point shot
45 - 45
0:15
Josh Howard makes driving dunk (Jason Kidd assists)
47 - 45
0:04
Jason Terry personal foul (Damon Stoudamire draws the foul)
47 - 45
0:04
San Antonio 20 Sec. timeout
47 - 45
0:04
Devean George enters the game for Jason Terry
47 - 45
0:04
Fabricio Oberto enters the game for Damon Stoudamire
47 - 45
0:00
Manu Ginobili makes 16-foot two point shot
47 - 47
0:00
End of the 2nd Quarter
47 - 47

time
TEAM
PLAY
SCORE
12:00
Start of the 3rd Quarter
47 - 47
11:47
Manu Ginobili jump ball
47 - 47
11:37
Fabricio Oberto shooting foul (Dirk Nowitzki draws the foul)
47 - 47
11:37
Dirk Nowitzki makes free throw 1 of 2
48 - 47
11:37
Dirk Nowitzki makes free throw 2 of 2
49 - 47
11:22
Fabricio Oberto lost ball (Jason Kidd steals)
49 - 47
11:15
Dirk Nowitzki misses 25-foot three point jumper
49 - 47
11:15
Tony Parker defensive rebound
49 - 47
11:03
Manu Ginobili misses 25-foot three point jumper
49 - 47
11:03
Jason Kidd defensive rebound
49 - 47
10:55
Josh Howard misses 26-foot three point jumper
49 - 47
10:55
Dallas defensive rebound
49 - 47
10:55
Erick Dampier loose ball foul (Tim Duncan draws the foul)
49 - 47
10:37
Bruce Bowen makes 18-foot jumper
49 - 49
10:19
Dirk Nowitzki lost ball (Fabricio Oberto steals)
49 - 49
10:12
Fabricio Oberto makes layup (Manu Ginobili assists)
49 - 51
9:51
Jason Kidd misses 22-foot jumper
49 - 51
9:49
Tony Parker defensive rebound
49 - 51
9:27
Tim Duncan misses 6-foot two point shot
49 - 51
9:26
Josh Howard defensive rebound
49 - 51
9:15
Josh Howard misses 7-foot two point shot
49 - 51
9:15
Erick Dampier offensive rebound
49 - 51
9:11
Erick Dampier makes tip shot
51 - 51
8:47
Manu Ginobili misses 25-foot three point jumper
51 - 51
8:45
Tim Duncan offensive rebound
51 - 51
8:37
Jason Kidd shooting foul (Manu Ginobili draws the foul)
51 - 51
8:37
Manu Ginobili makes free throw 1 of 2
51 - 52
8:37
Manu Ginobili makes free throw 2 of 2
51 - 53
8:22
Erick Dampier offensive foul (Fabricio Oberto draws the foul)
51 - 53
8:22
Erick Dampier turnover
51 - 53
8:22
Brandon Bass enters the game for Erick Dampier
51 - 53
8:03
Tony Parker misses 15-foot jumper
51 - 53
8:02
Dirk Nowitzki defensive rebound
51 - 53
7:58
Tony Parker personal foul (Josh Howard draws the foul)
51 - 53
7:45
Dirk Nowitzki makes 8-foot two point shot (Jason Terry assists)
53 - 53
7:26
Fabricio Oberto misses 7-foot jumper
53 - 53
7:26
Brandon Bass defensive rebound
53 - 53
7:13
Bruce Bowen blocks Josh Howard's 12-foot jumper
53 - 53
7:11
Tim Duncan defensive rebound
53 - 53
6:56
Tim Duncan misses 19-foot jumper
53 - 53
6:54
Brandon Bass defensive rebound
53 - 53
6:39
Jason Terry misses 25-foot three point jumper
53 - 53
6:39
Brandon Bass offensive rebound
53 - 53
6:30
Dirk Nowitzki makes 24-foot three point jumper (Jason Kidd assists)
56 - 53
6:30
San Antonio full timeout
56 - 53
6:30
Robert Horry enters the game for Fabricio Oberto
56 - 53
6:13
Robert Horry bad pass (Jason Kidd steals)
56 - 53
6:11
Jason Kidd makes layup
58 - 53
5:50
Tony Parker makes 19-foot jumper
58 - 55
5:33
Robert Horry shooting foul (Dirk Nowitzki draws the foul)
58 - 55
5:33
Dirk Nowitzki makes free throw 1 of 3
59 - 55
5:33
Michael Finley enters the game for Bruce Bowen
59 - 55
5:33
Dirk Nowitzki makes free throw 2 of 3
60 - 55
5:33
Dirk Nowitzki makes free throw 3 of 3
61 - 55
5:18
Tony Parker misses driving layup
61 - 55
5:16
Jason Terry defensive rebound
61 - 55
5:00
Josh Howard makes 18-foot jumper
63 - 55
4:48
Josh Howard personal foul (Tim Duncan draws the foul)
63 - 55
4:39
Manu Ginobili misses 5-foot jumper
63 - 55
4:37
Manu Ginobili offensive rebound
63 - 55
4:35
Tim Duncan misses 3-foot jumper
63 - 55
4:33
Tim Duncan offensive rebound
63 - 55
4:28
Tim Duncan makes tip shot
63 - 57
4:18
Josh Howard makes layup (Jason Kidd assists)
65 - 57
4:07
Manu Ginobili misses 25-foot three point jumper
65 - 57
4:07
Josh Howard defensive rebound
65 - 57
4:07
Robert Horry personal foul (Josh Howard draws the foul)
65 - 57
4:07
Damon Stoudamire enters the game for Tony Parker
65 - 57
4:07
Bruce Bowen enters the game for Manu Ginobili
65 - 57
3:56
Josh Howard misses 7-foot jumper
65 - 57
3:54
Bruce Bowen defensive rebound
65 - 57
3:47
Tim Duncan lost ball (Jason Terry steals)
65 - 57
3:44
Jason Terry makes layup (Jason Kidd assists)
67 - 57
3:44
Robert Horry illegal defense
67 - 57
3:44
Jason Terry technical foul (1st technical foul)
67 - 57
3:44
Michael Finley makes technical free throw
67 - 58
3:44
Ime Udoka enters the game for Robert Horry
67 - 58
3:44
Jerry Stackhouse enters the game for Jason Terry
67 - 58
3:28
Michael Finley makes 25-foot three point jumper (Tim Duncan assists)
67 - 61
3:12
Brandon Bass misses 17-foot jumper
67 - 61
3:11
Ime Udoka defensive rebound
67 - 61
2:58
Tim Duncan makes 7-foot jumper
67 - 63
2:58
Dallas full timeout
67 - 63
2:58
Michael Finley makes technical free throw
67 - 64
2:46
Ime Udoka personal foul (Dirk Nowitzki draws the foul)
67 - 64
2:46
Dirk Nowitzki makes free throw 1 of 2
68 - 64
2:46
Dirk Nowitzki misses free throw 2 of 2
68 - 64
2:45
Bruce Bowen defensive rebound
68 - 64
2:21
Michael Finley makes 20-foot jumper (Tim Duncan assists)
68 - 66
1:55
Jason Kidd misses layup
68 - 66
1:54
Tim Duncan defensive rebound
68 - 66
1:50
Michael Finley makes jumper (Damon Stoudamire assists)
68 - 68
1:34
Jason Kidd bad pass
68 - 68
1:34
Jason Terry enters the game for Jason Kidd
68 - 68
1:20
Bruce Bowen makes 21-foot jumper (Tim Duncan assists)
68 - 70
1:06
Jason Terry misses 9-foot jumper
68 - 70
1:05
Damon Stoudamire defensive rebound
68 - 70
0:55
Tim Duncan misses 13-foot two point shot
68 - 70
0:54
Josh Howard defensive rebound
68 - 70
0:41
Tim Duncan shooting foul (Dirk Nowitzki draws the foul)
68 - 70
0:41
Dirk Nowitzki makes free throw 1 of 2
69 - 70
0:41
Manu Ginobili enters the game for Bruce Bowen
69 - 70
0:41
Devean George enters the game for Josh Howard
69 - 70
0:41
Dirk Nowitzki makes free throw 2 of 2
70 - 70
0:30
Manu Ginobili misses 16-foot two point shot
70 - 70
0:29
Devean George defensive rebound
70 - 70
0:09
Ime Udoka personal foul (Dirk Nowitzki draws the foul)
70 - 70
0:09
Dirk Nowitzki makes free throw 1 of 2
71 - 70
0:09
Tony Parker enters the game for Damon Stoudamire
71 - 70
0:09
Dirk Nowitzki makes free throw 2 of 2
72 - 70
0:06
Jason Terry personal foul (Tony Parker draws the foul)
72 - 70
0:00
Ime Udoka makes three point jumper (Manu Ginobili assists)
72 - 73
0:00
End of the 3rd Quarter
72 - 73

time
TEAM
PLAY
SCORE
12:00
Start of the 4th Quarter
72 - 73
11:40
Manu Ginobili misses 25-foot three point jumper
72 - 73
11:38
Jason Terry defensive rebound
72 - 73
11:18
Brandon Bass misses 8-foot jumper
72 - 73
11:18
Manu Ginobili defensive rebound
72 - 73
11:03
Fabricio Oberto makes layup (Damon Stoudamire assists)
72 - 75
10:41
Fabricio Oberto shooting foul (Jason Terry draws the foul)
72 - 75
10:41
Jason Terry makes free throw 1 of 2
73 - 75
10:41
Josh Howard enters the game for Dirk Nowitzki
73 - 75
10:41
Jason Terry makes free throw 2 of 2
74 - 75
10:23
Manu Ginobili misses layup
74 - 75
10:22
Brandon Bass defensive rebound
74 - 75
10:17
Devean George makes layup (Jason Terry assists)
76 - 75
10:03
Devean George personal foul (Manu Ginobili draws the foul)
76 - 75
9:56
Damon Stoudamire makes 15-foot jumper
76 - 77
9:40
Jerry Stackhouse makes 12-foot jumper (Jason Terry assists)
78 - 77
9:27
Devean George personal foul (Manu Ginobili draws the foul)
78 - 77
9:21
Josh Howard personal foul (Manu Ginobili draws the foul)
78 - 77
9:11
Michael Finley misses 13-foot jumper
78 - 77
9:08
Devean George defensive rebound
78 - 77
8:56
Official timeout
78 - 77
8:56
Jumpball: Josh Howard vs. Fabricio Oberto (Devean George gains possession)
78 - 77
8:48
Jerry Stackhouse misses 23-foot three pointer
78 - 77
8:48
Dallas defensive rebound
78 - 77
8:48
Josh Howard loose ball foul (Damon Stoudamire draws the foul)
78 - 77
8:48
Tony Parker enters the game for Damon Stoudamire
78 - 77
8:38
Manu Ginobili turnover
78 - 77
8:22
Ime Udoka shooting foul (Josh Howard draws the foul)
78 - 77
8:22
Josh Howard makes free throw 1 of 2
79 - 77
8:22
Bruce Bowen enters the game for Ime Udoka
79 - 77
8:22
Tim Duncan enters the game for Fabricio Oberto
79 - 77
8:22
Josh Howard makes free throw 2 of 2
80 - 77
8:04
Brandon Bass blocks Manu Ginobili's layup
80 - 77
8:02
Manu Ginobili offensive rebound
80 - 77
7:58
Tony Parker misses 11-foot jumper
80 - 77
7:56
Devean George defensive rebound
80 - 77
7:41
Brandon Bass makes driving dunk
82 - 77
7:16
Michael Finley makes 23-foot three point jumper (Tony Parker assists)
82 - 80
6:52
Tim Duncan shooting foul (Brandon Bass draws the foul)
82 - 80
6:52
Brandon Bass makes free throw 1 of 2
83 - 80
6:52
Ime Udoka enters the game for Manu Ginobili
83 - 80
6:52
Jason Kidd enters the game for Jason Terry
83 - 80
6:52
Dirk Nowitzki enters the game for Devean George
83 - 80
6:52
Brandon Bass makes free throw 2 of 2
84 - 80
6:31
Bruce Bowen makes 19-foot jumper (Tony Parker assists)
84 - 82
6:13
Jerry Stackhouse misses 15-foot jumper
84 - 82
6:11
Ime Udoka defensive rebound
84 - 82
5:52
Tony Parker makes driving layup
84 - 84
5:52
Dallas full timeout
84 - 84
5:52
Manu Ginobili enters the game for Ime Udoka
84 - 84
5:52
Erick Dampier enters the game for Brandon Bass
84 - 84
5:52
Jason Terry enters the game for Jerry Stackhouse
84 - 84
5:39
Michael Finley shooting foul (Dirk Nowitzki draws the foul)
84 - 84
5:39
Dirk Nowitzki makes free throw 1 of 2
85 - 84
5:39
Dirk Nowitzki makes free throw 2 of 2
86 - 84
5:26
Bruce Bowen makes 24-foot three point jumper (Manu Ginobili assists)
86 - 87
5:07
Dirk Nowitzki makes 13-foot two point shot
88 - 87
4:52
Jason Terry shooting foul (Tony Parker draws the foul)
88 - 87
4:52
Tony Parker misses free throw 1 of 2
88 - 87
4:52
San Antonio offensive rebound
88 - 87
4:52
Tony Parker misses free throw 2 of 2
88 - 87
4:50
Josh Howard defensive rebound
88 - 87
4:35
Bruce Bowen personal foul (Dirk Nowitzki draws the foul)
88 - 87
4:35
Dirk Nowitzki makes free throw 1 of 2
89 - 87
4:35
Dirk Nowitzki misses free throw 2 of 2
89 - 87
4:35
Tim Duncan defensive rebound
89 - 87
4:16
Tim Duncan makes 5-foot two point shot
89 - 89
3:57
Jason Terry makes 19-foot jumper
91 - 89
3:42
Jason Terry shooting foul (Tim Duncan draws the foul)
91 - 89
3:42
Tim Duncan misses free throw 1 of 2
91 - 89
3:42
San Antonio offensive rebound
91 - 89
3:42
Tim Duncan makes free throw 2 of 2
91 - 90
3:20
Dirk Nowitzki misses jumper
91 - 90
3:19
Michael Finley defensive rebound
91 - 90
3:03
Tim Duncan misses 10-foot two point shot
91 - 90
3:01
Dirk Nowitzki defensive rebound
91 - 90
2:47
Josh Howard misses 9-foot jumper
91 - 90
2:45
Erick Dampier offensive rebound
91 - 90
2:45
Erick Dampier offensive rebound
91 - 90
2:45
Erick Dampier misses layup
91 - 90
2:43
Tim Duncan blocks Erick Dampier's layup
91 - 90
2:41
Tim Duncan defensive rebound
91 - 90
2:39
Jason Kidd shooting foul (Bruce Bowen draws the foul)
91 - 90
2:39
San Antonio full timeout
91 - 90
2:39
Bruce Bowen makes free throw 1 of 2
91 - 91
2:39
Bruce Bowen makes free throw 2 of 2
91 - 92
2:26
Jason Kidd misses 15-foot jumper
91 - 92
2:25
Manu Ginobili defensive rebound
91 - 92
2:05
Tony Parker misses layup
91 - 92
2:04
Erick Dampier defensive rebound
91 - 92
2:02
Manu Ginobili personal foul (Jason Terry draws the foul)
91 - 92
2:02
Jason Terry misses free throw 1 of 2
91 - 92
2:02
Dallas offensive rebound
91 - 92
2:02
Jason Terry makes free throw 2 of 2
92 - 92
1:50
Tim Duncan makes dunk (Manu Ginobili assists)
92 - 94
1:36
Dirk Nowitzki makes 12-foot two point shot
94 - 94
1:21
Michael Finley misses 25-foot three point jumper
94 - 94
1:20
Jason Terry defensive rebound
94 - 94
1:05
Dirk Nowitzki misses 10-foot jumper
94 - 94
1:02
Jason Terry offensive rebound
94 - 94
0:50
Jason Terry misses 17-foot jumper
94 - 94
0:49
Tim Duncan defensive rebound
94 - 94
0:34
Erick Dampier shooting foul (Tim Duncan draws the foul)
94 - 94
0:34
Tim Duncan makes free throw 1 of 2
94 - 95
0:34
Tim Duncan makes free throw 2 of 2
94 - 96
0:34
Dallas 20 Sec. timeout
94 - 96
0:34
Jerry Stackhouse enters the game for Jason Kidd
94 - 96
0:24
Dirk Nowitzki misses 16-foot jumper
94 - 96
0:23
Dallas offensive rebound
94 - 96
0:23
Dallas 20 Sec. timeout
94 - 96
0:14
Dirk Nowitzki misses 3-foot jumper
94 - 96
0:12
Jason Terry offensive rebound
94 - 96
0:03
Bruce Bowen blocks Jason Terry's 7-foot jumper
94 - 96
0:03
Dallas defensive rebound
94 - 96
0:00
Erick Dampier personal foul (Michael Finley draws the foul)
94 - 96
0:00
Michael Finley makes free throw 1 of 2
94 - 97
0:00
Brandon Bass enters the game for Erick Dampier
94 - 97
0:00
Michael Finley misses free throw 2 of 2
94 - 97
0:00
Tim Duncan offensive rebound
94 - 97
0:00
End of the 4th Quarter
94 - 97
0:00
End Game
94 - 97
Though he says losing in the Finals "will never wear off," Golden State's Draymond Green said he holds no grudges as he prepares to represent the U.S. in the Olympics.

Chris Broussard breaks down contract scenarios for Tim Duncan for the 2016-17 season.

Tom Penn explains how the salary-cap situations of the Thunder, Warriors and Spurs could affect their rosters if they were to sign Kevin Durant.
Regular Season Series
SA wins series 3-1
2015-2016 Southwest Standings