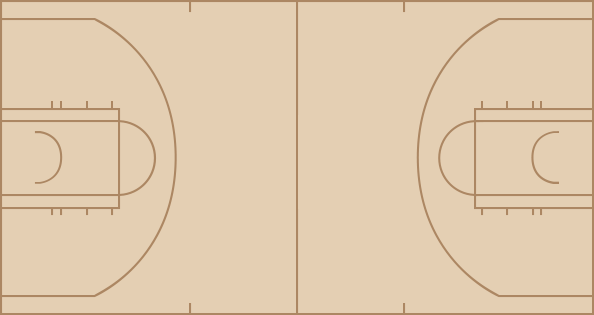 Spurs
time
TEAM
PLAY
SCORE
12:00
Start of the 1st Quarter
0 - 0
12:00
Jumpball: Tim Duncan vs. Drew Gooden (Luol Deng gains possession)
0 - 0
11:40
Drew Gooden makes 13-foot jumper
0 - 2
11:19
Bruce Bowen misses 18-foot jumper
0 - 2
11:18
San Antonio defensive rebound
0 - 2
11:00
Drew Gooden makes 17-foot jumper
0 - 4
10:38
Tim Duncan misses 15-foot jumper
0 - 4
10:37
Fabricio Oberto offensive rebound
0 - 4
10:26
Bruce Bowen misses three point jumper
0 - 4
10:25
Joakim Noah defensive rebound
0 - 4
10:12
Luol Deng misses 16-foot two point shot
0 - 4
10:11
Fabricio Oberto defensive rebound
0 - 4
10:02
Drew Gooden shooting foul (Tim Duncan draws the foul)
0 - 4
10:02
Tim Duncan makes free throw 1 of 2
1 - 4
10:02
Tim Duncan makes free throw 2 of 2
2 - 4
9:51
Drew Gooden makes 19-foot jumper (Larry Hughes assists)
2 - 6
9:26
Tony Parker misses 17-foot jumper
2 - 6
9:25
Larry Hughes defensive rebound
2 - 6
9:18
Larry Hughes makes 17-foot jumper
2 - 8
8:56
Tim Duncan makes 18-foot jumper (Bruce Bowen assists)
4 - 8
8:38
Joakim Noah misses 8-foot two point shot
4 - 8
8:37
Tim Duncan defensive rebound
4 - 8
8:22
Michael Finley misses 23-foot jumper
4 - 8
8:21
Ben Gordon defensive rebound
4 - 8
8:12
Ben Gordon misses 21-foot jumper
4 - 8
8:12
Chicago defensive rebound
4 - 8
7:54
Tim Duncan misses 10-foot jumper
4 - 8
7:52
Ben Gordon defensive rebound
4 - 8
7:47
Fabricio Oberto personal foul (Ben Gordon draws the foul)
4 - 8
7:37
Bruce Bowen shooting foul (Larry Hughes draws the foul)
4 - 8
7:37
Larry Hughes makes free throw 1 of 2
4 - 9
7:37
Larry Hughes makes free throw 2 of 2
4 - 10
7:24
Tony Parker bad pass (Ben Gordon steals)
4 - 10
7:20
Larry Hughes makes layup (Ben Gordon assists)
4 - 12
7:13
San Antonio full timeout
4 - 12
7:13
Manu Ginobili enters the game for Fabricio Oberto
4 - 12
7:13
Robert Horry enters the game for Michael Finley
4 - 12
7:01
Tim Duncan misses layup
4 - 12
6:58
Tim Duncan offensive rebound
6 - 12
6:58
Tim Duncan makes layup
6 - 12
6:37
Drew Gooden misses 15-foot two point shot
6 - 12
6:37
Manu Ginobili defensive rebound
6 - 12
6:24
Tim Duncan makes hook shot (Robert Horry assists)
8 - 12
6:15
Larry Hughes turnover
8 - 12
6:03
Joakim Noah personal foul (Tim Duncan draws the foul)
8 - 12
6:03
Tyrus Thomas enters the game for Joakim Noah
8 - 12
5:56
Manu Ginobili misses two point shot
8 - 12
5:56
Luol Deng defensive rebound
8 - 12
5:56
Luol Deng turnover
8 - 12
5:50
Bruce Bowen misses 21-foot jumper
8 - 12
5:48
Drew Gooden defensive rebound
8 - 12
5:37
Larry Hughes misses 25-foot three point jumper
8 - 12
5:37
Manu Ginobili defensive rebound
8 - 12
5:26
Tim Duncan misses 9-foot jumper
8 - 12
5:24
Drew Gooden defensive rebound
8 - 12
5:20
Ben Gordon makes 8-foot two point shot
8 - 14
5:01
Tony Parker makes 10-foot two point shot (Tim Duncan assists)
10 - 14
4:52
Chicago full timeout
10 - 14
4:52
Ime Udoka enters the game for Bruce Bowen
10 - 14
4:52
Thabo Sefolosha enters the game for Larry Hughes
10 - 14
4:43
Ben Gordon misses 24-foot three point jumper
10 - 14
4:43
Ime Udoka defensive rebound
10 - 14
4:33
Tony Parker makes 18-foot two point shot
12 - 14
4:16
Luol Deng misses 21-foot jumper
12 - 14
4:15
Robert Horry defensive rebound
12 - 14
4:07
Tony Parker traveling
12 - 14
3:58
Drew Gooden misses 20-foot jumper
12 - 14
3:57
Tim Duncan defensive rebound
12 - 14
3:42
Robert Horry makes 25-foot three point jumper (Tony Parker assists)
15 - 14
3:15
Ben Gordon misses three point jumper
15 - 14
3:15
Tyrus Thomas offensive rebound
15 - 14
3:00
Luol Deng lost ball (Ime Udoka steals)
15 - 14
2:49
Manu Ginobili misses 24-foot three point jumper
15 - 14
2:48
Tyrus Thomas defensive rebound
15 - 14
2:38
Robert Horry shooting foul (Tyrus Thomas draws the foul)
15 - 14
2:38
Kurt Thomas enters the game for Tim Duncan
15 - 14
2:38
Andres Nocioni enters the game for Luol Deng
15 - 14
2:38
Tyrus Thomas makes free throw 1 of 2
15 - 15
2:38
Tyrus Thomas makes free throw 2 of 2
15 - 16
2:16
Ime Udoka misses two point shot
15 - 16
2:15
Kurt Thomas offensive rebound
15 - 16
2:14
Thabo Sefolosha shooting foul (Manu Ginobili draws the foul)
15 - 16
2:14
Manu Ginobili makes free throw 1 of 2
16 - 16
2:14
Manu Ginobili makes free throw 2 of 2
17 - 16
1:59
Andres Nocioni makes 24-foot three point jumper (Thabo Sefolosha assists)
17 - 19
1:45
Kurt Thomas makes 20-foot jumper (Tony Parker assists)
19 - 19
1:30
Ben Gordon misses 17-foot two point shot
19 - 19
1:28
Tony Parker defensive rebound
19 - 19
1:19
Kurt Thomas misses 17-foot jumper
19 - 19
1:17
Andres Nocioni defensive rebound
19 - 19
0:57
Tyrus Thomas misses 15-foot jumper
19 - 19
0:56
Manu Ginobili defensive rebound
19 - 19
0:51
Manu Ginobili makes two point shot
21 - 19
0:51
Andres Nocioni shooting foul (Manu Ginobili draws the foul)
21 - 19
0:51
Jacque Vaughn enters the game for Tony Parker
21 - 19
0:51
Manu Ginobili makes free throw 1 of 1
22 - 19
0:36
Jacque Vaughn personal foul (Ben Gordon draws the foul)
22 - 19
0:29
Drew Gooden makes 14-foot jumper
22 - 21
0:05
Manu Ginobili misses driving layup
22 - 21
0:04
Andres Nocioni defensive rebound
22 - 21
0:00
Andres Nocioni makes two point shot
22 - 23
0:00
End of the 1st Quarter
22 - 23

time
TEAM
PLAY
SCORE
12:00
Start of the 2nd Quarter
22 - 23
11:44
Jacque Vaughn makes two point shot
24 - 23
11:21
Andres Nocioni misses layup
24 - 23
11:21
Chicago defensive rebound
24 - 23
11:21
Tyrus Thomas loose ball foul (Ime Udoka draws the foul)
24 - 23
11:08
Ime Udoka makes 22-foot jumper (Robert Horry assists)
26 - 23
10:48
Larry Hughes makes driving layup (Thabo Sefolosha assists)
26 - 25
10:34
Manu Ginobili misses 18-foot jumper
26 - 25
10:32
Kurt Thomas offensive rebound
26 - 25
10:14
Ime Udoka misses 23-foot three point jumper
26 - 25
10:12
Kurt Thomas offensive rebound
26 - 25
10:11
Tyrus Thomas shooting foul (Ime Udoka draws the foul)
26 - 25
10:11
Ime Udoka makes free throw 1 of 2
27 - 25
10:11
Aaron Gray enters the game for Tyrus Thomas
27 - 25
10:11
Ime Udoka makes free throw 2 of 2
28 - 25
9:52
Joakim Noah makes two point shot (Larry Hughes assists)
28 - 27
9:37
Aaron Gray illegal defense foul (1st personal foul)
28 - 27
9:37
Fabricio Oberto enters the game for Robert Horry
28 - 27
9:37
Manu Ginobili makes technical free throw
29 - 27
9:22
Manu Ginobili misses 23-foot three point jumper
29 - 27
9:22
San Antonio defensive rebound
29 - 27
9:07
Larry Hughes misses 20-foot jumper
29 - 27
9:06
Fabricio Oberto defensive rebound
29 - 27
8:48
Manu Ginobili bad pass (Aaron Gray steals)
29 - 27
8:33
Kurt Thomas blocks Joakim Noah's 9-foot jumper
29 - 27
8:30
Aaron Gray offensive rebound
29 - 27
8:25
Larry Hughes misses 12-foot jumper
29 - 27
8:22
Kurt Thomas defensive rebound
29 - 27
8:12
San Antonio full timeout
29 - 27
8:12
Bruce Bowen enters the game for Manu Ginobili
29 - 27
8:12
Tim Duncan enters the game for Kurt Thomas
29 - 27
8:00
Tim Duncan makes 18-foot two point shot
31 - 27
7:47
Larry Hughes makes 17-foot jumper
31 - 29
7:28
Tim Duncan makes hook shot
33 - 29
7:16
Tim Duncan blocks Larry Hughes's layup
33 - 29
7:13
Tim Duncan defensive rebound
33 - 29
7:11
Ime Udoka makes layup (Jacque Vaughn assists)
35 - 29
7:11
Thabo Sefolosha shooting foul (Ime Udoka draws the foul)
35 - 29
7:11
Drew Gooden enters the game for Aaron Gray
35 - 29
7:11
Ben Gordon enters the game for Thabo Sefolosha
35 - 29
7:11
Ime Udoka misses free throw 1 of 1
35 - 29
7:09
Ben Gordon defensive rebound
35 - 29
6:56
Andres Nocioni misses jumper
35 - 29
6:54
Ime Udoka defensive rebound
35 - 29
6:39
Ime Udoka misses 19-foot jumper
35 - 29
6:39
Tim Duncan offensive rebound
35 - 29
6:35
Tony Parker enters the game for Jacque Vaughn
35 - 29
6:22
Fabricio Oberto makes 15-foot jumper (Ime Udoka assists)
37 - 29
6:07
Ben Gordon misses 24-foot three point jumper
37 - 29
6:05
Tim Duncan defensive rebound
37 - 29
5:56
Tony Parker misses driving layup
37 - 29
5:54
Andres Nocioni defensive rebound
37 - 29
5:48
Ben Gordon misses layup
37 - 29
5:48
Fabricio Oberto defensive rebound
37 - 29
5:41
Ime Udoka makes layup (Tony Parker assists)
39 - 29
5:35
Chicago full timeout
39 - 29
5:35
Manu Ginobili enters the game for Ime Udoka
39 - 29
5:28
Andres Nocioni lost ball (Manu Ginobili steals)
39 - 29
5:11
Manu Ginobili bad pass (Drew Gooden steals)
39 - 29
4:56
Drew Gooden makes 12-foot two point shot
39 - 31
4:43
Joakim Noah blocks Tim Duncan's 9-foot jumper
39 - 31
4:43
San Antonio offensive rebound
39 - 31
4:43
Luol Deng enters the game for Andres Nocioni
39 - 31
4:43
Michael Finley enters the game for Bruce Bowen
39 - 31
4:33
Fabricio Oberto misses jumper
39 - 31
4:33
Ben Gordon defensive rebound
39 - 31
4:20
Larry Hughes misses two point shot
39 - 31
4:18
Fabricio Oberto defensive rebound
39 - 31
4:00
Joakim Noah blocks Tony Parker's layup
39 - 31
4:00
San Antonio offensive rebound
39 - 31
3:58
Joakim Noah personal foul (Tim Duncan draws the foul)
39 - 31
3:49
Tony Parker makes 19-foot running jumper
41 - 31
3:26
Luol Deng makes 15-foot two point shot (Joakim Noah assists)
41 - 33
3:11
Tony Parker makes 19-foot jumper
43 - 33
3:00
Drew Gooden turnover
43 - 33
3:00
Robert Horry enters the game for Fabricio Oberto
43 - 33
2:43
Tim Duncan makes 7-foot jumper
45 - 33
2:43
Drew Gooden shooting foul (Tim Duncan draws the foul)
45 - 33
2:43
full timeout
45 - 33
2:43
Tim Duncan makes free throw 1 of 1
46 - 33
2:21
Tony Parker personal foul (Ben Gordon draws the foul)
46 - 33
2:12
Luol Deng misses 18-foot jumper
46 - 33
2:11
Michael Finley defensive rebound
46 - 33
1:52
Michael Finley makes 23-foot three point jumper (Manu Ginobili assists)
49 - 33
1:38
Luol Deng bad pass (Robert Horry steals)
49 - 33
1:28
Ben Gordon personal foul (Tony Parker draws the foul)
49 - 33
1:28
Thabo Sefolosha enters the game for Joakim Noah
49 - 33
1:28
Tony Parker makes free throw 1 of 2
50 - 33
1:28
Tony Parker makes free throw 2 of 2
51 - 33
1:07
Luol Deng misses 19-foot jumper
51 - 33
1:07
Tim Duncan defensive rebound
51 - 33
0:55
Tony Parker makes driving layup
53 - 33
0:43
Ben Gordon makes 13-foot two point shot
53 - 35
0:33
Tony Parker makes 17-foot jumper
55 - 35
0:17
Robert Horry shooting foul (Luol Deng draws the foul)
55 - 35
0:17
Bruce Bowen enters the game for Robert Horry
55 - 35
0:17
Luol Deng makes free throw 1 of 2
55 - 36
0:17
Aaron Gray enters the game for Drew Gooden
55 - 36
0:17
Luol Deng makes free throw 2 of 2
55 - 37
0:00
Tony Parker misses 26-foot three point jumper
55 - 37
0:00
San Antonio offensive rebound
55 - 37
0:00
End of the 2nd Quarter
55 - 37

time
TEAM
PLAY
SCORE
12:00
Start of the 3rd Quarter
55 - 37
11:41
Michael Finley makes three point jumper (Fabricio Oberto assists)
58 - 37
11:22
Tony Parker shooting foul (Ben Gordon draws the foul)
58 - 37
11:22
Ben Gordon makes free throw 1 of 2
58 - 38
11:22
Ben Gordon makes free throw 2 of 2
58 - 39
11:11
Tim Duncan bad pass (Luol Deng steals)
58 - 39
10:55
Tim Duncan blocks Joakim Noah's layup
58 - 39
10:53
Chicago defensive rebound
58 - 39
10:41
Ben Gordon shooting foul (Tony Parker draws the foul)
58 - 39
10:41
Tony Parker makes free throw 1 of 2
59 - 39
10:41
Tony Parker makes free throw 2 of 2
60 - 39
10:30
Bruce Bowen jump ball
60 - 39
10:21
Ben Gordon bad pass (Bruce Bowen steals)
60 - 39
10:07
Michael Finley misses 21-foot jumper
60 - 39
10:06
Joakim Noah defensive rebound
60 - 39
9:56
Ben Gordon makes 19-foot jumper
60 - 41
9:42
Tony Parker makes jumper
62 - 41
9:29
Drew Gooden misses 13-foot jumper
62 - 41
9:26
Tim Duncan defensive rebound
62 - 41
9:03
Tim Duncan makes 11-foot jumper (Tony Parker assists)
64 - 41
8:48
Larry Hughes misses 17-foot jumper
64 - 41
8:48
Chicago defensive rebound
64 - 41
8:30
Tony Parker misses 23-foot jumper
64 - 41
8:29
Drew Gooden defensive rebound
64 - 41
8:11
Luol Deng makes 18-foot jumper (Ben Gordon assists)
64 - 43
8:00
Drew Gooden shooting foul (Tony Parker draws the foul)
64 - 43
8:00
Tony Parker misses free throw 1 of 2
64 - 43
8:00
San Antonio offensive rebound
64 - 43
8:00
Tony Parker makes free throw 2 of 2
65 - 43
7:50
Ben Gordon misses 19-foot jumper
65 - 43
7:48
Luol Deng offensive rebound
65 - 43
7:48
Luol Deng misses layup
65 - 43
7:47
Tim Duncan defensive rebound
65 - 43
7:39
Bruce Bowen makes three point jumper (Fabricio Oberto assists)
68 - 43
7:20
Fabricio Oberto shooting foul (Drew Gooden draws the foul)
68 - 43
7:20
Drew Gooden makes free throw 1 of 2
68 - 44
7:20
Drew Gooden makes free throw 2 of 2
68 - 45
7:09
Tim Duncan makes driving layup (Michael Finley assists)
70 - 45
6:56
Ben Gordon makes 21-foot jumper
70 - 47
6:39
Ben Gordon shooting foul (Tony Parker draws the foul)
70 - 47
6:39
Tony Parker makes free throw 1 of 2
71 - 47
6:39
Manu Ginobili enters the game for Bruce Bowen
71 - 47
6:39
Thabo Sefolosha enters the game for Ben Gordon
71 - 47
6:39
Tony Parker makes free throw 2 of 2
72 - 47
6:35
Luol Deng offensive foul (Fabricio Oberto draws the foul)
72 - 47
6:35
Luol Deng turnover
72 - 47
6:22
Fabricio Oberto offensive foul (Luol Deng draws the foul)
72 - 47
6:22
Fabricio Oberto turnover
72 - 47
6:13
Tim Duncan blocks Larry Hughes's layup
72 - 47
6:11
Fabricio Oberto defensive rebound
72 - 47
6:07
Michael Finley makes layup (Tony Parker assists)
74 - 47
6:05
Chicago full timeout
74 - 47
6:05
Andres Nocioni enters the game for Joakim Noah
74 - 47
5:54
Andres Nocioni traveling
74 - 47
5:46
Thabo Sefolosha shooting foul (Tony Parker draws the foul)
74 - 47
5:46
Ime Udoka enters the game for Fabricio Oberto
74 - 47
5:46
Tony Parker misses free throw 1 of 2
74 - 47
5:46
San Antonio offensive rebound
74 - 47
5:46
Tony Parker misses free throw 2 of 2
74 - 47
5:45
Drew Gooden defensive rebound
74 - 47
5:33
Drew Gooden makes 16-foot jumper (Andres Nocioni assists)
74 - 49
5:09
Tony Parker misses 23-foot jumper
74 - 49
5:09
Tim Duncan offensive rebound
76 - 49
5:09
Tim Duncan makes tip shot
76 - 49
5:09
Andres Nocioni shooting foul (Tim Duncan draws the foul)
76 - 49
5:09
Tim Duncan makes free throw 1 of 1
77 - 49
5:01
Drew Gooden makes two point shot
77 - 51
4:39
Ime Udoka misses three point jumper
77 - 51
4:39
Luol Deng defensive rebound
77 - 51
4:28
Drew Gooden misses 13-foot hook shot
77 - 51
4:26
Andres Nocioni offensive rebound
77 - 51
4:26
Andres Nocioni makes layup
77 - 53
4:26
Ime Udoka shooting foul (Andres Nocioni draws the foul)
77 - 53
4:26
Andres Nocioni makes free throw 1 of 1
77 - 54
4:13
Drew Gooden blocks Tony Parker's layup
77 - 54
4:13
San Antonio offensive rebound
77 - 54
4:03
Michael Finley makes 17-foot jumper (Ime Udoka assists)
79 - 54
3:53
Andres Nocioni offensive foul (Manu Ginobili draws the foul)
79 - 54
3:53
Andres Nocioni turnover
79 - 54
3:41
Manu Ginobili lost ball (Luol Deng steals)
79 - 54
3:38
Michael Finley shooting foul (Luol Deng draws the foul)
79 - 54
3:38
Kurt Thomas enters the game for Tim Duncan
79 - 54
3:38
Luol Deng makes free throw 1 of 2
79 - 55
3:38
Luol Deng makes free throw 2 of 2
79 - 56
3:16
Tony Parker makes 21-foot jumper
81 - 56
3:08
Larry Hughes misses 20-foot jumper
81 - 56
3:04
Tony Parker defensive rebound
81 - 56
2:54
Michael Finley traveling
81 - 56
2:54
San Antonio full timeout
81 - 56
2:54
Ben Gordon enters the game for Larry Hughes
81 - 56
2:42
Luol Deng makes hook shot
81 - 58
2:14
Kurt Thomas makes jumper (Ime Udoka assists)
83 - 58
1:52
Luol Deng makes 6-foot jumper
83 - 60
1:24
Tony Parker misses 28-foot three point jumper
83 - 60
1:24
San Antonio offensive rebound
83 - 60
1:24
shot clock violation
83 - 60
1:09
Michael Finley shooting foul (Andres Nocioni draws the foul)
83 - 60
1:09
Andres Nocioni makes free throw 1 of 2
83 - 61
1:09
Andres Nocioni makes free throw 2 of 2
83 - 62
0:55
Tony Parker misses 21-foot jumper
83 - 62
0:54
Luol Deng defensive rebound
83 - 62
0:45
Thabo Sefolosha bad pass (Michael Finley steals)
83 - 62
0:41
Ime Udoka offensive foul (Andres Nocioni draws the foul)
83 - 62
0:41
Ime Udoka turnover
83 - 62
0:35
Ben Gordon makes driving layup
83 - 64
0:18
Ime Udoka makes 23-foot three point jumper (Tony Parker assists)
86 - 64
0:04
Drew Gooden misses 19-foot jumper
86 - 64
0:03
Kurt Thomas defensive rebound
86 - 64
0:00
Tony Parker misses 27-foot three point jumper
86 - 64
0:00
San Antonio offensive rebound
86 - 64
0:00
End of the 3rd Quarter
86 - 64

time
TEAM
PLAY
SCORE
12:00
Start of the 4th Quarter
86 - 64
11:45
Thabo Sefolosha misses 25-foot three point jumper
86 - 64
11:45
Jacque Vaughn defensive rebound
86 - 64
11:29
Manu Ginobili misses 20-foot jumper
86 - 64
11:27
Kurt Thomas offensive rebound
86 - 64
11:10
Bruce Bowen makes 23-foot three point jumper (Manu Ginobili assists)
89 - 64
10:56
Ben Gordon misses 19-foot jumper
89 - 64
10:56
Ime Udoka defensive rebound
89 - 64
10:42
Kurt Thomas misses 19-foot jumper
89 - 64
10:41
Andres Nocioni defensive rebound
89 - 64
10:32
Andres Nocioni misses 18-foot jumper
89 - 64
10:30
Chicago defensive rebound
89 - 64
10:14
Bruce Bowen misses 23-foot three point jumper
89 - 64
10:11
Ben Gordon defensive rebound
89 - 64
10:04
Luol Deng misses 20-foot jumper
89 - 64
10:03
Manu Ginobili defensive rebound
89 - 64
9:48
Manu Ginobili misses 25-foot three point jumper
89 - 64
9:47
Bruce Bowen offensive rebound
89 - 64
9:32
Bruce Bowen misses three point jumper
89 - 64
9:30
Andres Nocioni defensive rebound
89 - 64
9:26
Ben Gordon bad pass (Manu Ginobili steals)
89 - 64
9:26
Luol Deng personal foul (Manu Ginobili draws the foul)
89 - 64
9:26
Joakim Noah enters the game for Drew Gooden
89 - 64
9:08
Bruce Bowen misses 23-foot three point jumper
89 - 64
9:07
Andres Nocioni defensive rebound
89 - 64
9:00
Andres Nocioni misses 25-foot three point jumper
89 - 64
8:59
Luol Deng offensive rebound
89 - 64
8:38
Thabo Sefolosha shooting foul (Jacque Vaughn draws the foul)
89 - 64
8:38
full timeout
89 - 64
8:38
Matt Bonner enters the game for Bruce Bowen
89 - 64
8:38
Damon Stoudamire enters the game for Manu Ginobili
89 - 64
8:38
Jacque Vaughn makes free throw 1 of 2
90 - 64
8:38
Jacque Vaughn makes free throw 2 of 2
91 - 64
8:27
Joakim Noah bad pass (Ime Udoka steals)
91 - 64
8:12
Ime Udoka misses 25-foot three point jumper
91 - 64
8:11
Joakim Noah defensive rebound
91 - 64
7:56
Joakim Noah lost ball (Kurt Thomas steals)
91 - 64
7:52
Ime Udoka makes layup (Jacque Vaughn assists)
93 - 64
7:35
Luol Deng misses 18-foot jumper
93 - 64
7:35
Matt Bonner defensive rebound
93 - 64
7:13
Matt Bonner misses jumper
93 - 64
7:11
Ben Gordon defensive rebound
93 - 64
7:05
Ime Udoka personal foul (Andres Nocioni draws the foul)
93 - 64
7:05
Tyrus Thomas enters the game for Joakim Noah
93 - 64
6:52
Luol Deng makes 7-foot two point shot
93 - 66
6:26
Matt Bonner misses 11-foot jumper
93 - 66
6:26
Tyrus Thomas defensive rebound
93 - 66
6:26
Matt Bonner personal foul (Tyrus Thomas draws the foul)
93 - 66
6:11
Tyrus Thomas lost ball (Damon Stoudamire steals)
93 - 66
6:01
Damon Stoudamire bad pass (Luol Deng steals)
93 - 66
5:58
Thabo Sefolosha offensive foul (Jacque Vaughn draws the foul)
93 - 66
5:58
Thabo Sefolosha turnover
93 - 66
5:58
Chicago full timeout
93 - 66
5:58
Fabricio Oberto enters the game for Kurt Thomas
93 - 66
5:35
shot clock violation
93 - 66
5:24
Ime Udoka personal foul (Luol Deng draws the foul)
93 - 66
5:15
Tyrus Thomas misses 18-foot jumper
93 - 66
5:13
Luol Deng offensive rebound
93 - 66
5:11
Thabo Sefolosha misses layup
93 - 66
5:09
Thabo Sefolosha offensive rebound
93 - 66
5:09
Thabo Sefolosha misses tip shot
93 - 66
5:07
Luol Deng offensive rebound
93 - 66
5:01
Andres Nocioni misses 24-foot three point jumper
93 - 66
5:00
Ime Udoka defensive rebound
93 - 66
4:39
Ime Udoka misses 23-foot three point jumper
93 - 66
4:39
Tyrus Thomas defensive rebound
93 - 66
4:33
Fabricio Oberto shooting foul (Luol Deng draws the foul)
93 - 66
4:33
Luol Deng makes free throw 1 of 2
93 - 67
4:33
Aaron Gray enters the game for Andres Nocioni
93 - 67
4:33
Luol Deng makes free throw 2 of 2
93 - 68
4:15
Ben Gordon blocks Damon Stoudamire's layup
93 - 68
4:13
Ben Gordon defensive rebound
93 - 68
4:03
Ben Gordon misses 20-foot jumper
93 - 68
4:03
Jacque Vaughn defensive rebound
93 - 68
3:56
Fabricio Oberto makes layup (Damon Stoudamire assists)
95 - 68
3:46
Matt Bonner shooting foul (Tyrus Thomas draws the foul)
95 - 68
3:46
Kurt Thomas enters the game for Ime Udoka
95 - 68
3:46
Demetris Nichols enters the game for Luol Deng
95 - 68
3:46
Tyrus Thomas misses free throw 1 of 2
95 - 68
3:46
Chicago offensive rebound
95 - 68
3:46
Tyrus Thomas makes free throw 2 of 2
95 - 69
3:31
Damon Stoudamire makes three point jumper (Jacque Vaughn assists)
98 - 69
3:17
Ben Gordon misses jumper
98 - 69
3:16
Tyrus Thomas offensive rebound
98 - 69
3:09
Tyrus Thomas misses jumper
98 - 69
3:08
Matt Bonner defensive rebound
98 - 69
2:49
Kurt Thomas misses 18-foot jumper
98 - 69
2:47
Ben Gordon defensive rebound
98 - 69
2:32
Aaron Gray makes two point shot
98 - 71
2:18
Damon Stoudamire makes 20-foot jumper
100 - 71
1:57
Fabricio Oberto shooting foul (Tyrus Thomas draws the foul)
100 - 71
1:57
San Antonio full timeout
100 - 71
1:57
Tyrus Thomas makes free throw 1 of 2
100 - 72
1:57
Tyrus Thomas makes free throw 2 of 2
100 - 73
1:38
Matt Bonner misses 23-foot three point jumper
100 - 73
1:37
Fabricio Oberto offensive rebound
100 - 73
1:20
Kurt Thomas misses 21-foot jumper
100 - 73
1:20
San Antonio defensive rebound
100 - 73
1:20
Fabricio Oberto personal foul (Tyrus Thomas draws the foul)
100 - 73
1:20
Ime Udoka enters the game for Fabricio Oberto
100 - 73
1:20
Tyrus Thomas makes free throw 1 of 2
100 - 74
1:20
Tyrus Thomas makes free throw 2 of 2
100 - 75
1:07
Matt Bonner misses 16-foot jumper
100 - 75
1:05
Aaron Gray defensive rebound
100 - 75
0:58
Ben Gordon misses 25-foot three point jumper
100 - 75
0:56
Damon Stoudamire defensive rebound
100 - 75
0:44
Matt Bonner makes layup (Jacque Vaughn assists)
102 - 75
0:36
Tyrus Thomas misses 25-foot three point jumper
102 - 75
0:34
Chicago offensive rebound
102 - 75
0:29
Demetris Nichols makes 24-foot three point jumper (Ben Gordon assists)
102 - 78
0:09
Damon Stoudamire misses 22-foot jumper
102 - 78
0:08
Matt Bonner offensive rebound
102 - 78
0:00
End of the 4th Quarter
102 - 78
0:00
End Game
102 - 78
Can Kawhi Leonard and the Spurs stop Kevin Durant and Russell Westbrook? Which team could handle the Warriors? Our 5-on-5 crew talks about what to expect in the Spurs-Thunder series.

During Game 6 of the Pacers' series with the Raptors, comedian Mike Epps casually walks courtside when he trips, but immediately recovers with some dance moves.

The Warriors have a stable of young assistants waiting to take the next step in their development under head coach Steve Kerr.
Regular Season Series
SA wins series 2-0
2015-2016 Southwest Standings