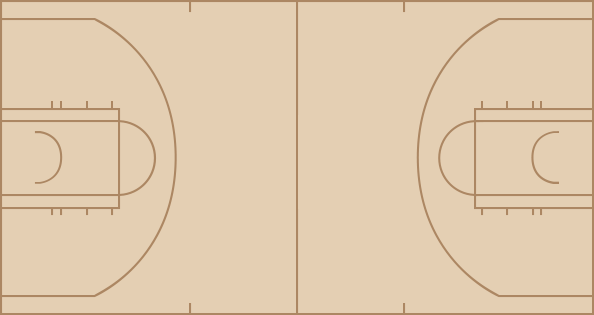 Bulls
time
TEAM
PLAY
SCORE
12:00
Jumpball: Drew Gooden vs. Dwight Howard (Jameer Nelson gains possession)
0 - 0
11:42
Drew Gooden personal foul (Dwight Howard draws the foul)
0 - 0
11:40
Jameer Nelson makes three point jumper (Hedo Turkoglu assists)
0 - 3
11:22
Derrick Rose misses 19-foot jumper
0 - 3
11:22
Tyrus Thomas offensive rebound
0 - 3
11:18
Tyrus Thomas bad pass (Dwight Howard steals)
0 - 3
11:11
Mickael Pietrus lost ball (Thabo Sefolosha steals)
0 - 3
10:57
Drew Gooden makes driving layup
2 - 3
10:57
Mickael Pietrus shooting foul (Drew Gooden draws the foul)
2 - 3
10:57
Drew Gooden makes free throw 1 of 1
3 - 3
10:41
Hedo Turkoglu misses 22-foot three point jumper
3 - 3
10:40
Tyrus Thomas defensive rebound
3 - 3
10:27
Drew Gooden makes 17-foot two point shot
5 - 3
10:17
Luol Deng personal foul (Dwight Howard draws the foul)
5 - 3
10:06
Dwight Howard misses 11-foot two point shot
5 - 3
10:04
Luol Deng defensive rebound
5 - 3
9:49
Drew Gooden misses 21-foot jumper
5 - 3
9:48
Hedo Turkoglu defensive rebound
5 - 3
9:41
Tyrus Thomas blocks Dwight Howard's 9-foot hook shot
5 - 3
9:38
Drew Gooden defensive rebound
5 - 3
9:33
Thabo Sefolosha makes 19-foot jumper
7 - 3
9:22
Dwight Howard 3 second
7 - 3
9:04
Drew Gooden makes 9-foot two point shot
9 - 3
8:52
Hedo Turkoglu misses 10-foot jumper
9 - 3
8:49
Dwight Howard offensive rebound
9 - 3
8:49
Dwight Howard misses tip shot
9 - 3
8:49
Dwight Howard offensive rebound
9 - 3
8:49
Dwight Howard makes layup
9 - 5
8:49
Tyrus Thomas shooting foul (Dwight Howard draws the foul)
9 - 5
8:49
Dwight Howard misses free throw 1 of 1
9 - 5
8:48
Drew Gooden defensive rebound
9 - 5
8:37
Derrick Rose misses 18-foot jumper
9 - 5
8:36
Rashard Lewis defensive rebound
9 - 5
8:23
Rashard Lewis misses 24-foot three point jumper
9 - 5
8:22
Thabo Sefolosha defensive rebound
9 - 5
8:14
Thabo Sefolosha lost ball (Jameer Nelson steals)
9 - 5
8:08
Hedo Turkoglu misses driving layup
9 - 5
8:07
Dwight Howard offensive rebound
9 - 7
8:07
Dwight Howard makes tip shot
9 - 7
7:58
Mickael Pietrus blocks Tyrus Thomas's layup
9 - 7
7:56
Jameer Nelson defensive rebound
9 - 7
7:50
Jameer Nelson makes driving layup
9 - 9
7:35
Derrick Rose makes driving layup
11 - 9
7:20
Luol Deng blocks Dwight Howard's layup
11 - 9
7:18
Dwight Howard offensive rebound
11 - 9
7:16
Dwight Howard makes layup
11 - 11
7:03
Tyrus Thomas makes layup (Luol Deng assists)
13 - 11
7:03
Mickael Pietrus shooting foul (Tyrus Thomas draws the foul)
13 - 11
7:03
Keith Bogans enters the game for Mickael Pietrus
13 - 11
7:03
Tyrus Thomas makes free throw 1 of 1
14 - 11
6:47
Jameer Nelson bad pass
14 - 11
6:33
Drew Gooden misses 18-foot jumper
14 - 11
6:33
Keith Bogans defensive rebound
14 - 11
6:24
Dwight Howard makes layup (Hedo Turkoglu assists)
14 - 13
6:24
Drew Gooden shooting foul (Dwight Howard draws the foul)
14 - 13
6:24
Aaron Gray enters the game for Drew Gooden
14 - 13
6:24
Dwight Howard makes free throw 1 of 1
14 - 14
6:05
Luol Deng misses 21-foot jumper
14 - 14
6:05
Dwight Howard defensive rebound
14 - 14
5:47
Hedo Turkoglu misses 10-foot jumper
14 - 14
5:47
Derrick Rose defensive rebound
14 - 14
5:41
Luol Deng misses layup
14 - 14
5:39
Luol Deng offensive rebound
14 - 14
5:39
Luol Deng misses tip shot
14 - 14
5:37
Aaron Gray offensive rebound
16 - 14
5:37
Aaron Gray makes layup
16 - 14
5:31
Orlando full timeout
16 - 14
5:31
Andres Nocioni enters the game for Tyrus Thomas
16 - 14
5:15
Jameer Nelson misses 23-foot three point jumper
16 - 14
5:13
Derrick Rose defensive rebound
16 - 14
5:07
Dwight Howard blocks Aaron Gray's layup
16 - 14
5:05
Rashard Lewis defensive rebound
16 - 14
4:54
Rashard Lewis makes two point shot (Dwight Howard assists)
16 - 16
4:30
Derrick Rose makes 12-foot jumper
18 - 16
4:18
Andres Nocioni personal foul (Rashard Lewis draws the foul)
18 - 16
4:18
Rashard Lewis makes free throw 1 of 2
18 - 17
4:18
Rashard Lewis makes free throw 2 of 2
18 - 18
4:03
Andres Nocioni makes three point jumper (Luol Deng assists)
21 - 18
3:48
Hedo Turkoglu makes driving layup
21 - 20
3:30
Thabo Sefolosha misses 19-foot jumper
21 - 20
3:29
Hedo Turkoglu defensive rebound
21 - 20
3:21
Keith Bogans makes 23-foot three point jumper (Rashard Lewis assists)
21 - 23
3:06
Derrick Rose lost ball (Keith Bogans steals)
21 - 23
3:04
Derrick Rose shooting foul (Keith Bogans draws the foul)
21 - 23
3:04
Kirk Hinrich enters the game for Thabo Sefolosha
21 - 23
3:04
Keith Bogans misses free throw 1 of 2
21 - 23
3:04
Orlando offensive rebound
21 - 23
3:04
Courtney Lee enters the game for Rashard Lewis
21 - 23
3:04
Keith Bogans makes free throw 2 of 2
21 - 24
2:55
Luol Deng misses 21-foot jumper
21 - 24
2:53
Dwight Howard defensive rebound
21 - 24
2:33
Keith Bogans makes 25-foot three point jumper (Jameer Nelson assists)
21 - 27
2:26
Chicago full timeout
21 - 27
2:26
Anthony Johnson enters the game for Jameer Nelson
21 - 27
2:15
Hedo Turkoglu personal foul (Andres Nocioni draws the foul)
21 - 27
2:04
Andres Nocioni misses 14-foot jumper
21 - 27
2:03
Dwight Howard defensive rebound
21 - 27
1:52
Dwight Howard makes two point shot (Hedo Turkoglu assists)
21 - 29
1:52
Aaron Gray shooting foul (Dwight Howard draws the foul)
21 - 29
1:52
Ben Gordon enters the game for Derrick Rose
21 - 29
1:52
Dwight Howard makes free throw 1 of 1
21 - 30
1:38
Ben Gordon bad pass
21 - 30
1:19
Dwight Howard misses 16-foot two point shot
21 - 30
1:17
Ben Gordon defensive rebound
21 - 30
1:09
Ben Gordon misses 11-foot jumper
21 - 30
1:07
Anthony Johnson defensive rebound
21 - 30
1:00
Courtney Lee misses driving layup
21 - 30
1:00
Dwight Howard offensive rebound
21 - 30
1:00
Aaron Gray shooting foul (Dwight Howard draws the foul)
21 - 30
1:00
Dwight Howard misses free throw 1 of 2
21 - 30
1:00
Orlando offensive rebound
21 - 30
1:00
Joakim Noah enters the game for Aaron Gray
21 - 30
1:00
Dwight Howard misses free throw 2 of 2
21 - 30
0:58
Andres Nocioni defensive rebound
21 - 30
0:48
Kirk Hinrich bad pass
21 - 30
0:48
Thabo Sefolosha enters the game for Luol Deng
21 - 30
0:36
Joakim Noah personal foul (Hedo Turkoglu draws the foul)
21 - 30
0:36
Hedo Turkoglu misses free throw 1 of 2
21 - 30
0:36
Orlando offensive rebound
21 - 30
0:36
Hedo Turkoglu makes free throw 2 of 2
21 - 31
0:24
Andres Nocioni misses 16-foot jumper
21 - 31
0:24
Anthony Johnson defensive rebound
21 - 31
0:01
Courtney Lee misses 26-foot three point jumper
21 - 31
0:01
Thabo Sefolosha defensive rebound
21 - 31
0:00
Chicago offensive rebound
21 - 31
0:00
Thabo Sefolosha misses 57-foot three point jumper
21 - 31
0:00
End of the 1st Quarter
21 - 31

time
TEAM
PLAY
SCORE
12:00
Start of the 2nd Quarter
21 - 31
11:36
Ben Gordon makes 19-foot jumper
23 - 31
11:18
Courtney Lee misses 17-foot jumper
23 - 31
11:17
Joakim Noah defensive rebound
23 - 31
11:08
Keith Bogans shooting foul (Andres Nocioni draws the foul)
23 - 31
11:08
Andres Nocioni misses free throw 1 of 2
23 - 31
11:08
Chicago offensive rebound
23 - 31
11:08
Andres Nocioni makes free throw 2 of 2
24 - 31
10:51
Rashard Lewis lost ball (Joakim Noah steals)
24 - 31
10:44
Tony Battie blocks Joakim Noah's layup
24 - 31
10:42
Rashard Lewis defensive rebound
24 - 31
10:37
Andres Nocioni personal foul (Rashard Lewis draws the foul)
24 - 31
10:33
Keith Bogans misses layup
24 - 31
10:32
Tony Battie offensive rebound
24 - 31
10:29
Tony Battie misses 6-foot hook shot
24 - 31
10:27
Keith Bogans offensive rebound
24 - 31
10:27
Andres Nocioni shooting foul (Keith Bogans draws the foul)
24 - 31
10:27
Keith Bogans makes free throw 1 of 2
24 - 32
10:27
Tyrus Thomas enters the game for Andres Nocioni
24 - 32
10:27
Keith Bogans makes free throw 2 of 2
24 - 33
10:21
Courtney Lee personal foul (Ben Gordon draws the foul)
24 - 33
10:14
Tyrus Thomas misses 18-foot jumper
24 - 33
10:10
Keith Bogans defensive rebound
24 - 33
10:06
Courtney Lee misses 25-foot three point jumper
24 - 33
10:03
Keith Bogans offensive rebound
24 - 33
10:03
Keith Bogans makes layup
24 - 35
9:48
Tyrus Thomas makes 15-foot jumper
26 - 35
9:37
Rashard Lewis misses 27-foot three point jumper
26 - 35
9:37
Tyrus Thomas defensive rebound
26 - 35
9:27
Tyrus Thomas misses 16-foot jumper
26 - 35
9:26
Joakim Noah offensive rebound
26 - 35
9:12
Tyrus Thomas traveling
26 - 35
9:12
Derrick Rose enters the game for Thabo Sefolosha
26 - 35
8:59
Tony Battie makes dunk (Keith Bogans assists)
26 - 37
8:45
Derrick Rose misses 8-foot jumper
26 - 37
8:44
Rashard Lewis defensive rebound
26 - 37
8:36
Keith Bogans misses 23-foot three point jumper
26 - 37
8:34
Joakim Noah defensive rebound
26 - 37
8:19
Kirk Hinrich bad pass (Tony Battie steals)
26 - 37
8:17
Derrick Rose personal foul (Keith Bogans draws the foul)
26 - 37
8:17
Official timeout
26 - 37
8:17
Drew Gooden enters the game for Joakim Noah
26 - 37
8:17
Mickael Pietrus enters the game for Keith Bogans
26 - 37
8:07
Mickael Pietrus makes 22-foot three point jumper (Anthony Johnson assists)
26 - 40
7:50
Kirk Hinrich bad pass (Courtney Lee steals)
26 - 40
7:33
Anthony Johnson misses 19-foot jumper
26 - 40
7:31
Orlando defensive rebound
26 - 40
7:20
Ben Gordon misses 24-foot three point jumper
26 - 40
7:18
Tony Battie defensive rebound
26 - 40
7:07
Mickael Pietrus makes 24-foot three point jumper
26 - 43
6:52
Tony Battie shooting foul (Drew Gooden draws the foul)
26 - 43
6:52
Drew Gooden makes free throw 1 of 2
27 - 43
6:52
Drew Gooden makes free throw 2 of 2
28 - 43
6:37
Rashard Lewis makes driving layup
28 - 45
6:24
Tony Battie blocks Tyrus Thomas's jumper
28 - 45
6:22
Tyrus Thomas offensive rebound
28 - 45
6:09
Tyrus Thomas makes jumper (Kirk Hinrich assists)
30 - 45
5:56
Rashard Lewis misses 25-foot three point jumper
30 - 45
5:56
Kirk Hinrich defensive rebound
30 - 45
5:46
Kirk Hinrich makes 21-foot jumper
32 - 45
5:30
Tony Battie misses 16-foot jumper
32 - 45
5:28
Tyrus Thomas defensive rebound
32 - 45
5:22
Drew Gooden misses 8-foot two point shot
32 - 45
5:20
Tony Battie defensive rebound
32 - 45
5:18
Mickael Pietrus offensive foul (Kirk Hinrich draws the foul)
32 - 45
5:18
Mickael Pietrus turnover
32 - 45
5:18
Orlando full timeout
32 - 45
5:18
Luol Deng enters the game for Tyrus Thomas
32 - 45
5:18
Dwight Howard enters the game for Rashard Lewis
32 - 45
5:18
Hedo Turkoglu enters the game for Mickael Pietrus
32 - 45
5:18
Jameer Nelson enters the game for Anthony Johnson
32 - 45
5:01
Derrick Rose makes 8-foot jumper (Drew Gooden assists)
34 - 45
4:41
Courtney Lee misses 22-foot three point jumper
34 - 45
4:39
Luol Deng defensive rebound
34 - 45
4:37
Luol Deng bad pass (Tony Battie steals)
34 - 45
4:30
Hedo Turkoglu misses 26-foot three point jumper
34 - 45
4:28
Tony Battie offensive rebound
34 - 45
4:24
Hedo Turkoglu makes 17-foot jumper (Tony Battie assists)
34 - 47
4:11
Derrick Rose makes layup
36 - 47
4:11
Dwight Howard illegal defense
38 - 47
3:53
Luol Deng defensive rebound
36 - 47
3:53
Dwight Howard misses two point shot
41 - 49
3:39
Ben Gordon makes 21-foot jumper
38 - 47
3:20
Tony Battie 3 second
38 - 47
3:08
Ben Gordon makes 25-foot three point jumper
41 - 47
3:01
Orlando 20 Sec. timeout
41 - 47
3:01
Keith Bogans enters the game for Courtney Lee
41 - 47
3:01
Rashard Lewis enters the game for Tony Battie
41 - 47
2:53
Dwight Howard makes layup
41 - 49
2:33
Derrick Rose makes dunk (Drew Gooden assists)
43 - 49
2:15
Dwight Howard lost ball (Drew Gooden steals)
43 - 49
2:13
Derrick Rose lost ball (Rashard Lewis steals)
43 - 49
2:00
Hedo Turkoglu offensive foul (Drew Gooden draws the foul)
43 - 49
2:00
Hedo Turkoglu turnover
43 - 49
2:00
Chicago full timeout
43 - 49
1:45
Drew Gooden makes 8-foot two point shot
45 - 49
1:45
Dwight Howard illegal defense
45 - 49
1:28
Aaron Gray enters the game for Drew Gooden
45 - 49
1:23
Rashard Lewis misses 19-foot jumper
45 - 49
1:20
Dwight Howard offensive rebound
45 - 49
1:20
Aaron Gray shooting foul (Dwight Howard draws the foul)
45 - 49
1:20
Dwight Howard makes free throw 1 of 2
45 - 50
1:20
Courtney Lee enters the game for Hedo Turkoglu
45 - 50
1:20
Dwight Howard misses free throw 2 of 2
45 - 50
1:17
Luol Deng defensive rebound
45 - 50
1:05
Ben Gordon misses 16-foot jumper
45 - 50
1:04
Keith Bogans defensive rebound
45 - 50
0:55
Jameer Nelson misses 24-foot three point jumper
45 - 50
0:54
Derrick Rose defensive rebound
45 - 50
0:47
Aaron Gray makes layup (Derrick Rose assists)
47 - 50
0:27
Jameer Nelson misses jumper
47 - 50
0:26
Luol Deng defensive rebound
47 - 50
0:07
Keith Bogans personal foul (Ben Gordon draws the foul)
47 - 50
0:07
Chicago 20 Sec. timeout
47 - 50
0:01
Ben Gordon misses 18-foot jumper
47 - 50
0:00
Dwight Howard defensive rebound
47 - 50
0:00
End of the 2nd Quarter
47 - 50

time
TEAM
PLAY
SCORE
12:00
Start of the 3rd Quarter
47 - 50
11:44
Derrick Rose makes 20-foot jumper (Luol Deng assists)
49 - 50
11:27
Rashard Lewis misses two point shot
49 - 50
11:26
Tyrus Thomas defensive rebound
49 - 50
11:11
Luol Deng misses 8-foot running jumper
49 - 50
11:11
Dwight Howard defensive rebound
49 - 50
11:02
Jameer Nelson makes 21-foot jumper
49 - 52
10:41
Drew Gooden misses 20-foot jumper
49 - 52
10:41
Jameer Nelson defensive rebound
49 - 52
10:23
Rashard Lewis misses 24-foot three point jumper
49 - 52
10:22
Thabo Sefolosha defensive rebound
49 - 52
10:03
Drew Gooden misses jumper
49 - 52
10:03
Hedo Turkoglu defensive rebound
49 - 52
9:52
Dwight Howard makes driving dunk
49 - 54
9:40
Derrick Rose misses 18-foot jumper
49 - 54
9:38
Thabo Sefolosha offensive rebound
49 - 54
9:33
Derrick Rose bad pass
49 - 54
9:18
Hedo Turkoglu makes 25-foot three point jumper (Jameer Nelson assists)
49 - 57
9:15
Chicago full timeout
49 - 57
8:56
Drew Gooden bad pass (Hedo Turkoglu steals)
49 - 57
8:52
Mickael Pietrus makes dunk (Hedo Turkoglu assists)
49 - 59
8:37
Rashard Lewis illegal defense foul (1st personal foul)
49 - 59
8:37
Thabo Sefolosha makes technical free throw
50 - 59
8:23
Luol Deng misses 37-foot three point jumper
50 - 59
8:23
Chicago offensive rebound
50 - 59
8:23
shot clock violation
50 - 59
8:04
Rashard Lewis makes jumper (Hedo Turkoglu assists)
50 - 61
7:39
Tyrus Thomas lost ball (Jameer Nelson steals)
50 - 61
7:31
Rashard Lewis makes 23-foot three point jumper (Jameer Nelson assists)
50 - 64
7:13
Tyrus Thomas bad pass (Mickael Pietrus steals)
50 - 64
7:05
Rashard Lewis makes 24-foot three point jumper (Hedo Turkoglu assists)
50 - 67
7:05
Chicago 20 Sec. timeout
50 - 67
7:05
Andres Nocioni enters the game for Tyrus Thomas
50 - 67
7:05
Ben Gordon enters the game for Luol Deng
50 - 67
7:05
Kirk Hinrich enters the game for Thabo Sefolosha
50 - 67
6:48
Dwight Howard blocks Derrick Rose's 13-foot jumper
50 - 67
6:48
Chicago offensive rebound
50 - 67
6:43
Derrick Rose misses 13-foot jumper
50 - 67
6:43
Dwight Howard defensive rebound
50 - 67
6:35
Kirk Hinrich personal foul (Hedo Turkoglu draws the foul)
50 - 67
6:26
Mickael Pietrus misses three point jumper
50 - 67
6:24
Derrick Rose defensive rebound
50 - 67
6:05
Drew Gooden makes 19-foot jumper (Ben Gordon assists)
52 - 67
5:52
Hedo Turkoglu misses 24-foot jumper
52 - 67
5:50
Andres Nocioni defensive rebound
52 - 67
5:43
Dwight Howard blocks Andres Nocioni's driving layup
52 - 67
5:37
Rashard Lewis defensive rebound
52 - 67
5:33
Derrick Rose shooting foul (Mickael Pietrus draws the foul)
52 - 67
5:33
Keith Bogans enters the game for Hedo Turkoglu
52 - 67
5:33
Mickael Pietrus makes free throw 1 of 2
52 - 68
5:33
Mickael Pietrus makes free throw 2 of 2
52 - 69
5:18
Drew Gooden misses 11-foot jumper
52 - 69
5:16
Andres Nocioni offensive rebound
52 - 69
5:09
Mickael Pietrus jump ball
52 - 69
5:03
Derrick Rose misses layup
52 - 69
5:01
Jameer Nelson defensive rebound
52 - 69
4:56
Rashard Lewis misses 24-foot three point jumper
52 - 69
4:54
Rashard Lewis offensive rebound
52 - 69
4:54
Ben Gordon personal foul (Rashard Lewis draws the foul)
52 - 69
4:41
Mickael Pietrus offensive foul (Drew Gooden draws the foul)
52 - 69
4:41
Mickael Pietrus turnover
52 - 69
4:41
Hedo Turkoglu enters the game for Mickael Pietrus
52 - 69
4:18
Ben Gordon makes 26-foot three point jumper (Drew Gooden assists)
55 - 69
4:01
Hedo Turkoglu misses 14-foot jumper
55 - 69
4:01
Kirk Hinrich defensive rebound
55 - 69
3:54
Keith Bogans personal foul (Ben Gordon draws the foul)
55 - 69
3:45
Ben Gordon makes 14-foot two point shot
57 - 69
3:30
Jameer Nelson misses 7-foot two point shot
57 - 69
3:28
Dwight Howard offensive rebound
57 - 69
3:26
Dwight Howard makes hook shot
57 - 71
3:06
Ben Gordon misses 22-foot jumper
57 - 71
3:05
Rashard Lewis defensive rebound
57 - 71
2:55
Jameer Nelson makes 17-foot jumper
57 - 73
2:36
Andres Nocioni makes 19-foot jumper
59 - 73
2:30
Orlando full timeout
59 - 73
2:30
Courtney Lee enters the game for Rashard Lewis
59 - 73
2:30
Aaron Gray enters the game for Drew Gooden
59 - 73
2:30
Luol Deng enters the game for Derrick Rose
59 - 73
2:15
Hedo Turkoglu turnover
59 - 73
1:57
Andres Nocioni makes 24-foot three point jumper
62 - 73
1:38
Aaron Gray shooting foul (Keith Bogans draws the foul)
62 - 73
1:38
Anthony Johnson enters the game for Jameer Nelson
62 - 73
1:38
Keith Bogans makes free throw 1 of 2
62 - 74
1:38
Keith Bogans makes free throw 2 of 2
62 - 75
1:22
Andres Nocioni makes 17-foot jumper
64 - 75
1:10
Aaron Gray jump ball
64 - 75
1:04
Hedo Turkoglu misses 17-foot jumper
64 - 75
1:02
Dwight Howard offensive rebound
64 - 75
1:01
Andres Nocioni shooting foul (Dwight Howard draws the foul)
64 - 75
1:01
Dwight Howard makes free throw 1 of 2
64 - 76
1:01
Dwight Howard misses free throw 2 of 2
64 - 76
1:00
Luol Deng defensive rebound
64 - 76
0:45
Luol Deng misses 17-foot jumper
64 - 76
0:44
Aaron Gray offensive rebound
66 - 76
0:44
Aaron Gray makes tip shot
66 - 76
0:28
Hedo Turkoglu bad pass (Luol Deng steals)
66 - 76
0:04
Ben Gordon makes 17-foot running jumper
68 - 76
0:01
Keith Bogans traveling
68 - 76
0:00
End of the 3rd Quarter
68 - 76

time
TEAM
PLAY
SCORE
12:00
Start of the 4th Quarter
68 - 76
11:40
Tony Battie 3 second
68 - 76
11:22
Kirk Hinrich misses 25-foot three point jumper
68 - 76
11:19
Hedo Turkoglu defensive rebound
68 - 76
11:11
Anthony Johnson bad pass (Luol Deng steals)
68 - 76
11:04
Tony Battie shooting foul (Luol Deng draws the foul)
68 - 76
11:04
Luol Deng makes free throw 1 of 2
69 - 76
11:04
Luol Deng misses free throw 2 of 2
69 - 76
11:04
Chicago defensive rebound
69 - 76
11:04
Aaron Gray loose ball foul (Tony Battie draws the foul)
69 - 76
11:04
Drew Gooden enters the game for Aaron Gray
69 - 76
10:48
Hedo Turkoglu misses 23-foot jumper
69 - 76
10:47
Kirk Hinrich defensive rebound
69 - 76
10:37
Kirk Hinrich misses 24-foot three point jumper
69 - 76
10:37
Rashard Lewis defensive rebound
69 - 76
10:26
Anthony Johnson misses 20-foot jumper
69 - 76
10:25
Ben Gordon defensive rebound
69 - 76
10:15
Luol Deng misses 15-foot jumper
69 - 76
10:15
Tony Battie defensive rebound
69 - 76
10:07
Ben Gordon shooting foul (Hedo Turkoglu draws the foul)
69 - 76
10:07
Derrick Rose enters the game for Luol Deng
69 - 76
10:07
Hedo Turkoglu makes free throw 1 of 2
69 - 77
10:07
Hedo Turkoglu makes free throw 2 of 2
69 - 78
9:49
Ben Gordon lost ball (Courtney Lee steals)
69 - 78
9:47
Courtney Lee makes driving layup
69 - 80
9:37
Drew Gooden makes two point shot
71 - 80
9:22
Rashard Lewis misses 25-foot three point jumper
71 - 80
9:22
Andres Nocioni defensive rebound
71 - 80
9:11
Andres Nocioni makes driving layup
73 - 80
9:11
Rashard Lewis shooting foul (Andres Nocioni draws the foul)
73 - 80
9:11
Andres Nocioni makes free throw 1 of 1
74 - 80
9:11
Dwight Howard enters the game for Tony Battie
74 - 80
8:51
Hedo Turkoglu misses 11-foot jumper
74 - 80
8:48
Kirk Hinrich defensive rebound
74 - 80
8:33
Kirk Hinrich makes 3-foot running jumper
76 - 80
8:33
Dwight Howard illegal defense
76 - 80
8:10
Rashard Lewis misses 25-foot three point jumper
76 - 80
8:06
Anthony Johnson offensive rebound
76 - 80
8:03
Anthony Johnson makes 25-foot three point jumper
76 - 83
7:52
Kirk Hinrich misses 25-foot three point jumper
76 - 83
7:52
Chicago defensive rebound
76 - 83
7:52
Official timeout
76 - 83
7:52
Jameer Nelson enters the game for Courtney Lee
76 - 83
7:52
Keith Bogans enters the game for Anthony Johnson
76 - 83
7:35
Rashard Lewis makes hook shot (Hedo Turkoglu assists)
76 - 85
7:18
Derrick Rose misses 18-foot jumper
76 - 85
7:18
Hedo Turkoglu defensive rebound
76 - 85
6:58
Keith Bogans misses 17-foot jumper
76 - 85
6:58
Andres Nocioni defensive rebound
76 - 85
6:41
Drew Gooden makes 17-foot jumper (Kirk Hinrich assists)
78 - 85
6:26
Hedo Turkoglu offensive foul (Kirk Hinrich draws the foul)
78 - 85
6:26
Hedo Turkoglu turnover
78 - 85
6:18
Drew Gooden offensive foul (Hedo Turkoglu draws the foul)
78 - 85
6:18
Drew Gooden turnover
78 - 85
6:01
Jameer Nelson offensive foul (Andres Nocioni draws the foul)
78 - 85
6:01
Jameer Nelson turnover
78 - 85
5:45
Drew Gooden makes layup (Andres Nocioni assists)
80 - 85
5:26
Jameer Nelson bad pass (Ben Gordon steals)
80 - 85
5:20
Andres Nocioni misses 22-foot jumper
80 - 85
5:18
Drew Gooden offensive rebound
80 - 85
5:18
Drew Gooden misses tip shot
80 - 85
5:16
Dwight Howard defensive rebound
80 - 85
5:03
Jameer Nelson misses 25-foot three point jumper
80 - 85
5:03
Rashard Lewis offensive rebound
80 - 87
5:03
Rashard Lewis makes tip shot
80 - 87
4:46
Dwight Howard blocks Derrick Rose's driving layup
80 - 87
4:43
Rashard Lewis defensive rebound
80 - 87
4:39
Drew Gooden personal foul (Dwight Howard draws the foul)
80 - 87
4:39
Orlando full timeout
80 - 87
4:26
Dwight Howard makes 5-foot hook shot (Rashard Lewis assists)
80 - 89
4:03
Ben Gordon misses 23-foot three point jumper
80 - 89
4:01
Rashard Lewis defensive rebound
80 - 89
3:47
Jameer Nelson makes 15-foot two point shot
80 - 91
3:35
Andres Nocioni makes three point jumper (Kirk Hinrich assists)
83 - 91
3:16
Drew Gooden shooting foul (Jameer Nelson draws the foul)
83 - 91
3:16
Jameer Nelson makes free throw 1 of 2
83 - 92
3:16
Jameer Nelson makes free throw 2 of 2
83 - 93
3:03
Dwight Howard blocks Andres Nocioni's layup
83 - 93
3:01
Hedo Turkoglu defensive rebound
83 - 93
2:51
Chicago full timeout
83 - 93
2:47
Keith Bogans bad pass (Kirk Hinrich steals)
83 - 93
2:41
Rashard Lewis shooting foul (Andres Nocioni draws the foul)
83 - 93
2:41
Andres Nocioni misses free throw 1 of 3
83 - 93
2:41
Chicago offensive rebound
83 - 93
2:41
Andres Nocioni makes free throw 2 of 3
84 - 93
2:41
Andres Nocioni makes free throw 3 of 3
85 - 93
2:27
Jameer Nelson discontinue dribble
85 - 93
2:15
Drew Gooden makes layup (Ben Gordon assists)
87 - 93
1:54
Hedo Turkoglu misses 24-foot three point jumper
87 - 93
1:54
Orlando defensive rebound
87 - 93
1:54
Keith Bogans loose ball foul (Derrick Rose draws the foul)
87 - 93
1:50
Dwight Howard personal foul (Ben Gordon draws the foul)
87 - 93
1:50
Ben Gordon misses free throw 1 of 2
87 - 93
1:50
Chicago offensive rebound
87 - 93
1:50
Ben Gordon makes free throw 2 of 2
88 - 93
1:36
Drew Gooden shooting foul (Dwight Howard draws the foul)
88 - 93
1:36
Aaron Gray enters the game for Drew Gooden
88 - 93
1:36
Dwight Howard misses free throw 1 of 2
88 - 93
1:36
Orlando offensive rebound
88 - 93
1:36
Dwight Howard misses free throw 2 of 2
88 - 93
1:34
Aaron Gray defensive rebound
88 - 93
1:21
Ben Gordon lost ball (Jameer Nelson steals)
88 - 93
1:01
Jameer Nelson misses 19-foot jumper
88 - 93
1:00
Andres Nocioni defensive rebound
88 - 93
1:00
Chicago full timeout
88 - 93
0:54
Derrick Rose makes 12-foot running jumper
90 - 93
0:31
Kirk Hinrich blocks Hedo Turkoglu's 19-foot jumper
90 - 93
0:27
Hedo Turkoglu offensive rebound
90 - 93
0:26
Hedo Turkoglu misses 19-foot jumper
90 - 93
0:25
Aaron Gray defensive rebound
90 - 93
0:23
Ben Gordon makes jumper
92 - 93
0:23
Orlando full timeout
92 - 93
0:23
Joakim Noah enters the game for Aaron Gray
92 - 93
0:22
Andres Nocioni personal foul (Rashard Lewis draws the foul)
92 - 93
0:22
Rashard Lewis makes free throw 1 of 2
92 - 94
0:22
Rashard Lewis misses free throw 2 of 2
92 - 94
0:21
Kirk Hinrich defensive rebound
92 - 94
0:13
Ben Gordon misses 16-foot running jumper
92 - 94
0:11
Chicago defensive rebound
92 - 94
0:10
Joakim Noah personal foul (Rashard Lewis draws the foul)
92 - 94
0:10
Rashard Lewis makes free throw 1 of 2
92 - 95
0:10
Rashard Lewis makes free throw 2 of 2
92 - 96
0:10
Chicago 20 Sec. timeout
92 - 96
0:10
Aaron Gray enters the game for Joakim Noah
92 - 96
0:04
Rashard Lewis shooting foul (Andres Nocioni draws the foul)
92 - 96
0:04
Andres Nocioni misses free throw 1 of 3
92 - 96
0:04
Chicago offensive rebound
93 - 96
0:04
Andres Nocioni makes free throw 2 of 3
93 - 96
0:04
Andres Nocioni misses free throw 3 of 3
93 - 96
0:03
Andres Nocioni offensive rebound
93 - 96
0:01
Andres Nocioni misses 25-foot three point jumper
93 - 96
0:00
Aaron Gray offensive rebound
93 - 96
0:00
End of the 4th Quarter
93 - 96
0:00
End Game
93 - 96
John Brenkus and the ESPN Sport Science team look at this incredible signature play by King James.

Now that Cleveland finally has it's championship, it's time to crown a new saddest sports city.

Steph Curry tells reporters about the conversation he had with his daughter Riley after the Warriors lost Game 7 to the Cavaliers.
Regular Season Series
ORL wins series 3-1
2015-2016 Central Standings
2015-2016 Southeast Standings