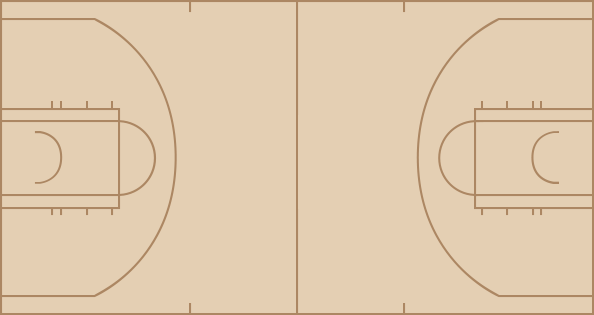 76ers
time
TEAM
PLAY
SCORE
12:00
Start of the 1st Quarter
0 - 0
12:00
Jumpball: Samuel Dalembert vs. Drew Gooden (Thaddeus Young gains possession)
0 - 0
11:41
Andre Iguodala lost ball (Joakim Noah steals)
0 - 0
11:30
Joakim Noah 3 second
0 - 0
11:10
Elton Brand makes 11-foot jumper
2 - 0
10:56
Derrick Rose misses layup
2 - 0
10:56
Elton Brand defensive rebound
2 - 0
10:42
Andre Iguodala makes 16-foot jumper (Andre Miller assists)
4 - 0
10:27
Samuel Dalembert blocks Drew Gooden's jumper
4 - 0
10:26
Elton Brand defensive rebound
4 - 0
10:15
Andre Miller misses 16-foot jumper
4 - 0
10:14
Joakim Noah defensive rebound
4 - 0
10:03
Ben Gordon makes driving layup
4 - 2
9:42
Elton Brand misses jumper
4 - 2
9:41
Drew Gooden defensive rebound
4 - 2
9:33
Luol Deng misses 10-foot jumper
4 - 2
9:32
Joakim Noah offensive rebound
4 - 2
9:32
Samuel Dalembert personal foul (Joakim Noah draws the foul)
4 - 2
9:19
Luol Deng makes 21-foot jumper (Drew Gooden assists)
4 - 4
8:56
Thaddeus Young makes 21-foot jumper
6 - 4
8:33
Luol Deng misses 18-foot jumper
6 - 4
8:30
Andre Miller defensive rebound
6 - 4
8:26
Andre Miller misses layup
6 - 4
8:25
Joakim Noah defensive rebound
6 - 4
8:18
Derrick Rose makes 17-foot jumper (Joakim Noah assists)
6 - 6
7:58
Joakim Noah blocks Elton Brand's 8-foot jumper
6 - 6
7:56
Joakim Noah defensive rebound
6 - 6
7:50
Luol Deng misses layup
6 - 6
7:50
Joakim Noah offensive rebound
6 - 6
7:50
Thaddeus Young personal foul (Joakim Noah draws the foul)
6 - 6
7:45
Derrick Rose makes 21-foot two point shot
6 - 8
7:28
Andre Iguodala misses 20-foot jumper
6 - 8
7:26
Elton Brand offensive rebound
6 - 8
7:16
Andre Miller makes 18-foot jumper
8 - 8
6:50
Luol Deng lost ball (Thaddeus Young steals)
8 - 8
6:46
Luol Deng blocks Andre Miller's layup
8 - 8
6:46
Philadelphia defensive rebound
8 - 8
6:24
Joakim Noah misses layup
8 - 8
6:22
Samuel Dalembert defensive rebound
8 - 8
6:15
Andre Miller misses 14-foot jumper
8 - 8
6:13
Derrick Rose defensive rebound
8 - 8
6:05
Ben Gordon bad pass (Thaddeus Young steals)
8 - 8
6:00
Andre Iguodala makes dunk (Andre Miller assists)
10 - 8
5:52
Chicago full timeout
10 - 8
5:52
Willie Green enters the game for Thaddeus Young
10 - 8
5:52
Theo Ratliff enters the game for Samuel Dalembert
10 - 8
5:52
Aaron Gray enters the game for Joakim Noah
10 - 8
5:37
Ben Gordon misses 24-foot three point jumper
10 - 8
5:35
Andre Iguodala defensive rebound
10 - 8
5:13
Elton Brand misses 9-foot jumper
10 - 8
5:13
Derrick Rose defensive rebound
10 - 8
5:03
Drew Gooden misses jumper
10 - 8
5:01
Theo Ratliff defensive rebound
10 - 8
4:45
Drew Gooden shooting foul (Elton Brand draws the foul)
10 - 8
4:45
Elton Brand misses free throw 1 of 2
10 - 8
4:45
Philadelphia offensive rebound
10 - 8
4:45
Elton Brand makes free throw 2 of 2
11 - 8
4:33
Derrick Rose bad pass (Elton Brand steals)
11 - 8
4:30
Elton Brand makes layup
13 - 8
4:30
Derrick Rose shooting foul (Elton Brand draws the foul)
13 - 8
4:30
Elton Brand makes free throw 1 of 1
14 - 8
4:11
Luol Deng makes 18-foot jumper
14 - 10
3:55
Andre Iguodala makes 20-foot jumper
16 - 10
3:40
Theo Ratliff illegal defense foul (1st personal foul)
16 - 10
3:40
Ben Gordon makes technical free throw
16 - 11
3:30
Drew Gooden traveling
16 - 11
3:11
Andre Miller makes running jumper
18 - 11
3:01
Derrick Rose lost ball (Andre Miller steals)
18 - 11
2:59
Willie Green misses layup
18 - 11
2:57
Elton Brand offensive rebound
18 - 11
2:57
Elton Brand misses tip shot
18 - 11
2:57
Elton Brand misses tip shot
22 - 11
2:57
Elton Brand offensive rebound
22 - 11
2:56
Elton Brand offensive rebound
18 - 11
2:56
Elton Brand misses tip shot
18 - 11
2:54
Willie Green offensive rebound
20 - 11
2:54
Willie Green makes 17-foot jumper
20 - 11
2:33
Drew Gooden bad pass (Elton Brand steals)
20 - 11
2:20
Andre Iguodala makes 19-foot jumper (Andre Miller assists)
22 - 11
2:05
Ben Gordon misses 23-foot jumper
22 - 11
2:04
Andre Iguodala defensive rebound
22 - 11
2:01
Andre Miller turnover
22 - 11
2:01
Philadelphia full timeout
22 - 11
2:01
Tyrus Thomas enters the game for Drew Gooden
22 - 11
2:01
Larry Hughes enters the game for Luol Deng
22 - 11
1:50
Tyrus Thomas misses 19-foot jumper
22 - 11
1:47
Andre Iguodala defensive rebound
22 - 11
1:27
Andre Miller offensive foul (Larry Hughes draws the foul)
22 - 11
1:27
Andre Miller turnover
22 - 11
1:27
Marreese Speights enters the game for Elton Brand
22 - 11
1:08
Aaron Gray offensive foul (Theo Ratliff draws the foul)
22 - 11
1:08
Aaron Gray turnover
22 - 11
1:00
Willie Green misses 25-foot three point jumper
22 - 11
0:59
Tyrus Thomas defensive rebound
22 - 11
0:48
Derrick Rose misses layup
22 - 11
0:46
Theo Ratliff defensive rebound
22 - 11
0:43
Ben Gordon shooting foul (Andre Miller draws the foul)
22 - 11
0:43
Andre Miller misses free throw 1 of 2
22 - 11
0:43
Philadelphia offensive rebound
22 - 11
0:43
Lindsey Hunter enters the game for Derrick Rose
22 - 11
0:43
Andre Miller makes free throw 2 of 2
23 - 11
0:30
Ben Gordon makes 16-foot jumper
23 - 13
0:14
Andre Miller misses layup
23 - 13
0:09
Marreese Speights offensive rebound
23 - 13
0:07
Aaron Gray blocks Marreese Speights's layup
23 - 13
0:04
Lindsey Hunter defensive rebound
23 - 13
0:04
Willie Green personal foul (Ben Gordon draws the foul)
23 - 13
0:03
Lou Williams enters the game for Andre Miller
23 - 13
0:00
Ben Gordon misses 23-foot three point jumper
23 - 13
0:00
Chicago defensive rebound
23 - 13
0:00
End of the 1st Quarter
23 - 13

time
TEAM
PLAY
SCORE
12:00
Start of the 2nd Quarter
23 - 13
11:48
Ben Gordon turnover
23 - 13
11:34
Lou Williams misses 25-foot three point jumper
23 - 13
11:30
Marreese Speights offensive rebound
23 - 13
11:27
Tyrus Thomas blocks Marreese Speights's slam dunk
23 - 13
11:25
Lou Williams offensive rebound
23 - 13
11:18
Marreese Speights makes dunk (Andre Iguodala assists)
25 - 13
11:00
Thaddeus Young enters the game for Theo Ratliff
25 - 13
11:00
Luol Deng enters the game for Ben Gordon
25 - 13
10:56
Larry Hughes misses 25-foot three point jumper
25 - 13
10:55
Marreese Speights defensive rebound
25 - 13
10:42
Andre Iguodala offensive foul (Tyrus Thomas draws the foul)
25 - 13
10:42
Andre Iguodala turnover
25 - 13
10:25
Willie Green shooting foul (Larry Hughes draws the foul)
25 - 13
10:25
Larry Hughes misses free throw 1 of 2
25 - 13
10:25
Chicago offensive rebound
25 - 13
10:25
Larry Hughes makes free throw 2 of 2
25 - 14
10:11
Willie Green makes 25-foot three point jumper (Thaddeus Young assists)
28 - 14
9:53
Luol Deng misses 18-foot jumper
28 - 14
9:52
Marreese Speights defensive rebound
28 - 14
9:38
Andres Nocioni shooting foul (Thaddeus Young draws the foul)
28 - 14
9:38
Derrick Rose enters the game for Lindsey Hunter
28 - 14
9:38
Thaddeus Young makes free throw 1 of 2
29 - 14
9:38
Thaddeus Young makes free throw 2 of 2
30 - 14
9:15
Derrick Rose bad pass
30 - 14
9:10
Lou Williams misses 22-foot jumper
30 - 14
9:08
Derrick Rose defensive rebound
30 - 14
9:03
Larry Hughes makes 21-foot jumper (Derrick Rose assists)
30 - 16
8:48
Thaddeus Young misses 13-foot jumper
30 - 16
8:47
Tyrus Thomas defensive rebound
30 - 16
8:41
Derrick Rose makes two point shot
30 - 18
8:23
Andre Iguodala turnover
30 - 18
8:23
full timeout
30 - 18
8:23
Royal Ivey enters the game for Andre Iguodala
30 - 18
8:23
Elton Brand enters the game for Marreese Speights
30 - 18
8:02
Luol Deng makes dunk
30 - 20
7:43
Derrick Rose shooting foul (Lou Williams draws the foul)
30 - 20
7:43
Lou Williams misses free throw 1 of 2
30 - 20
7:43
Philadelphia offensive rebound
30 - 20
7:43
Lou Williams makes free throw 2 of 2
31 - 20
7:22
Larry Hughes misses 21-foot jumper
31 - 20
7:20
Thaddeus Young defensive rebound
31 - 20
7:16
Lou Williams makes layup (Thaddeus Young assists)
33 - 20
7:11
Andres Nocioni bad pass (Royal Ivey steals)
33 - 20
7:07
Willie Green turnover (Larry Hughes steals)
33 - 20
6:58
Larry Hughes misses layup
33 - 20
6:56
Tyrus Thomas offensive rebound
33 - 22
6:56
Tyrus Thomas makes two point shot
33 - 22
6:43
Royal Ivey lost ball (Larry Hughes steals)
33 - 22
6:39
Larry Hughes makes layup
33 - 24
6:16
Elton Brand makes 9-foot jumper (Lou Williams assists)
35 - 24
5:58
Andres Nocioni misses 25-foot three point jumper
35 - 24
5:56
Elton Brand defensive rebound
35 - 24
5:52
Lou Williams bad pass
35 - 24
5:52
Chicago full timeout
35 - 24
5:52
Andre Miller enters the game for Willie Green
35 - 24
5:35
Andres Nocioni makes layup (Derrick Rose assists)
35 - 26
5:13
Lou Williams misses 25-foot three point jumper
35 - 26
5:11
Andres Nocioni defensive rebound
35 - 26
5:03
Tyrus Thomas misses dunk
35 - 26
5:01
Elton Brand defensive rebound
35 - 26
4:46
Lou Williams traveling
35 - 26
4:46
Andre Iguodala enters the game for Royal Ivey
35 - 26
4:46
Ben Gordon enters the game for Derrick Rose
35 - 26
4:46
Drew Gooden enters the game for Tyrus Thomas
35 - 26
4:30
Andres Nocioni makes 5-foot two point shot
35 - 28
4:07
Andre Miller makes driving layup (Lou Williams assists)
37 - 28
3:53
Ben Gordon makes 6-foot jumper
37 - 30
3:53
Thaddeus Young illegal defense
37 - 30
3:53
Philadelphia full timeout
37 - 30
3:53
Willie Green enters the game for Lou Williams
37 - 30
3:33
Thaddeus Young misses 6-foot jumper
37 - 30
3:31
Thaddeus Young offensive rebound
37 - 30
3:18
Thaddeus Young offensive foul (Luol Deng draws the foul)
37 - 30
3:18
Thaddeus Young turnover
37 - 30
3:08
Andre Iguodala illegal defense foul (2nd personal foul)
37 - 30
3:08
Ben Gordon makes technical free throw
37 - 31
2:59
Drew Gooden misses 18-foot jumper
37 - 31
2:58
Elton Brand defensive rebound
37 - 31
2:51
Willie Green traveling
37 - 31
2:27
Drew Gooden lost ball (Willie Green steals)
37 - 31
2:24
Andres Nocioni shooting foul (Andre Iguodala draws the foul)
37 - 31
2:24
Andre Iguodala makes free throw 1 of 2
38 - 31
2:24
Andre Iguodala misses free throw 2 of 2
38 - 31
2:23
Philadelphia offensive rebound
38 - 31
2:05
Andre Miller misses layup
38 - 31
2:04
Andre Miller offensive rebound
38 - 31
2:04
Andre Miller misses tip shot
38 - 31
2:04
Philadelphia defensive rebound
38 - 31
1:50
Luol Deng makes two point shot (Ben Gordon assists)
38 - 33
1:32
Willie Green misses 17-foot jumper
38 - 33
1:31
Thaddeus Young offensive rebound
38 - 33
1:31
Thaddeus Young misses tip shot
38 - 33
1:30
Ben Gordon defensive rebound
38 - 33
1:23
Andres Nocioni makes 21-foot jumper (Ben Gordon assists)
38 - 35
1:07
Elton Brand 3 second
38 - 35
0:54
Ben Gordon makes 10-foot two point shot
38 - 37
0:36
Andre Iguodala misses 22-foot jumper
38 - 37
0:35
Drew Gooden defensive rebound
38 - 37
0:26
Andres Nocioni misses three point jumper
38 - 37
0:24
Andre Iguodala defensive rebound
38 - 37
0:07
Larry Hughes personal foul (Thaddeus Young draws the foul)
38 - 37
0:07
Philadelphia 20 Sec. timeout
38 - 37
0:00
Andre Iguodala makes 8-foot two point shot
40 - 37
0:00
Drew Gooden bad pass (Thaddeus Young steals)
40 - 37
0:00
End of the 2nd Quarter
40 - 37

time
TEAM
PLAY
SCORE
12:00
Start of the 3rd Quarter
40 - 37
11:44
Elton Brand shooting foul (Joakim Noah draws the foul)
40 - 37
11:44
Joakim Noah makes free throw 1 of 2
40 - 38
11:44
Joakim Noah makes free throw 2 of 2
40 - 39
11:26
Thaddeus Young misses 26-foot three point jumper
40 - 39
11:25
Ben Gordon defensive rebound
40 - 39
11:12
Derrick Rose makes layup (Drew Gooden assists)
40 - 41
11:10
Philadelphia 20 Sec. timeout
40 - 41
10:53
Elton Brand makes 11-foot two point shot (Andre Iguodala assists)
42 - 41
10:37
Derrick Rose makes 17-foot jumper
42 - 43
10:32
Derrick Rose shooting foul (Elton Brand draws the foul)
42 - 43
10:32
Elton Brand misses free throw 1 of 2
42 - 43
10:32
Philadelphia offensive rebound
42 - 43
10:32
Elton Brand makes free throw 2 of 2
43 - 43
10:22
Joakim Noah bad pass
43 - 43
10:10
Andre Iguodala makes 20-foot jumper
45 - 43
9:49
Luol Deng misses layup
45 - 43
9:48
Joakim Noah offensive rebound
45 - 43
9:47
Samuel Dalembert blocks Joakim Noah's layup
45 - 43
9:45
Luol Deng offensive rebound
45 - 43
9:42
Thaddeus Young shooting foul (Luol Deng draws the foul)
45 - 43
9:42
Luol Deng makes free throw 1 of 2
45 - 44
9:42
Luol Deng makes free throw 2 of 2
45 - 45
9:18
Thaddeus Young misses 25-foot three point jumper
45 - 45
9:17
Ben Gordon defensive rebound
45 - 45
9:08
Ben Gordon misses layup
45 - 45
9:07
Elton Brand defensive rebound
45 - 45
9:07
Joakim Noah personal foul (Elton Brand draws the foul)
45 - 45
8:48
Joakim Noah blocks Andre Miller's jumper
45 - 45
8:45
Luol Deng defensive rebound
45 - 45
8:37
Luol Deng misses 22-foot jumper
45 - 45
8:37
Samuel Dalembert defensive rebound
45 - 45
8:26
Andre Miller misses 21-foot jumper
45 - 45
8:26
Drew Gooden defensive rebound
45 - 45
8:12
Derrick Rose bad pass (Thaddeus Young steals)
45 - 45
8:11
Thaddeus Young traveling
45 - 45
7:54
Derrick Rose makes 18-foot jumper (Ben Gordon assists)
45 - 47
7:39
Elton Brand misses 20-foot jumper
45 - 47
7:37
Samuel Dalembert offensive rebound
45 - 47
7:24
Elton Brand makes 16-foot jumper (Andre Miller assists)
47 - 47
7:03
Ben Gordon makes 23-foot three point jumper (Luol Deng assists)
47 - 50
6:54
Joakim Noah personal foul (Elton Brand draws the foul)
47 - 50
6:43
Ben Gordon shooting foul (Andre Iguodala draws the foul)
47 - 50
6:43
Andre Iguodala misses free throw 1 of 2
47 - 50
6:43
Philadelphia offensive rebound
47 - 50
6:43
Willie Green enters the game for Thaddeus Young
47 - 50
6:43
Andre Iguodala makes free throw 2 of 2
48 - 50
6:28
Drew Gooden misses 8-foot hook shot
48 - 50
6:28
Andre Miller defensive rebound
48 - 50
6:22
Luol Deng blocks Willie Green's layup
48 - 50
6:20
Drew Gooden defensive rebound
48 - 50
6:16
Drew Gooden offensive foul (Elton Brand draws the foul)
48 - 50
6:16
Drew Gooden turnover
48 - 50
6:13
Theo Ratliff enters the game for Samuel Dalembert
48 - 50
6:01
Andre Iguodala misses 26-foot three point jumper
48 - 50
6:01
Ben Gordon defensive rebound
48 - 50
5:56
Ben Gordon lost ball (Andre Miller steals)
48 - 50
5:52
Joakim Noah blocks Andre Miller's layup
48 - 50
5:52
Philadelphia offensive rebound
48 - 50
5:52
Chicago full timeout
48 - 50
5:52
Tyrus Thomas enters the game for Joakim Noah
48 - 50
5:43
Willie Green bad pass
48 - 50
5:22
Elton Brand shooting foul (Drew Gooden draws the foul)
48 - 50
5:22
Drew Gooden misses free throw 1 of 2
48 - 50
5:22
Chicago offensive rebound
48 - 50
5:22
Drew Gooden makes free throw 2 of 2
48 - 51
5:01
Theo Ratliff lost ball (Drew Gooden steals)
48 - 51
4:50
Theo Ratliff shooting foul (Tyrus Thomas draws the foul)
48 - 51
4:50
Tyrus Thomas makes free throw 1 of 2
48 - 52
4:50
Tyrus Thomas makes free throw 2 of 2
48 - 53
4:28
Elton Brand makes 13-foot jumper
50 - 53
4:09
Tyrus Thomas makes 7-foot jumper
50 - 55
4:01
Andre Miller makes two point shot
52 - 55
4:01
Drew Gooden shooting foul (Andre Miller draws the foul)
52 - 55
4:01
Marreese Speights enters the game for Theo Ratliff
52 - 55
4:01
Andre Miller makes free throw 1 of 1
53 - 55
3:58
Drew Gooden bad pass (Willie Green steals)
53 - 55
3:47
Andre Miller makes driving layup
55 - 55
3:30
Derrick Rose makes 20-foot jumper
55 - 57
3:00
Andre Miller misses 26-foot three point jumper
55 - 57
2:59
Tyrus Thomas defensive rebound
55 - 57
2:53
Ben Gordon makes driving layup
55 - 59
2:38
Drew Gooden personal foul (Elton Brand draws the foul)
55 - 59
2:38
Philadelphia full timeout
55 - 59
2:38
Larry Hughes enters the game for Drew Gooden
55 - 59
2:38
Andres Nocioni enters the game for Luol Deng
55 - 59
2:38
Elton Brand makes free throw 1 of 2
56 - 59
2:38
Elton Brand makes free throw 2 of 2
57 - 59
2:21
Andres Nocioni misses driving layup
57 - 59
2:20
Andre Iguodala defensive rebound
57 - 59
2:15
Tyrus Thomas blocks Willie Green's layup
57 - 59
2:15
Andre Iguodala offensive rebound
59 - 59
2:15
Andre Iguodala makes layup
59 - 59
2:15
Tyrus Thomas shooting foul (Andre Iguodala draws the foul)
59 - 59
2:15
Andre Iguodala makes free throw 1 of 1
60 - 59
1:59
Derrick Rose backcourt
60 - 59
1:59
Thaddeus Young enters the game for Elton Brand
60 - 59
1:40
Thaddeus Young misses 9-foot jumper
60 - 59
1:39
Marreese Speights offensive rebound
62 - 59
1:39
Marreese Speights makes tip shot
62 - 59
1:19
Tyrus Thomas makes 19-foot jumper (Larry Hughes assists)
62 - 61
1:01
Willie Green makes three point jumper (Andre Iguodala assists)
65 - 61
0:38
Derrick Rose misses 7-foot jumper
65 - 61
0:36
Andre Miller defensive rebound
65 - 61
0:33
Ben Gordon blocks Willie Green's 7-foot jumper
65 - 61
0:33
Philadelphia offensive rebound
65 - 61
0:22
Thaddeus Young misses 25-foot three point jumper
65 - 61
0:21
Larry Hughes defensive rebound
65 - 61
0:11
Larry Hughes lost ball (Andre Iguodala steals)
65 - 61
0:08
Andre Iguodala makes two point shot
67 - 61
0:00
Derrick Rose misses 5-foot jumper
67 - 61
0:00
Chicago offensive rebound
67 - 61
0:00
End of the 3rd Quarter
67 - 61

time
TEAM
PLAY
SCORE
12:00
Start of the 4th Quarter
67 - 61
11:40
Andre Iguodala misses 20-foot jumper
67 - 61
11:38
Andres Nocioni defensive rebound
67 - 61
11:38
Thaddeus Young personal foul (Andres Nocioni draws the foul)
67 - 61
11:27
Ben Gordon traveling
67 - 61
11:27
Luol Deng enters the game for Ben Gordon
67 - 61
11:08
Andre Miller makes layup (Andre Iguodala assists)
69 - 61
11:08
Andres Nocioni illegal defense
69 - 61
10:56
Derrick Rose makes driving layup
69 - 63
10:37
Derrick Rose shooting foul (Andre Miller draws the foul)
69 - 63
10:37
Andre Miller makes free throw 1 of 2
70 - 63
10:37
Ben Gordon enters the game for Derrick Rose
70 - 63
10:37
Andre Miller makes free throw 2 of 2
71 - 63
10:18
Larry Hughes makes 20-foot jumper (Tyrus Thomas assists)
71 - 65
9:56
Marreese Speights misses 11-foot jumper
71 - 65
9:56
Tyrus Thomas defensive rebound
71 - 65
9:49
Larry Hughes makes 19-foot jumper
71 - 67
9:41
Philadelphia full timeout
71 - 67
9:41
Lou Williams enters the game for Andre Miller
71 - 67
9:30
Willie Green offensive foul (Andres Nocioni draws the foul)
71 - 67
9:30
Willie Green turnover
71 - 67
9:15
Marreese Speights shooting foul (Ben Gordon draws the foul)
71 - 67
9:15
Ben Gordon misses free throw 1 of 2
71 - 67
9:15
Chicago offensive rebound
71 - 67
9:15
Ben Gordon makes free throw 2 of 2
71 - 68
8:59
Andre Iguodala makes 20-foot jumper
73 - 68
8:41
Andres Nocioni misses layup
73 - 68
8:41
Tyrus Thomas offensive rebound
73 - 68
8:41
Tyrus Thomas misses tip shot
73 - 68
8:38
Thaddeus Young defensive rebound
73 - 68
8:37
Ben Gordon shooting foul (Lou Williams draws the foul)
73 - 68
8:37
Lou Williams makes free throw 1 of 2
74 - 68
8:37
Drew Gooden enters the game for Andres Nocioni
74 - 68
8:37
Elton Brand enters the game for Thaddeus Young
74 - 68
8:37
Lou Williams makes free throw 2 of 2
75 - 68
8:22
Willie Green shooting foul (Drew Gooden draws the foul)
75 - 68
8:22
Thaddeus Young enters the game for Andre Iguodala
75 - 68
8:22
Drew Gooden makes free throw 1 of 2
75 - 69
8:22
Drew Gooden makes free throw 2 of 2
75 - 70
8:03
Marreese Speights makes 18-foot jumper (Willie Green assists)
77 - 70
7:45
Tyrus Thomas bad pass (Thaddeus Young steals)
77 - 70
7:41
Thaddeus Young misses layup
77 - 70
7:39
Ben Gordon defensive rebound
77 - 70
7:33
Ben Gordon misses layup
77 - 70
7:28
Marreese Speights defensive rebound
77 - 70
7:28
Derrick Rose enters the game for Larry Hughes
77 - 70
7:15
Lou Williams bad pass (Luol Deng steals)
77 - 70
7:11
Thaddeus Young blocks Luol Deng's layup
77 - 70
7:09
Thaddeus Young defensive rebound
77 - 70
7:05
Lou Williams misses layup
77 - 70
7:03
Tyrus Thomas defensive rebound
77 - 70
7:00
Lou Williams personal foul (Derrick Rose draws the foul)
77 - 70
7:00
Andre Miller enters the game for Lou Williams
77 - 70
6:52
Ben Gordon misses three point jumper
77 - 70
6:50
Willie Green defensive rebound
77 - 70
6:37
Andre Miller misses layup
77 - 70
6:35
Elton Brand offensive rebound
77 - 70
6:28
Elton Brand makes 7-foot two point shot
79 - 70
6:16
Derrick Rose makes driving layup
79 - 72
6:16
Andre Miller shooting foul (Derrick Rose draws the foul)
79 - 72
6:16
Andre Iguodala enters the game for Thaddeus Young
79 - 72
6:16
Derrick Rose makes free throw 1 of 1
79 - 73
5:58
Willie Green misses 11-foot jumper
79 - 73
5:58
Tyrus Thomas defensive rebound
79 - 73
5:48
Derrick Rose makes 9-foot jumper
79 - 75
5:41
Andre Miller makes 10-foot jumper
81 - 75
5:41
Derrick Rose shooting foul (Andre Miller draws the foul)
81 - 75
5:41
full timeout
81 - 75
5:41
Larry Hughes enters the game for Derrick Rose
81 - 75
5:41
Andre Miller makes free throw 1 of 1
82 - 75
5:28
Willie Green shooting foul (Ben Gordon draws the foul)
82 - 75
5:28
Ben Gordon makes free throw 1 of 2
82 - 76
5:28
Ben Gordon makes free throw 2 of 2
82 - 77
5:09
Marreese Speights makes layup (Andre Iguodala assists)
84 - 77
5:09
Larry Hughes shooting foul (Marreese Speights draws the foul)
84 - 77
5:09
Marreese Speights makes free throw 1 of 1
85 - 77
4:54
Tyrus Thomas misses 14-foot jumper
85 - 77
4:54
Chicago offensive rebound
85 - 77
4:54
Andre Iguodala loose ball foul (Drew Gooden draws the foul)
85 - 77
4:54
Drew Gooden makes free throw 1 of 2
85 - 78
4:54
Drew Gooden makes free throw 2 of 2
85 - 79
4:37
Andre Iguodala misses 21-foot jumper
85 - 79
4:37
Philadelphia offensive rebound
85 - 79
4:37
Drew Gooden loose ball foul (Elton Brand draws the foul)
85 - 79
4:37
Derrick Rose enters the game for Larry Hughes
85 - 79
4:37
Andres Nocioni enters the game for Luol Deng
85 - 79
4:37
Elton Brand misses free throw 1 of 2
85 - 79
4:37
Philadelphia offensive rebound
85 - 79
4:37
Elton Brand makes free throw 2 of 2
86 - 79
4:26
Derrick Rose misses two point shot
86 - 79
4:24
Drew Gooden offensive rebound
86 - 79
4:24
Marreese Speights shooting foul (Drew Gooden draws the foul)
86 - 79
4:24
Drew Gooden makes free throw 1 of 2
86 - 80
4:24
Drew Gooden makes free throw 2 of 2
86 - 81
3:58
Elton Brand misses 15-foot jumper
86 - 81
3:58
Tyrus Thomas defensive rebound
86 - 81
3:58
Andre Miller personal foul (Tyrus Thomas draws the foul)
86 - 81
3:58
Tyrus Thomas makes free throw 1 of 2
86 - 82
3:58
Tyrus Thomas makes free throw 2 of 2
86 - 83
3:33
Andre Miller misses layup
86 - 83
3:32
Marreese Speights offensive rebound
88 - 83
3:32
Marreese Speights makes two point shot
88 - 83
3:21
Ben Gordon misses layup
88 - 83
3:20
Elton Brand defensive rebound
88 - 83
3:02
Andre Iguodala makes slam dunk (Willie Green assists)
90 - 83
3:02
Chicago full timeout
90 - 83
2:51
Marreese Speights shooting foul (Derrick Rose draws the foul)
90 - 83
2:51
Derrick Rose misses free throw 1 of 2
90 - 83
2:51
Chicago offensive rebound
90 - 83
2:51
Derrick Rose makes free throw 2 of 2
90 - 84
2:34
Andre Iguodala traveling
90 - 84
2:15
Derrick Rose makes two point shot (Ben Gordon assists)
90 - 86
1:54
Andre Miller misses layup
90 - 86
1:54
Derrick Rose defensive rebound
90 - 86
1:49
Andres Nocioni misses layup
90 - 86
1:47
Willie Green defensive rebound
90 - 86
1:30
Andre Iguodala misses 23-foot jumper
90 - 86
1:28
Tyrus Thomas defensive rebound
90 - 86
1:15
Elton Brand shooting foul (Drew Gooden draws the foul)
90 - 86
1:15
Drew Gooden makes free throw 1 of 2
90 - 87
1:15
Drew Gooden makes free throw 2 of 2
90 - 88
0:53
Tyrus Thomas blocks Andre Miller's layup
90 - 88
0:51
Ben Gordon defensive rebound
90 - 88
0:40
Tyrus Thomas offensive foul (Andre Miller draws the foul)
90 - 88
0:40
Tyrus Thomas turnover
90 - 88
0:40
Philadelphia full timeout
90 - 88
0:23
Andre Iguodala turnover
90 - 88
0:23
Chicago full timeout
90 - 88
0:18
Andre Iguodala blocks Derrick Rose's layup
90 - 88
0:17
Tyrus Thomas offensive rebound
90 - 90
0:17
Tyrus Thomas makes two point shot
90 - 90
0:17
Philadelphia 20 Sec. timeout
90 - 90
0:17
Larry Hughes enters the game for Derrick Rose
90 - 90
0:01
Andre Miller misses 22-foot three point jumper
90 - 90
0:00
Andres Nocioni defensive rebound
90 - 90
0:00
End of the 4th Quarter
90 - 90

time
TEAM
PLAY
SCORE
5:00
Start of the 1st Overtime
90 - 90
5:00
Jumpball: Marreese Speights vs. Drew Gooden (Elton Brand gains possession)
90 - 90
4:43
Andre Miller misses 12-foot jumper
90 - 90
4:41
Derrick Rose defensive rebound
90 - 90
4:35
Andres Nocioni misses 23-foot three point jumper
90 - 90
4:33
Tyrus Thomas offensive rebound
90 - 90
4:26
Ben Gordon misses 16-foot jumper
90 - 90
4:26
Willie Green defensive rebound
90 - 90
4:15
Elton Brand makes 17-foot jumper
92 - 90
3:53
Derrick Rose misses 18-foot jumper
92 - 90
3:49
Elton Brand defensive rebound
92 - 90
3:40
Elton Brand misses 18-foot jumper
92 - 90
3:39
Marreese Speights offensive rebound
92 - 90
3:21
Andre Iguodala misses 10-foot hook shot
92 - 90
3:20
Ben Gordon defensive rebound
92 - 90
3:15
Elton Brand blocks Ben Gordon's 9-foot jumper
92 - 90
3:15
Chicago offensive rebound
92 - 90
3:09
Ben Gordon misses 25-foot three point jumper
92 - 90
3:08
Andre Iguodala defensive rebound
92 - 90
3:04
Tyrus Thomas shooting foul (Andre Miller draws the foul)
92 - 90
3:04
Andre Miller makes free throw 1 of 2
93 - 90
3:04
Andre Miller makes free throw 2 of 2
94 - 90
2:50
Elton Brand shooting foul (Tyrus Thomas draws the foul)
94 - 90
2:50
Tyrus Thomas makes free throw 1 of 2
94 - 91
2:50
Tyrus Thomas makes free throw 2 of 2
94 - 92
2:41
Andre Miller makes driving layup
96 - 92
2:41
Tyrus Thomas shooting foul (Andre Miller draws the foul)
96 - 92
2:41
Andre Miller makes free throw 1 of 1
97 - 92
2:41
Chicago full timeout
97 - 92
2:24
Andres Nocioni misses layup
97 - 92
2:24
Chicago defensive rebound
97 - 92
2:03
Elton Brand misses 17-foot jumper
97 - 92
2:02
Tyrus Thomas defensive rebound
97 - 92
1:47
Tyrus Thomas misses 18-foot jumper
97 - 92
1:47
Andre Iguodala defensive rebound
97 - 92
1:32
Andre Miller makes 15-foot jumper
99 - 92
1:32
Chicago 20 Sec. timeout
99 - 92
1:29
Andres Nocioni makes 25-foot three point jumper (Drew Gooden assists)
99 - 95
1:06
Andre Iguodala makes 22-foot jumper
101 - 95
0:55
Drew Gooden misses three point jumper
101 - 95
0:53
Derrick Rose offensive rebound
101 - 95
0:53
Derrick Rose misses layup
101 - 95
0:52
Elton Brand defensive rebound
101 - 95
0:30
Marreese Speights misses layup
101 - 95
0:29
Andre Iguodala offensive rebound
101 - 95
0:29
Andre Iguodala misses tip shot
101 - 95
0:29
Philadelphia defensive rebound
101 - 95
0:22
Ben Gordon misses layup
101 - 95
0:21
Ben Gordon offensive rebound
101 - 95
0:19
Ben Gordon misses layup
101 - 95
0:18
Willie Green defensive rebound
101 - 95
0:14
Ben Gordon personal foul (Willie Green draws the foul)
101 - 95
0:14
Ben Gordon personal foul (Andre Miller draws the foul)
101 - 95
0:14
Andre Miller makes free throw 1 of 2
102 - 95
0:14
Andre Miller makes free throw 2 of 2
103 - 95
0:14
Chicago full timeout
103 - 95
0:11
Derrick Rose bad pass (Andre Miller steals)
103 - 95
0:00
End of the 1st Overtime
103 - 95
0:00
End Game
103 - 95
The latest notes, updates and analysis on the Pelicans from around the web.

Tom Penn says Oklahoma City needs both Kevin Durant and Russell Westbrook to show up if it wants any chance to compete with San Antonio and the Thunder must also improve their team play.

Brendan Haywood says Warriors guard Stephen Curry shouldn't come back until he is 100 percent healthy.
Regular Season Series
Series tied 2-2
2015-2016 Atlantic Standings