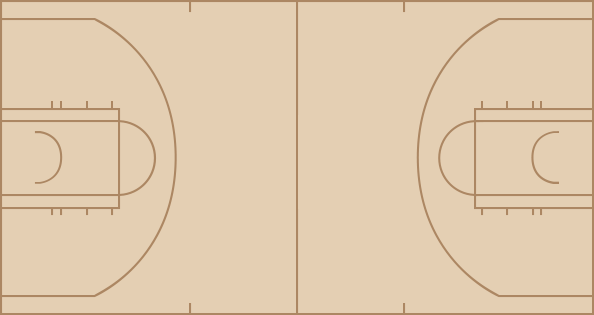 Nuggets
time
TEAM
PLAY
SCORE
12:00
Start of the 1st Quarter
0 - 0
12:00
Jumpball: Nene Hilario vs. Brad Miller (John Salmons gains possession)
0 - 0
11:47
Chauncey Billups shooting foul (Beno Udrih draws the foul)
0 - 0
11:47
Beno Udrih makes free throw 1 of 2
0 - 1
11:47
Beno Udrih makes free throw 2 of 2
0 - 2
11:29
Carmelo Anthony misses 21-foot jumper
0 - 2
11:27
Brad Miller defensive rebound
0 - 2
11:11
Spencer Hawes misses 23-foot three point jumper
0 - 2
11:11
Dahntay Jones defensive rebound
0 - 2
11:03
Chauncey Billups makes 19-foot jumper
2 - 2
10:48
Kevin Martin misses 22-foot jumper
2 - 2
10:47
Carmelo Anthony defensive rebound
2 - 2
10:45
Kevin Martin jump ball
2 - 2
10:36
Chauncey Billups makes 25-foot three point jumper
5 - 2
10:36
John Salmons shooting foul (Chauncey Billups draws the foul)
5 - 2
10:36
Chauncey Billups misses free throw 1 of 1
5 - 2
10:34
Brad Miller defensive rebound
5 - 2
10:22
Nene Hilario blocks Spencer Hawes's two point shot
5 - 2
10:19
Nene Hilario blocks Brad Miller's 4-foot jumper
5 - 2
10:18
Spencer Hawes offensive rebound
5 - 2
10:15
Beno Udrih makes 11-foot running jumper
5 - 4
9:48
Carmelo Anthony makes 5-foot jumper
7 - 4
9:40
Beno Udrih lost ball (Nene Hilario steals)
7 - 4
9:29
Carmelo Anthony makes 13-foot jumper
9 - 4
9:11
John Salmons misses 18-foot jumper
9 - 4
9:11
Nene Hilario defensive rebound
9 - 4
9:07
Beno Udrih personal foul (Chauncey Billups draws the foul)
9 - 4
8:56
Nene Hilario makes driving layup
11 - 4
8:49
Kevin Martin bad pass (Nene Hilario steals)
11 - 4
8:47
Nene Hilario makes slam dunk
13 - 4
8:36
Beno Udrih bad pass (Nene Hilario steals)
13 - 4
8:33
Nene Hilario makes slam dunk
15 - 4
8:12
Spencer Hawes makes 8-foot two point shot
15 - 6
7:56
Nene Hilario misses 18-foot jumper
15 - 6
7:54
Renaldo Balkman offensive rebound
15 - 6
7:52
Nene Hilario makes slam dunk (Renaldo Balkman assists)
17 - 6
7:52
Spencer Hawes shooting foul (Nene Hilario draws the foul)
17 - 6
7:52
Nene Hilario makes free throw 1 of 1
18 - 6
7:43
Brad Miller misses layup
18 - 6
7:39
Spencer Hawes offensive rebound
18 - 8
7:39
Spencer Hawes makes two point shot
18 - 8
7:18
Renaldo Balkman makes two point shot (Carmelo Anthony assists)
20 - 8
6:52
Brad Miller bad pass (Nene Hilario steals)
20 - 8
6:50
Renaldo Balkman makes slam dunk (Chauncey Billups assists)
22 - 8
6:50
Brad Miller shooting foul (Renaldo Balkman draws the foul)
22 - 8
6:50
Renaldo Balkman misses free throw 1 of 1
22 - 8
6:48
Spencer Hawes defensive rebound
22 - 8
6:43
Bobby Brown enters the game for Brad Miller
22 - 8
6:43
Jason Thompson enters the game for Beno Udrih
22 - 8
6:31
Bobby Brown misses 24-foot three point jumper
22 - 8
6:30
Nene Hilario defensive rebound
22 - 8
6:16
Carmelo Anthony makes 9-foot two point shot
24 - 8
6:01
Kevin Martin misses 18-foot jumper
24 - 8
6:00
Chauncey Billups defensive rebound
24 - 8
5:58
Chauncey Billups lost ball (Bobby Brown steals)
24 - 8
5:54
Kevin Martin makes layup (Bobby Brown assists)
24 - 10
5:37
Chauncey Billups bad pass (Spencer Hawes steals)
24 - 10
5:31
Bobby Brown misses 20-foot jumper
24 - 10
5:31
Dahntay Jones defensive rebound
24 - 10
5:24
Bobby Brown personal foul (Chauncey Billups draws the foul)
24 - 10
5:24
Chauncey Billups makes free throw 1 of 2
25 - 10
5:24
Chauncey Billups makes free throw 2 of 2
26 - 10
5:03
Spencer Hawes misses three point jumper
26 - 10
5:03
Jason Thompson offensive rebound
26 - 10
5:01
Jason Thompson misses 4-foot jumper
26 - 10
5:01
Spencer Hawes misses tip shot
30 - 14
5:01
Spencer Hawes offensive rebound
30 - 14
5:00
Renaldo Balkman defensive rebound
26 - 10
4:50
Carmelo Anthony lost ball (John Salmons steals)
26 - 10
4:46
Dahntay Jones blocks John Salmons's layup
26 - 10
4:45
John Salmons offensive rebound
26 - 10
4:43
John Salmons makes layup
26 - 12
4:26
Chauncey Billups makes jumper
28 - 12
4:11
Renaldo Balkman personal foul (John Salmons draws the foul)
28 - 12
4:09
Carmelo Anthony personal foul (Kevin Martin draws the foul)
28 - 12
4:03
Spencer Hawes bad pass (Dahntay Jones steals)
28 - 12
4:01
Bobby Brown personal foul (Dahntay Jones draws the foul)
28 - 12
4:01
Dahntay Jones makes free throw 1 of 2
29 - 12
4:01
Francisco Garcia enters the game for Bobby Brown
29 - 12
4:01
Dahntay Jones makes free throw 2 of 2
30 - 12
3:39
Jason Thompson makes slam dunk (John Salmons assists)
30 - 14
3:27
Carmelo Anthony traveling
30 - 14
3:27
Linas Kleiza enters the game for Renaldo Balkman
30 - 14
3:08
Kevin Martin misses 17-foot jumper
30 - 14
3:06
Nene Hilario defensive rebound
30 - 14
3:00
Chauncey Billups misses jumper
30 - 14
3:00
Jason Thompson defensive rebound
30 - 14
2:55
Nene Hilario blocks Kevin Martin's driving layup
30 - 14
2:55
Denver full timeout
30 - 14
2:55
J.R. Smith enters the game for Dahntay Jones
30 - 14
2:39
John Salmons makes 20-foot jumper
30 - 16
2:16
J.R. Smith makes 24-foot three point jumper (Nene Hilario assists)
33 - 16
1:59
John Salmons bad pass
33 - 16
1:59
Anthony Carter enters the game for Chauncey Billups
33 - 16
1:45
Carmelo Anthony makes driving layup
35 - 16
1:23
J.R. Smith personal foul (John Salmons draws the foul)
35 - 16
1:23
Mikki Moore enters the game for Spencer Hawes
35 - 16
1:12
John Salmons misses driving layup
35 - 16
1:10
Carmelo Anthony defensive rebound
35 - 16
1:05
J.R. Smith misses 25-foot three point jumper
35 - 16
1:04
Linas Kleiza offensive rebound
35 - 16
0:53
Nene Hilario misses 13-foot jumper
35 - 16
0:52
John Salmons defensive rebound
35 - 16
0:43
John Salmons misses 18-foot jumper
35 - 16
0:42
Francisco Garcia loose ball foul (Nene Hilario draws the foul)
35 - 16
0:42
Nene Hilario misses free throw 1 of 2
35 - 16
0:42
Denver offensive rebound
35 - 16
0:42
Beno Udrih enters the game for Kevin Martin
35 - 16
0:42
Nene Hilario misses free throw 2 of 2
35 - 16
0:41
John Salmons defensive rebound
35 - 16
0:28
Jason Thompson misses 4-foot jumper
35 - 16
0:28
Mikki Moore loose ball foul (Anthony Carter draws the foul)
35 - 16
0:28
Chris Andersen enters the game for Nene Hilario
35 - 16
0:28
Anthony Carter makes free throw 1 of 2
36 - 16
0:28
Anthony Carter makes free throw 2 of 2
37 - 16
0:07
John Salmons misses 23-foot three point jumper
37 - 16
0:05
Mikki Moore offensive rebound
37 - 16
0:05
Jason Thompson makes slam dunk (Francisco Garcia assists)
37 - 18
0:00
Francisco Garcia blocks Carmelo Anthony's 25-foot three point jumper
37 - 18
0:00
Denver offensive rebound
37 - 18
0:00
End of the 1st Quarter
37 - 18

time
TEAM
PLAY
SCORE
12:00
Start of the 2nd Quarter
37 - 18
11:51
Anthony Carter misses layup
37 - 18
11:51
Jason Thompson defensive rebound
37 - 18
11:51
Chris Andersen personal foul (Jason Thompson draws the foul)
37 - 18
11:33
Francisco Garcia misses 26-foot three point jumper
37 - 18
11:32
J.R. Smith defensive rebound
37 - 18
11:23
J.R. Smith makes driving layup
39 - 18
11:08
Chris Andersen blocks Francisco Garcia's layup
39 - 18
11:07
Chris Andersen defensive rebound
39 - 18
11:00
Linas Kleiza lost ball (Jason Thompson steals)
39 - 18
10:57
Linas Kleiza personal foul (Jason Thompson draws the foul)
39 - 18
10:48
Chris Andersen blocks Jason Thompson's 3-foot jumper
39 - 18
10:47
Jason Thompson offensive rebound
39 - 18
10:45
Chris Andersen blocks Jason Thompson's layup
39 - 18
10:44
Jason Thompson offensive rebound
39 - 18
10:41
Kevin Martin misses layup
39 - 18
10:41
Mikki Moore offensive rebound
39 - 18
10:37
Mikki Moore misses 8-foot jumper
39 - 18
10:36
Linas Kleiza defensive rebound
39 - 18
10:30
J.R. Smith misses 27-foot three point jumper
39 - 18
10:29
Mikki Moore defensive rebound
39 - 18
10:22
Beno Udrih misses 25-foot three point jumper
39 - 18
10:22
Carmelo Anthony defensive rebound
39 - 18
10:15
Linas Kleiza makes layup (Anthony Carter assists)
41 - 18
10:07
Anthony Carter shooting foul (Kevin Martin draws the foul)
41 - 18
10:07
Spencer Hawes enters the game for Mikki Moore
41 - 18
10:07
Kevin Martin makes free throw 1 of 2
41 - 19
10:07
Brad Miller enters the game for Jason Thompson
41 - 19
10:07
Kevin Martin makes free throw 2 of 2
41 - 20
10:03
Kevin Martin personal foul (J.R. Smith draws the foul)
41 - 20
9:55
Brad Miller shooting foul (Chris Andersen draws the foul)
41 - 20
9:55
Chris Andersen makes free throw 1 of 2
42 - 20
9:55
Chris Andersen misses free throw 2 of 2
42 - 20
9:52
Spencer Hawes defensive rebound
42 - 20
9:41
Chris Andersen shooting foul (Beno Udrih draws the foul)
42 - 20
9:41
Beno Udrih makes free throw 1 of 2
42 - 21
9:41
Beno Udrih makes free throw 2 of 2
42 - 22
9:22
Carmelo Anthony misses two point shot
42 - 22
9:22
Brad Miller defensive rebound
42 - 22
9:12
Kevin Martin makes 23-foot three point jumper (Beno Udrih assists)
42 - 25
9:02
J.R. Smith bad pass (Brad Miller steals)
42 - 25
8:52
Spencer Hawes misses two point shot
42 - 25
8:51
Chris Andersen defensive rebound
42 - 25
8:45
Spencer Hawes shooting foul (J.R. Smith draws the foul)
42 - 25
8:45
Chauncey Billups enters the game for Carmelo Anthony
42 - 25
8:45
J.R. Smith makes free throw 1 of 2
43 - 25
8:45
J.R. Smith misses free throw 2 of 2
43 - 25
8:45
full timeout
42 - 25
8:44
J.R. Smith offensive rebound
43 - 25
8:37
Linas Kleiza misses 25-foot three point jumper
43 - 25
8:37
Brad Miller defensive rebound
43 - 25
8:21
Francisco Garcia makes 23-foot three point jumper (Beno Udrih assists)
43 - 28
7:58
Chauncey Billups misses 19-foot jumper
43 - 28
7:56
Chris Andersen offensive rebound
43 - 28
7:54
Chris Andersen misses 8-foot two point shot
43 - 28
7:54
Spencer Hawes defensive rebound
43 - 28
7:43
Kevin Martin misses 13-foot jumper
43 - 28
7:43
Anthony Carter defensive rebound
43 - 28
7:39
Anthony Carter bad pass
43 - 28
7:24
Spencer Hawes misses 4-foot two point shot
43 - 28
7:24
Francisco Garcia offensive rebound
43 - 28
7:22
Francisco Garcia makes layup
43 - 30
7:15
Chris Andersen offensive foul (Brad Miller draws the foul)
43 - 30
7:15
Chris Andersen turnover
43 - 30
7:03
Beno Udrih makes driving layup
43 - 32
6:43
Linas Kleiza makes driving dunk (Chauncey Billups assists)
45 - 32
6:24
Nene Hilario enters the game for Chris Andersen
45 - 32
6:18
Kevin Martin bad pass
45 - 32
6:09
Anthony Carter turnover
45 - 32
6:09
Renaldo Balkman enters the game for Linas Kleiza
45 - 32
5:47
Kevin Martin misses 11-foot two point shot
45 - 32
5:45
Renaldo Balkman defensive rebound
45 - 32
5:28
Nene Hilario misses 17-foot jumper
45 - 32
5:28
Brad Miller defensive rebound
45 - 32
5:22
Beno Udrih misses driving layup
45 - 32
5:22
Spencer Hawes offensive rebound
45 - 34
5:20
Beno Udrih makes tip shot
45 - 34
5:20
J.R. Smith illegal defense
53 - 36
5:05
Nene Hilario makes layup (Chauncey Billups assists)
47 - 34
4:43
Beno Udrih misses 26-foot three point jumper
47 - 34
4:43
J.R. Smith defensive rebound
47 - 34
4:24
Spencer Hawes blocks Renaldo Balkman's layup
47 - 34
4:22
Anthony Carter offensive rebound
47 - 34
4:20
Dahntay Jones enters the game for J.R. Smith
47 - 34
4:05
Chauncey Billups makes 16-foot two point shot
49 - 34
3:53
Nene Hilario shooting foul (Francisco Garcia draws the foul)
49 - 34
3:53
Carmelo Anthony enters the game for Anthony Carter
49 - 34
3:53
Francisco Garcia makes free throw 1 of 2
49 - 35
3:53
John Salmons enters the game for Brad Miller
49 - 35
3:53
Francisco Garcia makes free throw 2 of 2
49 - 36
3:34
Nene Hilario makes slam dunk
51 - 36
3:24
Beno Udrih bad pass (Renaldo Balkman steals)
51 - 36
3:20
Renaldo Balkman makes slam dunk
53 - 36
3:02
John Salmons misses layup
53 - 36
3:00
Nene Hilario defensive rebound
53 - 36
2:59
Francisco Garcia flagrant foul type 1 (Renaldo Balkman draws the foul)
53 - 36
2:59
Denver full timeout
53 - 36
2:59
Renaldo Balkman technical foul (1st technical foul)
53 - 36
2:59
Jason Thompson enters the game for Spencer Hawes
53 - 36
2:59
Kevin Martin misses technical free throw
53 - 36
2:59
Denver offensive rebound
53 - 36
2:59
Renaldo Balkman misses flagrant free throw 2 of 2
53 - 36
2:59
Denver offensive rebound
53 - 36
2:59
Renaldo Balkman makes free throw
54 - 36
2:43
Nene Hilario lost ball (Kevin Martin steals)
54 - 36
2:38
Kevin Martin lost ball (Renaldo Balkman steals)
54 - 36
2:34
Carmelo Anthony bad pass
54 - 36
2:21
Renaldo Balkman blocks John Salmons's layup
54 - 36
2:18
Kevin Martin misses 19-foot jumper
54 - 36
2:16
Carmelo Anthony defensive rebound
54 - 36
2:00
Dahntay Jones misses 4-foot running jumper
54 - 36
2:00
Carmelo Anthony offensive rebound
54 - 36
1:47
Carmelo Anthony misses 15-foot jumper
54 - 36
1:47
Kevin Martin defensive rebound
54 - 36
1:42
Nene Hilario shooting foul (Kevin Martin draws the foul)
54 - 36
1:42
Kevin Martin misses free throw 1 of 2
54 - 36
1:42
Kevin Martin makes free throw 2 of 2
54 - 37
1:17
Nene Hilario makes slam dunk (Renaldo Balkman assists)
56 - 37
1:09
Francisco Garcia misses 20-foot jumper
56 - 37
1:08
John Salmons offensive rebound
56 - 37
1:04
Francisco Garcia makes layup (John Salmons assists)
56 - 39
0:48
Chauncey Billups misses 24-foot three point jumper
56 - 39
0:46
Renaldo Balkman offensive rebound
56 - 39
0:46
Renaldo Balkman makes jumper
58 - 39
0:34
Beno Udrih bad pass (Nene Hilario steals)
58 - 39
0:29
Jason Thompson shooting foul (Carmelo Anthony draws the foul)
58 - 39
0:29
Linas Kleiza enters the game for Nene Hilario
58 - 39
0:29
Carmelo Anthony makes free throw 1 of 2
59 - 39
0:29
Bobby Brown enters the game for Beno Udrih
59 - 39
0:29
Carmelo Anthony makes free throw 2 of 2
60 - 39
0:05
Bobby Brown misses 9-foot two point shot
60 - 39
0:04
Jason Thompson offensive rebound
60 - 39
0:03
Jason Thompson misses layup
60 - 39
0:00
Renaldo Balkman defensive rebound
60 - 39
0:00
End of the 2nd Quarter
60 - 39

time
TEAM
PLAY
SCORE
12:00
Start of the 3rd Quarter
60 - 39
11:41
Dahntay Jones misses jumper
60 - 39
11:40
Spencer Hawes defensive rebound
60 - 39
11:25
Spencer Hawes misses 20-foot jumper
60 - 39
11:22
Beno Udrih offensive rebound
60 - 39
11:18
John Salmons makes 24-foot three point jumper
60 - 42
10:52
Carmelo Anthony misses layup
60 - 42
10:51
John Salmons defensive rebound
60 - 42
10:44
Carmelo Anthony shooting foul (John Salmons draws the foul)
60 - 42
10:44
John Salmons misses free throw 1 of 2
60 - 42
10:44
John Salmons makes free throw 2 of 2
60 - 43
10:26
Carmelo Anthony makes 7-foot two point shot
62 - 43
10:07
Beno Udrih misses 18-foot jumper
62 - 43
10:07
Nene Hilario defensive rebound
62 - 43
9:42
Dahntay Jones misses jumper
62 - 43
9:41
Denver offensive rebound
62 - 43
9:36
Spencer Hawes illegal defense foul (3rd personal foul)
62 - 43
9:36
Chauncey Billups makes technical free throw
63 - 43
9:32
Kevin Martin personal foul (Dahntay Jones draws the foul)
63 - 43
9:26
Dahntay Jones makes 6-foot jumper
65 - 43
9:25
John Salmons technical foul (1st technical foul)
65 - 43
9:25
Chauncey Billups makes technical free throw
66 - 43
9:15
Kevin Martin misses 22-foot jumper
66 - 43
9:14
Carmelo Anthony defensive rebound
66 - 43
8:52
Spencer Hawes illegal defense foul (3rd personal foul)
66 - 43
8:52
Chauncey Billups makes technical free throw
67 - 43
8:41
Carmelo Anthony makes 18-foot two point shot
69 - 43
8:25
John Salmons misses layup
69 - 43
8:12
Chauncey Billups makes 25-foot three point jumper (Renaldo Balkman assists)
72 - 43
7:56
Dahntay Jones blocks Brad Miller's 6-foot jumper
72 - 43
7:54
Beno Udrih offensive rebound
72 - 43
7:50
John Salmons makes layup (Beno Udrih assists)
72 - 45
7:35
Carmelo Anthony misses 17-foot jumper
72 - 45
7:35
Kevin Martin defensive rebound
72 - 45
7:24
Spencer Hawes makes 13-foot jumper
72 - 47
7:07
Brad Miller shooting foul (Nene Hilario draws the foul)
72 - 47
7:07
Nene Hilario misses free throw 1 of 2
72 - 47
7:07
Denver offensive rebound
72 - 47
7:07
Nene Hilario makes free throw 2 of 2
73 - 47
6:50
Spencer Hawes misses two point shot
73 - 47
6:48
Nene Hilario defensive rebound
73 - 47
6:28
Carmelo Anthony misses 16-foot jumper
73 - 47
6:28
Denver offensive rebound
73 - 47
6:24
Nene Hilario misses layup
73 - 47
6:24
Nene Hilario offensive rebound
73 - 47
6:20
Chauncey Billups makes 26-foot three point jumper (Nene Hilario assists)
76 - 47
6:03
John Salmons makes driving layup
76 - 49
6:03
Nene Hilario shooting foul (John Salmons draws the foul)
76 - 49
6:03
Jason Thompson enters the game for Brad Miller
76 - 49
6:03
John Salmons makes free throw 1 of 1
76 - 50
5:47
Carmelo Anthony misses driving layup
76 - 50
5:46
Spencer Hawes defensive rebound
76 - 50
5:31
Renaldo Balkman shooting foul (John Salmons draws the foul)
76 - 50
5:31
Francisco Garcia enters the game for Kevin Martin
76 - 50
5:31
Chris Andersen enters the game for Nene Hilario
76 - 50
5:31
John Salmons makes free throw 1 of 2
76 - 51
5:31
John Salmons makes free throw 2 of 2
76 - 52
5:07
Jason Thompson shooting foul (Dahntay Jones draws the foul)
76 - 52
5:07
Dahntay Jones makes free throw 1 of 2
77 - 52
5:07
Dahntay Jones makes free throw 2 of 2
78 - 52
5:00
Dahntay Jones personal foul (Francisco Garcia draws the foul)
78 - 52
4:50
Beno Udrih misses 25-foot three point jumper
78 - 52
4:50
Dahntay Jones defensive rebound
78 - 52
4:33
Dahntay Jones misses jumper
78 - 52
4:31
Jason Thompson defensive rebound
78 - 52
4:26
Francisco Garcia misses layup
78 - 52
4:24
Carmelo Anthony defensive rebound
78 - 52
4:15
Carmelo Anthony makes 5-foot two point shot
80 - 52
3:50
Francisco Garcia misses 21-foot jumper
80 - 52
3:47
Beno Udrih offensive rebound
80 - 52
3:43
Jason Thompson makes dunk (Beno Udrih assists)
80 - 54
3:18
Chris Andersen makes layup (Chauncey Billups assists)
82 - 54
3:18
Spencer Hawes shooting foul (Chris Andersen draws the foul)
82 - 54
3:18
Chris Andersen makes free throw 1 of 1
83 - 54
3:18
Dahntay Jones personal foul (Francisco Garcia draws the foul)
83 - 54
3:18
Francisco Garcia makes free throw 1 of 2
83 - 55
3:18
Francisco Garcia makes free throw 2 of 2
83 - 56
3:00
Dahntay Jones misses 16-foot jumper
83 - 56
2:59
Denver defensive rebound
83 - 56
2:59
Renaldo Balkman loose ball foul (Beno Udrih draws the foul)
83 - 56
2:59
Denver full timeout
83 - 56
2:59
Linas Kleiza enters the game for Renaldo Balkman
83 - 56
2:59
Beno Udrih makes free throw 1 of 2
83 - 57
2:59
Beno Udrih makes free throw 2 of 2
83 - 58
2:40
Spencer Hawes shooting foul (Chris Andersen draws the foul)
83 - 58
2:40
Chris Andersen makes free throw 1 of 2
84 - 58
2:40
J.R. Smith enters the game for Dahntay Jones
84 - 58
2:40
Chris Andersen makes free throw 2 of 2
85 - 58
2:31
Carmelo Anthony personal foul (John Salmons draws the foul)
85 - 58
2:31
Bobby Brown enters the game for Beno Udrih
85 - 58
2:31
John Salmons makes free throw 1 of 2
85 - 59
2:31
John Salmons makes free throw 2 of 2
85 - 60
2:14
Bobby Brown personal foul (Chauncey Billups draws the foul)
85 - 60
2:14
Chauncey Billups makes free throw 1 of 2
86 - 60
2:14
Chauncey Billups makes free throw 2 of 2
87 - 60
2:00
John Salmons lost ball (Chauncey Billups steals)
87 - 60
1:39
John Salmons misses jumper
87 - 60
1:38
Jason Thompson offensive rebound
87 - 60
1:38
Jason Thompson misses tip shot
87 - 60
1:37
Jason Thompson offensive rebound
87 - 60
1:37
Jason Thompson misses tip shot
87 - 60
1:36
Donte Greene enters the game for Francisco Garcia
87 - 60
1:36
Jason Thompson offensive rebound
87 - 60
1:31
Bobby Brown misses 6-foot two point shot
87 - 60
1:30
Spencer Hawes offensive rebound
87 - 60
1:29
Spencer Hawes makes two point shot
87 - 62
1:14
Bobby Brown personal foul (Chauncey Billups draws the foul)
87 - 62
1:14
Anthony Carter enters the game for Carmelo Anthony
87 - 62
1:14
Shelden Williams enters the game for Spencer Hawes
87 - 62
1:14
Chauncey Billups makes free throw 1 of 2
88 - 62
1:14
Chauncey Billups makes free throw 2 of 2
89 - 62
0:58
Bobby Brown misses 26-foot three point jumper
89 - 62
0:43
Chris Andersen misses dunk
89 - 62
0:41
Jason Thompson defensive rebound
89 - 62
0:35
Jason Thompson misses 11-foot jumper
89 - 62
0:34
Anthony Carter defensive rebound
89 - 62
0:31
Anthony Carter bad pass (Bobby Brown steals)
89 - 62
0:08
Shelden Williams misses 18-foot jumper
89 - 62
0:07
Jason Thompson offensive rebound
89 - 62
0:01
Donte Greene misses 23-foot three point jumper
89 - 62
0:00
Linas Kleiza defensive rebound
89 - 62
0:00
End of the 3rd Quarter
89 - 62

time
TEAM
PLAY
SCORE
12:00
Start of the 4th Quarter
89 - 62
11:45
Linas Kleiza personal foul (Jason Thompson draws the foul)
89 - 62
11:37
Chris Andersen blocks Jason Thompson's 7-foot jumper
89 - 62
11:33
John Salmons makes 18-foot jumper (Donte Greene assists)
89 - 64
11:15
J.R. Smith misses 25-foot three point jumper
89 - 64
11:15
Chris Andersen offensive rebound
89 - 64
11:15
John Salmons shooting foul (Chris Andersen draws the foul)
89 - 64
11:15
Chris Andersen makes free throw 1 of 2
90 - 64
11:15
Chucky Atkins enters the game for Chauncey Billups
90 - 64
11:15
Chris Andersen makes free throw 2 of 2
91 - 64
11:03
Jason Thompson misses 9-foot jumper
91 - 64
10:59
Shelden Williams offensive rebound
91 - 66
10:59
Shelden Williams makes tip shot
91 - 66
10:34
Chris Andersen misses 19-foot jumper
91 - 66
10:34
Denver defensive rebound
91 - 66
10:34
Linas Kleiza loose ball foul (John Salmons draws the foul)
91 - 66
10:34
Linas Kleiza technical foul (1st technical foul)
91 - 66
10:34
John Salmons makes technical free throw
91 - 67
10:34
Dahntay Jones enters the game for Linas Kleiza
91 - 67
10:17
John Salmons makes 13-foot jumper (Bobby Brown assists)
91 - 69
9:52
J.R. Smith makes driving layup
93 - 69
9:41
Donte Greene misses 20-foot jumper
93 - 69
9:41
Jason Thompson offensive rebound
93 - 69
9:38
Jason Thompson misses tip shot
93 - 69
9:37
Jason Thompson offensive rebound
93 - 69
9:37
Jason Thompson makes 6-foot jumper
93 - 71
9:18
Jason Thompson blocks Dahntay Jones's 10-foot jumper
93 - 71
9:17
Bobby Brown defensive rebound
93 - 71
9:11
John Salmons bad pass
93 - 71
9:11
Denver full timeout
93 - 71
9:00
John Salmons shooting foul (J.R. Smith draws the foul)
93 - 71
9:00
J.R. Smith makes free throw 1 of 2
94 - 71
9:00
J.R. Smith makes free throw 2 of 2
95 - 71
8:41
Jason Thompson lost ball (Anthony Carter steals)
95 - 71
8:36
Chucky Atkins makes 17-foot jumper
97 - 71
8:26
John Salmons misses 19-foot jumper
97 - 71
8:26
Beno Udrih enters the game for John Salmons
97 - 71
8:15
Chucky Atkins lost ball (Shelden Williams steals)
97 - 71
8:11
Bobby Brown makes layup (Jason Thompson assists)
97 - 73
7:50
J.R. Smith makes 17-foot jumper
99 - 73
7:35
Beno Udrih misses 9-foot jumper
99 - 73
7:35
Chris Andersen defensive rebound
99 - 73
7:26
Renaldo Balkman enters the game for Anthony Carter
99 - 73
7:26
Spencer Hawes enters the game for Shelden Williams
99 - 73
7:18
J.R. Smith misses 18-foot jumper
99 - 73
7:16
Jason Thompson defensive rebound
99 - 73
7:13
Jason Thompson bad pass (J.R. Smith steals)
99 - 73
6:50
Renaldo Balkman makes layup (Chris Andersen assists)
101 - 73
6:33
Donte Greene misses 23-foot three point jumper
101 - 73
6:33
Dahntay Jones defensive rebound
101 - 73
6:26
Jason Thompson blocks Dahntay Jones's driving layup
101 - 73
6:26
Denver offensive rebound
101 - 73
6:22
Chucky Atkins misses 17-foot jumper
101 - 73
6:20
Bobby Brown defensive rebound
101 - 73
6:09
Bobby Brown misses 25-foot three point jumper
101 - 73
6:09
Dahntay Jones defensive rebound
101 - 73
5:46
Chucky Atkins makes 23-foot three point jumper (Dahntay Jones assists)
104 - 73
5:22
Renaldo Balkman shooting foul (Beno Udrih draws the foul)
104 - 73
5:22
Official timeout
104 - 73
5:22
Cheikh Samb enters the game for Dahntay Jones
104 - 73
5:22
Linas Kleiza enters the game for Chris Andersen
104 - 73
5:22
Beno Udrih makes free throw 1 of 2
104 - 74
5:22
Beno Udrih makes free throw 2 of 2
104 - 75
5:03
Cheikh Samb misses 22-foot jumper
104 - 75
5:01
Beno Udrih defensive rebound
104 - 75
4:48
Cheikh Samb blocks Bobby Brown's layup
104 - 75
4:46
Linas Kleiza defensive rebound
104 - 75
4:43
J.R. Smith makes dunk (Linas Kleiza assists)
106 - 75
4:26
Spencer Hawes makes two point shot
106 - 77
4:07
Cheikh Samb misses 16-foot jumper
106 - 77
4:07
Spencer Hawes defensive rebound
106 - 77
3:57
Jason Thompson misses 18-foot jumper
106 - 77
3:56
J.R. Smith defensive rebound
106 - 77
3:45
Renaldo Balkman makes 18-foot jumper (J.R. Smith assists)
108 - 77
3:26
Renaldo Balkman personal foul (Jason Thompson draws the foul)
108 - 77
3:18
Cheikh Samb shooting foul (Jason Thompson draws the foul)
108 - 77
3:18
Jason Thompson misses free throw 1 of 2
108 - 77
3:18
Jason Thompson misses free throw 2 of 2
108 - 77
3:17
Donte Greene offensive rebound
108 - 77
3:15
Donte Greene makes two point shot
108 - 79
2:49
J.R. Smith makes 18-foot jumper
110 - 79
2:38
Beno Udrih bad pass (Cheikh Samb steals)
110 - 79
2:31
Linas Kleiza lost ball (Jason Thompson steals)
110 - 79
2:27
Bobby Brown misses layup
110 - 79
2:26
Donte Greene offensive rebound
110 - 81
2:26
Donte Greene makes tip shot
110 - 81
2:04
Linas Kleiza makes driving layup
112 - 81
1:57
Beno Udrih bad pass (Renaldo Balkman steals)
112 - 81
1:50
Renaldo Balkman makes layup (Chucky Atkins assists)
114 - 81
1:36
Donte Greene misses two point shot
114 - 81
1:35
Renaldo Balkman defensive rebound
114 - 81
1:29
Renaldo Balkman bad pass
114 - 81
1:29
Chucky Atkins loose ball foul (Bobby Brown draws the foul)
114 - 81
1:29
Bobby Brown makes free throw 1 of 2
114 - 82
1:29
Bobby Brown makes free throw 2 of 2
114 - 83
1:14
Renaldo Balkman misses 18-foot jumper
114 - 83
1:12
Donte Greene defensive rebound
114 - 83
1:09
Bobby Brown makes two point shot (Spencer Hawes assists)
114 - 85
0:56
Chucky Atkins bad pass (Jason Thompson steals)
114 - 85
0:45
Spencer Hawes misses 17-foot jumper
114 - 85
0:43
Chucky Atkins defensive rebound
114 - 85
0:38
Renaldo Balkman misses layup
114 - 85
0:38
Linas Kleiza offensive rebound
116 - 85
0:38
Linas Kleiza makes two point shot
116 - 85
0:32
Cheikh Samb blocks Donte Greene's driving layup
116 - 85
0:31
Chucky Atkins defensive rebound
116 - 85
0:28
Renaldo Balkman makes two point shot (Chucky Atkins assists)
118 - 85
0:23
Spencer Hawes bad pass (Cheikh Samb steals)
118 - 85
0:05
Renaldo Balkman misses 17-foot jumper
118 - 85
0:04
Spencer Hawes defensive rebound
118 - 85
0:01
Bobby Brown misses 49-foot three point jumper
118 - 85
0:00
End of the 4th Quarter
118 - 85
0:00
End Game
118 - 85
Jalen Rose and David Jacoby break down Draymond Green's performance against the Thunder and offer some advice.

LeBron James finds Richard Jefferson rolling to the basket for the high-flying two-handed slam dunk.

Andrew White III will return to the Nebraska men's basketball team next season after removing his name from the NBA draft.
Regular Season Series
DEN wins series 3-1
2015-2016 Northwest Standings
2015-2016 Pacific Standings