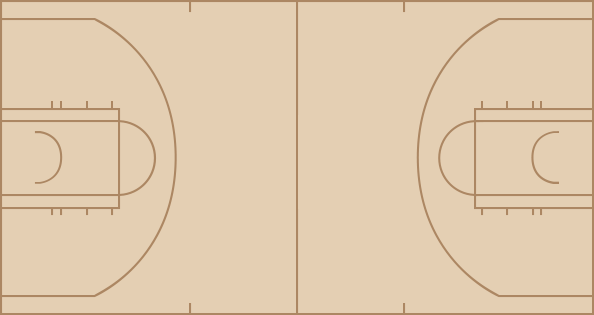 Warriors
time
TEAM
PLAY
SCORE
12:00
Start of the 1st Quarter
0 - 0
12:00
Jumpball: Andris Biedrins vs. Andrew Bynum (Luke Walton gains possession)
0 - 0
11:45
Kobe Bryant makes 22-foot jumper (Andrew Bynum assists)
0 - 2
11:30
Marco Belinelli makes jumper (Brandan Wright assists)
2 - 2
11:18
Luke Walton misses 8-foot jumper
2 - 2
11:17
Andris Biedrins defensive rebound
2 - 2
11:06
Andris Biedrins makes layup (Brandan Wright assists)
4 - 2
10:51
Pau Gasol misses 14-foot jumper
4 - 2
10:49
Kobe Bryant offensive rebound
4 - 2
10:45
Brandan Wright blocks Andrew Bynum's layup
4 - 2
10:45
Jumpball: Brandan Wright vs. Andrew Bynum (Luke Walton gains possession)
4 - 2
10:45
Los Angeles offensive rebound
4 - 2
10:36
Kobe Bryant makes 19-foot jumper (Luke Walton assists)
4 - 4
10:36
Stephen Jackson shooting foul (Kobe Bryant draws the foul)
4 - 4
10:36
Kobe Bryant makes free throw 1 of 1
4 - 5
10:15
Stephen Jackson misses 25-foot three point jumper
4 - 5
10:14
Andris Biedrins offensive rebound
4 - 5
10:03
Andrew Bynum blocks Andris Biedrins's layup
4 - 5
10:00
Andrew Bynum defensive rebound
4 - 5
9:56
Marco Belinelli shooting foul (Luke Walton draws the foul)
4 - 5
9:56
Luke Walton makes free throw 1 of 2
4 - 6
9:56
Luke Walton makes free throw 2 of 2
4 - 7
9:44
Marco Belinelli lost ball (Kobe Bryant steals)
4 - 7
9:37
Derek Fisher makes 12-foot two point shot
4 - 9
9:21
Stephen Jackson misses driving layup
4 - 9
9:18
Andris Biedrins offensive rebound
4 - 9
9:14
Marco Belinelli makes 18-foot jumper (Andris Biedrins assists)
6 - 9
9:00
Luke Walton misses 18-foot jumper
6 - 9
8:59
Andris Biedrins defensive rebound
6 - 9
8:49
Jamal Crawford makes 15-foot two point shot
8 - 9
8:34
Brandan Wright blocks Pau Gasol's two point shot
8 - 9
8:33
Andris Biedrins defensive rebound
8 - 9
8:22
Stephen Jackson lost ball (Andrew Bynum steals)
8 - 9
8:18
Derek Fisher makes driving layup (Kobe Bryant assists)
8 - 11
7:54
Jamal Crawford misses 24-foot three point jumper
8 - 11
7:52
Luke Walton defensive rebound
8 - 11
7:46
Andrew Bynum makes slam dunk (Pau Gasol assists)
8 - 13
7:37
Golden State full timeout
8 - 13
7:28
Kobe Bryant illegal defense foul (1st personal foul)
8 - 13
7:28
Jamal Crawford makes technical free throw
9 - 13
7:18
Brandan Wright makes 11-foot two point shot
11 - 13
7:05
Pau Gasol bad pass (Andris Biedrins steals)
11 - 13
6:58
Stephen Jackson makes layup (Jamal Crawford assists)
13 - 13
6:41
Kobe Bryant makes 25-foot three point jumper (Pau Gasol assists)
13 - 16
6:31
Kobe Bryant personal foul (Stephen Jackson draws the foul)
13 - 16
6:26
Jamal Crawford bad pass
13 - 16
6:16
Andrew Bynum makes slam dunk (Pau Gasol assists)
13 - 18
5:56
Brandan Wright misses 16-foot jumper
13 - 18
5:54
Golden State offensive rebound
13 - 18
5:41
Andris Biedrins misses layup
13 - 18
5:39
Andrew Bynum defensive rebound
13 - 18
5:33
Kobe Bryant misses 21-foot jumper
13 - 18
5:31
Andris Biedrins defensive rebound
13 - 18
5:24
Marco Belinelli makes 23-foot three point jumper (Jamal Crawford assists)
16 - 18
5:09
Pau Gasol misses 14-foot jumper
16 - 18
5:07
Andrew Bynum offensive rebound
16 - 18
4:52
Luke Walton misses 24-foot three point jumper
16 - 18
4:50
Jamal Crawford defensive rebound
16 - 18
4:47
Marco Belinelli makes layup (Jamal Crawford assists)
18 - 18
4:35
Andrew Bynum lost ball (Jamal Crawford steals)
18 - 18
4:31
Derek Fisher shooting foul (Jamal Crawford draws the foul)
18 - 18
4:31
Jamal Crawford makes free throw 1 of 2
19 - 18
4:31
Lamar Odom enters the game for Andrew Bynum
19 - 18
4:31
Jamal Crawford makes free throw 2 of 2
20 - 18
4:20
Luke Walton makes driving layup
20 - 20
4:11
Marco Belinelli misses 24-foot three point jumper
20 - 20
4:11
Derek Fisher defensive rebound
20 - 20
4:07
Luke Walton makes layup (Derek Fisher assists)
20 - 22
3:42
Brandan Wright misses layup
20 - 22
3:40
Pau Gasol defensive rebound
20 - 22
3:29
Derek Fisher makes 16-foot jumper
20 - 24
3:13
Brandan Wright misses 6-foot jumper
20 - 24
3:11
Andris Biedrins offensive rebound
20 - 24
3:01
Lamar Odom shooting foul (Brandan Wright draws the foul)
20 - 24
3:01
Brandan Wright makes free throw 1 of 2
21 - 24
3:01
Los Angeles full timeout
21 - 24
3:01
Sasha Vujacic enters the game for Derek Fisher
21 - 24
3:01
Trevor Ariza enters the game for Pau Gasol
21 - 24
3:01
Brandan Wright makes free throw 2 of 2
22 - 24
3:01
Andrew Bynum enters the game for Luke Walton
23 - 26
2:48
Lamar Odom makes 22-foot jumper (Sasha Vujacic assists)
22 - 26
2:25
Stephen Jackson misses 24-foot three point jumper
22 - 26
2:24
Lamar Odom defensive rebound
22 - 26
2:12
Kobe Bryant misses 25-foot three point jumper
22 - 26
2:11
Andris Biedrins defensive rebound
22 - 26
2:02
Andrew Bynum shooting foul (Brandan Wright draws the foul)
22 - 26
2:02
Brandan Wright makes free throw 1 of 2
23 - 26
2:02
Ronny Turiaf enters the game for Andris Biedrins
23 - 26
2:02
Brandan Wright misses free throw 2 of 2
23 - 26
2:01
Lamar Odom defensive rebound
23 - 26
1:38
Andrew Bynum misses 9-foot two point shot
23 - 26
1:37
Marco Belinelli defensive rebound
23 - 26
1:30
Jamal Crawford makes three point jumper (Stephen Jackson assists)
26 - 26
1:30
Sasha Vujacic shooting foul (Jamal Crawford draws the foul)
26 - 26
1:30
Anthony Randolph enters the game for Brandan Wright
26 - 26
1:30
Jamal Crawford makes free throw 1 of 1
27 - 26
1:14
Stephen Jackson shooting foul (Kobe Bryant draws the foul)
27 - 26
1:14
Kobe Bryant makes free throw 1 of 2
27 - 27
1:14
Kelenna Azubuike enters the game for Stephen Jackson
27 - 27
1:14
Kobe Bryant makes free throw 2 of 2
27 - 28
1:05
Anthony Randolph bad pass
27 - 28
1:02
Stephen Jackson technical foul (1st technical foul)
27 - 28
1:02
Kobe Bryant makes technical free throw
27 - 29
0:49
Kobe Bryant misses 18-foot jumper
27 - 29
0:48
Andrew Bynum offensive rebound
27 - 29
0:48
Andrew Bynum makes slam dunk
27 - 31
0:38
Marco Belinelli misses 17-foot jumper
27 - 31
0:37
Kobe Bryant defensive rebound
27 - 31
0:29
Kelenna Azubuike shooting foul (Kobe Bryant draws the foul)
27 - 31
0:29
Kobe Bryant makes free throw 1 of 2
27 - 32
0:29
Kobe Bryant makes free throw 2 of 2
27 - 33
0:27
Anthony Randolph bad pass (Trevor Ariza steals)
27 - 33
0:26
Anthony Randolph shooting foul (Lamar Odom draws the foul)
27 - 33
0:26
Lamar Odom makes free throw 1 of 2
27 - 34
0:26
Lamar Odom misses free throw 2 of 2
27 - 34
0:25
Andrew Bynum offensive rebound
27 - 34
0:18
Trevor Ariza misses 23-foot three point jumper
27 - 34
0:16
Jamal Crawford defensive rebound
27 - 34
0:02
Ronny Turiaf misses 21-foot jumper
27 - 34
0:01
Trevor Ariza defensive rebound
27 - 34
0:00
Trevor Ariza misses 55-foot three point jumper
27 - 34
0:00
Los Angeles offensive rebound
27 - 34
0:00
End of the 1st Quarter
27 - 34

time
TEAM
PLAY
SCORE
12:00
Start of the 2nd Quarter
27 - 34
11:38
Kelenna Azubuike makes layup (Brandan Wright assists)
29 - 34
11:27
Kelenna Azubuike personal foul (Trevor Ariza draws the foul)
29 - 34
11:07
Sasha Vujacic makes 20-foot jumper (Andrew Bynum assists)
29 - 36
10:56
Ronny Turiaf turnover
29 - 36
10:42
Andrew Bynum misses two point shot
29 - 36
10:41
Kelenna Azubuike defensive rebound
29 - 36
10:36
Kelenna Azubuike lost ball (Sasha Vujacic steals)
29 - 36
10:30
Ronny Turiaf shooting foul (Trevor Ariza draws the foul)
29 - 36
10:30
Trevor Ariza makes free throw 1 of 2
29 - 37
10:30
Trevor Ariza misses free throw 2 of 2
29 - 37
10:30
Trevor Ariza lane violation
29 - 37
10:30
Los Angeles offensive rebound
33 - 39
10:15
C.J. Watson makes jumper
31 - 37
10:03
Sasha Vujacic bad pass (Ronny Turiaf steals)
31 - 37
9:52
Kelenna Azubuike makes jumper (Ronny Turiaf assists)
33 - 37
9:40
Andrew Bynum misses 16-foot jumper
33 - 37
9:37
Sasha Vujacic offensive rebound
33 - 37
9:33
Sasha Vujacic misses 17-foot jumper
33 - 37
9:32
Trevor Ariza offensive rebound
33 - 39
9:32
Trevor Ariza makes two point shot
33 - 39
9:19
Sun Yue personal foul (C.J. Watson draws the foul)
33 - 39
9:19
Stephen Jackson enters the game for Jamal Crawford
33 - 39
9:19
Derek Fisher enters the game for Sun Yue
33 - 39
9:08
Kelenna Azubuike makes 18-foot two point shot
35 - 39
8:55
Trevor Ariza misses 21-foot jumper
35 - 39
8:53
Andrew Bynum offensive rebound
35 - 39
8:48
Derek Fisher makes 20-foot jumper (Andrew Bynum assists)
35 - 41
8:37
Stephen Jackson misses 14-foot jumper
35 - 41
8:36
Trevor Ariza defensive rebound
35 - 41
8:18
Sasha Vujacic makes 26-foot three point jumper (Derek Fisher assists)
35 - 44
8:04
Brandan Wright misses 15-foot jumper
35 - 44
8:03
Andrew Bynum defensive rebound
35 - 44
8:00
Derek Fisher bad pass
35 - 44
8:00
Official timeout
35 - 44
8:00
Andris Biedrins enters the game for Brandan Wright
35 - 44
8:00
Pau Gasol enters the game for Andrew Bynum
35 - 44
8:00
Derek Fisher inbound foul (C.J. Watson draws the foul)
35 - 44
8:00
C.J. Watson misses free throw 1 of 2
35 - 44
8:00
Golden State offensive rebound
35 - 44
8:00
C.J. Watson makes free throw 2 of 2
36 - 44
7:48
Pau Gasol bad pass (Stephen Jackson steals)
36 - 44
7:43
Kelenna Azubuike makes layup (Stephen Jackson assists)
38 - 44
7:43
Derek Fisher shooting foul (Kelenna Azubuike draws the foul)
38 - 44
7:43
Kobe Bryant enters the game for Derek Fisher
38 - 44
7:43
Kelenna Azubuike makes free throw 1 of 1
39 - 44
7:28
Pau Gasol makes 8-foot hook shot
39 - 46
7:18
Pau Gasol shooting foul (Andris Biedrins draws the foul)
39 - 46
7:18
Andris Biedrins misses free throw 1 of 2
39 - 46
7:18
Golden State offensive rebound
39 - 46
7:18
Andris Biedrins misses free throw 2 of 2
39 - 46
7:18
Trevor Ariza defensive rebound
39 - 46
6:58
Sasha Vujacic misses 22-foot three point jumper
39 - 46
6:58
Andris Biedrins defensive rebound
39 - 46
6:48
Trevor Ariza jump ball
39 - 46
6:35
Andris Biedrins misses layup
39 - 46
6:33
Pau Gasol defensive rebound
39 - 46
6:28
Trevor Ariza makes layup
39 - 48
6:28
C.J. Watson shooting foul (Trevor Ariza draws the foul)
39 - 48
6:28
Trevor Ariza makes free throw 1 of 1
39 - 49
6:15
Stephen Jackson bad pass (Lamar Odom steals)
39 - 49
6:05
Kobe Bryant makes two point shot
39 - 51
5:50
Trevor Ariza jump ball
39 - 51
5:50
Los Angeles full timeout
39 - 51
5:50
Brandan Wright enters the game for Ronny Turiaf
39 - 51
5:50
Luke Walton enters the game for Lamar Odom
39 - 51
5:50
Vladimir Radmanovic enters the game for Trevor Ariza
39 - 51
5:37
Stephen Jackson misses 27-foot three point jumper
39 - 51
5:35
Andris Biedrins offensive rebound
39 - 51
5:28
Stephen Jackson bad pass (Kobe Bryant steals)
39 - 51
5:22
Sasha Vujacic makes 23-foot three point jumper (Kobe Bryant assists)
39 - 54
5:05
Andris Biedrins misses tip shot
39 - 54
4:56
Andris Biedrins offensive rebound
41 - 54
4:54
Andris Biedrins makes tip shot
41 - 54
4:54
Andris Biedrins offensive rebound
43 - 54
4:54
Andris Biedrins misses tip shot
43 - 54
4:48
Vladimir Radmanovic bad pass (Andris Biedrins steals)
41 - 54
4:45
Andris Biedrins makes slam dunk
43 - 54
4:45
Vladimir Radmanovic shooting foul (Andris Biedrins draws the foul)
43 - 54
4:45
Jamal Crawford enters the game for Kelenna Azubuike
43 - 54
4:45
Marco Belinelli enters the game for C.J. Watson
43 - 54
4:45
Andris Biedrins misses free throw 1 of 1
43 - 54
4:43
Vladimir Radmanovic defensive rebound
43 - 54
4:24
Vladimir Radmanovic misses 17-foot jumper
43 - 54
4:22
Luke Walton offensive rebound
43 - 54
4:13
Kobe Bryant misses 26-foot three point jumper
43 - 54
4:13
Andris Biedrins defensive rebound
43 - 54
4:09
Kobe Bryant personal foul (Marco Belinelli draws the foul)
43 - 54
4:09
Marco Belinelli makes free throw 1 of 2
44 - 54
4:09
Marco Belinelli makes free throw 2 of 2
45 - 54
3:59
Kobe Bryant misses 10-foot jumper
45 - 54
3:57
Andris Biedrins defensive rebound
45 - 54
3:47
Brandan Wright makes layup (Marco Belinelli assists)
47 - 54
3:31
Luke Walton misses two point shot
47 - 54
3:30
Andris Biedrins defensive rebound
47 - 54
3:19
Stephen Jackson makes two point shot
49 - 54
3:15
Kobe Bryant makes layup (Sasha Vujacic assists)
49 - 56
2:47
Jamal Crawford makes driving layup
51 - 56
2:34
Sasha Vujacic bad pass (Andris Biedrins steals)
51 - 56
2:27
Jamal Crawford lost ball (Kobe Bryant steals)
51 - 56
2:23
Sasha Vujacic makes layup (Kobe Bryant assists)
51 - 58
2:06
Andris Biedrins makes slam dunk (Stephen Jackson assists)
53 - 58
1:46
Andris Biedrins shooting foul (Pau Gasol draws the foul)
53 - 58
1:46
Golden State full timeout
53 - 58
1:46
Ronny Turiaf enters the game for Andris Biedrins
53 - 58
1:46
Pau Gasol makes free throw 1 of 2
53 - 59
1:46
Pau Gasol makes free throw 2 of 2
53 - 60
1:29
Jamal Crawford misses 16-foot jumper
53 - 60
1:28
Kobe Bryant defensive rebound
53 - 60
1:25
Jamal Crawford personal foul (Sasha Vujacic draws the foul)
53 - 60
1:25
Sasha Vujacic makes free throw 1 of 2
53 - 61
1:25
Sasha Vujacic misses free throw 2 of 2
53 - 61
1:23
Brandan Wright defensive rebound
53 - 61
1:09
Jamal Crawford misses 21-foot jumper
53 - 61
1:07
Pau Gasol defensive rebound
53 - 61
0:53
Ronny Turiaf shooting foul (Kobe Bryant draws the foul)
53 - 61
0:53
Kobe Bryant makes free throw 1 of 2
53 - 62
0:53
Kobe Bryant makes free throw 2 of 2
53 - 63
0:40
Brandan Wright makes slam dunk (Stephen Jackson assists)
55 - 63
0:29
Marco Belinelli shooting foul (Kobe Bryant draws the foul)
55 - 63
0:29
Kobe Bryant makes free throw 1 of 2
55 - 64
0:29
Kobe Bryant makes free throw 2 of 2
55 - 65
0:07
Marco Belinelli makes 24-foot three point jumper (Stephen Jackson assists)
58 - 65
0:02
Ronny Turiaf blocks Luke Walton's layup
58 - 65
0:02
Los Angeles offensive rebound
58 - 65
0:00
End of the 2nd Quarter
58 - 65

time
TEAM
PLAY
SCORE
12:00
Start of the 3rd Quarter
58 - 65
11:42
Marco Belinelli misses 22-foot three point jumper
58 - 65
11:41
Andrew Bynum defensive rebound
58 - 65
11:32
Kobe Bryant makes 7-foot two point shot
58 - 67
11:17
Stephen Jackson misses 21-foot jumper
58 - 67
11:15
Pau Gasol defensive rebound
58 - 67
11:11
Kobe Bryant makes 25-foot three point jumper (Derek Fisher assists)
58 - 70
10:51
Brandan Wright makes 5-foot two point shot (Jamal Crawford assists)
60 - 70
10:40
Kobe Bryant lost ball (Marco Belinelli steals)
60 - 70
10:36
Jamal Crawford makes driving layup
62 - 70
10:15
Brandan Wright shooting foul (Pau Gasol draws the foul)
62 - 70
10:15
Pau Gasol makes free throw 1 of 2
62 - 71
10:15
Pau Gasol makes free throw 2 of 2
62 - 72
10:00
Stephen Jackson turnover
62 - 72
9:48
Andrew Bynum makes 12-foot jumper (Pau Gasol assists)
62 - 74
9:26
Pau Gasol shooting foul (Brandan Wright draws the foul)
62 - 74
9:26
Brandan Wright makes free throw 1 of 2
63 - 74
9:26
Brandan Wright misses free throw 2 of 2
63 - 74
9:26
Andrew Bynum defensive rebound
63 - 74
9:11
Marco Belinelli personal foul (Pau Gasol draws the foul)
63 - 74
9:04
Luke Walton offensive foul (Jamal Crawford draws the foul)
63 - 74
9:04
Luke Walton turnover
63 - 74
8:41
Jamal Crawford misses 23-foot three point jumper
63 - 74
8:40
Pau Gasol defensive rebound
63 - 74
8:32
Derek Fisher misses layup
63 - 74
8:30
Pau Gasol offensive rebound
63 - 76
8:30
Pau Gasol makes two point shot
63 - 76
8:21
Stephen Jackson makes 25-foot three point jumper (Jamal Crawford assists)
66 - 76
8:06
Andrew Bynum misses layup
66 - 76
8:04
Brandan Wright defensive rebound
66 - 76
8:00
Jamal Crawford bad pass
66 - 76
7:45
Andrew Bynum makes driving layup (Derek Fisher assists)
66 - 78
7:45
Andris Biedrins shooting foul (Andrew Bynum draws the foul)
66 - 78
7:45
Ronny Turiaf enters the game for Brandan Wright
66 - 78
7:45
Andrew Bynum makes free throw 1 of 1
66 - 79
7:26
Luke Walton personal foul (Stephen Jackson draws the foul)
66 - 79
7:20
Jamal Crawford makes 14-foot jumper (Andris Biedrins assists)
68 - 79
7:07
Luke Walton makes layup (Pau Gasol assists)
68 - 81
7:07
Andris Biedrins shooting foul (Luke Walton draws the foul)
68 - 81
7:07
Kelenna Azubuike enters the game for Marco Belinelli
68 - 81
7:07
Luke Walton makes free throw 1 of 1
68 - 82
6:52
Stephen Jackson bad pass (Andrew Bynum steals)
68 - 82
6:43
Derek Fisher makes 22-foot jumper (Kobe Bryant assists)
68 - 84
6:30
Pau Gasol shooting foul (Jamal Crawford draws the foul)
68 - 84
6:30
Jamal Crawford makes free throw 1 of 2
69 - 84
6:30
Jamal Crawford makes free throw 2 of 2
70 - 84
6:16
Derek Fisher makes jumper (Luke Walton assists)
70 - 86
6:05
Jamal Crawford makes 20-foot jumper
72 - 86
6:00
Los Angeles full timeout
72 - 86
5:48
Pau Gasol misses two point shot
72 - 86
5:46
Andris Biedrins defensive rebound
72 - 86
5:28
Ronny Turiaf bad pass (Pau Gasol steals)
72 - 86
5:18
Ronny Turiaf blocks Andrew Bynum's layup
72 - 86
5:16
Los Angeles offensive rebound
72 - 86
5:13
Kobe Bryant makes 19-foot jumper (Luke Walton assists)
72 - 88
4:46
Jamal Crawford makes 24-foot three point jumper
75 - 88
4:35
Pau Gasol makes dunk (Derek Fisher assists)
75 - 90
4:35
Ronny Turiaf shooting foul (Pau Gasol draws the foul)
75 - 90
4:35
Lamar Odom enters the game for Andrew Bynum
75 - 90
4:35
Trevor Ariza enters the game for Luke Walton
75 - 90
4:35
Pau Gasol makes free throw 1 of 1
75 - 91
4:28
Jamal Crawford misses 21-foot jumper
75 - 91
4:26
Pau Gasol defensive rebound
75 - 91
4:15
Kobe Bryant bad pass (Ronny Turiaf steals)
75 - 91
4:11
Lamar Odom shooting foul (Kelenna Azubuike draws the foul)
75 - 91
4:11
C.J. Watson enters the game for Jamal Crawford
75 - 91
4:11
Kelenna Azubuike misses free throw 1 of 2
75 - 91
4:11
Golden State offensive rebound
75 - 91
4:11
Sasha Vujacic enters the game for Derek Fisher
75 - 91
4:11
Kelenna Azubuike makes free throw 2 of 2
76 - 91
4:01
Kobe Bryant misses 25-foot three point jumper
76 - 91
4:00
Andris Biedrins defensive rebound
76 - 91
3:53
Kelenna Azubuike misses layup
76 - 91
3:51
Pau Gasol defensive rebound
76 - 91
3:42
Pau Gasol misses 17-foot jumper
76 - 91
3:41
Stephen Jackson defensive rebound
76 - 91
3:32
Pau Gasol shooting foul (Stephen Jackson draws the foul)
76 - 91
3:32
Stephen Jackson makes free throw 1 of 2
77 - 91
3:32
Andrew Bynum enters the game for Pau Gasol
77 - 91
3:32
Stephen Jackson makes free throw 2 of 2
78 - 91
3:18
Andrew Bynum makes layup (Trevor Ariza assists)
78 - 93
3:05
Kelenna Azubuike misses 23-foot three point jumper
78 - 93
3:03
Andrew Bynum defensive rebound
78 - 93
2:43
Sasha Vujacic misses 25-foot three point jumper
78 - 93
2:42
Los Angeles defensive rebound
78 - 93
2:42
Golden State full timeout
78 - 93
2:42
Brandan Wright enters the game for Stephen Jackson
78 - 93
2:42
Marco Belinelli enters the game for Andris Biedrins
78 - 93
2:25
C.J. Watson makes 22-foot three point jumper (Kelenna Azubuike assists)
81 - 93
1:59
Trevor Ariza makes 25-foot three point jumper (Sasha Vujacic assists)
81 - 96
1:46
Trevor Ariza blocks Marco Belinelli's 18-foot jumper
81 - 96
1:46
Golden State offensive rebound
81 - 96
1:42
Ronny Turiaf misses 20-foot jumper
81 - 96
1:40
Brandan Wright offensive rebound
81 - 96
1:39
Trevor Ariza personal foul (Brandan Wright draws the foul)
81 - 96
1:39
Brandan Wright makes free throw 1 of 2
82 - 96
1:39
Brandan Wright makes free throw 2 of 2
83 - 96
1:24
Trevor Ariza traveling
83 - 96
1:07
Marco Belinelli misses 27-foot three point jumper
83 - 96
1:06
Golden State defensive rebound
83 - 96
0:55
Kobe Bryant makes 24-foot three point jumper
83 - 99
0:47
Kelenna Azubuike makes 21-foot jumper
85 - 99
0:34
Ronny Turiaf blocks Lamar Odom's layup
85 - 99
0:32
Kelenna Azubuike defensive rebound
85 - 99
0:29
Kelenna Azubuike lost ball (Kobe Bryant steals)
85 - 99
0:17
Lamar Odom makes 23-foot three point jumper (Trevor Ariza assists)
85 - 102
0:01
Kelenna Azubuike misses 12-foot jumper
85 - 102
0:00
Golden State offensive rebound
85 - 102
0:00
End of the 3rd Quarter
85 - 102

time
TEAM
PLAY
SCORE
12:00
Start of the 4th Quarter
85 - 102
11:38
Brandan Wright shooting foul (Lamar Odom draws the foul)
85 - 102
11:38
Lamar Odom misses free throw 1 of 2
85 - 102
11:38
Los Angeles offensive rebound
85 - 102
11:38
Lamar Odom misses free throw 2 of 2
85 - 102
11:38
Ronny Turiaf defensive rebound
85 - 102
11:26
Brandan Wright misses 13-foot jumper
85 - 102
11:25
Pau Gasol defensive rebound
85 - 102
11:12
Pau Gasol makes 7-foot two point shot (Lamar Odom assists)
85 - 104
11:03
C.J. Watson makes 21-foot jumper
87 - 104
10:52
Derek Fisher bad pass (C.J. Watson steals)
87 - 104
10:42
C.J. Watson misses layup
87 - 104
10:41
Brandan Wright offensive rebound
87 - 104
10:41
Brandan Wright misses tip shot
87 - 104
10:38
Derek Fisher defensive rebound
87 - 104
10:33
Derek Fisher makes 22-foot jumper
87 - 106
10:12
Ronny Turiaf bad pass (Derek Fisher steals)
87 - 106
9:57
Ronny Turiaf blocks Pau Gasol's layup
87 - 106
9:55
Trevor Ariza offensive rebound
87 - 106
9:51
Pau Gasol lost ball (Kelenna Azubuike steals)
87 - 106
9:41
Trevor Ariza blocks Kelenna Azubuike's layup
87 - 106
9:38
Trevor Ariza defensive rebound
87 - 106
9:29
Ronny Turiaf personal foul (Pau Gasol draws the foul)
87 - 106
9:29
Rob Kurz enters the game for Ronny Turiaf
87 - 106
9:18
Sasha Vujacic makes 26-foot three point jumper (Pau Gasol assists)
87 - 109
9:03
Rob Kurz makes 20-foot jumper (Brandan Wright assists)
89 - 109
8:44
Derek Fisher misses 26-foot three point jumper
89 - 109
8:41
Sasha Vujacic offensive rebound
89 - 109
8:33
Derek Fisher makes 9-foot two point shot
89 - 111
8:18
C.J. Watson makes 24-foot three point jumper (Marco Belinelli assists)
92 - 111
8:00
Sasha Vujacic misses 24-foot three point jumper
92 - 111
8:00
Marco Belinelli defensive rebound
92 - 111
7:50
Marco Belinelli misses 23-foot jumper
92 - 111
7:50
Rob Kurz offensive rebound
92 - 111
7:50
Trevor Ariza personal foul (Rob Kurz draws the foul)
92 - 111
7:50
Official timeout
92 - 111
7:50
Anthony Morrow enters the game for Brandan Wright
92 - 111
7:50
DeMarcus Nelson enters the game for Marco Belinelli
92 - 111
7:50
Anthony Randolph enters the game for Kelenna Azubuike
92 - 111
7:43
Anthony Randolph misses 19-foot jumper
92 - 111
7:43
Golden State defensive rebound
92 - 111
7:31
Lamar Odom misses 17-foot jumper
92 - 111
7:30
Derek Fisher offensive rebound
92 - 111
7:22
Sasha Vujacic makes 26-foot three point jumper (Pau Gasol assists)
92 - 114
7:09
Anthony Morrow misses 22-foot jumper
92 - 114
7:07
Golden State offensive rebound
92 - 114
7:07
Pau Gasol personal foul (Rob Kurz draws the foul)
92 - 114
7:07
Josh Powell enters the game for Pau Gasol
92 - 114
7:00
Rob Kurz makes 25-foot three point jumper (C.J. Watson assists)
95 - 114
6:37
Derek Fisher makes 23-foot three point jumper (Trevor Ariza assists)
95 - 117
6:26
C.J. Watson misses 15-foot jumper
95 - 117
6:26
Trevor Ariza defensive rebound
95 - 117
6:15
Josh Powell bad pass (C.J. Watson steals)
95 - 117
6:07
Lamar Odom blocks Anthony Morrow's layup
95 - 117
6:05
Lamar Odom defensive rebound
95 - 117
6:03
DeMarcus Nelson shooting foul (Trevor Ariza draws the foul)
95 - 117
6:03
Trevor Ariza makes free throw 1 of 2
95 - 118
6:03
Trevor Ariza makes free throw 2 of 2
95 - 119
5:48
Anthony Randolph misses 21-foot jumper
95 - 119
5:48
Trevor Ariza defensive rebound
95 - 119
5:41
Derek Fisher misses layup
95 - 119
5:39
Josh Powell offensive rebound
95 - 119
5:37
Los Angeles full timeout
95 - 119
5:37
Luke Walton enters the game for Derek Fisher
95 - 119
5:37
Vladimir Radmanovic enters the game for Lamar Odom
95 - 119
5:35
Rob Kurz blocks Vladimir Radmanovic's layup
95 - 119
5:33
Rob Kurz defensive rebound
95 - 119
5:18
Rob Kurz misses 22-foot jumper
95 - 119
5:16
Vladimir Radmanovic defensive rebound
95 - 119
5:01
Luke Walton offensive foul (DeMarcus Nelson draws the foul)
95 - 119
5:01
Luke Walton turnover
95 - 119
4:54
DeMarcus Nelson lost ball (Vladimir Radmanovic steals)
95 - 119
4:50
Josh Powell makes two point shot (Trevor Ariza assists)
95 - 121
4:35
Trevor Ariza personal foul (Anthony Morrow draws the foul)
95 - 121
4:24
Anthony Morrow makes jumper
97 - 121
4:07
Josh Powell misses 21-foot jumper
97 - 121
4:05
Luke Walton offensive rebound
97 - 121
3:58
Luke Walton misses 8-foot jumper
97 - 121
3:57
Los Angeles defensive rebound
97 - 121
3:57
Luke Walton loose ball foul (Rob Kurz draws the foul)
97 - 121
3:49
Josh Powell personal foul (Rob Kurz draws the foul)
97 - 121
3:49
Rob Kurz makes free throw 1 of 2
98 - 121
3:49
Sun Yue enters the game for Luke Walton
98 - 121
3:49
Rob Kurz makes free throw 2 of 2
99 - 121
3:28
Josh Powell makes 9-foot two point shot (Sasha Vujacic assists)
99 - 123
3:09
Anthony Randolph makes two point shot
101 - 123
2:39
Sun Yue misses 25-foot three point jumper
101 - 123
2:36
Josh Powell offensive rebound
101 - 123
2:36
Josh Powell misses tip shot
101 - 123
2:34
Trevor Ariza offensive rebound
101 - 123
2:33
Rob Kurz shooting foul (Josh Powell draws the foul)
101 - 123
2:33
Golden State full timeout
101 - 123
2:33
Josh Powell makes free throw 1 of 2
101 - 124
2:33
Josh Powell misses free throw 2 of 2
101 - 124
2:32
Los Angeles defensive rebound
101 - 124
2:32
Trevor Ariza loose ball foul (Anthony Randolph draws the foul)
101 - 124
2:32
Anthony Randolph misses free throw 1 of 2
101 - 124
2:32
Golden State offensive rebound
101 - 124
2:32
Anthony Randolph makes free throw 2 of 2
102 - 124
2:17
Vladimir Radmanovic makes two point shot
102 - 126
2:03
Vladimir Radmanovic personal foul (Anthony Randolph draws the foul)
102 - 126
2:03
Anthony Randolph makes free throw 1 of 2
103 - 126
2:03
Anthony Randolph misses free throw 2 of 2
103 - 126
2:03
Josh Powell defensive rebound
103 - 126
1:51
Josh Powell misses layup
103 - 126
1:50
Jumpball: Rob Kurz vs. Josh Powell (Sun Yue gains possession)
103 - 126
1:50
Los Angeles offensive rebound
103 - 126
1:39
Vladimir Radmanovic makes layup (Sasha Vujacic assists)
103 - 128
1:32
C.J. Watson makes 23-foot three point jumper (DeMarcus Nelson assists)
106 - 128
1:10
DeMarcus Nelson blocks Josh Powell's layup
106 - 128
1:07
DeMarcus Nelson defensive rebound
106 - 128
1:05
DeMarcus Nelson makes driving layup
108 - 128
0:54
Vladimir Radmanovic misses 23-foot three point jumper
108 - 128
0:53
C.J. Watson defensive rebound
108 - 128
0:48
Rob Kurz makes layup (Anthony Morrow assists)
110 - 128
0:48
Sasha Vujacic shooting foul (Rob Kurz draws the foul)
110 - 128
0:48
Rob Kurz makes free throw 1 of 1
111 - 128
0:26
Sun Yue makes 15-foot jumper (Sasha Vujacic assists)
111 - 130
0:17
Anthony Randolph makes driving dunk
113 - 130
0:00
End of the 4th Quarter
113 - 130
0:00
End Game
113 - 130
Paul George would not let the Pacers let up until the 101-83 victory against the Raptors was complete, forcing a Game 7 on Sunday.

Toronto's DeMar DeRozan says the season will be a failure if the team does not win Game 7 and advance out of the first round.

DeAndre Jordan misses his first free throw with an air ball and bricks the second free throw to the crowds delight.
Regular Season Series
LAL wins series 4-0
2015-2016 Pacific Standings