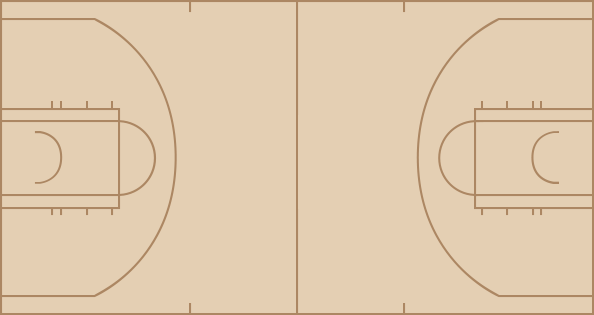 Raptors
time
TEAM
PLAY
SCORE
12:00
Start of the 1st Quarter
0 - 0
12:00
Jumpball: Chris Bosh vs. Andray Blatche (Anthony Parker gains possession)
0 - 0
11:40
Anthony Parker makes 25-foot three point jumper (Chris Bosh assists)
3 - 0
11:15
Caron Butler misses 25-foot three point jumper
3 - 0
11:15
Joey Graham defensive rebound
3 - 0
11:07
Andrea Bargnani misses 25-foot three point jumper
3 - 0
11:06
Chris Bosh offensive rebound
3 - 0
10:52
Chris Bosh makes layup
5 - 0
10:38
Andrea Bargnani personal foul (Andray Blatche draws the foul)
5 - 0
10:33
Antawn Jamison misses 25-foot three point jumper
5 - 0
10:30
Joey Graham defensive rebound
5 - 0
10:18
Joey Graham misses 16-foot jumper
5 - 0
10:17
Antawn Jamison defensive rebound
5 - 0
10:00
Caron Butler makes driving layup (Mike James assists)
5 - 2
9:52
Joey Graham makes 8-foot running jumper (Chris Bosh assists)
7 - 2
9:33
Antawn Jamison misses 19-foot jumper
7 - 2
9:32
Chris Bosh defensive rebound
7 - 2
9:21
Andrea Bargnani makes 14-foot jumper
9 - 2
8:56
Dominic McGuire bad pass (Joey Graham steals)
9 - 2
8:52
Mike James shooting foul (Joey Graham draws the foul)
9 - 2
8:52
Joey Graham makes free throw 1 of 2
10 - 2
8:52
Joey Graham misses free throw 2 of 2
10 - 2
8:48
Caron Butler defensive rebound
10 - 2
8:38
Will Solomon blocks Mike James's jumper
10 - 2
8:37
Will Solomon defensive rebound
10 - 2
8:26
Joey Graham misses layup
10 - 2
8:25
Antawn Jamison defensive rebound
10 - 2
8:11
Antawn Jamison misses 18-foot jumper
10 - 2
8:11
Anthony Parker defensive rebound
10 - 2
7:56
Chris Bosh misses layup
10 - 2
7:54
Toronto defensive rebound
10 - 2
7:48
Washington full timeout
10 - 2
7:33
Caron Butler makes 19-foot jumper
10 - 4
7:13
Andrea Bargnani makes dunk (Chris Bosh assists)
12 - 4
6:54
Mike James misses 26-foot three point jumper
12 - 4
6:52
Washington offensive rebound
12 - 4
6:41
Andray Blatche makes 19-foot jumper (Caron Butler assists)
12 - 6
6:24
Anthony Parker makes 14-foot jumper (Will Solomon assists)
14 - 6
6:09
Andray Blatche misses jumper
14 - 6
6:07
Joey Graham defensive rebound
14 - 6
6:03
Andray Blatche personal foul (Andrea Bargnani draws the foul)
14 - 6
5:52
Andrea Bargnani makes 25-foot three point jumper (Will Solomon assists)
17 - 6
5:26
shot clock violation
17 - 6
5:07
Will Solomon makes 21-foot jumper (Chris Bosh assists)
19 - 6
4:43
Mike James makes 7-foot running jumper
19 - 8
4:26
Andray Blatche personal foul (Chris Bosh draws the foul)
19 - 8
4:20
Will Solomon makes 21-foot jumper
21 - 8
3:59
Anthony Parker blocks Caron Butler's 16-foot jumper
21 - 8
3:57
Chris Bosh defensive rebound
21 - 8
3:48
Chris Bosh misses 25-foot three point jumper
21 - 8
3:47
Andray Blatche defensive rebound
21 - 8
3:28
Andray Blatche makes 19-foot two point shot
21 - 10
3:10
Chris Bosh bad pass (Caron Butler steals)
21 - 10
3:01
Caron Butler makes driving layup
21 - 12
2:55
Toronto full timeout
21 - 12
2:55
Darius Songaila enters the game for Andray Blatche
21 - 12
2:55
Javaris Crittenton enters the game for Mike James
21 - 12
2:55
Nick Young enters the game for Caron Butler
21 - 12
2:55
Jason Kapono enters the game for Anthony Parker
21 - 12
2:55
Jake Voskuhl enters the game for Chris Bosh
21 - 12
2:45
Andrea Bargnani turnover
21 - 12
2:28
Jason Kapono personal foul (Javaris Crittenton draws the foul)
21 - 12
2:13
shot clock violation
21 - 12
1:54
Jason Kapono makes 20-foot jumper (Jake Voskuhl assists)
23 - 12
1:49
Darius Songaila misses 4-foot jumper
23 - 12
1:47
Jason Kapono defensive rebound
23 - 12
1:38
Jason Kapono bad pass (Javaris Crittenton steals)
23 - 12
1:32
Antawn Jamison makes 4-foot jumper (Nick Young assists)
23 - 14
1:23
Jason Kapono makes 14-foot two point shot (Andrea Bargnani assists)
25 - 14
0:57
Nick Young misses 19-foot jumper
25 - 14
0:56
Joey Graham defensive rebound
25 - 14
0:52
Joey Graham bad pass (Antawn Jamison steals)
25 - 14
0:48
Dominic McGuire makes two point shot (Javaris Crittenton assists)
25 - 16
0:30
Joey Graham traveling
25 - 16
0:30
Etan Thomas enters the game for Antawn Jamison
25 - 16
0:08
Javaris Crittenton misses 21-foot jumper
25 - 16
0:07
Joey Graham defensive rebound
25 - 16
0:01
Will Solomon makes 21-foot jumper
27 - 16
0:00
Javaris Crittenton misses 39-foot three point jumper
27 - 16
0:00
Washington offensive rebound
27 - 16
0:00
End of the 1st Quarter
27 - 16

time
TEAM
PLAY
SCORE
12:00
Start of the 2nd Quarter
27 - 16
11:41
Nick Young misses 4-foot jumper
27 - 16
11:40
Chris Bosh defensive rebound
27 - 16
11:15
Chris Bosh misses 15-foot jumper
27 - 16
11:14
Jake Voskuhl offensive rebound
27 - 16
11:08
Jason Kapono makes 25-foot three point jumper (Roko Ukic assists)
30 - 16
10:45
Jason Kapono personal foul (Nick Young draws the foul)
30 - 16
10:41
Darius Songaila traveling
30 - 16
10:25
Darius Songaila shooting foul (Chris Bosh draws the foul)
30 - 16
10:25
Chris Bosh misses free throw 1 of 2
30 - 16
10:25
Toronto offensive rebound
30 - 16
10:25
Caron Butler enters the game for Dominic McGuire
30 - 16
10:25
Chris Bosh makes free throw 2 of 2
31 - 16
10:00
Nick Young misses 13-foot jumper
31 - 16
10:00
Nick Young offensive rebound
31 - 16
9:44
Caron Butler makes driving layup (Etan Thomas assists)
31 - 18
9:26
Jason Kapono makes three point jumper (Anthony Parker assists)
34 - 18
9:00
Caron Butler misses 18-foot jumper
34 - 18
8:59
Jake Voskuhl defensive rebound
34 - 18
8:52
Jason Kapono misses 26-foot three point jumper
34 - 18
8:51
Javaris Crittenton defensive rebound
34 - 18
8:37
Nick Young makes 26-foot three point jumper (Caron Butler assists)
34 - 21
8:18
Roko Ukic lost ball (Etan Thomas steals)
34 - 21
8:14
Chris Bosh shooting foul (Javaris Crittenton draws the foul)
34 - 21
8:14
Official timeout
34 - 21
8:14
Javaris Crittenton makes free throw 1 of 2
34 - 22
8:14
Javaris Crittenton misses free throw 2 of 2
34 - 22
8:12
Anthony Parker defensive rebound
34 - 22
8:00
Darius Songaila shooting foul (Chris Bosh draws the foul)
34 - 22
8:00
Chris Bosh makes free throw 1 of 2
35 - 22
8:00
Chris Bosh makes free throw 2 of 2
36 - 22
7:43
Nick Young misses 19-foot jumper
36 - 22
7:43
Anthony Parker defensive rebound
36 - 22
7:28
Jason Kapono misses three point jumper
36 - 22
7:28
Toronto offensive rebound
36 - 22
7:28
Darius Songaila loose ball foul (Jake Voskuhl draws the foul)
36 - 22
7:28
Antawn Jamison enters the game for Darius Songaila
36 - 22
7:16
Jake Voskuhl misses 7-foot jumper
36 - 22
7:15
Javaris Crittenton defensive rebound
36 - 22
7:05
Antawn Jamison makes 25-foot three point jumper (Caron Butler assists)
36 - 25
6:50
Roko Ukic makes layup
38 - 25
6:50
Etan Thomas illegal defense
38 - 25
6:30
Antawn Jamison misses 4-foot jumper
38 - 25
6:28
Etan Thomas offensive rebound
38 - 25
6:26
Etan Thomas lost ball (Jason Kapono steals)
38 - 25
6:20
Nick Young blocks Roko Ukic's layup
38 - 25
6:18
Etan Thomas defensive rebound
38 - 25
6:15
Nick Young turnover
38 - 25
5:58
Anthony Parker makes 18-foot jumper
40 - 25
5:45
Caron Butler misses 9-foot jumper
40 - 25
5:43
Chris Bosh defensive rebound
40 - 25
5:28
Roko Ukic misses three point jumper
40 - 25
5:28
Toronto defensive rebound
40 - 25
5:28
Washington full timeout
40 - 25
5:28
Mike James enters the game for Nick Young
40 - 25
5:28
Andray Blatche enters the game for Etan Thomas
40 - 25
5:28
Andrea Bargnani enters the game for Jake Voskuhl
40 - 25
5:28
Will Solomon enters the game for Roko Ukic
40 - 25
5:11
Anthony Parker blocks Andray Blatche's 5-foot jumper
40 - 25
5:09
Will Solomon defensive rebound
40 - 25
5:03
Anthony Parker makes 24-foot three point jumper (Will Solomon assists)
43 - 25
4:39
Andray Blatche misses jumper
43 - 25
4:37
Anthony Parker defensive rebound
43 - 25
4:16
Andrea Bargnani makes 25-foot three point jumper
46 - 25
4:09
Washington 20 Sec. timeout
46 - 25
4:09
Kris Humphries enters the game for Chris Bosh
46 - 25
4:09
Joey Graham enters the game for Jason Kapono
46 - 25
4:05
Will Solomon personal foul (Mike James draws the foul)
46 - 25
3:56
Antawn Jamison makes 13-foot running jumper
46 - 27
3:56
Kris Humphries shooting foul (Antawn Jamison draws the foul)
46 - 27
3:56
Antawn Jamison makes free throw 1 of 1
46 - 28
3:34
Andrea Bargnani lost ball (Andray Blatche steals)
46 - 28
3:26
Jumpball: Joey Graham vs. Andray Blatche (Caron Butler gains possession)
46 - 28
3:18
Mike James makes 24-foot three point jumper (Caron Butler assists)
46 - 31
3:04
Andrea Bargnani lost ball (Antawn Jamison steals)
46 - 31
3:04
Andrea Bargnani personal foul (Antawn Jamison draws the foul)
46 - 31
3:04
Antawn Jamison makes free throw 1 of 2
46 - 32
3:04
Chris Bosh enters the game for Andrea Bargnani
46 - 32
3:04
Antawn Jamison misses free throw 2 of 2
46 - 32
3:02
Caron Butler offensive rebound
46 - 32
3:02
Kris Humphries shooting foul (Caron Butler draws the foul)
46 - 32
3:02
Caron Butler makes free throw 1 of 2
46 - 33
3:02
Caron Butler makes free throw 2 of 2
46 - 34
2:44
Joey Graham bad pass (Antawn Jamison steals)
46 - 34
2:41
Antawn Jamison bad pass (Anthony Parker steals)
46 - 34
2:41
Andray Blatche blocks Chris Bosh's 25-foot three point jumper
46 - 34
2:41
Toronto offensive rebound
46 - 34
2:41
Toronto full timeout
46 - 34
2:26
Will Solomon misses jumper
46 - 34
2:25
Antawn Jamison defensive rebound
46 - 34
2:19
Antawn Jamison offensive foul (Kris Humphries draws the foul)
46 - 34
2:19
Antawn Jamison turnover
46 - 34
2:01
Chris Bosh misses 21-foot jumper
46 - 34
2:00
Toronto defensive rebound
46 - 34
1:50
Caron Butler bad pass (Chris Bosh steals)
46 - 34
1:44
Will Solomon makes 13-foot running jumper
48 - 34
1:23
Antawn Jamison makes 11-foot two point shot
48 - 36
1:07
Kris Humphries makes driving dunk
50 - 36
0:47
Caron Butler misses 26-foot three point jumper
50 - 36
0:46
Antawn Jamison offensive rebound
50 - 36
0:41
Mike James misses 26-foot three point jumper
50 - 36
0:40
Caron Butler offensive rebound
50 - 36
0:34
Antawn Jamison makes layup (Caron Butler assists)
50 - 38
0:21
Anthony Parker misses 26-foot three point jumper
50 - 38
0:20
Mike James defensive rebound
50 - 38
0:01
Mike James misses 5-foot jumper
50 - 38
0:00
Anthony Parker defensive rebound
50 - 38
0:00
End of the 2nd Quarter
50 - 38

time
TEAM
PLAY
SCORE
12:00
Start of the 3rd Quarter
50 - 38
11:38
Antawn Jamison misses 19-foot jumper
50 - 38
11:37
Joey Graham defensive rebound
50 - 38
11:26
Anthony Parker traveling
50 - 38
11:03
Dominic McGuire misses jumper
50 - 38
11:02
Andrea Bargnani defensive rebound
50 - 38
10:56
Joey Graham makes jumper (Will Solomon assists)
52 - 38
10:40
Dominic McGuire misses 18-foot jumper
52 - 38
10:38
Washington offensive rebound
52 - 38
10:36
Caron Butler makes jumper (Dominic McGuire assists)
52 - 40
10:12
Will Solomon misses jumper
52 - 40
10:11
Antawn Jamison defensive rebound
52 - 40
10:03
Joey Graham personal foul (Mike James draws the foul)
52 - 40
9:56
Antawn Jamison makes 25-foot three point jumper (Mike James assists)
52 - 43
9:41
Chris Bosh misses 5-foot jumper
52 - 43
9:40
Chris Bosh offensive rebound
52 - 43
9:29
Chris Bosh misses layup
52 - 43
9:27
Dominic McGuire defensive rebound
52 - 43
9:19
Andray Blatche makes slam dunk (Caron Butler assists)
52 - 45
9:00
Andrea Bargnani makes layup (Chris Bosh assists)
54 - 45
9:00
Antawn Jamison shooting foul (Andrea Bargnani draws the foul)
54 - 45
9:00
Andrea Bargnani makes free throw 1 of 1
55 - 45
8:40
Andrea Bargnani blocks Caron Butler's 17-foot jumper
55 - 45
8:37
Caron Butler offensive rebound
55 - 45
8:36
Caron Butler misses 7-foot jumper
55 - 45
8:36
Washington defensive rebound
55 - 45
8:23
Chris Bosh turnover
55 - 45
8:08
Antawn Jamison misses 25-foot three point jumper
55 - 45
8:07
Will Solomon defensive rebound
55 - 45
8:00
Anthony Parker bad pass (Antawn Jamison steals)
55 - 45
7:56
Will Solomon personal foul (Mike James draws the foul)
55 - 45
7:43
Mike James misses three point jumper
55 - 45
7:43
Joey Graham defensive rebound
55 - 45
7:43
Dominic McGuire loose ball foul (Joey Graham draws the foul)
55 - 45
7:30
Andrea Bargnani turnover
55 - 45
7:18
Andray Blatche makes 6-foot running jumper
55 - 47
7:05
Chris Bosh 3 second
55 - 47
6:56
Chris Bosh personal foul (Antawn Jamison draws the foul)
55 - 47
6:56
Antawn Jamison misses free throw 1 of 2
55 - 47
6:56
Washington offensive rebound
55 - 47
6:56
Antawn Jamison misses free throw 2 of 2
55 - 47
6:56
Joey Graham defensive rebound
55 - 47
6:37
Anthony Parker bad pass (Caron Butler steals)
55 - 47
6:28
Antawn Jamison 3 second
55 - 47
6:09
Chris Bosh makes driving layup
57 - 47
5:48
Andrea Bargnani blocks Antawn Jamison's 7-foot jumper
57 - 47
5:47
Chris Bosh defensive rebound
57 - 47
5:41
Will Solomon makes 5-foot running jumper (Andrea Bargnani assists)
59 - 47
5:18
Chris Bosh blocks Antawn Jamison's 6-foot jumper
59 - 47
5:18
Anthony Parker defensive rebound
59 - 47
5:13
Andrea Bargnani makes layup (Anthony Parker assists)
61 - 47
5:13
Washington full timeout
61 - 47
4:48
Caron Butler misses jumper
61 - 47
4:46
Antawn Jamison offensive rebound
61 - 47
4:43
Antawn Jamison makes 1-foot two point shot
61 - 49
4:31
Antawn Jamison personal foul (Chris Bosh draws the foul)
61 - 49
4:31
Darius Songaila enters the game for Andray Blatche
61 - 49
4:31
Nick Young enters the game for Dominic McGuire
61 - 49
4:18
Chris Bosh misses 15-foot jumper
61 - 49
4:18
Andrea Bargnani offensive rebound
61 - 49
4:09
Anthony Parker makes 19-foot two point shot
63 - 49
3:53
Nick Young makes 13-foot jumper
63 - 51
3:38
Will Solomon misses 25-foot three point jumper
63 - 51
3:36
Toronto offensive rebound
63 - 51
3:36
Antawn Jamison loose ball foul (Chris Bosh draws the foul)
63 - 51
3:36
Andray Blatche enters the game for Antawn Jamison
63 - 51
3:36
Jake Voskuhl enters the game for Andrea Bargnani
63 - 51
3:29
Anthony Parker makes 14-foot two point shot
65 - 51
3:17
Andray Blatche makes 4-foot jumper
65 - 53
3:05
Jake Voskuhl misses 19-foot jumper
65 - 53
3:04
Caron Butler defensive rebound
65 - 53
2:54
Jake Voskuhl illegal defense foul (1st personal foul)
65 - 53
2:54
Toronto full timeout
65 - 53
2:54
Jason Kapono enters the game for Joey Graham
65 - 53
2:54
Caron Butler makes technical free throw
65 - 54
2:45
Nick Young makes 16-foot two point shot
65 - 56
2:23
Chris Bosh makes 17-foot jumper
67 - 56
2:06
Darius Songaila misses 4-foot jumper
67 - 56
2:05
Jake Voskuhl defensive rebound
67 - 56
1:52
Chris Bosh misses layup
67 - 56
1:51
Jake Voskuhl offensive rebound
67 - 56
1:49
Jake Voskuhl makes tip shot
69 - 56
1:24
Caron Butler misses 22-foot jumper
69 - 56
1:23
Jake Voskuhl defensive rebound
69 - 56
1:17
Anthony Parker misses 20-foot jumper
69 - 56
1:16
Will Solomon offensive rebound
69 - 56
1:00
Will Solomon makes 1-foot two point shot
71 - 56
0:38
Mike James misses 9-foot jumper
71 - 56
0:38
Darius Songaila offensive rebound
71 - 56
0:38
Darius Songaila makes tip shot
71 - 58
0:30
Anthony Parker bad pass (Mike James steals)
71 - 58
0:28
Mike James makes driving layup
71 - 60
0:08
Will Solomon makes 19-foot running jumper
73 - 60
0:04
Will Solomon personal foul (Mike James draws the foul)
73 - 60
0:04
Roko Ukic enters the game for Will Solomon
73 - 60
0:04
Javaris Crittenton enters the game for Mike James
73 - 60
0:04
Kris Humphries enters the game for Chris Bosh
73 - 60
0:00
Caron Butler misses 26-foot three point jumper
73 - 60
0:00
Washington offensive rebound
73 - 60
0:00
End of the 3rd Quarter
73 - 60

time
TEAM
PLAY
SCORE
12:00
Start of the 4th Quarter
73 - 60
11:36
Roko Ukic misses 8-foot jumper
73 - 60
11:34
Roko Ukic offensive rebound
73 - 60
11:30
Joey Graham misses 18-foot jumper
73 - 60
11:29
Nick Young defensive rebound
73 - 60
11:08
Dominic McGuire makes 17-foot jumper (Javaris Crittenton assists)
73 - 62
10:42
Jake Voskuhl misses 4-foot jumper
73 - 62
10:41
Darius Songaila defensive rebound
73 - 62
10:27
Antawn Jamison makes 17-foot jumper (Javaris Crittenton assists)
73 - 64
10:07
Roko Ukic makes 17-foot jumper
75 - 64
9:49
Antawn Jamison makes 18-foot jumper (Darius Songaila assists)
75 - 66
9:34
Jake Voskuhl bad pass
75 - 66
9:19
Jake Voskuhl shooting foul (Darius Songaila draws the foul)
75 - 66
9:19
Caron Butler enters the game for Dominic McGuire
75 - 66
9:19
Chris Bosh enters the game for Jake Voskuhl
75 - 66
9:19
Darius Songaila makes free throw 1 of 2
75 - 67
9:19
Darius Songaila makes free throw 2 of 2
75 - 68
8:57
Andrea Bargnani makes three point jumper (Jason Kapono assists)
78 - 68
8:37
Antawn Jamison makes 26-foot three point jumper (Darius Songaila assists)
78 - 71
8:14
Chris Bosh makes driving layup
80 - 71
7:54
Darius Songaila makes 18-foot jumper (Javaris Crittenton assists)
80 - 73
7:37
Chris Bosh bad pass (Nick Young steals)
80 - 73
7:20
Nick Young makes two point shot
80 - 75
7:20
Toronto full timeout
80 - 75
7:20
Will Solomon enters the game for Joey Graham
80 - 75
7:07
Antawn Jamison shooting foul (Chris Bosh draws the foul)
80 - 75
7:07
Chris Bosh makes free throw 1 of 2
81 - 75
7:07
Andray Blatche enters the game for Antawn Jamison
81 - 75
7:07
Chris Bosh makes free throw 2 of 2
82 - 75
6:58
Will Solomon personal foul (Caron Butler draws the foul)
82 - 75
6:50
Darius Songaila makes jumper (Nick Young assists)
82 - 77
6:30
Chris Bosh makes 19-foot jumper
84 - 77
6:30
Andray Blatche shooting foul (Chris Bosh draws the foul)
84 - 77
6:30
Chris Bosh makes free throw 1 of 1
85 - 77
6:15
Caron Butler makes layup (Javaris Crittenton assists)
85 - 79
5:58
Will Solomon bad pass (Javaris Crittenton steals)
85 - 79
5:58
Chris Bosh personal foul (Javaris Crittenton draws the foul)
85 - 79
5:58
Washington full timeout
85 - 79
5:58
Anthony Parker enters the game for Roko Ukic
85 - 79
5:48
Andray Blatche bad pass (Andrea Bargnani steals)
85 - 79
5:31
Nick Young shooting foul (Chris Bosh draws the foul)
85 - 79
5:31
Chris Bosh makes free throw 1 of 2
86 - 79
5:31
Antawn Jamison enters the game for Andray Blatche
86 - 79
5:31
Chris Bosh makes free throw 2 of 2
87 - 79
5:13
Nick Young misses 25-foot three point jumper
87 - 79
5:13
Chris Bosh defensive rebound
87 - 79
4:47
Jason Kapono makes 19-foot jumper (Will Solomon assists)
89 - 79
4:20
Caron Butler misses 18-foot jumper
89 - 79
4:20
Washington offensive rebound
89 - 79
4:20
Andrea Bargnani personal foul (Nick Young draws the foul)
89 - 79
4:11
Antawn Jamison makes layup (Nick Young assists)
89 - 81
3:45
Chris Bosh misses 17-foot jumper
89 - 81
3:44
Nick Young defensive rebound
89 - 81
3:35
Caron Butler misses 18-foot jumper
89 - 81
3:34
Javaris Crittenton offensive rebound
89 - 81
3:33
Javaris Crittenton misses layup
89 - 81
3:31
Antawn Jamison offensive rebound
89 - 81
3:30
Antawn Jamison misses 4-foot jumper
89 - 81
3:29
Jason Kapono defensive rebound
89 - 81
3:25
Jason Kapono misses 20-foot jumper
89 - 81
3:24
Darius Songaila defensive rebound
89 - 81
3:16
Antawn Jamison makes layup (Javaris Crittenton assists)
89 - 83
3:16
Anthony Parker shooting foul (Antawn Jamison draws the foul)
89 - 83
3:16
Antawn Jamison misses free throw 1 of 1
89 - 83
3:15
Andrea Bargnani defensive rebound
89 - 83
3:01
Will Solomon bad pass (Javaris Crittenton steals)
89 - 83
2:54
Antawn Jamison misses 26-foot three point jumper
89 - 83
2:53
Andrea Bargnani defensive rebound
89 - 83
2:32
Chris Bosh misses 16-foot jumper
89 - 83
2:31
Caron Butler defensive rebound
89 - 83
2:20
Nick Young traveling
89 - 83
2:20
Toronto full timeout
89 - 83
2:20
Mike James enters the game for Nick Young
89 - 83
2:00
Andrea Bargnani makes 26-foot three point jumper (Chris Bosh assists)
92 - 83
1:46
Mike James misses 25-foot three point jumper
92 - 83
1:45
Anthony Parker defensive rebound
92 - 83
1:22
Will Solomon misses 19-foot jumper
92 - 83
1:21
Toronto defensive rebound
92 - 83
1:09
Javaris Crittenton makes layup (Darius Songaila assists)
92 - 85
0:51
Anthony Parker misses 20-foot jumper
92 - 85
0:50
Mike James defensive rebound
92 - 85
0:39
Antawn Jamison makes layup (Mike James assists)
92 - 87
0:29
Darius Songaila personal foul (Chris Bosh draws the foul)
92 - 87
0:27
Caron Butler personal foul (Andrea Bargnani draws the foul)
92 - 87
0:27
Andrea Bargnani makes free throw 1 of 2
93 - 87
0:27
Andrea Bargnani makes free throw 2 of 2
94 - 87
0:27
Washington full timeout
94 - 87
0:21
Will Solomon shooting foul (Mike James draws the foul)
94 - 87
0:21
Mike James misses free throw 1 of 3
94 - 87
0:21
Washington offensive rebound
94 - 87
0:21
Dominic McGuire enters the game for Antawn Jamison
94 - 87
0:21
Mike James misses free throw 2 of 3
94 - 87
0:21
Washington offensive rebound
94 - 88
0:21
Mike James makes free throw 3 of 3
94 - 88
0:21
Nick Young enters the game for Darius Songaila
94 - 88
0:21
Toronto 20 Sec. timeout
94 - 88
0:20
Caron Butler personal foul (Anthony Parker draws the foul)
94 - 88
0:20
Anthony Parker misses free throw 1 of 2
94 - 88
0:20
Toronto offensive rebound
94 - 88
0:20
Antawn Jamison enters the game for Nick Young
94 - 88
0:20
Darius Songaila enters the game for Dominic McGuire
94 - 88
0:20
Anthony Parker makes free throw 2 of 2
95 - 88
0:20
Washington 20 Sec. timeout
95 - 88
0:20
Roko Ukic enters the game for Will Solomon
95 - 88
0:20
Nick Young enters the game for Javaris Crittenton
95 - 88
0:15
Mike James misses 25-foot three point jumper
95 - 88
0:15
Washington offensive rebound
95 - 88
0:15
Anthony Parker personal foul (Antawn Jamison draws the foul)
95 - 88
0:15
Antawn Jamison misses free throw 1 of 2
95 - 88
0:15
Washington offensive rebound
95 - 88
0:15
Antawn Jamison makes free throw 2 of 2
95 - 89
0:12
Antawn Jamison personal foul (Andrea Bargnani draws the foul)
95 - 89
0:12
Andray Blatche enters the game for Antawn Jamison
95 - 89
0:12
Andrea Bargnani makes free throw 1 of 2
96 - 89
0:12
Andrea Bargnani makes free throw 2 of 2
97 - 89
0:12
Washington 20 Sec. timeout
97 - 89
0:09
Andray Blatche makes layup (Mike James assists)
97 - 91
0:07
Nick Young personal foul (Roko Ukic draws the foul)
97 - 91
0:07
Roko Ukic makes free throw 1 of 2
98 - 91
0:07
Roko Ukic makes free throw 2 of 2
99 - 91
0:02
Mike James makes driving layup
99 - 93
0:00
End of the 4th Quarter
99 - 93
0:00
End Game
99 - 93
Kyle Lowry isn't the first and won't be the last to botch a basketball high five.

Stephen Curry remains unlikely to play in Game 3 on Saturday in Portland, coach Steve Kerr clarified, although all sides agreed that the star guard made significant progress Friday.

The Jump sheds light on Chris Bosh's future and if he will ever play another game in the NBA.
2015-2016 Atlantic Standings
2015-2016 Southeast Standings