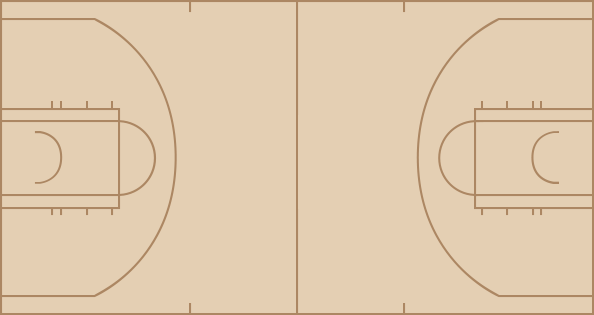 Spurs
time
TEAM
PLAY
SCORE
12:00
Start of the 1st Quarter
0 - 0
12:00
Jumpball: Tim Duncan vs. Jared Jeffries (Tony Parker gains possession)
0 - 0
11:44
Roger Mason misses 26-foot three point jumper
0 - 0
11:41
Tony Parker offensive rebound
0 - 0
11:38
Michael Finley makes two point shot
2 - 0
11:23
Wilson Chandler makes 19-foot jumper (David Lee assists)
2 - 2
11:03
Matt Bonner misses 8-foot jumper
2 - 2
11:02
David Lee defensive rebound
2 - 2
10:53
David Lee misses layup
2 - 2
10:52
Roger Mason defensive rebound
2 - 2
10:48
Jared Jeffries personal foul (Tony Parker draws the foul)
2 - 2
10:38
Michael Finley misses 25-foot three point jumper
2 - 2
10:37
David Lee defensive rebound
2 - 2
10:26
Al Harrington misses 17-foot jumper
2 - 2
10:25
Tim Duncan defensive rebound
2 - 2
10:18
Tim Duncan lost ball (Chris Duhon steals)
2 - 2
10:12
Chris Duhon makes driving layup
2 - 4
10:04
Tony Parker bad pass (David Lee steals)
2 - 4
10:00
Chris Duhon misses 24-foot three point jumper
2 - 4
9:57
Tim Duncan defensive rebound
2 - 4
9:53
Tony Parker misses layup
2 - 4
9:52
Al Harrington defensive rebound
2 - 4
9:45
Wilson Chandler makes 18-foot jumper (Chris Duhon assists)
2 - 6
9:22
Tony Parker makes driving layup
4 - 6
9:17
Wilson Chandler bad pass
4 - 6
9:02
Tony Parker misses 23-foot three point jumper
4 - 6
9:00
Michael Finley offensive rebound
4 - 6
8:57
Tony Parker makes layup (Michael Finley assists)
6 - 6
8:41
Al Harrington traveling
6 - 6
8:23
Tim Duncan makes 7-foot hook shot
8 - 6
8:14
David Lee makes layup (Chris Duhon assists)
8 - 8
8:07
San Antonio full timeout
8 - 8
8:07
George Hill enters the game for Roger Mason
8 - 8
7:56
Michael Finley misses 24-foot three point jumper
8 - 8
7:54
Chris Duhon defensive rebound
8 - 8
7:39
David Lee makes 19-foot jumper
8 - 10
7:13
Matt Bonner misses 20-foot jumper
8 - 10
7:11
Al Harrington defensive rebound
8 - 10
7:00
Wilson Chandler misses 26-foot three point jumper
8 - 10
6:58
Michael Finley defensive rebound
8 - 10
6:56
George Hill makes driving layup
10 - 10
6:56
Wilson Chandler shooting foul (George Hill draws the foul)
10 - 10
6:56
George Hill makes free throw 1 of 1
11 - 10
6:37
Chris Duhon makes driving layup (Jared Jeffries assists)
11 - 12
6:09
Michael Finley makes 20-foot jumper (Matt Bonner assists)
13 - 12
6:01
Al Harrington misses 25-foot three point jumper
13 - 12
5:58
David Lee offensive rebound
13 - 12
5:56
Wilson Chandler misses 20-foot jumper
13 - 12
5:54
Tim Duncan defensive rebound
13 - 12
5:50
Tim Duncan bad pass (Al Harrington steals)
13 - 12
5:50
David Lee misses layup
13 - 12
5:48
Al Harrington offensive rebound
13 - 12
5:48
Al Harrington misses tip shot
13 - 12
5:47
Tim Duncan defensive rebound
13 - 12
5:43
Matt Bonner makes 26-foot three point jumper (Tim Duncan assists)
16 - 12
5:28
Jared Jeffries makes 19-foot jumper (Chris Duhon assists)
16 - 14
5:05
Michael Finley misses 17-foot jumper
16 - 14
5:03
Matt Bonner offensive rebound
16 - 14
4:50
Tony Parker makes 21-foot jumper (Tim Duncan assists)
18 - 14
4:39
Chris Duhon makes 25-foot three point jumper (Al Harrington assists)
18 - 17
4:22
Jared Jeffries illegal defense foul (2nd personal foul)
18 - 17
4:22
Tim Thomas enters the game for Al Harrington
18 - 17
4:22
Quentin Richardson enters the game for Jared Jeffries
18 - 17
4:22
Nate Robinson enters the game for Wilson Chandler
18 - 17
4:22
Michael Finley makes technical free throw
19 - 17
4:16
Matt Bonner misses 25-foot three point jumper
19 - 17
4:15
Nate Robinson defensive rebound
19 - 17
4:07
David Lee makes 7-foot hook shot
19 - 19
3:45
Tim Thomas shooting foul (Tim Duncan draws the foul)
19 - 19
3:45
Roger Mason enters the game for Tony Parker
19 - 19
3:45
Bruce Bowen enters the game for Michael Finley
19 - 19
3:45
Tim Duncan makes free throw 1 of 2
20 - 19
3:45
Tim Duncan makes free throw 2 of 2
21 - 19
3:38
Bruce Bowen illegal defense foul (1st personal foul)
21 - 19
3:38
Chris Duhon makes technical free throw
21 - 20
3:38
Kurt Thomas enters the game for Matt Bonner
21 - 20
3:31
David Lee makes 17-foot jumper (Nate Robinson assists)
21 - 22
3:03
George Hill misses 18-foot jumper
21 - 22
3:02
San Antonio offensive rebound
21 - 22
3:02
shot clock violation
21 - 22
2:53
Nate Robinson makes 19-foot jumper (Quentin Richardson assists)
21 - 24
2:29
George Hill misses 17-foot jumper
21 - 24
2:28
David Lee defensive rebound
21 - 24
2:15
Nate Robinson makes 23-foot three point jumper (David Lee assists)
21 - 27
2:08
San Antonio 20 Sec. timeout
21 - 27
2:08
New York full timeout
21 - 27
2:00
Roger Mason misses 18-foot jumper
21 - 27
1:59
David Lee defensive rebound
21 - 27
1:46
Nate Robinson misses 18-foot jumper
21 - 27
1:45
Kurt Thomas defensive rebound
21 - 27
1:35
Kurt Thomas misses 20-foot jumper
21 - 27
1:34
San Antonio offensive rebound
21 - 27
1:34
Nate Robinson loose ball foul (Tim Duncan draws the foul)
21 - 27
1:34
Danilo Gallinari enters the game for Chris Duhon
21 - 27
1:29
Tim Duncan offensive foul (David Lee draws the foul)
21 - 27
1:29
Tim Duncan turnover
21 - 27
1:17
Nate Robinson lost ball (George Hill steals)
21 - 27
1:08
Kurt Thomas makes layup (Tim Duncan assists)
23 - 27
0:55
Quentin Richardson misses 25-foot three point jumper
23 - 27
0:53
Roger Mason defensive rebound
23 - 27
0:37
Bruce Bowen makes 23-foot three point jumper (George Hill assists)
26 - 27
0:21
Tim Duncan blocks David Lee's driving layup
26 - 27
0:21
Tim Duncan defensive rebound
26 - 27
0:20
David Lee personal foul (Tim Duncan draws the foul)
26 - 27
0:20
Tim Duncan makes free throw 1 of 2
27 - 27
0:20
Michael Finley enters the game for Kurt Thomas
27 - 27
0:20
Tim Duncan misses free throw 2 of 2
27 - 27
0:19
Bruce Bowen offensive rebound
27 - 27
0:02
Roger Mason misses 27-foot three point jumper
27 - 27
0:01
George Hill offensive rebound
27 - 27
0:01
George Hill misses layup
27 - 27
0:00
San Antonio offensive rebound
27 - 27
0:00
End of the 1st Quarter
27 - 27

time
TEAM
PLAY
SCORE
12:00
Start of the 2nd Quarter
27 - 27
11:45
Quentin Richardson misses 5-foot jumper
27 - 27
11:44
Matt Bonner defensive rebound
27 - 27
11:26
Michael Finley misses 17-foot jumper
27 - 27
11:23
Tim Thomas defensive rebound
27 - 27
11:11
Al Harrington makes driving layup
27 - 29
10:56
Michael Finley misses 18-foot jumper
27 - 29
10:53
Al Harrington defensive rebound
27 - 29
10:45
Quentin Richardson makes driving layup
27 - 31
10:34
San Antonio full timeout
27 - 31
10:34
Fabricio Oberto enters the game for Kurt Thomas
27 - 31
10:25
Roger Mason makes 25-foot three point jumper
30 - 31
10:08
Quentin Richardson misses 7-foot jumper
30 - 31
10:07
Matt Bonner defensive rebound
30 - 31
9:48
Roger Mason makes 24-foot three point jumper (Michael Finley assists)
33 - 31
9:37
Al Harrington makes 17-foot jumper (Nate Robinson assists)
33 - 33
9:22
Roger Mason makes 25-foot three point jumper (Tony Parker assists)
36 - 33
9:11
Nate Robinson makes 25-foot three point jumper
36 - 36
8:56
Michael Finley misses 23-foot three point jumper
36 - 36
8:53
Nate Robinson defensive rebound
36 - 36
8:49
Danilo Gallinari makes slam dunk (Nate Robinson assists)
36 - 38
8:30
Roger Mason misses 24-foot three point jumper
36 - 38
8:27
Tim Thomas defensive rebound
36 - 38
8:22
Roger Mason personal foul (Danilo Gallinari draws the foul)
36 - 38
8:22
Bruce Bowen enters the game for Michael Finley
36 - 38
8:11
Al Harrington misses 16-foot jumper
36 - 38
8:11
New York defensive rebound
36 - 38
7:58
Matt Bonner traveling
36 - 38
7:48
Nate Robinson makes 24-foot three point jumper
36 - 41
7:33
Nate Robinson personal foul (Tony Parker draws the foul)
36 - 41
7:24
Roger Mason makes 20-foot jumper
38 - 41
7:13
Matt Bonner blocks Al Harrington's layup
38 - 41
7:11
Nate Robinson offensive rebound
38 - 41
7:11
Nate Robinson makes layup
38 - 43
7:01
Fabricio Oberto makes layup (Tony Parker assists)
40 - 43
6:48
Nate Robinson misses 23-foot three point jumper
40 - 43
6:46
New York offensive rebound
40 - 43
6:46
Wilson Chandler enters the game for Quentin Richardson
40 - 43
6:46
Chris Duhon enters the game for Danilo Gallinari
40 - 43
6:43
Tim Thomas makes driving layup
40 - 45
6:20
Tony Parker makes two point shot
42 - 45
6:05
Wilson Chandler misses 21-foot jumper
42 - 45
6:03
Tony Parker defensive rebound
42 - 45
5:52
Tony Parker misses driving layup
42 - 45
5:52
Nate Robinson defensive rebound
42 - 45
5:41
Wilson Chandler makes 22-foot three point jumper (Chris Duhon assists)
42 - 48
5:24
Roger Mason misses 26-foot three point jumper
42 - 48
5:22
Chris Duhon defensive rebound
42 - 48
5:07
Tony Parker shooting foul (Nate Robinson draws the foul)
42 - 48
5:07
Official timeout
42 - 48
5:07
David Lee enters the game for Tim Thomas
42 - 48
5:07
Kurt Thomas enters the game for Matt Bonner
42 - 48
5:07
Tim Duncan enters the game for Fabricio Oberto
42 - 48
5:07
Nate Robinson makes free throw 1 of 2
42 - 49
5:07
Nate Robinson misses free throw 2 of 2
42 - 49
5:07
Tim Duncan defensive rebound
42 - 49
4:52
Bruce Bowen misses 15-foot jumper
42 - 49
4:50
David Lee defensive rebound
42 - 49
4:33
Wilson Chandler misses 19-foot jumper
42 - 49
4:31
Kurt Thomas defensive rebound
42 - 49
4:20
Wilson Chandler blocks Tony Parker's driving layup
42 - 49
4:20
San Antonio offensive rebound
42 - 49
4:11
Kurt Thomas makes 13-foot jumper (Roger Mason assists)
44 - 49
3:55
Al Harrington offensive foul (Bruce Bowen draws the foul)
44 - 49
3:55
Al Harrington turnover
44 - 49
3:33
Tim Duncan misses 14-foot two point shot
44 - 49
3:32
David Lee defensive rebound
44 - 49
3:17
Chris Duhon makes 17-foot jumper
44 - 51
2:58
Tony Parker misses 11-foot jumper
44 - 51
2:56
Kurt Thomas offensive rebound
44 - 51
2:55
Kurt Thomas makes layup
46 - 51
2:40
Al Harrington offensive foul (Kurt Thomas draws the foul)
46 - 51
2:40
Al Harrington turnover
46 - 51
2:40
New York full timeout
46 - 51
2:23
Tony Parker lost ball (Nate Robinson steals)
46 - 51
2:05
Wilson Chandler misses 25-foot three point jumper
46 - 51
2:03
Al Harrington offensive rebound
46 - 51
2:03
Tim Duncan shooting foul (Al Harrington draws the foul)
46 - 51
2:03
Al Harrington makes free throw 1 of 2
46 - 52
2:03
Al Harrington misses free throw 2 of 2
46 - 52
2:02
Kurt Thomas defensive rebound
46 - 52
1:54
David Lee personal foul (Tim Duncan draws the foul)
46 - 52
1:45
Kurt Thomas makes layup (Tim Duncan assists)
48 - 52
1:31
David Lee makes 8-foot jumper (Chris Duhon assists)
48 - 54
1:15
David Lee shooting foul (Tim Duncan draws the foul)
48 - 54
1:15
Tim Thomas enters the game for David Lee
48 - 54
1:15
Tim Duncan makes free throw 1 of 2
49 - 54
1:15
Tim Duncan makes free throw 2 of 2
50 - 54
1:04
Tim Thomas misses 23-foot three point jumper
50 - 54
1:01
Kurt Thomas defensive rebound
50 - 54
0:51
Bruce Bowen makes 23-foot three point jumper (Tony Parker assists)
53 - 54
0:45
Roger Mason personal foul (Nate Robinson draws the foul)
53 - 54
0:45
Ime Udoka enters the game for Kurt Thomas
53 - 54
0:39
Tim Thomas makes 24-foot three point jumper (Chris Duhon assists)
53 - 57
0:28
Ime Udoka makes 24-foot three point jumper (Tony Parker assists)
56 - 57
0:12
Chris Duhon bad pass
56 - 57
0:00
End of the 2nd Quarter
56 - 57

time
TEAM
PLAY
SCORE
12:00
Start of the 3rd Quarter
56 - 57
11:49
Wilson Chandler makes 19-foot jumper (David Lee assists)
56 - 59
11:25
Tony Parker misses 10-foot jumper
56 - 59
11:22
David Lee defensive rebound
56 - 59
11:18
Al Harrington traveling
56 - 59
11:00
Tim Duncan misses layup
56 - 59
10:59
Tim Duncan offensive rebound
56 - 59
10:57
Tim Duncan misses tip shot
56 - 59
10:57
Tim Duncan offensive rebound
56 - 59
10:56
Tim Duncan misses layup
56 - 59
10:56
San Antonio defensive rebound
56 - 59
10:56
Tim Duncan loose ball foul (Al Harrington draws the foul)
56 - 59
10:45
Jared Jeffries misses 15-foot jumper
56 - 59
10:42
Tim Duncan defensive rebound
56 - 59
10:30
Tony Parker misses 19-foot jumper
56 - 59
10:29
Tony Parker offensive rebound
56 - 59
10:19
David Lee illegal defense foul (4th personal foul)
56 - 59
10:19
Roger Mason makes technical free throw
57 - 59
10:10
Roger Mason misses 23-foot three point jumper
57 - 59
10:07
Al Harrington defensive rebound
57 - 59
9:56
David Lee misses 15-foot jumper
57 - 59
9:55
Jared Jeffries offensive rebound
57 - 59
9:49
Al Harrington misses 24-foot three point jumper
57 - 59
9:48
Matt Bonner defensive rebound
57 - 59
9:26
Tim Duncan lost ball (David Lee steals)
57 - 59
9:19
Chris Duhon makes driving layup
57 - 61
9:06
Matt Bonner makes 25-foot three point jumper (Tony Parker assists)
60 - 61
8:53
David Lee turnover
60 - 61
8:32
Tim Duncan misses 16-foot jumper
60 - 61
8:30
David Lee defensive rebound
60 - 61
8:15
Jared Jeffries misses 17-foot jumper
60 - 61
8:14
Matt Bonner defensive rebound
60 - 61
8:03
Michael Finley makes 6-foot jumper
62 - 61
7:50
Chris Duhon misses 24-foot three point jumper
62 - 61
7:47
Tim Duncan defensive rebound
62 - 61
7:46
Tim Duncan bad pass (Wilson Chandler steals)
62 - 61
7:43
Wilson Chandler makes 19-foot two point shot
62 - 63
7:15
Al Harrington misses 25-foot three point jumper
62 - 63
7:13
Tim Duncan defensive rebound
62 - 63
7:11
Matt Bonner turnover
62 - 63
6:58
David Lee misses layup
62 - 63
6:56
David Lee offensive rebound
62 - 63
6:56
David Lee makes layup
62 - 65
6:35
David Lee shooting foul (Tim Duncan draws the foul)
62 - 65
6:35
Tim Duncan makes free throw 1 of 2
63 - 65
6:35
Tim Thomas enters the game for David Lee
63 - 65
6:35
George Hill enters the game for Roger Mason
63 - 65
6:35
Bruce Bowen enters the game for Matt Bonner
63 - 65
6:35
Tim Duncan makes free throw 2 of 2
64 - 65
6:13
Chris Duhon makes driving layup
64 - 67
5:48
Tim Duncan makes 8-foot jumper
66 - 67
5:48
Jared Jeffries shooting foul (Tim Duncan draws the foul)
66 - 67
5:48
New York full timeout
66 - 67
5:48
Tim Duncan makes free throw 1 of 1
67 - 67
5:26
Michael Finley shooting foul (Al Harrington draws the foul)
67 - 67
5:26
Al Harrington misses free throw 1 of 2
67 - 67
5:26
New York offensive rebound
67 - 67
5:26
Al Harrington makes free throw 2 of 2
67 - 68
5:07
Tony Parker misses 18-foot jumper
67 - 68
5:05
Al Harrington defensive rebound
67 - 68
4:58
Wilson Chandler misses jumper
67 - 68
4:56
Al Harrington offensive rebound
67 - 68
4:56
George Hill shooting foul (Al Harrington draws the foul)
67 - 68
4:56
Al Harrington makes free throw 1 of 2
67 - 69
4:56
Nate Robinson enters the game for Wilson Chandler
67 - 69
4:56
Kurt Thomas enters the game for Tim Duncan
67 - 69
4:56
Al Harrington makes free throw 2 of 2
67 - 70
4:39
Tony Parker misses 12-foot jumper
67 - 70
4:37
Al Harrington defensive rebound
67 - 70
4:28
Tim Thomas turnover
67 - 70
4:28
Quentin Richardson enters the game for Al Harrington
67 - 70
4:18
Jared Jeffries shooting foul (Tony Parker draws the foul)
67 - 70
4:18
Tony Parker makes free throw 1 of 2
68 - 70
4:18
Tony Parker makes free throw 2 of 2
69 - 70
4:09
Jared Jeffries makes layup (Tim Thomas assists)
69 - 72
3:50
Tony Parker misses 14-foot jumper
69 - 72
3:48
Nate Robinson defensive rebound
69 - 72
3:32
Nate Robinson misses 5-foot jumper
69 - 72
3:31
Michael Finley defensive rebound
69 - 72
3:28
Chris Duhon shooting foul (Tony Parker draws the foul)
69 - 72
3:28
Matt Bonner enters the game for Michael Finley
69 - 72
3:28
Tony Parker makes free throw 1 of 2
70 - 72
3:28
Tony Parker makes free throw 2 of 2
71 - 72
3:17
Quentin Richardson bad pass
71 - 72
3:17
Roger Mason enters the game for Tony Parker
71 - 72
3:02
George Hill offensive foul (Nate Robinson draws the foul)
71 - 72
3:02
George Hill turnover
71 - 72
2:47
Bruce Bowen blocks Quentin Richardson's layup
71 - 72
2:45
Matt Bonner defensive rebound
71 - 72
2:36
Matt Bonner misses 24-foot three point jumper
71 - 72
2:35
Tim Thomas defensive rebound
71 - 72
2:24
Quentin Richardson makes driving layup
71 - 74
2:24
Bruce Bowen shooting foul (Quentin Richardson draws the foul)
71 - 74
2:24
San Antonio full timeout
71 - 74
2:24
Quentin Richardson makes free throw 1 of 1
71 - 75
2:02
Matt Bonner makes layup
73 - 75
1:39
Quentin Richardson misses 23-foot three point jumper
73 - 75
1:39
New York defensive rebound
73 - 75
1:23
Bruce Bowen misses 24-foot three point jumper
73 - 75
1:22
Jared Jeffries defensive rebound
73 - 75
1:08
Tim Thomas makes 7-foot two point shot
73 - 77
0:54
Roger Mason makes 21-foot jumper
75 - 77
0:38
Tim Thomas misses 24-foot three point jumper
75 - 77
0:36
George Hill defensive rebound
75 - 77
0:26
Kurt Thomas makes layup (Bruce Bowen assists)
77 - 77
0:06
Quentin Richardson misses 26-foot three point jumper
77 - 77
0:04
New York offensive rebound
77 - 77
0:04
Danilo Gallinari enters the game for Jared Jeffries
77 - 77
0:02
Tim Thomas misses 25-foot three point jumper
77 - 77
0:00
New York defensive rebound
77 - 77
0:00
End of the 3rd Quarter
77 - 77

time
TEAM
PLAY
SCORE
12:00
Start of the 4th Quarter
77 - 77
11:48
Matt Bonner lost ball (Danilo Gallinari steals)
77 - 77
11:37
Tim Thomas misses 22-foot jumper
77 - 77
11:36
Kurt Thomas defensive rebound
77 - 77
11:26
Kurt Thomas makes 15-foot jumper (Roger Mason assists)
79 - 77
11:11
Nate Robinson makes 25-foot three point jumper (Chris Duhon assists)
79 - 80
10:55
Roger Mason misses 25-foot three point jumper
79 - 80
10:52
Nate Robinson defensive rebound
79 - 80
10:42
Nate Robinson misses three point jumper
79 - 80
10:41
Chris Duhon offensive rebound
79 - 80
10:38
George Hill personal foul (Chris Duhon draws the foul)
79 - 80
10:27
Roger Mason shooting foul (Chris Duhon draws the foul)
79 - 80
10:27
Chris Duhon misses free throw 1 of 2
79 - 80
10:27
New York offensive rebound
79 - 80
10:27
Chris Duhon makes free throw 2 of 2
79 - 81
10:14
Tim Thomas shooting foul (Roger Mason draws the foul)
79 - 81
10:14
Roger Mason makes free throw 1 of 2
80 - 81
10:14
Tim Duncan enters the game for Kurt Thomas
80 - 81
10:14
David Lee enters the game for Tim Thomas
80 - 81
10:14
Michael Finley enters the game for Matt Bonner
80 - 81
10:14
Roger Mason makes free throw 2 of 2
81 - 81
10:02
Nate Robinson misses driving layup
81 - 81
10:00
Nate Robinson offensive rebound
81 - 81
9:51
Nate Robinson makes 15-foot two point shot
81 - 83
9:27
Tim Duncan makes 8-foot two point shot
83 - 83
9:11
Quentin Richardson makes 23-foot three point jumper (Chris Duhon assists)
83 - 86
8:45
David Lee shooting foul (Tim Duncan draws the foul)
83 - 86
8:45
Official timeout
83 - 86
8:45
Tony Parker enters the game for George Hill
83 - 86
8:45
Tim Thomas enters the game for David Lee
83 - 86
8:45
Wilson Chandler enters the game for Danilo Gallinari
83 - 86
8:45
Tim Duncan misses free throw 1 of 2
83 - 86
8:45
San Antonio offensive rebound
83 - 86
8:45
Tim Duncan makes free throw 2 of 2
84 - 86
8:22
Quentin Richardson misses three point jumper
84 - 86
8:19
Nate Robinson offensive rebound
84 - 86
8:11
Chris Duhon bad pass (Tony Parker steals)
84 - 86
7:54
Tim Duncan makes 5-foot hook shot
86 - 86
7:33
Nate Robinson misses 16-foot jumper
86 - 86
7:31
Bruce Bowen defensive rebound
86 - 86
7:20
Roger Mason makes 20-foot jumper
88 - 86
7:18
New York full timeout
88 - 86
7:18
David Lee enters the game for Tim Thomas
88 - 86
7:07
Wilson Chandler makes 6-foot running jumper
88 - 88
6:48
Roger Mason misses 21-foot jumper
88 - 88
6:47
Quentin Richardson defensive rebound
88 - 88
6:39
Chris Duhon bad pass (Tony Parker steals)
88 - 88
6:26
Michael Finley misses 23-foot three point jumper
88 - 88
6:24
David Lee defensive rebound
88 - 88
6:11
Wilson Chandler makes 23-foot three point jumper (Quentin Richardson assists)
88 - 91
5:50
Tim Duncan makes 5-foot two point shot
90 - 91
5:37
David Lee misses 11-foot jumper
90 - 91
5:35
Bruce Bowen defensive rebound
90 - 91
5:22
Tony Parker misses layup
90 - 91
5:20
Michael Finley offensive rebound
90 - 91
5:20
Michael Finley misses tip shot
90 - 91
5:20
Chris Duhon defensive rebound
90 - 91
5:09
Tim Duncan blocks David Lee's layup
90 - 91
5:07
Bruce Bowen defensive rebound
90 - 91
4:45
Tim Duncan makes 8-foot two point shot
92 - 91
4:26
Nate Robinson makes driving layup
92 - 93
4:26
Tim Duncan shooting foul (Nate Robinson draws the foul)
92 - 93
4:26
Al Harrington enters the game for Quentin Richardson
92 - 93
4:26
Nate Robinson makes free throw 1 of 1
92 - 94
4:07
Bruce Bowen makes 22-foot jumper (Tony Parker assists)
94 - 94
3:48
Bruce Bowen personal foul (Wilson Chandler draws the foul)
94 - 94
3:44
Nate Robinson makes 14-foot jumper (David Lee assists)
94 - 96
3:19
Tim Duncan makes 11-foot two point shot
96 - 96
3:04
Wilson Chandler misses 26-foot three point jumper
96 - 96
3:03
New York offensive rebound
96 - 96
3:03
Michael Finley loose ball foul (Al Harrington draws the foul)
96 - 96
3:03
Al Harrington misses free throw 1 of 2
96 - 96
3:03
New York offensive rebound
96 - 96
3:03
Al Harrington makes free throw 2 of 2
96 - 97
3:03
San Antonio full timeout
96 - 97
3:03
Matt Bonner enters the game for Michael Finley
96 - 97
2:47
Tony Parker misses 19-foot jumper
96 - 97
2:46
Wilson Chandler defensive rebound
96 - 97
2:36
Nate Robinson misses 17-foot jumper
96 - 97
2:35
Roger Mason defensive rebound
96 - 97
2:21
Roger Mason misses 17-foot jumper
96 - 97
2:19
David Lee defensive rebound
96 - 97
2:14
Nate Robinson misses driving layup
96 - 97
2:13
Roger Mason defensive rebound
96 - 97
1:54
Matt Bonner makes 22-foot jumper (Tony Parker assists)
98 - 97
1:40
Chris Duhon makes two point shot
98 - 99
1:23
Tim Duncan bad pass (David Lee steals)
98 - 99
1:16
Wilson Chandler turnover
98 - 99
1:00
Tony Parker makes two point shot
100 - 99
0:52
Matt Bonner shooting foul (David Lee draws the foul)
100 - 99
0:52
David Lee misses free throw 1 of 2
100 - 99
0:52
New York offensive rebound
100 - 99
0:52
Michael Finley enters the game for Bruce Bowen
100 - 99
0:52
David Lee makes free throw 2 of 2
100 - 100
0:30
Tim Duncan makes 7-foot jumper
102 - 100
0:20
Nate Robinson makes driving layup
102 - 102
0:03
David Lee personal foul (Tony Parker draws the foul)
102 - 102
0:03
San Antonio full timeout
102 - 102
0:03
Tim Thomas enters the game for Al Harrington
102 - 102
0:03
Jared Jeffries enters the game for David Lee
102 - 102
0:01
Tim Duncan misses 10-foot two point shot
102 - 102
0:00
Nate Robinson defensive rebound
102 - 102
0:00
End of the 4th Quarter
102 - 102

time
TEAM
PLAY
SCORE
5:00
Start of the 1st Overtime
102 - 102
5:00
Jumpball: Tim Duncan vs. Jared Jeffries (Wilson Chandler gains possession)
102 - 102
4:41
Nate Robinson misses 23-foot three point jumper
102 - 102
4:39
Tim Duncan defensive rebound
102 - 102
4:24
Roger Mason misses 18-foot jumper
102 - 102
4:22
Nate Robinson defensive rebound
102 - 102
4:13
Tim Thomas misses 13-foot two point shot
102 - 102
4:11
Roger Mason defensive rebound
102 - 102
3:55
Tim Duncan bad pass (Jared Jeffries steals)
102 - 102
3:50
Nate Robinson makes driving layup
102 - 104
3:26
Michael Finley makes 6-foot jumper (Tim Duncan assists)
104 - 104
3:08
Tim Thomas misses 8-foot jumper
104 - 104
3:05
Matt Bonner defensive rebound
104 - 104
2:51
Tim Thomas personal foul (Tim Duncan draws the foul)
104 - 104
2:51
Al Harrington enters the game for Jared Jeffries
104 - 104
2:41
Tony Parker misses 7-foot two point shot
104 - 104
2:39
Wilson Chandler defensive rebound
104 - 104
2:31
Nate Robinson makes 15-foot jumper
104 - 106
2:15
Tim Duncan misses layup
104 - 106
2:14
Al Harrington defensive rebound
104 - 106
1:54
Nate Robinson makes driving layup
104 - 108
1:39
Tony Parker misses 16-foot jumper
104 - 108
1:39
San Antonio defensive rebound
104 - 108
1:39
Matt Bonner loose ball foul (Al Harrington draws the foul)
104 - 108
1:31
Al Harrington makes driving layup
104 - 110
1:31
San Antonio full timeout
104 - 110
1:23
Tim Thomas shooting foul (Tim Duncan draws the foul)
104 - 110
1:23
Tim Duncan misses free throw 1 of 2
104 - 110
1:23
San Antonio offensive rebound
104 - 110
1:23
Bruce Bowen enters the game for Michael Finley
104 - 110
1:23
Tim Duncan makes free throw 2 of 2
105 - 110
1:06
Al Harrington misses driving layup
105 - 110
1:05
Tim Duncan defensive rebound
105 - 110
1:00
Wilson Chandler blocks Tony Parker's layup
105 - 110
0:58
Tim Thomas defensive rebound
105 - 110
0:37
Nate Robinson misses 23-foot three point jumper
105 - 110
0:35
Tim Duncan defensive rebound
105 - 110
0:27
Roger Mason makes 21-foot jumper
107 - 110
0:27
New York full timeout
107 - 110
0:27
George Hill enters the game for Matt Bonner
107 - 110
0:25
George Hill personal foul (Wilson Chandler draws the foul)
107 - 110
0:25
Wilson Chandler makes free throw 1 of 2
107 - 111
0:25
Matt Bonner enters the game for George Hill
107 - 111
0:25
Jared Jeffries enters the game for Al Harrington
107 - 111
0:25
Wilson Chandler misses free throw 2 of 2
107 - 111
0:24
Tim Duncan defensive rebound
107 - 111
0:24
San Antonio 20 Sec. timeout
107 - 111
0:24
Michael Finley enters the game for Bruce Bowen
107 - 111
0:16
Tim Duncan misses three point jumper
107 - 111
0:15
Matt Bonner offensive rebound
107 - 111
0:14
Matt Bonner misses layup
107 - 111
0:14
Tim Thomas defensive rebound
107 - 111
0:14
Michael Finley personal foul (Tim Thomas draws the foul)
107 - 111
0:14
Tim Thomas misses free throw 1 of 2
107 - 111
0:14
New York offensive rebound
107 - 111
0:14
Tim Thomas makes free throw 2 of 2
107 - 112
0:03
Michael Finley misses 23-foot three point jumper
107 - 112
0:01
Roger Mason offensive rebound
107 - 112
0:00
End of the 1st Overtime
107 - 112
0:00
End Game
107 - 112
The Phoenix Suns selected Greek center Georgios Papagiannis with the No. 13 overall pick of the 2016 NBA draft on Thursday night.

The Milwaukee Bucks select Thon Maker with the No. 10 pick in the NBA draft.

Amin Elhassan and Myron Medcalf break down Marquese Chriss being traded to the Suns.
Regular Season Series
Series tied 1-1
2015-2016 Southwest Standings
2015-2016 Atlantic Standings