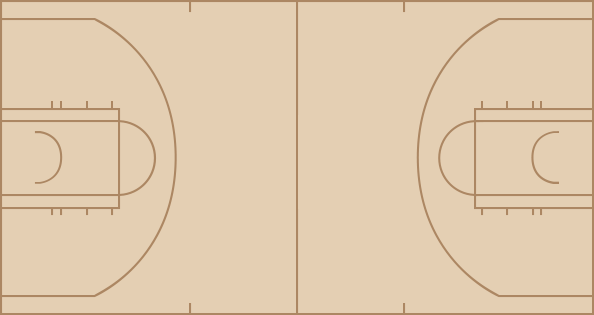 Trail Blazers
time
TEAM
PLAY
SCORE
12:00
Start of the 1st Quarter
0 - 0
12:00
Jumpball: Joel Przybilla vs. Zydrunas Ilgauskas (Steve Blake gains possession)
0 - 0
11:45
Channing Frye misses 17-foot jumper
0 - 0
11:44
LeBron James defensive rebound
0 - 0
11:30
Anderson Varejao misses 13-foot jumper
0 - 0
11:29
Joel Przybilla defensive rebound
0 - 0
11:15
Joel Przybilla traveling
0 - 0
10:52
Anderson Varejao misses 9-foot jumper
0 - 0
10:51
Brandon Roy defensive rebound
0 - 0
10:36
Brandon Roy misses 14-foot jumper
0 - 0
10:34
Anderson Varejao defensive rebound
0 - 0
10:18
Delonte West makes 20-foot jumper (LeBron James assists)
0 - 2
9:47
Channing Frye misses 19-foot jumper
0 - 2
9:45
Joel Przybilla offensive rebound
0 - 2
9:36
Steve Blake bad pass (Zydrunas Ilgauskas steals)
0 - 2
9:36
Steve Blake personal foul (Zydrunas Ilgauskas draws the foul)
0 - 2
9:22
Zydrunas Ilgauskas makes 19-foot jumper (Delonte West assists)
0 - 4
9:00
Joel Przybilla makes 6-foot two point shot (Brandon Roy assists)
2 - 4
8:48
Zydrunas Ilgauskas misses 16-foot two point shot
2 - 4
8:44
Anderson Varejao offensive rebound
2 - 4
8:38
Delonte West misses 24-foot three point jumper
2 - 4
8:37
Steve Blake defensive rebound
2 - 4
8:26
Steve Blake misses 25-foot three point jumper
2 - 4
8:25
Zydrunas Ilgauskas defensive rebound
2 - 4
8:11
Zydrunas Ilgauskas misses 22-foot jumper
2 - 4
8:08
Mo Williams offensive rebound
2 - 4
8:07
Mo Williams makes two point shot
2 - 6
7:52
Travis Outlaw misses 25-foot three point jumper
2 - 6
7:52
Zydrunas Ilgauskas defensive rebound
2 - 6
7:43
Zydrunas Ilgauskas misses 20-foot jumper
2 - 6
7:41
Joel Przybilla defensive rebound
2 - 6
7:24
Brandon Roy misses layup
2 - 6
7:22
Mo Williams defensive rebound
2 - 6
7:13
LeBron James misses three point jumper
2 - 6
7:11
Steve Blake defensive rebound
2 - 6
7:09
Portland full timeout
2 - 6
6:52
Travis Outlaw misses 17-foot jumper
2 - 6
6:50
Anderson Varejao defensive rebound
2 - 6
6:35
Delonte West misses 1-foot two point shot
2 - 6
6:33
Channing Frye defensive rebound
2 - 6
6:31
Delonte West personal foul (Brandon Roy draws the foul)
2 - 6
6:13
Steve Blake makes 23-foot jumper
4 - 6
5:47
Delonte West misses 16-foot two point shot
4 - 6
5:43
Anderson Varejao offensive rebound
4 - 6
5:39
Mo Williams misses 25-foot three point jumper
4 - 6
5:39
Channing Frye defensive rebound
4 - 6
5:31
Channing Frye makes driving dunk (Steve Blake assists)
6 - 6
5:05
LeBron James makes 23-foot jumper
6 - 8
4:54
Joel Przybilla makes dunk (Brandon Roy assists)
8 - 8
4:33
Travis Outlaw personal foul (Delonte West draws the foul)
8 - 8
4:33
Rudy Fernandez enters the game for Joel Przybilla
8 - 8
4:33
Greg Oden enters the game for Travis Outlaw
8 - 8
4:33
Joe Smith enters the game for Zydrunas Ilgauskas
8 - 8
4:24
Mo Williams misses 25-foot three point jumper
8 - 8
4:24
Cleveland defensive rebound
8 - 8
4:24
Joe Smith loose ball foul (Channing Frye draws the foul)
8 - 8
4:05
Anderson Varejao shooting foul (Brandon Roy draws the foul)
8 - 8
4:05
Brandon Roy makes free throw 1 of 2
9 - 8
4:05
Brandon Roy makes free throw 2 of 2
10 - 8
3:47
LeBron James misses 17-foot two point shot
10 - 8
3:46
Greg Oden defensive rebound
10 - 8
3:38
Steve Blake makes 17-foot jumper
12 - 8
3:20
Mo Williams misses 15-foot jumper
12 - 8
3:19
Greg Oden defensive rebound
12 - 8
3:02
Rudy Fernandez misses 25-foot three point jumper
12 - 8
3:00
Anderson Varejao defensive rebound
12 - 8
2:47
Greg Oden shooting foul (Anderson Varejao draws the foul)
12 - 8
2:47
Cleveland full timeout
12 - 8
2:47
Sasha Pavlovic enters the game for Mo Williams
12 - 8
2:47
Anderson Varejao makes free throw 1 of 2
12 - 9
2:47
Anderson Varejao makes free throw 2 of 2
12 - 10
2:33
Brandon Roy makes 8-foot jumper
14 - 10
2:33
Sasha Pavlovic shooting foul (Brandon Roy draws the foul)
14 - 10
2:33
Daniel Gibson enters the game for Anderson Varejao
14 - 10
2:33
Brandon Roy makes free throw 1 of 1
15 - 10
2:16
Sasha Pavlovic misses two point shot
15 - 10
2:14
Greg Oden defensive rebound
15 - 10
2:13
Delonte West jump ball
15 - 10
2:13
Travis Outlaw enters the game for Channing Frye
15 - 10
2:06
Brandon Roy misses 9-foot jumper
15 - 10
2:05
Travis Outlaw offensive rebound
15 - 10
2:05
Travis Outlaw misses tip shot
15 - 10
2:04
Greg Oden offensive rebound
15 - 10
2:03
Joe Smith blocks Greg Oden's layup
15 - 10
2:02
Delonte West defensive rebound
15 - 10
1:46
Delonte West misses 14-foot two point shot
15 - 10
1:45
Greg Oden defensive rebound
15 - 10
1:28
Steve Blake makes 23-foot three point jumper (Brandon Roy assists)
18 - 10
1:07
Greg Oden blocks Delonte West's layup
18 - 10
1:05
Brandon Roy defensive rebound
18 - 10
0:56
Daniel Gibson shooting foul (Greg Oden draws the foul)
18 - 10
0:56
Jerryd Bayless enters the game for Steve Blake
18 - 10
0:56
Greg Oden misses free throw 1 of 2
18 - 10
0:56
Portland offensive rebound
18 - 10
0:56
Greg Oden makes free throw 2 of 2
19 - 10
0:42
Greg Oden shooting foul (Joe Smith draws the foul)
19 - 10
0:42
Joe Smith makes free throw 1 of 2
19 - 11
0:42
Joe Smith makes free throw 2 of 2
19 - 12
0:28
Travis Outlaw misses 7-foot running jumper
19 - 12
0:27
Greg Oden offensive rebound
19 - 12
0:04
Joe Smith blocks Brandon Roy's layup
19 - 12
0:03
Delonte West defensive rebound
19 - 12
0:00
Delonte West misses 8-foot jumper
19 - 12
0:00
Cleveland offensive rebound
19 - 12
0:00
End of the 1st Quarter
19 - 12

time
TEAM
PLAY
SCORE
12:00
Start of the 2nd Quarter
19 - 12
11:33
Daniel Gibson misses 16-foot jumper
19 - 12
11:33
Jerryd Bayless defensive rebound
19 - 12
11:12
Greg Oden misses 12-foot two point shot
19 - 12
11:08
Channing Frye offensive rebound
21 - 12
11:08
Channing Frye makes dunk
21 - 12
10:48
Joe Smith makes 17-foot two point shot
21 - 14
10:34
Greg Oden misses two point shot
21 - 14
10:33
Greg Oden offensive rebound
21 - 14
10:33
Greg Oden makes free throw 1 of 2
22 - 14
10:33
Greg Oden makes free throw 2 of 2
23 - 14
10:12
Sasha Pavlovic misses 6-foot jumper
23 - 14
10:11
Travis Outlaw defensive rebound
23 - 14
9:47
Channing Frye makes 18-foot two point shot
25 - 14
9:19
Mo Williams makes 25-foot three point jumper
25 - 17
9:07
Jerryd Bayless misses 21-foot jumper
25 - 17
9:07
Portland defensive rebound
25 - 17
9:07
Greg Oden loose ball foul (Darnell Jackson draws the foul)
25 - 17
9:07
Joel Przybilla enters the game for Greg Oden
25 - 17
8:56
Mo Williams misses 22-foot two point shot
25 - 17
8:52
Joe Smith offensive rebound
25 - 17
8:47
Joe Smith makes 18-foot jumper (Sasha Pavlovic assists)
25 - 19
8:26
Travis Outlaw misses 13-foot running jumper
25 - 19
8:26
Portland defensive rebound
25 - 19
8:26
Steve Blake enters the game for Jerryd Bayless
25 - 19
8:26
Official timeout
25 - 19
8:11
Daniel Gibson makes 26-foot three point jumper (Mo Williams assists)
25 - 22
7:56
Channing Frye makes 15-foot jumper (Rudy Fernandez assists)
27 - 22
7:33
Sasha Pavlovic misses layup
27 - 22
7:31
Joe Smith offensive rebound
27 - 24
7:31
Joe Smith makes tip shot
27 - 24
7:13
Channing Frye makes 20-foot jumper (Rudy Fernandez assists)
29 - 24
6:47
Daniel Gibson makes 21-foot jumper (Mo Williams assists)
29 - 26
6:26
Channing Frye misses 17-foot two point shot
29 - 26
6:24
Daniel Gibson defensive rebound
29 - 26
6:16
Joe Smith makes hook shot (Daniel Gibson assists)
29 - 28
5:58
Channing Frye misses layup
29 - 28
5:56
Sasha Pavlovic defensive rebound
29 - 28
5:48
Daniel Gibson misses 26-foot three point jumper
29 - 28
5:48
Joel Przybilla defensive rebound
29 - 28
5:47
Portland full timeout
29 - 28
5:47
LeBron James enters the game for Joe Smith
29 - 28
5:47
Zydrunas Ilgauskas enters the game for Sasha Pavlovic
29 - 28
5:47
Anderson Varejao enters the game for Darnell Jackson
29 - 28
5:47
Brandon Roy enters the game for Channing Frye
29 - 28
5:39
Anderson Varejao personal foul (Joel Przybilla draws the foul)
29 - 28
5:31
Travis Outlaw makes jumper
31 - 28
5:05
Steve Blake personal foul (Mo Williams draws the foul)
31 - 28
5:05
Delonte West enters the game for Mo Williams
31 - 28
4:58
Joel Przybilla blocks Anderson Varejao's layup
31 - 28
4:56
Rudy Fernandez defensive rebound
31 - 28
4:39
Joel Przybilla makes layup (Brandon Roy assists)
33 - 28
4:16
Anderson Varejao misses 17-foot jumper
33 - 28
4:15
Steve Blake defensive rebound
33 - 28
4:01
Travis Outlaw misses 19-foot jumper
33 - 28
4:01
Zydrunas Ilgauskas defensive rebound
33 - 28
3:51
Joel Przybilla shooting foul (LeBron James draws the foul)
33 - 28
3:51
LeBron James misses free throw 1 of 2
33 - 28
3:51
Cleveland offensive rebound
33 - 28
3:51
LeBron James misses free throw 2 of 2
33 - 28
3:49
Travis Outlaw defensive rebound
33 - 28
3:35
Daniel Gibson shooting foul (Joel Przybilla draws the foul)
33 - 28
3:35
Joel Przybilla makes free throw 1 of 2
34 - 28
3:35
Joel Przybilla misses free throw 2 of 2
34 - 28
3:33
LeBron James defensive rebound
34 - 28
3:20
Delonte West misses 17-foot jumper
34 - 28
3:19
Joel Przybilla defensive rebound
34 - 28
3:04
Rudy Fernandez misses 25-foot three point jumper
34 - 28
3:03
LeBron James defensive rebound
34 - 28
2:55
LeBron James misses three point jumper
34 - 28
2:54
Joel Przybilla defensive rebound
34 - 28
2:47
Travis Outlaw turnover
34 - 28
2:47
Cleveland full timeout
34 - 28
2:47
Channing Frye enters the game for Travis Outlaw
34 - 28
2:47
Mo Williams enters the game for Daniel Gibson
34 - 28
2:28
Anderson Varejao makes layup (LeBron James assists)
34 - 30
2:10
Rudy Fernandez misses 24-foot three point jumper
34 - 30
2:08
Mo Williams defensive rebound
34 - 30
2:05
Steve Blake shooting foul (LeBron James draws the foul)
34 - 30
2:05
Travis Outlaw enters the game for Rudy Fernandez
34 - 30
2:05
Jerryd Bayless enters the game for Steve Blake
34 - 30
2:05
LeBron James makes free throw 1 of 2
34 - 31
2:05
LeBron James makes free throw 2 of 2
34 - 32
1:47
LeBron James shooting foul (Travis Outlaw draws the foul)
34 - 32
1:47
Travis Outlaw makes free throw 1 of 2
35 - 32
1:47
Sergio Rodriguez enters the game for Jerryd Bayless
35 - 32
1:47
Travis Outlaw makes free throw 2 of 2
36 - 32
1:30
Mo Williams misses 24-foot three point jumper
36 - 32
1:29
Travis Outlaw defensive rebound
36 - 32
1:21
Joel Przybilla offensive foul (Anderson Varejao draws the foul)
36 - 32
1:21
Joel Przybilla turnover
36 - 32
1:21
Joe Smith enters the game for Anderson Varejao
36 - 32
1:07
Mo Williams misses 8-foot jumper
36 - 32
1:06
Sergio Rodriguez defensive rebound
36 - 32
0:52
Channing Frye misses 19-foot jumper
36 - 32
0:51
LeBron James defensive rebound
36 - 32
0:41
Zydrunas Ilgauskas makes 20-foot jumper (LeBron James assists)
36 - 34
0:23
Brandon Roy misses 23-foot three point jumper
36 - 34
0:22
Mo Williams defensive rebound
36 - 34
0:01
Mo Williams misses 25-foot three point jumper
36 - 34
0:01
Sergio Rodriguez defensive rebound
36 - 34
0:00
Sergio Rodriguez misses 57-foot three point jumper
36 - 34
0:00
Portland offensive rebound
36 - 34
0:00
End of the 2nd Quarter
36 - 34

time
TEAM
PLAY
SCORE
12:00
Start of the 3rd Quarter
36 - 34
11:41
Mo Williams misses 23-foot three point jumper
36 - 34
11:41
Cleveland offensive rebound
36 - 34
11:36
Channing Frye shooting foul (Zydrunas Ilgauskas draws the foul)
36 - 34
11:36
Zydrunas Ilgauskas makes free throw 1 of 2
36 - 35
11:36
Zydrunas Ilgauskas makes free throw 2 of 2
36 - 36
11:15
Channing Frye misses 21-foot jumper
36 - 36
11:15
LeBron James defensive rebound
36 - 36
11:07
Zydrunas Ilgauskas makes layup (LeBron James assists)
36 - 38
10:52
Brandon Roy makes 17-foot jumper (Steve Blake assists)
38 - 38
10:34
LeBron James makes 23-foot jumper (Mo Williams assists)
38 - 40
10:15
Channing Frye makes 18-foot jumper (Steve Blake assists)
40 - 40
9:56
LeBron James misses 7-foot hook shot
40 - 40
9:55
Joel Przybilla defensive rebound
40 - 40
9:55
Zydrunas Ilgauskas personal foul (Joel Przybilla draws the foul)
40 - 40
9:40
Brandon Roy makes 18-foot jumper
42 - 40
9:22
Delonte West misses 24-foot three point jumper
42 - 40
9:21
Steve Blake defensive rebound
42 - 40
9:10
Delonte West shooting foul (Brandon Roy draws the foul)
42 - 40
9:10
Brandon Roy makes free throw 1 of 2
43 - 40
9:10
Brandon Roy makes free throw 2 of 2
44 - 40
8:55
Zydrunas Ilgauskas misses 21-foot jumper
44 - 40
8:53
Anderson Varejao offensive rebound
44 - 40
8:36
Mo Williams misses 17-foot two point shot
44 - 40
8:32
Zydrunas Ilgauskas offensive rebound
44 - 42
8:32
Zydrunas Ilgauskas makes tip shot
44 - 42
8:14
Travis Outlaw makes 7-foot two point shot
46 - 42
7:56
Zydrunas Ilgauskas makes 7-foot two point shot (LeBron James assists)
46 - 44
7:37
Anderson Varejao shooting foul (Joel Przybilla draws the foul)
46 - 44
7:37
Joel Przybilla misses free throw 1 of 2
46 - 44
7:37
Portland offensive rebound
46 - 44
7:37
Joel Przybilla makes free throw 2 of 2
47 - 44
7:18
Delonte West makes driving layup
47 - 46
7:18
Channing Frye shooting foul (Delonte West draws the foul)
47 - 46
7:18
Delonte West makes free throw 1 of 1
47 - 47
7:05
Brandon Roy misses 18-foot jumper
47 - 47
7:03
LeBron James defensive rebound
47 - 47
6:54
LeBron James misses 10-foot running jumper
47 - 47
6:52
Brandon Roy defensive rebound
47 - 47
6:39
Steve Blake makes driving layup
49 - 47
6:20
Joel Przybilla shooting foul (Zydrunas Ilgauskas draws the foul)
49 - 47
6:20
Zydrunas Ilgauskas makes free throw 1 of 2
49 - 48
6:20
Zydrunas Ilgauskas makes free throw 2 of 2
49 - 49
6:11
Delonte West personal foul (Brandon Roy draws the foul)
49 - 49
6:03
Steve Blake misses 24-foot three point jumper
49 - 49
6:01
Travis Outlaw offensive rebound
49 - 49
5:50
Travis Outlaw misses 18-foot jumper
49 - 49
5:48
LeBron James defensive rebound
49 - 49
5:37
Zydrunas Ilgauskas makes 12-foot hook shot
49 - 51
5:31
Portland full timeout
49 - 51
5:31
Rudy Fernandez enters the game for Travis Outlaw
49 - 51
5:31
Greg Oden enters the game for Joel Przybilla
49 - 51
5:18
Channing Frye misses 18-foot jumper
49 - 51
5:16
Greg Oden offensive rebound
49 - 51
5:13
Greg Oden makes two point shot
51 - 51
4:58
Steve Blake offensive foul (4th personal foul)
51 - 51
4:58
Mo Williams offensive foul (Steve Blake draws the foul)
51 - 51
4:58
Mo Williams turnover
51 - 51
4:37
Steve Blake misses 19-foot jumper
51 - 51
4:33
LeBron James defensive rebound
51 - 51
4:18
Mo Williams misses 25-foot three point jumper
51 - 51
4:16
Brandon Roy defensive rebound
51 - 51
4:05
Mo Williams shooting foul (Greg Oden draws the foul)
51 - 51
4:05
Sasha Pavlovic enters the game for Zydrunas Ilgauskas
51 - 51
4:05
Greg Oden misses free throw 1 of 2
51 - 51
4:05
Portland offensive rebound
51 - 51
4:05
Greg Oden makes free throw 2 of 2
52 - 51
3:43
Anderson Varejao makes slam dunk (LeBron James assists)
52 - 53
3:28
Rudy Fernandez misses 21-foot jumper
52 - 53
3:26
Anderson Varejao defensive rebound
52 - 53
3:16
LeBron James makes running jumper
52 - 55
3:16
Rudy Fernandez shooting foul (LeBron James draws the foul)
52 - 55
3:16
LeBron James makes free throw 1 of 1
52 - 56
2:51
Brandon Roy makes 22-foot jumper
54 - 56
2:26
Delonte West makes layup
54 - 58
2:26
Channing Frye shooting foul (Delonte West draws the foul)
54 - 58
2:26
Cleveland full timeout
54 - 58
2:26
Daniel Gibson enters the game for Mo Williams
54 - 58
2:26
Travis Outlaw enters the game for Channing Frye
54 - 58
2:26
Delonte West misses free throw 1 of 1
54 - 58
2:23
Greg Oden defensive rebound
54 - 58
2:13
LeBron James shooting foul (Greg Oden draws the foul)
54 - 58
2:13
Greg Oden misses free throw 1 of 2
54 - 58
2:13
Portland offensive rebound
54 - 58
2:13
Greg Oden makes free throw 2 of 2
55 - 58
1:54
Greg Oden shooting foul (LeBron James draws the foul)
55 - 58
1:54
LeBron James misses free throw 1 of 2
55 - 58
1:54
Cleveland offensive rebound
55 - 58
1:54
LeBron James makes free throw 2 of 2
55 - 59
1:39
turnover
55 - 59
1:19
LeBron James makes two point shot
55 - 61
1:06
Brandon Roy makes 13-foot two point shot
57 - 61
0:42
Greg Oden shooting foul (Sasha Pavlovic draws the foul)
57 - 61
0:42
Sasha Pavlovic misses free throw 1 of 2
57 - 61
0:42
Cleveland offensive rebound
57 - 61
0:42
Channing Frye enters the game for Greg Oden
57 - 61
0:42
Joe Smith enters the game for Anderson Varejao
57 - 61
0:42
Sasha Pavlovic makes free throw 2 of 2
57 - 62
0:25
Brandon Roy misses 19-foot jumper
57 - 62
0:24
LeBron James defensive rebound
57 - 62
0:00
Daniel Gibson makes 23-foot three point jumper (LeBron James assists)
57 - 65
0:00
End of the 3rd Quarter
57 - 65

time
TEAM
PLAY
SCORE
12:00
Start of the 4th Quarter
57 - 65
11:45
Sergio Rodriguez makes jumper
59 - 65
11:30
LeBron James misses driving layup
59 - 65
11:27
Brandon Roy defensive rebound
59 - 65
11:18
Channing Frye makes 19-foot jumper (Sergio Rodriguez assists)
61 - 65
10:52
Mo Williams makes 25-foot three point jumper (Sasha Pavlovic assists)
61 - 68
10:32
Travis Outlaw makes 26-foot three point jumper (Sergio Rodriguez assists)
64 - 68
10:21
Sergio Rodriguez personal foul (Mo Williams draws the foul)
64 - 68
10:11
Mo Williams makes 6-foot two point shot
64 - 70
10:00
Joe Smith personal foul (Sergio Rodriguez draws the foul)
64 - 70
9:48
Travis Outlaw turnover
64 - 70
9:40
Sergio Rodriguez personal foul (Mo Williams draws the foul)
64 - 70
9:40
Steve Blake enters the game for Sergio Rodriguez
64 - 70
9:32
Mo Williams misses 25-foot three point jumper
64 - 70
9:30
Sasha Pavlovic offensive rebound
64 - 70
9:29
Channing Frye jump ball
64 - 70
9:11
Channing Frye shooting foul (LeBron James draws the foul)
64 - 70
9:11
LeBron James misses free throw 1 of 2
64 - 70
9:11
Cleveland offensive rebound
64 - 70
9:11
LeBron James misses free throw 2 of 2
64 - 70
9:10
Travis Outlaw defensive rebound
64 - 70
8:56
Joe Smith personal foul (Brandon Roy draws the foul)
64 - 70
8:56
Official timeout
64 - 70
8:41
shot clock violation
64 - 70
8:25
Joe Smith makes layup (LeBron James assists)
64 - 72
8:00
Travis Outlaw makes 18-foot jumper (Brandon Roy assists)
66 - 72
7:41
Daniel Gibson misses 24-foot three point jumper
66 - 72
7:41
Daniel Gibson offensive rebound
66 - 72
7:37
Steve Blake shooting foul (LeBron James draws the foul)
66 - 72
7:37
Joel Przybilla enters the game for Channing Frye
66 - 72
7:37
LeBron James makes free throw 1 of 2
66 - 73
7:37
LeBron James makes free throw 2 of 2
66 - 74
7:22
Brandon Roy misses 16-foot jumper
66 - 74
7:20
Joe Smith defensive rebound
66 - 74
7:03
LeBron James misses 19-foot two point shot
66 - 74
7:00
Brandon Roy defensive rebound
66 - 74
6:52
Daniel Gibson personal foul (Steve Blake draws the foul)
66 - 74
6:52
Delonte West enters the game for Sasha Pavlovic
66 - 74
6:37
Joel Przybilla makes 9-foot two point shot (Brandon Roy assists)
68 - 74
6:09
LeBron James misses 24-foot three point jumper
68 - 74
6:07
Joel Przybilla defensive rebound
68 - 74
6:00
Steve Blake misses 11-foot two point shot
68 - 74
5:58
Steve Blake offensive rebound
68 - 74
5:54
Rudy Fernandez makes 23-foot three point jumper (Steve Blake assists)
71 - 74
5:48
Cleveland full timeout
71 - 74
5:48
Zydrunas Ilgauskas enters the game for Mo Williams
71 - 74
5:48
Anderson Varejao enters the game for Joe Smith
71 - 74
5:31
Delonte West misses 23-foot three point jumper
71 - 74
5:31
Cleveland offensive rebound
71 - 74
5:20
Delonte West misses 15-foot jumper
71 - 74
5:18
Brandon Roy defensive rebound
71 - 74
5:05
Brandon Roy makes 25-foot three point jumper (Steve Blake assists)
74 - 74
4:43
Anderson Varejao makes 17-foot jumper (Delonte West assists)
74 - 76
4:24
Travis Outlaw makes driving dunk (Steve Blake assists)
76 - 76
4:03
Delonte West makes layup
76 - 78
3:44
Brandon Roy lost ball (Delonte West steals)
76 - 78
3:36
Zydrunas Ilgauskas makes layup (LeBron James assists)
76 - 80
3:35
Portland full timeout
76 - 80
3:35
Mo Williams enters the game for Daniel Gibson
76 - 80
3:23
Travis Outlaw makes 21-foot jumper (Steve Blake assists)
78 - 80
2:56
LeBron James makes 12-foot jumper
78 - 82
2:36
Travis Outlaw makes 23-foot jumper (Brandon Roy assists)
80 - 82
2:15
LeBron James misses 15-foot jumper
80 - 82
2:15
Travis Outlaw defensive rebound
80 - 82
2:09
Anderson Varejao personal foul (Travis Outlaw draws the foul)
80 - 82
2:09
Sasha Pavlovic enters the game for Zydrunas Ilgauskas
80 - 82
1:59
Sasha Pavlovic shooting foul (Brandon Roy draws the foul)
80 - 82
1:59
Brandon Roy makes free throw 1 of 2
81 - 82
1:59
Brandon Roy makes free throw 2 of 2
82 - 82
1:45
Joel Przybilla blocks Anderson Varejao's layup
82 - 82
1:44
Rudy Fernandez defensive rebound
82 - 82
1:29
Travis Outlaw traveling
82 - 82
1:15
LeBron James makes driving layup
82 - 84
1:00
LeBron James blocks Travis Outlaw's three point jumper
82 - 84
0:58
Anderson Varejao defensive rebound
82 - 84
0:36
LeBron James makes 8-foot two point shot
82 - 86
0:36
Portland full timeout
82 - 86
0:34
LeBron James personal foul (Brandon Roy draws the foul)
82 - 86
0:34
Brandon Roy makes free throw 1 of 2
83 - 86
0:34
Brandon Roy makes free throw 2 of 2
84 - 86
0:11
LeBron James misses 21-foot jumper
84 - 86
0:09
Joel Przybilla defensive rebound
84 - 86
0:06
Portland 20 Sec. timeout
84 - 86
0:06
Channing Frye enters the game for Joel Przybilla
84 - 86
0:03
LeBron James shooting foul (Brandon Roy draws the foul)
84 - 86
0:03
Brandon Roy makes free throw 1 of 2
85 - 86
0:03
Zydrunas Ilgauskas enters the game for Sasha Pavlovic
85 - 86
0:03
Joel Przybilla enters the game for Channing Frye
85 - 86
0:03
Brandon Roy makes free throw 2 of 2
86 - 86
0:03
Cleveland full timeout
86 - 86
0:03
Daniel Gibson enters the game for Anderson Varejao
86 - 86
0:00
LeBron James misses 13-foot running jumper
86 - 86
0:00
Cleveland offensive rebound
86 - 86
0:00
End of the 4th Quarter
86 - 86

time
TEAM
PLAY
SCORE
5:00
Start of the 1st Overtime
86 - 86
5:00
Jumpball: Joel Przybilla vs. Zydrunas Ilgauskas (LeBron James gains possession)
86 - 86
4:35
LeBron James makes driving layup
86 - 88
4:18
Brandon Roy bad pass (LeBron James steals)
86 - 88
4:03
Joel Przybilla shooting foul (Zydrunas Ilgauskas draws the foul)
86 - 88
4:03
Zydrunas Ilgauskas makes free throw 1 of 2
86 - 89
4:03
Zydrunas Ilgauskas misses free throw 2 of 2
86 - 89
4:01
Joel Przybilla defensive rebound
86 - 89
3:50
Sasha Pavlovic personal foul (Travis Outlaw draws the foul)
86 - 89
3:45
Steve Blake misses layup
86 - 89
3:43
Zydrunas Ilgauskas defensive rebound
86 - 89
3:23
Zydrunas Ilgauskas makes 19-foot jumper (LeBron James assists)
86 - 91
3:15
Portland full timeout
86 - 91
3:01
Sasha Pavlovic personal foul (Brandon Roy draws the foul)
86 - 91
2:53
Rudy Fernandez misses 19-foot jumper
86 - 91
2:50
Mo Williams defensive rebound
86 - 91
2:30
LeBron James misses 23-foot jumper
86 - 91
2:28
Joel Przybilla defensive rebound
86 - 91
2:16
Sasha Pavlovic personal foul (Joel Przybilla draws the foul)
86 - 91
2:08
Brandon Roy misses 26-foot three point jumper
86 - 91
2:08
Portland offensive rebound
86 - 91
2:08
Zydrunas Ilgauskas loose ball foul (Joel Przybilla draws the foul)
86 - 91
2:08
Joel Przybilla makes free throw 1 of 2
87 - 91
2:08
Joel Przybilla misses free throw 2 of 2
87 - 91
2:05
LeBron James defensive rebound
87 - 91
1:43
Zydrunas Ilgauskas misses 20-foot jumper
87 - 91
1:42
Rudy Fernandez defensive rebound
87 - 91
1:35
Sasha Pavlovic shooting foul (Joel Przybilla draws the foul)
87 - 91
1:35
Daniel Gibson enters the game for Sasha Pavlovic
87 - 91
1:35
Joel Przybilla makes free throw 1 of 2
88 - 91
1:35
Joel Przybilla makes free throw 2 of 2
89 - 91
1:17
LeBron James makes 5-foot running jumper
89 - 93
1:00
Travis Outlaw misses 19-foot jumper
89 - 93
0:59
Mo Williams defensive rebound
89 - 93
0:41
LeBron James makes 8-foot two point shot
89 - 95
0:41
Portland full timeout
89 - 95
0:41
Channing Frye enters the game for Joel Przybilla
89 - 95
0:41
Anderson Varejao enters the game for Zydrunas Ilgauskas
89 - 95
0:36
LeBron James blocks Travis Outlaw's layup
89 - 95
0:34
Rudy Fernandez offensive rebound
89 - 95
0:30
Brandon Roy misses 24-foot three point jumper
89 - 95
0:29
Channing Frye offensive rebound
89 - 95
0:28
Channing Frye misses 25-foot three point jumper
89 - 95
0:28
Anderson Varejao defensive rebound
89 - 95
0:28
Zydrunas Ilgauskas enters the game for Anderson Varejao
89 - 95
0:28
Brandon Roy personal foul (Mo Williams draws the foul)
92 - 97
0:26
Brandon Roy personal foul (Mo Williams draws the foul)
89 - 95
0:26
Mo Williams makes free throw 1 of 2
89 - 96
0:26
Anderson Varejao enters the game for Zydrunas Ilgauskas
89 - 96
0:26
Mo Williams makes free throw 2 of 2
89 - 97
0:26
Portland 20 Sec. timeout
89 - 97
0:23
Steve Blake makes 28-foot three point jumper (Rudy Fernandez assists)
92 - 97
0:18
Mo Williams bad pass
92 - 97
0:10
Travis Outlaw misses 25-foot three point jumper
92 - 97
0:09
LeBron James defensive rebound
92 - 97
0:00
End of the 1st Overtime
92 - 97
0:00
End Game
92 - 97
MIAMI -- Game recognizes game, and before the biggest inflection point of his best season as an NBA head coach, Steve Clifford was effusive in his praise of Erik Spoelstra for how he remodeled the Miami Heat without Chris Bosh.

Warriors coach Steve Kerr explains how not having Steph Curry for most of their series against Houston has carried over to this round against Portland. Kerr also examines how Draymond Green has been able to adjust and help the team.

Antonio Davis explains what impressed him the most from Golden State's 12-point victory over Portland in Game 1 of their best-of-seven series.
2015-2016 Northwest Standings