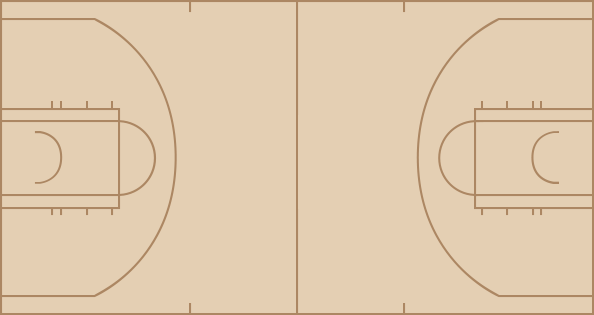 Mavericks
time
TEAM
PLAY
SCORE
12:00
Start of the 1st Quarter
0 - 0
12:00
Jumpball: Drew Gooden vs. Ben Wallace (Charlie Villanueva gains possession)
0 - 0
11:44
Charlie Villanueva misses driving layup
0 - 0
11:41
Dirk Nowitzki defensive rebound
0 - 0
11:30
Dirk Nowitzki misses 19-foot jumper
0 - 0
11:30
Jonas Jerebko defensive rebound
0 - 0
11:17
Rodney Stuckey makes 17-foot two point shot
0 - 2
10:57
Rodrigue Beaubois makes 6-foot two point shot
2 - 2
10:37
Charlie Villanueva misses 11-foot jumper
2 - 2
10:36
Shawn Marion defensive rebound
2 - 2
10:26
Shawn Marion makes layup (Drew Gooden assists)
4 - 2
10:11
Drew Gooden blocks Rodney Stuckey's 7-foot jumper
4 - 2
10:10
Detroit offensive rebound
4 - 2
10:03
Ben Gordon misses layup
4 - 2
10:02
Ben Wallace offensive rebound
4 - 2
10:00
Ben Wallace makes tip shot
4 - 4
9:40
Drew Gooden misses 16-foot jumper
4 - 4
9:38
Jason Kidd offensive rebound
4 - 4
9:34
Dirk Nowitzki misses 26-foot three point jumper
4 - 4
9:33
Ben Wallace defensive rebound
4 - 4
9:23
Ben Gordon misses 25-foot three point jumper
4 - 4
9:22
Ben Wallace offensive rebound
4 - 4
9:14
Rodrigue Beaubois personal foul (Rodney Stuckey draws the foul)
4 - 4
9:03
Ben Gordon misses 18-foot jumper
4 - 4
9:02
Dirk Nowitzki defensive rebound
4 - 4
8:49
Dirk Nowitzki misses 20-foot jumper
4 - 4
8:48
Ben Wallace defensive rebound
4 - 4
8:33
Shawn Marion shooting foul (Ben Gordon draws the foul)
4 - 4
8:33
Ben Gordon misses free throw 1 of 2
4 - 4
8:33
Detroit offensive rebound
4 - 4
8:33
Ben Gordon makes free throw 2 of 2
4 - 5
8:17
Jason Kidd makes 21-foot jumper (Dirk Nowitzki assists)
6 - 5
8:00
Ben Gordon misses 18-foot two point shot
6 - 5
8:00
Ben Wallace offensive rebound
6 - 5
7:58
Ben Wallace misses tip shot
6 - 5
7:58
Ben Wallace offensive rebound
6 - 5
7:52
Ben Gordon bad pass (Rodrigue Beaubois steals)
6 - 5
7:48
Rodrigue Beaubois makes driving layup
8 - 5
7:26
Charlie Villanueva lost ball (Jason Kidd steals)
8 - 5
7:22
Dirk Nowitzki misses layup
8 - 5
7:20
Charlie Villanueva defensive rebound
8 - 5
7:03
Rodney Stuckey misses 19-foot two point shot
8 - 5
7:03
Dirk Nowitzki defensive rebound
8 - 5
6:52
Drew Gooden makes two point shot (Jason Kidd assists)
10 - 5
6:52
Ben Gordon shooting foul (Drew Gooden draws the foul)
10 - 5
6:52
Drew Gooden makes free throw 1 of 1
11 - 5
6:39
Charlie Villanueva misses 25-foot three point jumper
11 - 5
6:37
Drew Gooden defensive rebound
11 - 5
6:30
Jason Kidd misses 26-foot three point jumper
11 - 5
6:28
Dirk Nowitzki offensive rebound
11 - 5
6:16
Jason Kidd offensive foul (Ben Wallace draws the foul)
11 - 5
6:16
Jason Kidd turnover
11 - 5
6:13
Detroit full timeout
11 - 5
6:11
Ben Gordon bad pass (Rodrigue Beaubois steals)
11 - 5
6:07
Rodrigue Beaubois makes layup (Jason Kidd assists)
13 - 5
6:07
Ben Gordon illegal defense
13 - 5
5:54
Ben Gordon misses 19-foot jumper
13 - 5
5:52
Jonas Jerebko offensive rebound
13 - 5
5:48
Jonas Jerebko makes layup
13 - 7
5:33
Rodrigue Beaubois makes two point shot (Jason Kidd assists)
15 - 7
5:07
Charlie Villanueva misses 22-foot three point jumper
15 - 7
5:05
Drew Gooden defensive rebound
15 - 7
5:00
Dirk Nowitzki lost ball (Ben Gordon steals)
15 - 7
4:54
Charlie Villanueva makes dunk (Rodney Stuckey assists)
15 - 9
4:33
Dirk Nowitzki makes two point shot (Rodrigue Beaubois assists)
17 - 9
4:07
Rodney Stuckey makes 18-foot jumper (Ben Wallace assists)
17 - 11
3:48
Jason Kidd misses 20-foot jumper
17 - 11
3:47
Drew Gooden offensive rebound
17 - 11
3:46
Drew Gooden makes two point shot
19 - 11
3:25
Rodney Stuckey makes driving layup
19 - 13
3:18
Charlie Villanueva shooting foul (Shawn Marion draws the foul)
19 - 13
3:18
Kris Humphries enters the game for Dirk Nowitzki
19 - 13
3:18
Jason Terry enters the game for Rodrigue Beaubois
19 - 13
3:18
Jason Maxiell enters the game for Charlie Villanueva
19 - 13
3:18
Kwame Brown enters the game for Ben Wallace
19 - 13
3:18
Shawn Marion misses free throw 1 of 2
19 - 13
3:18
Dallas offensive rebound
19 - 13
3:18
Shawn Marion makes free throw 2 of 2
20 - 13
3:00
Rodney Stuckey misses layup
20 - 13
3:00
Kwame Brown offensive rebound
20 - 13
2:51
Rodney Stuckey makes driving layup
20 - 15
2:46
Dallas full timeout
20 - 15
2:33
Jason Maxiell blocks Kris Humphries's jumper
20 - 15
2:31
Kris Humphries offensive rebound
20 - 15
2:31
Kwame Brown shooting foul (Kris Humphries draws the foul)
20 - 15
2:31
Kris Humphries misses free throw 1 of 2
20 - 15
2:31
Dallas offensive rebound
20 - 15
2:31
Kris Humphries makes free throw 2 of 2
21 - 15
2:15
Rodney Stuckey misses 18-foot two point shot
21 - 15
2:14
Drew Gooden defensive rebound
21 - 15
2:09
Shawn Marion misses layup
21 - 15
2:08
Kwame Brown defensive rebound
21 - 15
2:01
Rodney Stuckey bad pass (Jason Kidd steals)
21 - 15
1:54
Jason Terry misses 23-foot three point jumper
21 - 15
1:52
Kwame Brown defensive rebound
21 - 15
1:30
Ben Gordon lost ball (Jason Terry steals)
21 - 15
1:25
Jason Kidd misses layup
21 - 15
1:24
Jonas Jerebko defensive rebound
21 - 15
1:07
Jason Maxiell makes two point shot
21 - 17
0:52
Jonas Jerebko shooting foul (Jason Terry draws the foul)
21 - 17
0:52
Jose Juan Barea enters the game for Jason Kidd
21 - 17
0:52
Will Bynum enters the game for Rodney Stuckey
21 - 17
0:52
Jason Terry misses free throw 1 of 2
21 - 17
0:52
Dallas offensive rebound
21 - 17
0:52
Quinton Ross enters the game for Shawn Marion
21 - 17
0:52
Jason Terry makes free throw 2 of 2
22 - 17
0:32
Quinton Ross blocks Jonas Jerebko's layup
22 - 17
0:31
Detroit offensive rebound
22 - 17
0:30
Jason Terry inbound foul (Ben Gordon draws the foul)
22 - 17
0:30
Ben Gordon misses free throw 1 of 2
22 - 17
0:30
Detroit offensive rebound
22 - 17
0:30
Austin Daye enters the game for Jonas Jerebko
22 - 17
0:30
Ben Gordon makes free throw 2 of 2
22 - 18
0:05
Kris Humphries misses 12-foot running jumper
22 - 18
0:04
Austin Daye defensive rebound
22 - 18
0:01
Ben Gordon misses 50-foot three point jumper
22 - 18
0:00
Detroit offensive rebound
22 - 18
0:00
End of the 1st Quarter
22 - 18

time
TEAM
PLAY
SCORE
12:00
Start of the 2nd Quarter
22 - 18
11:37
Kris Humphries misses 13-foot two point shot
22 - 18
11:37
Austin Daye defensive rebound
22 - 18
11:14
Rodney Stuckey makes 7-foot two point shot
22 - 20
10:53
Dirk Nowitzki makes 16-foot jumper (Jose Juan Barea assists)
24 - 20
10:27
Will Bynum makes driving layup
24 - 22
10:07
Jose Juan Barea misses 27-foot three point jumper
24 - 22
10:06
Jason Maxiell defensive rebound
24 - 22
9:57
Quinton Ross personal foul (Rodney Stuckey draws the foul)
24 - 22
9:47
Kris Humphries blocks Jason Maxiell's dunk
24 - 22
9:45
Quinton Ross defensive rebound
24 - 22
9:37
Jason Terry misses 26-foot three point jumper
24 - 22
9:37
Austin Daye defensive rebound
24 - 22
9:21
Rodney Stuckey makes 24-foot three point jumper (Kwame Brown assists)
24 - 25
9:04
Will Bynum shooting foul (Jose Juan Barea draws the foul)
24 - 25
9:04
Jose Juan Barea makes free throw 1 of 2
25 - 25
9:04
Jose Juan Barea makes free throw 2 of 2
26 - 25
8:51
Rodney Stuckey offensive foul (Quinton Ross draws the foul)
26 - 25
8:51
Rodney Stuckey turnover
26 - 25
8:51
Official timeout
26 - 25
8:34
Jason Terry misses 16-foot jumper
26 - 25
8:33
Dallas offensive rebound
26 - 25
8:22
Jose Juan Barea misses 15-foot jumper
26 - 25
8:22
Jumpball: Kris Humphries vs. Kwame Brown (Jason Maxiell gains possession)
26 - 25
8:22
Dallas defensive rebound
26 - 25
7:58
Rodney Stuckey makes 21-foot jumper
26 - 27
7:47
Jason Maxiell personal foul (Dirk Nowitzki draws the foul)
26 - 27
7:35
Jason Maxiell blocks Dirk Nowitzki's 10-foot jumper
26 - 27
7:35
Kris Humphries offensive rebound
26 - 27
7:33
shot clock violation
26 - 27
7:16
Kris Humphries blocks Kwame Brown's layup
26 - 27
7:13
Kwame Brown offensive rebound
26 - 27
7:11
Austin Daye makes layup (Kwame Brown assists)
26 - 29
7:05
Dallas full timeout
26 - 29
7:05
Drew Gooden enters the game for Kris Humphries
26 - 29
6:52
Jose Juan Barea makes driving layup
28 - 29
6:33
Quinton Ross shooting foul (Rodney Stuckey draws the foul)
28 - 29
6:33
Rodney Stuckey makes free throw 1 of 2
28 - 30
6:33
Jason Kidd enters the game for Jason Terry
28 - 30
6:33
Ben Gordon enters the game for Austin Daye
28 - 30
6:33
Rodney Stuckey makes free throw 2 of 2
28 - 31
6:18
Quinton Ross misses 25-foot three point jumper
28 - 31
6:16
Kwame Brown defensive rebound
28 - 31
6:05
Will Bynum misses three point jumper
28 - 31
6:05
Jason Maxiell offensive rebound
28 - 31
5:56
Ben Gordon makes driving layup
28 - 33
5:45
Quinton Ross makes 23-foot three point jumper (Jason Kidd assists)
31 - 33
5:22
Jason Maxiell misses 17-foot jumper
31 - 33
5:22
Jose Juan Barea defensive rebound
31 - 33
5:16
Ben Wallace enters the game for Kwame Brown
31 - 33
5:16
Charlie Villanueva enters the game for Jason Maxiell
31 - 33
5:07
Dirk Nowitzki makes 16-foot two point shot
33 - 33
4:41
Charlie Villanueva makes driving layup
33 - 35
4:31
Jose Juan Barea misses 14-foot running jumper
33 - 35
4:30
Dallas offensive rebound
33 - 35
4:22
Dirk Nowitzki misses 17-foot jumper
33 - 35
4:22
Charlie Villanueva defensive rebound
33 - 35
4:09
Will Bynum makes 16-foot two point shot
33 - 37
3:50
Dirk Nowitzki misses layup
33 - 37
3:49
Charlie Villanueva defensive rebound
33 - 37
3:43
Drew Gooden personal foul (Rodney Stuckey draws the foul)
33 - 37
3:43
Shawn Marion enters the game for Dirk Nowitzki
33 - 37
3:43
Jason Terry enters the game for Jose Juan Barea
33 - 37
3:29
Drew Gooden shooting foul (Ben Wallace draws the foul)
33 - 37
3:29
Ben Wallace misses free throw 1 of 2
33 - 37
3:29
Detroit offensive rebound
33 - 37
3:29
Ben Wallace makes free throw 2 of 2
33 - 38
3:13
Charlie Villanueva blocks Shawn Marion's layup
33 - 38
3:11
Charlie Villanueva defensive rebound
33 - 38
2:55
Ben Gordon misses 17-foot jumper
33 - 38
2:54
Jason Kidd defensive rebound
33 - 38
2:40
Detroit full timeout
33 - 38
2:40
Rodrigue Beaubois enters the game for Quinton Ross
33 - 38
2:30
Jason Terry misses 9-foot hook shot
33 - 38
2:29
Rodney Stuckey defensive rebound
33 - 38
2:06
Ben Gordon misses 15-foot two point shot
33 - 38
2:05
Jason Terry defensive rebound
33 - 38
2:00
Rodney Stuckey shooting foul (Jason Terry draws the foul)
33 - 38
2:00
Jason Terry makes free throw 1 of 2
34 - 38
2:00
Jason Terry makes free throw 2 of 2
35 - 38
1:44
Ben Wallace traveling
35 - 38
1:31
Shawn Marion misses 10-foot running jumper
35 - 38
1:30
Drew Gooden offensive rebound
35 - 38
1:24
Ben Wallace blocks Drew Gooden's layup
35 - 38
1:23
Drew Gooden offensive rebound
35 - 38
1:22
Drew Gooden makes layup
37 - 38
0:59
Ben Wallace makes 16-foot jumper (Ben Gordon assists)
37 - 40
0:46
Jason Kidd bad pass
37 - 40
0:38
Will Bynum makes driving layup
37 - 42
0:38
Dallas 20 Sec. timeout
37 - 42
0:38
Dirk Nowitzki enters the game for Drew Gooden
37 - 42
0:34
Jason Kidd bad pass (Will Bynum steals)
37 - 42
0:31
Charlie Villanueva makes layup (Will Bynum assists)
37 - 44
0:15
Jason Kidd makes 27-foot three point jumper (Dirk Nowitzki assists)
40 - 44
0:00
Will Bynum makes 18-foot jumper
40 - 46
0:00
End of the 2nd Quarter
40 - 46

time
TEAM
PLAY
SCORE
12:00
Start of the 3rd Quarter
40 - 46
11:40
Ben Wallace blocks Shawn Marion's jumper
40 - 46
11:37
Rodney Stuckey defensive rebound
40 - 46
11:30
Drew Gooden illegal defense foul (3rd personal foul)
40 - 46
11:30
Ben Gordon makes technical free throw
40 - 47
11:18
Charlie Villanueva misses 15-foot hook shot
40 - 47
11:17
Shawn Marion defensive rebound
40 - 47
11:11
Charlie Villanueva personal foul (Dirk Nowitzki draws the foul)
40 - 47
11:03
Rodrigue Beaubois makes 25-foot three point jumper (Shawn Marion assists)
43 - 47
10:38
Rodney Stuckey makes driving layup
43 - 49
10:19
Dirk Nowitzki makes 13-foot jumper (Rodrigue Beaubois assists)
45 - 49
10:03
Charlie Villanueva misses 13-foot jumper
45 - 49
10:03
Drew Gooden defensive rebound
45 - 49
9:56
Charlie Villanueva personal foul (Dirk Nowitzki draws the foul)
45 - 49
9:51
Dirk Nowitzki misses 27-foot three point jumper
45 - 49
9:49
Ben Wallace defensive rebound
45 - 49
9:34
Rodney Stuckey lost ball (Shawn Marion steals)
45 - 49
9:30
Shawn Marion makes dunk (Rodrigue Beaubois assists)
47 - 49
9:08
Rodney Stuckey misses 19-foot jumper
47 - 49
9:07
Rodrigue Beaubois defensive rebound
47 - 49
8:52
Jason Kidd misses 23-foot three point jumper
47 - 49
8:52
Jonas Jerebko defensive rebound
47 - 49
8:40
Ben Gordon misses 26-foot three point jumper
47 - 49
8:38
Drew Gooden defensive rebound
47 - 49
8:27
Shawn Marion misses 7-foot jumper
47 - 49
8:26
Shawn Marion offensive rebound
47 - 49
8:26
Shawn Marion makes layup
49 - 49
8:25
Detroit full timeout
49 - 49
8:12
Rodney Stuckey bad pass (Shawn Marion steals)
49 - 49
8:08
Jason Kidd makes layup (Shawn Marion assists)
51 - 49
7:50
Jonas Jerebko misses layup
51 - 49
7:47
Drew Gooden defensive rebound
51 - 49
7:45
Drew Gooden lost ball (Ben Wallace steals)
51 - 49
7:31
Charlie Villanueva makes two point shot (Ben Gordon assists)
51 - 51
7:16
Dirk Nowitzki misses 17-foot jumper
51 - 51
7:15
Rodney Stuckey defensive rebound
51 - 51
6:58
Rodney Stuckey makes two point shot
51 - 53
6:43
Jonas Jerebko personal foul (Shawn Marion draws the foul)
51 - 53
6:30
Rodrigue Beaubois makes 25-foot three point jumper
54 - 53
6:03
Ben Gordon misses 7-foot two point shot
54 - 53
6:01
Ben Wallace offensive rebound
54 - 53
6:00
Ben Wallace makes tip shot
54 - 55
5:41
Dirk Nowitzki makes layup (Rodrigue Beaubois assists)
56 - 55
5:18
Charlie Villanueva misses 12-foot jumper
56 - 55
5:16
Detroit defensive rebound
56 - 55
4:56
Drew Gooden makes 9-foot hook shot (Dirk Nowitzki assists)
58 - 55
4:37
Rodney Stuckey makes 19-foot jumper (Ben Wallace assists)
58 - 57
4:13
Dirk Nowitzki misses 16-foot jumper
58 - 57
4:13
Dallas defensive rebound
58 - 57
4:13
Will Bynum enters the game for Jonas Jerebko
58 - 57
4:13
Jason Terry enters the game for Rodrigue Beaubois
58 - 57
3:57
Shawn Marion blocks Ben Gordon's 10-foot jumper
58 - 57
3:56
Detroit offensive rebound
58 - 57
3:47
Rodney Stuckey makes 10-foot two point shot
58 - 59
3:42
Ben Gordon personal foul (Shawn Marion draws the foul)
58 - 59
3:42
Dallas full timeout
58 - 59
3:24
Shawn Marion misses 13-foot running jumper
58 - 59
3:23
Charlie Villanueva defensive rebound
58 - 59
3:15
Ben Gordon misses 27-foot three point jumper
58 - 59
3:14
Ben Gordon offensive rebound
58 - 59
3:05
Rodney Stuckey makes driving layup
58 - 61
3:05
Drew Gooden shooting foul (Rodney Stuckey draws the foul)
58 - 61
3:05
Rodney Stuckey makes free throw 1 of 1
58 - 62
2:49
Ben Wallace blocks Drew Gooden's 7-foot jumper
58 - 62
2:47
Shawn Marion offensive rebound
58 - 62
2:43
Jason Kidd makes 26-foot three point jumper (Shawn Marion assists)
61 - 62
2:21
Charlie Villanueva makes 19-foot jumper (Rodney Stuckey assists)
61 - 64
2:03
Dirk Nowitzki makes 22-foot jumper (Jason Kidd assists)
63 - 64
1:45
Dirk Nowitzki personal foul (Will Bynum draws the foul)
63 - 64
1:39
Rodney Stuckey misses 27-foot three point jumper
63 - 64
1:38
Drew Gooden defensive rebound
63 - 64
1:25
Dirk Nowitzki makes 19-foot two point shot (Jason Kidd assists)
65 - 64
1:00
Charlie Villanueva misses 27-foot three point jumper
65 - 64
0:59
Shawn Marion defensive rebound
65 - 64
0:46
Charlie Villanueva personal foul (Dirk Nowitzki draws the foul)
65 - 64
0:46
Jose Juan Barea enters the game for Jason Kidd
65 - 64
0:46
Kris Humphries enters the game for Drew Gooden
65 - 64
0:46
Kwame Brown enters the game for Ben Wallace
65 - 64
0:46
Jason Maxiell enters the game for Charlie Villanueva
65 - 64
0:46
Dirk Nowitzki makes free throw 1 of 2
66 - 64
0:46
Austin Daye enters the game for Rodney Stuckey
66 - 64
0:46
Dirk Nowitzki makes free throw 2 of 2
67 - 64
0:31
Will Bynum makes 18-foot jumper
67 - 66
0:15
Dirk Nowitzki misses layup
67 - 66
0:15
Shawn Marion offensive rebound
67 - 66
0:14
Shawn Marion makes two point shot
69 - 66
0:13
Austin Daye bad pass (Dirk Nowitzki steals)
69 - 66
0:11
Kris Humphries makes dunk (Dirk Nowitzki assists)
71 - 66
0:00
Ben Gordon misses 26-foot three point jumper
71 - 66
0:00
Detroit offensive rebound
71 - 66
0:00
End of the 3rd Quarter
71 - 66

time
TEAM
PLAY
SCORE
12:00
Start of the 4th Quarter
71 - 66
11:48
Kris Humphries jump ball
71 - 66
11:41
Kwame Brown makes dunk (Will Bynum assists)
71 - 68
11:15
Kris Humphries makes dunk (Shawn Marion assists)
73 - 68
11:15
Jason Maxiell shooting foul (Kris Humphries draws the foul)
73 - 68
11:15
Kris Humphries misses free throw 1 of 1
73 - 68
11:15
Austin Daye defensive rebound
73 - 68
11:06
Austin Daye misses jumper
73 - 68
11:04
Quinton Ross defensive rebound
73 - 68
10:55
Shawn Marion makes 11-foot two point shot (Jose Juan Barea assists)
75 - 68
10:44
Kris Humphries personal foul (Jason Maxiell draws the foul)
75 - 68
10:44
Rodney Stuckey enters the game for Ben Gordon
75 - 68
10:30
Will Bynum misses 20-foot jumper
75 - 68
10:30
Detroit offensive rebound
75 - 68
10:30
Jason Terry loose ball foul (Austin Daye draws the foul)
75 - 68
10:23
Will Bynum makes driving layup
75 - 70
10:00
Quinton Ross misses 18-foot jumper
75 - 70
9:59
Shawn Marion offensive rebound
75 - 70
9:45
Jose Juan Barea makes 25-foot three point jumper
78 - 70
9:26
Rodney Stuckey bad pass (Jose Juan Barea steals)
78 - 70
9:22
Jason Terry bad pass
78 - 70
9:22
Ben Wallace enters the game for Kwame Brown
78 - 70
9:22
Charlie Villanueva enters the game for Jason Maxiell
78 - 70
9:07
Will Bynum makes 12-foot two point shot
78 - 72
8:55
Will Bynum personal foul (Jose Juan Barea draws the foul)
78 - 72
8:55
Official timeout
78 - 72
8:55
Ben Gordon enters the game for Austin Daye
78 - 72
8:55
Dirk Nowitzki enters the game for Shawn Marion
78 - 72
8:45
Dirk Nowitzki misses 18-foot jumper
78 - 72
8:44
Rodney Stuckey defensive rebound
78 - 72
8:26
Rodney Stuckey misses 10-foot jumper
78 - 72
8:26
Dirk Nowitzki defensive rebound
78 - 72
8:14
Dirk Nowitzki misses driving layup
78 - 72
8:12
Charlie Villanueva defensive rebound
78 - 72
8:02
Will Bynum makes layup (Charlie Villanueva assists)
78 - 74
7:43
Kris Humphries misses 7-foot hook shot
78 - 74
7:41
Charlie Villanueva defensive rebound
78 - 74
7:35
Will Bynum makes 16-foot two point shot
78 - 76
7:35
Dallas full timeout
78 - 76
7:35
Drew Gooden enters the game for Kris Humphries
78 - 76
7:35
Jason Kidd enters the game for Quinton Ross
78 - 76
7:18
Jason Terry misses 19-foot jumper
78 - 76
7:18
Will Bynum defensive rebound
78 - 76
7:05
Ben Gordon bad pass (Jason Terry steals)
78 - 76
6:56
Drew Gooden misses 8-foot hook shot
78 - 76
6:54
Ben Wallace defensive rebound
78 - 76
6:31
Ben Wallace makes layup (Will Bynum assists)
78 - 78
6:15
Dirk Nowitzki misses 19-foot jumper
78 - 78
6:13
Charlie Villanueva defensive rebound
78 - 78
5:48
Charlie Villanueva misses 10-foot jumper
78 - 78
5:48
Dirk Nowitzki defensive rebound
78 - 78
5:45
Dirk Nowitzki makes layup (Jason Kidd assists)
80 - 78
5:45
Charlie Villanueva shooting foul (Dirk Nowitzki draws the foul)
80 - 78
5:45
Dirk Nowitzki makes free throw 1 of 1
81 - 78
5:37
Dirk Nowitzki shooting foul (Charlie Villanueva draws the foul)
81 - 78
5:37
Charlie Villanueva makes free throw 1 of 2
81 - 79
5:37
Charlie Villanueva misses free throw 2 of 2
81 - 79
5:35
Jason Kidd defensive rebound
81 - 79
5:18
Jose Juan Barea misses 8-foot running jumper
81 - 79
5:16
Will Bynum defensive rebound
81 - 79
5:07
Charlie Villanueva bad pass (Jason Terry steals)
81 - 79
5:00
Dirk Nowitzki makes 15-foot jumper (Jose Juan Barea assists)
83 - 79
4:33
Rodney Stuckey misses 15-foot jumper
83 - 79
4:33
Drew Gooden defensive rebound
83 - 79
4:22
Jason Terry makes 24-foot three point jumper (Dirk Nowitzki assists)
86 - 79
4:20
Detroit full timeout
86 - 79
4:20
Jonas Jerebko enters the game for Rodney Stuckey
86 - 79
4:03
Dirk Nowitzki illegal defense foul (3rd personal foul)
86 - 79
4:03
Ben Gordon misses technical free throw
86 - 79
4:03
Detroit offensive rebound
86 - 79
3:53
Dirk Nowitzki blocks Will Bynum's layup
86 - 79
3:51
Jason Terry defensive rebound
86 - 79
3:34
Dirk Nowitzki misses 22-foot jumper
86 - 79
3:32
Jonas Jerebko defensive rebound
86 - 79
3:16
Charlie Villanueva misses 13-foot running jumper
86 - 79
3:15
Jason Terry defensive rebound
86 - 79
3:03
Jonas Jerebko shooting foul (Jason Terry draws the foul)
86 - 79
3:03
Jason Terry misses free throw 1 of 2
86 - 79
3:03
Dallas offensive rebound
86 - 79
3:03
Jason Terry makes free throw 2 of 2
87 - 79
2:48
Ben Gordon misses 22-foot jumper
87 - 79
2:47
Charlie Villanueva offensive rebound
87 - 79
2:47
Charlie Villanueva makes tip shot
87 - 81
2:30
Will Bynum shooting foul (Drew Gooden draws the foul)
87 - 81
2:30
Drew Gooden makes free throw 1 of 2
88 - 81
2:30
Drew Gooden makes free throw 2 of 2
89 - 81
2:18
Dirk Nowitzki blocks Will Bynum's two point shot
89 - 81
2:17
Ben Wallace offensive rebound
89 - 81
2:12
Will Bynum makes 27-foot three point jumper
89 - 84
1:52
Jose Juan Barea lost ball (Will Bynum steals)
89 - 84
1:47
Jose Juan Barea shooting foul (Will Bynum draws the foul)
89 - 84
1:47
Will Bynum makes free throw 1 of 2
89 - 85
1:47
Will Bynum makes free throw 2 of 2
89 - 86
1:32
Dirk Nowitzki makes 18-foot jumper (Jason Terry assists)
91 - 86
1:15
Will Bynum misses layup
91 - 86
1:14
Jason Kidd defensive rebound
91 - 86
0:53
Dirk Nowitzki misses 19-foot jumper
91 - 86
0:52
Charlie Villanueva defensive rebound
91 - 86
0:52
Jason Terry personal foul (Will Bynum draws the foul)
91 - 86
0:52
Will Bynum makes free throw 1 of 2
91 - 87
0:52
Will Bynum makes free throw 2 of 2
91 - 88
0:52
Dallas 20 Sec. timeout
91 - 88
0:35
Dirk Nowitzki makes two point shot
93 - 88
0:35
Detroit full timeout
93 - 88
0:35
Quinton Ross enters the game for Jose Juan Barea
93 - 88
0:35
Austin Daye enters the game for Jonas Jerebko
93 - 88
0:29
Will Bynum makes driving layup
93 - 90
0:06
Jason Terry misses 26-foot three point jumper
93 - 90
0:05
Austin Daye defensive rebound
93 - 90
0:05
Detroit full timeout
93 - 90
0:01
Ben Gordon misses 27-foot three point jumper
93 - 90
0:00
Jason Terry defensive rebound
93 - 90
0:00
Will Bynum personal foul (Jason Terry draws the foul)
93 - 90
0:00
Jason Terry makes free throw 1 of 2
94 - 90
0:00
Jason Terry makes free throw 2 of 2
95 - 90
0:00
End of the 4th Quarter
95 - 90
0:00
End Game
95 - 90
ESPN Fan Shop Powered By
adidas Youth Dallas Mavericks Dirk Nowitzki #41 Road Royal Replica JerseyShop
When asked how he felt after Game 1 against the Spurs, Kevin Durant simply responds "I'm not telling you." When prodded a little more, he adds that they just need to move on to the next matchup instead of focusing on this one.

Following their Game 1 loss, Michael Wilbon explains what he expects to see from the Thunder in Game 2.

Michael Wilbon breaks down how the Spurs were able to defeat the Thunder so handily in Game 1 of their playoff series.
Regular Season Series
DAL wins series 2-0
2015-2016 Southwest Standings