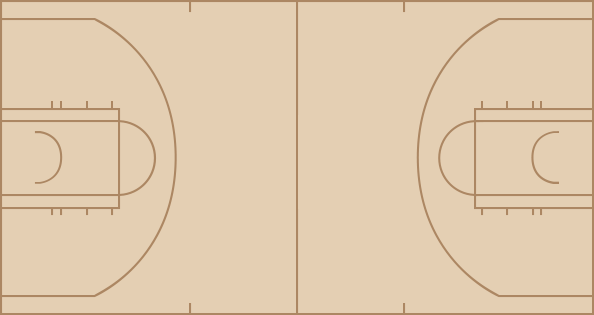 Wizards
time
TEAM
PLAY
SCORE
12:00
Start of the 1st Quarter
0 - 0
12:00
Jumpball: Brendan Haywood vs. Jeff Green (Russell Westbrook gains possession)
0 - 0
11:37
Jumpball: Brendan Haywood vs. Nenad Krstic (Russell Westbrook gains possession)
0 - 0
11:32
Kevin Durant misses 24-foot three point jumper
0 - 0
11:30
Jeff Green offensive rebound
0 - 0
11:15
Kevin Durant misses 12-foot jumper
0 - 0
11:15
Jeff Green offensive rebound
0 - 2
11:15
Jeff Green makes two point shot
0 - 2
10:53
Antawn Jamison misses two point shot
0 - 2
10:52
Nenad Krstic defensive rebound
0 - 2
10:42
Jeff Green misses 14-foot jumper
0 - 2
10:41
Brendan Haywood defensive rebound
0 - 2
10:33
Gilbert Arenas lost ball (Nenad Krstic steals)
0 - 2
10:27
Thabo Sefolosha misses layup
0 - 2
10:26
Gilbert Arenas defensive rebound
0 - 2
10:21
Brendan Haywood makes layup (Caron Butler assists)
2 - 2
10:02
Kevin Durant makes two point shot
2 - 4
9:48
Brendan Haywood misses 14-foot jumper
2 - 4
9:48
Nenad Krstic defensive rebound
2 - 4
9:41
Russell Westbrook makes 24-foot three point jumper
2 - 7
9:19
Caron Butler misses 25-foot three point jumper
2 - 7
9:19
Antawn Jamison offensive rebound
2 - 7
9:19
Nenad Krstic shooting foul (Antawn Jamison draws the foul)
2 - 7
9:19
Antawn Jamison misses free throw 1 of 2
2 - 7
9:19
Washington offensive rebound
2 - 7
9:19
Antawn Jamison misses free throw 2 of 2
2 - 7
9:18
Nenad Krstic defensive rebound
2 - 7
9:11
Kevin Durant makes 13-foot jumper
2 - 9
8:52
Gilbert Arenas makes 23-foot jumper (Brendan Haywood assists)
4 - 9
8:37
Nenad Krstic misses 15-foot jumper
4 - 9
8:36
Thabo Sefolosha offensive rebound
4 - 9
8:26
Thabo Sefolosha makes driving layup
4 - 11
8:11
Caron Butler makes 18-foot jumper
6 - 11
7:54
Kevin Durant makes driving layup
6 - 13
7:47
Kevin Durant shooting foul (Caron Butler draws the foul)
6 - 13
7:47
Caron Butler misses free throw 1 of 2
6 - 13
7:47
Washington offensive rebound
6 - 13
7:47
Caron Butler makes free throw 2 of 2
7 - 13
7:39
Russell Westbrook misses 25-foot three point jumper
7 - 13
7:35
Russell Westbrook offensive rebound
7 - 13
7:33
Jeff Green makes layup (Russell Westbrook assists)
7 - 15
7:16
Gilbert Arenas misses driving layup
7 - 15
7:15
Kevin Durant defensive rebound
7 - 15
7:05
Jeff Green makes driving layup
7 - 17
7:05
Brendan Haywood shooting foul (Jeff Green draws the foul)
7 - 17
7:05
Washington full timeout
7 - 17
7:05
Jeff Green makes free throw 1 of 1
7 - 18
6:45
Gilbert Arenas misses 22-foot jumper
7 - 18
6:43
Jeff Green defensive rebound
7 - 18
6:24
Kevin Durant misses driving layup
7 - 18
6:24
Antawn Jamison defensive rebound
7 - 18
6:18
Thabo Sefolosha personal foul (Caron Butler draws the foul)
7 - 18
6:07
Gilbert Arenas makes driving layup
9 - 18
5:58
Russell Westbrook misses 24-foot three point jumper
9 - 18
5:56
Brendan Haywood defensive rebound
9 - 18
5:46
Antawn Jamison makes 21-foot jumper (Mike Miller assists)
11 - 18
5:31
Jeff Green misses 19-foot jumper
11 - 18
5:30
Caron Butler defensive rebound
11 - 18
5:20
Antawn Jamison misses 19-foot jumper
11 - 18
5:20
Thabo Sefolosha defensive rebound
11 - 18
5:13
Thabo Sefolosha misses driving layup
11 - 18
5:13
Antawn Jamison defensive rebound
11 - 18
5:05
Caron Butler makes driving layup
13 - 18
4:54
Oklahoma City full timeout
13 - 18
4:54
Etan Thomas enters the game for Nenad Krstic
13 - 18
4:47
Kevin Durant misses 10-foot jumper
13 - 18
4:46
Brendan Haywood defensive rebound
13 - 18
4:35
Antawn Jamison misses 10-foot jumper
13 - 18
4:33
Jeff Green defensive rebound
13 - 18
4:24
Antawn Jamison blocks Thabo Sefolosha's layup
13 - 18
4:22
Jeff Green offensive rebound
13 - 18
4:18
Kevin Durant makes 7-foot running jumper
13 - 20
4:18
Gilbert Arenas shooting foul (Kevin Durant draws the foul)
13 - 20
4:18
Kevin Durant makes free throw 1 of 1
13 - 21
4:07
Mike Miller bad pass (Thabo Sefolosha steals)
13 - 21
4:03
Thabo Sefolosha misses layup
13 - 21
4:01
Jeff Green offensive rebound
13 - 23
4:01
Jeff Green makes tip shot
13 - 23
3:57
Brendan Haywood makes dunk (Caron Butler assists)
15 - 23
3:33
Jeff Green makes 4-foot hook shot
15 - 25
3:24
Etan Thomas shooting foul (Gilbert Arenas draws the foul)
15 - 25
3:24
DeShawn Stevenson enters the game for Mike Miller
15 - 25
3:24
James Harden enters the game for Thabo Sefolosha
15 - 25
3:24
Gilbert Arenas misses free throw 1 of 2
15 - 25
3:24
Washington offensive rebound
15 - 25
3:24
Kevin Ollie enters the game for Russell Westbrook
15 - 25
3:24
Gilbert Arenas makes free throw 2 of 2
16 - 25
3:11
James Harden makes 24-foot three point jumper
16 - 28
2:59
Antawn Jamison makes 24-foot three point jumper (Gilbert Arenas assists)
19 - 28
2:35
Kevin Durant traveling
19 - 28
2:20
Kevin Ollie illegal defense foul (1st personal foul)
19 - 28
2:20
Caron Butler makes technical free throw
20 - 28
2:20
Nick Collison enters the game for Jeff Green
20 - 28
2:14
Antawn Jamison lost ball (James Harden steals)
20 - 28
2:05
Kevin Durant lost ball (Gilbert Arenas steals)
20 - 28
2:02
Antawn Jamison makes jumper (Gilbert Arenas assists)
22 - 28
1:39
James Harden makes 25-foot three point jumper (Kevin Durant assists)
22 - 31
1:23
Brendan Haywood makes dunk (Caron Butler assists)
24 - 31
1:06
DeShawn Stevenson shooting foul (Kevin Durant draws the foul)
24 - 31
1:06
Kevin Durant misses free throw 1 of 2
24 - 31
1:06
Oklahoma City offensive rebound
24 - 31
1:06
Kevin Durant makes free throw 2 of 2
24 - 32
0:54
Antawn Jamison makes 5-foot jumper
26 - 32
0:54
Nick Collison shooting foul (Antawn Jamison draws the foul)
26 - 32
0:54
Antawn Jamison misses free throw 1 of 1
26 - 32
0:53
Brendan Haywood offensive rebound
26 - 32
0:40
Caron Butler makes 24-foot three point jumper
29 - 32
0:16
shot clock violation
29 - 32
0:00
Etan Thomas blocks Gilbert Arenas's 4-foot jumper
29 - 32
0:00
Brendan Haywood offensive rebound
29 - 32
0:00
End of the 1st Quarter
29 - 32

time
TEAM
PLAY
SCORE
12:00
Start of the 2nd Quarter
29 - 32
11:45
Caron Butler makes 24-foot three point jumper
32 - 32
11:26
James Harden makes 25-foot three point jumper (Kevin Durant assists)
32 - 35
11:18
James Harden shooting foul (Caron Butler draws the foul)
32 - 35
11:18
Caron Butler makes free throw 2 of 2
33 - 35
11:18
Caron Butler makes free throw 1 of 2
34 - 35
11:08
Kevin Durant lost ball (Antawn Jamison steals)
34 - 35
11:00
Caron Butler misses 24-foot three point jumper
34 - 35
11:00
Etan Thomas defensive rebound
34 - 35
10:44
Kevin Durant makes 11-foot jumper
34 - 37
10:21
Antawn Jamison makes layup
36 - 37
10:11
Andray Blatche shooting foul (James Harden draws the foul)
36 - 37
10:11
Jeff Green enters the game for Kevin Durant
36 - 37
10:11
James Harden misses free throw 1 of 2
36 - 37
10:11
Oklahoma City offensive rebound
36 - 37
10:11
James Harden makes free throw 2 of 2
36 - 38
9:57
Antawn Jamison makes 23-foot jumper (Earl Boykins assists)
38 - 38
9:41
DeShawn Stevenson personal foul (Thabo Sefolosha draws the foul)
38 - 38
9:32
Thabo Sefolosha makes 24-foot three point jumper (Jeff Green assists)
38 - 41
9:12
Andray Blatche misses 16-foot jumper
38 - 41
9:11
Kevin Ollie defensive rebound
38 - 41
9:08
Kevin Ollie bad pass (Caron Butler steals)
38 - 41
9:04
Caron Butler misses layup
38 - 41
9:03
Kevin Ollie defensive rebound
38 - 41
8:52
Kevin Ollie misses layup
38 - 41
8:52
Caron Butler defensive rebound
38 - 41
8:45
Earl Boykins bad pass (James Harden steals)
38 - 41
8:41
Thabo Sefolosha makes dunk (James Harden assists)
38 - 43
8:37
Washington full timeout
38 - 43
8:37
Randy Foye enters the game for Antawn Jamison
38 - 43
8:37
Brendan Haywood enters the game for DeShawn Stevenson
38 - 43
8:19
Andray Blatche misses layup
38 - 43
8:18
Jeff Green defensive rebound
38 - 43
7:58
Jeff Green makes driving layup
38 - 45
7:58
Andray Blatche shooting foul (Jeff Green draws the foul)
38 - 45
7:58
Jeff Green makes free throw 1 of 1
38 - 46
7:43
Caron Butler makes 23-foot jumper
40 - 46
7:28
Jeff Green misses 13-foot jumper
40 - 46
7:26
Brendan Haywood defensive rebound
40 - 46
7:18
Caron Butler 3 second
40 - 46
7:18
Russell Westbrook enters the game for Kevin Ollie
40 - 46
7:00
James Harden lost ball (Caron Butler steals)
40 - 46
6:56
Andray Blatche makes dunk (Earl Boykins assists)
42 - 46
6:41
Russell Westbrook bad pass
42 - 46
6:41
Gilbert Arenas enters the game for Earl Boykins
42 - 46
6:41
Mike Miller enters the game for Caron Butler
42 - 46
6:28
Andray Blatche makes 21-foot jumper (Gilbert Arenas assists)
44 - 46
6:11
Andray Blatche blocks Etan Thomas's 4-foot jumper
44 - 46
6:07
James Harden offensive rebound
44 - 46
5:58
Thabo Sefolosha makes 13-foot two point shot
44 - 48
5:39
Andray Blatche makes jumper (Randy Foye assists)
46 - 48
5:28
Oklahoma City full timeout
46 - 48
5:28
Kevin Durant enters the game for Etan Thomas
46 - 48
5:28
Nenad Krstic enters the game for James Harden
46 - 48
5:13
Russell Westbrook makes three point jumper (Jeff Green assists)
46 - 51
4:58
Mike Miller misses 18-foot jumper
46 - 51
4:56
Andray Blatche offensive rebound
46 - 51
4:56
Gilbert Arenas lost ball (Kevin Durant steals)
46 - 51
4:50
Thabo Sefolosha makes dunk (Kevin Durant assists)
46 - 53
4:31
Mike Miller turnover
46 - 53
4:22
Kevin Durant misses 18-foot jumper
46 - 53
4:20
Brendan Haywood defensive rebound
46 - 53
4:13
Gilbert Arenas misses 25-foot three point jumper
46 - 53
4:11
Thabo Sefolosha defensive rebound
46 - 53
3:55
Nenad Krstic makes 15-foot jumper (Russell Westbrook assists)
46 - 55
3:35
Randy Foye misses 22-foot jumper
46 - 55
3:34
Jeff Green defensive rebound
46 - 55
3:19
Randy Foye jump ball
46 - 55
3:19
Antawn Jamison enters the game for Andray Blatche
46 - 55
3:15
Kevin Durant misses jumper
46 - 55
3:15
Russell Westbrook illegal defense
46 - 55
3:04
Gilbert Arenas defensive rebound
48 - 55
3:04
Gilbert Arenas makes layup
48 - 55
3:04
Gilbert Arenas makes free throw 1 of 1
49 - 55
3:04
Nenad Krstic shooting foul (Gilbert Arenas draws the foul)
51 - 55
2:50
Russell Westbrook misses 6-foot jumper
49 - 55
2:48
Brendan Haywood defensive rebound
49 - 55
2:43
Gilbert Arenas misses driving layup
49 - 55
2:41
Antawn Jamison offensive rebound
51 - 55
2:41
Antawn Jamison makes tip shot
51 - 55
2:28
Kevin Durant turnover
51 - 55
2:28
Official timeout
51 - 55
2:18
Russell Westbrook personal foul (Gilbert Arenas draws the foul)
51 - 55
2:09
Gilbert Arenas misses jumper
51 - 55
2:08
Jeff Green defensive rebound
51 - 55
1:54
Jeff Green misses 5-foot jumper
51 - 55
1:52
Russell Westbrook offensive rebound
51 - 55
1:51
Russell Westbrook makes two point shot
51 - 57
1:32
Randy Foye misses jumper
51 - 57
1:31
Brendan Haywood offensive rebound
51 - 57
1:30
Brendan Haywood lost ball (Russell Westbrook steals)
51 - 57
1:24
Kevin Durant makes dunk (Thabo Sefolosha assists)
51 - 59
1:02
Antawn Jamison misses layup
51 - 59
0:59
Brendan Haywood offensive rebound
51 - 59
0:59
Brendan Haywood misses tip shot
51 - 59
0:58
Brendan Haywood offensive rebound
53 - 59
0:58
Brendan Haywood makes tip shot
53 - 59
0:47
Jeff Green makes 24-foot three point jumper (Russell Westbrook assists)
53 - 62
0:32
Gilbert Arenas makes driving layup
55 - 62
0:27
Russell Westbrook misses 18-foot jumper
55 - 62
0:26
Antawn Jamison defensive rebound
55 - 62
0:07
Gilbert Arenas misses three point jumper
55 - 62
0:05
Antawn Jamison offensive rebound
55 - 62
0:05
Antawn Jamison misses tip shot
55 - 62
0:04
Antawn Jamison offensive rebound
55 - 62
0:04
Antawn Jamison misses tip shot
55 - 62
0:03
Jeff Green defensive rebound
55 - 62
0:01
Jeff Green misses 57-foot three point jumper
55 - 62
0:00
Oklahoma City offensive rebound
55 - 62
0:00
End of the 2nd Quarter
55 - 62

time
TEAM
PLAY
SCORE
12:00
Start of the 3rd Quarter
55 - 62
11:45
Mike Miller makes 23-foot three point jumper (Gilbert Arenas assists)
58 - 62
11:32
Nenad Krstic makes 13-foot jumper
58 - 64
11:04
Brendan Haywood misses jumper
58 - 64
11:03
Kevin Durant defensive rebound
58 - 64
10:56
Brendan Haywood shooting foul (Kevin Durant draws the foul)
58 - 64
10:56
Kevin Durant misses free throw 1 of 2
58 - 64
10:56
Oklahoma City offensive rebound
58 - 64
10:56
Kevin Durant misses free throw 2 of 2
58 - 64
10:55
Oklahoma City offensive rebound
58 - 64
10:52
Kevin Durant misses jumper
58 - 64
10:52
Antawn Jamison defensive rebound
58 - 64
10:41
Brendan Haywood makes dunk (Gilbert Arenas assists)
60 - 64
10:18
Kevin Durant misses 6-foot jumper
60 - 64
10:18
Mike Miller defensive rebound
60 - 64
10:06
Mike Miller misses 17-foot jumper
60 - 64
10:03
Antawn Jamison offensive rebound
60 - 64
10:03
Antawn Jamison makes two point shot
62 - 64
9:48
Jeff Green misses 19-foot jumper
62 - 64
9:45
Mike Miller defensive rebound
62 - 64
9:37
Nenad Krstic blocks Caron Butler's layup
62 - 64
9:36
Brendan Haywood offensive rebound
62 - 64
9:25
Gilbert Arenas misses layup
62 - 64
9:23
Russell Westbrook defensive rebound
62 - 64
9:19
Mike Miller shooting foul (Russell Westbrook draws the foul)
62 - 64
9:19
Russell Westbrook makes free throw 1 of 2
62 - 65
9:19
Russell Westbrook makes free throw 2 of 2
62 - 66
9:00
Caron Butler misses 17-foot jumper
62 - 66
9:00
Washington offensive rebound
62 - 66
9:00
Jeff Green loose ball foul (Antawn Jamison draws the foul)
62 - 66
8:52
Brendan Haywood bad pass (Jeff Green steals)
62 - 66
8:48
Kevin Durant offensive foul (Mike Miller draws the foul)
62 - 66
8:48
Kevin Durant turnover
62 - 66
8:33
Gilbert Arenas makes 25-foot three point jumper
65 - 66
8:26
Oklahoma City full timeout
65 - 66
8:25
Caron Butler inbound foul (Kevin Durant draws the foul)
65 - 66
8:25
Kevin Durant makes free throw 1 of 2
65 - 67
8:25
Kevin Durant makes free throw 2 of 2
65 - 68
8:07
Caron Butler traveling
65 - 68
7:56
Kevin Durant makes two point shot
65 - 70
7:45
Washington 20 Sec. timeout
65 - 70
7:35
Gilbert Arenas bad pass
65 - 70
7:22
Nenad Krstic makes 19-foot jumper (Kevin Durant assists)
65 - 72
7:03
Brendan Haywood misses 6-foot hook shot
65 - 72
7:01
Antawn Jamison offensive rebound
65 - 72
7:01
Antawn Jamison makes layup
67 - 72
6:50
Russell Westbrook makes driving layup
67 - 74
6:37
Brendan Haywood makes dunk (Gilbert Arenas assists)
69 - 74
6:26
Mike Miller shooting foul (Kevin Durant draws the foul)
69 - 74
6:26
Kevin Durant makes free throw 1 of 3
69 - 75
6:26
Kevin Durant makes free throw 2 of 3
69 - 76
6:26
Kevin Durant makes free throw 3 of 3
69 - 77
6:07
Gilbert Arenas misses 16-foot jumper
69 - 77
6:05
Washington offensive rebound
69 - 77
6:01
Mike Miller makes driving layup
71 - 77
5:43
Gilbert Arenas personal foul (Russell Westbrook draws the foul)
71 - 77
5:43
Russell Westbrook makes free throw 1 of 2
71 - 78
5:43
Russell Westbrook makes free throw 2 of 2
71 - 79
5:22
Caron Butler misses 15-foot jumper
71 - 79
5:20
Nenad Krstic defensive rebound
71 - 79
5:03
Thabo Sefolosha makes 25-foot three point jumper (Russell Westbrook assists)
71 - 82
4:48
Jeff Green personal foul (Mike Miller draws the foul)
71 - 82
4:39
Thabo Sefolosha blocks Gilbert Arenas's layup
71 - 82
4:37
Gilbert Arenas offensive rebound
71 - 82
4:35
Caron Butler makes 24-foot three point jumper (Gilbert Arenas assists)
74 - 82
4:28
Oklahoma City 20 Sec. timeout
74 - 82
4:28
James Harden enters the game for Thabo Sefolosha
74 - 82
4:13
James Harden misses 24-foot three point jumper
74 - 82
4:11
Antawn Jamison defensive rebound
74 - 82
4:01
James Harden personal foul (Gilbert Arenas draws the foul)
74 - 82
3:56
Antawn Jamison misses 25-foot three point jumper
74 - 82
3:51
Caron Butler offensive rebound
74 - 82
3:49
Caron Butler makes two point shot
76 - 82
3:47
Russell Westbrook inbound
76 - 82
3:47
DeShawn Stevenson enters the game for Mike Miller
76 - 82
3:31
Nenad Krstic shooting foul (DeShawn Stevenson draws the foul)
76 - 82
3:31
DeShawn Stevenson makes free throw 1 of 2
77 - 82
3:31
DeShawn Stevenson makes free throw 2 of 2
78 - 82
3:21
Nenad Krstic offensive foul (DeShawn Stevenson draws the foul)
78 - 82
3:21
Nenad Krstic turnover
78 - 82
3:21
Etan Thomas enters the game for Nenad Krstic
78 - 82
3:08
Gilbert Arenas makes driving layup
80 - 82
3:08
James Harden shooting foul (Gilbert Arenas draws the foul)
80 - 82
3:08
Gilbert Arenas makes free throw 1 of 1
81 - 82
3:00
Russell Westbrook misses 10-foot running jumper
81 - 82
3:00
Brendan Haywood defensive rebound
81 - 82
2:47
Caron Butler lost ball (Kevin Durant steals)
81 - 82
2:43
Antawn Jamison shooting foul (Russell Westbrook draws the foul)
81 - 82
2:43
Washington full timeout
81 - 82
2:43
Andray Blatche enters the game for Brendan Haywood
81 - 82
2:43
Thabo Sefolosha enters the game for Jeff Green
81 - 82
2:43
Russell Westbrook makes free throw 1 of 2
81 - 83
2:43
Russell Westbrook makes free throw 2 of 2
81 - 84
2:31
Gilbert Arenas misses 25-foot three point jumper
81 - 84
2:30
Russell Westbrook defensive rebound
81 - 84
2:26
Thabo Sefolosha makes layup (Russell Westbrook assists)
81 - 86
2:01
Andray Blatche misses 18-foot jumper
81 - 86
2:00
Etan Thomas defensive rebound
81 - 86
1:57
DeShawn Stevenson personal foul (Russell Westbrook draws the foul)
81 - 86
1:57
Russell Westbrook makes free throw 1 of 2
81 - 87
1:57
Russell Westbrook makes free throw 2 of 2
81 - 88
1:43
DeShawn Stevenson bad pass (James Harden steals)
81 - 88
1:31
Russell Westbrook bad pass (Gilbert Arenas steals)
81 - 88
1:22
Andray Blatche misses layup
81 - 88
1:20
Antawn Jamison offensive rebound
81 - 88
1:19
Kevin Durant blocks Antawn Jamison's layup
81 - 88
1:17
Kevin Durant defensive rebound
81 - 88
1:15
Kevin Durant makes layup
81 - 90
1:15
Gilbert Arenas shooting foul (Kevin Durant draws the foul)
81 - 90
1:15
Kevin Durant makes free throw 1 of 1
81 - 91
1:01
James Harden shooting foul (Gilbert Arenas draws the foul)
81 - 91
1:01
Gilbert Arenas makes free throw 1 of 2
82 - 91
1:01
Gilbert Arenas makes free throw 2 of 2
83 - 91
0:43
Caron Butler personal foul (James Harden draws the foul)
83 - 91
0:43
James Harden makes free throw 1 of 2
83 - 92
0:43
James Harden makes free throw 2 of 2
83 - 93
0:31
Kevin Durant shooting foul (Antawn Jamison draws the foul)
83 - 93
0:31
Antawn Jamison misses free throw 1 of 2
83 - 93
0:31
Washington offensive rebound
83 - 93
0:31
Antawn Jamison makes free throw 2 of 2
84 - 93
0:21
Russell Westbrook makes jumper
84 - 95
0:02
Gilbert Arenas makes driving layup
86 - 95
0:00
Russell Westbrook misses 36-foot three point jumper
86 - 95
0:00
Oklahoma City offensive rebound
86 - 95
0:00
End of the 3rd Quarter
86 - 95

time
TEAM
PLAY
SCORE
12:00
Start of the 4th Quarter
86 - 95
11:41
Andray Blatche blocks Etan Thomas's layup
86 - 95
11:37
Thabo Sefolosha offensive rebound
86 - 95
11:34
Thabo Sefolosha misses 16-foot jumper
86 - 95
11:33
DeShawn Stevenson defensive rebound
86 - 95
11:18
Andray Blatche lost ball (Kevin Ollie steals)
86 - 95
11:18
Andray Blatche personal foul (Kevin Ollie draws the foul)
86 - 95
11:18
Jeff Green enters the game for Kevin Durant
86 - 95
11:02
James Harden makes 20-foot jumper
86 - 97
10:48
Earl Boykins makes two point shot
88 - 97
10:19
Jeff Green misses 16-foot jumper
88 - 97
10:18
Oklahoma City defensive rebound
88 - 97
10:18
Randy Foye enters the game for DeShawn Stevenson
88 - 97
10:11
Antawn Jamison offensive foul (Kevin Ollie draws the foul)
88 - 97
10:11
Antawn Jamison turnover
88 - 97
9:52
Jeff Green bad pass (Antawn Jamison steals)
88 - 97
9:38
Jeff Green illegal defense foul (3rd personal foul)
88 - 97
9:38
Earl Boykins makes technical free throw
89 - 97
9:38
Kevin Durant enters the game for Etan Thomas
89 - 97
9:33
Randy Foye bad pass (Kevin Durant steals)
89 - 97
9:26
Kevin Durant makes two point shot
89 - 99
9:25
Washington full timeout
89 - 99
9:18
Kevin Ollie personal foul (Antawn Jamison draws the foul)
89 - 99
9:07
Randy Foye bad pass (Kevin Ollie steals)
89 - 99
8:56
Thabo Sefolosha misses 19-foot jumper
89 - 99
8:56
Oklahoma City offensive rebound
89 - 99
8:56
Antawn Jamison loose ball foul (James Harden draws the foul)
89 - 99
8:47
Kevin Durant makes 27-foot three point jumper (Kevin Ollie assists)
89 - 102
8:30
Kevin Ollie shooting foul (Randy Foye draws the foul)
89 - 102
8:30
Randy Foye makes free throw 1 of 2
90 - 102
8:30
Brendan Haywood enters the game for Andray Blatche
90 - 102
8:30
Randy Foye misses free throw 2 of 2
90 - 102
8:29
Jeff Green defensive rebound
90 - 102
8:15
Brendan Haywood shooting foul (James Harden draws the foul)
90 - 102
8:15
Caron Butler enters the game for Randy Foye
90 - 102
8:15
James Harden makes free throw 1 of 2
90 - 103
8:15
James Harden makes free throw 2 of 2
90 - 104
7:58
Kevin Durant shooting foul (Antawn Jamison draws the foul)
90 - 104
7:58
Antawn Jamison makes free throw 1 of 2
91 - 104
7:58
Antawn Jamison makes free throw 2 of 2
92 - 104
7:47
Kevin Durant makes 9-foot running jumper
92 - 106
7:33
Caron Butler misses jumper
92 - 106
7:31
Kevin Ollie defensive rebound
92 - 106
7:18
Kevin Ollie misses 16-foot jumper
92 - 106
7:16
Brendan Haywood defensive rebound
92 - 106
7:11
Mike Miller traveling
92 - 106
7:11
Gilbert Arenas enters the game for Antawn Jamison
92 - 106
6:47
Kevin Durant misses 24-foot three point jumper
92 - 106
6:45
Brendan Haywood defensive rebound
92 - 106
6:35
Brendan Haywood makes layup (Gilbert Arenas assists)
94 - 106
6:28
Oklahoma City full timeout
94 - 106
6:26
Russell Westbrook enters the game for Kevin Ollie
94 - 106
6:18
James Harden makes 25-foot three point jumper (Kevin Durant assists)
94 - 109
6:01
Earl Boykins bad pass (James Harden steals)
94 - 109
6:00
James Harden makes dunk (Russell Westbrook assists)
94 - 111
5:58
Washington full timeout
94 - 111
5:48
Earl Boykins misses 24-foot three point jumper
94 - 111
5:47
Kevin Durant defensive rebound
94 - 111
5:30
James Harden misses 25-foot three point jumper
94 - 111
5:28
Gilbert Arenas defensive rebound
94 - 111
5:24
James Harden shooting foul (Gilbert Arenas draws the foul)
94 - 111
5:24
Gilbert Arenas makes free throw 1 of 2
95 - 111
5:24
Gilbert Arenas makes free throw 2 of 2
96 - 111
5:18
Russell Westbrook bad pass (Earl Boykins steals)
96 - 111
5:15
Earl Boykins makes layup (Caron Butler assists)
98 - 111
5:05
Russell Westbrook offensive foul (Brendan Haywood draws the foul)
98 - 111
5:05
Russell Westbrook turnover
98 - 111
4:58
Earl Boykins makes two point shot
100 - 111
4:58
Oklahoma City full timeout
100 - 111
4:35
Thabo Sefolosha misses 24-foot three point jumper
100 - 111
4:35
James Harden offensive rebound
100 - 111
4:33
James Harden misses layup
100 - 111
4:31
Jeff Green offensive rebound
100 - 113
4:31
Jeff Green makes tip shot
100 - 113
4:16
Thabo Sefolosha blocks Gilbert Arenas's 6-foot jumper
100 - 113
4:15
James Harden defensive rebound
100 - 113
4:11
Kevin Durant makes two point shot (Russell Westbrook assists)
100 - 115
3:57
Earl Boykins makes 13-foot jumper
102 - 115
3:40
Kevin Durant misses 24-foot three point jumper
102 - 115
3:36
Caron Butler defensive rebound
102 - 115
3:28
Caron Butler makes 24-foot three point jumper (Mike Miller assists)
105 - 115
3:15
James Harden bad pass (Gilbert Arenas steals)
105 - 115
3:13
Gilbert Arenas misses layup
105 - 115
3:12
Washington offensive rebound
105 - 115
3:00
Earl Boykins makes layup (Brendan Haywood assists)
107 - 115
2:35
Earl Boykins shooting foul (Russell Westbrook draws the foul)
107 - 115
2:35
Russell Westbrook makes free throw 1 of 2
107 - 116
2:35
Russell Westbrook misses free throw 2 of 2
107 - 116
2:34
Brendan Haywood defensive rebound
107 - 116
2:27
Earl Boykins bad pass (Russell Westbrook steals)
107 - 116
2:27
Earl Boykins personal foul (Russell Westbrook draws the foul)
107 - 116
2:27
Russell Westbrook makes free throw 1 of 2
107 - 117
2:27
Antawn Jamison enters the game for Brendan Haywood
107 - 117
2:27
Russell Westbrook makes free throw 2 of 2
107 - 118
2:10
Jeff Green shooting foul (Gilbert Arenas draws the foul)
107 - 118
2:10
Gilbert Arenas makes free throw 1 of 2
108 - 118
2:10
Gilbert Arenas misses free throw 2 of 2
108 - 118
2:09
Jeff Green defensive rebound
108 - 118
1:49
Thabo Sefolosha misses layup
108 - 118
1:47
James Harden offensive rebound
108 - 118
1:47
James Harden makes two point shot
108 - 120
1:37
Caron Butler misses driving layup
108 - 120
1:36
Jeff Green defensive rebound
108 - 120
1:14
Russell Westbrook makes 24-foot three point jumper (Kevin Durant assists)
108 - 123
1:05
Earl Boykins misses 20-foot jumper
108 - 123
1:02
Kevin Durant defensive rebound
108 - 123
0:59
Gilbert Arenas personal foul (Kevin Durant draws the foul)
108 - 123
0:59
Nick Young enters the game for Caron Butler
108 - 123
0:59
Dominic McGuire enters the game for Antawn Jamison
108 - 123
0:59
JaVale McGee enters the game for Gilbert Arenas
108 - 123
0:59
Kevin Durant makes free throw 1 of 2
108 - 124
0:59
Kyle Weaver enters the game for Jeff Green
108 - 124
0:59
Randy Foye enters the game for Mike Miller
108 - 124
0:59
Kevin Durant makes free throw 2 of 2
108 - 125
0:51
Nick Young misses 24-foot three point jumper
108 - 125
0:49
Kyle Weaver defensive rebound
108 - 125
0:26
James Harden makes 18-foot jumper
108 - 127
0:01
JaVale McGee misses 15-foot jumper
108 - 127
0:00
Kevin Durant defensive rebound
108 - 127
0:00
End of the 4th Quarter
108 - 127
0:00
End Game
108 - 127
Can Kevin Durant handle the heat of becoming the bad guy? As the superstar adapts to his new reality, he's receiving some wisdom from friend and fellow free-agency villain, DeAndre Jordan.

The Rockets have informed Jason Terry that they are not going to offer him a contract for next season.

Some within the Philadelphia 76ers organization don't believe Dion Waiters is a good fit with the team.
Regular Season Series
OKC wins series 2-0
2015-2016 Southeast Standings
2015-2016 Northwest Standings