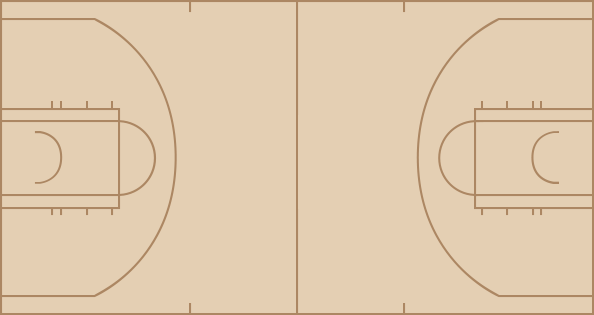 Warriors
time
TEAM
PLAY
SCORE
12:00
Start of the 1st Quarter
0 - 0
12:00
Jumpball: Mikki Moore vs. Jeff Green (C.J. Watson gains possession)
0 - 0
11:56
Russell Westbrook shooting foul (C.J. Watson draws the foul)
0 - 0
11:56
C.J. Watson makes free throw 1 of 2
1 - 0
11:56
C.J. Watson misses free throw 2 of 2
1 - 0
11:55
Thabo Sefolosha defensive rebound
1 - 0
11:37
Kevin Durant makes 14-foot jumper
1 - 2
11:22
C.J. Watson lost ball (Nenad Krstic steals)
1 - 2
11:18
Thabo Sefolosha makes layup (Nenad Krstic assists)
1 - 4
11:07
Golden State 20 Sec. timeout
1 - 4
10:53
C.J. Watson misses 17-foot jumper
1 - 4
10:52
Russell Westbrook defensive rebound
1 - 4
10:37
Kevin Durant bad pass (C.J. Watson steals)
1 - 4
10:33
Monta Ellis makes layup (C.J. Watson assists)
3 - 4
10:18
Nenad Krstic misses 13-foot jumper
3 - 4
10:17
Stephen Curry defensive rebound
3 - 4
10:07
Monta Ellis misses 16-foot jumper
3 - 4
10:07
Jeff Green defensive rebound
3 - 4
9:55
Nenad Krstic makes layup (Jeff Green assists)
3 - 6
9:36
Jeff Green illegal defense foul (1st personal foul)
3 - 6
9:36
C.J. Watson makes technical free throw
4 - 6
9:30
Mikki Moore makes dunk (Stephen Curry assists)
6 - 6
9:18
Russell Westbrook bad pass (Monta Ellis steals)
6 - 6
9:15
Monta Ellis makes layup
8 - 6
8:45
Jeff Green misses 17-foot jumper
8 - 6
8:45
C.J. Watson defensive rebound
8 - 6
8:30
Vladimir Radmanovic misses 24-foot three point jumper
8 - 6
8:30
Nenad Krstic defensive rebound
8 - 6
8:21
Nenad Krstic misses 17-foot jumper
8 - 6
8:19
Vladimir Radmanovic defensive rebound
8 - 6
8:11
Vladimir Radmanovic misses 7-foot two point shot
8 - 6
8:10
Kevin Durant defensive rebound
8 - 6
7:48
Russell Westbrook misses 25-foot three point jumper
8 - 6
7:48
Nenad Krstic offensive rebound
8 - 6
7:41
Thabo Sefolosha traveling
8 - 6
7:26
C.J. Watson bad pass (Russell Westbrook steals)
8 - 6
7:20
Kevin Durant misses jumper
8 - 6
7:18
Vladimir Radmanovic defensive rebound
8 - 6
7:13
Stephen Curry makes 17-foot jumper
10 - 6
7:05
Oklahoma City full timeout
10 - 6
6:54
Kevin Durant misses 12-foot jumper
10 - 6
6:54
Oklahoma City defensive rebound
10 - 6
6:54
Nenad Krstic loose ball foul (Vladimir Radmanovic draws the foul)
10 - 6
6:54
Nick Collison enters the game for Nenad Krstic
10 - 6
6:39
C.J. Watson makes 21-foot jumper (Monta Ellis assists)
12 - 6
6:24
Russell Westbrook misses 15-foot jumper
12 - 6
6:24
Jeff Green offensive rebound
12 - 8
6:24
Jeff Green makes tip shot
12 - 8
6:24
Nick Collison misses free throw 1 of 1
12 - 8
6:24
Mikki Moore away from ball foul (Nick Collison draws the foul)
21 - 15
6:22
Vladimir Radmanovic defensive rebound
12 - 8
6:16
Vladimir Radmanovic misses 19-foot jumper
21 - 15
6:05
Nick Collison defensive rebound
12 - 8
5:50
Kevin Durant misses 7-foot jumper
12 - 8
5:41
Jeff Green makes tip shot
12 - 10
5:41
Jeff Green offensive rebound
23 - 22
5:35
Monta Ellis makes layup
14 - 10
5:26
Russell Westbrook makes 7-foot jumper
14 - 12
5:16
Mikki Moore makes 17-foot jumper (Monta Ellis assists)
16 - 12
5:01
Kevin Durant lost ball (Stephen Curry steals)
16 - 12
4:47
Nick Collison shooting foul (Monta Ellis draws the foul)
16 - 12
4:47
Monta Ellis makes free throw 1 of 2
17 - 12
4:47
Shaun Livingston enters the game for Russell Westbrook
17 - 12
4:47
Monta Ellis misses free throw 2 of 2
17 - 12
4:46
Monta Ellis offensive rebound
17 - 12
4:37
Monta Ellis makes 18-foot jumper
19 - 12
4:22
Jeff Green traveling
19 - 12
4:11
Stephen Curry bad pass (Shaun Livingston steals)
19 - 12
4:09
Shaun Livingston bad pass (Stephen Curry steals)
19 - 12
4:07
Mikki Moore makes two point shot (Vladimir Radmanovic assists)
21 - 12
3:45
Jeff Green makes 24-foot three point jumper (Shaun Livingston assists)
21 - 15
3:29
Thabo Sefolosha blocks Monta Ellis's 9-foot jumper
21 - 15
3:26
Shaun Livingston defensive rebound
21 - 15
3:18
Kevin Durant offensive foul (Mikki Moore draws the foul)
21 - 15
3:18
Kevin Durant turnover
21 - 15
3:08
Monta Ellis misses layup
21 - 15
3:06
Jeff Green defensive rebound
21 - 15
2:55
Stephen Curry shooting foul (Thabo Sefolosha draws the foul)
21 - 15
2:55
Thabo Sefolosha misses free throw 1 of 2
21 - 15
2:55
Oklahoma City offensive rebound
21 - 15
2:55
Thabo Sefolosha makes free throw 2 of 2
21 - 16
2:55
Golden State full timeout
23 - 22
2:31
Monta Ellis misses 10-foot two point shot
21 - 16
2:30
Shaun Livingston defensive rebound
21 - 16
2:21
Thabo Sefolosha misses 26-foot three point jumper
21 - 16
2:20
C.J. Watson defensive rebound
21 - 16
2:10
Stephen Curry misses 24-foot three point jumper
21 - 16
2:09
Shaun Livingston defensive rebound
21 - 16
2:04
Kevin Durant makes dunk (Shaun Livingston assists)
21 - 18
1:53
Stephen Curry makes 17-foot jumper
23 - 18
1:32
Shaun Livingston turnover
23 - 18
1:32
Corey Maggette enters the game for Mikki Moore
23 - 18
1:32
Anthony Randolph enters the game for Vladimir Radmanovic
23 - 18
1:32
James Harden enters the game for Thabo Sefolosha
23 - 18
1:21
Monta Ellis lost ball (Kevin Durant steals)
23 - 18
1:17
James Harden makes dunk
23 - 20
0:54
Monta Ellis bad pass (Shaun Livingston steals)
23 - 20
0:54
Jeff Green makes layup (Shaun Livingston assists)
23 - 22
0:38
Monta Ellis misses two point shot
23 - 22
0:38
Golden State defensive rebound
23 - 22
0:38
Corey Maggette loose ball foul (Nick Collison draws the foul)
23 - 22
0:24
Kevin Durant discontinue dribble
23 - 22
0:06
Shaun Livingston personal foul (C.J. Watson draws the foul)
23 - 22
0:01
Monta Ellis bad pass (James Harden steals)
23 - 22
0:00
End of the 1st Quarter
23 - 22

time
TEAM
PLAY
SCORE
12:00
Start of the 2nd Quarter
23 - 22
11:44
Russell Westbrook misses 8-foot two point shot
23 - 22
11:41
C.J. Watson defensive rebound
23 - 22
11:37
Monta Ellis misses layup
23 - 22
11:37
Kevin Durant defensive rebound
23 - 22
11:30
C.J. Watson shooting foul (James Harden draws the foul)
23 - 22
11:30
James Harden makes free throw 1 of 2
23 - 23
11:30
James Harden makes free throw 2 of 2
23 - 24
11:14
Corey Maggette makes 7-foot jumper
25 - 24
11:03
Russell Westbrook lost ball (Stephen Curry steals)
25 - 24
11:03
Stephen Curry traveling
25 - 24
10:56
Russell Westbrook misses driving layup
25 - 24
10:55
Stephen Curry defensive rebound
25 - 24
10:49
Stephen Curry misses layup
25 - 24
10:48
Corey Maggette offensive rebound
25 - 24
10:47
Corey Maggette makes layup
27 - 24
10:22
Anthony Randolph blocks James Harden's layup
27 - 24
10:21
Monta Ellis defensive rebound
27 - 24
10:12
Monta Ellis makes 7-foot two point shot
29 - 24
10:06
Oklahoma City full timeout
29 - 24
10:06
Jeff Green enters the game for Kevin Durant
29 - 24
9:55
Jeff Green misses 7-foot two point shot
29 - 24
9:53
Stephen Curry defensive rebound
29 - 24
9:51
James Harden shooting foul (C.J. Watson draws the foul)
29 - 24
9:51
C.J. Watson makes free throw 1 of 2
30 - 24
9:51
C.J. Watson misses free throw 2 of 2
30 - 24
9:49
Jeff Green defensive rebound
30 - 24
9:37
James Harden misses 25-foot three point jumper
30 - 24
9:37
Nick Collison offensive rebound
30 - 24
9:36
Nick Collison misses tip shot
30 - 24
9:33
Corey Maggette defensive rebound
30 - 24
9:18
Corey Maggette misses 22-foot jumper
30 - 24
9:18
Shaun Livingston defensive rebound
30 - 24
9:07
Russell Westbrook misses 16-foot jumper
30 - 24
9:06
Jeff Green offensive rebound
30 - 24
9:03
Jeff Green lost ball (Stephen Curry steals)
30 - 24
8:57
Monta Ellis makes 25-foot three point jumper (Stephen Curry assists)
33 - 24
8:33
Corey Maggette shooting foul (Jeff Green draws the foul)
33 - 24
8:33
Jeff Green makes free throw 1 of 2
33 - 25
8:33
Jeff Green misses free throw 2 of 2
33 - 25
8:33
Nick Collison offensive rebound
33 - 25
8:32
Nick Collison makes two point shot
33 - 27
8:07
Nick Collison shooting foul (Corey Maggette draws the foul)
33 - 27
8:07
Corey Maggette makes free throw 1 of 2
34 - 27
8:07
Kevin Durant enters the game for Nick Collison
34 - 27
8:07
Corey Maggette makes free throw 2 of 2
35 - 27
7:58
Anthony Randolph shooting foul (Jeff Green draws the foul)
35 - 27
7:58
Jeff Green makes free throw 1 of 2
35 - 28
7:58
Jeff Green misses free throw 2 of 2
35 - 28
7:58
C.J. Watson defensive rebound
35 - 28
7:39
Corey Maggette misses layup
35 - 28
7:39
James Harden defensive rebound
35 - 28
7:26
Stephen Curry shooting foul (James Harden draws the foul)
35 - 28
7:26
James Harden makes free throw 1 of 2
35 - 29
7:26
James Harden makes free throw 2 of 2
35 - 30
7:13
Jeff Green blocks Corey Maggette's layup
35 - 30
7:11
Jeff Green defensive rebound
35 - 30
7:05
Jeff Green makes layup (James Harden assists)
35 - 32
6:56
Golden State full timeout
35 - 32
6:47
Anthony Randolph misses 17-foot jumper
35 - 32
6:46
Shaun Livingston defensive rebound
35 - 32
6:35
Anthony Randolph shooting foul (James Harden draws the foul)
35 - 32
6:35
James Harden makes free throw 1 of 2
35 - 33
6:35
Thabo Sefolosha enters the game for Shaun Livingston
35 - 33
6:35
James Harden makes free throw 2 of 2
35 - 34
6:22
Monta Ellis misses 16-foot jumper
35 - 34
6:20
James Harden defensive rebound
35 - 34
6:16
Russell Westbrook makes 12-foot two point shot (James Harden assists)
35 - 36
6:05
Stephen Curry turnover
35 - 36
5:52
James Harden makes 25-foot three point jumper (Russell Westbrook assists)
35 - 39
5:31
Corey Maggette misses 14-foot jumper
35 - 39
5:31
Kevin Durant defensive rebound
35 - 39
5:20
Kevin Durant misses 9-foot two point shot
35 - 39
5:20
Jeff Green offensive rebound
35 - 41
5:20
Jeff Green makes tip shot
35 - 41
5:09
James Harden personal foul (C.J. Watson draws the foul)
35 - 41
5:09
Vladimir Radmanovic enters the game for Anthony Randolph
35 - 41
5:01
Stephen Curry makes driving layup
37 - 41
5:01
Kevin Durant shooting foul (Stephen Curry draws the foul)
37 - 41
5:01
Stephen Curry makes free throw 1 of 1
38 - 41
4:43
Russell Westbrook misses layup
38 - 41
4:41
James Harden offensive rebound
38 - 41
4:41
Vladimir Radmanovic shooting foul (James Harden draws the foul)
38 - 41
4:41
James Harden makes free throw 1 of 2
38 - 42
4:41
James Harden makes free throw 2 of 2
38 - 43
4:24
Stephen Curry makes layup (Vladimir Radmanovic assists)
40 - 43
4:13
Kevin Durant misses 24-foot three point jumper
40 - 43
4:13
Corey Maggette defensive rebound
40 - 43
4:03
Monta Ellis makes driving layup
42 - 43
3:40
Stephen Curry shooting foul (James Harden draws the foul)
42 - 43
3:40
James Harden makes free throw 1 of 2
42 - 44
3:40
Mikki Moore enters the game for Stephen Curry
42 - 44
3:40
James Harden makes free throw 2 of 2
42 - 45
3:26
Monta Ellis turnover
42 - 45
3:02
Thabo Sefolosha misses layup
42 - 45
3:01
Jeff Green offensive rebound
42 - 45
3:01
Jeff Green misses tip shot
42 - 45
3:00
Russell Westbrook offensive rebound
42 - 45
3:00
Russell Westbrook misses tip shot
42 - 45
3:00
Vladimir Radmanovic defensive rebound
42 - 45
2:42
Vladimir Radmanovic misses 23-foot three point jumper
42 - 45
2:41
James Harden defensive rebound
42 - 45
2:35
Kevin Durant misses layup
42 - 45
2:34
Jeff Green offensive rebound
42 - 47
2:34
Jeff Green makes tip shot
42 - 47
2:18
Thabo Sefolosha shooting foul (Corey Maggette draws the foul)
42 - 47
2:18
Official timeout
42 - 47
2:18
Corey Maggette makes free throw 1 of 2
43 - 47
2:18
Corey Maggette makes free throw 2 of 2
44 - 47
2:06
Kevin Durant misses 25-foot three point jumper
44 - 47
2:05
Corey Maggette defensive rebound
44 - 47
1:54
Vladimir Radmanovic bad pass
44 - 47
1:36
Kevin Durant makes 15-foot jumper (Jeff Green assists)
44 - 49
1:24
Monta Ellis makes two point shot
46 - 49
1:13
Oklahoma City 20 Sec. timeout
46 - 49
1:13
Nenad Krstic enters the game for Kevin Durant
46 - 49
1:07
Mikki Moore shooting foul (Russell Westbrook draws the foul)
46 - 49
1:07
Russell Westbrook makes free throw 1 of 2
46 - 50
1:07
Russell Westbrook misses free throw 2 of 2
46 - 50
1:07
Corey Maggette defensive rebound
46 - 50
0:53
Corey Maggette makes driving layup
48 - 50
0:53
Nenad Krstic shooting foul (Corey Maggette draws the foul)
48 - 50
0:53
Corey Maggette makes free throw 1 of 1
49 - 50
0:40
James Harden misses 24-foot three point jumper
49 - 50
0:39
Vladimir Radmanovic defensive rebound
49 - 50
0:32
Monta Ellis misses 24-foot three point jumper
49 - 50
0:31
Russell Westbrook defensive rebound
49 - 50
0:10
Russell Westbrook misses 18-foot jumper
49 - 50
0:09
Oklahoma City defensive rebound
49 - 50
0:01
Monta Ellis misses 18-foot jumper
49 - 50
0:00
Golden State offensive rebound
49 - 50
0:00
End of the 2nd Quarter
49 - 50

time
TEAM
PLAY
SCORE
12:00
Start of the 3rd Quarter
49 - 50
11:45
Kevin Durant lost ball (Monta Ellis steals)
49 - 50
11:41
Nenad Krstic shooting foul (Monta Ellis draws the foul)
49 - 50
11:41
Monta Ellis makes free throw 1 of 2
50 - 50
11:41
Monta Ellis makes free throw 2 of 2
51 - 50
11:26
Monta Ellis personal foul (Kevin Durant draws the foul)
51 - 50
11:17
Nenad Krstic makes 14-foot jumper (Kevin Durant assists)
51 - 52
11:06
Monta Ellis misses 17-foot jumper
51 - 52
11:04
Kevin Durant defensive rebound
51 - 52
10:56
Russell Westbrook makes 24-foot three point jumper (Kevin Durant assists)
51 - 55
10:45
C.J. Watson lost ball (Kevin Durant steals)
51 - 55
10:40
Russell Westbrook makes layup (Kevin Durant assists)
51 - 57
10:38
Golden State full timeout
51 - 57
10:23
Vladimir Radmanovic misses jumper
51 - 57
10:22
Russell Westbrook defensive rebound
51 - 57
10:11
Kevin Durant makes 24-foot three point jumper (Jeff Green assists)
51 - 60
9:59
Stephen Curry makes 24-foot three point jumper (Mikki Moore assists)
54 - 60
9:48
Stephen Curry shooting foul (Nenad Krstic draws the foul)
54 - 60
9:48
Nenad Krstic makes free throw 1 of 2
54 - 61
9:48
Corey Maggette enters the game for Stephen Curry
54 - 61
9:48
Nenad Krstic makes free throw 2 of 2
54 - 62
9:30
Monta Ellis misses 24-foot three point jumper
54 - 62
9:30
Jeff Green defensive rebound
54 - 62
9:25
Russell Westbrook offensive foul (Vladimir Radmanovic draws the foul)
54 - 62
9:25
Russell Westbrook turnover
54 - 62
9:06
Monta Ellis traveling
54 - 62
8:51
Kevin Durant turnover
54 - 62
8:42
Monta Ellis makes driving layup
56 - 62
8:42
Oklahoma City full timeout
56 - 62
8:33
Jeff Green offensive foul (Mikki Moore draws the foul)
56 - 62
8:33
Jeff Green turnover
56 - 62
8:21
C.J. Watson misses 20-foot jumper
56 - 62
8:19
Russell Westbrook defensive rebound
56 - 62
8:08
Mikki Moore blocks Jeff Green's layup
56 - 62
8:07
C.J. Watson defensive rebound
56 - 62
7:52
Vladimir Radmanovic misses 23-foot three point jumper
56 - 62
7:52
Thabo Sefolosha defensive rebound
56 - 62
7:39
Monta Ellis personal foul (Kevin Durant draws the foul)
56 - 62
7:33
Russell Westbrook misses 13-foot jumper
56 - 62
7:31
Vladimir Radmanovic defensive rebound
56 - 62
7:24
Monta Ellis misses 19-foot jumper
56 - 62
7:24
Vladimir Radmanovic offensive rebound
56 - 62
7:20
Thabo Sefolosha shooting foul (Vladimir Radmanovic draws the foul)
56 - 62
7:20
Vladimir Radmanovic makes free throw 1 of 2
57 - 62
7:20
Vladimir Radmanovic makes free throw 2 of 2
58 - 62
7:09
Russell Westbrook turnover
58 - 62
6:46
Vladimir Radmanovic makes 17-foot jumper
60 - 62
6:24
Russell Westbrook misses 20-foot jumper
60 - 62
6:22
Monta Ellis defensive rebound
60 - 62
6:03
C.J. Watson misses 14-foot jumper
60 - 62
6:01
Kevin Durant defensive rebound
60 - 62
5:50
Kevin Durant misses 26-foot three point jumper
60 - 62
5:48
Nenad Krstic offensive rebound
60 - 62
5:31
Jeff Green misses layup
60 - 62
5:30
Vladimir Radmanovic defensive rebound
60 - 62
5:20
C.J. Watson makes 8-foot two point shot
62 - 62
4:58
Nick Collison enters the game for Nenad Krstic
62 - 62
4:56
Kevin Durant misses jumper
62 - 62
4:56
Oklahoma City offensive rebound
62 - 62
4:56
Corey Maggette loose ball foul (Nick Collison draws the foul)
62 - 62
4:47
Corey Maggette illegal defense foul (4th personal foul)
62 - 62
4:47
Anthony Randolph enters the game for Mikki Moore
62 - 62
4:47
Kevin Durant makes technical free throw
62 - 63
4:31
shot clock violation
62 - 63
4:13
Vladimir Radmanovic misses layup
62 - 63
4:11
Russell Westbrook defensive rebound
62 - 63
4:07
Corey Maggette personal foul (Russell Westbrook draws the foul)
62 - 63
4:07
Corey Maggette technical foul (2nd technical foul)
62 - 63
4:07
Corey Maggette technical foul (3rd technical foul)
62 - 63
4:07
Kevin Durant makes technical free throw
62 - 64
4:07
Kevin Durant makes technical free throw
62 - 65
4:07
James Harden enters the game for Thabo Sefolosha
62 - 65
4:07
Chris Hunter enters the game for Corey Maggette
62 - 65
4:07
Russell Westbrook makes free throw 1 of 2
62 - 66
4:07
Russell Westbrook makes free throw 2 of 2
62 - 67
3:57
Monta Ellis bad pass (Nick Collison steals)
62 - 67
3:51
Kevin Durant makes layup (Nick Collison assists)
62 - 69
3:27
Nick Collison shooting foul (Monta Ellis draws the foul)
62 - 69
3:27
Monta Ellis makes free throw 1 of 2
63 - 69
3:27
Monta Ellis misses free throw 2 of 2
63 - 69
3:26
Nick Collison defensive rebound
63 - 69
3:15
Nick Collison makes layup (James Harden assists)
63 - 71
2:59
Anthony Randolph makes 9-foot two point shot
65 - 71
2:48
Anthony Randolph blocks Jeff Green's layup
65 - 71
2:47
Russell Westbrook offensive rebound
65 - 71
2:47
Russell Westbrook misses layup
65 - 71
2:46
Chris Hunter defensive rebound
65 - 71
2:33
Monta Ellis misses 18-foot jumper
65 - 71
2:32
Kevin Durant defensive rebound
65 - 71
2:17
Kevin Durant makes 25-foot three point jumper (Russell Westbrook assists)
65 - 74
2:00
Shaun Livingston enters the game for Russell Westbrook
65 - 74
1:54
Vladimir Radmanovic offensive foul (Nick Collison draws the foul)
65 - 74
1:54
Vladimir Radmanovic turnover
65 - 74
1:54
Stephen Curry enters the game for Vladimir Radmanovic
65 - 74
1:42
James Harden misses 17-foot jumper
65 - 74
1:40
Anthony Randolph defensive rebound
65 - 74
1:31
Monta Ellis misses driving layup
65 - 74
1:31
Nick Collison defensive rebound
65 - 74
1:23
Chris Hunter shooting foul (James Harden draws the foul)
65 - 74
1:23
James Harden makes free throw 1 of 2
65 - 75
1:23
Thabo Sefolosha enters the game for Jeff Green
65 - 75
1:23
James Harden misses free throw 2 of 2
65 - 75
1:23
Anthony Randolph defensive rebound
65 - 75
1:09
Nick Collison shooting foul (Monta Ellis draws the foul)
65 - 75
1:09
Monta Ellis makes free throw 1 of 2
66 - 75
1:09
Monta Ellis makes free throw 2 of 2
67 - 75
0:47
James Harden makes jumper
67 - 77
0:33
Stephen Curry misses 23-foot jumper
67 - 77
0:33
Kevin Durant defensive rebound
67 - 77
0:15
Monta Ellis shooting foul (Kevin Durant draws the foul)
67 - 77
0:15
Kevin Durant makes free throw 1 of 2
67 - 78
0:15
Kevin Durant makes free throw 2 of 2
67 - 79
0:01
Monta Ellis offensive foul (Shaun Livingston draws the foul)
67 - 79
0:01
Monta Ellis turnover
67 - 79
0:00
End of the 3rd Quarter
67 - 79

time
TEAM
PLAY
SCORE
12:00
Start of the 4th Quarter
67 - 79
11:44
C.J. Watson misses 23-foot three point jumper
67 - 79
11:42
Thabo Sefolosha defensive rebound
67 - 79
11:25
Kevin Durant misses 22-foot three point jumper
67 - 79
11:23
Anthony Randolph defensive rebound
67 - 79
11:12
Kevin Durant blocks Chris Hunter's layup
67 - 79
11:11
Shaun Livingston defensive rebound
67 - 79
11:07
Shaun Livingston misses 16-foot jumper
67 - 79
11:03
Chris Hunter defensive rebound
67 - 79
10:55
Stephen Curry makes 22-foot jumper (C.J. Watson assists)
69 - 79
10:33
James Harden misses 25-foot three point jumper
69 - 79
10:33
Anthony Randolph defensive rebound
69 - 79
10:12
Anthony Randolph misses 21-foot jumper
69 - 79
10:11
Shaun Livingston defensive rebound
69 - 79
10:04
Stephen Curry shooting foul (Kevin Durant draws the foul)
69 - 79
10:04
Kevin Durant makes free throw 1 of 2
69 - 80
10:04
Kevin Durant makes free throw 2 of 2
69 - 81
9:51
Anthony Randolph offensive foul (Nick Collison draws the foul)
69 - 81
9:51
Anthony Randolph turnover
69 - 81
9:38
James Harden makes driving layup
69 - 83
9:21
Monta Ellis misses 12-foot jumper
69 - 83
9:21
James Harden defensive rebound
69 - 83
9:10
Kevin Durant misses 17-foot two point shot
69 - 83
9:08
Chris Hunter defensive rebound
69 - 83
9:02
Stephen Curry misses 16-foot jumper
69 - 83
9:02
James Harden defensive rebound
69 - 83
8:41
Nick Collison bad pass (C.J. Watson steals)
69 - 83
8:37
Stephen Curry makes two point shot (C.J. Watson assists)
71 - 83
8:37
Kevin Durant shooting foul (Stephen Curry draws the foul)
71 - 83
8:37
Official timeout
71 - 83
8:37
Russell Westbrook enters the game for Thabo Sefolosha
71 - 83
8:37
Vladimir Radmanovic enters the game for Chris Hunter
71 - 83
8:37
Stephen Curry makes free throw 1 of 1
72 - 83
8:25
Nick Collison makes two point shot (James Harden assists)
72 - 85
8:06
Vladimir Radmanovic misses 22-foot jumper
72 - 85
8:04
James Harden defensive rebound
72 - 85
7:52
James Harden misses driving layup
72 - 85
7:52
Anthony Randolph defensive rebound
72 - 85
7:43
Anthony Randolph makes 17-foot jumper
74 - 85
7:22
Kevin Durant misses jumper
74 - 85
7:20
Stephen Curry defensive rebound
74 - 85
7:16
Stephen Curry bad pass (Kevin Durant steals)
74 - 85
7:11
Kevin Durant makes dunk
74 - 87
6:43
Monta Ellis makes 19-foot jumper
76 - 87
6:24
C.J. Watson shooting foul (James Harden draws the foul)
76 - 87
6:24
James Harden makes free throw 1 of 2
76 - 88
6:24
Jeff Green enters the game for Shaun Livingston
76 - 88
6:24
James Harden makes free throw 2 of 2
76 - 89
6:15
Monta Ellis traveling
76 - 89
6:15
Monta Ellis technical foul (2nd technical foul)
76 - 89
6:15
Kevin Durant makes technical free throw
76 - 90
6:03
Kevin Durant misses 20-foot jumper
76 - 90
6:01
Anthony Randolph defensive rebound
76 - 90
5:52
Anthony Randolph misses jumper
76 - 90
5:50
Kevin Durant defensive rebound
76 - 90
5:45
Anthony Randolph personal foul (Kevin Durant draws the foul)
76 - 90
5:45
Oklahoma City full timeout
76 - 90
5:45
Devean George enters the game for Vladimir Radmanovic
76 - 90
5:33
Nick Collison makes layup (Kevin Durant assists)
76 - 92
5:09
Monta Ellis makes 13-foot jumper
78 - 92
4:54
Monta Ellis blocks Kevin Durant's layup
78 - 92
4:54
Oklahoma City offensive rebound
78 - 92
4:52
Kevin Durant misses jumper
78 - 92
4:50
Devean George defensive rebound
78 - 92
4:43
Monta Ellis double dribble
78 - 92
4:33
Jeff Green misses 23-foot three point jumper
78 - 92
4:33
Devean George defensive rebound
78 - 92
4:11
Monta Ellis misses 23-foot jumper
78 - 92
4:11
Nick Collison defensive rebound
78 - 94
4:07
James Harden makes slam dunk (Nick Collison assists)
78 - 94
3:55
Stephen Curry makes 24-foot three point jumper (Devean George assists)
81 - 94
3:40
Nick Collison offensive foul (Stephen Curry draws the foul)
81 - 94
3:40
Nick Collison turnover
81 - 94
3:31
Stephen Curry misses 25-foot three point jumper
81 - 94
3:30
Jeff Green defensive rebound
81 - 94
3:13
Kevin Durant makes 17-foot jumper (Russell Westbrook assists)
81 - 96
3:04
Golden State full timeout
81 - 96
2:58
Stephen Curry bad pass (James Harden steals)
81 - 96
2:42
Kevin Durant makes layup
81 - 98
2:28
Monta Ellis makes driving layup
83 - 98
2:09
Jeff Green makes dunk (James Harden assists)
83 - 100
1:54
Anthony Randolph misses 8-foot running jumper
83 - 100
1:53
Kevin Durant defensive rebound
83 - 100
1:35
James Harden misses layup
83 - 100
1:34
James Harden offensive rebound
83 - 102
1:34
James Harden makes two point shot
83 - 102
1:17
C.J. Watson makes 23-foot three point jumper
86 - 102
1:17
Kevin Durant illegal defense
86 - 102
0:56
Russell Westbrook misses 25-foot three point jumper
86 - 102
0:54
Anthony Randolph defensive rebound
86 - 102
0:48
Stephen Curry makes layup (Anthony Randolph assists)
88 - 102
0:31
Russell Westbrook misses two point shot
88 - 102
0:29
Jeff Green offensive rebound
88 - 102
0:29
Jeff Green makes layup
88 - 104
0:20
Devean George misses 25-foot three point jumper
88 - 104
0:19
James Harden defensive rebound
88 - 104
0:00
End of the 4th Quarter
88 - 104
0:00
End Game
88 - 104
If LeBron James wants his now customary one-year contract plus a player option with the Cavaliers he stands to leave $3 million on the table compared to the one-year deal he could get elsewhere.

Marc Spears speaks with Chris Washburn, who was drafted third overall in the 1986 NBA Draft, about how drug addiction cost him almost everything, including his life.

Stephen A. Smith takes issue with colleges recruiting children, amongst reports that 11-year-old LeBron James Jr. received Duke and Kentucky scholarship offers. Calipari says he sends scholarships offers to his friend's sons at birth as a gesture.
Regular Season Series
OKC wins series 3-1
2015-2016 Pacific Standings
2015-2016 Northwest Standings