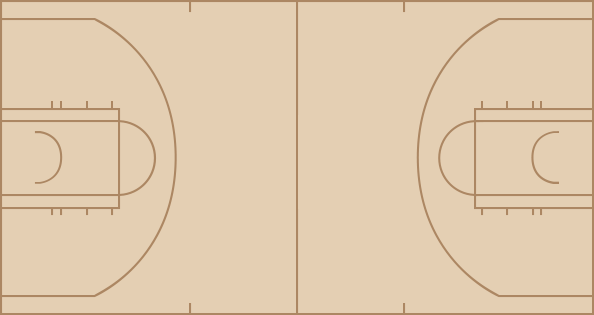 Warriors
time
TEAM
PLAY
SCORE
12:00
Start of the 1st Quarter
0 - 0
12:00
Jumpball: Andris Biedrins vs. Andrew Bynum (Los Angeles gains possession)
0 - 0
11:45
Pau Gasol makes 7-foot hook shot (Kobe Bryant assists)
0 - 2
11:22
Andris Biedrins makes slam dunk (Corey Maggette assists)
2 - 2
11:07
Lamar Odom misses layup
2 - 2
11:06
Andrew Bynum offensive rebound
2 - 4
11:06
Andrew Bynum makes tip shot
2 - 4
10:45
Anthony Randolph misses 21-foot jumper
2 - 4
10:45
Pau Gasol defensive rebound
2 - 4
10:33
Anthony Randolph blocks Andrew Bynum's layup
2 - 4
10:29
Corey Maggette defensive rebound
2 - 4
10:27
Stephen Curry bad pass
2 - 4
10:15
Derek Fisher makes 26-foot three point jumper (Kobe Bryant assists)
2 - 7
10:03
Stephen Curry makes driving layup (Andris Biedrins assists)
4 - 7
9:49
Andrew Bynum makes two point shot (Kobe Bryant assists)
4 - 9
9:44
Golden State full timeout
4 - 9
9:33
Corey Maggette makes 18-foot jumper
6 - 9
9:18
Anthony Randolph blocks Kobe Bryant's layup
6 - 9
9:15
Kobe Bryant offensive rebound
6 - 9
9:15
Kobe Bryant misses layup
6 - 9
9:14
Pau Gasol offensive rebound
6 - 9
9:14
Pau Gasol misses tip shot
6 - 9
9:11
Andris Biedrins defensive rebound
6 - 9
9:07
Corey Maggette makes 15-foot two point shot
8 - 9
8:51
Pau Gasol misses 19-foot jumper
8 - 9
8:49
Stephen Curry defensive rebound
8 - 9
8:41
Monta Ellis misses 26-foot three point jumper
8 - 9
8:41
Anthony Randolph offensive rebound
8 - 9
8:33
Stephen Curry makes 19-foot jumper (Anthony Randolph assists)
10 - 9
8:23
Andrew Bynum offensive foul (Corey Maggette draws the foul)
10 - 9
8:23
Andrew Bynum turnover
10 - 9
8:07
Anthony Randolph makes driving layup (Monta Ellis assists)
12 - 9
7:48
Andrew Bynum lost ball (Anthony Randolph steals)
12 - 9
7:45
Derek Fisher shooting foul (Corey Maggette draws the foul)
12 - 9
7:45
Corey Maggette makes free throw 1 of 2
13 - 9
7:45
Corey Maggette makes free throw 2 of 2
14 - 9
7:33
Pau Gasol makes dunk (Derek Fisher assists)
14 - 11
7:18
Monta Ellis makes 15-foot jumper (Andris Biedrins assists)
16 - 11
7:07
Andrew Bynum makes two point shot (Kobe Bryant assists)
16 - 13
6:47
Monta Ellis makes driving layup (Anthony Randolph assists)
18 - 13
6:35
Kobe Bryant makes two point shot (Lamar Odom assists)
18 - 15
6:20
Derek Fisher shooting foul (Stephen Curry draws the foul)
18 - 15
6:20
Stephen Curry makes free throw 1 of 3
19 - 15
6:20
Stephen Curry makes free throw 2 of 3
20 - 15
6:20
Jordan Farmar enters the game for Derek Fisher
20 - 15
6:20
Stephen Curry makes free throw 3 of 3
21 - 15
6:05
Lamar Odom misses 26-foot three point jumper
21 - 15
6:03
Stephen Curry defensive rebound
21 - 15
6:00
Anthony Randolph makes layup (Stephen Curry assists)
23 - 15
5:48
Anthony Randolph blocks Lamar Odom's 5-foot jumper
23 - 15
5:45
Corey Maggette defensive rebound
23 - 15
5:43
Corey Maggette makes driving layup
25 - 15
5:18
Pau Gasol makes 4-foot jumper (Jordan Farmar assists)
25 - 17
5:18
Andris Biedrins shooting foul (Pau Gasol draws the foul)
25 - 17
5:18
Pau Gasol makes free throw 1 of 1
25 - 18
5:05
Andris Biedrins makes driving layup (Monta Ellis assists)
27 - 18
4:54
Kobe Bryant bad pass
27 - 18
4:33
Corey Maggette misses 25-foot three point jumper
27 - 18
4:31
Andrew Bynum defensive rebound
27 - 18
4:24
Kobe Bryant misses 25-foot three point jumper
27 - 18
4:22
Lamar Odom offensive rebound
27 - 18
4:22
Anthony Randolph shooting foul (Lamar Odom draws the foul)
27 - 18
4:22
Lamar Odom misses free throw 1 of 2
27 - 18
4:22
Los Angeles offensive rebound
27 - 18
4:22
Lamar Odom misses free throw 2 of 2
27 - 18
4:16
Andris Biedrins defensive rebound
27 - 18
4:05
Andris Biedrins misses 9-foot jumper
27 - 18
4:03
Pau Gasol defensive rebound
27 - 18
3:57
Pau Gasol bad pass (Corey Maggette steals)
27 - 18
3:57
Lamar Odom clear path foul (Corey Maggette draws the foul)
27 - 18
3:57
Corey Maggette makes free throw
28 - 18
3:57
Corey Maggette makes free throw
29 - 18
3:45
Stephen Curry misses 16-foot jumper
29 - 18
3:44
Andrew Bynum defensive rebound
29 - 18
3:44
Andris Biedrins loose ball foul (Andrew Bynum draws the foul)
29 - 18
3:44
Ronny Turiaf enters the game for Andris Biedrins
29 - 18
3:31
Andrew Bynum makes slam dunk (Kobe Bryant assists)
29 - 20
3:12
Corey Maggette misses jumper
29 - 20
3:11
Kobe Bryant defensive rebound
29 - 20
3:02
Anthony Randolph blocks Lamar Odom's layup
29 - 20
3:00
Monta Ellis defensive rebound
29 - 20
2:55
Monta Ellis discontinue dribble
29 - 20
2:55
Los Angeles full timeout
29 - 20
2:55
Shannon Brown enters the game for Andrew Bynum
29 - 20
2:47
Kobe Bryant misses 24-foot three point jumper
29 - 20
2:46
Los Angeles offensive rebound
29 - 20
2:44
Stephen Curry shooting foul (Pau Gasol draws the foul)
29 - 20
2:44
Pau Gasol misses free throw 1 of 2
29 - 20
2:44
Los Angeles offensive rebound
29 - 20
2:44
Pau Gasol makes free throw 2 of 2
29 - 21
2:35
Stephen Curry traveling
29 - 21
2:26
Pau Gasol bad pass (Monta Ellis steals)
29 - 21
2:12
Stephen Curry misses 26-foot three point jumper
29 - 21
2:11
Pau Gasol defensive rebound
29 - 21
1:59
Kobe Bryant makes 17-foot two point shot
29 - 23
1:53
Anthony Randolph discontinue dribble
29 - 23
1:53
Vladimir Radmanovic enters the game for Anthony Randolph
29 - 23
1:42
Pau Gasol makes dunk (Kobe Bryant assists)
29 - 25
1:25
Monta Ellis misses two point shot
29 - 25
1:22
Shannon Brown defensive rebound
29 - 25
1:17
Shannon Brown misses 19-foot jumper
29 - 25
1:16
Ronny Turiaf defensive rebound
29 - 25
1:12
Vladimir Radmanovic makes two point shot (Monta Ellis assists)
31 - 25
0:58
Ronny Turiaf jump ball
31 - 25
0:52
Jordan Farmar makes 18-foot jumper (Kobe Bryant assists)
31 - 27
0:44
Stephen Curry makes 9-foot two point shot
33 - 27
0:33
Jordan Farmar misses 23-foot three point jumper
33 - 27
0:32
Vladimir Radmanovic defensive rebound
33 - 27
0:23
Monta Ellis makes 18-foot jumper (Ronny Turiaf assists)
35 - 27
0:00
Monta Ellis shooting foul (Shannon Brown draws the foul)
35 - 27
0:00
Andris Biedrins enters the game for Stephen Curry
35 - 27
0:00
Shannon Brown makes free throw 1 of 2
35 - 28
0:00
Shannon Brown makes free throw 2 of 2
35 - 29
0:00
End of the 1st Quarter
35 - 29

time
TEAM
PLAY
SCORE
12:00
Start of the 2nd Quarter
35 - 29
11:41
Kobe Bryant personal foul (Corey Maggette draws the foul)
35 - 29
11:26
Monta Ellis misses 23-foot jumper
35 - 29
11:25
Lamar Odom defensive rebound
35 - 29
11:14
Ronny Turiaf blocks Lamar Odom's 7-foot jumper
35 - 29
11:11
C.J. Watson defensive rebound
35 - 29
11:03
Vladimir Radmanovic misses 25-foot three point jumper
35 - 29
11:00
Kobe Bryant defensive rebound
35 - 29
10:57
Corey Maggette personal foul (Kobe Bryant draws the foul)
35 - 29
10:57
Anthony Morrow enters the game for Corey Maggette
35 - 29
10:52
Kobe Bryant misses 16-foot jumper
35 - 29
10:52
Los Angeles defensive rebound
35 - 29
10:52
Andrew Bynum loose ball foul (Ronny Turiaf draws the foul)
35 - 29
10:37
Anthony Morrow misses 13-foot jumper
35 - 29
10:34
Anthony Morrow offensive rebound
35 - 29
10:33
Anthony Morrow bad pass (Andrew Bynum steals)
35 - 29
10:29
Andrew Bynum bad pass (C.J. Watson steals)
35 - 29
10:23
Anthony Morrow makes three point jumper (Vladimir Radmanovic assists)
38 - 29
10:08
Andrew Bynum lost ball (Anthony Morrow steals)
38 - 29
9:55
Anthony Morrow makes 9-foot two point shot (Ronny Turiaf assists)
40 - 29
9:34
Andrew Bynum misses 9-foot two point shot
40 - 29
9:32
Vladimir Radmanovic defensive rebound
40 - 29
9:26
Monta Ellis makes 8-foot two point shot
42 - 29
9:19
Los Angeles full timeout
42 - 29
9:19
Pau Gasol enters the game for Andrew Bynum
42 - 29
9:19
Derek Fisher enters the game for Lamar Odom
42 - 29
9:19
Josh Powell enters the game for Jordan Farmar
46 - 36
9:04
Derek Fisher misses 18-foot jumper
42 - 29
9:00
Anthony Morrow defensive rebound
42 - 29
8:44
Vladimir Radmanovic misses layup
42 - 29
8:40
Ronny Turiaf offensive rebound
42 - 29
8:38
Ronny Turiaf makes jumper
44 - 29
8:11
Kobe Bryant makes 15-foot jumper
44 - 31
8:07
Anthony Morrow makes 15-foot jumper (Ronny Turiaf assists)
46 - 31
7:52
Kobe Bryant makes 14-foot jumper (Derek Fisher assists)
46 - 33
7:35
Monta Ellis misses 14-foot jumper
46 - 33
7:35
Pau Gasol defensive rebound
46 - 33
7:30
Kobe Bryant makes 13-foot jumper
46 - 35
7:30
Monta Ellis shooting foul (Kobe Bryant draws the foul)
46 - 35
7:30
Kobe Bryant makes free throw 1 of 1
46 - 36
7:16
C.J. Watson misses 18-foot jumper
46 - 36
7:15
Derek Fisher defensive rebound
46 - 36
7:05
Derek Fisher turnover
46 - 36
6:47
Vladimir Radmanovic makes 20-foot jumper (Monta Ellis assists)
48 - 36
6:33
Shannon Brown misses 14-foot jumper
48 - 36
6:31
Pau Gasol offensive rebound
48 - 36
6:26
Ronny Turiaf shooting foul (Josh Powell draws the foul)
48 - 36
6:26
Kobe Bryant makes free throw 1 of 2
48 - 37
6:26
Anthony Randolph enters the game for Ronny Turiaf
48 - 37
6:26
Kobe Bryant makes free throw 2 of 2
48 - 38
6:16
Sasha Vujacic enters the game for Kobe Bryant
48 - 38
6:09
Monta Ellis misses 7-foot two point shot
48 - 38
6:07
Shannon Brown defensive rebound
48 - 38
5:56
Pau Gasol makes 7-foot hook shot (Derek Fisher assists)
48 - 40
5:37
Pau Gasol shooting foul (Anthony Randolph draws the foul)
48 - 40
5:37
Official timeout
48 - 40
5:37
Kobe Bryant enters the game for Josh Powell
48 - 40
5:37
Anthony Randolph misses free throw 1 of 2
48 - 40
5:37
Golden State offensive rebound
48 - 40
5:37
Anthony Randolph misses free throw 2 of 2
48 - 40
5:35
Pau Gasol defensive rebound
48 - 40
5:18
Pau Gasol makes driving dunk (Kobe Bryant assists)
48 - 42
4:58
Monta Ellis misses 17-foot jumper
48 - 42
4:56
Sasha Vujacic defensive rebound
48 - 42
4:43
Derek Fisher bad pass
48 - 42
4:43
Andris Biedrins enters the game for Anthony Randolph
48 - 42
4:22
C.J. Watson makes 26-foot three point jumper (Monta Ellis assists)
51 - 42
4:07
Kobe Bryant makes 20-foot jumper
51 - 44
3:50
Monta Ellis makes two point shot
53 - 44
3:26
Kobe Bryant misses 25-foot three point jumper
53 - 44
3:25
Andris Biedrins defensive rebound
53 - 44
3:15
Kobe Bryant personal foul (C.J. Watson draws the foul)
53 - 44
3:15
Stephen Curry enters the game for Monta Ellis
53 - 44
3:08
Vladimir Radmanovic bad pass
53 - 44
2:53
Pau Gasol makes 12-foot jumper
53 - 46
2:36
C.J. Watson misses 25-foot three point jumper
53 - 46
2:35
Derek Fisher defensive rebound
53 - 46
2:30
Derek Fisher lost ball (Anthony Morrow steals)
53 - 46
2:26
Stephen Curry makes driving layup
55 - 46
2:00
Pau Gasol misses 19-foot jumper
55 - 46
2:00
Vladimir Radmanovic defensive rebound
55 - 46
1:54
Shannon Brown blocks Stephen Curry's layup
55 - 46
1:51
Vladimir Radmanovic offensive rebound
55 - 46
1:51
Pau Gasol blocks Vladimir Radmanovic's layup
55 - 46
1:50
Kobe Bryant defensive rebound
55 - 46
1:45
Derek Fisher misses 23-foot jumper
55 - 46
1:42
Pau Gasol offensive rebound
55 - 46
1:30
Sasha Vujacic makes 26-foot three point jumper (Pau Gasol assists)
55 - 49
1:09
Stephen Curry makes 20-foot two point shot
57 - 49
0:47
Shannon Brown misses 25-foot three point jumper
57 - 49
0:45
Anthony Morrow defensive rebound
57 - 49
0:37
C.J. Watson makes 22-foot three point jumper (Anthony Morrow assists)
60 - 49
0:29
Vladimir Radmanovic shooting foul (Kobe Bryant draws the foul)
60 - 49
0:29
Golden State full timeout
60 - 49
0:29
Jordan Farmar enters the game for Derek Fisher
60 - 49
0:29
Kobe Bryant makes free throw 1 of 2
60 - 50
0:29
Kobe Bryant makes free throw 2 of 2
60 - 51
0:18
Vladimir Radmanovic bad pass (Kobe Bryant steals)
60 - 51
0:14
Shannon Brown makes dunk (Jordan Farmar assists)
60 - 53
0:01
Anthony Morrow misses 23-foot three point jumper
60 - 53
0:00
Golden State offensive rebound
60 - 53
0:00
End of the 2nd Quarter
60 - 53

time
TEAM
PLAY
SCORE
12:00
Start of the 3rd Quarter
60 - 53
11:45
Monta Ellis makes 20-foot jumper (Stephen Curry assists)
62 - 53
11:30
Derek Fisher misses 13-foot jumper
62 - 53
11:27
Andrew Bynum offensive rebound
62 - 55
11:27
Andrew Bynum makes tip shot
62 - 55
11:08
Anthony Randolph misses 20-foot jumper
62 - 55
11:07
Andrew Bynum defensive rebound
62 - 55
11:00
Kobe Bryant makes driving layup
62 - 57
10:48
Lamar Odom shooting foul (Corey Maggette draws the foul)
62 - 57
10:48
Corey Maggette makes free throw 1 of 2
63 - 57
10:48
Corey Maggette makes free throw 2 of 2
64 - 57
10:38
Corey Maggette personal foul (Kobe Bryant draws the foul)
64 - 57
10:29
Monta Ellis shooting foul (Kobe Bryant draws the foul)
64 - 57
10:29
Kobe Bryant makes free throw 1 of 2
64 - 58
10:29
Kobe Bryant makes free throw 2 of 2
64 - 59
10:15
Andris Biedrins makes dunk (Stephen Curry assists)
66 - 59
10:00
Kobe Bryant makes 21-foot jumper (Lamar Odom assists)
66 - 61
9:45
Anthony Randolph makes 7-foot two point shot (Andris Biedrins assists)
68 - 61
9:30
Derek Fisher misses 25-foot three point jumper
68 - 61
9:30
Pau Gasol offensive rebound
68 - 61
9:26
Pau Gasol makes 7-foot hook shot
68 - 63
9:02
Monta Ellis misses 17-foot jumper
68 - 63
9:00
Andrew Bynum defensive rebound
68 - 63
8:52
Kobe Bryant misses 15-foot jumper
68 - 63
8:49
Lamar Odom offensive rebound
68 - 63
8:49
Lamar Odom misses tip shot
68 - 63
8:48
Lamar Odom offensive rebound
68 - 65
8:48
Lamar Odom makes layup
68 - 65
8:37
Golden State full timeout
68 - 65
8:37
Ronny Turiaf enters the game for Anthony Randolph
68 - 65
8:26
Andrew Bynum shooting foul (Corey Maggette draws the foul)
68 - 65
8:26
Corey Maggette makes free throw 1 of 2
69 - 65
8:26
Corey Maggette misses free throw 2 of 2
69 - 65
8:25
Lamar Odom defensive rebound
69 - 65
8:06
Pau Gasol misses 11-foot jumper
69 - 65
8:04
Andrew Bynum offensive rebound
69 - 65
8:03
Pau Gasol makes layup (Lamar Odom assists)
69 - 67
8:03
Andris Biedrins shooting foul (Pau Gasol draws the foul)
69 - 67
8:03
Pau Gasol makes free throw 1 of 1
69 - 68
7:43
Lamar Odom blocks Monta Ellis's two point shot
69 - 68
7:41
Lamar Odom defensive rebound
69 - 68
7:26
Stephen Curry shooting foul (Kobe Bryant draws the foul)
69 - 68
7:26
Kobe Bryant makes free throw 1 of 2
69 - 69
7:26
Kobe Bryant makes free throw 2 of 2
69 - 70
7:09
Stephen Curry misses 24-foot jumper
69 - 70
7:05
Lamar Odom defensive rebound
69 - 70
6:58
Ronny Turiaf blocks Kobe Bryant's layup
69 - 70
6:56
Monta Ellis defensive rebound
69 - 70
6:52
Stephen Curry makes driving layup
71 - 70
6:26
Pau Gasol lost ball (Monta Ellis steals)
71 - 70
6:18
Ronny Turiaf misses 21-foot jumper
71 - 70
6:16
Lamar Odom defensive rebound
71 - 70
6:11
Ronny Turiaf personal foul (Andrew Bynum draws the foul)
71 - 70
6:11
Andrew Bynum makes free throw 1 of 2
71 - 71
6:11
Andrew Bynum misses free throw 2 of 2
71 - 71
6:11
Los Angeles offensive rebound
71 - 71
6:01
Derek Fisher makes 25-foot three point jumper (Kobe Bryant assists)
71 - 74
5:46
Stephen Curry bad pass (Lamar Odom steals)
71 - 74
5:41
Stephen Curry shooting foul (Lamar Odom draws the foul)
71 - 74
5:41
Lamar Odom makes free throw 1 of 2
71 - 75
5:41
Anthony Randolph enters the game for Andris Biedrins
71 - 75
5:41
C.J. Watson enters the game for Stephen Curry
71 - 75
5:41
Lamar Odom makes free throw 2 of 2
71 - 76
5:28
Ronny Turiaf offensive foul (Derek Fisher draws the foul)
71 - 76
5:28
Ronny Turiaf turnover
71 - 76
5:20
Anthony Randolph blocks Lamar Odom's 6-foot jumper
71 - 76
5:16
Anthony Randolph defensive rebound
71 - 76
5:11
Corey Maggette makes driving layup (Anthony Randolph assists)
73 - 76
4:54
Lamar Odom misses 25-foot three point jumper
73 - 76
4:54
Anthony Randolph defensive rebound
73 - 76
4:43
Corey Maggette misses 21-foot jumper
73 - 76
4:43
Derek Fisher defensive rebound
73 - 76
4:33
Pau Gasol makes 13-foot jumper (Derek Fisher assists)
73 - 78
4:07
Corey Maggette makes 19-foot jumper (Monta Ellis assists)
75 - 78
3:47
Ronny Turiaf blocks Pau Gasol's layup
75 - 78
3:46
Anthony Randolph defensive rebound
75 - 78
3:43
Corey Maggette makes dunk (Anthony Randolph assists)
77 - 78
3:41
Los Angeles full timeout
77 - 78
3:41
Vladimir Radmanovic enters the game for Corey Maggette
77 - 78
3:41
Jordan Farmar enters the game for Andrew Bynum
77 - 78
3:41
Sasha Vujacic enters the game for Derek Fisher
77 - 78
3:19
Ronny Turiaf blocks Pau Gasol's 9-foot two point shot
77 - 78
3:17
Vladimir Radmanovic defensive rebound
77 - 78
3:09
Monta Ellis misses 11-foot two point shot
77 - 78
3:04
Sasha Vujacic defensive rebound
77 - 78
3:00
Kobe Bryant misses 12-foot jumper
77 - 78
2:58
Anthony Randolph defensive rebound
77 - 78
2:35
Pau Gasol blocks Ronny Turiaf's 16-foot jumper
77 - 78
2:35
Golden State offensive rebound
77 - 78
2:35
Sasha Vujacic loose ball foul (Ronny Turiaf draws the foul)
77 - 78
2:35
Anthony Morrow enters the game for Anthony Randolph
77 - 78
2:28
Vladimir Radmanovic bad pass (Jordan Farmar steals)
77 - 78
2:23
Ronny Turiaf blocks Kobe Bryant's dunk
77 - 78
2:18
Monta Ellis defensive rebound
77 - 78
2:14
Vladimir Radmanovic makes dunk (Monta Ellis assists)
79 - 78
2:04
Kobe Bryant makes 18-foot jumper (Jordan Farmar assists)
79 - 80
1:54
Sasha Vujacic shooting foul (Ronny Turiaf draws the foul)
79 - 80
1:54
Ronny Turiaf makes free throw 1 of 2
80 - 80
1:54
Shannon Brown enters the game for Kobe Bryant
80 - 80
1:54
Ronny Turiaf misses free throw 2 of 2
80 - 80
1:52
Lamar Odom defensive rebound
80 - 80
1:35
Jordan Farmar makes 10-foot two point shot
80 - 82
1:23
Lamar Odom shooting foul (Monta Ellis draws the foul)
80 - 82
1:23
Monta Ellis makes free throw 1 of 2
81 - 82
1:23
Monta Ellis makes free throw 2 of 2
82 - 82
1:07
Stephen Curry enters the game for Monta Ellis
82 - 82
1:00
Shannon Brown makes 25-foot three point jumper (Pau Gasol assists)
82 - 85
0:51
Stephen Curry bad pass (Jordan Farmar steals)
82 - 85
0:47
Jordan Farmar makes driving layup
82 - 87
0:34
Vladimir Radmanovic makes 9-foot two point shot
84 - 87
0:33
Anthony Morrow technical foul (2nd technical foul)
84 - 87
0:33
Sasha Vujacic makes technical free throw
84 - 88
0:26
Shannon Brown bad pass (Ronny Turiaf steals)
84 - 88
0:16
Anthony Morrow misses 27-foot three point jumper
84 - 88
0:15
Stephen Curry offensive rebound
84 - 88
0:12
Jumpball: Stephen Curry vs. Jordan Farmar (C.J. Watson gains possession)
84 - 88
0:07
Ronny Turiaf makes slam dunk (C.J. Watson assists)
86 - 88
0:02
Jordan Farmar misses 25-foot three point jumper
86 - 88
0:00
Anthony Morrow defensive rebound
86 - 88
0:00
End of the 3rd Quarter
86 - 88

time
TEAM
PLAY
SCORE
12:00
Start of the 4th Quarter
86 - 88
11:44
Vladimir Radmanovic shooting foul (Pau Gasol draws the foul)
86 - 88
11:44
Pau Gasol makes free throw 1 of 2
86 - 89
11:44
Pau Gasol makes free throw 2 of 2
86 - 90
11:30
Sasha Vujacic personal foul (Ronny Turiaf draws the foul)
86 - 90
11:30
Andris Biedrins enters the game for Ronny Turiaf
86 - 90
11:27
Anthony Morrow bad pass (Andrew Bynum steals)
86 - 90
11:22
Jordan Farmar makes 25-foot three point jumper
86 - 93
11:06
Vladimir Radmanovic makes 25-foot three point jumper (C.J. Watson assists)
89 - 93
10:42
Jordan Farmar misses 8-foot running jumper
89 - 93
10:37
Andris Biedrins defensive rebound
89 - 93
10:29
Monta Ellis makes driving layup
91 - 93
10:11
Shannon Brown misses three point jumper
91 - 93
10:11
Andris Biedrins defensive rebound
91 - 93
10:06
Jordan Farmar shooting foul (C.J. Watson draws the foul)
91 - 93
10:06
C.J. Watson misses free throw 1 of 3
91 - 93
10:06
Golden State offensive rebound
91 - 93
10:06
Kobe Bryant enters the game for Shannon Brown
91 - 93
10:06
C.J. Watson makes free throw 2 of 3
92 - 93
10:06
Corey Maggette enters the game for Anthony Morrow
92 - 93
10:06
C.J. Watson makes free throw 3 of 3
93 - 93
9:45
Kobe Bryant makes 24-foot three point jumper (Jordan Farmar assists)
93 - 96
9:30
Monta Ellis makes driving layup (Vladimir Radmanovic assists)
95 - 96
9:19
Kobe Bryant makes 26-foot three point jumper (Sasha Vujacic assists)
95 - 99
9:04
Pau Gasol blocks Monta Ellis's two point shot
95 - 99
9:02
Pau Gasol defensive rebound
95 - 99
8:48
Jordan Farmar lost ball (C.J. Watson steals)
95 - 99
8:44
Corey Maggette makes driving layup (C.J. Watson assists)
97 - 99
8:25
Kobe Bryant makes 16-foot two point shot
97 - 101
8:11
Sasha Vujacic personal foul (Andris Biedrins draws the foul)
97 - 101
8:11
Official timeout
97 - 101
8:11
Lamar Odom enters the game for Andrew Bynum
97 - 101
7:56
Monta Ellis makes 21-foot two point shot
99 - 101
7:39
Lamar Odom makes two point shot (Kobe Bryant assists)
99 - 103
7:39
Andris Biedrins shooting foul (Lamar Odom draws the foul)
99 - 103
7:39
Lamar Odom makes free throw 1 of 1
99 - 104
7:24
Monta Ellis misses two point shot
99 - 104
7:22
Pau Gasol defensive rebound
99 - 104
7:16
Sasha Vujacic misses 23-foot three point jumper
99 - 104
7:15
C.J. Watson defensive rebound
99 - 104
7:13
Golden State full timeout
99 - 104
7:07
C.J. Watson bad pass
99 - 104
6:52
Kobe Bryant misses 25-foot three point jumper
99 - 104
6:50
Andris Biedrins defensive rebound
99 - 104
6:39
C.J. Watson makes 25-foot three point jumper (Corey Maggette assists)
102 - 104
6:13
Kobe Bryant misses 16-foot jumper
102 - 104
6:11
Andris Biedrins defensive rebound
102 - 104
5:54
Andris Biedrins misses 6-foot hook shot
102 - 104
5:48
Pau Gasol defensive rebound
102 - 104
5:33
Jordan Farmar misses 25-foot three point jumper
102 - 104
5:33
Andris Biedrins defensive rebound
102 - 104
5:22
Monta Ellis makes driving layup (Corey Maggette assists)
104 - 104
5:09
Andris Biedrins personal foul (Pau Gasol draws the foul)
104 - 104
5:09
Ronny Turiaf enters the game for Andris Biedrins
104 - 104
5:01
Kobe Bryant makes 18-foot jumper (Sasha Vujacic assists)
104 - 106
5:01
Vladimir Radmanovic shooting foul (Kobe Bryant draws the foul)
104 - 106
5:01
Kobe Bryant makes free throw 1 of 1
104 - 107
4:48
Corey Maggette misses 20-foot jumper
104 - 107
4:48
Golden State defensive rebound
104 - 107
4:48
Vladimir Radmanovic loose ball foul (Sasha Vujacic draws the foul)
104 - 107
4:48
Sasha Vujacic makes free throw 1 of 2
104 - 108
4:48
Sasha Vujacic makes free throw 2 of 2
104 - 109
4:35
Ronny Turiaf makes driving layup (C.J. Watson assists)
106 - 109
4:18
Kobe Bryant misses 15-foot jumper
106 - 109
4:18
Corey Maggette defensive rebound
106 - 109
4:16
Lamar Odom shooting foul (Corey Maggette draws the foul)
106 - 109
4:16
Lamar Odom technical foul (1st technical foul)
106 - 109
4:16
Corey Maggette makes technical free throw
107 - 109
4:16
Corey Maggette misses free throw 1 of 2
107 - 109
4:16
Golden State offensive rebound
107 - 109
4:16
Anthony Morrow enters the game for Vladimir Radmanovic
107 - 109
4:16
Corey Maggette makes free throw 2 of 2
108 - 109
4:03
Monta Ellis shooting foul (Kobe Bryant draws the foul)
108 - 109
4:03
Los Angeles full timeout
108 - 109
4:03
Kobe Bryant makes free throw 1 of 2
108 - 110
4:03
Kobe Bryant makes free throw 2 of 2
108 - 111
3:44
Anthony Morrow makes 19-foot two point shot
110 - 111
3:28
Lamar Odom makes 7-foot two point shot (Jordan Farmar assists)
110 - 113
3:05
Anthony Morrow makes 16-foot two point shot
112 - 113
2:44
Jordan Farmar makes 25-foot three point jumper (Kobe Bryant assists)
112 - 116
2:26
Lamar Odom blocks Anthony Morrow's layup
112 - 116
2:26
Golden State offensive rebound
112 - 116
2:17
Monta Ellis misses 26-foot three point jumper
112 - 116
2:17
Golden State offensive rebound
112 - 116
2:17
shot clock violation
112 - 116
2:00
Kobe Bryant misses 14-foot jumper
112 - 116
2:00
Corey Maggette defensive rebound
112 - 116
2:00
Lamar Odom personal foul (Corey Maggette draws the foul)
112 - 116
2:00
Kobe Bryant technical foul (1st technical foul)
112 - 116
2:00
Anthony Morrow makes technical free throw
113 - 116
2:00
Corey Maggette makes free throw 1 of 2
114 - 116
2:00
Corey Maggette makes free throw 2 of 2
115 - 116
1:46
Sasha Vujacic misses 25-foot three point jumper
115 - 116
1:45
Lamar Odom offensive rebound
115 - 116
1:45
Lamar Odom makes two point shot
115 - 118
1:22
Monta Ellis misses 15-foot jumper
115 - 118
1:22
Ronny Turiaf offensive rebound
115 - 118
1:22
Sasha Vujacic shooting foul (Ronny Turiaf draws the foul)
115 - 118
1:22
Ronny Turiaf misses free throw 1 of 2
115 - 118
1:22
Golden State offensive rebound
115 - 118
1:22
Ronny Turiaf misses free throw 2 of 2
115 - 118
1:20
Lamar Odom defensive rebound
115 - 118
1:05
Monta Ellis personal foul (Kobe Bryant draws the foul)
115 - 118
1:05
Kobe Bryant makes free throw 1 of 2
115 - 119
1:05
Kobe Bryant makes free throw 2 of 2
115 - 120
0:52
Ronny Turiaf bad pass (Jordan Farmar steals)
115 - 120
0:42
Ronny Turiaf personal foul (Pau Gasol draws the foul)
115 - 120
0:42
Pau Gasol makes free throw 1 of 2
115 - 121
0:42
Pau Gasol makes free throw 2 of 2
115 - 122
0:42
Golden State full timeout
115 - 122
0:42
Andris Biedrins enters the game for Ronny Turiaf
115 - 122
0:40
Andris Biedrins offensive foul (Sasha Vujacic draws the foul)
115 - 122
0:40
Andris Biedrins turnover
115 - 122
0:40
Vladimir Radmanovic enters the game for Andris Biedrins
115 - 122
0:39
Corey Maggette personal foul (Kobe Bryant draws the foul)
115 - 122
0:39
Kobe Bryant makes free throw 1 of 2
115 - 123
0:39
Stephen Curry enters the game for Monta Ellis
115 - 123
0:39
Kobe Bryant makes free throw 2 of 2
115 - 124
0:39
Golden State 20 Sec. timeout
115 - 124
0:39
Anthony Randolph enters the game for Corey Maggette
115 - 124
0:39
Shannon Brown enters the game for Kobe Bryant
115 - 124
0:35
Vladimir Radmanovic misses 25-foot three point jumper
115 - 124
0:34
Shannon Brown defensive rebound
115 - 124
0:12
Jordan Farmar misses 10-foot running jumper
115 - 124
0:08
Anthony Randolph defensive rebound
115 - 124
0:03
C.J. Watson makes 25-foot three point jumper (Anthony Randolph assists)
118 - 124
0:00
End of the 4th Quarter
118 - 124
0:00
End Game
118 - 124
Jalen Rose and David Jacoby go over LeBron's massive custom pizza order and theorize about LeBron's state of sobriety when he placed the order.

Jalen Rose and David Jacoby discuss Phil Jackson's radical idea to expand NBA courts and how it would impact the game.

SportsNation debates whether they trust the 5-time champion Kobe Bryant or Steph Curry to take the last second shot.
Regular Season Series
LAL wins series 4-0
2015-2016 Pacific Standings