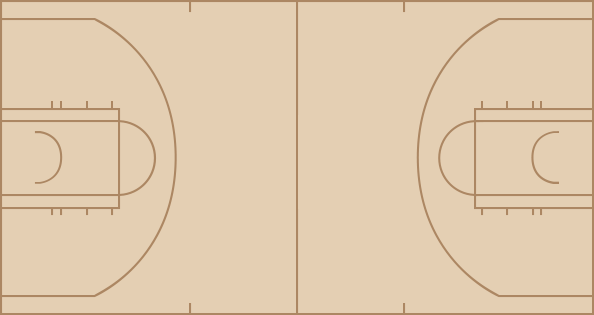 Warriors
time
TEAM
PLAY
SCORE
12:00
Start of the 1st Quarter
0 - 0
12:00
Jumpball: Andris Biedrins vs. Robin Lopez (Jason Richardson gains possession)
0 - 0
11:45
Steve Nash misses 23-foot three point jumper
0 - 0
11:42
Grant Hill offensive rebound
0 - 0
11:41
Steve Nash makes 8-foot jumper
0 - 2
11:41
Stephen Curry shooting foul (Steve Nash draws the foul)
0 - 2
11:41
Steve Nash makes free throw 1 of 1
0 - 3
11:32
Anthony Tolliver makes dunk (Stephen Curry assists)
2 - 3
11:22
Steve Nash misses 20-foot jumper
2 - 3
11:21
Andris Biedrins defensive rebound
2 - 3
11:14
Stephen Curry makes 26-foot three point jumper (Cartier Martin assists)
5 - 3
11:03
Jason Richardson misses 21-foot jumper
5 - 3
11:00
Andris Biedrins defensive rebound
5 - 3
10:56
Corey Maggette misses 21-foot jumper
5 - 3
10:53
Cartier Martin offensive rebound
5 - 3
10:52
Cartier Martin misses 7-foot two point shot
5 - 3
10:48
Amare Stoudemire defensive rebound
5 - 3
10:48
Steve Nash bad pass
5 - 3
10:32
Corey Maggette makes 21-foot jumper
7 - 3
10:22
Grant Hill makes driving layup
7 - 5
10:10
Andris Biedrins makes hook shot
9 - 5
9:59
Robin Lopez misses jumper
9 - 5
9:56
Steve Nash offensive rebound
9 - 5
9:49
Steve Nash bad pass
9 - 5
9:36
Corey Maggette makes 19-foot jumper
11 - 5
9:25
Robin Lopez makes layup (Grant Hill assists)
11 - 7
9:07
Corey Maggette misses 9-foot two point shot
11 - 7
9:03
Jason Richardson defensive rebound
11 - 7
8:56
Grant Hill misses 8-foot two point shot
11 - 7
8:53
Stephen Curry defensive rebound
11 - 7
8:51
Amare Stoudemire shooting foul (Corey Maggette draws the foul)
11 - 7
8:51
Corey Maggette makes free throw 1 of 2
12 - 7
8:51
Corey Maggette makes free throw 2 of 2
13 - 7
8:27
Grant Hill misses 19-foot jumper
13 - 7
8:26
Phoenix defensive rebound
13 - 7
8:07
Anthony Tolliver misses 25-foot three point jumper
13 - 7
8:06
Andris Biedrins offensive rebound
13 - 7
7:54
Andris Biedrins misses two point shot
13 - 7
7:50
Amare Stoudemire defensive rebound
13 - 7
7:47
Grant Hill makes driving layup
13 - 9
7:30
Stephen Curry misses 22-foot jumper
13 - 9
7:28
Jason Richardson defensive rebound
13 - 9
7:09
Grant Hill misses 26-foot three point jumper
13 - 9
7:07
Andris Biedrins defensive rebound
13 - 9
7:03
Grant Hill shooting foul (Corey Maggette draws the foul)
13 - 9
7:03
Corey Maggette makes free throw 1 of 2
14 - 9
7:03
Corey Maggette makes free throw 2 of 2
15 - 9
6:50
Robin Lopez makes 9-foot jumper (Steve Nash assists)
15 - 11
6:39
Corey Maggette misses 20-foot jumper
15 - 11
6:37
Cartier Martin offensive rebound
15 - 11
6:20
Stephen Curry makes 25-foot three point jumper
18 - 11
5:58
Steve Nash misses 19-foot jumper
18 - 11
5:56
Anthony Tolliver defensive rebound
18 - 11
5:46
Andris Biedrins misses two point shot
18 - 11
5:43
Robin Lopez defensive rebound
18 - 11
5:39
Steve Nash makes 12-foot two point shot
18 - 13
5:16
Anthony Tolliver misses 19-foot jumper
18 - 13
5:13
Grant Hill defensive rebound
18 - 13
5:09
Phoenix full timeout
18 - 13
5:03
Grant Hill makes 16-foot jumper (Steve Nash assists)
18 - 15
4:37
Andris Biedrins misses 9-foot two point shot
18 - 15
4:37
Golden State offensive rebound
18 - 15
4:31
Corey Maggette makes 12-foot jumper
20 - 15
4:11
Amare Stoudemire misses 12-foot two point shot
20 - 15
4:07
Andris Biedrins defensive rebound
20 - 15
3:57
Cartier Martin misses 13-foot jumper
20 - 15
3:55
Amare Stoudemire defensive rebound
20 - 15
3:45
Goran Dragic enters the game for Jason Richardson
20 - 15
3:45
Jared Dudley enters the game for Grant Hill
20 - 15
3:42
Anthony Tolliver blocks Amare Stoudemire's layup
20 - 15
3:41
Corey Maggette defensive rebound
20 - 15
3:38
Corey Maggette misses two point shot
20 - 15
3:33
Robin Lopez defensive rebound
20 - 15
3:15
Jared Dudley misses two point shot
20 - 15
3:15
Robin Lopez offensive rebound
20 - 15
3:15
Corey Maggette shooting foul (Robin Lopez draws the foul)
20 - 15
3:15
Robin Lopez makes free throw 1 of 2
20 - 16
3:15
Robin Lopez makes free throw 2 of 2
20 - 17
3:09
Jared Dudley personal foul (Corey Maggette draws the foul)
20 - 17
3:09
C.J. Watson enters the game for Cartier Martin
20 - 17
2:56
Stephen Curry makes driving layup
22 - 17
2:47
Steve Nash makes driving layup
22 - 19
2:32
Andris Biedrins lost ball (Amare Stoudemire steals)
22 - 19
2:28
Steve Nash misses 24-foot three point jumper
22 - 19
2:26
Anthony Tolliver defensive rebound
22 - 19
2:18
Corey Maggette misses 20-foot jumper
22 - 19
2:16
Amare Stoudemire defensive rebound
22 - 19
2:05
Steve Nash makes 26-foot three point jumper
22 - 22
1:44
Stephen Curry misses 10-foot two point shot
22 - 22
1:40
Jared Dudley defensive rebound
22 - 22
1:36
Jared Dudley misses 25-foot three point jumper
22 - 22
1:34
Andris Biedrins defensive rebound
22 - 22
1:23
Corey Maggette makes 22-foot jumper
24 - 22
1:06
Amare Stoudemire misses two point shot
24 - 22
1:02
Robin Lopez offensive rebound
24 - 22
1:02
Andris Biedrins shooting foul (Robin Lopez draws the foul)
24 - 22
1:02
Golden State full timeout
24 - 22
1:02
Cartier Martin enters the game for Corey Maggette
24 - 22
1:02
Ronny Turiaf enters the game for Andris Biedrins
24 - 22
1:02
Robin Lopez makes free throw 1 of 2
24 - 23
1:02
Robin Lopez makes free throw 2 of 2
24 - 24
0:52
Anthony Tolliver makes 20-foot jumper (Cartier Martin assists)
26 - 24
0:34
Ronny Turiaf blocks Amare Stoudemire's 9-foot jumper
26 - 24
0:31
Anthony Tolliver defensive rebound
26 - 24
0:29
C.J. Watson offensive foul (Steve Nash draws the foul)
26 - 24
0:29
C.J. Watson turnover
26 - 24
0:29
Channing Frye enters the game for Robin Lopez
26 - 24
0:08
Cartier Martin shooting foul (Amare Stoudemire draws the foul)
26 - 24
0:08
Amare Stoudemire makes free throw 1 of 2
26 - 25
0:08
Amare Stoudemire misses free throw 2 of 2
26 - 25
0:08
Devean George enters the game for Ronny Turiaf
28 - 25
0:07
Anthony Tolliver defensive rebound
26 - 25
0:00
C.J. Watson makes 7-foot running jumper
28 - 25
0:00
End of the 1st Quarter
28 - 25

time
TEAM
PLAY
SCORE
12:00
Start of the 2nd Quarter
28 - 25
11:55
Jason Richardson personal foul (C.J. Watson draws the foul)
28 - 25
11:37
Jared Dudley shooting foul (Cartier Martin draws the foul)
28 - 25
11:37
Cartier Martin makes free throw 1 of 2
29 - 25
11:37
Cartier Martin makes free throw 2 of 2
30 - 25
11:26
Channing Frye misses 25-foot three point jumper
30 - 25
11:23
Cartier Martin defensive rebound
30 - 25
11:17
Channing Frye blocks Ronny Turiaf's 9-foot jumper
30 - 25
11:14
Jason Richardson defensive rebound
30 - 25
11:00
Jason Richardson makes driving layup
30 - 27
10:44
Devean George makes 25-foot three point jumper (Ronny Turiaf assists)
33 - 27
10:37
Phoenix full timeout
33 - 27
10:26
Channing Frye offensive foul (Stephen Curry draws the foul)
33 - 27
10:26
Channing Frye turnover
33 - 27
10:04
Louis Amundson personal foul (Devean George draws the foul)
33 - 27
9:55
Channing Frye blocks Ronny Turiaf's 8-foot jumper
33 - 27
9:52
Louis Amundson defensive rebound
33 - 27
9:49
Jared Dudley offensive foul (Cartier Martin draws the foul)
33 - 27
9:49
Jared Dudley turnover
33 - 27
9:49
Grant Hill enters the game for Jared Dudley
33 - 27
9:25
Devean George misses 13-foot jumper
33 - 27
9:22
Jason Richardson defensive rebound
33 - 27
9:10
Jason Richardson makes 19-foot jumper
33 - 29
9:00
C.J. Watson makes 21-foot jumper
35 - 29
8:37
Jason Richardson misses 20-foot two point shot
35 - 29
8:33
Ronny Turiaf defensive rebound
35 - 29
8:29
C.J. Watson misses 23-foot three point jumper
35 - 29
8:26
Grant Hill defensive rebound
35 - 29
8:23
Goran Dragic makes layup (Grant Hill assists)
35 - 31
8:15
Stephen Curry misses 24-foot three point jumper
35 - 31
8:12
C.J. Watson offensive rebound
35 - 31
8:06
Channing Frye shooting foul (C.J. Watson draws the foul)
35 - 31
8:06
Corey Maggette enters the game for Devean George
35 - 31
8:06
C.J. Watson makes free throw 1 of 2
36 - 31
8:06
C.J. Watson misses free throw 2 of 2
36 - 31
8:04
Channing Frye defensive rebound
36 - 31
7:50
Ronny Turiaf blocks Grant Hill's 7-foot jumper
36 - 31
7:48
Jason Richardson offensive rebound
36 - 31
7:46
Jason Richardson makes 17-foot jumper
36 - 33
7:37
Corey Maggette makes 17-foot jumper
38 - 33
7:18
Goran Dragic misses 26-foot three point jumper
38 - 33
7:16
Stephen Curry defensive rebound
38 - 33
7:11
Stephen Curry misses 9-foot jumper
38 - 33
7:09
Channing Frye defensive rebound
38 - 33
7:01
Jason Richardson misses 21-foot jumper
38 - 33
6:58
C.J. Watson defensive rebound
38 - 33
6:54
C.J. Watson lost ball (Goran Dragic steals)
38 - 33
6:52
Grant Hill makes layup (Goran Dragic assists)
38 - 35
6:52
Corey Maggette shooting foul (Grant Hill draws the foul)
38 - 35
6:52
Golden State full timeout
38 - 35
6:52
Anthony Tolliver enters the game for Stephen Curry
38 - 35
6:52
Robin Lopez enters the game for Goran Dragic
38 - 35
6:52
Amare Stoudemire enters the game for Channing Frye
38 - 35
6:52
Steve Nash enters the game for Louis Amundson
38 - 35
6:52
Grant Hill makes free throw 1 of 1
38 - 36
6:35
Anthony Tolliver makes 19-foot jumper (Corey Maggette assists)
40 - 36
6:24
Jason Richardson misses 5-foot jumper
40 - 36
6:22
C.J. Watson defensive rebound
40 - 36
6:13
Cartier Martin misses 25-foot three point jumper
40 - 36
6:11
Anthony Tolliver offensive rebound
42 - 36
6:11
Anthony Tolliver makes layup
42 - 36
6:00
Ronny Turiaf shooting foul (Amare Stoudemire draws the foul)
42 - 36
6:00
Amare Stoudemire makes free throw 1 of 2
42 - 37
6:00
Amare Stoudemire makes free throw 2 of 2
42 - 38
5:39
Grant Hill blocks Corey Maggette's 18-foot jumper
42 - 38
5:37
Steve Nash defensive rebound
42 - 38
5:30
Amare Stoudemire makes jumper (Steve Nash assists)
42 - 40
5:07
Anthony Tolliver makes 11-foot jumper
44 - 40
5:03
Grant Hill traveling
44 - 40
4:54
Cartier Martin makes 27-foot three point jumper (C.J. Watson assists)
47 - 40
4:39
Amare Stoudemire misses 13-foot jumper
47 - 40
4:37
Cartier Martin defensive rebound
47 - 40
4:24
Anthony Tolliver misses three point jumper
47 - 40
4:22
Grant Hill defensive rebound
47 - 40
4:18
Amare Stoudemire misses 12-foot two point shot
47 - 40
4:16
Robin Lopez offensive rebound
47 - 42
4:16
Robin Lopez makes two point shot
47 - 42
4:03
Anthony Tolliver makes 16-foot jumper (Corey Maggette assists)
49 - 42
3:54
Steve Nash misses jumper
49 - 42
3:53
Steve Nash offensive rebound
49 - 42
3:46
Steve Nash bad pass
49 - 42
3:29
Corey Maggette makes 10-foot two point shot
51 - 42
3:14
Amare Stoudemire makes two point shot
51 - 44
2:54
Cartier Martin makes 24-foot three point jumper (C.J. Watson assists)
54 - 44
2:31
Grant Hill makes three point jumper (Jason Richardson assists)
54 - 47
2:16
Amare Stoudemire illegal defense foul (2nd personal foul)
54 - 47
2:16
Official timeout
54 - 47
2:16
Andris Biedrins enters the game for C.J. Watson
54 - 47
2:16
Stephen Curry enters the game for Ronny Turiaf
54 - 47
2:16
Corey Maggette makes technical free throw
55 - 47
2:04
Anthony Tolliver traveling
55 - 47
1:40
Jason Richardson misses 28-foot three point jumper
55 - 47
1:38
Corey Maggette defensive rebound
55 - 47
1:32
Golden State 20 Sec. timeout
55 - 47
1:27
Stephen Curry makes layup (Andris Biedrins assists)
57 - 47
1:06
Steve Nash misses 17-foot jumper
57 - 47
1:06
Phoenix offensive rebound
57 - 47
1:06
Andris Biedrins loose ball foul (Robin Lopez draws the foul)
57 - 47
0:56
Corey Maggette shooting foul (Grant Hill draws the foul)
57 - 47
0:56
Grant Hill makes free throw 1 of 2
57 - 48
0:56
Devean George enters the game for Corey Maggette
57 - 48
0:56
Grant Hill misses free throw 2 of 2
57 - 48
0:53
Robin Lopez offensive rebound
57 - 48
0:53
Robin Lopez misses layup
57 - 48
0:52
Robin Lopez offensive rebound
57 - 48
0:52
Anthony Tolliver shooting foul (Robin Lopez draws the foul)
57 - 48
0:52
Robin Lopez makes free throw 1 of 2
57 - 49
0:52
Robin Lopez makes free throw 2 of 2
57 - 50
0:32
Stephen Curry misses 21-foot jumper
57 - 50
0:30
Jason Richardson defensive rebound
57 - 50
0:22
Jason Richardson misses 25-foot three point jumper
57 - 50
0:21
Amare Stoudemire offensive rebound
57 - 50
0:20
Amare Stoudemire makes layup
57 - 52
0:03
Stephen Curry makes jumper
59 - 52
0:03
Steve Nash shooting foul (Stephen Curry draws the foul)
59 - 52
0:03
C.J. Watson enters the game for Devean George
59 - 52
0:03
Stephen Curry makes free throw 1 of 1
60 - 52
0:01
Steve Nash makes 25-foot three point jumper
60 - 55
0:00
End of the 2nd Quarter
60 - 55

time
TEAM
PLAY
SCORE
12:00
Start of the 3rd Quarter
60 - 55
11:41
Anthony Tolliver misses 23-foot jumper
60 - 55
11:40
Grant Hill defensive rebound
60 - 55
11:22
Grant Hill misses jumper
60 - 55
11:21
Anthony Tolliver defensive rebound
60 - 55
11:11
Robin Lopez personal foul (Corey Maggette draws the foul)
60 - 55
10:59
Stephen Curry makes jumper
62 - 55
10:37
Amare Stoudemire makes driving dunk
62 - 57
10:18
Andris Biedrins bad pass (Steve Nash steals)
62 - 57
10:15
Anthony Tolliver shooting foul (Amare Stoudemire draws the foul)
62 - 57
10:15
Amare Stoudemire makes free throw 1 of 2
62 - 58
10:15
Amare Stoudemire makes free throw 2 of 2
62 - 59
10:04
Andris Biedrins offensive goaltending
62 - 61
9:40
Steve Nash bad pass (Andris Biedrins steals)
62 - 59
9:33
Corey Maggette misses 26-foot three point jumper
62 - 59
9:33
Grant Hill personal foul (Cartier Martin draws the foul)
62 - 63
9:30
Jason Richardson defensive rebound
62 - 59
9:26
Steve Nash misses 26-foot three point jumper
62 - 59
9:23
Anthony Tolliver defensive rebound
62 - 59
9:15
Corey Maggette misses 18-foot jumper
62 - 59
9:14
Jason Richardson defensive rebound
62 - 59
9:07
Jason Richardson makes 9-foot running jumper
62 - 61
8:56
Andris Biedrins misses 9-foot jumper
62 - 61
8:53
Grant Hill defensive rebound
62 - 61
8:47
Grant Hill misses 10-foot jumper
62 - 61
8:45
Phoenix defensive rebound
62 - 61
8:22
Corey Maggette misses 7-foot jumper
62 - 61
8:19
Grant Hill defensive rebound
62 - 61
8:11
Steve Nash makes 14-foot jumper
62 - 63
8:10
Golden State full timeout
62 - 63
8:10
Chris Hunter enters the game for Andris Biedrins
62 - 63
8:02
Steve Nash shooting foul (Corey Maggette draws the foul)
62 - 63
8:02
Corey Maggette makes free throw 1 of 2
63 - 63
8:02
Corey Maggette makes free throw 2 of 2
64 - 63
7:50
Jason Richardson misses jumper
64 - 63
7:50
Phoenix defensive rebound
64 - 63
7:35
Anthony Tolliver lost ball (Amare Stoudemire steals)
64 - 63
7:26
Steve Nash makes 25-foot three point jumper
64 - 66
7:11
Stephen Curry makes 21-foot jumper
66 - 66
7:01
Chris Hunter personal foul (Grant Hill draws the foul)
66 - 66
6:58
Grant Hill makes dunk (Amare Stoudemire assists)
66 - 68
6:43
Stephen Curry bad pass (Steve Nash steals)
66 - 68
6:37
Amare Stoudemire misses 16-foot jumper
66 - 68
6:35
Corey Maggette defensive rebound
66 - 68
6:26
Cartier Martin makes 16-foot jumper
68 - 68
6:16
Steve Nash makes 13-foot jumper
68 - 70
6:05
Stephen Curry misses 12-foot jumper
68 - 70
6:03
Chris Hunter offensive rebound
68 - 70
6:01
Chris Hunter misses 7-foot jumper
68 - 70
6:00
Golden State defensive rebound
68 - 70
6:00
Devean George enters the game for Corey Maggette
68 - 70
5:50
Grant Hill turnover
68 - 70
5:41
Anthony Tolliver makes 19-foot jumper
70 - 70
5:24
Goran Dragic enters the game for Jason Richardson
70 - 70
5:16
Amare Stoudemire misses 6-foot jumper
70 - 70
5:13
Anthony Tolliver defensive rebound
70 - 70
5:07
Devean George misses 25-foot three point jumper
70 - 70
5:05
Goran Dragic defensive rebound
70 - 70
4:47
Steve Nash misses 26-foot three point jumper
70 - 70
4:45
Stephen Curry defensive rebound
70 - 70
4:22
Stephen Curry misses 29-foot three point jumper
70 - 70
4:20
Robin Lopez defensive rebound
70 - 70
4:13
Goran Dragic misses 16-foot jumper
70 - 70
4:11
Anthony Tolliver defensive rebound
70 - 70
4:07
Cartier Martin lost ball (Goran Dragic steals)
70 - 70
3:54
Steve Nash bad pass (Cartier Martin steals)
70 - 70
3:43
Cartier Martin misses 8-foot jumper
70 - 70
3:41
Anthony Tolliver offensive rebound
70 - 70
3:40
Anthony Tolliver makes 7-foot two point shot
72 - 70
3:24
Amare Stoudemire makes dunk (Steve Nash assists)
72 - 72
3:01
Stephen Curry misses 17-foot jumper
72 - 72
3:00
Grant Hill defensive rebound
72 - 72
2:50
Robin Lopez makes 10-foot jumper (Steve Nash assists)
72 - 74
2:49
Golden State 20 Sec. timeout
72 - 74
2:49
Phoenix full timeout
72 - 74
2:49
Earl Clark enters the game for Grant Hill
72 - 74
2:49
Jared Dudley enters the game for Robin Lopez
72 - 74
2:49
Channing Frye enters the game for Steve Nash
72 - 74
2:49
C.J. Watson enters the game for Anthony Tolliver
72 - 74
2:49
Ronny Turiaf enters the game for Cartier Martin
72 - 74
2:49
Corey Maggette enters the game for Devean George
72 - 74
2:35
Channing Frye blocks Stephen Curry's 13-foot jumper
72 - 74
2:32
Ronny Turiaf offensive rebound
72 - 74
2:31
C.J. Watson misses 22-foot jumper
72 - 74
2:31
Golden State offensive rebound
72 - 74
2:31
Channing Frye personal foul (Chris Hunter draws the foul)
72 - 74
2:18
Corey Maggette discontinue dribble
72 - 74
2:01
Earl Clark misses 8-foot two point shot
72 - 74
1:59
Corey Maggette defensive rebound
72 - 74
1:54
Corey Maggette misses 9-foot jumper
72 - 74
1:53
Channing Frye defensive rebound
72 - 74
1:38
Jared Dudley misses 23-foot three point jumper
72 - 74
1:36
Ronny Turiaf defensive rebound
72 - 74
1:31
Corey Maggette makes 20-foot jumper (Stephen Curry assists)
74 - 74
1:08
Channing Frye makes 24-foot three point jumper (Goran Dragic assists)
74 - 77
0:46
Corey Maggette makes 19-foot jumper
76 - 77
0:38
Goran Dragic lost ball (Corey Maggette steals)
76 - 77
0:36
C.J. Watson makes layup (Corey Maggette assists)
78 - 77
0:26
Earl Clark makes 18-foot jumper (Channing Frye assists)
78 - 79
0:04
Channing Frye blocks Corey Maggette's 12-foot jumper
78 - 79
0:04
Golden State offensive rebound
78 - 79
0:01
Chris Hunter misses jumper
78 - 79
0:01
Ronny Turiaf offensive rebound
80 - 79
0:01
Ronny Turiaf makes dunk
80 - 79
0:01
Earl Clark misses 46-foot three point jumper
80 - 79
0:00
Phoenix offensive rebound
80 - 79
0:00
End of the 3rd Quarter
80 - 79

time
TEAM
PLAY
SCORE
12:00
Start of the 4th Quarter
80 - 79
11:41
Cartier Martin shooting foul (Jared Dudley draws the foul)
80 - 79
11:41
Jared Dudley misses free throw 1 of 2
80 - 79
11:41
Phoenix offensive rebound
80 - 79
11:41
Jared Dudley makes free throw 2 of 2
80 - 80
11:19
Cartier Martin makes jumper
82 - 80
11:19
Louis Amundson shooting foul (Cartier Martin draws the foul)
82 - 80
11:19
Cartier Martin makes free throw 1 of 1
83 - 80
11:07
Goran Dragic makes 25-foot three point jumper (Louis Amundson assists)
83 - 83
10:48
Corey Maggette misses 13-foot jumper
83 - 83
10:47
Corey Maggette offensive rebound
83 - 83
10:47
Corey Maggette makes layup
85 - 83
10:30
Corey Maggette personal foul (Channing Frye draws the foul)
85 - 83
10:23
Andris Biedrins blocks Earl Clark's jumper
85 - 83
10:22
Louis Amundson offensive rebound
85 - 83
10:19
Channing Frye makes 25-foot three point jumper (Louis Amundson assists)
85 - 86
9:52
shot clock violation
85 - 86
9:45
Ronny Turiaf personal foul (Louis Amundson draws the foul)
85 - 86
9:44
C.J. Watson personal foul (Goran Dragic draws the foul)
85 - 86
9:44
Anthony Tolliver enters the game for Andris Biedrins
85 - 86
9:40
Goran Dragic turnover
85 - 86
9:29
C.J. Watson bad pass
85 - 86
9:15
Goran Dragic makes 26-foot three point jumper (Louis Amundson assists)
85 - 89
9:00
Stephen Curry enters the game for C.J. Watson
85 - 89
8:48
Cartier Martin misses 25-foot three point jumper
85 - 89
8:45
Goran Dragic defensive rebound
85 - 89
8:30
Channing Frye misses 25-foot three point jumper
85 - 89
8:29
Louis Amundson offensive rebound
85 - 89
8:29
Louis Amundson misses layup
85 - 89
8:27
Stephen Curry defensive rebound
85 - 89
8:26
Goran Dragic personal foul (Corey Maggette draws the foul)
85 - 89
8:26
Official timeout
85 - 89
8:26
Andris Biedrins enters the game for Ronny Turiaf
85 - 89
8:12
Cartier Martin offensive foul (Jared Dudley draws the foul)
85 - 89
8:12
Cartier Martin turnover
85 - 89
8:03
Cartier Martin shooting foul (Earl Clark draws the foul)
85 - 89
8:03
Earl Clark makes free throw 1 of 2
85 - 90
8:03
Earl Clark makes free throw 2 of 2
85 - 91
7:50
Stephen Curry misses 13-foot running jumper
85 - 91
7:48
Louis Amundson defensive rebound
85 - 91
7:33
Louis Amundson double dribble
85 - 91
7:18
Anthony Tolliver makes 25-foot three point jumper (Corey Maggette assists)
88 - 91
7:03
Goran Dragic misses 25-foot three point jumper
88 - 91
7:01
Stephen Curry defensive rebound
88 - 91
6:56
Cartier Martin misses three point jumper
88 - 91
6:54
Corey Maggette offensive rebound
90 - 91
6:54
Corey Maggette makes layup
90 - 91
6:47
Stephen Curry personal foul (Goran Dragic draws the foul)
90 - 91
6:47
Goran Dragic misses free throw 1 of 2
90 - 91
6:47
Phoenix offensive rebound
90 - 91
6:47
Goran Dragic makes free throw 2 of 2
90 - 92
6:22
Stephen Curry misses three point jumper
90 - 92
6:20
Louis Amundson defensive rebound
90 - 92
6:15
Stephen Curry shooting foul (Goran Dragic draws the foul)
90 - 92
6:15
Goran Dragic makes free throw 1 of 2
90 - 93
6:15
Goran Dragic makes free throw 2 of 2
90 - 94
6:00
Stephen Curry misses 11-foot two point shot
90 - 94
5:56
Cartier Martin offensive rebound
90 - 94
5:56
Cartier Martin bad pass (Goran Dragic steals)
90 - 94
5:52
Goran Dragic bad pass
90 - 94
5:52
Phoenix full timeout
90 - 94
5:52
C.J. Watson enters the game for Cartier Martin
90 - 94
5:35
Stephen Curry misses jumper
90 - 94
5:33
Andris Biedrins offensive rebound
90 - 94
5:30
Stephen Curry makes 25-foot three point jumper (Andris Biedrins assists)
93 - 94
5:09
Earl Clark misses 16-foot jumper
93 - 94
5:07
Andris Biedrins defensive rebound
93 - 94
5:01
Corey Maggette misses layup
93 - 94
5:01
Louis Amundson defensive rebound
93 - 94
4:41
Goran Dragic makes 11-foot two point shot
93 - 96
4:18
C.J. Watson makes 19-foot jumper (Anthony Tolliver assists)
95 - 96
3:59
Andris Biedrins shooting foul (Louis Amundson draws the foul)
95 - 96
3:59
Amare Stoudemire enters the game for Earl Clark
95 - 96
3:59
Steve Nash enters the game for Jared Dudley
95 - 96
3:59
Louis Amundson makes free throw 1 of 2
95 - 97
3:59
Louis Amundson makes free throw 2 of 2
95 - 98
3:45
Anthony Tolliver misses 25-foot three point jumper
95 - 98
3:43
Louis Amundson defensive rebound
95 - 98
3:29
Steve Nash bad pass (C.J. Watson steals)
95 - 98
3:25
Goran Dragic blocks C.J. Watson's layup
95 - 98
3:23
Louis Amundson defensive rebound
95 - 98
3:15
Goran Dragic misses 24-foot three point jumper
95 - 98
3:14
Channing Frye offensive rebound
95 - 98
3:12
Channing Frye makes 6-foot jumper
95 - 100
3:12
Steve Nash makes technical free throw
95 - 101
3:12
Robin Lopez enters the game for Channing Frye
95 - 101
3:12
Ronny Turiaf enters the game for Andris Biedrins
95 - 101
2:51
C.J. Watson makes 9-foot running jumper (Ronny Turiaf assists)
97 - 101
2:30
Steve Nash misses 24-foot three point jumper
97 - 101
2:28
Anthony Tolliver defensive rebound
97 - 101
2:18
Stephen Curry misses 25-foot three point jumper
97 - 101
2:16
Steve Nash defensive rebound
97 - 101
1:58
Steve Nash makes 14-foot two point shot
97 - 103
1:39
Amare Stoudemire shooting foul (Ronny Turiaf draws the foul)
97 - 103
1:39
Golden State full timeout
97 - 103
1:39
Grant Hill enters the game for Louis Amundson
97 - 103
1:39
Ronny Turiaf misses free throw 1 of 2
97 - 103
1:39
Golden State offensive rebound
97 - 103
1:39
Ronny Turiaf makes free throw 2 of 2
98 - 103
1:24
Steve Nash misses 26-foot three point jumper
98 - 103
1:23
Ronny Turiaf defensive rebound
98 - 103
1:13
Anthony Tolliver bad pass (Goran Dragic steals)
98 - 103
1:05
Steve Nash misses 25-foot three point jumper
98 - 103
1:02
Robin Lopez offensive rebound
98 - 103
1:02
Stephen Curry shooting foul (Robin Lopez draws the foul)
98 - 103
1:02
Robin Lopez makes free throw 1 of 2
98 - 104
1:02
Robin Lopez makes free throw 2 of 2
98 - 105
0:48
Anthony Tolliver misses 23-foot three point jumper
98 - 105
0:46
Goran Dragic defensive rebound
98 - 105
0:23
Goran Dragic makes 25-foot three point jumper (Steve Nash assists)
98 - 108
0:23
Golden State 20 Sec. timeout
98 - 108
0:23
Jared Dudley enters the game for Amare Stoudemire
98 - 108
0:23
Earl Clark enters the game for Robin Lopez
98 - 108
0:23
Louis Amundson enters the game for Steve Nash
98 - 108
0:19
Stephen Curry makes 25-foot three point jumper
101 - 108
0:16
C.J. Watson personal foul (Goran Dragic draws the foul)
101 - 108
0:16
Goran Dragic makes free throw 1 of 2
101 - 109
0:16
Goran Dragic makes free throw 2 of 2
101 - 110
0:11
Stephen Curry makes layup
103 - 110
0:10
Ronny Turiaf personal foul (Goran Dragic draws the foul)
103 - 110
0:10
Goran Dragic makes free throw 1 of 2
103 - 111
0:10
Goran Dragic makes free throw 2 of 2
103 - 112
0:05
Stephen Curry misses 25-foot three point jumper
103 - 112
0:04
Louis Amundson defensive rebound
103 - 112
0:00
End of the 4th Quarter
103 - 112
0:00
End Game
103 - 112
Chad Ford and Jeff Goodman offer their opinions on the surprises they're expecting at the NBA draft, with Ford believing there will be a lot of trade activity while Goodman thinks people will be surprised by potential draft spot of Marquese Chriss.

Jeff Goodman and Chad Ford break down the options Celtics general manager Danny Ainge has at his fingertips Thursday on draft night, as Boston has eight total picks, including the third overall selection.

Steph Curry, Klay Thompson and Draymond Green reflect on the Warriors' loss to the Cavaliers in the NBA Finals while looking ahead to the team's future.
Regular Season Series
PHX wins series 3-1
2015-2016 Pacific Standings