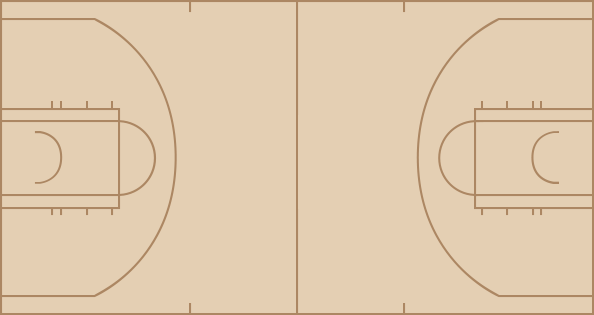 Mavericks
time
TEAM
PLAY
SCORE
12:00
Start of the 1st Quarter
0 - 0
12:00
Jumpball: Erick Dampier vs. DeAndre Jordan (Jason Kidd gains possession)
0 - 0
11:42
Dirk Nowitzki misses 18-foot jumper
0 - 0
11:41
DeAndre Jordan defensive rebound
0 - 0
11:26
Erick Dampier shooting foul (Chris Kaman draws the foul)
0 - 0
11:26
Chris Kaman makes free throw 1 of 2
0 - 1
11:26
Chris Kaman makes free throw 2 of 2
0 - 2
11:15
Jason Kidd misses 17-foot jumper
0 - 2
11:12
Dirk Nowitzki offensive rebound
0 - 2
11:07
Chris Kaman shooting foul (Erick Dampier draws the foul)
0 - 2
11:07
Erick Dampier makes free throw 1 of 2
1 - 2
11:07
Erick Dampier makes free throw 2 of 2
2 - 2
10:56
Steve Blake bad pass (Dirk Nowitzki steals)
2 - 2
10:52
Dirk Nowitzki bad pass (Chris Kaman steals)
2 - 2
10:48
Chris Kaman bad pass
2 - 2
10:29
Jason Kidd misses 26-foot three point jumper
2 - 2
10:27
Erick Dampier offensive rebound
2 - 2
10:22
Jason Kidd bad pass (Chris Kaman steals)
2 - 2
10:18
Rasual Butler makes jumper (Steve Blake assists)
2 - 4
10:07
Rasual Butler blocks Rodrigue Beaubois's layup
2 - 4
10:03
Rodrigue Beaubois offensive rebound
2 - 4
10:03
Erick Dampier makes slam dunk (Rodrigue Beaubois assists)
4 - 4
9:41
Chris Kaman misses 18-foot jumper
4 - 4
9:40
Dirk Nowitzki defensive rebound
4 - 4
9:33
Dirk Nowitzki makes 21-foot jumper (Jason Kidd assists)
6 - 4
9:18
Steve Blake misses layup
6 - 4
9:18
Travis Outlaw offensive rebound
6 - 4
9:18
Travis Outlaw misses tip shot
6 - 4
9:17
Travis Outlaw offensive rebound
6 - 4
9:10
DeAndre Jordan misses layup
6 - 4
9:08
Dirk Nowitzki defensive rebound
6 - 4
9:04
Shawn Marion makes layup (Jason Kidd assists)
8 - 4
8:41
Shawn Marion blocks Travis Outlaw's jumper
8 - 4
8:38
Rodrigue Beaubois defensive rebound
8 - 4
8:37
Shawn Marion makes dunk (Rodrigue Beaubois assists)
10 - 4
8:06
Rasual Butler misses 25-foot three point jumper
10 - 4
8:04
Rodrigue Beaubois defensive rebound
10 - 4
7:58
Jason Kidd misses 23-foot jumper
10 - 4
7:56
Travis Outlaw defensive rebound
10 - 4
7:52
Rasual Butler misses two point shot
10 - 4
7:52
Erick Dampier defensive rebound
10 - 4
7:46
Dirk Nowitzki makes 18-foot jumper (Jason Kidd assists)
12 - 4
7:37
Los Angeles full timeout
12 - 4
7:33
Chris Kaman bad pass (Rodrigue Beaubois steals)
12 - 4
7:33
Steve Blake personal foul (Rodrigue Beaubois draws the foul)
12 - 4
7:20
Rodrigue Beaubois makes two point shot (Jason Kidd assists)
14 - 4
6:52
Chris Kaman makes 12-foot jumper (Steve Blake assists)
14 - 6
6:43
Dirk Nowitzki makes 15-foot jumper (Rodrigue Beaubois assists)
16 - 6
6:31
Chris Kaman misses layup
16 - 6
6:30
Dirk Nowitzki defensive rebound
16 - 6
6:24
Rodrigue Beaubois makes two point shot (Jason Kidd assists)
18 - 6
6:11
Rasual Butler makes two point shot (Steve Blake assists)
18 - 8
5:58
Shawn Marion makes layup (Rodrigue Beaubois assists)
20 - 8
5:45
Craig Smith enters the game for DeAndre Jordan
20 - 8
5:45
Steve Novak enters the game for Travis Outlaw
20 - 8
5:45
Jumpball: Jason Kidd vs. Chris Kaman (Rasual Butler gains possession)
20 - 8
5:39
Rasual Butler makes 17-foot jumper
20 - 10
5:22
Chris Kaman blocks Erick Dampier's layup
20 - 10
5:18
Erick Dampier offensive rebound
20 - 10
5:16
Chris Kaman blocks Erick Dampier's layup
20 - 10
5:15
Chris Kaman defensive rebound
20 - 10
5:09
Chris Kaman lost ball (Rodrigue Beaubois steals)
20 - 10
5:05
Rodrigue Beaubois makes driving layup
22 - 10
4:48
Steve Novak makes 16-foot jumper (Steve Blake assists)
22 - 12
4:39
Shawn Marion misses 6-foot jumper
22 - 12
4:37
Chris Kaman defensive rebound
22 - 12
4:28
Rasual Butler misses three point jumper
22 - 12
4:26
Dirk Nowitzki defensive rebound
22 - 12
4:09
Dirk Nowitzki makes layup (Jason Kidd assists)
24 - 12
4:09
Rasual Butler shooting foul (Dirk Nowitzki draws the foul)
24 - 12
4:09
DeShawn Stevenson enters the game for Shawn Marion
24 - 12
4:09
Dirk Nowitzki makes free throw 1 of 1
25 - 12
3:49
Craig Smith makes 10-foot two point shot (Steve Blake assists)
25 - 14
3:44
Rodrigue Beaubois makes driving layup
27 - 14
3:44
Craig Smith shooting foul (Rodrigue Beaubois draws the foul)
27 - 14
3:44
Bobby Brown enters the game for Rasual Butler
27 - 14
3:44
Rodrigue Beaubois makes free throw 1 of 1
28 - 14
3:31
Steve Novak misses three point jumper
28 - 14
3:31
Chris Kaman offensive rebound
28 - 16
3:31
Chris Kaman makes tip shot
28 - 16
3:19
Jason Kidd makes 10-foot two point shot (Dirk Nowitzki assists)
30 - 16
3:03
Bobby Brown misses 21-foot jumper
30 - 16
3:02
DeShawn Stevenson defensive rebound
30 - 16
2:49
Dirk Nowitzki makes 19-foot jumper
32 - 16
2:33
Craig Smith makes two point shot (Bobby Brown assists)
32 - 18
2:33
Dirk Nowitzki shooting foul (Craig Smith draws the foul)
32 - 18
2:33
Dallas full timeout
32 - 18
2:33
Jason Terry enters the game for Rodrigue Beaubois
32 - 18
2:33
Eduardo Najera enters the game for Dirk Nowitzki
32 - 18
2:33
Craig Smith makes free throw 1 of 1
32 - 19
2:21
Jason Kidd bad pass
32 - 19
2:08
Bobby Brown makes 26-foot three point jumper (Craig Smith assists)
32 - 22
1:47
Jason Kidd misses 24-foot three point jumper
32 - 22
1:46
Erick Dampier offensive rebound
32 - 22
1:44
Jason Kidd misses 23-foot three point jumper
32 - 22
1:42
Steve Blake defensive rebound
32 - 22
1:35
Jason Kidd personal foul (Steve Novak draws the foul)
32 - 22
1:35
Brendan Haywood enters the game for Erick Dampier
32 - 22
1:20
Bobby Brown misses 13-foot two point shot
32 - 22
1:16
Eduardo Najera defensive rebound
32 - 22
1:01
DeShawn Stevenson makes 25-foot three point jumper (Jason Terry assists)
35 - 22
0:44
Chris Kaman makes 9-foot two point shot
35 - 24
0:32
Jason Terry makes jumper
37 - 24
0:26
Steve Blake makes 24-foot jumper
37 - 26
0:04
Eduardo Najera misses 26-foot three point jumper
37 - 26
0:03
Chris Kaman defensive rebound
37 - 26
0:00
Steve Novak misses 26-foot three point jumper
37 - 26
0:00
Los Angeles offensive team rebound
37 - 26
0:00
End of the 1st Quarter
37 - 26

time
TEAM
PLAY
SCORE
12:00
Start of the 2nd Quarter
37 - 26
11:40
Rasual Butler misses 10-foot jumper
37 - 26
11:37
Jason Terry defensive rebound
37 - 26
11:18
Jason Terry makes 20-foot jumper
39 - 26
10:52
Rasual Butler turnover
39 - 26
10:52
Travis Outlaw enters the game for Steve Novak
39 - 26
10:37
Eduardo Najera misses 25-foot three point jumper
39 - 26
10:36
DeAndre Jordan defensive rebound
39 - 26
10:22
Eduardo Najera personal foul (Craig Smith draws the foul)
39 - 26
10:08
Travis Outlaw misses 23-foot three point jumper
39 - 26
10:07
Brendan Haywood defensive rebound
39 - 26
9:59
Eduardo Najera makes 27-foot three point jumper (Jose Juan Barea assists)
42 - 26
9:45
Bobby Brown offensive foul (Jose Juan Barea draws the foul)
42 - 26
9:45
Bobby Brown turnover
42 - 26
9:33
Jose Juan Barea misses 22-foot jumper
42 - 26
9:33
Dallas defensive team rebound
42 - 26
9:15
Bobby Brown misses 23-foot jumper
42 - 26
9:15
DeAndre Jordan offensive rebound
42 - 26
9:15
DeAndre Jordan makes layup
42 - 28
9:15
DeShawn Stevenson shooting foul (DeAndre Jordan draws the foul)
42 - 28
9:15
DeAndre Jordan misses free throw 1 of 1
42 - 28
9:14
Los Angeles offensive team rebound
42 - 28
9:11
Rasual Butler misses layup
42 - 28
9:10
Craig Smith offensive rebound
42 - 28
9:10
Craig Smith makes layup
42 - 30
9:10
Brendan Haywood shooting foul (Craig Smith draws the foul)
42 - 30
9:10
Shawn Marion enters the game for DeShawn Stevenson
42 - 30
9:10
Craig Smith makes free throw 1 of 1
42 - 31
8:53
Jason Terry misses 25-foot three point jumper
42 - 31
8:52
Brendan Haywood offensive rebound
42 - 31
8:49
Eduardo Najera makes two point shot (Brendan Haywood assists)
44 - 31
8:27
Travis Outlaw misses 9-foot jumper
44 - 31
8:26
Eduardo Najera defensive rebound
44 - 31
8:07
Shawn Marion misses 22-foot three point jumper
44 - 31
8:06
DeAndre Jordan defensive rebound
44 - 31
7:56
Bobby Brown makes two point shot
44 - 33
7:43
Jason Terry makes 23-foot three point jumper (Jose Juan Barea assists)
47 - 33
7:24
Bobby Brown misses two point shot
47 - 33
7:22
Los Angeles defensive team rebound
47 - 33
7:22
Official timeout
47 - 33
7:22
Steve Blake enters the game for Bobby Brown
47 - 33
7:09
Brendan Haywood makes 6-foot hook shot (Jose Juan Barea assists)
49 - 33
6:46
DeAndre Jordan makes two point shot (Steve Blake assists)
49 - 35
6:26
Eduardo Najera misses 26-foot three point jumper
49 - 35
6:24
Dallas offensive team rebound
49 - 35
6:24
Dirk Nowitzki enters the game for Eduardo Najera
49 - 35
6:24
Chris Kaman enters the game for DeAndre Jordan
49 - 35
6:22
Dirk Nowitzki makes 19-foot jumper (Shawn Marion assists)
51 - 35
6:05
Dirk Nowitzki personal foul (Craig Smith draws the foul)
51 - 35
5:56
Chris Kaman misses 17-foot jumper
51 - 35
5:54
Travis Outlaw offensive rebound
51 - 35
5:54
Travis Outlaw misses tip shot
51 - 35
5:52
Travis Outlaw offensive rebound
51 - 37
5:52
Travis Outlaw makes layup
51 - 37
5:37
Shawn Marion makes slam dunk (Dirk Nowitzki assists)
53 - 37
5:18
Dirk Nowitzki shooting foul (Craig Smith draws the foul)
53 - 37
5:18
Los Angeles full timeout
53 - 37
5:18
Jason Kidd enters the game for Dirk Nowitzki
53 - 37
5:18
Eduardo Najera enters the game for Jose Juan Barea
53 - 37
5:18
Craig Smith misses free throw 1 of 2
53 - 37
5:18
Los Angeles offensive team rebound
53 - 37
5:18
Craig Smith makes free throw 2 of 2
53 - 38
5:00
Jason Kidd misses 25-foot three point jumper
53 - 38
4:56
Jumpball: Brendan Haywood vs. Craig Smith (Eduardo Najera gains possession)
53 - 38
4:56
Dallas offensive team rebound
53 - 38
4:50
Shawn Marion bad pass (Rasual Butler steals)
53 - 38
4:43
Steve Blake misses 7-foot two point shot
53 - 38
4:41
Los Angeles defensive team rebound
53 - 38
4:26
Jason Kidd bad pass
53 - 38
4:03
Brendan Haywood blocks Chris Kaman's 7-foot hook shot
53 - 38
4:00
Eduardo Najera defensive rebound
53 - 38
3:54
Brendan Haywood makes layup (Eduardo Najera assists)
55 - 38
3:54
Travis Outlaw shooting foul (Brendan Haywood draws the foul)
55 - 38
3:54
DeAndre Jordan enters the game for Craig Smith
55 - 38
3:54
Brendan Haywood misses free throw 1 of 1
55 - 38
3:53
DeAndre Jordan defensive rebound
55 - 38
3:35
Steve Blake bad pass
55 - 38
3:34
DeAndre Jordan personal foul (Eduardo Najera draws the foul)
55 - 38
3:34
Steve Novak enters the game for Travis Outlaw
55 - 38
3:21
Jason Kidd bad pass (Rasual Butler steals)
55 - 38
3:08
DeAndre Jordan makes slam dunk (Steve Blake assists)
55 - 40
2:58
Dallas full timeout
55 - 40
2:47
Shawn Marion makes two point shot (Jason Kidd assists)
57 - 40
2:21
Chris Kaman misses driving layup
57 - 40
2:19
DeAndre Jordan offensive rebound
57 - 42
2:19
DeAndre Jordan makes two point shot
57 - 42
2:01
Shawn Marion misses jumper
57 - 42
2:00
DeAndre Jordan defensive rebound
57 - 42
1:52
Steve Blake misses 11-foot jumper
57 - 42
1:50
Eduardo Najera defensive rebound
57 - 42
1:45
Jason Kidd misses layup
57 - 42
1:42
Brendan Haywood offensive rebound
57 - 42
1:36
Jason Kidd makes 23-foot three point jumper (Brendan Haywood assists)
60 - 42
1:19
Chris Kaman misses 14-foot jumper
60 - 42
1:17
Eduardo Najera defensive rebound
60 - 42
1:10
Chris Kaman personal foul (Brendan Haywood draws the foul)
60 - 42
1:00
Brendan Haywood misses 16-foot two point shot
60 - 42
0:58
Steve Novak defensive rebound
60 - 42
0:45
Jason Terry personal foul (Rasual Butler draws the foul)
60 - 42
0:45
Rasual Butler misses free throw 1 of 2
60 - 42
0:45
Los Angeles offensive team rebound
60 - 42
0:45
Rasual Butler makes free throw 2 of 2
60 - 43
0:31
Rasual Butler shooting foul (Jason Terry draws the foul)
60 - 43
0:31
Jason Terry makes free throw 1 of 2
61 - 43
0:31
Jason Terry makes free throw 2 of 2
62 - 43
0:26
Chris Kaman bad pass (Jason Kidd steals)
62 - 43
0:23
Shawn Marion makes two point shot (Jason Kidd assists)
64 - 43
0:01
DeAndre Jordan 3 second
64 - 43
0:00
Jason Terry misses 36-foot three point jumper
64 - 43
0:00
Dallas offensive team rebound
64 - 43
0:00
End of the 2nd Quarter
64 - 43

time
TEAM
PLAY
SCORE
12:00
Start of the 3rd Quarter
64 - 43
11:42
Chris Kaman makes 6-foot hook shot
64 - 45
11:27
Dirk Nowitzki misses 19-foot jumper
64 - 45
11:26
Chris Kaman defensive rebound
64 - 45
11:18
Dirk Nowitzki blocks DeAndre Jordan's layup
64 - 45
11:18
Dirk Nowitzki defensive rebound
64 - 45
11:03
Jason Kidd makes jumper (Erick Dampier assists)
66 - 45
10:45
Rasual Butler misses 26-foot three point jumper
66 - 45
10:44
Rodrigue Beaubois defensive rebound
66 - 45
10:40
Rodrigue Beaubois misses layup
66 - 45
10:37
DeAndre Jordan defensive rebound
66 - 45
10:29
Chris Kaman makes layup (Steve Blake assists)
66 - 47
10:03
Jason Kidd makes 20-foot jumper (Dirk Nowitzki assists)
68 - 47
9:51
Chris Kaman misses 19-foot jumper
68 - 47
9:49
Rodrigue Beaubois defensive rebound
68 - 47
9:42
Rodrigue Beaubois makes driving layup
70 - 47
9:22
Travis Outlaw makes 12-foot jumper
70 - 49
9:14
Rodrigue Beaubois misses 26-foot three point jumper
70 - 49
9:12
Rasual Butler defensive rebound
70 - 49
9:03
Chris Kaman makes layup (Steve Blake assists)
70 - 51
9:03
Jason Kidd shooting foul (Chris Kaman draws the foul)
70 - 51
9:03
Chris Kaman makes free throw 1 of 1
70 - 52
8:53
Rasual Butler personal foul (Dirk Nowitzki draws the foul)
70 - 52
8:53
Rasual Butler technical foul (1st technical foul)
70 - 52
8:53
Dirk Nowitzki makes technical free throw
71 - 52
8:45
Dirk Nowitzki misses 18-foot jumper
71 - 52
8:44
DeAndre Jordan defensive rebound
71 - 52
8:36
Rasual Butler misses 14-foot jumper
71 - 52
8:33
Rodrigue Beaubois defensive rebound
71 - 52
8:27
Jason Kidd makes 23-foot three point jumper (Rodrigue Beaubois assists)
74 - 52
8:00
Chris Kaman bad pass (Dirk Nowitzki steals)
74 - 52
7:52
Dirk Nowitzki makes 28-foot three point jumper (Jason Kidd assists)
77 - 52
7:31
Shawn Marion shooting foul (Travis Outlaw draws the foul)
77 - 52
7:31
Travis Outlaw makes free throw 1 of 2
77 - 53
7:31
Travis Outlaw makes free throw 2 of 2
77 - 54
7:13
Shawn Marion makes layup
79 - 54
7:13
Travis Outlaw shooting foul (Shawn Marion draws the foul)
79 - 54
7:13
Shawn Marion makes free throw 1 of 1
80 - 54
6:58
DeAndre Jordan makes dunk (Travis Outlaw assists)
80 - 56
6:43
Dirk Nowitzki makes 27-foot three point jumper (Jason Kidd assists)
83 - 56
6:24
Steve Blake makes 27-foot three point jumper (Travis Outlaw assists)
83 - 59
6:11
Dirk Nowitzki misses jumper
83 - 59
6:09
Travis Outlaw defensive rebound
83 - 59
5:58
Travis Outlaw turnover
83 - 59
5:58
Los Angeles full timeout
83 - 59
5:58
Steve Novak enters the game for Travis Outlaw
83 - 59
5:47
Steve Novak personal foul (Jason Kidd draws the foul)
83 - 59
5:39
Shawn Marion makes 9-foot two point shot (Jason Kidd assists)
85 - 59
5:18
DeAndre Jordan misses layup
85 - 59
5:16
Erick Dampier defensive rebound
85 - 59
5:07
DeAndre Jordan shooting foul (Shawn Marion draws the foul)
85 - 59
5:07
Shawn Marion makes free throw 1 of 2
86 - 59
5:07
Shawn Marion makes free throw 2 of 2
87 - 59
4:54
Steve Novak makes 26-foot three point jumper (DeAndre Jordan assists)
87 - 62
4:43
Jason Kidd misses 24-foot three point jumper
87 - 62
4:41
DeAndre Jordan defensive rebound
87 - 62
4:35
Rasual Butler misses 27-foot three point jumper
87 - 62
4:33
Erick Dampier defensive rebound
87 - 62
4:20
Shawn Marion makes dunk (Erick Dampier assists)
89 - 62
4:03
Rodrigue Beaubois personal foul (Steve Blake draws the foul)
89 - 62
4:03
Craig Smith enters the game for DeAndre Jordan
89 - 62
4:03
Bobby Brown enters the game for Rasual Butler
89 - 64
3:59
Erick Dampier personal foul (Craig Smith draws the foul)
89 - 62
3:47
Chris Kaman misses layup
89 - 62
3:46
Shawn Marion defensive rebound
89 - 62
3:40
Erick Dampier 3 second
89 - 62
3:23
Jason Terry enters the game for Rodrigue Beaubois
89 - 62
3:16
Steve Novak makes 20-foot jumper (Bobby Brown assists)
89 - 64
2:59
Craig Smith shooting foul (Dirk Nowitzki draws the foul)
89 - 64
2:59
Dallas full timeout
89 - 64
2:59
DeShawn Stevenson enters the game for Shawn Marion
89 - 64
2:59
Dirk Nowitzki makes free throw 1 of 2
90 - 64
2:59
Dirk Nowitzki makes free throw 2 of 2
91 - 64
2:47
Steve Novak misses 22-foot jumper
91 - 64
2:46
Dirk Nowitzki defensive rebound
91 - 64
2:30
Erick Dampier turnover
91 - 64
2:09
Steve Blake makes 22-foot jumper
91 - 66
1:45
Jason Terry misses 26-foot three point jumper
91 - 66
1:44
DeShawn Stevenson offensive rebound
91 - 66
1:28
DeShawn Stevenson makes 17-foot jumper (Jason Terry assists)
93 - 66
1:04
Bobby Brown misses 22-foot jumper
93 - 66
1:02
Los Angeles defensive team rebound
93 - 66
0:47
Dirk Nowitzki makes 26-foot three point jumper (Erick Dampier assists)
96 - 66
0:32
Chris Kaman misses 8-foot two point shot
96 - 66
0:31
Bobby Brown offensive rebound
96 - 66
0:29
Bobby Brown misses layup
96 - 66
0:28
Dirk Nowitzki defensive rebound
96 - 66
0:07
Jason Terry makes 24-foot three point jumper (Jason Kidd assists)
99 - 66
0:00
Steve Novak makes 29-foot three point jumper (Steve Blake assists)
99 - 69
0:00
End of the 3rd Quarter
99 - 69

time
TEAM
PLAY
SCORE
12:00
Start of the 4th Quarter
99 - 69
11:36
Craig Smith shooting foul (Jose Juan Barea draws the foul)
99 - 69
11:36
Jose Juan Barea makes free throw 1 of 2
100 - 69
11:36
Jose Juan Barea makes free throw 2 of 2
101 - 69
11:11
Bobby Brown misses 21-foot jumper
101 - 69
11:11
Los Angeles offensive team rebound
101 - 69
11:11
shot clock violation
101 - 69
10:48
Brendan Haywood makes 16-foot jumper (Jose Juan Barea assists)
103 - 69
10:18
DeAndre Jordan offensive goaltending
103 - 69
10:18
Steve Blake enters the game for Bobby Brown
103 - 69
10:03
DeShawn Stevenson makes 25-foot three point jumper (Jose Juan Barea assists)
106 - 69
9:41
Craig Smith makes two point shot (Steve Blake assists)
106 - 71
9:21
Brendan Haywood misses 13-foot jumper
106 - 71
9:18
Steve Novak defensive rebound
106 - 71
9:11
Craig Smith makes layup (Steve Blake assists)
106 - 73
8:53
DeShawn Stevenson misses jumper
106 - 73
8:52
DeAndre Jordan defensive rebound
106 - 73
8:45
Eduardo Najera blocks Craig Smith's layup
106 - 73
8:41
Brendan Haywood defensive rebound
106 - 73
8:34
DeAndre Jordan shooting foul (Brendan Haywood draws the foul)
106 - 73
8:34
Official timeout
106 - 73
8:34
Travis Outlaw enters the game for DeAndre Jordan
106 - 73
8:34
Chris Kaman enters the game for Steve Novak
106 - 73
8:34
Matt Carroll enters the game for Jason Terry
106 - 73
8:34
Brendan Haywood misses free throw 1 of 2
106 - 73
8:34
Dallas offensive team rebound
106 - 73
8:34
Brendan Haywood makes free throw 2 of 2
107 - 73
8:22
Brendan Haywood shooting foul (Chris Kaman draws the foul)
107 - 73
8:22
Chris Kaman makes free throw 1 of 2
107 - 74
8:22
Chris Kaman makes free throw 2 of 2
107 - 75
8:02
Matt Carroll makes 19-foot jumper (Brendan Haywood assists)
109 - 75
7:48
Steve Blake makes 12-foot two point shot (Rasual Butler assists)
109 - 77
7:26
Matt Carroll misses 12-foot running jumper
109 - 77
7:26
Chris Kaman defensive rebound
109 - 77
7:18
Eduardo Najera illegal defense foul (2nd personal foul)
109 - 77
7:18
Rasual Butler makes technical free throw
109 - 78
7:13
Rasual Butler misses layup
109 - 78
7:11
Eduardo Najera defensive rebound
109 - 78
7:05
Matt Carroll misses 23-foot three point jumper
109 - 78
7:03
Steve Blake defensive rebound
109 - 78
6:54
Travis Outlaw misses 27-foot three point jumper
109 - 78
6:54
Brendan Haywood defensive rebound
109 - 78
6:41
Jose Juan Barea misses layup
109 - 78
6:41
Chris Kaman defensive rebound
109 - 78
6:26
Travis Outlaw makes 6-foot running jumper
109 - 80
6:05
Eduardo Najera misses 26-foot three point jumper
109 - 80
6:05
Travis Outlaw defensive rebound
109 - 80
5:56
Chris Kaman turnover
109 - 80
5:56
Los Angeles full timeout
109 - 80
5:56
DeAndre Jordan enters the game for Chris Kaman
109 - 80
5:39
Matt Carroll misses 19-foot jumper
109 - 80
5:39
DeAndre Jordan defensive rebound
109 - 80
5:16
Craig Smith misses 20-foot jumper
109 - 80
5:16
Matt Carroll defensive rebound
109 - 80
4:56
DeShawn Stevenson misses 21-foot jumper
109 - 80
4:54
Travis Outlaw defensive rebound
109 - 80
4:47
Travis Outlaw makes 4-foot two point shot (Steve Blake assists)
109 - 82
4:28
DeShawn Stevenson makes 27-foot three point jumper (Jose Juan Barea assists)
112 - 82
4:00
Travis Outlaw makes 26-foot three point jumper
112 - 85
3:43
DeShawn Stevenson misses 26-foot three point jumper
112 - 85
3:42
Rasual Butler defensive rebound
112 - 85
3:24
Steve Blake bad pass (Jose Juan Barea steals)
112 - 85
3:24
Craig Smith personal foul (Jose Juan Barea draws the foul)
112 - 85
3:24
Steve Novak enters the game for Travis Outlaw
112 - 85
3:10
DeAndre Jordan shooting foul (Brendan Haywood draws the foul)
112 - 85
3:10
Brendan Haywood makes free throw 1 of 2
113 - 85
3:10
Brendan Haywood misses free throw 2 of 2
113 - 85
3:09
DeAndre Jordan defensive rebound
113 - 85
2:48
Craig Smith makes layup (Rasual Butler assists)
113 - 87
2:32
Brendan Haywood misses hook shot
113 - 87
2:31
Craig Smith defensive rebound
113 - 87
2:17
Rasual Butler makes 8-foot two point shot
113 - 89
2:10
Dallas full timeout
113 - 89
2:10
Brian Skinner enters the game for DeAndre Jordan
113 - 89
1:58
Brendan Haywood lost ball (Brian Skinner steals)
113 - 89
1:52
Steve Novak makes 12-foot jumper (Rasual Butler assists)
113 - 91
1:36
Matt Carroll makes 21-foot jumper
115 - 91
1:21
Steve Blake misses 26-foot three point jumper
115 - 91
1:20
Rasual Butler offensive rebound
115 - 91
1:15
Rasual Butler misses 26-foot three point jumper
115 - 91
1:15
Eduardo Najera defensive rebound
115 - 91
0:56
Eduardo Najera offensive foul (Steve Novak draws the foul)
115 - 91
0:56
Eduardo Najera turnover
115 - 91
0:45
Rasual Butler offensive foul (DeShawn Stevenson draws the foul)
115 - 91
0:45
Rasual Butler turnover
115 - 91
0:33
Matt Carroll makes 14-foot jumper (Jose Juan Barea assists)
117 - 91
0:20
Rasual Butler misses 24-foot three point jumper
117 - 91
0:19
Craig Smith offensive rebound
117 - 91
0:17
Steve Novak makes 26-foot three point jumper (Craig Smith assists)
117 - 94
0:00
End of the 4th Quarter
117 - 94
0:00
End Game
117 - 94
Blazers guard Damian Lillard had more motivation than knocking off the Clippers on Friday for the win to end that first round series.

Taking a look at 10 candidates the Rockets might consider as they begin interviews this week for their vacant head coaching job.

After a hard-fought series against Charlotte, Amin Elhassan still believes Miami will represent the East in the NBA Finals.
2015-2016 Southwest Standings
2015-2016 Pacific Standings