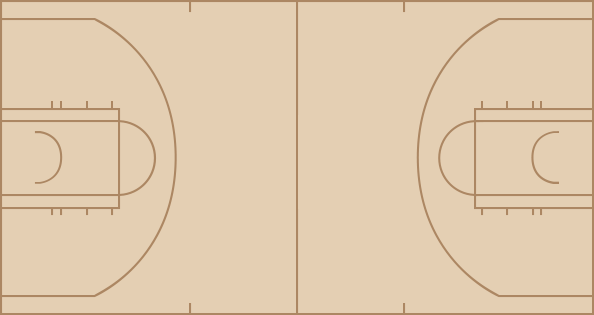 Grizzlies
time
TEAM
PLAY
SCORE
12:00
Start of the 1st Quarter
0 - 0
12:00
Jumpball: Marc Gasol vs. Ben Wallace (O.J. Mayo gains possession)
0 - 0
11:41
DeMarre Carroll makes 19-foot jumper (Zach Randolph assists)
2 - 0
11:23
Ben Wallace makes two point shot (Tayshaun Prince assists)
2 - 2
11:07
Marc Gasol misses 17-foot jumper
2 - 2
11:06
Zach Randolph offensive rebound
2 - 2
11:04
Zach Randolph misses layup
2 - 2
11:03
Memphis offensive team rebound
2 - 2
10:55
Mike Conley bad pass (Ben Wallace steals)
2 - 2
10:40
Richard Hamilton makes 12-foot jumper (Rodney Stuckey assists)
2 - 4
10:14
Marc Gasol misses 9-foot hook shot
2 - 4
10:12
Ben Wallace defensive rebound
2 - 4
10:07
Tayshaun Prince misses two point shot
2 - 4
10:03
DeMarre Carroll defensive rebound
2 - 4
9:59
Mike Conley misses 16-foot jumper
2 - 4
9:57
Rodney Stuckey defensive rebound
2 - 4
9:44
Richard Hamilton misses 16-foot jumper
2 - 4
9:42
Ben Wallace offensive rebound
2 - 4
9:33
Austin Daye misses 27-foot three point jumper
2 - 4
9:32
Detroit defensive team rebound
2 - 4
9:18
O.J. Mayo misses 19-foot jumper
2 - 4
9:17
Zach Randolph offensive rebound
2 - 4
9:15
Zach Randolph makes layup
4 - 4
9:02
O.J. Mayo shooting foul (Rodney Stuckey draws the foul)
4 - 4
9:02
Rodney Stuckey makes free throw 1 of 2
4 - 5
9:02
Rodney Stuckey makes free throw 2 of 2
4 - 6
8:45
Marc Gasol makes 17-foot jumper (O.J. Mayo assists)
6 - 6
8:21
Austin Daye misses 14-foot jumper
6 - 6
8:19
Mike Conley defensive rebound
6 - 6
8:17
Marc Gasol makes layup (O.J. Mayo assists)
8 - 6
8:17
Rodney Stuckey shooting foul (Marc Gasol draws the foul)
8 - 6
8:17
Marc Gasol misses free throw 1 of 1
8 - 6
8:15
Austin Daye defensive rebound
8 - 6
8:03
Richard Hamilton bad pass (Zach Randolph steals)
8 - 6
7:48
DeMarre Carroll misses 21-foot jumper
8 - 6
7:48
Richard Hamilton defensive rebound
8 - 6
7:28
Austin Daye misses 27-foot three point jumper
8 - 6
7:28
DeMarre Carroll defensive rebound
8 - 6
7:13
Zach Randolph misses 15-foot two point shot
8 - 6
7:11
Rodney Stuckey defensive rebound
8 - 6
7:07
O.J. Mayo shooting foul (Tayshaun Prince draws the foul)
8 - 6
7:07
Xavier Henry enters the game for O.J. Mayo
8 - 6
7:07
Tayshaun Prince makes free throw 1 of 2
8 - 7
7:07
Tayshaun Prince misses free throw 2 of 2
8 - 7
7:07
Marc Gasol defensive rebound
8 - 7
6:50
Zach Randolph offensive rebound
8 - 7
6:50
Xavier Henry misses 18-foot jumper
8 - 7
6:50
Zach Randolph makes tip shot
10 - 7
6:50
Austin Daye shooting foul (Zach Randolph draws the foul)
10 - 7
6:50
Zach Randolph makes free throw 1 of 1
11 - 7
6:43
DeMarre Carroll personal foul (Rodney Stuckey draws the foul)
11 - 7
6:28
Richard Hamilton makes 7-foot running jumper
11 - 9
6:09
DeMarre Carroll misses layup
11 - 9
6:09
Memphis offensive team rebound
11 - 9
5:58
Mike Conley misses 7-foot jumper
11 - 9
5:56
Rodney Stuckey defensive rebound
11 - 9
5:52
Rodney Stuckey makes driving layup
11 - 11
5:31
Zach Randolph misses 6-foot two point shot
11 - 11
5:31
Austin Daye defensive rebound
11 - 11
5:26
Tayshaun Prince makes layup (Rodney Stuckey assists)
11 - 13
5:20
Memphis full timeout
11 - 13
5:01
Xavier Henry misses 24-foot three point jumper
11 - 13
5:00
Memphis defensive team rebound
11 - 13
5:00
DeMarre Carroll loose ball foul (Richard Hamilton draws the foul)
11 - 13
5:00
Sam Young enters the game for DeMarre Carroll
11 - 13
4:43
Tayshaun Prince misses layup
11 - 13
4:41
Ben Wallace offensive rebound
11 - 13
4:41
Ben Wallace makes tip shot
11 - 15
4:31
Richard Hamilton personal foul (Mike Conley draws the foul)
11 - 15
4:26
Ben Wallace shooting foul (Marc Gasol draws the foul)
11 - 15
4:26
Marc Gasol makes free throw 1 of 2
12 - 15
4:26
Ben Gordon enters the game for Richard Hamilton
12 - 15
4:26
Marc Gasol makes free throw 2 of 2
13 - 15
4:07
Xavier Henry personal foul (Ben Gordon draws the foul)
13 - 15
4:07
Ben Gordon makes free throw 1 of 2
13 - 16
4:07
Tony Allen enters the game for Mike Conley
13 - 16
4:07
Ben Gordon makes free throw 2 of 2
13 - 17
3:45
Xavier Henry misses 18-foot jumper
13 - 17
3:44
Marc Gasol offensive rebound
13 - 17
3:41
Marc Gasol misses layup
13 - 17
3:38
Tayshaun Prince defensive rebound
13 - 17
3:33
Tayshaun Prince bad pass
13 - 17
3:33
Charlie Villanueva enters the game for Tayshaun Prince
13 - 17
3:21
Tony Allen makes driving layup
15 - 17
3:03
Austin Daye makes 18-foot jumper (Ben Gordon assists)
15 - 19
3:00
Tony Allen bad pass (Ben Gordon steals)
15 - 19
2:55
Sam Young shooting foul (Austin Daye draws the foul)
15 - 19
2:55
Detroit full timeout
15 - 19
2:55
Austin Daye misses free throw 1 of 2
15 - 19
2:55
Detroit offensive team rebound
15 - 20
2:55
Austin Daye makes free throw 2 of 2
15 - 20
2:41
Tony Allen bad pass
15 - 20
2:21
Charlie Villanueva misses 17-foot jumper
15 - 20
2:20
Detroit defensive team rebound
15 - 20
2:05
Tony Allen misses layup
15 - 20
2:04
Tony Allen offensive rebound
15 - 20
2:03
Tony Allen makes tip shot
17 - 20
1:47
Charlie Villanueva makes 13-foot two point shot
17 - 22
1:31
Austin Daye shooting foul (Sam Young draws the foul)
17 - 22
1:31
Sam Young makes free throw 1 of 2
18 - 22
1:31
Sam Young misses free throw 2 of 2
18 - 22
1:30
Ben Wallace defensive rebound
18 - 22
1:07
Austin Daye makes 23-foot three point jumper (Rodney Stuckey assists)
18 - 25
0:55
Xavier Henry makes 18-foot two point shot
20 - 25
0:51
Detroit 20 Sec. timeout
20 - 25
0:39
Rodney Stuckey makes 14-foot jumper
20 - 27
0:29
Sam Young makes driving layup
22 - 27
0:10
Marc Gasol personal foul (Rodney Stuckey draws the foul)
22 - 27
0:10
Rodney Stuckey makes free throw 1 of 2
22 - 28
0:10
DaJuan Summers enters the game for Austin Daye
22 - 28
0:10
Rodney Stuckey makes free throw 2 of 2
22 - 29
0:00
Tony Allen makes 19-foot two point shot
24 - 29
0:00
End of the 1st Quarter
24 - 29

time
TEAM
PLAY
SCORE
12:00
Start of the 2nd Quarter
24 - 29
11:45
Hasheem Thabeet shooting foul (DaJuan Summers draws the foul)
24 - 29
11:45
DaJuan Summers makes free throw 1 of 2
24 - 30
11:45
DaJuan Summers makes free throw 2 of 2
24 - 31
11:30
Xavier Henry misses 10-foot running jumper
24 - 31
11:30
Tayshaun Prince defensive rebound
24 - 31
11:15
Ben Gordon traveling
24 - 31
11:00
Darrell Arthur bad pass
24 - 31
10:41
Charlie Villanueva misses 10-foot running jumper
24 - 31
10:41
Hasheem Thabeet defensive rebound
24 - 31
10:33
Xavier Henry makes 21-foot jumper (Tony Allen assists)
26 - 31
10:15
Charlie Villanueva makes 27-foot three point jumper (Ben Gordon assists)
26 - 34
9:52
Tony Allen makes layup (Darrell Arthur assists)
28 - 34
9:29
Greg Monroe bad pass (Tony Allen steals)
28 - 34
9:25
Tony Allen bad pass (Ben Gordon steals)
28 - 34
9:21
Greg Monroe misses layup
28 - 34
9:18
Darrell Arthur defensive rebound
28 - 34
9:10
Xavier Henry makes 26-foot three point jumper (Tony Allen assists)
31 - 34
9:04
Detroit full timeout
31 - 34
8:55
Tayshaun Prince bad pass (Tony Allen steals)
31 - 34
8:49
Tony Allen makes layup
33 - 34
8:27
Charlie Villanueva misses 12-foot two point shot
33 - 34
8:26
Greg Monroe offensive rebound
33 - 34
8:25
Hasheem Thabeet shooting foul (DaJuan Summers draws the foul)
33 - 34
8:25
DaJuan Summers makes free throw 1 of 2
33 - 35
8:25
DaJuan Summers misses free throw 2 of 2
33 - 35
8:22
Hasheem Thabeet defensive rebound
33 - 35
8:07
Darrell Arthur misses 17-foot jumper
33 - 35
8:07
Xavier Henry offensive rebound
33 - 35
7:56
Sam Young bad pass (Greg Monroe steals)
33 - 35
7:48
Charlie Villanueva makes two point shot (DaJuan Summers assists)
33 - 37
7:24
Hasheem Thabeet makes 7-foot hook shot (Xavier Henry assists)
35 - 37
7:15
Tayshaun Prince bad pass (Sam Young steals)
35 - 37
7:11
Sam Young makes dunk
37 - 37
6:45
Ben Gordon lost ball (Hasheem Thabeet steals)
37 - 37
6:39
Sam Young makes layup (Hasheem Thabeet assists)
39 - 37
6:24
Xavier Henry personal foul (Tayshaun Prince draws the foul)
39 - 37
6:24
Rodney Stuckey enters the game for DaJuan Summers
39 - 37
6:24
O.J. Mayo enters the game for Xavier Henry
39 - 37
6:18
Detroit full timeout
39 - 37
6:16
Tony Allen personal foul (Rodney Stuckey draws the foul)
39 - 37
6:11
Rodney Stuckey bad pass
39 - 37
5:50
O.J. Mayo misses 11-foot running jumper
39 - 37
5:50
Tayshaun Prince defensive rebound
39 - 37
5:46
Darrell Arthur shooting foul (Tayshaun Prince draws the foul)
39 - 37
5:46
Tayshaun Prince misses free throw 1 of 2
39 - 37
5:46
Detroit offensive team rebound
39 - 37
5:46
Mike Conley enters the game for Tony Allen
39 - 37
5:46
Tayshaun Prince makes free throw 2 of 2
39 - 38
5:35
Ben Gordon personal foul (O.J. Mayo draws the foul)
39 - 38
5:31
O.J. Mayo makes layup (Mike Conley assists)
41 - 38
5:20
Rodney Stuckey makes 14-foot two point shot
41 - 40
5:09
Darrell Arthur makes layup (Mike Conley assists)
43 - 40
4:48
Ben Gordon misses 25-foot three point jumper
43 - 40
4:47
Darrell Arthur defensive rebound
43 - 40
4:45
Rodney Stuckey shooting foul (O.J. Mayo draws the foul)
43 - 40
4:45
O.J. Mayo makes free throw 1 of 2
44 - 40
4:45
Austin Daye enters the game for Charlie Villanueva
44 - 40
4:45
Richard Hamilton enters the game for Ben Gordon
44 - 40
4:45
O.J. Mayo makes free throw 2 of 2
45 - 40
4:30
Tayshaun Prince makes 14-foot two point shot (Austin Daye assists)
45 - 42
4:16
Sam Young misses 27-foot three point jumper
45 - 42
4:16
Tayshaun Prince defensive rebound
45 - 42
4:09
Richard Hamilton bad pass (O.J. Mayo steals)
45 - 42
4:00
Mike Conley makes layup (O.J. Mayo assists)
47 - 42
3:41
Austin Daye misses two point shot
47 - 42
3:38
Greg Monroe offensive rebound
47 - 42
3:36
Greg Monroe makes tip shot
47 - 44
3:24
Memphis full timeout
47 - 44
3:24
Marc Gasol enters the game for Darrell Arthur
47 - 44
3:24
Zach Randolph enters the game for Hasheem Thabeet
47 - 44
3:24
Ben Wallace enters the game for Greg Monroe
49 - 44
3:17
Marc Gasol makes layup (Zach Randolph assists)
49 - 44
2:58
O.J. Mayo illegal defense foul (3rd personal foul)
49 - 44
2:58
Richard Hamilton makes technical free throw
49 - 45
2:54
Rodney Stuckey misses layup
49 - 45
2:53
O.J. Mayo defensive rebound
49 - 45
2:47
Tayshaun Prince blocks O.J. Mayo's layup
49 - 45
2:45
Austin Daye defensive rebound
49 - 45
2:41
Richard Hamilton makes 15-foot jumper (Ben Wallace assists)
49 - 47
2:23
O.J. Mayo misses 27-foot three point jumper
49 - 47
2:21
Ben Wallace defensive rebound
49 - 47
2:05
Tayshaun Prince makes 23-foot three point jumper (Austin Daye assists)
49 - 50
1:58
Mike Conley offensive foul (Rodney Stuckey draws the foul)
49 - 50
1:58
Mike Conley turnover
49 - 50
1:58
DeMarre Carroll enters the game for Sam Young
49 - 50
1:35
Ben Wallace misses 17-foot jumper
49 - 50
1:34
Detroit offensive team rebound
49 - 50
1:34
turnover
49 - 50
1:23
O.J. Mayo makes 15-foot jumper (Mike Conley assists)
51 - 50
1:13
Rodney Stuckey makes 20-foot jumper
51 - 52
0:58
Marc Gasol bad pass (Ben Wallace steals)
51 - 52
0:48
Austin Daye makes 27-foot three point jumper (Rodney Stuckey assists)
51 - 55
0:38
Mike Conley makes 9-foot running jumper
53 - 55
0:31
Tayshaun Prince misses 13-foot two point shot
53 - 55
0:30
DeMarre Carroll defensive rebound
53 - 55
0:10
Marc Gasol makes 10-foot two point shot (Mike Conley assists)
55 - 55
0:01
Rodney Stuckey offensive foul (DeMarre Carroll draws the foul)
55 - 55
0:01
Rodney Stuckey turnover
55 - 55
0:01
Detroit 20 Sec. timeout
55 - 55
0:01
Xavier Henry enters the game for DeMarre Carroll
55 - 55
0:01
DaJuan Summers enters the game for Rodney Stuckey
55 - 55
0:00
Mike Conley misses 63-foot three point jumper
55 - 55
0:00
Memphis offensive team rebound
55 - 55
0:00
End of the 2nd Quarter
55 - 55

time
TEAM
PLAY
SCORE
12:00
Start of the 3rd Quarter
55 - 55
11:36
Richard Hamilton makes 23-foot three point jumper (Ben Wallace assists)
55 - 58
11:18
O.J. Mayo makes 27-foot three point jumper (Zach Randolph assists)
58 - 58
10:53
Richard Hamilton misses 24-foot three point jumper
58 - 58
10:52
Rodney Stuckey offensive rebound
58 - 58
10:48
Richard Hamilton misses 23-foot three point jumper
58 - 58
10:47
Austin Daye offensive rebound
58 - 58
10:30
Richard Hamilton lost ball (O.J. Mayo steals)
58 - 58
10:25
DeMarre Carroll misses layup
58 - 58
10:23
Mike Conley offensive rebound
58 - 58
10:22
Mike Conley makes tip shot
60 - 58
10:08
Rodney Stuckey misses 18-foot jumper
60 - 58
10:07
Marc Gasol defensive rebound
60 - 58
9:53
Austin Daye blocks Zach Randolph's 14-foot jumper
60 - 58
9:52
Richard Hamilton defensive rebound
60 - 58
9:49
Austin Daye makes layup (Richard Hamilton assists)
60 - 60
9:37
Marc Gasol misses 6-foot hook shot
60 - 60
9:36
Richard Hamilton defensive rebound
60 - 60
9:30
Richard Hamilton misses layup
60 - 60
9:26
Tayshaun Prince offensive rebound
60 - 60
9:18
Mike Conley shooting foul (Richard Hamilton draws the foul)
60 - 60
9:18
Richard Hamilton makes free throw 1 of 2
60 - 61
9:18
Richard Hamilton makes free throw 2 of 2
60 - 62
9:03
Marc Gasol makes dunk (Zach Randolph assists)
62 - 62
8:40
Austin Daye makes 15-foot two point shot
62 - 64
8:29
Marc Gasol makes 11-foot running jumper (Mike Conley assists)
64 - 64
8:00
Austin Daye misses 26-foot three point jumper
64 - 64
8:00
O.J. Mayo defensive rebound
64 - 64
7:54
DeMarre Carroll bad pass
64 - 64
7:43
Ben Wallace makes 1-foot two point shot (Richard Hamilton assists)
64 - 66
7:43
DeMarre Carroll shooting foul (Ben Wallace draws the foul)
64 - 66
7:43
Ben Wallace makes free throw 1 of 1
64 - 67
7:35
O.J. Mayo makes 26-foot three point jumper (Marc Gasol assists)
67 - 67
7:16
Richard Hamilton misses 23-foot three point jumper
67 - 67
7:15
Tayshaun Prince offensive rebound
67 - 67
7:11
Tayshaun Prince makes tip shot
67 - 69
6:56
Mike Conley misses 25-foot three point jumper
67 - 69
6:54
Ben Wallace defensive rebound
67 - 69
6:48
Rodney Stuckey makes driving layup (Richard Hamilton assists)
67 - 71
6:33
DeMarre Carroll misses 22-foot jumper
67 - 71
6:33
Memphis defensive team rebound
67 - 71
6:33
Zach Randolph loose ball foul (Austin Daye draws the foul)
67 - 71
6:20
Richard Hamilton misses 15-foot jumper
67 - 71
6:20
Marc Gasol defensive rebound
67 - 71
6:20
Darrell Arthur enters the game for Zach Randolph
67 - 71
6:07
Darrell Arthur makes 19-foot jumper (Mike Conley assists)
69 - 71
5:46
Rodney Stuckey makes 18-foot two point shot
69 - 73
5:28
Marc Gasol turnover
69 - 73
5:28
Detroit full timeout
69 - 73
5:09
Richard Hamilton misses 15-foot jumper
69 - 73
5:07
Darrell Arthur defensive rebound
69 - 73
5:03
O.J. Mayo misses 17-foot two point shot
69 - 73
5:00
Ben Wallace defensive rebound
69 - 73
4:35
Rodney Stuckey misses 18-foot jumper
69 - 73
4:35
Darrell Arthur defensive rebound
69 - 73
4:31
Mike Conley makes driving layup
71 - 73
4:01
Rodney Stuckey misses 26-foot three point jumper
71 - 73
4:01
Mike Conley defensive rebound
71 - 73
3:57
O.J. Mayo makes driving layup (Mike Conley assists)
73 - 73
3:57
Austin Daye shooting foul (O.J. Mayo draws the foul)
73 - 73
3:57
Charlie Villanueva enters the game for Austin Daye
73 - 73
3:57
O.J. Mayo makes free throw 1 of 1
74 - 73
3:44
Ben Wallace makes two point shot (Richard Hamilton assists)
74 - 75
3:29
Darrell Arthur misses 6-foot hook shot
74 - 75
3:28
Memphis defensive team rebound
74 - 75
3:28
Marc Gasol loose ball foul (Ben Wallace draws the foul)
74 - 75
3:20
Xavier Henry enters the game for O.J. Mayo
74 - 75
3:08
Tayshaun Prince misses 8-foot hook shot
74 - 75
3:06
Mike Conley defensive rebound
74 - 75
3:01
Marc Gasol makes layup (Mike Conley assists)
76 - 75
2:42
Tayshaun Prince misses 24-foot three point jumper
76 - 75
2:40
Xavier Henry defensive rebound
76 - 75
2:33
Mike Conley misses 19-foot jumper
76 - 75
2:32
Ben Wallace defensive rebound
76 - 75
2:13
Charlie Villanueva misses 25-foot three point jumper
76 - 75
2:12
DeMarre Carroll defensive rebound
76 - 75
2:09
DeMarre Carroll bad pass
76 - 75
2:09
Memphis full timeout
76 - 75
2:09
Tony Allen enters the game for Mike Conley
76 - 75
2:09
DaJuan Summers enters the game for Tayshaun Prince
76 - 75
1:50
Charlie Villanueva makes two point shot (Rodney Stuckey assists)
76 - 77
1:25
Darrell Arthur makes 13-foot two point shot
78 - 77
1:01
Richard Hamilton misses 25-foot three point jumper
78 - 77
1:00
Darrell Arthur defensive rebound
78 - 77
0:52
Tony Allen bad pass
78 - 77
0:38
Rodney Stuckey misses 15-foot running jumper
78 - 77
0:37
DaJuan Summers offensive rebound
78 - 77
0:37
DaJuan Summers misses tip shot
78 - 77
0:36
Xavier Henry defensive rebound
78 - 77
0:35
Rodney Stuckey personal foul (Xavier Henry draws the foul)
78 - 77
0:35
Tayshaun Prince enters the game for Rodney Stuckey
78 - 77
0:35
Hamed Haddadi enters the game for Marc Gasol
78 - 77
0:31
Ben Wallace shooting foul (Xavier Henry draws the foul)
78 - 77
0:31
Xavier Henry makes free throw 1 of 2
79 - 77
0:31
Xavier Henry makes free throw 2 of 2
80 - 77
0:14
Richard Hamilton misses layup
80 - 77
0:13
DeMarre Carroll defensive rebound
80 - 77
0:08
Xavier Henry misses 6-foot running jumper
80 - 77
0:07
Charlie Villanueva defensive rebound
80 - 77
0:03
Darrell Arthur shooting foul (DaJuan Summers draws the foul)
80 - 77
0:03
DaJuan Summers makes free throw 1 of 2
80 - 78
0:03
Greg Monroe enters the game for Ben Wallace
80 - 78
0:03
DaJuan Summers makes free throw 2 of 2
80 - 79
0:00
End of the 3rd Quarter
80 - 79

time
TEAM
PLAY
SCORE
12:00
Start of the 4th Quarter
80 - 79
11:41
Charlie Villanueva blocks Hamed Haddadi's 11-foot two point shot
80 - 79
11:40
Memphis defensive team rebound
80 - 79
11:22
Austin Daye makes 26-foot three point jumper (Tayshaun Prince assists)
80 - 82
11:03
Hamed Haddadi offensive foul (Austin Daye draws the foul)
80 - 82
11:03
Hamed Haddadi turnover
80 - 82
10:45
Darrell Arthur shooting foul (Charlie Villanueva draws the foul)
80 - 82
10:45
Charlie Villanueva makes free throw 1 of 2
80 - 83
10:45
Charlie Villanueva makes free throw 2 of 2
80 - 84
10:27
Hamed Haddadi lost ball (Greg Monroe steals)
80 - 84
10:18
DaJuan Summers misses 20-foot jumper
80 - 84
10:18
Hamed Haddadi defensive rebound
80 - 84
10:11
Sam Young misses 17-foot jumper
80 - 84
10:07
Hamed Haddadi offensive rebound
80 - 84
10:07
Hamed Haddadi misses layup
80 - 84
10:04
Tayshaun Prince defensive rebound
80 - 84
9:51
Xavier Henry illegal defense foul (3rd personal foul)
80 - 84
9:51
Charlie Villanueva makes technical free throw
80 - 85
9:45
DaJuan Summers makes 19-foot jumper (Tayshaun Prince assists)
80 - 87
9:33
Austin Daye shooting foul (Xavier Henry draws the foul)
80 - 87
9:33
Xavier Henry misses free throw 1 of 2
80 - 87
9:33
Memphis offensive team rebound
80 - 87
9:33
Xavier Henry misses free throw 2 of 2
80 - 87
9:33
Austin Daye defensive rebound
80 - 87
9:19
Austin Daye bad pass (Hamed Haddadi steals)
80 - 87
9:15
Xavier Henry makes layup (Tony Allen assists)
82 - 87
8:56
Austin Daye makes 6-foot running jumper
82 - 89
8:41
Darrell Arthur makes 16-foot two point shot (Sam Young assists)
84 - 89
8:23
Tony Allen personal foul (Tayshaun Prince draws the foul)
84 - 89
8:23
Official timeout
84 - 89
8:10
Charlie Villanueva misses 26-foot three point jumper
84 - 89
8:08
Darrell Arthur defensive rebound
84 - 89
8:00
Tony Allen makes driving layup
86 - 89
7:33
Austin Daye misses 23-foot three point jumper
86 - 89
7:33
Tony Allen defensive rebound
86 - 89
7:07
Xavier Henry misses 10-foot two point shot
86 - 89
7:05
Austin Daye defensive rebound
86 - 89
6:50
Charlie Villanueva misses 10-foot hook shot
86 - 89
6:48
Hamed Haddadi defensive rebound
86 - 89
6:37
Darrell Arthur makes 18-foot jumper (Tony Allen assists)
88 - 89
6:18
Austin Daye misses 18-foot jumper
88 - 89
6:18
Hamed Haddadi defensive rebound
88 - 89
6:09
Darrell Arthur makes two point shot (Tony Allen assists)
90 - 89
6:09
Detroit full timeout
90 - 89
6:09
Ben Wallace enters the game for Greg Monroe
90 - 89
6:09
Richard Hamilton enters the game for Tayshaun Prince
90 - 89
6:09
Rodney Stuckey enters the game for DaJuan Summers
90 - 89
5:45
Charlie Villanueva offensive goaltending
90 - 89
5:31
Sam Young makes 18-foot jumper
92 - 89
5:18
Xavier Henry personal foul (Richard Hamilton draws the foul)
92 - 89
5:05
Darrell Arthur personal foul (Richard Hamilton draws the foul)
92 - 89
4:58
Austin Daye makes layup (Rodney Stuckey assists)
92 - 91
4:39
Tony Allen misses 16-foot jumper
92 - 91
4:39
Richard Hamilton defensive rebound
92 - 91
4:22
Charlie Villanueva makes 23-foot three point jumper (Ben Wallace assists)
92 - 94
4:07
Sam Young misses 22-foot jumper
92 - 94
4:05
Hamed Haddadi offensive rebound
92 - 94
4:03
Hamed Haddadi makes layup
94 - 94
3:47
Xavier Henry personal foul (Richard Hamilton draws the foul)
94 - 94
3:47
Greg Monroe enters the game for Ben Wallace
94 - 94
3:47
Richard Hamilton makes free throw 1 of 2
94 - 95
3:47
Richard Hamilton makes free throw 2 of 2
94 - 96
3:31
Xavier Henry misses 27-foot three point jumper
94 - 96
3:31
Memphis defensive team rebound
94 - 96
3:31
DaJuan Summers enters the game for Richard Hamilton
94 - 96
3:21
Rodney Stuckey makes driving layup
94 - 98
3:08
Sam Young misses 6-foot running jumper
94 - 98
3:06
DaJuan Summers defensive rebound
94 - 98
3:01
Austin Daye makes dunk (Rodney Stuckey assists)
94 - 100
3:01
Memphis full timeout
94 - 100
3:01
DeMarre Carroll enters the game for Hamed Haddadi
94 - 100
2:45
Darrell Arthur makes 9-foot hook shot (Sam Young assists)
96 - 100
2:18
Rodney Stuckey misses layup
96 - 100
2:17
DaJuan Summers offensive rebound
96 - 100
2:15
DaJuan Summers misses layup
96 - 100
2:14
Greg Monroe offensive rebound
96 - 100
2:11
Greg Monroe makes tip shot
96 - 102
2:04
Xavier Henry makes 22-foot jumper (DeMarre Carroll assists)
98 - 102
1:38
Austin Daye misses 18-foot jumper
98 - 102
1:36
DeMarre Carroll defensive rebound
98 - 102
1:31
DeMarre Carroll misses 21-foot jumper
98 - 102
1:29
Greg Monroe defensive rebound
98 - 102
1:07
Rodney Stuckey misses running jumper
98 - 102
1:06
DeMarre Carroll defensive rebound
98 - 102
1:04
Austin Daye shooting foul (Sam Young draws the foul)
98 - 102
1:04
Sam Young misses free throw 1 of 2
98 - 102
1:04
Memphis offensive team rebound
98 - 102
1:04
Hamed Haddadi enters the game for Darrell Arthur
98 - 102
1:04
Sam Young makes free throw 2 of 2
99 - 102
0:42
DaJuan Summers bad pass (Xavier Henry steals)
99 - 102
0:34
Sam Young makes 23-foot three point jumper (DeMarre Carroll assists)
102 - 102
0:34
Detroit full timeout
102 - 102
0:30
DeMarre Carroll shooting foul (Greg Monroe draws the foul)
102 - 102
0:30
Greg Monroe makes free throw 1 of 2
102 - 103
0:30
Greg Monroe misses free throw 2 of 2
102 - 103
0:29
Tony Allen defensive rebound
102 - 103
0:29
Memphis full timeout
102 - 103
0:22
Sam Young makes driving layup
104 - 103
0:22
Austin Daye shooting foul (Sam Young draws the foul)
104 - 103
0:22
Tayshaun Prince enters the game for Austin Daye
104 - 103
0:22
Sam Young makes free throw 1 of 1
105 - 103
0:22
Detroit 20 Sec. timeout
105 - 103
0:17
Tony Allen blocks Rodney Stuckey's 7-foot jumper
105 - 103
0:16
Hamed Haddadi defensive rebound
105 - 103
0:16
Rodney Stuckey personal foul (Hamed Haddadi draws the foul)
105 - 103
0:16
Hamed Haddadi makes free throw 1 of 2
106 - 103
0:16
Hamed Haddadi misses free throw 2 of 2
106 - 103
0:15
Greg Monroe defensive rebound
106 - 103
0:06
Sam Young blocks DaJuan Summers's 27-foot three point jumper
106 - 103
0:05
Hamed Haddadi defensive rebound
106 - 103
0:05
Memphis 20 Sec. timeout
106 - 103
0:04
Charlie Villanueva personal foul (Sam Young draws the foul)
106 - 103
0:04
Sam Young misses free throw 1 of 2
106 - 103
0:04
Memphis offensive team rebound
106 - 103
0:04
Sam Young misses free throw 2 of 2
106 - 103
0:03
Greg Monroe defensive rebound
106 - 103
0:00
Rodney Stuckey misses 37-foot three point jumper
106 - 103
0:00
Detroit offensive team rebound
106 - 103
0:00
End of the 4th Quarter
106 - 103
0:00
End Game
106 - 103
ESPN Fan Shop Powered By
adidas Youth Memphis Grizzlies Zach Randolph#50 Road Navy Replica JerseyShop
Follow our #NBArank countdown of the best playoff Vines in NBA history. Here's No. 5.

-- Oakland, CAIn sports, where not much is literal, the Warriors seek to compensate for a lack of something metaphorically murderous. Right now, Stephen Curry has a particular set of skills, momentarily interrupted by a particular set of suits.

ESPN Knicks reporter Ian Begley discusses Carmelo Anthony's role in choosing New York's next coach.
Regular Season Series
MEM wins series 2-0
2015-2016 Southwest Standings