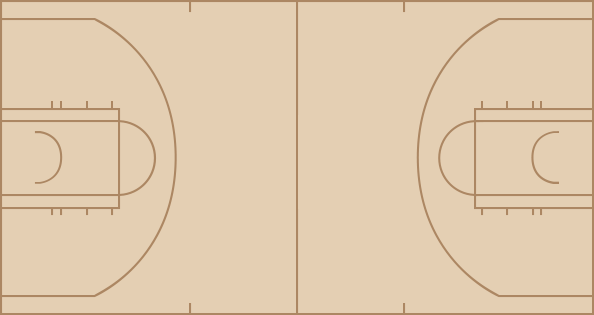 Rockets
time
TEAM
PLAY
SCORE
12:00
Start of the 1st Quarter
0 - 0
12:00
Jumpball: Brad Miller vs. Andrea Bargnani (Jarrett Jack gains possession)
0 - 0
11:45
Kevin Martin personal foul (Andrea Bargnani draws the foul)
0 - 0
11:38
DeMar DeRozan misses 3-foot two point shot
0 - 0
11:37
Reggie Evans offensive rebound
0 - 0
11:30
Sonny Weems misses 30-foot three point jumper
0 - 0
11:30
Luis Scola defensive rebound
0 - 0
11:15
Reggie Evans illegal defense foul (1st personal foul)
0 - 0
11:15
Kevin Martin makes technical free throw
1 - 0
11:07
Kevin Martin misses 22-foot jumper
1 - 0
11:07
Luis Scola offensive rebound
1 - 0
11:00
Luis Scola misses 7-foot two point shot
1 - 0
11:00
Reggie Evans defensive rebound
1 - 0
10:37
Sonny Weems makes driving layup
1 - 2
10:15
Shane Battier misses three point jumper
1 - 2
10:14
Andrea Bargnani defensive rebound
1 - 2
10:06
Sonny Weems makes 24-foot three point jumper (DeMar DeRozan assists)
1 - 5
9:56
Brad Miller makes two point shot (Shane Battier assists)
3 - 5
9:33
Luis Scola blocks Andrea Bargnani's driving layup
3 - 5
9:33
Brad Miller defensive rebound
3 - 5
9:17
Luis Scola misses 6-foot two point shot
3 - 5
9:15
Shane Battier offensive rebound
3 - 5
9:15
Shane Battier misses tip shot
3 - 5
9:12
Andrea Bargnani defensive rebound
3 - 5
9:07
Jarrett Jack makes 19-foot jumper (Andrea Bargnani assists)
3 - 7
9:03
Jarrett Jack shooting foul (Luis Scola draws the foul)
3 - 7
9:03
Luis Scola misses free throw 1 of 2
3 - 7
9:03
Houston offensive team rebound
3 - 7
9:03
Luis Scola makes free throw 2 of 2
4 - 7
8:48
DeMar DeRozan misses 4-foot two point shot
4 - 7
8:48
Brad Miller defensive rebound
4 - 7
8:41
Shane Battier makes driving layup (Kyle Lowry assists)
6 - 7
8:21
Jarrett Jack lost ball (Luis Scola steals)
6 - 7
8:15
Kevin Martin makes 2-foot two point shot (Luis Scola assists)
8 - 7
7:58
DeMar DeRozan turnover
8 - 7
7:47
Kyle Lowry makes 2-foot two point shot (Kevin Martin assists)
10 - 7
7:39
Toronto full timeout
10 - 7
7:28
Andrea Bargnani makes 16-foot jumper (Jarrett Jack assists)
10 - 9
7:15
Sonny Weems personal foul (Shane Battier draws the foul)
10 - 9
7:09
Luis Scola misses 2-foot two point shot
10 - 9
7:07
Reggie Evans defensive rebound
10 - 9
6:56
Sonny Weems makes 12-foot two point shot
10 - 11
6:37
Luis Scola makes 16-foot jumper
12 - 11
6:26
Andrea Bargnani traveling
12 - 11
6:05
Brad Miller makes 19-foot jumper (Kevin Martin assists)
14 - 11
5:46
DeMar DeRozan makes 2-foot two point shot (Jarrett Jack assists)
14 - 13
5:31
Shane Battier makes driving layup
16 - 13
5:22
Andrea Bargnani makes two point shot (Jarrett Jack assists)
16 - 15
5:13
Luis Scola makes 5-foot two point shot (Kevin Martin assists)
18 - 15
4:56
Jarrett Jack misses 20-foot two point shot
18 - 15
4:54
Shane Battier defensive rebound
18 - 15
4:48
Kyle Lowry misses 9-foot running jumper
18 - 15
4:48
Reggie Evans defensive rebound
18 - 15
4:28
Sonny Weems misses 25-foot three point jumper
18 - 15
4:28
Toronto defensive team rebound
18 - 15
4:28
Reggie Evans loose ball foul (Luis Scola draws the foul)
18 - 15
4:20
Kevin Martin lost ball (Sonny Weems steals)
18 - 15
4:15
Sonny Weems makes driving layup (Jarrett Jack assists)
18 - 17
4:00
Kevin Martin misses driving layup
18 - 17
3:59
Kevin Martin offensive rebound
18 - 17
3:58
Kevin Martin makes hook shot
20 - 17
3:46
Shane Battier blocks Sonny Weems's jumper
20 - 17
3:44
Sonny Weems offensive rebound
20 - 17
3:41
Andrea Bargnani makes three point jumper (Sonny Weems assists)
20 - 20
3:23
Kyle Lowry misses driving layup
20 - 20
3:21
Reggie Evans defensive rebound
20 - 20
3:21
Jumpball: Kyle Lowry vs. Reggie Evans (Kyle Lowry gains possession)
20 - 20
3:21
Reggie Evans lost ball (Kyle Lowry steals)
20 - 20
3:16
Shane Battier makes layup (Kyle Lowry assists)
22 - 20
3:05
Shane Battier personal foul (Reggie Evans draws the foul)
22 - 20
3:05
Linas Kleiza enters the game for DeMar DeRozan
22 - 20
3:05
Chase Budinger enters the game for Shane Battier
22 - 20
3:01
Jarrett Jack misses 16-foot two point shot
22 - 20
3:00
Brad Miller defensive rebound
22 - 20
2:51
Kevin Martin makes 24-foot three pointer
25 - 20
2:39
Andrea Bargnani makes 4-foot two point shot (Sonny Weems assists)
25 - 22
2:24
Brad Miller misses driving layup
25 - 22
2:23
Houston defensive team rebound
25 - 22
2:23
Houston full timeout
25 - 22
2:23
Jordan Hill enters the game for Brad Miller
25 - 22
2:23
Amir Johnson enters the game for Reggie Evans
25 - 22
2:23
Jose Calderon enters the game for Jarrett Jack
25 - 22
2:13
Sonny Weems misses 8-foot two point shot
25 - 22
2:12
Kyle Lowry defensive rebound
25 - 22
2:08
Jordan Hill makes 2-foot two point shot (Kyle Lowry assists)
27 - 22
2:08
Linas Kleiza shooting foul (Jordan Hill draws the foul)
27 - 22
2:08
Jordan Hill misses free throw 1 of 1
27 - 22
2:06
Linas Kleiza defensive rebound
27 - 22
1:54
Andrea Bargnani makes 20-foot jumper
27 - 24
1:43
Kevin Martin bad pass
27 - 24
1:31
Sonny Weems offensive foul (Chase Budinger draws the foul)
27 - 24
1:31
Sonny Weems turnover
27 - 24
1:31
DeMar DeRozan enters the game for Sonny Weems
27 - 24
1:13
Luis Scola misses 9-foot two point shot
27 - 24
1:12
Houston defensive team rebound
27 - 24
1:10
Kyle Lowry loose ball foul (Andrea Bargnani draws the foul)
27 - 24
1:10
Ishmael Smith enters the game for Kyle Lowry
27 - 24
1:00
Amir Johnson misses 1-foot two point shot
27 - 24
1:00
Amir Johnson offensive rebound
27 - 24
0:59
Amir Johnson makes tip shot
27 - 26
0:47
Kevin Martin traveling
27 - 26
0:36
Jose Calderon makes 20-foot two point shot
27 - 28
0:28
Luis Scola misses 19-foot jumper
27 - 28
0:27
Andrea Bargnani defensive rebound
27 - 28
0:03
Amir Johnson misses 4-foot running jumper
27 - 28
0:02
Toronto offensive team rebound
27 - 28
0:00
Andrea Bargnani misses 22-foot jumper
27 - 28
0:00
Ishmael Smith defensive rebound
27 - 28
0:00
End of the 1st Quarter
27 - 28

time
TEAM
PLAY
SCORE
12:00
Start of the 2nd Quarter
27 - 28
11:45
Chase Budinger misses 21-foot jumper
27 - 28
11:45
Amir Johnson defensive rebound
27 - 28
11:32
Jose Calderon misses driving layup
27 - 28
11:30
Jordan Hill defensive rebound
27 - 28
11:26
Chase Budinger misses 2-foot two point shot
27 - 28
11:26
DeMar DeRozan defensive rebound
27 - 28
11:17
David Andersen makes 18-foot jumper (Jose Calderon assists)
27 - 30
11:03
Ishmael Smith makes layup (Chuck Hayes assists)
29 - 30
10:44
Linas Kleiza makes 6-foot two point shot
29 - 32
10:29
Courtney Lee misses 16-foot jumper
29 - 32
10:27
David Andersen defensive rebound
29 - 32
10:15
Ishmael Smith blocks Jose Calderon's driving layup
29 - 32
10:14
Jose Calderon offensive rebound
29 - 32
10:11
Jose Calderon lost ball (Courtney Lee steals)
29 - 32
10:06
David Andersen blocks Chuck Hayes's layup
29 - 32
10:03
Ishmael Smith offensive rebound
29 - 32
10:00
Chase Budinger misses 25-foot three point jumper
29 - 32
10:00
DeMar DeRozan defensive rebound
29 - 32
9:41
Linas Kleiza makes 17-foot jumper
29 - 34
9:26
Ishmael Smith bad pass (Jose Calderon steals)
29 - 34
9:19
Courtney Lee blocks DeMar DeRozan's driving layup
29 - 34
9:18
Chase Budinger defensive rebound
29 - 34
9:03
Chase Budinger misses 25-foot three point jumper
29 - 34
9:02
David Andersen defensive rebound
29 - 34
8:45
David Andersen makes 25-foot three point jumper (Jose Calderon assists)
29 - 37
8:26
David Andersen personal foul (Chuck Hayes draws the foul)
29 - 37
8:26
Official timeout
29 - 37
8:26
Sonny Weems enters the game for DeMar DeRozan
29 - 37
8:14
Jordan Hill traveling
29 - 37
8:02
Linas Kleiza misses driving layup
29 - 37
8:00
Chuck Hayes defensive rebound
29 - 37
7:54
Ishmael Smith makes driving layup (Chuck Hayes assists)
31 - 37
7:35
Ishmael Smith personal foul (Amir Johnson draws the foul)
31 - 37
7:26
Linas Kleiza misses 18-foot jumper
31 - 37
7:26
Toronto defensive team rebound
31 - 37
7:26
Amir Johnson loose ball foul (Jordan Hill draws the foul)
31 - 37
7:11
Chase Budinger traveling
31 - 37
6:58
David Andersen makes 18-foot jumper
31 - 39
6:43
Jose Calderon personal foul (Ishmael Smith draws the foul)
31 - 39
6:33
Courtney Lee makes 25-foot three point jumper (Ishmael Smith assists)
34 - 39
6:13
Linas Kleiza makes 7-foot two point shot (Jose Calderon assists)
34 - 41
5:52
Chuck Hayes misses driving layup
34 - 41
5:50
David Andersen defensive rebound
34 - 41
5:35
Amir Johnson misses 6-foot two point shot
34 - 41
5:35
Courtney Lee defensive rebound
34 - 41
5:28
Houston full timeout
34 - 41
5:28
Shane Battier enters the game for Chase Budinger
34 - 41
5:28
Luis Scola enters the game for Jordan Hill
34 - 41
5:28
Brad Miller enters the game for Ishmael Smith
34 - 41
5:28
Kyle Lowry enters the game for Chuck Hayes
34 - 41
5:28
Andrea Bargnani enters the game for Jose Calderon
34 - 41
5:28
Jarrett Jack enters the game for David Andersen
34 - 41
5:22
Amir Johnson blocks Courtney Lee's driving dunk
34 - 41
5:20
Linas Kleiza defensive rebound
34 - 41
5:13
Linas Kleiza makes 16-foot two point shot (Jarrett Jack assists)
34 - 43
4:47
turnover
34 - 43
4:35
Andrea Bargnani makes driving layup (Jarrett Jack assists)
34 - 45
4:28
Shane Battier offensive foul (Jarrett Jack draws the foul)
34 - 45
4:28
Shane Battier turnover
34 - 45
4:28
Kevin Martin enters the game for Courtney Lee
34 - 45
4:28
DeMar DeRozan enters the game for Sonny Weems
34 - 45
4:18
Andrea Bargnani makes 11-foot two point shot (Jarrett Jack assists)
34 - 47
4:01
Luis Scola lost ball (Linas Kleiza steals)
34 - 47
3:54
Kyle Lowry personal foul (Amir Johnson draws the foul)
34 - 47
3:54
Reggie Evans enters the game for Amir Johnson
34 - 47
3:41
Andrea Bargnani misses 19-foot jumper
34 - 47
3:40
Brad Miller defensive rebound
34 - 47
3:27
Jarrett Jack foul (Kyle Lowry draws the foul)
34 - 47
3:15
Kyle Lowry misses jumper
34 - 47
3:15
Reggie Evans defensive rebound
34 - 47
2:58
Andrea Bargnani 3 second
34 - 47
2:58
Toronto full timeout
34 - 47
2:41
Andrea Bargnani shooting foul (Kevin Martin draws the foul)
34 - 47
2:41
Kevin Martin makes free throw 1 of 2
35 - 47
2:41
Kevin Martin makes free throw 2 of 2
36 - 47
2:27
DeMar DeRozan makes two point shot (Andrea Bargnani assists)
36 - 49
2:12
Shane Battier makes three point jumper (Kyle Lowry assists)
39 - 49
1:54
Jarrett Jack misses 12-foot two point shot
39 - 49
1:53
Kyle Lowry defensive rebound
39 - 49
1:49
Luis Scola makes 2-foot two point shot (Kyle Lowry assists)
41 - 49
1:31
Linas Kleiza bad pass
41 - 49
1:31
Jose Calderon enters the game for Jarrett Jack
41 - 49
1:12
Kevin Martin misses 23-foot three pointer
41 - 49
1:09
Andrea Bargnani defensive rebound
41 - 49
0:54
Reggie Evans 3 second
41 - 49
0:40
Brad Miller makes 17-foot jumper (Kyle Lowry assists)
43 - 49
0:24
Reggie Evans makes 4-foot two point shot (Jose Calderon assists)
43 - 51
0:02
Shane Battier misses 26-foot three point jumper
43 - 51
0:01
Houston defensive team rebound
43 - 51
0:00
DeMar DeRozan misses 52-foot three point jumper
43 - 51
0:00
Toronto offensive team rebound
43 - 51
0:00
End of the 2nd Quarter
43 - 51

time
TEAM
PLAY
SCORE
12:00
Start of the 3rd Quarter
43 - 51
11:45
Kevin Martin misses layup
43 - 51
11:45
Sonny Weems defensive rebound
43 - 51
11:33
Sonny Weems misses 16-foot jumper
43 - 51
11:32
Reggie Evans offensive rebound
43 - 51
11:30
Brad Miller shooting foul (Reggie Evans draws the foul)
43 - 51
11:30
Reggie Evans misses free throw 1 of 2
43 - 51
11:30
Toronto offensive team rebound
43 - 51
11:30
Reggie Evans misses free throw 2 of 2
43 - 51
11:30
Brad Miller defensive rebound
43 - 51
11:14
Jarrett Jack loose ball foul (Brad Miller draws the foul)
43 - 51
11:00
turnover
43 - 51
10:38
Sonny Weems bad pass (Kevin Martin steals)
43 - 51
10:26
Sonny Weems shooting foul (Kyle Lowry draws the foul)
43 - 51
10:26
Kyle Lowry makes free throw 1 of 2
44 - 51
10:26
Kyle Lowry makes free throw 2 of 2
45 - 51
10:11
Andrea Bargnani makes driving layup
45 - 53
10:02
Luis Scola makes 1-foot two point shot (Shane Battier assists)
47 - 53
9:53
Luis Scola personal foul (Andrea Bargnani draws the foul)
47 - 53
9:44
DeMar DeRozan misses driving layup
47 - 53
9:42
Reggie Evans offensive rebound
47 - 53
9:37
DeMar DeRozan misses 4-foot running jumper
47 - 53
9:33
Shane Battier defensive rebound
47 - 53
9:30
Kevin Martin makes 25-foot three point jumper (Shane Battier assists)
50 - 53
9:26
Chuck Hayes enters the game for Brad Miller
50 - 53
9:15
Andrea Bargnani misses 15-foot two point shot
50 - 53
9:14
Reggie Evans offensive rebound
50 - 53
9:12
Reggie Evans misses tip shot
50 - 53
9:11
Kevin Martin defensive rebound
50 - 53
8:56
Luis Scola makes 16-foot jumper (Kyle Lowry assists)
52 - 53
8:41
Jarrett Jack makes 8-foot two point shot
52 - 55
8:30
Kevin Martin makes 25-foot three point jumper (Kyle Lowry assists)
55 - 55
8:15
DeMar DeRozan misses driving layup
55 - 55
8:12
Luis Scola defensive rebound
55 - 55
8:00
Shane Battier makes 24-foot three point jumper (Kyle Lowry assists)
58 - 55
7:58
Toronto full timeout
58 - 55
7:48
Jarrett Jack misses 17-foot two point shot
58 - 55
7:47
Shane Battier defensive rebound
58 - 55
7:37
Luis Scola misses 18-foot jumper
58 - 55
7:37
Jarrett Jack defensive rebound
58 - 55
7:22
DeMar DeRozan misses 21-foot jumper
58 - 55
7:22
Kevin Martin defensive rebound
58 - 55
7:01
Sonny Weems shooting foul (Kevin Martin draws the foul)
58 - 55
7:01
Jose Calderon enters the game for Jarrett Jack
58 - 55
7:01
Kevin Martin makes free throw 1 of 2
59 - 55
7:01
Linas Kleiza enters the game for Sonny Weems
59 - 55
7:01
Kevin Martin makes free throw 2 of 2
60 - 55
6:50
Luis Scola shooting foul (Andrea Bargnani draws the foul)
60 - 55
6:50
Andrea Bargnani makes free throw 1 of 2
60 - 56
6:50
Andrea Bargnani makes free throw 2 of 2
60 - 57
6:43
Reggie Evans personal foul (Shane Battier draws the foul)
60 - 57
6:37
Luis Scola misses 20-foot jumper
60 - 57
6:35
Andrea Bargnani defensive rebound
60 - 57
6:15
Linas Kleiza makes 18-foot jumper
60 - 59
5:54
Luis Scola misses driving layup
60 - 59
5:52
Chuck Hayes offensive rebound
60 - 59
5:48
DeMar DeRozan personal foul (Kyle Lowry draws the foul)
60 - 59
5:48
Kyle Lowry makes free throw 1 of 2
61 - 59
5:48
Kyle Lowry makes free throw 2 of 2
62 - 59
5:26
Jose Calderon makes 23-foot jumper
62 - 61
5:03
Shane Battier makes 9-foot two point shot
64 - 61
4:47
Jose Calderon makes 22-foot jumper (Andrea Bargnani assists)
64 - 63
4:28
Reggie Evans personal foul (Luis Scola draws the foul)
64 - 63
4:28
Amir Johnson enters the game for Reggie Evans
64 - 63
4:28
Luis Scola makes free throw 1 of 2
65 - 63
4:28
Luis Scola makes free throw 2 of 2
66 - 63
4:18
Linas Kleiza misses 25-foot three point jumper
66 - 63
4:18
Kevin Martin defensive rebound
66 - 63
4:01
Luis Scola misses 18-foot jumper
66 - 63
4:00
Linas Kleiza defensive rebound
66 - 63
3:54
Andrea Bargnani offensive foul (Kyle Lowry draws the foul)
66 - 63
3:54
Andrea Bargnani turnover
66 - 63
3:45
Amir Johnson shooting foul (Kevin Martin draws the foul)
66 - 63
3:45
Kevin Martin makes free throw 1 of 2
67 - 63
3:45
Kevin Martin makes free throw 2 of 2
68 - 63
3:38
Kyle Lowry shooting foul (DeMar DeRozan draws the foul)
68 - 63
3:38
DeMar DeRozan misses free throw 1 of 2
68 - 63
3:38
Toronto offensive team rebound
68 - 63
3:38
DeMar DeRozan makes free throw 2 of 2
68 - 64
3:19
Luis Scola traveling
68 - 64
3:06
DeMar DeRozan makes layup (Jose Calderon assists)
68 - 66
2:55
Luis Scola makes two point shot (Kyle Lowry assists)
70 - 66
2:39
Amir Johnson misses layup
70 - 66
2:36
Amir Johnson offensive rebound
70 - 66
2:35
Amir Johnson makes tip shot
70 - 68
2:21
Luis Scola misses 2-foot two point shot
70 - 68
2:20
Amir Johnson defensive rebound
70 - 68
2:14
Jose Calderon bad pass (Shane Battier steals)
70 - 68
2:10
Kyle Lowry makes driving layup (Shane Battier assists)
72 - 68
1:52
Amir Johnson bad pass (Kyle Lowry steals)
72 - 68
1:47
Luis Scola makes two point shot (Kyle Lowry assists)
74 - 68
1:44
Toronto 20 Sec. timeout
74 - 68
1:44
Houston full timeout
74 - 68
1:24
DeMar DeRozan makes driving layup
74 - 70
1:06
Chuck Hayes misses 7-foot two point shot
74 - 70
1:05
Amir Johnson defensive rebound
74 - 70
1:05
Chuck Hayes loose ball foul (Amir Johnson draws the foul)
74 - 70
1:05
Amir Johnson makes free throw 1 of 2
74 - 71
1:05
Amir Johnson makes free throw 2 of 2
74 - 72
0:52
Kevin Martin misses 25-foot three point jumper
74 - 72
0:52
Houston defensive team rebound
74 - 72
0:38
Andrea Bargnani makes two point shot (Jose Calderon assists)
74 - 74
0:38
Luis Scola shooting foul (Andrea Bargnani draws the foul)
74 - 74
0:38
Andrea Bargnani makes free throw 1 of 1
74 - 75
0:29
Kyle Lowry misses two point shot
74 - 75
0:27
Linas Kleiza defensive rebound
74 - 75
0:07
Jose Calderon misses 21-foot two point shot
74 - 75
0:05
Kyle Lowry defensive rebound
74 - 75
0:00
Luis Scola misses jumper
74 - 75
0:00
Houston offensive team rebound
74 - 75
0:00
End of the 3rd Quarter
74 - 75

time
TEAM
PLAY
SCORE
12:00
Start of the 4th Quarter
74 - 75
11:48
Linas Kleiza foul (Kyle Lowry draws the foul)
74 - 75
11:48
Linas Kleiza turnover
74 - 75
11:34
Kevin Martin misses layup
74 - 75
11:33
Chuck Hayes offensive rebound
74 - 75
11:33
Sonny Weems shooting foul (Chuck Hayes draws the foul)
74 - 75
11:33
Chuck Hayes makes free throw 1 of 2
75 - 75
11:33
DeMar DeRozan enters the game for Sonny Weems
75 - 75
11:33
Chuck Hayes makes free throw 2 of 2
76 - 75
11:19
Jose Calderon misses 25-foot three point jumper
76 - 75
11:18
Chuck Hayes defensive rebound
76 - 75
11:00
Brad Miller traveling
76 - 75
10:48
Brad Miller shooting foul (Linas Kleiza draws the foul)
76 - 75
10:48
Linas Kleiza misses free throw 1 of 2
76 - 75
10:48
Toronto offensive team rebound
76 - 75
10:48
Linas Kleiza makes free throw 2 of 2
76 - 76
10:40
Kevin Martin bad pass (DeMar DeRozan steals)
76 - 76
10:36
Chase Budinger shooting foul (DeMar DeRozan draws the foul)
76 - 76
10:36
DeMar DeRozan makes free throw 1 of 2
76 - 77
10:36
DeMar DeRozan misses free throw 2 of 2
76 - 77
10:34
Chuck Hayes defensive rebound
76 - 77
10:19
Brad Miller makes 15-foot jumper
78 - 77
10:00
Linas Kleiza makes three point jumper (Jose Calderon assists)
78 - 80
9:52
Kevin Martin makes 23-foot three point jumper (Kyle Lowry assists)
81 - 80
9:34
Linas Kleiza makes two point shot
81 - 82
9:34
Chuck Hayes shooting foul (Linas Kleiza draws the foul)
81 - 82
9:34
Houston full timeout
81 - 82
9:34
Linas Kleiza makes free throw 1 of 1
81 - 83
9:18
Kyle Lowry bad pass (Jose Calderon steals)
81 - 83
9:03
Chuck Hayes shooting foul (Amir Johnson draws the foul)
81 - 83
9:03
Amir Johnson makes free throw 1 of 2
81 - 84
9:03
Amir Johnson misses free throw 2 of 2
81 - 84
9:03
Kyle Lowry defensive rebound
81 - 84
8:55
Chase Budinger misses three point jumper
81 - 84
8:53
Kyle Lowry offensive rebound
81 - 84
8:48
Chase Budinger misses driving layup
81 - 84
8:45
Amir Johnson defensive rebound
81 - 84
8:26
Chuck Hayes blocks David Andersen's 4-foot jumper
81 - 84
8:23
David Andersen offensive rebound
81 - 84
8:21
David Andersen makes 11-foot two point shot
81 - 86
7:54
Brad Miller misses 24-foot three point jumper
81 - 86
7:54
DeMar DeRozan defensive rebound
81 - 86
7:33
Linas Kleiza misses 25-foot three point jumper
81 - 86
7:33
Toronto offensive team rebound
81 - 86
7:33
Shane Battier enters the game for Chase Budinger
81 - 86
7:18
David Andersen misses 25-foot three point jumper
81 - 86
7:18
Kyle Lowry defensive rebound
81 - 86
7:15
Kyle Lowry lost ball (Amir Johnson steals)
81 - 86
7:07
Shane Battier blocks David Andersen's 2-foot two point shot
81 - 86
7:07
Toronto offensive team rebound
81 - 86
6:58
David Andersen misses 14-foot two point shot
81 - 86
6:56
Amir Johnson offensive rebound
81 - 86
6:48
Toronto full timeout
81 - 86
6:48
Andrea Bargnani enters the game for Jose Calderon
81 - 86
6:48
Jarrett Jack enters the game for David Andersen
81 - 86
6:48
Luis Scola enters the game for Chuck Hayes
81 - 86
6:45
Shane Battier shooting foul (DeMar DeRozan draws the foul)
81 - 86
6:45
DeMar DeRozan makes free throw 1 of 2
81 - 87
6:45
DeMar DeRozan makes free throw 2 of 2
81 - 88
6:24
Brad Miller misses 24-foot three point jumper
81 - 88
6:22
DeMar DeRozan defensive rebound
81 - 88
6:09
Brad Miller shooting foul (DeMar DeRozan draws the foul)
81 - 88
6:09
DeMar DeRozan makes free throw 1 of 2
81 - 89
6:09
DeMar DeRozan makes free throw 2 of 2
81 - 90
5:58
DeMar DeRozan personal foul (Luis Scola draws the foul)
81 - 90
5:43
Kyle Lowry misses 15-foot running jumper
81 - 90
5:41
DeMar DeRozan defensive rebound
81 - 90
5:26
Kyle Lowry personal foul (Amir Johnson draws the foul)
81 - 90
5:26
Amir Johnson misses free throw 1 of 2
81 - 90
5:26
Toronto offensive team rebound
81 - 90
5:26
Amir Johnson makes free throw 2 of 2
81 - 91
5:16
Kevin Martin makes 1-foot two point shot (Luis Scola assists)
83 - 91
4:52
Andrea Bargnani misses 21-foot jumper
83 - 91
4:52
Shane Battier defensive rebound
83 - 91
4:41
Andrea Bargnani shooting foul (Kevin Martin draws the foul)
83 - 91
4:41
Kevin Martin makes free throw 1 of 2
84 - 91
4:41
Kevin Martin makes free throw 2 of 2
85 - 91
4:28
Brad Miller shooting foul (DeMar DeRozan draws the foul)
85 - 91
4:28
DeMar DeRozan misses free throw 1 of 2
85 - 91
4:28
Toronto offensive team rebound
85 - 91
4:28
DeMar DeRozan misses free throw 2 of 2
85 - 91
4:26
Kyle Lowry defensive rebound
85 - 91
4:11
Brad Miller makes jumper (Luis Scola assists)
87 - 91
3:53
DeMar DeRozan misses driving layup
87 - 91
3:51
Luis Scola defensive rebound
87 - 91
3:43
Kevin Martin misses 25-foot three point jumper
87 - 91
3:42
DeMar DeRozan defensive rebound
87 - 91
3:33
Andrea Bargnani makes 18-foot two point shot (Jarrett Jack assists)
87 - 93
3:15
Kyle Lowry makes three point jumper (Shane Battier assists)
90 - 93
2:56
Andrea Bargnani makes 6-foot running jumper
90 - 95
2:48
DeMar DeRozan shooting foul (Kevin Martin draws the foul)
90 - 95
2:48
Jose Calderon enters the game for Jarrett Jack
90 - 95
2:48
Kevin Martin makes free throw 1 of 2
91 - 95
2:48
full timeout
90 - 95
2:48
Kevin Martin makes free throw 2 of 2
92 - 95
2:36
Andrea Bargnani misses 9-foot jumper
92 - 95
2:35
Amir Johnson offensive rebound
92 - 95
2:34
Amir Johnson makes layup
92 - 97
2:24
Jose Calderon kicked ball
92 - 97
2:24
Sonny Weems enters the game for Linas Kleiza
92 - 97
2:20
Shane Battier bad pass (Amir Johnson steals)
92 - 97
2:16
Brad Miller shooting foul (DeMar DeRozan draws the foul)
92 - 97
2:16
DeMar DeRozan misses free throw 1 of 2
92 - 97
2:16
Toronto offensive team rebound
92 - 97
2:16
DeMar DeRozan makes free throw 2 of 2
92 - 98
2:00
Luis Scola makes layup
94 - 98
1:43
Amir Johnson misses 6-foot two point shot
94 - 98
1:42
Shane Battier defensive rebound
94 - 98
1:30
Kevin Martin misses 19-foot two point shot
94 - 98
1:28
Jose Calderon defensive rebound
94 - 98
1:13
Jose Calderon misses 22-foot two point shot
94 - 98
1:10
Luis Scola defensive rebound
94 - 98
1:00
Shane Battier misses three point jumper
94 - 98
0:59
DeMar DeRozan defensive rebound
94 - 98
0:43
Jose Calderon makes driving layup
94 - 100
0:43
Houston full timeout
94 - 100
0:37
Amir Johnson blocks Kyle Lowry's driving layup
94 - 100
0:35
Andrea Bargnani defensive rebound
94 - 100
0:34
Sonny Weems makes 1-foot two point shot (Andrea Bargnani assists)
94 - 102
0:26
Kevin Martin makes 15-foot jumper
96 - 102
0:26
Kyle Lowry personal foul (Jose Calderon draws the foul)
96 - 102
0:26
Jose Calderon makes free throw 1 of 2
96 - 103
0:26
Jose Calderon makes free throw 2 of 2
96 - 104
0:26
Houston 20 Sec. timeout
96 - 104
0:26
Jarrett Jack enters the game for Andrea Bargnani
96 - 104
0:18
Shane Battier misses 24-foot three point jumper
96 - 104
0:17
Sonny Weems defensive rebound
96 - 104
0:15
Shane Battier personal foul (Sonny Weems draws the foul)
96 - 104
0:15
Sonny Weems makes free throw 1 of 2
96 - 105
0:15
Ishmael Smith enters the game for Kyle Lowry
96 - 105
0:15
Chase Budinger enters the game for Shane Battier
96 - 105
0:15
Sonny Weems makes free throw 2 of 2
96 - 106
0:08
Chase Budinger lost ball (Sonny Weems steals)
96 - 106
0:00
End of the 4th Quarter
96 - 106
0:00
End Game
96 - 106
The Los Angeles Lakers selected Croatian center Ivica Zubac with the No. 2 pick in the second round (No. 32 overall) of the 2016 NBA draft on Thursday night.

Myron Medcalf and Amin Elhassan discuss the 76ers' selection of Furkan Korkmaz with the 26th overall pick.

The Boston Celtics drafted Michigan State forward Deyonta Davis, sending him to the Memphis Grizzlies in a draft night trade that involves future draft picks.
Regular Season Series
Series tied 1-1
2015-2016 Southwest Standings
2015-2016 Atlantic Standings