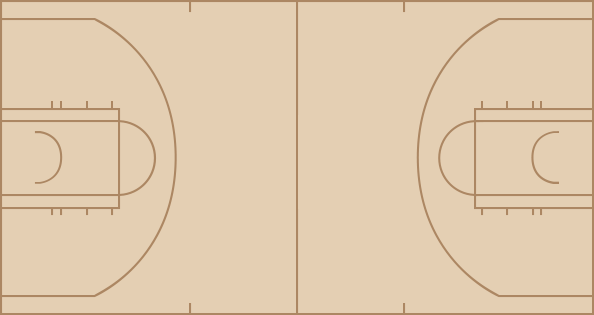 Mavericks
time
TEAM
PLAY
SCORE
12:00
Start of the 1st Quarter
0 - 0
12:00
Jumpball: Tyson Chandler vs. Nenad Krstic (Jason Kidd gains possession)
0 - 0
11:41
Caron Butler misses 17-foot jumper
0 - 0
11:40
Kevin Durant defensive rebound
0 - 0
11:22
Kevin Durant misses hook shot
0 - 0
11:21
Nenad Krstic offensive rebound
0 - 0
11:21
Nenad Krstic misses tip shot
0 - 0
11:19
Tyson Chandler defensive rebound
0 - 0
11:03
Dirk Nowitzki bad pass
0 - 0
10:53
Jeff Green makes layup (Russell Westbrook assists)
0 - 2
10:53
Tyson Chandler shooting foul (Jeff Green draws the foul)
0 - 2
10:53
Jeff Green makes free throw 1 of 1
0 - 3
10:41
Caron Butler misses 21-foot jumper
0 - 3
10:38
Tyson Chandler offensive rebound
0 - 3
10:33
DeShawn Stevenson makes 23-foot three point jumper (Dirk Nowitzki assists)
3 - 3
10:21
Kevin Durant makes layup (Thabo Sefolosha assists)
3 - 5
10:07
Jason Kidd makes 25-foot three point jumper (Dirk Nowitzki assists)
6 - 5
9:56
Russell Westbrook traveling
6 - 5
9:51
Jason Kidd bad pass
6 - 5
9:41
Thabo Sefolosha misses 6-foot jumper
6 - 5
9:41
Dirk Nowitzki defensive rebound
6 - 5
9:33
Caron Butler makes 17-foot jumper
8 - 5
9:18
Nenad Krstic misses 17-foot jumper
8 - 5
9:17
Caron Butler defensive rebound
8 - 5
9:08
Caron Butler makes driving dunk (Jason Kidd assists)
10 - 5
8:55
Caron Butler shooting foul (Nenad Krstic draws the foul)
10 - 5
8:55
Nenad Krstic makes free throw 1 of 2
10 - 6
8:55
Nenad Krstic misses free throw 2 of 2
10 - 6
8:53
Tyson Chandler defensive rebound
10 - 6
8:38
Tyson Chandler misses layup
10 - 6
8:37
Tyson Chandler offensive rebound
12 - 6
8:37
Tyson Chandler makes tip shot
12 - 6
8:25
Kevin Durant misses 25-foot three point jumper
12 - 6
8:23
Jason Kidd defensive rebound
12 - 6
8:19
Jason Kidd bad pass (Russell Westbrook steals)
12 - 6
8:06
Thabo Sefolosha makes 25-foot three point jumper (Russell Westbrook assists)
12 - 9
7:52
Thabo Sefolosha personal foul (Caron Butler draws the foul)
12 - 9
7:43
Dirk Nowitzki traveling
12 - 9
7:30
Jeff Green misses 19-foot jumper
12 - 9
7:28
Nenad Krstic offensive rebound
12 - 9
7:24
Jeff Green makes layup (Nenad Krstic assists)
12 - 11
7:01
Nenad Krstic shooting foul (Dirk Nowitzki draws the foul)
12 - 11
7:01
Dirk Nowitzki makes free throw 1 of 2
13 - 11
7:01
Dirk Nowitzki makes free throw 2 of 2
14 - 11
6:52
Kevin Durant makes two point shot (Russell Westbrook assists)
14 - 13
6:37
Jason Kidd misses 23-foot three point jumper
14 - 13
6:35
Kevin Durant defensive rebound
14 - 13
6:33
Russell Westbrook misses dunk
14 - 13
6:31
Caron Butler defensive rebound
14 - 13
6:22
Dirk Nowitzki makes 17-foot jumper (Jason Kidd assists)
16 - 13
6:03
Nenad Krstic misses hook shot
16 - 13
6:01
Dirk Nowitzki defensive rebound
16 - 13
5:45
Caron Butler makes 17-foot jumper (Jason Kidd assists)
18 - 13
5:37
Oklahoma City full timeout
18 - 13
5:16
Nenad Krstic makes 17-foot jumper (Thabo Sefolosha assists)
18 - 15
4:54
Jason Kidd bad pass (Russell Westbrook steals)
18 - 15
4:48
Kevin Durant makes dunk (Russell Westbrook assists)
18 - 17
4:22
Caron Butler makes 21-foot jumper
20 - 17
4:05
Nenad Krstic makes layup (Russell Westbrook assists)
20 - 19
3:50
Jason Kidd misses 25-foot three point jumper
20 - 19
3:48
Tyson Chandler offensive rebound
20 - 19
3:42
Nenad Krstic shooting foul (Dirk Nowitzki draws the foul)
20 - 19
3:42
Serge Ibaka enters the game for Nenad Krstic
20 - 19
3:42
Nick Collison enters the game for Jeff Green
20 - 19
3:42
Jason Terry enters the game for DeShawn Stevenson
20 - 19
3:42
Dirk Nowitzki makes free throw 1 of 2
21 - 19
3:42
Brendan Haywood enters the game for Tyson Chandler
21 - 19
3:42
Dirk Nowitzki makes free throw 2 of 2
22 - 19
3:33
Kevin Durant makes two point shot (Russell Westbrook assists)
22 - 21
3:24
Dallas full timeout
22 - 21
3:24
Shawn Marion enters the game for Dirk Nowitzki
22 - 21
3:15
Shawn Marion bad pass
22 - 21
3:02
Shawn Marion shooting foul (Russell Westbrook draws the foul)
22 - 21
3:02
Russell Westbrook makes free throw 1 of 2
22 - 22
3:02
James Harden enters the game for Thabo Sefolosha
22 - 22
3:02
Russell Westbrook makes free throw 2 of 2
22 - 23
2:41
Shawn Marion misses two point shot
22 - 23
2:40
Nick Collison defensive rebound
22 - 23
2:31
Serge Ibaka misses 15-foot jumper
22 - 23
2:30
Shawn Marion defensive rebound
22 - 23
2:10
Jason Terry misses 23-foot three point jumper
22 - 23
2:08
James Harden defensive rebound
22 - 23
2:00
Shawn Marion shooting foul (Serge Ibaka draws the foul)
22 - 23
2:00
Serge Ibaka misses free throw 1 of 2
22 - 23
2:00
Oklahoma City offensive team rebound
22 - 23
2:00
Jose Juan Barea enters the game for Jason Kidd
22 - 23
2:00
Dirk Nowitzki enters the game for Caron Butler
22 - 23
2:00
Serge Ibaka misses free throw 2 of 2
22 - 23
1:59
Jose Juan Barea defensive rebound
22 - 23
1:49
Brendan Haywood makes dunk (Shawn Marion assists)
24 - 23
1:49
Nick Collison shooting foul (Brendan Haywood draws the foul)
24 - 23
1:49
Brendan Haywood misses free throw 1 of 1
24 - 23
1:47
Serge Ibaka defensive rebound
24 - 23
1:28
Nick Collison makes two point shot (Russell Westbrook assists)
24 - 25
1:13
Jose Juan Barea misses 24-foot three point jumper
24 - 25
1:12
Kevin Durant defensive rebound
24 - 25
1:07
Shawn Marion foul (Kevin Durant draws the foul)
24 - 25
1:07
Eric Maynor enters the game for Russell Westbrook
24 - 25
1:07
Kevin Durant makes free throw 1 of 2
24 - 26
1:07
Brian Cardinal enters the game for Shawn Marion
24 - 26
1:07
Kevin Durant makes free throw 2 of 2
24 - 27
0:43
Jose Juan Barea foul (Nick Collison draws the foul)
24 - 27
0:43
Jose Juan Barea turnover
24 - 27
0:36
Kevin Durant misses 25-foot three point jumper
24 - 27
0:34
Brendan Haywood defensive rebound
24 - 27
0:18
Dirk Nowitzki misses 13-foot two point shot
24 - 27
0:16
Nick Collison defensive rebound
24 - 27
0:02
Kevin Durant discontinue dribble
24 - 27
0:00
End of the 1st Quarter
24 - 27

time
TEAM
PLAY
SCORE
12:00
Start of the 2nd Quarter
24 - 27
11:33
Serge Ibaka makes layup (Eric Maynor assists)
24 - 29
11:19
Jose Juan Barea makes two point shot
26 - 29
10:55
Eric Maynor misses 24-foot three point jumper
26 - 29
10:53
Jose Juan Barea defensive rebound
26 - 29
10:47
Jose Juan Barea misses 17-foot jumper
26 - 29
10:45
James Harden defensive rebound
26 - 29
10:33
James Harden misses 18-foot jumper
26 - 29
10:33
Jose Juan Barea defensive rebound
26 - 29
10:23
Eric Maynor shooting foul (Jason Terry draws the foul)
26 - 29
10:23
Jason Terry makes free throw 1 of 2
27 - 29
10:23
Jason Terry makes free throw 2 of 2
28 - 29
10:07
Jeff Green misses 17-foot jumper
28 - 29
10:07
Jose Juan Barea defensive rebound
28 - 29
10:03
Jason Terry misses layup
28 - 29
10:02
Eric Maynor defensive rebound
28 - 29
9:56
Eric Maynor bad pass (Jason Terry steals)
28 - 29
9:48
Dirk Nowitzki misses 24-foot three point jumper
28 - 29
9:45
Brendan Haywood offensive rebound
28 - 29
9:42
Nick Collison foul (Brendan Haywood draws the foul)
28 - 29
9:42
Brendan Haywood misses free throw 1 of 2
28 - 29
9:42
Dallas offensive team rebound
28 - 29
9:42
Brendan Haywood makes free throw 2 of 2
29 - 29
9:32
James Harden makes 25-foot three point jumper (Eric Maynor assists)
29 - 32
9:17
Jose Juan Barea makes 11-foot jumper
31 - 32
8:53
Brian Cardinal shooting foul (Serge Ibaka draws the foul)
31 - 32
8:53
Official timeout
31 - 32
8:53
Caron Butler enters the game for Dirk Nowitzki
31 - 32
8:53
Serge Ibaka makes free throw 1 of 2
31 - 33
8:53
Serge Ibaka misses free throw 2 of 2
31 - 33
8:53
Caron Butler defensive rebound
31 - 33
8:37
Jason Terry misses 15-foot jumper
31 - 33
8:37
Dallas offensive team rebound
31 - 33
8:22
Caron Butler makes 23-foot three point jumper (Jason Terry assists)
34 - 33
8:11
Brendan Haywood illegal defense foul (1st personal foul)
34 - 33
8:11
James Harden makes technical free throw
34 - 34
8:11
Kevin Durant enters the game for Serge Ibaka
34 - 34
8:02
Nick Collison makes hook shot (Kevin Durant assists)
34 - 36
7:39
Nick Collison blocks Brian Cardinal's layup
34 - 36
7:37
James Harden defensive rebound
34 - 36
7:33
Eric Maynor makes two point shot (James Harden assists)
34 - 38
7:28
Dallas full timeout
34 - 38
7:28
Tyson Chandler enters the game for Brendan Haywood
34 - 38
7:28
Jason Kidd enters the game for Jose Juan Barea
34 - 38
7:28
Russell Westbrook enters the game for Eric Maynor
34 - 38
7:20
Jason Kidd misses 24-foot three point jumper
34 - 38
7:18
Kevin Durant defensive rebound
34 - 38
7:05
James Harden bad pass (Tyson Chandler steals)
34 - 38
7:01
Caron Butler misses layup
34 - 38
6:58
Kevin Durant defensive rebound
34 - 38
6:52
Jeff Green makes layup (James Harden assists)
34 - 40
6:33
Jason Terry misses 18-foot jumper
34 - 40
6:31
Dallas defensive team rebound
34 - 40
6:13
Jeff Green makes 25-foot three point jumper (Russell Westbrook assists)
34 - 43
5:50
Nick Collison shooting foul (Tyson Chandler draws the foul)
34 - 43
5:50
Tyson Chandler makes free throw 1 of 2
35 - 43
5:50
Jose Juan Barea enters the game for Jason Terry
35 - 43
5:50
Dirk Nowitzki enters the game for Brian Cardinal
35 - 43
5:50
Nenad Krstic enters the game for Nick Collison
35 - 43
5:50
Tyson Chandler makes free throw 2 of 2
36 - 43
5:43
Jeff Green makes two point shot (Russell Westbrook assists)
36 - 45
5:31
Jose Juan Barea misses 6-foot jumper
36 - 45
5:30
Tyson Chandler offensive rebound
36 - 45
5:28
Tyson Chandler lost ball (James Harden steals)
36 - 45
5:24
James Harden misses layup
36 - 45
5:22
Oklahoma City offensive team rebound
36 - 45
5:13
Nenad Krstic misses 17-foot jumper
36 - 45
5:11
Tyson Chandler defensive rebound
36 - 45
5:00
Russell Westbrook shooting foul (Jose Juan Barea draws the foul)
36 - 45
5:00
Jose Juan Barea makes free throw 1 of 2
37 - 45
5:00
Thabo Sefolosha enters the game for James Harden
37 - 45
5:00
Jose Juan Barea makes free throw 2 of 2
38 - 45
4:50
Jeff Green misses hook shot
38 - 45
4:50
Dirk Nowitzki defensive rebound
38 - 45
4:43
Nenad Krstic personal foul (Caron Butler draws the foul)
38 - 45
4:43
Caron Butler makes free throw 1 of 2
39 - 45
4:43
Serge Ibaka enters the game for Nenad Krstic
39 - 45
4:43
Caron Butler makes free throw 2 of 2
40 - 45
4:28
Kevin Durant makes 24-foot three point jumper (Jeff Green assists)
40 - 48
4:05
Dirk Nowitzki makes 1-foot two point shot
42 - 48
3:51
Jose Juan Barea personal foul (Russell Westbrook draws the foul)
42 - 48
3:51
DeShawn Stevenson enters the game for Jose Juan Barea
42 - 48
3:42
Kevin Durant makes 16-foot jumper
42 - 50
3:28
Kevin Durant shooting foul (Tyson Chandler draws the foul)
42 - 50
3:28
Tyson Chandler misses free throw 1 of 2
42 - 50
3:28
Dallas offensive team rebound
42 - 50
3:28
Tyson Chandler makes free throw 2 of 2
43 - 50
3:23
Oklahoma City full timeout
43 - 50
3:14
Serge Ibaka misses 13-foot jumper
43 - 50
3:13
DeShawn Stevenson defensive rebound
43 - 50
2:54
Tyson Chandler makes layup (Jason Kidd assists)
45 - 50
2:54
Kevin Durant shooting foul (Tyson Chandler draws the foul)
45 - 50
2:54
Tyson Chandler makes free throw 1 of 1
46 - 50
2:44
Russell Westbrook turnover
46 - 50
2:33
DeShawn Stevenson makes 24-foot three point jumper (Jason Kidd assists)
49 - 50
2:20
Russell Westbrook misses 25-foot three point jumper
49 - 50
2:19
Tyson Chandler defensive rebound
49 - 50
2:06
Dirk Nowitzki makes 9-foot two point shot
51 - 50
1:49
Caron Butler shooting foul (Kevin Durant draws the foul)
51 - 50
1:49
Kevin Durant makes free throw 1 of 2
51 - 51
1:49
Kevin Durant makes free throw 2 of 2
51 - 52
1:31
Jeff Green blocks Tyson Chandler's 4-foot jumper
51 - 52
1:29
Jeff Green defensive rebound
51 - 52
1:24
Jeff Green misses driving layup
51 - 52
1:24
Oklahoma City offensive team rebound
51 - 52
1:13
Serge Ibaka makes two point shot (Kevin Durant assists)
51 - 54
0:47
Kevin Durant shooting foul (Dirk Nowitzki draws the foul)
51 - 54
0:47
Serge Ibaka double technical foul
51 - 54
0:47
Dirk Nowitzki makes free throw 1 of 2
52 - 54
0:47
James Harden enters the game for Kevin Durant
52 - 54
0:47
Dirk Nowitzki makes free throw 2 of 2
53 - 54
0:36
Jeff Green makes two point shot
53 - 56
0:13
Caron Butler makes 19-foot two point shot
55 - 56
0:00
Russell Westbrook misses 18-foot jumper
55 - 56
0:00
Oklahoma City offensive team rebound
55 - 56
0:00
End of the 2nd Quarter
55 - 56

time
TEAM
PLAY
SCORE
12:00
Start of the 3rd Quarter
55 - 56
11:42
Kevin Durant makes 24-foot three point jumper (Jeff Green assists)
55 - 59
11:21
Jeff Green shooting foul (Dirk Nowitzki draws the foul)
55 - 59
11:21
Dirk Nowitzki misses free throw 1 of 2
55 - 59
11:21
Dallas offensive team rebound
55 - 59
11:21
Dirk Nowitzki makes free throw 2 of 2
56 - 59
11:11
Nenad Krstic makes 17-foot jumper (Kevin Durant assists)
56 - 61
11:00
Caron Butler lost ball (Thabo Sefolosha steals)
56 - 61
10:56
Thabo Sefolosha makes dunk
56 - 63
10:53
Dallas full timeout
56 - 63
10:33
Dirk Nowitzki makes 11-foot two point shot
58 - 63
10:22
DeShawn Stevenson shooting foul (Kevin Durant draws the foul)
58 - 63
10:22
Kevin Durant makes free throw 1 of 2
58 - 64
10:22
Kevin Durant makes free throw 2 of 2
58 - 65
10:08
Jason Kidd misses 21-foot jumper
58 - 65
10:07
Tyson Chandler offensive rebound
58 - 65
10:07
Jeff Green shooting foul (Tyson Chandler draws the foul)
58 - 65
10:07
Tyson Chandler makes free throw 1 of 2
59 - 65
10:07
Tyson Chandler makes free throw 2 of 2
60 - 65
9:49
Nenad Krstic misses 16-foot jumper
60 - 65
9:48
Caron Butler defensive rebound
60 - 65
9:38
Tyson Chandler makes layup
62 - 65
9:27
Russell Westbrook bad pass (Jason Kidd steals)
62 - 65
9:21
Dirk Nowitzki misses 25-foot three point jumper
62 - 65
9:19
Jason Kidd offensive rebound
62 - 65
9:11
DeShawn Stevenson misses 24-foot three point jumper
62 - 65
9:11
Russell Westbrook defensive rebound
62 - 65
9:03
Russell Westbrook misses 21-foot jumper
62 - 65
9:02
Tyson Chandler defensive rebound
62 - 65
8:48
Dirk Nowitzki misses 15-foot two point shot
62 - 65
8:48
Kevin Durant defensive rebound
62 - 65
8:27
Jeff Green bad pass
62 - 65
8:15
Caron Butler misses 25-foot three point jumper
62 - 65
8:14
Kevin Durant defensive rebound
62 - 65
8:03
Jeff Green makes three point jumper (Kevin Durant assists)
62 - 68
7:46
Jason Kidd misses 25-foot three point jumper
62 - 68
7:45
Thabo Sefolosha defensive rebound
62 - 68
7:37
Thabo Sefolosha misses 23-foot three point jumper
62 - 68
7:35
Tyson Chandler defensive rebound
62 - 68
7:18
Jeff Green shooting foul (Dirk Nowitzki draws the foul)
62 - 68
7:18
Dirk Nowitzki makes free throw 1 of 2
63 - 68
7:18
Jason Terry enters the game for DeShawn Stevenson
63 - 68
7:18
Dirk Nowitzki makes free throw 2 of 2
64 - 68
7:00
Russell Westbrook misses 3-foot two point shot
64 - 68
6:58
Jason Terry defensive rebound
64 - 68
6:46
Caron Butler misses 23-foot three point jumper
64 - 68
6:45
Russell Westbrook defensive rebound
64 - 68
6:39
Russell Westbrook makes 13-foot jumper
64 - 70
6:20
Jason Kidd misses 14-foot jumper
64 - 70
6:18
Kevin Durant defensive rebound
64 - 70
6:13
Kevin Durant misses 25-foot three point jumper
64 - 70
6:11
Jason Terry defensive rebound
64 - 70
5:52
Jason Terry misses 25-foot three point jumper
64 - 70
5:52
Nenad Krstic defensive rebound
64 - 70
5:48
Jason Terry personal foul (Russell Westbrook draws the foul)
64 - 70
5:48
Shawn Marion enters the game for Dirk Nowitzki
64 - 70
5:41
Kevin Durant lost ball (Caron Butler steals)
64 - 70
5:35
Jason Terry misses layup
64 - 70
5:33
Thabo Sefolosha defensive rebound
64 - 70
5:26
Thabo Sefolosha makes driving layup
64 - 72
5:00
Caron Butler misses 9-foot jumper
64 - 72
4:58
Tyson Chandler offensive rebound
64 - 72
4:52
Jason Kidd misses 24-foot three point jumper
64 - 72
4:52
Thabo Sefolosha defensive rebound
64 - 72
4:47
Jason Terry shooting foul (Russell Westbrook draws the foul)
64 - 72
4:47
Russell Westbrook makes free throw 1 of 2
64 - 73
4:47
Serge Ibaka enters the game for Nenad Krstic
64 - 73
4:47
Russell Westbrook misses free throw 2 of 2
64 - 73
4:46
Caron Butler defensive rebound
64 - 73
4:26
Caron Butler misses two point shot
64 - 73
4:24
Shawn Marion offensive rebound
64 - 73
4:20
Jason Kidd misses 25-foot three point jumper
64 - 73
4:20
Thabo Sefolosha defensive rebound
64 - 73
4:07
Thabo Sefolosha misses layup
64 - 73
4:05
Russell Westbrook offensive rebound
64 - 73
4:03
Russell Westbrook makes two point shot
64 - 75
3:59
Dallas 20 Sec. timeout
64 - 75
3:48
Shawn Marion makes dunk (Jason Kidd assists)
66 - 75
3:21
Russell Westbrook misses 6-foot two point shot
66 - 75
3:20
Tyson Chandler defensive rebound
66 - 75
3:09
Jason Terry makes 24-foot three point jumper (Caron Butler assists)
69 - 75
2:48
Jeff Green misses jumper
69 - 75
2:47
Shawn Marion defensive rebound
69 - 75
2:36
Tyson Chandler makes two point shot (Jason Kidd assists)
71 - 75
2:34
Oklahoma City full timeout
71 - 75
2:34
Eric Maynor enters the game for Jeff Green
71 - 75
2:34
James Harden enters the game for Thabo Sefolosha
71 - 75
2:34
Nick Collison enters the game for Russell Westbrook
71 - 75
2:16
Kevin Durant makes two point shot
71 - 77
1:59
Shawn Marion misses 7-foot two point shot
71 - 77
1:59
Dallas defensive team rebound
71 - 77
1:59
Tyson Chandler loose ball foul (Serge Ibaka draws the foul)
71 - 77
1:40
Serge Ibaka misses 4-foot hook shot
71 - 77
1:39
Tyson Chandler defensive rebound
71 - 77
1:22
Serge Ibaka shooting foul (Shawn Marion draws the foul)
71 - 77
1:22
Shawn Marion makes free throw 1 of 2
72 - 77
1:22
Jose Juan Barea enters the game for Caron Butler
72 - 77
1:22
Dirk Nowitzki enters the game for Jason Kidd
72 - 77
1:22
Shawn Marion makes free throw 2 of 2
73 - 77
1:12
Kevin Durant lost ball (Dirk Nowitzki steals)
73 - 77
1:05
Shawn Marion makes layup (Jason Terry assists)
75 - 77
0:41
Serge Ibaka makes hook shot (Nick Collison assists)
75 - 79
0:30
Jason Terry misses 23-foot jumper
75 - 79
0:30
Dallas defensive team rebound
75 - 79
0:15
Kevin Durant makes 16-foot two point shot (James Harden assists)
75 - 81
0:00
Eric Maynor blocks Jose Juan Barea's 11-foot jumper
75 - 81
0:00
Dallas offensive team rebound
75 - 81
0:00
End of the 3rd Quarter
75 - 81

time
TEAM
PLAY
SCORE
12:00
Start of the 4th Quarter
75 - 81
11:41
Jason Terry makes 14-foot jumper
77 - 81
11:18
Eric Maynor makes 10-foot jumper
77 - 83
10:55
Jason Terry foul (Nick Collison draws the foul)
77 - 83
10:55
Jason Terry turnover
77 - 83
10:37
Serge Ibaka misses 17-foot jumper
77 - 83
10:37
Shawn Marion defensive rebound
77 - 83
10:30
Serge Ibaka personal foul (Dirk Nowitzki draws the foul)
77 - 83
10:19
Dirk Nowitzki makes two point shot
79 - 83
10:03
Serge Ibaka misses 7-foot jumper
79 - 83
10:03
Jose Juan Barea defensive rebound
79 - 83
9:57
Dirk Nowitzki misses 24-foot three point jumper
79 - 83
9:56
Serge Ibaka defensive rebound
79 - 83
9:45
Brendan Haywood blocks James Harden's driving layup
79 - 83
9:41
Nick Collison offensive rebound
79 - 83
9:36
Jeff Green misses 8-foot jumper
79 - 83
9:34
Brendan Haywood defensive rebound
79 - 83
9:29
Shawn Marion makes layup (Dirk Nowitzki assists)
81 - 83
9:27
Oklahoma City full timeout
81 - 83
9:07
Eric Maynor misses 13-foot jumper
81 - 83
9:06
Serge Ibaka offensive rebound
81 - 85
9:06
Serge Ibaka makes two point shot
81 - 85
8:41
James Harden shooting foul (Dirk Nowitzki draws the foul)
81 - 85
8:41
Dirk Nowitzki makes free throw 1 of 2
82 - 85
8:41
Dirk Nowitzki makes free throw 2 of 2
83 - 85
8:21
Serge Ibaka makes 5-foot jumper
83 - 87
8:21
Brendan Haywood shooting foul (Serge Ibaka draws the foul)
83 - 87
8:21
Russell Westbrook enters the game for Eric Maynor
83 - 87
8:21
Kevin Durant enters the game for James Harden
83 - 87
8:21
Serge Ibaka makes free throw 1 of 1
83 - 88
7:54
Dirk Nowitzki bad pass (Jeff Green steals)
83 - 88
7:52
Jeff Green bad pass (Shawn Marion steals)
83 - 88
7:48
Jose Juan Barea misses 25-foot three point jumper
83 - 88
7:47
Jeff Green defensive rebound
83 - 88
7:41
Kevin Durant misses layup
83 - 88
7:41
Kevin Durant offensive rebound
83 - 90
7:41
Kevin Durant makes two point shot
83 - 90
7:39
Dallas full timeout
83 - 90
7:39
Tyson Chandler enters the game for Brendan Haywood
83 - 90
7:39
Jason Kidd enters the game for Jose Juan Barea
83 - 90
7:22
Dirk Nowitzki makes 23-foot three point jumper (Jason Kidd assists)
86 - 90
7:05
Kevin Durant misses 10-foot two point shot
86 - 90
7:03
Tyson Chandler defensive rebound
86 - 90
6:54
Dirk Nowitzki makes 25-foot three point jumper (Jason Kidd assists)
89 - 90
6:54
Serge Ibaka shooting foul (Dirk Nowitzki draws the foul)
89 - 90
6:54
Dirk Nowitzki makes free throw 1 of 1
90 - 90
6:37
Russell Westbrook misses 8-foot jumper
90 - 90
6:35
Serge Ibaka offensive rebound
90 - 90
6:31
Serge Ibaka lost ball (Jason Terry steals)
90 - 90
6:24
Jason Terry makes 25-foot three point jumper (Jason Kidd assists)
93 - 90
6:16
Oklahoma City 20 Sec. timeout
93 - 90
6:09
Russell Westbrook makes driving layup (Kevin Durant assists)
93 - 92
5:48
Thabo Sefolosha enters the game for Serge Ibaka
93 - 92
5:45
Jason Kidd makes 17-foot jumper (Shawn Marion assists)
95 - 92
5:20
Russell Westbrook misses 16-foot jumper
95 - 92
5:18
Tyson Chandler defensive rebound
95 - 92
5:00
Dirk Nowitzki misses 13-foot two point shot
95 - 92
4:58
Shawn Marion offensive rebound
95 - 92
4:54
Jason Terry misses 25-foot three point jumper
95 - 92
4:52
Kevin Durant defensive rebound
95 - 92
4:41
Dirk Nowitzki shooting foul (Thabo Sefolosha draws the foul)
95 - 92
4:41
Thabo Sefolosha misses free throw 1 of 2
95 - 92
4:41
Oklahoma City offensive team rebound
95 - 92
4:41
Thabo Sefolosha makes free throw 2 of 2
95 - 93
4:28
Jason Kidd makes 25-foot three point jumper (Jason Terry assists)
98 - 93
4:09
Thabo Sefolosha misses 25-foot three point jumper
98 - 93
4:07
Dirk Nowitzki defensive rebound
98 - 93
3:51
Shawn Marion misses jumper
98 - 93
3:49
Tyson Chandler offensive rebound
98 - 93
3:49
Tyson Chandler misses tip shot
98 - 93
3:48
Shawn Marion offensive rebound
100 - 93
3:48
Shawn Marion makes tip shot
100 - 93
3:47
Oklahoma City full timeout
100 - 93
3:30
Russell Westbrook misses layup
100 - 93
3:28
Nick Collison offensive rebound
100 - 93
3:28
Nick Collison turnover
100 - 93
3:09
Jason Kidd misses 25-foot three point jumper
100 - 93
3:08
Kevin Durant defensive rebound
100 - 93
3:00
Kevin Durant misses 25-foot three point jumper
100 - 93
2:59
Jason Terry defensive rebound
100 - 93
2:53
Tyson Chandler makes dunk (Jason Kidd assists)
102 - 93
2:53
Thabo Sefolosha shooting foul (Tyson Chandler draws the foul)
102 - 93
2:53
Nenad Krstic enters the game for Nick Collison
102 - 93
2:53
Tyson Chandler makes free throw 1 of 1
103 - 93
2:43
Kevin Durant misses 24-foot three point jumper
103 - 93
2:40
Tyson Chandler defensive rebound
103 - 93
2:20
Russell Westbrook shooting foul (Dirk Nowitzki draws the foul)
103 - 93
2:20
Dirk Nowitzki makes free throw 1 of 2
104 - 93
2:20
Dirk Nowitzki makes free throw 2 of 2
105 - 93
2:12
Tyson Chandler blocks Nenad Krstic's layup
105 - 93
2:10
Jason Terry defensive rebound
105 - 93
2:04
Shawn Marion misses layup
105 - 93
2:02
Shawn Marion offensive rebound
105 - 93
1:51
Dirk Nowitzki makes two point shot (Jason Kidd assists)
107 - 93
1:39
Nenad Krstic makes layup (Russell Westbrook assists)
107 - 95
1:19
Tyson Chandler misses 3-foot hook shot
107 - 95
1:16
Nenad Krstic defensive rebound
107 - 95
1:10
Russell Westbrook makes driving layup
107 - 97
1:00
Shawn Marion makes dunk (Dirk Nowitzki assists)
109 - 97
0:53
Jason Terry shooting foul (Russell Westbrook draws the foul)
109 - 97
0:53
Russell Westbrook makes free throw 1 of 2
109 - 98
0:53
Russell Westbrook makes free throw 2 of 2
109 - 99
0:35
Tyson Chandler lost ball (Thabo Sefolosha steals)
109 - 99
0:32
Kevin Durant makes dunk (Thabo Sefolosha assists)
109 - 101
0:32
Dallas full timeout
109 - 101
0:26
Dirk Nowitzki makes layup (Jason Terry assists)
111 - 101
0:19
Kevin Durant makes driving dunk
111 - 103
0:00
End of the 4th Quarter
111 - 103
0:00
End Game
111 - 103
J.R. Smith became emotional on the podium after the Cavaliers' win, crediting his family for his success.

Does LeBron crack the top three? Top two? Is he No. 1?

Cavaliers fans were ecstatic back in Cleveland when their team won its first NBA title and ended the city's long championship drought.
Western Conference Finals
DAL wins series 4-1
2015-2016 Southwest Standings
2015-2016 Northwest Standings