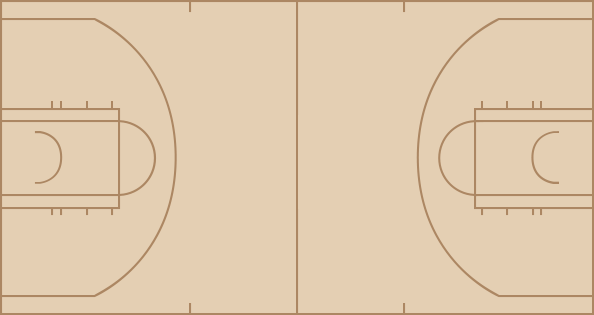 Rockets
time
TEAM
PLAY
SCORE
12:00
Start of the 1st Quarter
0 - 0
12:00
Jumpball: Luis Scola vs. Nazr Mohammed (D.J. Augustin gains possession)
0 - 0
11:45
Gerald Wallace misses 18-foot two point shot
0 - 0
11:45
Chuck Hayes defensive rebound
0 - 0
11:26
Luis Scola misses hook shot
0 - 0
11:23
Boris Diaw defensive rebound
0 - 0
11:18
D.J. Augustin bad pass (Chuck Hayes steals)
0 - 0
11:17
Nazr Mohammed shooting foul (Luis Scola draws the foul)
0 - 0
11:17
Luis Scola misses free throw 1 of 2
0 - 0
11:17
Houston offensive team rebound
0 - 0
11:17
Luis Scola makes free throw 2 of 2
1 - 0
11:02
D.J. Augustin misses 26-foot three point jumper
1 - 0
11:00
Luis Scola defensive rebound
1 - 0
10:45
Chuck Hayes makes 5-foot jumper (Shane Battier assists)
3 - 0
10:33
Kyle Lowry shooting foul (Nazr Mohammed draws the foul)
3 - 0
10:33
Nazr Mohammed makes free throw 1 of 2
3 - 1
10:33
Nazr Mohammed misses free throw 2 of 2
3 - 1
10:32
Chuck Hayes defensive rebound
3 - 1
10:10
Shane Battier misses layup
3 - 1
10:08
Gerald Wallace defensive rebound
3 - 1
10:04
Nazr Mohammed makes dunk (D.J. Augustin assists)
3 - 3
9:51
Boris Diaw personal foul (Chuck Hayes draws the foul)
3 - 3
9:42
Chuck Hayes makes jumper (Shane Battier assists)
5 - 3
9:19
Boris Diaw misses 14-foot jumper
5 - 3
9:18
Luis Scola defensive rebound
5 - 3
9:03
Luis Scola turnover
5 - 3
8:53
Gerald Wallace misses 16-foot jumper
5 - 3
8:52
Boris Diaw offensive rebound
5 - 3
8:45
Nazr Mohammed misses 7-foot hook shot
5 - 3
8:42
Luis Scola defensive rebound
5 - 3
8:32
Kevin Martin misses 22-foot jumper
5 - 3
8:30
Nazr Mohammed defensive rebound
5 - 3
8:23
Gerald Wallace makes 4-foot jumper (D.J. Augustin assists)
5 - 5
7:56
Stephen Jackson shooting foul (Luis Scola draws the foul)
5 - 5
7:56
Luis Scola misses free throw 1 of 2
5 - 5
7:56
Houston offensive team rebound
5 - 5
7:56
Luis Scola misses free throw 2 of 2
5 - 5
7:54
Boris Diaw defensive rebound
5 - 5
7:48
Kevin Martin personal foul (Stephen Jackson draws the foul)
5 - 5
7:35
D.J. Augustin misses 24-foot three point jumper
5 - 5
7:33
Kevin Martin defensive rebound
5 - 5
7:20
Kevin Martin misses 9-foot jumper
5 - 5
7:20
Chuck Hayes offensive rebound
7 - 5
7:20
Chuck Hayes makes tip shot
7 - 5
7:05
Boris Diaw misses 20-foot jumper
7 - 5
7:03
Kyle Lowry defensive rebound
7 - 5
6:58
Kevin Martin makes 25-foot three point jumper (Kyle Lowry assists)
10 - 5
6:41
Gerald Wallace misses 22-foot jumper
10 - 5
6:39
Chuck Hayes defensive rebound
10 - 5
6:35
Kevin Martin makes 16-foot jumper (Chuck Hayes assists)
12 - 5
6:20
Boris Diaw makes 25-foot three point jumper (D.J. Augustin assists)
12 - 8
6:03
Kyle Lowry makes layup (Shane Battier assists)
14 - 8
5:45
Gerald Wallace makes 23-foot three point jumper (Nazr Mohammed assists)
14 - 11
5:28
Shane Battier misses 24-foot three point jumper
14 - 11
5:26
Boris Diaw defensive rebound
14 - 11
5:22
D.J. Augustin misses layup
14 - 11
5:20
Chuck Hayes defensive rebound
14 - 11
5:20
Chuck Hayes turnover
14 - 11
5:20
Charlotte full timeout
14 - 11
5:09
Gerald Wallace misses 27-foot three point jumper
14 - 11
5:05
Kevin Martin defensive rebound
14 - 11
4:46
Luis Scola makes 17-foot jumper (Kevin Martin assists)
16 - 11
4:28
Stephen Jackson bad pass
16 - 11
4:07
Luis Scola misses 11-foot jumper
16 - 11
4:03
Gerald Wallace defensive rebound
16 - 11
3:55
Stephen Jackson makes layup
16 - 13
3:50
Kyle Lowry makes layup
18 - 13
3:50
Stephen Jackson shooting foul (Kyle Lowry draws the foul)
18 - 13
3:50
Matt Carroll enters the game for Stephen Jackson
18 - 13
3:50
Kyle Lowry misses free throw 1 of 1
18 - 13
3:48
Nazr Mohammed defensive rebound
18 - 13
3:34
Boris Diaw makes 5-foot hook shot
18 - 15
3:16
Luis Scola misses 4-foot jumper
18 - 15
3:15
Boris Diaw defensive rebound
18 - 15
3:06
Nazr Mohammed makes 16-foot two point shot (Gerald Wallace assists)
18 - 17
2:56
Matt Carroll shooting foul (Kevin Martin draws the foul)
18 - 17
2:56
Houston full timeout
18 - 17
2:56
Chase Budinger enters the game for Shane Battier
18 - 17
2:56
Jordan Hill enters the game for Chuck Hayes
18 - 17
2:56
Tyrus Thomas enters the game for Nazr Mohammed
18 - 17
2:56
Kevin Martin misses free throw 1 of 2
18 - 17
2:56
Houston offensive team rebound
18 - 17
2:56
Kevin Martin makes free throw 2 of 2
19 - 17
2:41
Boris Diaw misses 26-foot three point jumper
19 - 17
2:40
Chase Budinger defensive rebound
19 - 17
2:16
Chase Budinger misses 26-foot three point jumper
19 - 17
2:15
Tyrus Thomas defensive rebound
19 - 17
2:10
Matt Carroll makes 21-foot jumper (D.J. Augustin assists)
19 - 19
1:59
Chase Budinger makes 17-foot jumper (Kevin Martin assists)
21 - 19
1:44
Tyrus Thomas misses 4-foot jumper
21 - 19
1:42
Jordan Hill defensive rebound
21 - 19
1:22
Kevin Martin misses 27-foot three point jumper
21 - 19
1:21
Jordan Hill offensive rebound
21 - 19
1:19
Jordan Hill makes dunk
23 - 19
1:02
Boris Diaw misses layup
23 - 19
1:01
Boris Diaw offensive rebound
23 - 19
0:55
Boris Diaw makes 15-foot two point shot (Gerald Wallace assists)
23 - 21
0:40
Kevin Martin lost ball (Matt Carroll steals)
23 - 21
0:34
D.J. Augustin misses layup
23 - 21
0:32
Gerald Wallace offensive rebound
23 - 21
0:32
Gerald Wallace misses 1-foot two point shot
23 - 21
0:31
Chase Budinger defensive rebound
23 - 21
0:26
Jordan Hill lost ball (Gerald Wallace steals)
23 - 21
0:23
Kevin Martin shooting foul (Gerald Wallace draws the foul)
23 - 21
0:23
Courtney Lee enters the game for Kevin Martin
23 - 21
0:23
Brad Miller enters the game for Luis Scola
23 - 21
0:23
Gerald Wallace misses free throw 1 of 2
23 - 21
0:23
Charlotte offensive team rebound
23 - 21
0:23
Dominic McGuire enters the game for Tyrus Thomas
23 - 21
0:23
Sherron Collins enters the game for D.J. Augustin
23 - 21
0:23
Gerald Wallace makes free throw 2 of 2
23 - 22
0:01
Chase Budinger makes 24-foot three point jumper (Kyle Lowry assists)
26 - 22
0:01
Gerald Wallace misses 41-foot three point jumper
26 - 22
0:00
Charlotte offensive team rebound
26 - 22
0:00
End of the 1st Quarter
26 - 22

time
TEAM
PLAY
SCORE
12:00
Start of the 2nd Quarter
26 - 22
11:47
Tyrus Thomas blocks Chase Budinger's layup
26 - 22
11:45
Dominic McGuire defensive rebound
26 - 22
11:21
Tyrus Thomas makes 6-foot two point shot
26 - 24
11:03
Brad Miller misses 7-foot jumper
26 - 24
11:02
Jordan Hill offensive rebound
26 - 24
11:00
Jordan Hill makes layup
28 - 24
10:52
Dominic McGuire offensive foul (Courtney Lee draws the foul)
28 - 24
10:52
Dominic McGuire turnover
28 - 24
10:30
Courtney Lee makes 27-foot three point jumper (Chase Budinger assists)
31 - 24
10:15
Brad Miller personal foul (Kwame Brown draws the foul)
31 - 24
10:15
Derrick Brown enters the game for Dominic McGuire
31 - 24
10:15
Ishmael Smith enters the game for Kyle Lowry
31 - 24
10:06
Shaun Livingston misses 13-foot jumper
31 - 24
10:04
Charlotte offensive team rebound
31 - 24
9:53
Kwame Brown misses 4-foot jumper
31 - 24
9:52
Derrick Brown offensive rebound
31 - 26
9:52
Derrick Brown makes 1-foot two point shot
31 - 26
9:23
Brad Miller makes 23-foot three point jumper (Ishmael Smith assists)
34 - 26
9:08
Ishmael Smith shooting foul (Kwame Brown draws the foul)
34 - 26
9:08
Kwame Brown misses free throw 1 of 2
34 - 26
9:08
Charlotte offensive team rebound
34 - 26
9:08
Kwame Brown misses free throw 2 of 2
34 - 26
9:07
Brad Miller defensive rebound
34 - 26
9:00
Ishmael Smith bad pass
34 - 26
8:44
Derrick Brown makes layup (Shaun Livingston assists)
34 - 28
8:29
Chase Budinger makes 26-foot three point jumper (Brad Miller assists)
37 - 28
8:03
Kwame Brown misses 15-foot jumper
37 - 28
8:02
Chase Budinger defensive rebound
37 - 28
7:50
Tyrus Thomas shooting foul (Jordan Hill draws the foul)
37 - 28
7:50
Official timeout
37 - 28
7:50
Jordan Hill makes free throw 1 of 2
38 - 28
7:50
Jordan Hill makes free throw 2 of 2
39 - 28
7:35
Shaun Livingston makes 11-foot jumper
39 - 30
7:20
Ishmael Smith lost ball (Tyrus Thomas steals)
39 - 30
7:15
Jordan Hill shooting foul (Shaun Livingston draws the foul)
39 - 30
7:15
Stephen Jackson enters the game for Matt Carroll
39 - 30
7:15
Gerald Wallace enters the game for Tyrus Thomas
39 - 30
7:15
Shaun Livingston makes free throw 1 of 2
39 - 31
7:15
Shaun Livingston makes free throw 2 of 2
39 - 32
6:52
Chase Budinger makes 27-foot three point jumper (Brad Miller assists)
42 - 32
6:28
Stephen Jackson misses 10-foot jumper
42 - 32
6:26
Brad Miller defensive rebound
42 - 32
6:20
Chase Budinger misses 11-foot jumper
42 - 32
6:20
Gerald Wallace defensive rebound
42 - 32
6:11
Shaun Livingston makes dunk (Derrick Brown assists)
42 - 34
5:52
Shaun Livingston shooting foul (Courtney Lee draws the foul)
42 - 34
5:52
Charlotte full timeout
42 - 34
5:52
Nazr Mohammed enters the game for Kwame Brown
42 - 34
5:52
Courtney Lee makes free throw 1 of 2
43 - 34
5:52
Courtney Lee makes free throw 2 of 2
44 - 34
5:39
Derrick Brown misses jumper
44 - 34
5:37
Nazr Mohammed offensive rebound
44 - 34
5:37
Nazr Mohammed misses layup
44 - 34
5:35
Nazr Mohammed offensive rebound
44 - 34
5:35
Nazr Mohammed makes layup
44 - 36
5:13
Jordan Hill bad pass (Shaun Livingston steals)
44 - 36
4:58
Derrick Brown misses 11-foot jumper
44 - 36
4:56
Brad Miller defensive rebound
44 - 36
4:54
Ishmael Smith lost ball (Derrick Brown steals)
44 - 36
4:50
Ishmael Smith personal foul (Derrick Brown draws the foul)
44 - 36
4:50
Kyle Lowry enters the game for Ishmael Smith
44 - 36
4:50
Luis Scola enters the game for Brad Miller
44 - 36
4:41
Shaun Livingston misses 11-foot jumper
44 - 36
4:39
Luis Scola defensive rebound
44 - 36
4:33
Derrick Brown personal foul (Jordan Hill draws the foul)
44 - 36
4:33
Boris Diaw enters the game for Derrick Brown
44 - 36
4:33
D.J. Augustin enters the game for Shaun Livingston
44 - 36
4:16
Chase Budinger misses 26-foot three point jumper
44 - 36
4:16
Houston offensive team rebound
44 - 36
3:58
Gerald Wallace shooting foul (Jordan Hill draws the foul)
44 - 36
3:58
Jordan Hill makes free throw 1 of 2
45 - 36
3:58
Kevin Martin enters the game for Courtney Lee
45 - 36
3:58
Jordan Hill makes free throw 2 of 2
46 - 36
3:47
Stephen Jackson makes 23-foot jumper (Gerald Wallace assists)
46 - 38
3:31
Luis Scola makes 17-foot jumper
48 - 38
3:14
Nazr Mohammed makes 18-foot jumper (D.J. Augustin assists)
48 - 40
2:48
Luis Scola misses 7-foot hook shot
48 - 40
2:47
Nazr Mohammed defensive rebound
48 - 40
2:40
Gerald Wallace misses layup
48 - 40
2:40
Chase Budinger defensive rebound
48 - 40
2:34
Kyle Lowry traveling
48 - 40
2:34
Houston full timeout
48 - 40
2:34
Shane Battier enters the game for Chase Budinger
48 - 40
2:34
Chuck Hayes enters the game for Jordan Hill
48 - 40
2:21
Nazr Mohammed makes layup (Stephen Jackson assists)
48 - 42
2:05
Shane Battier misses three point jumper
48 - 42
2:04
Stephen Jackson defensive rebound
48 - 42
1:53
Stephen Jackson misses 11-foot two point shot
48 - 42
1:51
Luis Scola defensive rebound
48 - 42
1:30
Kevin Martin misses 25-foot three point jumper
48 - 42
1:29
Gerald Wallace defensive rebound
48 - 42
1:15
Gerald Wallace misses 25-foot three point jumper
48 - 42
1:14
Shane Battier defensive rebound
48 - 42
1:06
Kyle Lowry misses 19-foot jumper
48 - 42
1:04
Gerald Wallace defensive rebound
48 - 42
0:57
Gerald Wallace offensive foul (Shane Battier draws the foul)
48 - 42
0:57
Gerald Wallace turnover
48 - 42
0:57
Matt Carroll enters the game for Stephen Jackson
48 - 42
0:57
Derrick Brown enters the game for Gerald Wallace
48 - 42
0:44
Kyle Lowry makes layup (Shane Battier assists)
50 - 42
0:38
Boris Diaw makes 25-foot three point jumper (D.J. Augustin assists)
50 - 45
0:29
Kevin Martin misses 16-foot jumper
50 - 45
0:29
Houston offensive team rebound
50 - 45
0:29
Nazr Mohammed loose ball foul (Luis Scola draws the foul)
50 - 45
0:29
Luis Scola makes free throw 1 of 2
51 - 45
0:29
Chase Budinger enters the game for Kevin Martin
51 - 45
0:29
Luis Scola makes free throw 2 of 2
52 - 45
0:09
Derrick Brown misses 6-foot jumper
52 - 45
0:06
Chuck Hayes defensive rebound
52 - 45
0:01
Shane Battier misses 28-foot three point jumper
52 - 45
0:00
Houston offensive team rebound
52 - 45
0:00
End of the 2nd Quarter
52 - 45

time
TEAM
PLAY
SCORE
12:00
Start of the 3rd Quarter
52 - 45
11:37
Boris Diaw shooting foul (Luis Scola draws the foul)
52 - 45
11:37
Luis Scola misses free throw 1 of 2
52 - 45
11:37
Houston offensive team rebound
52 - 45
11:37
Luis Scola misses free throw 2 of 2
52 - 45
11:36
Gerald Wallace defensive rebound
52 - 45
11:25
Stephen Jackson makes 5-foot two point shot (Boris Diaw assists)
52 - 47
11:11
Kevin Martin misses 8-foot jumper
52 - 47
11:10
Nazr Mohammed defensive rebound
52 - 47
11:06
Gerald Wallace makes two point shot (D.J. Augustin assists)
52 - 49
10:52
Kevin Martin misses 23-foot three point jumper
52 - 49
10:51
Houston defensive team rebound
52 - 49
10:33
D.J. Augustin makes 26-foot three point jumper (Gerald Wallace assists)
52 - 52
10:12
Chuck Hayes misses 9-foot jumper
52 - 52
10:11
Boris Diaw defensive rebound
52 - 52
9:51
Shane Battier blocks Gerald Wallace's layup
52 - 52
9:48
Luis Scola defensive rebound
52 - 52
9:33
Kyle Lowry misses 16-foot jumper
52 - 52
9:33
Gerald Wallace defensive rebound
52 - 52
9:23
Stephen Jackson makes jumper
52 - 54
9:23
Houston full timeout
52 - 54
9:11
Kyle Lowry bad pass (Gerald Wallace steals)
52 - 54
8:57
Shane Battier shooting foul (Stephen Jackson draws the foul)
52 - 54
8:57
Stephen Jackson makes free throw 1 of 2
52 - 55
8:57
Stephen Jackson misses free throw 2 of 2
52 - 55
8:56
Chuck Hayes defensive rebound
52 - 55
8:32
Luis Scola misses 17-foot jumper
52 - 55
8:30
Boris Diaw defensive rebound
52 - 55
8:08
D.J. Augustin misses 27-foot three point jumper
52 - 55
8:07
Charlotte defensive team rebound
52 - 55
8:07
Boris Diaw loose ball foul (Shane Battier draws the foul)
52 - 55
7:52
Luis Scola makes 9-foot jumper (Kyle Lowry assists)
54 - 55
7:31
Gerald Wallace makes 25-foot three point jumper (D.J. Augustin assists)
54 - 58
7:20
Chuck Hayes lost ball (Gerald Wallace steals)
54 - 58
7:01
Gerald Wallace misses three point jumper
54 - 58
6:58
Nazr Mohammed offensive rebound
54 - 58
6:58
Shane Battier shooting foul (Nazr Mohammed draws the foul)
54 - 58
6:58
Nazr Mohammed makes free throw 1 of 2
54 - 59
6:58
Nazr Mohammed makes free throw 2 of 2
54 - 60
6:43
Shane Battier makes 7-foot jumper (Luis Scola assists)
56 - 60
6:22
Stephen Jackson bad pass (Kyle Lowry steals)
56 - 60
6:16
Kevin Martin makes 16-foot jumper (Kyle Lowry assists)
58 - 60
6:03
Gerald Wallace misses 18-foot jumper
58 - 60
6:01
Chuck Hayes defensive rebound
58 - 60
5:56
Gerald Wallace blocks Luis Scola's layup
58 - 60
5:54
Shane Battier offensive rebound
58 - 60
5:52
Shane Battier misses 27-foot three point jumper
58 - 60
5:50
Boris Diaw defensive rebound
58 - 60
5:41
Shane Battier shooting foul (Gerald Wallace draws the foul)
58 - 60
5:41
Gerald Wallace makes free throw 1 of 2
58 - 61
5:41
Gerald Wallace makes free throw 2 of 2
58 - 62
5:26
Kevin Martin misses 26-foot three point jumper
58 - 62
5:24
Gerald Wallace defensive rebound
58 - 62
5:13
Chuck Hayes blocks Stephen Jackson's layup
58 - 62
5:11
Chuck Hayes defensive rebound
58 - 62
5:07
Luis Scola makes layup (Kyle Lowry assists)
60 - 62
4:48
Shane Battier shooting foul (Gerald Wallace draws the foul)
60 - 62
4:48
Gerald Wallace makes free throw 1 of 2
60 - 63
4:48
Gerald Wallace makes free throw 2 of 2
60 - 64
4:31
Luis Scola misses 6-foot hook shot
60 - 64
4:30
Chuck Hayes offensive rebound
60 - 64
4:22
Kevin Martin makes 23-foot three point jumper (Shane Battier assists)
63 - 64
4:07
Nazr Mohammed makes jumper (Boris Diaw assists)
63 - 66
3:56
Nazr Mohammed blocks Chuck Hayes's layup
63 - 66
3:54
Gerald Wallace defensive rebound
63 - 66
3:42
Kyle Lowry personal foul (D.J. Augustin draws the foul)
63 - 66
3:42
Chase Budinger enters the game for Shane Battier
63 - 66
3:42
D.J. Augustin makes free throw 1 of 2
63 - 67
3:42
Jordan Hill enters the game for Chuck Hayes
63 - 67
3:42
Matt Carroll enters the game for Stephen Jackson
63 - 67
3:42
D.J. Augustin makes free throw 2 of 2
63 - 68
3:31
Gerald Wallace personal foul (Kyle Lowry draws the foul)
63 - 68
3:25
Kevin Martin makes 18-foot two point shot
65 - 68
3:08
Gerald Wallace misses 18-foot jumper
65 - 68
3:06
Luis Scola defensive rebound
65 - 68
3:00
Chase Budinger misses 24-foot three point jumper
65 - 68
2:59
Matt Carroll defensive rebound
65 - 68
2:44
Matt Carroll makes 24-foot jumper (D.J. Augustin assists)
65 - 70
2:31
Matt Carroll blocks Kevin Martin's 10-foot jumper
65 - 70
2:30
D.J. Augustin defensive rebound
65 - 70
2:26
Kyle Lowry blocks D.J. Augustin's 4-foot jumper
65 - 70
2:25
Charlotte offensive team rebound
65 - 70
2:25
Charlotte full timeout
65 - 70
2:25
Shaun Livingston enters the game for D.J. Augustin
65 - 70
2:25
Derrick Brown enters the game for Boris Diaw
65 - 70
2:17
Nazr Mohammed misses 19-foot jumper
65 - 70
2:15
Jordan Hill defensive rebound
65 - 70
1:53
Kevin Martin makes 26-foot three point jumper (Kyle Lowry assists)
68 - 70
1:38
Shaun Livingston offensive foul (Kyle Lowry draws the foul)
68 - 70
1:38
Shaun Livingston turnover
68 - 70
1:23
Chase Budinger misses 22-foot jumper
68 - 70
1:23
Gerald Wallace defensive rebound
68 - 70
1:15
Gerald Wallace bad pass (Luis Scola steals)
68 - 70
1:00
Jordan Hill misses 16-foot jumper
68 - 70
1:00
Gerald Wallace defensive rebound
68 - 70
1:00
Luis Scola loose ball foul (Gerald Wallace draws the foul)
68 - 70
1:00
Brad Miller enters the game for Luis Scola
68 - 70
1:00
Stephen Jackson enters the game for Nazr Mohammed
68 - 70
1:00
Gerald Wallace makes free throw 1 of 2
68 - 71
1:00
Gerald Wallace makes free throw 2 of 2
68 - 72
0:35
Kevin Martin misses 24-foot three point jumper
68 - 72
0:34
Gerald Wallace defensive rebound
68 - 72
0:29
Matt Carroll misses layup
68 - 72
0:27
Kevin Martin defensive rebound
68 - 72
0:05
Kevin Martin misses 7-foot jumper
68 - 72
0:04
Stephen Jackson defensive rebound
68 - 72
0:01
Gerald Wallace misses 31-foot three point jumper
68 - 72
0:00
Charlotte offensive team rebound
68 - 72
0:00
End of the 3rd Quarter
68 - 72

time
TEAM
PLAY
SCORE
12:00
Start of the 4th Quarter
68 - 72
11:49
Stephen Jackson bad pass
68 - 72
11:26
Courtney Lee bad pass (Derrick Brown steals)
68 - 72
11:17
Stephen Jackson misses 25-foot three point jumper
68 - 72
11:15
Chase Budinger defensive rebound
68 - 72
11:07
Gerald Wallace blocks Jordan Hill's 4-foot jumper
68 - 72
11:03
Chase Budinger offensive rebound
68 - 72
11:00
Jordan Hill makes layup (Chase Budinger assists)
70 - 72
10:38
Gerald Wallace misses 18-foot jumper
76 - 82
10:37
Courtney Lee defensive rebound
70 - 72
10:33
Matt Carroll shooting foul (Courtney Lee draws the foul)
70 - 72
10:33
Boris Diaw enters the game for Gerald Wallace
70 - 72
10:33
Tyrus Thomas enters the game for Matt Carroll
70 - 72
10:33
Courtney Lee misses free throw 1 of 2
70 - 72
10:33
Houston offensive team rebound
70 - 72
10:33
Brad Miller enters the game for Kevin Martin
70 - 72
10:33
Courtney Lee misses free throw 2 of 2
70 - 72
10:30
Derrick Brown defensive rebound
70 - 72
10:17
Courtney Lee personal foul (Stephen Jackson draws the foul)
70 - 72
10:11
Shaun Livingston makes 13-foot jumper
70 - 74
9:55
Kyle Lowry misses three point jumper
70 - 74
9:51
Houston defensive team rebound
70 - 74
9:51
Ishmael Smith enters the game for Kyle Lowry
70 - 74
9:34
Boris Diaw bad pass (Brad Miller steals)
70 - 74
9:29
Courtney Lee makes 4-foot jumper (Brad Miller assists)
72 - 74
9:14
Stephen Jackson misses layup
72 - 74
9:11
Stephen Jackson offensive rebound
72 - 74
9:10
Stephen Jackson misses layup
72 - 74
9:08
Chase Budinger defensive rebound
72 - 74
9:04
Courtney Lee offensive foul (Boris Diaw draws the foul)
72 - 74
9:04
Courtney Lee turnover
72 - 74
8:52
Shaun Livingston makes 7-foot jumper
72 - 76
8:32
Jordan Hill makes 8-foot two point shot (Chase Budinger assists)
74 - 76
8:18
Boris Diaw makes 7-foot hook shot (Derrick Brown assists)
74 - 78
7:58
Ishmael Smith makes 7-foot two point shot
76 - 78
7:41
Boris Diaw makes 20-foot jumper (Shaun Livingston assists)
76 - 80
7:18
Courtney Lee misses 26-foot three point jumper
76 - 80
7:16
Tyrus Thomas defensive rebound
76 - 80
7:03
Boris Diaw makes dunk
76 - 82
6:52
Houston full timeout
76 - 82
6:52
Gerald Wallace enters the game for Stephen Jackson
76 - 82
6:52
Kyle Lowry enters the game for Ishmael Smith
76 - 82
6:43
Jordan Hill makes dunk (Chase Budinger assists)
78 - 82
6:28
Shane Battier enters the game for Brad Miller
78 - 82
6:28
D.J. Augustin enters the game for Tyrus Thomas
80 - 84
6:16
Gerald Wallace makes 19-foot jumper (D.J. Augustin assists)
78 - 84
5:52
Chase Budinger makes layup
80 - 84
5:35
Shane Battier blocks Gerald Wallace's layup
80 - 84
5:33
Shane Battier defensive rebound
80 - 84
5:28
Chase Budinger misses 27-foot three point jumper
80 - 84
5:26
D.J. Augustin defensive rebound
80 - 84
5:20
Shaun Livingston misses 8-foot jumper
80 - 84
5:20
Charlotte offensive team rebound
80 - 84
5:20
Chase Budinger loose ball foul (Derrick Brown draws the foul)
80 - 84
5:20
Official timeout
80 - 84
5:20
Stephen Jackson enters the game for Derrick Brown
80 - 84
5:05
Stephen Jackson misses 26-foot three point jumper
80 - 84
5:01
Kyle Lowry defensive rebound
80 - 84
5:00
Gerald Wallace shooting foul (Chase Budinger draws the foul)
80 - 84
5:00
Chase Budinger makes free throw 1 of 2
81 - 84
5:00
Tyrus Thomas enters the game for Shaun Livingston
81 - 84
5:00
Chase Budinger makes free throw 2 of 2
82 - 84
4:41
Boris Diaw makes jumper (Stephen Jackson assists)
82 - 86
4:22
Chase Budinger misses 26-foot three point jumper
82 - 86
4:22
Tyrus Thomas defensive rebound
82 - 86
4:07
Stephen Jackson makes driving layup
82 - 88
3:44
Shane Battier misses 26-foot three point jumper
82 - 88
3:42
Chase Budinger offensive rebound
82 - 88
3:40
Jordan Hill offensive foul (Boris Diaw draws the foul)
82 - 88
3:40
Jordan Hill turnover
82 - 88
3:40
Kevin Martin enters the game for Courtney Lee
82 - 88
3:40
Luis Scola enters the game for Jordan Hill
82 - 88
3:21
Boris Diaw makes 9-foot hook shot (Stephen Jackson assists)
82 - 90
2:56
Shane Battier misses 29-foot three point jumper
82 - 90
2:54
Kyle Lowry offensive rebound
82 - 90
2:49
Shane Battier misses layup
82 - 90
2:47
Boris Diaw defensive rebound
82 - 90
2:41
Stephen Jackson makes 26-foot three point jumper (D.J. Augustin assists)
82 - 93
2:38
Houston full timeout
82 - 93
2:25
Tyrus Thomas blocks Chase Budinger's layup
82 - 93
2:23
Gerald Wallace defensive rebound
82 - 93
2:18
Gerald Wallace makes 5-foot two point shot (Stephen Jackson assists)
82 - 95
2:10
Stephen Jackson personal foul (Kevin Martin draws the foul)
82 - 95
2:04
Tyrus Thomas shooting foul (Chase Budinger draws the foul)
82 - 95
2:04
Chase Budinger makes free throw 1 of 2
83 - 95
2:04
Chase Budinger makes free throw 2 of 2
84 - 95
1:50
Gerald Wallace lost ball (Shane Battier steals)
84 - 95
1:42
Kyle Lowry misses 27-foot three point jumper
84 - 95
1:40
Tyrus Thomas defensive rebound
84 - 95
1:16
Boris Diaw misses 10-foot jumper
84 - 95
1:15
Tyrus Thomas offensive rebound
84 - 95
1:15
Tyrus Thomas makes layup
84 - 97
1:15
Houston full timeout
84 - 97
1:15
Courtney Lee enters the game for Shane Battier
84 - 97
1:15
Ishmael Smith enters the game for Luis Scola
84 - 97
1:15
Jermaine Taylor enters the game for Kevin Martin
84 - 97
1:15
Jared Jeffries enters the game for Kyle Lowry
84 - 97
1:04
Ishmael Smith misses 13-foot jumper
84 - 97
1:01
D.J. Augustin defensive rebound
84 - 97
0:42
Boris Diaw bad pass (Courtney Lee steals)
84 - 97
0:35
Jermaine Taylor makes three point jumper (Courtney Lee assists)
87 - 97
0:10
Stephen Jackson makes 18-foot jumper
87 - 99
0:03
Chase Budinger makes 19-foot jumper (Ishmael Smith assists)
89 - 99
0:00
End of the 4th Quarter
89 - 99
0:00
End Game
89 - 99
Bob Ryan believes former head of FIBA Borislav Stankovic's insistence to have foreign players take their talents to the NBA played a direct result in the most international players being taken in the first round of the 2016 NBA draft.

Denzel Valentine could land in Chicago's rotation after Derrick Rose departed for New York.

No. 1 draft pick Ben Simmons said hearing the news of the death of his cousin "is a reminder to never forget the important things in life."
Regular Season Series
Series tied 1-1
2015-2016 Southwest Standings