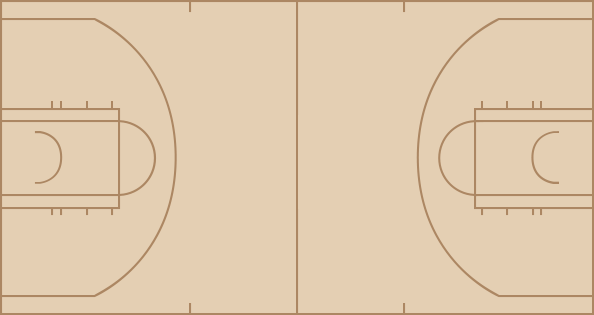 Trail Blazers
time
TEAM
PLAY
SCORE
12:00
Start of the 1st Quarter
0 - 0
12:00
Jumpball: Marcus Camby vs. JaVale McGee (Alonzo Gee gains possession)
0 - 0
11:42
John Wall misses 26-foot three point jumper
0 - 0
11:41
Andray Blatche offensive rebound
0 - 0
11:36
Kirk Hinrich misses layup
0 - 0
11:34
Kirk Hinrich offensive rebound
0 - 0
11:15
Andray Blatche makes 20-foot jumper (Kirk Hinrich assists)
0 - 2
10:52
LaMarcus Aldridge makes 21-foot jumper (Brandon Roy assists)
2 - 2
10:30
John Wall lost ball (Andre Miller steals)
2 - 2
10:26
Wesley Matthews traveling
2 - 2
10:08
Marcus Camby blocks Alonzo Gee's 9-foot jumper
2 - 2
10:08
Washington offensive team rebound
2 - 2
10:00
Alonzo Gee makes layup
2 - 4
9:33
Andre Miller misses jumper
2 - 4
9:33
Andray Blatche defensive rebound
2 - 4
9:19
John Wall misses 18-foot jumper
2 - 4
9:18
JaVale McGee offensive rebound
2 - 4
9:17
JaVale McGee makes two point shot
2 - 6
9:07
Sean Marks enters the game for Marcus Camby
2 - 6
8:57
LaMarcus Aldridge misses 21-foot jumper
2 - 6
8:56
Kirk Hinrich defensive rebound
2 - 6
8:42
John Wall misses 16-foot jumper
2 - 6
8:41
Wesley Matthews defensive rebound
2 - 6
8:34
Brandon Roy misses jumper
2 - 6
8:33
Portland offensive team rebound
2 - 6
8:21
LaMarcus Aldridge misses layup
2 - 6
8:18
Portland offensive team rebound
2 - 6
8:18
Alonzo Gee inbound foul (Andre Miller draws the foul)
2 - 6
8:18
Andre Miller makes free throw 1 of 2
3 - 6
8:18
Andre Miller makes free throw 2 of 2
4 - 6
8:08
John Wall misses layup
4 - 6
8:07
JaVale McGee offensive rebound
4 - 6
8:07
LaMarcus Aldridge shooting foul (JaVale McGee draws the foul)
4 - 6
8:07
JaVale McGee makes free throw 1 of 2
4 - 7
8:07
JaVale McGee makes free throw 2 of 2
4 - 8
7:56
Andray Blatche personal foul (Brandon Roy draws the foul)
4 - 8
7:50
Andre Miller makes layup
6 - 8
7:43
Alonzo Gee lost ball (Wesley Matthews steals)
6 - 8
7:39
LaMarcus Aldridge makes slam dunk (Wesley Matthews assists)
8 - 8
7:37
Washington full timeout
8 - 8
7:16
Andray Blatche misses layup
8 - 8
7:16
Alonzo Gee offensive rebound
8 - 8
7:13
Alonzo Gee misses layup
8 - 8
7:13
Wesley Matthews defensive rebound
8 - 8
6:52
Wesley Matthews makes two point shot
10 - 8
6:37
Andray Blatche misses 14-foot jumper
10 - 8
6:35
Washington defensive team rebound
10 - 8
6:20
Wesley Matthews misses layup
10 - 8
6:20
Andray Blatche defensive rebound
10 - 8
6:16
John Wall turnover
10 - 8
6:16
Al Thornton enters the game for Alonzo Gee
10 - 8
6:16
Gilbert Arenas enters the game for John Wall
10 - 8
5:56
Wesley Matthews makes 25-foot three point jumper (Brandon Roy assists)
13 - 8
5:33
Al Thornton misses jumper
13 - 8
5:33
Washington offensive team rebound
13 - 8
5:33
Sean Marks personal foul (Andray Blatche draws the foul)
13 - 8
5:28
Gilbert Arenas misses 19-foot jumper
13 - 8
5:26
Andre Miller defensive rebound
13 - 8
5:20
Wesley Matthews misses 25-foot three point jumper
13 - 8
5:20
Andre Miller offensive rebound
13 - 8
5:16
Sean Marks makes 22-foot jumper (Andre Miller assists)
15 - 8
4:58
Gilbert Arenas makes 19-foot jumper (Al Thornton assists)
15 - 10
4:50
Brandon Roy makes driving layup (Andre Miller assists)
17 - 10
4:50
JaVale McGee defensive goaltending
17 - 10
4:37
Gilbert Arenas turnover
17 - 10
4:20
Sean Marks misses 21-foot jumper
17 - 10
4:18
Al Thornton defensive rebound
17 - 10
4:13
JaVale McGee makes 2-foot two point shot (Gilbert Arenas assists)
17 - 12
3:58
Brandon Roy makes 16-foot jumper
19 - 12
3:40
Al Thornton misses 12-foot jumper
19 - 12
3:38
Sean Marks defensive rebound
19 - 12
3:32
Wesley Matthews misses 15-foot jumper
19 - 12
3:31
Kirk Hinrich defensive rebound
19 - 12
3:26
Andray Blatche makes slam dunk (Gilbert Arenas assists)
19 - 14
3:15
Portland full timeout
19 - 14
3:15
John Wall enters the game for Kirk Hinrich
19 - 14
3:15
Hilton Armstrong enters the game for JaVale McGee
19 - 14
3:15
Rudy Fernandez enters the game for Wesley Matthews
19 - 14
3:15
Nicolas Batum enters the game for Brandon Roy
19 - 14
2:58
Andre Miller misses 16-foot jumper
19 - 14
2:56
Andray Blatche defensive rebound
19 - 14
2:50
Andray Blatche bad pass
19 - 14
2:31
Rudy Fernandez bad pass
19 - 14
2:31
Patrick Mills enters the game for Andre Miller
19 - 14
2:15
Gilbert Arenas misses 19-foot jumper
19 - 14
2:15
Nicolas Batum defensive rebound
19 - 14
2:02
Rudy Fernandez misses 22-foot jumper
19 - 14
2:01
Andray Blatche defensive rebound
19 - 14
1:50
John Wall misses layup
19 - 14
1:49
Hilton Armstrong offensive rebound
19 - 14
1:47
Hilton Armstrong makes two point shot
19 - 16
1:23
Nicolas Batum makes 24-foot three point jumper (Rudy Fernandez assists)
22 - 16
0:56
Andray Blatche bad pass (Patrick Mills steals)
22 - 16
0:51
Patrick Mills misses layup
22 - 16
0:51
Portland offensive team rebound
22 - 16
0:51
Yi Jianlian enters the game for Andray Blatche
22 - 16
0:38
Yi Jianlian blocks Patrick Mills's layup
22 - 16
0:37
Portland defensive team rebound
22 - 16
0:37
Sean Marks loose ball foul (Yi Jianlian draws the foul)
22 - 16
0:37
Joel Przybilla enters the game for Sean Marks
22 - 16
0:22
Hilton Armstrong makes 8-foot two point shot (Gilbert Arenas assists)
22 - 18
0:08
John Wall personal foul (Patrick Mills draws the foul)
22 - 18
0:03
LaMarcus Aldridge makes 22-foot jumper (Patrick Mills assists)
24 - 18
0:00
John Wall lost ball (Patrick Mills steals)
24 - 18
0:00
End of the 1st Quarter
24 - 18

time
TEAM
PLAY
SCORE
12:00
Start of the 2nd Quarter
24 - 18
11:48
Rudy Fernandez misses 27-foot three pointer
24 - 18
11:45
Joel Przybilla offensive rebound
24 - 18
11:41
Al Thornton personal foul (Nicolas Batum draws the foul)
24 - 18
11:34
Nicolas Batum makes 22-foot jumper (Patrick Mills assists)
26 - 18
11:18
Hilton Armstrong makes dunk (Gilbert Arenas assists)
26 - 20
10:53
Patrick Mills misses 23-foot three point jumper
26 - 20
10:52
Hilton Armstrong defensive rebound
26 - 20
10:42
Yi Jianlian offensive foul (Joel Przybilla draws the foul)
26 - 20
10:42
Yi Jianlian turnover
26 - 20
10:22
Patrick Mills bad pass (Al Thornton steals)
26 - 20
10:18
Nicolas Batum shooting foul (John Wall draws the foul)
26 - 20
10:18
John Wall makes free throw 1 of 2
26 - 21
10:18
John Wall makes free throw 2 of 2
26 - 22
10:03
Joel Przybilla makes dunk (Patrick Mills assists)
28 - 22
9:45
Hilton Armstrong lost ball (Patrick Mills steals)
28 - 22
9:41
Patrick Mills makes layup
30 - 22
9:40
Washington full timeout
30 - 22
9:40
JaVale McGee enters the game for Hilton Armstrong
30 - 22
9:18
Gilbert Arenas misses 27-foot three point jumper
30 - 22
9:17
JaVale McGee offensive rebound
30 - 22
9:11
JaVale McGee makes layup
30 - 24
8:56
Nicolas Batum makes 29-foot three point jumper (Patrick Mills assists)
33 - 24
8:41
John Wall bad pass (Nicolas Batum steals)
33 - 24
8:40
Gilbert Arenas personal foul (Rudy Fernandez draws the foul)
33 - 24
8:40
Brandon Roy enters the game for Rudy Fernandez
33 - 24
8:40
Andray Blatche enters the game for Yi Jianlian
33 - 24
8:40
Alonzo Gee enters the game for Al Thornton
33 - 24
8:30
Brandon Roy makes 17-foot two point shot (Patrick Mills assists)
35 - 24
8:07
Joel Przybilla shooting foul (JaVale McGee draws the foul)
35 - 24
8:07
JaVale McGee makes free throw 1 of 2
35 - 25
8:07
JaVale McGee makes free throw 2 of 2
35 - 26
7:52
Patrick Mills makes 24-foot three point jumper (Brandon Roy assists)
38 - 26
7:28
Gilbert Arenas makes 16-foot two point shot
38 - 28
7:05
Nicolas Batum misses 3-foot jumper
38 - 28
7:03
Gilbert Arenas defensive rebound
38 - 28
7:00
John Wall makes two point shot (Gilbert Arenas assists)
38 - 30
6:48
Portland full timeout
38 - 30
6:48
Kirk Hinrich enters the game for Gilbert Arenas
38 - 30
6:48
LaMarcus Aldridge enters the game for Joel Przybilla
38 - 30
6:37
Nicolas Batum misses 27-foot three point jumper
38 - 30
6:35
Andray Blatche defensive rebound
38 - 30
6:03
Andray Blatche misses 4-foot jumper
38 - 30
6:01
LaMarcus Aldridge defensive rebound
38 - 30
5:45
Patrick Mills misses 27-foot three point jumper
38 - 30
5:43
John Wall defensive rebound
38 - 30
5:35
JaVale McGee turnover
38 - 30
5:35
Gilbert Arenas enters the game for Alonzo Gee
38 - 30
5:20
Brandon Roy misses layup
38 - 30
5:18
Andray Blatche defensive rebound
38 - 30
5:11
Gilbert Arenas misses 25-foot three point jumper
38 - 30
5:11
Dante Cunningham defensive rebound
38 - 30
4:50
Patrick Mills misses layup
38 - 30
4:50
LaMarcus Aldridge offensive rebound
38 - 30
4:48
LaMarcus Aldridge misses layup
38 - 30
4:47
LaMarcus Aldridge offensive rebound
38 - 30
4:46
LaMarcus Aldridge misses layup
38 - 30
4:45
LaMarcus Aldridge offensive rebound
38 - 30
4:37
Dante Cunningham makes 10-foot jumper (LaMarcus Aldridge assists)
40 - 30
4:13
LaMarcus Aldridge shooting foul (John Wall draws the foul)
40 - 30
4:13
Wesley Matthews enters the game for Patrick Mills
40 - 30
4:13
Andre Miller enters the game for Nicolas Batum
40 - 30
4:13
John Wall makes free throw 1 of 2
40 - 31
4:13
John Wall makes free throw 2 of 2
40 - 32
4:01
LaMarcus Aldridge turnover
40 - 32
3:40
Gilbert Arenas bad pass (Andre Miller steals)
40 - 32
3:31
JaVale McGee blocks Wesley Matthews's jumper
40 - 32
3:30
Andray Blatche defensive rebound
40 - 32
3:20
Kirk Hinrich misses 27-foot three point jumper
40 - 32
3:19
Washington offensive team rebound
40 - 32
3:06
Kirk Hinrich bad pass
40 - 32
2:48
Brandon Roy makes two point shot
42 - 32
2:24
Kirk Hinrich misses 18-foot jumper
42 - 32
2:23
LaMarcus Aldridge defensive rebound
42 - 32
2:15
John Wall personal foul (Dante Cunningham draws the foul)
42 - 32
2:15
Official timeout
42 - 32
2:00
Brandon Roy makes 16-foot jumper
44 - 32
1:47
Gilbert Arenas makes two point shot
44 - 34
1:27
Brandon Roy misses 17-foot jumper
44 - 34
1:24
JaVale McGee defensive rebound
44 - 34
1:05
Gilbert Arenas misses 12-foot jumper
44 - 34
1:04
JaVale McGee offensive rebound
44 - 34
1:01
JaVale McGee misses layup
44 - 34
1:00
Dante Cunningham defensive rebound
44 - 34
0:56
Portland 20 Sec. timeout
44 - 34
0:56
Patrick Mills enters the game for Andre Miller
44 - 34
0:56
Sean Marks enters the game for LaMarcus Aldridge
44 - 34
0:56
Alonzo Gee enters the game for John Wall
44 - 34
0:43
Dante Cunningham makes layup (Brandon Roy assists)
46 - 34
0:24
Kirk Hinrich misses 15-foot jumper
46 - 34
0:22
Wesley Matthews defensive rebound
46 - 34
0:05
Gilbert Arenas foul (Brandon Roy draws the foul)
46 - 34
0:05
Cartier Martin enters the game for Gilbert Arenas
46 - 34
0:05
Trevor Booker enters the game for Andray Blatche
46 - 34
0:00
Dante Cunningham misses 38-foot three point jumper
46 - 34
0:00
Portland offensive team rebound
46 - 34
0:00
End of the 2nd Quarter
46 - 34

time
TEAM
PLAY
SCORE
12:00
Start of the 3rd Quarter
46 - 34
11:37
LaMarcus Aldridge misses 19-foot jumper
46 - 34
11:37
JaVale McGee defensive rebound
46 - 34
11:19
LaMarcus Aldridge shooting foul (Andray Blatche draws the foul)
46 - 34
11:19
Andray Blatche makes free throw 1 of 2
46 - 35
11:19
Andray Blatche misses free throw 2 of 2
46 - 35
11:18
Wesley Matthews defensive rebound
46 - 35
10:59
JaVale McGee blocks Brandon Roy's 6-foot jumper
46 - 35
10:56
Brandon Roy offensive rebound
46 - 35
10:56
turnover
46 - 35
10:30
John Wall misses layup
46 - 35
10:30
JaVale McGee offensive rebound
46 - 35
10:26
JaVale McGee misses layup
46 - 35
10:26
LaMarcus Aldridge defensive rebound
46 - 35
10:22
Brandon Roy misses 24-foot three point jumper
46 - 35
10:19
Wesley Matthews offensive rebound
46 - 35
10:12
Marcus Camby bad pass (Andray Blatche steals)
46 - 35
9:55
John Wall misses 16-foot jumper
46 - 35
9:53
Marcus Camby defensive rebound
46 - 35
9:36
Brandon Roy misses 17-foot jumper
46 - 35
9:33
Alonzo Gee defensive rebound
46 - 35
9:14
Marcus Camby shooting foul (Alonzo Gee draws the foul)
46 - 35
9:14
Alonzo Gee makes free throw 1 of 2
46 - 36
9:14
Alonzo Gee misses free throw 2 of 2
46 - 36
9:12
Wesley Matthews defensive rebound
46 - 36
8:49
Marcus Camby misses jumper
46 - 36
8:47
John Wall defensive rebound
46 - 36
8:37
Alonzo Gee lost ball (Andre Miller steals)
46 - 36
8:30
JaVale McGee blocks Andre Miller's 4-foot jumper
46 - 36
8:27
Andray Blatche defensive rebound
46 - 36
8:11
Wesley Matthews personal foul (Alonzo Gee draws the foul)
46 - 36
8:07
JaVale McGee makes two point shot (John Wall assists)
46 - 38
8:06
Portland full timeout
46 - 38
7:52
LaMarcus Aldridge makes dunk (Marcus Camby assists)
48 - 38
7:41
LaMarcus Aldridge personal foul (Andray Blatche draws the foul)
48 - 38
7:41
Sean Marks enters the game for LaMarcus Aldridge
48 - 38
7:31
Andray Blatche makes two point shot (Alonzo Gee assists)
48 - 40
7:09
Andre Miller misses layup
48 - 40
7:09
JaVale McGee defensive rebound
48 - 40
7:03
Kirk Hinrich makes 22-foot two point shot
48 - 42
6:48
Brandon Roy makes layup (Andre Miller assists)
50 - 42
6:31
John Wall misses 26-foot three point jumper
50 - 42
6:30
Andre Miller defensive rebound
50 - 42
6:18
Brandon Roy misses 21-foot jumper
50 - 42
6:16
Andre Miller offensive rebound
50 - 42
6:09
Andre Miller makes 6-foot jumper
52 - 42
6:00
Kirk Hinrich makes 21-foot jumper (John Wall assists)
52 - 44
5:33
Sean Marks misses 14-foot jumper
52 - 44
5:33
Marcus Camby offensive rebound
52 - 44
5:30
Marcus Camby misses layup
52 - 44
5:28
Alonzo Gee defensive rebound
52 - 44
5:26
John Wall makes driving layup
52 - 46
5:07
Andre Miller misses 10-foot jumper
52 - 46
5:07
JaVale McGee defensive rebound
52 - 46
4:43
Andray Blatche misses jumper
52 - 46
4:43
Marcus Camby defensive rebound
52 - 46
4:20
Marcus Camby bad pass (Alonzo Gee steals)
52 - 46
4:09
Kirk Hinrich misses 24-foot three point jumper
52 - 46
4:09
Sean Marks defensive rebound
52 - 46
3:58
Brandon Roy makes 12-foot jumper
54 - 46
3:57
Washington full timeout
54 - 46
3:57
Hilton Armstrong enters the game for JaVale McGee
54 - 46
3:57
Gilbert Arenas enters the game for John Wall
54 - 46
3:57
Patrick Mills enters the game for Marcus Camby
54 - 46
3:57
Joel Przybilla enters the game for Andre Miller
54 - 46
3:46
Gilbert Arenas makes 21-foot two point shot
54 - 48
3:31
Patrick Mills bad pass
54 - 48
3:31
Nicolas Batum enters the game for Wesley Matthews
54 - 48
3:15
Gilbert Arenas misses 14-foot jumper
54 - 48
3:14
Alonzo Gee offensive rebound
54 - 48
2:59
Gilbert Arenas misses 22-foot three point jumper
54 - 48
2:58
Joel Przybilla defensive rebound
54 - 48
2:47
Hilton Armstrong personal foul (Brandon Roy draws the foul)
54 - 48
2:47
Cartier Martin enters the game for Alonzo Gee
54 - 48
2:42
Patrick Mills bad pass (Kirk Hinrich steals)
54 - 48
2:38
Gilbert Arenas makes layup (Kirk Hinrich assists)
54 - 50
2:20
Brandon Roy lost ball (Hilton Armstrong steals)
54 - 50
2:13
Kirk Hinrich makes 25-foot three pointer
54 - 53
1:51
Hilton Armstrong blocks Brandon Roy's 4-foot jumper
54 - 53
1:49
Cartier Martin defensive rebound
54 - 53
1:45
Gilbert Arenas bad pass (Joel Przybilla steals)
54 - 53
1:27
Gilbert Arenas blocks Patrick Mills's 4-foot jumper
54 - 53
1:25
Gilbert Arenas defensive rebound
54 - 53
1:23
Andray Blatche makes dunk (Kirk Hinrich assists)
54 - 55
1:22
Rudy Fernandez enters the game for Brandon Roy
54 - 55
1:22
Dante Cunningham enters the game for Sean Marks
54 - 55
1:22
Portland 20 Sec. timeout
54 - 55
1:00
Dante Cunningham misses 15-foot jumper
54 - 55
0:59
Joel Przybilla offensive rebound
54 - 55
0:59
Joel Przybilla makes layup
56 - 55
0:44
Joel Przybilla shooting foul (Gilbert Arenas draws the foul)
56 - 55
0:44
Gilbert Arenas makes free throw 1 of 2
56 - 56
0:44
Yi Jianlian enters the game for Andray Blatche
56 - 56
0:44
Gilbert Arenas makes free throw 2 of 2
56 - 57
0:27
Dante Cunningham misses 16-foot jumper
56 - 57
0:23
Yi Jianlian defensive rebound
56 - 57
0:03
Gilbert Arenas offensive foul (Joel Przybilla draws the foul)
56 - 57
0:03
Gilbert Arenas turnover
56 - 57
0:03
Alonzo Gee enters the game for Gilbert Arenas
56 - 57
0:02
Kirk Hinrich foul (Patrick Mills draws the foul)
56 - 57
0:00
Patrick Mills misses 40-foot three point jumper
56 - 57
0:00
Portland defensive team rebound
56 - 57
0:00
End of the 3rd Quarter
56 - 57

time
TEAM
PLAY
SCORE
12:00
Start of the 4th Quarter
56 - 57
11:45
Cartier Martin misses three point jumper
56 - 57
11:45
Hilton Armstrong offensive rebound
56 - 57
11:36
Dante Cunningham personal foul (Yi Jianlian draws the foul)
56 - 57
11:29
Yi Jianlian misses 20-foot jumper
56 - 57
11:27
Cartier Martin offensive rebound
56 - 57
11:26
Cartier Martin makes 1-foot two point shot
56 - 59
11:26
Joel Przybilla shooting foul (Cartier Martin draws the foul)
56 - 59
11:26
Cartier Martin misses free throw 1 of 1
56 - 59
11:25
Nicolas Batum defensive rebound
56 - 59
11:03
Rudy Fernandez traveling
56 - 59
10:37
John Wall misses 24-foot jumper
56 - 59
10:37
Joel Przybilla defensive rebound
56 - 59
10:32
Patrick Mills makes layup (Joel Przybilla assists)
58 - 59
10:04
John Wall makes 5-foot two point shot
58 - 61
9:48
Nicolas Batum makes 25-foot three point jumper (Patrick Mills assists)
61 - 61
9:36
Nicolas Batum personal foul (John Wall draws the foul)
61 - 61
9:36
Brandon Roy enters the game for Rudy Fernandez
61 - 61
9:36
Andre Miller enters the game for Patrick Mills
61 - 61
9:36
LaMarcus Aldridge enters the game for Dante Cunningham
61 - 61
9:18
Cartier Martin misses 10-foot jumper
61 - 61
9:18
LaMarcus Aldridge defensive rebound
61 - 61
9:12
Yi Jianlian blocks Andre Miller's layup
61 - 61
9:12
Portland offensive team rebound
61 - 61
9:12
Andray Blatche enters the game for Hilton Armstrong
61 - 61
9:02
Nicolas Batum misses 24-foot three point jumper
61 - 61
9:00
Yi Jianlian defensive rebound
61 - 61
8:49
Andray Blatche misses 16-foot jumper
61 - 61
8:48
LaMarcus Aldridge defensive rebound
61 - 61
8:36
Andre Miller bad pass
61 - 61
8:36
Official timeout
61 - 61
8:36
Kirk Hinrich enters the game for Cartier Martin
61 - 61
8:26
Andray Blatche makes layup (Gilbert Arenas assists)
61 - 63
8:07
Brandon Roy makes 12-foot two point shot
63 - 63
7:52
Gilbert Arenas makes 20-foot two point shot
63 - 65
7:39
Brandon Roy misses 20-foot jumper
63 - 65
7:39
John Wall defensive rebound
63 - 65
7:33
John Wall misses layup
63 - 65
7:33
Washington defensive team rebound
63 - 65
7:16
Brandon Roy traveling
63 - 65
7:09
Gilbert Arenas offensive foul (Brandon Roy draws the foul)
63 - 65
7:09
Gilbert Arenas turnover
63 - 65
6:54
LaMarcus Aldridge misses 20-foot jumper
63 - 65
6:52
Andre Miller offensive rebound
63 - 65
6:50
Andre Miller misses layup
63 - 65
6:48
Yi Jianlian defensive rebound
63 - 65
6:43
Gilbert Arenas misses 27-foot three point jumper
63 - 65
6:41
Joel Przybilla defensive rebound
63 - 65
6:31
Andre Miller bad pass (Kirk Hinrich steals)
63 - 65
6:11
Andray Blatche misses 21-foot jumper
63 - 65
6:11
Nicolas Batum defensive rebound
63 - 65
6:07
Kirk Hinrich personal foul (Andre Miller draws the foul)
63 - 65
6:07
JaVale McGee enters the game for Yi Jianlian
63 - 65
6:07
Wesley Matthews enters the game for Nicolas Batum
63 - 65
6:07
Andre Miller makes free throw 1 of 2
64 - 65
6:07
Washington full timeout
64 - 65
6:07
Andre Miller makes free throw 2 of 2
65 - 65
5:45
Gilbert Arenas misses 20-foot jumper
65 - 65
5:43
Wesley Matthews defensive rebound
65 - 65
5:39
Gilbert Arenas shooting foul (Andre Miller draws the foul)
65 - 65
5:39
Andre Miller makes free throw 1 of 2
66 - 65
5:39
Cartier Martin enters the game for Gilbert Arenas
66 - 65
5:39
Andre Miller makes free throw 2 of 2
67 - 65
5:16
Kirk Hinrich makes 8-foot two point shot
67 - 67
5:00
Andre Miller misses 3-foot jumper
67 - 67
4:58
Andre Miller offensive rebound
67 - 67
4:58
Andray Blatche shooting foul (Andre Miller draws the foul)
67 - 67
4:58
Andre Miller makes free throw 1 of 2
68 - 67
4:58
Andre Miller makes free throw 2 of 2
69 - 67
4:45
Cartier Martin makes 27-foot three point jumper (Kirk Hinrich assists)
69 - 70
4:28
JaVale McGee blocks Andre Miller's 6-foot jumper
69 - 70
4:26
John Wall defensive rebound
69 - 70
4:24
Wesley Matthews shooting foul (Cartier Martin draws the foul)
69 - 70
4:24
Cartier Martin misses free throw 1 of 2
69 - 70
4:24
Washington offensive team rebound
69 - 70
4:24
Cartier Martin makes free throw 2 of 2
69 - 71
4:11
Portland full timeout
69 - 71
4:11
Nicolas Batum enters the game for Andre Miller
69 - 71
4:01
LaMarcus Aldridge misses 21-foot jumper
69 - 71
4:00
Cartier Martin defensive rebound
69 - 71
3:40
Brandon Roy blocks Kirk Hinrich's 4-foot jumper
69 - 71
3:38
Joel Przybilla defensive rebound
69 - 71
3:28
Brandon Roy misses 15-foot jumper
69 - 71
3:27
Cartier Martin defensive rebound
69 - 71
3:12
Cartier Martin misses 25-foot three point jumper
69 - 71
3:11
LaMarcus Aldridge defensive rebound
69 - 71
2:50
Andray Blatche personal foul (LaMarcus Aldridge draws the foul)
69 - 71
2:50
Gilbert Arenas enters the game for Cartier Martin
69 - 71
2:41
Brandon Roy lost ball (Kirk Hinrich steals)
69 - 71
2:34
Andray Blatche makes two point shot
69 - 73
2:15
Brandon Roy misses 26-foot three point jumper
69 - 73
2:15
Nicolas Batum offensive rebound
69 - 73
2:11
Wesley Matthews misses 25-foot three point jumper
69 - 73
2:10
Joel Przybilla offensive rebound
69 - 73
2:08
LaMarcus Aldridge misses layup
69 - 73
2:06
LaMarcus Aldridge offensive rebound
69 - 73
2:04
LaMarcus Aldridge misses layup
69 - 73
2:04
LaMarcus Aldridge offensive rebound
69 - 73
2:03
LaMarcus Aldridge misses layup
69 - 73
2:03
Portland defensive team rebound
69 - 73
2:03
Brandon Roy loose ball foul (Andray Blatche draws the foul)
69 - 73
2:03
Sean Marks enters the game for Joel Przybilla
69 - 73
2:03
Andray Blatche makes free throw 1 of 2
69 - 74
2:03
Andray Blatche makes free throw 2 of 2
69 - 75
1:54
JaVale McGee blocks Wesley Matthews's layup
69 - 75
1:53
JaVale McGee defensive rebound
69 - 75
1:52
Nicolas Batum personal foul (JaVale McGee draws the foul)
69 - 75
1:52
Wesley Matthews technical foul (1st technical foul)
69 - 75
1:52
Gilbert Arenas makes technical free throw
69 - 76
1:52
JaVale McGee misses free throw 1 of 2
69 - 76
1:52
Washington offensive team rebound
69 - 76
1:52
JaVale McGee makes free throw 2 of 2
69 - 77
1:52
Portland full timeout
69 - 77
1:52
Andre Miller enters the game for Sean Marks
69 - 77
1:52
Cartier Martin enters the game for JaVale McGee
69 - 77
1:45
Andray Blatche shooting foul (Brandon Roy draws the foul)
69 - 77
1:45
LaMarcus Aldridge misses free throw 1 of 2
69 - 77
1:45
Portland offensive team rebound
69 - 77
1:45
JaVale McGee enters the game for Cartier Martin
69 - 77
1:45
LaMarcus Aldridge makes free throw 2 of 2
70 - 77
1:34
Gilbert Arenas misses 10-foot jumper
70 - 77
1:32
Brandon Roy defensive rebound
70 - 77
1:19
Nicolas Batum misses 26-foot three point jumper
70 - 77
1:16
LaMarcus Aldridge offensive rebound
70 - 77
1:15
LaMarcus Aldridge makes tip shot
72 - 77
1:01
Andray Blatche makes 7-foot two point shot (Kirk Hinrich assists)
72 - 79
0:49
Andre Miller misses 8-foot jumper
72 - 79
0:48
LaMarcus Aldridge offensive rebound
72 - 79
0:42
Brandon Roy misses 25-foot three point jumper
72 - 79
0:41
LaMarcus Aldridge offensive rebound
72 - 79
0:37
LaMarcus Aldridge misses layup
72 - 79
0:36
Nicolas Batum offensive rebound
72 - 79
0:35
Nicolas Batum misses layup
72 - 79
0:34
Nicolas Batum offensive rebound
72 - 79
0:34
Brandon Roy makes layup (Nicolas Batum assists)
74 - 79
0:33
Washington full timeout
74 - 79
0:33
Cartier Martin enters the game for JaVale McGee
74 - 79
0:33
Washington 20 Sec. timeout
74 - 79
0:31
Nicolas Batum personal foul (Andray Blatche draws the foul)
74 - 79
0:31
Andray Blatche makes free throw 1 of 2
74 - 80
0:31
Andray Blatche makes free throw 2 of 2
74 - 81
0:20
Nicolas Batum misses 27-foot three point jumper
74 - 81
0:19
Andre Miller offensive rebound
74 - 81
0:16
Wesley Matthews misses 28-foot three point jumper
74 - 81
0:16
LaMarcus Aldridge offensive rebound
74 - 81
0:16
Gilbert Arenas personal foul (Andre Miller draws the foul)
74 - 81
0:16
Alonzo Gee enters the game for Gilbert Arenas
74 - 81
0:16
LaMarcus Aldridge makes free throw 1 of 2
75 - 81
0:16
LaMarcus Aldridge makes free throw 2 of 2
76 - 81
0:15
Wesley Matthews personal foul (John Wall draws the foul)
76 - 81
0:15
Kirk Hinrich makes free throw 1 of 2
76 - 82
0:15
Kirk Hinrich makes free throw 2 of 2
76 - 83
0:15
Portland 20 Sec. timeout
76 - 83
0:15
Rudy Fernandez enters the game for Andre Miller
76 - 83
0:01
LaMarcus Aldridge makes 36-foot three point jumper
79 - 83
0:00
End of the 4th Quarter
79 - 83
0:00
End Game
79 - 83
Despite the efforts of the five teams courting Kevin Durant, the most financially lucrative and legacy-cementing choice is to stay in Oklahoma City.

By opting out this summer, LeBron James is starting a process that could see him land the NBA's first-ever $200 million deal in 2017.

Amin Elhassan reacts to Chris Broussard's report that Kevin Durant has no desire to meet with the Lakers.
2015-2016 Northwest Standings
2015-2016 Southeast Standings