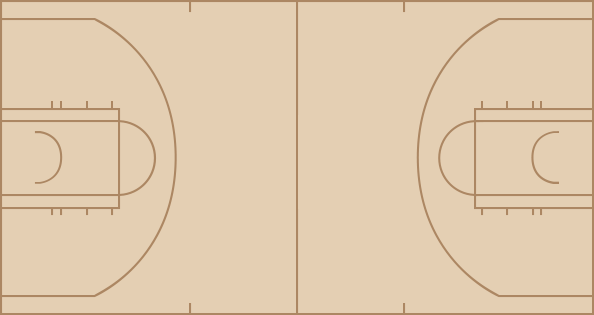 Warriors
time
TEAM
PLAY
SCORE
12:00
Start of the 1st Quarter
0 - 0
12:00
Jumpball: David Lee vs. Nenad Krstic (Jeff Green gains possession)
0 - 0
11:41
Nenad Krstic misses 19-foot jumper
0 - 0
11:37
Thabo Sefolosha offensive rebound
0 - 0
11:26
Thabo Sefolosha misses driving layup
0 - 0
11:26
David Lee defensive rebound
0 - 0
11:08
David Lee misses 5-foot jumper
0 - 0
11:08
Golden State defensive team rebound
0 - 0
11:08
Andris Biedrins loose ball foul (Kevin Durant draws the foul)
0 - 0
10:52
Jeff Green makes 19-foot jumper (Kevin Durant assists)
0 - 2
10:37
Andris Biedrins misses 6-foot hook shot
0 - 2
10:36
Russell Westbrook defensive rebound
0 - 2
10:30
Russell Westbrook misses 4-foot two point shot
0 - 2
10:27
Nenad Krstic offensive rebound
0 - 2
10:26
Nenad Krstic makes 1-foot two point shot
0 - 4
10:17
Monta Ellis lost ball (Thabo Sefolosha steals)
0 - 4
10:12
Thabo Sefolosha makes dunk
0 - 6
10:03
Golden State full timeout
0 - 6
10:00
Stephen Curry bad pass
0 - 6
9:53
Russell Westbrook bad pass
0 - 6
9:30
turnover
0 - 6
9:18
Jeff Green misses 25-foot three point jumper
0 - 6
9:18
Russell Westbrook offensive rebound
0 - 6
9:14
Nenad Krstic makes two point shot (Russell Westbrook assists)
0 - 8
9:03
Stephen Curry misses layup
0 - 8
9:00
David Lee offensive rebound
0 - 8
8:57
Andris Biedrins makes 5-foot hook shot (David Lee assists)
2 - 8
8:45
Kevin Durant misses 17-foot jumper
2 - 8
8:45
David Lee defensive rebound
2 - 8
8:36
Monta Ellis misses 16-foot two point shot
2 - 8
8:34
Thabo Sefolosha defensive rebound
2 - 8
8:30
Jeff Green makes two point shot (Russell Westbrook assists)
2 - 10
8:30
David Lee shooting foul (Jeff Green draws the foul)
2 - 10
8:30
Jeff Green makes free throw 1 of 1
2 - 11
8:17
Monta Ellis misses 25-foot three point jumper
2 - 11
8:15
Russell Westbrook defensive rebound
2 - 11
8:07
David Lee shooting foul (Russell Westbrook draws the foul)
2 - 11
8:07
Russell Westbrook makes free throw 1 of 2
2 - 12
8:07
Russell Westbrook makes free throw 2 of 2
2 - 13
7:43
Andris Biedrins misses 5-foot hook shot
2 - 13
7:43
Thabo Sefolosha defensive rebound
2 - 13
7:37
Kevin Durant makes two point shot (Russell Westbrook assists)
2 - 15
7:20
Nenad Krstic blocks David Lee's layup
2 - 15
7:18
Jeff Green defensive rebound
2 - 15
7:13
Thabo Sefolosha misses 3-foot two point shot
2 - 15
7:11
Oklahoma City offensive team rebound
2 - 15
7:11
Reggie Williams enters the game for Andris Biedrins
2 - 15
7:09
Kevin Durant makes 24-foot three point jumper (Thabo Sefolosha assists)
2 - 18
6:58
Kevin Durant blocks Monta Ellis's layup
2 - 18
6:56
David Lee offensive rebound
4 - 18
6:56
David Lee makes two point shot
4 - 18
6:52
Nenad Krstic turnover
4 - 18
6:31
David Lee misses 6-foot hook shot
4 - 18
6:31
Kevin Durant defensive rebound
4 - 18
6:16
Dorell Wright blocks Jeff Green's 8-foot jumper
4 - 18
6:16
Dorell Wright defensive rebound
4 - 18
6:16
Dorell Wright turnover
4 - 18
6:13
Nenad Krstic misses 17-foot jumper
4 - 18
6:11
Monta Ellis defensive rebound
4 - 18
6:03
Monta Ellis makes 5-foot two point shot
6 - 18
6:03
Nenad Krstic shooting foul (Monta Ellis draws the foul)
6 - 18
6:03
Monta Ellis makes free throw 1 of 1
7 - 18
5:54
Russell Westbrook makes driving layup
7 - 20
5:39
Serge Ibaka enters the game for Nenad Krstic
7 - 20
5:28
Reggie Williams misses 16-foot jumper
7 - 20
5:28
Serge Ibaka defensive rebound
7 - 20
5:18
Jeff Green makes 7-foot two point shot (Russell Westbrook assists)
7 - 22
5:05
Serge Ibaka shooting foul (Stephen Curry draws the foul)
7 - 22
5:05
Stephen Curry makes free throw 1 of 2
8 - 22
5:05
Stephen Curry makes free throw 2 of 2
9 - 22
4:48
Monta Ellis personal foul (Jeff Green draws the foul)
9 - 22
4:41
Serge Ibaka makes 7-foot jumper (Russell Westbrook assists)
9 - 24
4:28
David Lee misses 14-foot jumper
9 - 24
4:28
Kevin Durant defensive rebound
9 - 24
4:16
Monta Ellis shooting foul (Kevin Durant draws the foul)
9 - 24
4:16
Dan Gadzuric enters the game for David Lee
9 - 24
4:16
Kevin Durant makes free throw 1 of 2
9 - 25
4:16
James Harden enters the game for Jeff Green
9 - 25
4:16
Kevin Durant makes free throw 2 of 2
9 - 26
4:01
Reggie Williams lost ball (Thabo Sefolosha steals)
9 - 26
3:58
Kevin Durant makes slam dunk (Russell Westbrook assists)
9 - 28
3:47
Golden State 20 Sec. timeout
9 - 28
3:43
Stephen Curry makes driving layup
11 - 28
3:30
Russell Westbrook misses layup
11 - 28
3:28
Dorell Wright defensive rebound
11 - 28
3:23
Monta Ellis makes driving layup
13 - 28
3:10
Serge Ibaka lost ball (Stephen Curry steals)
13 - 28
3:03
Dorell Wright makes layup (Reggie Williams assists)
15 - 28
2:53
Oklahoma City full timeout
15 - 28
2:53
Eric Maynor enters the game for Russell Westbrook
15 - 28
2:38
Thabo Sefolosha misses 19-foot jumper
15 - 28
2:36
Serge Ibaka offensive rebound
15 - 28
2:35
Serge Ibaka makes 2-foot two point shot
15 - 30
2:12
Reggie Williams misses two point shot
15 - 30
2:10
Eric Maynor defensive rebound
15 - 30
2:03
James Harden misses 22-foot three point jumper
15 - 30
2:02
Monta Ellis defensive rebound
15 - 30
2:01
Eric Maynor loose ball foul (Monta Ellis draws the foul)
15 - 30
1:51
Dan Gadzuric misses 19-foot jumper
15 - 30
1:50
Thabo Sefolosha defensive rebound
15 - 30
1:37
Kevin Durant turnover
15 - 30
1:25
Reggie Williams lost ball (James Harden steals)
15 - 30
1:22
Monta Ellis shooting foul (James Harden draws the foul)
15 - 30
1:22
Charlie Bell enters the game for Monta Ellis
15 - 30
1:22
James Harden makes free throw 1 of 2
15 - 31
1:22
Jeff Green enters the game for Kevin Durant
15 - 31
1:22
James Harden makes free throw 2 of 2
15 - 32
1:15
Jeff Green shooting foul (Stephen Curry draws the foul)
15 - 32
1:15
Stephen Curry makes free throw 1 of 2
16 - 32
1:15
Stephen Curry makes free throw 2 of 2
17 - 32
0:59
Eric Maynor bad pass
17 - 32
0:46
Reggie Williams misses 25-foot three point jumper
17 - 32
0:45
Thabo Sefolosha defensive rebound
17 - 32
0:29
Eric Maynor misses 11-foot two point shot
17 - 32
0:28
Eric Maynor offensive rebound
17 - 32
0:06
Jeff Green misses 25-foot three point jumper
17 - 32
0:05
Dan Gadzuric defensive rebound
17 - 32
0:00
End of the 1st Quarter
17 - 32

time
TEAM
PLAY
SCORE
12:00
Start of the 2nd Quarter
17 - 32
12:00
Golden State full timeout
17 - 32
11:45
James Harden personal foul (Dorell Wright draws the foul)
17 - 32
11:45
Jeremy Lin enters the game for Reggie Williams
17 - 32
11:37
Dan Gadzuric offensive foul (Royal Ivey draws the foul)
17 - 32
11:37
Dan Gadzuric turnover
17 - 32
11:37
David Lee enters the game for Dan Gadzuric
17 - 32
11:15
Jeff Green misses 4-foot hook shot
17 - 32
11:14
Serge Ibaka offensive rebound
17 - 34
11:14
Serge Ibaka makes tip shot
17 - 34
10:48
Stephen Curry misses 25-foot three point jumper
17 - 34
10:47
Serge Ibaka defensive rebound
17 - 34
10:34
Jeremy Lin blocks James Harden's 18-foot jumper
17 - 34
10:33
Charlie Bell defensive rebound
17 - 34
10:30
Charlie Bell misses layup
17 - 34
10:26
Dorell Wright offensive rebound
17 - 34
10:26
Dorell Wright makes two point shot
19 - 34
10:11
James Harden makes 25-foot three point jumper (Eric Maynor assists)
19 - 37
9:53
Stephen Curry makes 21-foot jumper (David Lee assists)
21 - 37
9:41
James Harden makes 23-foot three point jumper (Eric Maynor assists)
21 - 40
9:23
Dorell Wright makes 23-foot three point jumper (David Lee assists)
24 - 40
9:00
Jeff Green misses 21-foot jumper
24 - 40
9:00
Stephen Curry defensive rebound
24 - 40
8:56
Dorell Wright misses 2-foot two point shot
24 - 40
8:53
Royal Ivey defensive rebound
24 - 40
8:48
Eric Maynor misses driving layup
24 - 40
8:48
Oklahoma City defensive team rebound
24 - 40
8:48
Serge Ibaka loose ball foul (David Lee draws the foul)
24 - 40
8:33
David Lee offensive rebound
24 - 40
8:33
Dorell Wright misses 24-foot three point jumper
27 - 40
8:30
Stephen Curry makes 23-foot three point jumper (David Lee assists)
27 - 40
8:21
Oklahoma City full timeout
27 - 40
8:04
Jeff Green makes 2-foot two point shot (Royal Ivey assists)
27 - 42
7:43
Charlie Bell misses 13-foot jumper
27 - 42
7:41
Serge Ibaka defensive rebound
27 - 42
7:31
James Harden turnover
27 - 42
7:31
Russell Westbrook enters the game for Eric Maynor
27 - 42
7:18
David Lee lost ball (Jeff Green steals)
27 - 42
7:13
Royal Ivey makes layup (Russell Westbrook assists)
27 - 44
6:52
Dorell Wright misses driving layup
27 - 44
6:52
Russell Westbrook defensive rebound
27 - 44
6:47
Serge Ibaka makes dunk (Russell Westbrook assists)
27 - 46
6:31
Russell Westbrook blocks Stephen Curry's layup
27 - 46
6:31
Golden State offensive team rebound
27 - 46
6:31
Reggie Williams enters the game for Charlie Bell
27 - 46
6:31
Kevin Durant enters the game for James Harden
27 - 46
6:16
Reggie Williams misses 12-foot jumper
27 - 46
6:16
Kevin Durant defensive rebound
27 - 46
6:11
Kevin Durant lost ball (Reggie Williams steals)
27 - 46
6:05
Serge Ibaka blocks Reggie Williams's layup
27 - 46
6:03
Royal Ivey defensive rebound
27 - 46
5:48
Serge Ibaka makes 17-foot jumper (Kevin Durant assists)
27 - 48
5:26
Dorell Wright bad pass (Jeff Green steals)
27 - 48
5:20
Monta Ellis enters the game for Jeremy Lin
27 - 48
5:20
Andris Biedrins enters the game for Reggie Williams
27 - 48
5:20
Thabo Sefolosha enters the game for Royal Ivey
27 - 48
5:18
Kevin Durant makes 17-foot jumper (Thabo Sefolosha assists)
27 - 50
5:03
Andris Biedrins bad pass
27 - 50
5:03
Nenad Krstic enters the game for Serge Ibaka
27 - 50
4:43
Kevin Durant misses 16-foot two point shot
27 - 50
4:41
Andris Biedrins defensive rebound
27 - 50
4:37
Stephen Curry makes 18-foot jumper
29 - 50
4:11
Jeff Green misses 6-foot two point shot
29 - 50
4:09
Jeff Green offensive rebound
29 - 50
4:09
Jeff Green misses tip shot
29 - 50
4:07
David Lee defensive rebound
29 - 50
3:59
David Lee misses 17-foot jumper
29 - 50
3:57
Kevin Durant defensive rebound
29 - 50
3:50
Kevin Durant misses 25-foot three point jumper
29 - 50
3:49
Oklahoma City offensive team rebound
29 - 50
3:34
Andris Biedrins blocks Nenad Krstic's 4-foot jumper
29 - 50
3:34
Oklahoma City defensive team rebound
29 - 50
3:23
Stephen Curry makes 17-foot two point shot
31 - 50
3:12
Thabo Sefolosha makes layup (Russell Westbrook assists)
31 - 52
2:58
Stephen Curry makes 17-foot jumper
33 - 52
2:41
Kevin Durant misses 5-foot jumper
33 - 52
2:40
Nenad Krstic offensive rebound
33 - 52
2:39
Official timeout
33 - 52
2:31
Nenad Krstic misses 10-foot jumper
33 - 52
2:30
Monta Ellis defensive rebound
33 - 52
2:18
David Lee misses 9-foot hook shot
33 - 52
2:17
Russell Westbrook defensive rebound
33 - 52
2:03
Russell Westbrook bad pass
33 - 52
1:46
Monta Ellis makes 4-foot two point shot
35 - 52
1:31
Kevin Durant misses two point shot
35 - 52
1:30
Andris Biedrins defensive rebound
35 - 52
1:24
Reggie Williams enters the game for Monta Ellis
35 - 52
1:24
James Harden enters the game for Nenad Krstic
35 - 52
1:15
Andris Biedrins makes two point shot (Stephen Curry assists)
37 - 52
1:00
Dorell Wright blocks Russell Westbrook's layup
37 - 52
0:59
Andris Biedrins defensive rebound
37 - 52
0:55
Stephen Curry makes 25-foot three point jumper (Reggie Williams assists)
40 - 52
0:34
Kevin Durant misses three point jumper
40 - 52
0:32
James Harden offensive rebound
40 - 52
0:31
David Lee personal foul (James Harden draws the foul)
40 - 52
0:19
James Harden makes 18-foot two point shot
40 - 54
0:08
Russell Westbrook foul (Stephen Curry draws the foul)
40 - 54
0:03
Dorell Wright misses 17-foot jumper
40 - 54
0:01
Andris Biedrins offensive rebound
40 - 54
0:00
Reggie Williams makes 16-foot jumper (Andris Biedrins assists)
42 - 54
0:00
End of the 2nd Quarter
42 - 54

time
TEAM
PLAY
SCORE
12:00
Start of the 3rd Quarter
42 - 54
11:48
Monta Ellis bad pass (Jeff Green steals)
42 - 54
11:44
Jeff Green makes layup
42 - 56
11:22
David Lee makes dunk (Andris Biedrins assists)
44 - 56
11:03
Nenad Krstic misses 19-foot jumper
44 - 56
11:02
David Lee defensive rebound
44 - 56
10:53
Monta Ellis makes driving layup
46 - 56
10:41
Kevin Durant makes 18-foot jumper (Russell Westbrook assists)
46 - 58
10:33
Stephen Curry lost ball (Russell Westbrook steals)
46 - 58
10:30
Stephen Curry shooting foul (Kevin Durant draws the foul)
46 - 58
10:30
Kevin Durant makes free throw 1 of 2
46 - 59
10:30
Kevin Durant makes free throw 2 of 2
46 - 60
10:18
Dorell Wright misses 20-foot jumper
46 - 60
10:17
Andris Biedrins offensive rebound
46 - 60
10:14
Stephen Curry makes 24-foot three point jumper (Andris Biedrins assists)
49 - 60
9:53
Russell Westbrook misses 23-foot three point jumper
49 - 60
9:52
Jeff Green offensive rebound
49 - 60
9:48
Dorell Wright shooting foul (Kevin Durant draws the foul)
49 - 60
9:48
Kevin Durant makes free throw 1 of 2
49 - 61
9:48
Kevin Durant makes free throw 2 of 2
49 - 62
9:41
Stephen Curry bad pass (Russell Westbrook steals)
49 - 62
9:41
Russell Westbrook turnover
49 - 62
9:33
Monta Ellis bad pass
49 - 62
9:11
Thabo Sefolosha lost ball (Andris Biedrins steals)
49 - 62
9:03
David Lee misses 6-foot hook shot
49 - 62
9:03
Jeff Green defensive rebound
49 - 62
8:57
Russell Westbrook misses 13-foot jumper
49 - 62
8:56
Kevin Durant offensive rebound
49 - 62
8:49
Russell Westbrook makes 4-foot jumper (Jeff Green assists)
49 - 64
8:49
Andris Biedrins shooting foul (Russell Westbrook draws the foul)
49 - 64
8:49
Russell Westbrook makes free throw 1 of 1
49 - 65
8:33
Monta Ellis misses driving layup
49 - 65
8:32
David Lee offensive rebound
49 - 65
8:32
David Lee makes two point shot
51 - 65
8:14
Jeff Green misses 25-foot three point jumper
51 - 65
8:12
Nenad Krstic offensive rebound
51 - 65
8:07
Thabo Sefolosha misses 23-foot three point jumper
51 - 65
8:07
Dorell Wright defensive rebound
51 - 65
7:52
Stephen Curry makes 15-foot jumper (David Lee assists)
53 - 65
7:35
Andris Biedrins shooting foul (Nenad Krstic draws the foul)
53 - 65
7:35
Nenad Krstic makes free throw 1 of 2
53 - 66
7:35
Nenad Krstic makes free throw 2 of 2
53 - 67
7:13
Kevin Durant shooting foul (Dorell Wright draws the foul)
53 - 67
7:13
Dorell Wright misses free throw 1 of 2
53 - 67
7:13
Golden State offensive team rebound
53 - 67
7:13
Dorell Wright makes free throw 2 of 2
54 - 67
7:01
Stephen Curry blocks Russell Westbrook's two point shot
54 - 67
7:00
Kevin Durant offensive rebound
54 - 67
7:00
Kevin Durant makes 1-foot two point shot
54 - 69
6:43
Monta Ellis makes 22-foot jumper
56 - 69
6:26
Nenad Krstic offensive goaltending
56 - 69
6:09
Stephen Curry bad pass (Jeff Green steals)
56 - 69
6:05
Kevin Durant makes dunk (Russell Westbrook assists)
56 - 71
5:54
Monta Ellis misses 18-foot jumper
56 - 71
5:52
Thabo Sefolosha defensive rebound
56 - 71
5:48
Oklahoma City full timeout
56 - 71
5:48
Serge Ibaka enters the game for Nenad Krstic
56 - 71
5:48
James Harden enters the game for Thabo Sefolosha
56 - 71
5:45
Andris Biedrins shooting foul (Serge Ibaka draws the foul)
56 - 71
5:45
Serge Ibaka makes free throw 1 of 2
56 - 72
5:45
Jeff Adrien enters the game for Andris Biedrins
56 - 72
5:45
David Lee lane violation
56 - 72
5:45
Serge Ibaka makes free throw 2 of 2
56 - 73
5:26
Serge Ibaka shooting foul (Monta Ellis draws the foul)
56 - 73
5:26
Monta Ellis makes free throw 1 of 2
57 - 73
5:26
Monta Ellis makes free throw 2 of 2
58 - 73
5:07
Serge Ibaka misses 18-foot jumper
58 - 73
5:05
Jeff Green offensive rebound
58 - 73
5:05
Monta Ellis shooting foul (Jeff Green draws the foul)
58 - 73
5:05
Jeff Green makes free throw 1 of 2
58 - 74
5:05
Jeff Green makes free throw 2 of 2
58 - 75
4:52
Monta Ellis misses 12-foot two point shot
58 - 75
4:50
Jeff Adrien offensive rebound
58 - 75
4:50
Serge Ibaka blocks Jeff Adrien's 6-foot jumper
58 - 75
4:50
Golden State offensive team rebound
58 - 75
4:46
James Harden personal foul (David Lee draws the foul)
58 - 75
4:39
Stephen Curry makes 19-foot jumper
60 - 75
4:22
James Harden misses 1-foot two point shot
60 - 75
4:20
Jeff Adrien defensive rebound
60 - 75
4:13
Monta Ellis misses 14-foot jumper
60 - 75
4:11
James Harden defensive rebound
60 - 75
4:07
Serge Ibaka foul (Monta Ellis draws the foul)
60 - 75
4:07
Serge Ibaka turnover
60 - 75
3:56
Russell Westbrook personal foul (Stephen Curry draws the foul)
60 - 75
3:46
Monta Ellis makes driving layup
62 - 75
3:33
Stephen Curry shooting foul (Russell Westbrook draws the foul)
62 - 75
3:33
Russell Westbrook makes free throw 1 of 2
62 - 76
3:33
Thabo Sefolosha enters the game for Jeff Green
62 - 76
3:33
Russell Westbrook makes free throw 2 of 2
62 - 77
3:20
Monta Ellis makes 6-foot running jumper
64 - 77
3:12
Serge Ibaka makes layup (Kevin Durant assists)
64 - 79
3:12
Dorell Wright shooting foul (Serge Ibaka draws the foul)
64 - 79
3:12
Serge Ibaka makes free throw 1 of 1
64 - 80
2:51
Jeff Adrien makes driving dunk (Stephen Curry assists)
66 - 80
2:32
Serge Ibaka makes 1-foot two point shot (Russell Westbrook assists)
66 - 82
2:15
Kevin Durant blocks Jeff Adrien's driving layup
66 - 82
2:13
David Lee offensive rebound
66 - 82
2:11
David Lee misses layup
66 - 82
2:10
Jeff Adrien offensive rebound
66 - 82
2:09
David Lee makes dunk (Jeff Adrien assists)
68 - 82
1:55
Stephen Curry shooting foul (Russell Westbrook draws the foul)
68 - 82
1:55
Golden State full timeout
68 - 82
1:55
Russell Westbrook makes free throw 1 of 2
68 - 83
1:55
Russell Westbrook makes free throw 2 of 2
68 - 84
1:35
Dorell Wright misses 18-foot jumper
68 - 84
1:34
Kevin Durant defensive rebound
68 - 84
1:27
David Lee personal foul (Kevin Durant draws the foul)
68 - 84
1:27
Kevin Durant makes free throw 1 of 2
68 - 85
1:27
Kevin Durant makes free throw 2 of 2
68 - 86
1:10
Kevin Durant shooting foul (Stephen Curry draws the foul)
68 - 86
1:10
Stephen Curry makes free throw 1 of 2
69 - 86
1:10
Stephen Curry makes free throw 2 of 2
70 - 86
1:00
Russell Westbrook foul (Jeff Adrien draws the foul)
70 - 86
1:00
Russell Westbrook turnover
70 - 86
1:00
Reggie Williams enters the game for David Lee
70 - 86
0:51
Jeff Adrien offensive foul (Russell Westbrook draws the foul)
70 - 86
0:51
Jeff Adrien turnover
70 - 86
0:36
Kevin Durant makes 19-foot two point shot
70 - 88
0:27
Stephen Curry misses two point shot
70 - 88
0:27
Golden State defensive team rebound
70 - 88
0:06
Jeff Adrien shooting foul (Russell Westbrook draws the foul)
70 - 88
0:06
Russell Westbrook makes free throw 1 of 2
70 - 89
0:06
Jeff Green enters the game for Kevin Durant
70 - 89
0:06
Russell Westbrook makes free throw 2 of 2
70 - 90
0:00
Stephen Curry misses 25-foot three point jumper
70 - 90
0:00
Golden State offensive team rebound
70 - 90
0:00
End of the 3rd Quarter
70 - 90

time
TEAM
PLAY
SCORE
12:00
Start of the 4th Quarter
70 - 90
11:55
Eric Maynor lost ball (Stephen Curry steals)
70 - 90
11:53
Jeff Adrien makes layup (Stephen Curry assists)
72 - 90
11:53
Eric Maynor shooting foul (Jeff Adrien draws the foul)
72 - 90
11:53
Serge Ibaka lane violation
72 - 90
11:53
Jeff Adrien makes free throw 1 of 1
73 - 90
11:29
Eric Maynor makes 15-foot jumper (Thabo Sefolosha assists)
73 - 92
11:02
Dorell Wright misses 20-foot jumper
73 - 92
11:00
Serge Ibaka defensive rebound
73 - 92
10:40
Jeff Adrien shooting foul (James Harden draws the foul)
73 - 92
10:40
James Harden makes free throw 1 of 2
73 - 93
10:40
James Harden makes free throw 2 of 2
73 - 94
10:29
Monta Ellis makes driving layup (Stephen Curry assists)
75 - 94
10:07
Eric Maynor misses 14-foot jumper
75 - 94
10:06
Monta Ellis defensive rebound
75 - 94
10:00
Dorell Wright misses 12-foot jumper
75 - 94
9:59
Jeff Adrien offensive rebound
75 - 94
9:56
Serge Ibaka blocks Jeff Adrien's 6-foot jumper
75 - 94
9:55
Jeff Adrien offensive rebound
75 - 94
9:51
Monta Ellis misses 24-foot three point jumper
75 - 94
9:48
Dorell Wright offensive rebound
75 - 94
9:47
Stephen Curry makes 25-foot three point jumper (Dorell Wright assists)
78 - 94
9:33
Thabo Sefolosha makes layup (Serge Ibaka assists)
78 - 96
9:18
Stephen Curry makes 20-foot jumper (Jeff Adrien assists)
80 - 96
9:18
Eric Maynor shooting foul (Stephen Curry draws the foul)
80 - 96
9:18
Russell Westbrook enters the game for Eric Maynor
80 - 96
9:18
Stephen Curry makes free throw 1 of 1
81 - 96
9:03
Serge Ibaka misses 7-foot hook shot
81 - 96
9:02
Jeff Adrien defensive rebound
81 - 96
8:53
Stephen Curry makes 18-foot jumper
83 - 96
8:52
Oklahoma City full timeout
83 - 96
8:52
Kevin Durant enters the game for Thabo Sefolosha
83 - 96
8:32
Jeff Green makes layup (James Harden assists)
83 - 98
8:10
Dorell Wright misses 26-foot three point jumper
83 - 98
8:10
Serge Ibaka defensive rebound
83 - 98
8:03
Russell Westbrook misses 16-foot jumper
83 - 98
8:00
Oklahoma City defensive team rebound
83 - 98
7:45
James Harden personal foul (Dorell Wright draws the foul)
83 - 98
7:33
Reggie Williams misses 25-foot three point jumper
83 - 98
7:33
Jeff Green defensive rebound
83 - 98
7:26
Russell Westbrook bad pass (Monta Ellis steals)
83 - 98
7:22
Stephen Curry bad pass (James Harden steals)
83 - 98
7:00
Serge Ibaka makes layup (Russell Westbrook assists)
83 - 100
6:54
Jeff Green shooting foul (Reggie Williams draws the foul)
83 - 100
6:54
Reggie Williams makes free throw 1 of 2
84 - 100
6:54
Andris Biedrins enters the game for Jeff Adrien
84 - 100
6:54
Jeremy Lin enters the game for Stephen Curry
84 - 100
6:54
Reggie Williams makes free throw 2 of 2
85 - 100
6:43
Russell Westbrook misses layup
85 - 100
6:43
Dorell Wright defensive rebound
85 - 100
6:37
Dorell Wright misses 5-foot jumper
85 - 100
6:30
Monta Ellis offensive rebound
85 - 100
6:30
Serge Ibaka shooting foul (Jeremy Lin draws the foul)
85 - 100
6:30
Jeremy Lin makes free throw 1 of 2
86 - 100
6:30
Jeremy Lin misses free throw 2 of 2
86 - 100
6:28
Serge Ibaka defensive rebound
86 - 100
6:07
Jeff Green lost ball (Monta Ellis steals)
86 - 100
5:58
Dorell Wright misses 23-foot three point jumper
86 - 100
5:58
Reggie Williams offensive rebound
86 - 100
5:56
Reggie Williams makes layup
88 - 100
5:35
Russell Westbrook makes 5-foot running jumper
88 - 102
5:18
Monta Ellis makes two point shot
90 - 102
5:18
Oklahoma City 20 Sec. timeout
90 - 102
5:18
Official timeout
90 - 102
5:18
Thabo Sefolosha enters the game for James Harden
90 - 102
5:03
Thabo Sefolosha misses 22-foot jumper
90 - 102
5:00
Dorell Wright defensive rebound
90 - 102
4:45
Serge Ibaka foul (Monta Ellis draws the foul)
90 - 102
4:45
Nenad Krstic enters the game for Serge Ibaka
90 - 102
4:45
Monta Ellis makes free throw 1 of 2
91 - 102
4:45
Stephen Curry enters the game for Jeremy Lin
91 - 102
4:45
Monta Ellis misses free throw 2 of 2
91 - 102
4:43
Jeff Green defensive rebound
91 - 102
4:28
Kevin Durant misses 11-foot jumper
91 - 102
4:26
Russell Westbrook offensive rebound
91 - 102
4:26
Russell Westbrook misses two point shot
91 - 102
4:24
Jeff Green offensive rebound
91 - 102
4:01
Nenad Krstic misses 4-foot hook shot
91 - 102
4:01
Russell Westbrook offensive rebound
91 - 102
4:00
Russell Westbrook makes layup
91 - 104
3:39
Reggie Williams makes 25-foot three point jumper (Stephen Curry assists)
94 - 104
3:17
Kevin Durant misses 17-foot two point shot
94 - 104
3:15
Dorell Wright defensive rebound
94 - 104
3:05
Monta Ellis misses driving layup
94 - 104
3:04
Thabo Sefolosha defensive rebound
94 - 104
2:46
Russell Westbrook misses 19-foot jumper
94 - 104
2:42
Dorell Wright defensive rebound
94 - 104
2:40
Jeff Green shooting foul (Monta Ellis draws the foul)
94 - 104
2:40
Golden State full timeout
94 - 104
2:40
Monta Ellis makes free throw 1 of 2
95 - 104
2:40
Monta Ellis makes free throw 2 of 2
96 - 104
2:30
Stephen Curry shooting foul (Russell Westbrook draws the foul)
96 - 104
2:30
Russell Westbrook misses free throw 1 of 2
96 - 104
2:30
Oklahoma City offensive team rebound
96 - 104
2:30
Russell Westbrook makes free throw 2 of 2
96 - 105
2:15
Dorell Wright makes 4-foot running jumper
98 - 105
1:49
Russell Westbrook misses layup
98 - 105
1:49
Nenad Krstic offensive rebound
98 - 105
1:49
Nenad Krstic makes two point shot
98 - 107
1:49
Reggie Williams shooting foul (Nenad Krstic draws the foul)
98 - 107
1:49
Nenad Krstic makes free throw 1 of 1
98 - 108
1:39
Dorell Wright makes 17-foot jumper (Stephen Curry assists)
100 - 108
1:23
Jeff Green misses 25-foot three point jumper
100 - 108
1:22
Reggie Williams defensive rebound
100 - 108
1:14
Monta Ellis makes driving layup
102 - 108
0:56
Russell Westbrook misses 14-foot jumper
102 - 108
0:55
Reggie Williams defensive rebound
102 - 108
0:49
Dorell Wright misses 25-foot three point jumper
102 - 108
0:48
Golden State defensive team rebound
102 - 108
0:48
Dorell Wright loose ball foul (Russell Westbrook draws the foul)
102 - 108
0:48
Russell Westbrook makes free throw 1 of 2
102 - 109
0:48
James Harden enters the game for Nenad Krstic
102 - 109
0:48
Russell Westbrook misses free throw 2 of 2
102 - 109
0:47
Andris Biedrins defensive rebound
102 - 109
0:46
Golden State 20 Sec. timeout
102 - 109
0:40
Stephen Curry makes driving layup
104 - 109
0:26
Monta Ellis foul (Kevin Durant draws the foul)
104 - 109
0:26
Kevin Durant misses free throw 1 of 2
104 - 109
0:26
Oklahoma City offensive team rebound
104 - 109
0:26
Kevin Durant makes free throw 2 of 2
104 - 110
0:26
Golden State 20 Sec. timeout
104 - 110
0:23
Monta Ellis makes 25-foot three point jumper
107 - 110
0:23
Oklahoma City 20 Sec. timeout
107 - 110
0:23
Andris Biedrins personal foul (Jeff Green draws the foul)
107 - 110
0:23
Jeff Green makes free throw 1 of 2
107 - 111
0:23
Jeff Green makes free throw 2 of 2
107 - 112
0:23
Golden State full timeout
107 - 112
0:16
Stephen Curry misses 25-foot three point jumper
107 - 112
0:14
Reggie Williams offensive rebound
107 - 112
0:11
Reggie Williams misses 23-foot three point jumper
107 - 112
0:09
Dorell Wright offensive rebound
107 - 112
0:07
Reggie Williams makes two point shot (Dorell Wright assists)
109 - 112
0:06
Stephen Curry foul (Kevin Durant draws the foul)
109 - 112
0:06
Kevin Durant makes free throw 1 of 2
109 - 113
0:06
Kevin Durant makes free throw 2 of 2
109 - 114
0:01
Monta Ellis misses 24-foot three point jumper
109 - 114
0:00
Dorell Wright offensive rebound
109 - 114
0:00
End of the 4th Quarter
109 - 114
0:00
End Game
109 - 114
Jorge Sedano breaks down why re-signing Hassan Whiteside was so important to the Miami Heat and Pat Riley.

Golic reacts to Nicolas Batum's hefty new contract. While overpaid, Golic believes Batum will be a great asset to the Hornets.

DeMar DeRozan is staying put in Toronto with a five-year 139 million dollar deal, which is the second highest contract in NBA history.
Regular Season Series
OKC wins series 2-1
2015-2016 Pacific Standings
2015-2016 Northwest Standings