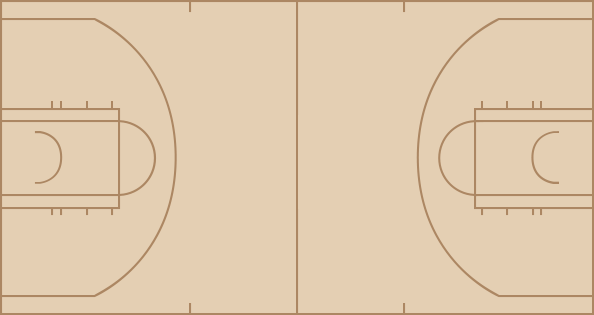 Wizards
time
TEAM
PLAY
SCORE
12:00
Start of the 1st Quarter
0 - 0
12:00
Jumpball: JaVale McGee vs. Pau Gasol (Los Angeles gains possession)
0 - 0
12:00
JaVale McGee jump ball
84 - 87
11:45
Derek Fisher makes 16-foot jumper (Pau Gasol assists)
0 - 2
11:29
Gilbert Arenas misses 21-foot jumper
0 - 2
11:27
Pau Gasol defensive rebound
0 - 2
11:21
Kobe Bryant makes 17-foot jumper (Derek Fisher assists)
0 - 4
10:59
Al Thornton makes driving layup (John Wall assists)
2 - 4
10:37
Ron Artest makes layup (Pau Gasol assists)
2 - 6
10:22
Lamar Odom blocks Gilbert Arenas's 6-foot two point shot
2 - 6
10:19
Kobe Bryant defensive rebound
2 - 6
10:14
Lamar Odom makes 3-foot two point shot (Pau Gasol assists)
2 - 8
9:48
John Wall misses 17-foot jumper
2 - 8
9:48
Washington defensive team rebound
2 - 8
9:34
Pau Gasol misses 9-foot jumper
2 - 8
9:33
Pau Gasol offensive rebound
2 - 8
9:33
JaVale McGee blocks Pau Gasol's layup
2 - 8
9:30
Derek Fisher offensive rebound
2 - 8
9:26
Lamar Odom makes 5-foot hook shot (Derek Fisher assists)
2 - 10
9:12
Gilbert Arenas makes 25-foot three point jumper (Al Thornton assists)
5 - 10
8:55
Kobe Bryant misses 28-foot three point jumper
5 - 10
8:53
Al Thornton defensive rebound
5 - 10
8:40
Yi Jianlian makes 14-foot jumper (Al Thornton assists)
7 - 10
8:21
Kobe Bryant makes driving layup
7 - 12
8:04
Yi Jianlian makes 20-foot jumper (John Wall assists)
9 - 12
7:54
JaVale McGee personal foul (Derek Fisher draws the foul)
9 - 12
7:39
Derek Fisher makes 26-foot three point jumper (Lamar Odom assists)
9 - 15
7:35
Derek Fisher shooting foul (John Wall draws the foul)
9 - 15
7:35
John Wall makes free throw 1 of 2
10 - 15
7:35
John Wall makes free throw 2 of 2
11 - 15
7:18
Pau Gasol misses layup
11 - 15
7:16
JaVale McGee defensive rebound
11 - 15
7:01
Al Thornton misses 6-foot jumper
11 - 15
7:01
JaVale McGee offensive rebound
11 - 15
7:01
JaVale McGee misses tip shot
11 - 15
6:56
Lamar Odom defensive rebound
11 - 15
6:45
Pau Gasol makes layup (Kobe Bryant assists)
11 - 17
6:26
Yi Jianlian misses 21-foot jumper
11 - 17
6:24
Derek Fisher defensive rebound
11 - 17
6:16
Pau Gasol misses 18-foot jumper
11 - 17
6:16
Yi Jianlian defensive rebound
11 - 17
6:07
John Wall makes 20-foot jumper (Gilbert Arenas assists)
13 - 17
5:50
Pau Gasol misses 4-foot hook shot
13 - 17
5:48
Al Thornton defensive rebound
13 - 17
5:41
Gilbert Arenas bad pass (Kobe Bryant steals)
13 - 17
5:35
Gilbert Arenas personal foul (Kobe Bryant draws the foul)
13 - 17
5:35
Los Angeles full timeout
13 - 17
5:28
John Wall personal foul (Kobe Bryant draws the foul)
13 - 17
5:22
Lamar Odom misses layup
13 - 17
5:18
Lamar Odom offensive rebound
13 - 19
5:18
Lamar Odom makes tip shot
13 - 19
5:05
Gilbert Arenas misses 26-foot three point jumper
13 - 19
5:05
Lamar Odom defensive rebound
13 - 19
4:54
Derek Fisher misses 26-foot three point jumper
13 - 19
4:52
Ron Artest offensive rebound
13 - 19
4:52
Ron Artest makes layup
13 - 21
4:31
John Wall misses jumper
13 - 21
4:30
Pau Gasol defensive rebound
13 - 21
4:26
Yi Jianlian shooting foul (Lamar Odom draws the foul)
13 - 21
4:26
Lamar Odom makes free throw 1 of 2
13 - 22
4:26
Hilton Armstrong enters the game for JaVale McGee
13 - 22
4:26
Lamar Odom makes free throw 2 of 2
13 - 23
4:05
Gilbert Arenas makes 15-foot jumper
15 - 23
3:54
Kobe Bryant misses layup
15 - 23
3:53
Ron Artest offensive rebound
15 - 23
3:47
Kobe Bryant misses three point jumper
15 - 23
3:47
Pau Gasol offensive rebound
15 - 23
3:42
Lamar Odom makes slam dunk (Pau Gasol assists)
15 - 25
3:11
Al Thornton misses 24-foot three point jumper
15 - 25
3:10
Derek Fisher defensive rebound
15 - 25
3:01
Kobe Bryant makes driving layup (Derek Fisher assists)
15 - 27
3:00
Washington full timeout
15 - 27
3:00
Nick Young enters the game for Al Thornton
15 - 27
3:00
Steve Blake enters the game for Derek Fisher
15 - 27
2:47
Ron Artest personal foul (Gilbert Arenas draws the foul)
15 - 27
2:47
Kirk Hinrich enters the game for John Wall
15 - 27
2:42
Nick Young makes 19-foot two point shot (Gilbert Arenas assists)
17 - 27
2:34
Nick Young personal foul (Ron Artest draws the foul)
17 - 27
2:34
Ron Artest makes free throw 1 of 2
17 - 28
2:34
Ron Artest makes free throw 2 of 2
17 - 29
2:25
Gilbert Arenas makes 27-foot three point jumper
20 - 29
2:08
Kobe Bryant makes 20-foot jumper (Pau Gasol assists)
20 - 31
1:51
Nick Young makes driving layup
22 - 31
1:42
Lamar Odom makes slam dunk (Steve Blake assists)
22 - 33
1:42
Hilton Armstrong shooting foul (Lamar Odom draws the foul)
22 - 33
1:42
Shannon Brown enters the game for Kobe Bryant
22 - 33
1:42
Lamar Odom makes free throw 1 of 1
22 - 34
1:27
Pau Gasol shooting foul (Yi Jianlian draws the foul)
22 - 34
1:27
Yi Jianlian makes free throw 1 of 2
23 - 34
1:27
Matt Barnes enters the game for Ron Artest
23 - 34
1:27
Yi Jianlian misses free throw 2 of 2
23 - 34
1:22
Lamar Odom defensive rebound
23 - 34
1:02
Hilton Armstrong blocks Pau Gasol's 9-foot jumper
23 - 34
1:00
Kirk Hinrich defensive rebound
23 - 34
0:50
Gilbert Arenas misses 25-foot three point jumper
23 - 34
0:49
Matt Barnes defensive rebound
23 - 34
0:41
Matt Barnes misses 26-foot three point jumper
23 - 34
0:40
Pau Gasol offensive rebound
23 - 36
0:40
Pau Gasol makes tip shot
23 - 36
0:20
Kirk Hinrich misses 21-foot jumper
23 - 36
0:19
Pau Gasol defensive rebound
23 - 36
0:01
Pau Gasol bad pass (Nick Young steals)
23 - 36
0:00
Nick Young misses 49-foot three point jumper
23 - 36
0:00
Washington offensive team rebound
23 - 36
0:00
End of the 1st Quarter
23 - 36

time
TEAM
PLAY
SCORE
12:00
Start of the 2nd Quarter
23 - 36
11:48
Nick Young makes 26-foot three point jumper (John Wall assists)
26 - 36
11:32
Steve Blake makes three point jumper (Pau Gasol assists)
26 - 39
11:14
John Wall misses 5-foot running jumper
26 - 39
11:12
Washington offensive team rebound
26 - 39
11:12
Trevor Booker enters the game for Hilton Armstrong
26 - 39
11:08
Nick Young misses 14-foot two point shot
26 - 39
11:06
Shannon Brown defensive rebound
26 - 39
11:00
Nick Young personal foul (Ron Artest draws the foul)
26 - 39
10:52
Steve Blake bad pass
26 - 39
10:40
John Wall misses layup
26 - 39
10:38
JaVale McGee offensive rebound
26 - 39
10:37
Pau Gasol blocks JaVale McGee's layup
26 - 39
10:34
Trevor Booker offensive rebound
28 - 39
10:34
Trevor Booker makes tip shot
28 - 39
10:18
Steve Blake makes three point jumper (Matt Barnes assists)
28 - 42
10:00
Nick Young makes 15-foot running jumper (John Wall assists)
30 - 42
9:55
JaVale McGee personal foul (Pau Gasol draws the foul)
30 - 42
9:55
Los Angeles full timeout
30 - 42
9:45
Steve Blake misses 26-foot three point jumper
30 - 42
9:42
Matt Barnes offensive rebound
30 - 42
9:34
Shannon Brown makes 27-foot three point jumper (Steve Blake assists)
30 - 45
9:11
JaVale McGee makes 4-foot two point shot (John Wall assists)
32 - 45
8:52
Ron Artest misses 23-foot three point jumper
32 - 45
8:52
John Wall defensive rebound
32 - 45
8:51
Shannon Brown shooting foul (John Wall draws the foul)
32 - 45
8:51
John Wall makes free throw 1 of 2
33 - 45
8:51
John Wall makes free throw 2 of 2
34 - 45
8:37
Ron Artest misses 23-foot three point jumper
34 - 45
8:37
JaVale McGee defensive rebound
34 - 45
8:32
John Wall makes two point shot (JaVale McGee assists)
36 - 45
8:07
Matt Barnes bad pass (Trevor Booker steals)
36 - 45
8:03
Ron Artest shooting foul (Nick Young draws the foul)
36 - 45
8:03
Nick Young makes free throw 1 of 2
37 - 45
8:03
Kobe Bryant enters the game for Ron Artest
37 - 45
8:03
Nick Young makes free throw 2 of 2
38 - 45
7:46
Kirk Hinrich foul (Matt Barnes draws the foul)
38 - 45
7:33
Shannon Brown makes 23-foot three point jumper (Pau Gasol assists)
38 - 48
7:15
Nick Young makes 25-foot three point jumper (Kirk Hinrich assists)
41 - 48
7:01
Shannon Brown misses 28-foot three point jumper
41 - 48
6:58
Pau Gasol offensive rebound
41 - 48
6:58
Pau Gasol misses tip shot
41 - 48
6:56
Pau Gasol offensive rebound
41 - 48
6:52
Pau Gasol makes dunk (Kobe Bryant assists)
41 - 50
6:37
Kirk Hinrich bad pass (Kobe Bryant steals)
41 - 50
6:33
Kobe Bryant bad pass (John Wall steals)
41 - 50
6:31
Steve Blake personal foul (John Wall draws the foul)
41 - 50
6:31
Washington full timeout
41 - 50
6:31
Lamar Odom enters the game for Steve Blake
41 - 50
6:31
Derek Fisher enters the game for Matt Barnes
41 - 50
6:11
John Wall makes 26-foot three point jumper (Nick Young assists)
44 - 50
5:52
Kobe Bryant bad pass (Nick Young steals)
44 - 50
5:50
JaVale McGee makes slam dunk (John Wall assists)
46 - 50
5:31
Trevor Booker shooting foul (Lamar Odom draws the foul)
46 - 50
5:31
Yi Jianlian enters the game for Trevor Booker
46 - 50
5:31
Lamar Odom makes free throw 1 of 2
46 - 51
5:31
Lamar Odom makes free throw 2 of 2
46 - 52
5:24
John Wall offensive foul (Derek Fisher draws the foul)
46 - 52
5:24
John Wall turnover
46 - 52
5:24
Gilbert Arenas enters the game for Kirk Hinrich
46 - 52
5:09
Pau Gasol makes layup (Derek Fisher assists)
46 - 54
4:48
Kobe Bryant personal foul (Gilbert Arenas draws the foul)
46 - 54
4:48
Kirk Hinrich enters the game for John Wall
46 - 54
4:39
Nick Young bad pass (Shannon Brown steals)
46 - 54
4:26
Kobe Bryant makes driving layup
46 - 56
4:13
Shannon Brown personal foul (JaVale McGee draws the foul)
46 - 56
4:13
JaVale McGee misses free throw 1 of 2
46 - 56
4:13
Washington offensive team rebound
46 - 56
4:13
Ron Artest enters the game for Shannon Brown
46 - 56
4:13
JaVale McGee makes free throw 2 of 2
47 - 56
4:03
Kobe Bryant misses 17-foot jumper
47 - 56
4:01
Derek Fisher offensive rebound
47 - 56
3:48
Pau Gasol misses 10-foot jumper
47 - 56
3:46
Kobe Bryant offensive rebound
47 - 56
3:34
Kobe Bryant makes 13-foot two point shot (Pau Gasol assists)
47 - 58
3:15
Kirk Hinrich misses 21-foot jumper
47 - 58
3:15
Derek Fisher defensive rebound
47 - 58
3:10
Derek Fisher makes layup
47 - 60
3:10
JaVale McGee shooting foul (Derek Fisher draws the foul)
47 - 60
3:10
Washington 20 Sec. timeout
47 - 60
3:10
Derrick Caracter enters the game for Pau Gasol
47 - 60
3:10
Hilton Armstrong enters the game for JaVale McGee
47 - 60
3:10
Derek Fisher makes free throw 1 of 1
47 - 61
3:00
Nick Young makes 26-foot three point jumper (Kirk Hinrich assists)
50 - 61
2:40
Kobe Bryant misses 23-foot three point jumper
50 - 61
2:40
Los Angeles defensive team rebound
50 - 61
2:40
Derrick Caracter loose ball foul (Hilton Armstrong draws the foul)
50 - 61
2:40
Official timeout
50 - 61
2:40
John Wall enters the game for Kirk Hinrich
50 - 61
2:40
Hilton Armstrong misses free throw 1 of 2
50 - 61
2:40
Washington offensive team rebound
50 - 61
2:40
Hilton Armstrong misses free throw 2 of 2
50 - 61
2:39
Lamar Odom defensive rebound
50 - 61
2:20
Kobe Bryant makes layup (Derek Fisher assists)
50 - 63
2:20
Yi Jianlian shooting foul (Kobe Bryant draws the foul)
50 - 63
2:20
Kobe Bryant misses free throw 1 of 1
50 - 63
2:18
Gilbert Arenas defensive rebound
50 - 63
1:59
John Wall makes 15-foot jumper (Gilbert Arenas assists)
52 - 63
1:37
Kobe Bryant makes two point shot (Ron Artest assists)
52 - 65
1:23
Gilbert Arenas bad pass (Lamar Odom steals)
52 - 65
1:10
Kobe Bryant makes layup (Derek Fisher assists)
52 - 67
0:49
Nick Young makes 17-foot jumper
54 - 67
0:41
Ron Artest misses layup
56 - 69
0:39
Derrick Caracter offensive rebound
56 - 69
0:38
Lamar Odom makes 4-foot jumper (Derrick Caracter assists)
54 - 69
0:27
Derek Fisher personal foul (John Wall draws the foul)
54 - 69
0:27
John Wall makes free throw 1 of 2
55 - 69
0:27
Trevor Booker enters the game for Yi Jianlian
55 - 69
0:27
Alonzo Gee enters the game for Nick Young
55 - 69
0:27
John Wall makes free throw 2 of 2
56 - 69
0:04
Ron Artest misses 24-foot three point jumper
56 - 69
0:03
Kobe Bryant offensive rebound
56 - 69
0:02
turnover
56 - 69
0:02
Nick Young enters the game for Alonzo Gee
56 - 69
0:02
Al Thornton enters the game for Hilton Armstrong
56 - 69
0:01
John Wall turnover
56 - 69
0:01
Pau Gasol enters the game for Derrick Caracter
56 - 69
0:01
Alonzo Gee enters the game for John Wall
56 - 69
0:01
Hilton Armstrong enters the game for Nick Young
56 - 69
0:01
John Wall enters the game for Gilbert Arenas
56 - 69
0:00
End of the 2nd Quarter
56 - 69

time
TEAM
PLAY
SCORE
12:00
Start of the 3rd Quarter
56 - 69
11:41
Ron Artest personal foul (Gilbert Arenas draws the foul)
56 - 69
11:36
Gilbert Arenas bad pass
56 - 69
11:26
Pau Gasol makes 3-foot two point shot
56 - 71
11:07
Pau Gasol shooting foul (Yi Jianlian draws the foul)
56 - 71
11:07
Yi Jianlian makes free throw 1 of 3
57 - 71
11:07
Yi Jianlian misses free throw 2 of 3
57 - 71
11:07
Washington offensive team rebound
58 - 71
11:07
Yi Jianlian makes free throw 3 of 3
58 - 71
10:55
Derek Fisher misses jumper
58 - 71
10:53
JaVale McGee defensive rebound
58 - 71
10:42
Al Thornton misses two point shot
58 - 71
10:41
Lamar Odom defensive rebound
58 - 71
10:37
Lamar Odom makes layup
58 - 73
10:37
JaVale McGee defensive goaltending
58 - 73
10:18
John Wall makes 26-foot three point jumper
61 - 73
9:57
JaVale McGee shooting foul (Kobe Bryant draws the foul)
61 - 73
9:57
Kobe Bryant makes free throw 1 of 2
61 - 74
9:57
Kobe Bryant makes free throw 2 of 2
61 - 75
9:45
Gilbert Arenas makes 16-foot jumper
63 - 75
9:23
Ron Artest misses 25-foot three point jumper
63 - 75
9:22
Pau Gasol offensive rebound
63 - 75
9:21
Al Thornton personal foul (Derek Fisher draws the foul)
63 - 75
9:07
Derek Fisher misses 25-foot three point jumper
63 - 75
9:06
John Wall defensive rebound
63 - 75
8:59
Yi Jianlian lost ball (Derek Fisher steals)
63 - 75
8:53
Pau Gasol makes slam dunk (Kobe Bryant assists)
63 - 77
8:52
Washington full timeout
63 - 77
8:52
Kevin Seraphin enters the game for JaVale McGee
63 - 77
8:30
Al Thornton misses three point jumper
63 - 77
8:29
Derek Fisher defensive rebound
63 - 77
8:19
John Wall blocks Kobe Bryant's layup
63 - 77
8:17
Pau Gasol offensive rebound
63 - 77
8:12
Gilbert Arenas personal foul (Kobe Bryant draws the foul)
63 - 77
8:03
Kobe Bryant makes 25-foot three point jumper (Ron Artest assists)
63 - 80
7:46
John Wall lost ball (Derek Fisher steals)
63 - 80
7:37
Lamar Odom misses layup
63 - 80
7:35
Pau Gasol offensive rebound
63 - 80
7:35
Pau Gasol misses layup
63 - 80
7:33
Yi Jianlian defensive rebound
63 - 80
7:22
Gilbert Arenas misses 27-foot three point jumper
63 - 80
7:22
Kevin Seraphin offensive rebound
63 - 80
7:13
John Wall misses 26-foot three point jumper
63 - 80
7:13
Washington defensive team rebound
63 - 80
7:13
Kevin Seraphin loose ball foul (Lamar Odom draws the foul)
63 - 80
6:58
Lamar Odom misses 25-foot three point jumper
63 - 80
6:56
Los Angeles defensive team rebound
63 - 80
6:45
Gilbert Arenas makes 7-foot two point shot
65 - 80
6:20
Derek Fisher misses 22-foot jumper
65 - 80
6:20
Ron Artest offensive rebound
65 - 80
6:18
Kevin Seraphin shooting foul (Pau Gasol draws the foul)
65 - 80
6:18
Pau Gasol makes free throw 1 of 2
65 - 81
6:18
Pau Gasol makes free throw 2 of 2
65 - 82
6:01
John Wall misses 26-foot three point jumper
65 - 82
5:58
Al Thornton offensive rebound
65 - 82
5:52
Pau Gasol blocks Gilbert Arenas's 4-foot jumper
65 - 82
5:52
Washington offensive team rebound
65 - 82
5:43
Yi Jianlian lost ball (Ron Artest steals)
65 - 82
5:39
John Wall blocks Derek Fisher's layup
65 - 82
5:39
Los Angeles offensive team rebound
65 - 82
5:39
Nick Young enters the game for Al Thornton
65 - 82
5:33
Lamar Odom makes 6-foot jumper (Derek Fisher assists)
65 - 84
5:26
Gilbert Arenas makes 2-foot two point shot (John Wall assists)
67 - 84
5:07
Kevin Seraphin blocks Kobe Bryant's layup
67 - 84
5:05
Yi Jianlian defensive rebound
67 - 84
5:05
Lamar Odom personal foul (Yi Jianlian draws the foul)
67 - 84
4:52
Ron Artest kicked ball
67 - 84
4:47
Nick Young misses 13-foot jumper
67 - 84
4:47
Washington defensive team rebound
67 - 84
4:39
Kevin Seraphin personal foul (Pau Gasol draws the foul)
67 - 84
4:39
Pau Gasol makes free throw 1 of 2
67 - 85
4:39
Derek Fisher technical foul (1st technical foul)
67 - 85
4:39
Gilbert Arenas makes technical free throw
68 - 85
4:39
Pau Gasol makes free throw 2 of 2
68 - 86
4:24
Ron Artest blocks Kevin Seraphin's 3-foot jumper
68 - 86
4:22
Kevin Seraphin offensive rebound
68 - 86
4:22
Pau Gasol blocks Kevin Seraphin's layup
68 - 86
4:20
Kobe Bryant defensive rebound
68 - 86
4:05
Kevin Seraphin blocks Derek Fisher's 6-foot jumper
68 - 86
4:05
Yi Jianlian defensive rebound
69 - 86
4:01
Gilbert Arenas bad pass (Ron Artest steals)
68 - 86
3:58
Lamar Odom bad pass
68 - 86
3:44
Gilbert Arenas bad pass (Ron Artest steals)
68 - 86
3:38
Kobe Bryant misses layup
68 - 86
3:35
Kobe Bryant offensive rebound
68 - 86
3:33
Kobe Bryant lost ball (Nick Young steals)
68 - 86
3:27
Derek Fisher shooting foul (Gilbert Arenas draws the foul)
68 - 86
3:27
Gilbert Arenas makes free throw 1 of 2
69 - 86
3:27
Trevor Booker enters the game for Yi Jianlian
69 - 86
3:27
Los Angeles full timeout
69 - 86
3:27
Kirk Hinrich enters the game for John Wall
69 - 86
3:27
Shannon Brown enters the game for Ron Artest
69 - 86
3:27
Steve Blake enters the game for Kobe Bryant
69 - 86
3:27
Matt Barnes enters the game for Derek Fisher
69 - 86
3:27
Gilbert Arenas makes free throw 2 of 2
70 - 86
3:11
Steve Blake misses 12-foot two point shot
70 - 86
3:09
Nick Young defensive rebound
70 - 86
2:57
Matt Barnes personal foul (Nick Young draws the foul)
70 - 86
2:57
Nick Young makes free throw 1 of 2
71 - 86
2:57
Nick Young makes free throw 2 of 2
72 - 86
2:31
Shannon Brown misses 35-foot three point jumper
72 - 86
2:31
Los Angeles offensive team rebound
72 - 86
2:31
turnover
72 - 86
2:18
Derrick Caracter enters the game for Pau Gasol
72 - 86
2:10
Nick Young makes 27-foot three point jumper (Kevin Seraphin assists)
75 - 86
1:52
Nick Young blocks Shannon Brown's 4-foot jumper
75 - 86
1:50
Kevin Seraphin defensive rebound
75 - 86
1:47
Matt Barnes personal foul (Gilbert Arenas draws the foul)
75 - 86
1:47
Gilbert Arenas makes free throw 1 of 2
76 - 86
1:47
Gilbert Arenas makes free throw 2 of 2
77 - 86
1:30
Derrick Caracter misses 5-foot jumper
77 - 86
1:29
Nick Young defensive rebound
77 - 86
1:21
Jumpball: Gilbert Arenas vs. Matt Barnes (Lamar Odom gains possession)
77 - 86
1:21
Gilbert Arenas lost ball (Matt Barnes steals)
77 - 86
1:12
Trevor Booker personal foul (Lamar Odom draws the foul)
77 - 86
1:12
Lamar Odom makes free throw 1 of 2
77 - 87
1:12
Lamar Odom misses free throw 2 of 2
77 - 87
1:09
Trevor Booker defensive rebound
77 - 87
0:57
Trevor Booker makes 23-foot jumper (Kevin Seraphin assists)
79 - 87
0:44
Derrick Caracter misses layup
79 - 87
0:42
Gilbert Arenas defensive rebound
79 - 87
0:36
Nick Young makes 24-foot three point jumper (Kirk Hinrich assists)
82 - 87
0:21
Kevin Seraphin blocks Derrick Caracter's 5-foot jumper
82 - 87
0:21
Los Angeles offensive team rebound
82 - 87
0:19
Matt Barnes bad pass (Gilbert Arenas steals)
82 - 87
0:00
Derrick Caracter shooting foul (Kevin Seraphin draws the foul)
82 - 87
0:00
Kevin Seraphin makes free throw 1 of 2
83 - 87
0:00
Kevin Seraphin makes free throw 2 of 2
84 - 87
0:00
Lamar Odom bad pass (Gilbert Arenas steals)
84 - 87
0:00
End of the 3rd Quarter
84 - 87

time
TEAM
PLAY
SCORE
12:00
Start of the 4th Quarter
84 - 87
11:41
Ron Artest makes layup
84 - 89
11:25
Nick Young misses 25-foot three point jumper
84 - 89
11:23
Shannon Brown defensive rebound
84 - 89
11:18
Shannon Brown makes 4-foot two point shot
84 - 91
11:03
Kirk Hinrich makes 27-foot three point jumper (Gilbert Arenas assists)
87 - 91
10:45
Trevor Booker personal foul (Ron Artest draws the foul)
87 - 91
10:40
Kevin Seraphin shooting foul (Matt Barnes draws the foul)
87 - 91
10:40
Matt Barnes misses free throw 1 of 2
87 - 91
10:40
Los Angeles offensive team rebound
87 - 91
10:40
JaVale McGee enters the game for Kevin Seraphin
87 - 91
10:40
Matt Barnes misses free throw 2 of 2
87 - 91
10:38
Kirk Hinrich defensive rebound
87 - 91
10:26
Gilbert Arenas misses three point jumper
87 - 91
10:26
Matt Barnes defensive rebound
87 - 91
10:15
Gilbert Arenas shooting foul (Shannon Brown draws the foul)
87 - 91
10:15
Shannon Brown makes free throw 1 of 2
87 - 92
10:15
John Wall enters the game for Gilbert Arenas
87 - 92
10:15
Shannon Brown makes free throw 2 of 2
87 - 93
10:07
Ron Artest personal foul (Trevor Booker draws the foul)
87 - 93
10:02
Nick Young misses 26-foot three point jumper
87 - 93
9:59
JaVale McGee offensive rebound
87 - 93
9:57
JaVale McGee bad pass
87 - 93
9:32
Shannon Brown makes 12-foot two point shot
87 - 95
9:12
JaVale McGee bad pass (Ron Artest steals)
87 - 95
9:10
Trevor Booker personal foul (Pau Gasol draws the foul)
87 - 95
9:10
Kevin Seraphin enters the game for JaVale McGee
87 - 95
9:00
Pau Gasol makes 4-foot two point shot
87 - 97
8:44
Pau Gasol blocks Nick Young's layup
87 - 97
8:41
Trevor Booker offensive rebound
87 - 97
8:40
Trevor Booker makes layup
89 - 97
8:15
Pau Gasol misses 16-foot jumper
89 - 97
8:15
Los Angeles defensive team rebound
89 - 97
8:15
Matt Barnes loose ball foul (Nick Young draws the foul)
89 - 97
8:15
Official timeout
89 - 97
8:15
Kobe Bryant enters the game for Matt Barnes
89 - 97
7:54
Trevor Booker makes 4-foot jumper (John Wall assists)
91 - 97
7:39
Kevin Seraphin shooting foul (Ron Artest draws the foul)
91 - 97
7:39
Ron Artest misses free throw 1 of 2
91 - 97
7:39
Los Angeles offensive team rebound
91 - 97
7:39
Ron Artest makes free throw 2 of 2
91 - 98
7:20
Kirk Hinrich misses 4-foot two point shot
91 - 98
7:16
Ron Artest defensive rebound
91 - 98
7:11
Shannon Brown misses 11-foot jumper
91 - 98
7:09
John Wall defensive rebound
91 - 98
7:05
John Wall makes driving layup
93 - 98
6:43
Steve Blake makes 26-foot three point jumper (Shannon Brown assists)
93 - 101
6:28
Kobe Bryant personal foul (Nick Young draws the foul)
93 - 101
6:28
Washington full timeout
93 - 101
6:28
Gilbert Arenas enters the game for Kirk Hinrich
93 - 101
6:28
Derek Fisher enters the game for Steve Blake
93 - 101
6:28
Lamar Odom enters the game for Shannon Brown
93 - 101
6:13
Trevor Booker misses 21-foot jumper
93 - 101
6:13
Ron Artest defensive rebound
93 - 101
5:56
Trevor Booker personal foul (Lamar Odom draws the foul)
93 - 101
5:56
Lamar Odom makes free throw 1 of 2
93 - 102
5:56
Lamar Odom makes free throw 2 of 2
93 - 103
5:41
John Wall makes two point shot
95 - 103
5:22
Kobe Bryant makes 10-foot two point shot
95 - 105
5:05
Gilbert Arenas makes 19-foot jumper (John Wall assists)
97 - 105
4:48
Pau Gasol bad pass (Kevin Seraphin steals)
97 - 105
4:41
Nick Young lost ball (Pau Gasol steals)
97 - 105
4:39
Gilbert Arenas personal foul (Pau Gasol draws the foul)
97 - 105
4:39
Pau Gasol makes free throw 1 of 2
97 - 106
4:39
Pau Gasol makes free throw 2 of 2
97 - 107
4:20
Trevor Booker makes 3-foot two point shot (John Wall assists)
99 - 107
4:03
Derek Fisher misses 23-foot three point jumper
99 - 107
4:03
Pau Gasol offensive rebound
99 - 107
4:01
John Wall blocks Pau Gasol's 4-foot jumper
99 - 107
3:58
Ron Artest offensive rebound
99 - 107
3:55
Gilbert Arenas shooting foul (Kobe Bryant draws the foul)
99 - 107
3:55
Kobe Bryant makes free throw 1 of 2
99 - 108
3:55
Kobe Bryant misses free throw 2 of 2
99 - 108
3:54
Kevin Seraphin defensive rebound
99 - 108
3:31
Trevor Booker makes layup (John Wall assists)
101 - 108
3:12
Kevin Seraphin blocks Derek Fisher's 3-foot jumper
101 - 108
3:10
Nick Young defensive rebound
101 - 108
3:08
Trevor Booker makes 1-foot two point shot (John Wall assists)
103 - 108
2:34
Kobe Bryant misses 31-foot three point jumper
103 - 108
2:33
Ron Artest offensive rebound
103 - 108
2:28
Kobe Bryant makes layup
103 - 110
2:06
Trevor Booker misses 5-foot jumper
103 - 110
2:05
Lamar Odom defensive rebound
103 - 110
1:53
Kobe Bryant lost ball (Trevor Booker steals)
103 - 110
1:47
Nick Young misses 28-foot three point jumper
103 - 110
1:46
Trevor Booker offensive rebound
103 - 110
1:45
Los Angeles full timeout
103 - 110
1:38
Gilbert Arenas bad pass
103 - 110
1:27
Kobe Bryant misses 28-foot three point jumper
103 - 110
1:25
John Wall defensive rebound
103 - 110
1:20
Nick Young makes 24-foot three point jumper (John Wall assists)
106 - 110
1:01
Nick Young shooting foul (Kobe Bryant draws the foul)
106 - 110
1:01
Kobe Bryant makes free throw 1 of 2
106 - 111
1:01
Kobe Bryant makes free throw 2 of 2
106 - 112
1:01
Washington 20 Sec. timeout
106 - 112
0:57
Gilbert Arenas makes 18-foot jumper (John Wall assists)
108 - 112
0:36
Kobe Bryant misses 21-foot jumper
108 - 112
0:32
Jumpball: John Wall vs. Pau Gasol (Kobe Bryant gains possession)
108 - 112
0:32
Los Angeles offensive team rebound
108 - 112
0:21
Lamar Odom misses three point jumper
108 - 112
0:20
John Wall defensive rebound
108 - 112
0:20
Washington full timeout
108 - 112
0:14
John Wall misses 29-foot three point jumper
108 - 112
0:12
Pau Gasol defensive rebound
108 - 112
0:10
John Wall personal foul (Kobe Bryant draws the foul)
108 - 112
0:10
Kobe Bryant makes free throw 1 of 2
108 - 113
0:10
Kobe Bryant makes free throw 2 of 2
108 - 114
0:10
Washington 20 Sec. timeout
108 - 114
0:10
Yi Jianlian enters the game for Trevor Booker
108 - 114
0:07
Pau Gasol blocks Gilbert Arenas's 24-foot three point jumper
108 - 114
0:07
Washington offensive team rebound
108 - 114
0:05
Gilbert Arenas misses 27-foot three point jumper
108 - 114
0:03
Pau Gasol defensive rebound
108 - 114
0:03
Nick Young personal foul (Pau Gasol draws the foul)
108 - 114
0:03
Pau Gasol makes free throw 1 of 2
108 - 115
0:03
Pau Gasol misses free throw 2 of 2
108 - 115
0:02
Yi Jianlian defensive rebound
108 - 115
0:00
Nick Young misses 39-foot three point jumper
108 - 115
0:00
Washington offensive team rebound
108 - 115
0:00
End of the 4th Quarter
108 - 115
0:00
End Game
108 - 115
After getting blown out by 27 points in Game 2, the Thunder come out rolling on all cylinders in Game 3 for a dominating 28-point victory over the Warriors.

Fan correspondent Reese Waters watches Game 3 of the Eastern Conference finals and interacts with fans in Jurassic Park, where fans gather to watch Toronto Raptors games outside of the Air Canada Centre.

Go figure that something that hadn't worked much for the Thunder all season would be crucial to their Game 3 rout of the Warriors.
Regular Season Series
LAL wins series 2-0
2015-2016 Southeast Standings
2015-2016 Pacific Standings