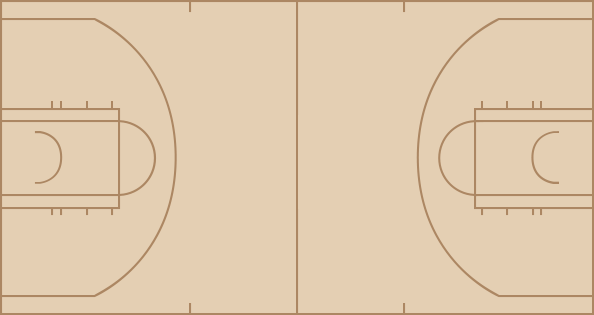 Magic
time
TEAM
PLAY
SCORE
12:00
Start of the 1st Quarter
0 - 0
12:00
Jumpball: Dwight Howard vs. Josh Smith (Jameer Nelson gains possession)
0 - 0
11:42
Dwight Howard makes 6-foot two point shot (Jason Richardson assists)
2 - 0
11:19
Al Horford misses 11-foot two point shot
2 - 0
11:18
Al Horford offensive rebound
2 - 0
11:12
Josh Smith misses 19-foot two point shot
2 - 0
11:10
Dwight Howard defensive rebound
2 - 0
11:00
Brandon Bass misses 18-foot jumper
2 - 0
10:59
Al Horford defensive rebound
2 - 0
10:48
Jason Collins misses layup
2 - 0
10:47
Dwight Howard defensive rebound
2 - 0
10:41
Brandon Bass misses two point shot
2 - 0
10:40
Orlando defensive team rebound
2 - 0
10:25
Mike Bibby misses 21-foot jumper
2 - 0
10:23
Jameer Nelson defensive rebound
2 - 0
10:17
Brandon Bass makes 17-foot jumper (Jameer Nelson assists)
4 - 0
9:56
Joe Johnson misses 16-foot two point shot
4 - 0
9:53
Hedo Turkoglu defensive rebound
4 - 0
9:44
Jason Richardson misses 16-foot two point shot
4 - 0
9:42
Al Horford defensive rebound
4 - 0
9:32
Josh Smith makes 24-foot three point jumper (Al Horford assists)
4 - 3
9:11
Dwight Howard misses 8-foot two point shot
4 - 3
9:10
Al Horford defensive rebound
4 - 3
8:59
Dwight Howard blocks Josh Smith's 4-foot two point shot
4 - 3
8:59
Atlanta offensive team rebound
4 - 3
8:48
Al Horford makes 16-foot jumper (Joe Johnson assists)
4 - 5
8:23
Brandon Bass makes 17-foot jumper (Jameer Nelson assists)
6 - 5
8:02
Dwight Howard blocks Josh Smith's two point shot
6 - 5
8:00
Mike Bibby offensive rebound
6 - 5
7:54
Mike Bibby makes 21-foot jumper
6 - 7
7:48
Jason Richardson misses 24-foot three point jumper
6 - 7
7:47
Dwight Howard offensive rebound
6 - 7
7:37
Dwight Howard 3 second
6 - 7
7:20
Al Horford misses 10-foot two point shot
6 - 7
7:20
Hedo Turkoglu defensive rebound
6 - 7
7:13
Dwight Howard misses two point shot
6 - 7
7:07
Joe Johnson defensive rebound
6 - 7
7:03
Joe Johnson misses driving layup
6 - 7
6:58
Brandon Bass defensive rebound
6 - 7
6:46
Brandon Bass misses 20-foot jumper
6 - 7
6:46
Orlando defensive team rebound
6 - 7
6:46
Dwight Howard loose ball foul (Jason Collins draws the foul)
6 - 7
6:35
Josh Smith makes 18-foot jumper (Joe Johnson assists)
6 - 9
6:16
Josh Smith blocks Jameer Nelson's layup
6 - 9
6:16
Jumpball: Brandon Bass vs. Jason Collins (Hedo Turkoglu gains possession)
6 - 9
6:16
Orlando offensive team rebound
6 - 9
6:11
Hedo Turkoglu misses 21-foot jumper
6 - 9
6:09
Al Horford defensive rebound
6 - 9
6:01
Joe Johnson makes jumper
6 - 11
5:47
Jason Collins personal foul (Dwight Howard draws the foul)
6 - 11
5:47
Atlanta full timeout
6 - 11
5:39
Jameer Nelson misses 26-foot three point jumper
6 - 11
5:37
Josh Smith defensive rebound
6 - 11
5:35
Josh Smith bad pass (Jameer Nelson steals)
6 - 11
5:16
Jason Richardson makes 18-foot two point shot
8 - 11
4:56
Hedo Turkoglu personal foul (Josh Smith draws the foul)
8 - 11
4:56
Malik Allen enters the game for Brandon Bass
8 - 11
4:56
Gilbert Arenas enters the game for Jameer Nelson
8 - 11
4:56
Zaza Pachulia enters the game for Jason Collins
8 - 11
4:48
Al Horford makes 19-foot jumper (Mike Bibby assists)
8 - 13
4:26
Dwight Howard misses 8-foot two point shot
8 - 13
4:24
Josh Smith defensive rebound
8 - 13
4:15
Dwight Howard illegal defense foul (2nd personal foul)
8 - 13
4:15
Joe Johnson makes technical free throw
8 - 14
4:07
Al Horford misses 16-foot jumper
8 - 14
4:05
Zaza Pachulia offensive rebound
8 - 14
4:05
Zaza Pachulia misses tip shot
8 - 14
4:03
Dwight Howard defensive rebound
8 - 14
3:54
Gilbert Arenas makes 26-foot three point jumper (Malik Allen assists)
11 - 14
3:30
Joe Johnson misses 17-foot two point shot
11 - 14
3:28
Hedo Turkoglu defensive rebound
11 - 14
3:20
Hedo Turkoglu misses 25-foot three point jumper
11 - 14
3:17
Joe Johnson defensive rebound
11 - 14
3:12
Joe Johnson bad pass (Malik Allen steals)
11 - 14
3:12
Joe Johnson personal foul (Jason Richardson draws the foul)
11 - 14
3:12
Marvin Williams enters the game for Josh Smith
11 - 14
2:56
Jason Richardson misses 26-foot three point jumper
11 - 14
2:55
Joe Johnson defensive rebound
11 - 14
2:46
Joe Johnson turnover
11 - 14
2:46
Orlando full timeout
11 - 14
2:46
Maurice Evans enters the game for Joe Johnson
11 - 14
2:46
Quentin Richardson enters the game for Hedo Turkoglu
11 - 14
2:31
Gilbert Arenas misses 20-foot jumper
11 - 14
2:30
Zaza Pachulia defensive rebound
11 - 14
2:06
Al Horford makes 9-foot two point shot
11 - 16
1:54
Zaza Pachulia blocks Dwight Howard's 4-foot two point shot
11 - 16
1:54
Dwight Howard offensive rebound
11 - 16
1:54
Zaza Pachulia shooting foul (Dwight Howard draws the foul)
11 - 16
1:54
Jeff Teague enters the game for Mike Bibby
11 - 16
1:54
Dwight Howard makes free throw 1 of 2
12 - 16
1:54
J.J. Redick enters the game for Jason Richardson
12 - 16
1:54
Dwight Howard misses free throw 2 of 2
12 - 16
1:52
Marvin Williams defensive rebound
12 - 16
1:35
Marvin Williams makes 21-foot jumper
12 - 18
1:16
Jeff Teague blocks Gilbert Arenas's 18-foot jumper
12 - 18
1:12
Zaza Pachulia defensive rebound
12 - 18
1:07
Al Horford makes driving layup (Jeff Teague assists)
12 - 20
1:07
Malik Allen shooting foul (Al Horford draws the foul)
12 - 20
1:07
Al Horford misses free throw 1 of 1
12 - 20
1:06
Al Horford offensive rebound
12 - 20
1:02
Maurice Evans turnover
12 - 20
1:02
Josh Smith enters the game for Al Horford
12 - 20
0:45
Jeff Teague illegal defense foul (1st personal foul)
12 - 20
0:45
J.J. Redick misses technical free throw
12 - 20
0:45
Orlando offensive team rebound
12 - 20
0:32
Quentin Richardson misses 20-foot two point shot
12 - 20
0:29
Maurice Evans defensive rebound
12 - 20
0:25
Jeff Teague bad pass (Dwight Howard steals)
12 - 20
0:02
J.J. Redick misses 4-foot jumper
12 - 20
0:02
Dwight Howard offensive rebound
12 - 20
0:02
Dwight Howard makes two point shot
14 - 20
0:01
Jeff Teague misses 40-foot three point jumper
14 - 20
0:00
Atlanta offensive team rebound
14 - 20
0:00
End of the 1st Quarter
14 - 20

time
TEAM
PLAY
SCORE
12:00
Start of the 2nd Quarter
14 - 20
11:48
Quentin Richardson shooting foul (Josh Smith draws the foul)
14 - 20
11:48
Josh Smith misses free throw 1 of 2
14 - 20
11:48
Atlanta offensive team rebound
14 - 20
11:48
Josh Smith makes free throw 2 of 2
14 - 21
11:33
J.J. Redick makes 16-foot jumper (Gilbert Arenas assists)
16 - 21
11:08
Marvin Williams misses 23-foot three point jumper
16 - 21
11:07
Zaza Pachulia offensive rebound
16 - 21
11:07
Zaza Pachulia misses tip shot
16 - 21
11:04
Brandon Bass defensive rebound
16 - 21
11:00
Gilbert Arenas bad pass (Jeff Teague steals)
16 - 21
10:40
Jeff Teague makes 12-foot two point shot (Zaza Pachulia assists)
16 - 23
10:26
J.J. Redick makes 21-foot jumper (Gilbert Arenas assists)
18 - 23
10:07
Marvin Williams misses layup
18 - 23
10:07
Brandon Bass defensive rebound
18 - 23
9:56
Quentin Richardson misses layup
18 - 23
9:53
Zaza Pachulia defensive rebound
18 - 23
9:49
Maurice Evans misses 24-foot three point jumper
18 - 23
9:49
Atlanta defensive team rebound
18 - 23
9:49
Jameer Nelson enters the game for Gilbert Arenas
18 - 23
9:49
Joe Johnson enters the game for Maurice Evans
18 - 23
9:30
Josh Smith blocks Malik Allen's 11-foot two point shot
18 - 23
9:30
Zaza Pachulia defensive rebound
18 - 23
9:21
Josh Smith misses 11-foot two point shot
18 - 23
9:18
Malik Allen defensive rebound
18 - 23
9:10
Brandon Bass misses 13-foot two point shot
18 - 23
9:07
Josh Smith defensive rebound
18 - 23
8:56
Malik Allen personal foul (Joe Johnson draws the foul)
18 - 23
8:56
Official timeout
18 - 23
8:56
Dwight Howard enters the game for Malik Allen
18 - 23
8:52
Zaza Pachulia offensive foul (Jameer Nelson draws the foul)
18 - 23
8:52
Zaza Pachulia turnover
18 - 23
8:52
Jason Collins enters the game for Zaza Pachulia
18 - 23
8:37
Dwight Howard traveling
18 - 23
8:21
Jeff Teague misses 19-foot jumper
18 - 23
8:18
Dwight Howard defensive rebound
18 - 23
8:14
Dwight Howard foul (Jason Collins draws the foul)
18 - 23
8:14
Dwight Howard turnover
18 - 23
8:14
Mike Bibby enters the game for Jeff Teague
18 - 23
7:58
Jason Collins makes dunk (Joe Johnson assists)
18 - 25
7:43
Jameer Nelson makes two point shot
20 - 25
7:33
J.J. Redick personal foul (Joe Johnson draws the foul)
20 - 25
7:33
Hedo Turkoglu enters the game for J.J. Redick
20 - 25
7:33
Jason Richardson enters the game for Quentin Richardson
20 - 25
7:18
Jason Collins makes two point shot (Mike Bibby assists)
20 - 27
7:18
Brandon Bass shooting foul (Jason Collins draws the foul)
20 - 27
7:18
Jason Collins makes free throw 1 of 1
20 - 28
6:58
Brandon Bass makes 18-foot jumper (Jason Richardson assists)
22 - 28
6:43
Josh Smith misses 20-foot jumper
22 - 28
6:41
Atlanta offensive team rebound
22 - 28
6:41
Al Horford enters the game for Marvin Williams
22 - 28
6:31
Mike Bibby misses 23-foot three point jumper
22 - 28
6:28
Dwight Howard defensive rebound
22 - 28
6:22
Jameer Nelson bad pass (Jason Collins steals)
22 - 28
6:18
Hedo Turkoglu shooting foul (Josh Smith draws the foul)
22 - 28
6:18
Josh Smith makes free throw 1 of 2
22 - 29
6:18
Josh Smith makes free throw 2 of 2
22 - 30
6:01
Brandon Bass misses 17-foot jumper
22 - 30
6:01
Orlando offensive team rebound
22 - 30
6:01
Jason Collins loose ball foul (Dwight Howard draws the foul)
22 - 30
6:01
Etan Thomas enters the game for Jason Collins
22 - 30
5:43
Dwight Howard misses 5-foot two point shot
22 - 30
5:41
Brandon Bass offensive rebound
22 - 30
5:41
Josh Smith shooting foul (Brandon Bass draws the foul)
22 - 30
5:41
Atlanta full timeout
22 - 30
5:41
Brandon Bass makes free throw 1 of 2
23 - 30
5:41
Brandon Bass makes free throw 2 of 2
24 - 30
5:28
Al Horford makes dunk (Joe Johnson assists)
24 - 32
5:01
Jameer Nelson misses 26-foot three point jumper
24 - 32
5:01
Josh Smith defensive rebound
24 - 32
4:52
Mike Bibby offensive foul (Hedo Turkoglu draws the foul)
24 - 32
4:52
Mike Bibby turnover
24 - 32
4:39
Dwight Howard makes 9-foot two point shot (Jason Richardson assists)
26 - 32
4:15
Al Horford makes two point shot (Mike Bibby assists)
26 - 34
3:56
Dwight Howard makes slam dunk
28 - 34
3:41
Josh Smith misses two point shot
28 - 34
3:40
Josh Smith offensive rebound
28 - 34
3:35
Josh Smith makes 1-foot two point shot
28 - 36
3:31
Orlando full timeout
28 - 36
3:31
Gilbert Arenas enters the game for Hedo Turkoglu
28 - 36
3:27
Joe Johnson shooting foul (Gilbert Arenas draws the foul)
28 - 36
3:27
Gilbert Arenas makes free throw 1 of 2
29 - 36
3:27
Gilbert Arenas misses free throw 2 of 2
29 - 36
3:25
Etan Thomas defensive rebound
29 - 36
3:09
Joe Johnson misses 25-foot three point jumper
29 - 36
3:08
Dwight Howard defensive rebound
29 - 36
2:58
Brandon Bass misses 16-foot jumper
29 - 36
2:57
Joe Johnson defensive rebound
29 - 36
2:51
Jason Richardson personal foul (Etan Thomas draws the foul)
29 - 36
2:51
Etan Thomas makes free throw 1 of 2
29 - 37
2:51
Marvin Williams enters the game for Joe Johnson
29 - 37
2:51
Etan Thomas makes free throw 2 of 2
29 - 38
2:39
Brandon Bass makes driving layup (Gilbert Arenas assists)
31 - 38
2:39
Etan Thomas shooting foul (Brandon Bass draws the foul)
31 - 38
2:39
Brandon Bass makes free throw 1 of 1
32 - 38
2:19
Mike Bibby misses 18-foot jumper
32 - 38
2:18
Dwight Howard defensive rebound
32 - 38
2:11
Jameer Nelson makes driving layup
34 - 38
2:00
Atlanta 20 Sec. timeout
34 - 38
2:00
Quentin Richardson enters the game for Jameer Nelson
34 - 38
1:52
Quentin Richardson personal foul (Josh Smith draws the foul)
34 - 38
1:52
Josh Smith makes free throw 1 of 2
34 - 39
1:52
Josh Smith makes free throw 2 of 2
34 - 40
1:44
Mike Bibby personal foul (Gilbert Arenas draws the foul)
34 - 40
1:44
Gilbert Arenas makes free throw 1 of 2
35 - 40
1:44
Malik Allen enters the game for Dwight Howard
35 - 40
1:44
Jeff Teague enters the game for Mike Bibby
35 - 40
1:44
Gilbert Arenas makes free throw 2 of 2
36 - 40
1:20
Gilbert Arenas shooting foul (Al Horford draws the foul)
36 - 40
1:20
Al Horford makes free throw 1 of 2
36 - 41
1:20
Damien Wilkins enters the game for Etan Thomas
36 - 41
1:20
Al Horford misses free throw 2 of 2
36 - 41
1:19
Quentin Richardson defensive rebound
36 - 41
1:07
Gilbert Arenas makes driving layup
38 - 41
0:51
Jason Richardson shooting foul (Al Horford draws the foul)
38 - 41
0:51
J.J. Redick enters the game for Jason Richardson
38 - 41
0:51
Al Horford makes free throw 1 of 2
38 - 42
0:51
Al Horford makes free throw 2 of 2
38 - 43
0:36
Malik Allen misses 7-foot hook shot
38 - 43
0:35
Al Horford defensive rebound
38 - 43
0:21
Marvin Williams misses 2-foot two point shot
38 - 43
0:19
Atlanta defensive team rebound
38 - 43
0:19
Hedo Turkoglu enters the game for Brandon Bass
38 - 43
0:02
Gilbert Arenas misses 22-foot jumper
38 - 43
0:01
Damien Wilkins defensive rebound
38 - 43
0:01
Damien Wilkins misses 61-foot three point jumper
38 - 43
0:00
Atlanta offensive team rebound
38 - 43
0:00
End of the 2nd Quarter
38 - 43

time
TEAM
PLAY
SCORE
12:00
Start of the 3rd Quarter
38 - 43
11:45
Jason Richardson personal foul (Joe Johnson draws the foul)
38 - 43
11:36
Joe Johnson makes driving layup (Josh Smith assists)
38 - 45
11:22
Dwight Howard 3 second
38 - 45
11:03
Joe Johnson misses 12-foot two point shot
38 - 45
11:00
Hedo Turkoglu defensive rebound
38 - 45
10:45
Jason Richardson misses 13-foot two point shot
38 - 45
10:42
Jason Collins defensive rebound
38 - 45
10:32
Joe Johnson makes 10-foot two point shot
38 - 47
10:07
Jason Richardson makes 25-foot three point jumper (Dwight Howard assists)
41 - 47
9:45
Mike Bibby makes 25-foot three point jumper (Al Horford assists)
41 - 50
9:29
Jameer Nelson foul (Jason Collins draws the foul)
41 - 50
9:29
Jameer Nelson turnover
41 - 50
9:17
Joe Johnson makes driving layup (Josh Smith assists)
41 - 52
9:04
Brandon Bass misses 19-foot jumper
41 - 52
9:03
Josh Smith defensive rebound
41 - 52
8:59
Quentin Richardson enters the game for Jason Richardson
41 - 52
8:55
Josh Smith bad pass (Brandon Bass steals)
41 - 52
8:52
Josh Smith shooting foul (Hedo Turkoglu draws the foul)
41 - 52
8:52
Hedo Turkoglu makes free throw 1 of 2
42 - 52
8:52
Hedo Turkoglu misses free throw 2 of 2
42 - 52
8:51
Al Horford defensive rebound
42 - 52
8:33
Josh Smith bad pass (Hedo Turkoglu steals)
42 - 52
8:30
Joe Johnson shooting foul (Jameer Nelson draws the foul)
42 - 52
8:30
Jameer Nelson makes free throw 1 of 2
43 - 52
8:30
Jameer Nelson makes free throw 2 of 2
44 - 52
8:08
Al Horford misses 6-foot two point shot
44 - 52
8:06
Dwight Howard defensive rebound
44 - 52
7:54
Jameer Nelson makes driving layup (Brandon Bass assists)
46 - 52
7:54
Atlanta full timeout
46 - 52
7:31
Joe Johnson misses 25-foot three point jumper
46 - 52
7:30
Brandon Bass defensive rebound
46 - 52
7:22
Hedo Turkoglu makes 24-foot three point jumper (Jameer Nelson assists)
49 - 52
6:58
Mike Bibby makes 25-foot three point jumper (Joe Johnson assists)
49 - 55
6:39
Quentin Richardson misses 26-foot three point jumper
49 - 55
6:37
Al Horford defensive rebound
49 - 55
6:33
Joe Johnson turnover
49 - 55
6:15
Quentin Richardson misses layup
49 - 55
6:13
Dwight Howard offensive rebound
49 - 55
6:13
Dwight Howard makes 2-foot two point shot
51 - 55
6:13
Josh Smith defensive goaltending
56 - 62
5:50
Al Horford misses driving layup
51 - 55
5:48
Dwight Howard defensive rebound
51 - 55
5:39
Jameer Nelson misses 23-foot three point jumper
51 - 55
5:37
Orlando defensive team rebound
51 - 55
5:20
Jameer Nelson personal foul (Mike Bibby draws the foul)
51 - 55
5:20
Gilbert Arenas enters the game for Jameer Nelson
51 - 55
5:11
Joe Johnson lost ball (Quentin Richardson steals)
51 - 55
5:07
Jason Collins shooting foul (Gilbert Arenas draws the foul)
51 - 55
5:07
Gilbert Arenas makes free throw 1 of 2
52 - 55
5:07
Gilbert Arenas makes free throw 2 of 2
53 - 55
4:50
Josh Smith misses 26-foot three point jumper
53 - 55
4:50
Jason Collins offensive rebound
53 - 55
4:48
Jason Collins lost ball (Brandon Bass steals)
53 - 55
4:39
Dwight Howard makes slam dunk (Hedo Turkoglu assists)
55 - 55
4:13
Josh Smith misses 13-foot two point shot
55 - 55
4:13
Atlanta offensive team rebound
55 - 55
4:13
Gilbert Arenas loose ball foul (Jason Collins draws the foul)
55 - 55
4:13
Malik Allen enters the game for Brandon Bass
55 - 55
4:03
Joe Johnson misses 11-foot two point shot
55 - 55
4:00
Gilbert Arenas defensive rebound
55 - 55
3:58
Josh Smith personal foul (Hedo Turkoglu draws the foul)
55 - 55
3:50
Malik Allen bad pass
55 - 55
3:39
Mike Bibby makes 20-foot jumper
55 - 57
3:21
Dwight Howard misses two point shot
55 - 57
3:18
Dwight Howard offensive rebound
55 - 57
3:17
Mike Bibby personal foul (Dwight Howard draws the foul)
55 - 57
3:17
Dwight Howard makes free throw 1 of 2
56 - 57
3:17
Dwight Howard misses free throw 2 of 2
56 - 57
3:16
Josh Smith defensive rebound
56 - 57
3:02
Malik Allen personal foul (Al Horford draws the foul)
56 - 57
3:02
Marvin Williams enters the game for Josh Smith
56 - 57
2:56
Al Horford makes 20-foot jumper (Mike Bibby assists)
56 - 59
2:42
Gilbert Arenas misses 19-foot jumper
56 - 59
2:40
Marvin Williams defensive rebound
56 - 59
2:24
Joe Johnson misses 23-foot three point jumper
56 - 59
2:23
Dwight Howard defensive rebound
56 - 59
2:03
Dwight Howard misses 8-foot two point shot
56 - 59
2:01
Al Horford defensive rebound
56 - 59
1:55
Mike Bibby makes 27-foot three point jumper (Jason Collins assists)
56 - 62
1:30
Marvin Williams shooting foul (Hedo Turkoglu draws the foul)
56 - 62
1:30
Orlando full timeout
56 - 62
1:30
Hedo Turkoglu makes free throw 1 of 2
57 - 62
1:30
Hedo Turkoglu makes free throw 2 of 2
58 - 62
1:12
Mike Bibby makes 21-foot jumper (Marvin Williams assists)
58 - 64
0:48
Malik Allen misses 18-foot jumper
58 - 64
0:46
Mike Bibby defensive rebound
58 - 64
0:44
Hedo Turkoglu shooting foul (Joe Johnson draws the foul)
58 - 64
0:44
Brandon Bass enters the game for Malik Allen
58 - 64
0:44
Joe Johnson makes free throw 1 of 2
58 - 65
0:44
Joe Johnson misses free throw 2 of 2
58 - 65
0:43
Dwight Howard defensive rebound
58 - 65
0:26
Gilbert Arenas misses 23-foot three point jumper
58 - 65
0:25
Jason Collins defensive rebound
58 - 65
0:04
Mike Bibby misses 22-foot jumper
58 - 65
0:02
Marvin Williams offensive rebound
58 - 65
0:02
Mike Bibby misses 12-foot jumper
58 - 65
0:01
Hedo Turkoglu defensive rebound
58 - 65
0:00
End of the 3rd Quarter
58 - 65

time
TEAM
PLAY
SCORE
12:00
Start of the 4th Quarter
58 - 65
11:51
Dwight Howard offensive foul (Jason Collins draws the foul)
58 - 65
11:51
Dwight Howard turnover
58 - 65
11:47
Marvin Williams makes technical free throw
58 - 66
11:33
Jason Collins misses layup
58 - 66
11:33
Dwight Howard defensive rebound
58 - 66
11:26
J.J. Redick misses 24-foot three point jumper
58 - 66
11:25
Marvin Williams defensive rebound
58 - 66
11:14
Gilbert Arenas personal foul (Marvin Williams draws the foul)
58 - 66
11:00
Al Horford makes 20-foot jumper (Marvin Williams assists)
58 - 68
10:48
Josh Smith shooting foul (Dwight Howard draws the foul)
58 - 68
10:48
Dwight Howard makes free throw 1 of 2
59 - 68
10:48
Jason Richardson enters the game for Quentin Richardson
59 - 68
10:48
Joe Johnson enters the game for Al Horford
59 - 68
10:48
Dwight Howard makes free throw 2 of 2
60 - 68
10:33
Brandon Bass shooting foul (Josh Smith draws the foul)
60 - 68
10:33
Orlando full timeout
60 - 68
10:33
Josh Smith misses free throw 1 of 2
60 - 68
10:33
Atlanta offensive team rebound
60 - 68
10:33
Josh Smith misses free throw 2 of 2
60 - 68
10:33
Dwight Howard defensive rebound
60 - 68
10:25
Jason Collins personal foul (J.J. Redick draws the foul)
60 - 68
10:17
J.J. Redick traveling
60 - 68
9:52
Josh Smith misses driving layup
60 - 68
9:51
Josh Smith offensive rebound
60 - 68
9:48
Joe Johnson makes 25-foot three point jumper (Josh Smith assists)
60 - 71
9:32
Jason Collins shooting foul (Dwight Howard draws the foul)
60 - 71
9:32
Dwight Howard makes free throw 1 of 2
61 - 71
9:32
Jameer Nelson enters the game for Gilbert Arenas
61 - 71
9:32
Hedo Turkoglu enters the game for Brandon Bass
61 - 71
9:32
Zaza Pachulia enters the game for Jason Collins
61 - 71
9:32
Dwight Howard makes free throw 2 of 2
62 - 71
9:15
Joe Johnson misses 18-foot two point shot
62 - 71
9:12
Marvin Williams offensive rebound
62 - 71
9:11
Marvin Williams makes 16-foot two point shot
62 - 73
9:06
Zaza Pachulia personal foul (Dwight Howard draws the foul)
62 - 73
8:57
Dwight Howard 3 second
62 - 73
8:45
Jason Richardson foul (Zaza Pachulia draws the foul)
62 - 73
8:45
Zaza Pachulia makes free throw 1 of 2
62 - 74
8:45
Zaza Pachulia makes free throw 2 of 2
62 - 75
8:27
Josh Smith blocks Dwight Howard's slam dunk
62 - 75
8:25
Mike Bibby defensive rebound
62 - 75
8:15
Marvin Williams makes dunk (Zaza Pachulia assists)
62 - 77
8:14
Orlando full timeout
62 - 77
8:14
Gilbert Arenas enters the game for J.J. Redick
62 - 77
8:00
Gilbert Arenas misses driving layup
62 - 77
7:58
Marvin Williams defensive rebound
62 - 77
7:45
Zaza Pachulia misses two point shot
62 - 77
7:43
Hedo Turkoglu defensive rebound
62 - 77
7:37
Gilbert Arenas misses 25-foot three point jumper
62 - 77
7:35
Marvin Williams defensive rebound
62 - 77
7:35
Zaza Pachulia double technical foul
62 - 77
7:20
Mike Bibby misses 26-foot three point jumper
62 - 77
7:16
Zaza Pachulia offensive rebound
62 - 77
7:07
Joe Johnson misses 9-foot two point shot
62 - 77
7:07
Atlanta defensive team rebound
62 - 77
7:07
Zaza Pachulia loose ball foul (Jason Richardson draws the foul)
62 - 77
7:07
Jason Richardson makes free throw 1 of 2
63 - 77
7:07
Jason Richardson makes free throw 2 of 2
64 - 77
6:54
Josh Smith misses 19-foot jumper
64 - 77
6:52
Dwight Howard defensive rebound
64 - 77
6:48
Zaza Pachulia shooting foul (Hedo Turkoglu draws the foul)
64 - 77
6:48
Hedo Turkoglu makes free throw 1 of 2
65 - 77
6:48
Hedo Turkoglu makes free throw 2 of 2
66 - 77
6:48
Atlanta full timeout
66 - 77
6:48
Al Horford enters the game for Zaza Pachulia
66 - 77
6:31
Josh Smith misses 4-foot two point shot
66 - 77
6:31
Josh Smith offensive rebound
66 - 77
6:26
Mike Bibby misses 25-foot three point jumper
66 - 77
6:26
Dwight Howard defensive rebound
66 - 77
6:18
Hedo Turkoglu misses 24-foot three point jumper
66 - 77
6:16
Marvin Williams defensive rebound
66 - 77
5:54
turnover
66 - 77
5:37
Jason Richardson misses 25-foot three point jumper
66 - 77
5:37
Orlando defensive team rebound
66 - 77
5:15
Al Horford makes 22-foot jumper (Joe Johnson assists)
66 - 79
5:01
Jameer Nelson misses 16-foot two point shot
66 - 79
5:01
Orlando offensive team rebound
66 - 79
5:01
Al Horford loose ball foul (Dwight Howard draws the foul)
66 - 79
5:01
Dwight Howard misses free throw 1 of 2
66 - 79
5:01
Orlando offensive team rebound
66 - 79
5:01
Dwight Howard misses free throw 2 of 2
66 - 79
5:00
Josh Smith defensive rebound
66 - 79
4:43
Al Horford makes 8-foot two point shot
66 - 81
4:43
Dwight Howard shooting foul (Al Horford draws the foul)
66 - 81
4:43
Al Horford misses free throw 1 of 1
66 - 81
4:43
Jameer Nelson defensive rebound
66 - 81
4:33
Mike Bibby personal foul (Jameer Nelson draws the foul)
66 - 81
4:33
Jameer Nelson makes free throw 1 of 2
67 - 81
4:33
Jameer Nelson makes free throw 2 of 2
68 - 81
4:22
Joe Johnson makes 20-foot jumper
68 - 83
4:03
Jason Richardson makes driving layup
70 - 83
3:35
Marvin Williams makes 25-foot three point jumper (Al Horford assists)
70 - 86
3:26
Gilbert Arenas bad pass (Marvin Williams steals)
70 - 86
3:26
Jameer Nelson clear path foul (Marvin Williams draws the foul)
70 - 86
3:26
Marvin Williams makes free throw
70 - 87
3:26
Marvin Williams makes free throw
70 - 88
3:12
Mike Bibby bad pass (Dwight Howard steals)
70 - 88
3:09
Jameer Nelson makes two point shot
72 - 88
3:09
Josh Smith shooting foul (Jameer Nelson draws the foul)
72 - 88
3:09
Jameer Nelson makes free throw 1 of 1
73 - 88
2:53
Marvin Williams misses 24-foot three point jumper
73 - 88
2:50
Joe Johnson offensive rebound
73 - 88
2:39
Joe Johnson discontinue dribble
73 - 88
2:31
Jameer Nelson makes driving layup
75 - 88
2:31
Atlanta full timeout
75 - 88
2:05
Joe Johnson makes 21-foot jumper (Al Horford assists)
75 - 90
1:49
Joe Johnson shooting foul (Dwight Howard draws the foul)
75 - 90
1:49
Dwight Howard misses free throw 1 of 2
75 - 90
1:49
Orlando offensive team rebound
75 - 90
1:49
Dwight Howard makes free throw 2 of 2
76 - 90
1:25
Joe Johnson misses 21-foot jumper
76 - 90
1:24
Jason Richardson defensive rebound
76 - 90
1:14
Gilbert Arenas misses 26-foot three point jumper
76 - 90
1:13
Al Horford defensive rebound
76 - 90
1:07
Dwight Howard personal foul (Al Horford draws the foul)
76 - 90
1:07
Al Horford misses free throw 1 of 2
76 - 90
1:07
Atlanta offensive team rebound
76 - 90
1:07
Brandon Bass enters the game for Dwight Howard
76 - 90
1:07
Al Horford makes free throw 2 of 2
76 - 91
0:59
Al Horford blocks Gilbert Arenas's 4-foot two point shot
76 - 91
0:58
Marvin Williams defensive rebound
76 - 91
0:58
Gilbert Arenas personal foul (Marvin Williams draws the foul)
76 - 91
0:58
Jeff Teague enters the game for Mike Bibby
76 - 91
0:58
Marvin Williams misses free throw 1 of 2
76 - 91
0:58
Atlanta offensive team rebound
76 - 91
0:58
Damien Wilkins enters the game for Joe Johnson
76 - 91
0:58
Marvin Williams misses free throw 2 of 2
76 - 91
0:57
Jason Richardson defensive rebound
76 - 91
0:46
Brandon Bass makes dunk (Hedo Turkoglu assists)
78 - 91
0:27
Jeff Teague lost ball (Jameer Nelson steals)
78 - 91
0:19
Jameer Nelson makes 25-foot three point jumper (Hedo Turkoglu assists)
81 - 91
0:00
End of the 4th Quarter
81 - 91
0:00
End Game
81 - 91
After being left for dead after the first two games of the Eastern Conference Finals, the Raptors follow up a big Game 3 victory with an equally impressive win in Game 4 to tie the series heading back to Cleveland.

LeBron James discusses the Cavaliers awful second quarter and how they can't allow themselves to fall so far behind.

Kevin Love recounts stepping on an official's foot in the third quarter, which prevented him from playing in the fourth quarter of the Cavaliers' Game 4 loss to the Raptors.
Eastern Conference Quarter Finals
ATL wins series 4-2
2015-2016 Southeast Standings